How To Wear Stripes & Plaid Together: The million-dollar question that still confuses many people.
It's high time that we must address this question and end your confusion right now. Well, the answer is simple "yes". You can definitely wear these two patterns together but with the right styling.
Don't worry about keeping your outfit balanced because we are going to give you ideas on how you can pair these prints without looking mismatched.
Outfits With Plaid And Stripes
You must be thinking that wearing two patterns together can't be a good idea but you might be wrong. Stripes and plaids go well together and can be styled in so many different ways. If you don't want to overdo it and want a simple outfit with these two patterns then adding a plaid scarf with a striped top is a great idea.
The second idea is to wear patterned bottoms and tops. Either a striped top can be styled with plaid pants or vice versa. Choose them in neutral colors for a balanced outfit. One more option is layering. You can wear striped tops with plaid outfits with shackets, blazers, coats, or vests as well.
Tips For Wearing Stripes With Plaids
Pay attention to colors: While you are doing the difficult task of mixing two prints together, make sure that you don't make any mistakes in combining colors. Bold colors in plaid print should be matched with neutral-colored stripes. A better option is to stick with one color palette and create a monochromatic look.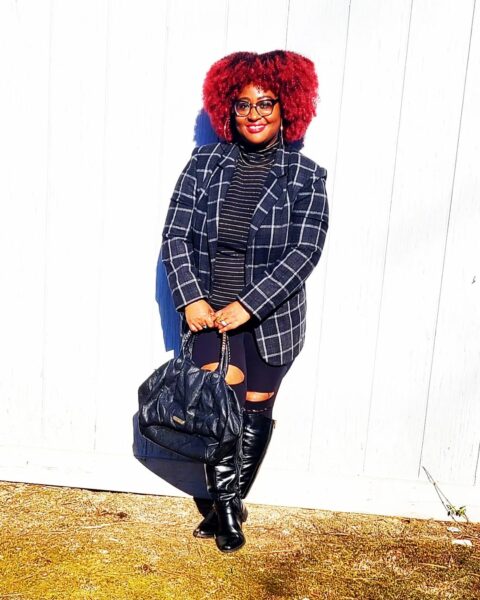 Keep a balance: When you are already playing with too many prints, adding more of them would not look so good. Wearing striped pants with a plaid shacket and a printed under-top would be a disaster which is why you should keep other things like shoes or under-tops simple and in a neutral color to keep the balance.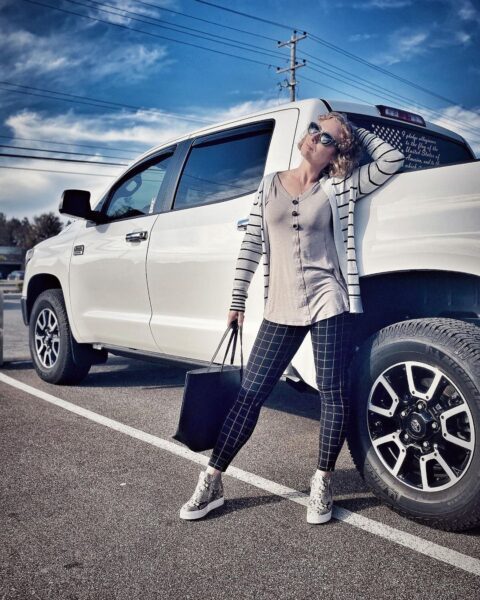 Start with basics: If you are still confused about the outcome, start by adding patterns to accessories or layers. Add a plaid scarf or jacket with a striped top and see if it works for you, and then jump to combining printed tops and bottoms together.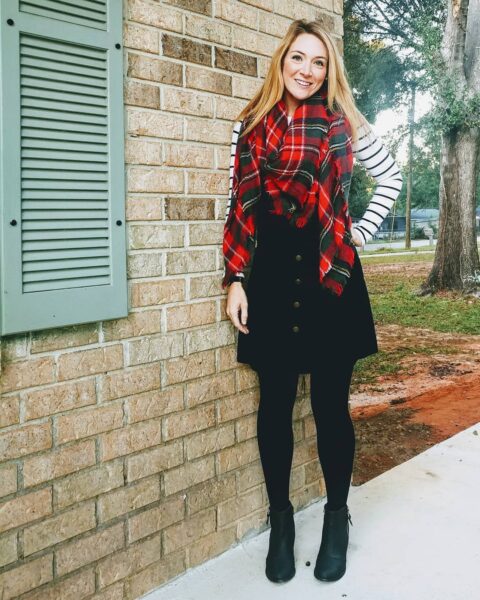 Be creative: There are so many different ways of styling these two patterns together. Whether it is for tops, bottoms, skirts, or any other things. Pull out your creative side and try different styling ideas and then decide which suits you the best.
20 – Pair A Striped Shirt With Plaid Pants
Let's start with the beginner level which has the easiest styling. Grab a pair of grey plaid pants and pair them with a simple striped shirt, that's it and your outfit is ready.
This look is on the semi-formal side and you can easily wear that to work like this or by adding a cropped blazer. You can also wear this outfit the other way around by wearing striped pants with a plaid shirt.
19 – Striped Shirt With Red Plaid Flannel & Jeans
This outfit is perfect for girls going to college or university. Get this cool and casual look by pairing up denim jeans with a striped top and layer it with a plaid flannel. Lastly, add sneakers or converse shoes to complete the look.
18 – Skinny Jeans With Striped Shirt & Plaid Scarf
This outfit can be an inspiration for girls that don't want to put much effort into their casual outfits but still want to look fashionable. Start by pairing simple black jeans with a black and white striped shirt.
Accessorize it with a red plaid scarf, a bucket bag, and large hoops. Choose flat pumps for comfortable footwear and your perfect casual outfit is ready.
17 – Striped Shirt Layered With Plaid Scarf & Grey Shrug
You can add patterns to your look even in the form of accessories. Like this one outfit, where a simple long-sleeved striped dress is layered with a colorful plaid scarf. To keep the outfit balanced, a grey shrug is also added with black leggings.
You can also add other accessories like watches, sunglasses, rings, and others. Moreover, you can also wear thigh-high boots with this dress.
16 – Black Leggings With Striped Shirt & Plaided Vest
Another super casual outfit idea is to pair a simple striped shirt with black leggings and layer it with a red plaided sleeveless vest.
Add sneakers to complete your outfit. Apart from that, you can also replace the vest with a plaid shacket, scarf, or shawl.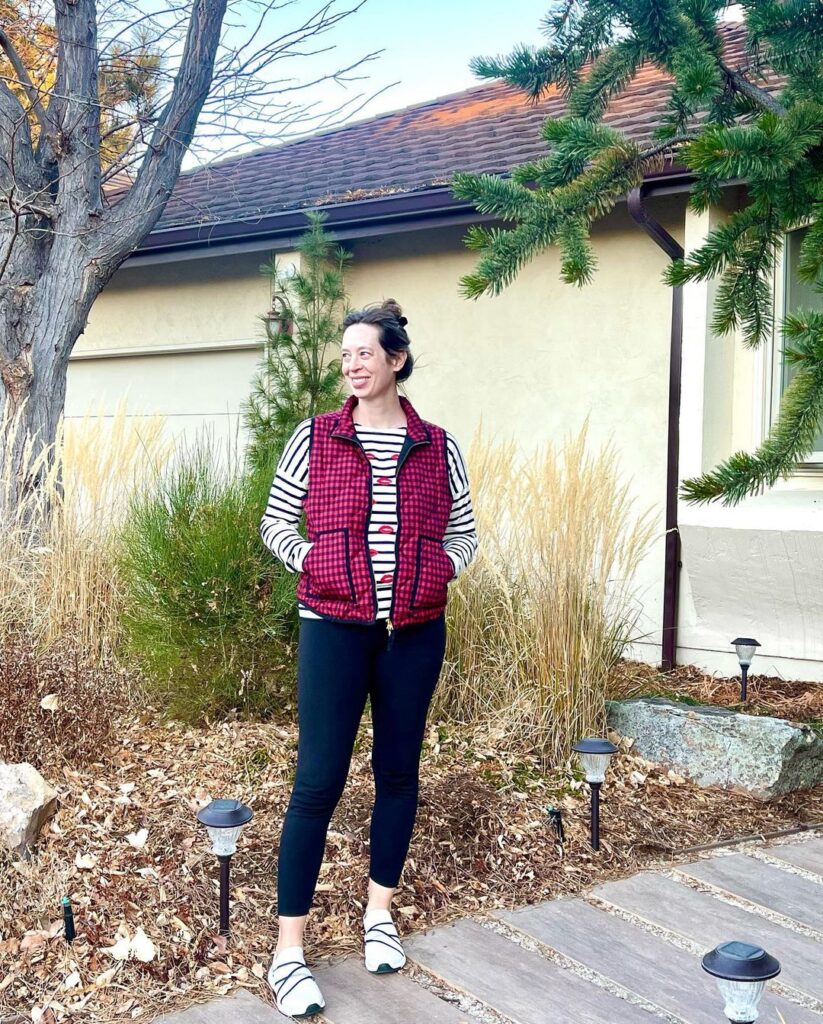 15 – Striped Shirt Layered With Plaid Buttoned Down Shirt & Skirt
A cool outfit idea for teenagers is to pair a round-neck striped shirt with a cropped plaided shirt and pair it with a colorful mini or skater skirt. It is a perfect summer casual outfit that you can easily wear to college by adding tights and sneakers to it.
You can also create a monochromatic look by sticking to one color or staying colorful by picking different colors.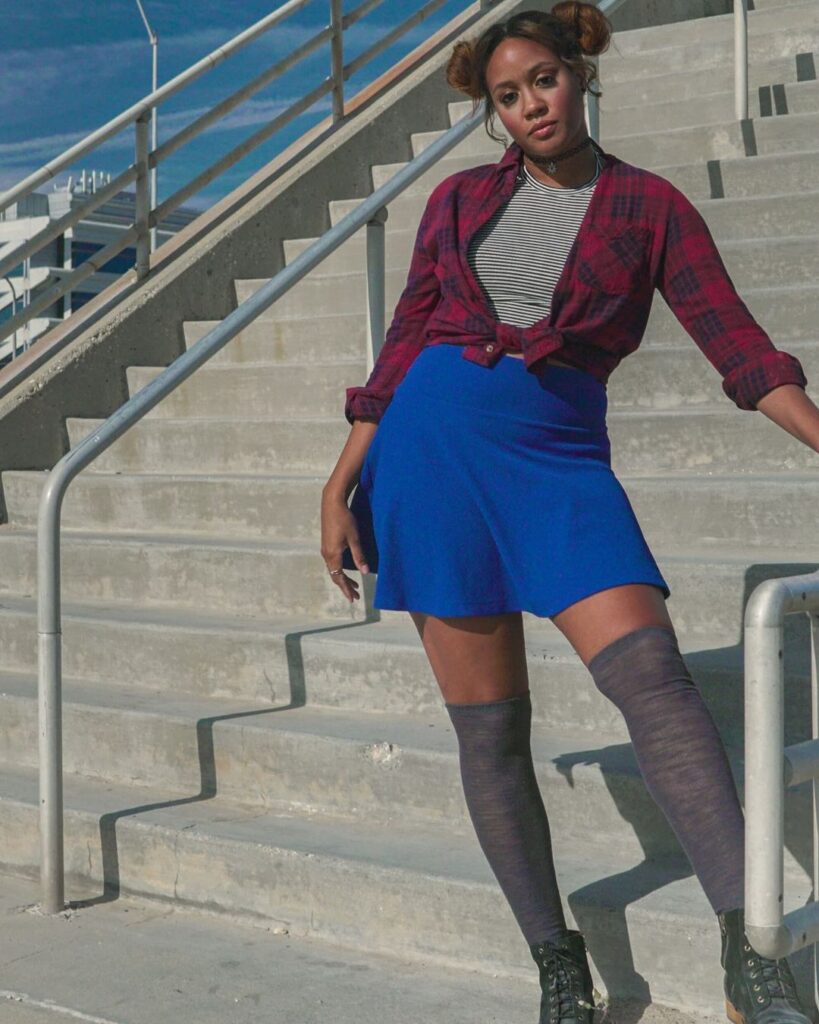 14 – Buttoned Down Striped Shirt With Long Plaid Skirt
This super cool outfit is perfect for both formal and casual wear. A simple striped buttoned-down shirt is paired with a long plaid skirt. The outfit has a subtle color palette and doesn't look mismatched.
You can easily wear it to work by pairing a blazer and low-heeled pumps with it. On the other hand, you can add a layer of leather or a denim jacket with sneakers.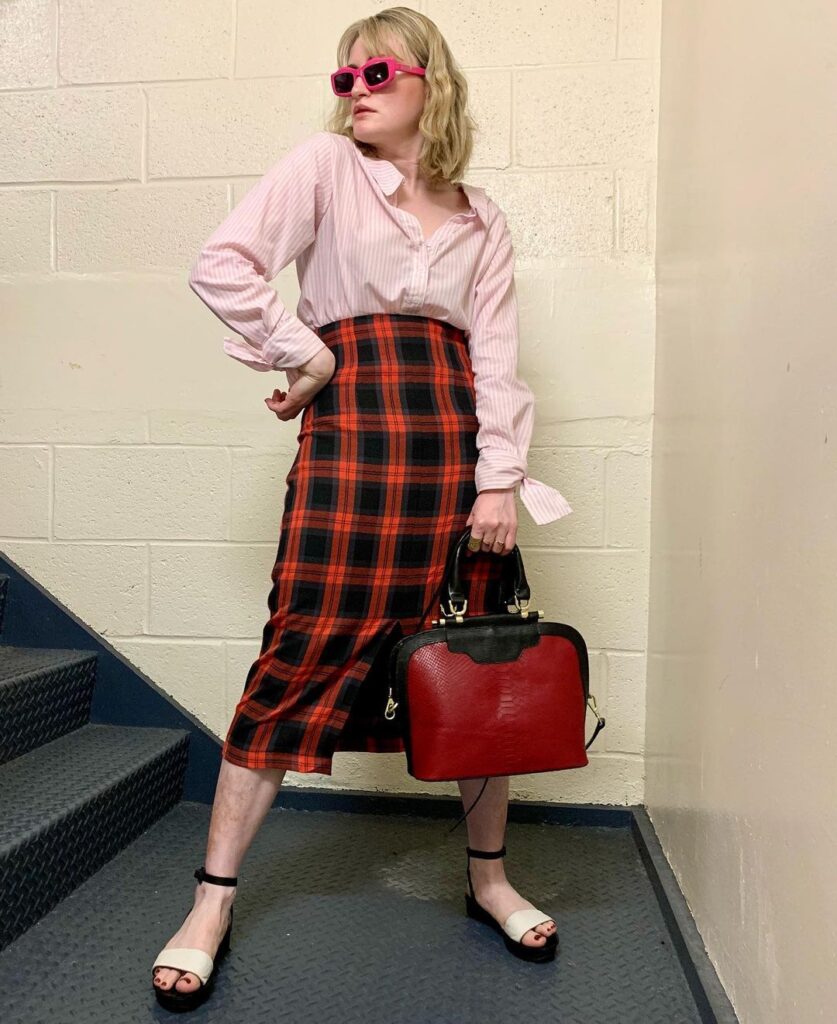 13 – Striped Top With Plaid Cape Shawl
Add a fashionable touch to your simple outfits with plaid cape shawls. They are perfect for the fall season and go with almost every kind of outfit. In this look, black ripped jeans are paired with a striped shirt and black ankle boots.
Moreover, a plaid cape shawl is also draped over the shoulders. This could be a fun picnic outfit as well.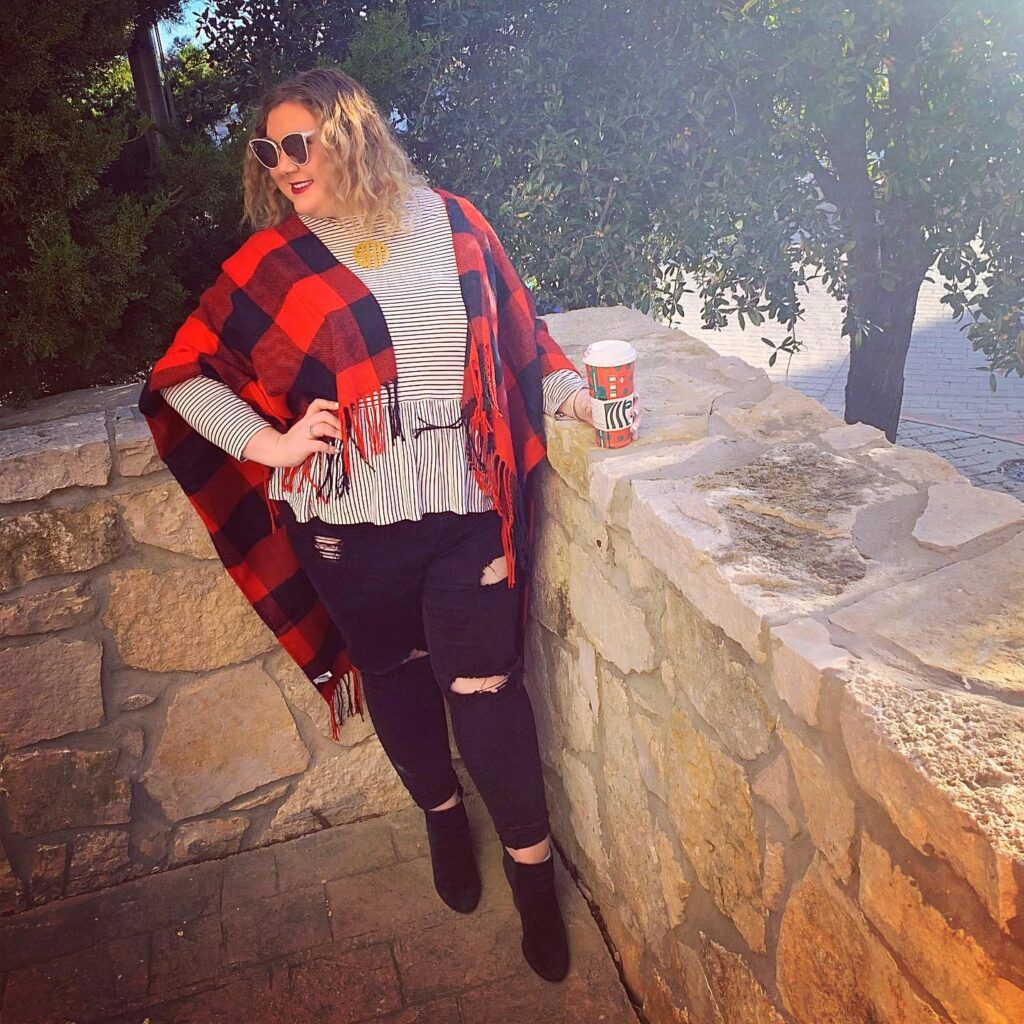 12 – Plaid Blazer Layered Over Striped Shirt
Plaid blazers are already a great option for work wear. A formal way of wearing plaid blazers with stripes is to wear them with a striped shirt and straight pants.
In this look brown is the choice, while you can also go with grey and blue color for formal wear. For footwear, you can go with pumps or sneakers. Add a waist belt, small hoops and you are good to go.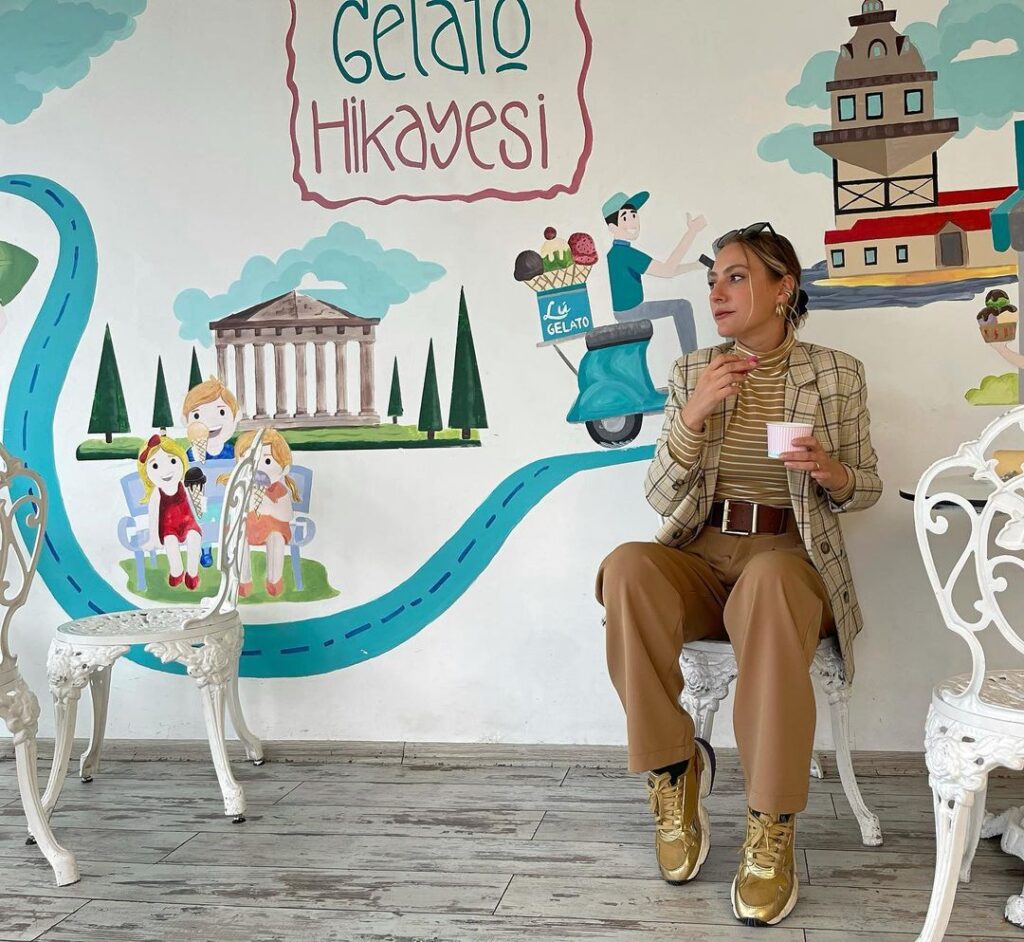 11 – Plaid Blazer With Striped Shorts
Striped shorts are great for casual wear while plaid blazers are more suitable for formal wear and combining these two will form a great party outfit.
Accessorize yourself with stylish accessories like a choker or multilayered necklaces. Moreover, you can also wear thigh-high boots or ankle boots for footwear. And just like that, you have many different ways of styling this outfit.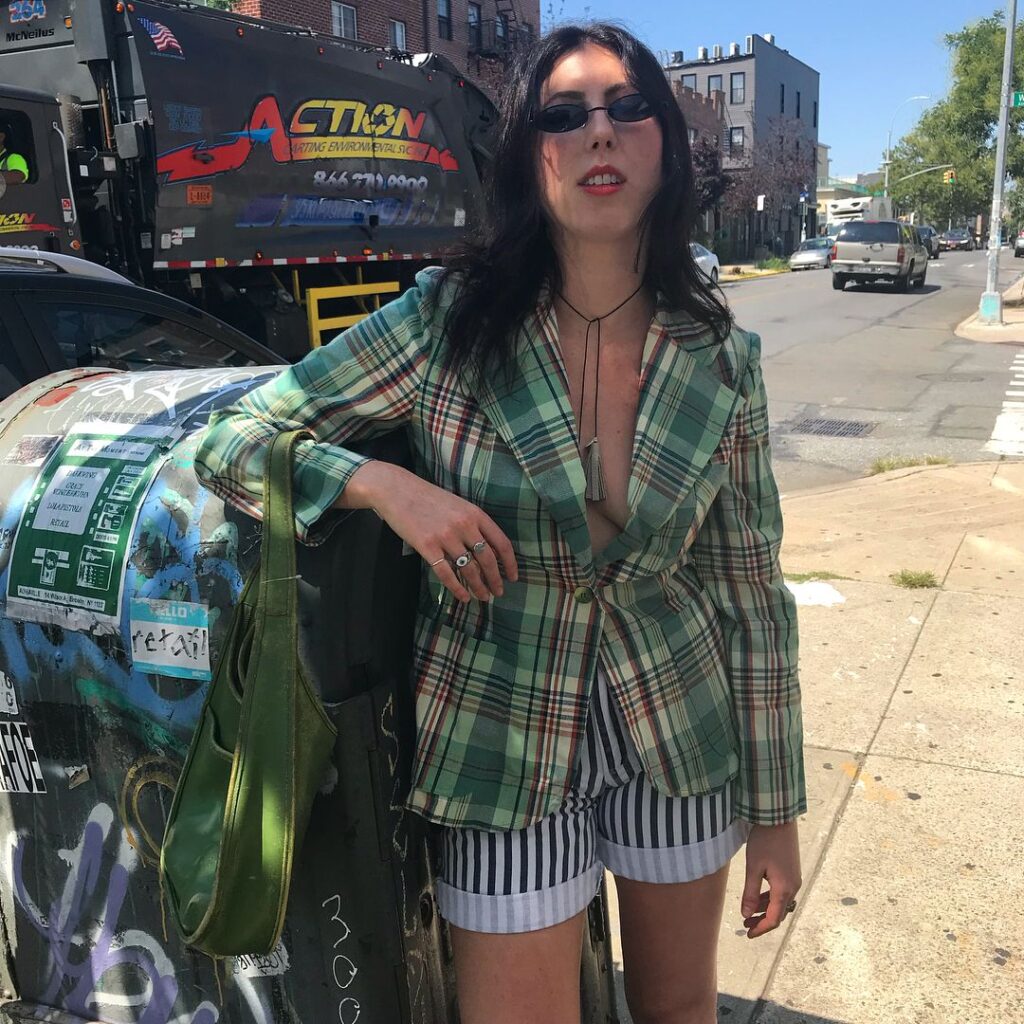 10 – Colorful Plaid Balzer With Striped Shirt & Jeans
This colorful blazer can be a great one-time investment for your wardrobe as it will look good will almost everything. Here, it is styled in a casual way by pairing it with a striped shirt, high-waisted jeans, and converse shoes.
On the other hand, you can style it in a formal way by wearing dress pants or striped trousers and pumps.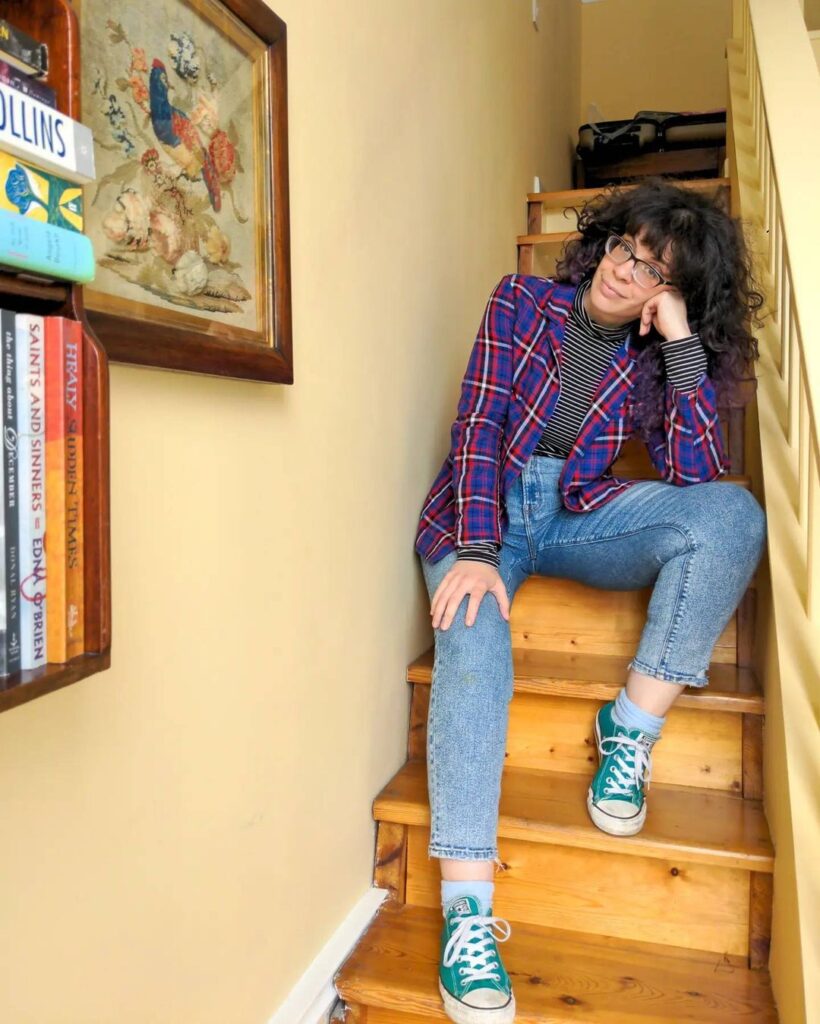 9 – Long Sleeved Striped Shirt With Plaid Overalls
Your search for a cute Christmas outfit ends here, as you can easily style this outfit. Red plaided outfits are perfect for the holiday season so invest in cute plaid overalls this season.
Wear it over a long-sleeved striped shirt, add leggings and laced-up boots and your outfit is ready.
8 – Striped Turtleneck Paired With Plaid Skirt
To get this perfect holiday look, you will need a striped turtleneck in green and white color and pair it with a plaid skirt in blue and green color.
Now match your heels in the contrasting color of your skirt, add a cute belt, and accessories, and your cute holiday outfit are ready.
7 – Red Plaid Shacket Layered Over Striped Top & Leather Leggings
The most common way of mixing the patterns is to layer a plaid shacket over a striped shirt or tank top. Wear them with simple denim or for a chic look, go with leather leggings and thigh-high boots.
The plaid shacket can be styled with many outfits in many different ways. You can wear it with jeans, layer it on dresses, and you can style it as a top as well.
6 – Striped Sweater With Plaid Shawl & Boots
5 – Wide Legged Pants With Striped Shirt & Oversized Plaid Blazer
Both wide-leg pants and blazer are perfect for workwear mainly in winter. Get this formal look by pairing wide-leg pants with a striped top and layer it with a plaid blazer.
Make sure that your pants are simple, without any patterns, and in a neutral color to balance the outfit. Add other things like a slim belt, earrings, and a bag to complete the look.
4 – Striped Sweatshirt Layered With Plaid Vest
Another cute fall outfit inspiration is to pair a striped sweatshirt with black skinny jeans and a plaid vest sweater. Pair this outfit with sneakers, add a backpack and you will have a perfect outfit for your outdoor activities.
3 – Mini Plaid Skirt Paired With Striped Shirt & Coat
To get this formal workwear outfit, you will need a plaid skirt and pair it with a striped top. Layer it with a long camel coat and that's it.
You can also wear leggings with the skirt, or another option is to replace the skirt with plaid pants. You can wear boots, pumps, or block heels with this outfit.
2 – Layer Striped Sweater Dress With Long Plaid Coat
Another cool use of a plaid coat is to wear it with a striped sweater dress. These dresses are perfect for casual and chic winter outfits.
Layer it with an elegant plaid coat, wear long boots in brown color and your outfit is completed with just three things.
1 – Striped Sweatshirt With Plaid Coat & Skinny Jeans
Mixing these two prints for a winter outfit is really fun because you have many layering options. You can either wear printed coats, jackets or scarves and much more. In this chic look, a striped sweatshirt is paired with skinny jeans and a layer of a mini skirt.
Moreover, a layer of plaid coat is added for the finishing touch. For footwear, boots are one of the greatest winter options, so go with ankle boots to complete your look.
Frequently Asked Questions
Q. Is it ok to wear plaid with stripes?
Ans. It is totally ok to wear plaid and stripes together. We are all here for a little experiment, and this article proves how these two prints look great together.
The easiest and most straightforward way to follow this trend is to wear a striped top with jeans and add the plaid pattern in the form of a layer or an accessory like a plaid shacket or scarf.
Q. Is plaid the same as stripes?
Ans. No, plaids and stripes are two completely different patterns. This is another confusion that many people have, as they assume them to be the same.
The striped printed clothes have straight vertical or horizontal stripes on them while on the other hand, a plaid pattern has crossed vertical and horizontal lines in two or more colors.
Q. Can you wear stripes with other prints?
Ans. Stripes are neutrals and can go with almost all prints. Apart from plaid patterns, you can style them with floral prints by wearing a striped top with a floral skirt. You can also wear striped pants with animal-printed tops.
Moreover, other prints like checks, polka dots, and others can also be styled with stripes. Just be cautious about the color combinations to balance your outfit.