Plaid Leggings Outfit Ideas: Do you have a whole day planned and want something that will look good all day? Then, this guide is for you. Leggings are a very basic piece of clothing but plaid patterns make them stand out in style. If you want more than just simple leggings then plaid leggings are a better alternative.
Plaid leggings add an effortless charm to your outfit and create a look that works for both daytime and nighttime. In this article, we bring you plaid leggings outfit ideas, tips on how to style them, and different patterns of plaid you can choose from that not only suit you but add a nice touch to the overall look.
How To Wear Plaid Leggings?
Plaid leggings are articles of clothing that can elevate any outfit and make it fashion-forward. In recent times, plaid has become a style statement. Therefore, styling it correctly is a must otherwise you will end up looking clumsy. However, the fear of looking boring or mismatched should not stop you from experimenting with patterns and colours. To help you with that, I have listed down some dos and don'ts of wearing plaid pants or leggings, which will hopefully help you style them better.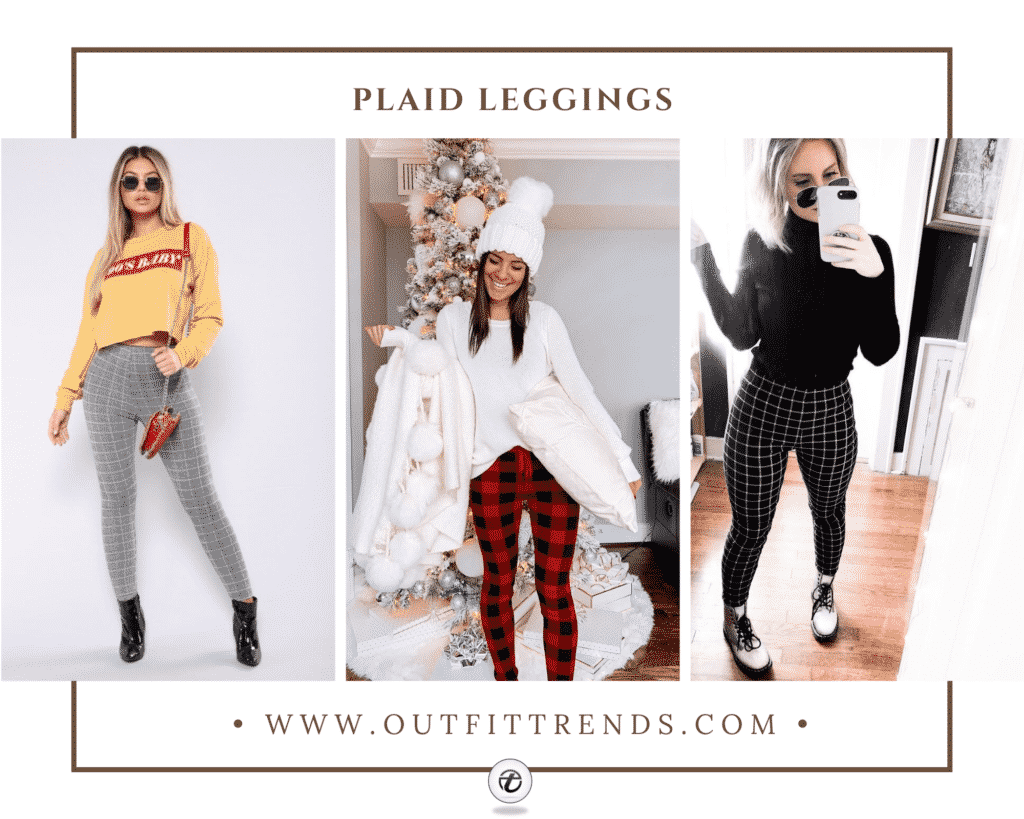 Dos And Donts
Buy plaids in different patterns so you can create outfits without much efforts and look different every time you wear plaid.
Buy a matching plaid set to stand out in style. You can wear matching plaid leggings and a blazer but there are many plaid-on-plaid outfits. Scroll down to check out plaid-on-plaid outfit ideas.
If you are not a fan of wearing plaid-on-plaid, try one colored top that blends well with the colors of plaid leggings. For instance, if you go for grey and black leggings. Consider wearing a blacktop.
Add two patterns of plaid together to create a bold look. For example, add windowpane plaid with gingham plaid. Make sure you mix colors of both pieces to create a mismatched yet fun look. Look through these types of plaid patterns to help create a classy plaid look.
There are many plaid patterns to choose from such as tartan plaid, madras plaid, gingham, and checkered. However, houndstooth pattern plaid has become a style statement in recent times. it's a continual theme on the runway and a favorite fashion statement pattern of monarchs.
↓ 20 – Leather Jacket
Wear a leather jacket and plaid leggings for a cute and comfortable outfit. A leather jacket can glamorize your outfit without much effort. Wear a beanie to stay warm and look classy. Have a look at our Leather Jacket Outfits to get amazing ideas on styling different leather jackets. Besides, plaid leggings add some fun to a boring look and make it fashion-forward.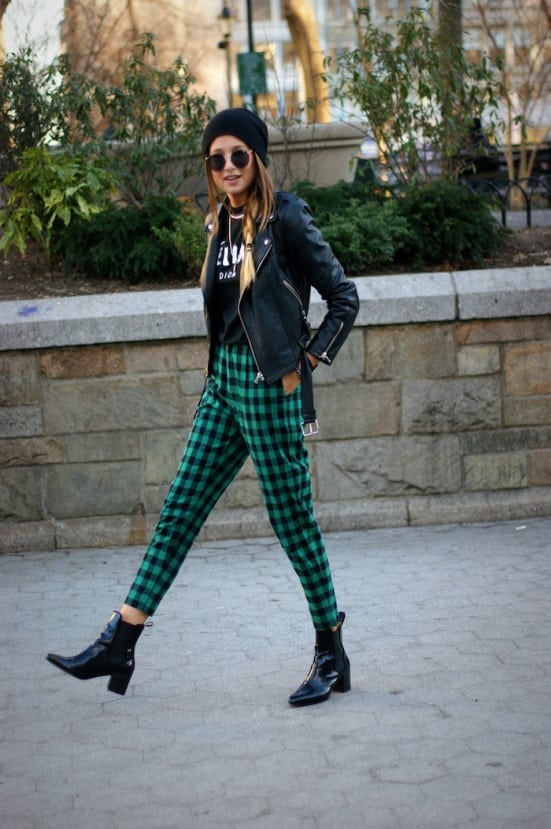 ↓ 19 – Princess Dianas Street Style
If there is anyone who we look up to for plaid outfit inspiration, it's definitely Princess Diana. She has rocked every plaid outfit we can think of. From plaid dresses, skirts, to plaid suits and leggings. She's the epitome of British fashion and her fashion sense was way ahead of her time. Here we see the late Princess Diana in a pink cardigan and gingham plaid. The whole look is effortless and chic.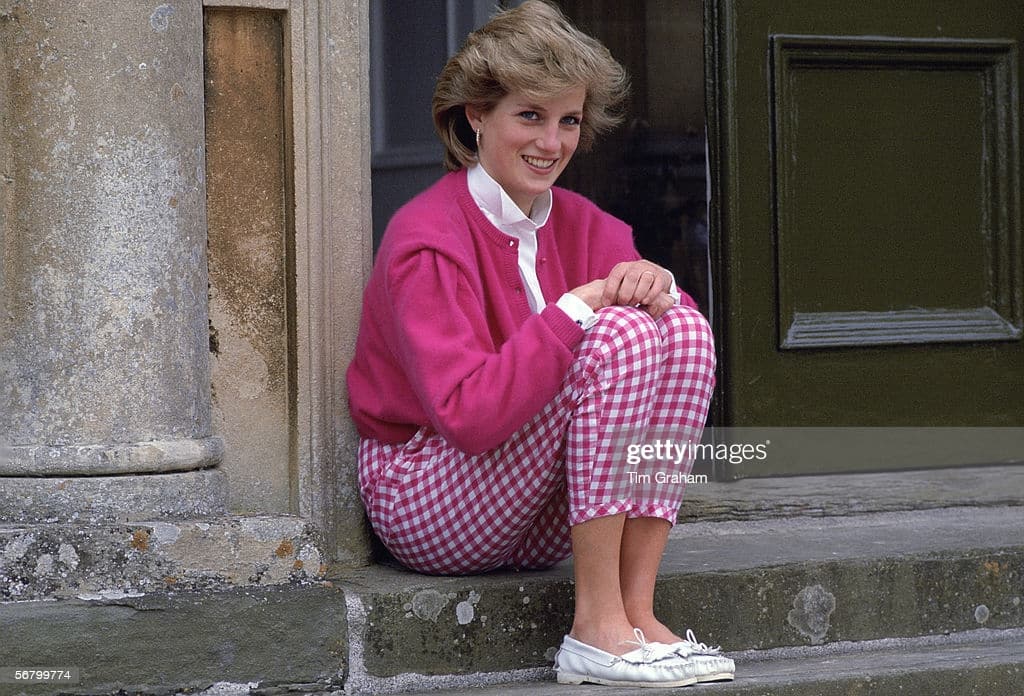 ↓ 18 – Textured Sweater
Do you find sweaters basic and boring? Well, get yourself a textured sweater that goes beyond basic. Textured sweaters with plaid leggings is a weather-appropriate outfit that will also look pretty no matter what!
↓ 17 – With A Cardigan
Just pair brown plaid leggings with a black oversized cardigan and black boots to complete the look!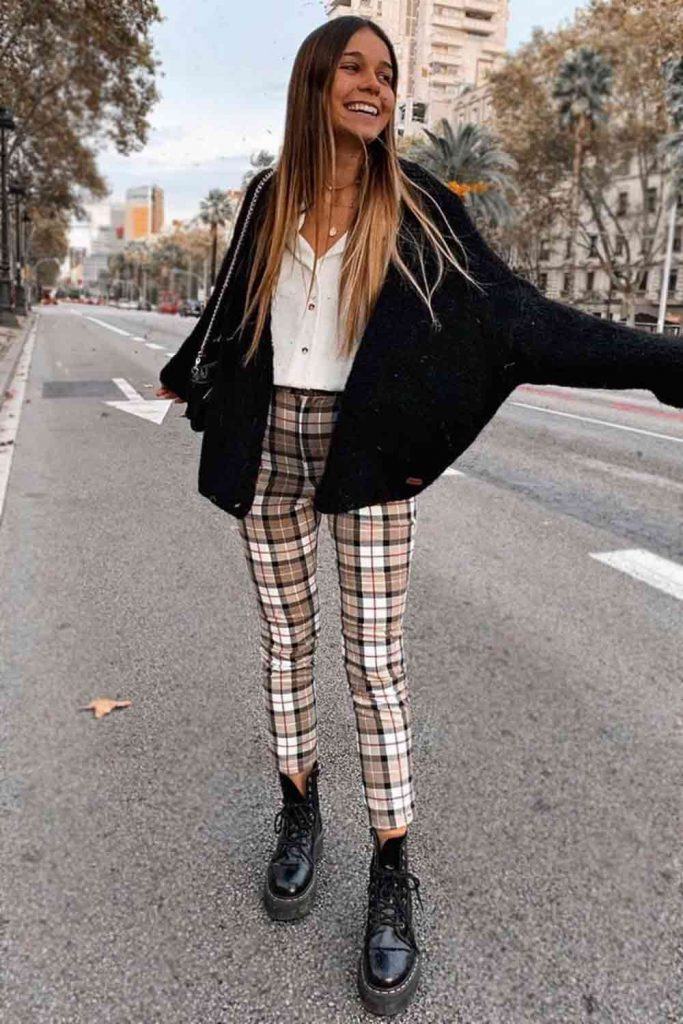 ↓ 16 – Sweatshirts
Sweatshirt and leggings are for sure the most comfortable outfit you can wear. But, you don't have to limit this outfit for just lounging around the house. Switch to some fun leggings prints and graffiti sweatshirts for a casual yet modern look. Sweatshirts are stylish and a great addition to your winter wardrobe. Here we see a stunning green sweatshirt with plaid leggings. Love the brown bag and shiny boots for a sophisticated final touch.
Another way to create a gorgeous look is with an oversized sweatshirt. This outfit can be worn on multiple occasions like night out plans and Sunday brunches with friends.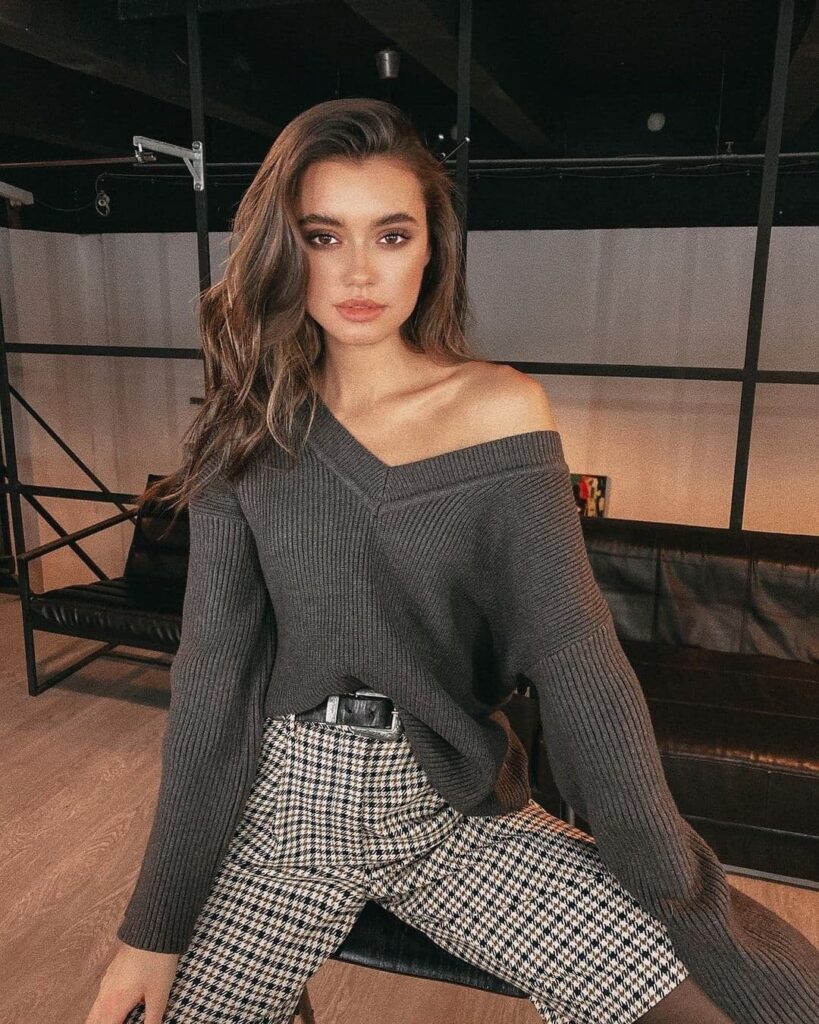 ↓ 15 – Plaid Leggings And Denim
Plaid and denim together? A bit unusual but an easy-going outfit. Small details create a huge difference when matching two different pieces of clothes. Notice how the white in plaid legging is coordinated with a white tee and sneakers. This makes it a well-put-together outfit.
↓ 14 – Kristen Stewarts Airport Look
For travelling, you will need something that's comfortable and but still looks good. Therefore, we bring you this look. It can be your airport look if you want an effortless and breathable outfit. However, this look is also great when you have to run some errands. This is for people who love T-shirts. Give this outfit a try by just pairing a plain white tee with plaid leggings. Add some necklaces; two necklaces together, or perhaps a three-layer necklace. Complete this look by adding some shades and your favourite trainers.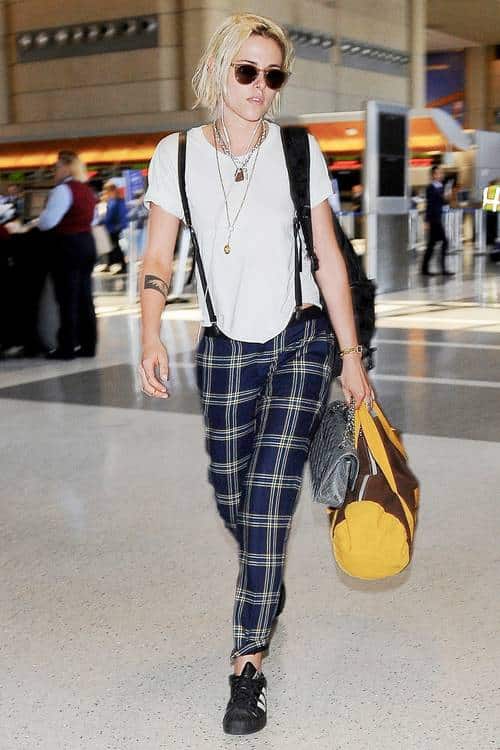 ↓ 13 – Cool Plaid Leggings Outfit
Here's a stylish look for you. A jacket over a crop top with plaid leggings. I love the colour of the jacket and its pairing with a crop top. Unlike other outfits, this isn't an outfit in which everything matches perfectly, yet it looks adorable. I would say it's a bold mismatched look. To recreate this look, you will need a crop top, a bomber jacket, and high waist plaid leggings. Apply subtle eyeshadow and make-up but finish it off with bold lipstick. Add some extra charm by wearing heeled boots and a simple chain.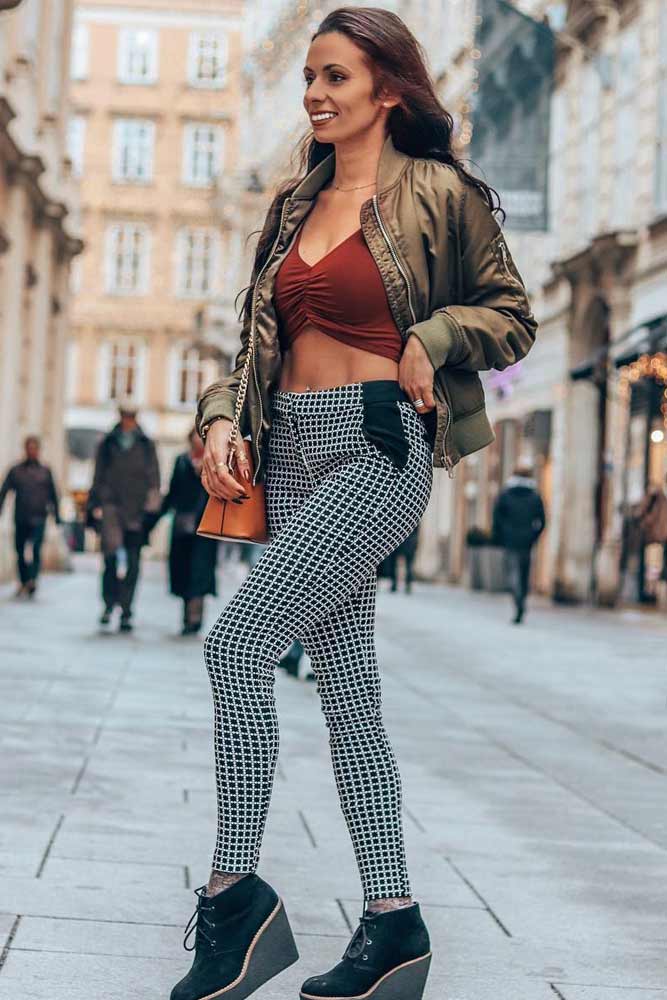 ↓ 12 – Plaid Shirt And Leggings
If you love to wear coordinating outfits then this look is for you. Get yourself a button-down shirt and leggings in the same plaid print. You can choose to wear a t-shirt over it just like in this picture below. However, to make this outfit stand out, we recommend you wear a cami top and add a button-down shirt over it. Make sure to select the same pattern of shirt and leggings for this look. And finally, pair it with pumps and an iconic bag to add glamour to your overall look.
↓ 11 – Crop Top For A Summer Look
Plaid is often worn in fall or winter but it doesn't have to be limited to one season. You can rock it in every season. All you need to do is to choose different colours and patterns of plaid. For instance, go for bright or pastel colours like yellow, orange, pink, lilac for summers. However, if you are not a fan of pastel hues then the OG black colour will work too. Different patterns of plaid can work perfectly all year long. See this basic street-smart look created with a simple crop top and plaid leggings.
↓ 10 – Burgundy Crop Top Outfit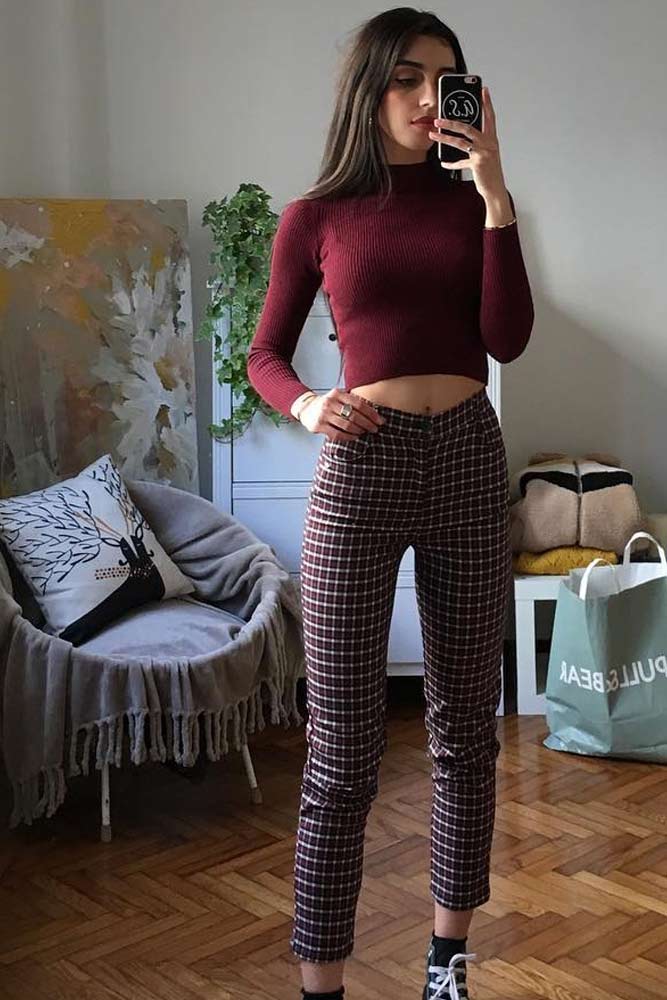 ↓ 9 – Cropped Sweatshirt Look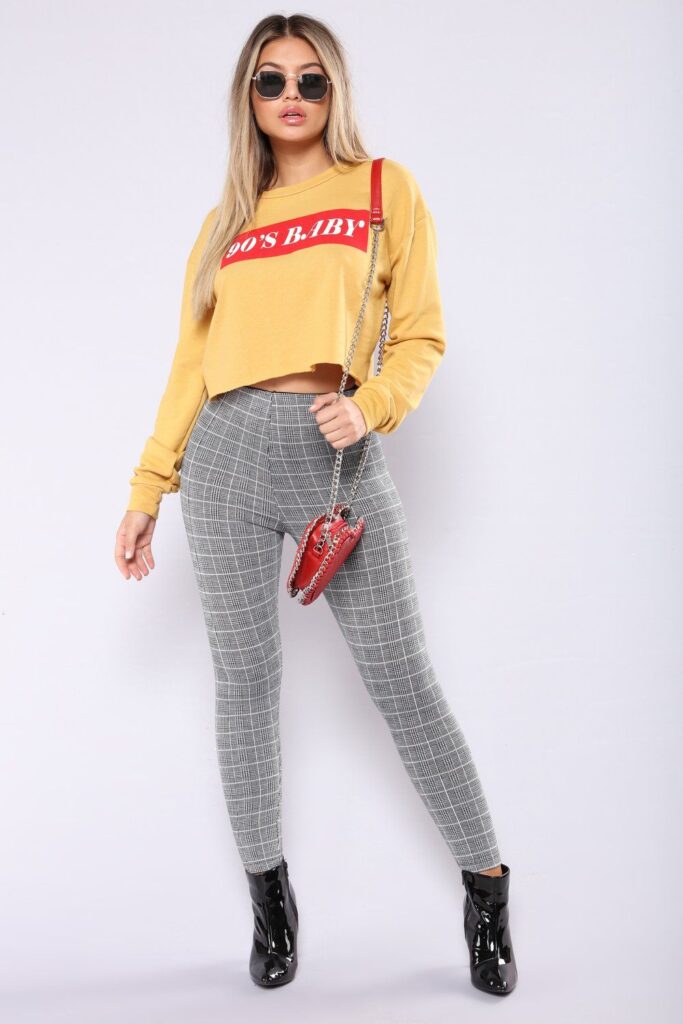 ↓ 8 – High Waisted Leggings With Off-shoulder Top
↓ 7 – Black Sweater Vibe
Sweaters have been used as a layering piece but lately, it's worn as a shirt. We love the idea of wearing it as a button-down shirt. You can pair a sweater with anything like jeans, skirts, and of course with plaid leggings. This cropped black knit sweater is a glamorous piece of wardrobe that goes well with almost everything. A lace bralette would look good underneath a v-neck sweater.
↓ 6 – Matching Two-Piece
Pair plaid leggings and a top in a similar pattern for the best look. A matching two-piece plaid set is all you need to level up your plaid outfit game. The plaid-on-plaid set will have you feel stunning. This is an all-rounder outfit that can work well on many occasions such as your birthday or a night out with your besties.
↓ 5 – With A Turtleneck Top
Do you love turtlenecks and high waisted bottoms? Then, here is a look for you. Get yourself a nude turtleneck outfit and dark brown bottoms. Plaids and turtleneck tops are a classy combination. But, the pairing of both colours looks so chic. In addition, mid-calf boots enhance the overall look. For this look, opt for minimal make-up to create a stunning look.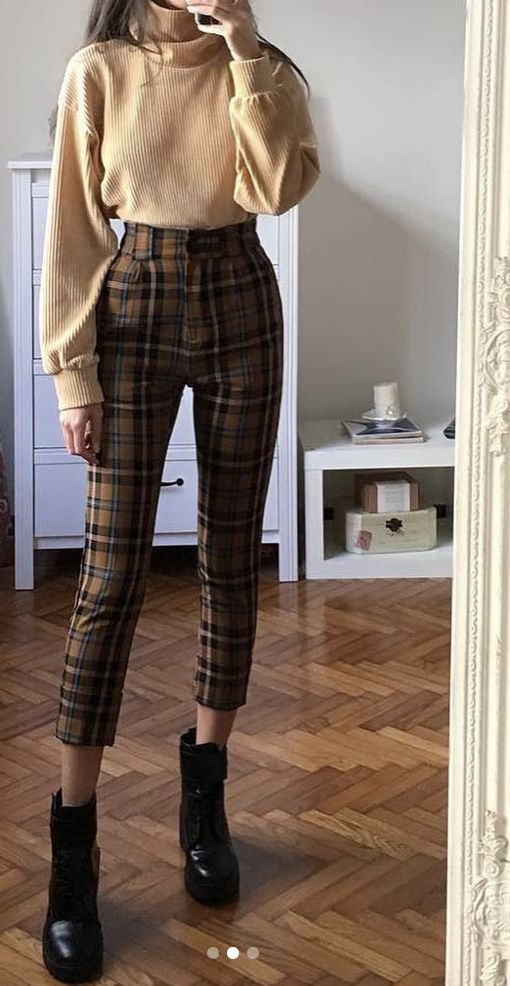 ↓ 4 – Retro Look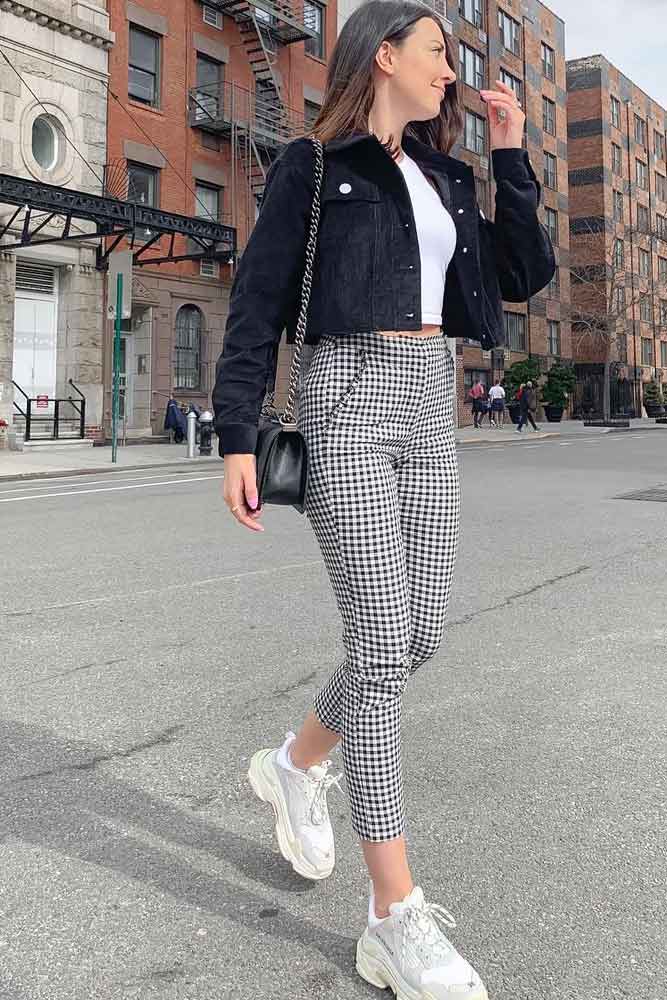 ↓ 3 – Plaid Leggings For Plus Size Women
Leggings bring effortless and casual vibes. However, some mixing prints with leggings help create a lively outfit. Your body shape should never stop you from experimenting with different prints and patterns. You can rock every trend regardless of your age and body size. With that being said, Here are two plaid leggings looks for you to take inspiration from. The first one is a street-smart look and the second one is cozy home wear.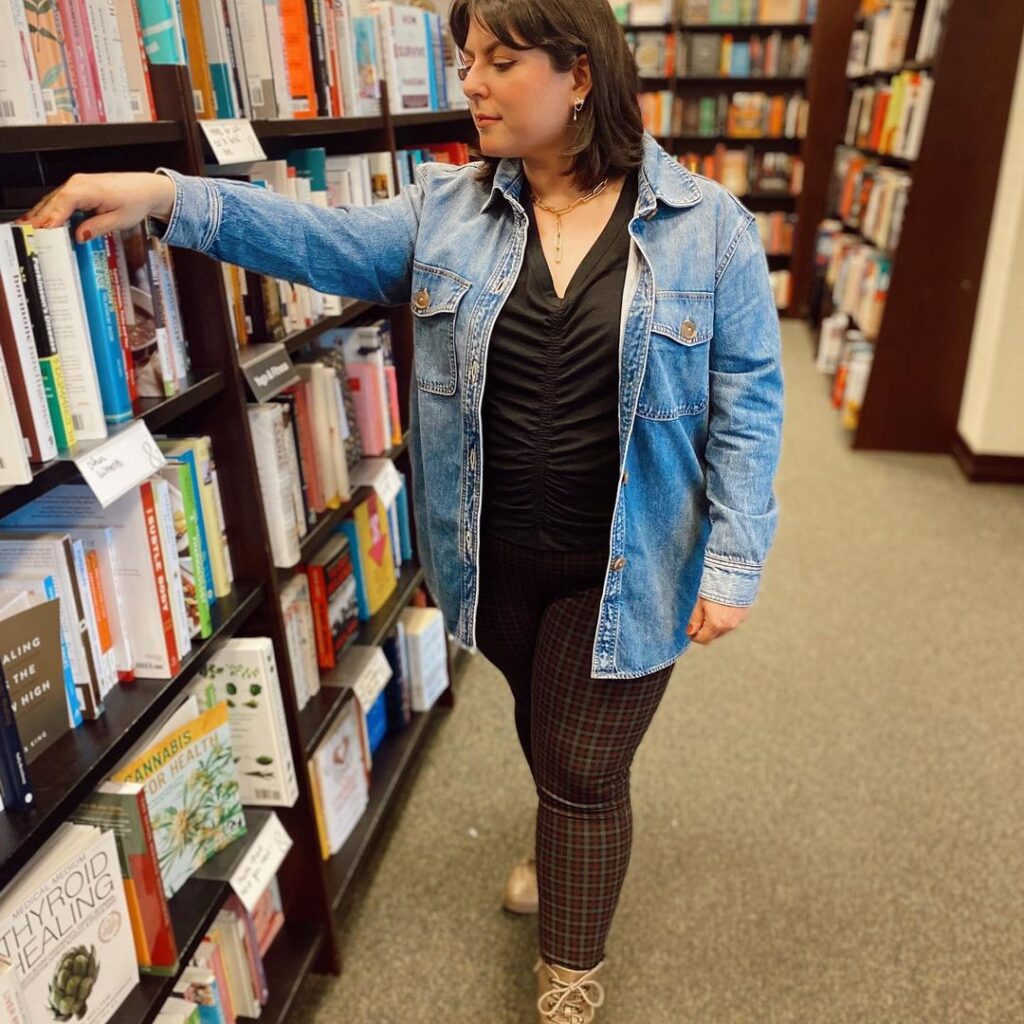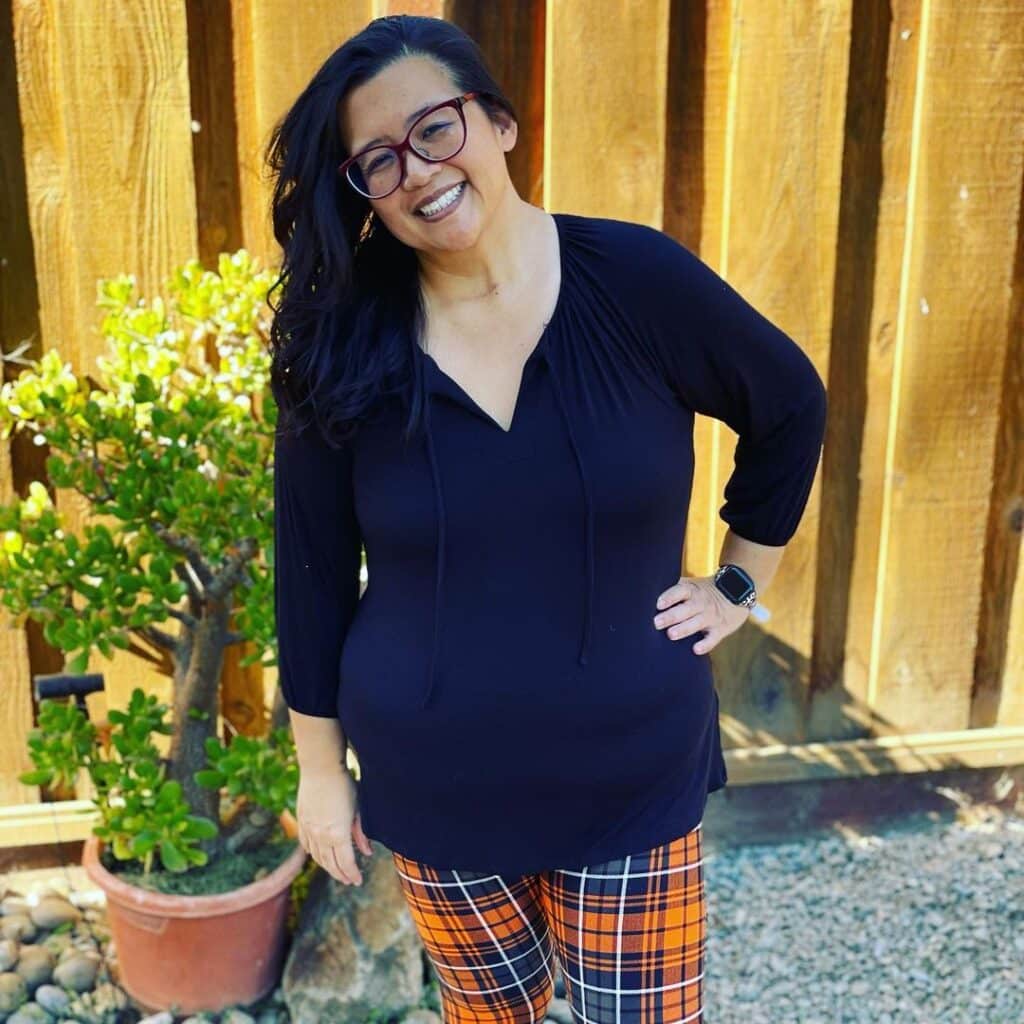 ↓ 2 – For Women Above 50
Who said plaid leggings are for vicenarians only? You can surely rock plaid leggings in your 50s too. In fact, you can rock any trend. It will feel amazing if you start playing with prints to make your fashion sense even better. Have a look at this cute outfit created with plaid legging and a light grey turtleneck top. You can choose to go with the sleeveless top or just add the breezy tie-dye shirt over it. A perfect outfit for running some errands or going out with friends.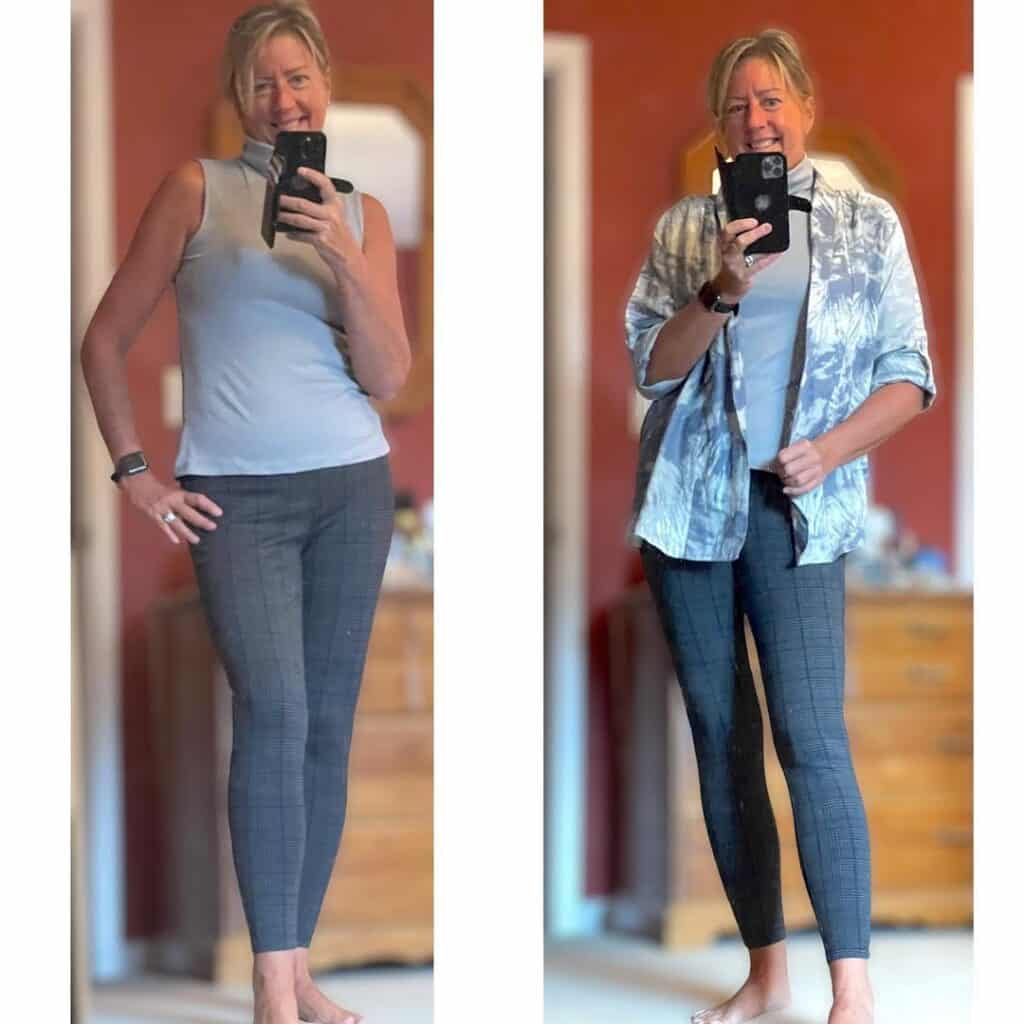 ↓ 1 – For A Christmas Look
Festive seasons are special. This is the time when we all wish to dress up nicely. Although there are plenty of Christmas outfit ideas, plaid leggings are a great option for when you wish to stay warm and look pretty too.
So, if you have dinner with friends or just a casual home party. Wear plaid leggings and select any of the ideal Christmas colours such as green, white, or red to bring festive vibes. Add a beanie to save yourself from the cold and create a classy look. If you love beanie hats, then check out our beanie hats guide for styling beanies with outfits.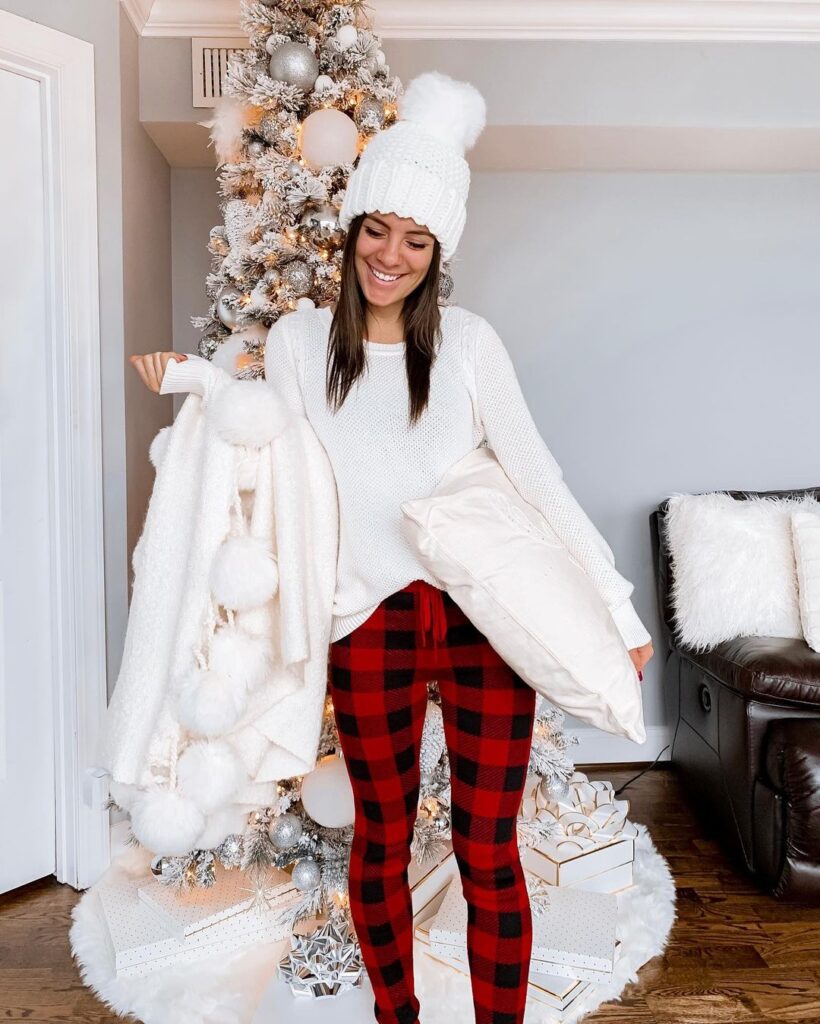 Frequently Asked Questions
Q: Do plaid leggings look boring and old-fashioned?
Ans. Plaid leggings are fashionable and popular. They are a pretty diverse piece of clothing. You can find them in different colours and patterns making it easier for you to wear them wherever and however you want. For instance, you can create an office-ready look or a comfortable home look. From sneakers to heels, everything goes well with them. So, plaid leggings are not boring but instead, they add a fun element to your outfit.
Q: Which celebrity rocked the plaid trend?
Ans. Bella Hadid, Beyonce, Rihanna, Taylor Swift, Gigi Hadid, and Zendaya are just some of the celebrities who have made style statements using plaid patterns. You will find these celebrities rocking plaid patterns in various ways including plaid pantsuits, plaid mini-skirt outfits, plaid shirt dresses, coordinating plaid leggings, and tops.
Q: Do plaid outfit sets look good?
Ans. Matching plaid sets look quite good. They are a classy piece for a business night out but can be worn on many occasions. However, if you want something bold and beyond ordinary then consider wearing different plaid patterns that bring mismatched yet classy vibes. For instance, you can choose to wear leggings and tops with different patterns but their colours should be coordinated. The mismatched plaid patterns with matching colours create a pleasing and trendy outfit.
Q: Are plaid leggings good choice for a Christmas outfit?
Ans. Plaid leggings for Christmas party outfits are an ideal choice when you are in search of something that is both comfortable and chic. However, choose to buy your leggings in Christmas colours such as red, green, white. Plaid comes in many colours, making it easier for you to select the best one for Christmas.
Q: Where to buy plaid leggings?
Ans. Here are the best stores to buy plaid leggings. These brands bring amazing collections and a variety of plaid leggings that you should not miss. Zara, Walmart, Forever 21, Nike, Alo Yoga, and Burberry.