Choker Top Outfits: Chokers are undoubtedly one of the most worn and raved-about accessories during the 1920s, and they reappeared during the early 2000s – but this time, they were here to stay. Chokers have not only been a fashionably unique accessory to wear but also hold their significance in history.
With the clever way that mind works, the fashion industry produced and presented the choker top gaining inspiration from the necklace. These blouses are made in all shapes and sizes. And you will easily find this style of blouse fit for any occasion, from formal wear to streetwear.
Not only this, but celebrities like Selena Gomez, Hailey Bieber, and Kendall Jenner have been serving some looks in this super trendy neckline.
How to Style Choker Top?
Choker tops are not only fun to style, but they look super cool!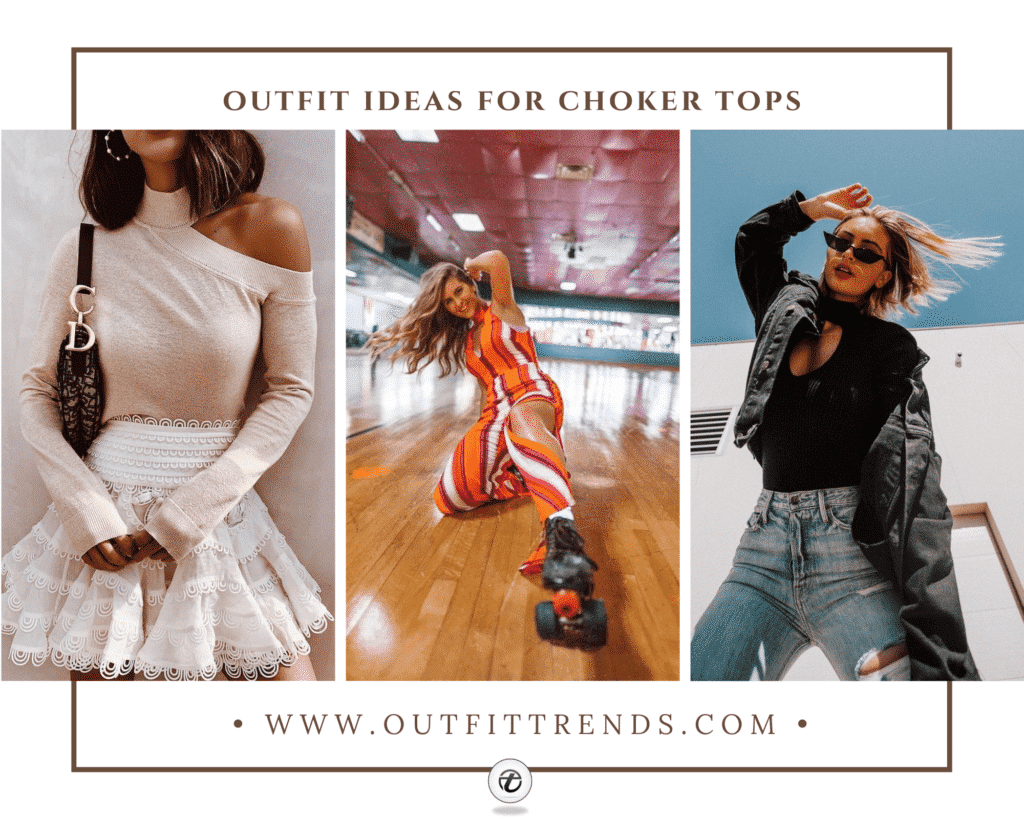 Where to Buy Choker Blouses?
We have rounded the best places where you can get your hands on this fashionable necklined-blouse!
Asos: They carry a variety of dresses and tops with choker details. Check them out (here).
Revolve: This black off-shoulder choker top (here) is so easy and fun to style.
Next: The details on this white blouse (here) are stunning and perfect for office wear!
Shein: From this edgy graphic tee (here) to this gorgeous sequined number (here), this brand has got you covered with its choker details.
Forever21: This romantic blush neck top (here) is perfect for a date night.
Also, have a look at Ideas on How To Wear A Choker Necklace.
↓ 36 – Long Sleeves Choker
This look is easy on the eyes and is the perfect amount of sexy yet sophisticated. The monochrome check-pattern shirt matches the ripped black jeans and black jacket. The cat-eye details on the sunglasses are unique and compliment the gorgeous black bag.
We love that the accessories have been kept simple, but we suggest adding on some dainty gold earrings to match the necklace!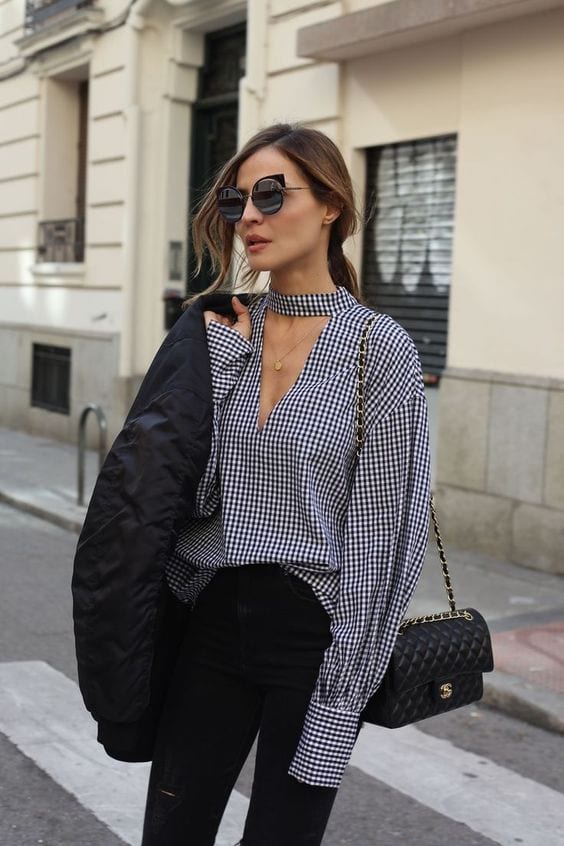 Shop the look below:
Zara Black & White Gingham Choker Blouse $28
ASOS Oversized Bomber Jacket $50
Chanel Black Lambskin Classic Handbag $8000
↓ 35 – Rollerskating Fit For Choker Style Neck
This detailed choker jumpsuit is absolutely fun and unique wear for an exciting day out with the crew. The bright colors immediately remind us of the summer, popsicles, pool parties, and everything nice.
Pair this jumpsuit with some chunky gold hoops and a messy high ponytail. Add in some white sneakers for the footwear, and you are all set!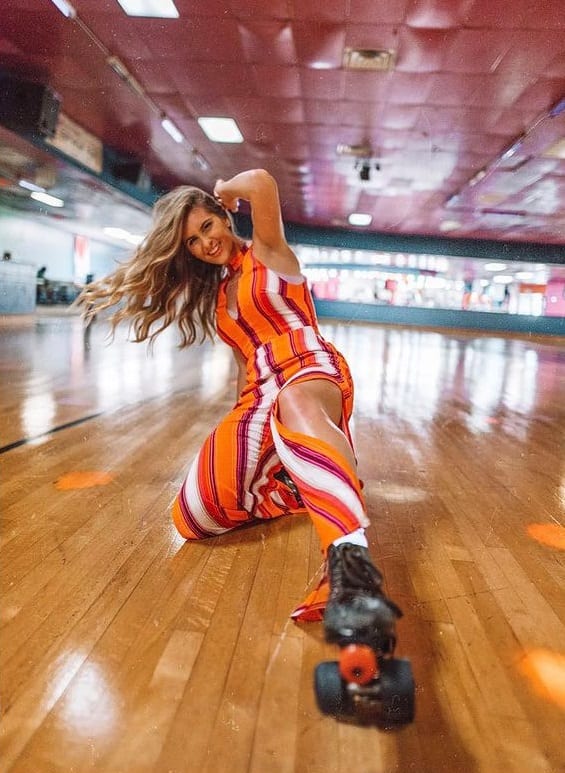 ↓ 34 – Vogue Top Fashion with Kendall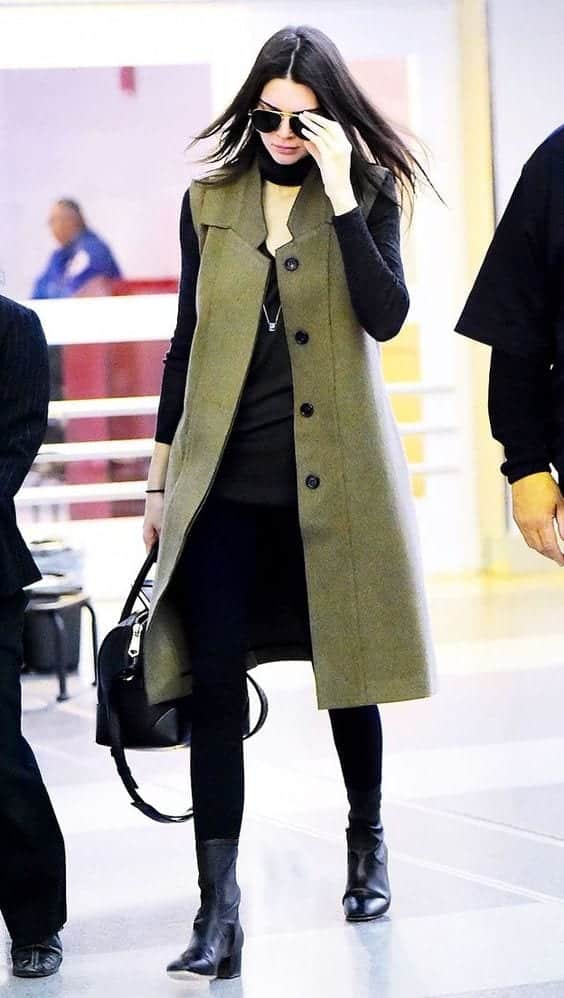 ↓ 33 – Countless Shades of Grey
This outfit is perfect for a semi-formal gathering or an official meeting. The subtle color palette is fantastic on the eyes and looks oh-so modern with the tied details on the blouse's neckline.
Moreover, we love the pair of plaid pants with this top. Pairing black shoes and a bag with grey provides just the right amount of pop to this muted outfit!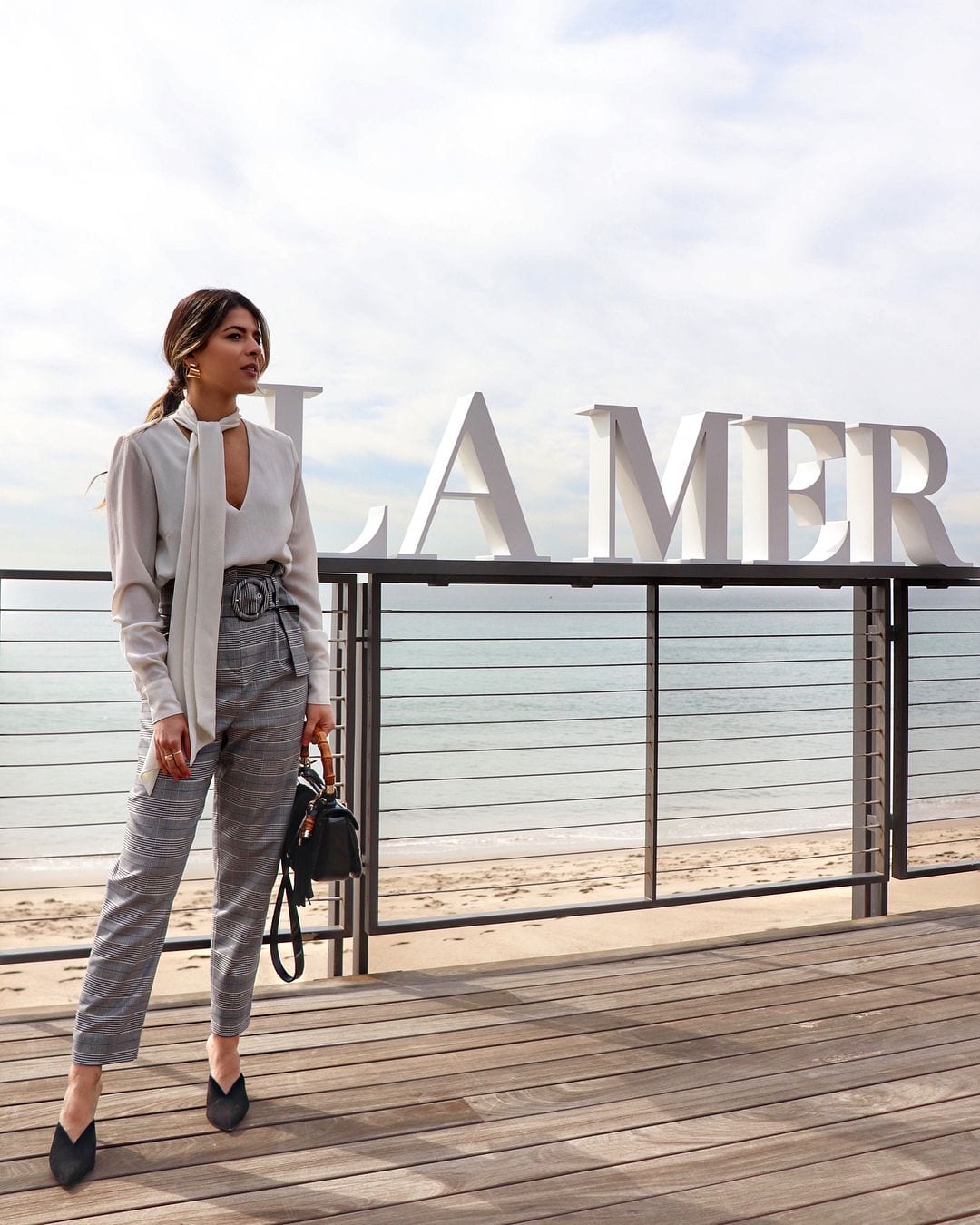 ↓ 32 – All the Leopard Print!
Leopard print is a classic which can be incorporated into any piece of clothing and look flawless while wearing. Just like this red and leopard printed cut-out choker blouse! Pair this top with light-washed denim jeans or shorts according to your mood for the day.
Wear black heeled boots with this outfit and accessorize them with sparkly earrings to complete the look. Also, have a look at Outfits with Leopard coats-20 Ideas to Style Leopard Print Coats.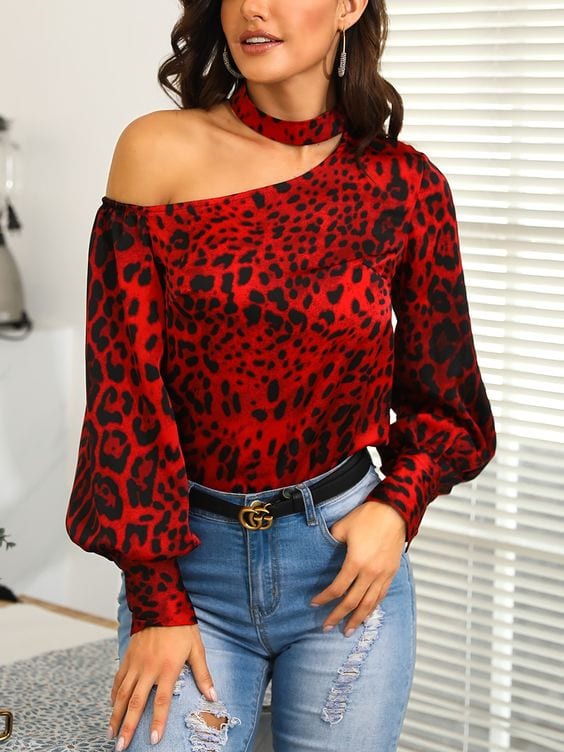 ↓ 31 – The Jumpsuit Edition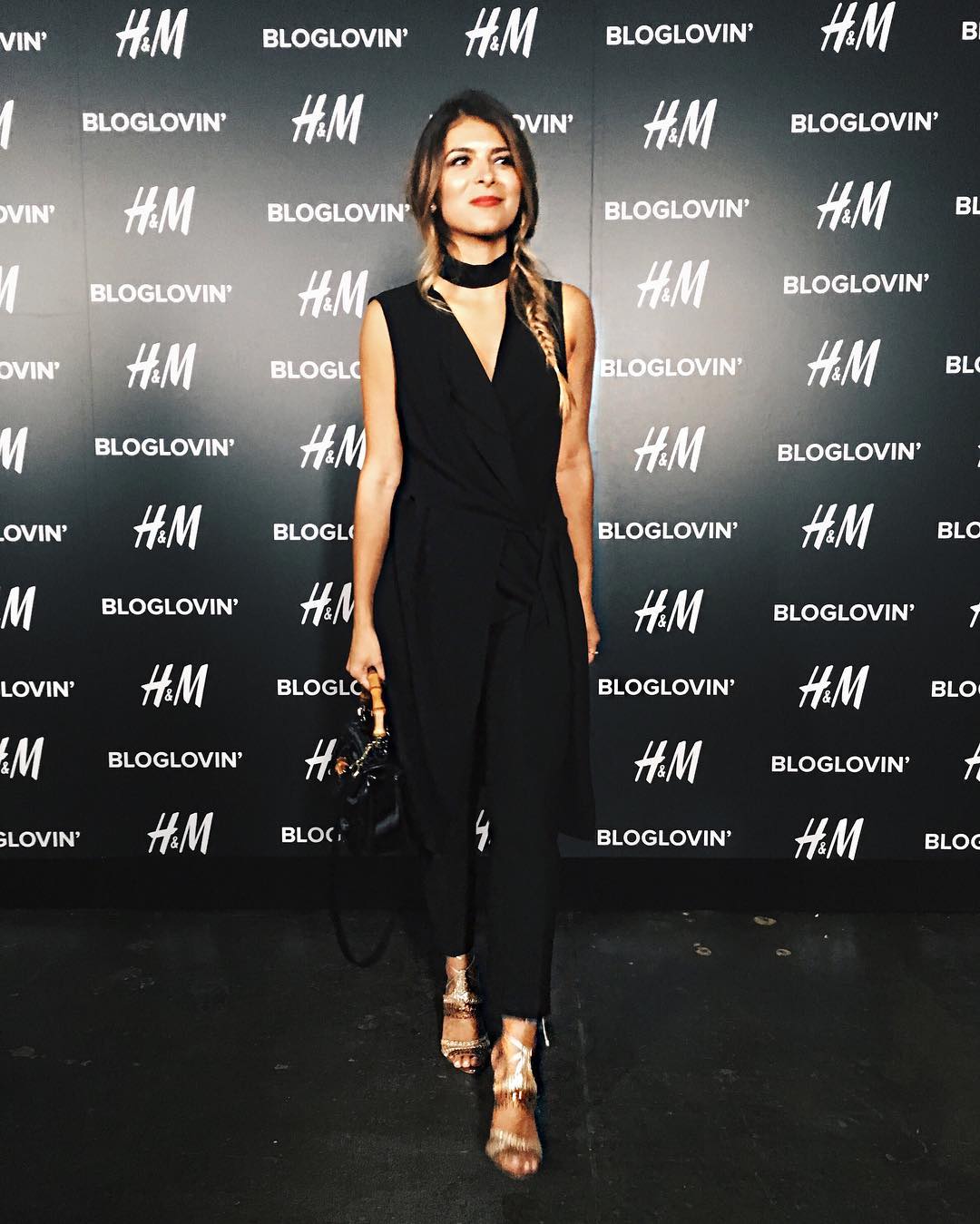 ↓ 30 – Cold Shoulder Choker Shirt
A cold-shoulder choker shirt can easily be an everyday wardrobe staple. The top can be styled in any way according to the occasion you are dressing for. Want to keep it casual? Style the look as it is done below with capri pants or denim shorts and boots. Are you dressing up for a formal affair?
Tuck the shirt in with some skinny denim jeans, add gorgeous nude or white stilettos, and accessorize with a fancy clutch bag and jewelry.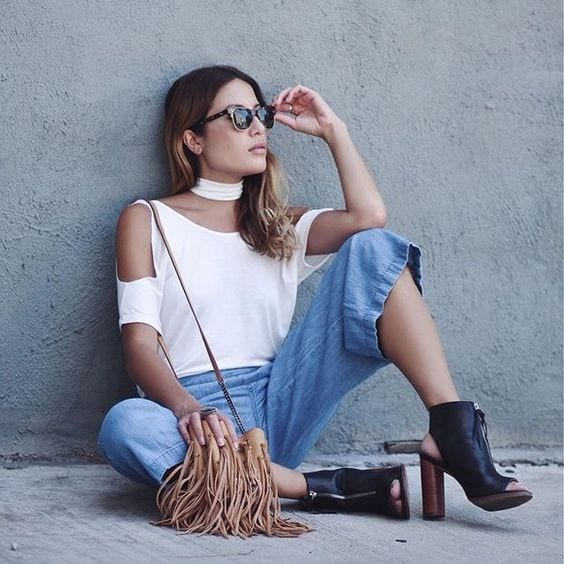 ↓ 29 – Accessorise it
Accessories can genuinely turn your entire look around within seconds. So make sure not to forget to wear your jewelry items and carry your favorite purse. Then, make it fancy by swapping for sparklier, classy pieces, and glam it up by styling your hair and playing around with make-up!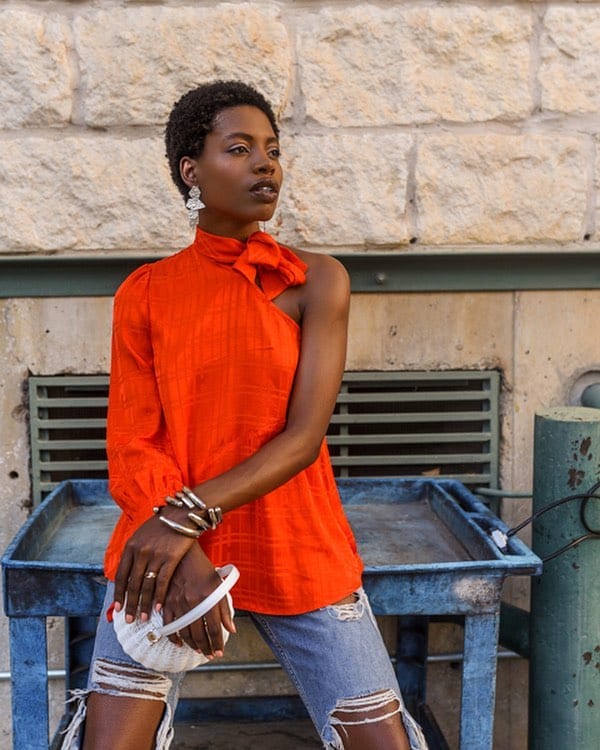 Shop the items right here:
ASOS twist neck detail top in self stripe $95
Topshop double rip mom jeans in bleach $45.99
Mila Earrings | 18k Black Rhodium Plating $50
↓ 28 – The One with the Detachable Choker
Detachable choker tops are romantic and give you a slightly edgy, mysterious look. This entire look is the definition of playful and flirty, perfect for a date!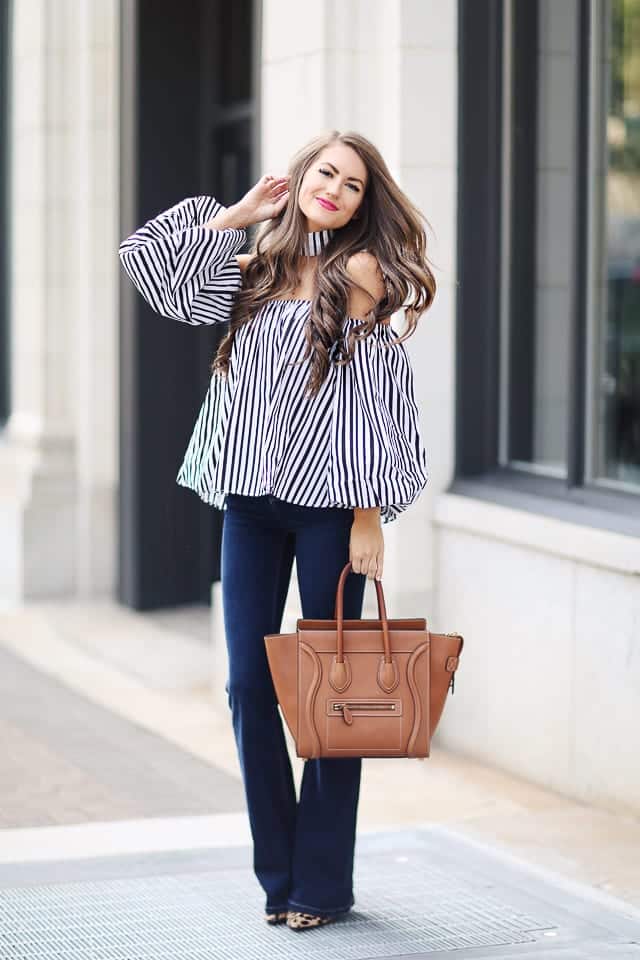 ↓ 27 – Office Wear !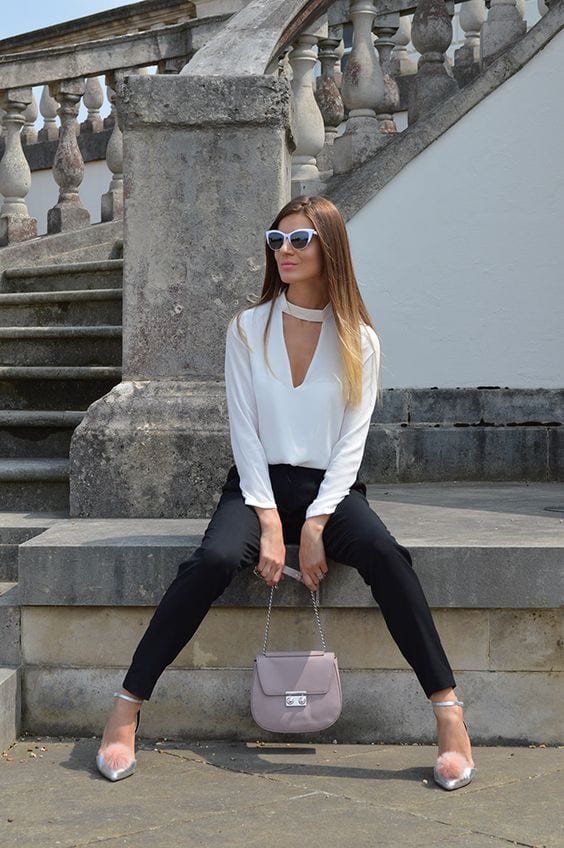 ↓ 26 – Velvet
Velvet choker blouses are perfect for when you are ready to have a fun night out with the girls. It can also be worn during the winter season paired with the right jacket and shoes. Also, have a look at Outfits with Velvet Bags – 20 Ways to Style a Velvet Bag.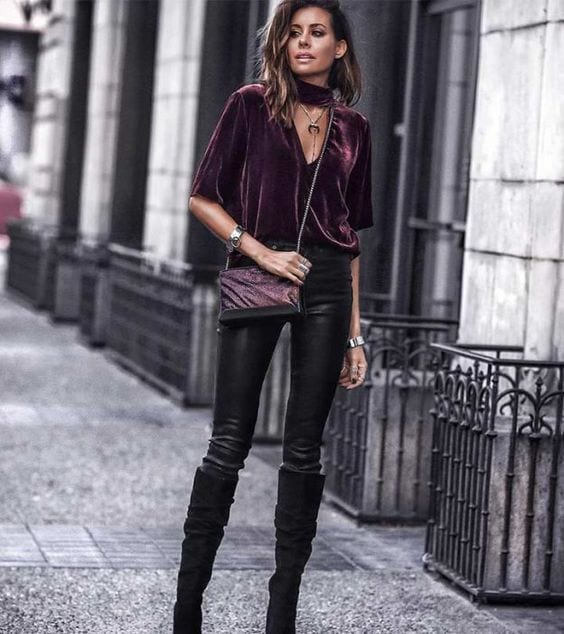 ↓ 25 – All About Blues!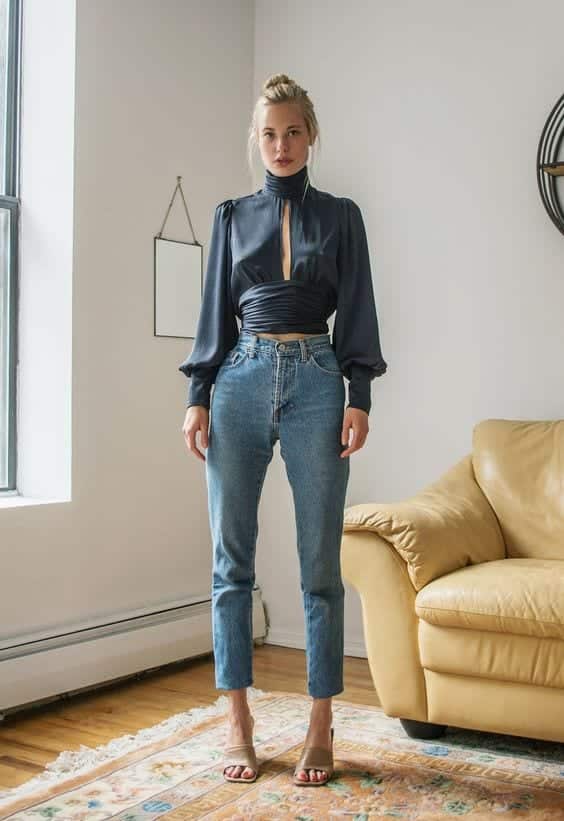 ↓ 24 – The White Dress
How cute is this look?! A white dress with a choker-detailed neckline is just the right amount of dressy and playful. Pair this outfit with a cute straw wedge sandal, and you are ready for a trip to the farmer's market or plant shopping.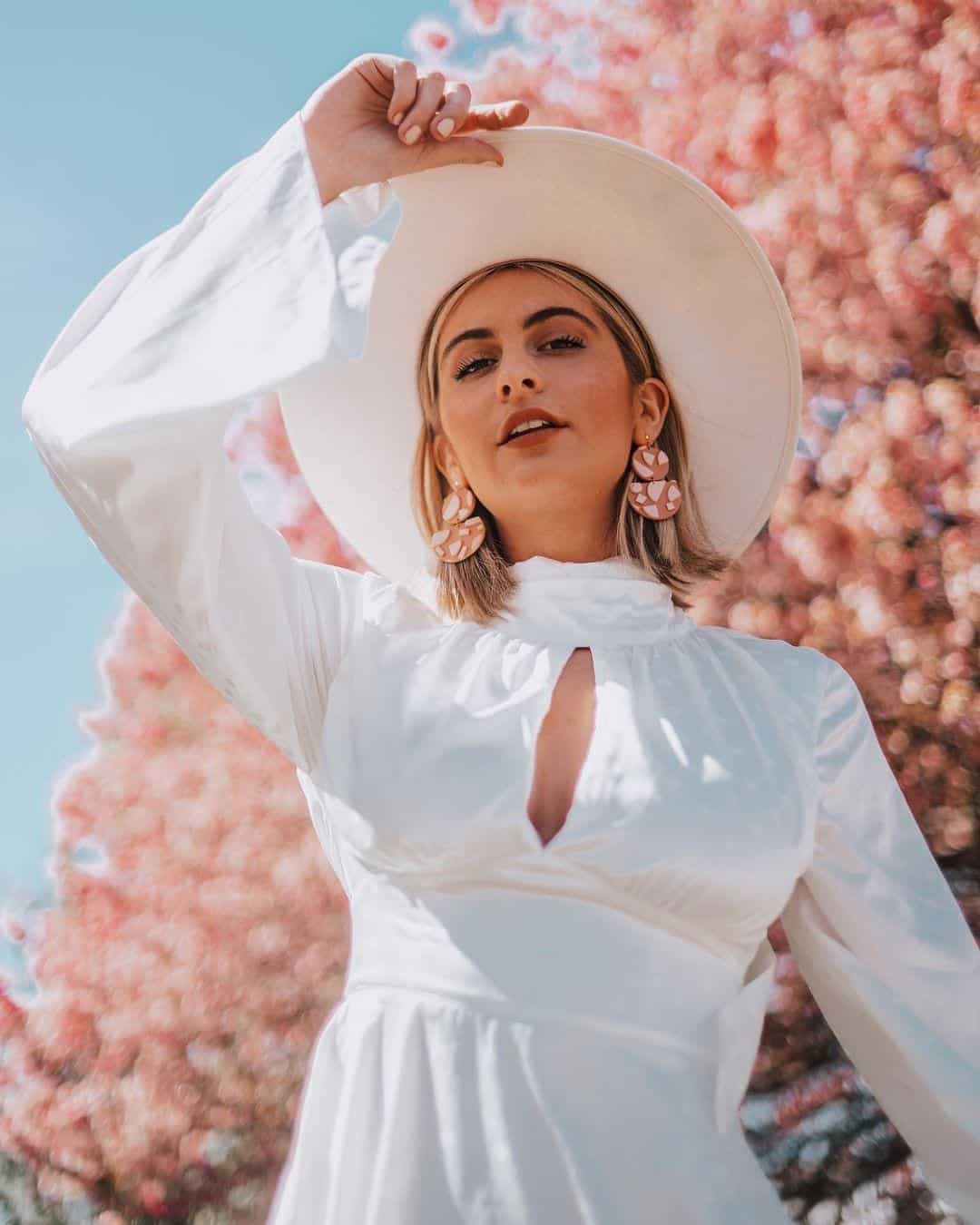 ↓ 23 – Fringe has Entered the Frame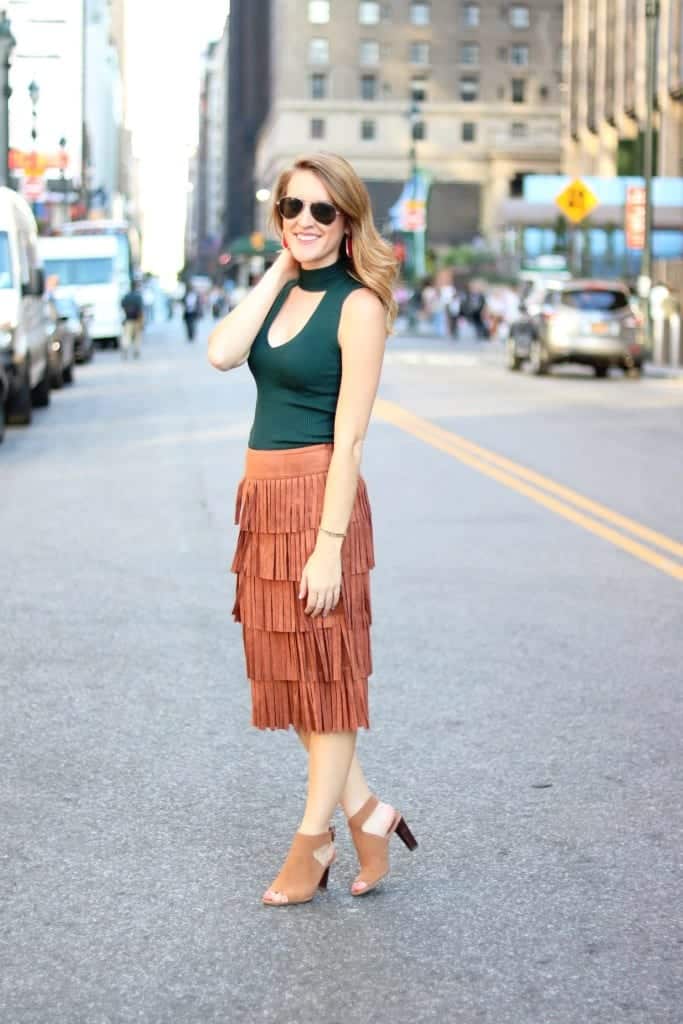 ↓ 22 – Outfits for Plus-Sized Women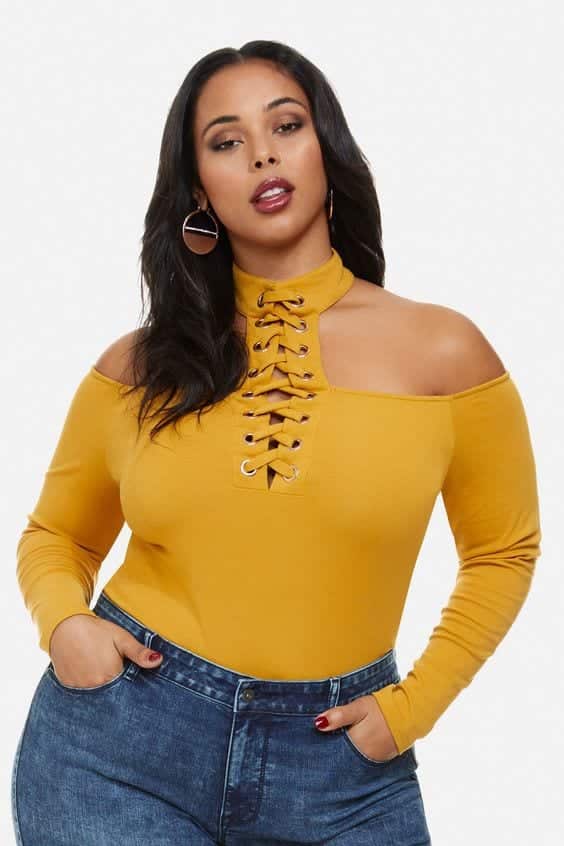 ↓ 21 – Brown Leather Pants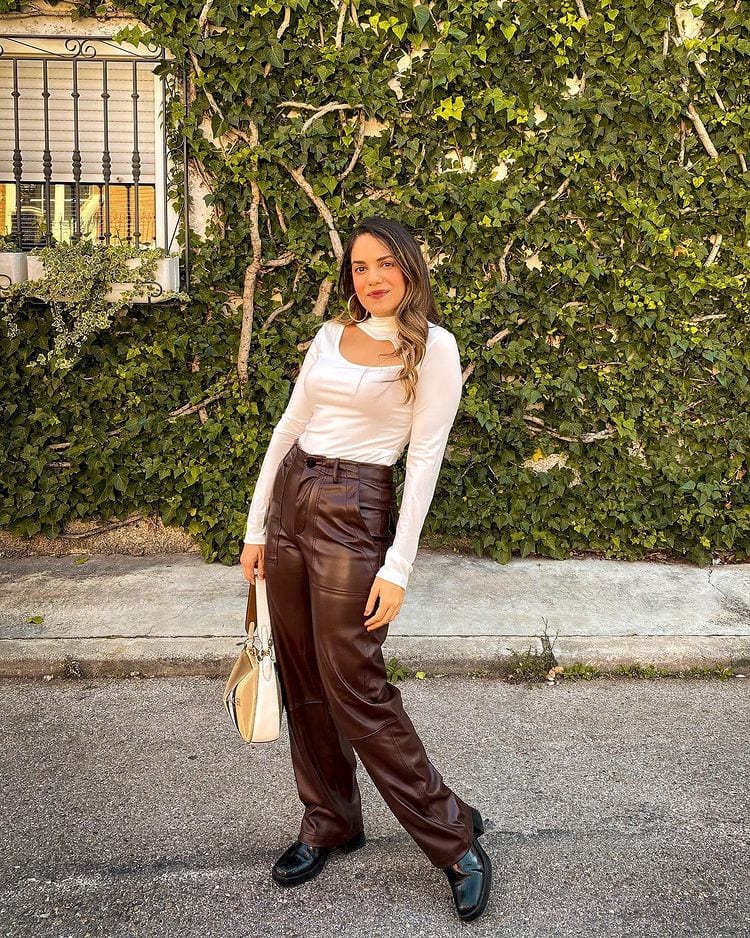 ↓ 20 – Gothic Style
This all-black outfit is the ideal inspiration to all the goth and grunge lovers out there for wearing choker tops! Of course, you can wear this attire as it is and look flawless, but if you wish to add your unique touch, we have some suggestions.
First, swap this skirt for a layered leather one to amp up your fit. Furthermore, to add a bit more texture and color, wear a graphic printed tee shirt with choker details on the neckline. You can shop for such tops right (here). Finally, to attain the ultimate grunge inspiration put the heels aside and add a fantastic pair of black lace combat boots.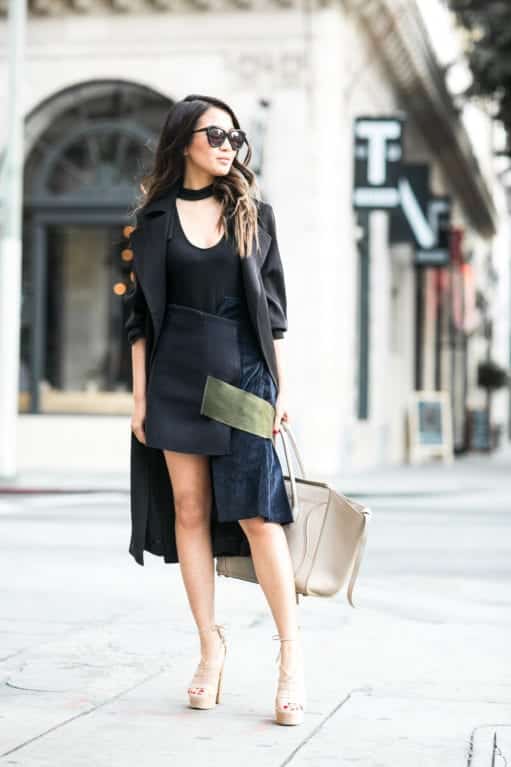 ↓ 19 – Stripes To Tie It All Together!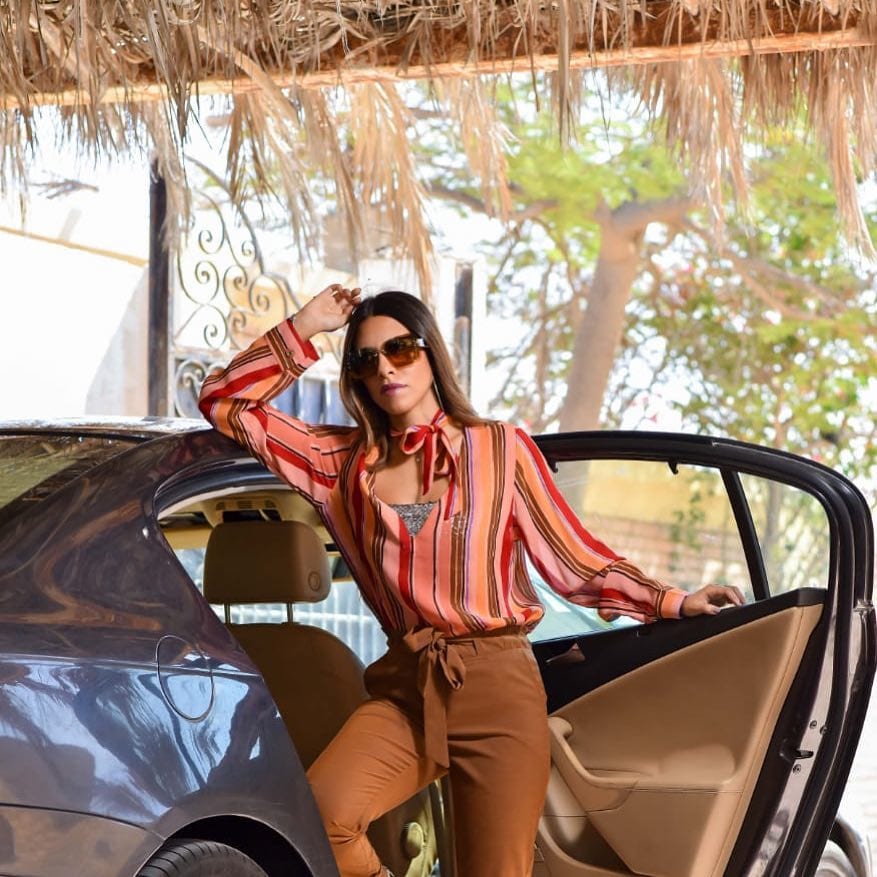 ↓ 18 – Edgy & Chic!
The denim skirt looks flawless with the black denim choker top!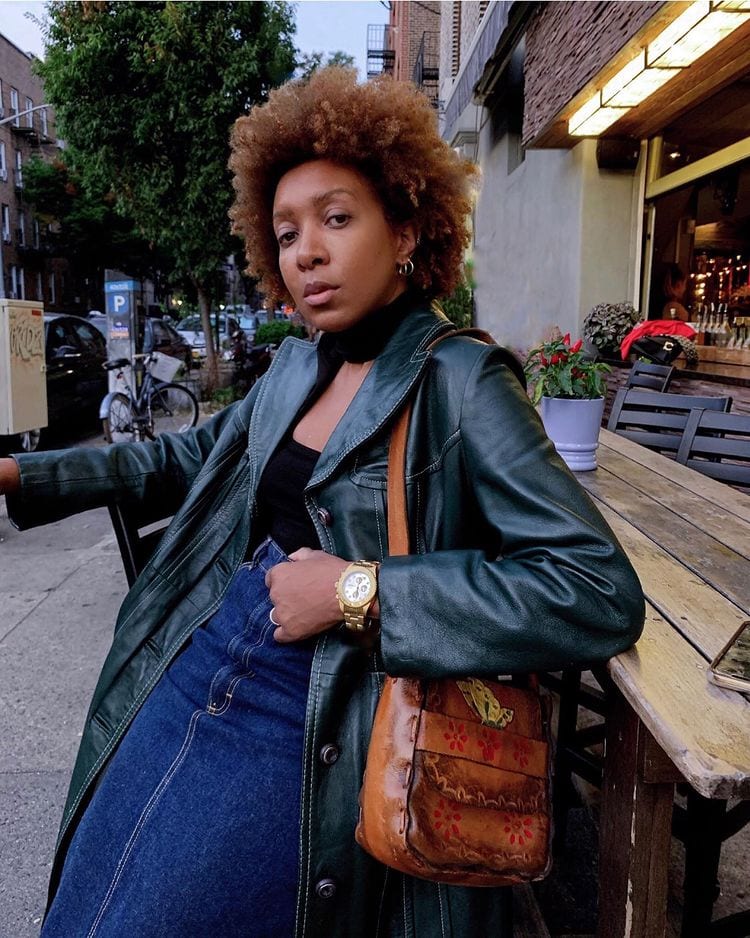 ↓ 17 – Simple Elengance
You can not go wrong with simply pairing a pastel top against light-washed jeans. This outfit proves just that and more!
We adore the details on the top with the choker neckline, off-shoulder cut, and cuffed sleeve. Moreover, this color is perfect for the current spring and summer seasons.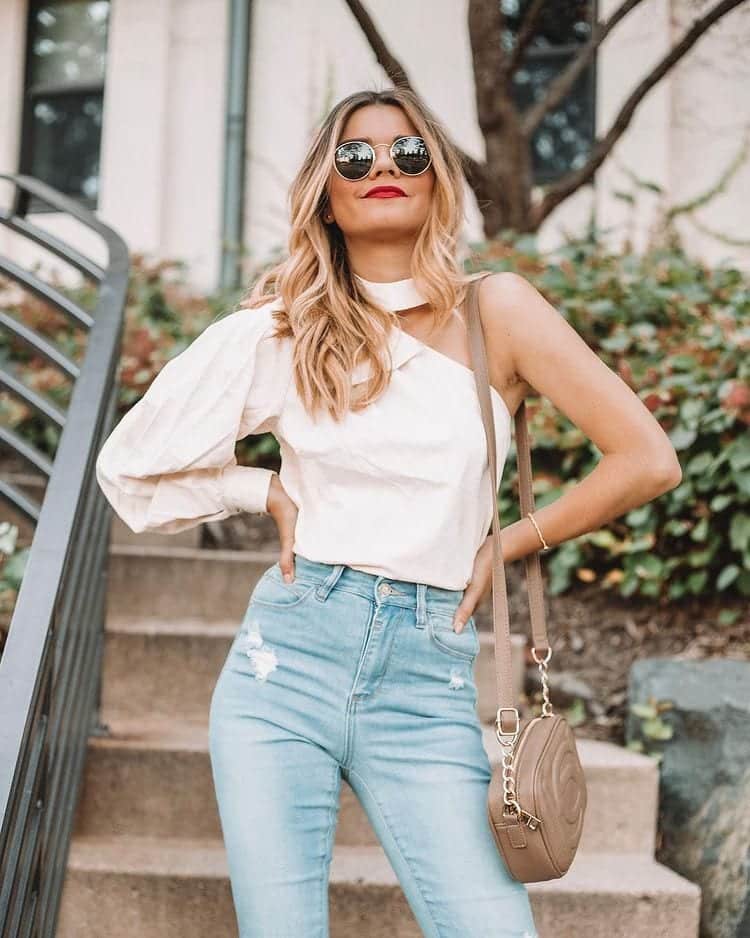 ↓ 16 – Tasselled Dresses!
The tassel details on this dress and so unique and fun! This dress is ideal for my modest ladies out there to wear as it is or with a black cardigan. Pair it with fun contemporary wooden jewelry and wedged heels to give a boho touch to your outfit.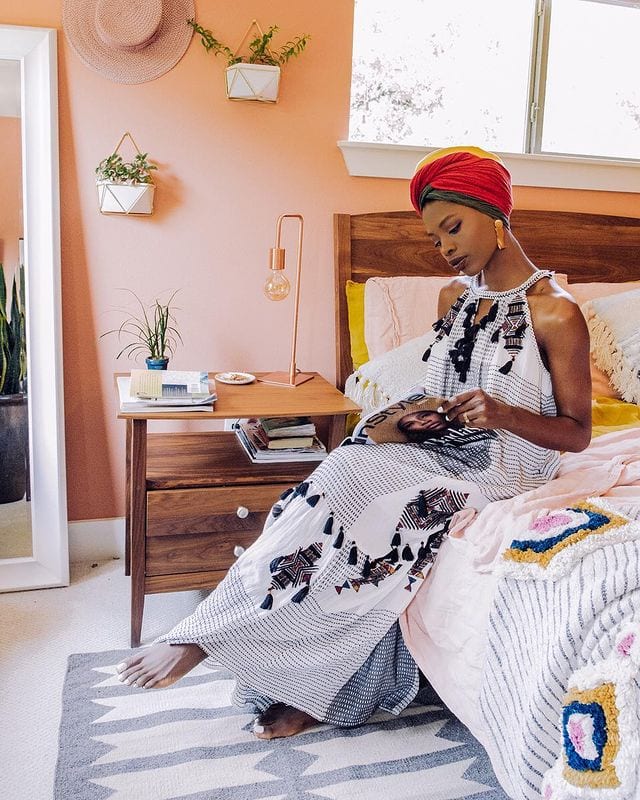 ↓ 15 – Fiery in Red Choker Dress for a Brunch Look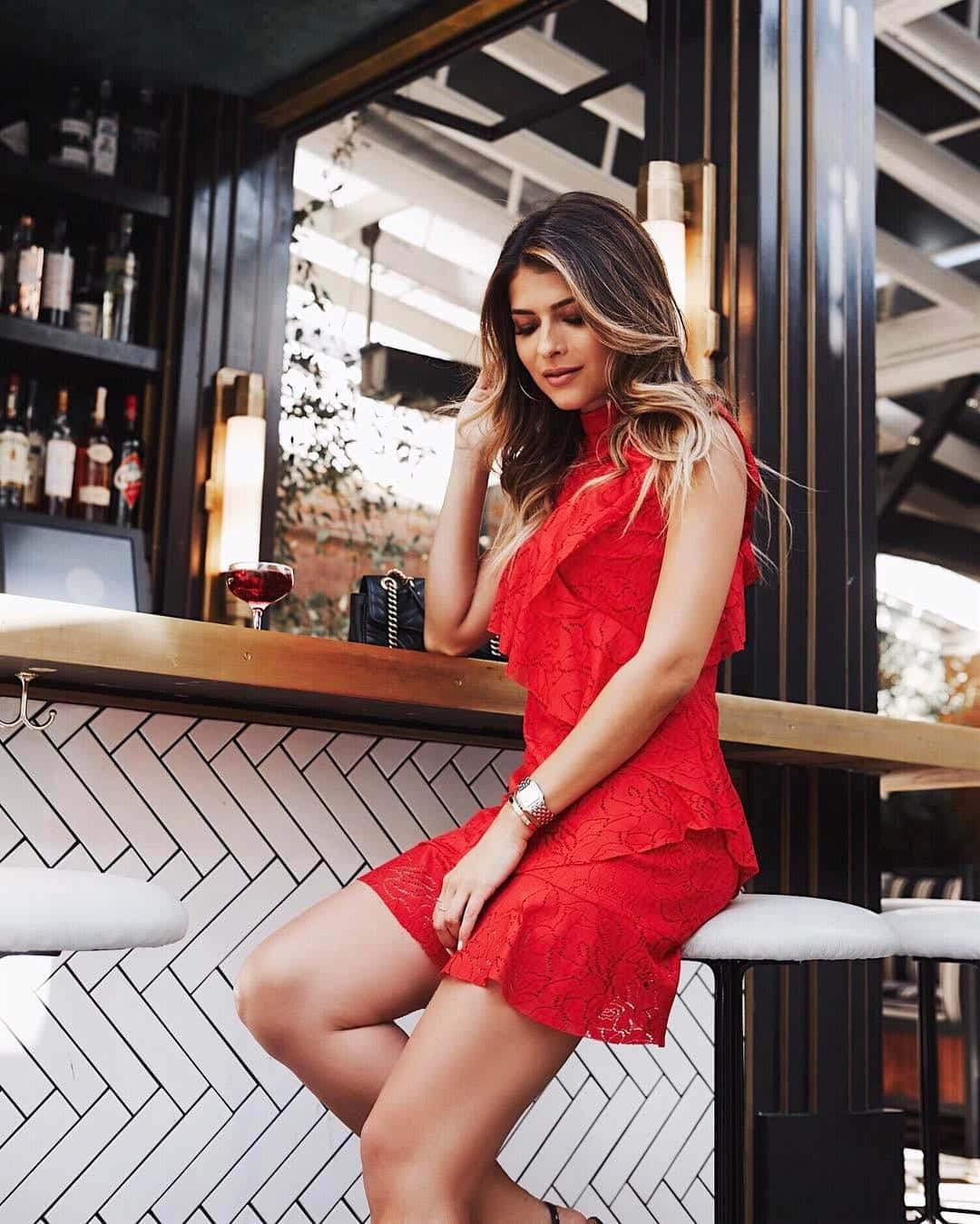 ↓ 14 – Birthday Suit
A sweet and feminine look for your sweet sixteen!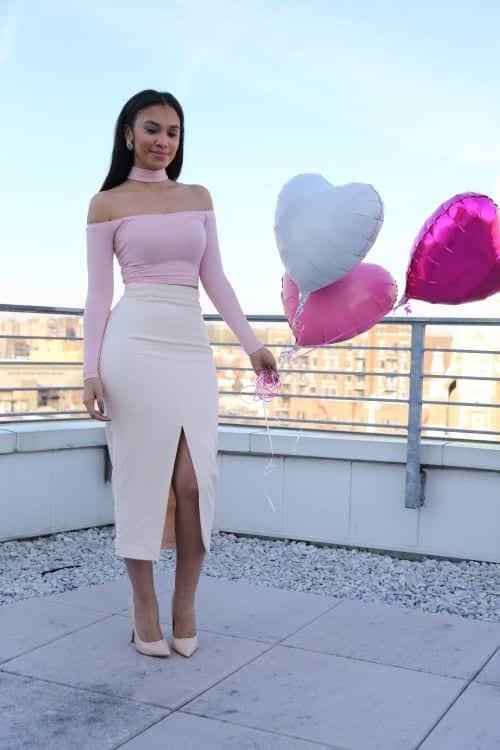 ↓ 13 – Matching Choker Set
This matching two-piece is ideal for a fun night out with the girls or a Vegas-themed bachelorette party. The knee-high boots complement the matching set wonderfully, displaying gorgeous attire!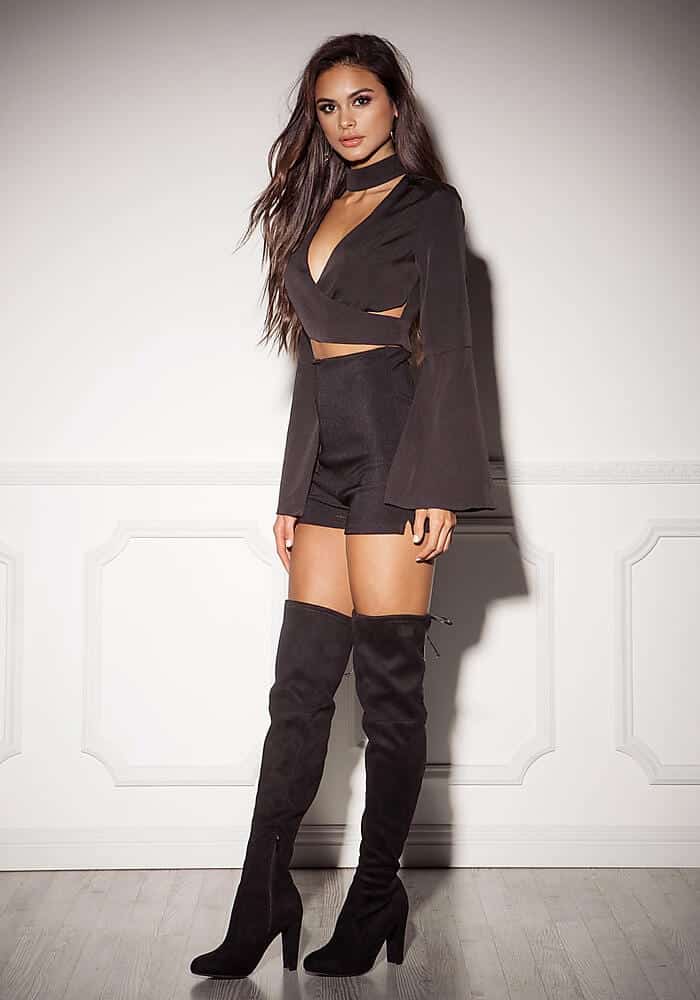 ↓ 12 – Olive Green with Leather Pants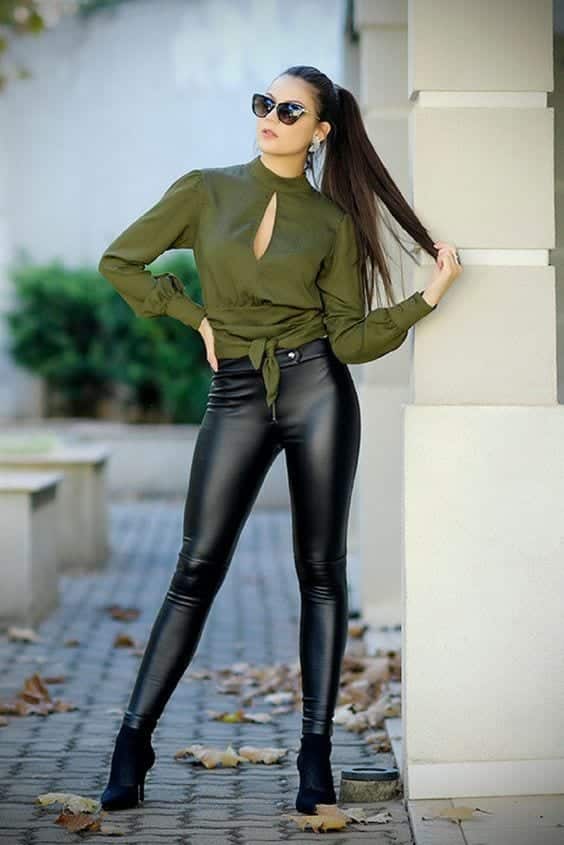 ↓ 11 – Monochrome Choker Neck Dress
Style this dress for the winter or the summer! Discard the white high-neck and jacket for the summer, and you have a gorgeous, flowy summer dress on your hands.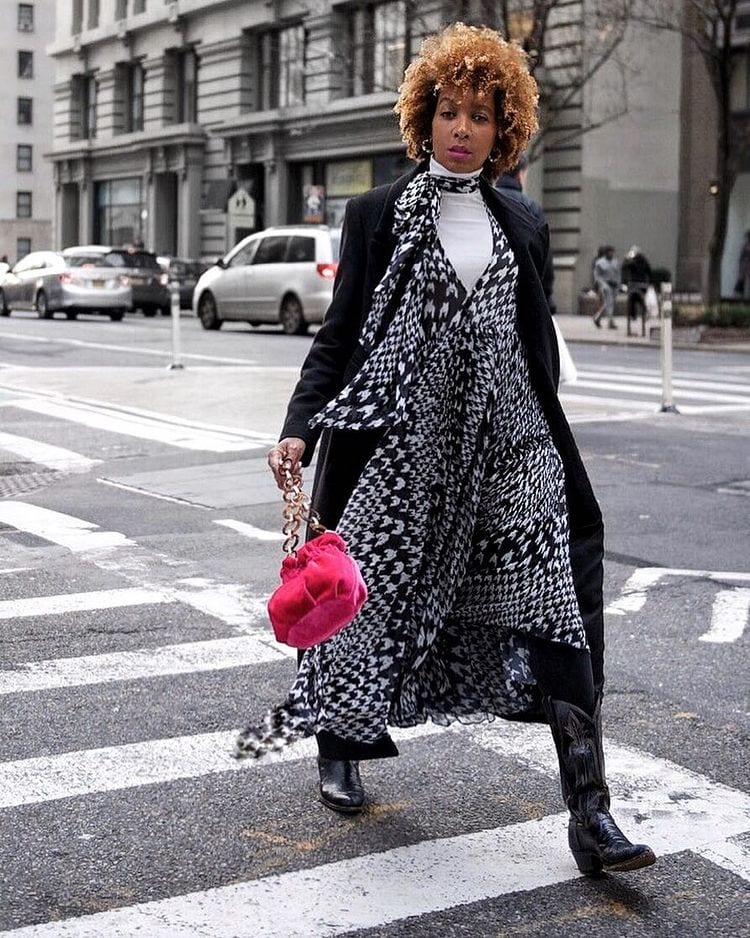 ↓ 10 – Winters Look
One glance at this outfit, and we are already sold! The icy white palette is right on brand with the winter season, and the cut-out detail on the neckline gives this look a little extra something.
Furthermore, the coat and purse add in a pop of color and tie the entire look together. Finally, we suggest swapping those shoes for white-heeled ankle boots, and you are all set!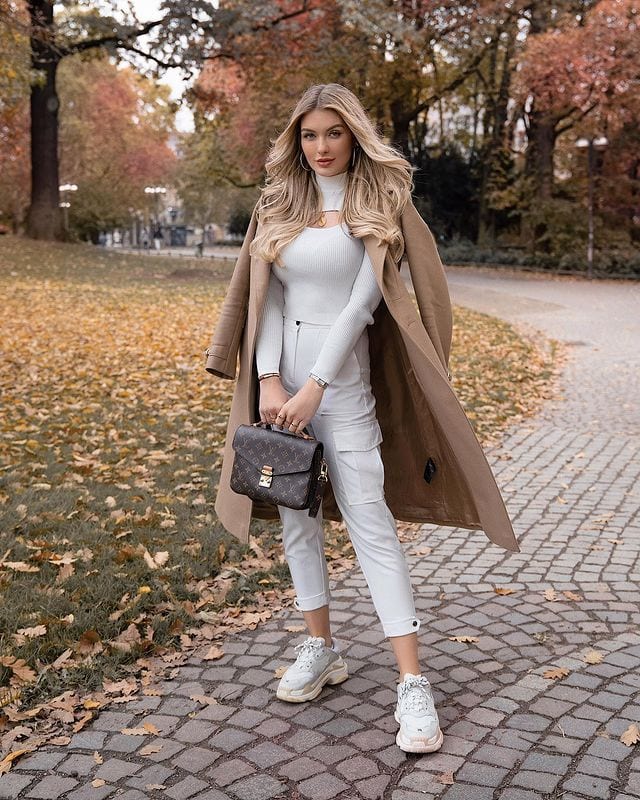 ↓ 09 – Black is the New In!
You can never go wrong with black and light-washed denim. This trendy outfit provides testimony to that statement! We absolutely love how minimal yet classy this attire is, and the ribbed detail on the top makes it the perfect wear for any season. Additionally, incorporate a statement belt to take this look to the next level.
↓ 08 – Trendy Everyday-Casual Look with Choker Shirts
Are you wondering what to wear for a relaxed, laid-back day with the girls? Well, worry no more, since this outfit is the top choice for a casual day-out. It is functional, easy to carry, and super comfortable. So, swap those cute wedge heels for some tennis shoes, and you are ready for the shopping spree!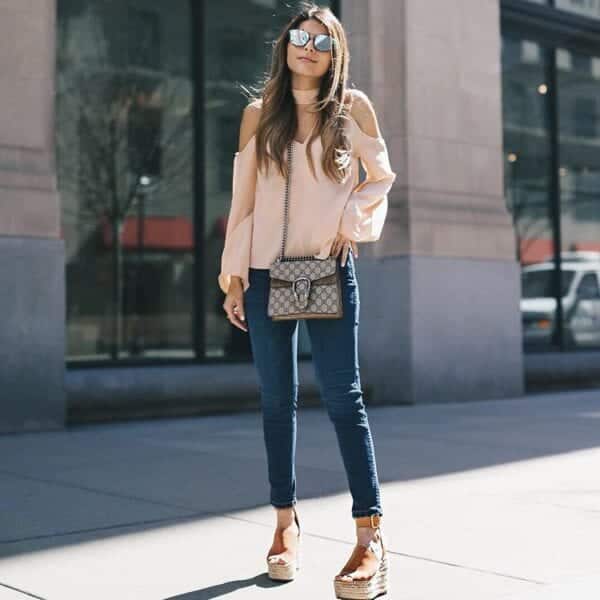 ↓ 07 – All-Black
For your formal gathering, I would suggest pairing your black choker shirt with a satin wrap skirt. This look in its entirety exclaims modern, sophisticated, and oh-so chic.
We love the statement gold accessories, especially the earrings and clutch, which look flawless against the black outfit. To top it all off, we have the red lip and perfect-skin make-up look. What a dreamy look!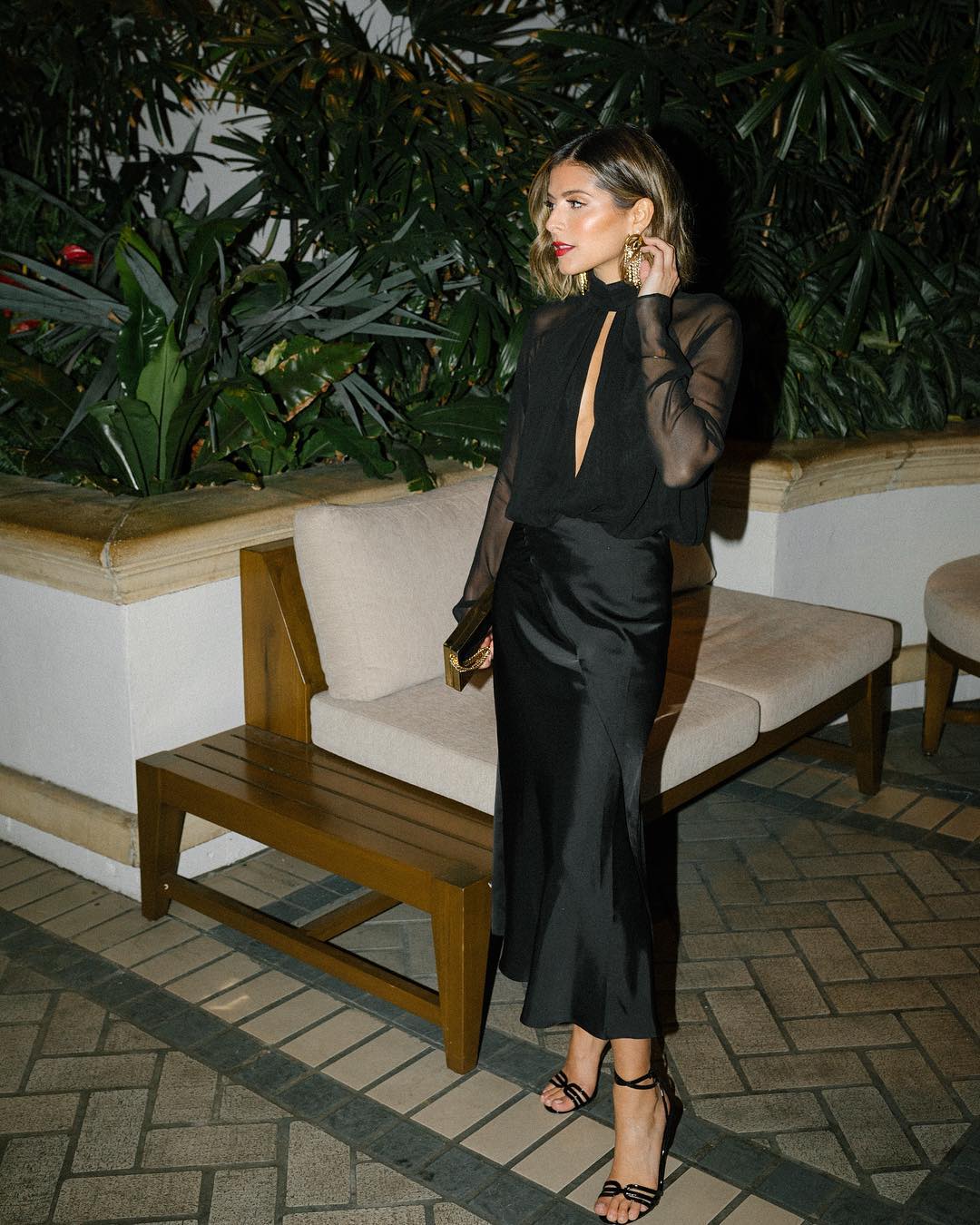 ↓ 06 – Cut-Out Choker
What a modern yet classy outfit?! This look is perfect for teenage girls who love to wear trendy and feminine clothing. The pastel color palette and the lace trim details on the skirt are to die for. Furthermore, the pearly gold hoops are right on point with modern fashion. Wear a cute pair of white or brown ankle boots to match the bag!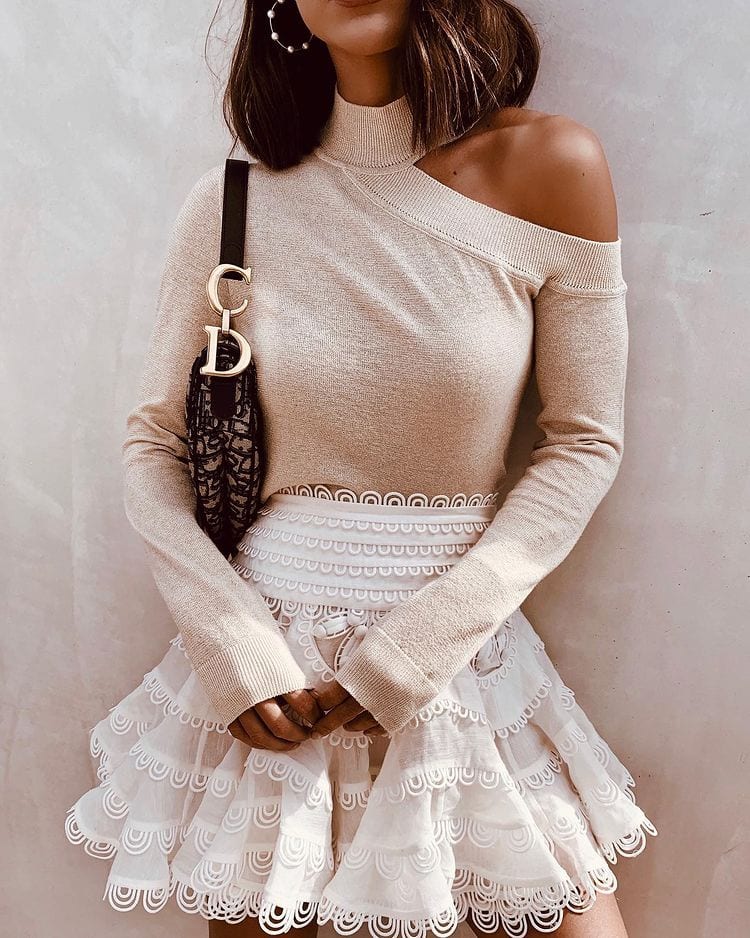 ↓ 05 – The Minimal Way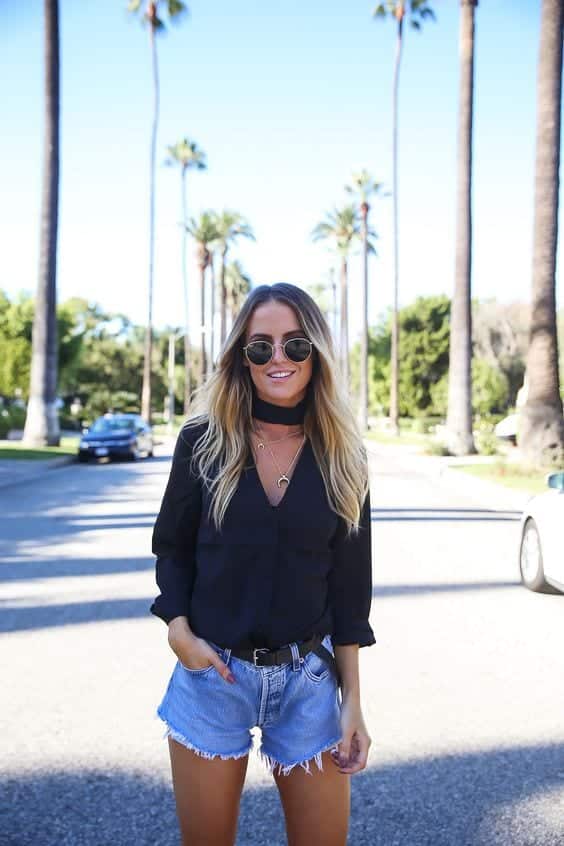 ↓ 04 – Birthday Suit with Lace
Fun and flirty, sexy, and romantic are the first few words that immediately pop into my head at first glance on this birthday fit. Not only is this attire perfect for a fancy birthday celebration, but the bride can also wear it for her bachelorette or rehearsal dinner.
The lace details, fitted silhouette, and puffy sleeves make this jumpsuit perfect for a significant event you do not wish to forget! Also, have a look at 29 Cute Outfits with Lace Up Ballet Flats – How to wear for more ideas.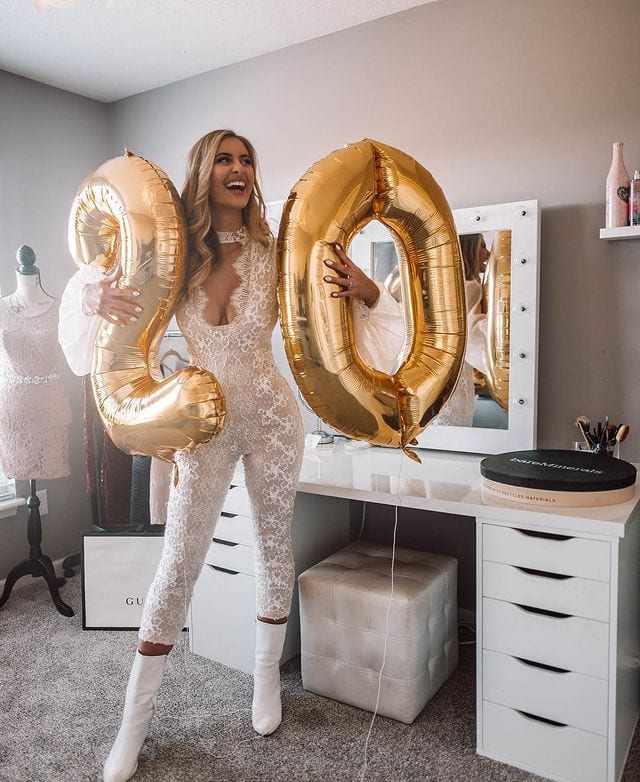 ↓ 03 – Trendsetting with Hailey Baldwin!
What a chic and vogue look for the streets?! This ensemble is the ideal definition of streetwear, from the messy high ponytail to the striped pants. The red lip presents just the right amount of contrast against the grey choker neck top, which we love.
Furthermore, the boots and the fur-detailed jacket make this outfit winter-friendly. Finally, we have this handbag with red and blue details to match the lips and pants and pull the entire look together. So clever!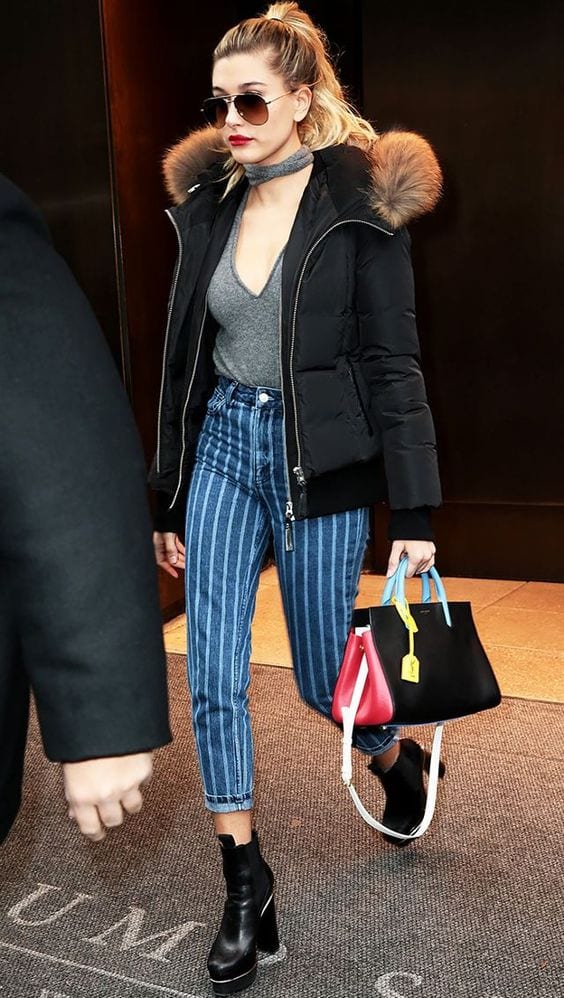 ↓ 02 – Whimsical in White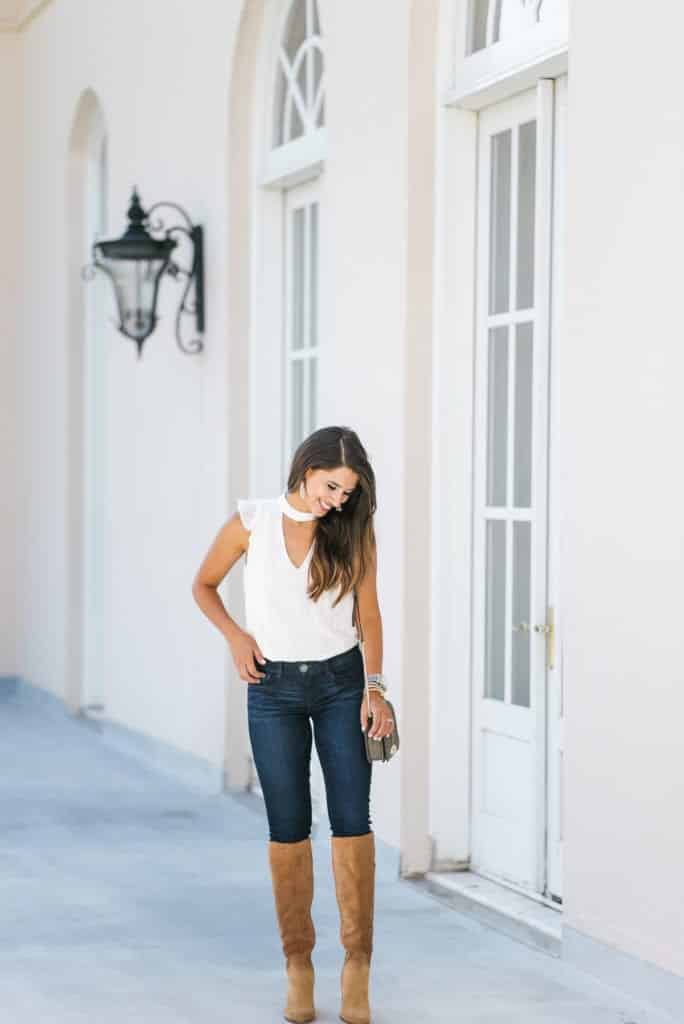 ↓ 01 – Effortless Like Selena!
Selena Gomez is the queen of styling any piece of clothing and looking effortless while doing so. She does exactly this and more in a gorgeous all-black attire with this v-neck blouse. Moreover, this outfit is impeccable for a romantic night with a significant other or for visiting a formal event.
We love the blow-dried hairstyle and the smokey eye make-up with a nude lip. Adorn some dainty pearl earrings, and you are ready!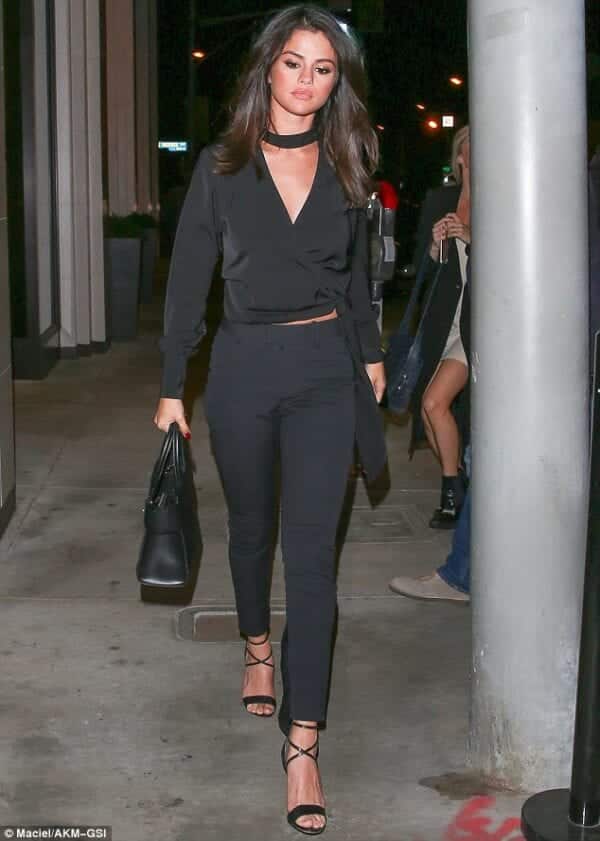 Frequently Asked Questions
Q. What are choker tops?
A. Choker Tops are a unique spin to incorporating traditional choker necklaces into your blouse. They come in so many varieties, from fitted to loose, sleeves to cold shoulders. Not only this, but this unique neckline is also produced in different cuts, for example, jumpsuits, short dresses (and long), and playsuits. They are fun to style and give your look a sexy yet subtle look!
Q. What are some ways to style a choker blouse?
A. Whenever styling any type of top, there are a few points you will have to consider.
First, what is the top cut that you wish to style. Is it lose, or fitted, long-sleeved, or short?
The material of the top usually helps you determine the occasion you want to wear the top to. Indeed, you do not wish to wear a chiffon top for a casual day out.
You must check whether your wardrobe has some pieces to compliment your outfit. For example, a pair of ripped jeans would go with any choker blouse you wear, whether formal or casual. To give it a more formal chic look, opt for some sexy stiletto heels and a fancy clutch.
Accessories can amp up your entire look within seconds.
Q. Where can I buy choker tops?
A. Some of the brands where you can find choker tops are listed above. Kindly go through the list at the top to discover the places to shop for these gorgeous tops.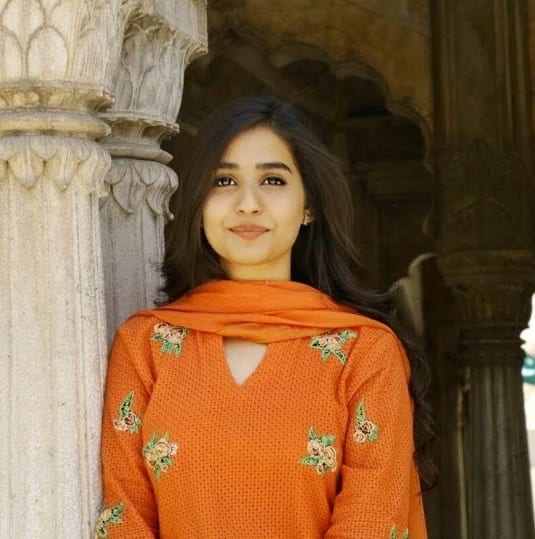 Janeeta Khan loves to write and loses herself in the world of fiction during her free time. You will probably find her curled in the corner with a Harry Potter book and a steaming mug of hot cocoa.