How to wear crochet pants – Have you tried following the latest trend but got stuck on styling them? We get it, it's hard to style something new. But, sweat no more as we bring you some amazing stylings tips for one of your favorite trends, crochet pants.
As fancy as crochet pants sound to you, they are pretty easy to wear. Crochet is the process of making your fabric look a certain way through yarn and sewing.
We love how lovely and effortless crochet pants are. They go well with pretty much everything – from a white top to a funky multi-colored graphic t-shirt. Tag along as we uncover the 20 most amazing ways of styling crochet pants!
What to Wear with Crochet Pants?
Crochet pants are not difficult to wear. You can find plenty of designs, patterns, and styles to pull off. Though these pants will work well at any event, a beach or festival comes to mind when thinking about crochet pants. So if you are looking for breezy beach outfits, try crochet pants. You just need to know what to pair them up with, something chic, and voila! You are a fashion icon.
Tips on Styling Outfits with Crochet Pants
The foremost thing you must focus on is the colors that go flawlessly with your crochet bottoms. Crochet pants are commonly white or black. Thus, pairing it with color contrasts or matches will level your look.
You can wear cotton shirts or ribbed crop tops, as crochet pants would compliment such fabrics very well.
Wear comfortable sandals with your crochets if you are on your way to the beach. Braided or light tones sandals go well along with your look. You can never neglect your footwear! Fact; most people usually notice your shoes first rather than your outfits.
Wear some fancy jewelry, like hoop earrings or belly chains, to add some extra flair to your crochet outfit look.
You can either go for a monotone look and be super classy or contrast it with something chic! Nothing can go wrong in both go these ways.
If you are on a trip to the beach, do not forget to pair it up with a glamorous hat and a cute handbag. I assure you that you will look no less than a top model!
20 – Pair Your Crochet Pants With A Bandeau Top
Let's start the list with an effortless outfit. Pair your crochet pants with a black bandeau for a comfortable and classy look.
Add minimal accessories and sunglasses to make it a perfect beach day outfit. Finish the look with a beautiful black braided slipper, and you're ready to slay!
19 – Try Crochet Pants in Vibrant Patterns
If you are looking for something on the colorful side, you can find many crochet pants patterns in the market. The colors and patterns will spice up your outfit and give you a fantastic look.
You can always pair these funky pants up with a bikini top. A white button-down shirt as an upper is a perfect pick that goes well with this outfit.
Create a similar look, and you will look no less than a fashionista!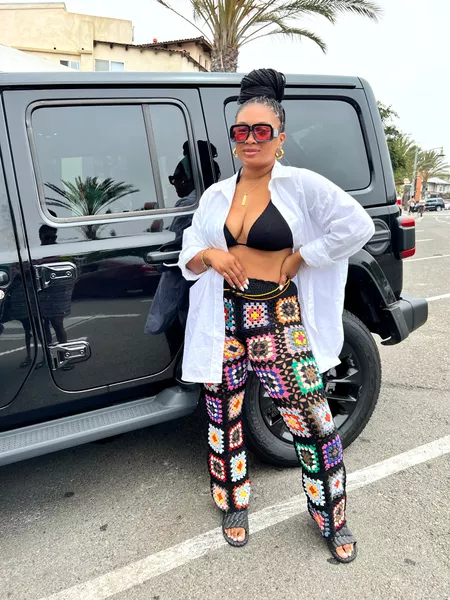 18 – Monochrome Crochet Outfit
If you are feeling too classy for the day and want to go for something much more toned down then you should go for something monochrome.
You can find several outfits that are purely made out of crochet designs. Nothing can go wrong if you go for a crochet look from top to bottom.
Pair your monotone or all-white look with a cream-colored bag and sandals, along with some sunglasses, which are very much needed to protect your eyes from the harsh summer sun.
Love white outfits? You should also check out these White Dress Pants Outfits.
17 – Night Out With Crochets
On a night out, you can always go for some crochet pants. If you are wondering how to wear crochet pants on a night trip to the beach, then sweat no more!
Just pair your crochet up with a one-shoulder ribbed crop top and matching sandals, and you are good to go! No extra efforts are needed on the last minute plan.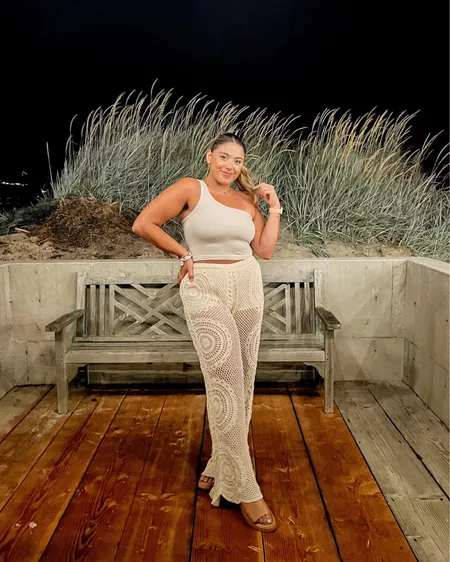 16 – Beachy Crochet Bikini Look
Crochets and beaches go hand in hand; another of your favorite or go-to looks can be a crochet bralette and crochet pants with various colored strips.
Of course, everybody would want to wear the signature bralette and crochet combo to look cute and classy.
You can match these two up and even pull off a belly chain to amp up your look! Be the trendy model you have always wanted to be.
15 – Striped Black and White
Black and white outfits can never go wrong. Not feeling the colorful looks too much? You can always choose the safer option of wearing just black and white!
This striped look is a whole meal! From the pants to the matching striped crochet upper.
You can always find these two pieces without any difficulty, and they look as gorgeous as ever!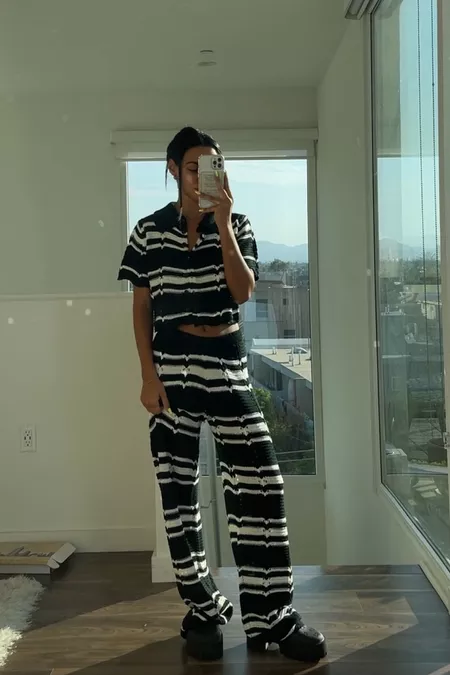 14- Contrast It Up
Contrasting your white-colored crochet pants with a bright bikini would look amazing! Go for an orange bikini set and wear your hollowed-out crochet trousers over it.
Along with a hat that would go along perfectly with your sandy look. Put on some contrasting sandals, and voila! You are good to go!
13- Play With Green and Cream Colours
Got a one-piece swimsuit in your wardrobe and want to try something other than the bikini set? Grab a one-shoulder cut-out swimsuit. It would look great with crochet pants.
Especially if you like to play with different colors, a green one-piece and a cream-colored crochet bottom can make you look nothing less than a diva!
Moreover, if you are looking for crochet outfits you won't feel naked in then this can be a great outfit for you.
12- Two Tone Crochet Outfit
Another two-tone crochet outfit, other than the previously mentioned black and white.
Two tones are the talk of the town with their fancy yet eye-catching color contrasts. This blue and green vertically striped crochet top and bottom bring out your skin color.
It would surely make everyone turn their heads in your direction because of the fashion statement that you would be pulling off.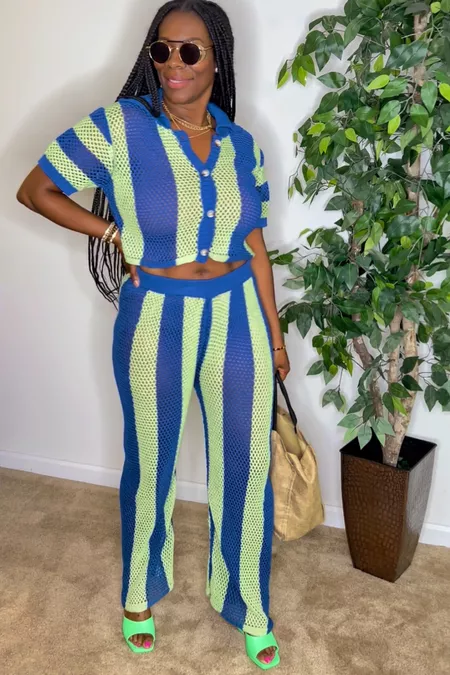 11 – How to Wear Crochet on Crochet?
The summer heat is getting to you, and you want something airy and comfortable? A crochet seems like the perfect solution for your worries. Not just the pants this time!
Try on a full crochet look with a matching crochet cardigan and trousers. With this simple yet classy look, nothing can possibly go wrong.
Hang a trendy tote bag on your shoulder and throw on sunglasses to complete the look.
10 – Casual Outfit with Crochet Pants
Are you on your way to the beach in the heat yet in no mood to show off some skin? Then don't sweat it because we have the perfect outfit for you.
Throw on a t-shirt that matches well with your crochet bottom; your fashionista look will help you not feel left out!
Spice your outfit y adding some chunky accessories. Grab a beachy hat and sunglasses, and you are good to go!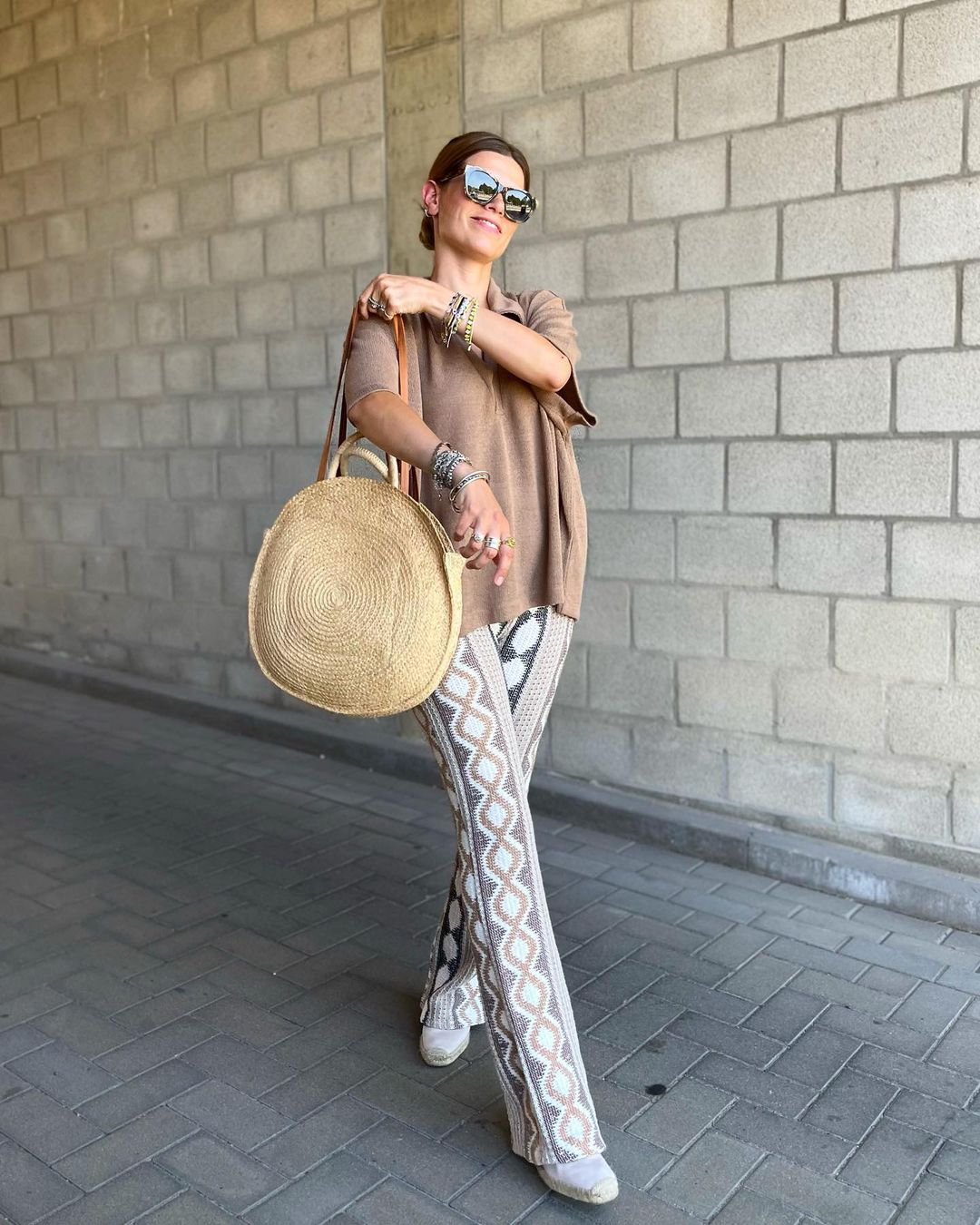 9 – With A Halter Neck Crop Top
Got a criss-cross halter top and want to try the sexy look for the day? Pair up your crochets with a matching halter top and slay that look!
You will look as alluring as ever if you pull off a crisscross top and cute crochet pants.
You would not want to miss out on this opportunity to have all the eyes will be on you for the day!
8- Try Slit Crochet Bottoms
How can one miss out on the opportunity to wear slit pants, especially when it is handwoven and crocheted? That's a whole package right in front of our eyes!
This slit crochet pant would look with any top, but it would look a hundred times better with a matching crochet top.
No extra efforts are needed, and you are ready for a picture-perfect beach day.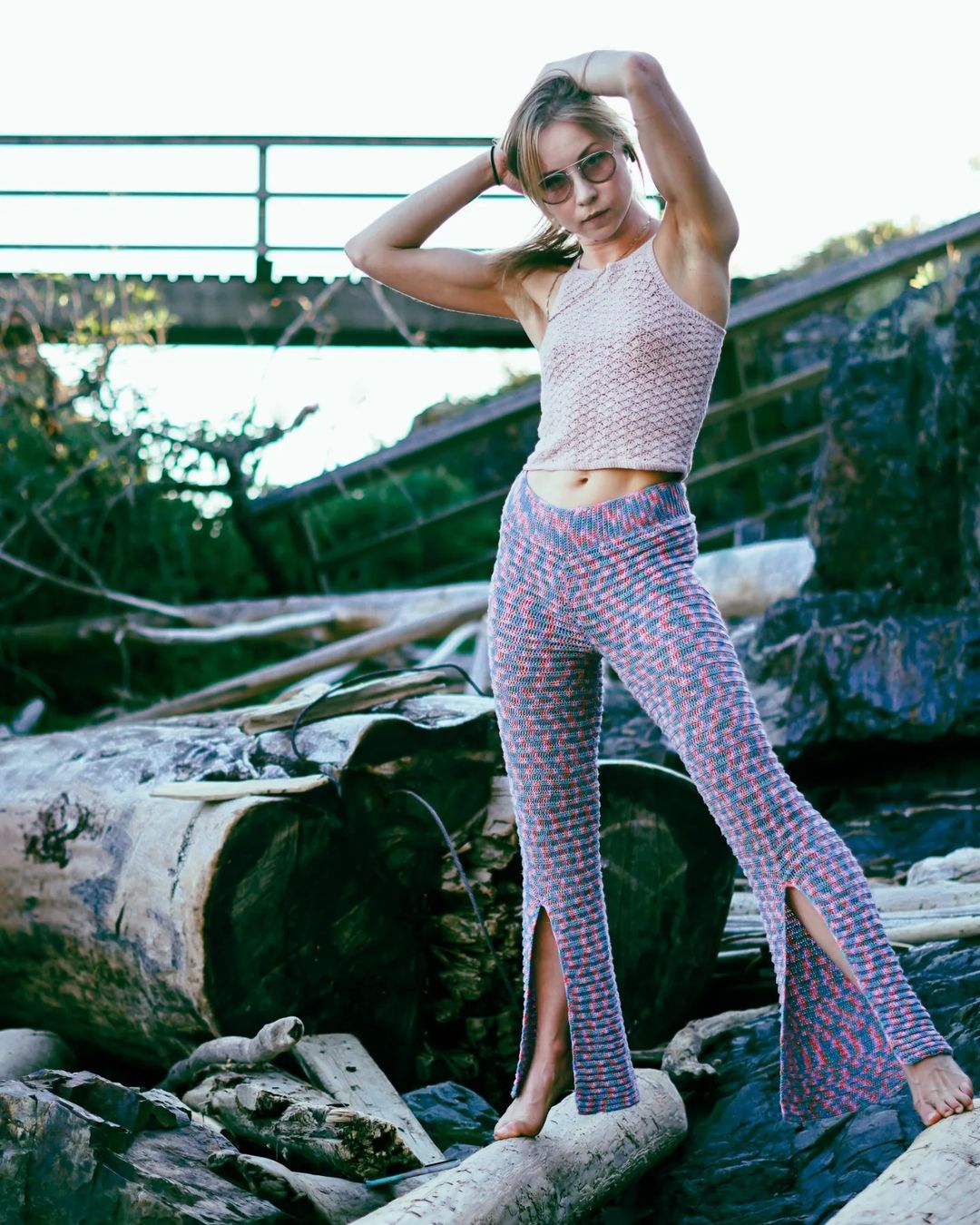 7 – Throw on See-through Crochet Pants Over Polka Dot Bikini
If you have a polka dot halter bikini in your closet, it is your time to shine! Throw on matching crochet trousers, and you are ready for your day at the beach!
Stay comfortable and trendy with these two outfit items, and you sure will steal everybody's spotlight. Plus, polka dots are never a risky option.
If you like this look, you must check out these fabulous Sheer & See-Through Outfits.
6- Add Button Down And Crochet Pants to Your Maternity Wardrobe
Most pregnant ladies want to follow this fashion trend and look elegant while carrying their baby bump. Throwing on an oversized boyfriend button-down shirt is your answer to looking amazing while staying in your comfort zone.
Not to forget, the crocheted cloth is comfortable in itself. With this comfortable and cozy look, you will have the time of your life, and so will your baby.
If you are looking for more maternity outfits, I recommend reading this post on Outfits for Pregnant Women.
5- How to Wear Crochets to Work
Not a fan of beaches but love crochet pants? No worries, here is a professional outfit for you.
You can even wear it to your office dinner or business meeting, just throw over your white button-down shirt along with a black professional-looking blazer and be on your way!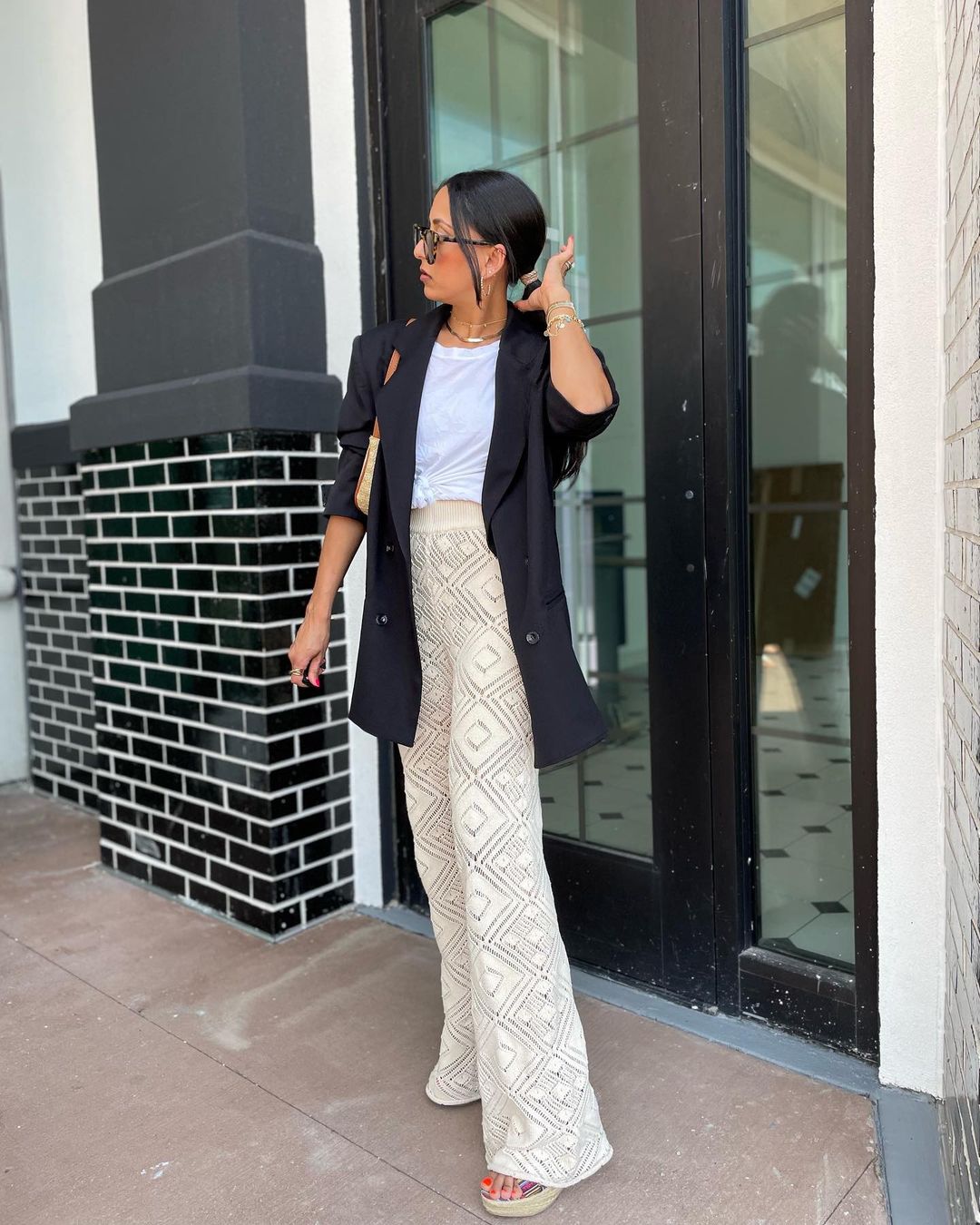 4- Everyday Casual Look
If you love your crochet pants as much as I do, then surely you want to wear them every day. Crochets are your savior, whether it's a morning walk or a friend's day out.
Wear your everyday white shorts under your white crochet trousers and pair them with a contrasting round neck crop top.
You can even wear a hand band for a super cute look!
3 – Headscarf and Crochet for A Modest Look
Whether you want a modest crochet look or love bandanas or head scarves, this look can be a perfect fit!
All you have to do is pull out your favorite headscarf, big or small, and some matching crochet pants and shirt. Your everyday modest look is all ready!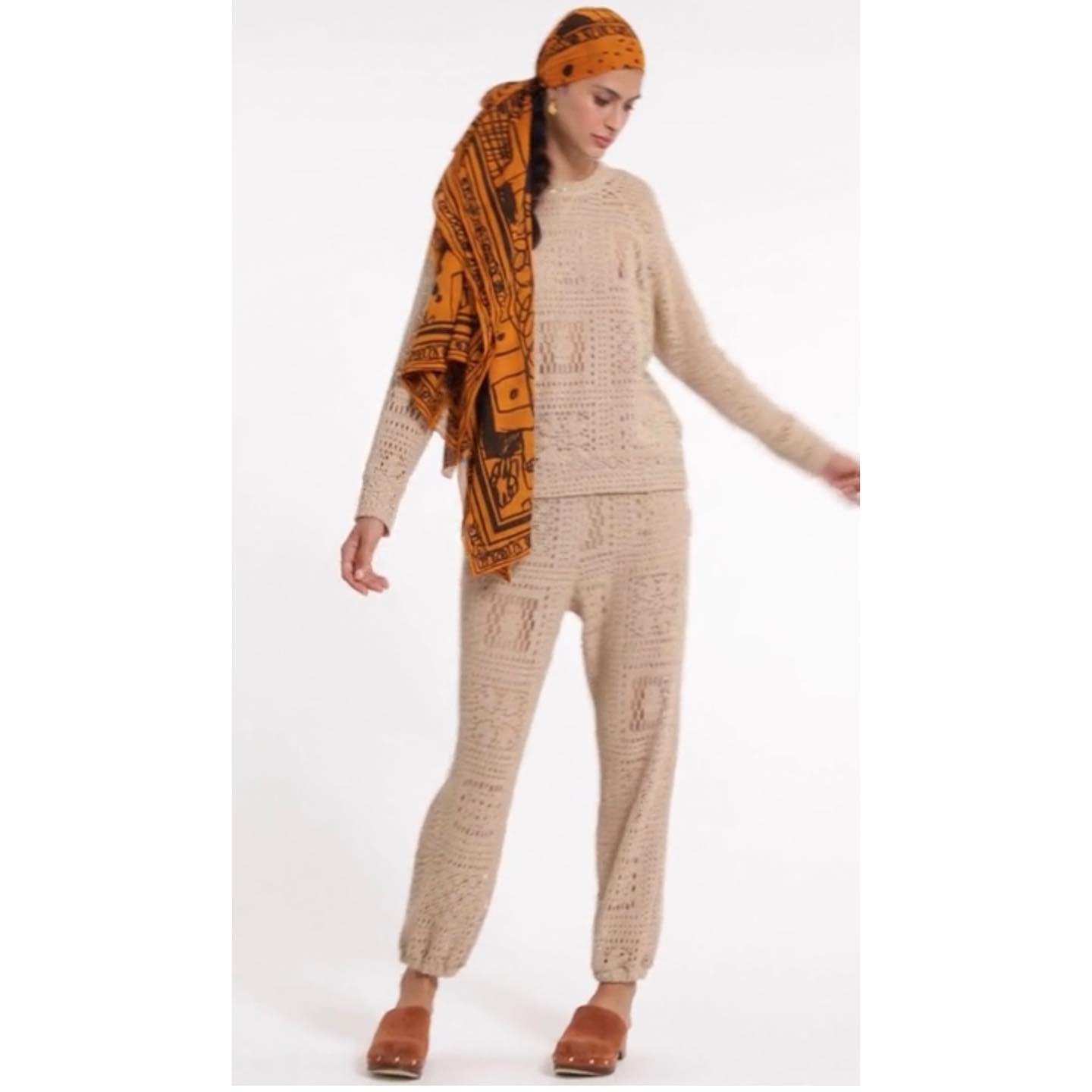 2 – Level Up The Graphic Tee
Got a couple of graphic t-shirts and didn't know how to pull them off other than with your black or blue skinny jeans or shorts. A great trend is on the way just for you!
You can wear black or white crochet pants with your favorite graphic tee. This will make you look chic with a hint of class.
Throw on a cross-body bag and some trendy glasses, and your casual everyday look is all set.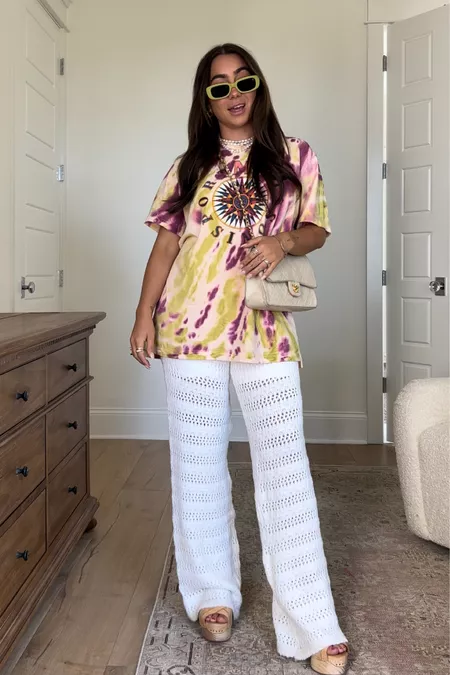 1 – Wear Crochets to Your Dinner Date
Another win for ladies who like to stay in-door! Have a late-night dinner with a special friend and want to pull off something extra cozy, comfortable, yet alluring? Crochets have come to save your day yet again!
You can find several matching crochet pants and cardigans like this one. Wear a white camisole underneath for a simple yet classy look.
Finish off your look with fancy jewelry, and there is a total guarantee that your special someone won't be able to pray his eyes off you.
Frequently Asked Questions
Q. Are crochet pants comfortable?
Woven with a very soft yarn, crochet trousers are very comfortable. They're breathable with their amazingly soft texture and stretchy, making it easier for any size to fit in! Many designers and fashion influencers have been seen supporting and wearing crochets because of their cozy designs.
Q. Is crochet clothing fashionable?
Crochets have been in fashion for a long time, and their trend has been recurring. Since this year, crochets have been the new talk of the town as this retro-style fashion is making a groundbreaking comeback for you to try.
Q. Can you wear crochet in summer?
Ans. Crochet fabric is breathable and soft, perfect for any of your summer outfits. In all fairness, it is understandable why this comfortable yet stylish trend of crochet is making a comeback this year to beat the heat and look as flawless as possible.
Q. Why is crochet so popular?
Crochets are famous because they are a form of art, especially for those who are into hand-made products or like to weave. It is feasible and fashionable for them to wear. Not to forget, they are not as expensive as other fabric forms, thus making all the girls swoon over them.