Beach Outfits If You Dont Want To Wear Bikinis: Are you scheduling a beach weekend trip? Although serenity and relaxation are assured, the pleasure element only kicks in when you master the fashion game. The pleasure of feeling and looking like a real diva, Aha! Bikinis are not for everyone, and that is all right.
Despite that, you should be able to enjoy yourself and have a great time at the beach. If you don't like wearing bikinis, you can try many other beach outfit ideas. But what if you don't know the best beachwear? Here are some style yet comfortable ideas for beach outfits and accessories.
What To Wear To The Beach Except Bikinis?
I can help you put together stylish beach attire that will let you go everywhere from the towel to the town. There are numerous ways to pull together a gorgeous and casual look for the beach, whether you choose to wear dresses, stick to all-black ensembles, or throw a cute wrap over your swimsuit.
To avoid sun damage, put on a cover-up, a hat, some sunscreen, and stylish sunglasses, and find more ways to accessorize your swimsuit. If you don't want to wear a swimsuit, wear a tank top and shorts or a maxi dress if you're going to visit the beachfront or head out to dinner quickly. Put everything you need in a canvas beach tote, then head to the coast in sandals or flip-flops.
The only thing you need for the beach is a swimsuit! But if you don't have that, keep reading because I have other options for you.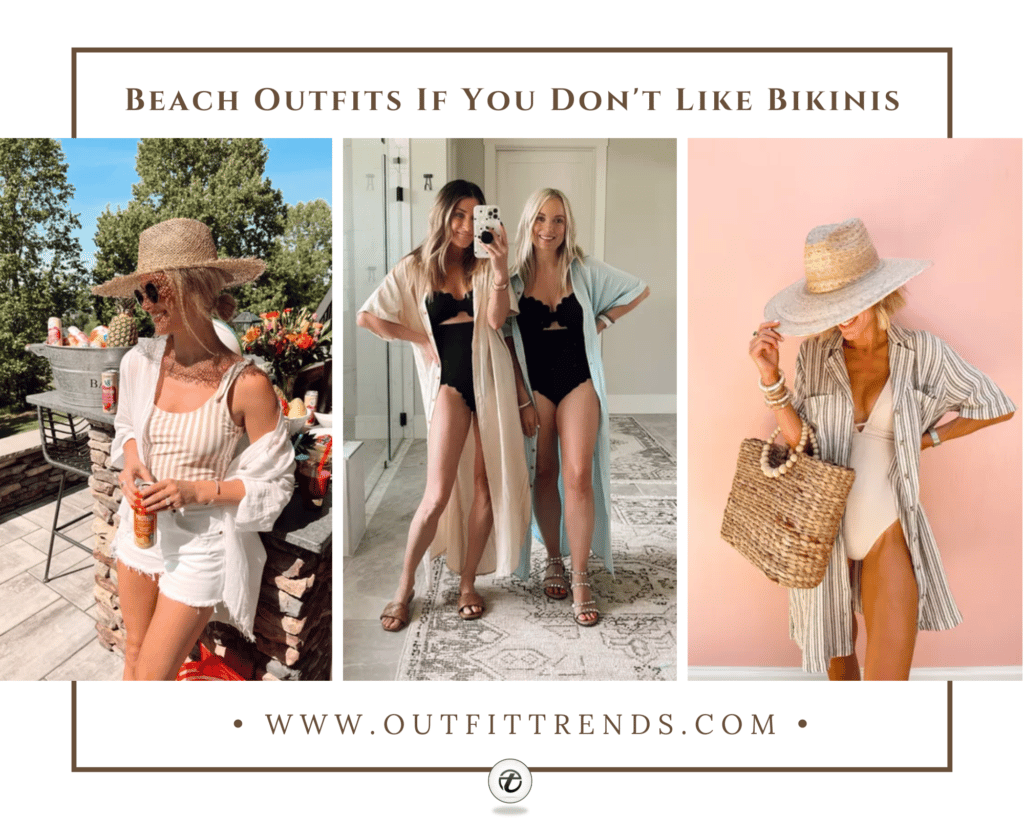 Tips To Style Beachwear Other Than Bikinis:
Bodysuits: It's essential to have a well-fitting, body-type-appropriate swimsuit with a hint of texture in bright colors that can be easily transformed into simple evening wear by pairing it with shorts and a skirt. For a more dramatic touch, combine it with a sheer shrug.
Maxi Dresses: This is a simple option, whether you want to go for a romantic candlelight meal by the ocean or need to cover up during the day. You can choose a very light and enjoyable outfit that is all floral. You may finish off your ensemble with a cute straw hat and bag.
Wraparounds: Beach sarongs, one of the essential pieces of trendy clothes, are now more than simply a requirement. Wraparounds look great with stylish bodysuits or bikinis, but you can wear them casually with bralettes and denim shorts.
Oversized Shirts: Find an oversized shirt in your closet to layer over your swimsuit. This style combines a basic black bikini with a sarong and blouse to create three different looks in one. Additionally, you have a second layer to use as a covering when the sun becomes too hot.
Printed Shorts: Another simple transitional outfit to choose is a pair of shorts that may be worn comfortably alone with a one-piece swimsuit or a bikini top. Summer-appropriate tones and well-fitting shorts are both comfy and fashionable.
Button-Down Dresses: For that beach evening, dress in a swimsuit and combine it with plain cotton button-down shirts. The classic style of button-down is an ideal option. For a smoother, more balanced style, wear it with a belt.
Colorful Sunglasses: Beach fashion is not simply restricted to bikinis and dresses. Keeping a few bright, funky-shaped sunglasses that complement your attire will help you step up your fashion game.
Shoes: Maintain a casual look; wear comfortable footwear, such as Hawaiian slippers or flip-flops.
18 – Shoulder Tie Teal Romper
Here is a beach outfit idea that goes beyond swimsuits! Try this gorgeous piece of trendy beachwear. The shoulder tie romper demonstrates that it's not all about the bikini. Wear this flowy beachwear over your swimsuit as you walk to the beach bar for drinks. You can also enjoy the sun and visit the newest swimming spot in this attire that will go well with your swimsuit.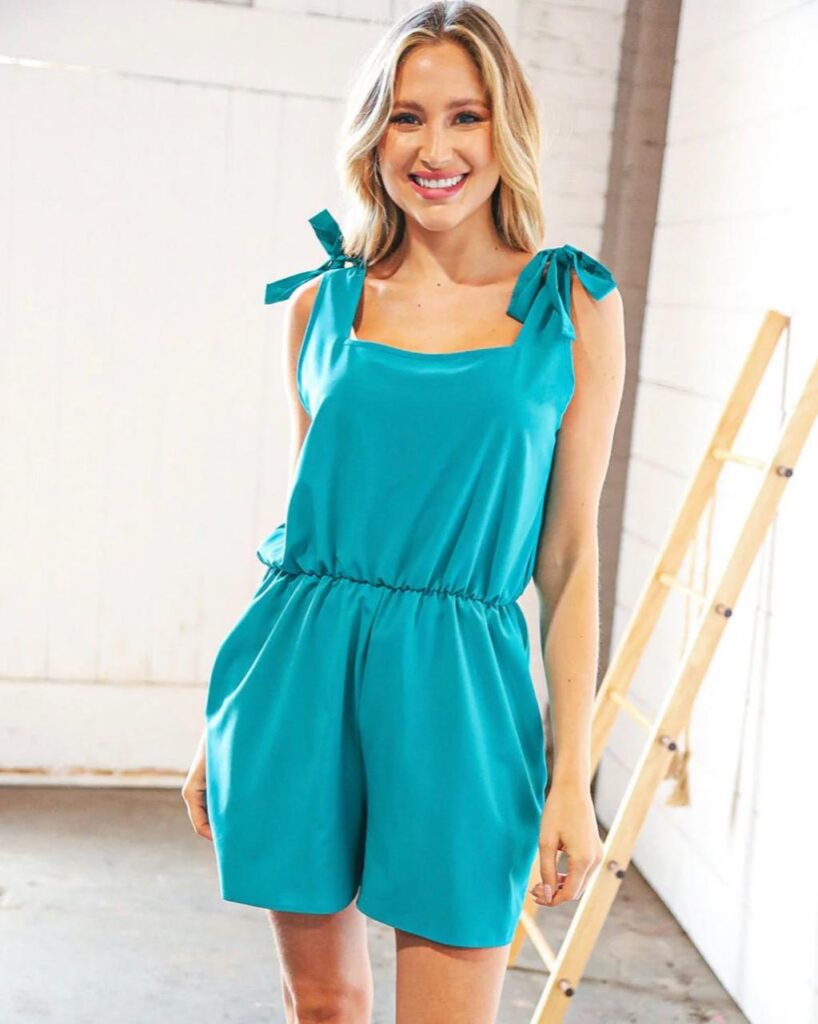 17 – Off-Shoulder Floral Printed Jumpsuit
The jumpsuit is perfect for you if you want to expand your beachwear collection without exceeding the budget. Wear the off-shoulder printed jumpsuit with only a pair of stylish sunglasses and a mini shoulder bag. You can wear it to dinner in addition to using it as a cover-up.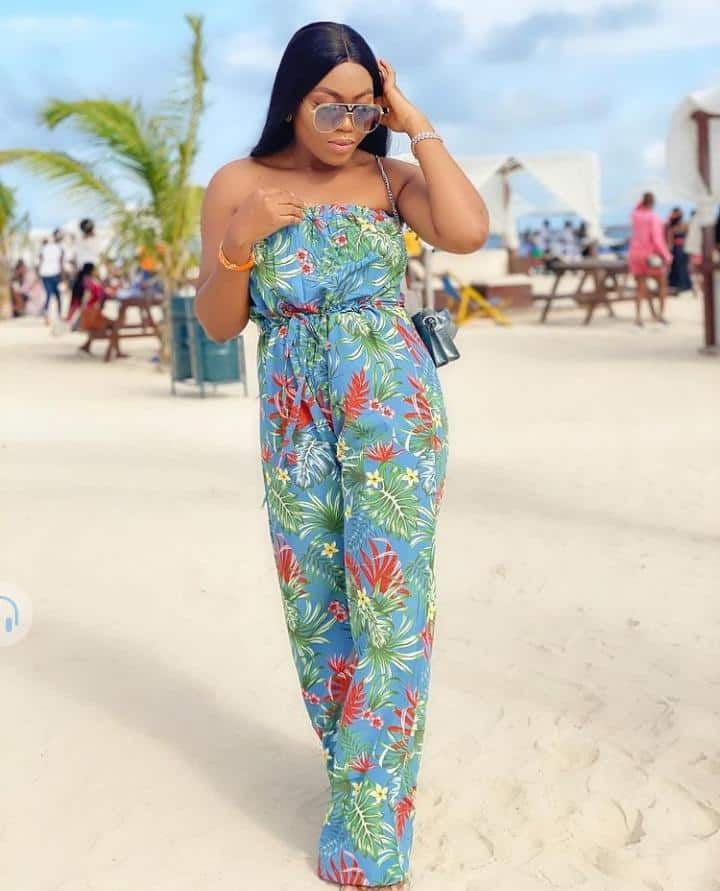 16 – Purple Burkini
A burkini's only exposed body parts are the hands, feet, and face. Muslim women can comfortably go to the beach in a full-body burkini with a head covering. Wear a maroon color classy burkini with a head covering. You can complement your look with stylish sunglasses since this is a modest piece to wear.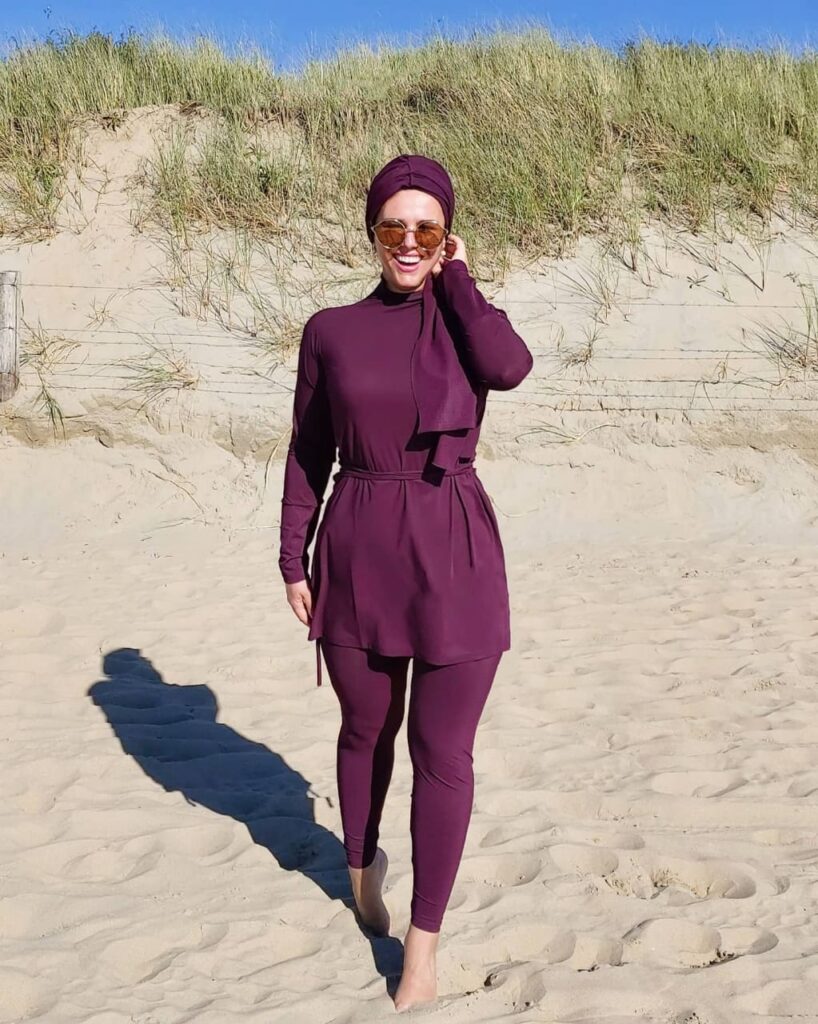 15 – Printed Tankini For Women Over 40
Make a place in your swimwear collection for this matching set, which combines a printed tankini with bottoms that go with anything. You'll get plenty of coverage in a stylish style that keeps you looking and feeling great on beach days. Women over 40 can complete this look with casual slippers, chic sunglasses, and a summer hat.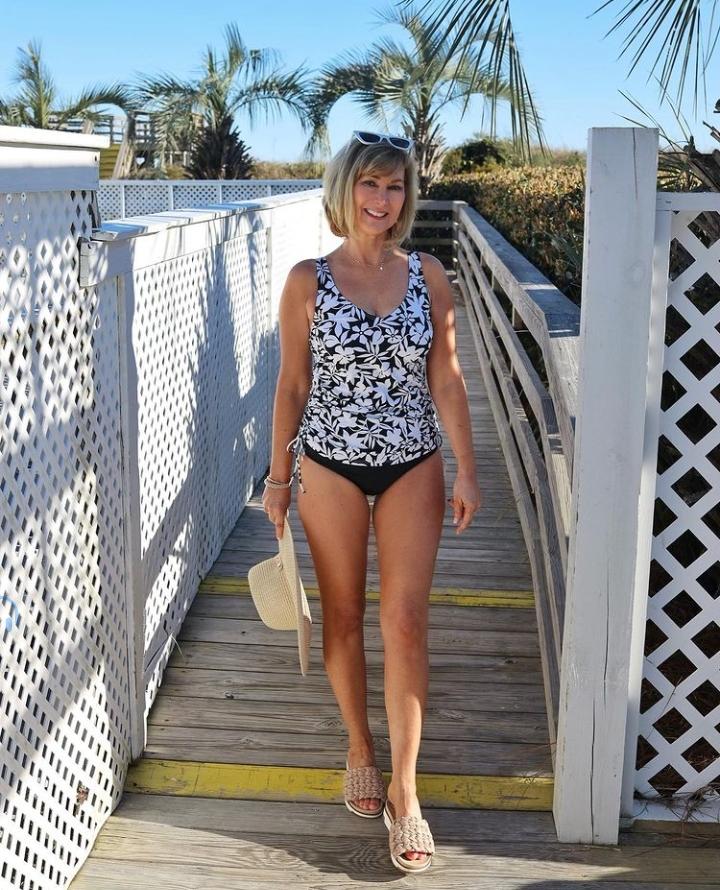 14 – Pair Pineapple Printed Leggings With White Bikini Top
If you don't want to wear a swimsuit, you can dress in a bikini top and put on your printed go-to leggings. If you feel uneasy, you may also add a flannel to your bikini top. This is a cute bikini top to wear with whatever bottoms you like! This look is appropriate for a beach day and the summer. It's ideal for the weather and sweet pictures!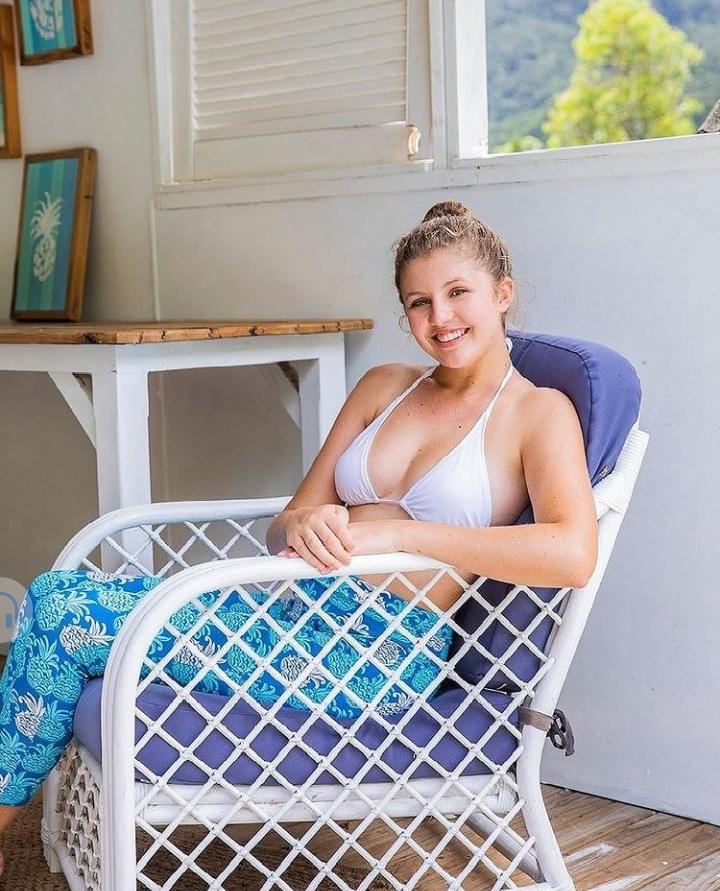 13 – Striped Swimsuit With White Distressed Shorts
Swimsuits are excellent choices for beach outfits! Wear a swimsuit or one piece if bikinis aren't your thing. However, you can combine a swimsuit with high-waisted shorts and a casual button-down shirt if you don't want to wear it alone. Put on minimal jewelry, trendy sunglasses, and a summer hat to complete the look.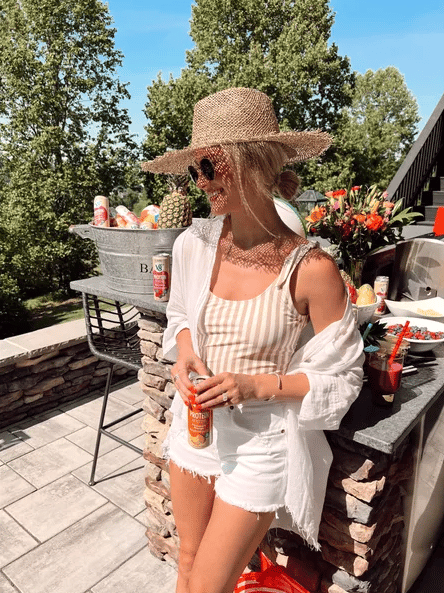 12 – Yellow and White Wrap Dress For Plus Size Ladies
This wrap dress is perfect for plus-size ladies and for beach parties and barbecues where you don't want your body to be seen by everyone. Put on a wrap dress in a bright color and accessorize with a stylish handbag and lacy high heels.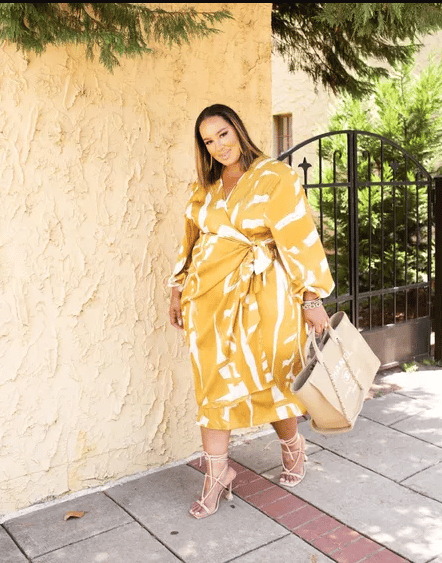 11 – White And Black Striped Shirtdress With a Beige Swimsuit
Suppose you're the beachgoer who prefers to make the most of your trip by switching between relaxing, swimming, and participating in a game. I suggest keeping a simple outfit consisting of a one-piece swimsuit, striped shirt dress, sun hat, and a basket handbag to look classy.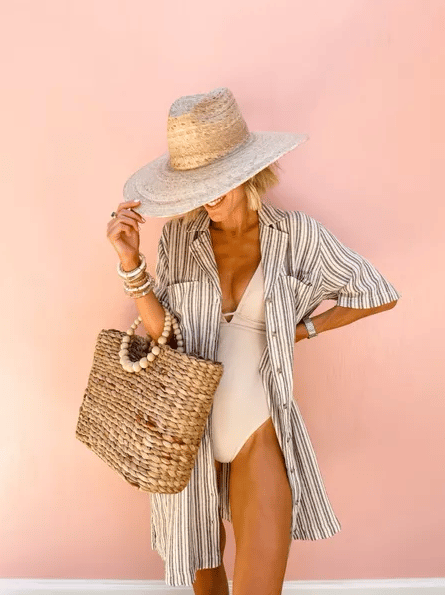 10 – Palm Tree Printed Cutout Swimsuit
This printed crisscross rashguard is colorful and sassy, providing comfort and style, and looks excellent with bikini bottoms or shorts. This fashionable spring palm rash guard will let your sense of style bloom. For a beach day, add a round hat and stylish sunglasses to your outfit. Also, don't forget to bring some sunblock for your legs.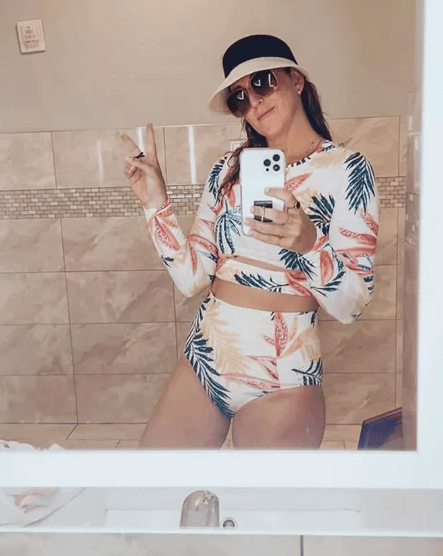 09 – Pink Cheetah Print One Piece
You probably already own this essential beachwear option: a one piece. Wear a leopard print swimsuit. The use of accessories completely transforms the style. Choose adorable slide sandals, stylish sunglasses, and a lovely anklet to give the outfit a modern, lively, and fresh sense.
08 – Shoulder Tie Pastel Blue Sundress
Choose a summer dress or a shoulder-tie sundress as a beach outfit if you are insecure about your body. The beach is ideal for sundresses because they are so simple to style and put on. Add chic sunglasses, a cross-body bag, and sneakers to finish your look. You can wear this outfit to a pool party or a BBQ on the beach.
07 – Checkered Print Swim Crop Top And Skirt
Another example of ideal beach dress inspiration. Pair the checkered print swim crop top and skirt with a classic flip-flop. Keep it simple by using a chic beach hat that shields you from UV radiation, a basket bag, and trendy sunglasses. If you don't love bikinis, this style is attractive for a day at the beach.
06 – White Cotton Dress With Straw Hat
Many people are extremely hesitant to wear white on the beach. However, white is among the most elegant colors to wear at the beach, and it will protect you from the scorching sun. See this white cotton dress with wide sleeves, a trendy hat, and casual flip-flops! You can also choose a long white beach dress if short dresses bother you.
05 – Peach Beach Shorts With Black Tank Top
Tank tops are stylish for the beach and the summer! Wear your favorite pair of beach shorts and combine them with a racerback tank top. Wearing comfy slippers and a chic shoulder cross-body will complete your look. In no time, you'll be prepared for pictures and the beach!
04 – Pastel Split Button Beach Cover-Up
This one is for you if you prefer to wear cute attire over a bikini. After wearing a crotchet crop top, put on your prettiest high waist bikini bottoms. After that, put on a beach cover-up with split buttons. This outfit is ideal for the beach and the summer. Complete your look by wearing classy sandals.
03 – Lace Kaftan With Gladiator Flat Sandal
Are you unsure of what to wear to the beach? If you want to highlight your bikini, a kaftan is a simple, attractive, and chic beachwear choice. Wear a white lace kaftan with flat gladiator sandals and a beach hat to make your look classy for beach day.
02 – Printed Sarong With Crop Top
Indeed, a day at the beach is the ideal occasion to embrace color and pattern. This summer, you can spend money on swimsuits worn over a sarong as a top for a stylish look. You can also add trendy sunglasses and a trendy beach hat to complete your stylish look.
01 – Floral Sarong With Slides
Sarongs are popular and a must-pack item for vacation. The go-to beach outfits are a triangle bikini, a long, floral sarong wrapped into the slides' bikini top, and some furry heels. This attire goes nicely from your sandy and wet hobbies to the seaside café. A stylish purse and matching sunglasses complete the outfit as accessories.
Frequently Asked Questions
Q: What should I wear to the beach if I don't like shorts?
Ans: Some people find it awkward or dislike wearing shorts on a beach day. If you prefer anything other than shorts as a beach outfit, consider wearing jumpsuits, skirts, leggings, and swimsuits. You can put them along with a tank top for a more easygoing feel. Or you can pair them with a button-down shirt or blouse for a more elegant look.
Q: What do tomboys wear to the beach?
Ans: The decision of what to wear on a beach day for tomboys is not challenging. Tomboys can wear a sarong or other cover-up designed to cover swimsuits, or they can wear a t-shirt and some old shorts from their wardrobe.
Q: What to wear to the beach when you hate your legs?
Ans: You're overly careful, but it can be good to be able to enjoy the heat without feeling self-conscious about your less-loved body parts. Even if you dislike your legs, you can cover them up on beach days by dressing stylishly in shorts, jumpsuits, leggings, and skirts.
Q: What to wear for swimming if you are insecure?
Ans: Some people find it uncomfortable to expose their skin in bikinis. If you feel awkward in a swimsuit or bikini and prefer to hide more skin, consider a rash guard and a swim skirt. You can also wear beach shorts with a tank top. You feel happier and more relaxed with this combination.