Polo Shirt Outfits For Women. Although polo shirts often get cast aside and thought to be much more appealing for men. Their silhouettes are not given as much credit as they deserve. It is true that they are more formal and constrictive in comparison to blouses, tank tops, or regular t-shirts. Yet, the fear that this article of clothing is less feminine is false.
There are various opportunities to dress in a polo shirt. It all depends on how you choose to style it, as well as what silhouette you buy. Similarly, polo shirts can be easily dressed down. They can be made less formal with the clothing worn around them.
What to Wear with a Polo Shirt?
Read along to discover the various unique ways of styling this wonderful top. We have included styles for each occasion and each time of year. So you can be certain you will find something for yourself.
The factors listed below will change the appearance of the polo shirt significantly. Especially in terms of how appealing this top will be for day-to-day outfits. As well as for how it will be possible to achieve a more sophisticated fashionable outfit. Or alternatively how it is possible to style it in its classic sporty-chic style.
Silhouette: The silhouette alters whether the shirt will look highly feminine or not. A box fit will make the shirt look more masculine. Whilst a free-flowing fit will make it appear more sexy and feminine.
Color: These tops are now manufactured in a hugely wide range of colors. And although the choice of color is up to your personal preference, keep in mind that it will alter the overall look. For example – bright and block printed colors will look more easygoing, more joyful, and as a result childish. Whilst, earth tones, as well as earth tones with a slight geometric print – will look much more high fashion.
Material: Soft or Rugged. These are the two main differences in material for this type of shirt. The more rigid, formal material – is usually a thicker less breathable fabric. It will offer you that classic sporty appeal. Although, there is an alternative. Soft materials include cashmere and wool types of fabrics. These look more professional, less day-t-day, and more fashionable.
Buttoning up: The classic polo is not complete without the small buttons leading up to the shirt's collar. However more modern interpretations of the style offer options without buttons. The classic look is more youthful, tidy, and uptight. Hence if that does not match your style, go for the modern alternative.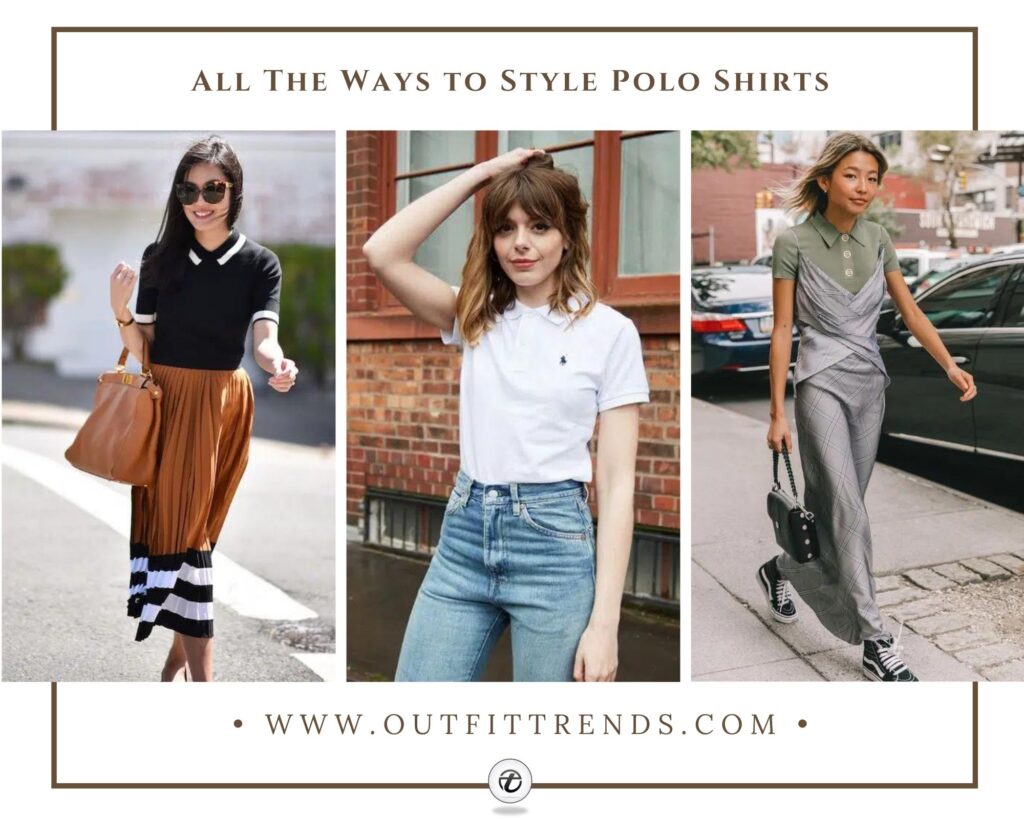 20 – Keep It Easy With A White Polo And Jeans Combo
Starting off the list is an insanely easy and classic way to wear this top. Firstly, make sure you have your most comfortable white polo shirt. For easy day-to-day, running the errands look – pair with your most comfortable jeans. With this outfit, you don't even need to accessorize, pair it with some comfortable shoes and you're all set. Here are some more ideas on creating Fresh Outfits With White Shirts.
19 – Create A Classic Look And Go For A Block Dyed Bubblegum Pink
It is no secret that the classic polo tee has the infamous Ralph Lauren vision, and this entails color. And lots of colors. So if you want to repeat this classic outfit – choose a shirt that is one color. These types of shirts pair best with denim since it comes off as neutral and won't overfill the outfit. Alternatively, they look amazing with a pair of white pants.
18 – Elevate A Classic White With Some Rolled Up Sleeves
As per the very first outfit on the list, the white is a known classic. Although the thing with classics is that they can get boring. This is why it is important to play around with the fit and make it your own. One unique way of. styling this shirt is by getting it in a larger size. This will ensure a baggy fit, secondly, roll up the sleeves slightly. Usually, the sleeves are straight cut, so this will really look unique.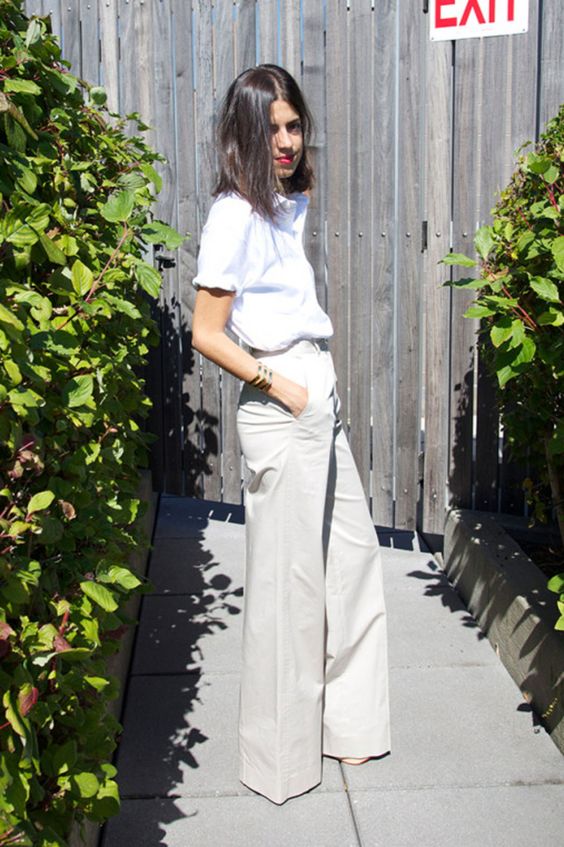 17 – Infuse The Look With A Western Appeal
Sometimes to get the best outfit, you need to reference the history of the close a little. To put this shirt into context, you might want to wear some western fashion clothes with it. For instance, a nude skirt, with utilitarian fastenings. This is an easy way to elevate the appearance of this seemingly simple top.
16 – Choose A Cropped Polo Tee For A Youthful Look
In accordance with modern fashion trends, this t-shirt too was manufactured in the infamous cropped silhouette. Take advantage of this style availability to wear with your favorite high wasted or low rise jeans. The result will be a stunning combination of old school collar and a youthful cropped look.
15 – Purchase A Soft Oversized Shirt For Daily Wear
Although the original polo shirt can come off as too sturdy and not the most comfortable top. There are a plethora of modernized alternatives. An example is this oversized shirt. Made out of a fabric that is soft and flows, instead of constricting. As a result, you will be able to wear your shirt even every day. Here are some more Ideas On How To Wear Oversized Clothes.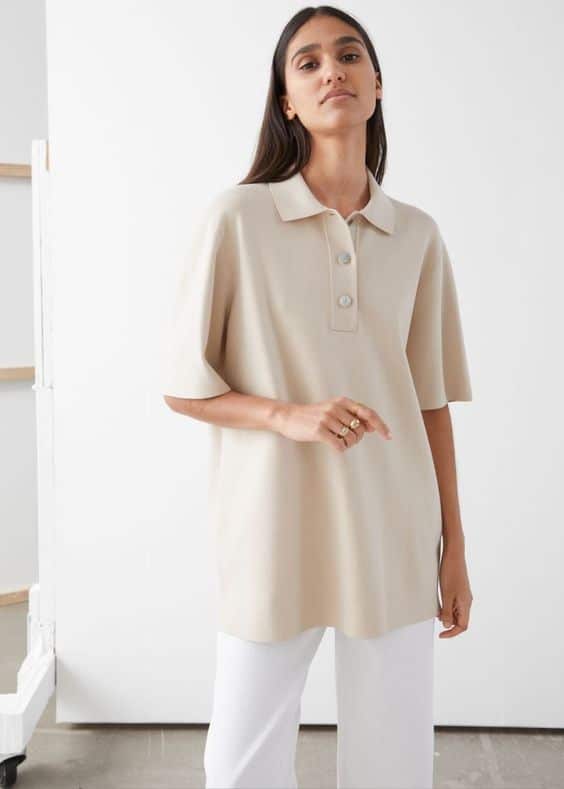 14 – Go For An Old School AKA Classic Polo Look
Possibly everyone can visualize this outfit when they are told to think of the old-school polo shirt look. Pair a classic white t-shirt, with matching white pants. But most importantly, include an over-the-shoulder cardigan. Most ideally you will have a cardigan in a classy navy blue color. You can finish the outfit off with a belt.
13 – Create A Modern Alternative For The Classic Look
This is a direct alternative, to the previous outfit. Instead of trying to repeat a style much older than what we are used to this alternative is much more modern. Replace skinny jeans with straight-cut white pants. Similarly, substitute a skin-tight shirt for a loose alternative. Accessorize with the very trendy mini purse, and you're all set.
Find out more ways to style the trendy mini skirt here.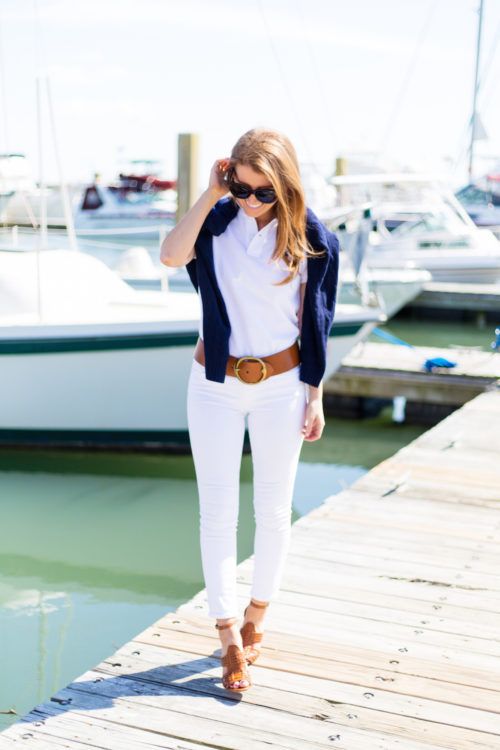 12 – Match Classic Colors For A Fool-Proof Great Outfit
If this shirt style is out of your comfort zone, this outfit is the perfect option to try it out. One rule to remember is – if you stick to muted classic colors you will have much more ease in styling the clothes. For instance, if you find a cute grey shirt, and match it with a black skirt you are all done with the outfit. We recommend a pencil skirt, to be in theme with the formal style of the top.
However, if you are looking for ways to style other skirts check out this article for help!
11 – Coordinate Patterns On Your Top And Skirt For A Stylish Outfit
Once you are much more comfortable with this style of shirt, you can start experimenting with prints to elevate the outfit. For example, this is a very smart way to use print to create cohesion in the outfit. Choose a top with stripes on the collar, and match it to a skirt with a similar pattern. The same advice applies to any other pattern.
10 – Go For A Striped Polo To Elevate A Casual Jeans Outfit
Similar to the classic outfits at the beginning of the list, this is a fall alternative. Which entails a long sleeve polo shirt. One way to try and make this type of outfit more interesting, yet have it remain casual. Is by finding a long sleeve with a slight print. For example a very neutral striped one.
Via
9 – Create A Classic Workday Outfit With A Classic Navy Blue Ensemble
As we have mentioned before the classic deep navy blue color is ideal for this style of top. Similarly, it is ideal for a professional office look, as an alternative to black. If you are a working girl and need to find office-appropriate outfits this one is it. Pair some office pants, possibly low rise with a long sleeve polo shirt in the same color. Another tip is to accessorize, therefore keep in mind that gold jewelry really pops and looks amazing in navy blue. Complete the look with these Trendy Office Jewelry Ideas.
8 – Go For A Timeless Look With A Black And White Combo
Not only is this shirt style itself a fashion classic, known and recognized by everyone. If you style your outfit with it in classic black and white tones you will have an unforgettable look. Although most importantly this look is simple to create. It works with any skirt style that suits you best and is very easy to put together.
7 – Create A High Fashion Outfit Through Layering
As we move further down the list of possible beautiful outfits with this shirt style, we are moving into the category of more high fashion looks. The first in this segment is this unique layered outfit. Try pairing a polo in a small knit, with a silk or satin tank top dress. Match the colors into the same hue range, this way the layering will not look out of place. Don't forget to check out our guide on Ways to Layer Your Clothes like Pro.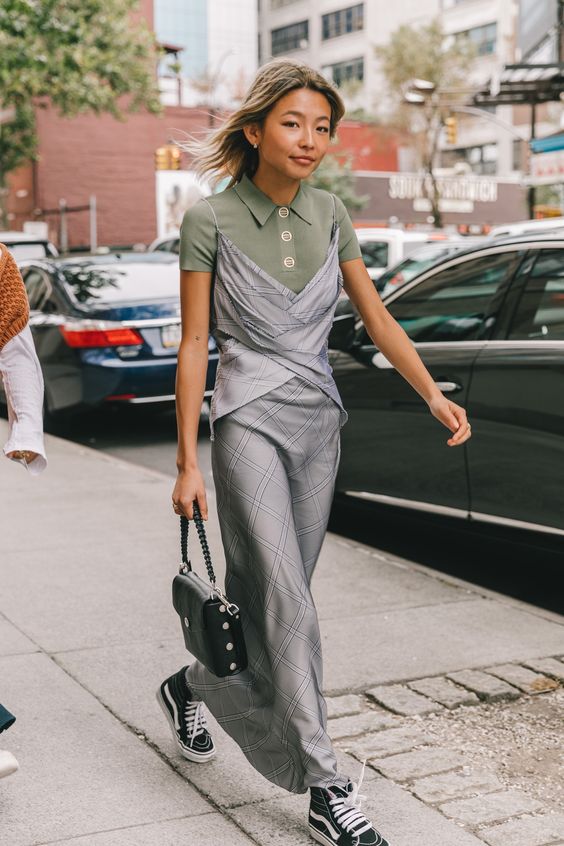 6 – Go For A Muted Olive Green Top And Matching Heels For A Vintage Look
Since old Hollywood and the appearance of vintage style is highly respected in fashion, this look is dedicated to its allure. Even in the modern days, there are ways to make yourself look like you have just stepped off the stage at Breakfast at Tiffany's. All you need is a tight-fit polo in a deep color – this can be a green or burgundy. However, remember to match this color to your heels, preferably lacquer pumps.
5 – Spice Up A Cozy Look With Animal Print
If you only have one option for the polo shirt, and it appears to be on the casual side. Although you crave a highly fashionable outfit, play it up with the complimentary pieces. Like shoes for example. Try to get them in the same color palette, but with a fun print. This outfit is a great example as it remains in a nude color scheme. But is also playful thanks to the animal print loafers. Do check out these Cutest Animal Print Outfits for Women this Season.
4 – Go For Woven On Woven For A Summer Look
Can't decide how to wear polo shirts in Winter? Here you go: One of the first things we have described in this article is the differentiating factor of texture and fabric for a knitted polo shirt. This can seem like a small element, but it can really have the potential to make the outfit your own. For example, find a heavy large knit shirt, but don't stop there. Pair it with a playful woven bag as well. The layering of textures in your outfit will make it seem more fashionable.
3 – Don't Be Afraid To Layer Over Your Polo
Although – yes, a classic polo outfit entails having the polo in full view. It doesn't mean that modern iterations of the outfit cannot differ, and cover some of the shirt up. This outfit highlights just the most important part of this shirt, the collar. Have it peak through from underneath a cardigan. Note as well how this outfit contains a plethora of grey and black tones, mixing this together has a classy appeal.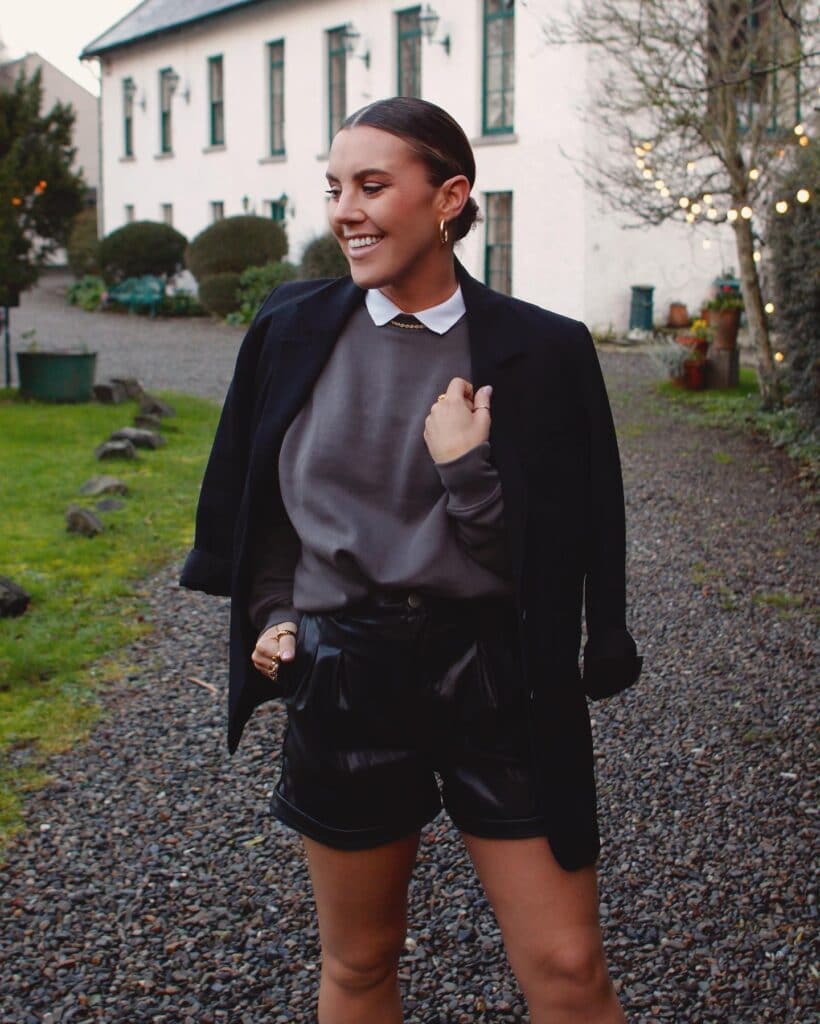 2 – Make A Statement With A Vibrant Violet Shirt
Firstly, one possible way to turn heads with this shirt style is to stray from old rules. Original colors for this tee include reds, greens, blues, and yellows – all the primary colors. However, in the current fashion, these colors are being replaced by more unique and surprising color choices. If you get your hands on a polo this color, take it – then find shoes to match the perfect outfit.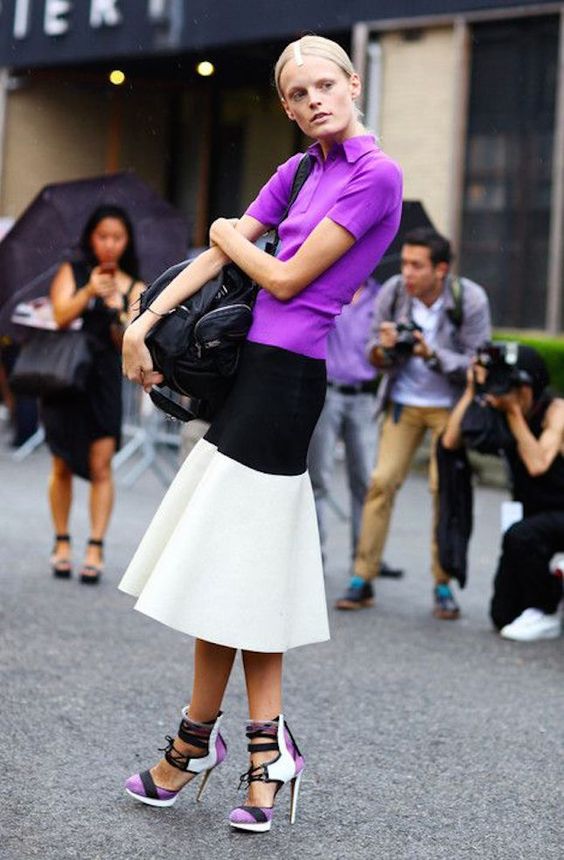 1 – Go Oldschool With A Reference To Equestrian Fashion
It is no secret where this shirt style originates from. However, this is mentioned little and referenced in outfits even less. Take this chance to adopt the niche equestrian style to rock your polo t-shirt.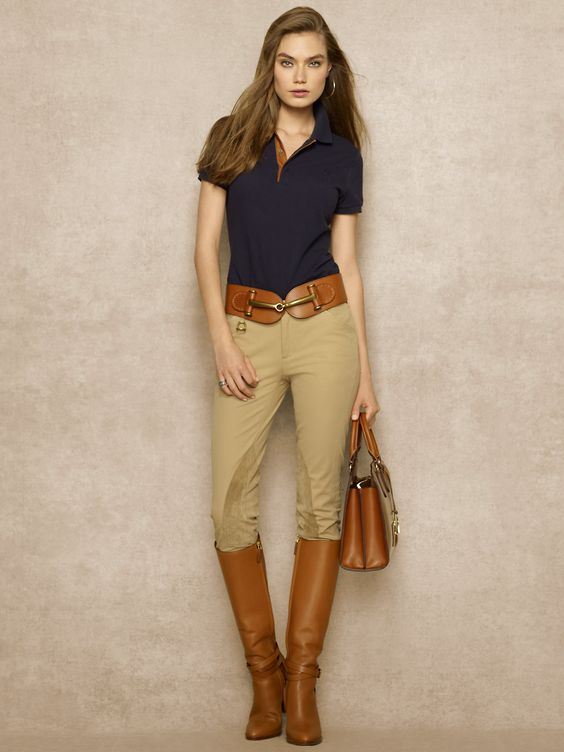 Via
Frequently Asked Questions
Q. Is a polo shirt too old school?
Although the polo shirt style has remained unchanged since the day of its launch on the fashion scene, it does not mean it is out of style. Since fashion works in cycles, it is important to remember that nothing iconic really goes out of style or age. For instance, now we are witnessing a rebirth of the polo top trend, and if you join now you will be on-trend and actually look very up to date. Therefore, the most important thing is to join the style at the right time.
Q. Do you tuck in a polo shirt?
Normally polo shirts and not tucked in but if you're going for a formal look or want to layer on top of your polo shirt with a jacket then tucking the shirt in is not a bad idea.
Q. Where to shop for women's polo shirts?
Here's a list of brands that offer the best polo shirts for women, along with a rough estimate of the price ranges: