Linen pants outfits: Linen pants are the perfect clothing item for summertime. You can wear these comfy pants wherever you like. They will be your best friend in the summer because you can pair them with whatever you like and they will still look good and will never feel uncomfortable.
If you don't have linen pants yet, what are you doing? You need to go grab a pair and enjoy your summer!
If you are someone that isn't comfortable wearing skirts and shorts in the summer then linen pants are for you! They are light and breezy and come in all sorts of colors and styles. You will never get bored of these pants I can tell you that for sure! We cant always wear denim jeans in the hot weather so we found an alternative that you will never regret buying. We can't stop wearing our favorite pair of linen pants from banana republic so you should give them a try too and get to know what all the hype is about!
What to Wear with Linen Pants?
Linen pants are super easy to style. You can wear them with just about anything. Wear cropped linen pants with loose t-shirts or even a crop top. Wear wide-legged linen pants with a fitted top. Wear straight linen pants with a tank top or off-shoulder top. Linen pants also come in tons of colors and it is up to you which one you believe you can wear the most and style the best.
DOS AND DONTS OF STYLING LINEN PANTS
• DO wear what you like.
• DO make sure your pants aren't too long that you can't walk properly in them.
• DO make sure your linen pants aren't see-through.
• DONT listen to anyone's opinion about your clothes.
• DONT wear something you are uncomfortable in.
• DONT forget to accessorize your outfit.
↓ 20 – Casual Outfit with Linen Pants
This outfit is perfect for the summertime as it will keep you cool through the warmer temperatures. The white tank top is super cute and simple. The beige linen pants look comfortable paired with the sunhat and straw bag. Straw bags are a summer staple and you need to grab one! This entire outfit is simple and minimalistic so if you're into that then try this for sure. Here are some more of our favorite Casual Outfits for Women.
↓ 19 – Styling White Linen Pants
This black backless top is stunning. The white linen bell-bottoms look so chic with this top. The black and white matching bag and sunglasses are cute ways to accessorize your outfit. You can wear this outfit to a birthday party or for dinner with family or your partner. This outfit is fashionable as well as sexy!
↓ 18 -How To Wear Striped Linen Pants
This blue outfit will get you all the attention! The blue knotted top with puffy sleeves and the striped white and blue pants are so gorgeous they will have everyone asking you where you got them from. The straw hat makes another appearance. Try making tiny braids in your hair and putting in colored beads for a hippie look for the summertime.
↓ 17 – Basic Outfit
A basic outfit may seem like an easy job but it's really not. This outfit has a plain beige top and plain beige pants paired with a beige bag. This outfit has been styled with cute matching sandals and some dainty pieces of jewelry to make it look even better. Some makeup will always look good with plain outfits.
↓ 16 – Nude Linen Pants
This is another basic outfit but in a lighter shade. The tank top is plain as well as the pants. The sandals paired with this outfit are in a yellow tint which is a bit different from the outfit but it still looks good. A long necklace with some small hoop earrings and bangles completes the outfit.
↓ 15 – Linen Pants Plus Size
The contrast of brown and white is one of the prettiest. The white oxford shirt looks crisp and clean paired with the light brown trousers. Brown shoes give this outfit a very formal and boss look. You can wear this outfit to run errands or meet friends and family for a day out. The tattoos look super sexy and complete the outfit!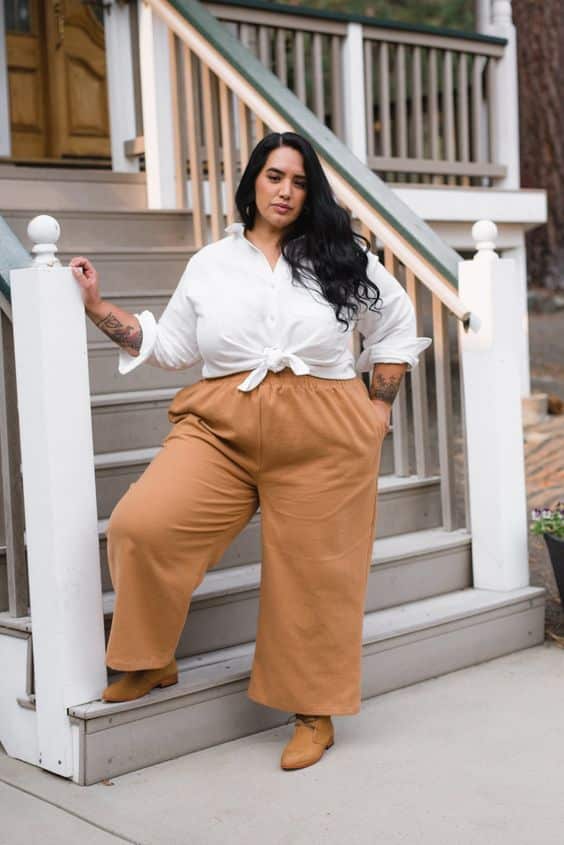 ↓ 14 – All White
All-white outfits are the best because they look simply stunning and also because you don't have to put much effort into your outfit. Just wear a white plain sleeveless top with plain white straight linen pants and some white hoop earrings and you're good to go. A pair of strappy white sandals would look very cute with this outfit so make sure you buy matching sandals with it!
↓ 13 – Styling Printed Linen Pants
Printed pants can be fun and stylish but a bit troubling when it comes to styling them. Prints can be of any kind, monochrome, floral, check, or stripes. In the image, the person is wearing a leafy print with a plain blue shirt. The thing to remember with prints is that you need to wear a print with a plain item. If your shirt is printed then your trouser should be plain and vice versa. Try wearing heels with prints because they always look good.
↓ 12 – Matching Set
Nude sets are pretty and easy to style. Pair a plain linen top with some plain matching linen pants and you'll have yourself a stunning outfit that you can wear to a dinner, lunch, party, or even a meeting. Sets like this are super versatile and cheap too! Wear some dainty jewelry pieces to add to the gorgeousness of this nude set. Nude sandals would make your look complete. Here are some more Matching Sets to Wear & Tips on How to Style Them.
↓ 11 – How To Style Bright Colored Linen Trousers
Bright pants are something not everyone has the confidence to pull off! Bright colored clothes are not what everyone opts for but only a few people choose them. Those few people are the ones that make everyone else want to wear them too! Wearing bright orange pants might seem like a disaster but it really isn't, especially when you see someone on the street wearing them and you instantly wish you had worn yours. Pair bright pants with a lighter-colored shirt such a white or beige. Go all out and wear some cool chunky sandals with this outfit and look the coolest!
↓ 10 – Striped & Comfy Linen Pants
Striped pants are cool and comfy. You can pair striped pants with any plain top. In the image, the person is seen wearing a dark green top with white and beige striped pants. This is a chill outfit that you can wear anywhere you like and if worn with heels instead of sandals, it can serve as a formal outfit as well. Don't forget to wear your sunglasses!
↓ 9 – Linen Beach Pants
These slitted beach pants look fun and stylish. Pair these stunning pants with a plain white top and some colored sandals for a super cute beach outfit. These pants will keep you cool and comfy on days when temperatures are on the rise.
↓ 8 – How To Style Plaid Linen Trousers
Plaid is a stunning pattern and everybody needs to own an item of clothing that is plaid printed. Plaid can be worn in tons of different ways and one of the easiest ways to wear it is to wear plaid trousers. These plaid linen pants look like the perfect summer outfit for anyone that likes bright colors. A peach top with white plaid trousers is the cutest outfit, especially when paired with some pretty gold jewelry and matching sunglasses!
↓ 7 – Linen Pants And Crop Tops
Crop tops are a summer staple! You cant get through summer without crop tops, can you? So we have this gorgeous outfit for you. Wear a white crop top with some beige linen pants and plain beige slides. This outfit looks simple and easy to put together but when you wear it, it will seem like you put so much effort into your outfit. If you wear heels instead of slides then this outfit will turn into a formal one.
↓ 6 – Floral Tops
Floral crop tops are super cute and pretty. Style a floral white crop top with some white linen pants and you will have yourself a cute semi-formal outfit. You can wear this outfit to a birthday party, dinner with friends, or a beach party. Wear white heels with this outfit along with a pretty gold necklace and your outfit will be complete!
↓ 5 – White And Brown
The contrast of white and brown is very different and not many people would wear it. Style a plain white top with brown linen bottoms and watch everyone drool over your outfit. Don't forget to wear some earrings and a necklace to top it off!
↓ 4 – Black And White
These linen trousers with a pleated waistline are super dope and anyone would want this so pair them with a tank top and tuck it in. Tucking the tank top in will show off the pleated waist and your outfit will look great. Wear matching black sandals with your outfit and you shall be good to go! This outfit can be worn on multiple occasions because it is comfortable as well as sexy.
via
↓ 3 – Formal Outfit
This outfit is one that can be worn to the office, meetings, and anything in between. Pair a plain white oxford shirt with some brown linen trousers and you will have yourself a formal outfit. Wear black heels and carry a matching black handbag and sunglasses of course! Keep makeup minimal if you like but don't forget to style it with some dainty jewelry pieces!
↓ 2 – More Matching Sets
Matching sets look cute and are even easier to style. This dark green linen set with matching top and bottoms is stunning. This outfit is one for the best days! Wear this outfit with some chunky earrings and rings. Some strappy sandals will look great but heels would look even better. It's your choice to keep this outfit simple or make it formal if you like with heavy makeup and jewelry.
↓ 1 – Linen Trousers With Cropped T-shirts
This cropped T-shirt is super cute for the summertime. The linen pants in this army green color look super sexy. This color may be a bit controversial and people may say it's not meant for warmer weather as it is darker but it so is! It looks great paired with the white t-shirt and matching white sneakers too. You can wear this outfit for a day out with friends, a birthday party, or just to go run some errands.
Frequently Asked Questions
Q. How to wear linen pants to work?
A. This article includes a lot of outfits that you can wear to work. Outfit number 3 would be the best out of all to wear to work. It is work-appropriate as it is formal in the perfect way. Other than that, you can wear linen pants to work in tons of ways. Such as wearing a blazer with linen pants or any other formal top paired with heels will make just about any outfit work appropriate.
Q. What can i wear with loose fitting linen pants?
A. loose-fitting linen pants can be paired with either loose-fitting shirts or fitted tops. There are two ways to go about loose-fitting clothes and that is to either wear loose clothes or fitting clothes. So you can choose to wear either one, it is your choice. You can wear fitted shirts with loose pants and pair them with sneakers or wear loose shirts with loose pants and pair them with sandals or maybe even use a belt to make the shirt fit nicer.
Q. What to wear with black linen pants
A. You can choose to wear white, as it is the easiest to pair with black. Or you can wear a black top then it will be an all-black outfit. You can wear just about any color with black because it is one of the easiest colors to style. You can literally wear an orange, blue, green, or even pink top with black linen pants. Pair it with black heels or white sneakers and you're good to go.
I am a women's holistic health coach and student that enjoys history, experimenting with makeup and skincare, playing sports, working out, and doing all things adventure-related.