What to Wear in New York In Winters: New York City, one of the great fashion capitals of the world, is a dream destination for many who want to see the 'city that never sleeps' dusted in snow and Christmas lights. It's a city with a reputation for seriously cold weather though (temperatures tend to hang out in the 20s – and that's Fahrenheit – or below it). And while some might not think that too cold, it's the whipping wind that'll get you.
For what to wear in New York in December, January, or any month of winter, today's article is going to show you exactly what to pack for visiting NYC in winter, as well as show you our round-up of 23 chic and stylish outfits to wear so you can nail New York winter fashion like a pro.
How to Dress This Winter in New York?
You will see an array of styles worn on the streets of NYC, so don't be too worried about sticking out. While there are definitely some adjustments I'll be recommending in this post, dressing how you normally would to visit a city in the middle of winter should be your guidepost.
Of course, NYC isn't just any city, and it does tend to get pretty nuts in the weather department, but with a few tips and some solid outfit ideas, you'll be more than ready to take on the concrete jungle where dreams are made of.
What to Pack for NYC Winter Trip (Packing List)
If you are wondering what should I pack for New York winter, this is for you. Here are some essentials that will help you be prepared for whatever the weather throws at you. First tip: always, always, always check the weather, both before leaving for your trip and every day of your trip. NYC can get a little dicey with it's weather situation, from heavy, sleet rains to major snowfalls to weirdly warm days in the middle of December so be prepared for anything!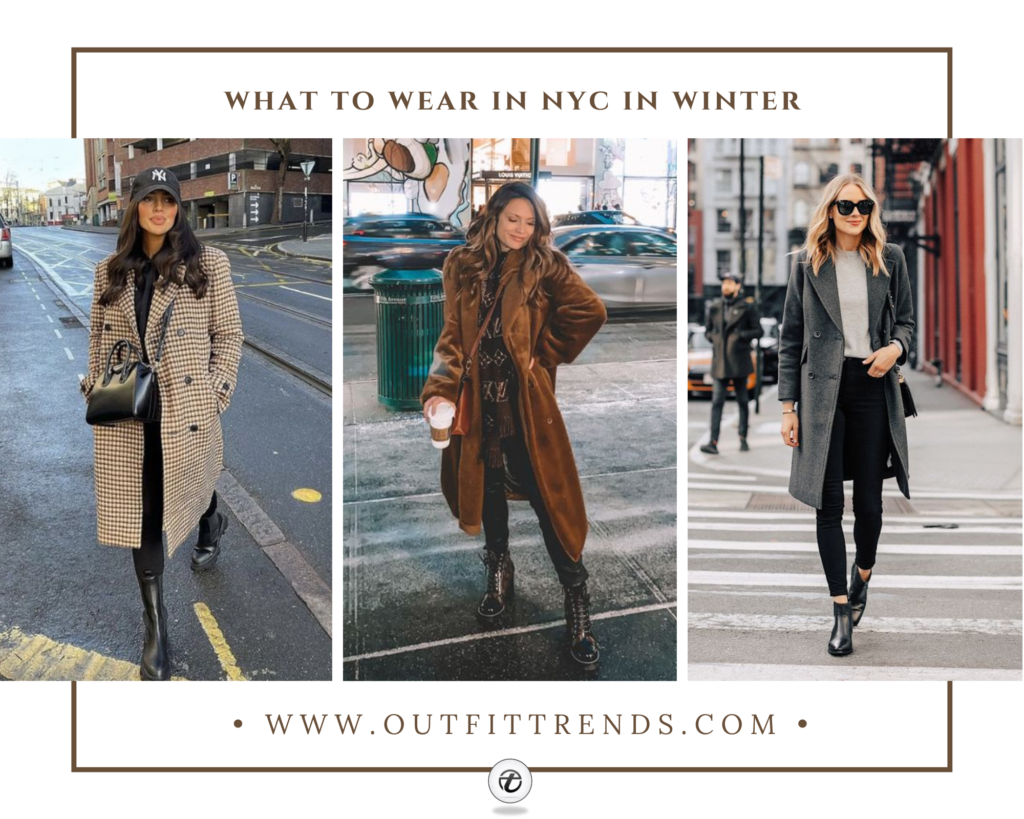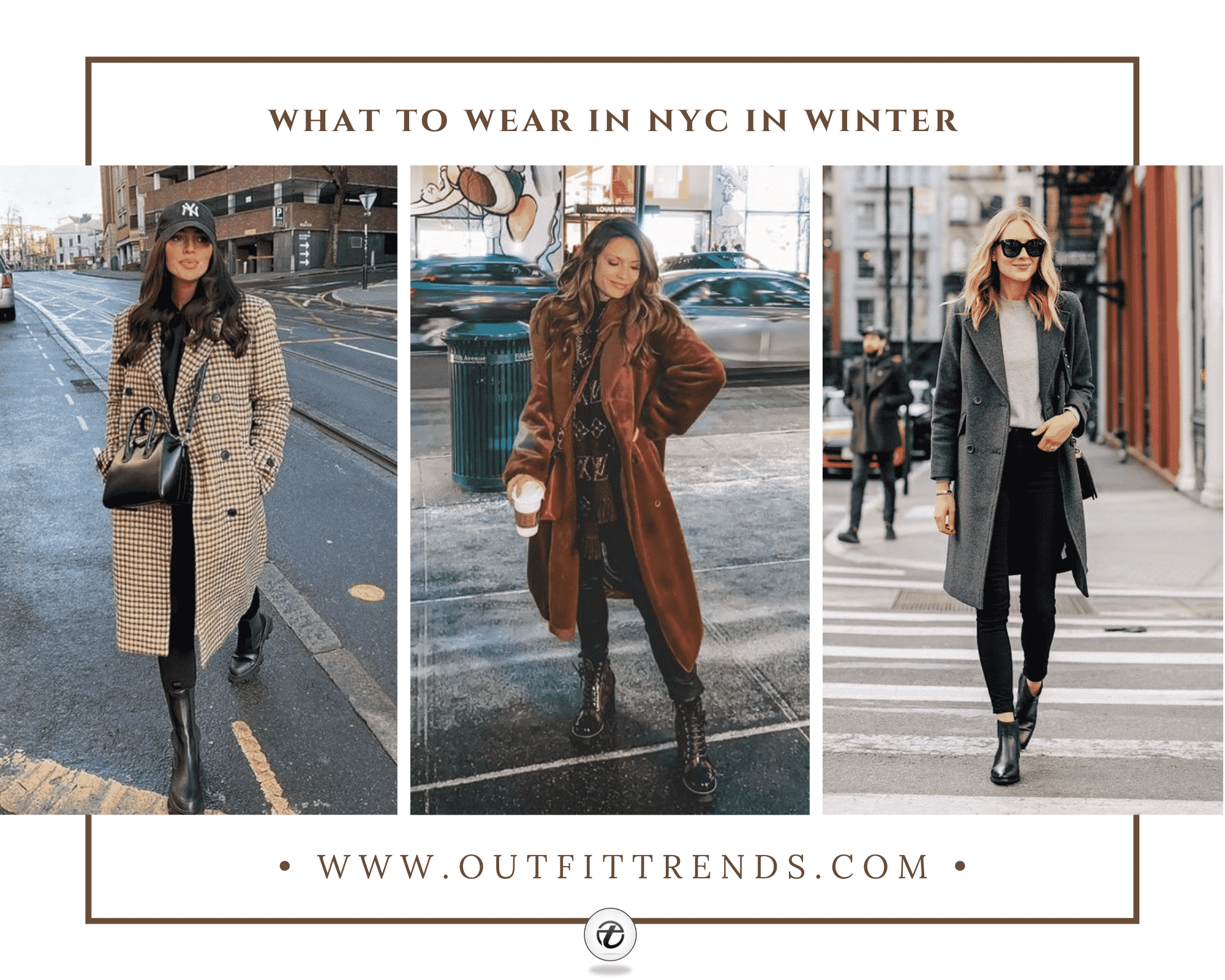 Fleece-lined leggings: Great for wearing with virtually anything, these will save you having to load up on tons of layers. They'll keep you cozy warm and they look great too! These are water-resistant, an added bonus.
Thermals: The short answer on how to stay warm in New York? Thermals, baby. Wear them under your favorite, most stylish outfits on those cold, under-20-degrees-Fahrenheit days.
Merino wool sweater: You could bring a couple of these in different colors and switch them out to create beautiful, stylish looks over and over again.
Long, hooded, puffer coat: When it comes to the best women's coats for New York in winter, a long puffer coat definitely ranks high. I do think that personal taste comes into play here though, so if you hate a puffer jacket, know that there are plenty of other options available.
Or… a hooded, fleece parka. This is another great option.
Fleece jacket: Great for layering or wearing alone on a warmer day, a fleece jacket is a total essential.
Long-sleeved tee-shirts: Also great for layering!
Jeans. Again, I believe that choosing the right jeans is a matter of personal preference but you could go for some classic skinny jeans, and wear them under a coat with boots and you'll feel and look great.
Knee-high, waterproof boots: Locals will tell you that as beautiful as a fresh coating of snow looks, within two hours, it turns to dirty, slushy, wet mush that is miserable to walk through. Save your feet and bring along some waterproof boots for days where the snow is really coming down!
Touchscreen finger leather gloves
You'll also want socks, a scarf, a hat or beanie, and some choice accessories like a stylish backpack purse. You might also like a rain jacket and an umbrella. To this winter essentials list, I would also add a few stylish tops, a formal outfit option (in case you want to attend a dressy event), a wool dress, tights, sneakers, and some jewelry.
23 – Try a Thick Faux Fur Coat With Lace Up Boots
Right out the gate, this outfit has all the elements of a great outfit to wear in NYC. Faux fur is a fantastic way to stay cozy warm. These lace-up boots are a good alternative to knee-high boots as well since they are higher than ankle boots and they are waterproof. Here are some pro tips on different Ways to Wear Faux Fur Coats.
22 – Long Coat with Matching Hat Always Looks Classy
While I would suggest swapping out the shoes for something better suited to snow, this is a beautiful winter outfit, great for women of all shapes and sizes. If it's not a windy day, you can wear a beanie or beret in place of a hood, and match it to your coat for extra style points.
21 – Make a Statement with a Colored Coat or Jacket
A great way to feel stylish in NYC is making your coat a style statement. Since a coat is essential, why not? You could go for a bold color to make it the focal point of your outfit, and you can even look for one with a fun inner lining pattern to add an extra element to your look.
20 – Layer with Animal Prints
Wondering what to wear out in NYC? Chances are, you will have one night that is relatively warm where you might want to get all dolled up and perhaps visit Broadway, see a play, attend a concert, or go to a fancy restaurant. If that's the case, plan ahead by having one dressy outfit prepared. This animal print coat is classy, fabulous, and makes a statement. Add tights for extra coverage on your legs!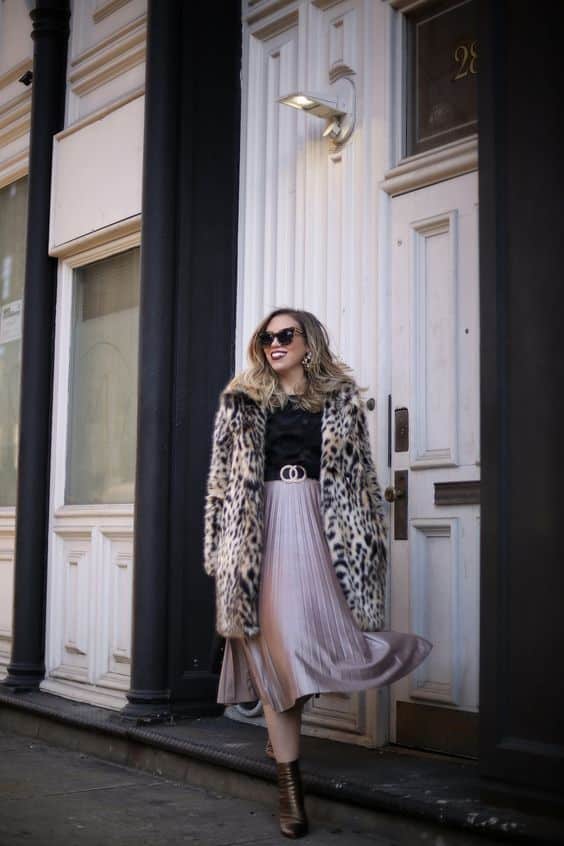 19 – Pair Faux Leather Leggings and Park Boots
A pretty pullover sweater paired with faux leather leggings is chic and stylish and only requires adding a coat and some accessories to make it cold-weather-ready.
18 – Try an All White Look But Make Sure It's a Warm One
Now it's time to talk about what to wear to New York in December? December has been going through a metamorphosis in NYC these past few years, with some oddly warm days appearing right around Christmastime. There's a chance this might continue occurring, so if there's an outfit you are dying to wear (perhaps one with heeled boots or fewer layers) then bring it along in case and save it for a warm day.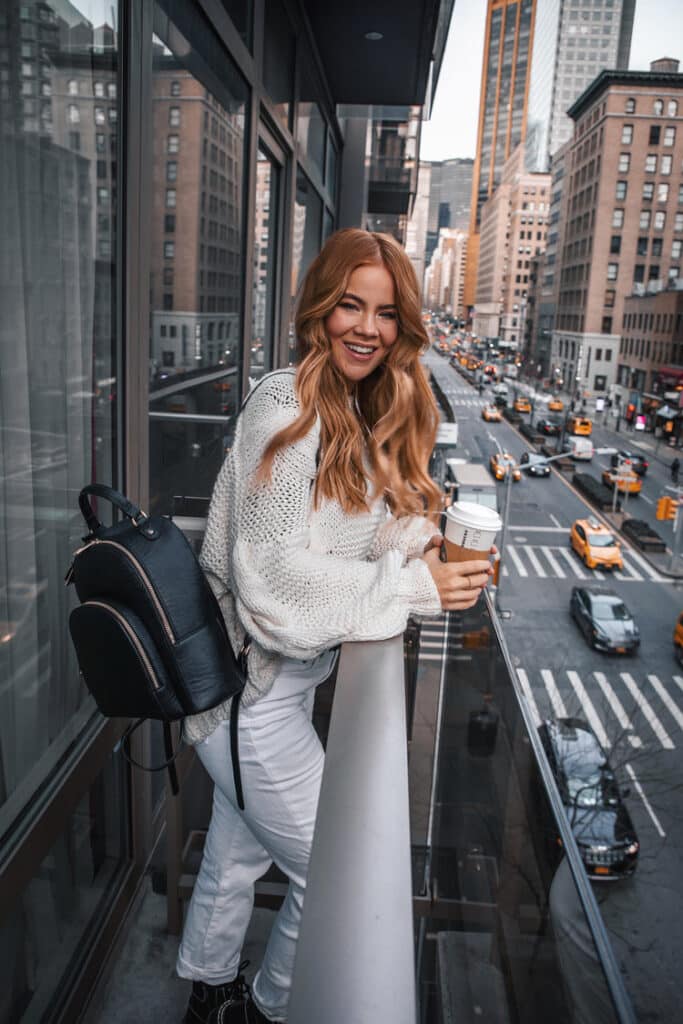 17 – Parka Jackets are a Must for Snowy Days
Bundle up for a snow day in NYC with a fur-lined, hooded parka, a long, thick sweater, fleece-lined leggings, and snow boots. Pay attention to the color scheme and go for closer fitting layers to keep your silhouette intact. Add gloves and a scarf if needed. Here are some more smart outfits for snowy days that you should check out before packing.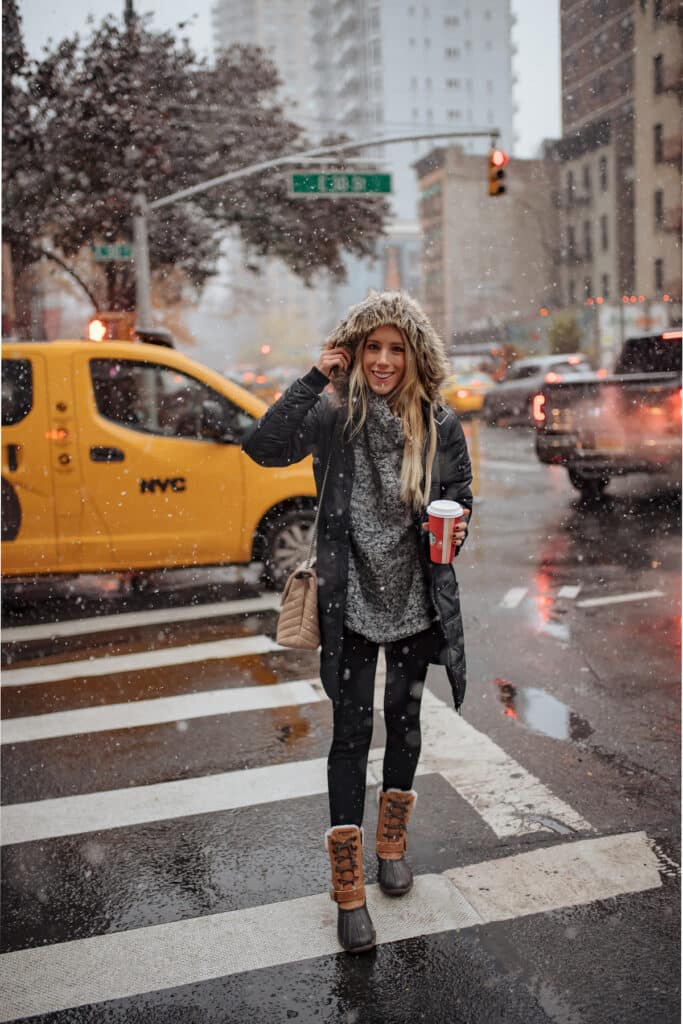 16 – Pair Plaid Woolen Coat and Doc Martens
A plaid woolen coat is a super stylish option when it comes to finding the best coat for visiting New York in winter. While you might want to layer it with a hooded jacket, you can also wear it on days when temperatures are higher. Pair with jeans and Doc Martens for a casual grunge look that is super stylish.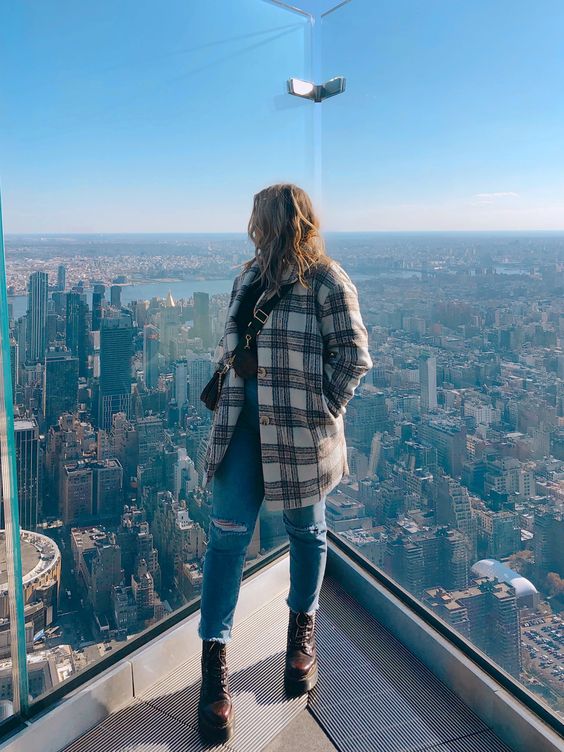 15 – Choose Elegant Accessories
A basic black beanie is a classic accessory for plenty of NY-style outfits. I love the layering of this look which includes a thick, plushy, teddy coat over a hooded pullover, a beanie, jeans, and combat boots.
While you might need a bigger bag as a tourist trucking your valuables all over the city, if you like something minimalistic but stylish, try a mini crossbody bag.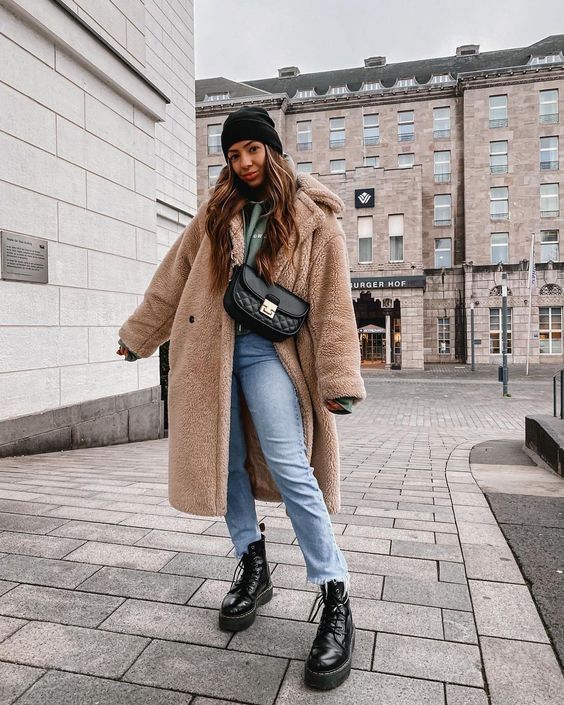 14 – Printed Blazers Never Fail To Impress
If you love to rep your favorite team, NYC is the place to rock a baseball cap. It can look super chic and stylishly tomboyish when paired with a feminine coat, a great hairstyle, and some sleek black boots.
Add a crossbody bag (pro tip: wear your purse crossbody to keep from losing it) and you'll fit right in with native NYC girls. Here are some more of my favorite printed blazer outfits you can try.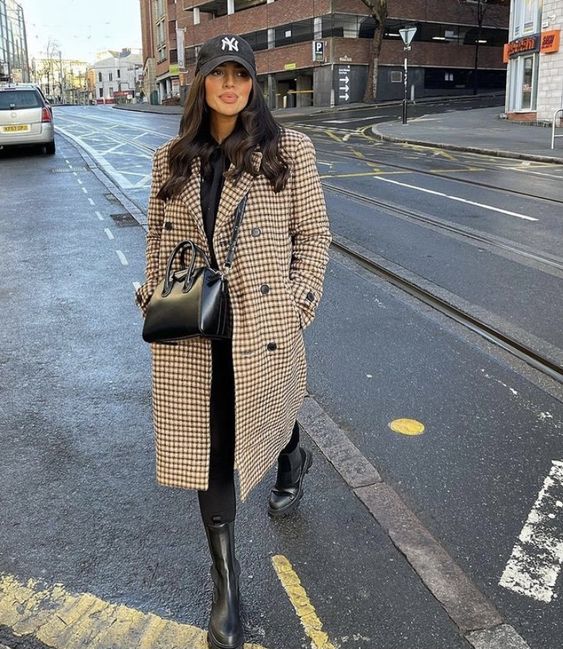 13 – Go Monochrome with Black
An easy no-brainer for creating a great outfit is to go monochrome. Keep it chic by going all-black with a faux fur coat, a bodysuit (or a thermal piece), straight-leg jeans, and chic boots.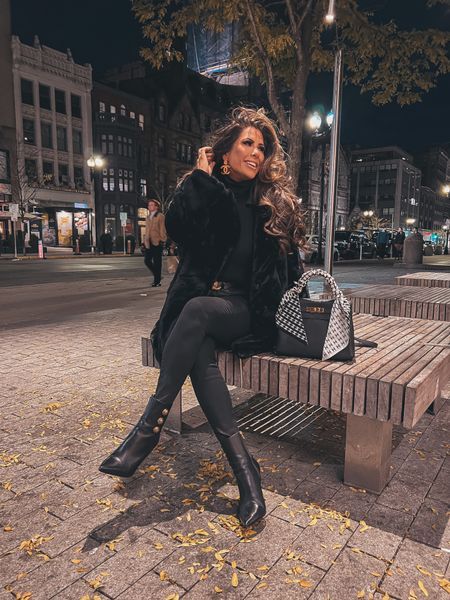 12 – Go For Soft Brown Coat and Snow Boots for Exploring New York
I love some beautiful neutrals and this soft brown coat doesn't disappoint. Layer a turtleneck and opt for leggings or jeans with a snow boot to keep your feet cozy and dry. Don't forget some sturdy gloves!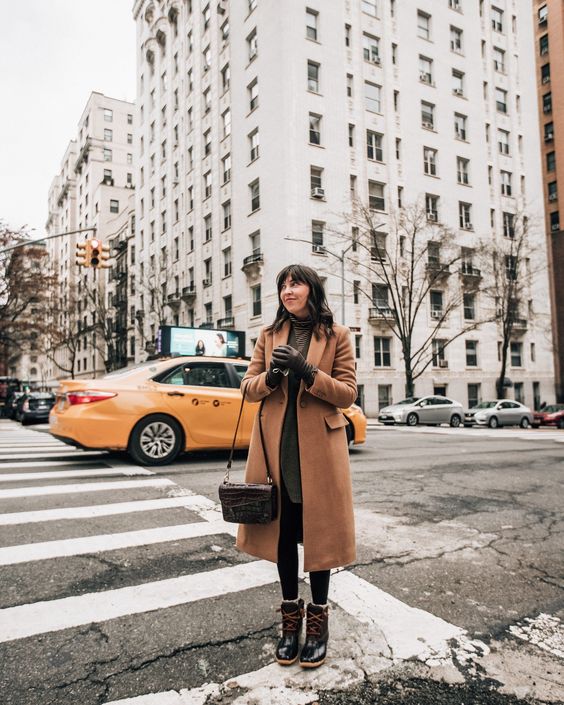 11 – You Might Need To Wear Two Coats Together
For a super chic look, try layering two coats, or a jacket under a coat. This is a lovely way to layer your clothes for optimum warmth while also looking seriously stylish. You'll want to stick to coordinating colors and go for a pattern over a neutral beige or cream-colored jacket.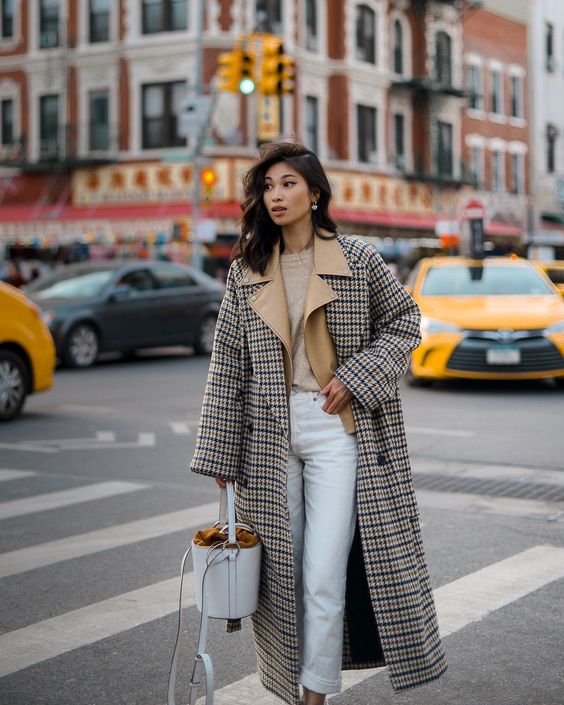 10 – Plaid Coats Look Incredibly Elegant
Now coming towards what to wear Upstate in New York: Because your trip may take you outside of NYC (or perhaps you aren't headed to the Big Apple after all and you're sticking to the upstate area) your wardrobe picks may change a bit. You won't need to worry as much about biting winds, so you can get away without a hooded coat if you like. Of all the best winter coats for upstate New York, I think this plaid coat is gorgeous.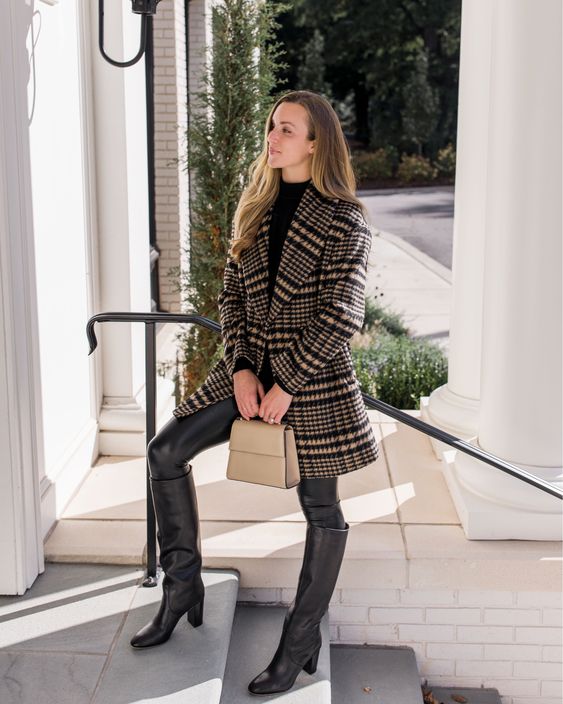 9 – Oversized Sherpa & Leather Coat are a Great Combination
This outfit looks and feels effortless, which might be the vibe you are going for. If so, you'll want a super oversized coat, some light-wash jeans, and black boots. Add a bucket hat or the hat of your choice if you like. Since most of us prefer wearing dresses, here are some tips on How to Pair Jackets with Dresses.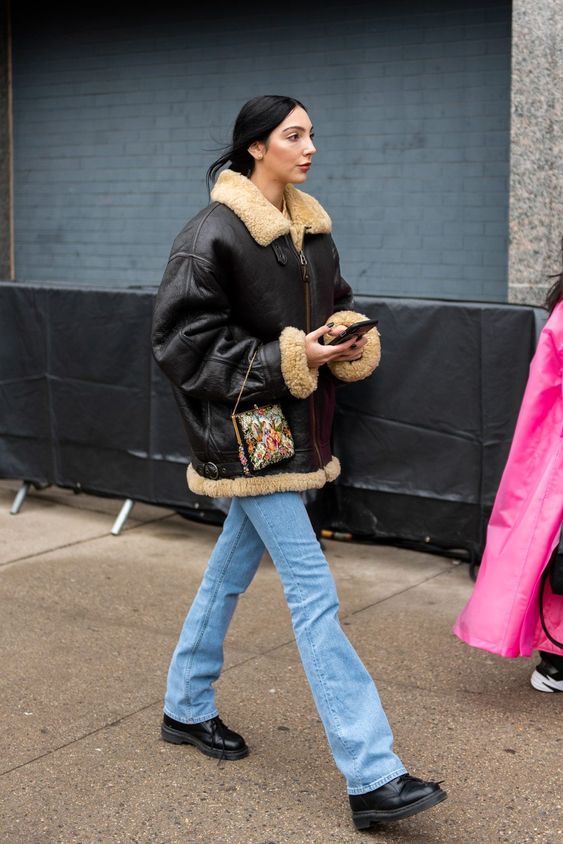 8 – Some Celebrity Style Inspiration
To discover new ideas for what to wear in NYC, look no further than the fashion queen herself: Kendall Jenner. While this ensemble best works for November or early December weather, it's a style statement you could replicate with just a few key pieces. Namely: the furry bucket hat, the chic trench coat, and chunky sneakers.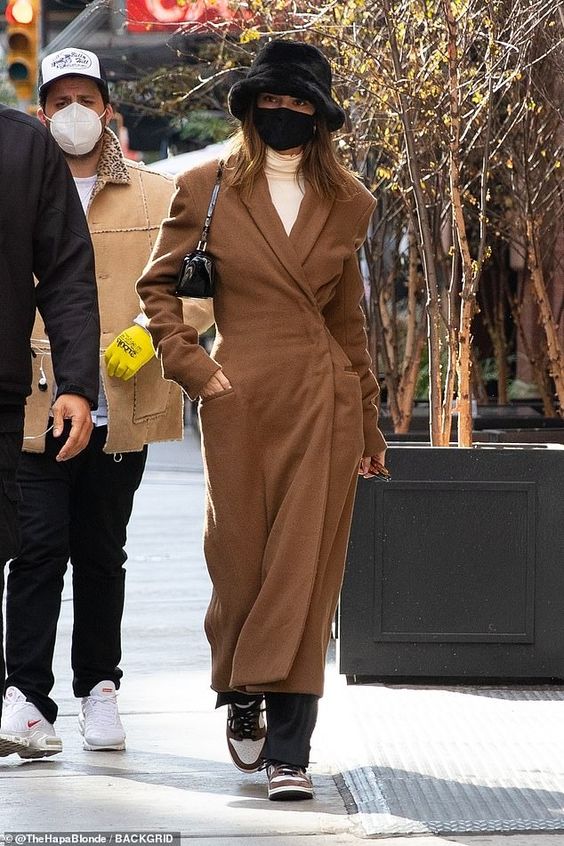 7 – Best Coat for New York Winters
When deciding on the best coat for New York in winter, look for one that offers 1) wind protection 2) a hood 3) insulation. This long, quilted, puffer coat is just the thing.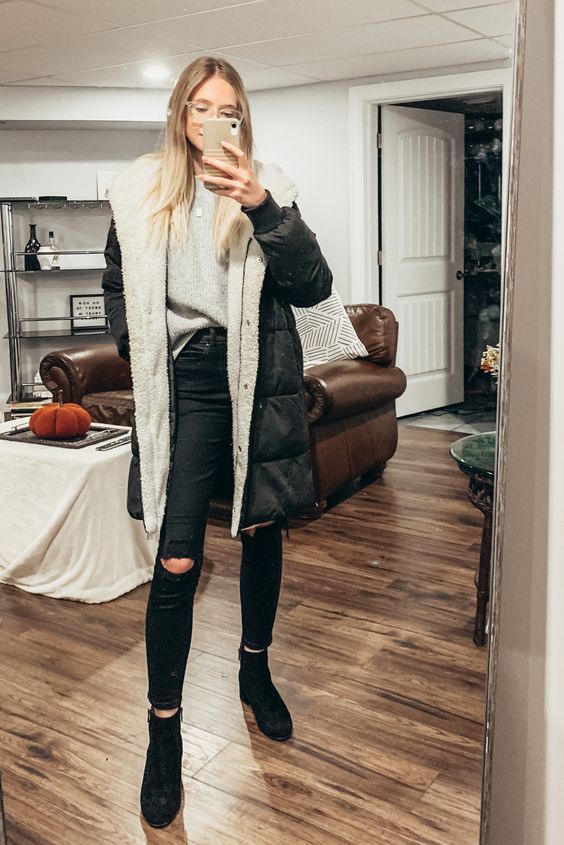 6 – Plush Coats for Sightseeing in New York
A plushy teddy coat is a style statement that will also keep you cozy.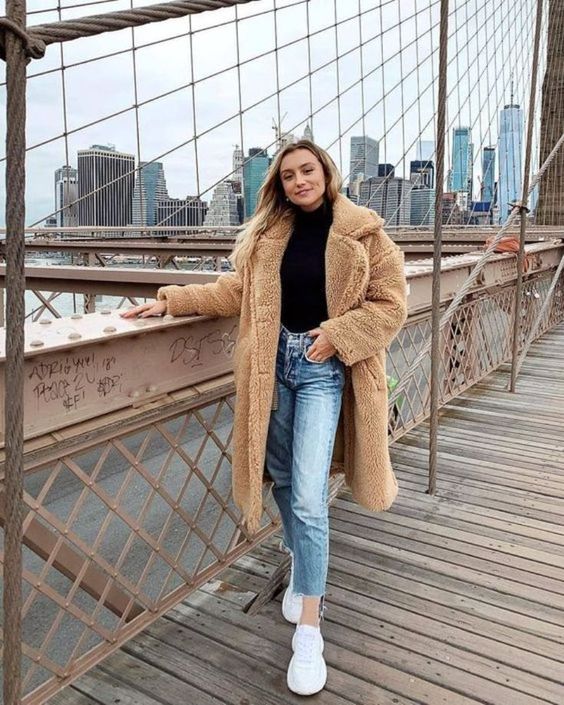 5 – You Can Never Go Wrong With Denim
Denim on denim takes confidence but if it looks anything like this, you'll feel amazing.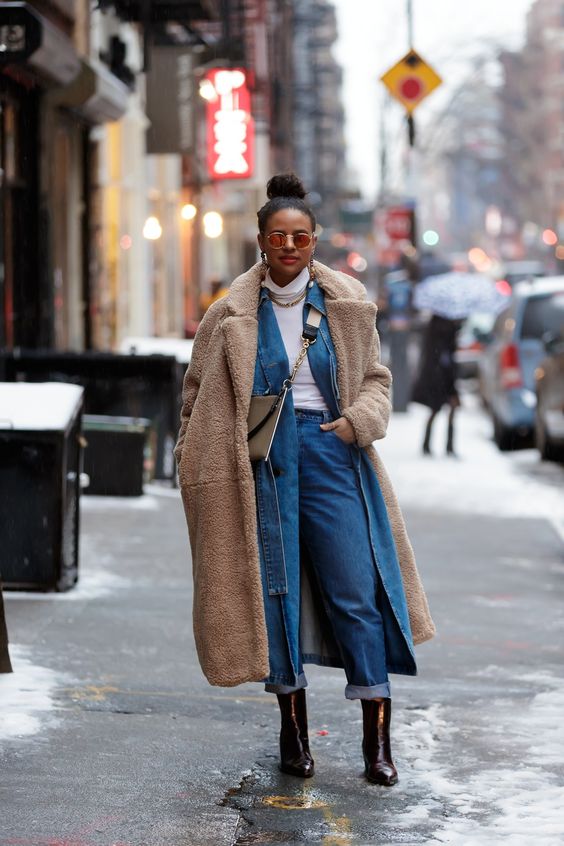 4 – You Can Dress Up Formal In Coats
For those one-off formal nights, a fitted coat over a pleated skirt with a pop-of-color accessory looks gorgeous. Add tights and consider more layers if it's a cold night!
3 – What Shoes to Wear in NYC Winter?
Knee-high boots are your safest bet when visiting NYC in the winter, but as long as they go over your ankles, are waterproof, and warm, you should be fine.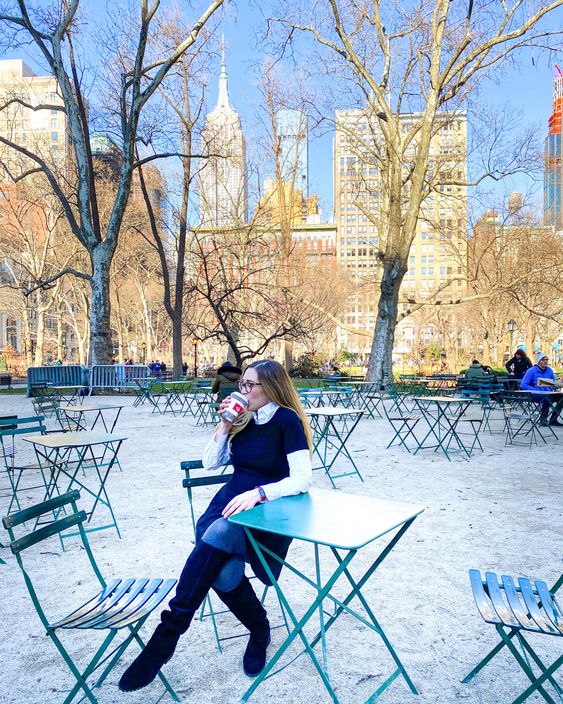 2 – Woolen Dresses Will Keep You Warmest
I love this chic winter outfit made of a wool dress, a thick coat, and knee-high boots. Here are some more smart Knit Dress Outfits you can check out for inspiration.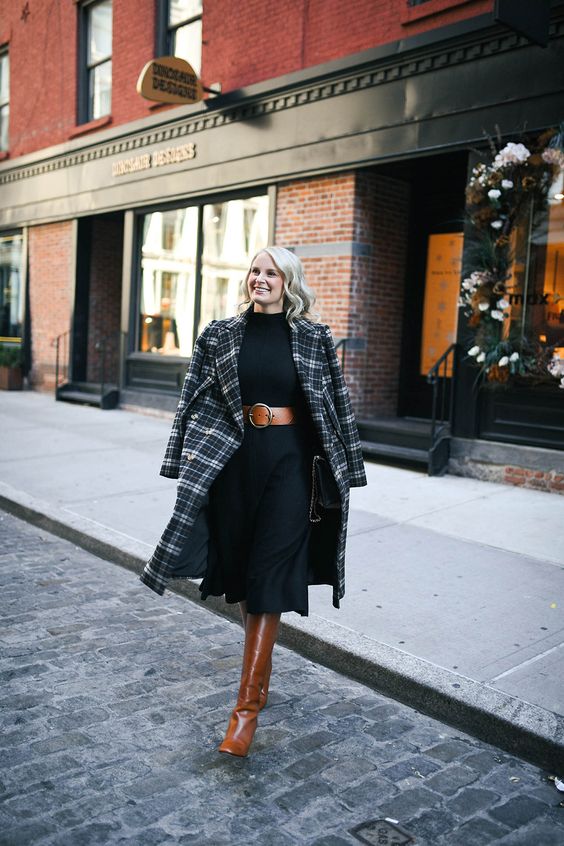 1 – How About Coordinating Your Outfits for Girls' Day Out?
Last but not least, here are some fun outfits you might consider sporting if visiting with your best girlfriends!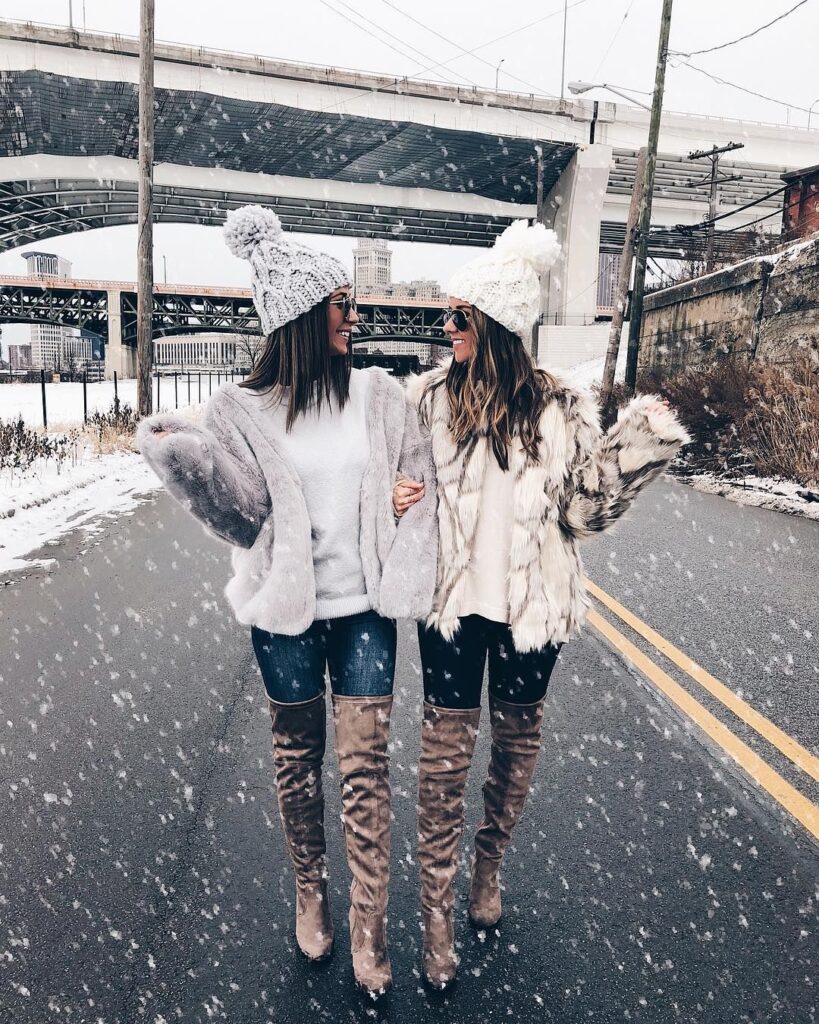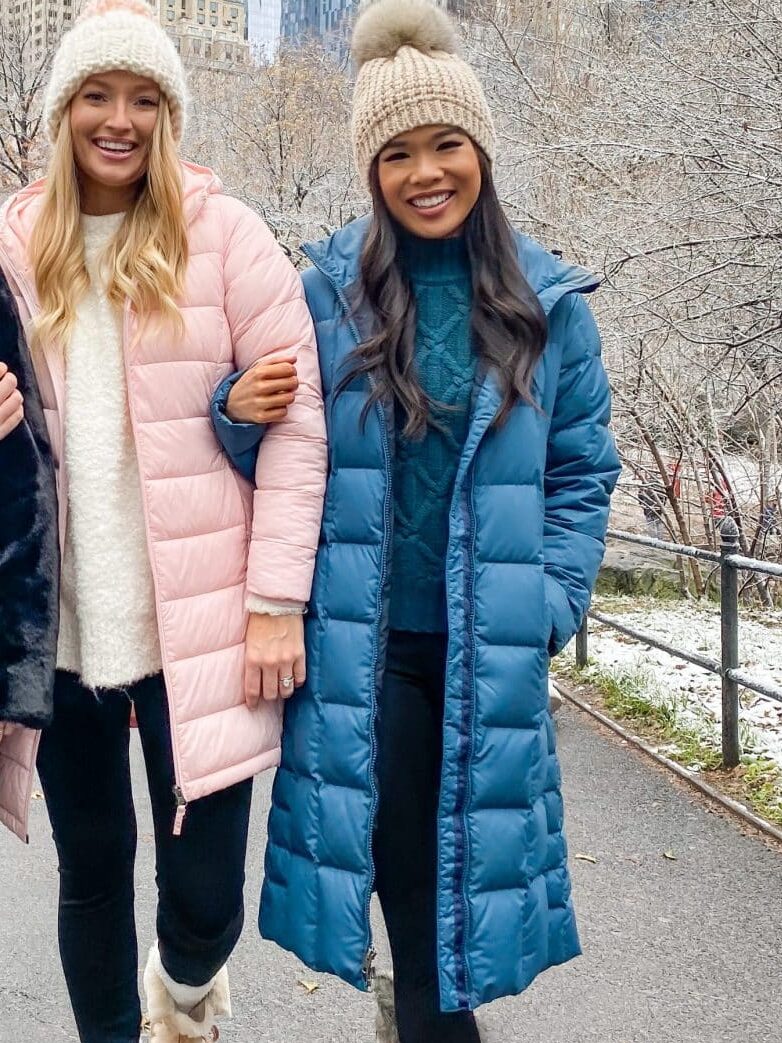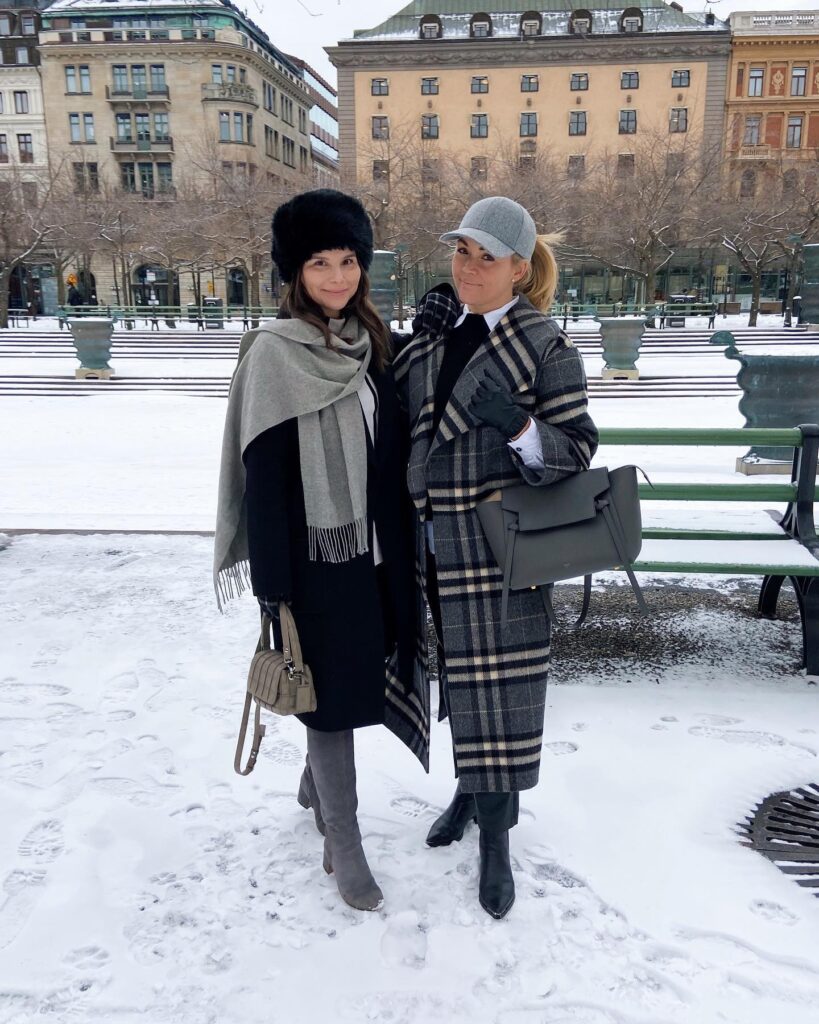 Frequently Asked Questions
Here are some frequently asked questions about how to dress in NYC.
Q. How do people dress in NYC in winter?
While certain areas of NYC are definitely flashier than others – and street-style can range from grunge to ultra-chic – the two overarching themes for New York City winter fashion is 1) style and 2) warmth. Find ways to combine the two and you'll fit right in. A stylish coat (that doesn't skimp out on certain essentials like a hood, faux fur, or insulation) goes a long way, as do great accessories.
Q. What should you not wear in NYC?
Heels. The fact of the matter is, unless you plan on traveling via cab only, you are going to be doing a lot of walking in NYC. And heels – especially heels in the middle of winter – are just too impractical for footwear. Stick to shoes that are comfortable for power-walking, and avoid anything that leaves your feet exposed (both for the coldness factor as well as the wetness.) You can also skip the sweatpants, long dresses, or white pants. They're just not practical for the city.
Q. How do you keep warm in New York in the winter?
Layers, baby. Our packing list gives you a good idea of just what you can wear to stay warm in the middle of winter in NY, but to recap: thermals, fleece-lined things, a hooded coat, and knee-high boots are your best bet. A hooded coat will do more good for you than a beanie, so keep that in mind. And you'll want gloves, a scarf, and thick socks too. If you need help with layering stylishly, do go through my post on How to Layer Outfits.
And that's a wrap! I hope you found this post super helpful as you plan your NYC trip. Let me know which outfit you are most likely to try from our round-up!
R.H. Elias is a freelance writer, aspiring author, and freelance transcriptionist. She is a homebody all the way and loves curling up on a cold, rainy day with a good book and a warm cup of tea. Her favourite pastimes include reading, writing, and watching period films. She currently lives in Puerto Rico.