What to Wear in India. India with its whimsical moods and weathers, various foods, and culture is a hip and popular traveling destination that should be on everyone's 'must-visit list.' With its unique colors and charm, India in itself is an experience. As popular it is for its beautiful culture and food, its moody weather has a reputation to reckon with.
From the scorching heat of Rajasthan to the teeth-chattering winters of Ladakh, if you are not considerate of the season and careful with what you pack, your very exciting trip to India can very easily turn into a nightmare. Don't fret, we've got your back. We have curated an exclusive packing checklist and guide for men, that will prepare you for your next exotic vacation to India.
What to Pack for Traveling to India?
Consider the season before packing your bags for your India trip. Check the current temperatures of the cities you'll be travelling to as the temperature in India varies from city to city.
If you are visiting India in the summers, pack clothes in light and breathable fabrics like cotton.
Pack comfortable footwear. India with its usual hustle bustle and busy streets, is best explored on foot.
Now, let's look at some of the best clothes to wear in India: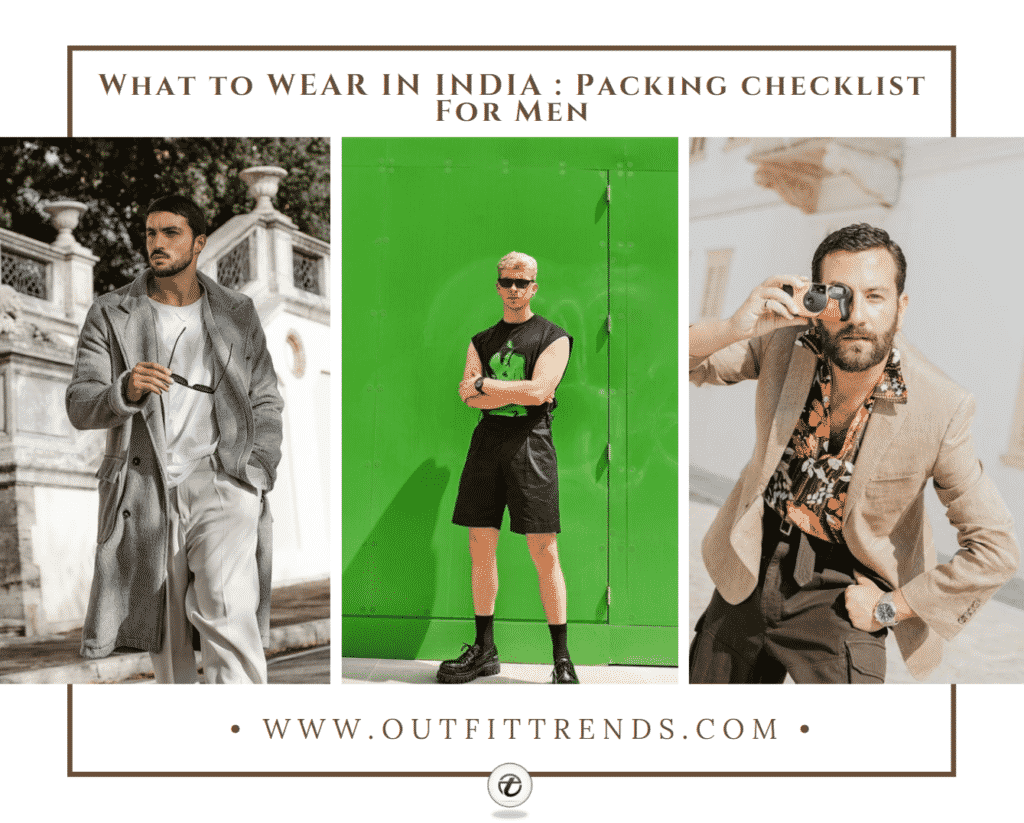 15. What to Wear in Goa?
If you're going to India, then traveling to Goa is a must and for this, you have to check out our post on What To Wear In Goa.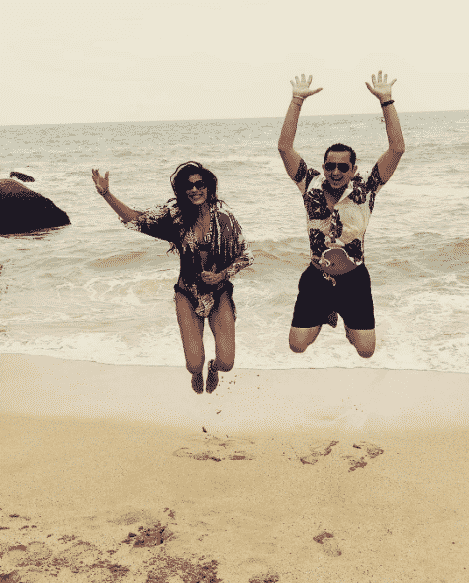 Summer Travel Outfits for India:
Want to avoid shivering the whole time? Visit India during the tropical summer season. From beautiful fauna to an amazingly huge variety of delish dishes and cuisines, summers are a great time to explore the subcontinent.
14. Cotton Kurta
Easy-breezy and super high on style, a cotton kurta is super comfortable and would also keep you cool in the Indian summers. For a casual look pair your kurta with jeans and comfortable shoes, or dress it up with a contrasting dupatta/scarf to look more put together and stylish. You can get more styling ideas from our previous post on Best Kurta Pajama Styles From Indian Male Celebrities.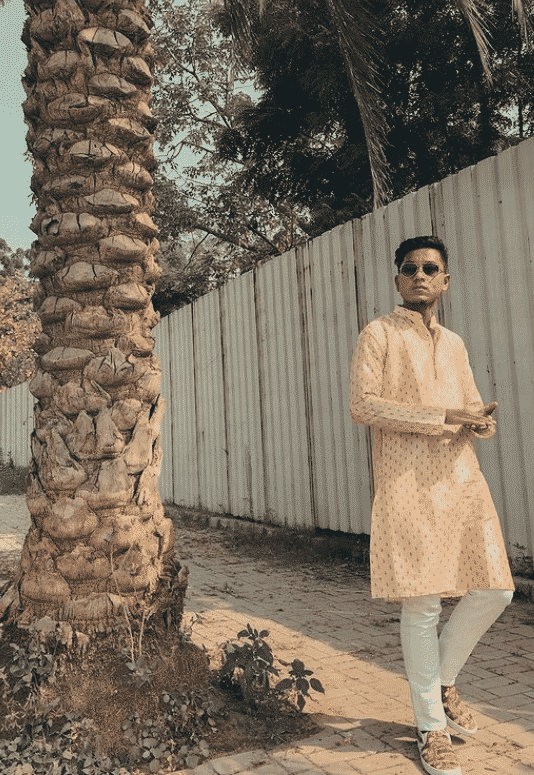 13. Joggers
A comfortable pair of joggers is a stylish wardrobe essential and a must-have on your packing list. Pack a comfortable pair of joggers in neutral shades so you can easily mix and match to make multiple outfits and avoid overpacking. Perfect for Indian heat, joggers in breathable fabrics are your best bet to survive your vacation to India during summers. Pair it with a casual t-shirt and shoes and you are ready to explore the ever so famous, street markets of India.
12. Casual Tees
Comfortable yet trendy, casual t-shirts are every man's favorite staple. Match it with your trusty jeans for a stroll to the Taj Mahal or pair it up with a blazer for a fun night out, when it comes to styling a t-shirt, the options are endless. Opt for an uber-stylish monochromatic look and pair it with chunky white shoes for a comfortable and trendy high street look.
11. Shorts
What's a vacation without comfortable shorts paired with casual shirts in tropical prints and some comfy slippers? Pick out cotton shorts in various colors and you're ready to explore the streets of India. From classic whites to colorful pinks, shorts are a great way to keep your cool during the scorching heat and look stylish while at it.
Winter Travel Outfits for India
If you love all things wintery and cold, this is the perfect weather for you to make a trip to the subcontinent. India usually doesn't get that cold in winters. South Indian and some north Indian cities experience some to no snow. So pack your jackets and get ready to check out the beautiful architecture, monuments, and gorge on chole bhatoore and hot Tikki without any worry.
10. Jackets
Be it uber-cool biker jackets or stylish puffer jackets, don't forget to pack some warm and comfortable jackets for your winter vacation. Winters in India are a lot windier than it is snowy. So a comfortable jacket will protect you from the harsh winds while also looking super stylish. Pick a jacket in subtle tones of browns and black and mix well with the Indian crowd. Here's a complete list of all the Types of Jackets for Men & How to Wear Them.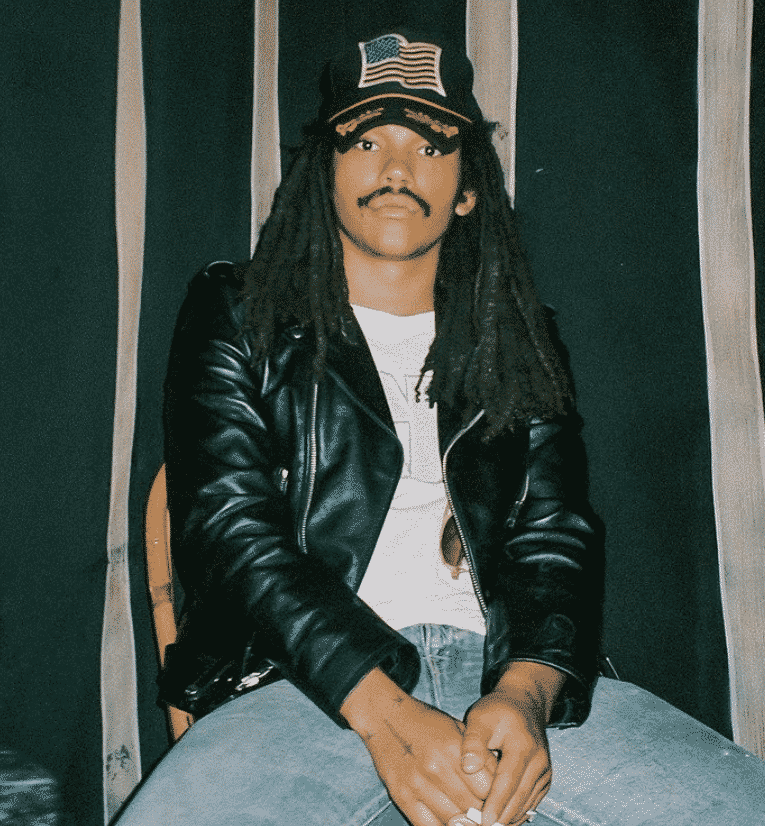 9. Woolen Pants
A pair of smart yet warm woolen pants can change your whole vacay style game in a hot minute. India, though cold doesn't get as cold as Europe, so a pair or two of fashionable woolen pants can easily cover your next winter vacation to India. Pair it with a casual shirt, throw on a denim jacket and you are ready to explore the hidden gems of Amritsar or perhaps the streets of Chandni Chowk.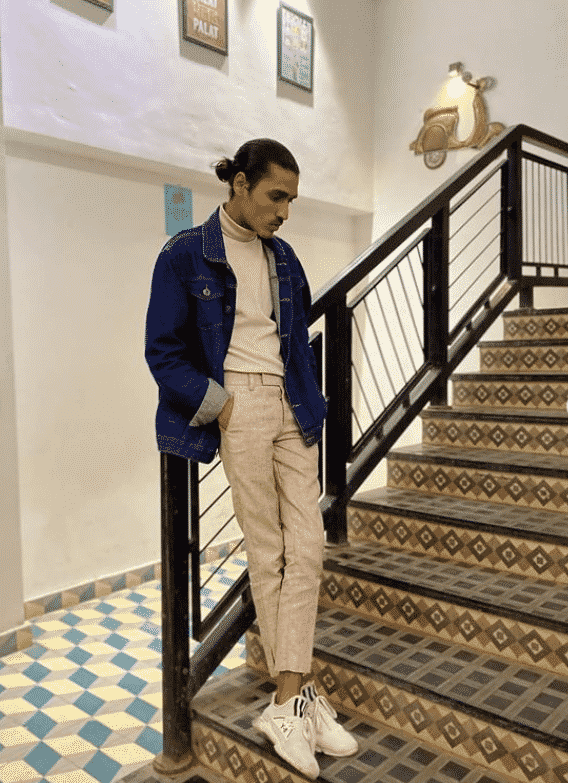 8. Cardigans
Pack some trendy cardigans to tackle the sweet cold of Delhi while you're on your way to explore the Qutub Minar. A fashionable staple, Cardigans are easy to pack and super versatile in nature. From casual tees, buttons ups to kurta, cardigans can make any outfit turn into an influencer-approved fit in a minute. Pair it with your favorite pair of pants or jeans for a dapper yet casual look.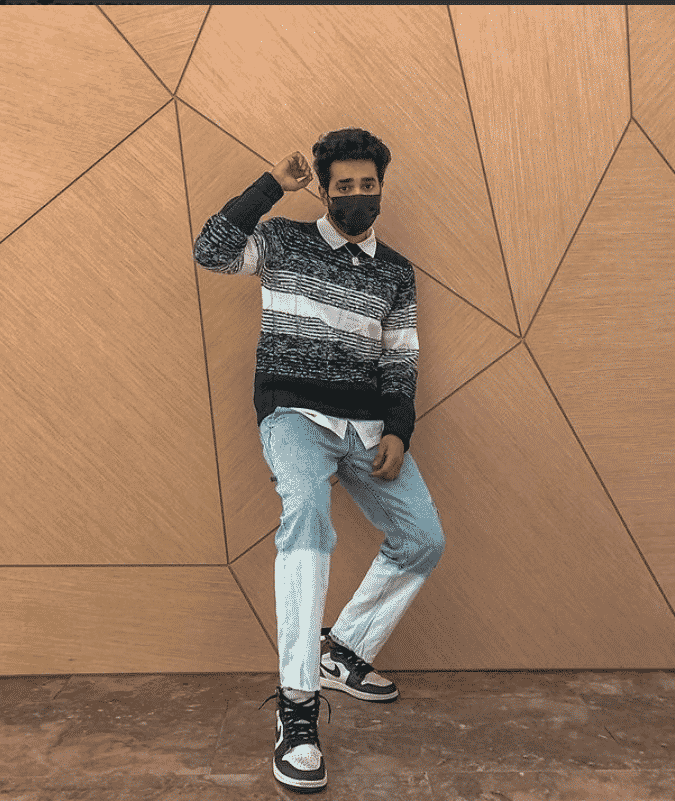 7. Turtleneck
Nothing exudes classy sexiness as a turtleneck. A versatile piece, turtlenecks can be both dressed down or oomph up as per the occasion. Opt for a classic black turtleneck pair it with checkered trousers, and a silver neckpiece for a semi-formal, dapper look, and you are ready to rock that uber-stylish vacay outfit. Here are some more Men's Turtleneck Outfits.
6. Winter Coat
A sophisticated staple, woolen coats are your best bet to keep yourself warm and look fashionable on your next winter vacation to India. Pair it with a kurta, button-up, or a cardigan, when it comes to styling a coat, the options are endless. You can never go wrong with a monochromatic look for an effortless yet put-together appeal.
5. Beanie
Pack beanies to protect your head from the harsh winds during the winter nights. Pick out some comfortable beanies in neutral shades like black and brown and add a tint of oomph to your otherwise basic vacay outfit. Super high on trend, beanies are an excellent way to keep your head warm and protected in the winter seasons. You can also pick out some in bold shades and wear them as a statement piece.
Spring Outfits for Traveling in India
One of the best times to visit India is during the spring season. Pleasantly warm and effectively cool, this easy breezy weather is perfect to explore the busy streets of India, brimming with culture, street shopping for some drool-worthy spices, and bagging some great deals on exotic art pieces.
4. Blazer
India during its springtime is neither too hot nor too cold, so a cotton or linen blazer is just the right amount of layering to keep you comfortably warm during chilly evenings. Spring season is all about growth, with beautiful flowers ready to blossom, and trees getting back to their luscious greens, its the perfect time to spruce up your vacay outfit by adding a pop of color and drama by pairing your blazer with casual shirts in bold prints and grab all the attention.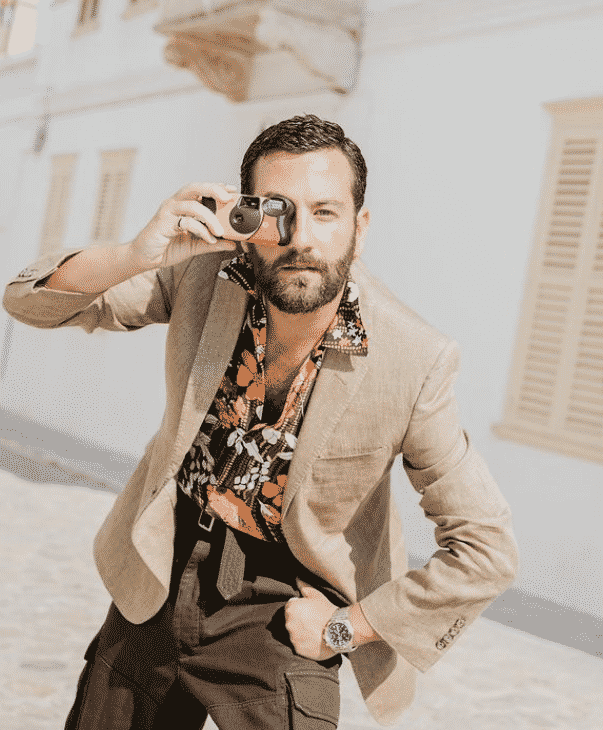 3. Button Up Shirt
A couple of pairs of classic buttons ups in different shades and patterns and half your vacation packing is done. Effortless, classy, and fun, spruce up your outfit with a button-up shirt in bold prints and grab attention at your next vacation. If you like it subtle and sophisticated, opt for a classic white shirt and rule the street fashion looks. Whatever you choose, don't forget to have fun.
2. Scarf
Pack some colorful scarves to add a dash of vibrancy and drama to your outfit and mix well with the crowd of this colorful subcontinent. Elevate a classic or monochromatic outfit by adding a scarf in bold prints and your high street springtime vacay outfit is ready!
1. Jeans
No holiday packing is complete without a good pair of jeans. Be it straight cut or skinny fit, whatever your style is don't forget to pack comfortable, sturdy jeans in blue and black for your spring vacation. A super-versatile option, pair it with a casual tee, formal blazer, or even a linen kurta, jeans with their comfortability and versatility will spoil you for choices.
Frequently Asked Questions
Q. What do men typically wear in India?
Traditional clothes like sherwani, dhoti, kurta paired with jeans or pajama are very popular amongst Indian men. In addition to that western clothing items like shirts, tees and jeans are also widely accepted and worn by the Indian crowd. Here's our complete Winter Travel Guide For Men.
Q. What should you not wear in India?
India is quite open and accepting when it comes to clothing, but anything too short or revealing is a big no. If you would like to gel well with the crowd, you can also choose to wear a traditional kurta in comfortable fabric and look like a local.
Q. What should you bring from India?
Alongside beautiful culture and practices, India also has a prominent legacy in paintings and art. A lot of local and tribal paintings are sold in the streets of India which you should definitely purchase. In addition to that, delish local Indian spices are also something that you can take back home to satiate the cook in you and give your dishes an Indian spin.
If you are a tea lover, get your hands on some traditional teas like Assam tea, masala tea, or even Darjeeling tea and host a tea party for your friends at home.
Q. What to pack for a trip to India as a female?
Long skirts, fashionable scarves, casual tees, jeans, and kurtis are some of the basic essentials that you should pack for your next trip to India. If you wish to try traditional outfits and look like a local, you can also get your hands on traditional suits, sarees or even lehengas. Whatever you choose, stay comfortable and have fun! For a more detailed answer, check out our exclusive post Stylish Indian Street style Fashion Ideas For Women
Q. Is there a dress code in India for tourists?
No, you can pretty much dress as you like. Unless you're attending a religious ceremony or cultural event where you might be expected to dress respectively.