Denim Jacket For Men: Men's closet will be incomplete if they don't have a denim jacket! In this guide, you will get to know different ideas of how to wear denim jackets on a different occasion; so, that your look is the most stylish and comfortable!
Denim Jacket is something that can be worn for 12 months around the clock with great versatility. Whether you wish to dress up in the 70s – 80s trend of styling in baggy denim or follow the trend of the millennium to wear a double denim; denim jackets have become an essential – integral part of men's wardrobe. Usually, it seems an easy option to wear a denim jacket but in order to look smart, you need to work it out. Hence, if you are looking for a roadmap for how to wear a denim jacket, read our complete handbook.
How to Wear Denim Jacket for Men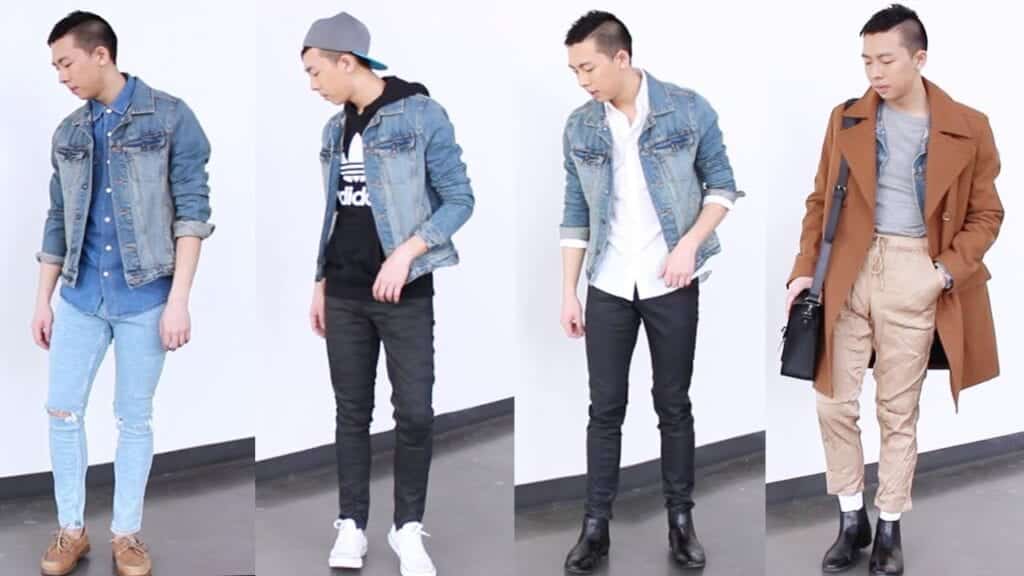 Reasons to wear a denim jacket.
Wear it for all seasons: The biggest reason for wearing a denim jacket is that it's suitable for most of the year. The denim jacket is warm enough to get through the winter season yet it is light weight to make look classy during spring. The only time you would avoid will be during the heights of summers. However, the weight of denim jacket varies – you have thin jackets available as well that can work for all three seasons.
RECOMMENDED: How to Wear Bomber Jacket Men-18 Outfits with Bomber Jackets
Tougher & Durable: Denim jackets are known for their toughness. It is something that you can beat yet it would same old jacket like our decade old jeans! It requires less maintenance comparatively to other delicate clothes. Looking for proofs? Why don't you twist it, pull, stretch your denim jacket and check it yourself that it is NOT going to get ripped easily, even a wrinkle won't be there for you to notice? Moreover, if you buying a brand like Levi's then the lifespan of it will longer than a non-brand denim jacket! Heavier the volume tougher and durable it will than a simple jacket made from the weave.
Decade after Decade: In last few decades, denim jackets have grown to be one of the classic outfits yet it is also one of a casual outfit as well. The denim jacket is a great substitute for a blazer or a bomber jacket or a sports jacket either of these proves to be tight and stiff in comparison to a denim jacket. To make classier, you can grab a t-shirt with a collar that would enlighten your face feature a notch up. Furthermore, if you are looking something as fitted as sports jacket, then denim jacket is available in all variety from slim-fitting to lose fit!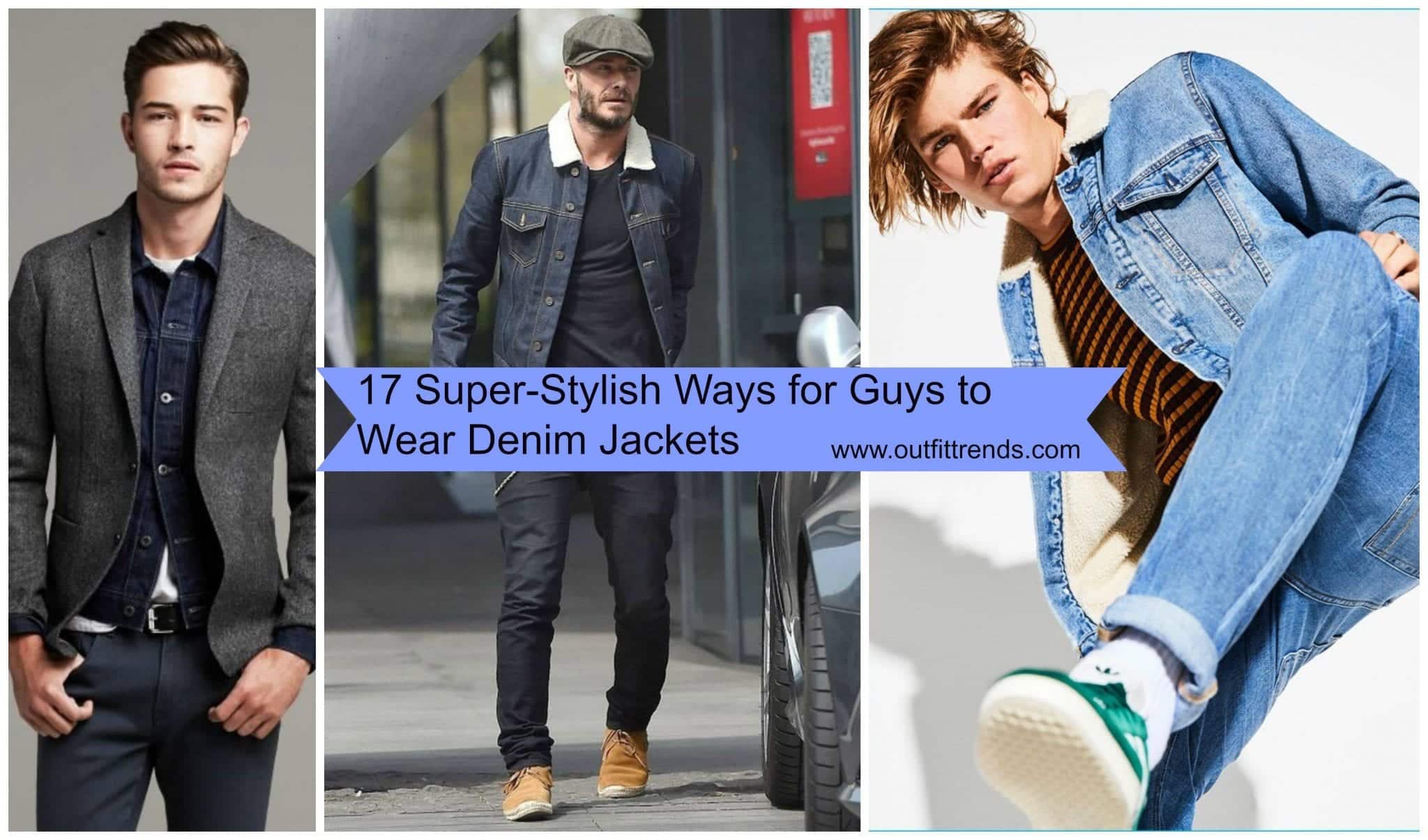 #18- Double the Denim – Celebrity Style
Let's, get started with an inspiration i.e. David Beckham wearing a double denim. A dark shade of jeans with a blue denim jacket with a white T-shirt and pullover cap. This is a look that you can carry around anywhere you want that would make you sophisticated yet laid back; from outfit suited to the most casual occasion. Aren't David and his daughter Harper just the cutest though? Check out the little style diva's awesome pictures here: Harper Beckham Pics-100 Best Pictures and Videos of Harper Beckham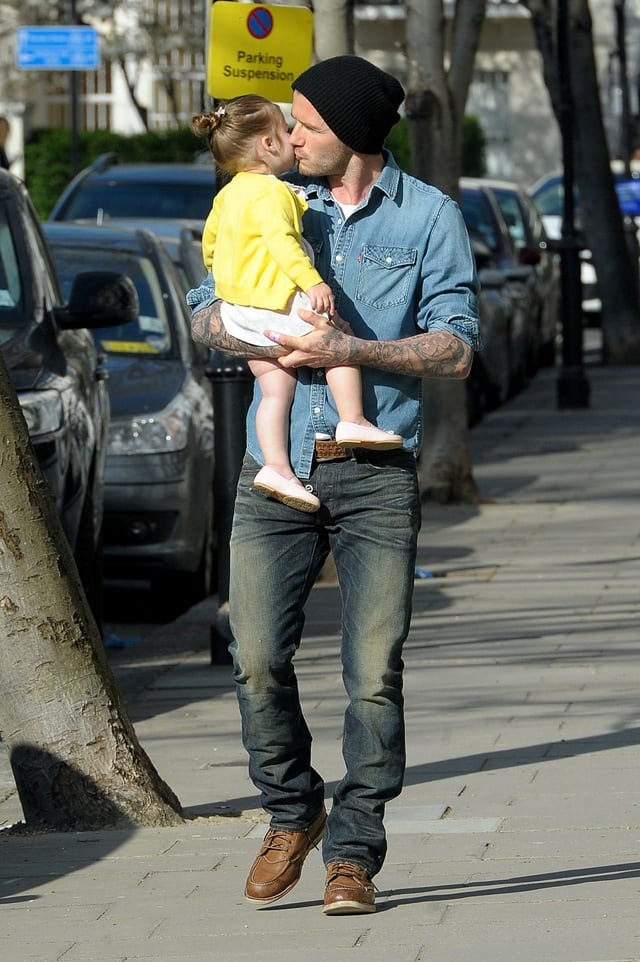 #17- Cargo Pants with Denim Jacket.
Looking for a trendy look? Then why not wear cargo green loose pants, cuff it up with a denim blue jacket and a baseball hat. A cool look, to have if you hanging out with friends! Here are Cargo Pants Outfits for Men; 17 Ways to Wear Cargo Pants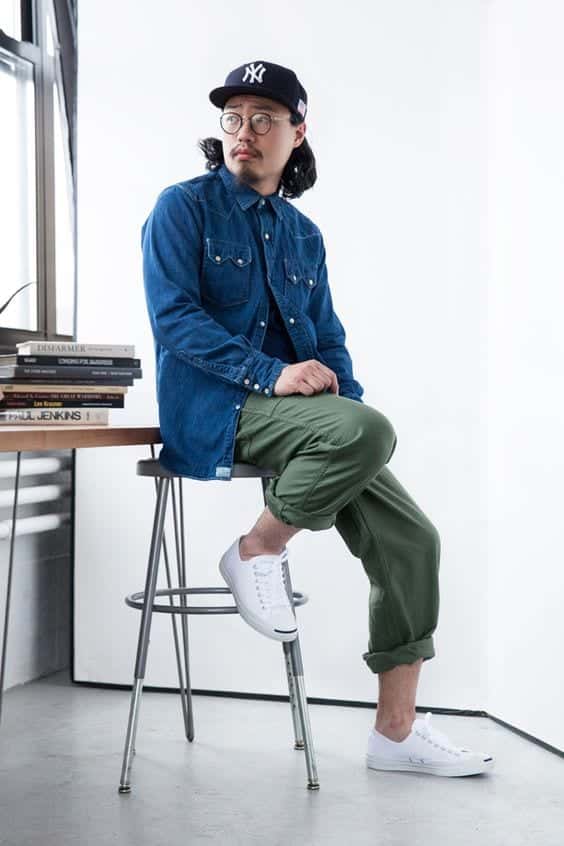 Via
#16- Denim Jacket Outfit for Men Over 50
Denim Jacket in black is all time versatile piece for all ages! Team up your denim jacket with khaki pants and cowboy hat! To give it up a casual yet stylish look.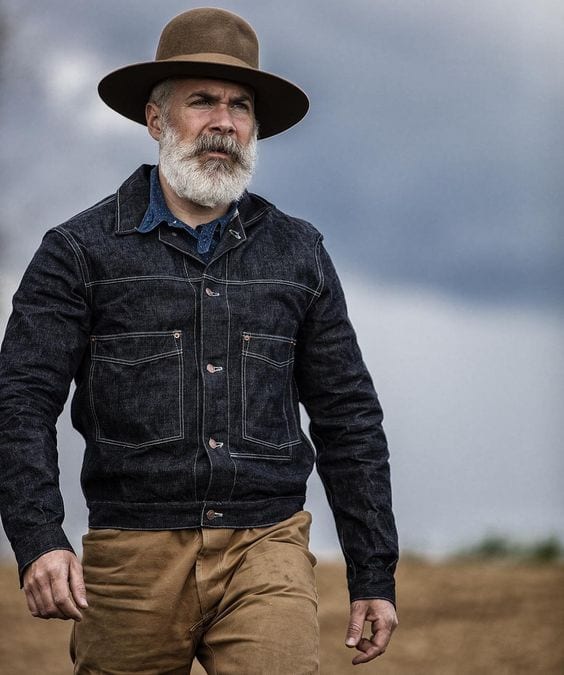 #15- Casual Denim Jacket with a Pullover Cap
Going out? Looking for something warm yet trendy, then why not opt for a denim winter jacket that has sheepskin underneath it, in the cold months of winter with a darker shade of tee & tight skinny jeans, white sneakers and a pullover hat! Here are some swag Men Outfits with Hats – 15 Ways to Wear Different Hats Fashionably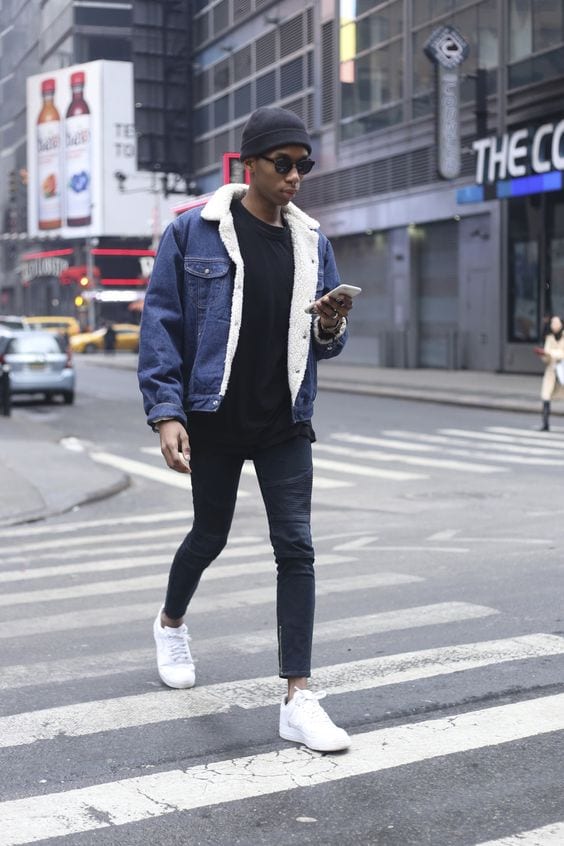 Via
#14- Denim Jacket with a Hoodie.
For extreme cold weather, you wish to look casual yet warm enough to walk across the city, then team up one of your hoodies with ruffled light shade denim and look flawless and warm!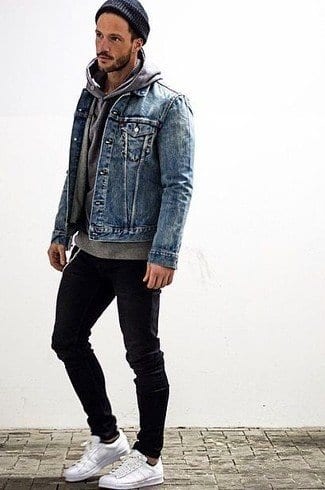 Via
#13- A Douche Denim Jacket.
Looking for something different? Why not wear a douche wrinkled denim jacket! Be it a denim blue jacket with pockets or white stripes on a blue denim jacket; all will look surely look trendy enough to grab a lot of attention if you team up with denim jeans and add a khaki blazer or a waistcoat like shown in the picture!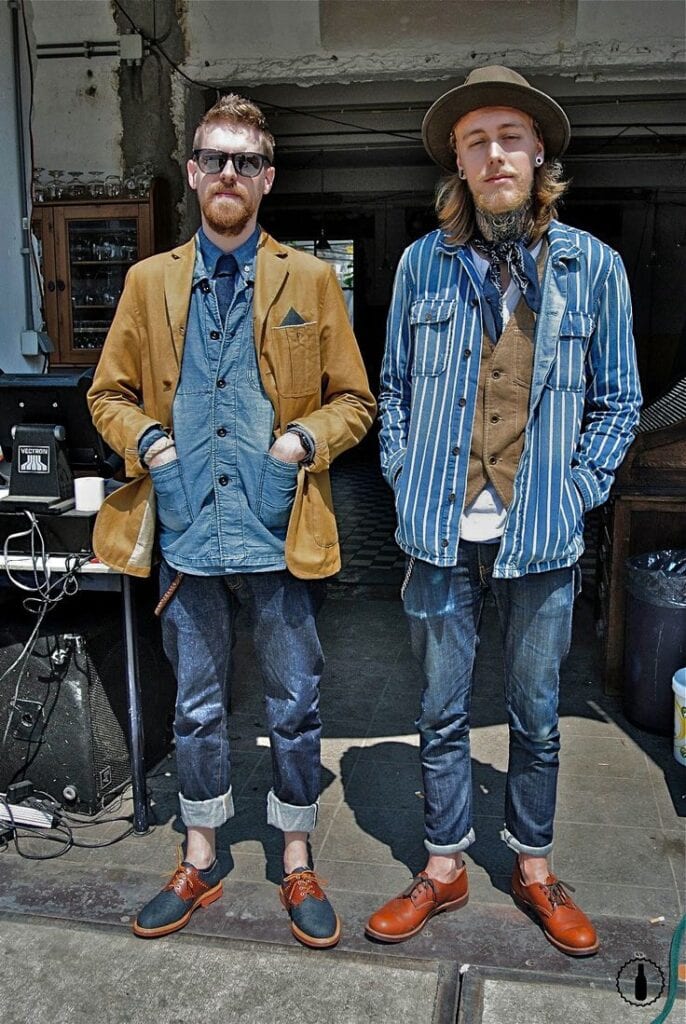 #12- How to Layer Your Denim Jacket for Fall
Parka is usually used to wear in winter seasons. To avoid boring looks, what need to do is grab a crew neck denim jacket, button it down and pair it up with skinny jeans to complete your look for a lunch-date. Here are some awesome Fall Outfits for Men-40 Best Fall Fashion Tips for Men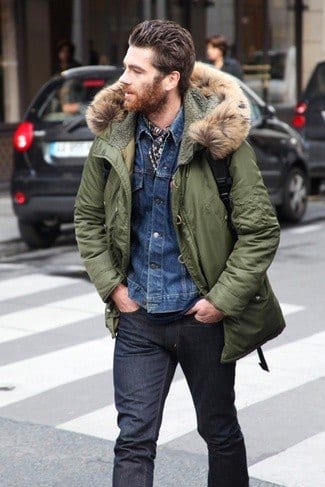 #11- Long Denim Jacket and Beret Hat.
Time to trend yourself up in 80s street style. Go and look into your closet for long denim jackets and one of your beret hats to complete your look for the day!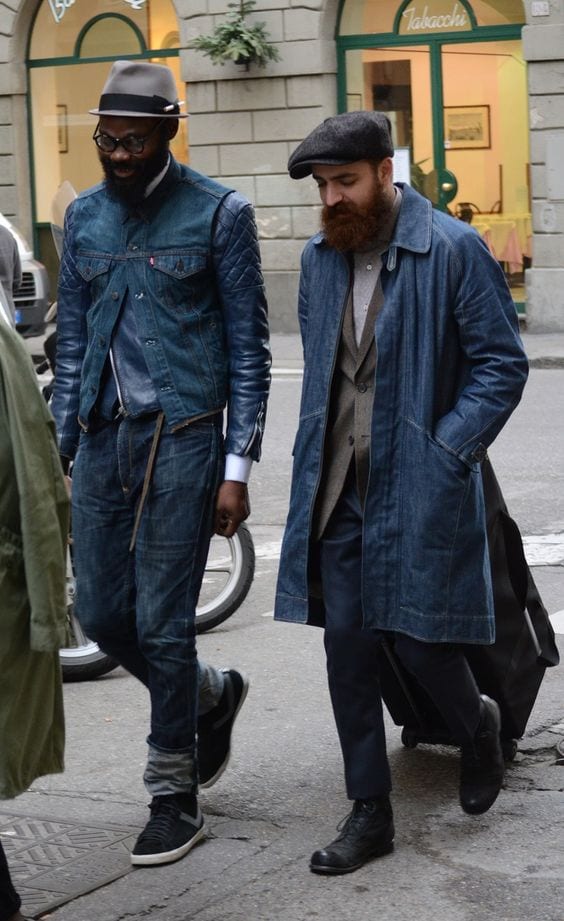 Via
#10- Jordon Barrett in Blue Denim Jacket.
Get an inspiration of wearing a look of the same color of denim jacket and jeans by Jordon Barrett. A ready to wear look for Sunday or a beach look where you are planning to hang out with friends!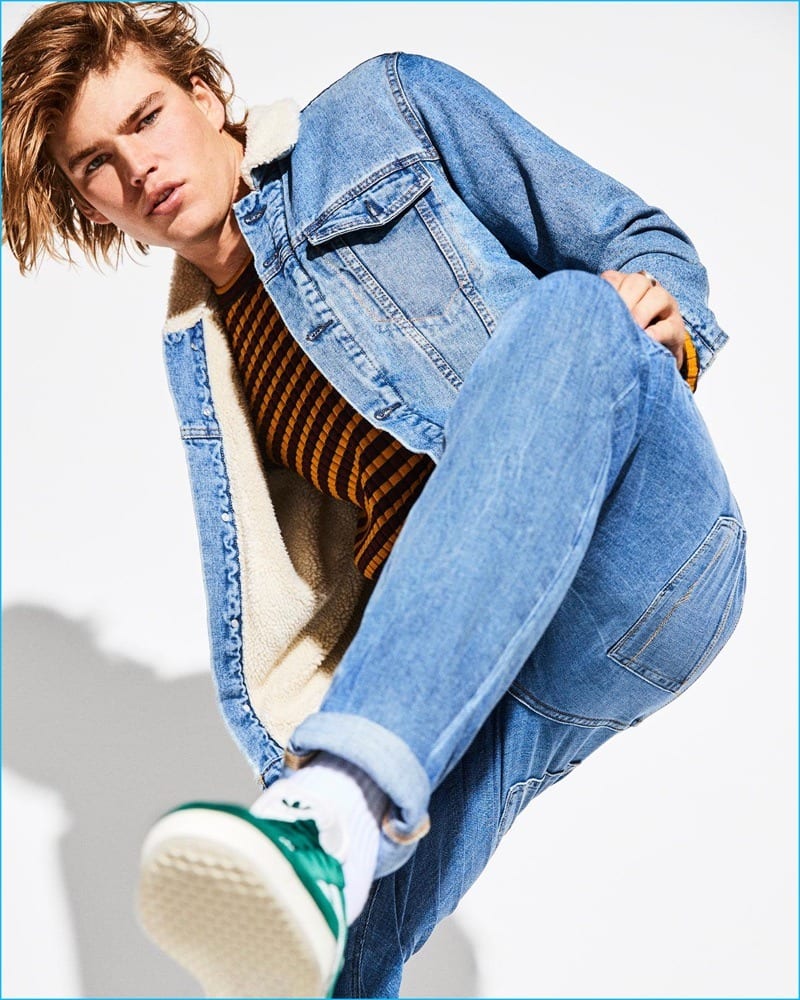 #9- What to Wear with a Printed Denim Jacket
Looking a funky look? Grab a denim jacket that has print patterns all over it.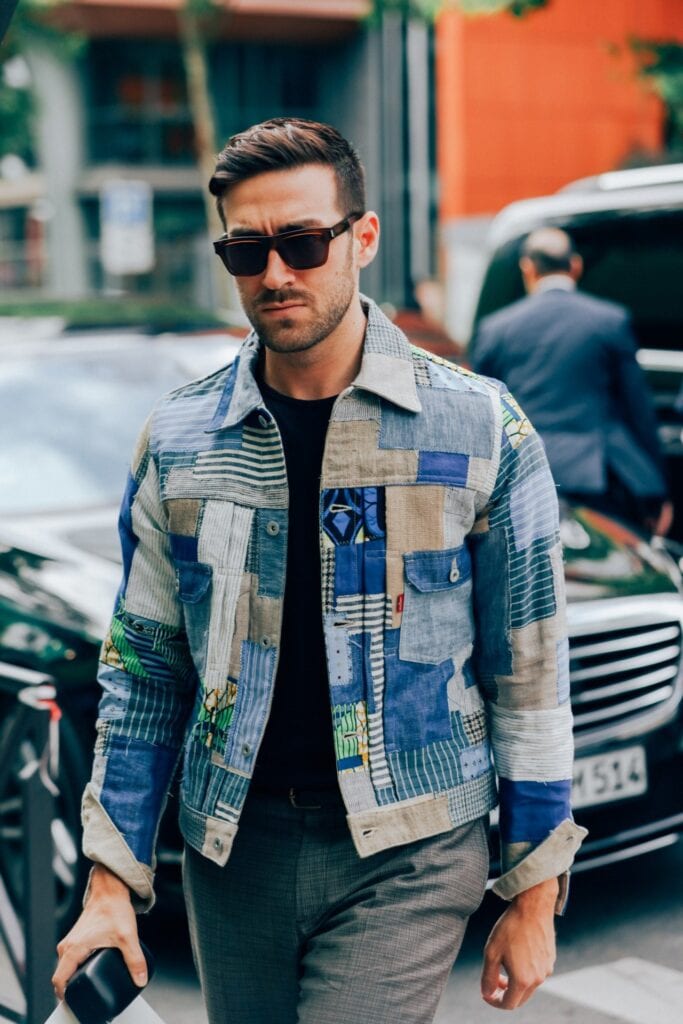 Via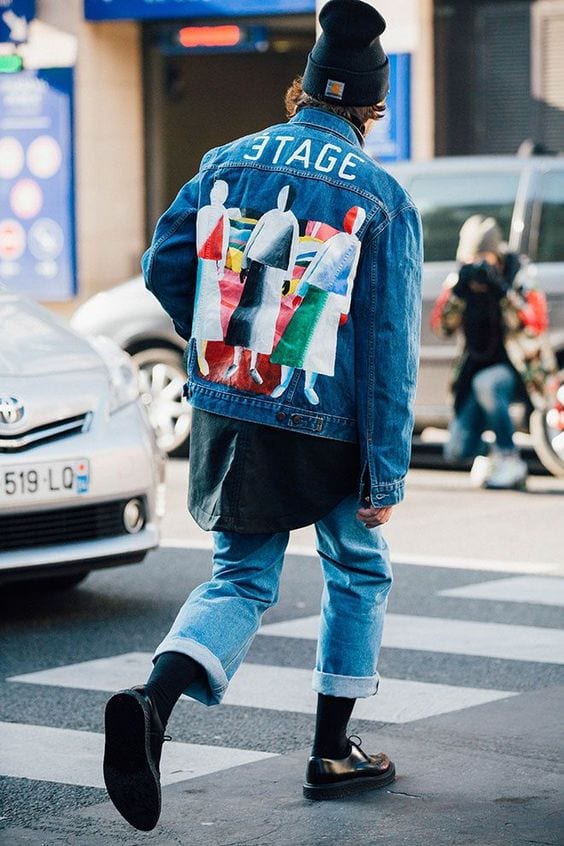 #8- Triple Layers Denim Jacket.
Looks like Triple later of Denim is back in trend! Team up your denim jacket with jeans and denim shirt with a pastel color yellow shirt, so that your shirt and jacket don't get mixed up!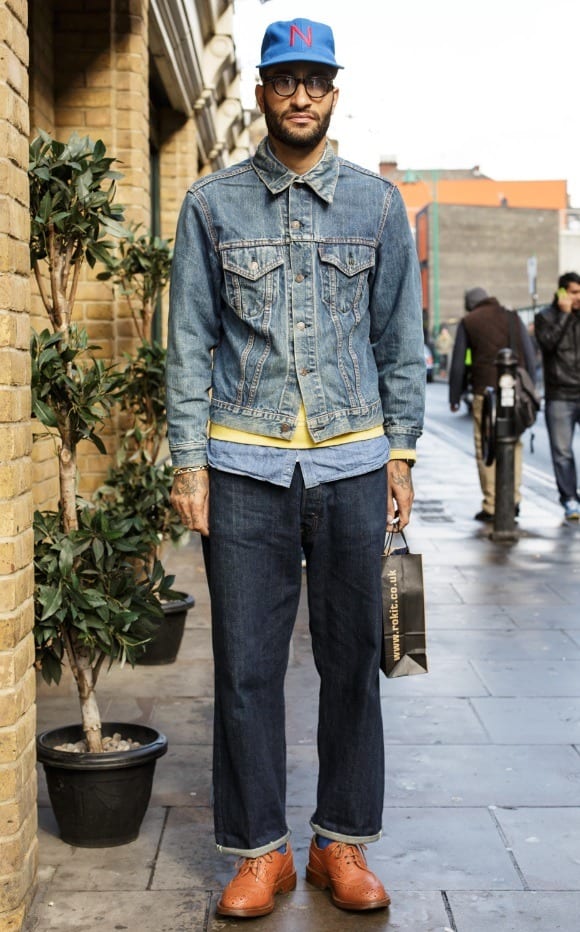 #7- Turtle Neck Top with Denim Jacket.
Going out for a date? Why not wear a plain turtleneck top with a denim jacket to give you a youthful look! Don't forget to wear matching sneakers to complete your look for a perfect date! RECOMMENDED: Sweater outfits for men – 17 Ways to Wear Sweaters Fashionably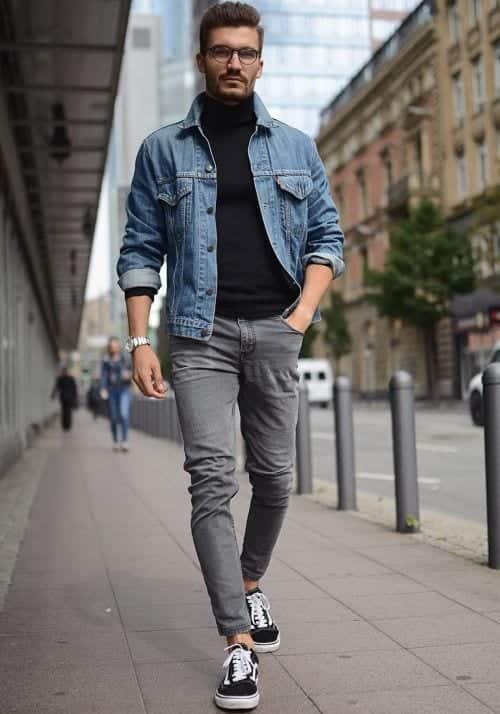 Via
#6- Vintage Look in Denim for Youngsters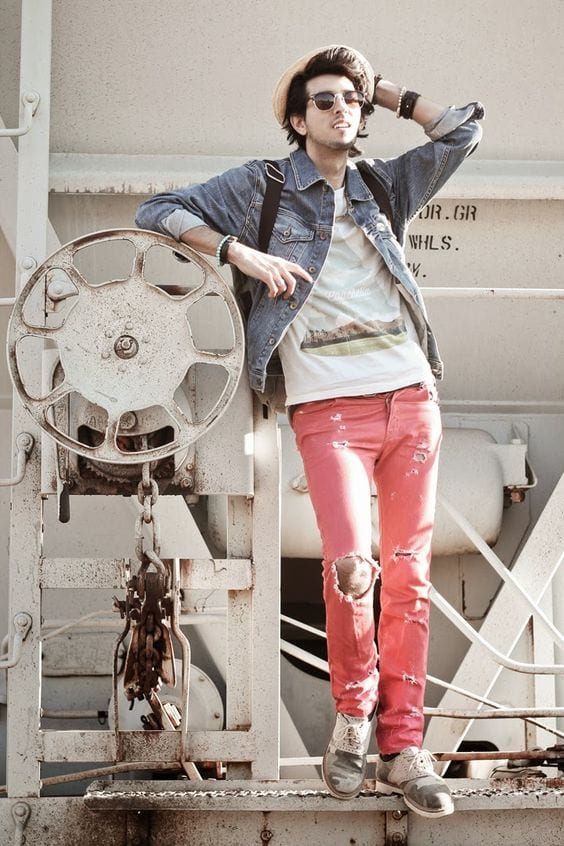 Via
#5- Zac Efron in double Denim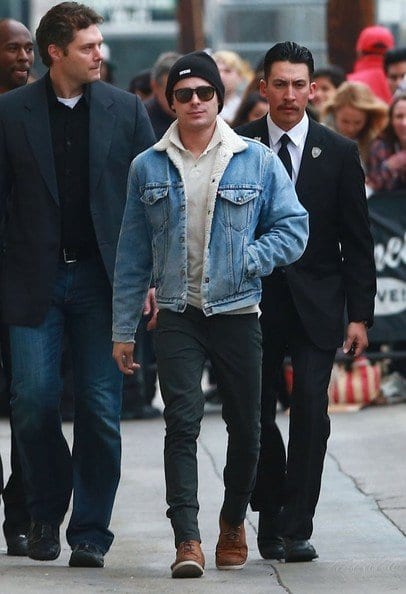 #4- Denim Jacket with white T-Shirt for Work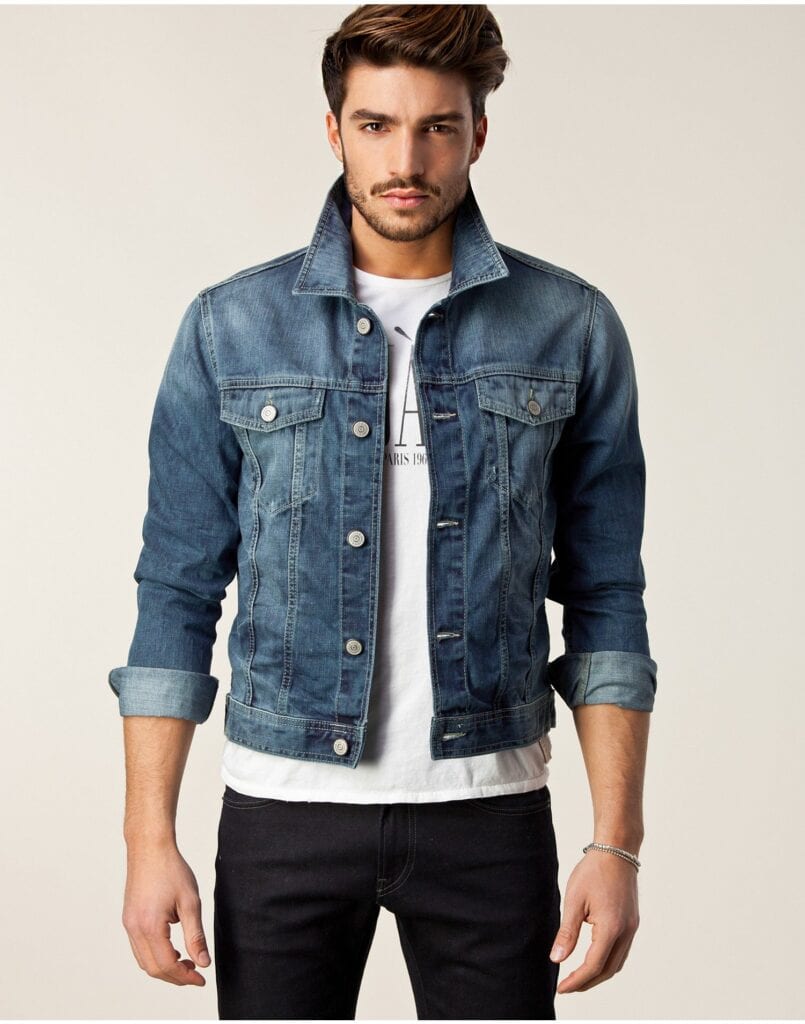 Via
#3- Office Style in Denim
Look for a trendy yet professional enough for your office then team up your denim jacket with a blazer to give it a complete sophisticated look. Check out these 15 Smart Spring Work Wear Outfits Combinations For Men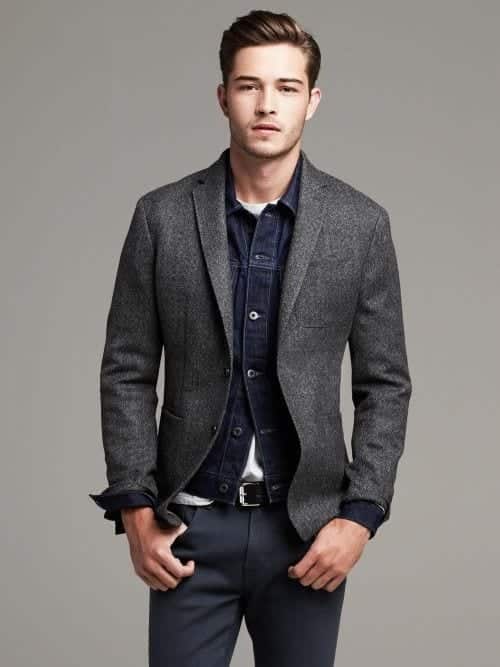 #2- Grab Shorts with your Denim Jacket for the Beach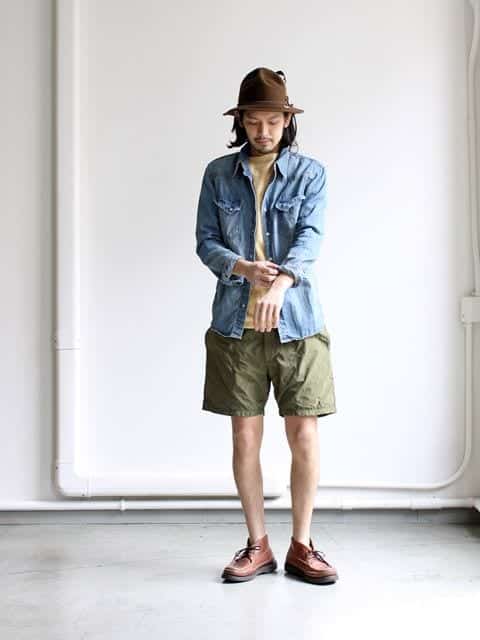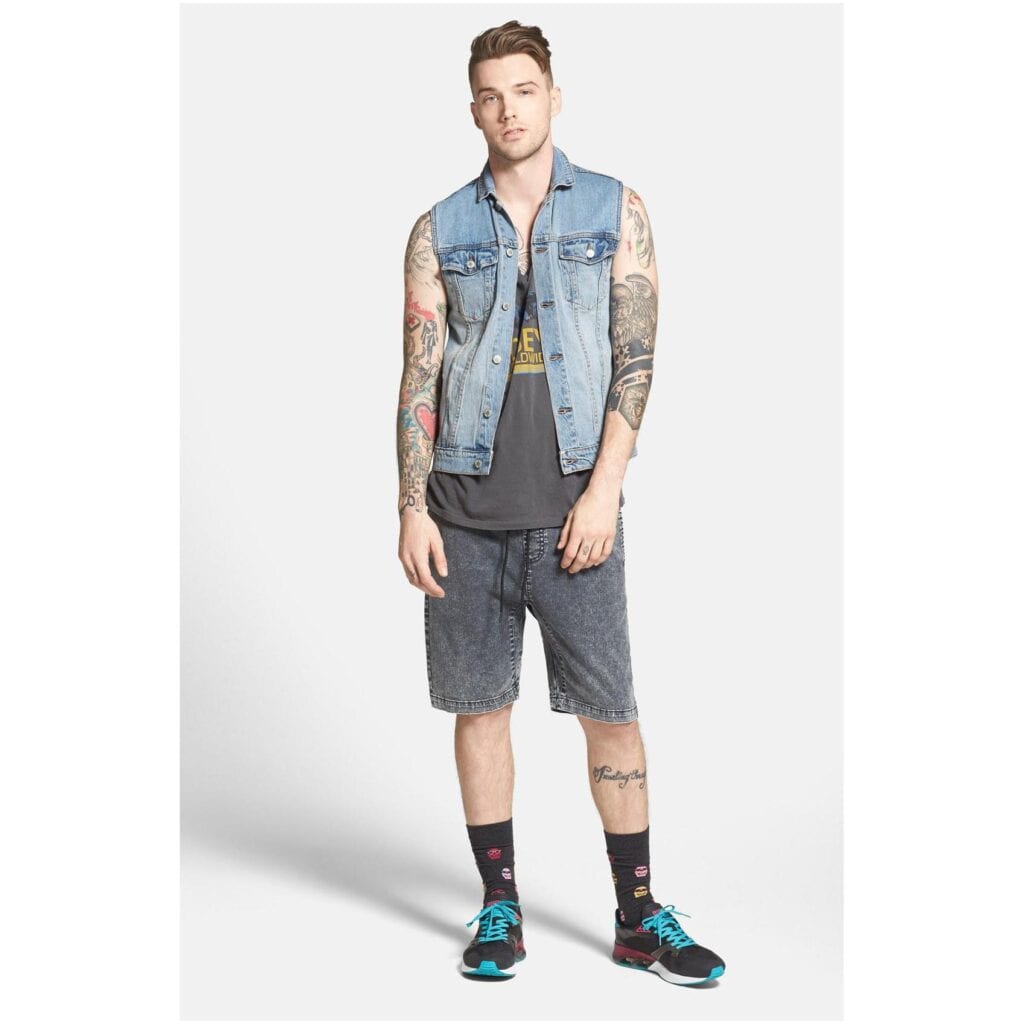 Via
#1- Street Style in Denim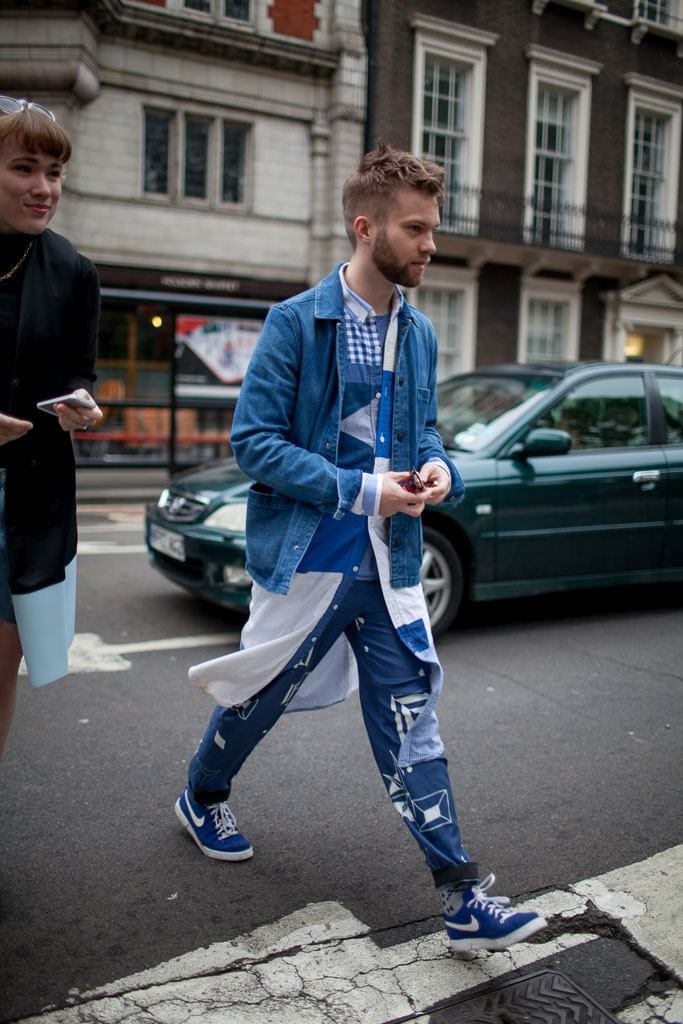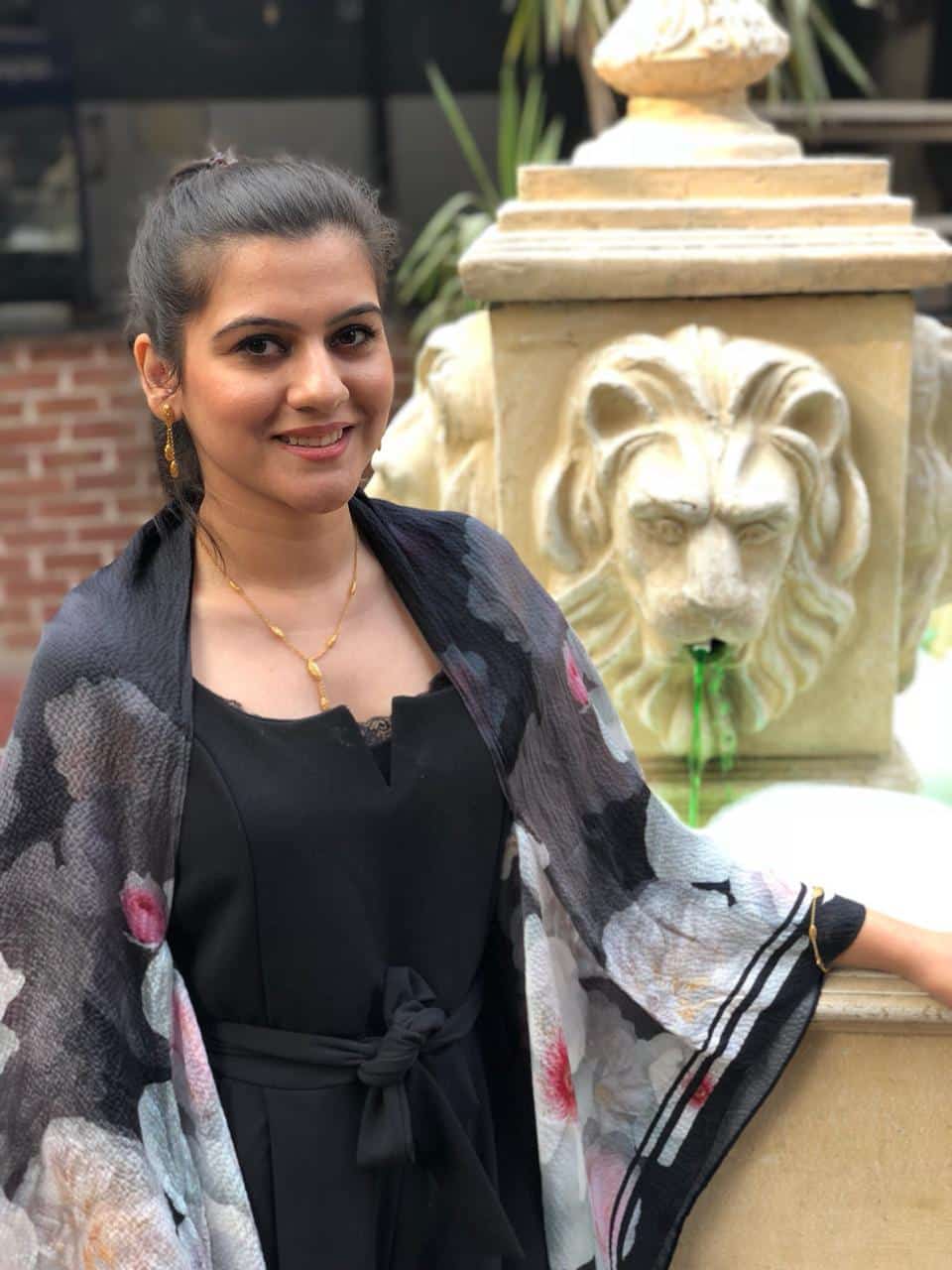 A content writer by the day and a reader by the night – two things that she loves the most. When Zoona isn't writing, she'll either be thinking of what to bake next or where to travel next. When it comes to writing, she has always been a storyteller and one of her short stories was published in 2014 in the Oxford University Press's anthology of contemporary short stories, I'll Find My Way.  Her love for fiction writing also drove her to complete a short course on "How Writers Write Fiction," at The University of Iowa. Her other interests include binge-watching Netflix or online gaming.