Shirt around Waist for Guys: Old fashion trends make resurgence every once in a while. Even though they can be tricky to pull off sometimes and can get cheesy to replicate, but often they make a very cool style statement. One such very popular 90s fashion trend of tying a shirt around the waist has been popular and resurfaced again. Both celebrities and fashion bloggers are swaggering around comfortably with this fashion trend and we have gathered unique outfit options that will assist you in wearing this trend this year.
If you're headed somewhere with an intention to create two looks out of one, a flannel shirt could sure come in handy! For a decent and sober look, wear your flannel shirt over a basic t-shirt. And, for a quick change of look, you could take off the flannel and tie it around the waist to create a swag look. This outfit style is particularly popular among young, college boys, but can also be worn by adults with just as much ease. With so many ways to style a look, we bring you our top picks you'll surely love.
How To Wear Shirt Around Waist for Men?
How to rock something as basic as a shirt around the waist? Here are tips to help you put together an urban and cool look:
While you can tie around some plain button-down shirts, we suggest adding in a cool twist by using flannel shirts.
Colors like red and black could totally enhance the look of a dull outfit.
You can tie the shirt around the waist while wearing Jackets or simply over a denim pull-over.
For some added edge, we suggest picking out accessories that can help give you a cool vibe.
Black sunglasses, cool shoes, a hat or cap are among some accessories you could pick.
Mix and match different colors and styles to create a unique look.
However, if you're afraid to experiment with different looks, choose the color of your T-shirts wisely. We love some basic white and black as the flannels seem to uplift the tone.
However, if you're choosing a loud and graphic tee, a plain shirt would suffice.
You could also replace shirts with sweaters and hoodies during Winter.
For shoes, you can choose between sneakers, boots, and timberlands for a youthful and street smart look.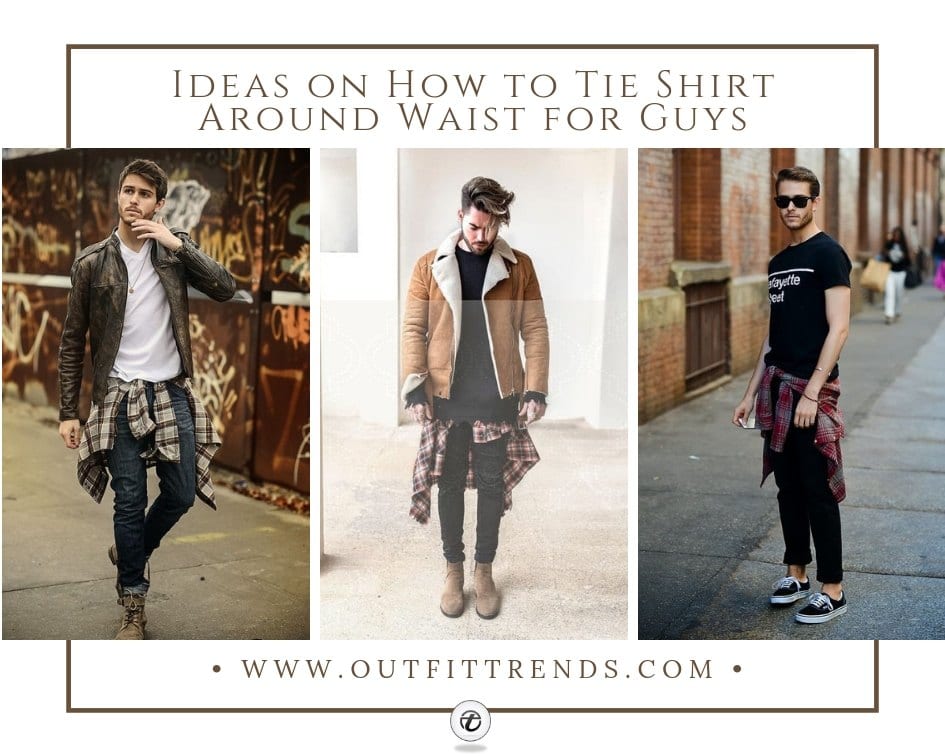 ↓ 25. Summer Outfit Trends
The summer outfit trends focus towards styles comfortable to carry in the heat and make you appear modern. Wear light, breathable half sleeves shirt, and shorts combo and tie your bright colored shirt for a pop of color. For an added swag, put together some cool accessories to go with the look. Some great ideas include a hat, some eyewear, and a long necklace to give it a quirky look. Also, Check out these 30 Ideas How to Wear a Flannel Shirt for Men Stylishly.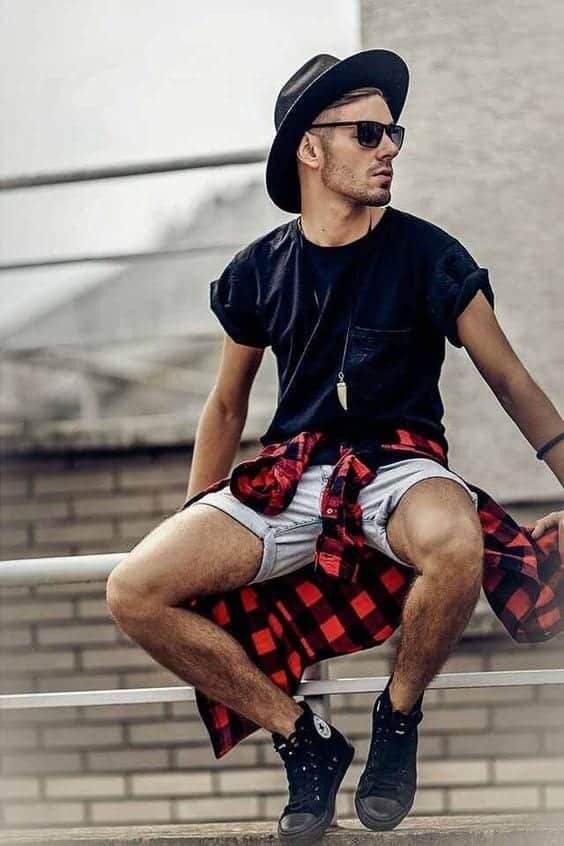 ↓ 24. Urban Vibes
If you appreciate the classy urban look, you can recreate it by wearing a faux leather jacket with a plain white tee and blue denim combo. Tie the checkered shirt around the waist to enhance the look. We love the rugged beard and hair look that makes this outfit a hundred times better. You could very well use this outfit to create a Fall or Winter look to keep yourself looking dapper while also bracing the cold weather.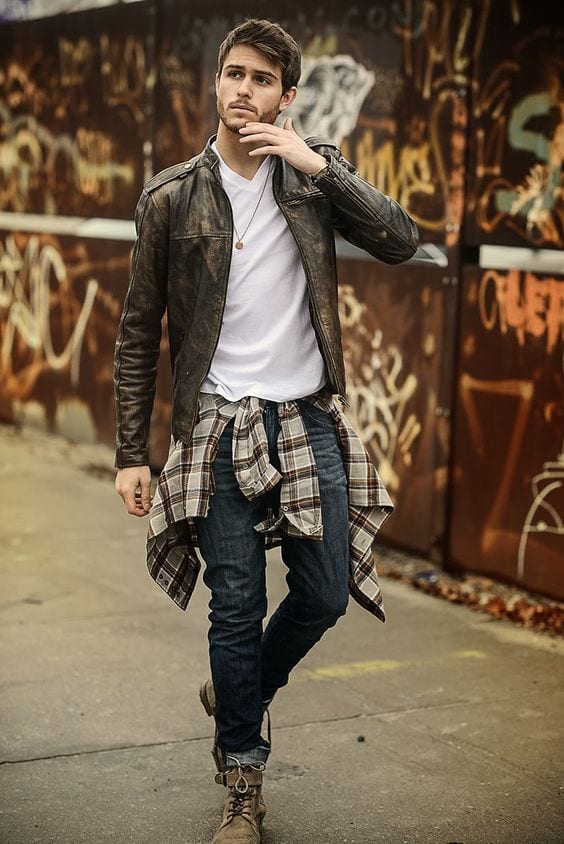 ↓ 23. Classic Hip-Hop Style
Nothing can beat the reappearance of old classic hip-hop style and you can replicate it simply with a black outfit and a shirt tied around your waist. Add a few blingy golden pieces of jewelry to give you an edgy look. If you're looking for a comfortable style that helps you stay up-to-date with all the latest trends, this outfit seems like the perfect pick. Add in some cool sunglasses and a pair of converse to help you nail the look.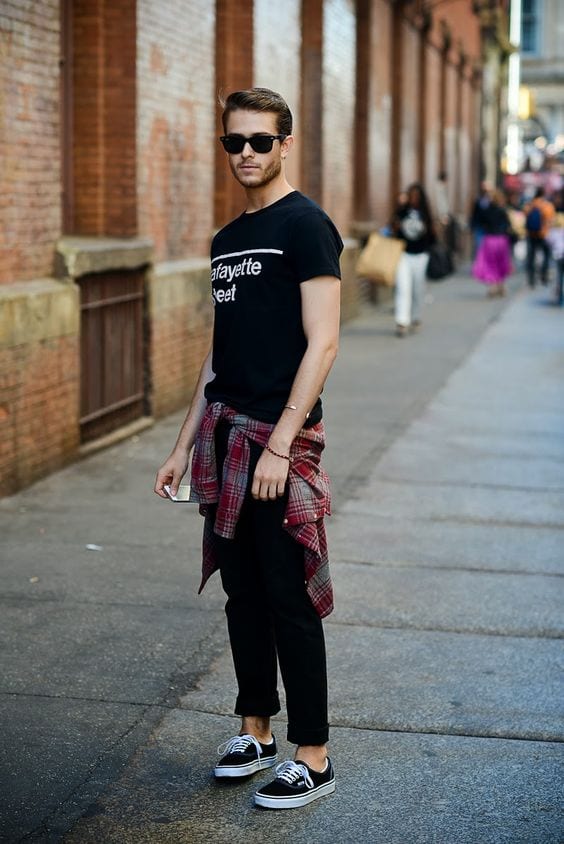 ↓ 22. Casual Weekend Outfit
Jeans and tees are a must-have weekend outfit. Tie around a black-and-white checkered shirt for a classy and fun look.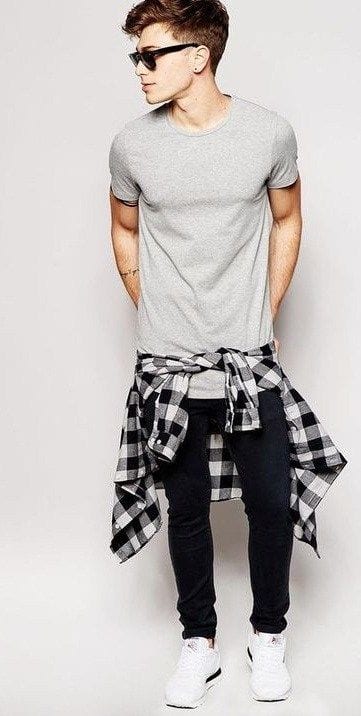 ↓ 21. Layered Look
Get winter ready by layering up in some of your favorite wardrobe staples. To make your boring winter attire look cool and trendy, throw together a flannel to add a style element.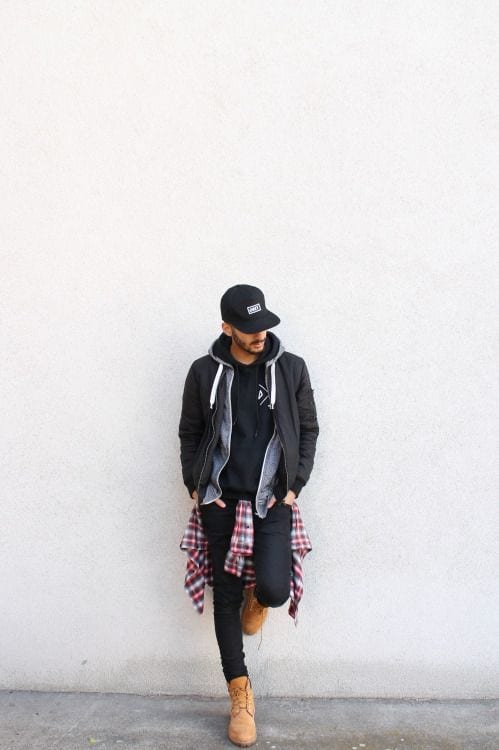 ↓ 20. Denim Jacket Around Waist
Want something different from an ordinary flannel or checked shirt? Don't worry, we've got you. A denim shirt can look just as hot when tied around the waist. You could always pull it on when you feel like spicing the look up a bit. Else, it looks great tied around as well. Here are 18 Winter Travel Outfit Ideas For Men.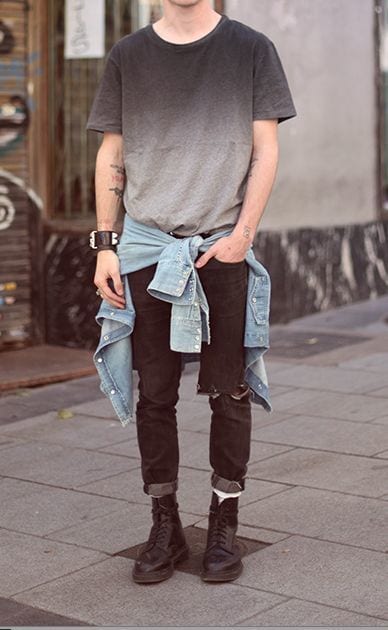 ↓ 19. Celebrity Style
Celebrities have been joining in on the trend wagon of tying a shirt around the waist. Trust Will Smith to be the first one starting it up in the first place! We love his casual and simplistic vibe in this hoodie. He kept the look very minimalistic by sticking to neutral tones like grey, white and black.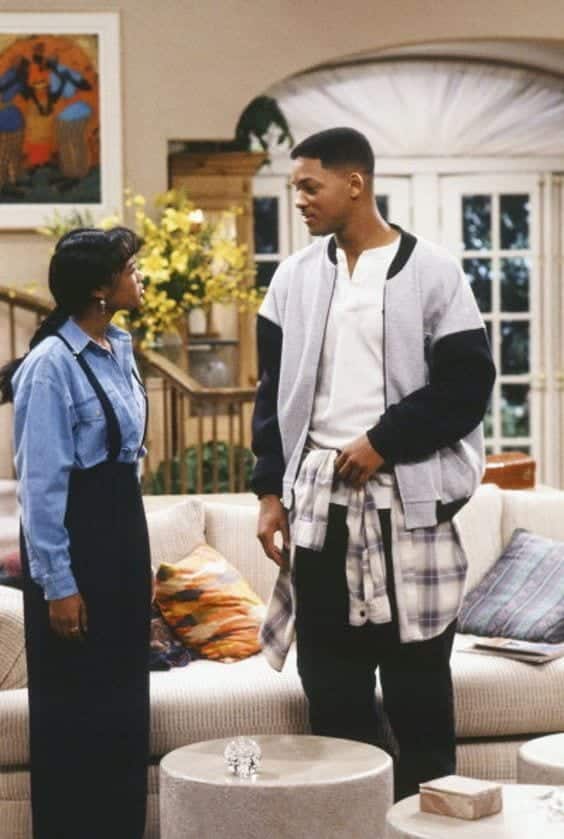 ↓ 18. Valentine Day's Outfit
By tying a red shirt around your waist, you can redeem yourself and then you don't have to wear any cheesy red garments to celebrate the day. Oh, and who thought those white shoes could look this good with a white shirt like this?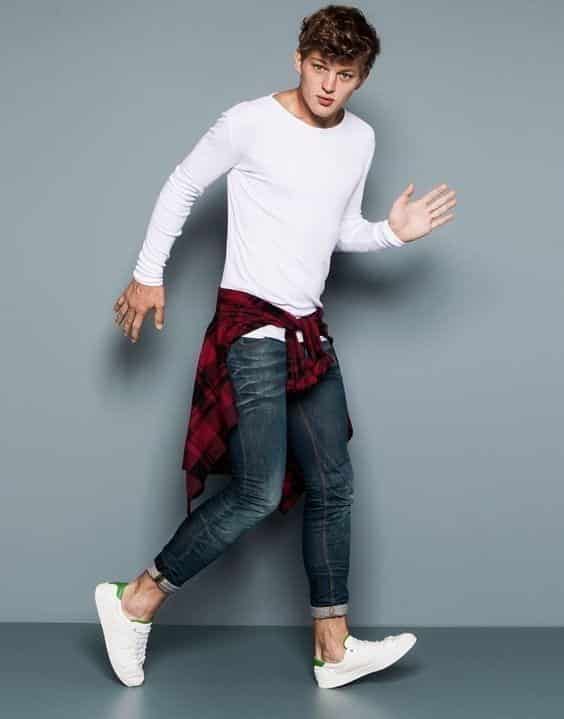 ↓ 17. Fashion Statement
Want to flaunt different fabrics, patterns, and colors, but don't think they'll go well if worn together? Well, you can always wear one shirt and tie the other around your waist. That flannel shirt would sure look appealing when worn with a white tee. But let's face it. Winters can be harsh and you don't want to be shivering out in the cold. Layer up with a hoodie and denim jacket and tie around the flannel around the waist. You could always switch up the attire indoors to amp up your look. Despite having a different color combination going on, the tan shoes sure work well with this unique look.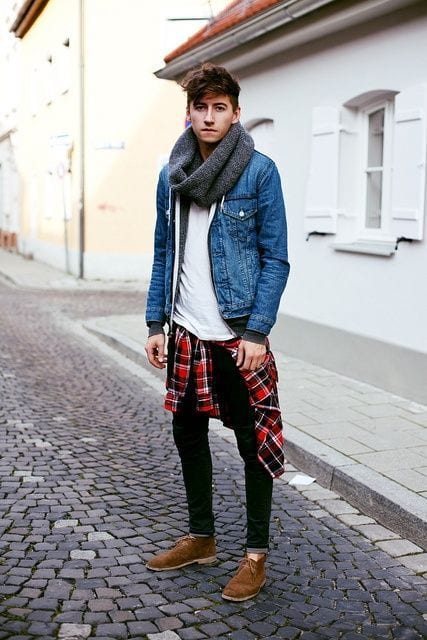 ↓ 16. With Shorts
Shirt with shorts is the most comfortable and effortless outfit, especially for summers. You can mix summer staple with a solid-colored shirt tied at the waist to add something more to a simple outfit. You could also wear this outfit during fall when the weather is cool and you can do with a light sweater over your shorts. Keep it simple and comfortable by adding in some bright-colored sneakers to go with it.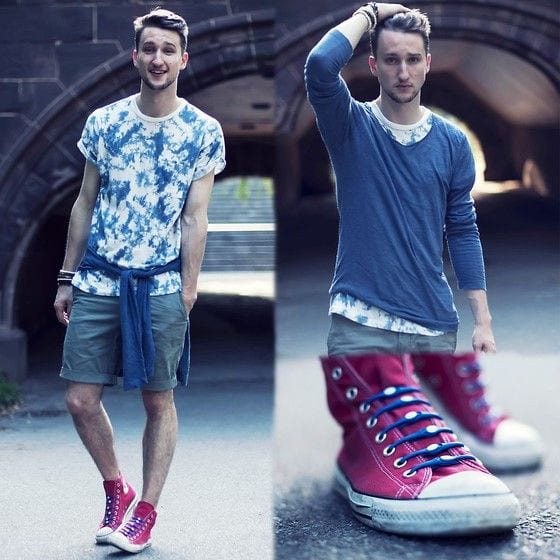 With a 6-pack like that, who wouldn't want to flaunt them? Take a break from boring shirts and sweaters and throw together a black vest and some shorts for a casual Summer look. But, let's be honest, you can't go everywhere looking like that, right? Well, here's what you can do. Carry a sweater or a light shirt by tying it around the waist like this. Not only will it come in handy but will look like a great piece of accessory for your overall look.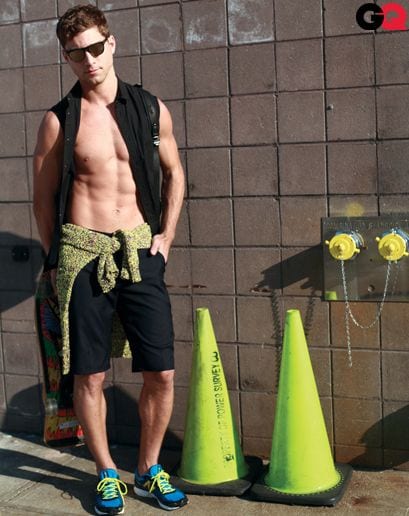 ↓ 15. With Graphic Tees
You can dress up your graphic tee by wearing it with a structured blazer or a jacket and tie a shirt around your waist to give a meaning to the whole outfit. We love the style element the ripped jeans add to this entire look.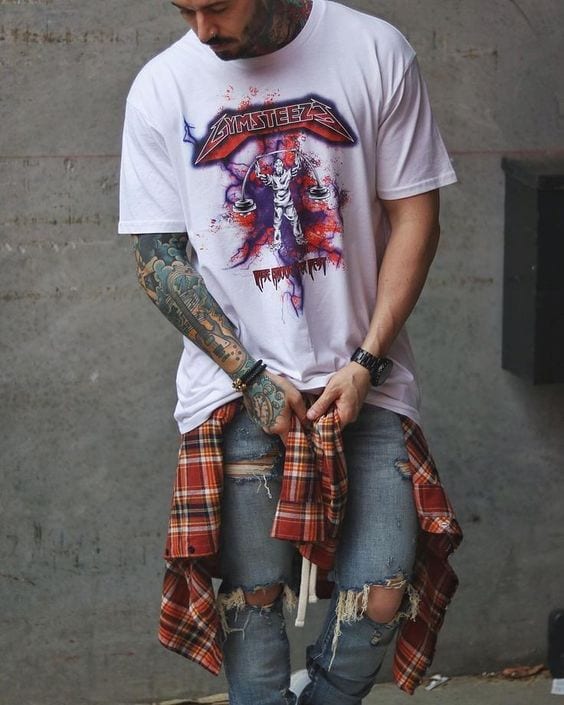 ↓ 14. Prints and Colors
Jazz up your outfit and take it to another level by tying a bright-colored shirt around your waist. This super cool, sleeveless denim jacket has a very great style of its own. The frayed edges and the zip detailing on it takes to another level. Both the red sweater and the denim jacket complement the printed shirt really well. It's a perfect, cute college-boy look that every guy must attempt to replicate. You can also check out these Top 20 Weekend Outfits For Men Trending.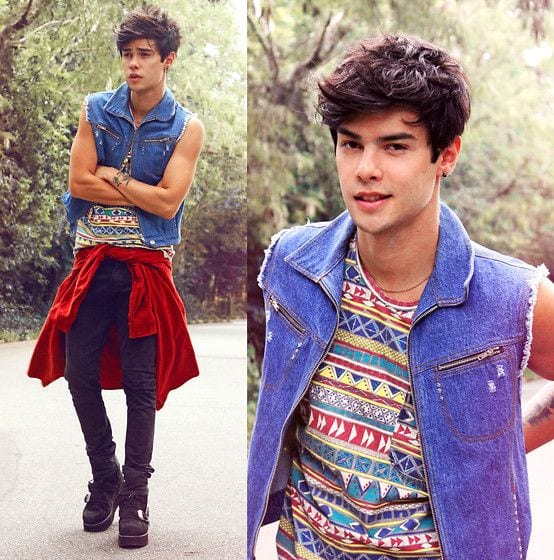 Via
↓ 13. All Plain
Sometimes all you need is a break from all kinds of prints and patterns. We love how crisp and clean this neutral toned outfit is. The coffee-colored pants look perfect with this white tee. The blue sweater around the waist looks like the icing on the cake here. The watch and the sunglasses add in a subtle but cool vibe to it without taking much away from the look.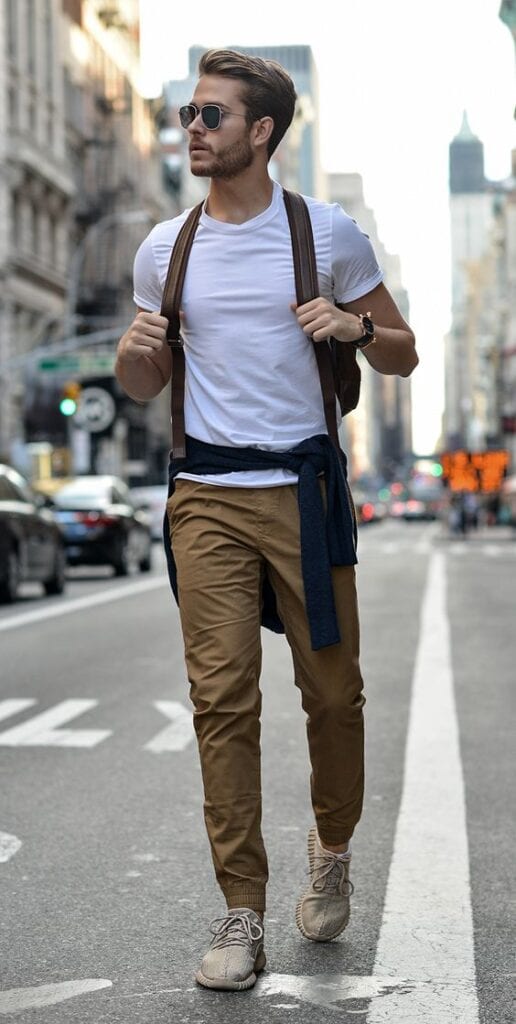 ↓ 12. Daytime Grunge look for Guys
Pull out the grunge look with dark denim and a shirt tied around your waist. For the daytime perfect look, wear a blue crewneck tee to keep up with the color theme and to complete the look. It is simple yet very classy, perfect for when you want to downplay the look. For this outfit, we'd recommend adding in a pair of white sneakers or some tan Timberlands. Whoever thought blue and yellow could look so good together?
Via
↓ 11. Best Accessory with Tank Tops
Wearing a shirt around your waist is the perfect accessory for your simple tank top because it adds character to the whole outlook. You can also wear the tied shirt in case you feel the need. Take the cue from Jared Leto on how to do this style right! The fanny pack and the swaggy eyewear sure make it a great street style outfit.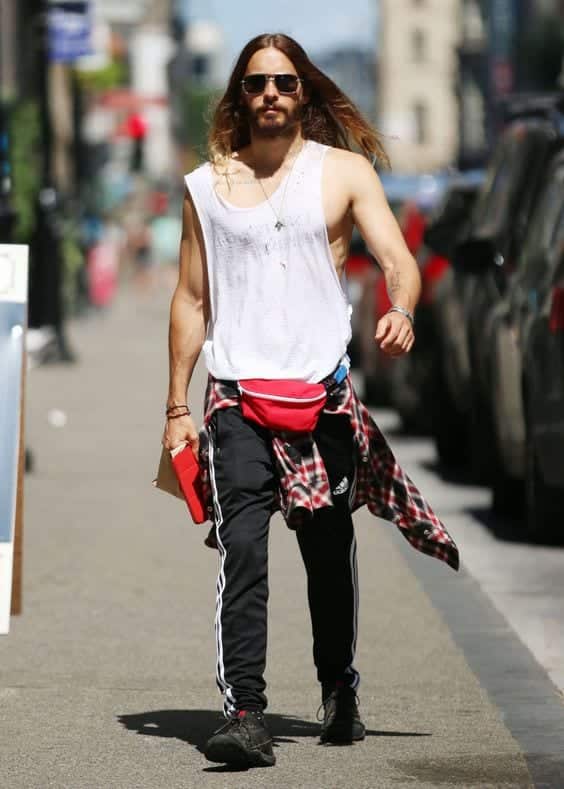 ↓ 10. Hot from the Runway
Here is an off-the-ramp look for you to take inspiration from. It's different from the other styles mentioned here. Tie around a neon or bright colored checked shirt over your grey sweatshirt to enhance the look. The beanie adds in a youthful touch, making it a great option for young school and college-going boys.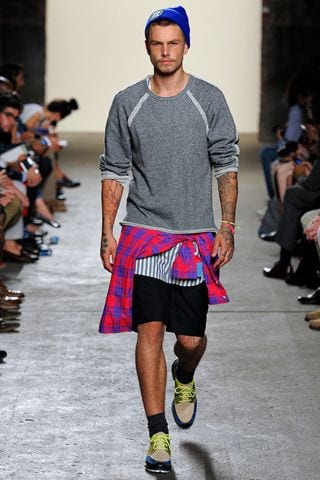 ↓ 9. Teen Fashion
Teenagers can experiment with styling options and pick up any outfit and play around it. Wear your favorite shirt around your waist and boots for a different and modern look. Since the tee is a combination of red and black, we love how the flannel has been kept to match the same color theme. The leather also adds a hot and dapper look to the entire outfit making it complete.
Also, check out 28 Best Ideas on How to Wear Converse Shoes for Guys.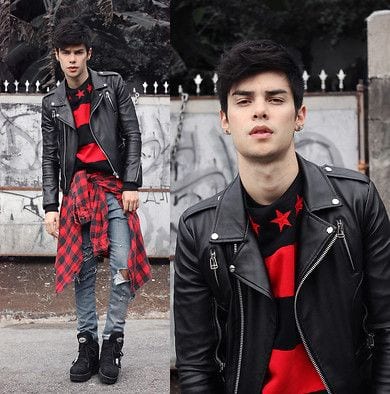 ↓ 8. Office Christmas Party Outfit
Confused with what to wear on an office Christmas party? Wear a bright red or maroon crewneck sweater with a smart formal shirt and subtle pattern pants. Tie a beautiful shirt with Christmas colors around your waist for a well-rounded outfit.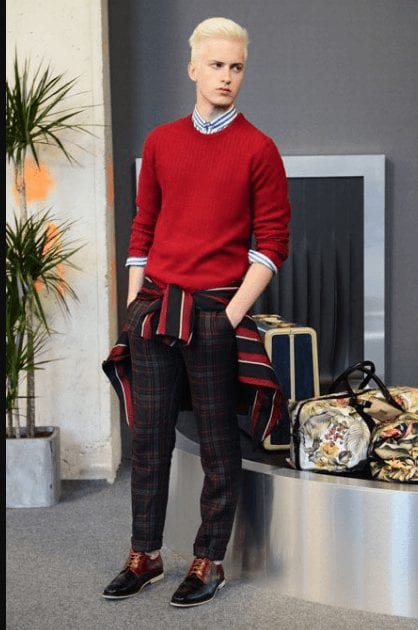 ↓ 7. Perfect Outfit for Outdoor Event
When it's chilly outside or when the weather is unpredictable, wearing a shirt around the waist can yield great benefits. Wear a modern cut leather jacket with a classic black tee and ripped jeans and tie a shirt or jacket around your waist and transform your overall look with this amazing style.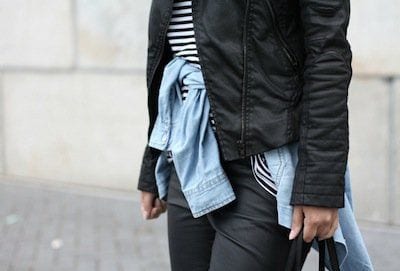 ↓ 6. University Outfit
Wearing a shirt around your waist is very nostalgic and schoolboyish so it is a great look to carry to your school, college or university. You can simply wear the shirt over the tee or tie it around the waist to create two entirely different looks. The warm tones make it a great alternative to all the other black and red options.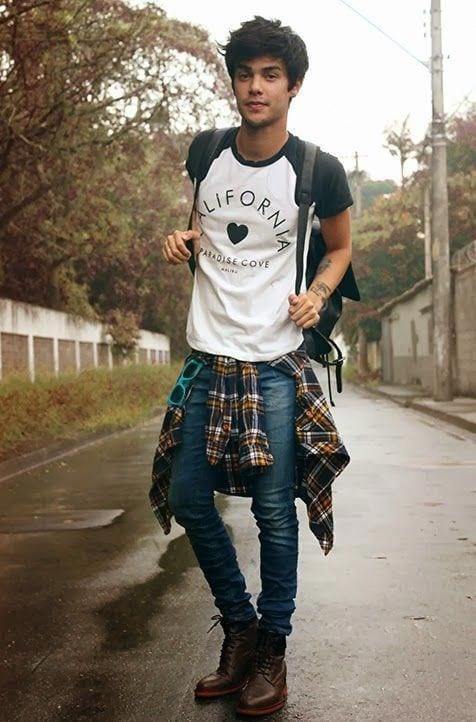 ↓ 5. Street Style
A classic monochromatic look will be perfect for street style this year. Dark hues and leather go perfectly together. Tie a classic white and a black shirt on the waist for a great final look. With ripped and distressed jeans trending everywhere, we'd suggest incorporating the style with this look to give it a quirky touch.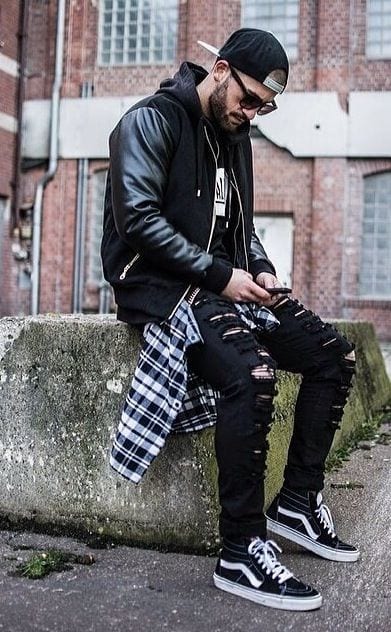 ↓ 4. Styled Luxuriously
Quilted and Leather Jackets will not only keep you warm but also make you appear very suave and stylish. Tie a shirt around your waist and wear a jacket to enhance the look of a simple shirt and jeans outfit. The red sure adds a great look to the all-black outfit.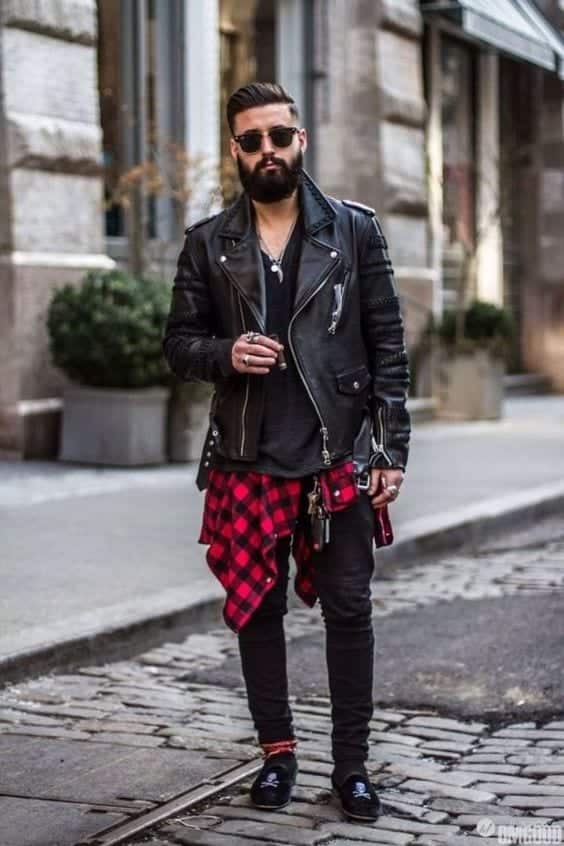 Via
↓ 3. Classy Winter Fashion
Here's how to give your Winter style a much-needed oomph factor by adding in something as basic as a checked shirt. Put together an all-black look, adding in a leather jacket. With that, go for a slight pop of color with a flannel or any other printed shirt that contrasts well with your overall look.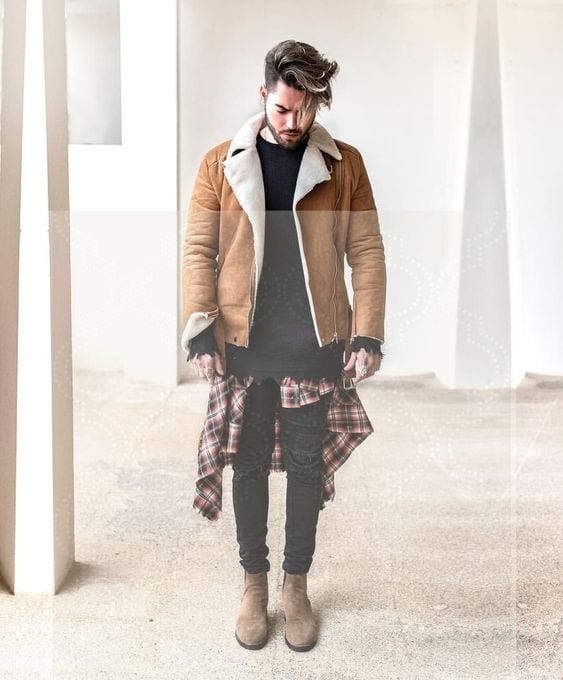 ↓ 2. Old-School Touch
Rolled up jeans and graphic top with a shirt around the waist are a great spin on that typical old-school touch. It is youthful, cool and definitely trendy! You could easily sport something similar while hitting up a coffee shop or going to school. It is a minimalistic look with a very modern touch to it. You could also go for a personalized shirt to add your own personal touch to it.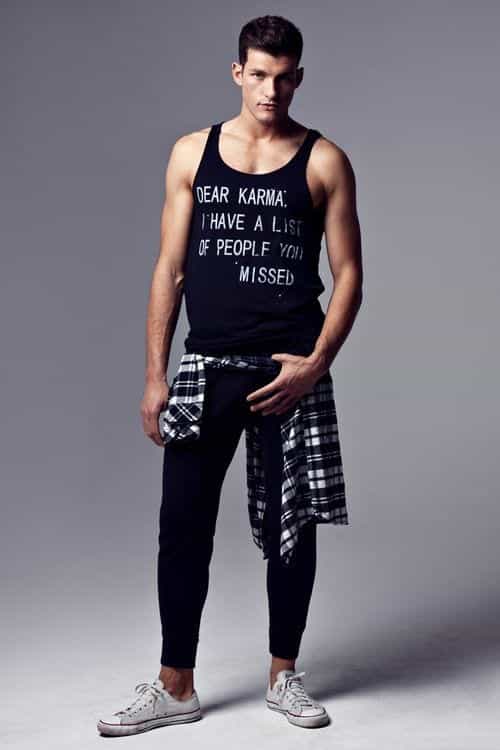 Via
↓ 1. Flannel Shirt
Show off your free-spirited style with denim overall. Wear it over a half-sleeves shirt or a full-sleeves one and get to experiment with different looks. This striped t-shirt looks like a great idea as well. The outfit is simplistic yet very modern. Who would have thought you could tie a flannel shirt around an overall like this?