Slim Fit Fashion For Men. So it's not just women who are going crazy about the slim fashion, men are going equally gaga over it! While you are working on building that perfect body and dieting, there is one more thing that can help you and that is your dressing sense.
Your sense of fashion and dressing can totally help you appear thinner or fatter than you naturally are. If you are opting for the slim fit look, you need to select the right kind of shirts and pants, the right cut and color to give you your desired slim look. This may sound complicated but really it is as easy as that! But do not worry, we are here to give you all the tips and information you need. And for that we have put together 18 perfect outfits for slim and fit fashion for you to take inspiration from and pull off a slim look while making the most of your natural figure. Have a look!
Best Slim Fit Outfit Ideas and Tips for Men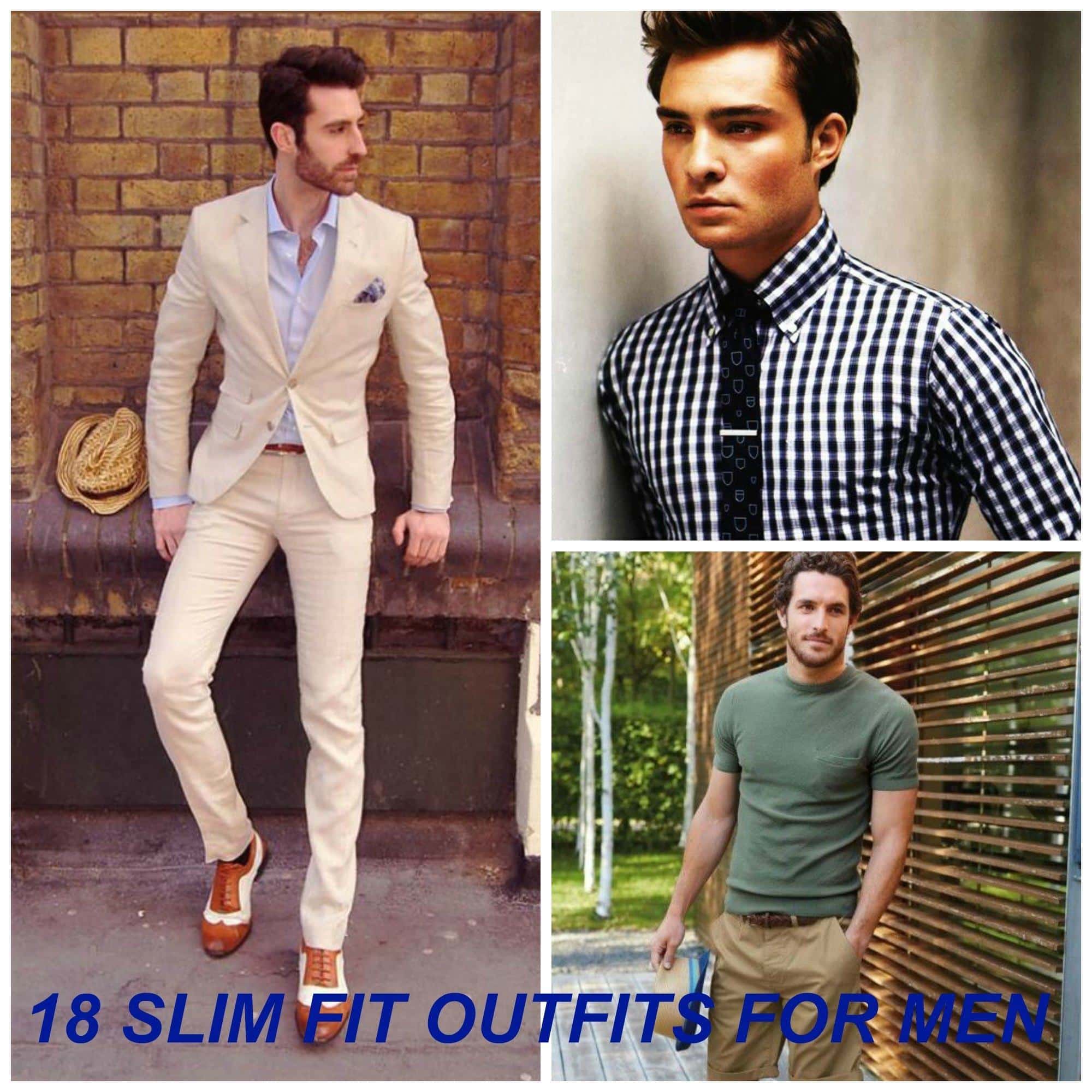 RECOMMENDED: [highlight]Gentleman Outfits-20 Ideas How to Dress Like Gentlemen[/highlight]
#18 – Slim Fit Button Down Shirt For Men
Collared shirts are extremely handsome, but do you know what can make them look even better? The fit! If they are your perfect size and fit you tightly, no one can stop you from looking flawless. To further enhance your look you can add a cool tie to complete your look.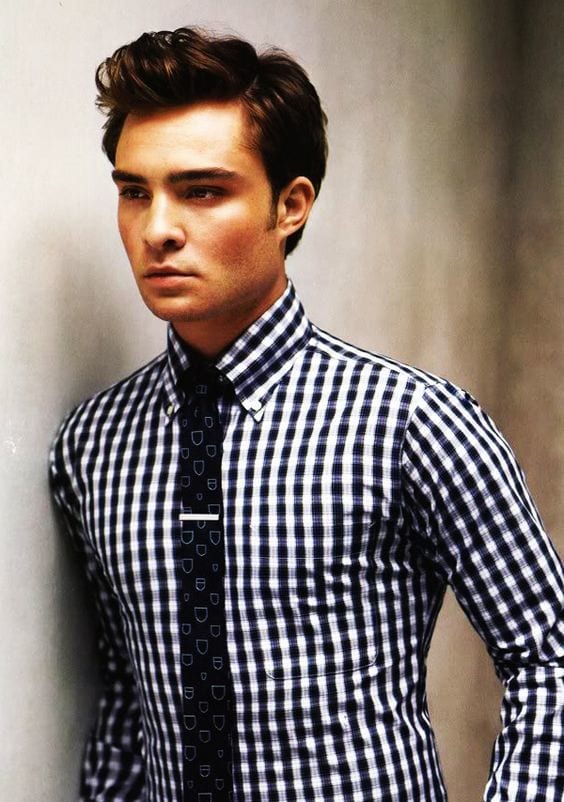 Source
Also have a look at [highlight]Professional Beard Styles-20 Facial Hairstyle for Businessmen[/highlight]
#17 – Two Piece Suit For Men
A suit is that kind of outfit that you wear to formal events such as work, meetings, weddings and other parties. Those are the places where you need to impress everyone around you and make your own style statement. You can not afford to compromise on the fit of your suit therefore make sure that it fits you perfectly and smartly, and we assure you that you will be receiving tonnes of compliments for your body and dressing!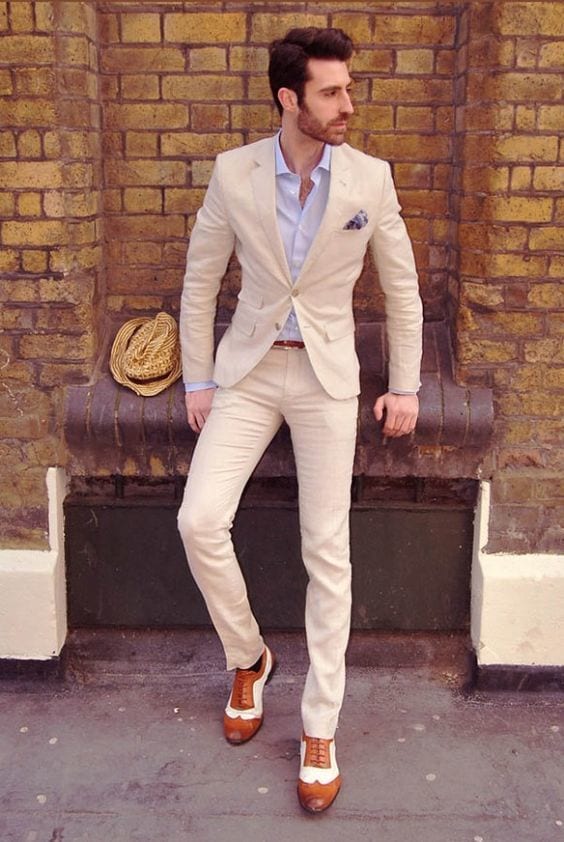 #16 – Fitted Jeans For Smart Look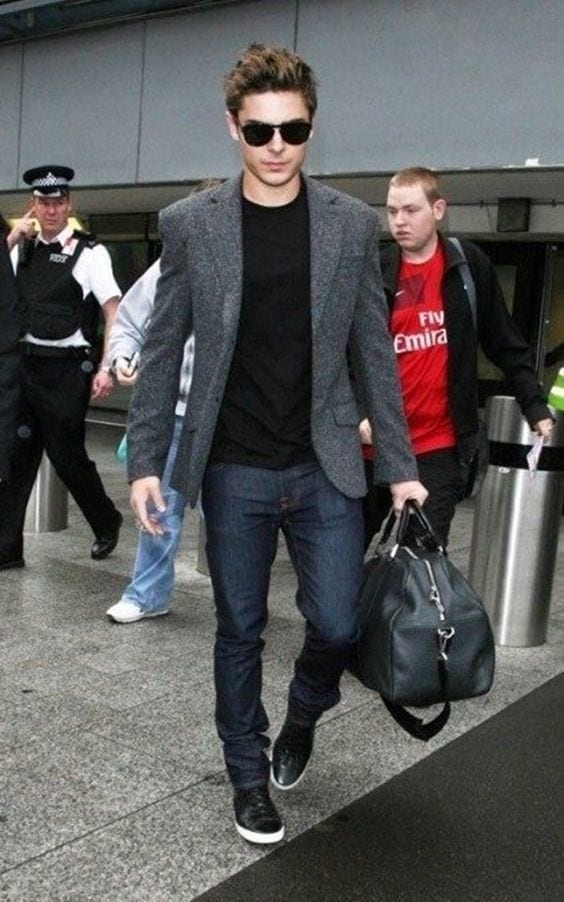 Source
#15 – Skinny Pants For Men
Skinny jeans and pants are in trend this season. So if you do not own one of these already, you are totally missing out because they look extremely hot and stylish. They can be paired with absolutely any kind of shirt and can be worn both casually and formally.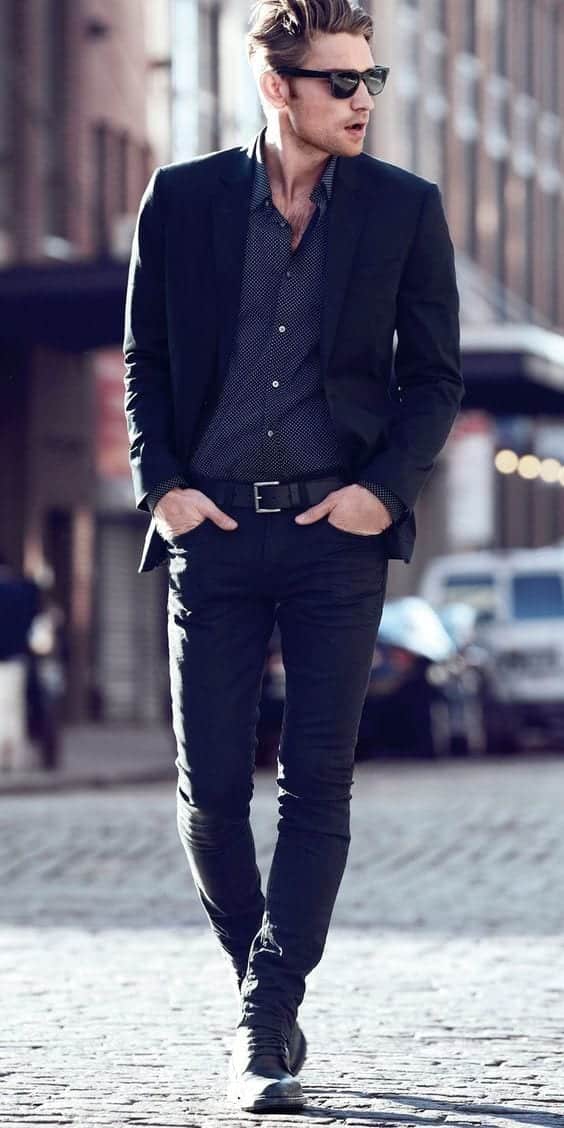 Source
#14 – Celebrity Inspired Look
Harry Styles is one of the most talked about celebrity these days so why not take ideas and inspiration from his outfits? You can note how this particular outfit of his consists of a tight fit black shirt with a patterned coat and pant. You can not deny it looks amazingly stylish!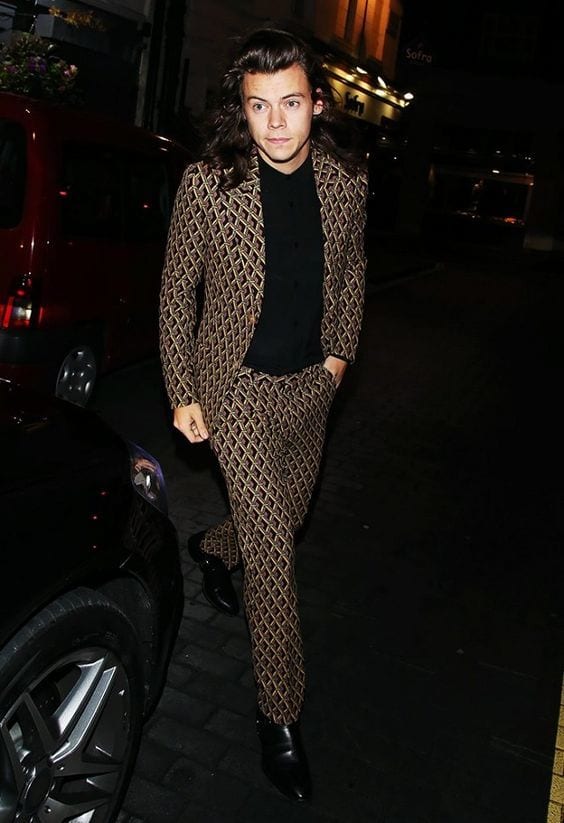 Source
#13 – Fitted Blazer For A Cool Look
When choosing blazers, it is very important that it is your correct size. Baggy blazers are a total turn off. You need to select one that fits your perfectly and helps you achieve your desired slim fashion. Pair it with a casual shirt and jeans and you are good to go.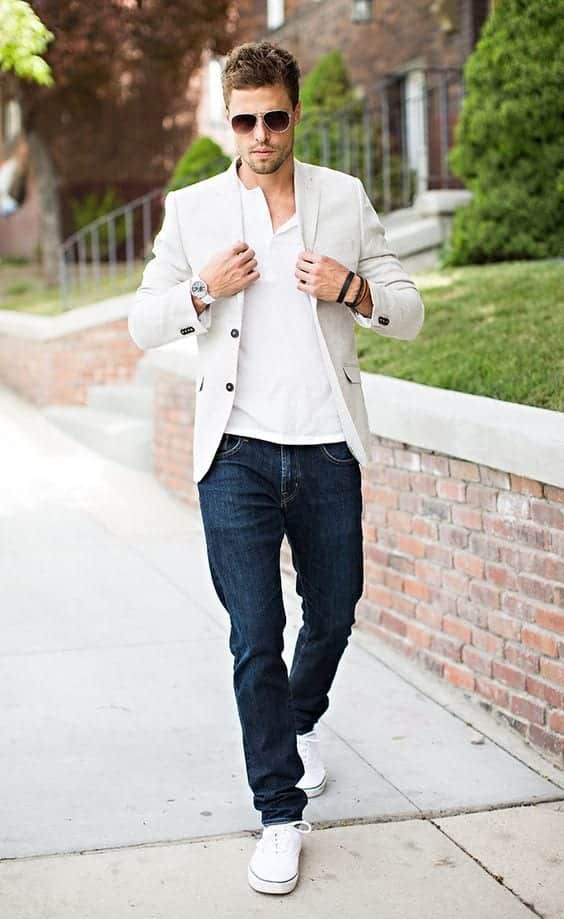 Source
#12 – Cardigan Over Shirt In Winters- You can now make all your loose dress shirts appear fitted by wearing a cardigan over it that fits you perfectly. This style serves the purpose of giving you a slim look, keeps you warm in winters and it is also absolutely stylish! What more do you want? Do try this outfit!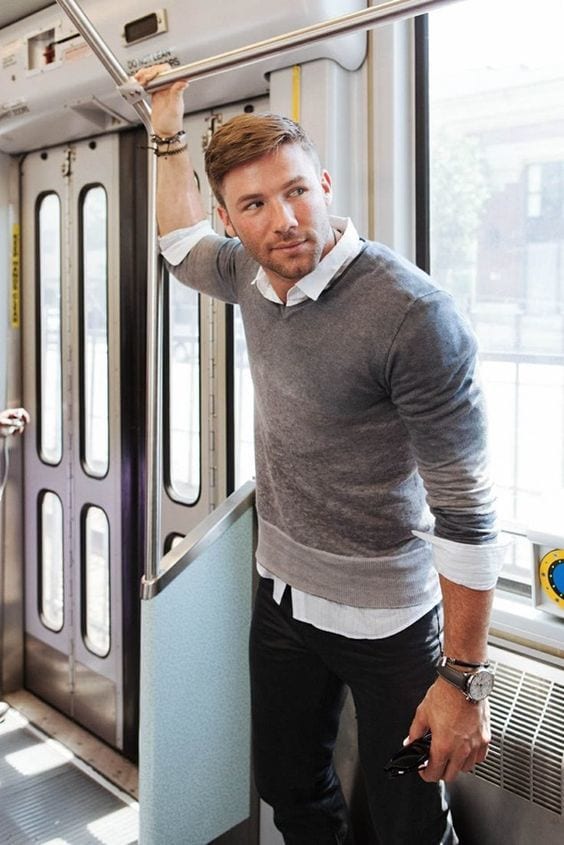 Source
Do check out [highlight]26 Cool Beard Styles for Short Hair Men for Perfect Look[/highlight]
#11 – Leather Jacket For Men
You can not deny leather jackets look extremely sexy. But you can make them look even better by pairing it with the perfect shirt and fitted jeans. This look is amazing for winters. You can wear it to a date, party or when you are just hanging out with your friends outdoor.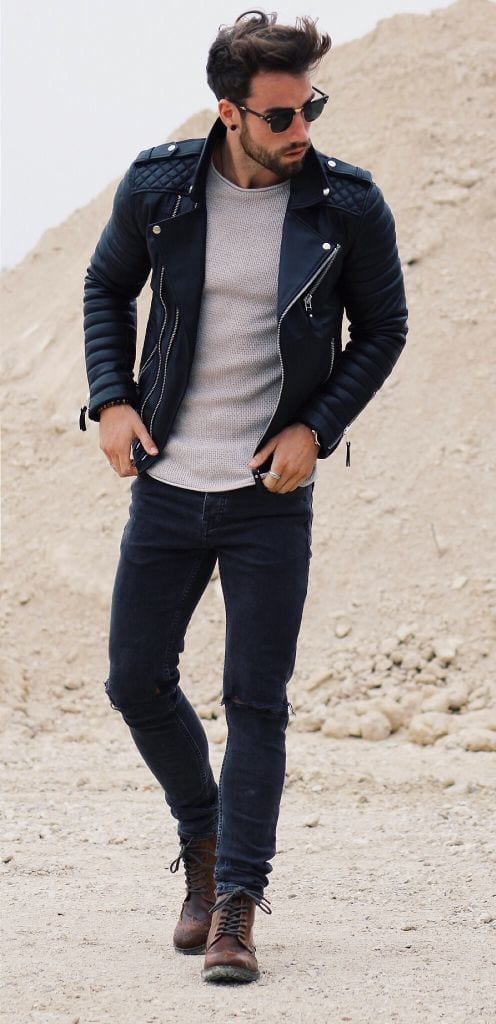 Source
#10 – Tight Casual T Shirt
For a casual look when going for daily chores or random hangouts you can go for a fitted t shirt with shorts or jeans paired with smart loafers. This look is effortless yet stylish at the same time.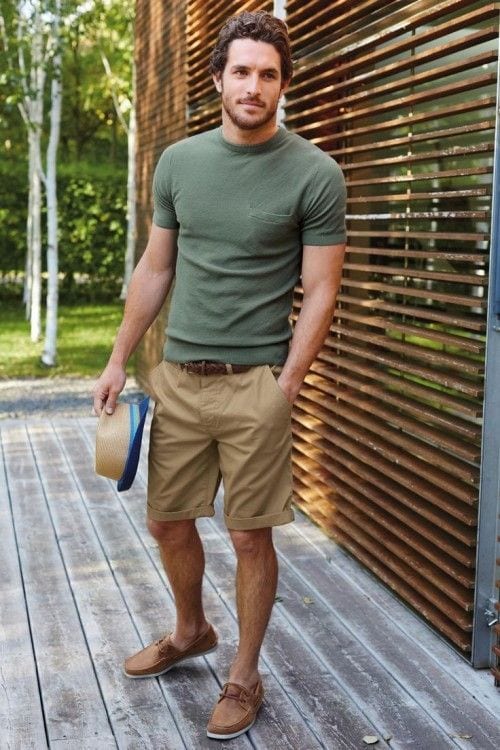 #9 – Retro Look For Men
For a unique and distinctive look, you can go for a retro outfit in terms of fit and prints. What better print for a vintage style than polka dots! Also make sure that your shirt is tightly fit. If you are going to a party or work you can make this outfit formal simply by adding a tie and wearing it with dress pants.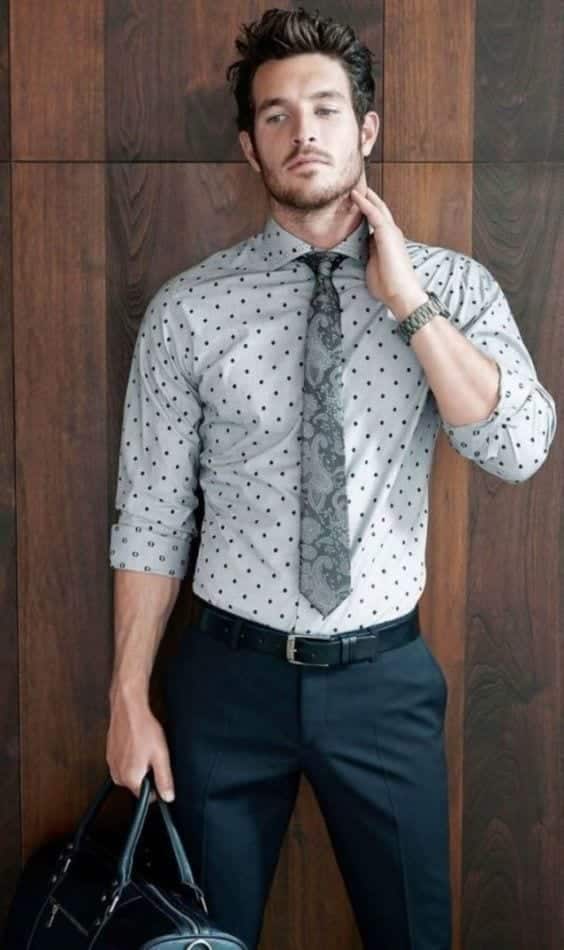 Source
#8 – Formal Look For Work And Weddings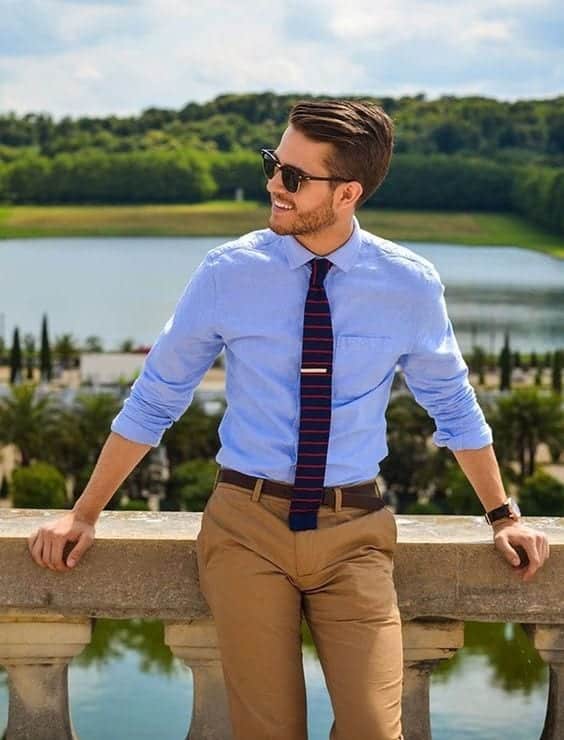 #7 – Outfit For Chilly Weather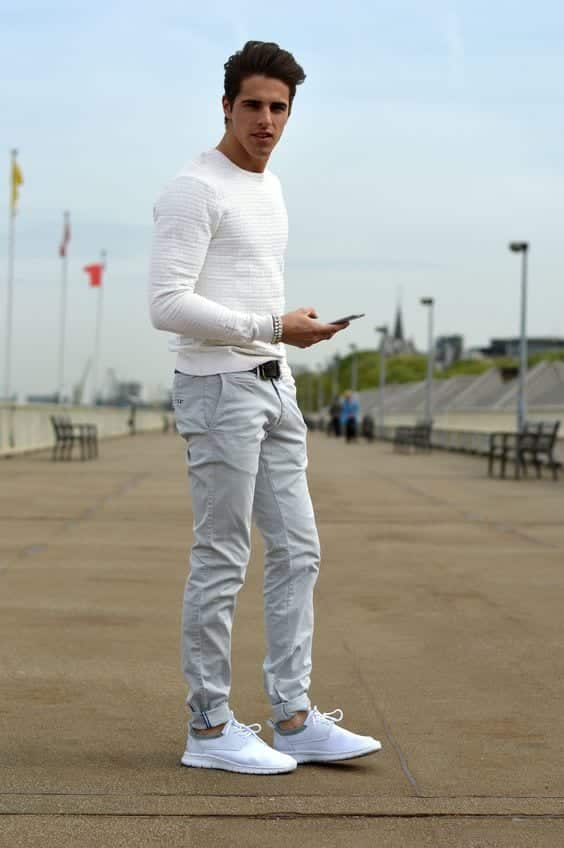 #6 – Slim Fit Sweaters For Men
If you are going for a sweater in winter, make sure it is fitted perfectly. To balance out the look, go for pants that are slightly loose.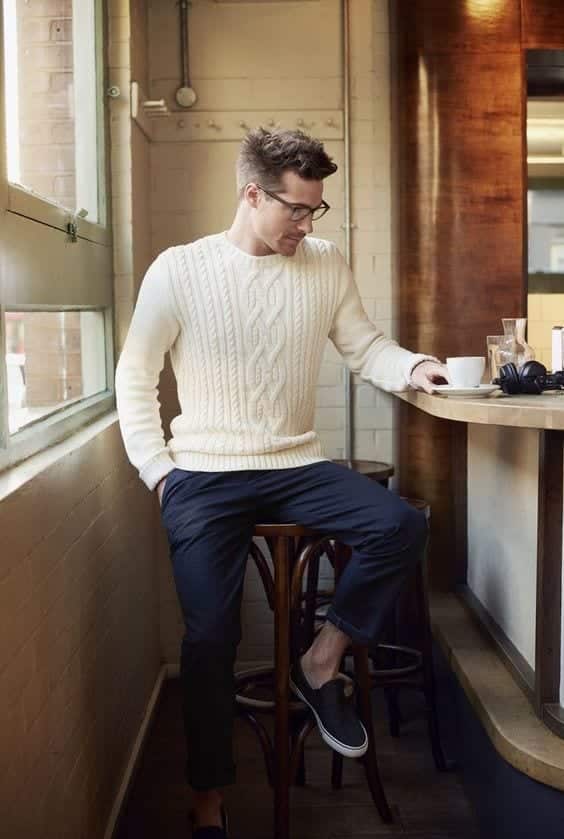 #5 – Ripped Jeans For Stylish Look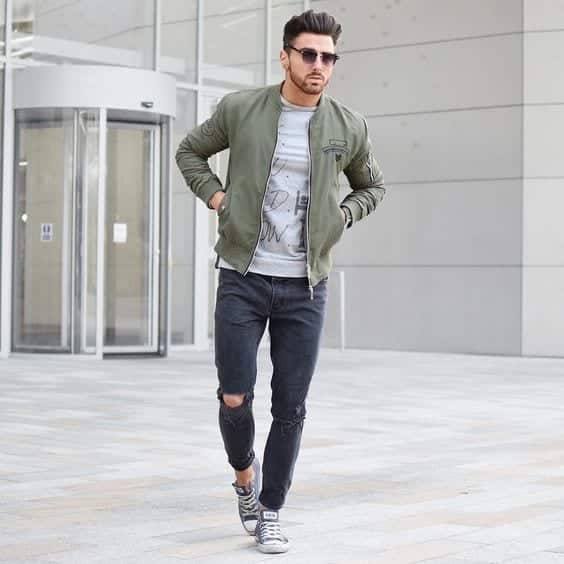 Source
#4 – Denim Shirt – Tight denim shirts are the new in thing and give a fresh look. So what are you waiting for?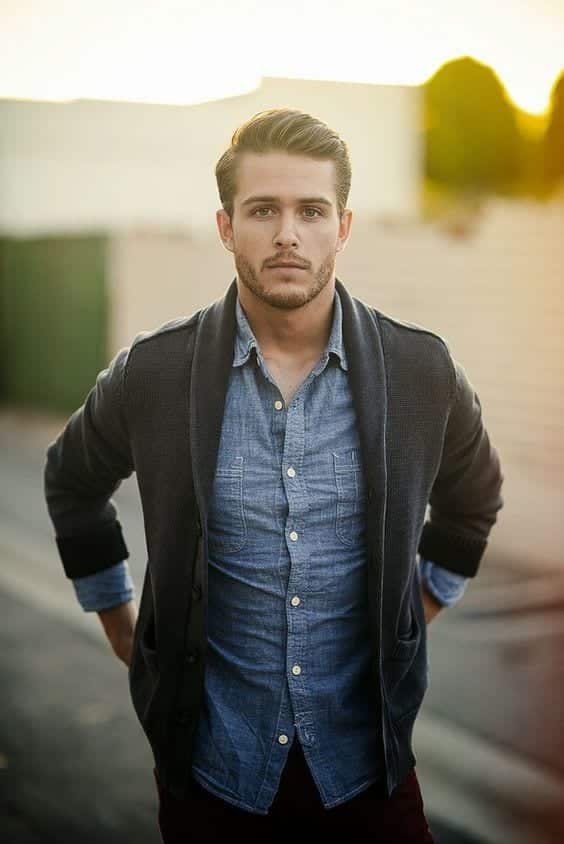 #3 – Winter Outfit For College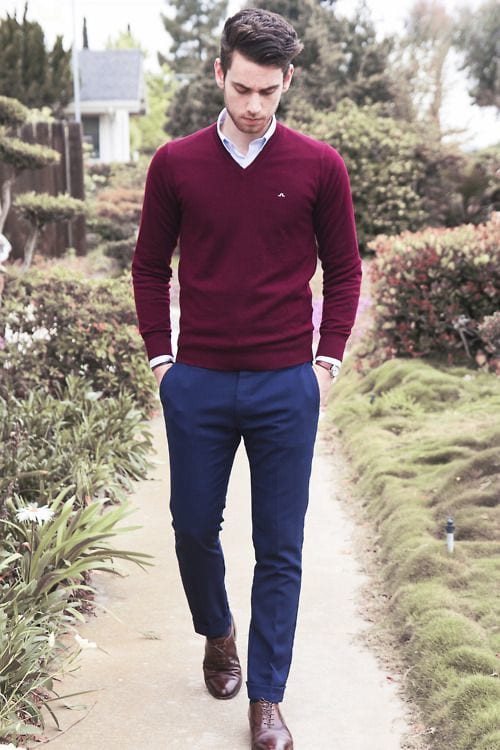 Source
#2 – Men Slim Fit Fashion For Trendy Look
If you want to pull off a trendy and modern look, go for a pair of jeans with slim fit shirt and a cool flannel shirt over it. This outfit is perfect for both casual and semi formal look and will make you look incredibly handsome.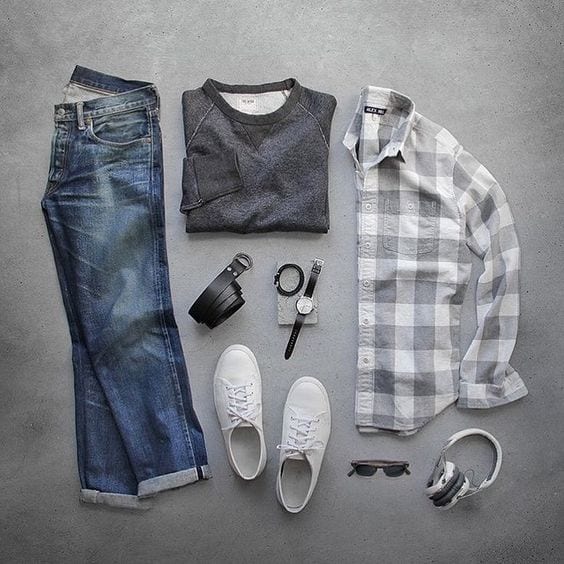 #1 – Stylish Summer Outfit For Men
All you men working on your summer bodies, this outfit is for you! An easy to wear and casual look put together simply by a tight fit t shirt and shorts. Add a belt if you may like paired with the right converse shoes and you are good to go. Don't forget your sun glasses!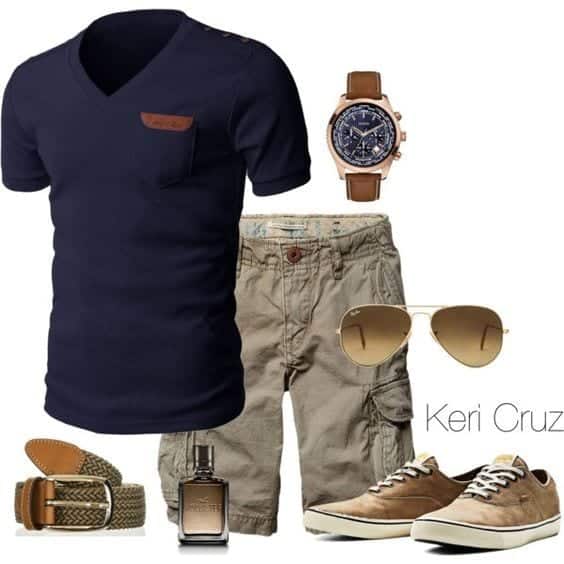 Source
We hope that these outfit ideas will give you a clearer idea of how to follow this slim fit fashion. One thing you must always remember is that no matter what happens, you should always feel comfortable in your own skin and body and stay confident about your looks. So take inspiration from the above outfit tips and ideas and use it to create your own outfit that suits you best. Carry it the right way and you can pull off almost every style. That is it for this post, we hope to read your feedback in the comments section!