Winter outfit ideas for men. Winter season is here, the temperature is dropping, and dressing up in that temperature can be a bit of a dilemma, especially for men. You want to keep yourself warm and also look fashionable at the same time.
But guess what? This is the season to step up your fashion game and experiment with different winter clothing styles. You have tons of options now, unlike in other seasons, so make the most of it.
Outfit Essentials
Jackets. From bomber and leather to puffer jackets, you name it – these are all winter staples. Denim and sherpa jackets are also under this category.
Overcoats. Trench coats and peacoats are the most common overcoats suitable for winter.
Knitwear. Cardigans and pullovers are an excellent alternative for jackets and overcoats. And you can also wear them at the office as long as they are in navy, grey or black. You never know what the magic of layering can do.
Winter Suits. Longcoat is the star this season.
Accessories. Scarves and gloves are what we usually see in men during winter. Some gents are even willing to wear earmuffs for extra warmth. Another fashion-forward move: channel the winter spirit through your ties and pocketsquares. You can either add a pop of color or play with prints and patterns.
Tips On Wearing
Fabric Choice. Denim, corduroy, and leather are my favorites during the colder months. But these aren't your only options; you can look for tweed, cashmere, hemp, and even faux fur if you're up for it.
Color Selection. Navy tones and all versions of blue are your best bet. You can add white to your list along with ecru, beige, and cream. And while black is welcome in any setting, it's a little overrated and overused. That said, use it as your second or last resort, especially if not for formal occasions.
Fit Is King. This is the time to opt for slightly loose garments. But this doesn't mean you wear ill-fitting clothes. Remember that comfort is just as important as style. This case is more crucial with overcoats and suits. So you know the drill: keep the tailors closer.
Texture. To add some flavor to your ensemble, try on fancy fabrics like cord, suede, and velvet. For casual outfits, opt for faux fur if you're game.
What To Avoid
Clashing Colors. Be more careful when combing different hues. You don't want to look like a walking version of a rainbow. 
Ill-Fitting Outfits. Even if it's cold, you have to mind how your clothes fit your body. You have the leeway to opt for thicker garments for added warmth in winter. This would matter most among skinny men as they are prone to freezing. As usual, don't compromise comfort and style while you're at it. 
Where To Buy
With the virus still out there, it's not advisable to risk yourself going out to buy clothes. In any event, online shopping would be helpful. Pin Nordstrom and MrPorter on the top of your list. 
If you've been fully vaccinated, visit your favorite stores. I like taking a trip to Uniqlo and H&M, even if I'm not going to buy anything. The experience is just satisfying – trying on clothes and touching the fabrics. It's also an advantage to go to physical stores to see how the outfits look on you in front of the mirror. 
How Should Men Dress In Winter?
To stay fashionably cozy, we have rounded up the latest dressing ideas for the cold season. Incorporate these ideas and make your style statement this winter. Have a look at these 18 best winter clothing ideas for guys to stay fashionably cozy:
41 – Winter Coat For A 50-Year Old Man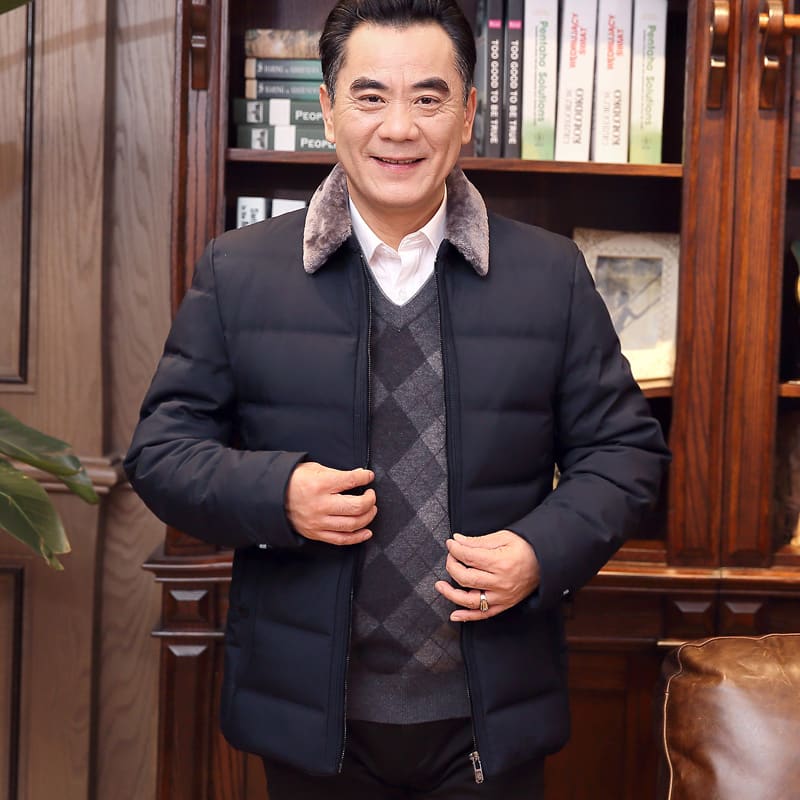 40 – Turtleneck
In any event, roll neck shirts and sweaters are your first clothing choice in winter. This has always been one of my favorites for various reasons. For starters, its iconic neckline makes it ideal for skinny men. This can be your go-to outfit as it's not that hard to style. Try pairing it with wool trousers and then finish off with some sneakers.

39 – For Plus-Size Men
Black has a slimming effect, making it ideal for curvy men. There's nothing wrong with being big, but you can live by this tip for the sake of style. If you are up for it, go full-on black. The last thing you want is to wear baggy garments. They are sloppy, which can make you appear bigger. The good news: you have the leeway to opt for a slightly loose shirt to hide that beer belly.
38 – For Mature Men
Men in their 50s look best in black, navy, and grey tones. It would be better to steer clear of fancy prints and striking patterns. Fit is crucial among older men's clothes in more ways than you think. One can quickly notice if something's off. Lucky for men who are aware of their body measurements. But worry not; the tailors got your back!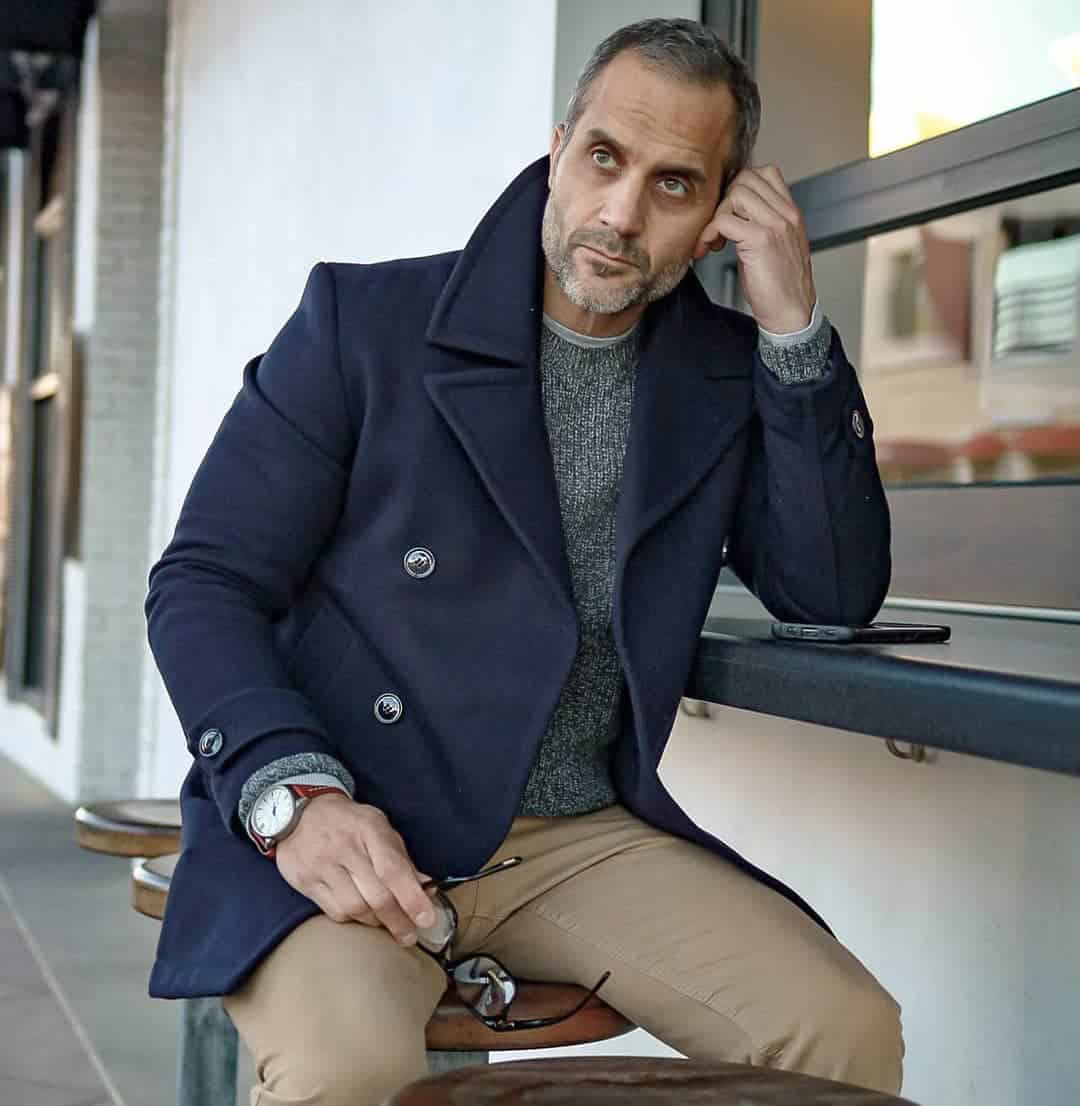 37 – For Short Guys
Opt for trimmed versions of outfits like peacoats and jackets. Cuffing your jeans is also a practical way to appear a bit taller, even just for an illusion. Please do not wear baggy garments as they make you look even shorter. Vertical stripes would help make you taller as well.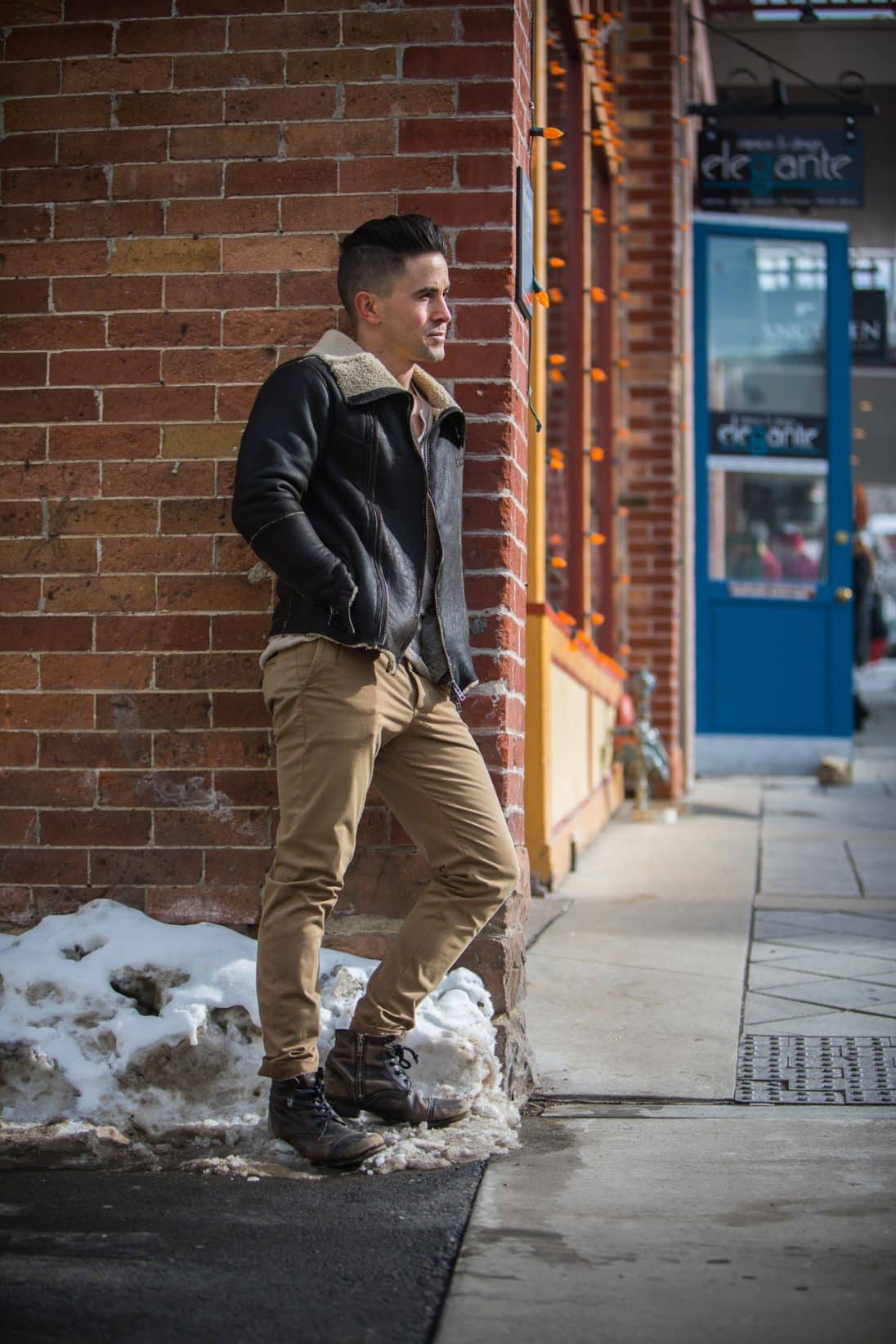 36 – Monochrome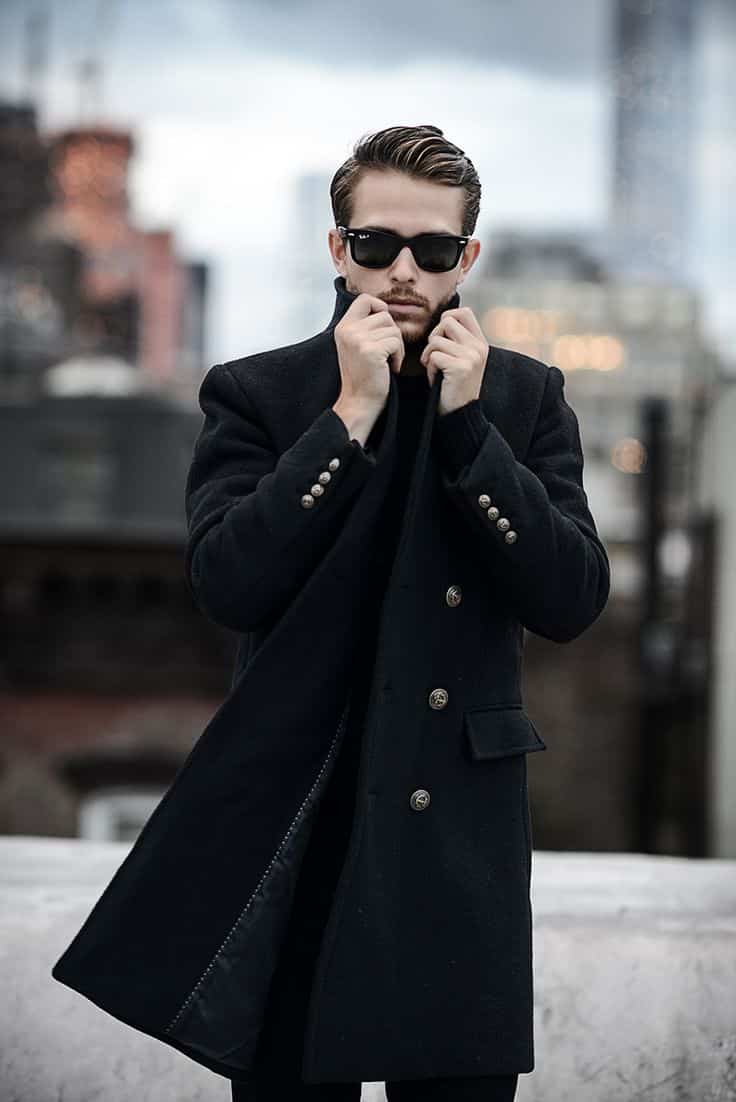 35 – Minimalist
It's never wrong to dress simply in winter. You can do it any time of the year. As such, limit your color choices to only two. Going black and white is a sure-fire way to achieve a minimal look this season. Throw a bomber jacket over a white tee. Team them up with black pants and shoes.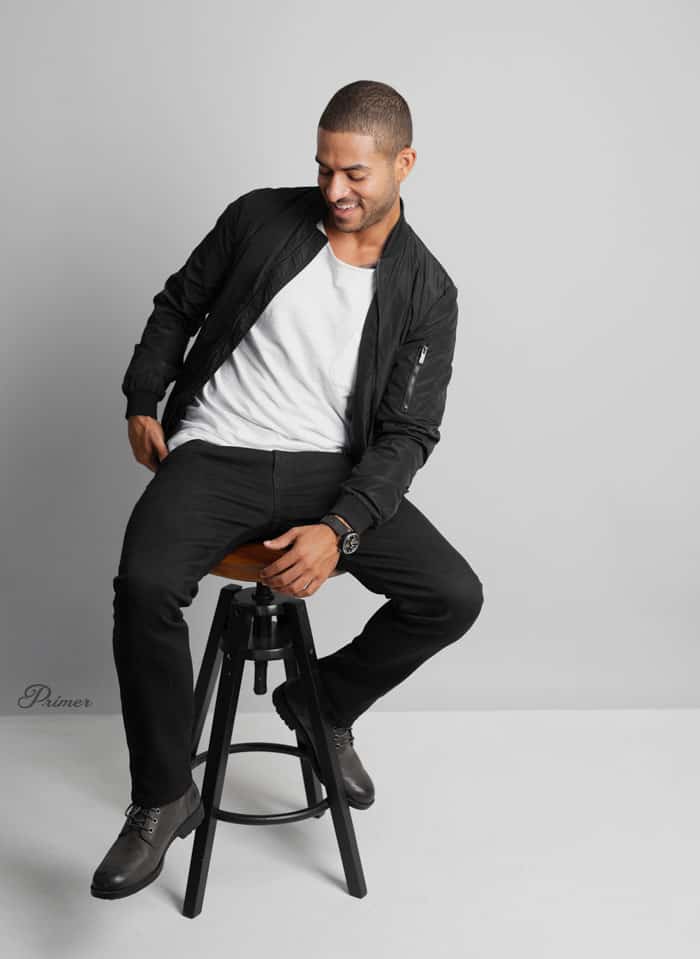 34 – Athleisure
Some men prefer working out when it's cold. For one, it's more motivating to run when it's freezing outside. You want something that allows you total mobility for such activities—gear up with a hoodie paired with jogger pants for maximum functionality. You want something that will enable you total full mobility for such activities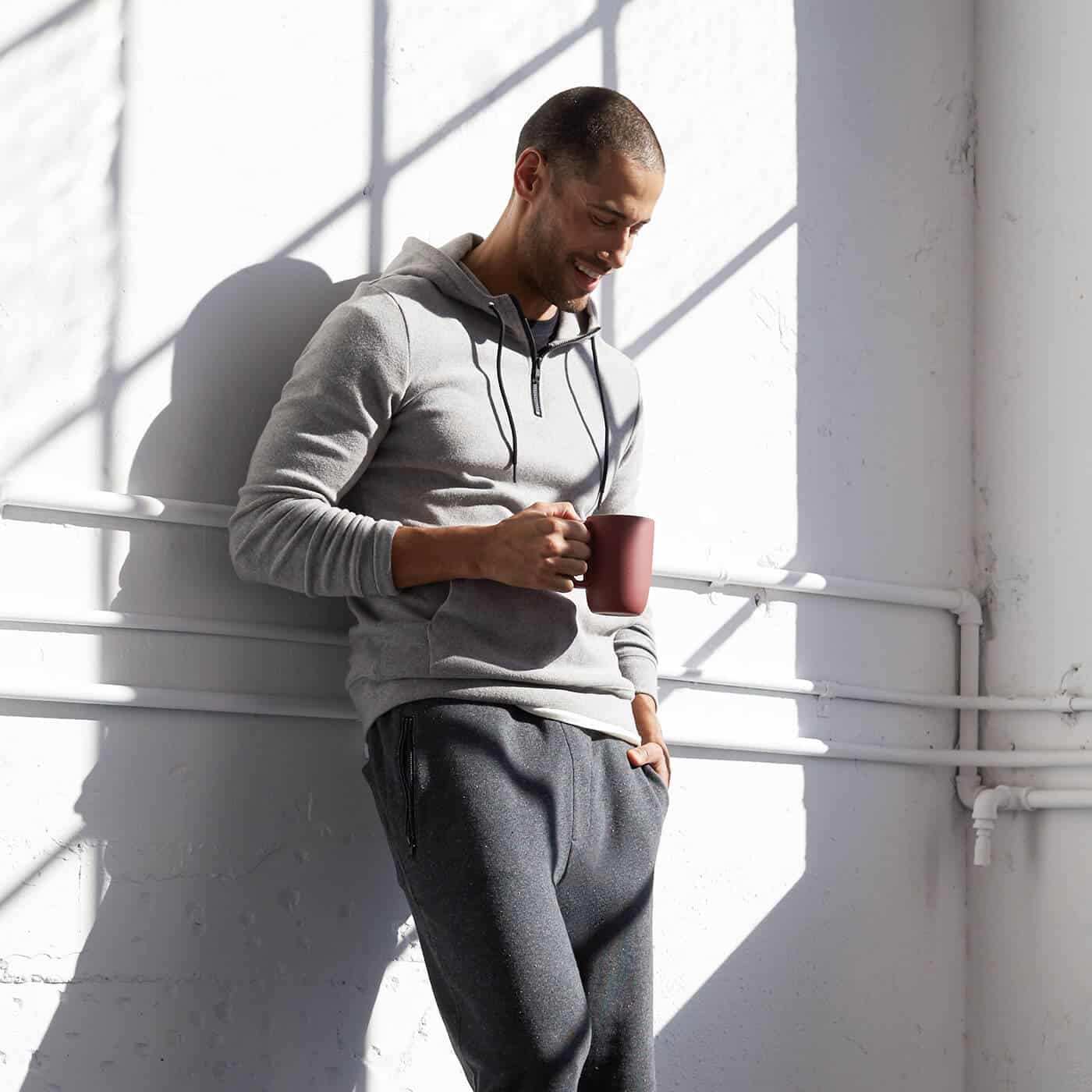 33 – Casual Day At The Office
Strike a balance between formal and casual. Don't take things so lightly. First off, it's not that easy to wear a casual outfit at the office without looking unprepared for work. You can make things easy for yourself. Narrow down your options by only choosing neutral tones and nothing else. Incorporate them together, but avoid clashing, please.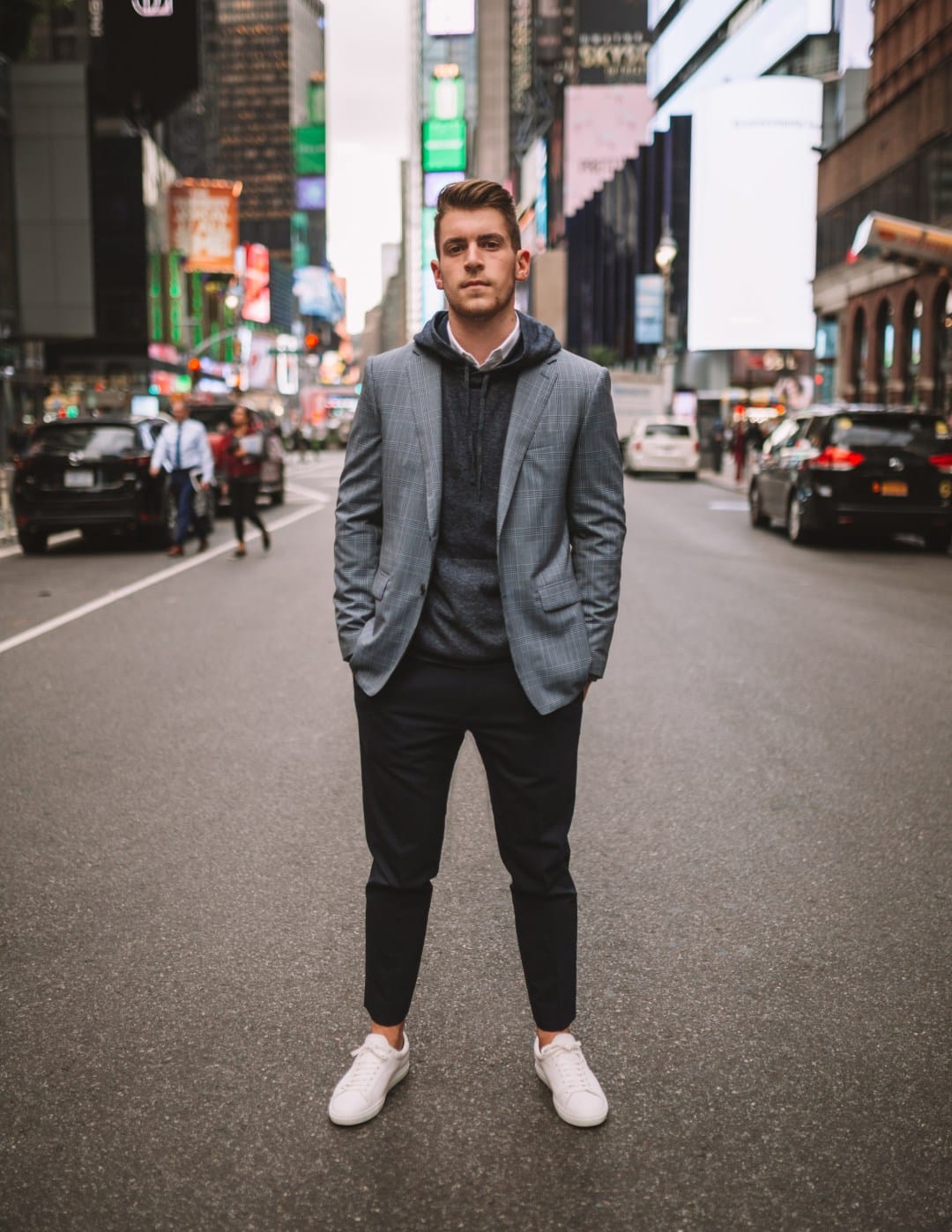 via
32 – Streetwear
My favorite fashion piece for winter streetwear: sherpa jacket. One look at its iconic collar, and you'll get winter feels. To style it, wear a hoodie underneath. Don't hood up unless it's really necessary. For the bottom half, choose a pair of trousers other than jeans. Black pants or khaki chinos would be great.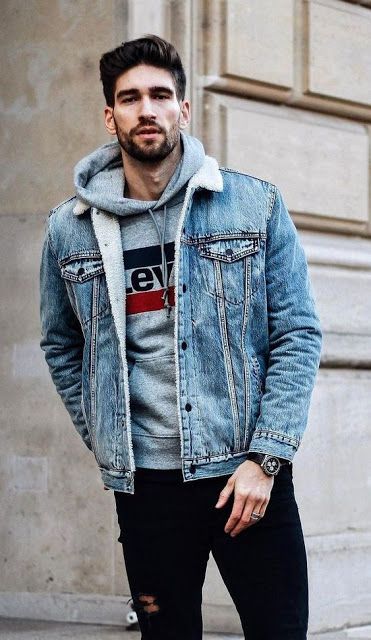 31 – Wedding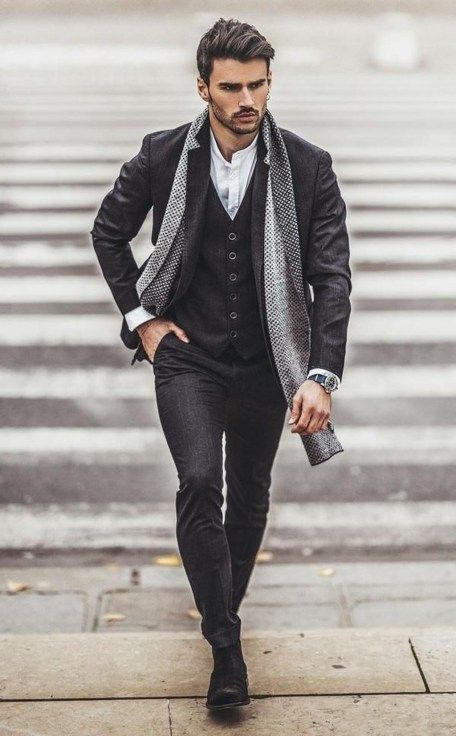 30 – For Skinny Guys
Be mindful of how your clothes fit. For starters, one looks at the shoulders, and we can tell whether they're well-fitting or not. Horizontal stripes would make you broader, for other's eyes, by the way. There's nothing wrong with it because that's the point of fashion. Style enthusiasts want to have the best silhouettes. Steer clear of lousy garments as they make you look thinner.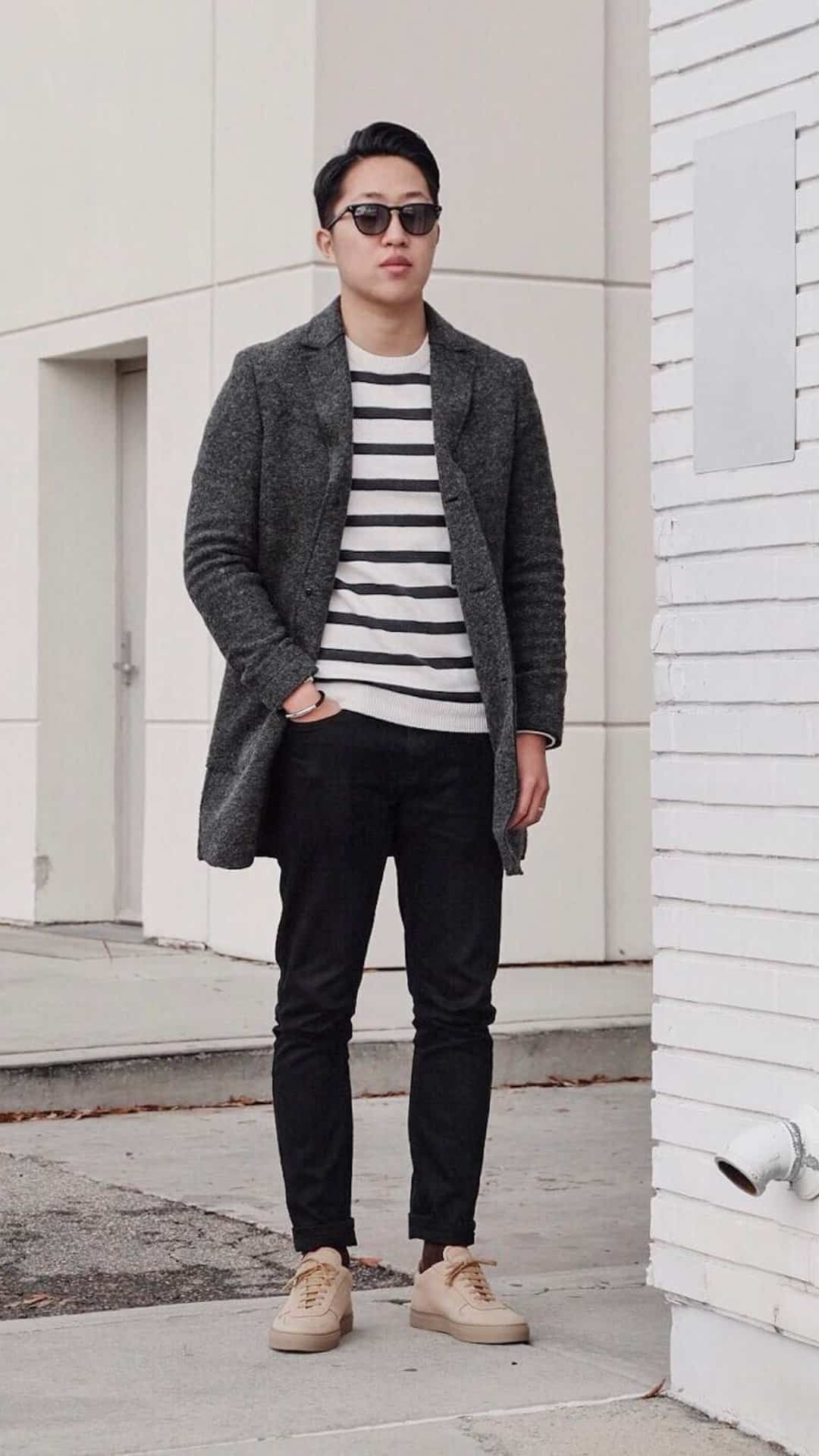 29 – Winter Outfits For Teenage Guys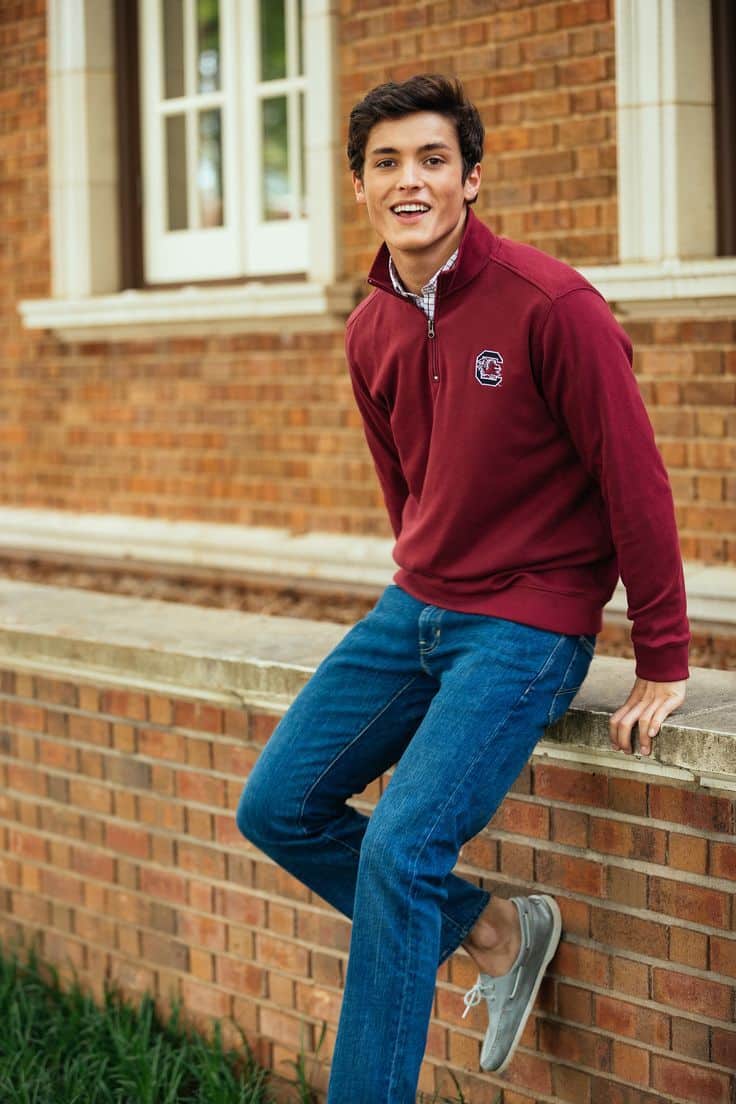 28 – Weekend Casual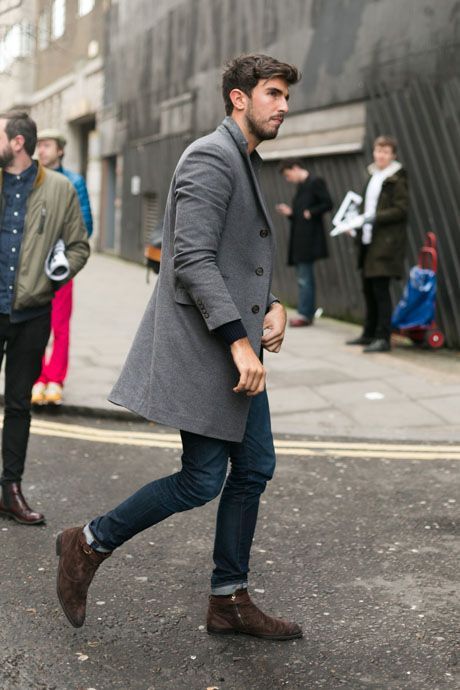 27 – With Cardigan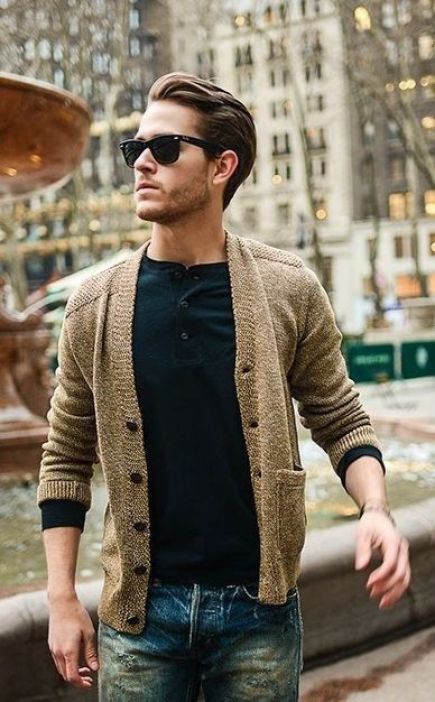 26 – With Knitwear
Know your knitwear. Garments like cardigans and cable-knit pullovers are perfect substitutes for overcoats and blazers. You can even wear it to work, provided it has a minimal design. Black, grey, and navy tones are all office-appropriate. The rule of thumb is to layer it with workwear pieces like collared shirts.

25 – With Crewneck Jumper
Style a crewneck sweater by wearing it over a collared shirt. Let the collar pop. Get the right fit of jumpers, and stick to minimal designs. Versatile jumpers work both in casual and business settings.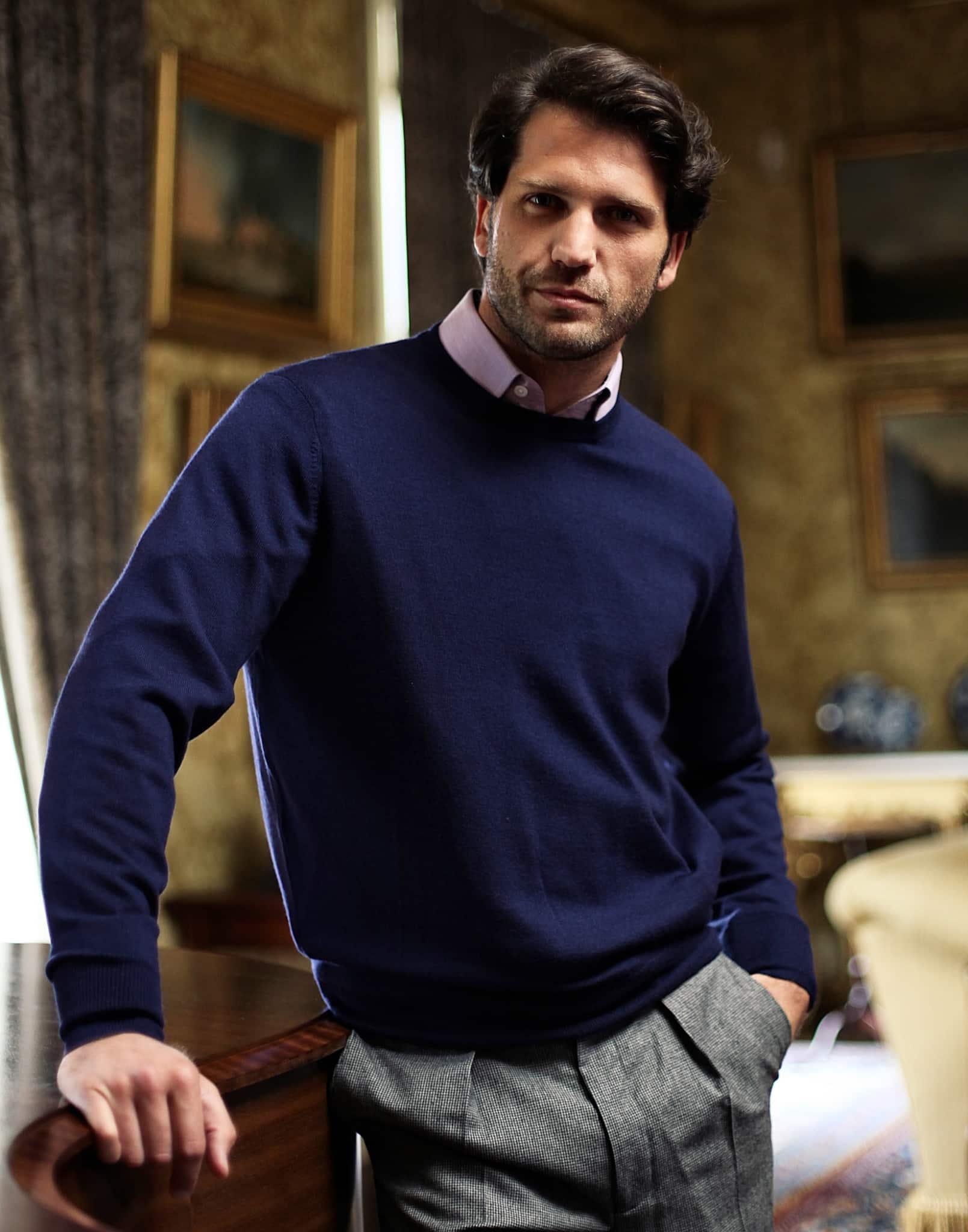 via
24 – Winter Black-Tie
Dinner jackets aren't black in default. Midnight blue DJs are better, and you can see the evidence when it catches the light. And the color is even more suitable in winter because of its excellent appearance.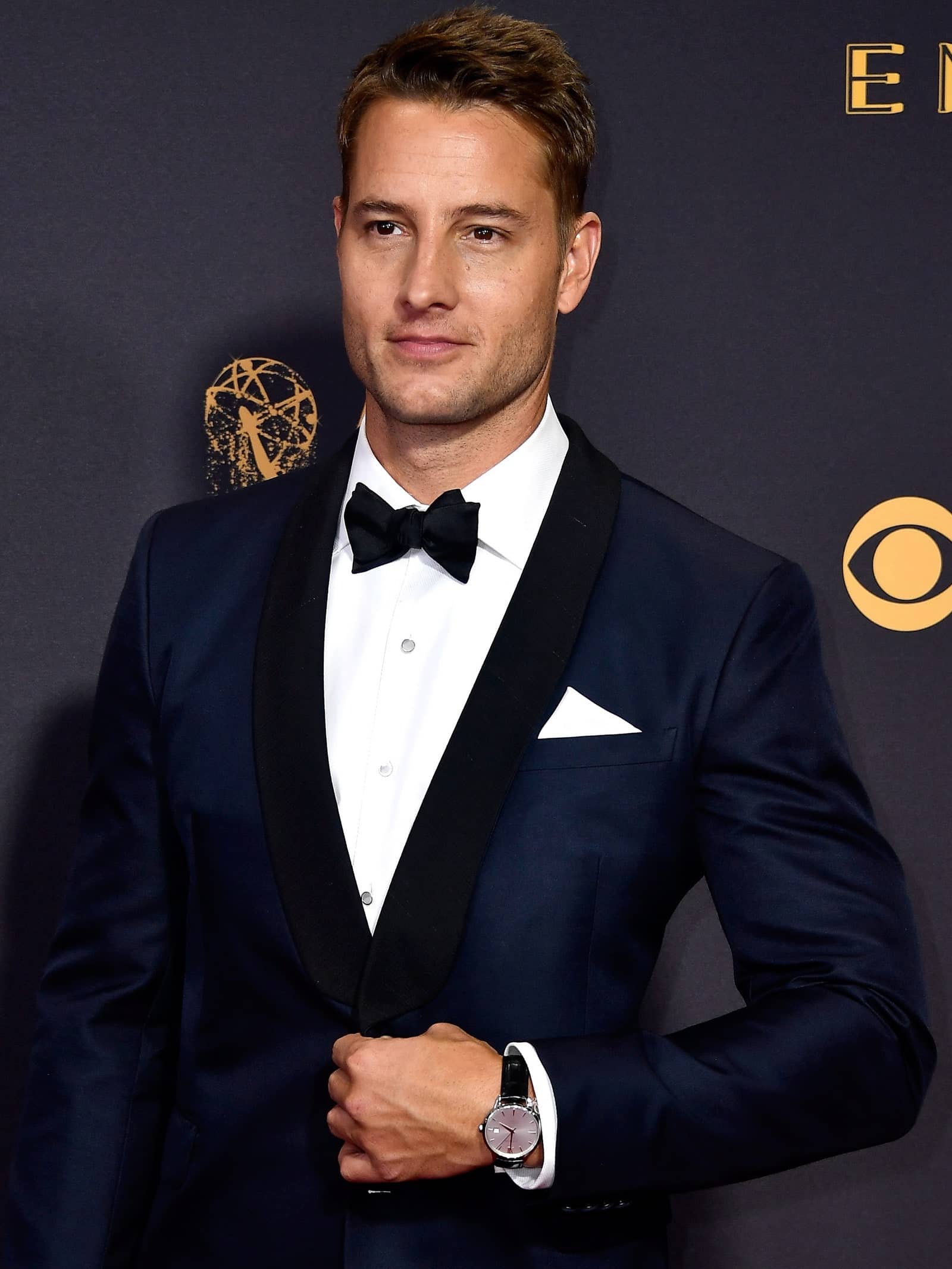 23 – Winter Coat
Coats made of wool are advisable for colder months. The fabric provides the heat you need to stand the chills. To style casually, throw it over your everyday outfit. Make sure you get the right fit so the coat will stand out!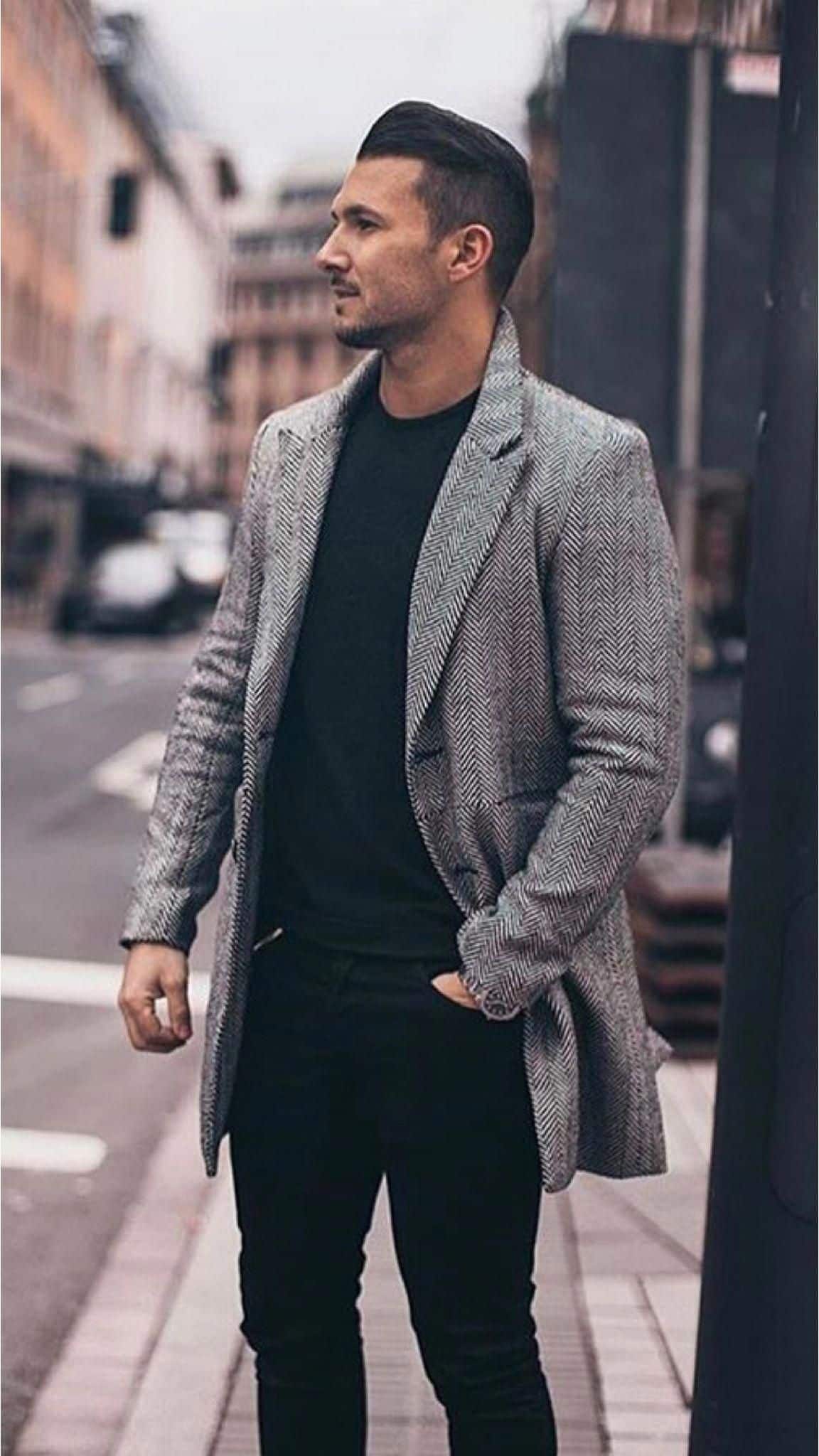 22 – With Bomber Jacket
The best thing about bomber jackets is their stylish yet laidback appearance. For one, they can be worn with casual outfits in winter. You can layer it perfectly while keeping a lightweight feel. This is something other jackets can't offer.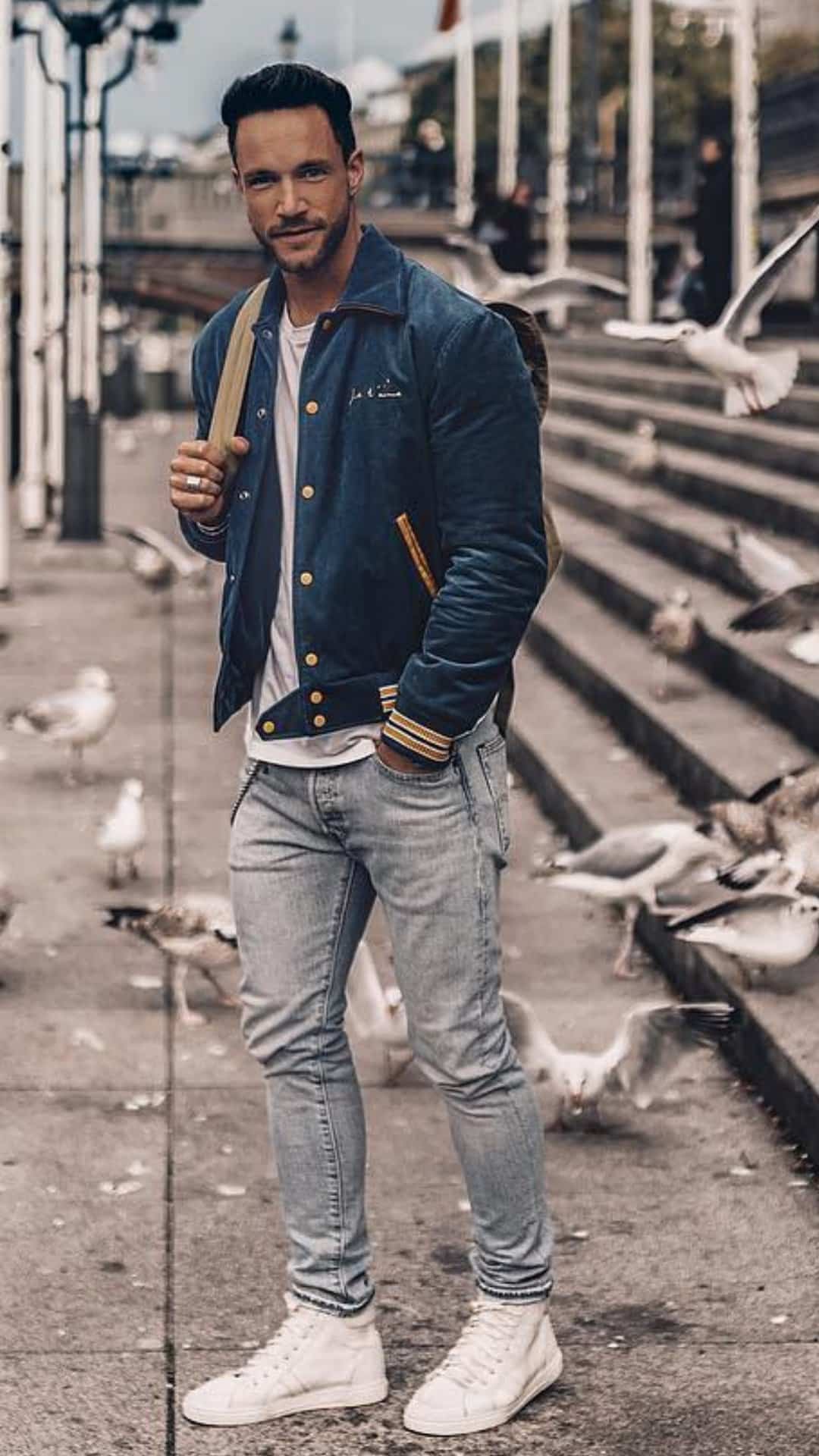 21 – With Leather Jacket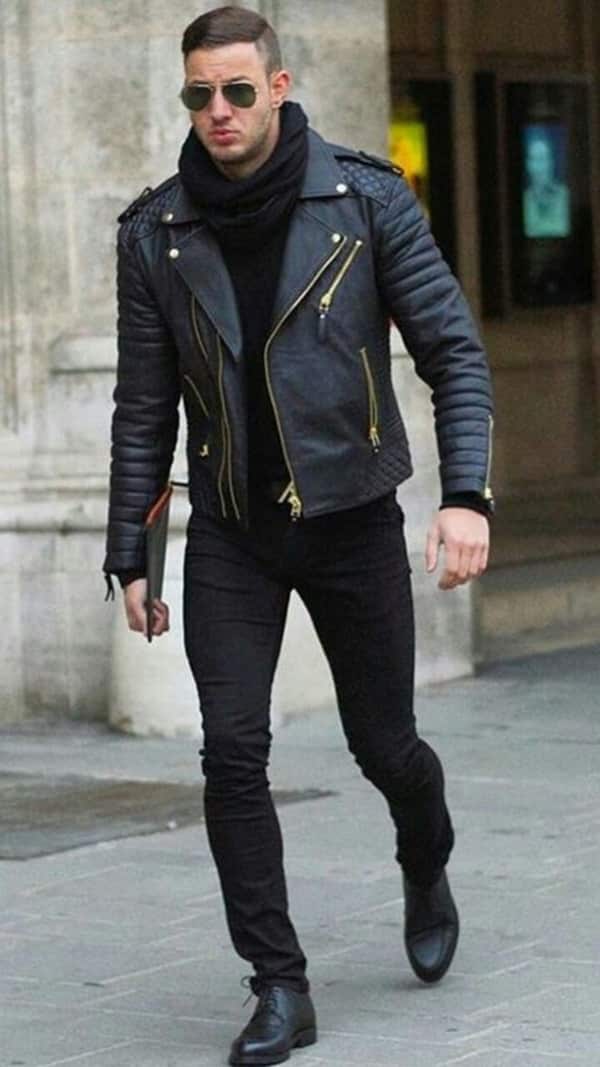 20 – With Puffer Jacket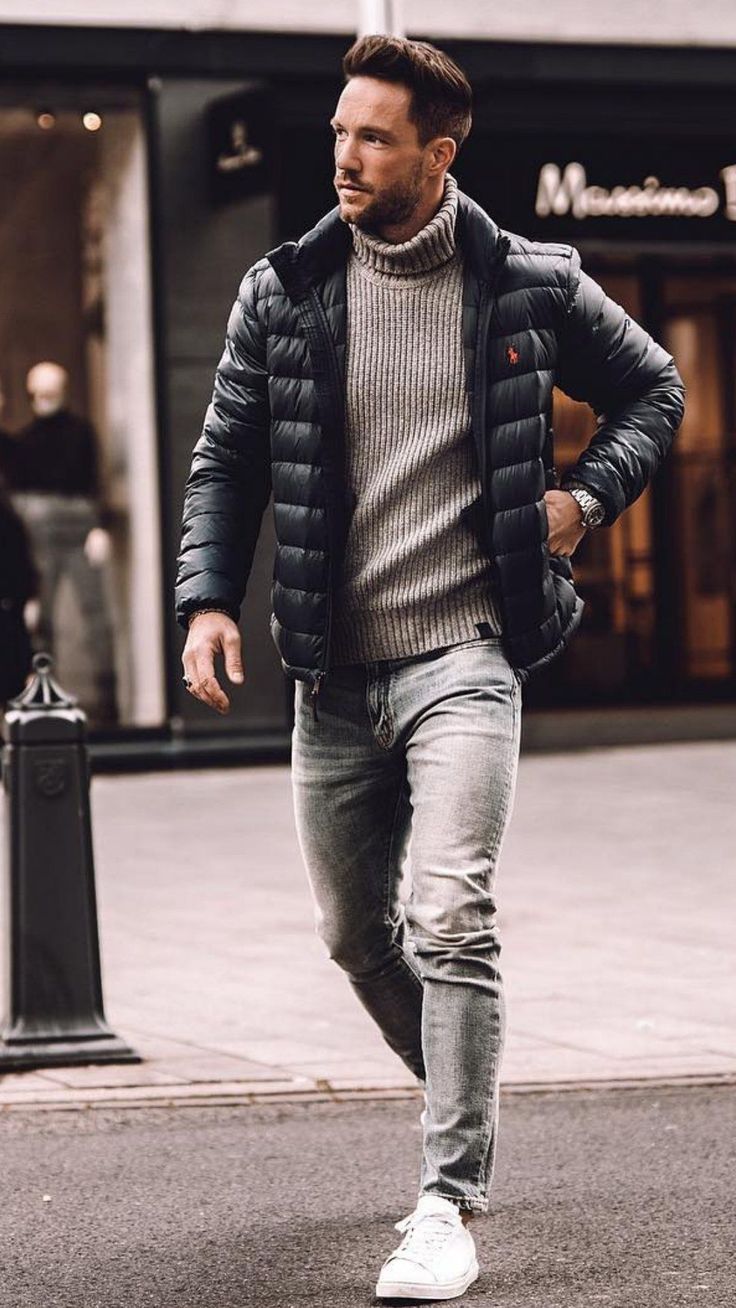 19 – With Sherpa Jacket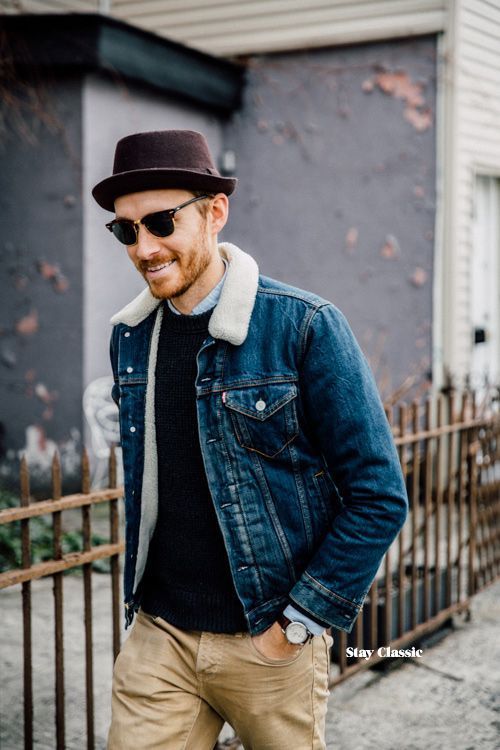 18 – Skinny Jeans For Winters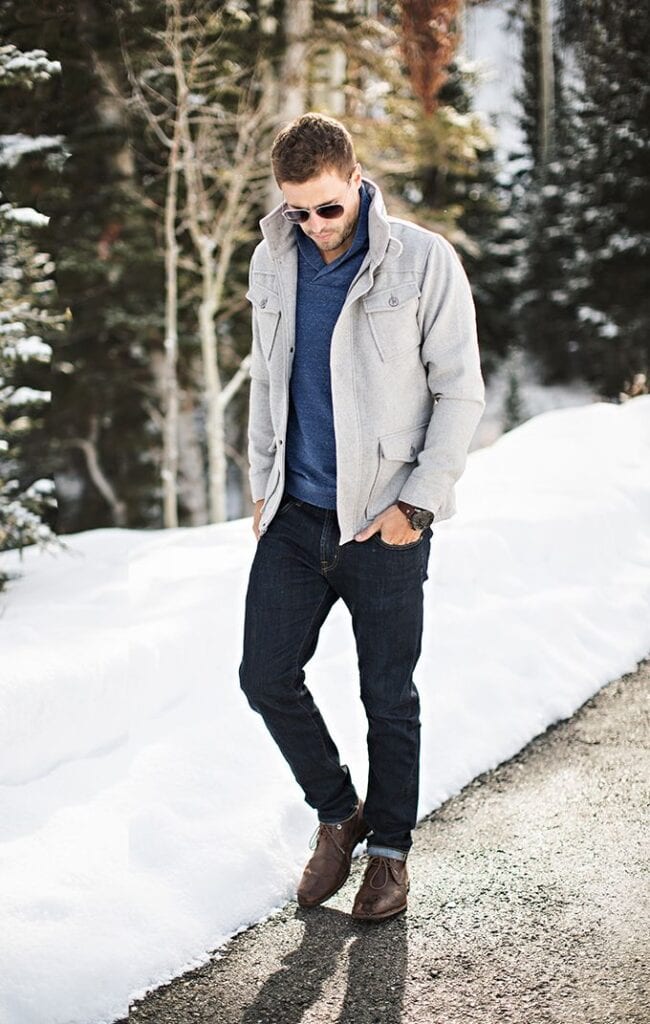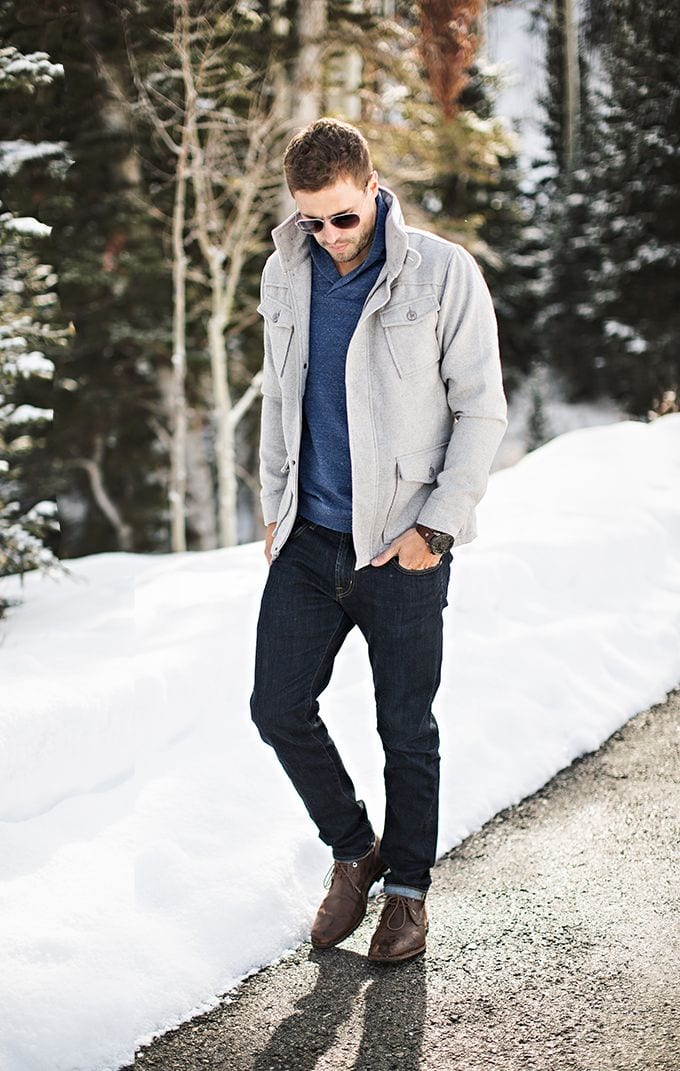 17 – Layered Sweaters For Formal Look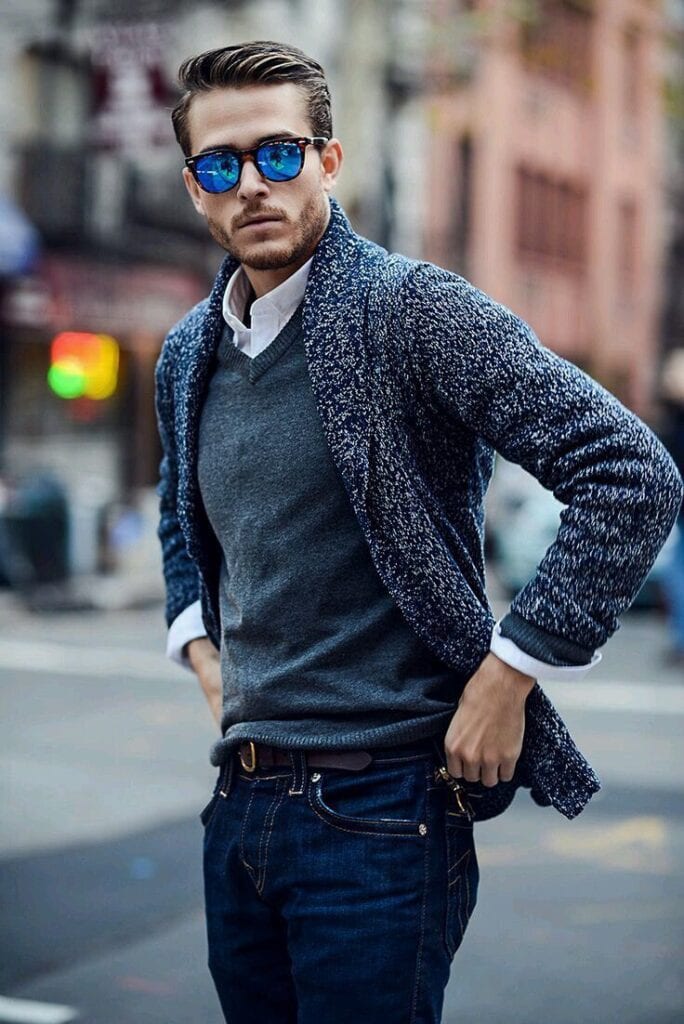 16 – Leather Jacket For Stylish Look

15 – Knit Sweater For Men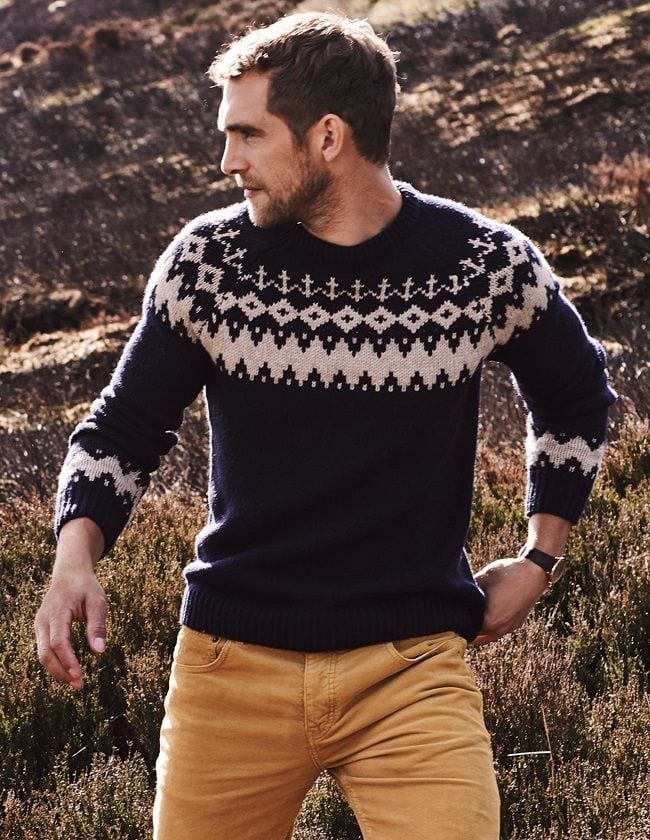 14 – Long Coat For Winters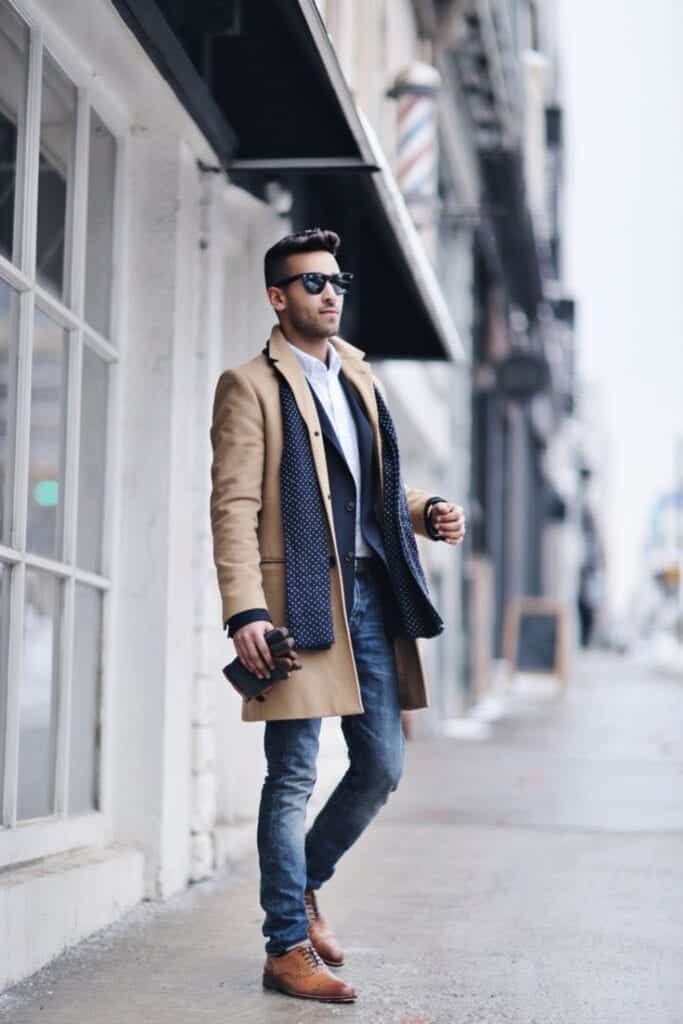 13 – Hoodies For Teens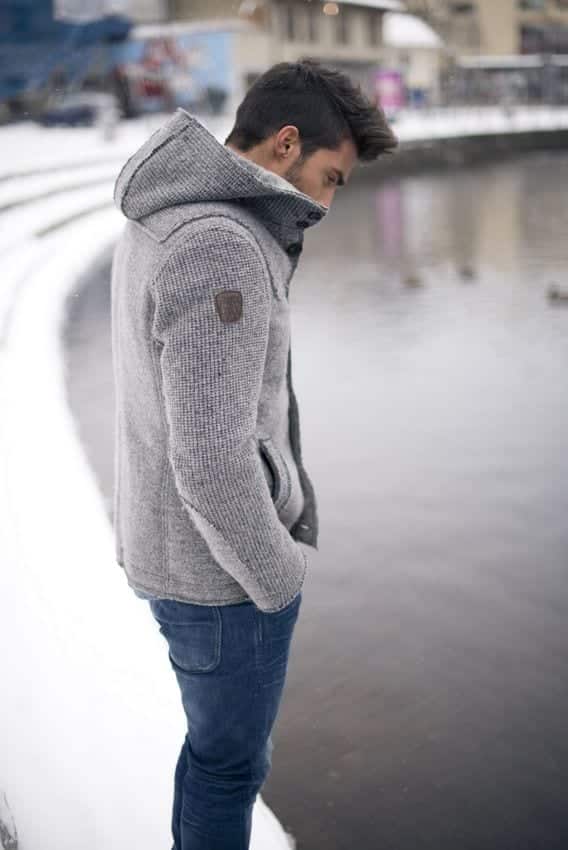 12 – Mufflers and Scarves
Scarves and mufflers are winter's must-have. Your winter outfit is incomplete without them. You can wear them differently to stay fashionably cozy.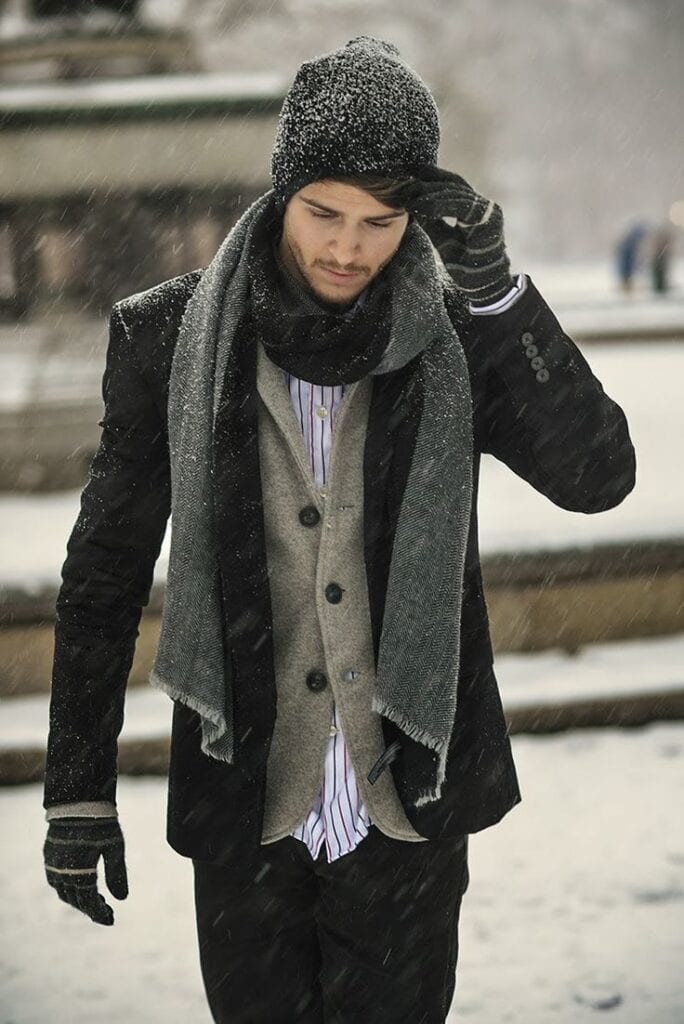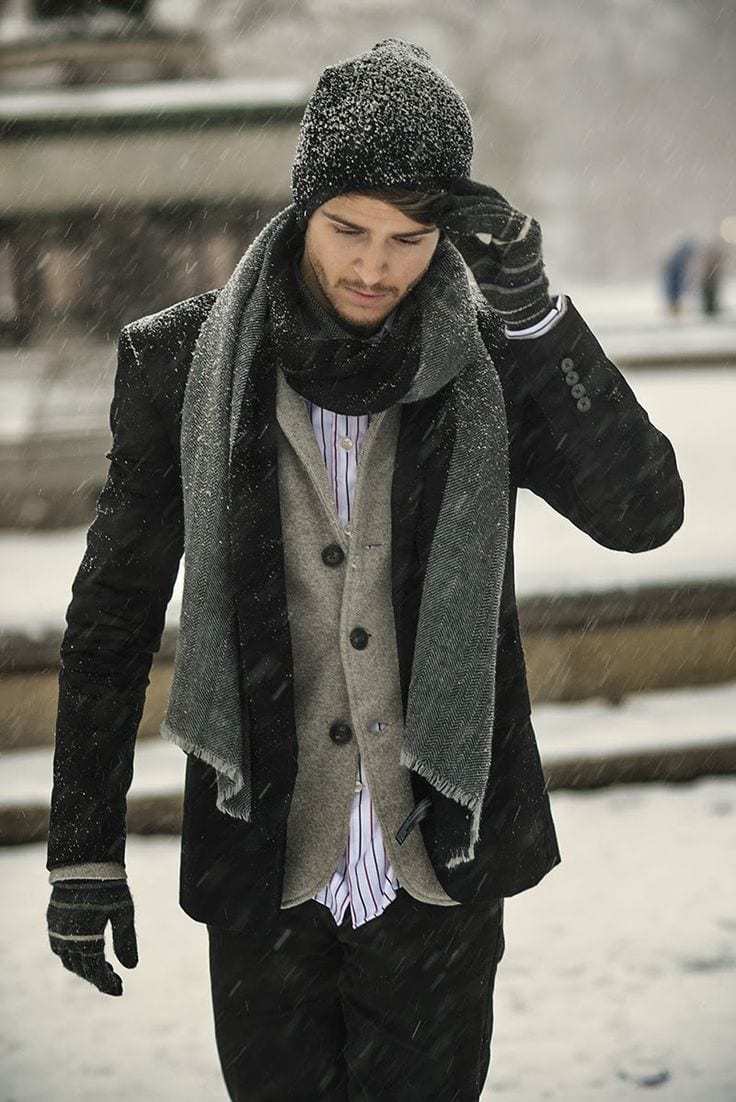 11 – Beanies For Cute Look
These beanies look super cute and can be worn with every type of winter clothing.

10 – Celebrities Winter Style
How handsome does David Beckham look in this cardigan? Add them to your winter collection now!

9 – Men Winter Street Style
Vest jackets are perfect for chilly weather and look fantastic. If you don't own one yet, you are seriously missing out.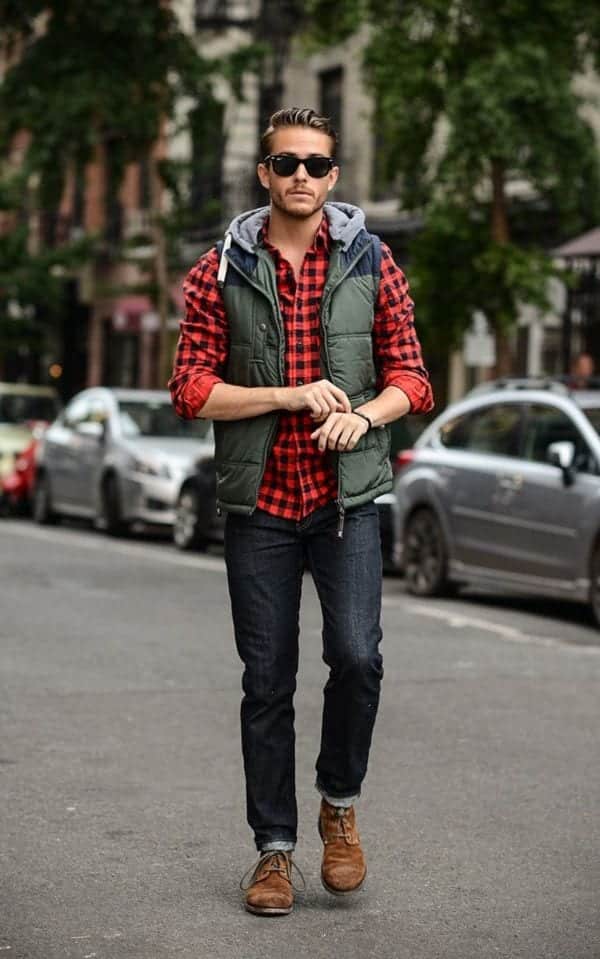 8 – Winter Outfit For Casual Look
You can wear any cardigan over a collared shirt and jeans for a casual look. To add extra style to your outfit, you can wear a beanie, watch, and boots.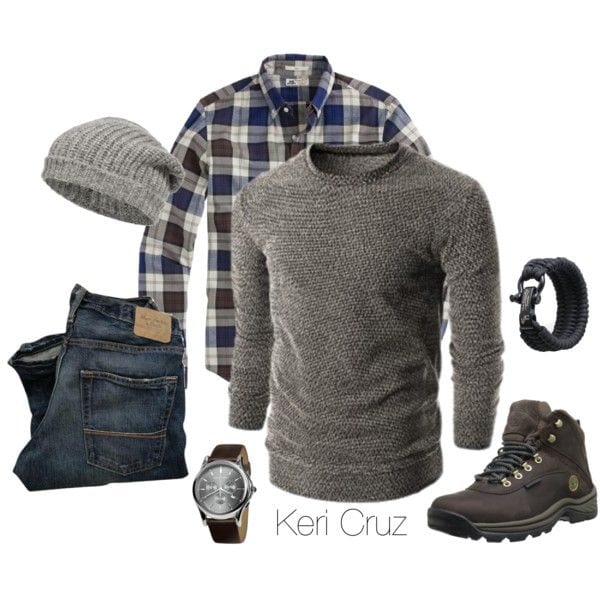 7 – High Neck Jackets
These high neck jackets are in trend this season and will make you stand out. Wear them for a fashionable and unique look.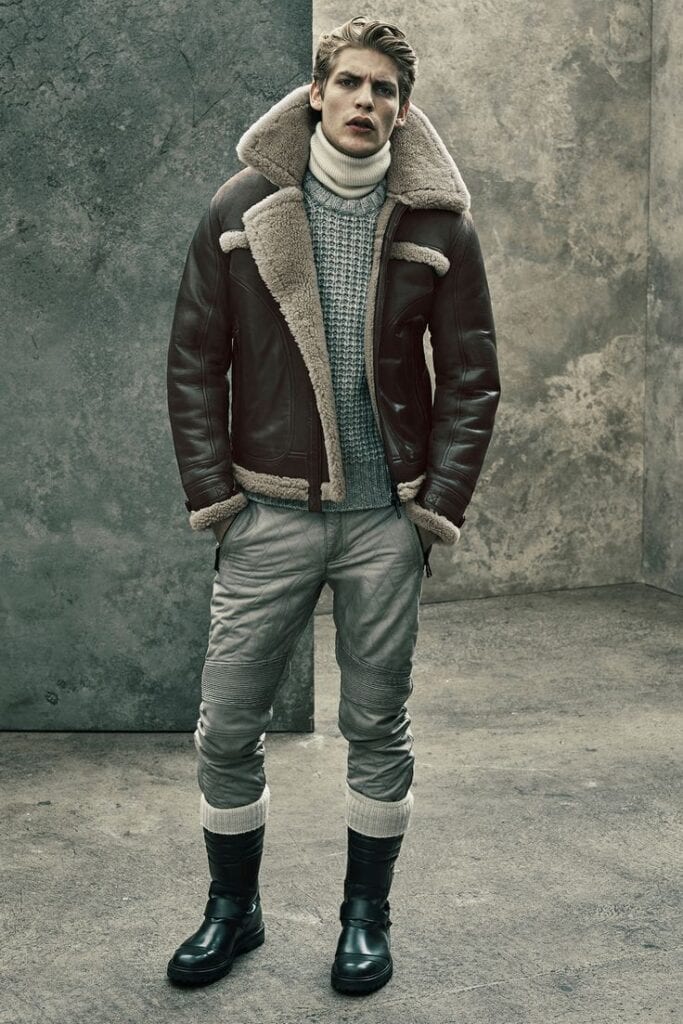 6 – Polyvore Winter Combination
To style your outfit this winter, you can wear a jacket over a simple white shirt and jeans. Add accessories like scarves, boots, watch, belts, and bags to look fashionable.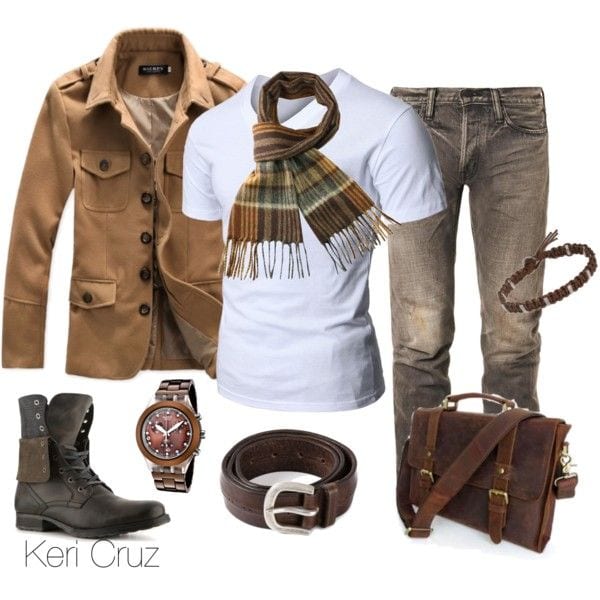 5 – Boots For Men
Your winter outfit is incomplete without boots! They go with absolutely every type of clothing and look very classy.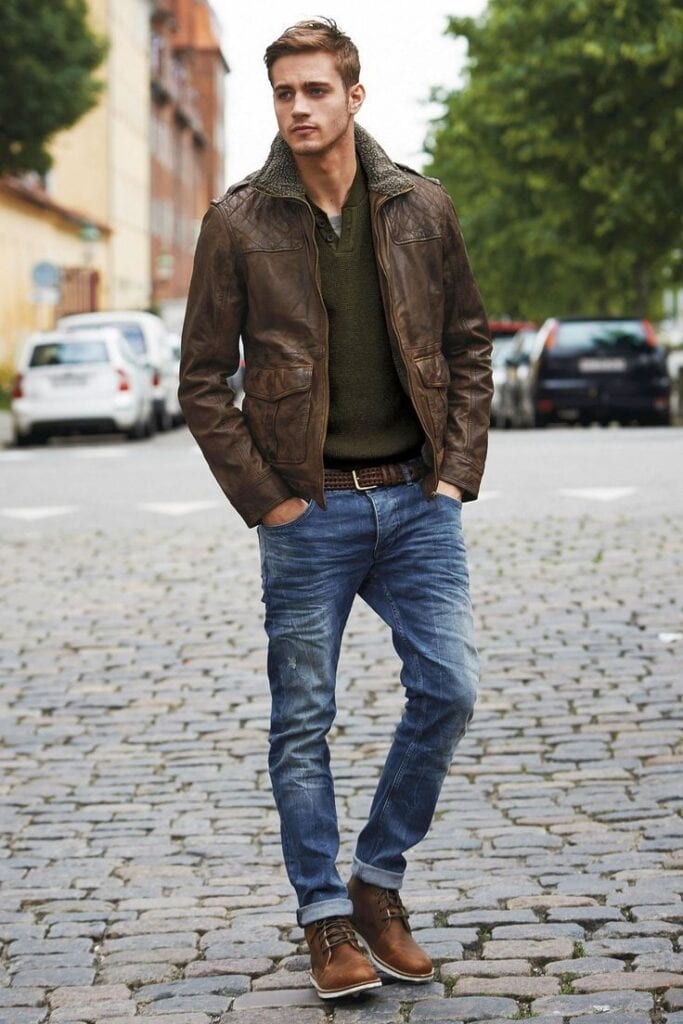 4 – Blazer For Sophisticated Look
You can add a blazer to any formal shirt, polo shirt, or shirt for a hot sophisticated look in winter.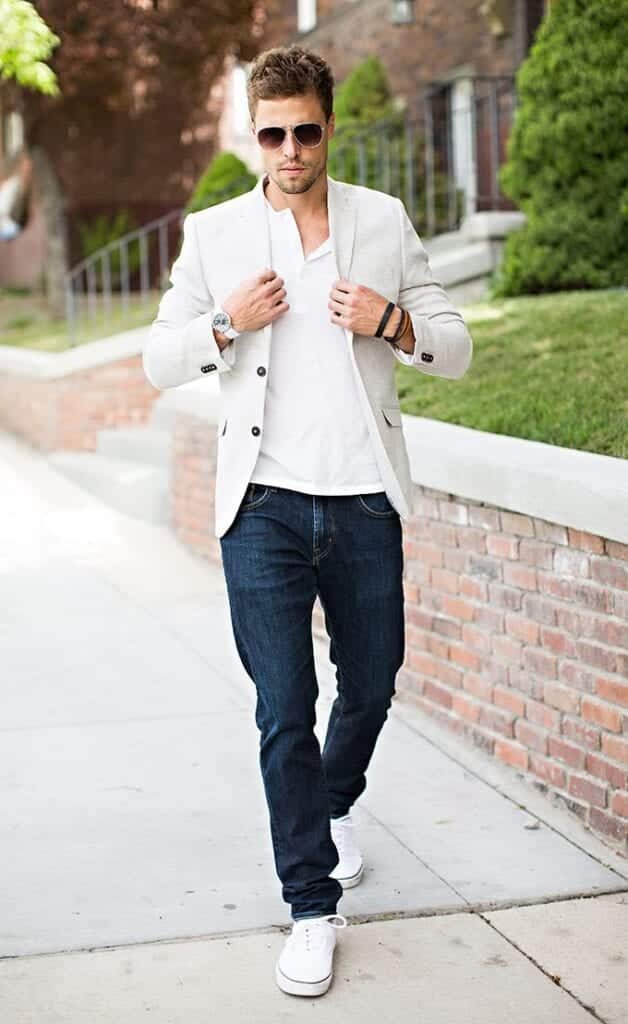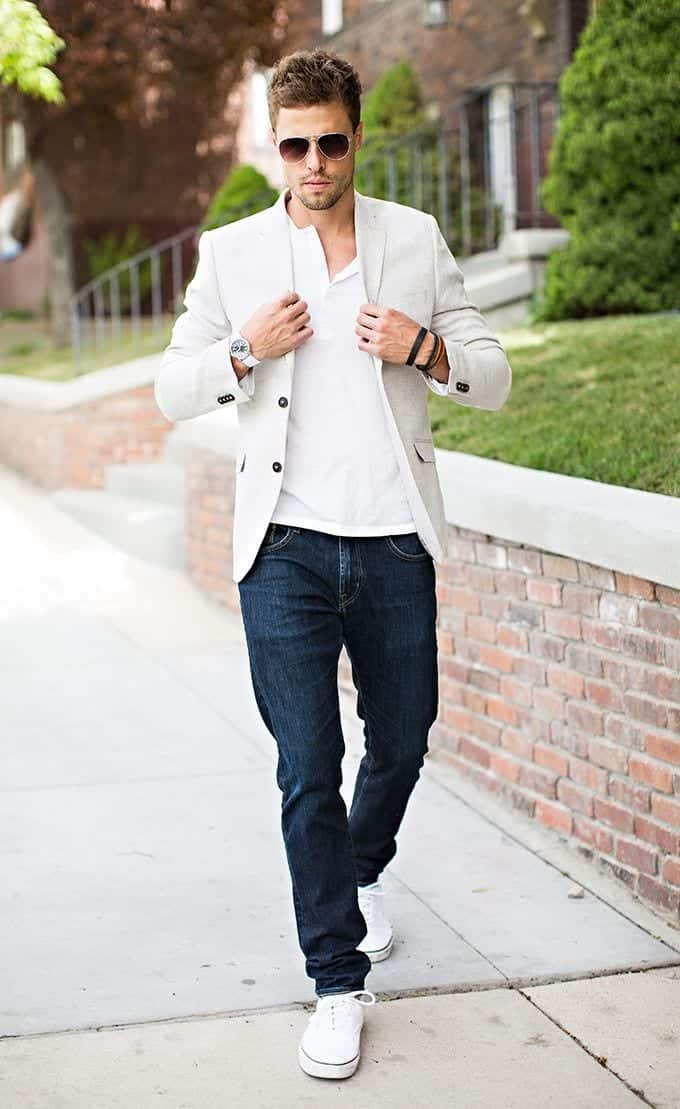 3 – Denim Jackets
Denim jackets are super warm and never go out of fashion.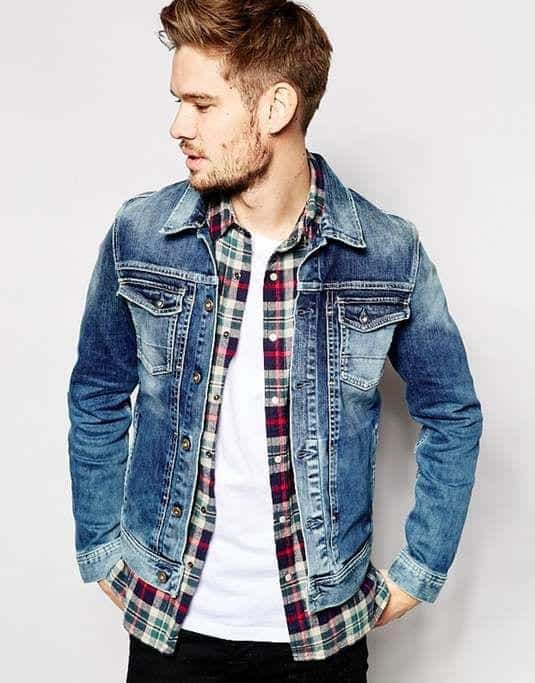 2 – Checkered Over Shirt
Checkered shirts are a must-have this winter. Wear them over a sweater for a casual street style look.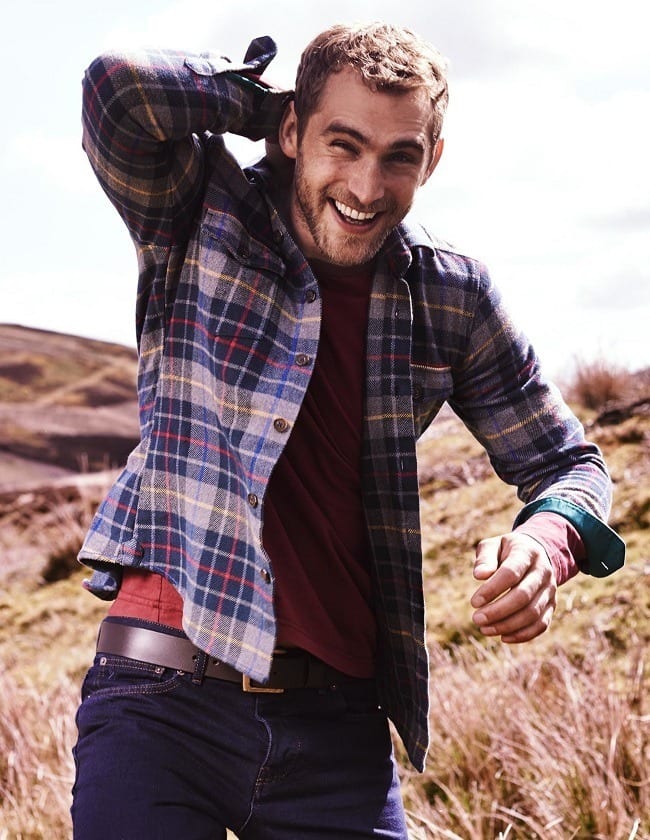 1 – Formal Pantsuit For Work
When going to work or any other formal event, these stylish pantsuits look handsome and will keep you completely cozy.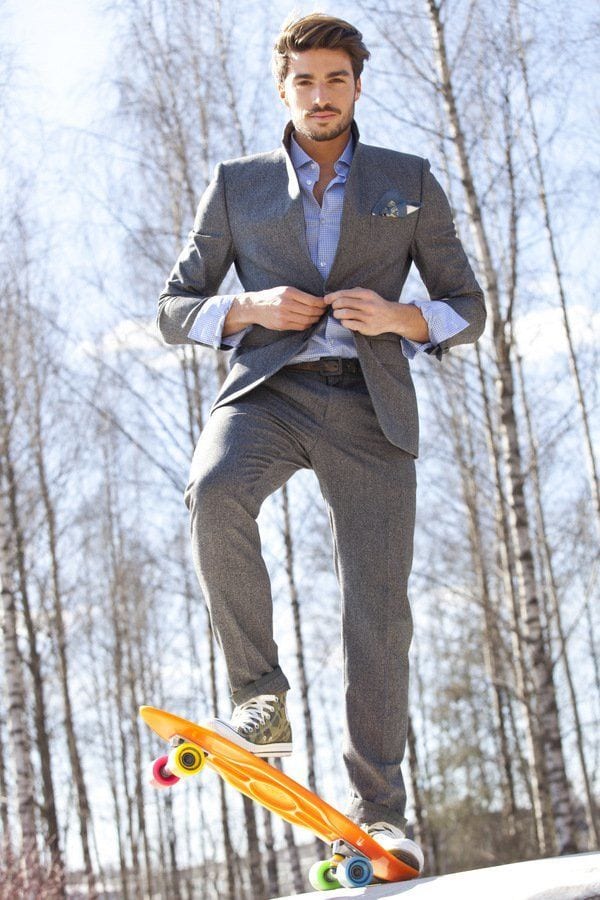 It's time to go shopping for winter must-haves. Create your style and outfit that suits you by using these tips and ideas on some of the best winter outfits for men.  Stay warm, comfortable, and fashionable at the same time! For more inspiring ideas, check out 16 men's winter outfit combinations for office/work.
Frequently Asked Questions
Q.What clothes are worn in winter?
A.Both men and women wear coats, jackets, and wool trousers in winter. However, wool isn't the only fabric options ideal for the cold weather. Accessories like scarves, gloves, and beanies are also kind of a big deal this time of year.
Q.What trousers should men wear in winter?
A.Opt for wool or wool twill trousers in darker shades. These fabrics are excellent absorbers of heat. They say darker tones are better, but I don't think colors influence appropriateness. Nevertheless, it won't harm you if you'd try. That said, black and dark blue are both wise choices.
People Also Ask
Q.How do men stay warm in winter?
A.For starters, opt for clothes that provide maximum comfort and protection. While style is essential, make sure not to compromise quality. Invest in clothes that would last for more than a year. Choose fabrics warm enough to shield you from chills.
Q.What can men wear instead of jeans in winter?
A.Corduroy pants, moleskin chinos, and drawstring trousers are all excellent alternative for jeans in the winter season. 
Q.What do you wear on a sunny winter day?
A.First, round up your winter essentials. Since it's sunny, wear lightweight pieces like cardigans and pullovers instead of overcoats. They are not made of thick and heavy materials, unlike trench coats. 
Q.Does denim on denim look good in winter?
A.No. Double denim is a fashion faux pas. Regardless of what season it alternatives, don't wear this combo unless it's the mandated dress code.