Trench coat outfits for men. Trench coats are basically three-quarter-length coats that we see everywhere in the Fall and Winter seasons. Like bomber jackets and cargo pants, the military primarily used them during the First World War.
Regarding material, the trench coat is a sturdy and lightweight garment that can provide the extra protection we all need in transitional weather. It can also keep you and your other layered clothes dry during the rainy seasons. Trench coats are one of the most amazing style statement that comes from Britain. This coat is ideal and can be worn in all seasons, especially in winter and fall. It adds up to the personality and looks smart when worn.
How to Wear Trench Coats?
Nowadays, we can see movie spies, detectives, and cool guys wearing trench coats in our favorite TV shows and movies, but they are not just movie props; they are wardrobe staples. A traditional trench coat has a double-breasted front with 10 buttons, wide lapels, pockets that are button-close, and a storm flap. It also has a belt at the waist and straps around the wrists that you can buckle.
Trench coats come in three styles:
Double-breasted
Single-breasted
Car coat or "mac," which is derived from carriage coat, but because of its bad weather durability, it's been added to the trench coat category.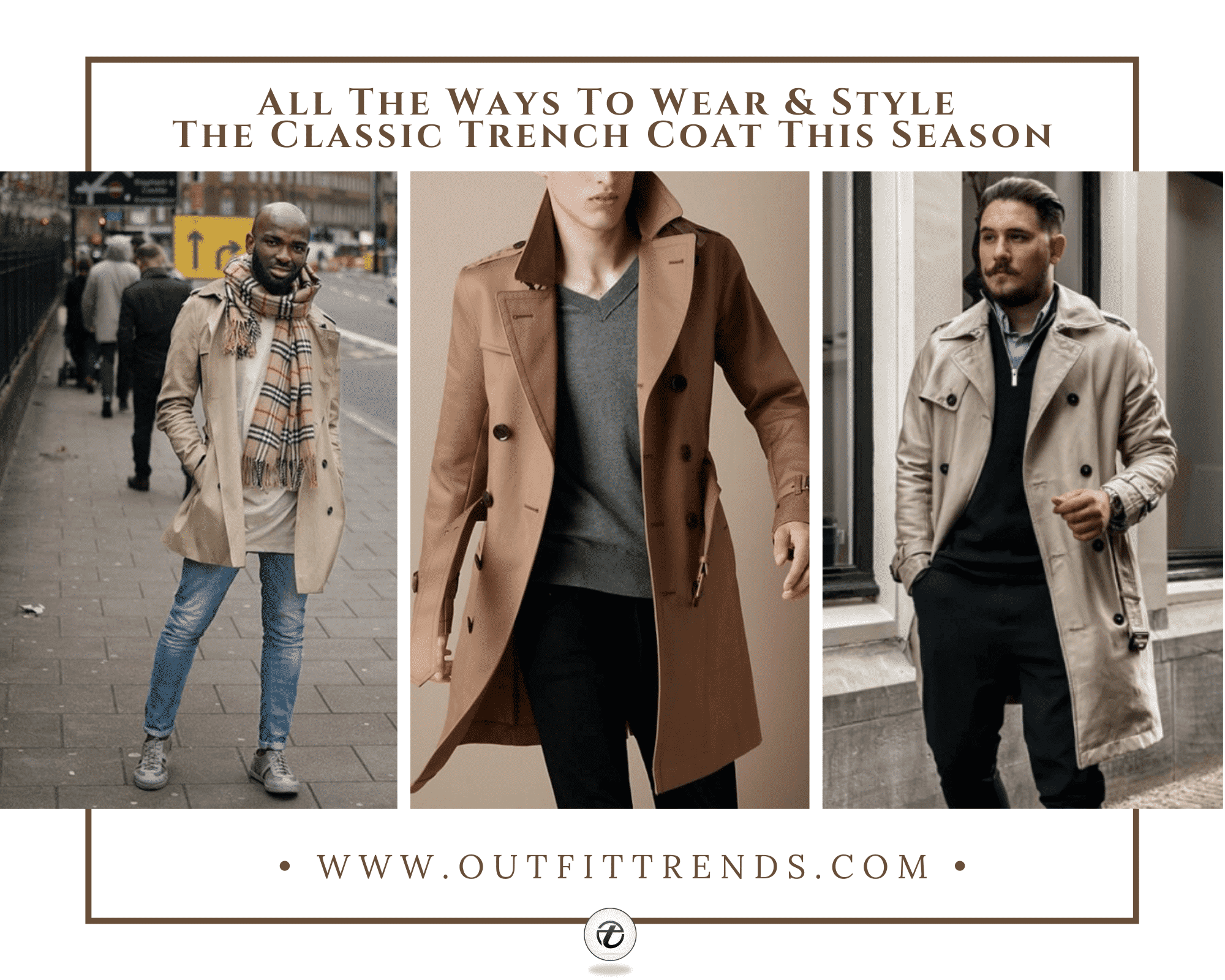 Difference between Trench Coats & Pea Coats
Trench are different from pea coats. Although they both have a military history, pea coats are made of wool, while trench coats are made with cotton gabardine and poplin materials. Pea coats were originally worn by the European and American navy and designed to protect the seamen from the open sea's chilling winds. Nowadays, softer wools in various colors are used to make pea coats.
With time there are a lot many variations added to trench coats. However, no matter how many alterations take place, trench coats are not going out of fashion. When it comes to colder months, men need both style and comfort, which is why we've discussed earlier the 18 Best Winter Outfits Ideas For Men To Stay Fashionably Cozy.
First things first, consider these few tips:
When Buying Online. It's unarguably convenient to purchase trench coats online. Get your great fashion finds with just one click on your device and expect the products right on your doorstep. But make sure that if you buy a trench coat off the internet, be particular with your body measurements because it is better to be sure than sorry.
Best Fabric For Trench Coats. Go for a 100 or 51-percent cotton gabardine trench coat.
Best Colors of Trench Coats to Buy. Standard options are navy and camel, but the darker shades like black and dark grey are perfect if you are traveling.
Best Brands. There is a long list of great brands. If you want to purchase authentic ones, go for trench coats made in England like Burberry. Macintosh, Aquascutum, ASOS, Amazon and H&M have some great styles too.
What Makes A Trench Coat Authentic. Pay attention to its sleeve style, along with the epaulets, hook and throat latch, gun flap, D rings, sleeve straps, through packets, leather buckles. Also, it must have a checked lining, not to mention a deep yoke and wedge back.
↓ 36: For Tall Men
Tall gents should be looking for long trench coats, ideally knee length ones.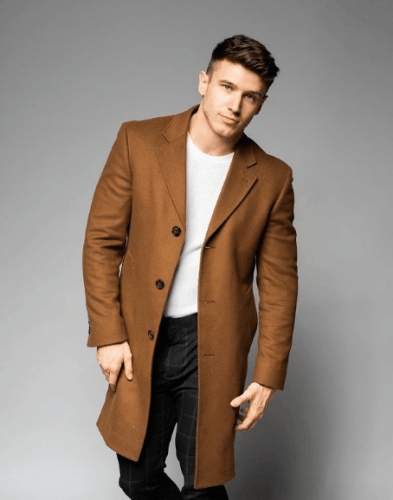 ↓ 35: For Short Men
Short men should go for slightly cropped styles that can create an illusion that makes you look taller.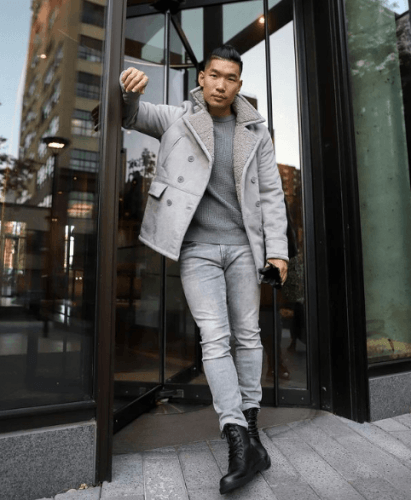 ↓ 34: For Plus-size Men
Wear the trench coat open for large gents with a boxy body shape. Don't tie the belt the usual way. Instead, half tie at the front or double-tie to the side.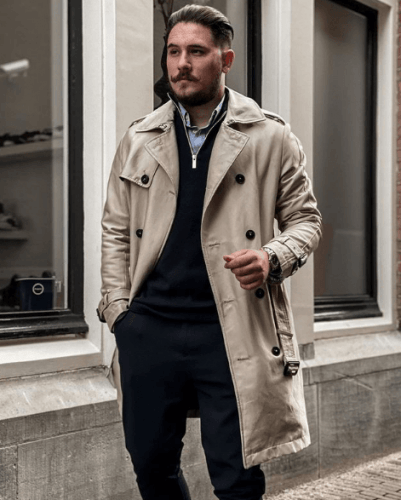 ↓ 33: For Skinny Guys
If you are skinny, you should avoid baggy and lousy trench coats, for they will make you look scrawny and small.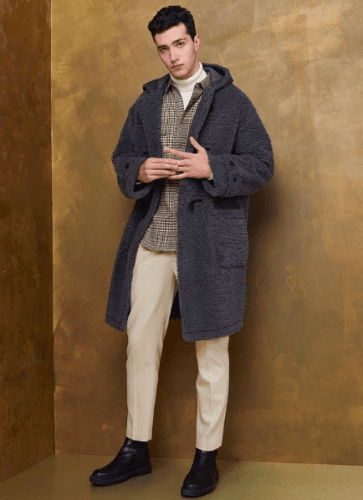 ↓ 32: Accessorize with a Hat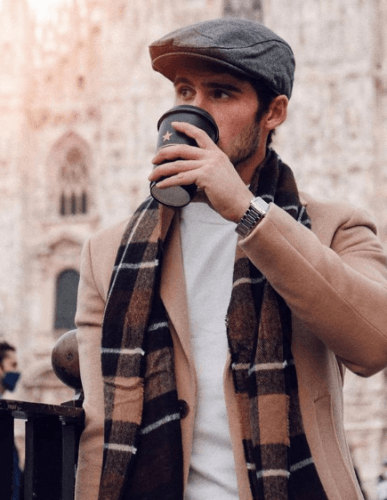 ↓ 31: Mid-length Coat
Burberry Mid-length Chelsea Heritage. It runs about mid-thigh and comes in three classic shades – honey, black and mid-grey and it comes with rounded shoulders.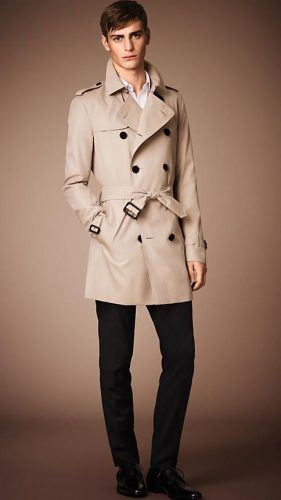 ↓ 30: On A Budget
If you're on a budget, try the H&M single-breasted trench coat. It has epaulets, an attached yoke at the back, and deep front pockets where you can store lots of things.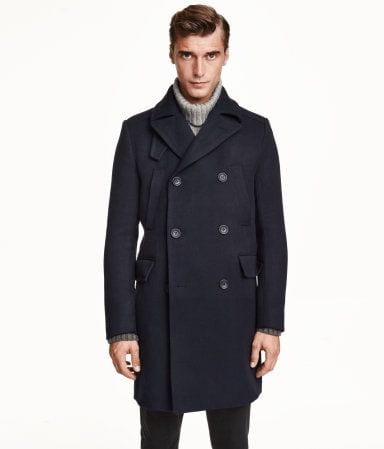 ↓ 29: Minimalist
Try Club Monaco New Mac Coat. Done in silvery sage, its clean lines have black contrast buttons for a pop of color, lined in windowpane plaid.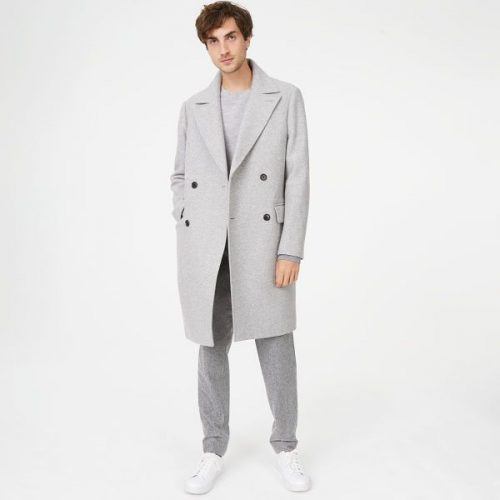 ↓ 27: Sporty Look
Go for the Lacoste Long Belted Cotton Coat. It has leather-trimmed buckles and is lined in jersey for extra warmth. There are two inner and outer pockets.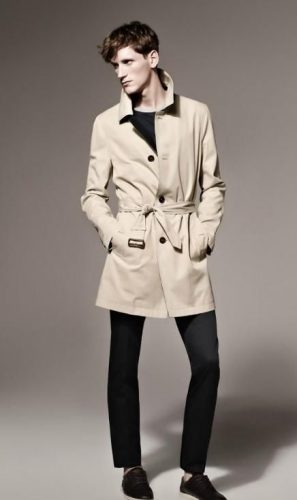 ↓ 26: Standout In The Crowd
An eye-catching trench coat like the Ka Wa Key Devore Two Layer Trench Coat has a detail of colors and textures. It is made with a sustainable cotton blend, and it can be worn belted or not.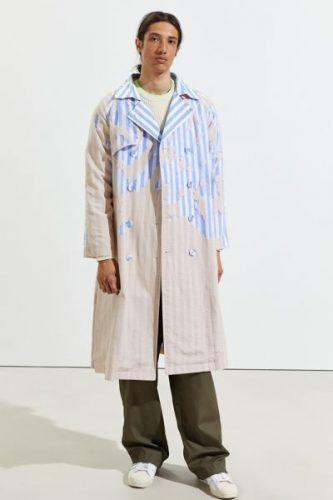 ↓ 25: For A Freezing Weather
Canada Goose Crew Trench Coat is made of Dura-Force fabric that will keep you comfortable despite the arctic winds blowing down the street. It has a removable hood and drawcord hem.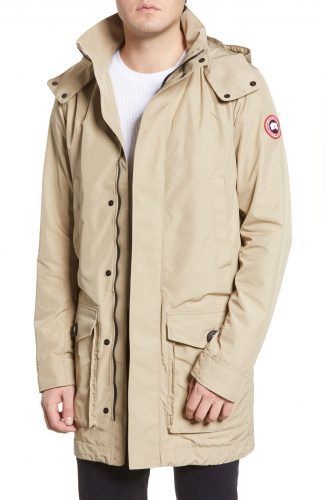 ↓ 24: Classic
Invest in a Burberry Pimlico Heritage car coat. It's made in gabardine blend and has classic check patterns. The refined straight cut is suitable to be layered with sweaters or suit jackets.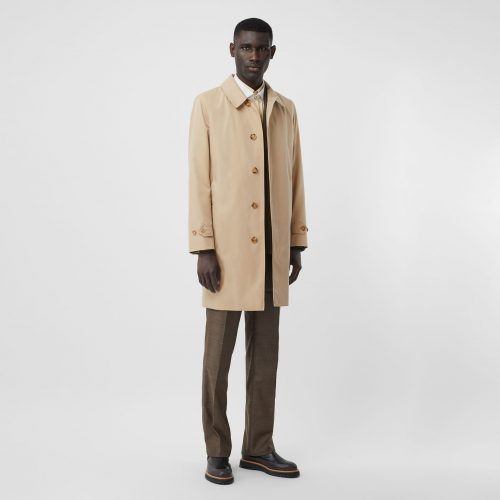 ↓ 22: Street Style
A LINGMIN Men's Double-breasted coat is both functional and fashion-forward. It has a removable strap which adds to its functionality. You can hand wash it, or you can use a machine, just be careful as the designers suggest you separate it from other clothing items during laundry.
↓ 21: For A Formal Event
A suit worn with a trench coat is best for an official event. It has a speed collar that makes it suitable for a casual gig, too.
A trench coat is business-ready when worn with the right outfit. For instance, style a camel trench coat with a white button-down and a tie, and there you have a go-to outfit for entrepreneurs. The only problem with this is that it lacks storage spaces.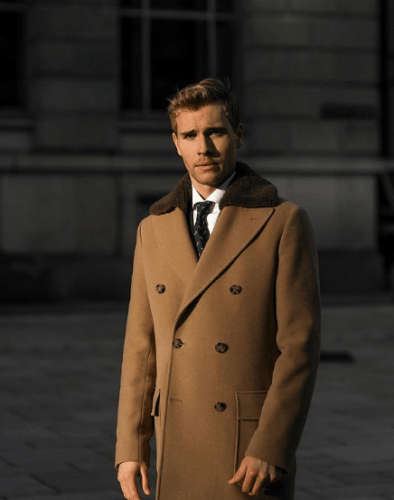 ↓ 19: A Bright Colored
Winters are always great for clothing. You can wear loud and playful colors and would still look brilliant. The same scheme is what you can do with your trench coat. Instead of wearing the colorful outfit and a neutral-colored trench coat, opt for a simpler attire and wear a bold colored trench coat over it.
↓ 18: Over Patterned Suit
Men are usually very skeptical and nonexperimental when it comes to dressing because they fear whether they'd look nice or not. Well, to add more charm to your trench coat, you can wear it with a patterned suit. This is ideal for winter, where you'll end up protecting yourself from cold, and your style will be on fleek. Here are some Amazing Men's suits combinations to get a Sharp look.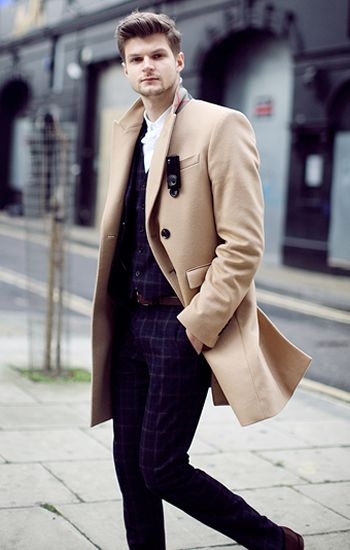 ↓ 17: Office Look
Trench coats are usually easy to carry off with most of the looks and different types of attires. You can easily wear it over your daily office -wear and look fashionable. Choose a bright color to uplift your mood early in the day.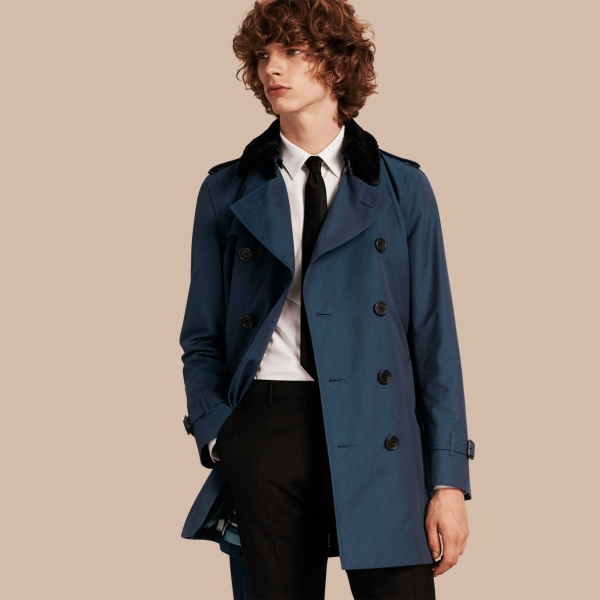 ↓ 16: For Nighttime Party
They are not only for formal wear but there are also many other ways you can wear them except to schools and offices. If you want to wear it to a party, you can wear it over something fancy, or simply choose a coat that is fancier than your usual out and about a trench coat.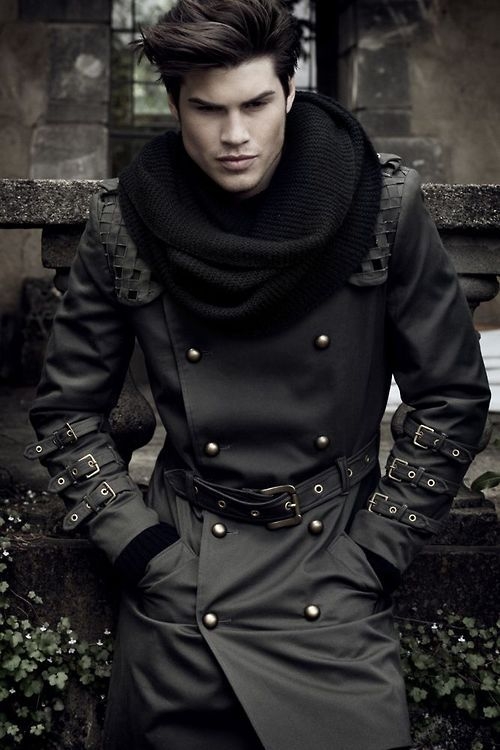 ↓ 15: The Typical Winter Look
The easiest and simplest way to wear trench coats in winter is to pull it over denim jeans and a coat. To add on more swag, you can wear a cap, and for footwear, the easy way to go about is to wear your favorite sneakers. And tada! You're all good to go.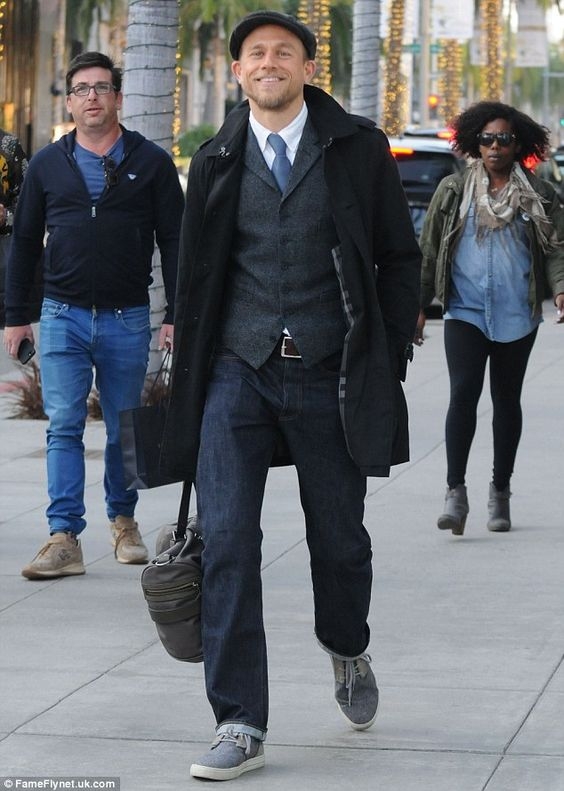 ↓ 14: Formal Look
Men look the most handsome when dressed in a formal suit. Another tip we will add to this is to wear a trench coat over the suit. This is ideal for attending weddings, making important meetings, and any other formal event that you have to attend. Do check out some more awesome Men Long Coat Styles.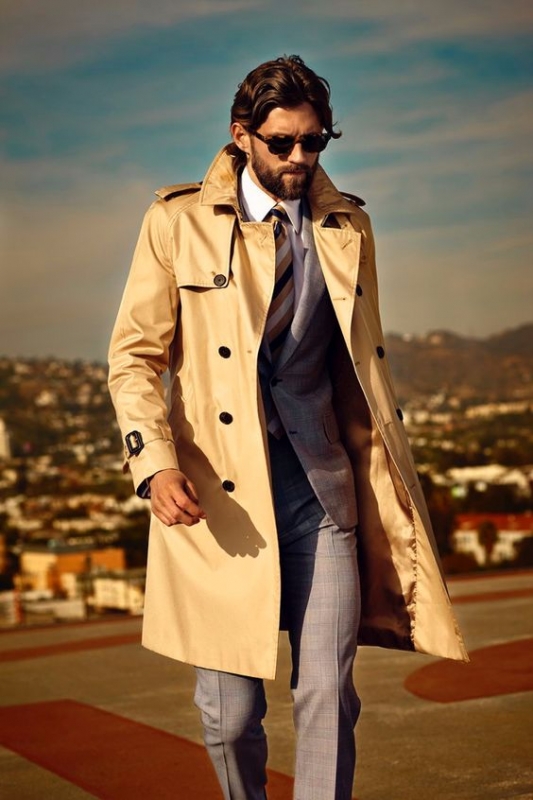 ↓ 13: Over Cardigan
College and school-going boys need multiple styling options every day. An easy way to wear a trench coat to college is to wear it over jeans and a cardigan. The cardigan can be colorful to maintain a jovial look.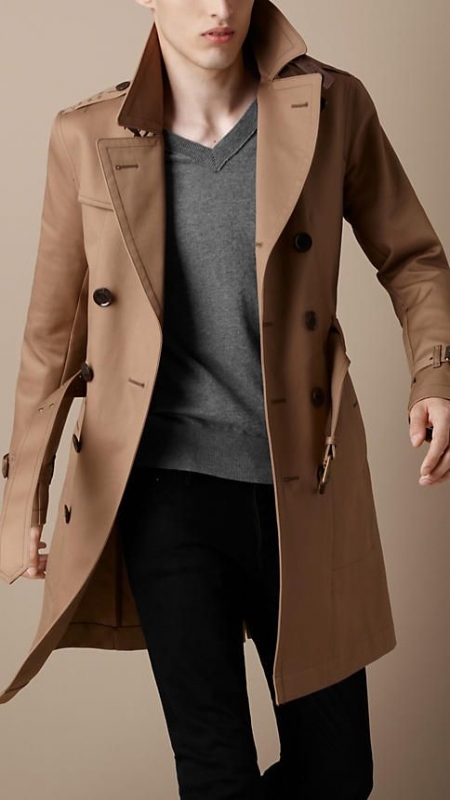 ↓ 12: With Muffler
Winter means keeping yourself warm to the maximum extent. Here's what we will suggest to you wear a muffler. Yes, a muffler and trench coat will help you keep warm and add more to your style statement.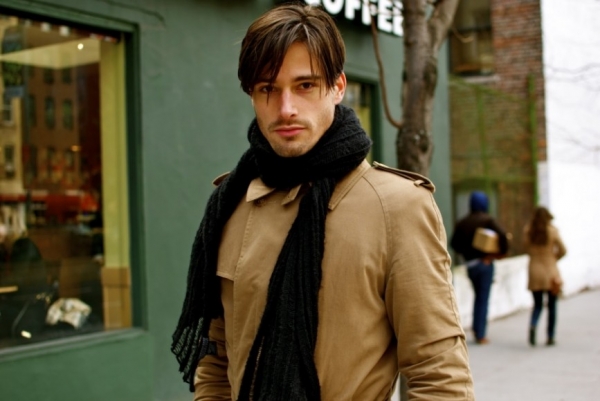 ↓ 11: With Black Attire
Black is usually considered a night-time color, but what perk winter offers is that you can even carry it in winter, even during day time. So if you want to look flawlessly good, simply put on black attire and combine it with a black trench coat to complete the winter look. I also recommend that you check out this collection of the best: All Black Outfits for Men.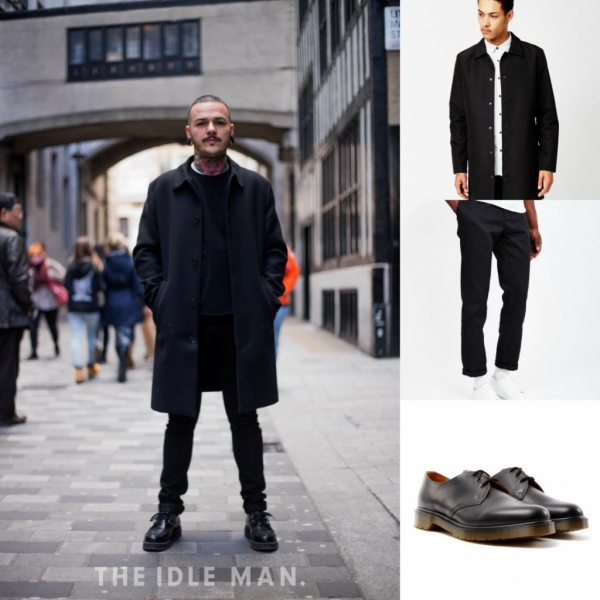 ↓ 10: With a Cap
Don't we all love caps and coats? But it is impossible to carry them both in summer. But the good news is that you can easily choose to wear this look casually on winter days. Trench coat outfits compliment very well with caps. Men can wear a complimenting colored cap with their trench coats. The overall attire can be simple and neutral colored.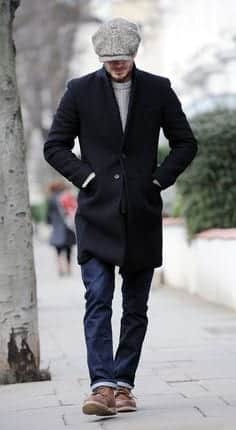 ↓ 9: With Colored Pants
Bright colored pants are not really meant for hot summer days, but they are pretty awesome if you can wear and carry them on cool winter days. So how about giving them a try with your favorite trench coat? Don't be afraid to try, and you never know how cool you'll look.
↓ 8: The Two-Toned Trench Coat
Who said trench coats are only one tone, and wearing them every day is boring? If you love trench coats, you can have a lot of them in your closet. One of the styles that you can carry is to wear a two-toned trench coat. These can be carried for a casual outing/ event.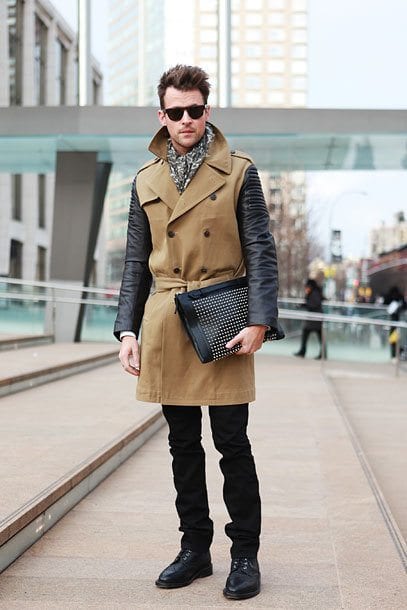 ↓ 7: Andrew Garfield Style
Hardcore fans of Andrew Garfield will know how much he love trench coats and how he is always carrying them. One of his casual looks involves wearing a trench coat over a button-down shirt combined with printed pants. You can also replicate this look to look unique and different than usual.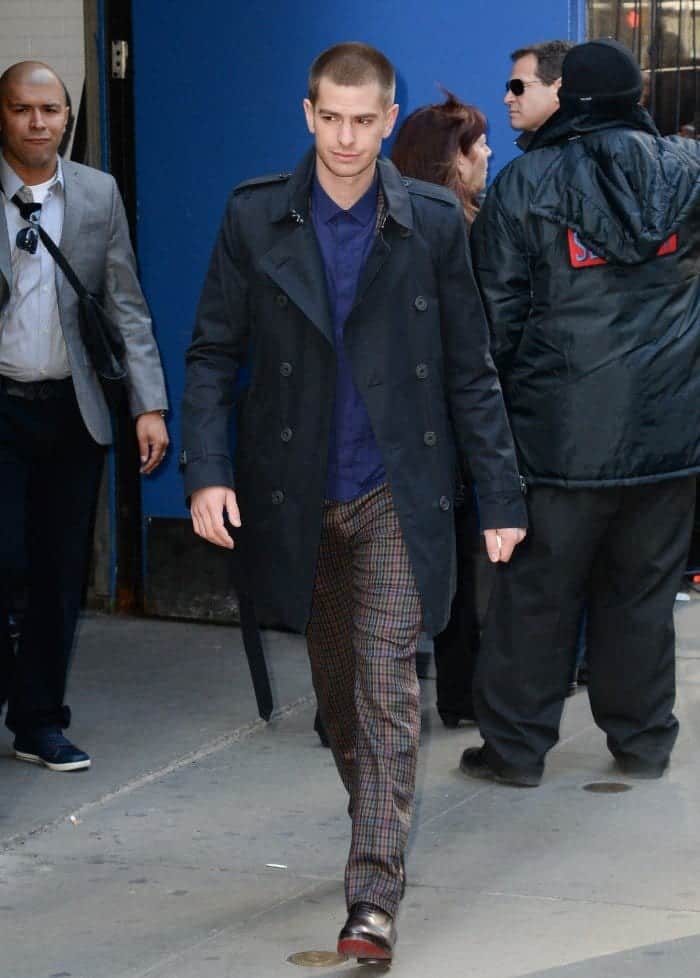 ↓ 6: With Ripped Jeans
Ripped jeans have been in fashion for over a year now, and we don't see them fading out so soon. Ripped jeans are perfect for young boys to lower middle-aged men. To add more style to the ripped jeans, men can wear trench coats over them.
They have a wide variety of colors available to them for trench coats, bold or neutral, carry any color that you're comfortable in. Here are some more amazing Ripped Jeans Outfits.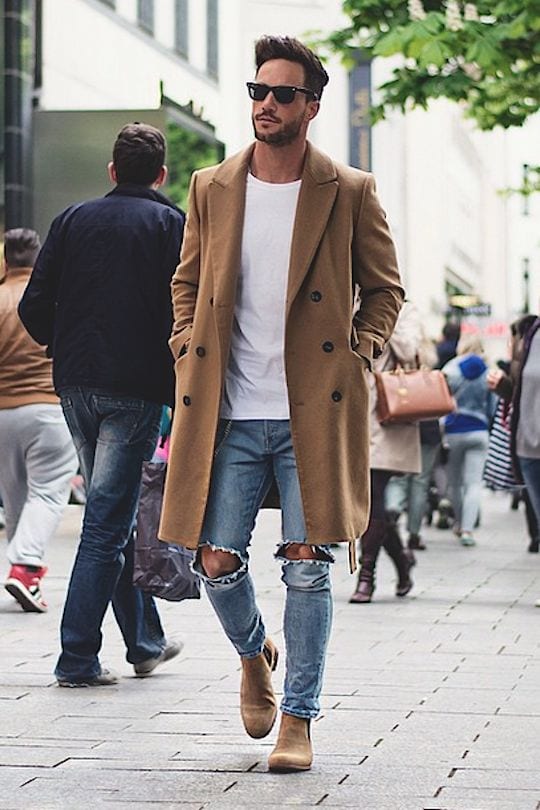 ↓ 5: Gym Style in Trench Coat
Though winter makes us all lazy, you can't stop your gym routine, so wear a nice colored trench coat over your gym dress and hit the gym with much more grace and style. If you are uncomfortable with the coat on, you can lose it while working out and wear it afterward.
↓ 4: Travel in Style
If you love traveling, your dress and outfits will match your personality. Wear a trench coat that shows your love for travel with traces of your fun and jovial personality.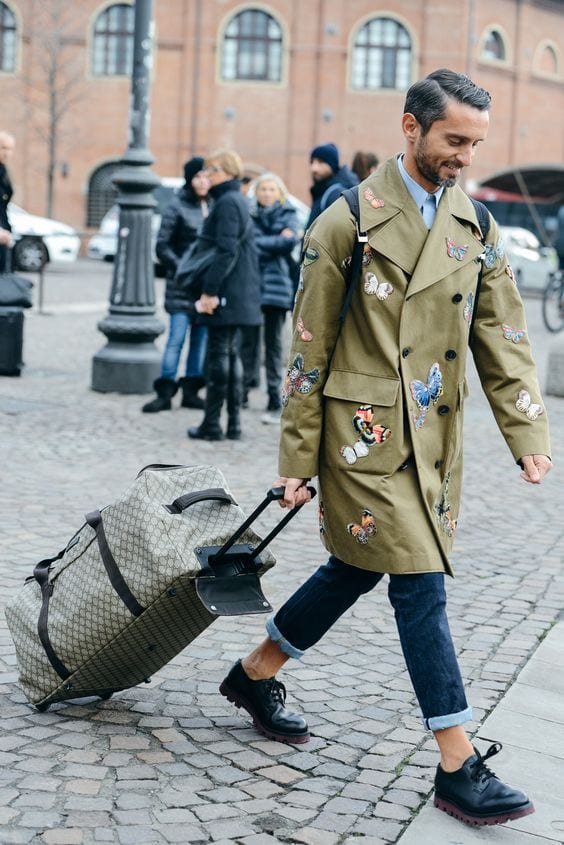 ↓ 3: Woolen Coat
Winter brings the need for attire to keep you cozy and warm, so ever thought about opting for woolen trench coats? These look stylish and keep you warm, at the same time.
↓ 2: The Alligator Skin Trench Coat
Another exotic addition that your trench coat collection should have this winter is the alligator skin trench coat. You can opt to wear them to parties and other fancy outings or sometimes even to your office for a change.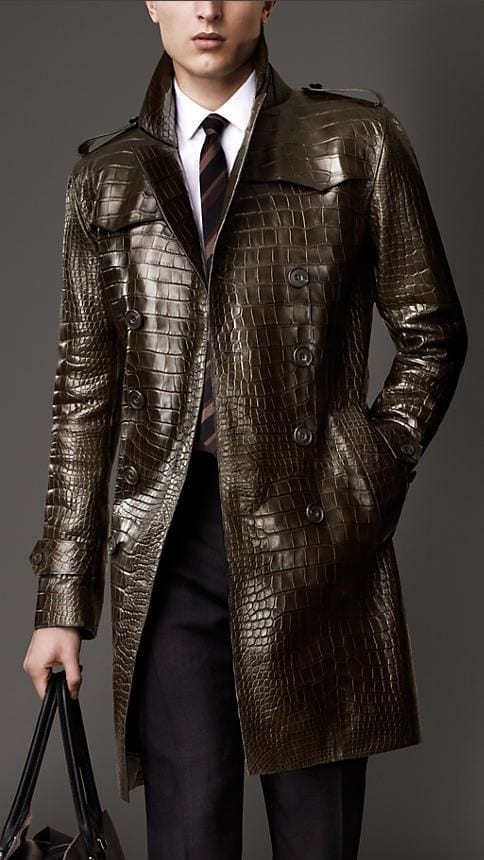 ↓ 1: Burberry Style
Burberry is famous for its distinct designs in mufflers and bags. So opt for a Burberry muffler with a rather nude trench coat. You'll look simple and elegantly dressed without much effort.