All Black Outfits for Men. Often we forget that men have trouble finding the perfect casual outfit. These days, there are so many wardrobe options available for men, from trendy, casual, stylish, sexy, formal, semi-formal outfits.
Casual outfit ideas for males are desperately needed as these outfits can be worn for many occasions. Black clothing for men looks the most stylish, as they go with all sorts of functions and events. Black casual clothes also suit men of all ages, backgrounds, and colors. This article will give you ideas on how to wear black outfits for different occasions to look sharp.
How to Wear All Black Outfits for Men?
The thing is, guys love black clothing simply because the color has always been associated with style and class. Not only is black stylish, but it also has a slimming feature. All-black outfits suit everyone, regardless of their age and skin color.
The Trendspotter said that all-black outfits could give you an edgy feel, as the color is also associated with the Goth subculture and streetwear. But wearing black from head to toe may look monotonous. That's why you must do all you can to achieve a timeless and versatile style. You won't have much problem with that as it works for every guy's personality, no matter the season.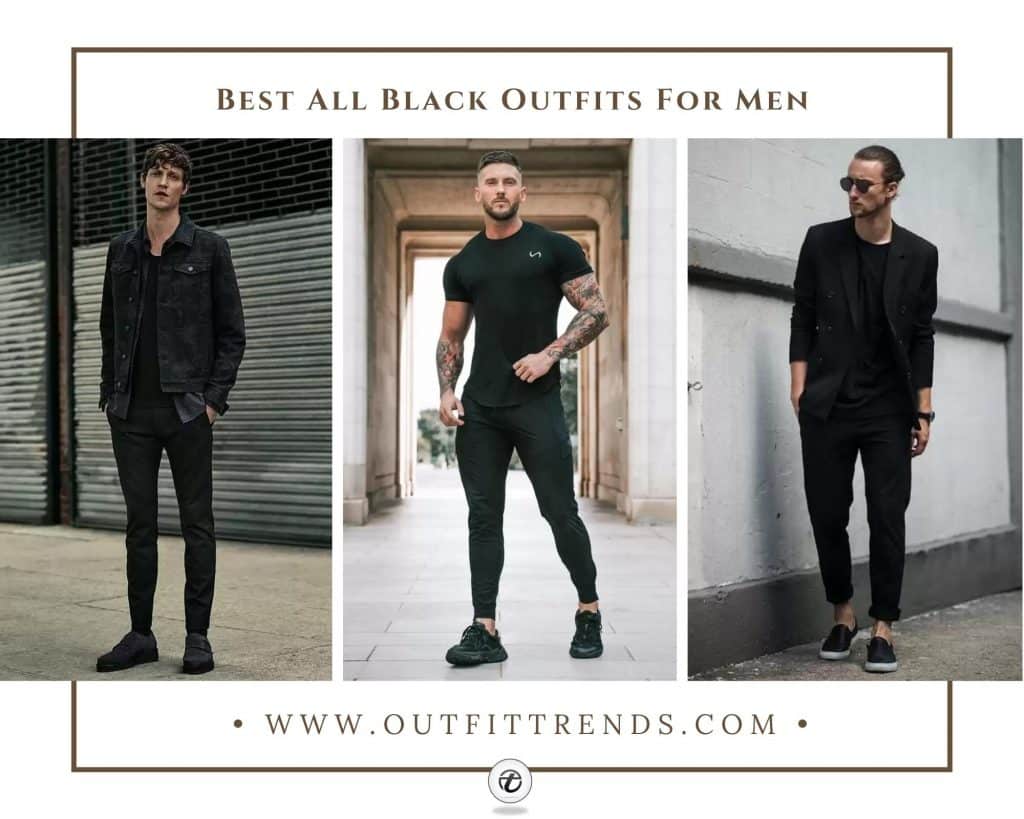 Tips On Wearing All-Black Outfits
Footwear and Formality. Dress an outfit up or down by just swapping out sneakers for dress shoes.
Sizes And Cuts. Since black outfits don't have any variations in the color palette, you can focus on other things like the cut of the clothes, the textures, and the proportions. They need to be working in harmony to create a perfect sense of shape and silhouette.
Fabric Choices. When combining all-black outfits, consider mixing various materials and textures to add some fun and make each piece distinct. For instance, pair a smooth black blazer with a wool turtleneck as your undershirt.
Mix and Match. When it comes to casual all-black outfits, try to combine and layer pieces of various lengths and silhouettes. These styling techniques create contrast and proportion.
Casual Outfits.

Achieve a sleek and polished look while being relaxed and ready for anything. Fit and fabric choices are essential here. A casual outfit doesn't have to be baggy and loose, as it will only ruin the slimming effect.

Here's the complete Men's Smart Casual Attire Guide for you.
Professional Attire.

 Whether it's a traditional 2-piece suit or a more laidback outfit, you want to aim for a powerful feel. And with this style, you have more choices than you might think. Luckily, there is enough room to be creative and own this look. Stay in tradition, and get a suit that is perfectly tailored to your body.
↓ 23 – Smart-Casual Ensemble
Opting for monochrome style is an easy way to spice up your attire, so don't be afraid to experiment and explore. Wearing a T-shirt with a blazer is a practical way to go from casual to smart-casual events.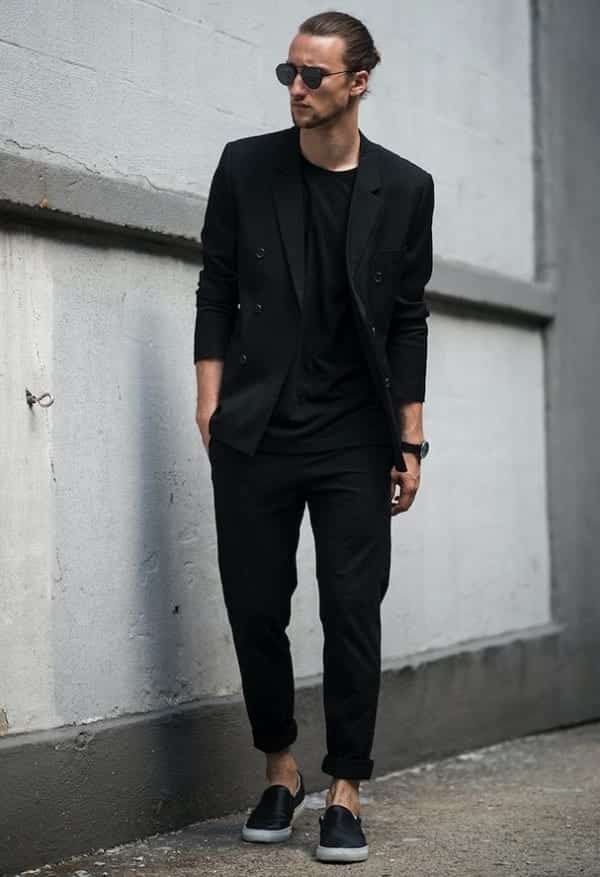 ↓ 22 – Formal
Channel your classy side in a sleek and sexy formal outfit. A monochrome suit, tie, and shirt is an easy way to do it. Incorporate black in your entire ensemble.
↓ 21 – Loungewear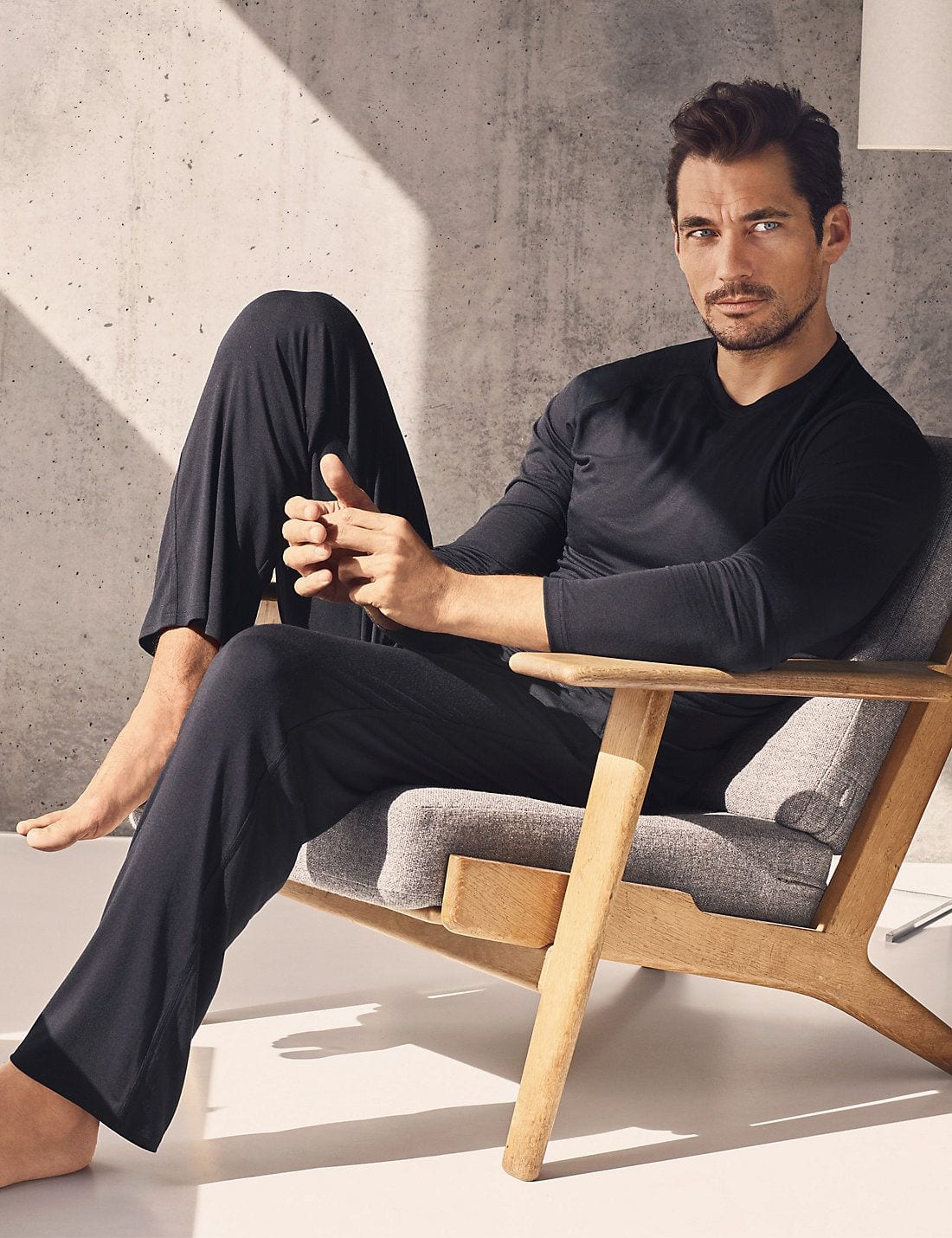 ↓ 20 – Activewear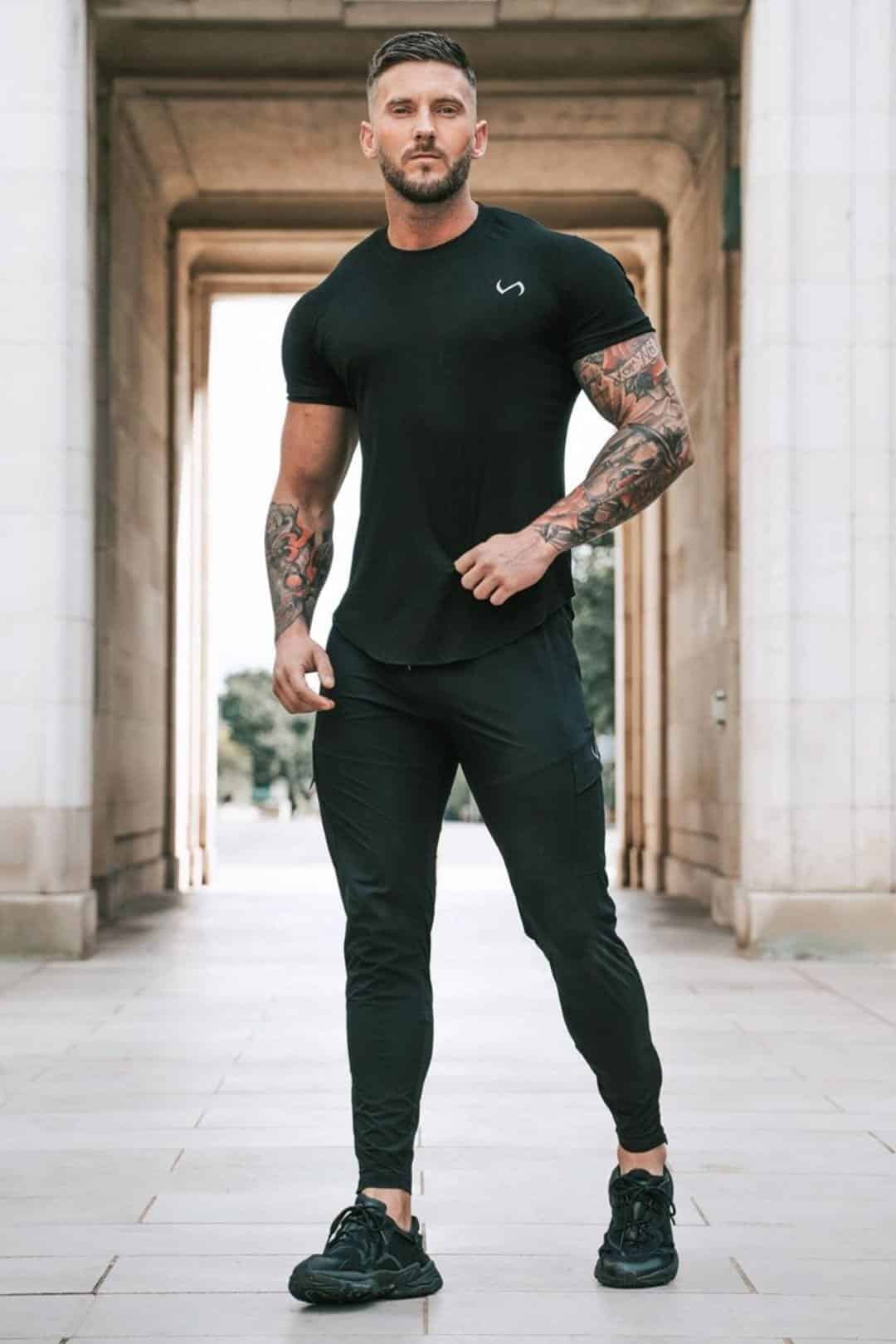 ↓ 19 – College Outfit
A simple black blazer with chino pants makes for a great outfit combo for a college student or a teenager going to a club meeting or to call at someone's house. Have fun with the hairdo also.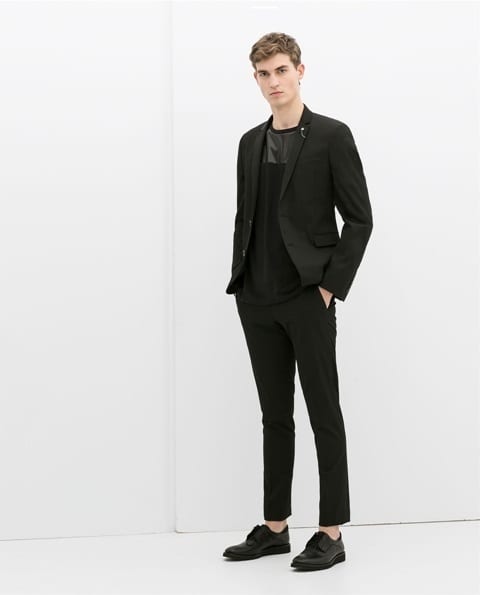 ↓ 17 – Street Style
Urban style has been a fashion trend over the years, making all-black streetwear outfits popular and practical for many men. A black leather jacket is a menswear staple that would last an eternity when taken good care of. Despite being a special fabric, it is also a versatile piece that can be dressed up or down with ease.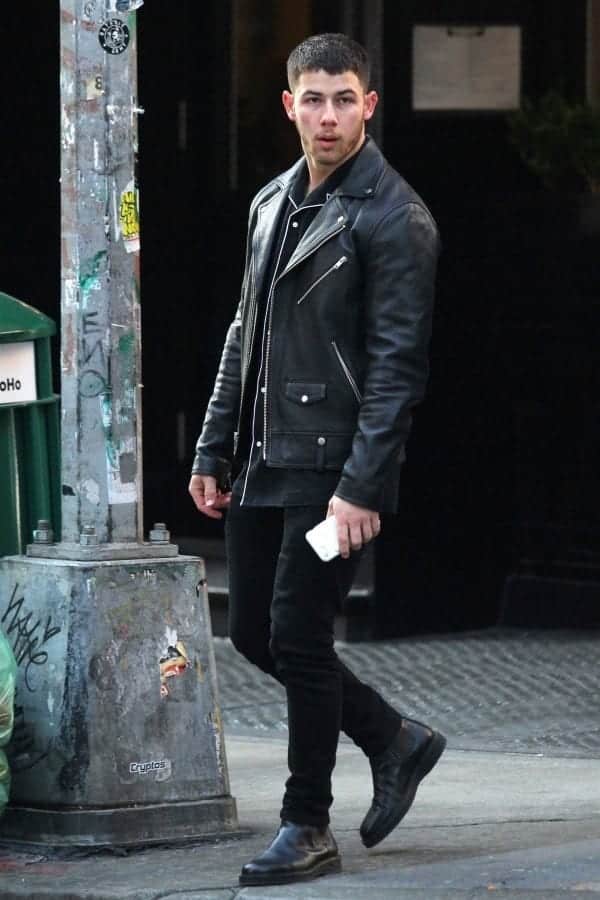 ↓ 16 – Denim
Black denim has an iconic texture, meaning it will contrast well against smarter fabrics like wool and cashmere, making the jacket a great layering piece. Here are some more of my favorite Black Denim Jacket Outfits For Men.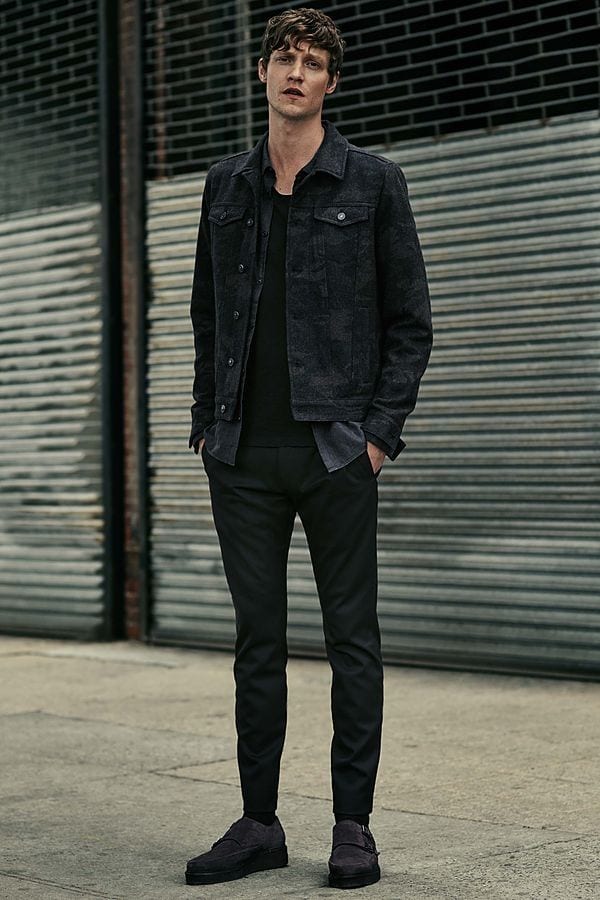 ↓

15 – Semi-Formal Party Wear
When you are unsure of what to wear to a function, the line goes for the color black is not just for women but also men. So to make a mod statement and take up the competition up a notch, layer it up with a plain black t-shirt, jacket, and jeans.
This casual yet sexy style looks perfect on guys. Slim-fit pants will do the trick as they are in the running these days, and a nice pair of matching Oxfords are going to complete the whole outfit. A silver chunky watch is an additional accessory that you require. As men don't have any makeup to put on, they need to take extra care of their facial hair and hair. Casual, gelled hair will look nice. You can also go for a clean side parting hairdo.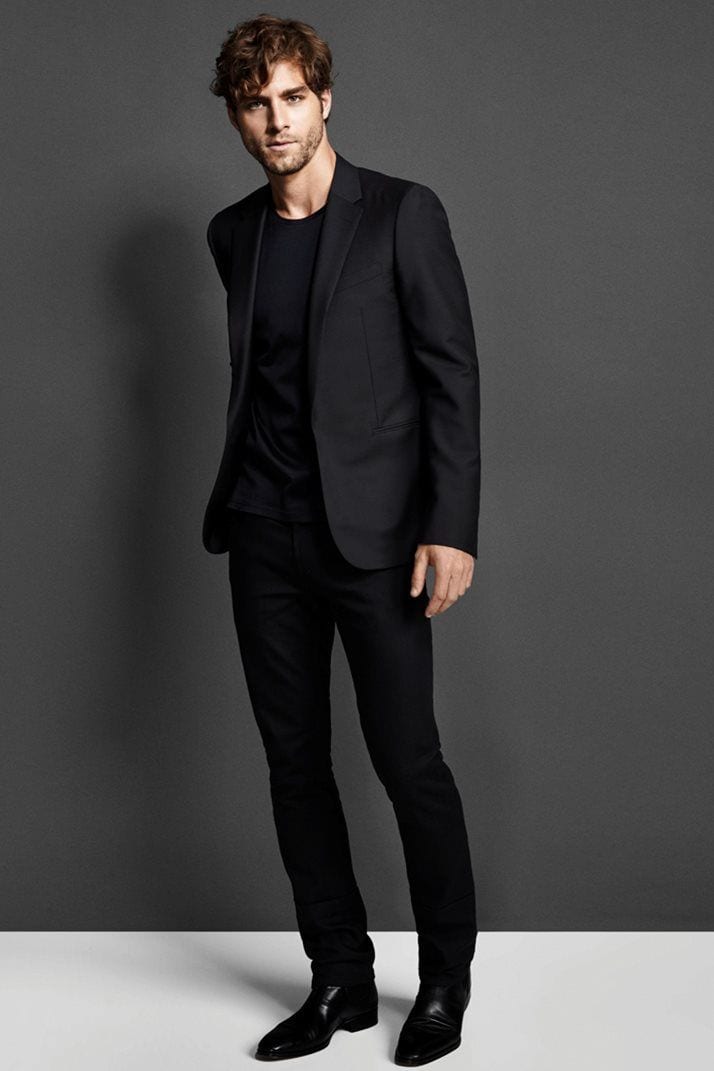 ↓

14 – Casual Getup
This styling idea is for guys who are either college students or belong to the artist community. Or just a plain winter wardrobe for everyday routine. Always have a black half coat or a jacket handy in the cold season. It always looks better if it's layered on a grey t-shirt and mix-matched with brown suede shoes. Have a nice side parting hairstyle and a little stubble.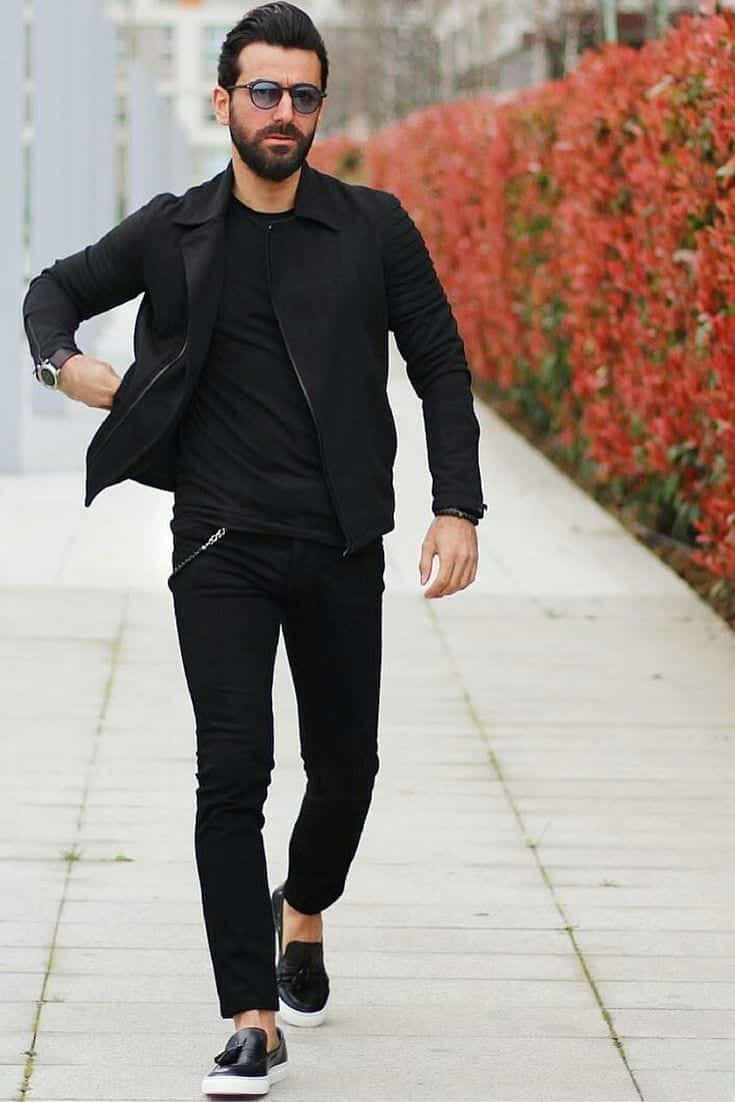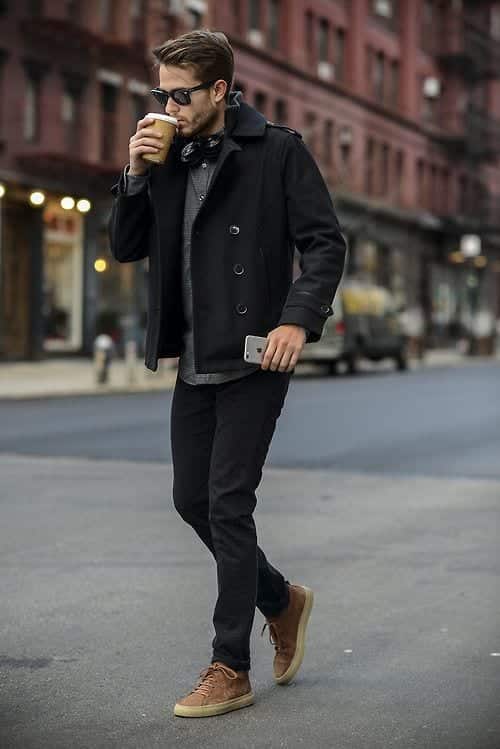 ↓

13 – Office Wear
Going to the office where the dress code is semi-formal. Then keep it simple with the color black yet practical by adding a tie to make a casual black attire sexier.
Tie wore jeans and boots, either construction for a day out in the field or a pair of nice Oxfords for a day in the office. Both will look great. Slicked back hair in pompadour style is nice with this ensemble.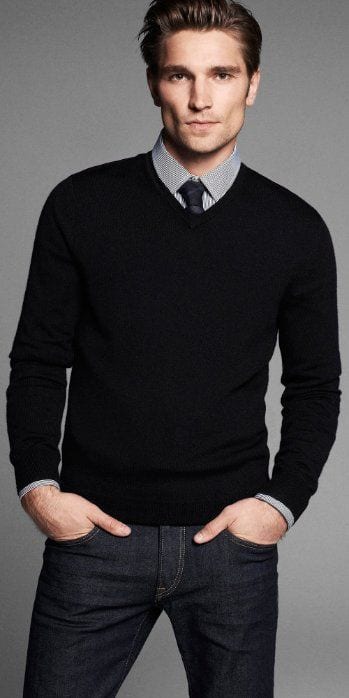 ↓

12 – For Plus-Size Men
Big guys can have fun, too, with black outfits. Match a sleeveless jacket to give you coverage as well as style. Jazz up the outfit with a polka dot tie and dark grey trousers. This dress code is strictly for Sunday parties or going to a lazy day at the office. Big guys look neat and dapper with crew cuts.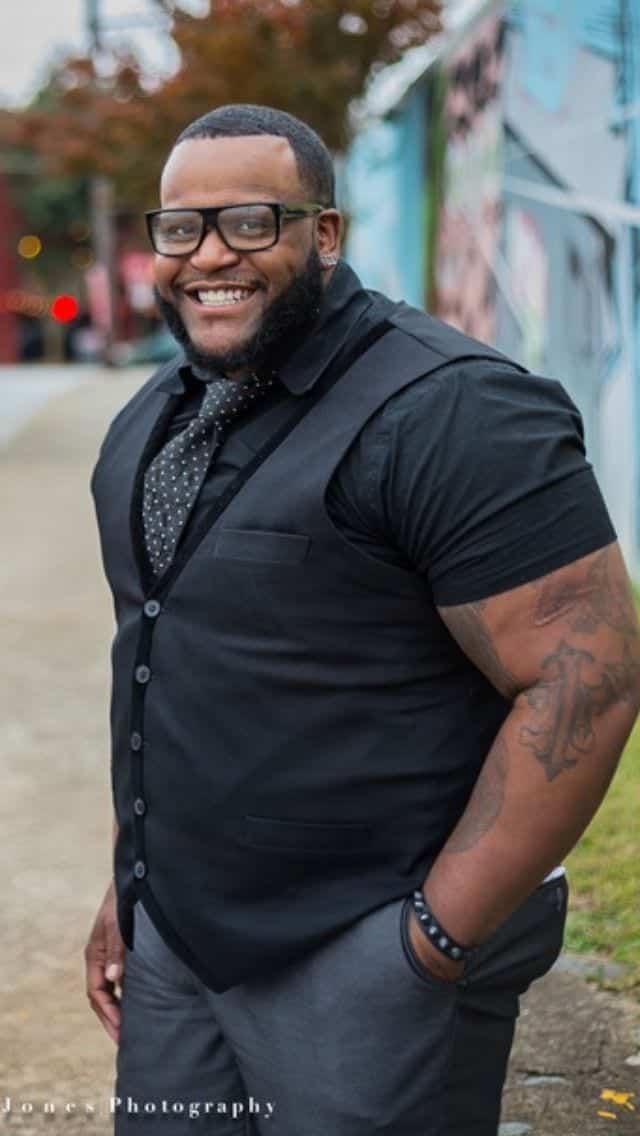 @jonesphotography
↓

11 – David Beckham Look
His casual black outfit is super sporty yet perfect for the outdoors. If you are a sports fan or like to dress up always casually, then this is a perfect styling idea for you with baggy jeans with a matching shirt and a leather jacket which is super cool.
Matching sneakers look nice if you are at an NBA game, but proper dress shoes go better with this style, especially in the brown shade if going to a friend's place. You can even use it for day trips or for traveling. You can also look into the details of David Beckham's fashion outfits.

↓

10 – Black Sweater
Matched it with black ray-ban sunglasses. Pair it with bright green joggers for a pop of color. A perfect Spring look for guys. Adopt this look if attending a concert. And change your shoes if going to a barbecue on a Saturday afternoon. Here are all the best Sweater outfits for men.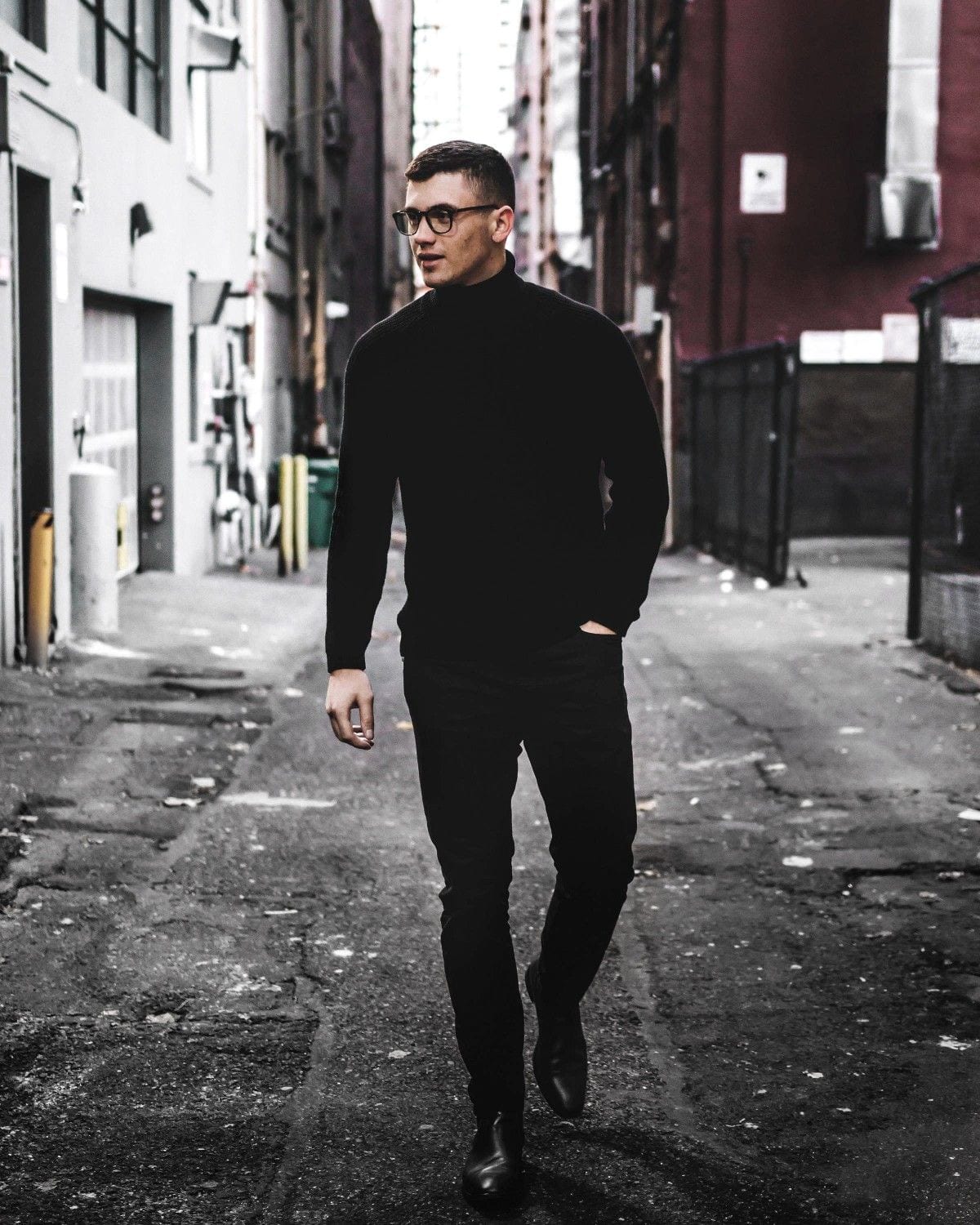 ↓

9 – Restrained Leather Jacket
Shiny, slick black leather jacket looks sexy with fitted jeans and casual loafers. Don't forget to load up on hair gel to complete this casual look.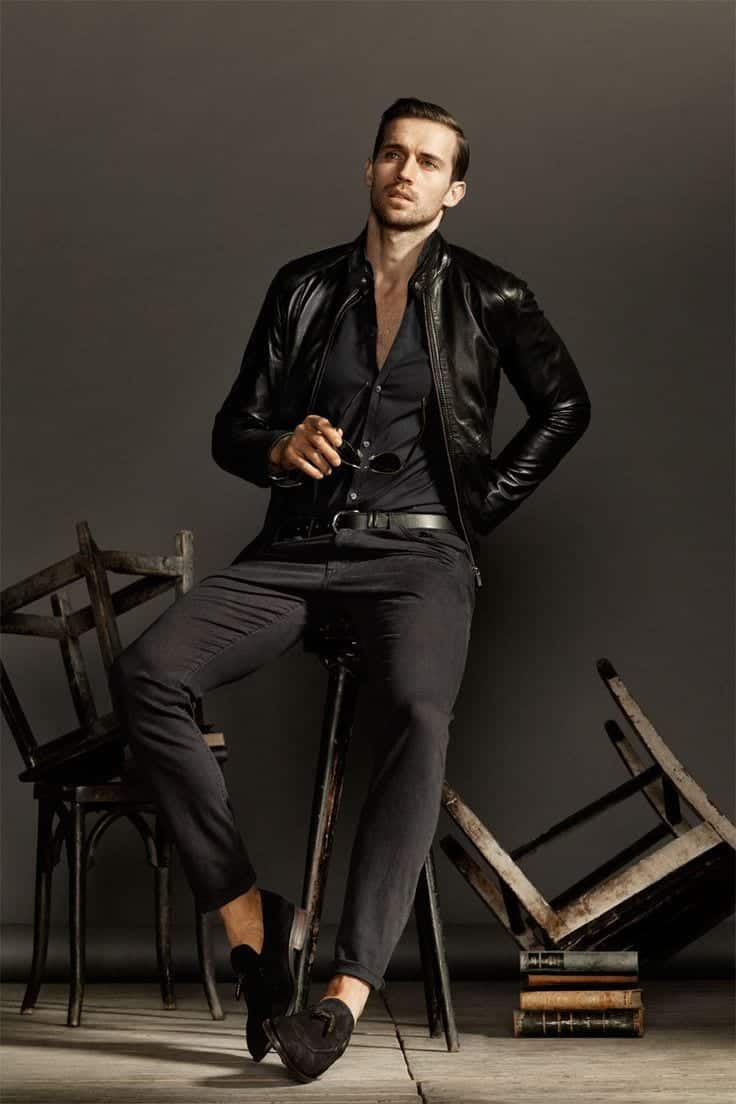 ↓

8 – Summer Style
A tight, fitted black t-shirt with light-colored shorts looks great for a casual lunch or hangout. It is the perfect casual summer look. Also, vacationing doesn't mean you can't have the coolest color in your wardrobe. Match your black button-down with a pair of white shorts and a brown belt and go on long walks on the beach as this looks fashionable yet casual.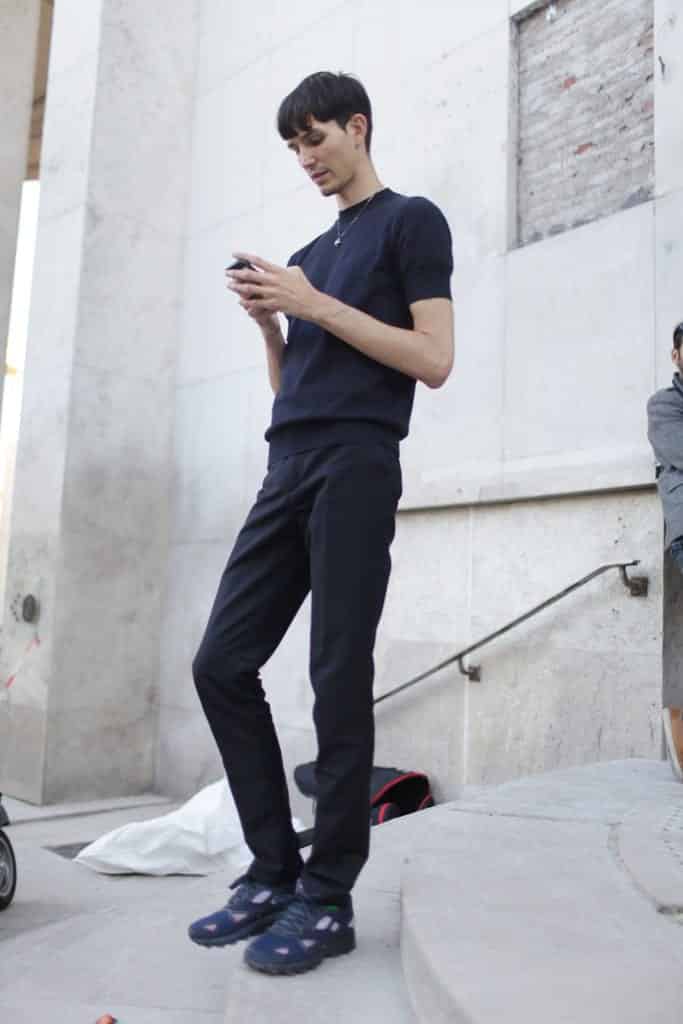 ↓

7 – Date In Fall
Have a date in the winter season? All the street fashion lover guys, this black outfit combination is for you! Pair your Hermes belt and black sneakers with a long, black trench coat.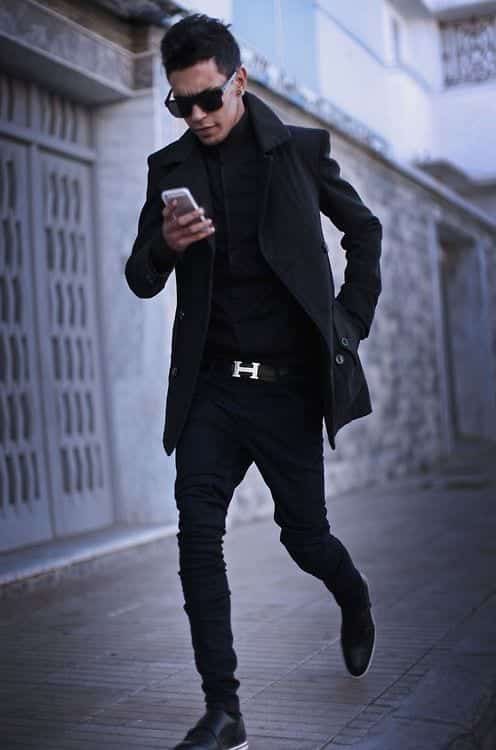 ↓ 6 – Classic Monochrome Suit
Wear this to a work event or a wedding. These are sleek and sexy, and they are ideal for almost every occasion. You can also dress them up or down. Pair them with a T-shirt and black sneakers for smart-casual events, or rock a turtleneck for business-related situations.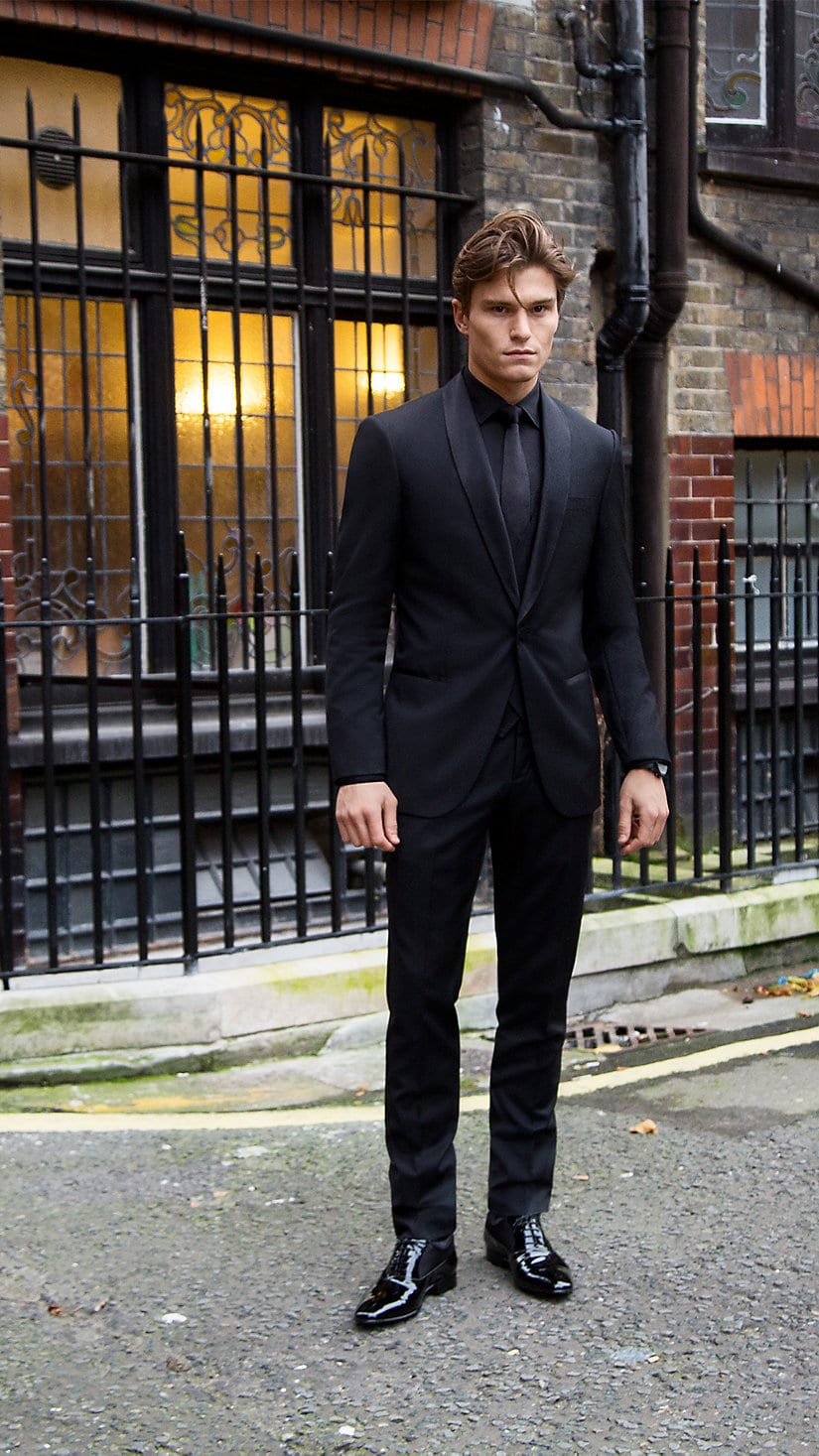 ↓ 5 – Black Shirt
Black shirts are simple and easy to wear. They are a must-have wardrobe essential for all men.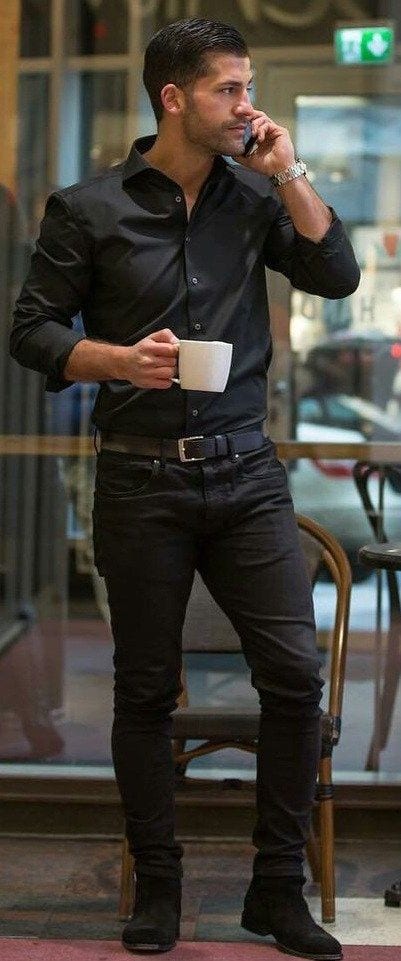 ↓ 4 – Black Pants
You can never go sideways with a pair of black pants. With different style pants for every occasion, it's easy to don black casual, smart, and business-professional outfits.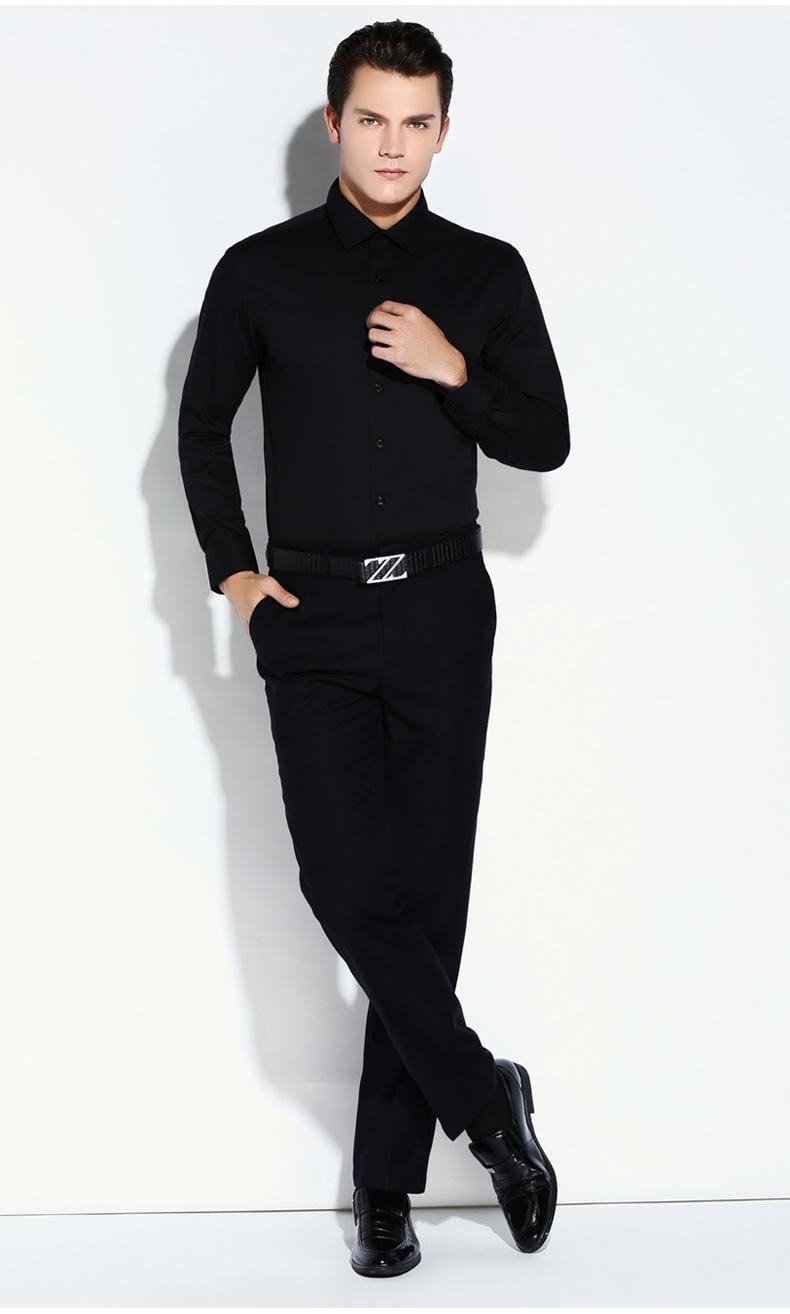 ↓

3 – Biker Boy Style
Bundle up your black biker boy leather jacket with scarves, zips, and denim! Macho image, rough and tough look for winters.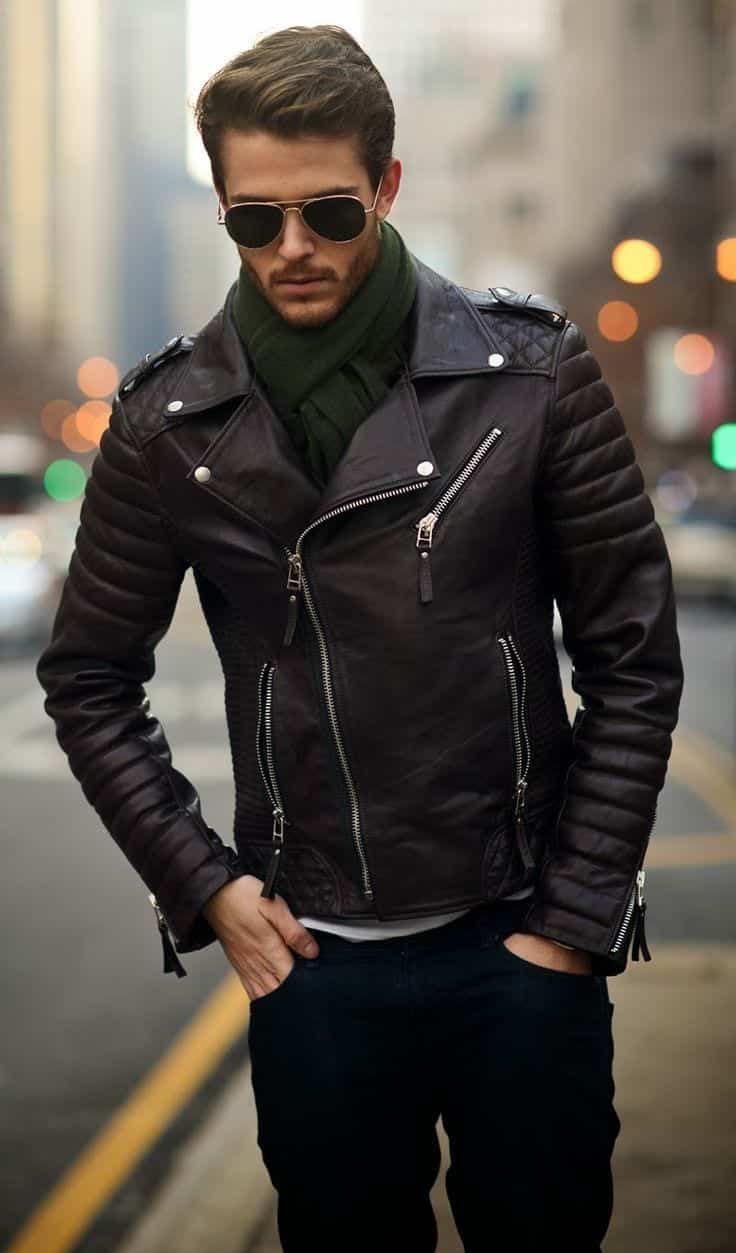 ↓ 2 – Winter Wardrobe
Elevate your winter outfit by going all-black, and you'll be ready to endure the cold weather. Opt for an outerwear that goes below your knee for functional and fashion-forward reasons.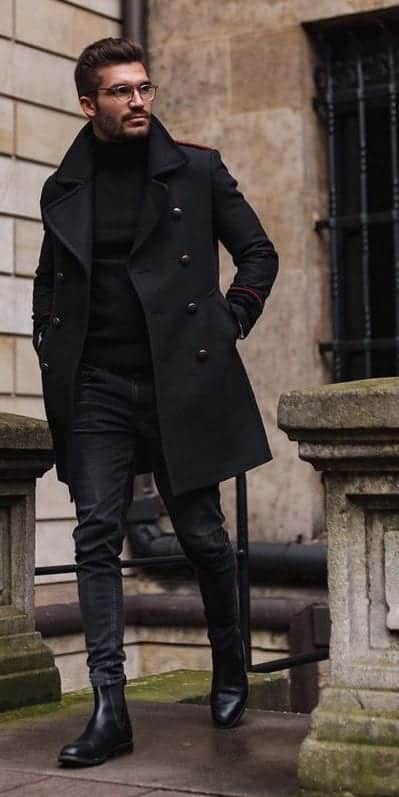 ↓

1 – Beanie
A black beanie and this silver necklace look great with a black casual outfit for men of all ages. Go check it out!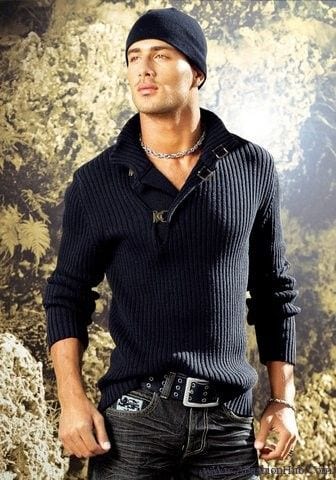 Outro. Black is one of the trickiest looks to get right. And wearing all-black clothes shows that you are an ambitious man – someone who takes fashion seriously.
Frequently Asked Questions
Q. What are the key pieces for all-black style?
A. Start with black trainers, a black watch, socks, overcoat, hat, backpack, smart shoes, and a bomber jacket. These are the wardrobe staples for this category. Don't think that you are spending because you invest in classic pieces that would last for years. That said, you might want to go for a good quality product so you won't need to buy again in the future. These products are also versatile – they go with literally every wardrobe member, and they can adapt to any occasion or season.
Q. Should I wear an all-black in a black-tie event?
A. Yes, if it's black-tie optional. There are variations of a tuxedo, allowing you to customize your look. Classic tuxedos are originally all-black with a white shirt. But don't be bothered about defying the norms. Go for a well-fitting black shirt that can stand alone for a modern take on the tuxedo.
No, if the dress code is strictly "black-tie." You would be required to wear a white shirt with your tux or Dinner jacket.
Q. Should I wear white sneakers with an all-black outfit?
A. It would be best to stick with black trainers or oxfords. But you can add a touch of contrast to your all-black outfit by rocking a pair of white sneakers. While some guys prefer black, white sneakers really make black clothes pop. And white joggers and Converse sneakers are ideal picks. If you want to go with white sneakers, do check out these Outfits to Wear with White Sneakers for Men
Q. Where can I get all-black outfits?
A. You can get tops and bottoms from stores like Uniqlo, Top Man, and ASOS. For shoes, go to Converse, Skechers, and Nike. However, there's no guarantee that you can find every piece in one store. So, have a trip to the nearest branches, and try to have some "window shopping." It's good to mix and match. And since you're willing to spend your money, you might as well make the most out of it. Check if the product is worth it before adding to the cart- consider the fabric, fit, and price, of course. Alternatively, you can buy online at Amazon, SHEIN, and Zara. In addition, you don't need to spend much; have a little trip to the thrift stores.