Men's Outfits To Wear With Oxford Shoes: Oxford shoes are mostly known to style with formal dresses splendidly. The reason is that they add immediate and infinite elegance and class to men's style. They have long appeared in black and brown colors. That is why you would find most men wearing oxford with suits.
As men's casual and street styles evolved, oxfords now come in different styles and colors. Now, these shoes are available in all sorts of designs, fabrics, and colors for you to choose from. And this is exactly what makes them easy to style. So in this post, we will not restrict ourselves to men's formal wear. Instead, we will give you various ideas on how you can style oxford shoes casually with different dresses.
What to Wear with Oxford Shoes?
Styling an outfit with oxfords depends on the occasion and season for which you are dressing. Spring/ Summer sees the reincarnation of fabrics and styles that have been lost over winter, so while the weather's becoming nicer, invest in some fabric and leather oxfords.
Jumpers or long sleeve shirts with a sweater vest and straight jeans are great spring outfits and perfectly match with blue, black, or brown leather or suede oxfords. Contrarily, winter brings wet weather, and fabric shoes will not only become damp and uncomfortable but can easily get ruined.
Therefore, it may be best to box away your fabric oxfords this season. Instead, stick to your leather oxfords, or even consider investing in a pair of high-top oxfords that are perfect for this season! These are ideal for winter footwear and will match long overcoats and jeans while adding a sophisticated twist.
Video Tutorial on How to Wear, Buy and Combine Men's Oxford Shoes
Have a look at the styles below and use them to create your perfect seasonal outfit with oxford shoes. With countless recommendations and styles floating around, we will help you find your unique style to stand out in the crowd!
20 – Oversized Coats Are the Perfect Pairing to Oxford Shoes
Oversized coats are a great way to elevate any outfit that you wear. Pair it with gray pants and black oxford shoes, and you have got a look that is dashing and well put-together. Accessorize with sunglasses and a watch, and you are all set!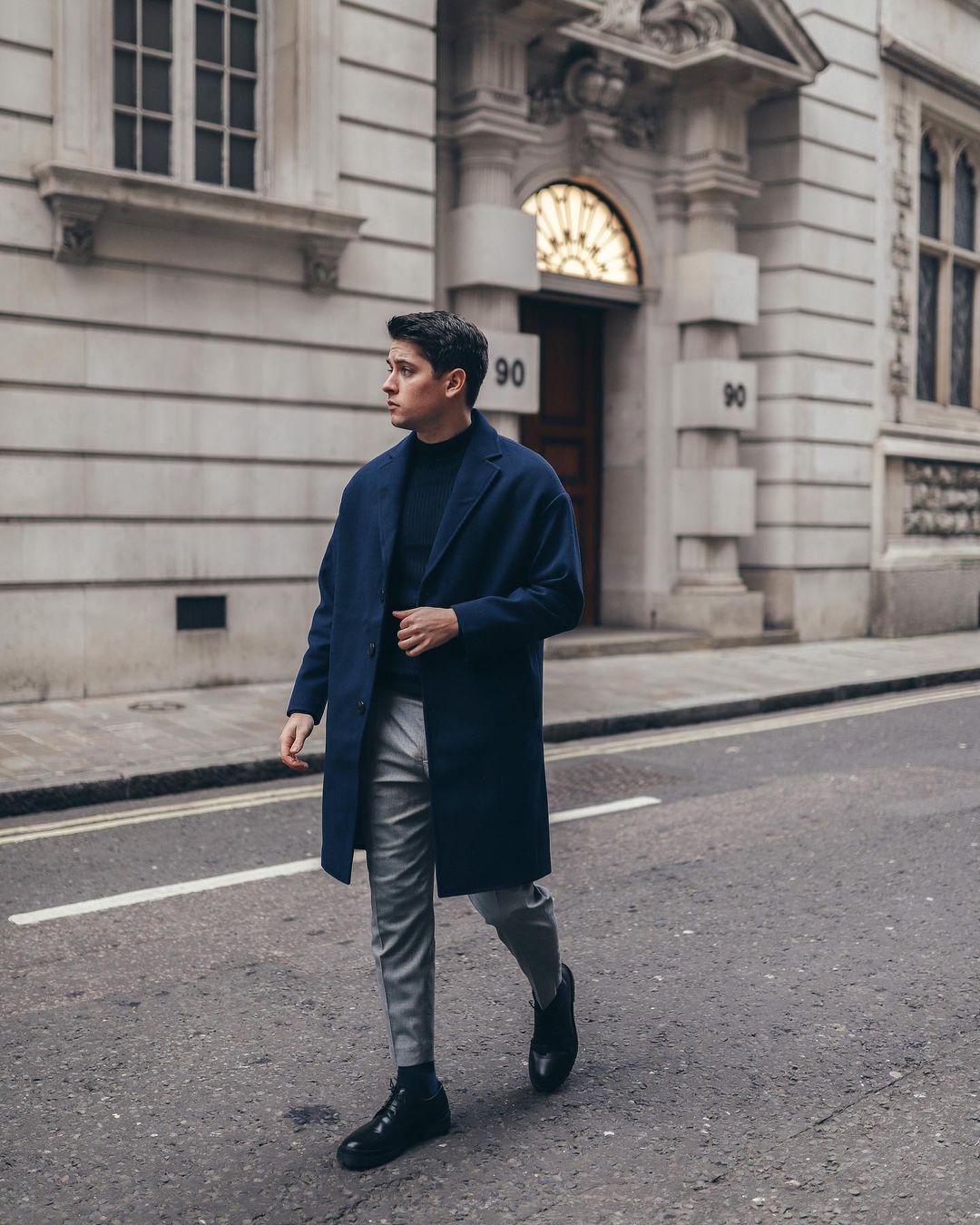 19 – Reach Out for a Leather Jacket for Street Winter Style with Oxfords
For those guys who are into black and gray colors and love wearing them all the time, this outfit idea is the right one for you. The key to this outfit look is to wear anything as long as it is in black or gray to match the outfit's monochromatic theme.
For example, you can wear black skinny jeans, a gray top, and a black leather jacket. For added spice, you can take a long scarf in gray around your neck and wear it with a pair of black oxford shoes.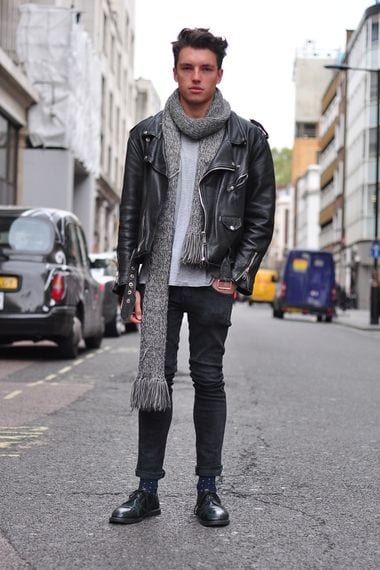 18 – Match your Scarf to Oxford Shoes to Layer your Outfit Successfully
This outfit is the epitome of street style with a wool coat, jumper, trousers, and black oxfords. Many renowned celebrities are spotted wearing similar outfit ideas. Plus, this outfit is perfect for winter as it will keep you warm and cozy while keeping your style to the maximum.
Wear a sweater inside a long warm coat. Underneath this, you can wear dark-colored oxford shoes. The scarf is added to keep you warm and cozy during those dreadfully gloomy days. Moreover, matching your oxfords to your scarf is a great way to color-block your outfit!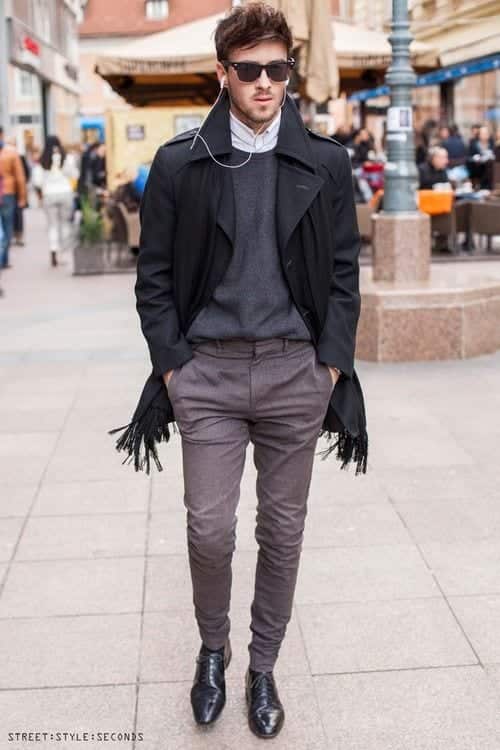 17 – Go with Beanie Hats to Layer your Fall or Winter Outfit
This season, similar to spring, brings that glorious mixture of fabrics and leather. Knee-length coats or blazers are a good choice with oxford shoes. If you plan on wearing black or blue trousers or jeans, choose a contrasting color for your accessories or shoes.
Autumn colors such as purple, brown, and emerald are stunning colors that are not only suitable for coats and oxford shoes; but also for accessories such as hats, gloves, and scarves. Casual outfits will use more woolen garments, such as pullovers, whereas formal attire will use more business suits and wool overcoats. Here are some more stylish Fall Outfits for Men.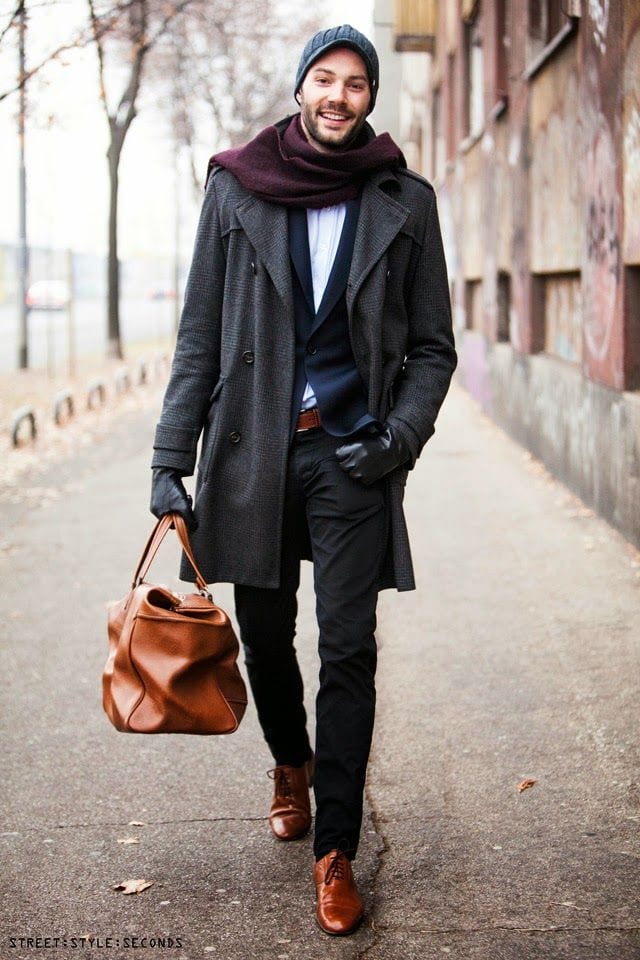 16 – Make your Oxfords the Statement Piece of your Outfit
This look is one of my absolute favorites! It is easy to put together, looks phenomenal on the wear, makes you appear easy on the eyes, and is super easy to style.
The cream knit sweater pairs exceptionally in contrast with the army green pants. And the addition of the detailed oxfords is just what made this outfit stand out from the crowd.
And that, ladies and gentlemen, is how minimal chic is delivered!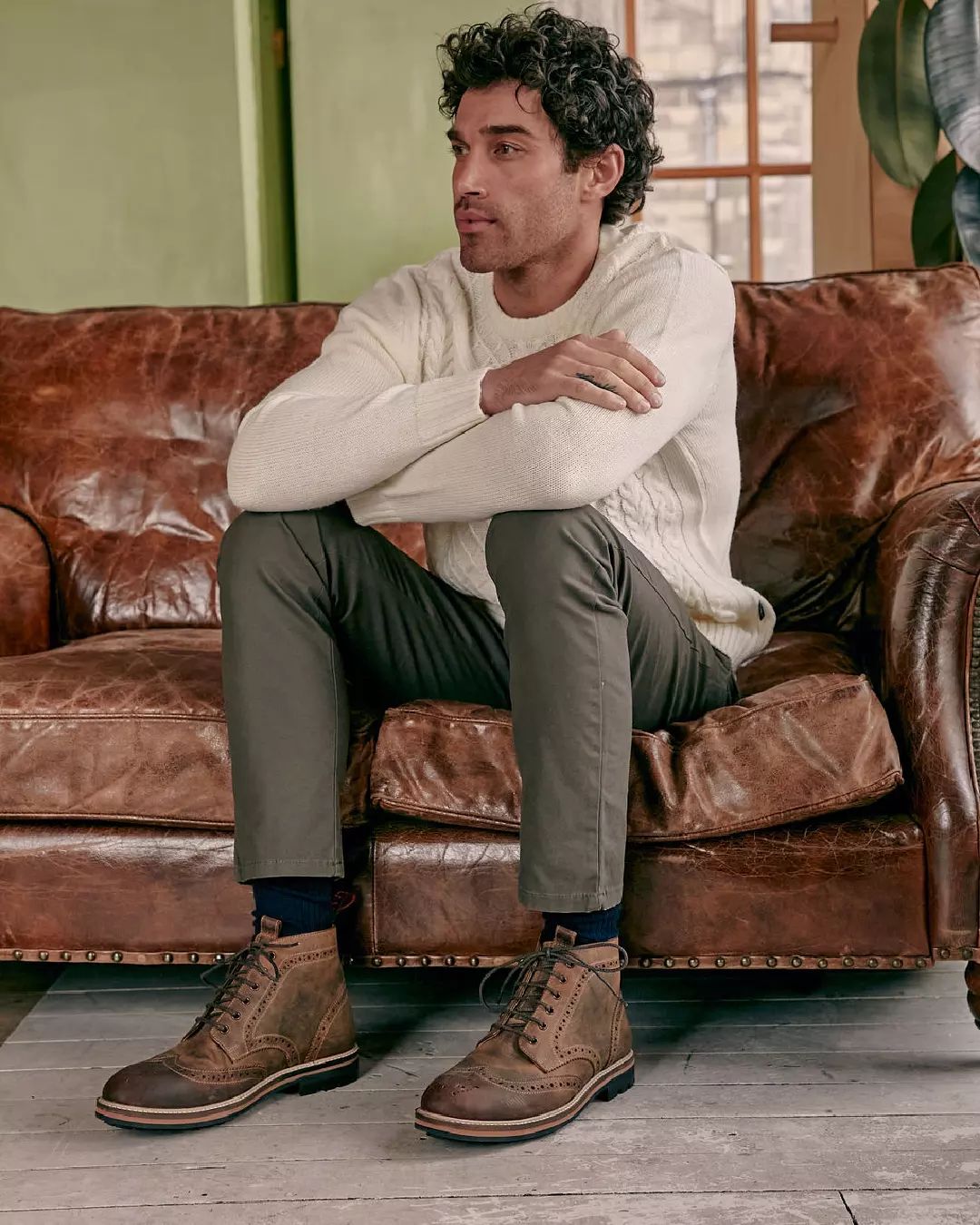 Get these oxford shoes:
Bayley // Distressed Brown Shoes $220.00
15 – Nail the Festive Vibes with a Knitted Sweater & Oxford Shoes
Pair your winter-style knit sweater with brown leather oxfords. This combo is perfect for college-going boys who want to look cute and elegant in college. Or you can even wear it to a festive holiday gathering. Simply pair up your printed sweater with dark blue or black jeans and wear brown oxford shoes along with it.
You can also wear some cool bracelets to spice up your outfit look and style up your hair real nice.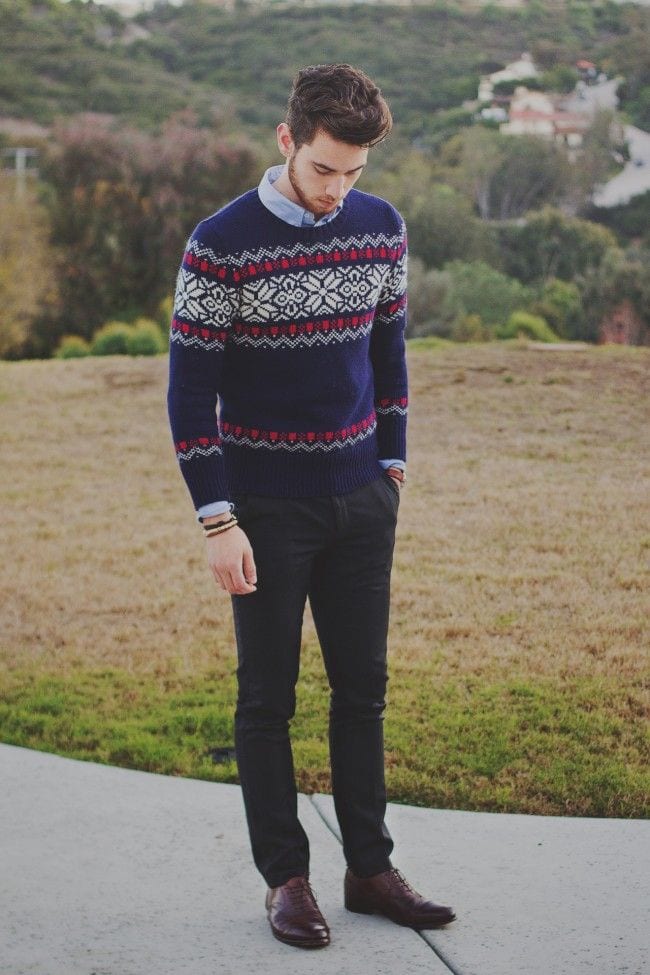 14 – Mix Vintage Vibes with Latest Trends for a Timeless Outfit
This outfit screams vintage vibes as it is a modern take on elevated 60s and 70s groovy fashion. Bootcut jeans are a great way to express this individual uniqueness. And this image proves that pairing them with oxford shoes is the right direction to go in.
Moreover, these hippie and trendy accessories are what truly made this outfit! The bold beret, a bandanna around the neck, and sunglasses are classy items that add character to your look and give you a little something extra. To nail this look down, I would advise opting for a similar colored cardigan hanging open from the front.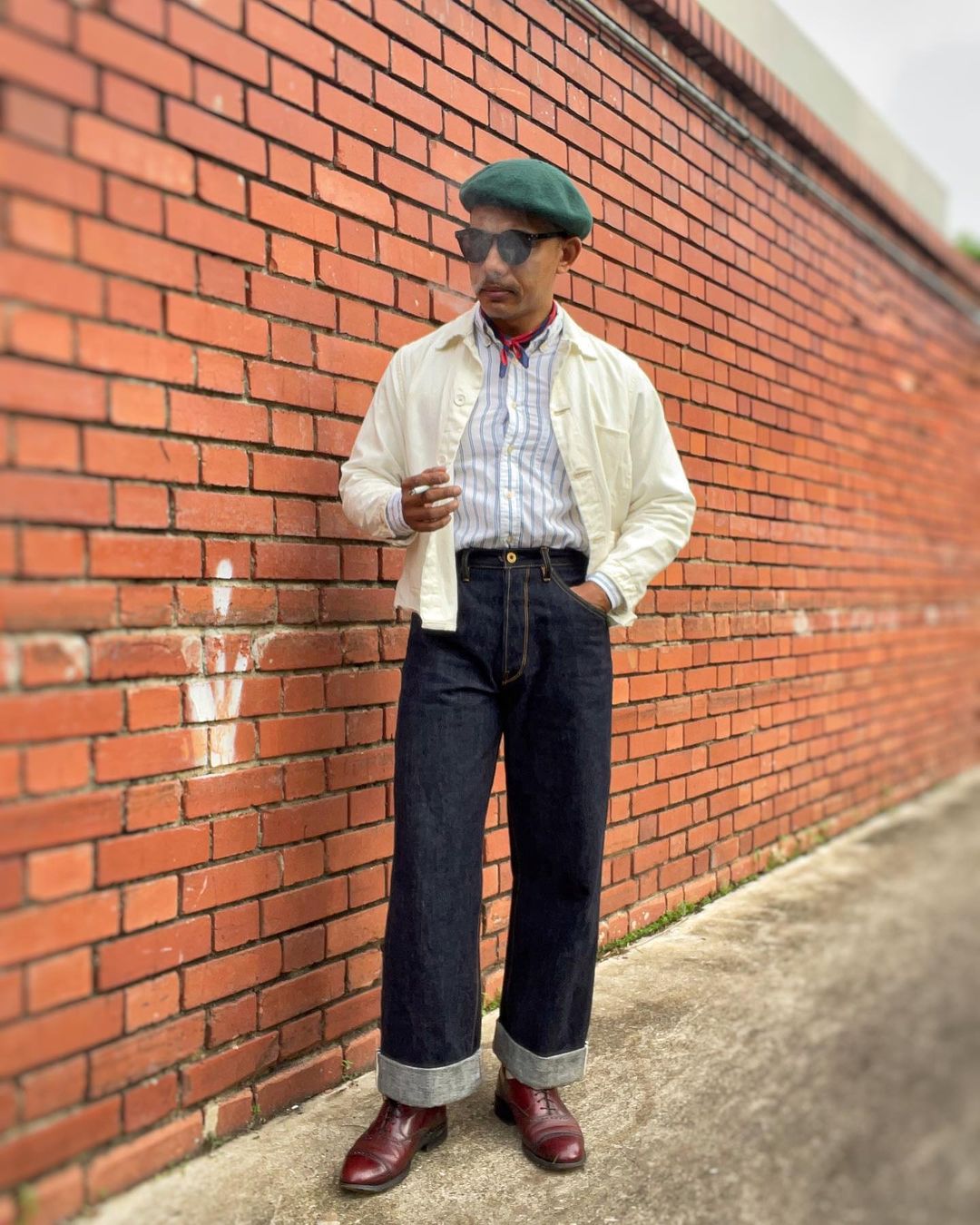 13 – Opt for a Cardigan in Earthy Tones to Nail the Fall Look
A grey cardigan, white vest, jeans, and suede oxfords give us the perfect fall outfit! If you are traveling or plan to have fun, this outfit idea is the right choice for you. You can wear jeans and a cardigan with the front open and pair a white vest beneath.
Match all the accessories; for example, wear a dark brown watch, belt, and oxford shoes for an effortlessly dashing look.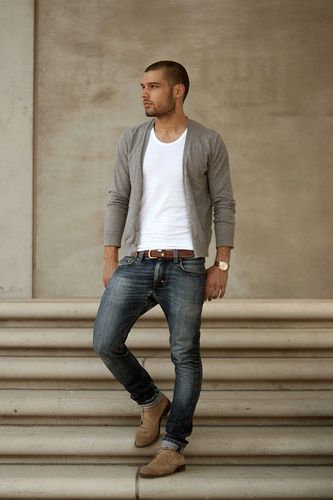 12 – Coordinate your Doc Martens Oxfords to your Accessories
And that is how street style is done! This outfit is simple to put together and is the epitome of trending street fashion. Simply grab your sweater vest and pair it with a similar colored t-shirt. Next, go for monochromatic pants in a similar color family to your shirt and introduce black accessories to create an easily put-together look.
You can make your outfit brighter by opting for bright, funky socks that peek through the pants. And adding chunky rings to your fingers is the perfect way to add character to your look. Oh, and platform oxfords are the new in these days!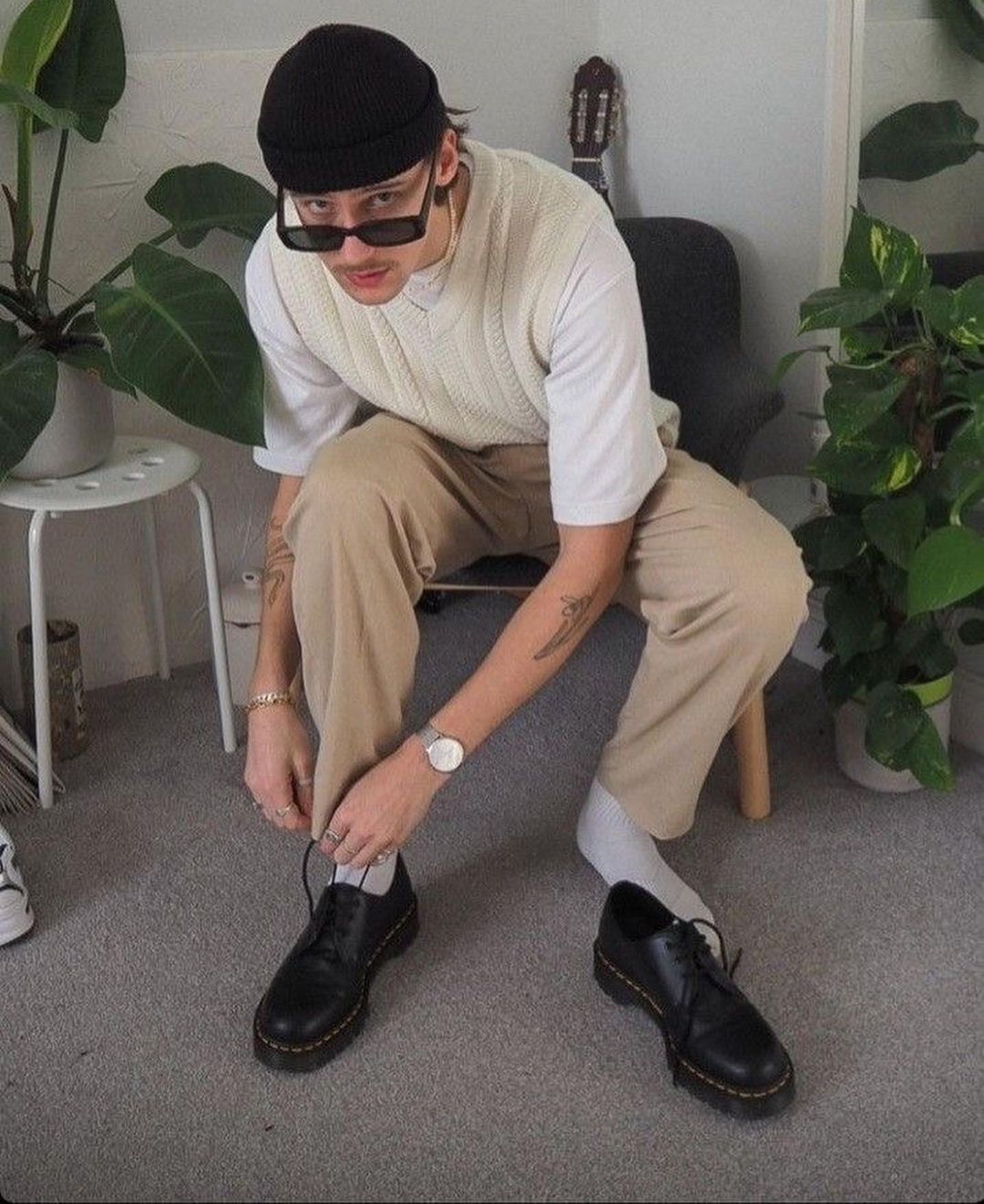 Grab the shoes:
11 – Go with Fabric Oxford Shoes for Casual Summer Style
Summer brings on the increase of shorts and t-shirts. Cream, coral, brown and blue shorts are all the rage this season, and not only will they complement a plain or patterned button-up shirt or t-shirt, but they will also look amazing with color co-ordinated fabric oxfords.
Fabric oxfords in summer will be better for you as they will keep your feet cool. However, leather oxfords will also be perfect this season for the suited and booted businessman, so make sure your chosen style has suitable oxford shoes to match. Check out these stylish Bermuda Shorts Outfits for Men This Season.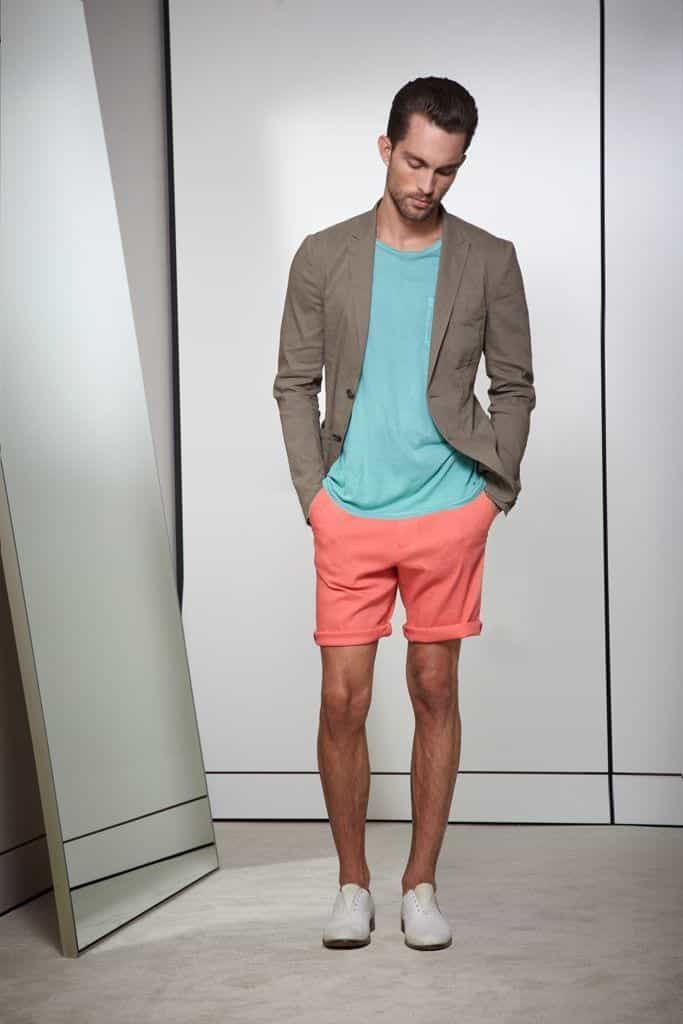 10 – Create a Spring/Summer City Look with Shorts & Oxfords
Combine a white shirt, patterned shorts, and leather oxfords for a laidback spring/ summer look! Shorts and brown oxford shoes are the perfect look for guys who want to keep their dressing casual but upscale at the same time.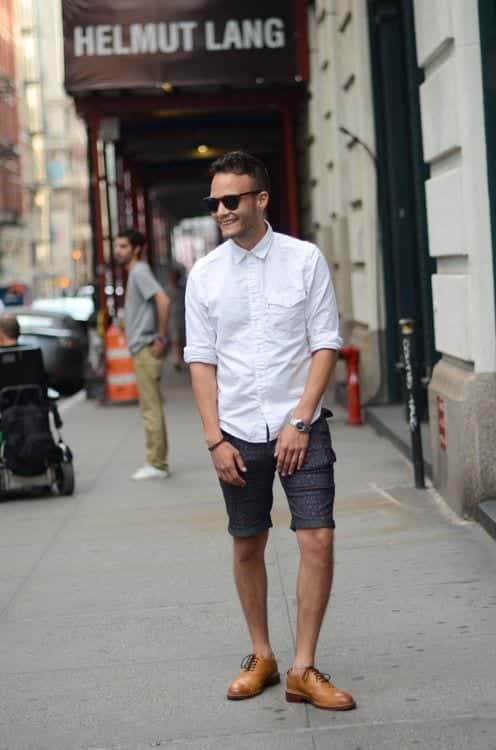 09 – Match your Belt to the Color of Oxfords for a Cohesive Look
This look is perfect for a summer wedding, formal gathering, or get-together with friends and family. And I am impressed by how he matched his shoes to his belt to create a cohesive and well-blended look.
08 – Wear Khakis with White Button-Down for a Timeless Look
This is the perfect casual outfit idea that you can wear to the office or formal meetings or gatherings. The color tones in this outfit appear easy on the eyes, cool, and soothing. You can wear khaki pants in cotton and a shirt in white or light blue shade.
For accessories, you can go for the brown belt and match oxford shoes. Also, add black ray ban glasses to knock the look out of the park!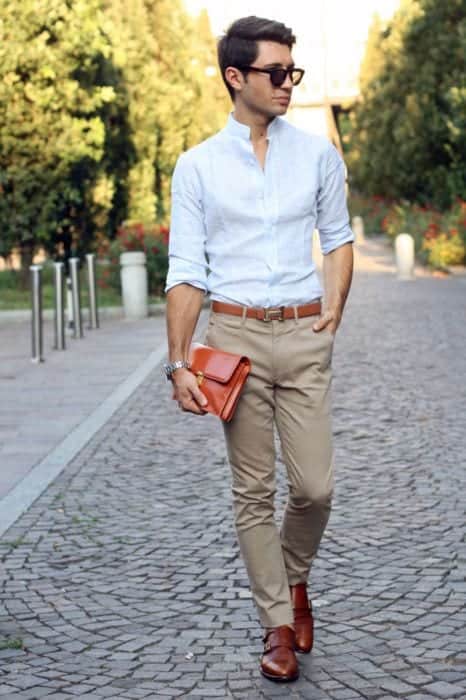 07 – Create a Spring Style Look for Teenagers with Brown Shoes
This style is perfect for guys who love to experiment with their clothing. Play around with different combinations, colors, and textures to make new outfits every day. For example, you can go for blue denim jeans with a plain white shirt and green cardigan similar to the image below.
For added spice, you can wear a tie hanging loosely around the neck alongside the whole look. Oh, and don't forget brown oxford shoes to wrap everything up. What a great way to appear casual yet formal at the same time!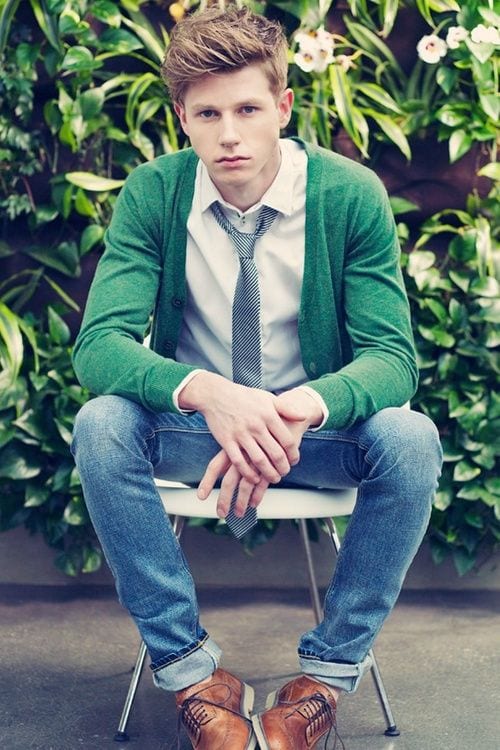 06 – Mix Patterns & Bright Colors for a Unique Look
If you are never the one to shy away from attention, this outfit is the one for you! It definitely might not be everyone's cup of tea, but it looks extraordinary. The tie and dye blazer paired with cyber pink pants is making a statement. But I am all here for it.
You can opt for white pants or blue to make this outfit more wearable, less striking, and true to your comfort. Also, see 17 stylish winter wedding outfits for Male Guests!
05 – Merge Businessman & Spring Style to Appear Trendy
Brown Blazer, Bag, and Oxfords with Jeans to make a formal outfit appear relaxed. This outfit idea is perfect for the businessman out there. They can wear this outfit look to business trips or formal business meetings & gatherings.
Wear a tailored coat with dark blue formal pants. And go for matching the tie and dark-colored oxford shoes. Check out these Professional Beard Styles.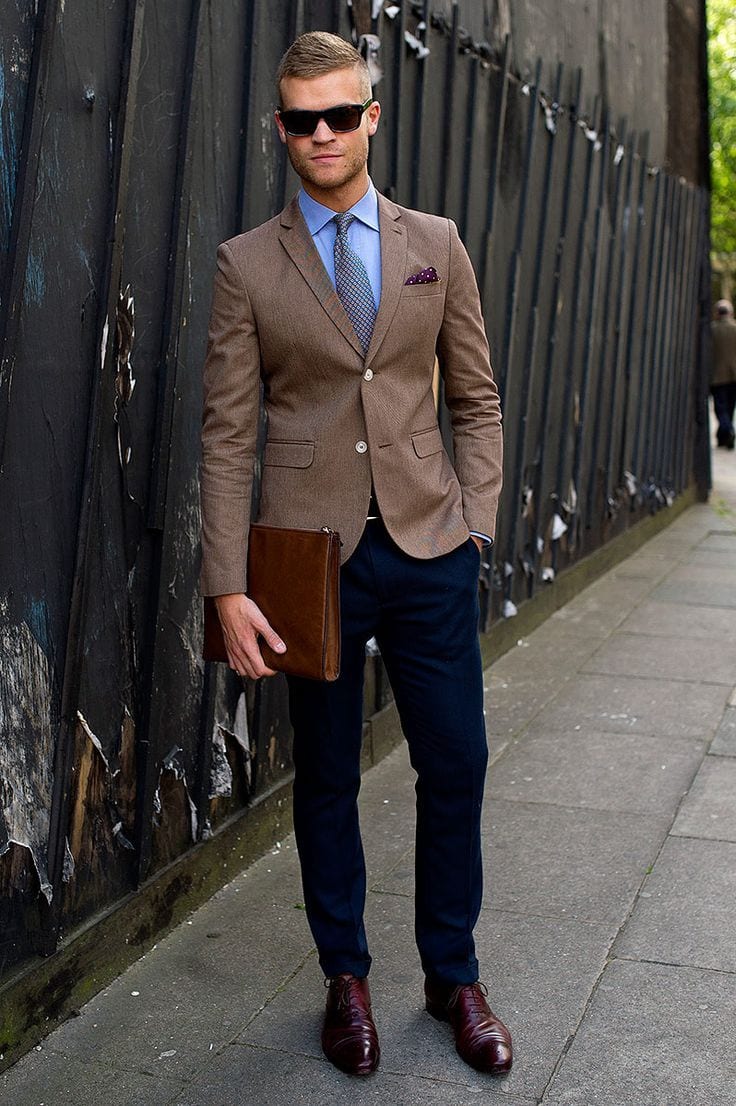 04 – Pair your Oxfords with a Bold & Striking Colored Blazer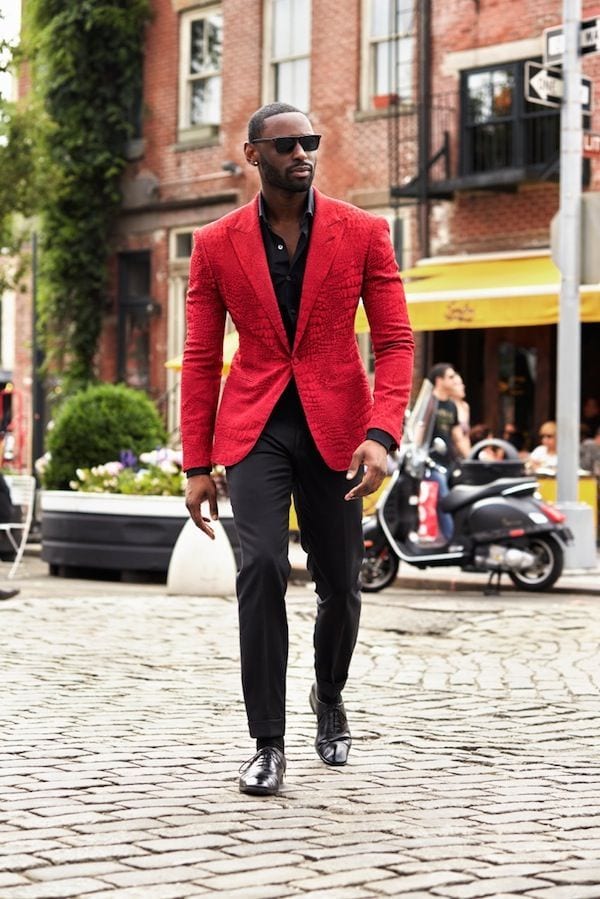 03 – Formal Suiting Combination with Oxfords
02 – Serve Dashing Looks At the Wedding with Oxford Shoes
01 – Style These Boots as Business Apparel for a Timelessly Classy Look
Brown oxford shoes look the best with a two or three-piece suit. Make sure to wear a contrasting tie with it to take the whole look to a new level. You can also add a gold tie pin and black ray-ban glasses to elevate this look!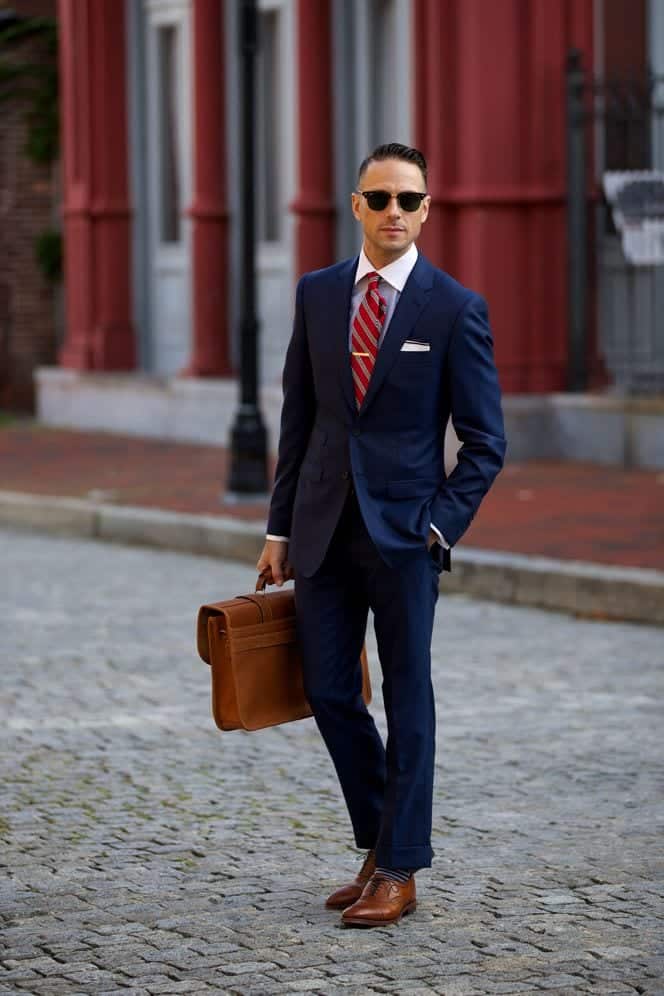 Frequently Asked Questions
Q. What are oxford shoes? Are they out of style?
You will find many definitions of oxford shoes on the internet, but we will keep it simple. An Oxford shoe (also known as balmorals) has a closed lacing system, to be precise, with the low-heels & exposed ankle. All the oxford shoes fall in this category with few exceptions.
These shoes are a timeless staple to have in your wardrobe because they will never be out of style. No matter what the current trends are, you will always be able to find ways to make your outfit stand out, with oxford shoes being the focal aspect of your look!
Q. Are oxfords and brogues different from one another?
Since most people confuse oxfords with brogues so here lies the main difference: Oxfords or balmorals shoes are the ones with closed laces, whereas derbies/ bluchers shoes come with open laces.
Essentially, both of them are more or less similar to one another. However, it is a minor difference mentioned above that separates the two, which is why it can be quite common to mix the two!
Q. Where can I buy oxford shoes?
Oxford shoes are an easy find due to their popularity and are available at every other brand carrying men's shoes. I would advise checking out stores like Nordstrom, Barker Shoes, Kohl's, Hush Puppies, and Lanx Shoes.