Black shirt outfits for men: Since as long as I can remember, one of the most preferred outfits for men has been one that has black in it, and it would be easy to make a conclusion that by far black is one of most sophisticated color when you are planning clothes for your day!
Moreover, research has confirmed and stated that black makes people look more attractive and confident, flattering and charming – no matter what the occasion is. As we all know, the white dress shirt was and is usually used by business individuals, however, now black shirts at the other end of the range are giving more appealing vibes and people always tend to grab one or two while shopping. In the coming years, it is quite visible that black color will be the basis of the modern man's wardrobe, as proven by the latest outfits of celebrities and male fashion bloggers. So, if you are looking for celebrity guidance then the red carpet is the best place to get inspiration on how to wear a black Shirt. So before, you move forward to look at different outfits in black shirt for men – better note down some reasons of why the black color is worth your wearing!
How to Wear a Black Shirt with Different Outfits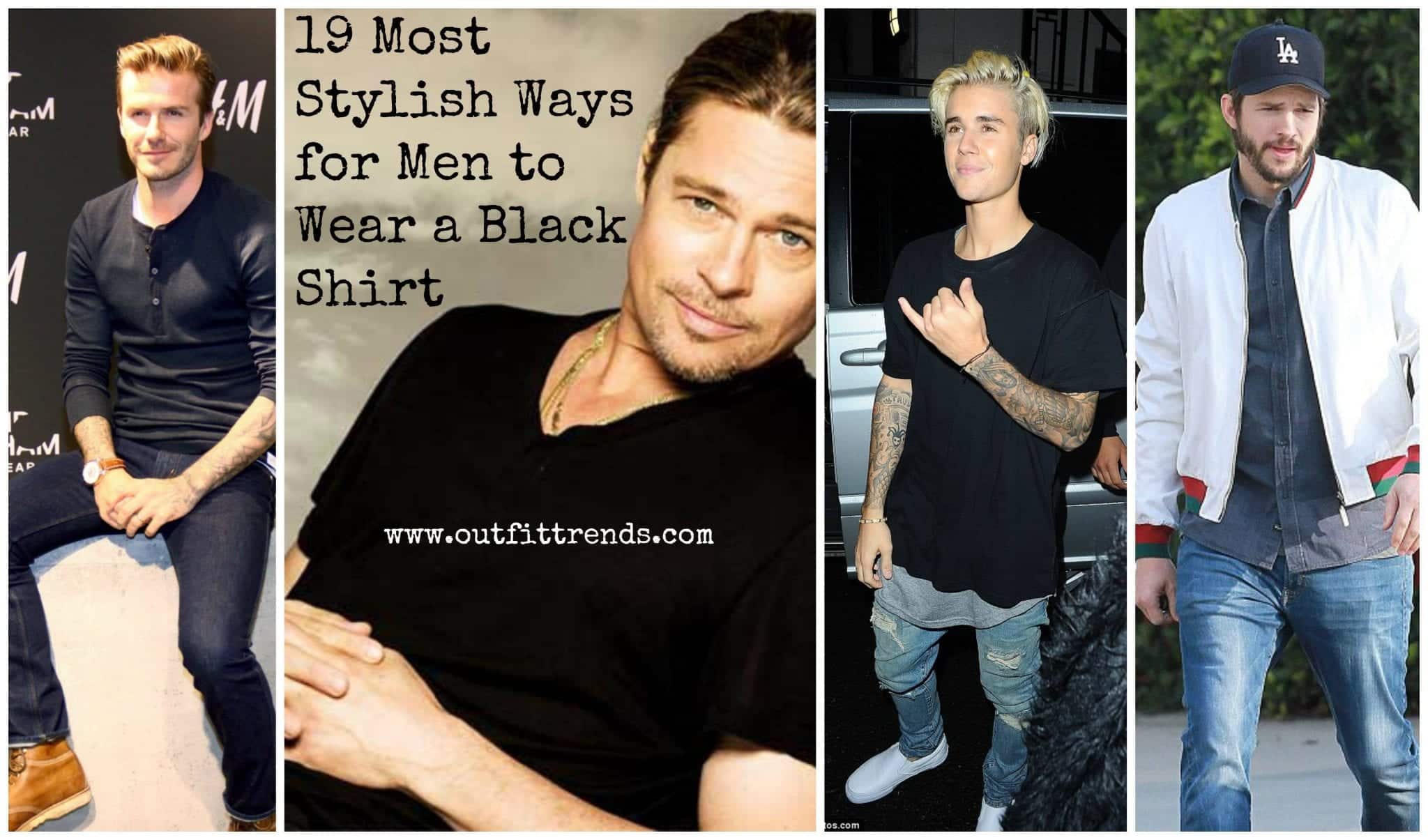 You don't have to think much about matching, black goes with all other colors.
Clothes in black color would hide, conceal and cover-ups any type of stains so if you're a messy guy, you know how black can save the day.
You can put on endless layers on black – yet it would have its own significances.
Do you want to have a decent, mature look? Then black should be your choice of the day.
Black Color clothes look good on any skin tone!
You can go wild with any type of accessories over a black shirt – yet it would look elegant.
It will make you look flattering, which is why it's the most popular color choice for dating outfits.
The black shirt is something that you can wear in all seasons, around the year.
You will never be out of style and would look dressed up always.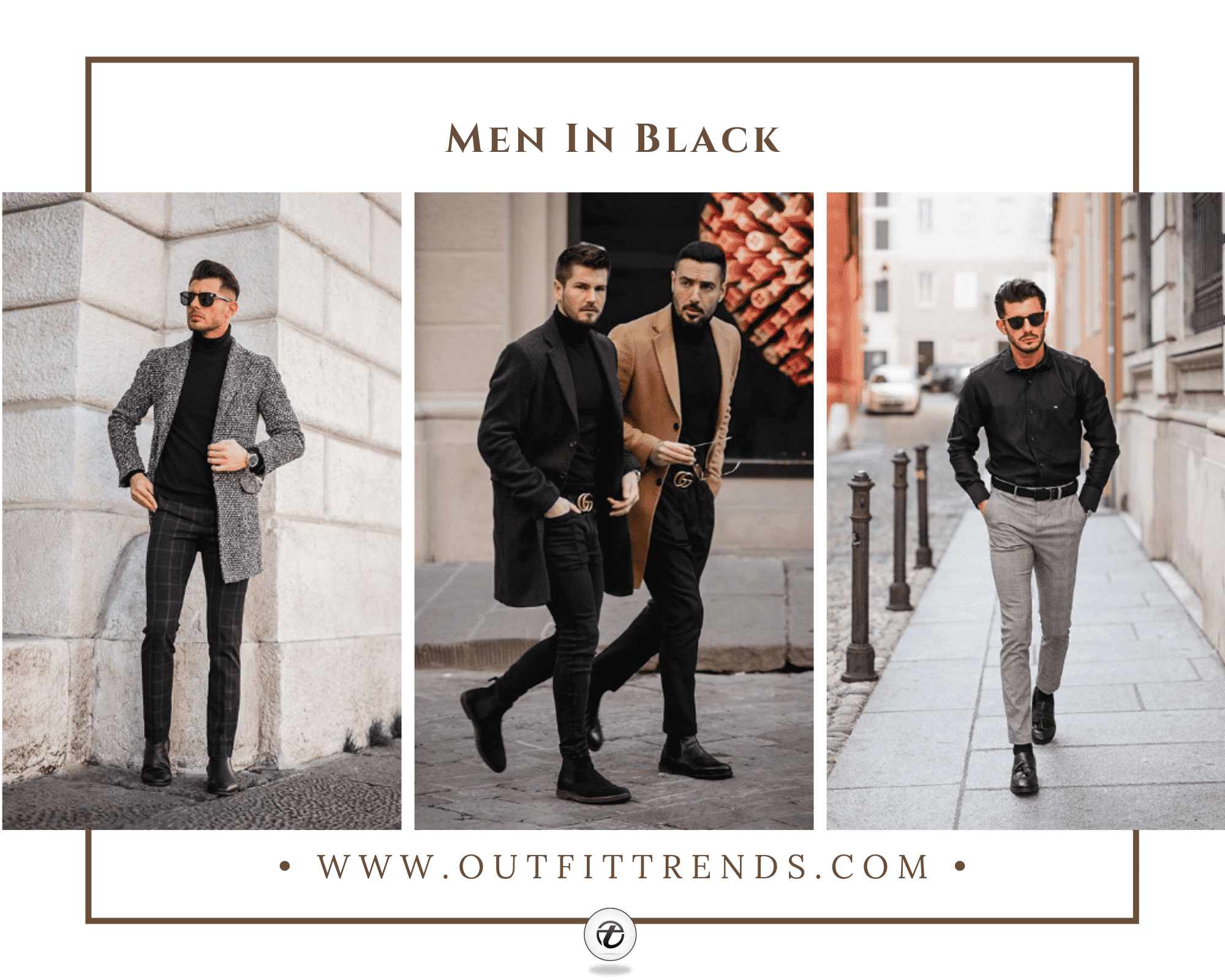 ↓ 22 – With White Pants
Black and white might be the classic combination but even today, it looks dope as hell! Here are some more White Jean Outfits for Men.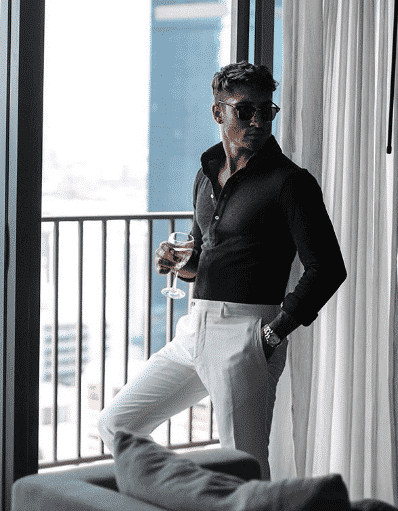 ↓ 21 – Black & Khakis
If you like khaki colors then you probably know that they look best when paired with a black shirt.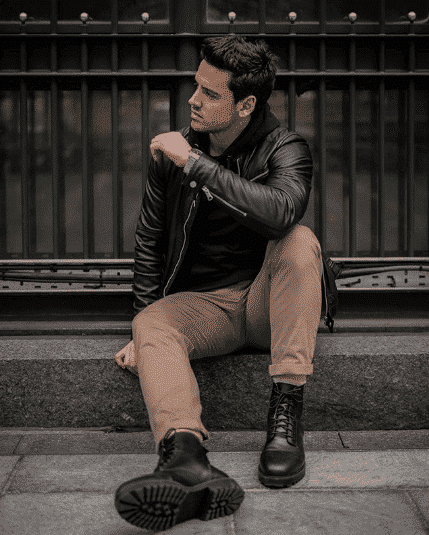 ↓ 20 – Add Some Stripes
Striped pants have really been trending lately and we feel that any type of striped trousers will work well with a black shirt.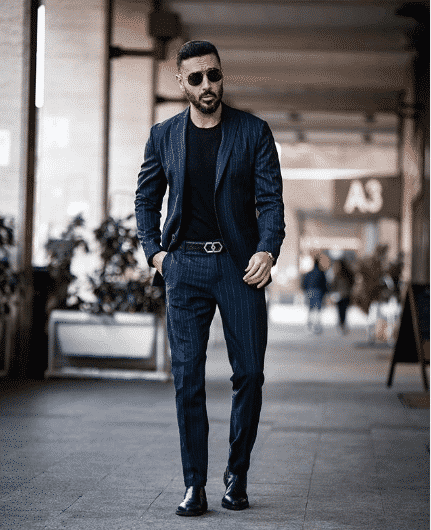 ↓ 19 – Black Shirt With Formal Pants For Work
Looking for something unique to stand out in your office conference? Then why not go for an all-Black theme? Wear a black skin fit suit with a black shirt, add up black shoes and a black tie. And be ready to grab a lot of attention from your colleagues. Here are 16 Men's Winter Outfits Combinations for Office/Work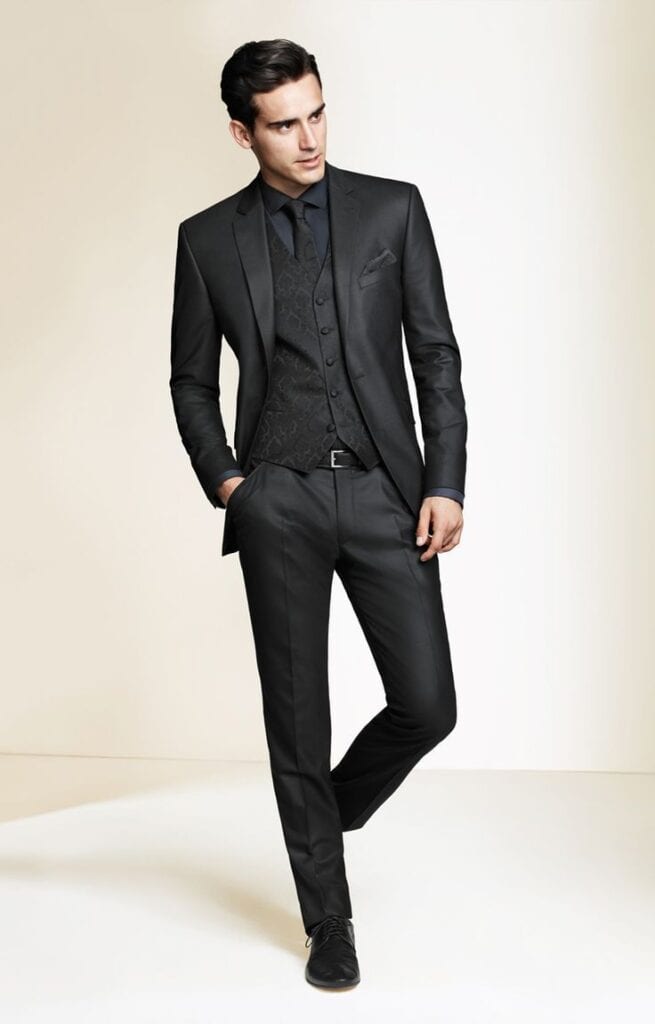 ↓ 18 -Ripped Jeans WIth Black Shirt For Casual Wear
If you planning to go for a walk with your friends, then grab your distress ripped jeans and a skin-tight black T-shirt that would not only make your muscles flex but add more value to your charms.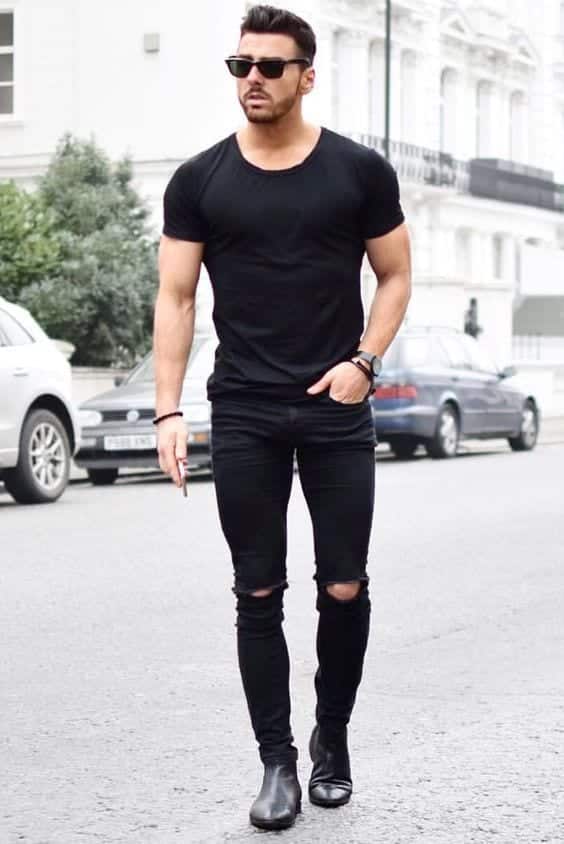 ↓ 17- Bomber Jacket with Black T-shirt – Winter Outfit
In the slightly cold weather, why don't you match up your crew neck T-shirt with Bomber Black Jacket and blue classic jeans and brown boots to complete you look for the day! I also recommend that you check out our exclusive guide on How to Wear Bomber Jackets.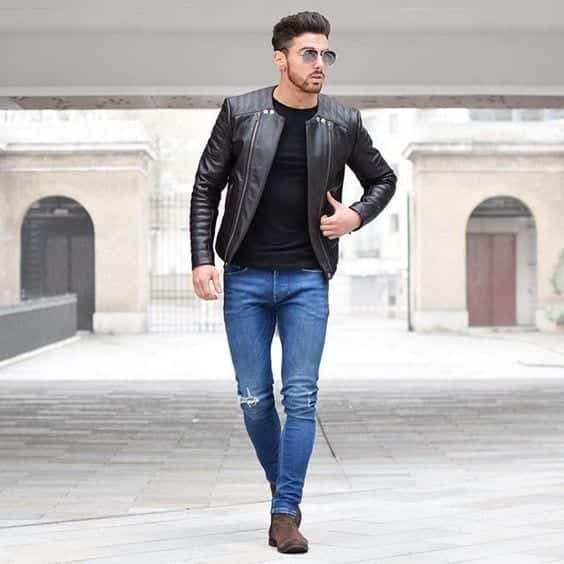 ↓ 16 – Denim Wrinkled Jacket with Black Shirt.
For an everyday look, grab your washed light color denim jacket, and match it up with the black shirt and skinny jeans.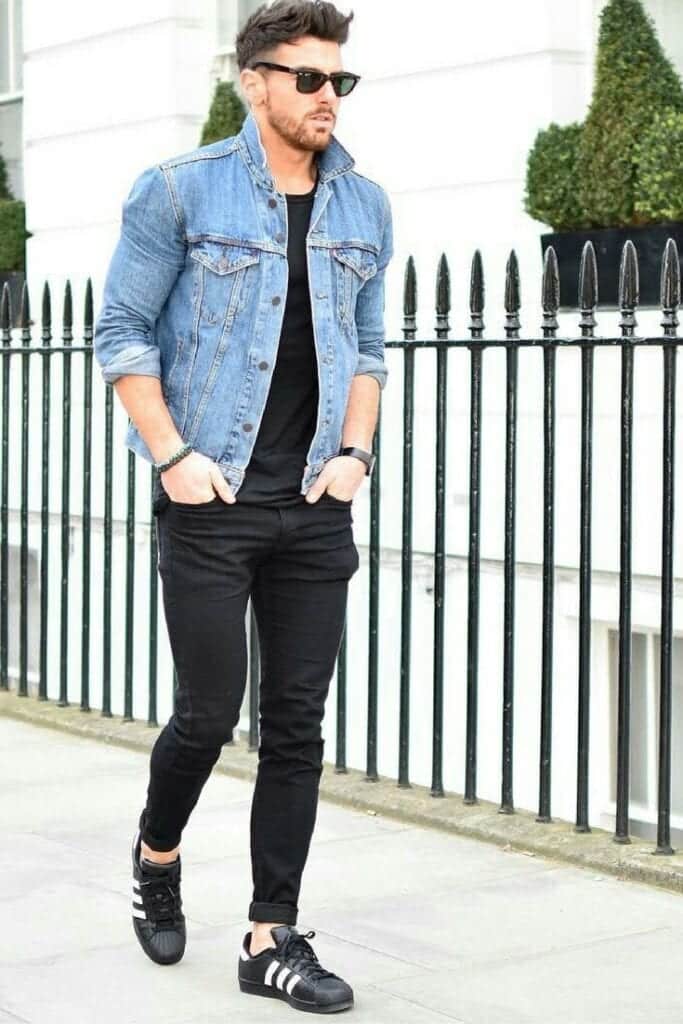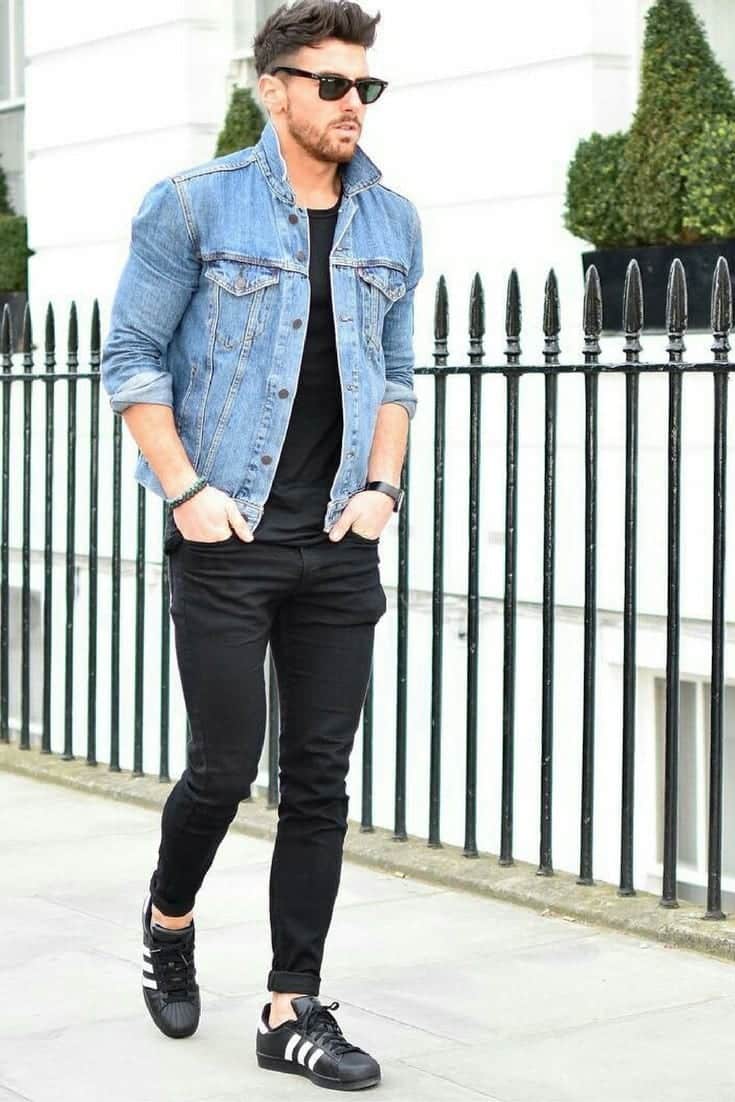 ↓ 15 – Cozy Fall Outfit
Looking for something relaxing and casual then wear your black hoody with black jeans for a charming, youthful look.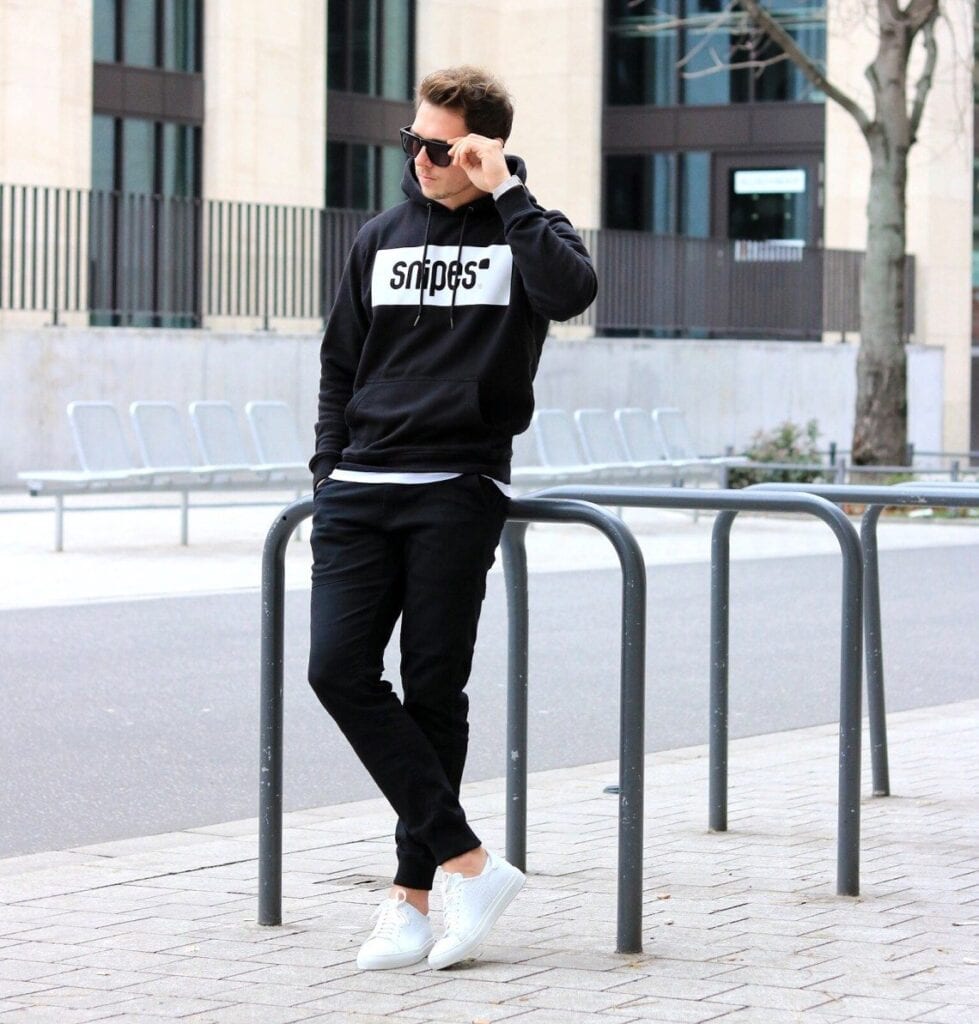 ↓ 14 – Street Style In Sleeveless Black shirt.
Feel like traveling around and exploring in your casuals? You can always match your sleeveless black shirt with blue denim jeans to complete your fierce look! Check out these 17 Most Popular Street Style Fashion Ideas for Men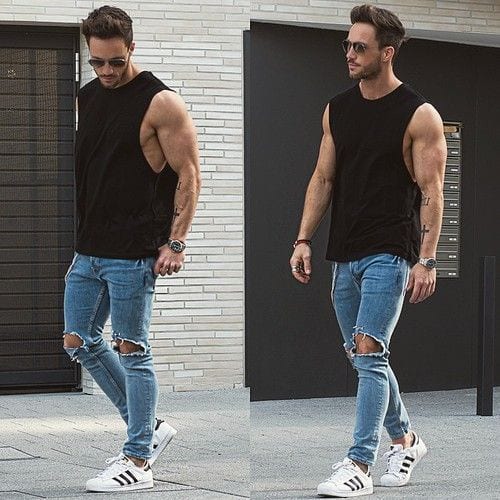 Via
↓ 13- Casual Outfit and Hairstyle with a Black Tee
Pair up your black T-shirt with a pair of black shorts with pullover socks.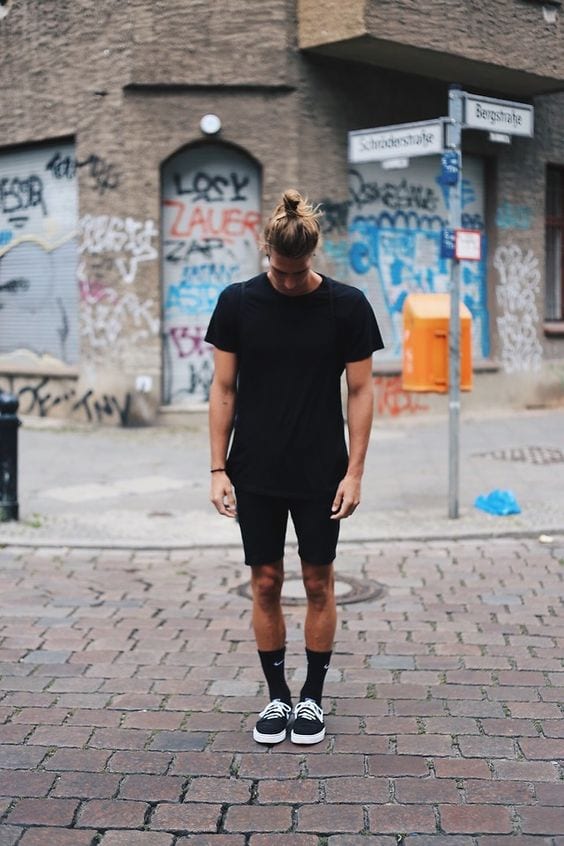 Via
↓ 12 – Royal Fashion – Long Coat over a Black Shirt
In chilly winters, while traveling you can always match your black shirt with a long black coat. Make sure to wear white sneakers so that your dressing stands out.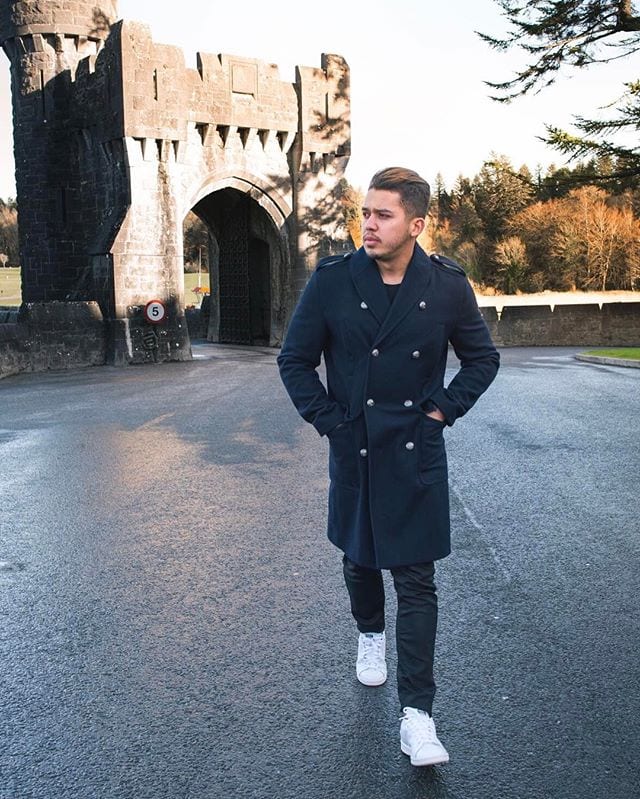 Via
↓ 11- Swag Black Outfit.
Looking for a swag look? Wear a black full-sleeved shirt with skinny jeans and tie a check print over your waist to add some color to your dress. Pair the outfit with one of these awesome 21 Most Popular Swag Hairstyles for Men to Try this Season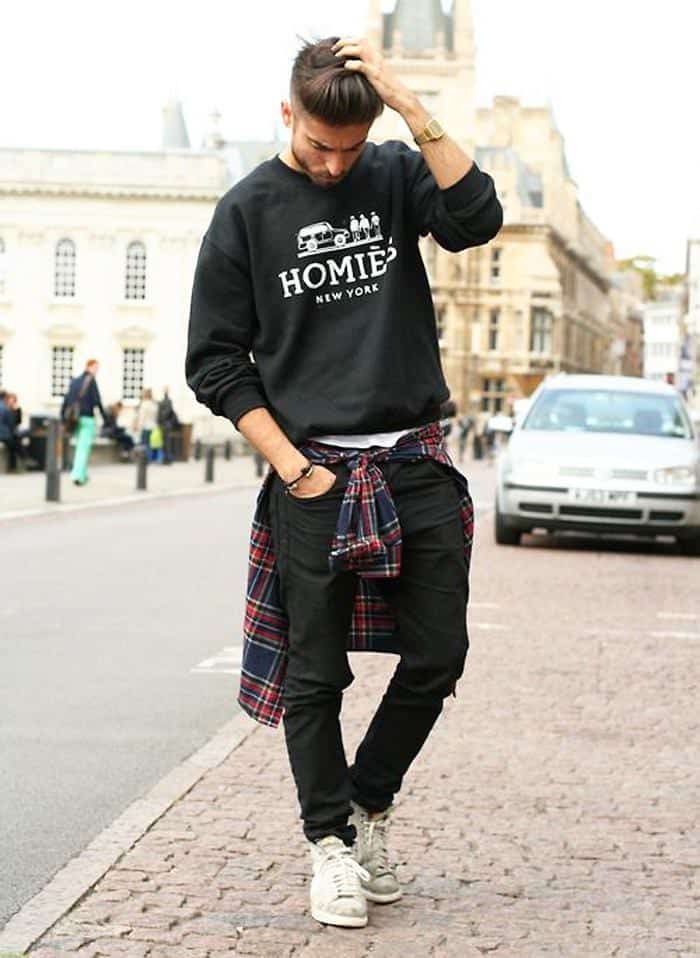 Via
↓ 10- Get inspiration from Kanye West.
Baggy loose jeans with Chelsea Boots, black shirt and a blazer to complete the look for a lunch meet up.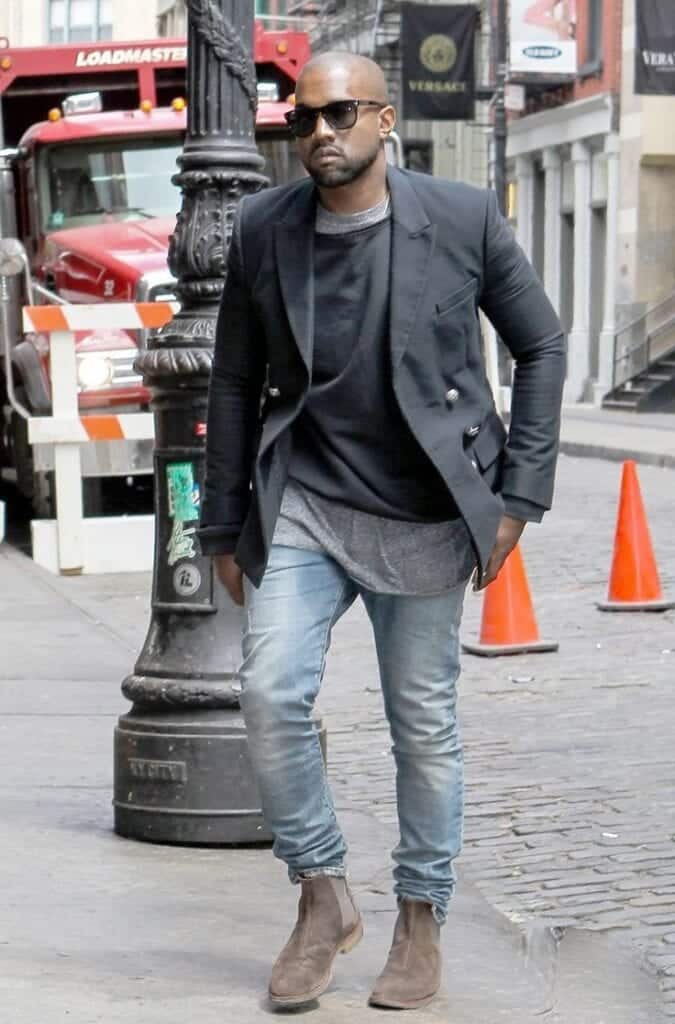 ↓ 9- Black Shirt Outfit for Rainy/Snowy Day
Harry is usually seen in sleek clothes, but his style is always known as the easy way that could be worn for everyday work during day time. So, he was spotted during lunch hours wearing black skinny jeans, with a loose sweater, Chelsea black boots. He completed his look with a light pink beanie and a pea-coat.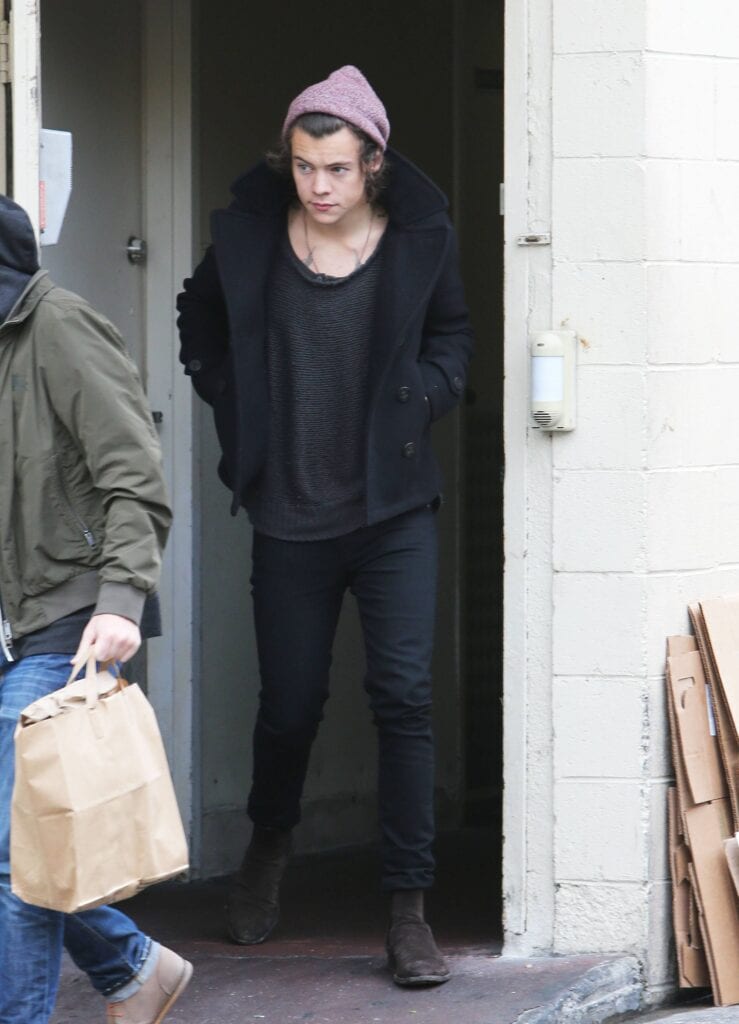 Via
↓ 8- Black Turtleneck Sweater with High Cut Sneakers.
You can also match up your turtleneck sweater with a black blazer and black skinny jeans. And then top the look off with a black beanie and white high cut sneakers. Also have a look at these Black Jeans Outfits for Men.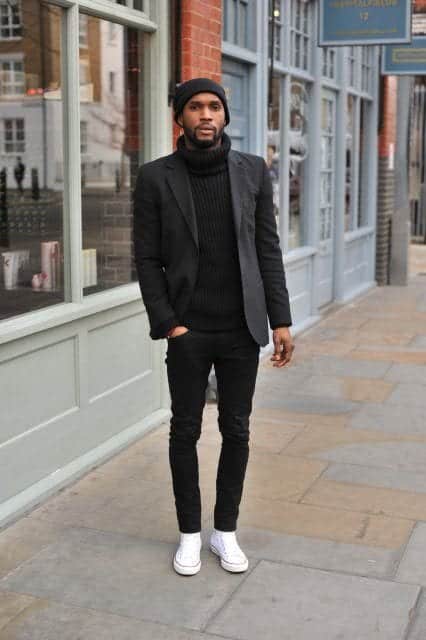 ↓ 7 – What to Wear with a Black Check Shirt
Late dinner meeting? Grab your check printed shirt, cuff it up and wear blue jeans to keep it formal yet casual to some extent and to complete your look, top it up with a waistcoat.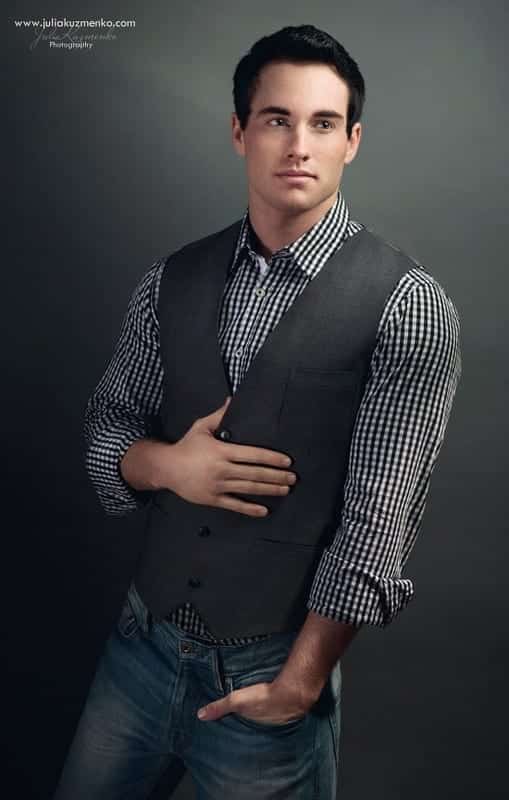 ↓6 – Back shirt with Muffler
During cold seasons, black is something people find quite comfortable so match up your black shirt with a muffler and a nice coat or jacket. Layering done right!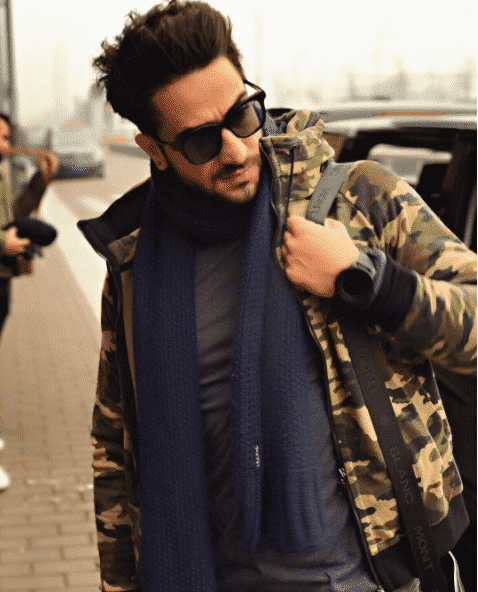 ↓5 – Street Runway Style
Runway style for street, pair up with a black T-shirt with a loose jacket and loose pajamas.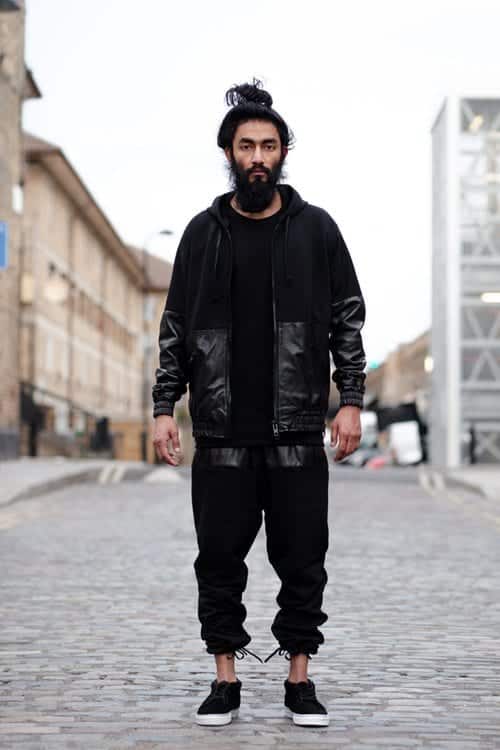 ↓4 – Shoes to Wear with a Black Shirt
Going out with friends, why not go all black but wear RED Nike joggers to complete your look.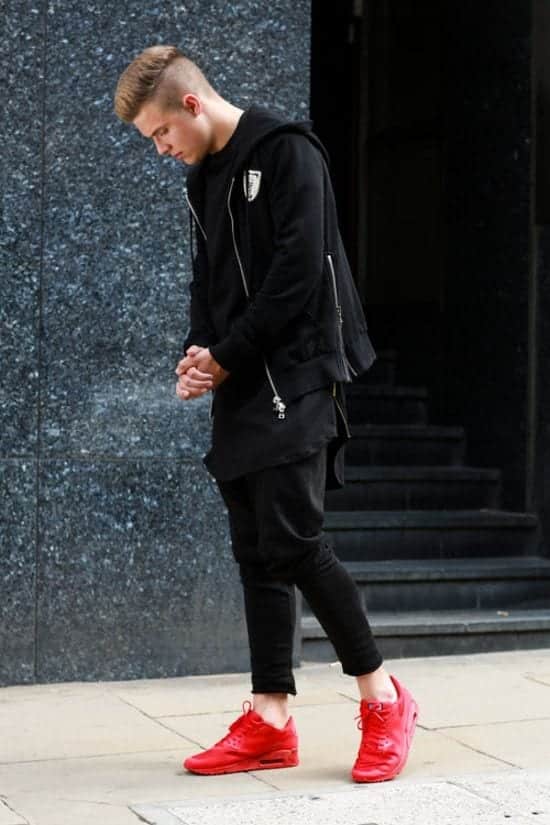 ↓3 – How to Style a Black Printed Shirt
If you planning a family outing and want to wear something significant, then we suggest a patterned shirt with the black theme and ripped jeans with a blazer to complete an evening look.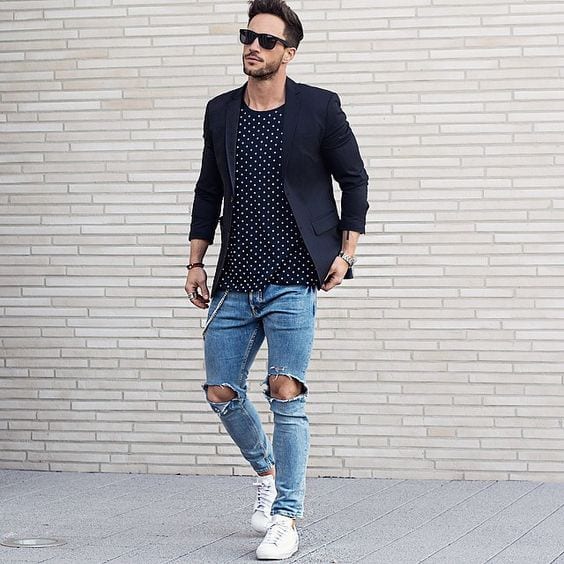 ↓ 2 – Black Polo Shirt Outfit for College Guys
Polo shirts are and will always be in fashion and for every age be it a young lad or an old man! So, make sure to have at least one black polo T-shirt in your wardrobe.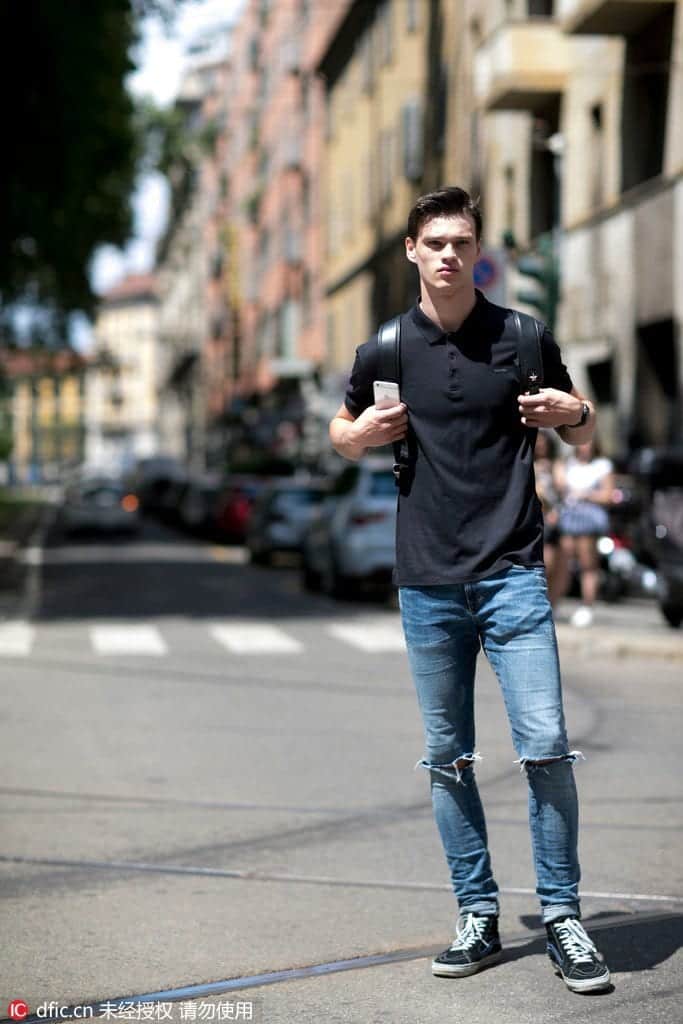 ↓ 1 – Unique & Sophisticated Combination: Black & Olive Green
Going out for a workout? Then match up your olive jogger pants with a black T-shirt, a lethal combination that would always be admired.
Via
As we all know that black is a very versatile colour. But exactly what good can be achieved through you wearing black and how benefits can somehow work for you. Here we are going to discuss some awesome Reasons To Wear Black:
No Worries About The Stains
Well, you wouldn't have to worry about getting stains on your shirt when you accidentally let your food drip down or make something spill over on you. They can camouflage all your worries over sauces, oil or grease. White can make you a tidy person but black can give you one less worry. A very vague reason but that must affect a lot of people's perspective while buying black shirts.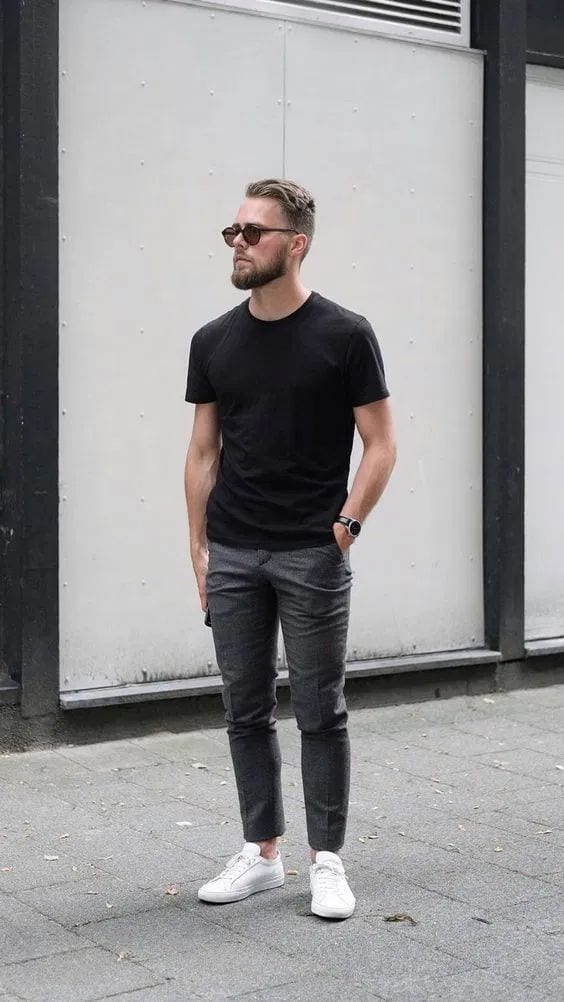 via
Another worry that many people have is about laundry and wearing new shirts every day. With a black shirt, as we have already observed, you do not have to worry about stains and dirt so that also resolves the problem of laundering too. You can always wear these shirts again, again, again and again. Of course, you need to make sure it is not getting stinky. The black shirt can make you save your time while deciding what shirt to wear. You do not have to worry about wearing the same clothes every day either as Black shirts also solve that problem.
Black is not only versatile for fashion and styles but also what your skin tone is. This blesses every kind of human being with different skin tone colors and belonging to different ethnicity, race, and nations. People with white, black or brown, all can wear black without any worries. It suits everyone's needs and desires. It can aesthetically look good on everyone.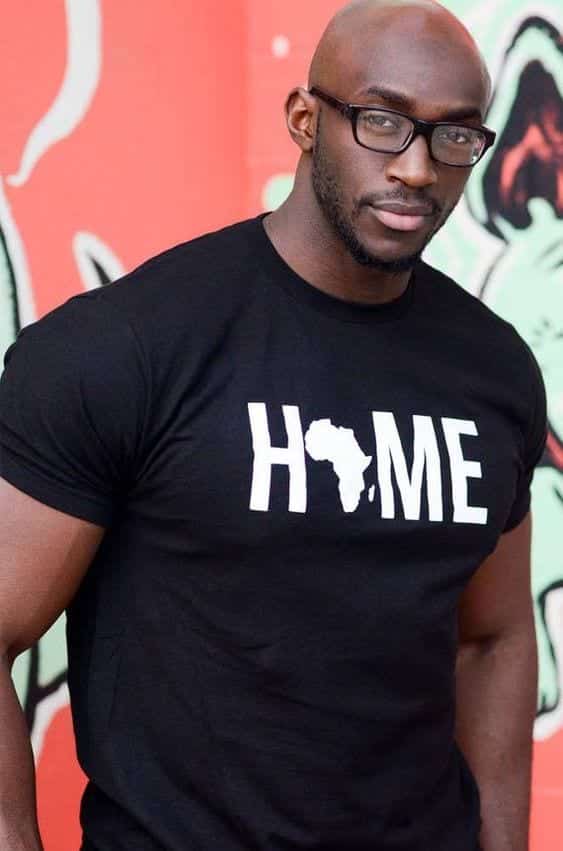 The black shirt does not limit itself from the events. You can wear black for informal and formal, both occasions. You can wear a black formal buttoned up shirt in business and business casual. You can simply wear black tees in casual events. It does not limit you from going somewhere or not. You just need the right fit. Does not matter whether you are in an interview or at a date, black saves the day for dressing you, and you do not need to get too much worried about how you look.
Black is the standard colour of everyone's choice. It is a colour that is acceptable in every way, even so, you can wear it for a funeral. It does now matter how dull black looks but it actually refreshes your combination of clothes and creates a more balanced contrast with your jeans and trousers. It is a simple and easy choice for everybody. You just have to make sure you create the right combination.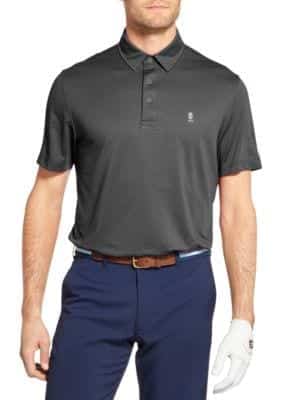 The way you are going to carry your clothing also depends on your accessories. The black colour makes you shine with your accessories. You can always wear a number of contrasting scarves, mufflers, watches, shoes, belts and many more with the black colour and you just need to have the right sense to create a more aesthetic look for yourself. Moreover, with a black outfit, you also get an unlimited choice of shoes to choose from. Black shirts are surely the perfect canvas for all your favorite accessories, especially scarves.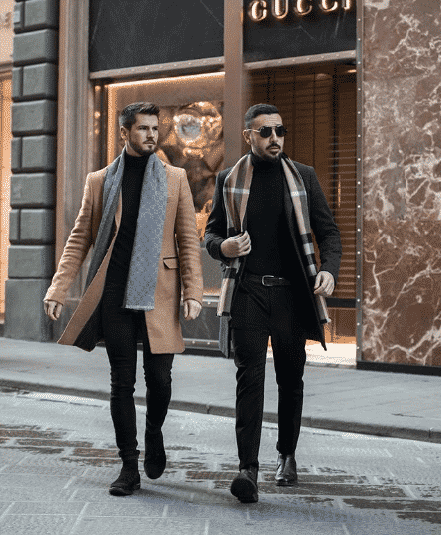 Black can be an integral way for you to look more mature and can always make a difference between you and the kids. Black interprets that the person is more inclined towards perfection and prefers to have a collection around such sober color. Other colors can roll on their own but black does its own magic and has a positive impact on your overall personality. This can be good for you and your dressing aesthetics.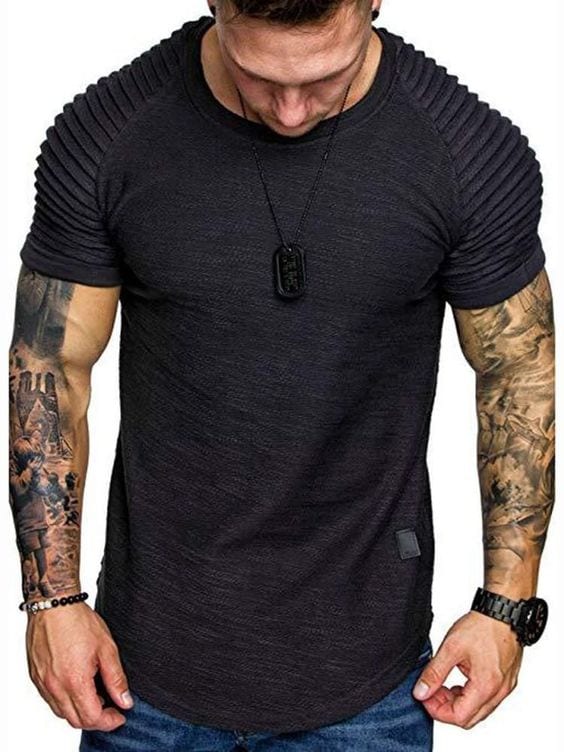 Via
When wearing black, you are always going to look dressed. You do not have to worry about being more untidy and whatsoever because wearing a neat and clean black is not going to affect your outlook. If you just woke up and got out of bed, the black shirt of your night suit can still work for you on several occasions. You can go out in it, wear a jacket over it and so much more. That again, reduced the number of your worries for you to change clothes constantly. For many, it is a blessing.
Every Season Works With Black
Winters can work with your black jackets, sweaters, sweatshirts and many more. For summers, you can get to wear all kinds of black tees, normal casual shirts and shorts combinations are also acceptable. You do not need a season to take the black to extend your concerns. It always has your back and makes it easy for you to ease your choice.
Black is the new black! Black never gets out of fashion.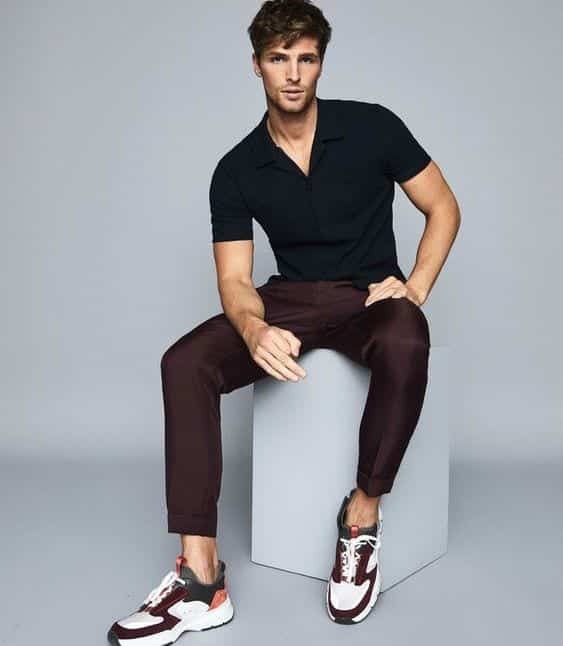 Via
Do share with us your favourite way to wear a black shirt in the comments below!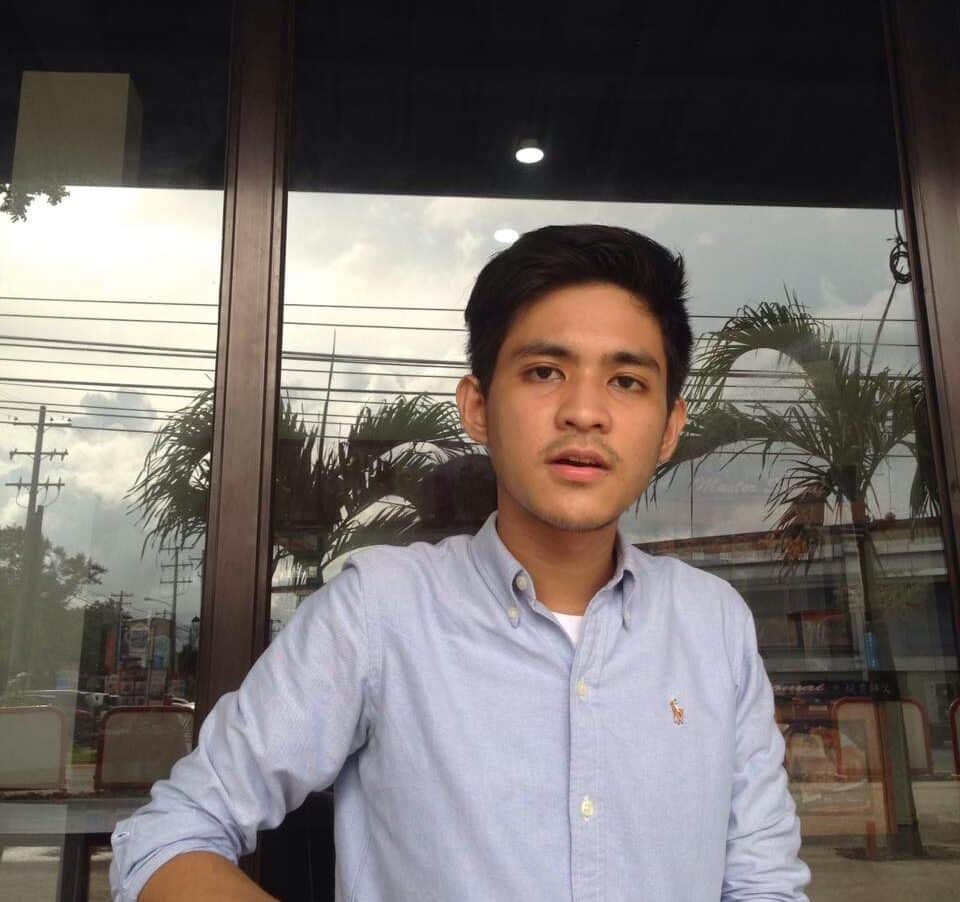 John Vincent studied Communication Arts in the Philippines.
Growing up, he's always had an eye for aesthetics. He enjoys writing a lot. Books, TV series, and movies are a big part of his life. His all-time favorites are Harry Potter, Game of Thrones, and Marvel films.
He believes that fashion is a pure form of art. You express yourself through your personal style – it's something you can't replicate.