Popular Swag Hairstyles for Men- Men of all ages pay particular attention to their outward demeanor, taking pains to stay in tip-top attire and maintain a certain physical appearance. One such manner to accomplish this feat is by maintaining certain styles of haircuts, with one of the popular styles being dope haircuts for guys, which encompass style, class, sexiness and overall grooming.
Such hairstyles are essential for every man as a hairstyle can totally change the overall look of a guy; it can make one look dope from totally boring. Thus, giving your hair the essential attention has become a necessity for most of the guys. This article will give you ideas on how to get a shaggy look with these  21 latest swag haircuts for guys that are rocking social media. To get a complete swag look try following hairstyles with these 20 Swag outfits for men.
The Latest Swag Hairstyles for Men
Your hairstyle gives away a lot about your personality. Moreover, your haircut requires styling according to the events or situations. It is not hardcore science when it comes to getting the ultimate stylish hair, but you would require a few essential products for the looks you desire to achieve. Some of them are mandatory for every guy whether he has a hair obsession or not.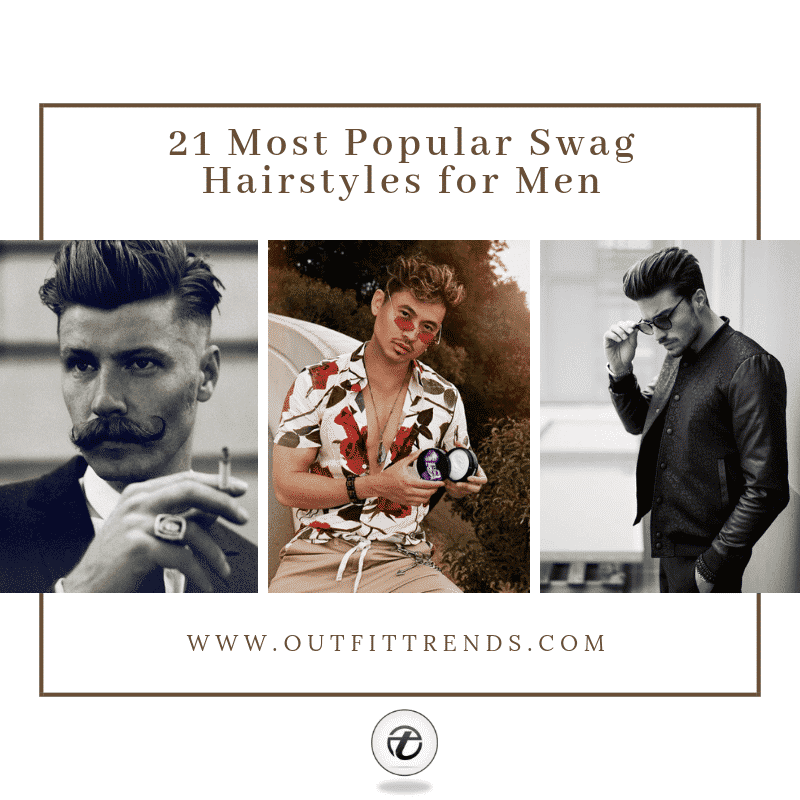 Essentials for Dope Hairstyles
For every hairstylist, a hairdryer and a ceramic round brush is very much a necessity. Guys who have slightly long hair and do not want them to look like a mess need to possess these two essentials. Blowdrying your hair definitely enhance the overall volume of your hair and make them look bigger than usual. Moreover, a hairdryer will save up your time when you do not want to wait for the hair to dry on their own and end up being a tousled mess.
A few other products which will help you achieve your ultimate favourite hair look are going to be a mousse and finishing spray. Most of these products will cost you around 10-20 bucks but they will help your hair to retain the look for quite some hours regardless of the weather and season and keep the hair look fresh and big indeed.
↓ 21 – Spiky, Short Hair with Low Fade
A clean-cut hairstyle, raised from the front, but shades from the sides. To achieve the look below you will require some hair wax as the look is super glossy and the front top hair needs to stay high for quite some time, hence the look is super easy. Add some wax to your semi-wet hair and move the hair towards the front in an upward manner.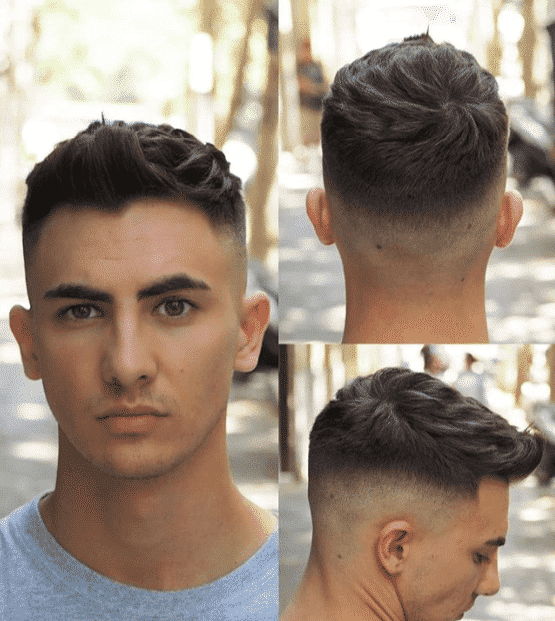 ↓ 20 – Bed Head Look
This hairstyle shows a guy with tousled hair of medium length, showing a messy yet sexy hairstyle. You want your hair to look like a cool bed head but not some mess, thus wax is going to give them the right matte look and medium hold. The look would have been even better with a swag beard, so check out 26 Cool Beard Styles for Short Hair Men for Perfect Look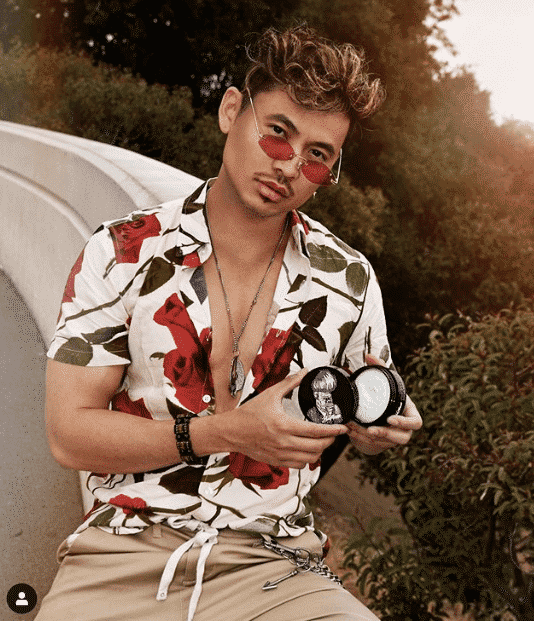 ↓ 19 – Formal yet Cool Hair Style
Here, the guy's hair is set to one side, gelled into place and showing an overall neat yet classy look that exudes class and swag. The look is particularly for men who have short to medium length hair. This style is perfect for college going boys or the ones who follow strict office attire. You can add caramel highlights to your hair if you want to experiment a unique look.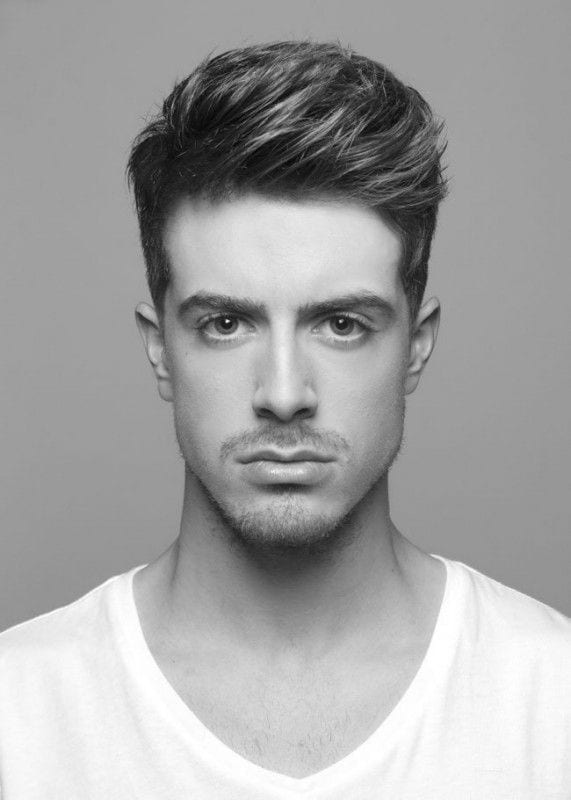 ↓ 18 -Hipster Style for your Hair
This hairstyle is the epitome of hipster swag, as it shows long hair tied into a loose, messy bun, showing a gypsy hairstyle. Guys who like such looks need to take good care of the hair and get regular trims to abstain hair from getting rough in humid weather. To get ideas about men hipster fashion check out these 25 ways to get hipster look for men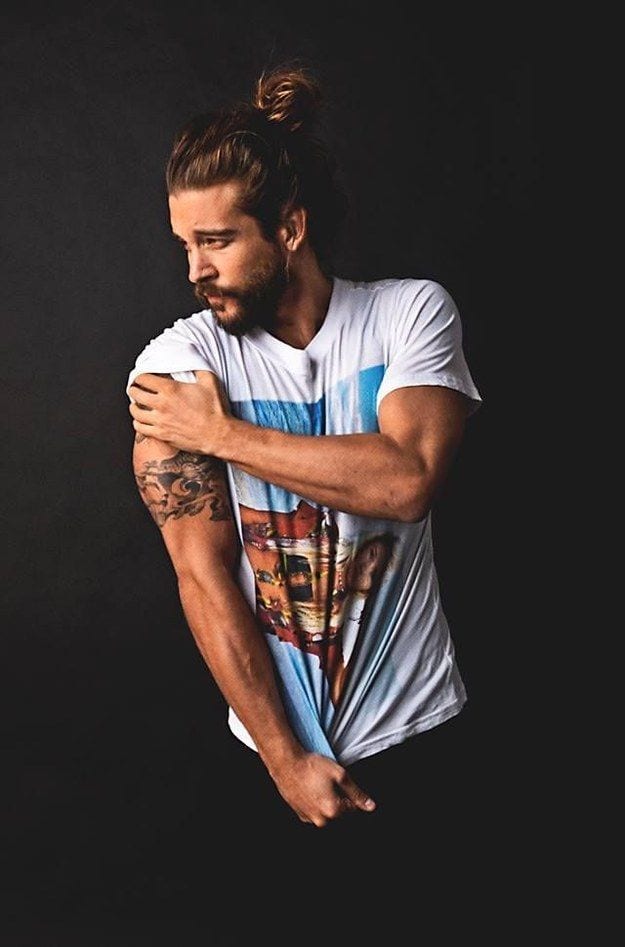 ↓ 17 – Zayn Malik Inspired Swaggy Haircut
This nerdy yet cool hairstyle is supported by many celebrities as it looks attractive, slick and stylish. This hairstyle is all about going bald on the sides of the head but keeping your hair nice and long towards the center of your head. This hairstyle is followed by a lot of young boys from around the world as its quite easy to carry and youthful at the same time. This hairstyle is perfect for a boys night out or for everyday high school look. Such haircut looks good on clean-shaven boys as the cut is super neat and casual. Check out these Hottest Outfits of Zayn Malik so far.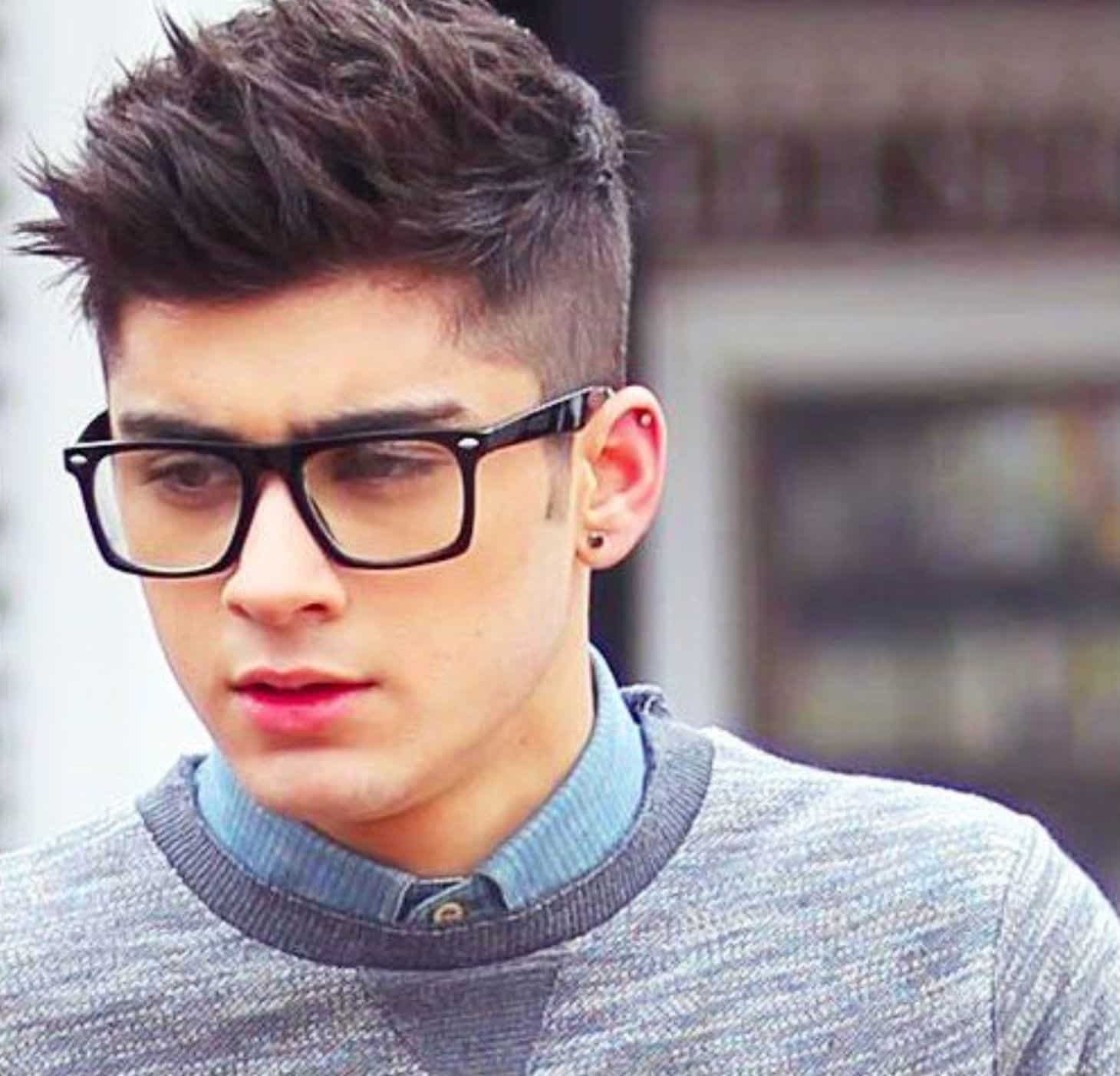 ↓ 16 – Hairstyle for Men with Beard
These mug shot-style photos show a neat, gelled oil-slick look supported with a thick beard and mustache. Such style is super easy for men who have slightly thin hair or their hairline is thinning. Men above thirty can opt for this hair look. A well-trimmed beard will look classy and well maintained with such a style. The look is more on the formal side, thus you can opt it on weddings and business meetings. You do not require any high-hold products for this look.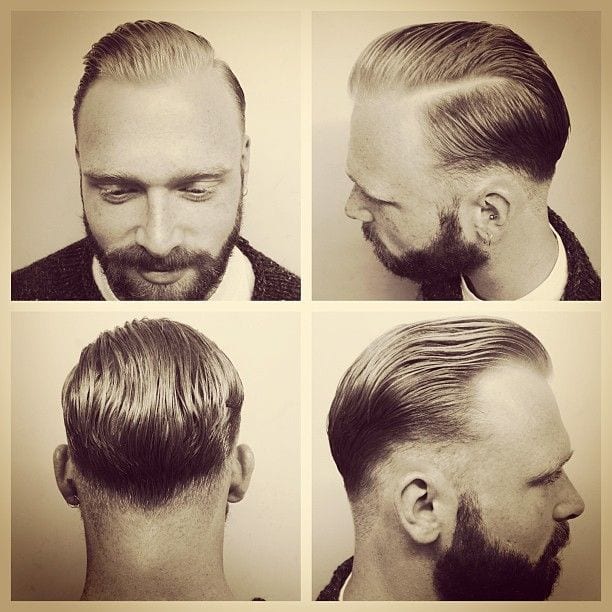 Source
↓ 15 – Caucasian Style Hair
Hair falling down onto the forehead, much like front fringe, incorporating a slightly tousled style with hair dyed in the lunar white shade is the class Caucasian look for young men who like to look unique and experiment with their hair bravely. It is extremely popular amongst younger guys, as it requires little maintenance yet looks really fun.
Source
↓ 14 – Under Cut for Long Hair
This hairstyle is a daring one, that can be flaunted only by those who are willing to step outside of the box and truly challenge themselves. Half the head is shaved, whereas the remaining side has long hair falling down, showing style and class, mixed in with funk. You can curl the longer hair or make them look glossy with the help of gels. This look is for those who had already grown their hair mid-length. The look is more appropriate for Asian men with tanned skin and dark black hair.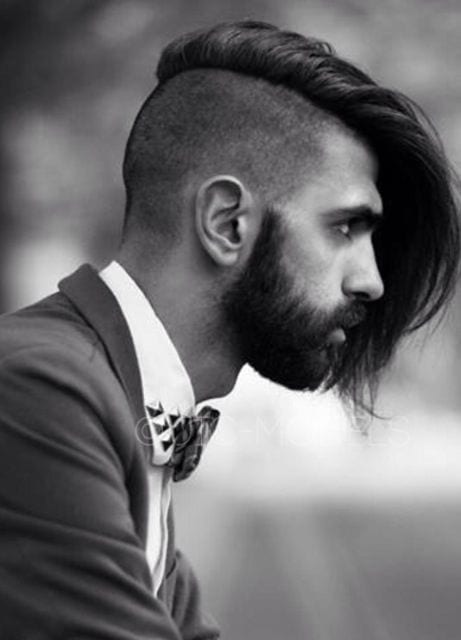 ↓ 13 -Big Hair Look for Men
This hairstyle has been set into place with a lot of gel and hairspray as the look require a bit of shine and quite a high hold to survive throughout the day, showing high upkeep and maintenance, which clearly depicts that the guy with this hairstyle has spent quite sometime blowdrying his hair. Such a look is perfect for those who have a lot of time on hand to spend on their hair and have volumized hair as well.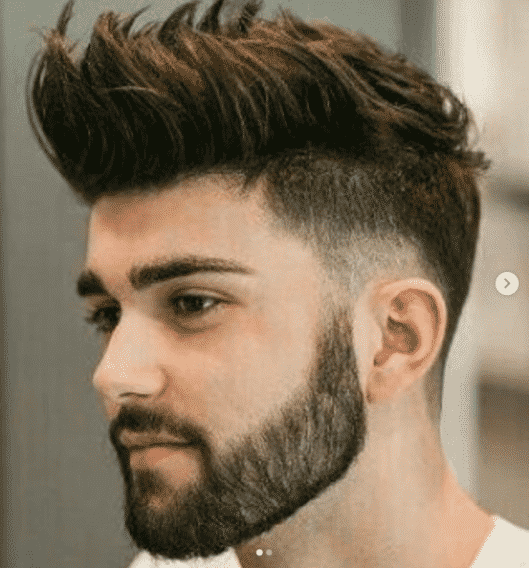 ↓ 12 -EverGreen Pomp Fades
This iconic hairstyle is loaded with hair gel, showing a glossy hairstyle and low fades from the back yet a clean, neat look from the front that has been pulled back. The style is perfect for daily college look as well as for a business meet-up. This style requires loads of gel and a round brush for rolling the hair back for perfect pomp.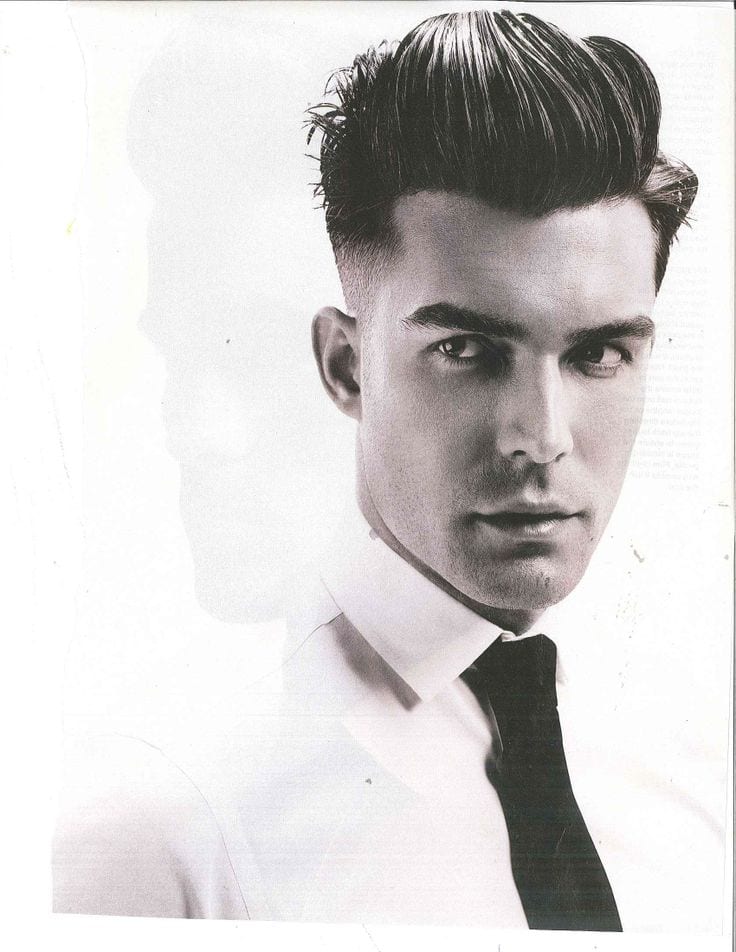 Source
↓ 11 – Fringes with Thick Beard
This hairstyle is a true representation of bangs and layers, with a lot of texture and movement, making this hairstyle chock full of charm, appeal, and class.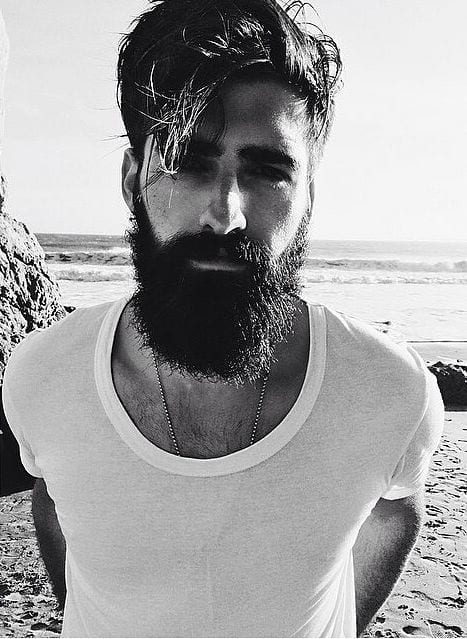 Source
↓ 10 – How to Style Side Long Hair?
Get a few layers on the front and leave the hair cascading on one side. Add a little hair mousse for volume and blow-dry the hair on one side. Move the round brush in inward motion from top to bottom while styling the rest of the hair towards the back of the head and you are all set to rock the side-parted long hair on any of the formal occasions.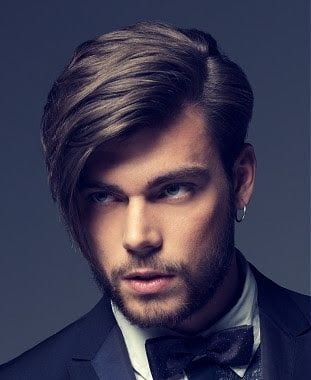 Source
↓ 9 – Style your Hair in Arab Style
Arab guys are known around the world for their hair and beard styling skills. They know exactly how to keep their hair and beard in order. A lot of men around the world get inspired by these cool Arab guys for their styling tricks. If you want to give your hair an Arab style then, start from your beard as Arabs love to keep their beards in a form i.e. trimmed and shaped. For the haircut, you can go for hair trimmed around the edges but fully grown towards the crown of your head. Add a little gel to your hair and dry them up in the upward motion towards the back of your head to get the perfect Arab pomp. Check out these trending Arabic Style Beards.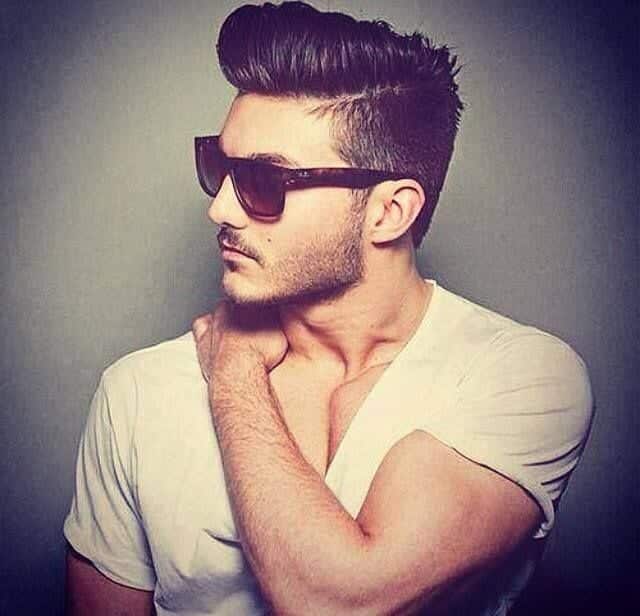 ↓ 8 – Hair to Go with Glasses
We know that wearing glasses can make you look like a nerd most of the times, but a cool cut can definitely minimize the nerd vibe oozing from the glasses, however, you can go all retro with just the appropriate hairstyle and the classic vintage frame.  The best option for you is to keep the hair parted sideways and then use hair gel to keep your hair in place.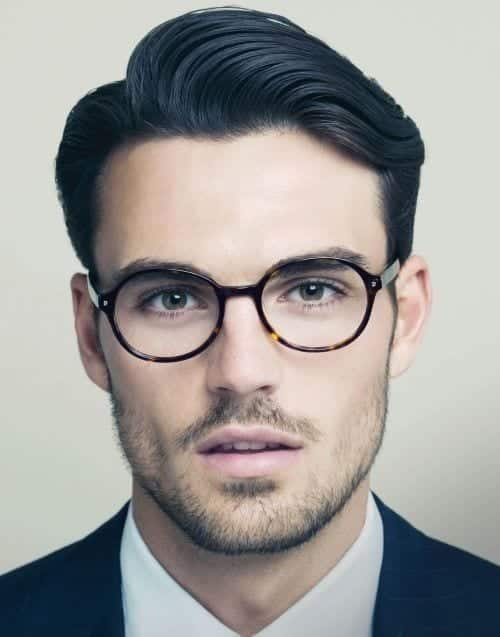 Source
↓ 7 – Beach Hair Day 
Beach swag hairstyle is all about going all messy with not only your hair but your beard as well. To execute this look perfectly, you only need to add a volumizing product to your wet, out of shower hair. This is going to let your front locks hold so as to make them look like a big yet chic mess. The messy hair with the scruffy beard will make you look exceptional for your beach day with fam or friends.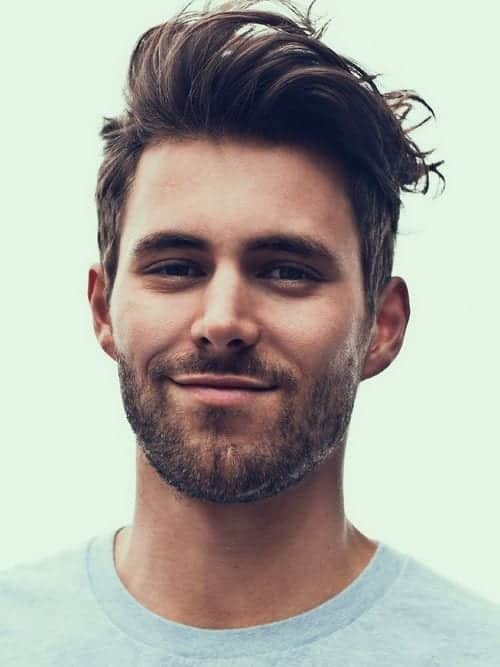 ↓ 6 – MDV's Latest Hair Look
The Italian blogger has been seen with experimenting with multiple looks which turn out to be just perfect for any guy with chiseled facial bones and a thin beard. Grow your hair to mid-length and blow dry them all the way back for this look. A good hold is mandatory for this style, so get yourself a high-end hairspray for keeping the look for long. For the ultimate style guide, check out these MDV Hairstyle Tutorials.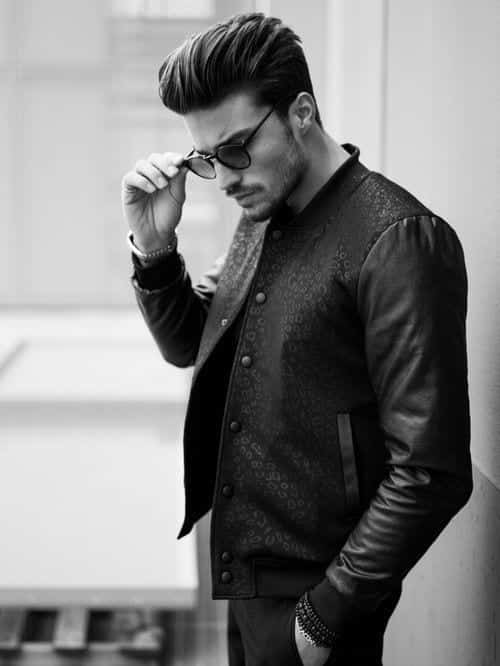 ↓ 5 – Korean Swag Cuts
Korean swag means flicks and strands falling all over your face in an emo style. If you are in love with K-Pop sensations and want to add a Korean vibe to your style, then get your hair a slightly emo cut with a lot of steps and layers in them. Put some setting spray in your hair after styling them in a Korean way.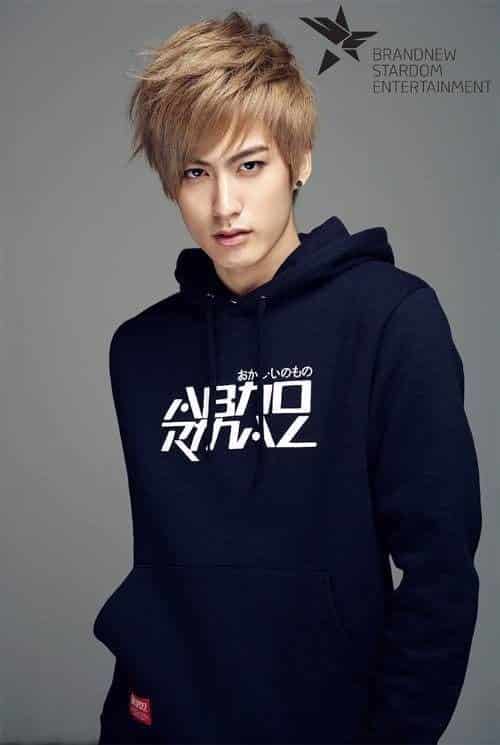 Source
↓ 4 – Undercut with Long Beard
Undercuts have been trending with long beards for quite a long time now. The hipster look asks for a chic cut with some low fades and gelled up hair. Men above thirty can slay this look anytime. To add texture to the hair at the front, use some comb.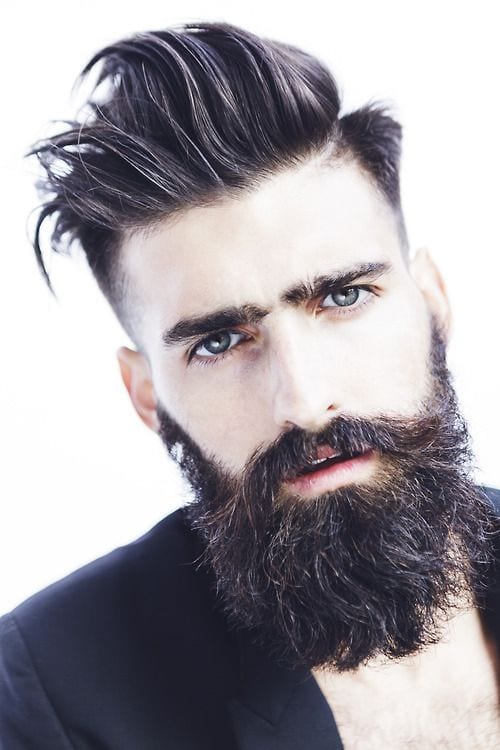 ↓ 3 – Latest Teen Cut
A bit of a side fade with hair comb up to one side is the new hair trend for the teenage guys who love to keep up with everything new. The cut is quite youthful and easy to style. Get some gel and set your hair to one side and flaunt the look with confidence.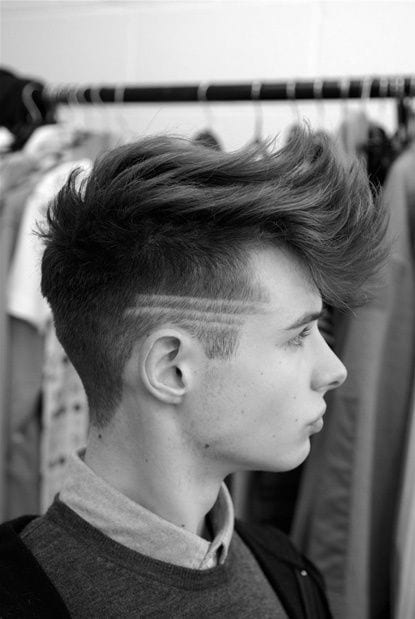 ↓ 2 – Hairstyle with Moustaches
Styling with a mustache is a bit complicated to do as you want all the attention to your mustache and want some subtle hair cut. Most of the guys with facial hair obsession want a hairstyle which is super cool yet not as dominating as their facial hair. For that, you gotta get a cut such that the hair at the front of your head remain long so that they can be gelled back in a slick back retro style and do not fall all over your face. The look is also a bit vintage and perfect for men above 40s who do not want to go for complicated hairdos all the time. Moreover, keeping your facial hair in form is also integral to the perfect hair look.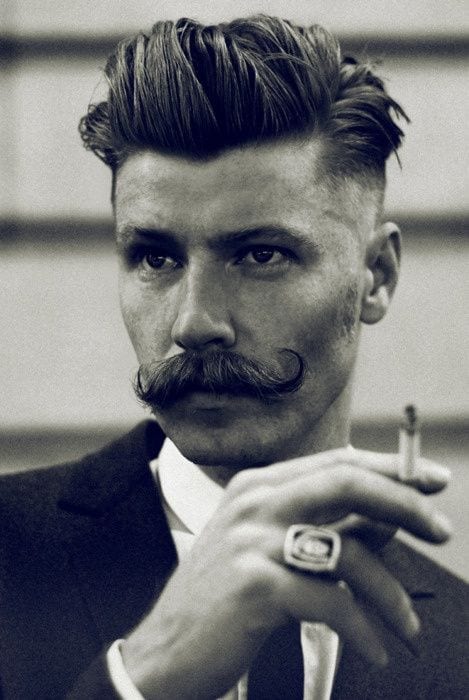 ↓ 1 – Justin Bieber's Popular Style
A number of young men out there want to style their lock exactly like the singing sensation of the times, Justin Bieber. His hair-dos are getting a lot of attention due to their cool vibes. Nowadays there are many professionals who work on clients to recreate celebrity hairstyle and beard style. Get your appointment for a cool cut with high fades and top low pomp. The look is super easy to style yet complex to create.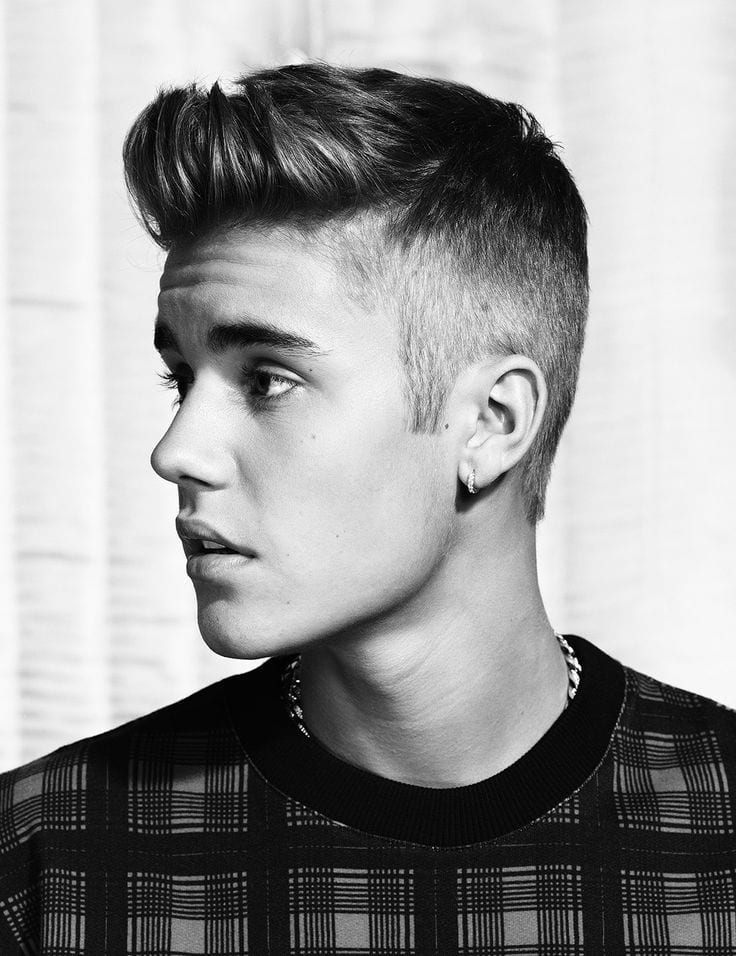 Source
Getting a cool cut is quite emphasized but maintaining a cool cut is also not an easy job but with time and practice, anyone would get used to it. Also, getting the right products for your hair is extremely necessary for keeping your hair healthy at the same time. Experiment with colors and styles to create trendy looks and do not forget to own it with confidence.