Best Haircuts And Hairstyles According To Face Shape- A good hairstyle definitely adds to your natural beauty. Life becomes more beautiful when you meet the right dresser, but you should know which hairstyle will suit you the best before you decide to get a haircut. Your hair can help in elevating your mood. Unfortunately, there are so many haircuts and hairstyles available. This makes it super confusing to select a hairstyle that suits you and is according to your face shape. This article discusses the common face shapes and helps you figure out hairstyles according to face shape.
Different Types of Face Shapes
Your face shape plays a huge role in deciding how a certain hairstyle will look on you. There are 7 main face shapes – round, oval, oblong, square, heart, triangle, and diamond. In addition, some hairstyles allow flattering each face shape. Well, now that you know about the main face shapes, you must be wondering which one I have? Don't worry; we'll guide you to figure out what face shape you have.
What Face Shape Am I?
Now that you're ready to know which face shape you have, start by focusing on the features of your face and while looking straight ahead into the mirror, or you can take a picture from the camera. Next, focus on the geometric figure that resembles your face.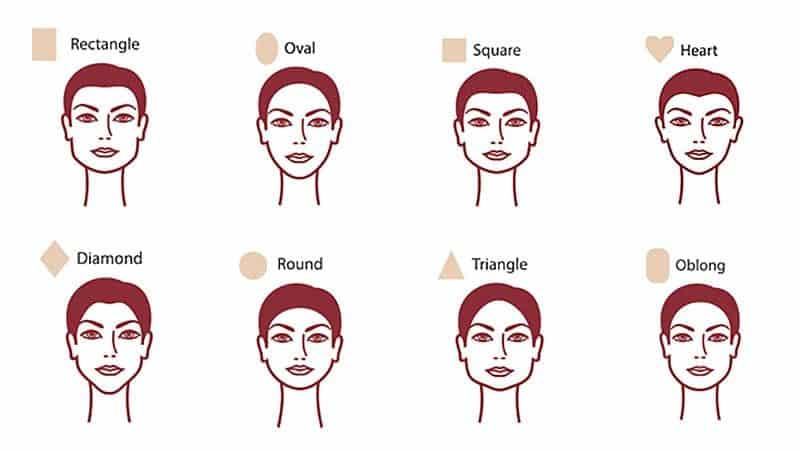 To help you further, there are some popular ways to figure out which face shape you have. It would be best to start by taking a measuring tape and measuring your face's length at the widest points. If the length and width of your face are the same, it means you have a square or a round face. Suppose the length is longer than the width. Then you might have an oval face shape. If the width is larger than the length, you might have a heart or diamond-shaped face. It might take some experimenting to see what suits you best. Then, you can use these guidelines to understand your face shape better.
What Is The Best Hairstyle for Different Face Shapes?
Before getting started, there are a few tips and tricks that can help you in making your hairstyle stand out and last much longer.
Tips and Tricks for Hairstyles
Know the type of hair you have. This can help you in deciding which hairstyle to go for and heating tools to pick up.
Choose hair products on the basis of your hair thickness. If you have thin hair you should opt for volumizing products and if you have thick hair, you should go for lightweight products.
Get the right tools. This will help you in achieving the desired hairstyle that lasts much longer.
Embrace your hair texture. This plays an important role in making sure that your hairstyle stays without becoming greasy.
How to know what hairstyle is best for your face shape? Well, here are the 20 best hairstyles according to your face shape to help you decide what will suit you the best.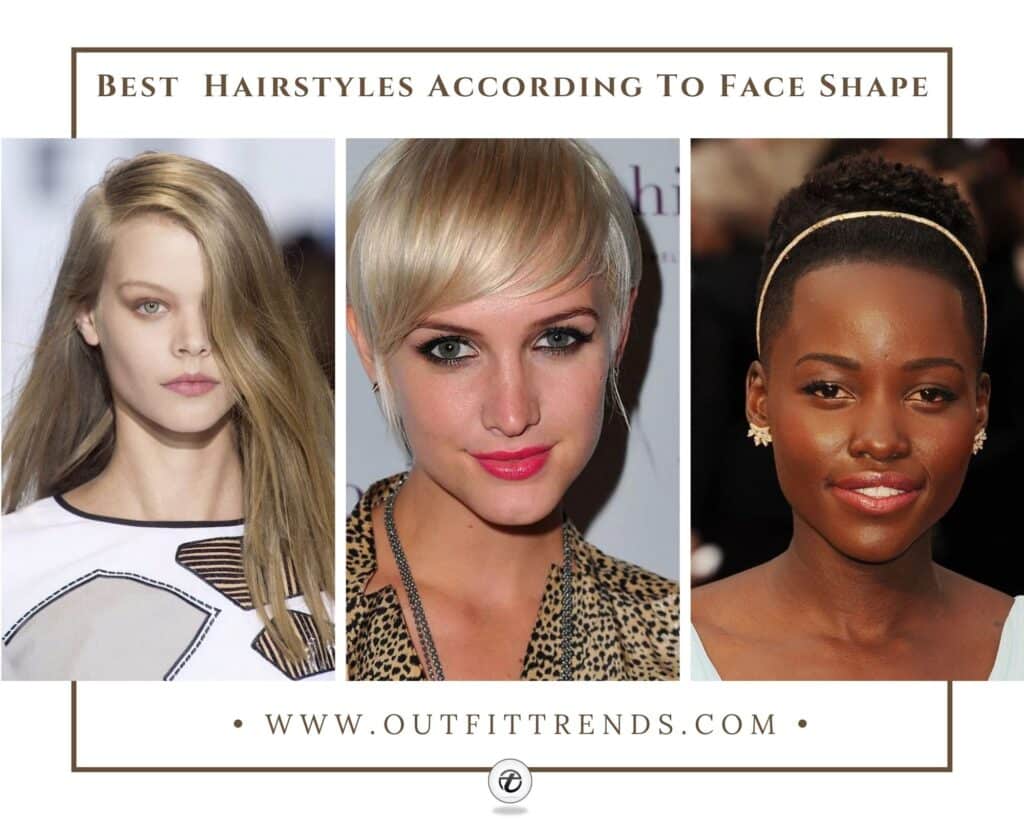 ↓ 20 – Soften Sharp Angles for Square Face Shape
Do you have a square face shape with sharp angles? You can go with wispy round layers can help in softening these angles to bring more attention to other features of your face. Adding long side bangs can also help in adding more dimension to the face and provide a sophisticated look. You may also like 13 Best Long Hairstyles For Women Over 50 To Try This Year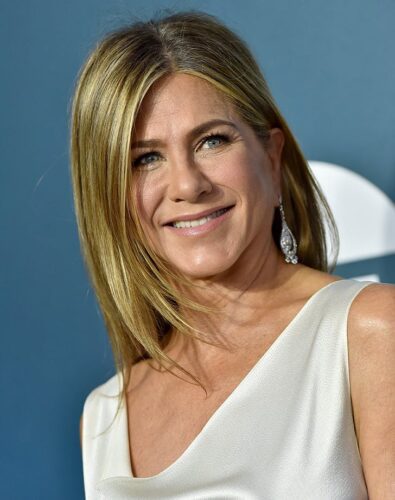 ↓ 19 –  For Diamond Face Shape
There a few things to keep in mind before picking a hairstyle for this face shape. You need to choose a hairstyle that takes attention away from your cheekbones by making middle part. Consider adding blunt front bangs to shorten the length of the face and add curls and texture to the hair to add more volume and soften the angular features of the face.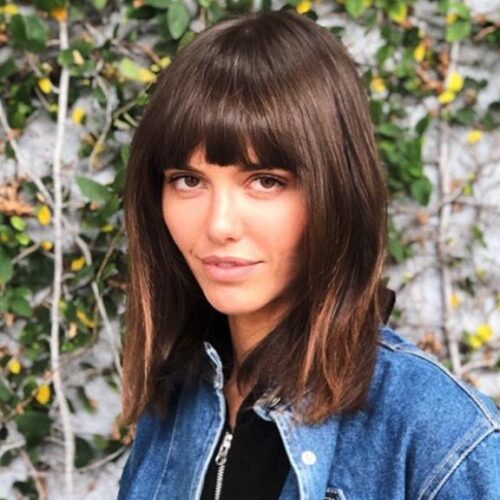 ↓ 18 – Side Swept Bangs for Diamond Face Shape
Side swept bangs help in softening the angles of the face. To further make your face to appear longer and less wide, side part with bangs can help as it emphasizes on one side of the face giving you a more voluminous look. This hairstyle is a no brainer as it helps in creating an illusion of oval face and drives away attention from pointed parts of the face.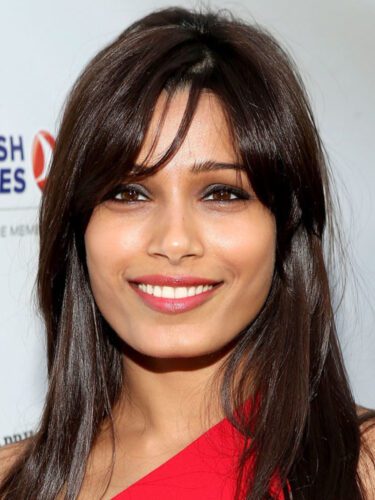 via
↓ 17 – Oval Face Shape Hairstyle
Buckett notes "Oval face shapes are the most universal for Bobs". Bob hairstyle looks more flattering on oval face shapes. A bob cut is never out of style and to make your face appear more narrow, blunt bob will be the best option. Try cutting your lob with a blunt line to make your hair appear more fuller. You don't have to worry about your hair type as this hairstyle makes you hair look voluminous no matter what type it is. This hairstyle helps in highlighting your cheekbones and jaws and hide forehead to make your face look longer.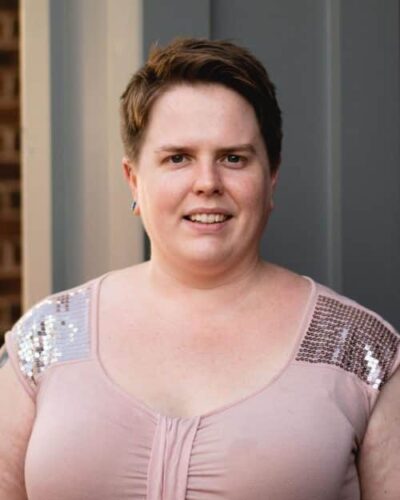 ↓ 16 – Long Layers for Square Face Women Over 50
Long layers help in bringing attention away from the shape of the face. You can go for face framing layers to bring attention to just the right features and give you a more youthful look. Long layers ensure that your face does not appear round or heavy and gives an illusion of a more defined face. You may also like 28 Elegant Hairstyles For Women Above 50 To try In 2021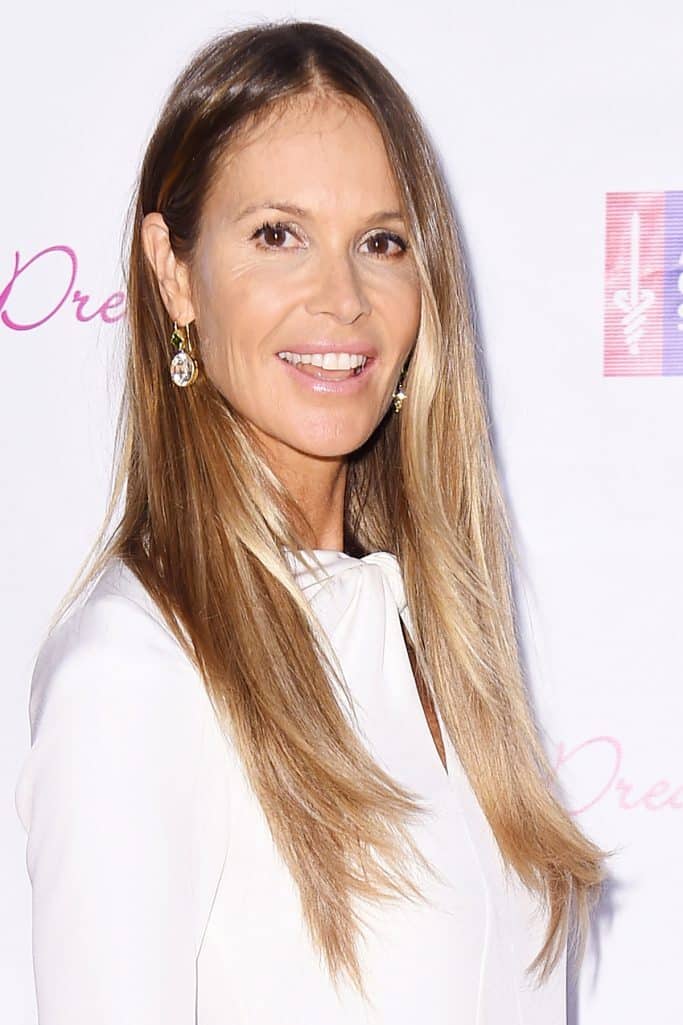 ↓ 15 – Shoulder Length Lob for Heart Face Shape
Lob is a great haircut and works well for heart shaped faces. The length should be kept till shoulder to look best as it adds more volume to the bottom of the face to create an illusion of more wider face balancing the heart shaped face. Furthermore, this haircut will frame the face and highlights cheekbones.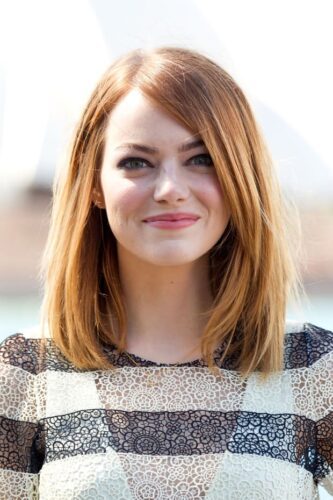 via
↓ 14 – Deep Side Part for Heart Face Shape
Small changes can have a big impact, shifitng your parting to deep side from center allows adding more depth to your face. Adding loose waves at the end of the hair will help in making to look come together and appear more sleek yet sophisticated. Teasing the crown section of your hair after deep parting also adds dimension to the hair and helps in improving hair texture. You can also make a ponytail with a sleek deep side part for a gorgeous evening look.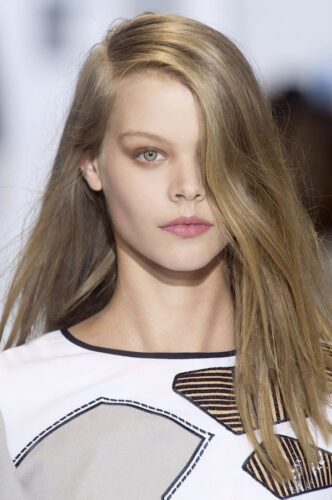 ↓ 13 – Shoulder Length Waves for Round Face Shape
Shoulder length haircuts flatter all face shapes. But they suit round faces the best. The reason behind is that such hairstyles help in balancing the features making the face appear slimmer by framing face ever so slightly. The most flattering hairstyle will be to add waves to the hair using a large barrel curling wand. This will give a more defined and chic look while making your natural features stand out. You can also make a loos updo and leave a few tendrils around the face to add more dimension. Here are some more of my favorite Short Hairstyles For Girls With Round Faces To Try.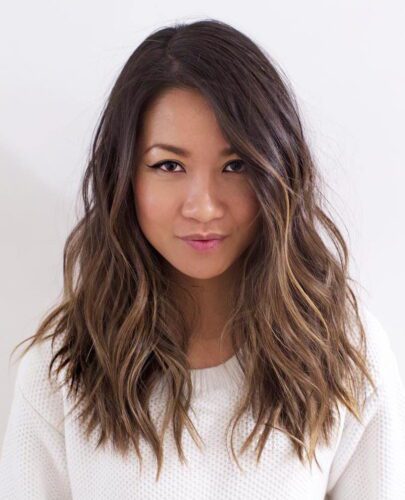 ↓ 12 – Pompadour for a Thicker and Voluminous Look
Regardless of what your face shape is, you can rock this hairstyle. It makes hair appear more thicker even if you have fine hair. It is a hybrid hairstyle and has a contemporary playuflness to it that makes it super attractive and trendy.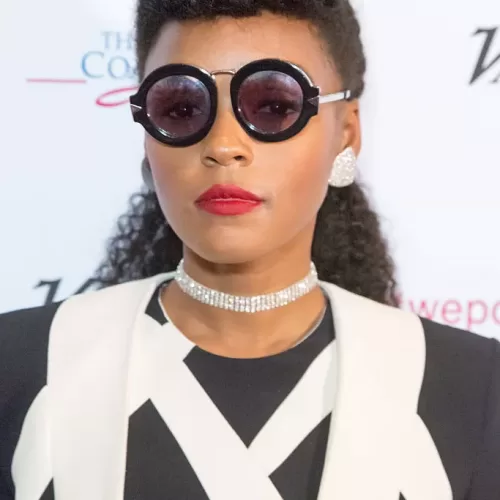 ↓ 11 – Curtain Bangs for Round Face Shape
Curtain Bangs appear to be soft and prevents the face from looking heavy by keeping the middle slightly apart. You have a variety of options to choose from, you can go with curly curtain bangs to pair with curly hair type or create a more laidback whimsical look by making a messy bun.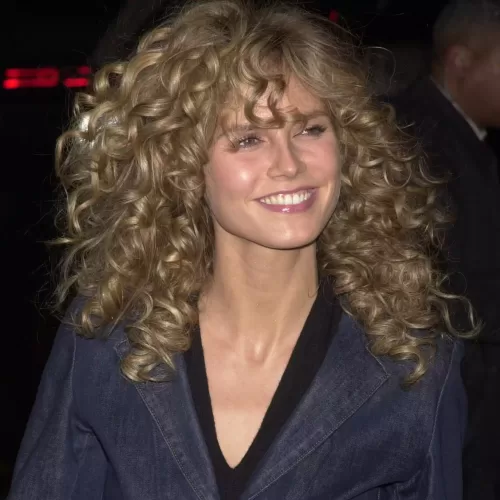 ↓ 10 – Soft Swipy Side Swept Bangs for Square Face
This haistyle will suit your square face as it emphasizes on strong jawline. This hairstyle can work well with fine, straight as well as thick hair. You should definitely go for this one if you're looking for a hairstyle that is easy to maintain while keeping it sophisticated and classy.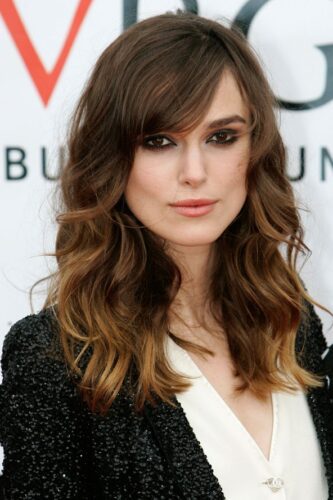 ↓ 9 – Layered Highlights for Square Face Shape
Creating a long layered fringe with highlights in your hair will help you in making your face appear more framed and gives you a sophisticated look. This hairstyle hides the curves of cheeks and chin and gives elongated volume to give an illusion of longer face. This hairstyle also cuts down on roundness of the face.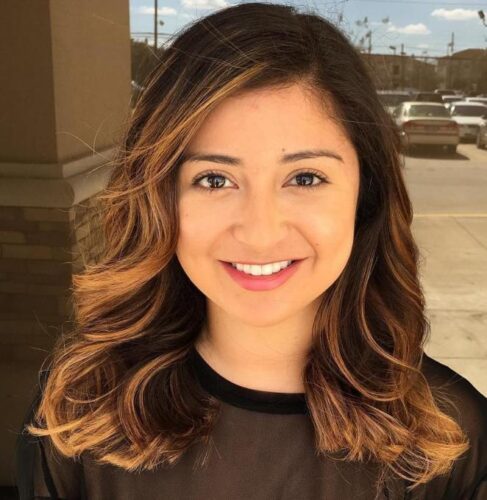 ↓ 8 – Shaggy Pixie Cut for Triangle Face Shape
Do you want to keep some length on hair but still want your face to appear wider. A shaggy pixie cut can help you with this, it comes with longer hair fall down from the front of face on the left side. This gives an illusion of a wider face.
↓ 7 – Layers Finishing at Cheekbones for Triangle Face Shape
This hairstyle helps in adding volume closer to the cheekbones and adds to the width of your face. This helps in framing the face and helps in making it appear more prominent giving an illusion of a rounder face. The face becomes more angled towards the chin adding more length to face.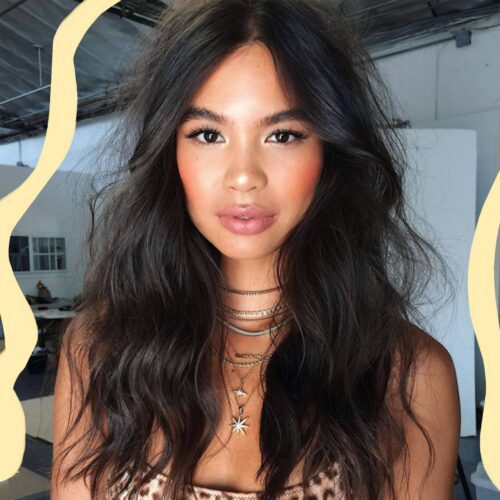 ↓ 6 – Classic Pageboy for Oblong Face Shape
This style is a bit on the dramatic side and it is perfect for you if have an oblong (long) face with hair on the thicker side. The bangs in the front help in adding dimension to the face making it appear more wider. This hairstyle further adds to the volume of your hair along with texture.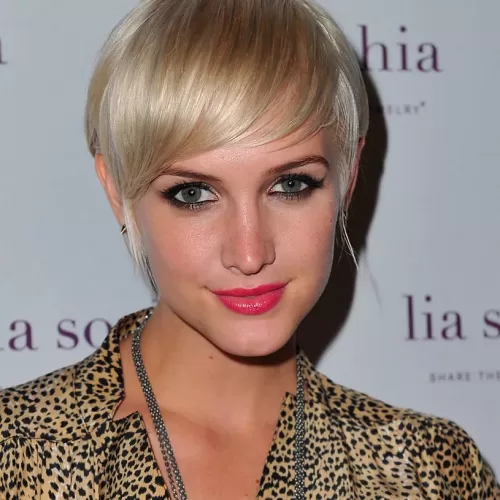 ↓ 5 – Assymetrical Choppy Lob for Oblong Face Shape
For oblong faces, the best haircuts are the ones that go round the face. In case you have an oblong face with a wider forehead, you should opt for asymmetrical choppy lob. This will help in hiding the forehead partially and bring more dimension and texture to your hair. Big voluminous blow out can further help in making the hair stand out and help balancing the shape.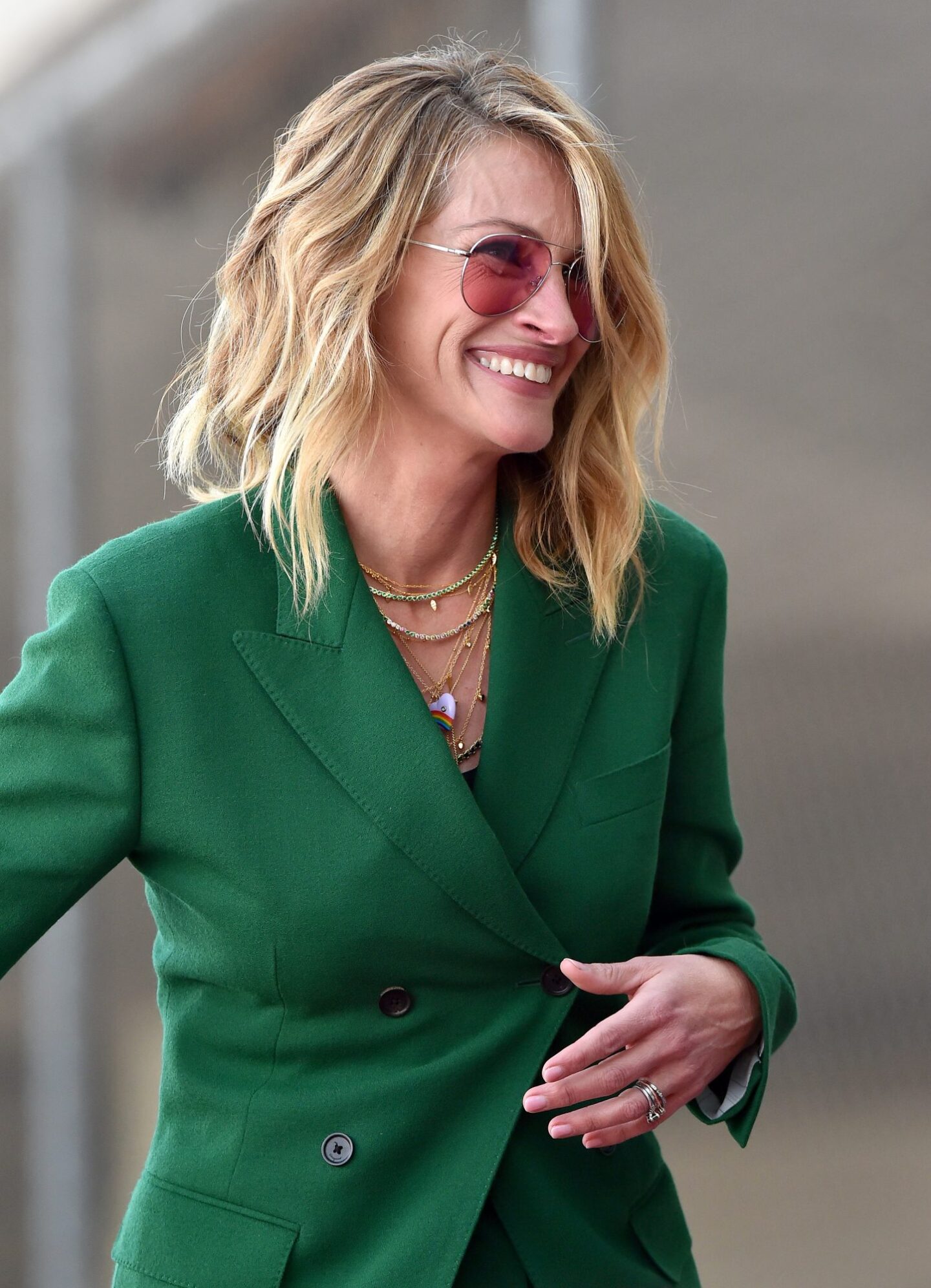 ↓ 4 – Eye Brow Grazing Bangs with Layers For Long Face Shape
If you have thinner hair then layers with bangs grazing on the eye-brows is a perfect choice for you. This hairstyle can be applied on both long as well as shoulder-length hair. The length of the bangs will be at the eyebrow level grazing your cheekbones to add width to the face making it less long.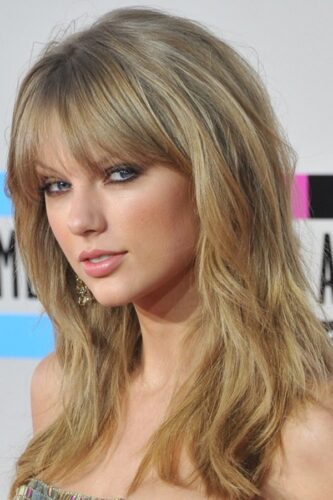 via
↓ 3 – Cute Bob for Face with Chubby Cheeks Shape
Are you looking for a hairstyle that can suit your gorgeous round face with chubby cheeks. Bobs are the way to go. But make sure that you do not go shorter than your chin's length to get a more elongated look. A cute bobpaired with an off-centered side part can help your face look even more slimmer and allows popping out your eyes. This hairstyle can work perfectly for any occassion. You may also like 20 Cute Bob Haircuts & Hairstyles For 2021 That You Must Try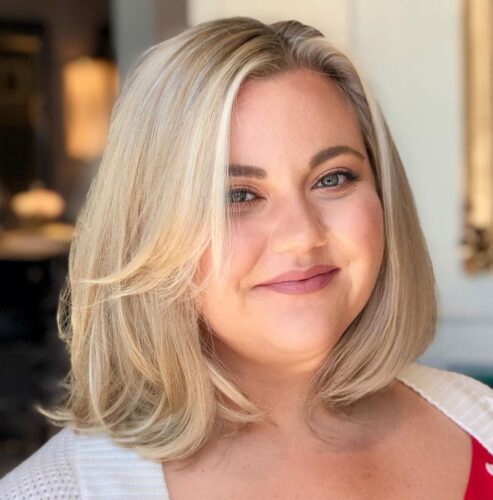 ↓ 2 – Blunt Bangs with Straight Hair For Oblong Face Shape
Bangs help in shortening the appearance of forehead making the face wider balancing the length of the face. This hairstyle is great if you want to draw attention to your eyes and divert attention from your forehead. This hairstyle can work well with both straight as well as wavy hair. This hairstyle is perfect if you want your face to appear shorter than it really is.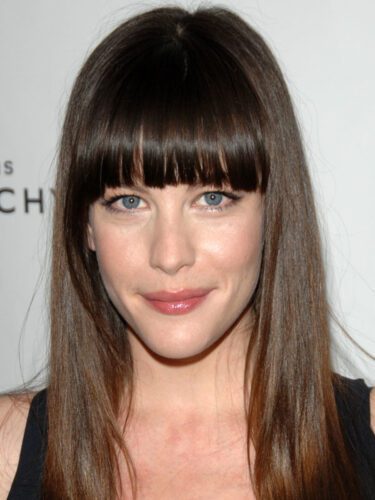 via
↓ 1 – Messy Hair Bun According to Your Face Shape
In case you have a oval face shape with high cheekbones and not too wide forehead, every possible hair bun will suit you. You can go with bangs, without bangs, all the styles will look good on you. You can go with side swept hair with slightly low hair bun if your face shape is square. Go with a mid height bun to balance your angular chin if you have a heart face shape. If you have longer or a diamond face shape and want to give an illusion of round face, go with a low bun ending at the side of your neck.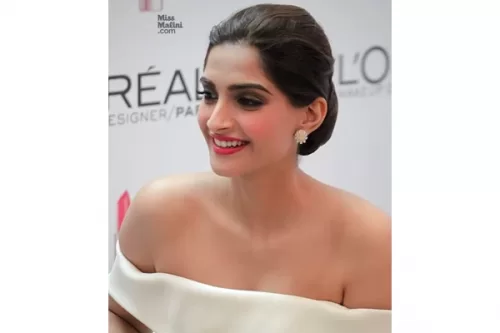 FAQs
Q: What is the rarest face shape?
Ans: Diamond face shape is considered to be the rarest one out of all the face shape. People with diamond face shapes have wide, dramatic cheekbones, and the forehead and jaw are on the narrow side.
Q: What is the most attractive face shape?
Ans: Oval and heart (V-shape) face shapes are scientifically proven to be the most attractive ones. Also, this face type puts extra focus on the smile and makes eyes more prominent, making a face appear attractive.
Q: How do I decide on my haircut?
Ans: Take a measuring tape and measure the length and width of your face. Then, match it with the seven main face shapes. Select the one that resembles is your face shape.
Q: Which hairstyle suits my face?
Ans: Based on your face shape, you can decide which hairstyle will suit you the best. You can find suggestions based on your hair type, hair length as well as the shape of your face.
Q: Does hairstyle affect face shape?
Ans: Yes, this is one of the major things that affect the way your face appears. There are hairstyles that are more flattering to different face shapes and help you in highlighting or hiding certain parts of your face.