Red Dress Makeup Ideas When it comes to styling a red dress, few things can make or break a look like hair and makeup. If you are attending a formal gala, for example, the last thing you will want to do is show up with a dowdy hairstyle or a garish makeup look. The finishing touches to any great red dress outfit is always going to include a lovely hairstyle and, if you wear it, some well-applied makeup.
So if you are here today because you were wondering, how should I do my makeup with a red dress? What hairstyle goes best with my dress? Can you wear red lipstick with a red dress? You have come to the right place. In today's article, we are going to be covering everything from what color eyeshadows to wear (and avoid), to picking out the right shade of lipstick. Plus, we'll even go over what colors go best with red, how to pick the right red for your skin tone, and what color shoes to wear. Consider this your go-to guide for styling a red dress, no matter what kind of occasion is knocking on your door.
What Makeup Goes With A Red Dress?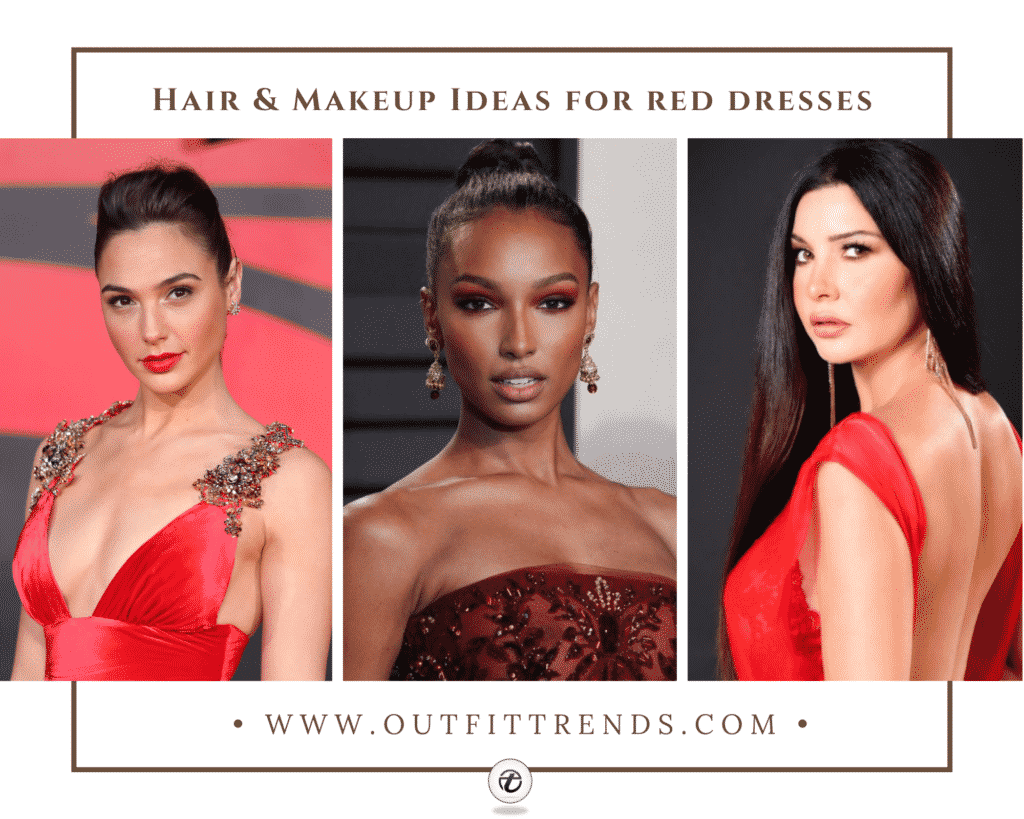 Styling a red dress is a fantastic opportunity to make a lasting fashion statement. Whether you are attending a wedding, a Valentine's Day dinner date, or simply wanting to bring some bold color into your everyday wardrobe, there's a little something here for everyone. Keep reading to find out all the ways you can rock your own red dress outfit with style and aplomb.
Dos and Don'ts for Makeup with a Red Dress
Red is a bold, statement-making color that tends to outshine all others, so chances are, if you are wearing a red dress, you are going to be drawing some attention. Make sure that when you do, you have all your ducks in order by having just the right hairstyle and makeup to complement it… and not ruin the look. Here are some dos and don'ts that should help!
Don't wear a clashing red lipstick. In other words, if you are going to wear red lipstick to match your dress (a beautifully classic pairing, by the way!) don't wear a lipstick in a clashing shade of red. You should try and match your lipstick as close to the same red as your dress so that you aren't wearing, say, orange-red lipstick with a deep red frock.
Do pay attention to your skin tone when deciding on what red to wear. There are so many kinds of red, after all. If you have cooler toned skin, brighter shades of red pair well, as do jewel tones of red. If your skin is warmer toned, consider more earthy tones of red. Darker skin looks beautiful with wine-red and berry tones.
Don't wear garish eyeshadow like blue, yellow, or other bright, primary type of colors. While you can certainly opt for glamorous eye makeup like a smoky eye, you'll want to stick to neutral tones.
Do give a simple, natural makeup look a try. Red is such an eye-catching color that you don't want to overdo the "loudness" of your overall ensemble with too crazy a makeup look. Nudes and earth tones, especially ones that feature some gold, are classic and very flattering. If you need to polish up your makeup skills, do go through these Ultimate Makeup Hacks You Must Know About.
Do style your hair well, especially if you are dressing for a fancier event. You might consider a chignon, a French twist, an elaborate bun, or a sleek down-do. Most hairstyles will work, just ensure your hair is clean and do what you need to do to avoid frizz or tangles!
Now that we've covered those basics, let's look some different hair and makeup looks, as well as red dress styles, to inspire you and give you a good idea of what's possible.
↓ 23 – Matching Lipstick & Dress
The most popular lipstick choice for a red dress tends to be the matching red lip. It can take a little trial and error to get just the right shade (don't stress if it's not the exact shade, just make sure you are in the same range) so prepare to try a few before finding the right one!
↓ 22 – Hair and Makeup for Ladies Over 50
This gorgeous lady went for a side-parted fringe, tousled waves, and a strong eye. She looks absolutely fabulous with her over-the-knee boots and her long-sleeved dress, perfect for a date or a fun party!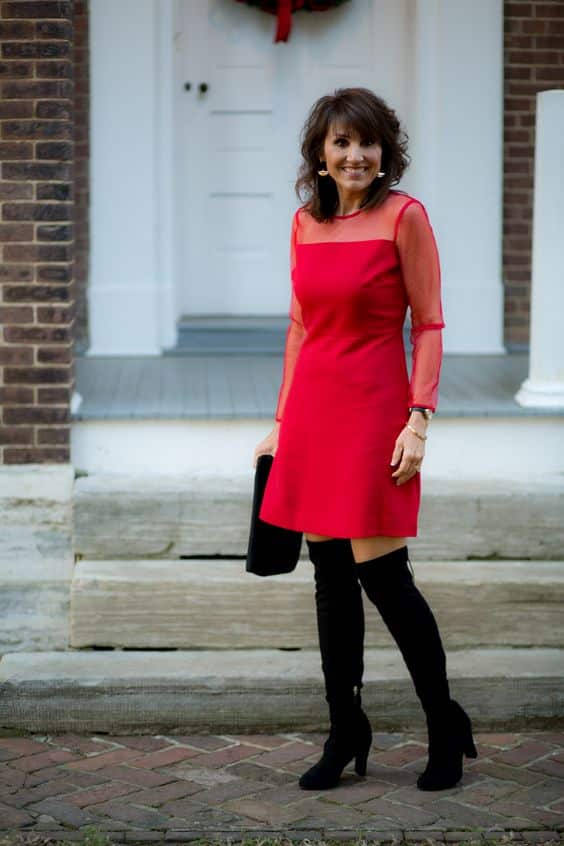 ↓ 21 – How to Style a Red Dress for a Wedding
A wedding is the kind of rare excuse that lets us really get glammed up. So, if you have the opportunity, go for it! For this look, a blowout will achieve that sleek but still voluminous hair. For makeup, go for a smoky eye, fake lashes, and a nude lip.
↓ 20 – Makeup for Red Dress Dark Hair
Here's a close-up for the dark-haired, hazel-eyed gals. With eyeshadow in shimmery tones and a matching red lip, this is one stunning look that is all glam without the overkill. Don't forget some smashing earrings to tie the whole look together!
↓ 19 – Hair and Makeup for Red Summer Outfit
A matching set can be a great substitute for a dress on a hot summer day. I love these simple accessories that pair so beautifully with the orange-red hue of the dress. You can tell the gal went simple on her makeup, going for a peachy nude lip and a sun-kissed finish, achieved with bronzer.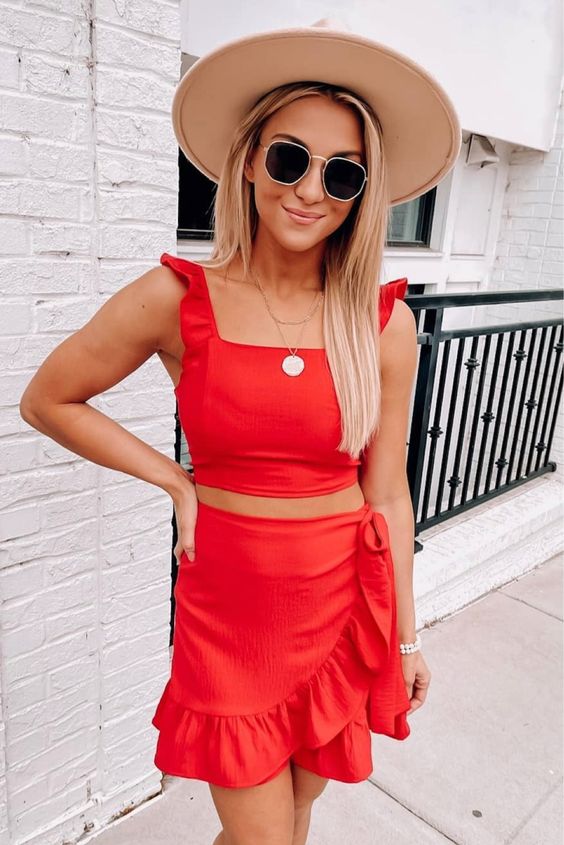 ↓ 18 – Prom Makeup for Red Dress
For prom, you might feel tempted to go all out with your hair and makeup. But sometimes, flat-ironed hair and a neutrals based makeup look is the best way to let your natural beauty shine. Skip the false lashes for this look and if you have naturally thin eyebrows, don't be afraid to embrace them! For more prom style inspiration, check out these Best Prom Outfit Ideas for Girls.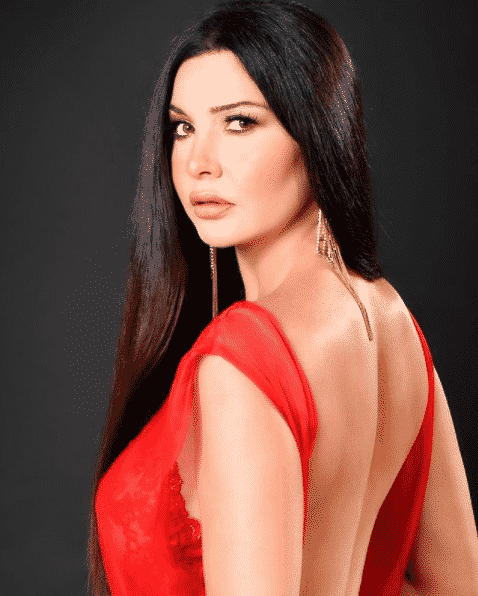 ↓ 17 – What Lipstick to Wear with a Berry Red Dress?
I love how this model went for a simpler makeup look with a nude lip to perfectly balance out her berry red dress. With black accessories and soft, wavy hair, this whole ensemble really lets her natural beauty take center stage!
↓ 16 – Wine Red Lipstick to Match Dress
While we can't see the up close details of this makeup and hair look, the overall effect is really gorgeous. You can see this gal matched her lipstick to her wine red dress, and she went all out on her eyes as well. This is great for a wintry photoshoot where those bold, alluring shades will stand out against all that snowy whiteness!
↓ 15 – Simple Makeup for Red Dress
Here is a great example of how beautiful a dewy, fresh makeup look can pair with a red slip dress. This gal wears her short hair straight and parted in the middle and her only accessory are some little gold hoops. From her lip gloss to her highlighted cheekbones, she enhances all her features in just the right kind of way.
↓ 14 – Natural Makeup for Red Dress
Oftentimes we see a really strong smoky eye paired with a glamorous dress. Here's another example of a simpler makeup look that features some strong lashes, bronzer, and highlight.
↓ 13 – Makeup for Red Dress Blonde Hair
If you love a preppy style look then give this one a try! She matches a hairband piece to her dark red lip and a long-sleeved dress over a white, collared shirt. The effect is super chic. You'll also note she went for filled-in brows, fake lashes, and some well-blended bronzer. The puffy headband might be stealing the limelight here though which is why I would highly recommend that you go through these Ways To Wear Puffy Headbands.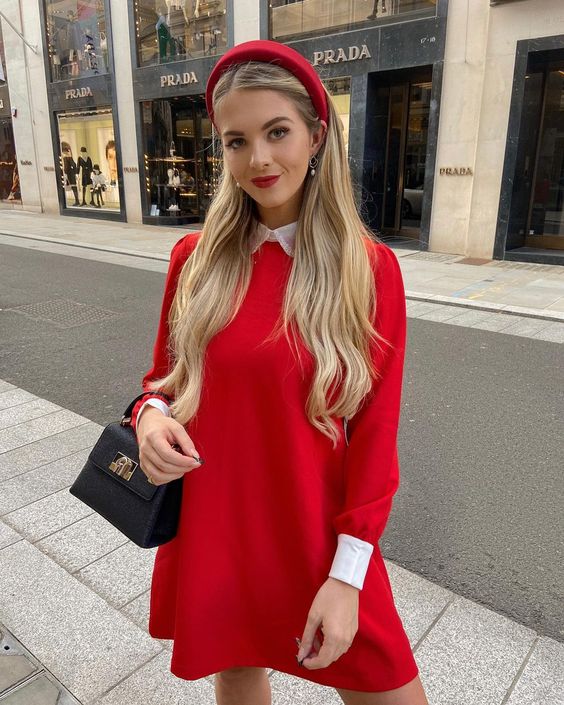 ↓ 12 – Classy Makeup
Here's another ensemble perfect for a wedding. She filled in her natural brows, not altering their shape, and went for some lighter shadow and mascara-d lashes. Finally, she matched her lipstick to her dress and earrings, and her hair is straightened with just a little bit of swish to it!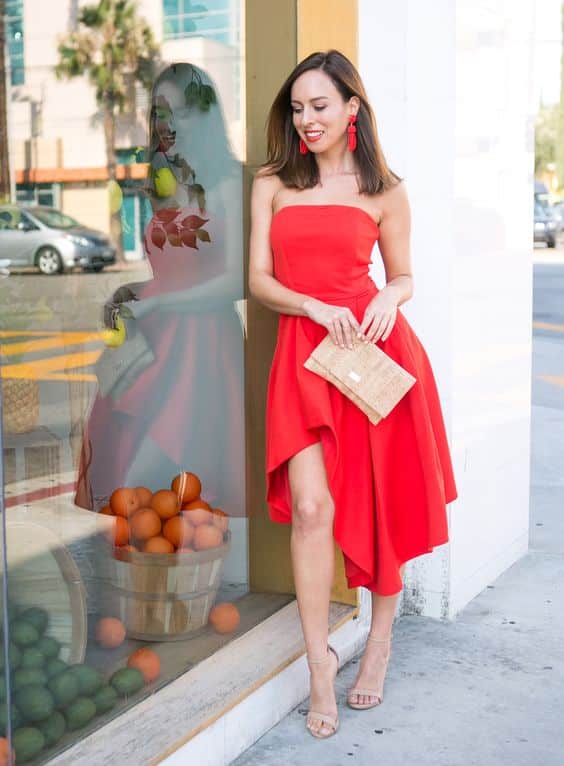 ↓ 11 – Sleek Bun & Bold Brows
To get that chic Parisian look, try a sleek bun with your hair parted down the middle and knotted at the nape of your neck. A bold brow, cat-eye, and red lip makes a stunning statement. Add some standout earrings and gold accessories to finish the look. If you're a fan of the bun hairstyle, do go through these Ways to Rock Half Bun Hairstyles.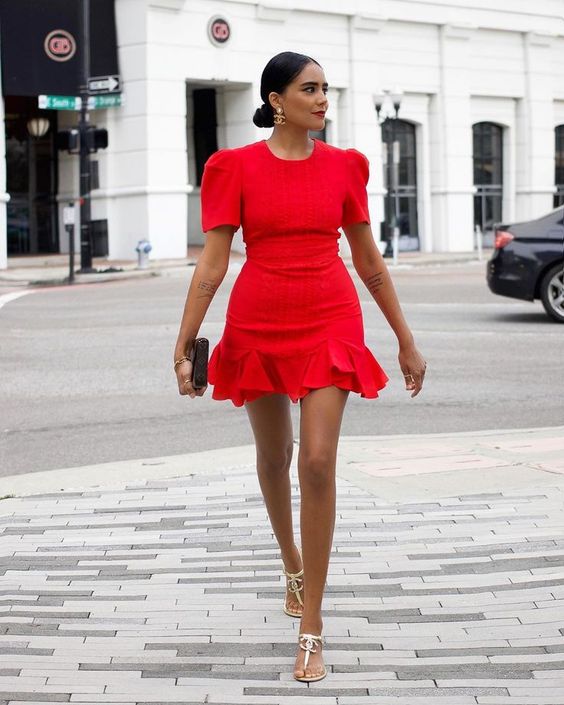 ↓ 10 – Silk Spaghetti Strap Dress and Pretty Updo
This pretty ensemble would be lovely for a date night or a semi-formal event. Soft, face-framing layers hang loose around the face with the rest of the hair pulled back in a low bun. The makeup look features earthy tones that beautifully complement this lady's olive skin!
↓ 9 – Makeup with Gold Jewelry & Red Dress
Picking out jewelry that goes well with a red dress is a simple feat once you determine a few things. Particularly your skin tone. Hopefully, you already have an idea whether your skin tone is cooler or warmer. Warm tones look very nice with silver while cooler tones are complemented by gold.
↓ 8 – Bella Hadid Curly Updo Hairstyle
When in doubt, check out how the celebrities do their hair and makeup for a red carpet event. You'll see that Bella Hadid went with a curly updo that sets off her famous cheekbones plus a dark red lip that is simply gorgeous.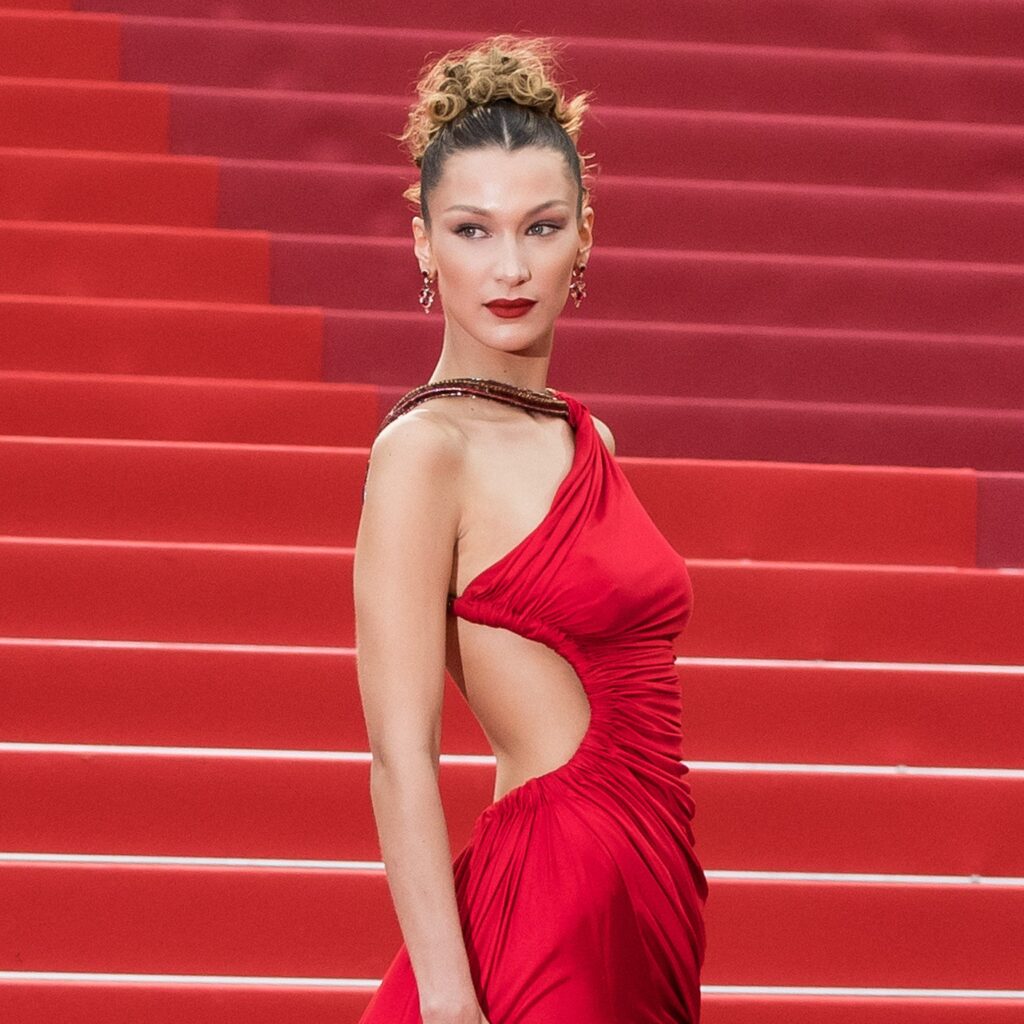 ↓ 7 – Megan Fox Tousled Waves Red Dress
Here is one of Megan Fox's classic looks that feature her strong brow, shimmery lip, and bronze eyeshadow. It looks fabulous with a strapless red dress.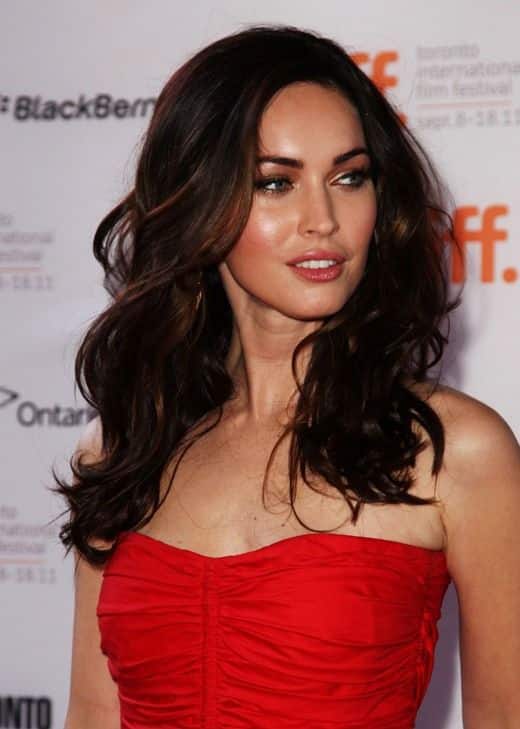 ↓ 6 – Smoky Eye Makeup for Darker Complexions
I'm in love with this overall look from the gorgeous smoky eye to the deep, dark red of the dress and matching earrings. The look is finished off with a beautiful high bun. This is great for keeping your eyes center-stage!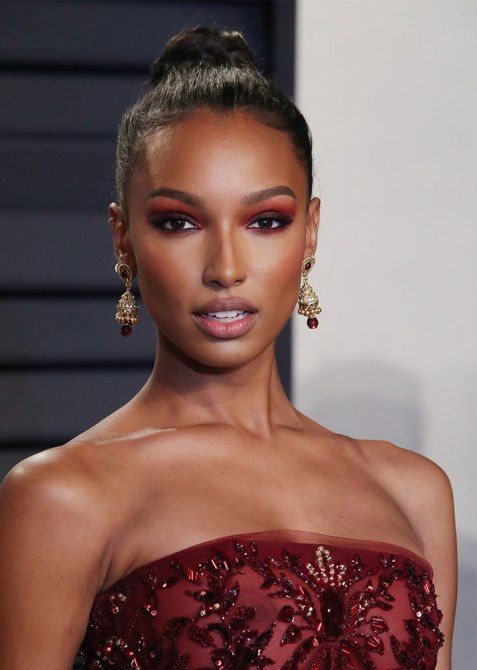 ↓ 5 – Emma Watson Sleek Side-Part Bun
What's not to love about Emma Watson's red lipstick and sleek bun! It's chic without overdoing it. Plus, this is a great makeup look for brown-eyed gals.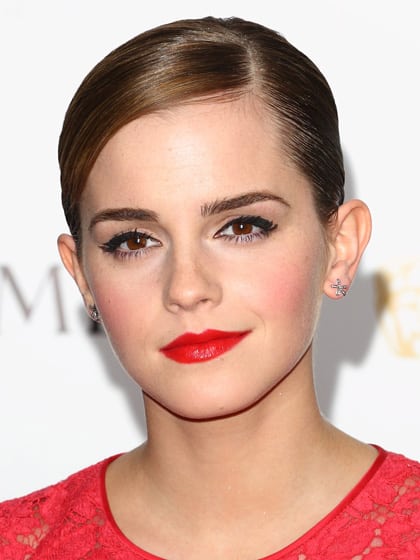 ↓ 4 – Rihanna's Makeup for Red Dress
Here's a classic Rihanna makeup look that really highlights her beautiful eyes.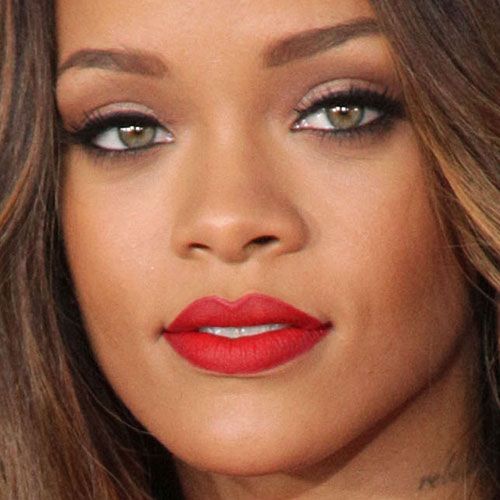 ↓ 3 – Red Dress with Gold Accessories
Headed to a summer party? Give this ensemble a try!
↓ 2 – Classy Updo and Fresh, Summer Makeup
From summer weddings to date nights, this sleek and chic look will have you feeling like a true fashionista!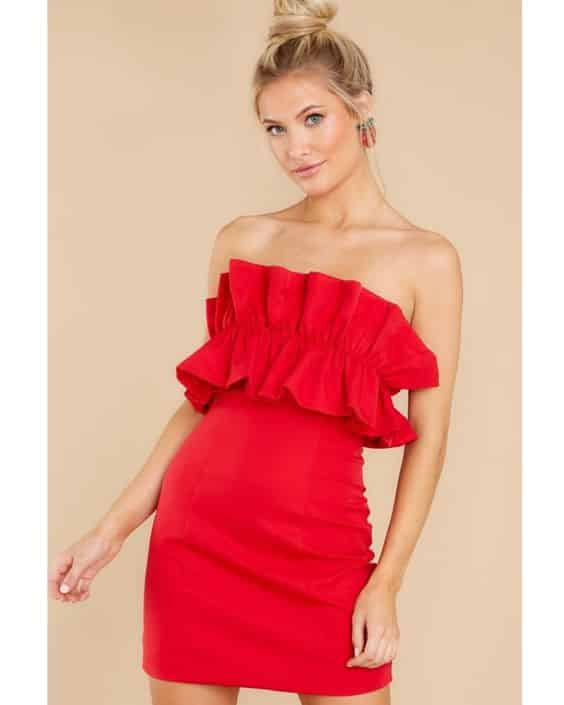 ↓ 1 – Gal Gadot Pretty Updo and Red Lip
Finally, we have Wonder Woman herself sporting a stunning dress, matching lip, and updo with a pompadour style. This is a classic look, perfect for a formal event or gala!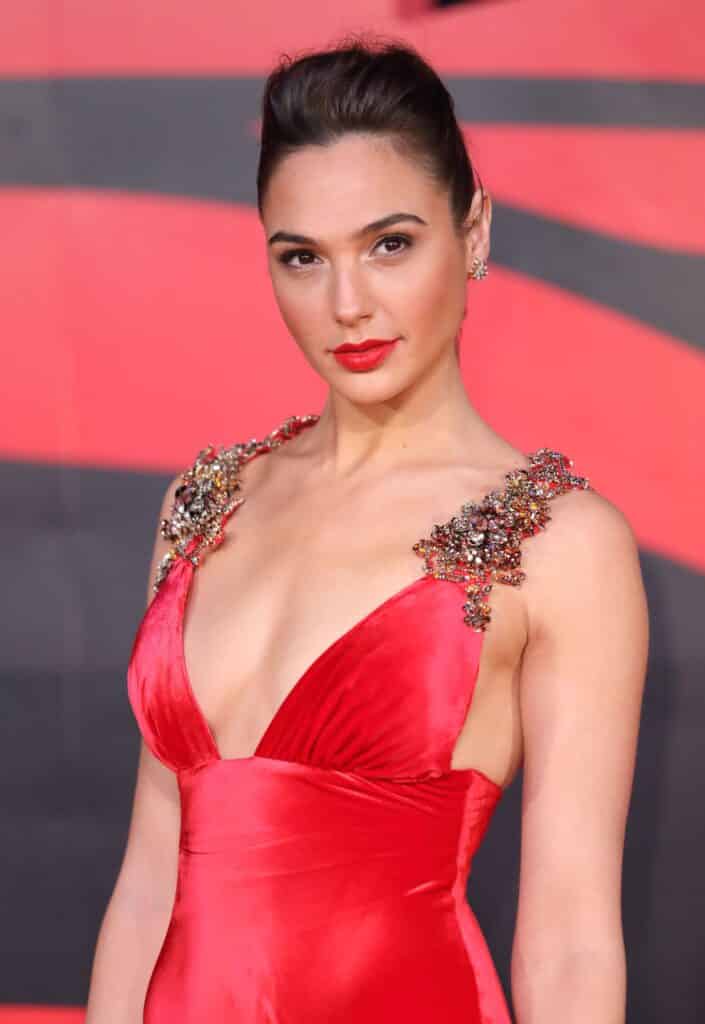 Frequently Asked Questions
Here are some frequently asked questions about wearing red dresses. Check them out!
Q. What color shoes should I wear with a red dress?
The most popular colors to wear with red are black, silver, and gold. So, when deciding on your footwear, look at those three colors as your main options. If going for silver or gold, opt for a metallic style heel or strappy stiletto. If you are headed to, say, a cocktail party, give black heels a try. You might also consider nude heels as a great option, and of course, if you can find shoes that match the exact shade of your dress, then give red shoes a try!
Q. What can I wear with a red dress?
Depending on the occasion, you might try a light shawl or wrap to wear over your red dress, particularly if you are attending a formal evening event. If you are styling a red dress for a casual outing or a summertime look, then you can try styling yours with flats and a jean jacket. Remember that in most cases, your red dress is going to be the centerpiece of your outfit, so wear complementary items that don't overwhelm your overall look.
Q. What color accessories with red dress?
When it comes to accessorizing a red dress outfit, everything boils down to the occasion. A casual, everyday look of a cute red summer dress is going to be accessorized very differently than an evening gala. However, for either occasion, I would recommend keeping your accessories simple. Stick to silver or gold jewelry and consider white or black as a complementary color, say, for a hat, a scarf, or a purse. You don't want to overdo the red so avoid red accessories unless you are absolutely confident that you can pull them off in a stylish way.
And that's all for today, friend. I hope you are feeling totally ready and prepared to rock your dress for whatever lovely occasion has come your way. Let me know in the comments what type of dress you plan on wearing!