Black Tie Events. Black-tie events are formal events held in the evening, usually after seven. These events are more sophisticated than regular social gatherings and business functions. Typical black-tie occasions include galas, milestone birthdays, award ceremonies, and formal weddings.
When you're attending such an event then following the dress code and being in a black-tie attire is a sign of respect to the party host. Black tie was born as a fashion concept in 1885 while white dinner jackets appeared in the 1930s, designed for wealthy holidaymakers because a black suit in tropical weather was barely suitable.
How to Dress for Black Tie Events?
Black Tie Dress Code. Black tie events represent the power of sophisticated consistency, but the overall message with the black-tie is uniformity and simplicity. Your signature style for black tie events should be something daring and prominent, so wear a well-fitted tux that is notable and worth remembering.  
The black-tie dress code sends a message of class and quiet confidence. The monochromatic uniformity of wearing a dinner jacket and a crisp white shirt is synonymous with elegance. Other items that you can choose to wear include a dinner jacket with matching trousers, a pleated white shirt, black formal shoes, and a bow tie. Wearing bright and fancy colors or patterns can often ruin your style.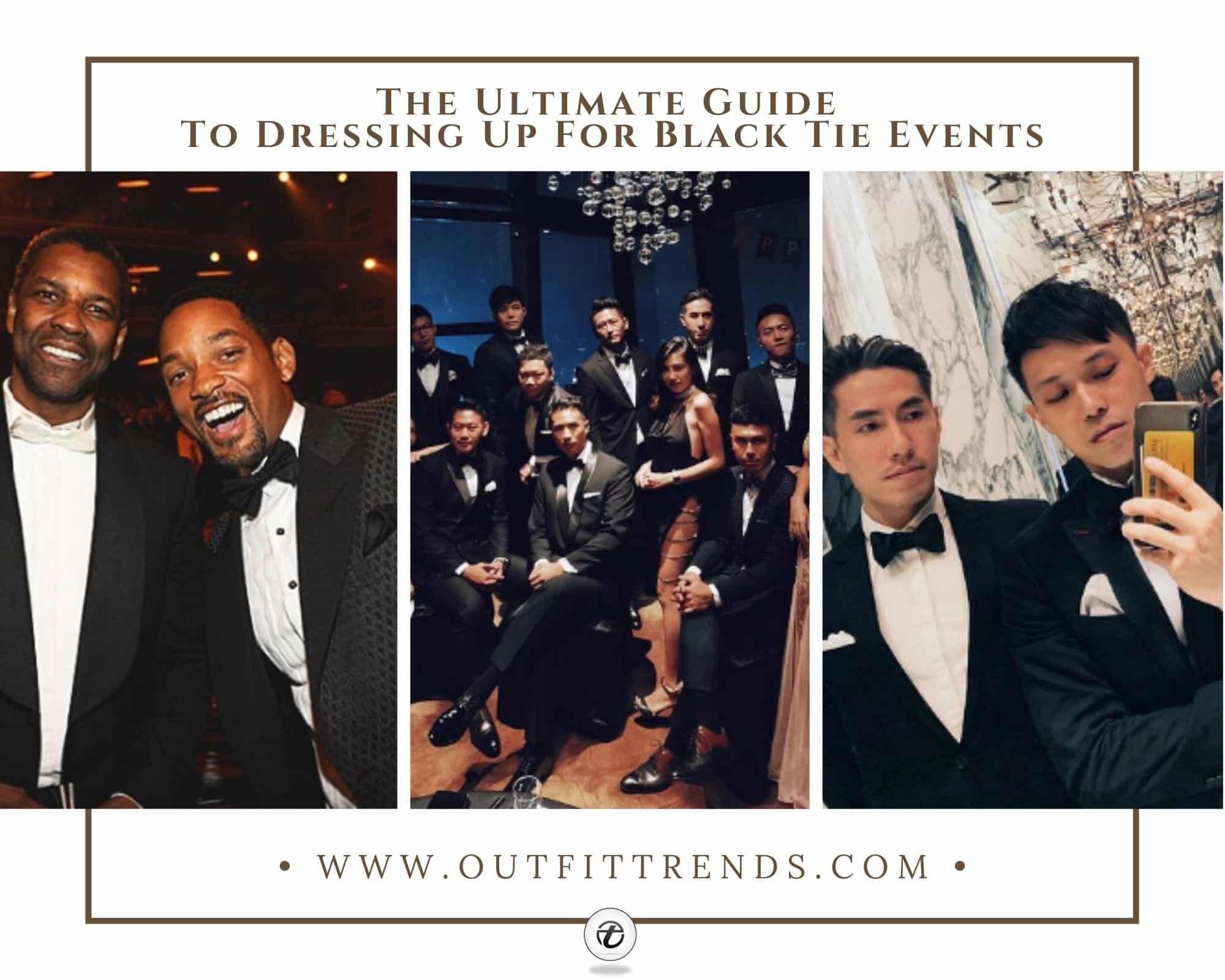 ↓ 17 – Creative Dress Code
A velvet smoking jacket in dark blue, burgundy, or bottle green could give you a chic, vintage edge. You can go for a pair of black trousers to ground the looks, but it's not required. You can find jackets like these at Giorgio Armani.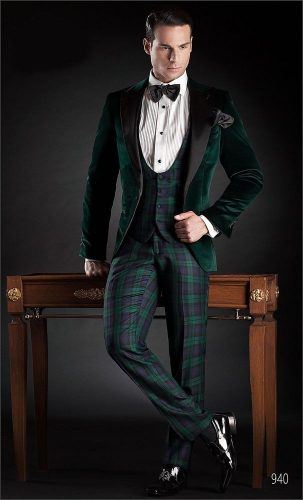 ↓ 16 – Black-Tie Wedding Dress Code
Wearing a black tuxedo is the fail-safe option for weddings. Keep the overall appearance simple by choosing a minimal, single-breasted style. Remember that a slim cut will keep your style modern. As for the shirt, choose a smart white dress shirt with a turndown or winged collar (a heavily starched collar with tips that stand up and point horizontally like wings). Then, finish off your look with a black bow tie and leather dress shoes.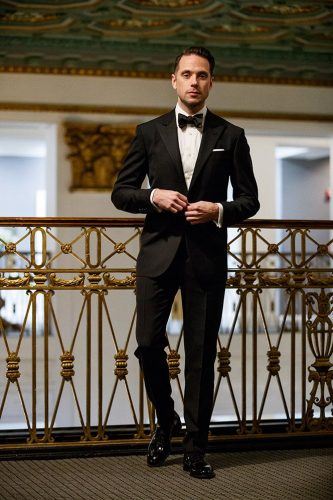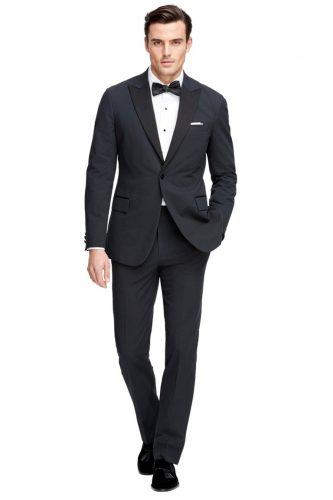 ↓ 15 – Black Tie Suit Jacket
Traditionally, tuxedos were made of silk, but today you can easily find one in wool barathea (a high-quality cloth with a diagonal weave and broken rib effect) or ultra-fine herringbone. What makes a dinner suit great is the cut and fit. Go for clean, sleek lines when trying out potential tux jackets. 
Lapels. There are two types of acceptable black tie lapel: peaked and shawl. Peaked lapels enhance the broadness of shoulders and overall shape. The shawl lapels are more traditionally elegant – they convey a timeless elegance – especially with a single-breasted close. I recommend that you try similar products by Richard James.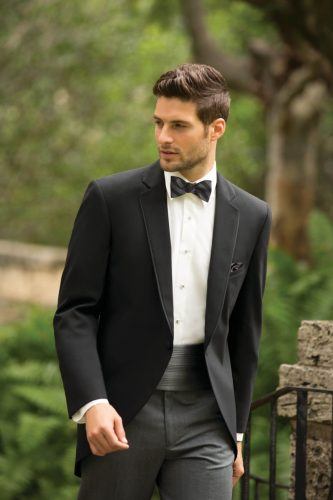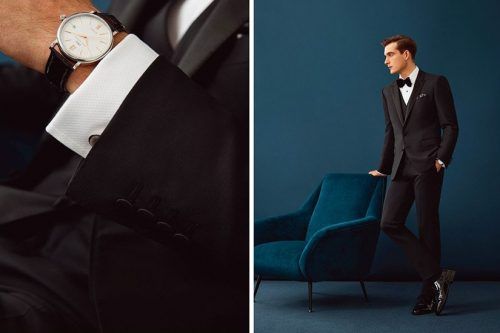 ↓ 14 – White Tuxedo
If you insist on wearing a white dinner jacket, go off-white with black lapels, and then pair them up with black trousers.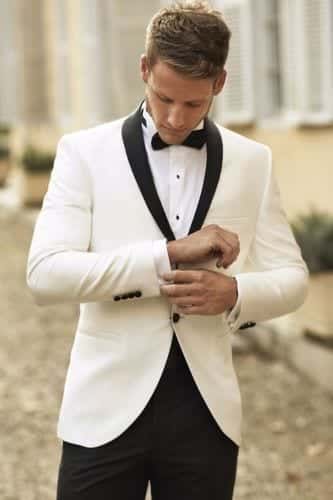 ↓ 13 – Midnight Blue Dinner Jacket
Black or dark blue are often your best colour choices. Here's a fun fact: black-tie outfits weren't originally black but midnight blue. Black tends to look dusty under artificial light, so opting for dark blue marks you out as an outstanding guest.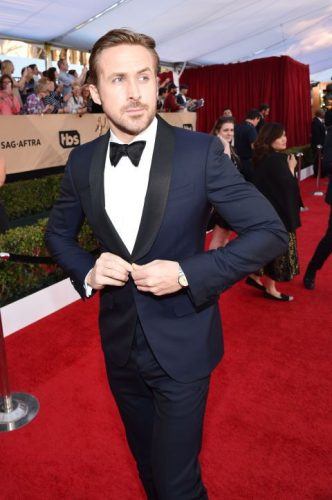 ↓ 12 – Summer Black Tie Outfit
It might be odd to add a layer in the heat, but it's a good move to do so. Remove your jacket, and you'll still look better dressed than just wearing a regular white shirt.
A white dinner jacket with black lapels can look great in warm climates, but be sure to pair it with black trousers.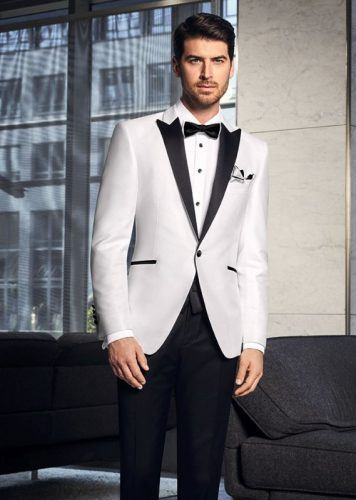 Another option: A tuxedo with light brown colour and contrast silk-covered silk lapels that will give you some '70s summer vibes. This tux by SuitSupply is made of lightweight linen, wool, and silk-blend fabric.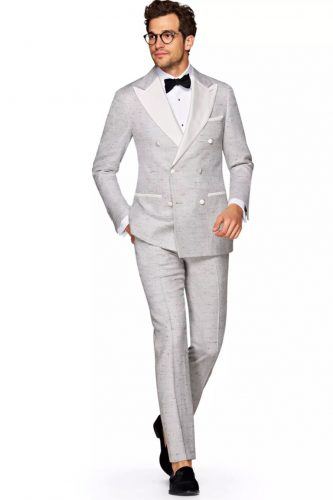 ↓ 11 – Winter Black Tie Outfit
Opt for a classic black or charcoal-grey overcoat like one in a Chesterfield style.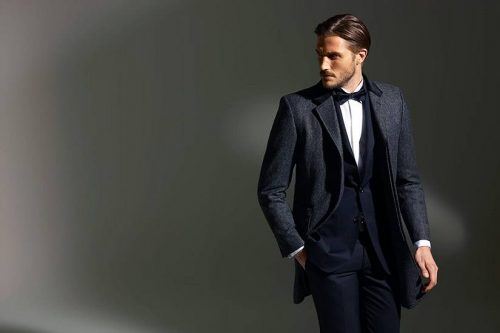 Another option is to go without a coat, provided that your body will never come into contact with the cold.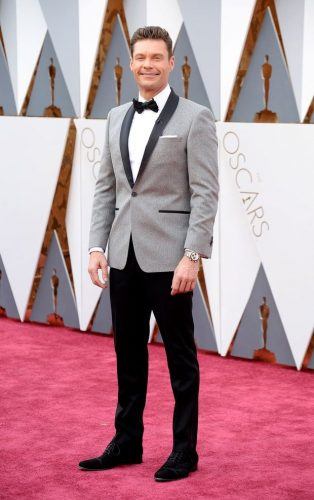 ↓ 10 – Trousers For Black Tie Events
Tux trousers should match your jacket unless you have chosen a velvet jacket, which on the other hand, must be paired up with black trousers. Avoid trousers that are too short or too long. Choose a dark, fitted pair that matches your jacket, and they should also have a natural taper. Try Kenneth Cole slim-fit trousers – they are also available on Amazon.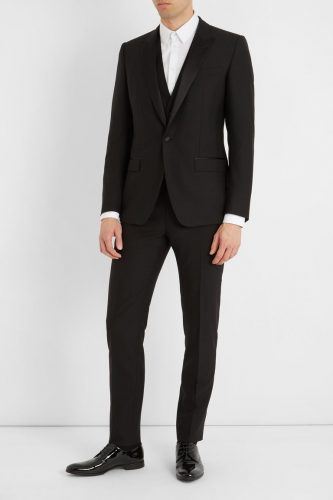 ↓ 9 – Dress Shirt For Black Tie Events
Black tie shirts, or dress shirts, are usually made from a stiff cotton fabric called Marcella. Your shirt must be double-cuffed and secured by cufflinks, not buttons. Pleats are common but avoid them if you're wearing a cummerbund.
If you choose to wear a suit rather than a tuxedo, avoid patterns or bright colors. A white or blue slim-fit bib-front cotton tuxedo shirt like this one by Mr. P  looks great with it. You can also go for a light blue shirt if you're wearing a midnight or navy blue suit.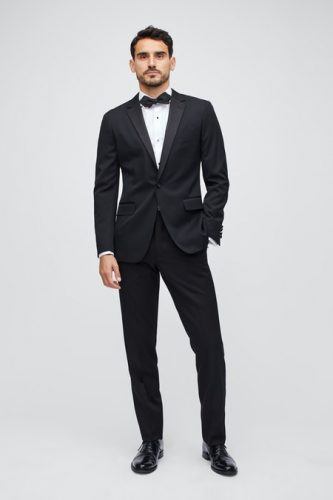 ↓ 8 – Bow tie For Black-tie Events
Ensure that you choose a bow tie that's proportional to your head, jacket lapels, and shirt collar. Hand-tied is much preferred, but a pre-tied one is fine, too. Just don't make it look like it was tied by an amateur. And if you need to buy some new bow-ties, do try products by Hugo Boss.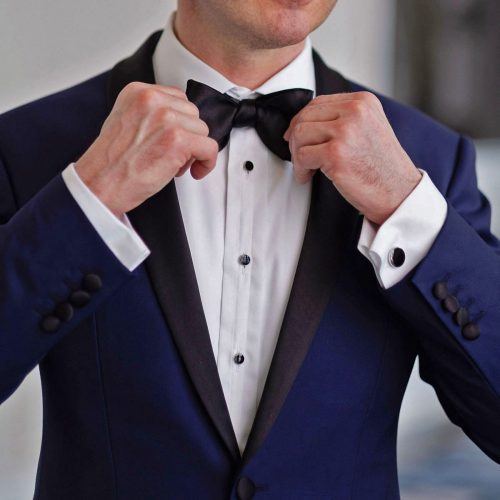 ↓ 7 – How To Wear A Cummerbund
A cummerbund like this silk-satin by Tom Ford is a broad pleated sash that creates a sleek and streamlined profile. Wear the cummerbund by placing it around the lower half of your waist, and fasten it nicely at the back. If you are wearing a cummerbund, go with black buttons to break up the white space; if going waistcoat, white buttons would do.
If the bow tie is a different color than black, your cummerbund should match it. Other colors like bottle green, burgundy, gold, and plum are all great choices.
via
↓ 6 – How To Style A Waistcoat
If you are wearing a dark suit rather than a tuxedo, waistcoats can elevate your look from business casual to after-dark elegance as they accentuate the deep V of the dinner jacket. Select a classic black waistcoat or something in a textured fabric to add an aesthetic vibe. Ensure that it covers your trousers' band seam. Some men like to show off their waistcoats, but as with any tailored jackets, you should fasten it up unless seated.
Opt for a cummerbund or waistcoat — but not both. I highly recommend that you try this three-piece suit from Salvatore Exte.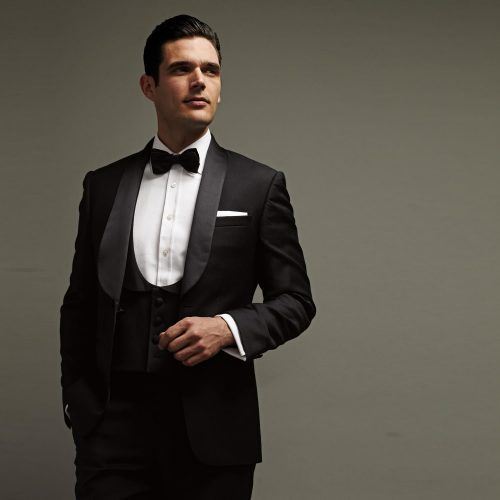 ↓ 5 – Celebrities In Black-Tie
Go monochrome. Take the colour signifier in the dress code literally like how Timothee Chalamet did it, and you can see that a black dress shirt looks cool in a tux.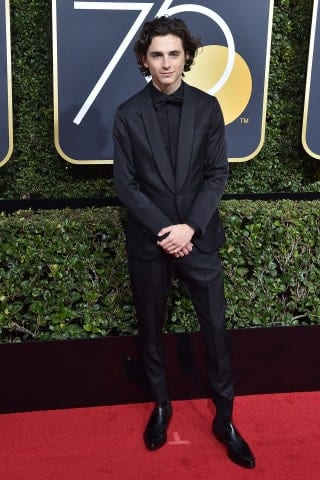 However, a tux will look great with a typical white dress shirt all the same. See how Eddie Redmayne styled it: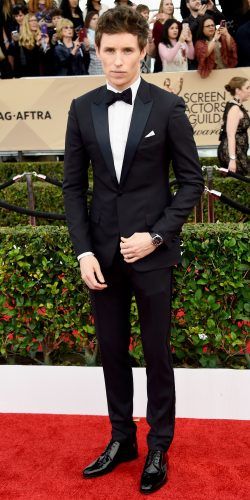 ↓ 4 – "Black Tie-Optional" Outfit
Black tie optional events are designed to send a judgment-free message that not all men own a black-tie ensemble. However, it's better to be overdressed than underdressed, so go all out if you can.
If you receive a "black tie optional" invitation, it means you can wear a dark suit, a white shirt, a dark conservative tie, black over-the-calf socks, and black leather shoes. This is also a perfect chance to go all-black. Another option is to wear your black-tie outfit with a black turtleneck instead of a usual dress shirt. Style it like how Caleb McLaughlin did it.
↓ 3 – What Shoes To Wear For Black Tie Events?
Unfortunately, your everyday office shoes won't do here, so you need to take it up a level.
Black patent shoes with narrow and round-toed designs are highly recommended.

Velvet slippers are another good choice but avoid suede as it will look dusty and messy in bright lights.

If you've chosen a suit over a dinner jacket, pair it up with loafers, brogues, or slip-on.

Designer sneakers have also been making regular cameos at black-tie events recently, especially on the red carpet. It's not an easy look to don, but it marks you out as a sartorially daring guest if you do it well.
Socks. Never show a glimpse of your legs on black-tie events.

 Go for something other than the standard evening socks, and just make sure your shoe still fits. Black-tie is a classy event so stick with a pair of clean and classic black socks. No novelty socks, please.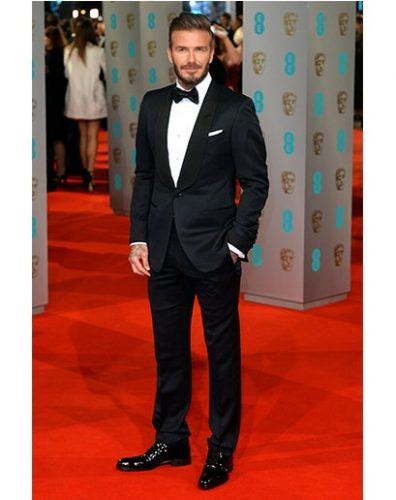 ↓ 2 – Accessories For Suits And Tuxedos
Watch. Traditionally, guests wouldn't wear watches to a black-tie event as it was considered rude to check the time. But if you want to wear a watch for styling purposes, it should be slim and silver or gold on a black alligator strap. Check products by Cartier, Jaeger-LeCoultre, and Patek Philippe for the best options.

Cufflinks and Studs. They are decorative fasteners that fit into a buttonhole on formal shirts. They should be simple and smart like the rest of the outfit.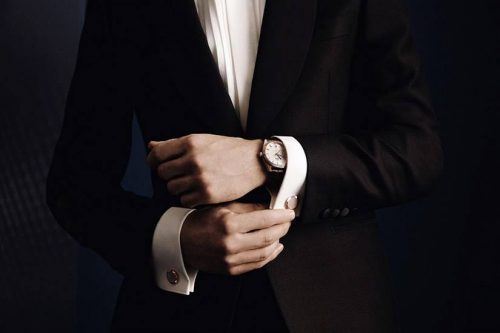 Boutonniere. A couple of flowers worn on the left lapel of a tuxedo or suit.

White pocket square. The perfect finishing touch. Opt for satin scarves for a vintage look that's not too prominent.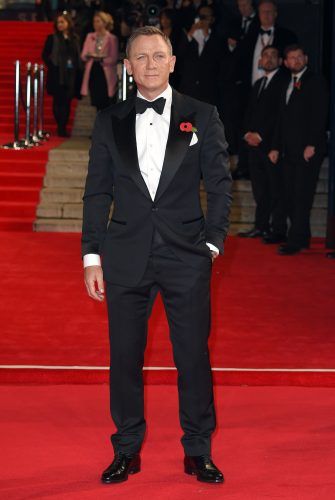 Suspenders. They smooth your trousers, elongate your legs and help prevent the dress shirt from poking out.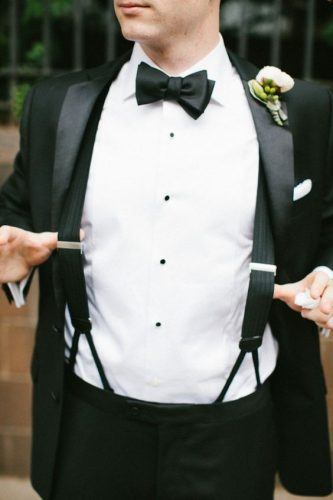 ↓ 1 – Grooming For Black-Tie Events
Hairstyle. Apply pomade or wax to your hair and do it the business-appropriate way.

Beard and Mustache. Trim your facial hair, preferably in the morning of the big day. Leave it cleaner than you'd normally do, and then apply aftershave.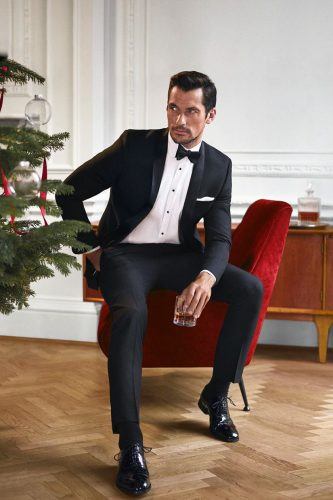 Important Reminders For Black-tie Dress Code:
A tuxedo shouldn't have a belt.

Avoid notched lapels and center vents when choosing dinner jackets and suits.

No pocket flaps and cuffs on trousers.

Choose bow ties as neckties aren't acceptable for black-tie events.

A cummerbund or a waistcoat is a MUST. Choose one, but don't wear both.
Frequently Asked Questions
Q.

What is the difference between suits and tuxedos?
A. The major difference between a tuxedo and a normal suit is the satin detailing. Dinner jackets have satin facing on the lapels, buttons, and pockets. A satin stripe also runs down the leg of the trousers. With suits, the jacket, lapel, and trousers are all made of the same material.
Another difference is the buttons. Suits usually have plastic buttons — or buttons faced with the same fabric as the jacket itself. Tuxedos have satin buttons. A high-quality suit is significantly cheaper than a tuxedo. 
Q.

When should you wear a tuxedo or a suit?
A. Tuxedos are usually reserved for formal occasions like galas or the opera. These events normally start after 6 pm. So you can wear a tuxedo to a wedding, for example, as long as it's not in the afternoon.
On the other hand, you can wear suits at almost any time of day. You might wear one to work or on a date. You can dress it up and down, and wear it with or without a bow tie or waistcoat.
Q.

Is it a good idea to rent a suit?
A. Getting the right fit is something you miss out on when you hire a suit. The fit can be close, but you'll never look as sharp as tailored. Unless you're never wearing it again, hiring a suit is ideal, especially if you are on a budget.
Q.

Can I wear my black-tie outfit without a bow tie?
A. GQ writer Harvey James said that if you're wearing a black-tie outfit with no bow tie, make sure the rest of your outfit is perfectly balanced and impeccably smart.
Q.

Where can I buy black-tie outfits?
A. Aside from Tom Ford and Richard James, Moss Bros,  Debenhams and Burtons offer some outstanding and products that are worth your money. You can order online and have the products delivered right to your doorstep. And if you're looking for something cheaper, check Yardsmen – they allow customers to rent individual pieces selected to their exact measurements.