Pastel Outfits for Men- Pastels are essential when you're trying to freshen up your wardrobe with more lively shades. If you'll look deeply into men's fashion trends, you'll realize that pastels are being utilized somehow; either it is Milan Fashion Week or London Fashion Week; either it's Spring collection or Fall collection.
Regardless of the time of the year, every man has to know how to wear pastel shades particularly because it gets a bit tricky at times to play with pastel colors. Living within the monochrome limits will tire you eventually, hence trying something fresh and trendy is what you need to do this summer. If you're conscious about your fashion statement, then you can wear pastels quite easily. Creating an ensemble with pastels can go from quite safe and simple to extremely bold and charming.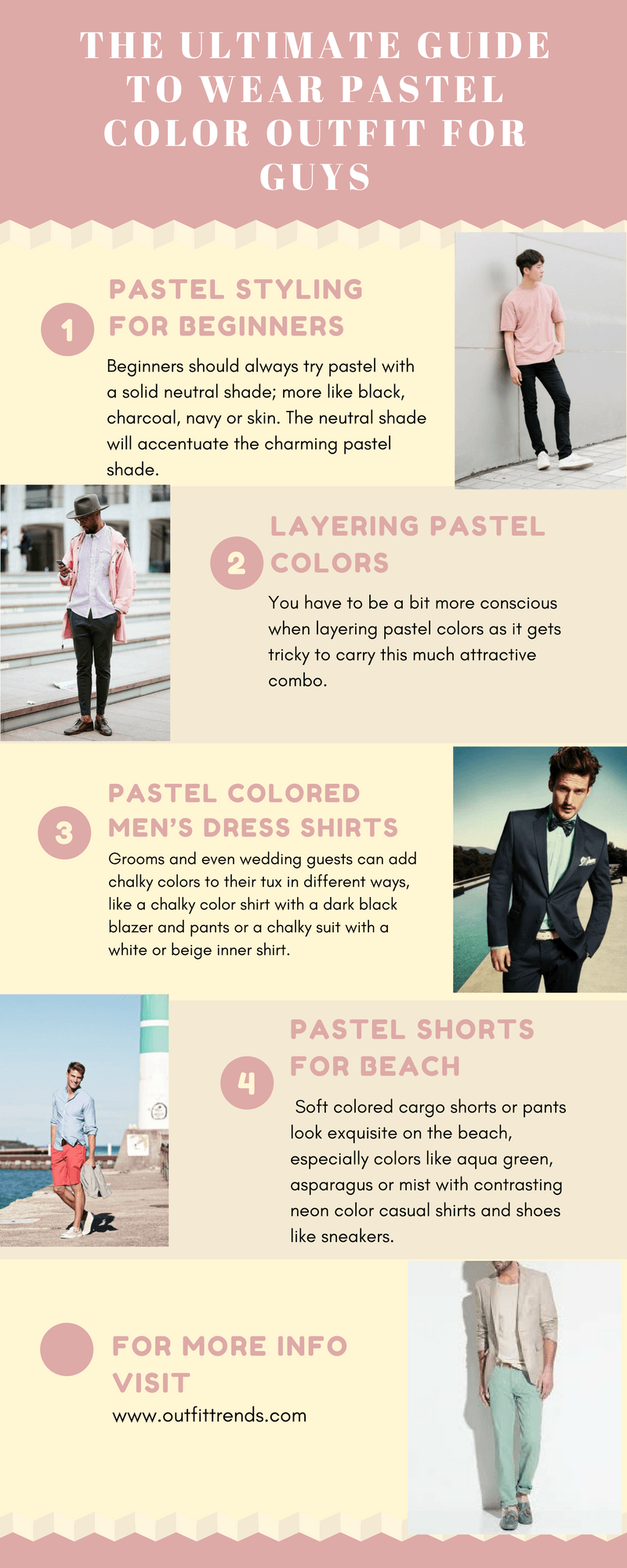 How to Wear Pastel Color Outfits for Men
For those who still don't find themselves comfortable around anything apart from the mainstream earthy tones along with those who want to learn about new styling tricks with pastels can go through this guide. Pastels come in different hues like some are relatively softer as compared to others. Picking the right shade is going to be a little tricky here. How are you going to contrast between soft and hard pastels? Well, the cooler tones like sky blue or mint green which helps you stay cool throughout the heatwaves are more on the softer side of the palette, however, the reds and oranges will remain on the hard or brighter side.
Soft or Hard? What Suits Me Best?
Well picking the right colour is dependent on your skin tone. Whether you have a warm undertone or cooler one plays its role while picking the right pastel shade. If you have identified the right shade for your skin tone, then believe me that you are ready to take your style to another level. If you have an olive or yellow undertone, then you have a warmer skin tone implying that hard pastels like peach, lemon or dull red are your weapons. While those who have a cool undertone that is pinkish or peach should switch to the soft green or purple pastels. Well, what if you are dark-skinned? Pastel clothing is the perfect fit for your style statement. You can just slay in any pastel colour like a pro.
Layering pastels come off as a challenge for your sartorial capabilities. The question here is what combos and colours will help you stand out a pastel look? A slim-fit lilac blazer with a white or grey tee underneath is a gonna be a hit look while a lemon top with a baby pink over-sized coat is a fail for almost all of us. Hence, double-pastels are going to make you look like a gelato cone. Go for earthy toned pants or simple monochromes with pastel blazers or sweaters to stay within the sane fashion range.
A pastel blazer at work is not going to hurt the strict office attire, conditioning that you wear it with a white crisp collared shirt and black oxfords. On the other hand, pastel dress shirts are worn by fashion freaks all the time at their workplaces. Hence, there is nothing wrong with adding a bit of brightness and colour to your official wardrobe as it is going to pay off later by making you stand out at your work station.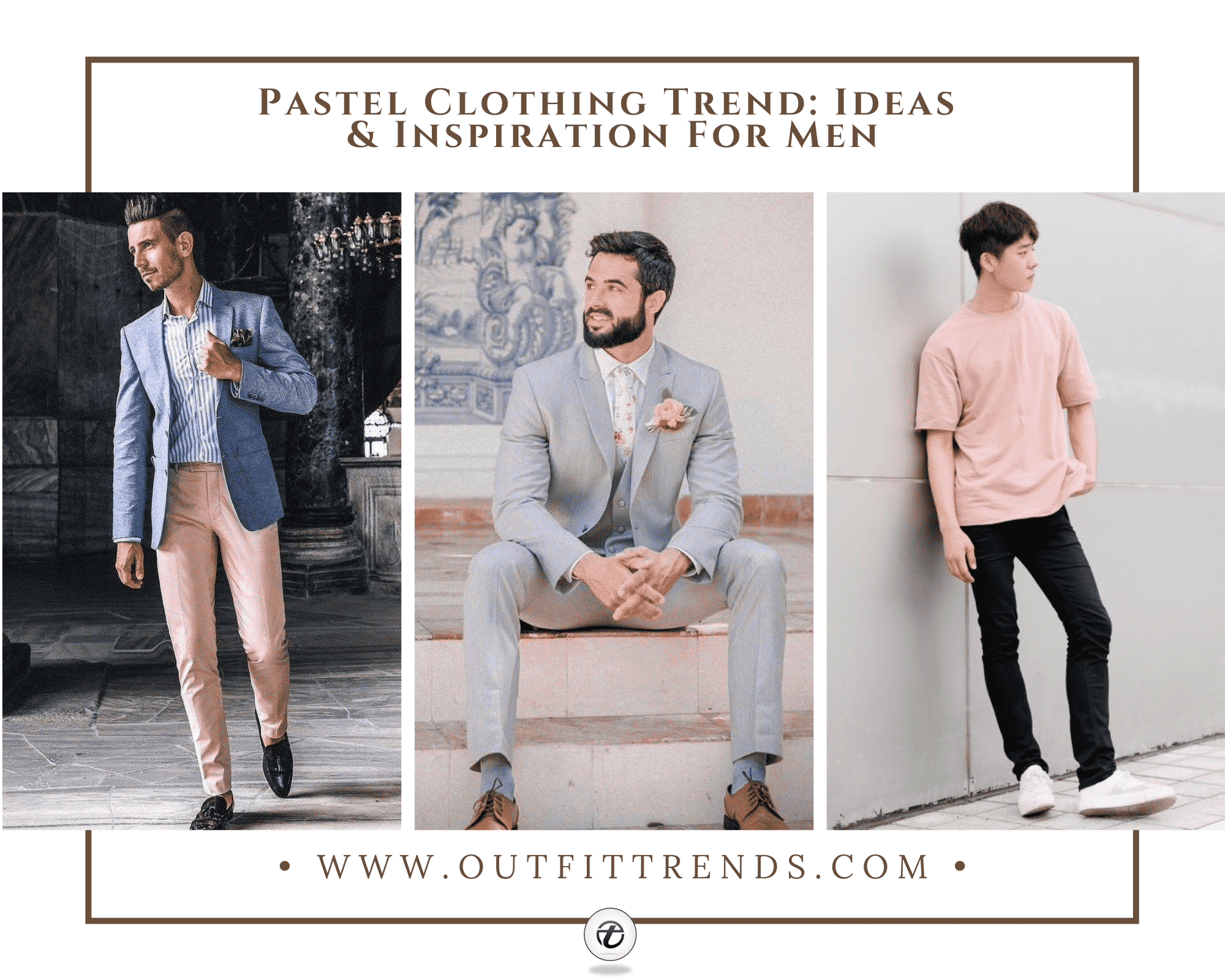 ↓ 23 – Pastel Styling for Beginners
Beginners should always try pastel outfits with a solid neutral shade; more like black, charcoal, navy, or skin. The neutral shade will accentuate the charming soft hues. Also, you have to be extremely careful with your accessories i.e. hats, ties, socks, etc; because most of the time, accessories look good only if they are of a similar pastel colour as that of the shirt. Have a look at 15 Ways to Wear White Button-Down Shirts for Men.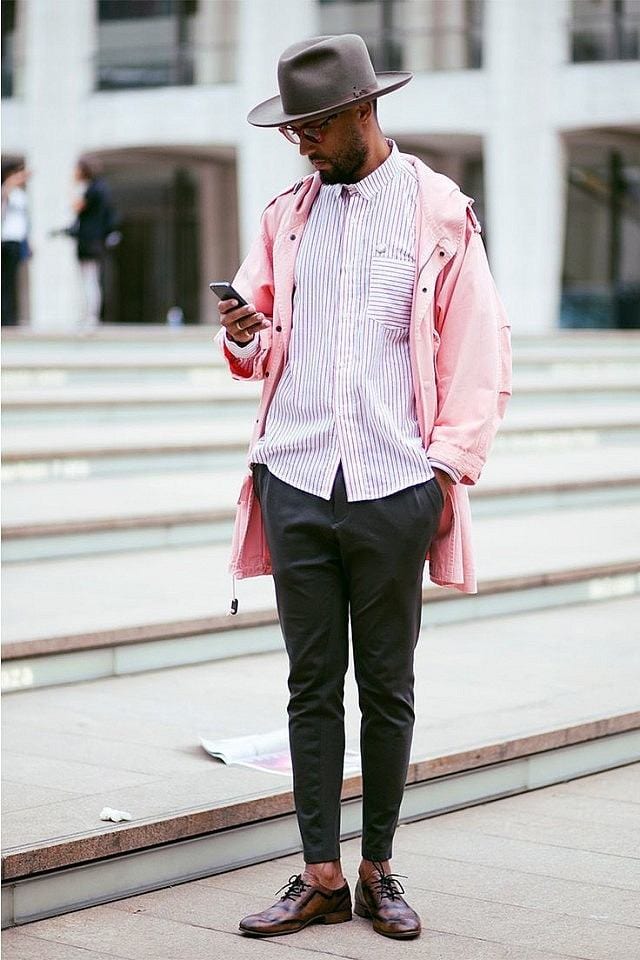 Have a look at this basic yet flattering pastel attire. The tee in a cool pastel tie n dye print paired with comfy slim-fit denim is simple yet stylish. You can try it during a vacation to get yourself used to wear multiple colors.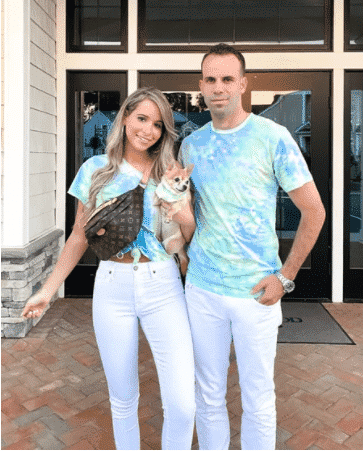 ↓ 22 – Double Pastel Look is Complex
You have to be a bit more conscious when layering pastel colors as it gets tricky to carry such high-end combo. Pastel on pastel does not always look good. I would only suggest someone with a cooler undertone go for such experimenting attire. Always go for various frequencies of amethyst and beach blue. Always cut down the colour with some neutral shoes or a jacket.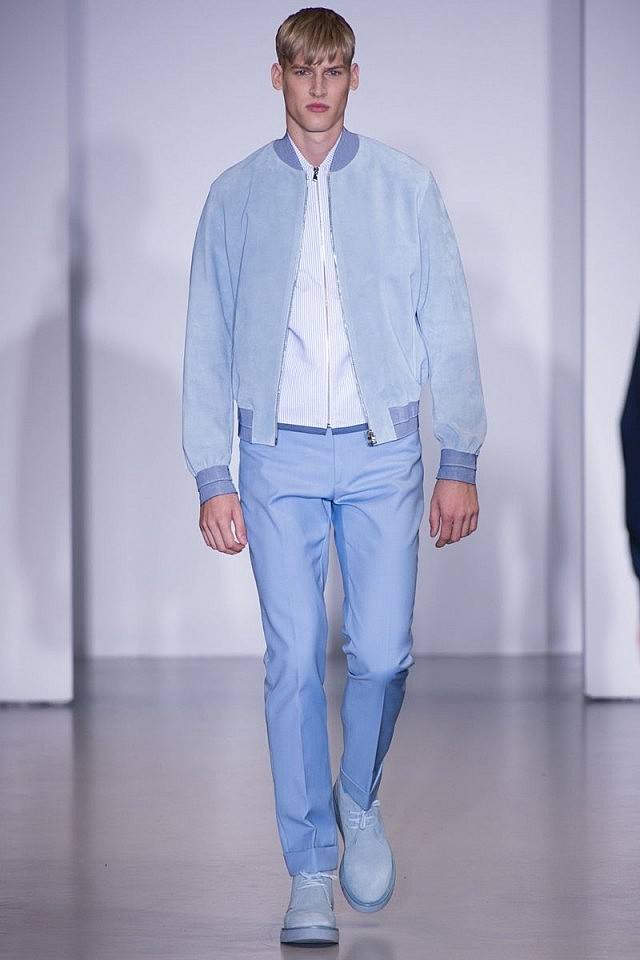 Here is a spectacular mint-green look which can be rocked during holidays. This look will also complement cool skin tones. The white athletic joggers enhance the cool pastel tee and short set even more.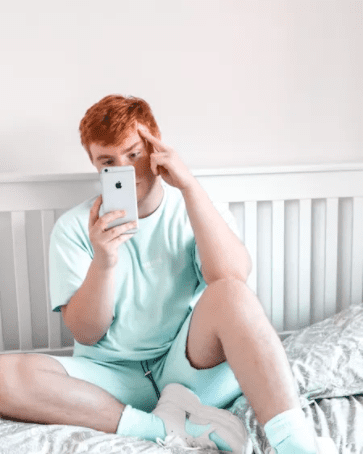 ↓ 21 – Pastel Suits for Work
Pastel suits look cool at work but you have to be careful regarding when and where to add the shade. If your job requires you to be a bit too formal and wear more neutral tones then you can add pastel to your inner shirt or tie only. However, if you belong to the art and designing department, then you can go for pastel-colored blazers or pants as well. Here are 30 Amazing Men's Suits Combinations to Get Sharp Look.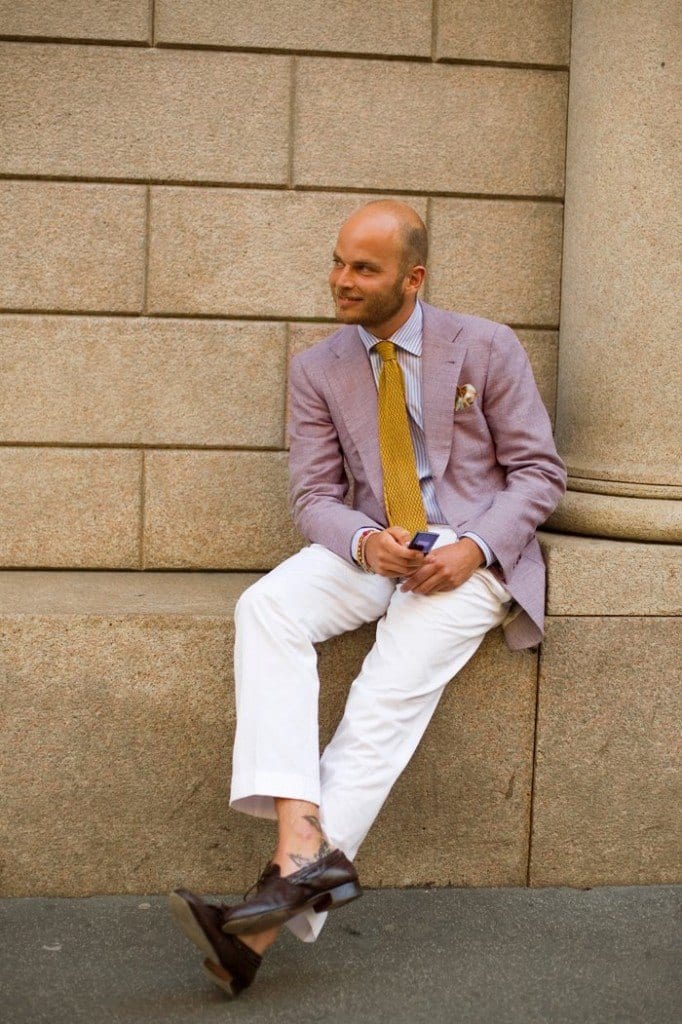 ↓ 20 – Shoes with Pastel Ensemble
You have to be vigilant while picking appropriate shoes with your pastel outfit; oxfords in colors like charcoal and black will go with nearly all pastel shades. Try to match your shoes with the colour of your pants to be on the safe side. However, if you are a fan of bold ensembles, then you can also coordinate your shoes with the brighter frequency of the pastel shade or completely contrasting neon colour, but such a look is associated with multiple risks. The bold looks only work if you carry them with confidence and style. A little bit of reluctance will kill the vibe of the ensemble.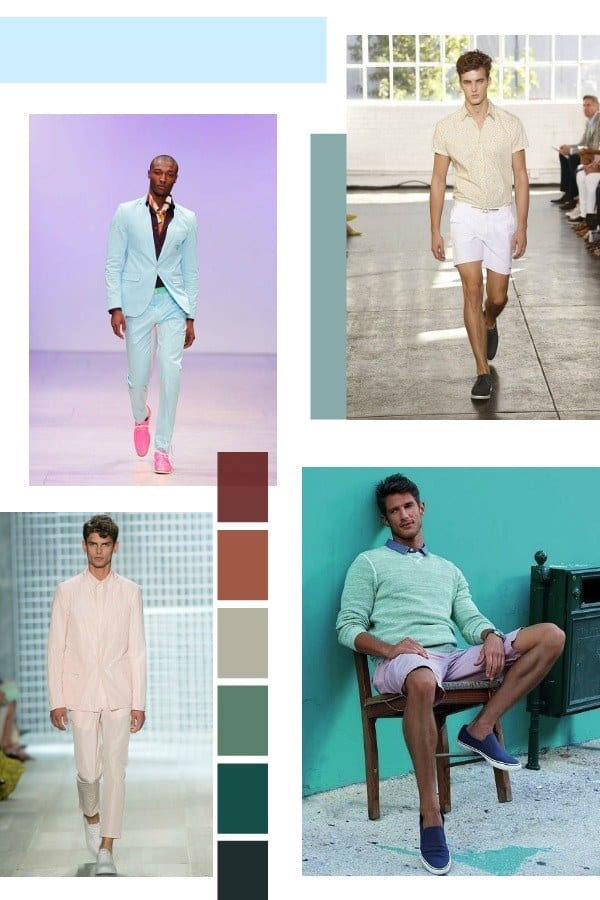 ↓ 19 – What to Wear with Pastel Colored Pants
People belonging to Indian and African descent, when trying pastel tones, are often advised to go for colors like lavender, bronze and brown sugar with different variations of maroon or navy. Earthy tones and peachy pink shades are not the colors that complement dark skin tone, however, it's not a hard and fast rule. You can always go against such rules if you are confident enough to carry it well. Do check out these 30 Casual Outfits Ideas For Black Men.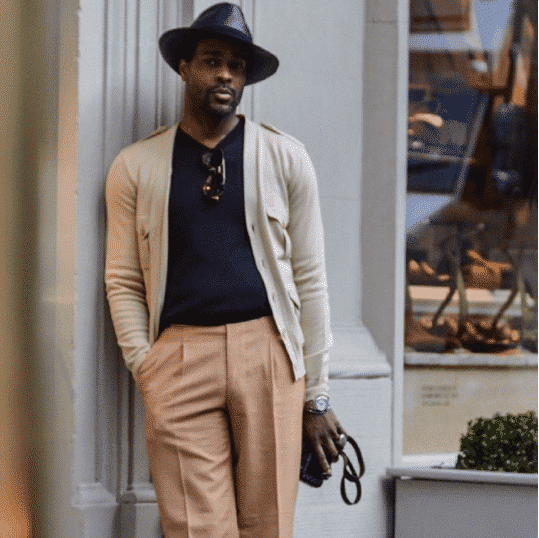 For guys with a fair complexion, peach pink shades will suit you perfectly. On weddings, a peach pink tux or a semi-formal suit will add to your statement. To keep it casual, wear low-top converse and some chic spectacles. You can also add a white or beige handkerchief to your tux.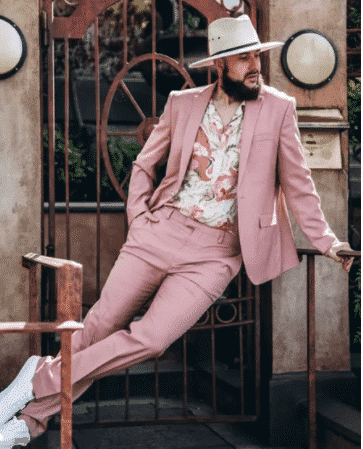 ↓ 18 – How to Wear Pastels with Saturated Tones?
Pastels go well with their saturated tones, like a sky blue blazer with ink blue pants. However, you can also create a contrasting colour scheme as in pairing a faded pink shirt with bronze jeans. Rock the look with either colored neutral loafers.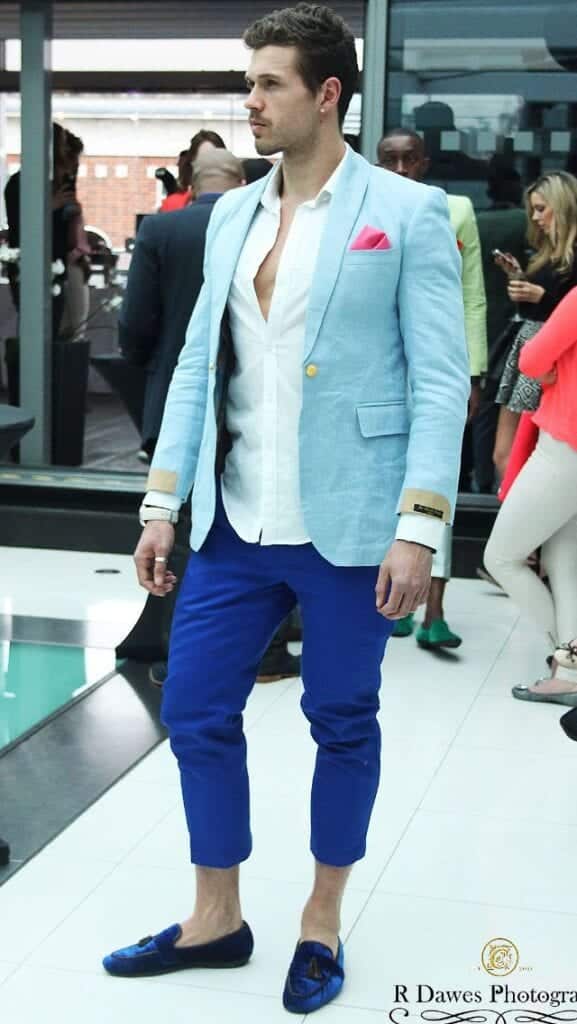 Via
↓ 17 – Amp Up Your Streetstyle with Hard Pastels
Hard pastels are relatively less intense which makes them appropriate for wearing with softer pastels. You can also wear a hard pastel suit with a neutral colour inner shirt as these shades are relatively subtle. Accessorize your outfit with monochromatic accessories to tone down the sharpness of colors. Don't miss out on these 25 Ideas How to Wear Funky Colorful Socks for Men.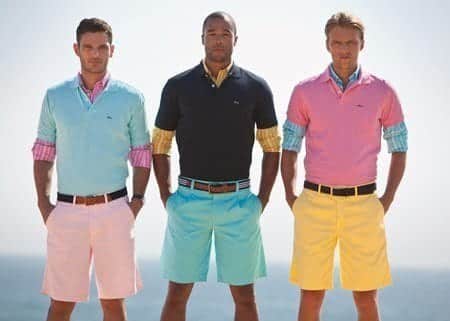 ↓ 16 – Create a Vintage Look with a Pastel Pallete
You can create a charming vintage look by wearing a soft chalky blazer with a white button-down shirt and white cotton slacks. Vintage hairstyles and shoes will further improve the look.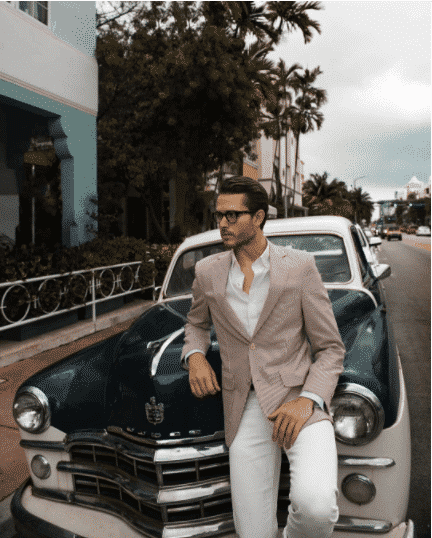 ↓ 15 – Pastel Shorts for Beach
Soft colored cargo shorts or pants look exquisite on the beach, especially colors like aqua green, asparagus, or mist with contrasting neon-colored casual shirts and shoes like sneakers. You can also wear a simple tee with a button-down shirt over it but the upper shirt has to be in a chalky tone. Here are 20 Amazing Beach Outfits Men.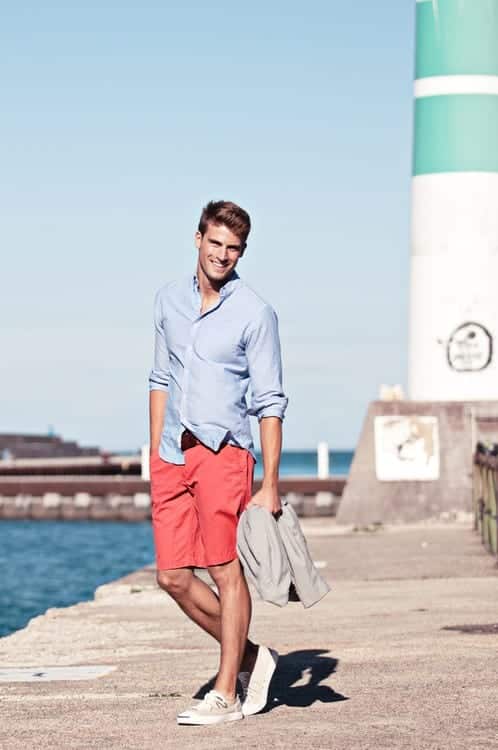 Via
You can pair a semi-formal striped pastel pink dress shirt with catchy aqua-colored swim trunks. Accentuate this ensemble with Gucci loafers in a jet black colour.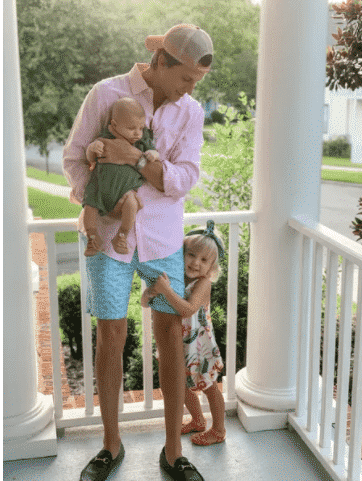 ↓ 14 – Pastel Attire for Pale Skin Tone
Guys who have a relatively paler skin tone can slay the earthy tones and the cherry blossom shade. They can go for blushy pinks as well as beach blues; contrasting them with white and beige pants will further spice up the ensemble.
↓ 13 – Pastel Streetwear Jackets in Winters
Pastel colors are often associated with spring but it should not stop you from trying them in winters. Pastel jackets will spice up your earthy outfits. Pastel leather jackets are always recommended if going for a casual-cool look as these are just perfect for creating a rugged and soft look simultaneously. Pair them up with pastel colour shoes but make sure that the rest of your attire is in a neutral shade. You can also go for simple patterns like stripes and simple polka dots for the inner shirt. Here's an exclusive guide on How to Wear a Bomber Jacket for Men.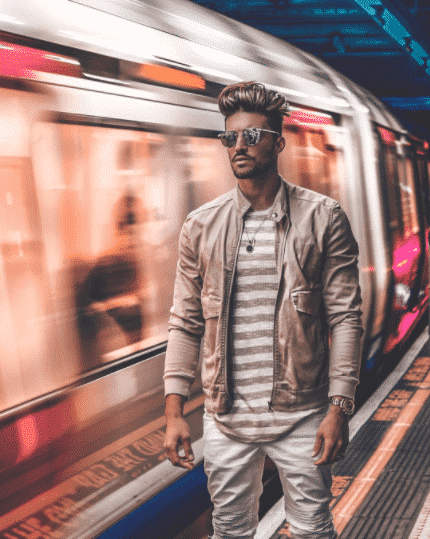 ↓ 12 – Pastel Party Attire
Summer and spring parties are the perfect events to flaunt your low saturated wardrobe. If you're looking for a pastel attire for some formal party, simply go for mint green or pastel peach inner shirt with a classy tie in a similar tone, however, if the party requires a casual attire then pastel blue or sandy blazer with matching pants will also work.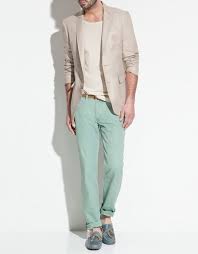 ↓ 11 – Pastel Look for Fall?
All you need is a pastel hoodie, jacket, sweatshirt, or a pastel sweater to create a perfect fall look with chalky colors. Add some sassy pants in a straight cut to complete the statement. You can also try the monotonous grey or charcoal denim pants to reflect the weather. Here are the 15 Best Colours to Wear in Fall for Men.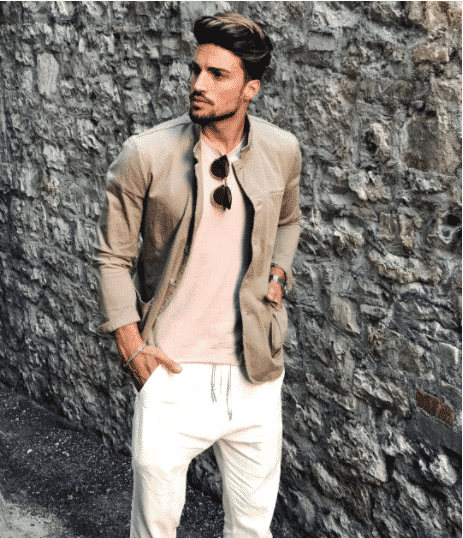 ↓ 10 – Printed Pastel Trend
Printed pastel shirts and patterned pastel blazers look the best in spring. You have to have a great taste for prints to rock these super stylish articles. Wear them with black or skin pants along with plain white sneakers. Don't add further accessories when trying pastel prints as it would be considered overdone.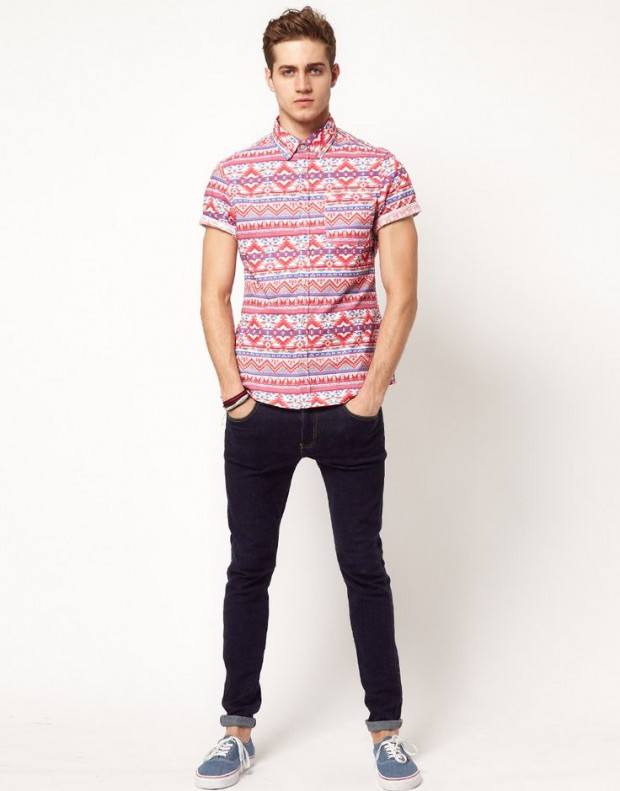 ↓ 9 – Athleisure Look
Pastel colors are being quite eminent in the athleisure part of men's wardrobe; the minty and rosy shades are highlighting the athleisure collections. Enhance your pastel graphical sweatshirts with plain white sneakers. Here are 20 Athletic Gym-wear Ideas for Men.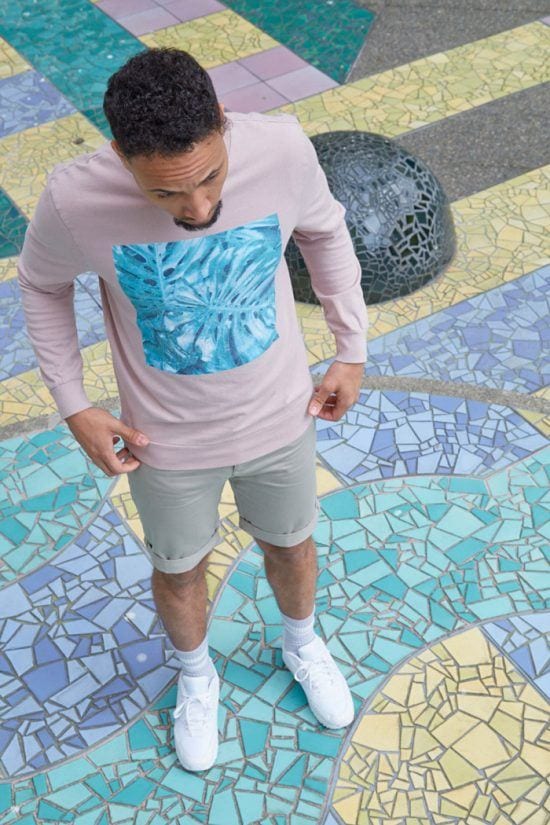 Via
↓ 8 – Pastels In Semi-Formal Clothing
Spring is the perfect season for spending on lively shades to add to your wardrobe; colors like pastel lemon, mint green, baby pink, and pastel plum are the most loved spring chalky colors. Men can go for jackets and tees in the relevant shades.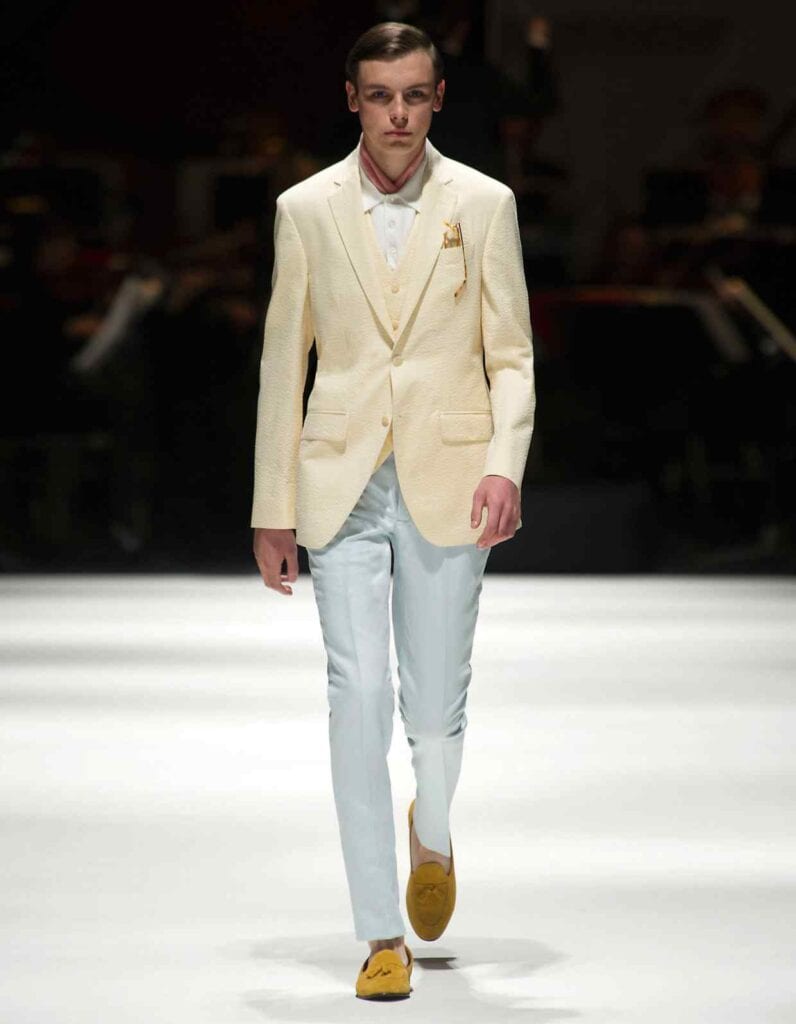 ↓ 7 – Casual Ensemble
Sweatshirts in pastel colors give away a very high-end fashion look. Casual cargo pants can be paired with sneakers and a plain pastel sweatshirt to have a simple casual look. In the scorching heat of summers, the soft pastel tees will reflect the sunlight keeping you cool. Here are 17 Ways to Wear Cargo Pants.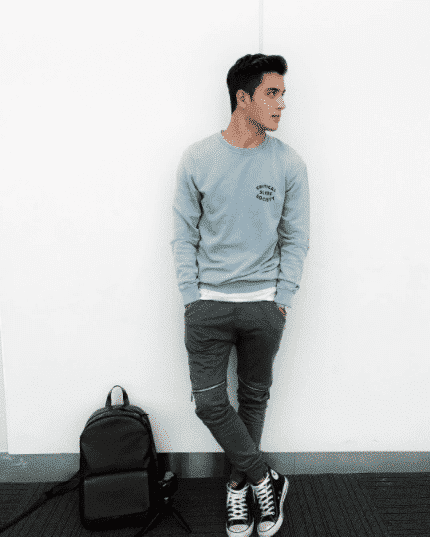 ↓ 6 – Pastel Denim for Skinny Guys
Pastel-colored denim jackets and pants have always been designers' heart favourite but you need to have that sassy confidence to carry them. These are more appropriate for teen-age or university going boys. Converse are the best option in terms of shoewear.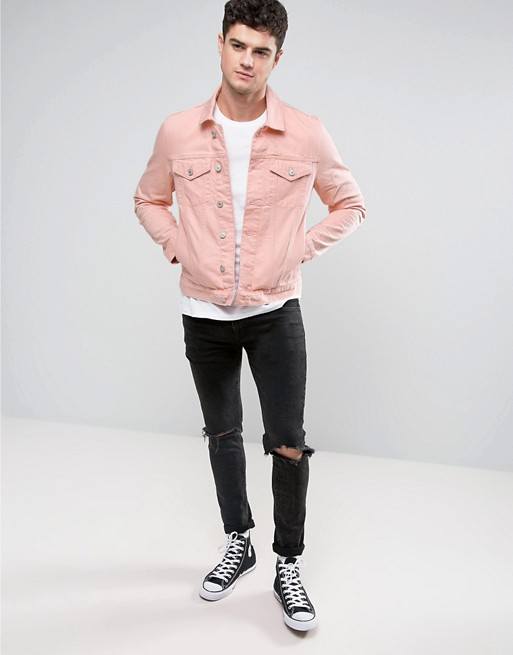 ↓ 5 – Pastel Trends for Big Guys
Big guys can look super cool by pairing pastel blazers with darker color-neutral pants. Pastels often make you look heavier so it would be advised to pair them with black or charcoal pants to add equilibrium to the attire. Hard pastels are the best shades for big men. Have a look at these 20 Ideas What to Wear for a Road Trip.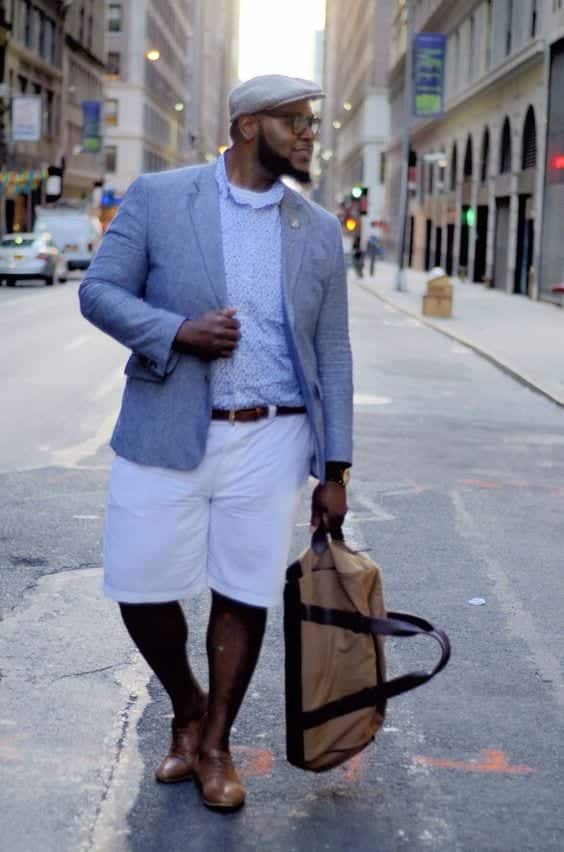 ↓ 4 – Goth Clothing
Goth clothing has taken over the pastel hues to add further suspense and eagerness to their attire. People who love to try some subtle pastel goth t-shirts can pair them with black chinos and matching joggers.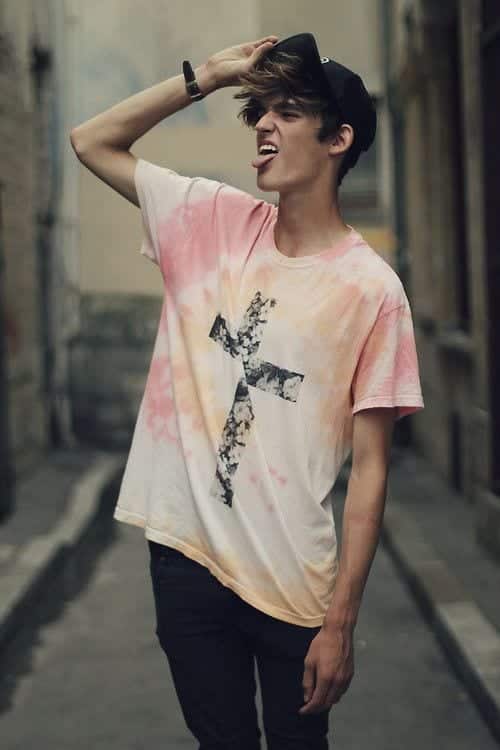 ↓ 3 – How to Wear Pastel Men's Dress Shirts
Grooms and even wedding guests can add chalky colors to their tux in different ways, like a chalky pink or yellow shirt with a dark black blazer and pants or a chalky suit with a white or beige inner shirt. Here's the perfect Semi Formal Wedding Attire For Men.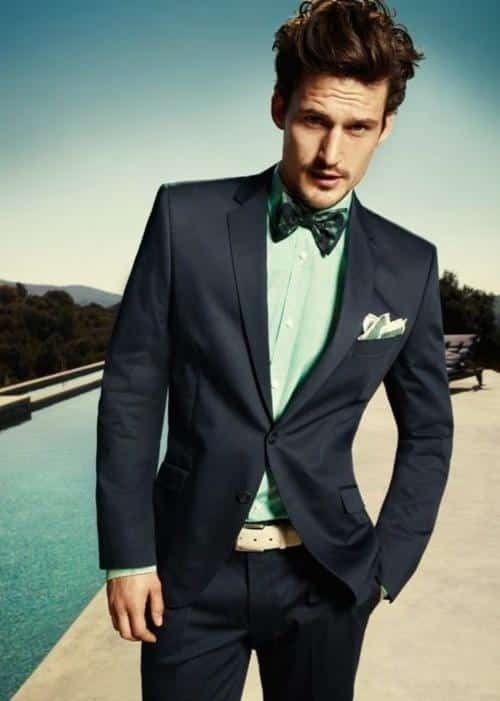 ↓ 2 – Funky Pastel Outfits
Floral pastel shirts with dark bright colored pants are the funkiest for a fresh and lively climate. Florals will always catch eyes in public as only a few males can wear them right. Here are 25 Ways to Wear Guys Floral Shirts.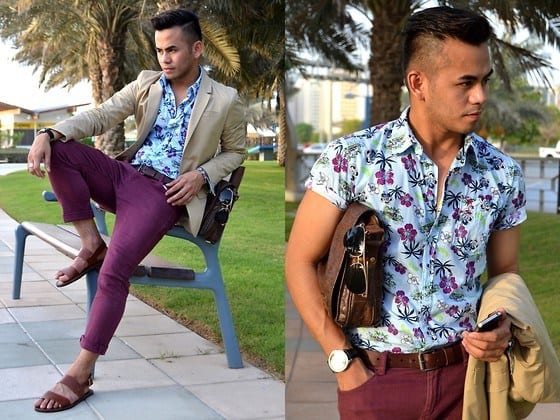 Via
↓ 1 – Pastel Outfits for Asian Guys
Asians guys can wear colours like peachy pink, rose, mint, sea green and lavender with black or charcoal pants and classy spectacles to have a cool summer/spring look. However, guys who have a south-east Asian skin tone should wear slightly intermediate saturated shades of pastel that is chalky orange or subtle red.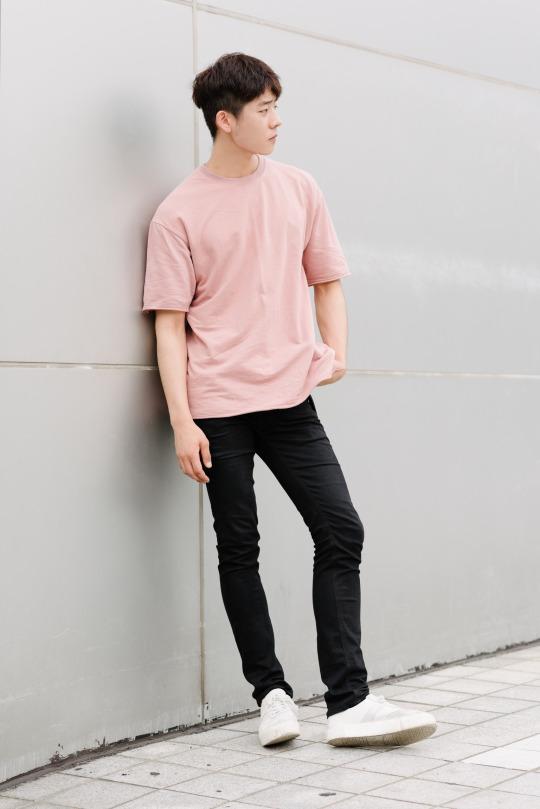 Via
FREQUENTLY ASKED QUESTIONS
Q.

Can you wash black or dark-colored clothes with pastels?
A. It is often prohibited to wash pastel shorts or tees with high saturated shades as it might leave spots on your pristine fine pastel clothing. It is better to wash pastels with either white or similar toned clothes.
Q.

Can guys wear a pastel goth outfit?
A. Just like pastel goth girls, goth guys can opt for pastel tees with catchy graphics printed on them. It will kill the monotony created by the black shade. There are Saint Cross tees as well as different tie n dye prints which can be rocked with pastel dyed hair.
Q.

Can you wear pastel or floral outfits to an official event?
A. Yes, you can entirely flaunt your floral jacket or a striped pastel blazer to a professional event but you should make sure that you are pairing them with neutrals otherwise the entire ensemble will look over the top. Lime or aqua button-down shirts have always been worn with khakis. If not a jacket, then you can always try a formal shirt in less saturated tones to break the monotony.