Ideas for men to Wear white Shirts – There is an amazing misconception that white shirts are only meantfor formal events. But in this day and age, there are so many different styles and trends that a white shirt has become more of a versatile component in any man's wardrobe.
The humble white shirt is no longer just reserved for special occasions. It can be seen everywhere from the high street to the beach.
How to Wear a White Shirt in Different Ways
Here are some useful tips to remember when buying a white button-down shirt:
If you're looking for a highly formal shirt, go for the plain white one rather than self-printed or striped ones.
It's essential when buying a white shirt that it fits you well. If not, try getting help from a tailor.
When it comes to shoes, you can wear your white shirts with sneakers for a relaxed look.
Classic accessories go best with a white shirt, so don't forget your wristwatch.
If you're looking for a white shirt to wear regularly, then an oxford shirt should be your top pick.
Go with shirts that come in light and breathable fabrics for maximum comfort in Summers.
A wardrobe staple, a white button-down shirt, can always be worn on formal occasions. People use it as an undershirt for a suit for weddings, graduation, meetings, etc. But the way of styling it doesn't end there because it is also suitable for semi-formal gatherings. You can match it with chinos or jeans, tuck it in and roll up the sleeves, and you're good to go. Wearing it with a tie is also optional for semi-formal occasions.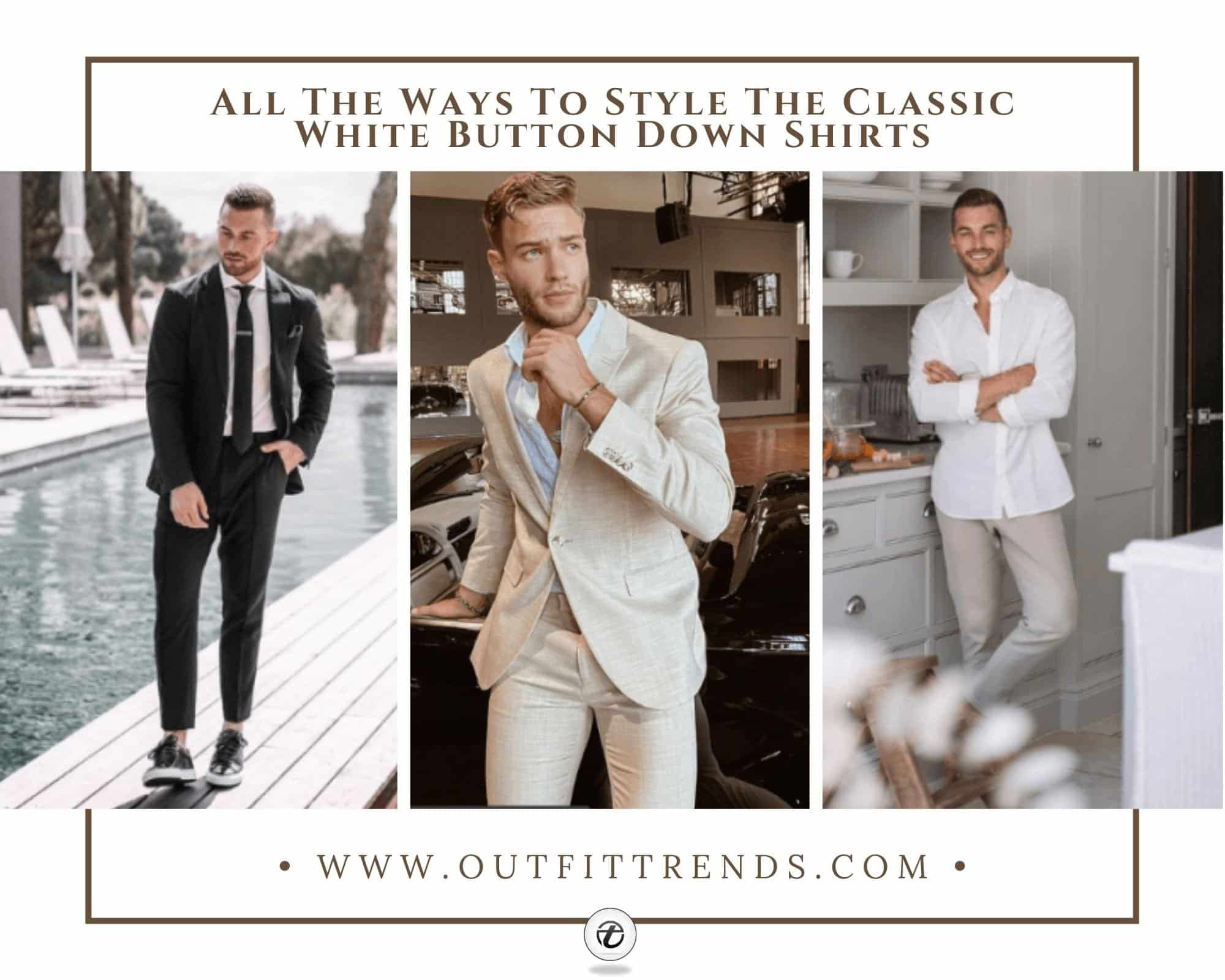 The style applies to casual gigs just as much as it does for formal and semi-formal ones, but the catch is that it's a lot easier – pair it up with whatever outfit you have in your closet. One of the pros of having a white-button down is that thinking about what to wear should not be a full-time job. 
As for the cons, as you know it, the color white is prone to dirt. Stain and dust are visible in it, especially if you'll be spending too much time outdoors. And so you must consider the following:
Use the appropriate soap when washing your white shirts. 

Maintain the quality of its whiteness.

Iron them after drying and hang or fold them properly.
This post will give you ideas on the different ways you can style your white shirt, what trousers to wear with them, and what footwear and accessories will enhance your chosen style.
↓ 33. With Casual Blazers For Reunions
A former classmate of yours invited you to come over for a reunion party. Say no more! Prepare your outfit – a casual blazer, be it a solid color one or a plaid one, it would look good with a white dress shirt underneath. A pocket square is optional.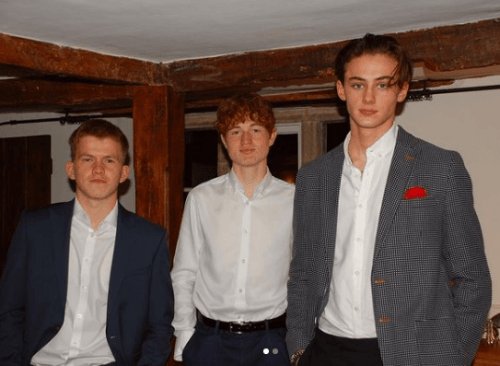 ↓ 32. With a Cream Suit
This style is more on the formal side of fashion. Sophisticated men are fond of wearing this kind of outfit at events like weddings and christenings. In fact, they even wear it on personal gigs like car shows, premieres, and corporate meetings or business presentations. This look can also be on the semi-formal side – lose the tie and the pocket square, and you're good to go!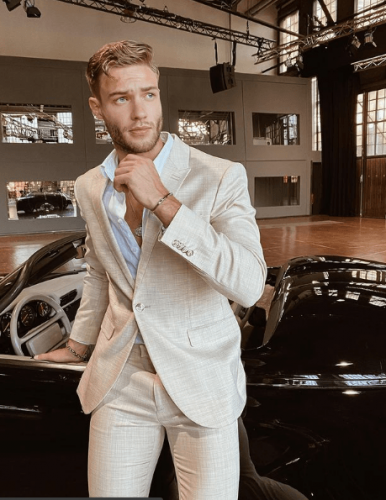 ↓ 31. With Grey Chinos
Now, this is a much simpler style. Wear the shirt with grey chinos, or any neutral color of your choice. Wear it to your work, and call it a business-casual attire. Here's the catch: it can also be a casual outfit by making some changes with your footwear choice. For example, if you're going to the mall to watch a movie with friends, grab your sneakers, and put away the dress shoes for a while, which is, on the other hand, more suitable for the office.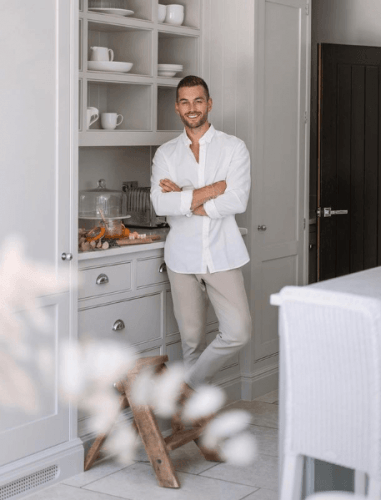 ↓ 30. With Black Slacks
Another business casual attire! Remember that if you're at work, sleeves must remain unrolled, and the topmost button of the shirt must be closed unless otherwise permitted by your boss.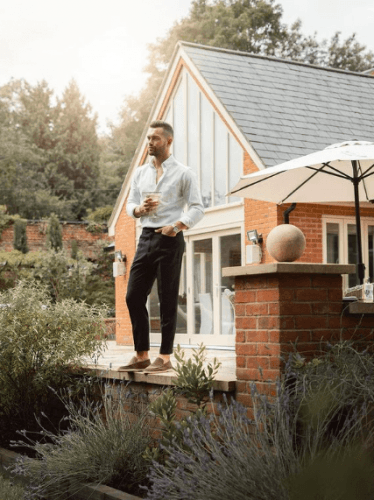 ↓ 29. With a Black Suit
Nothing is more elegant than a man in black. This style is like the most classic and timeless option when it comes to formal wear. Now, usually, men's choice for footwear is either boots or dress shoes, but try to spice things up a little this time by replacing them with some kicks, preferably black to complement the rest of the outfit.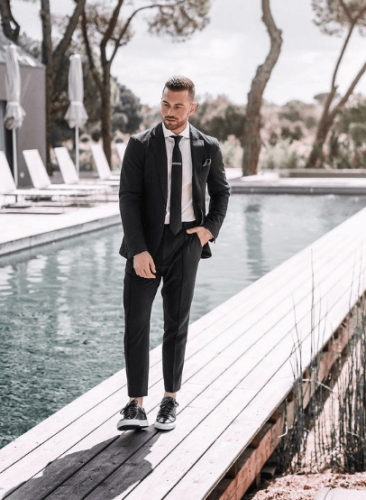 ↓ 28. With Plaid Pants
Pants with vertical prints are perfect for short men. It might not make them any taller, but at least in illusion, they could be. Pair them with a white shirt, and consider unbuttoning it halfway to show off your sexy chest. Roll up the sleeves to elevate your style. Rock this outfit in spring and summer seasons.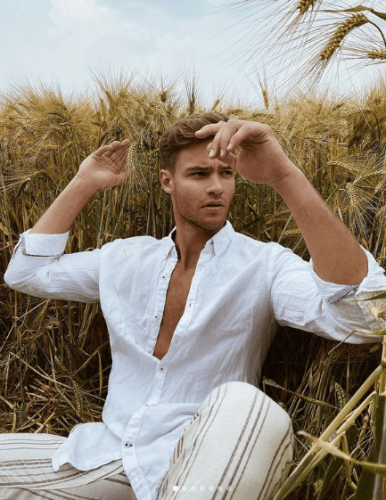 ↓ 27. With a Camel Peacoat
This outfit would look good on any guy. Pair your white shirt with a peacoat on top of it, and then wear them with some ripped jeans. Here are some more ideas on the different Ways to Wear a Peacoat.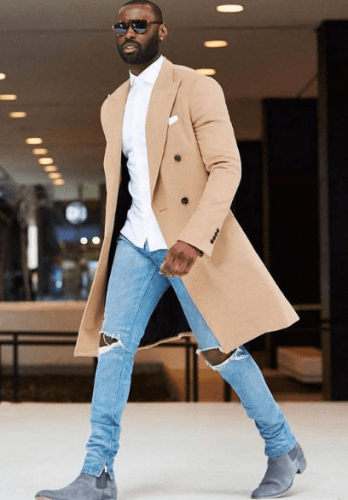 ↓ 26. With an Earth Toned Sweater
Take your street style to another level! White shirt with a light-brown sweater over it, worn with pants, and your everyday sneakers will make you look cool enough for your errands today or perhaps even a date.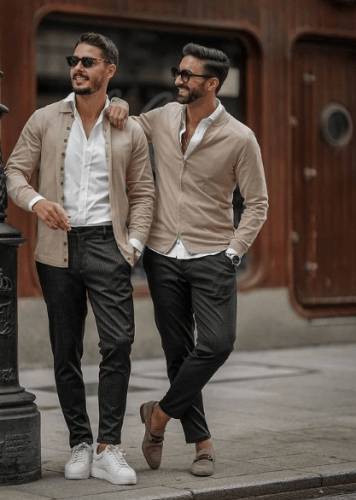 ↓ 25. With Blue Slacks
For mature men, blue can somehow make you look younger. This smart-casual style is suitable for events like parties with business associates, long-lost friends, etc. Make a good choice on picking your wristwatch and footwear, for they will complement your entire look for the certain event that you're attending.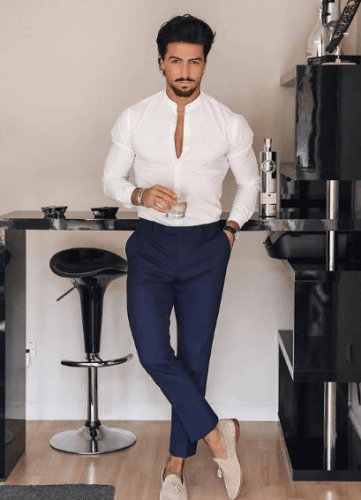 ↓ 24. With Tailored Chinos
For men who prefer to wear rather fitted shirts, try this one out. For a uniform look, wear your white button-down with skinny jeans and chinos. Tuck the shirt in, roll up the sleeves, and finish off the look with topsiders. There is no need to wear socks; it's not a bad idea to show off some ankles now and then. For more on this, check out our Sockless Guide for Men.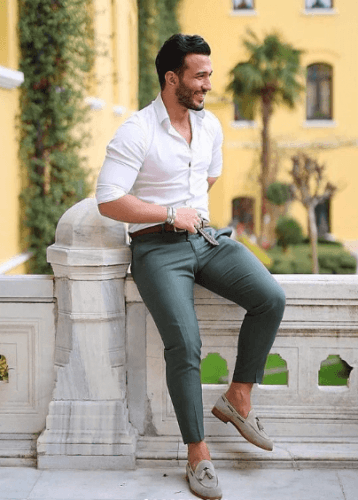 ↓ 23. With a Green Trench Coat
As you know it, it's a practical option to pair up your white shirt with jeans. But if you are tired of wearing the same outfit every day, try to add some flavor to it by layering the top with overcoats like a green trench coat, a winter wardrobe essential.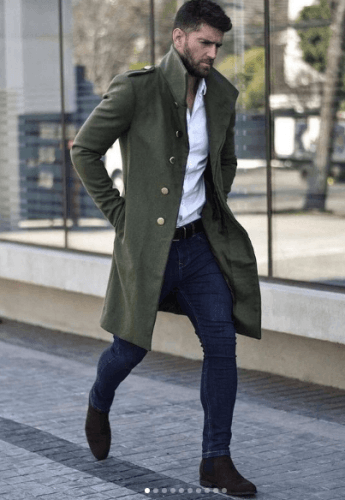 ↓ 22. Smart Casual Look
Men with a well-groomed beard and hairstyle will look a lot more handsome with this outfit. Wear a white shirt, tuck it in chinos to show off your amazing belt.  A tip for you: stick with the belt color and match it with the footwear and other accessories like wristwatch and sunglasses.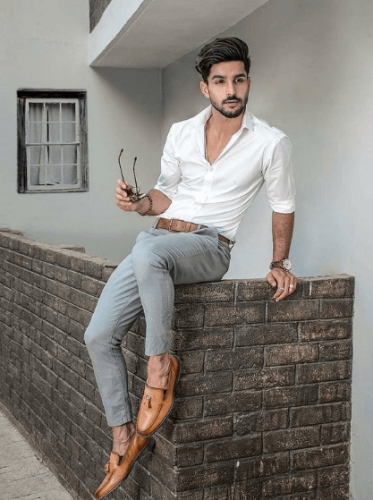 ↓ 21. White Shirt With a Blue Suit
I've seen many formal outfits, but this is one of my favorites – a classic blue suit is worn with a white dress shirt underneath. It looks good on men of all ages. Wearing socks is optional. In fact, it's better not to wear some. Finish off the look with white sneakers, and you're in for an epic show off!
↓ 20. Athleisure
An outfit perfect for both athletics and casual gigs – athleisure looks great whether you're working out or just running errands. Pair up the white shirt with jogging pants or sweatpants; a blazer is optional. In fact, I would advise you against wearing one if you are in the mood to sweat. It's no surprise for anyone that white sneakers will complete this style.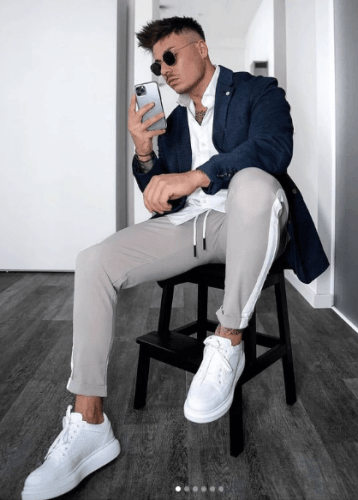 ↓ 19. Precious Gold
The right outfit for the man-of-the-hour! Psychologically it is seen as the color of inner wisdom, quality, and wealth. Look classy and feel confident with this bright-colored suit.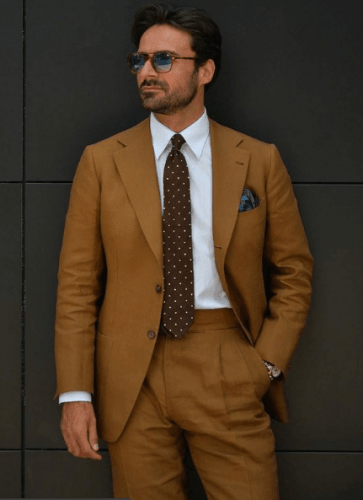 ↓ 18. Summer Vibe
As you're well aware that summer makes you sweaty, consider wearing clothes made of light materials. If you're going to the beach in a white shirt, try to wear it with buttons opened, and sleeves rolled up. Pair it up with shorts or sweatpants.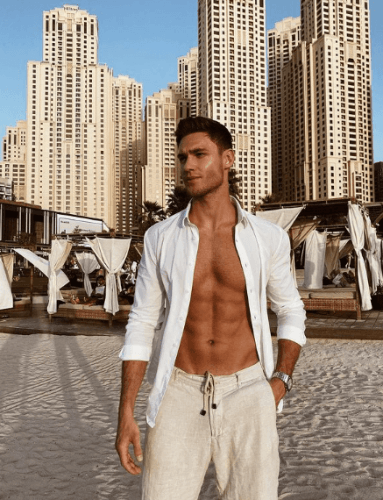 ↓ 17. Business Casual
A practical option for a Monday workday – a white shirt layered with a crewneck jumper and a blazer.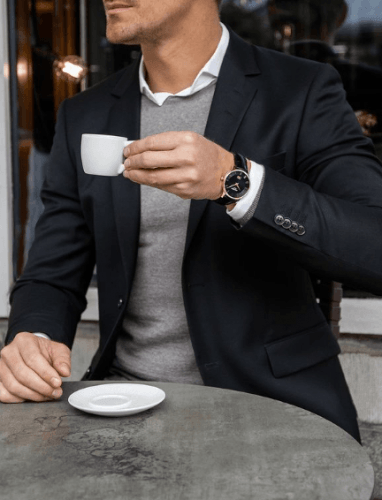 ↓ 16. Semi-formal
Wear a white shirt with a U-neck vest.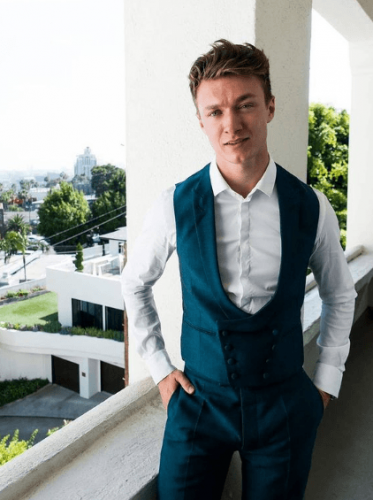 ↓ 15 – White Shirt for Formal Dinner Date
The classics are the best. Crisp white shirt with a nice striped tie and black trousers. Finish this look with a stylish watch and a nice tie clip. Here are 20 Best Outfits for Men to Wear on a Date.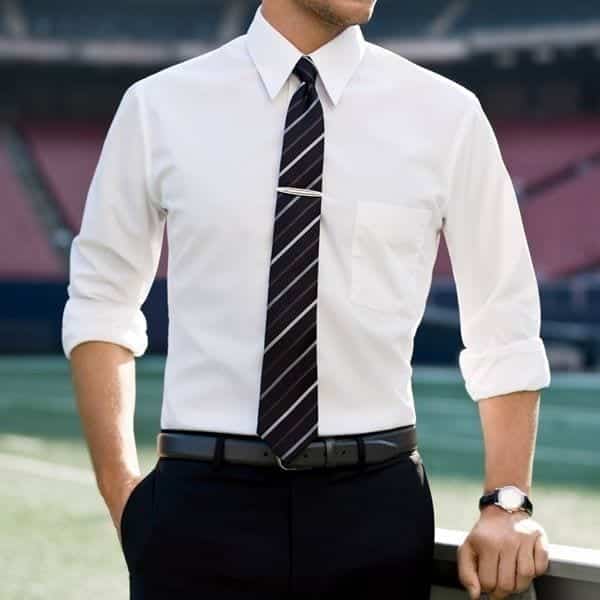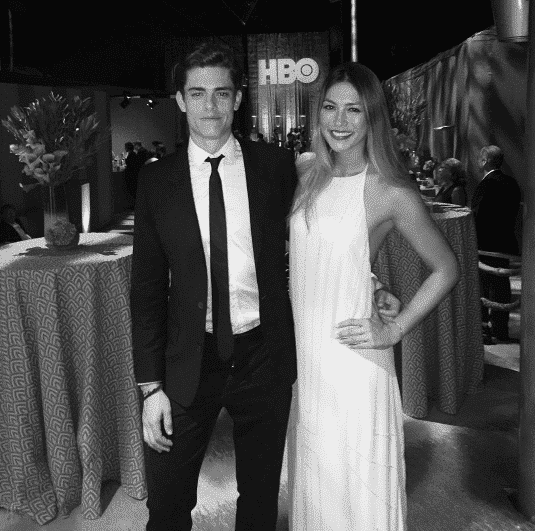 ↓ 14 – Classy White Shirt with Blazer in Winters
Crisp white sneakers and dark denim jeans. Perfect for smart-casual party attire. We also recommend that you check out these Ideas for Men to Wear Sneakers.

And in case it's too chilly or perhaps it's snowing, you can also wear a sweater along with the blazer for a fresh and crisp look.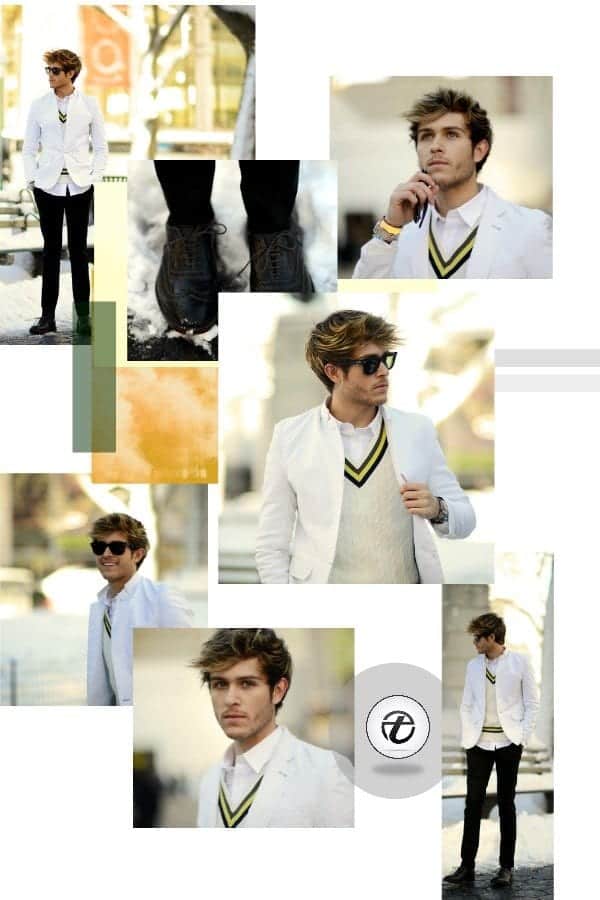 ↓ 13 – Casual Look
Match a white shirt with distressed denim jeans and brown leather shoes for a gorgeous casual style.
↓ 12 – Evening Style
White shirt with grey suit trousers. Match this outfit with a black tie and matching black oxford shoes to make your look stand out. Also, have a look at these 16 Ways to Style Check Shirts.
↓ 11 – How to Wear White Shirt with Shorts
Perfect for summer travels. White shirt with dark navy shorts. Blue and brown boat shoes and a matching brown belt finish this look.
↓ 10 – Different Ways to Wear a White Oxford Shirt in Summers
Here's a step by a step video tutorial to help you master the art of styling a white oxford dress shirt.
↓ 9 – Street Style in White Button-Down Shirt
A winning option for white shirts. Black suit trousers, black smart shoes, and braces are great for this look. Add a suit jacket to finish and sunglasses for an edgy look. Here are 17 Most Popular Street Style Fashion Ideas for Men.
Simple and casual look incorporating a white shirt, navy trousers, and blue plimsoles. Great look for city summers. Finish with a matching jacket and sunglasses.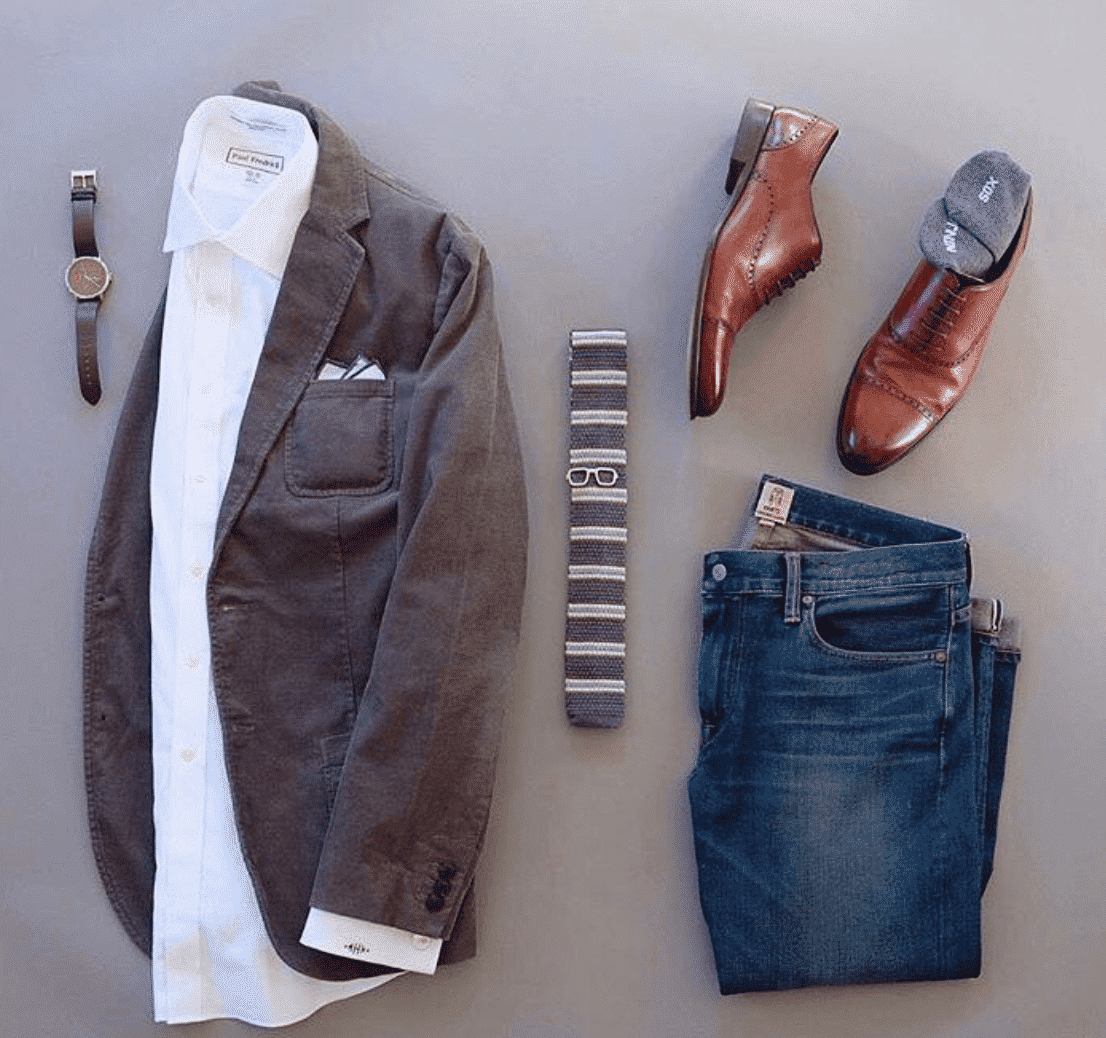 Also great for a traveling outfit. White shirt with blue trousers. Add a splash of colour with a pair of brown brogues.
↓ 8 – How to Layer Under Your White Shirt for Fall
There's a great sense of charisma and simplicity that comes from wearing a white shirt. As it starts to get chillier in Fall, not all of us want to wear blazers or coats so here's a simpler and yet great looking option.
Wear a grey tee under your white shirt to upgrade your style game while staying comfortable in the colder weather. Keep the last few buttons of your shirt open and wear this look with white sneakers and eye-catching socks. Here are 23 Cute First Day of College Outfits for Boys for Sharp Look.

Via
↓ 7 – Which White Shirt to Wear to the Beach
Patterned white shirt. Perfect and simple shirt for beachwear or evening attire. Light shirt for summer.
↓6 – What Suit to Wear with White Shirt
An off-white suit with a white shirt is a perfect outfit for summer weddings or parties. Break the color up with a contrasting tie, a dark brown belt, and brown, suede oxford shoes. Check out these 30 Amazing Men's Suits Combinations to Get Sharp Look.
Another great color option is to wear a casually tailored, greyish colored suit with a white shirt and white sneakers. The top buttons have been left open for a comfortable and dressed down look. It's a smart outfit combination, without making you look too formally dressed, which allows you to wear this outfit for several different occasions.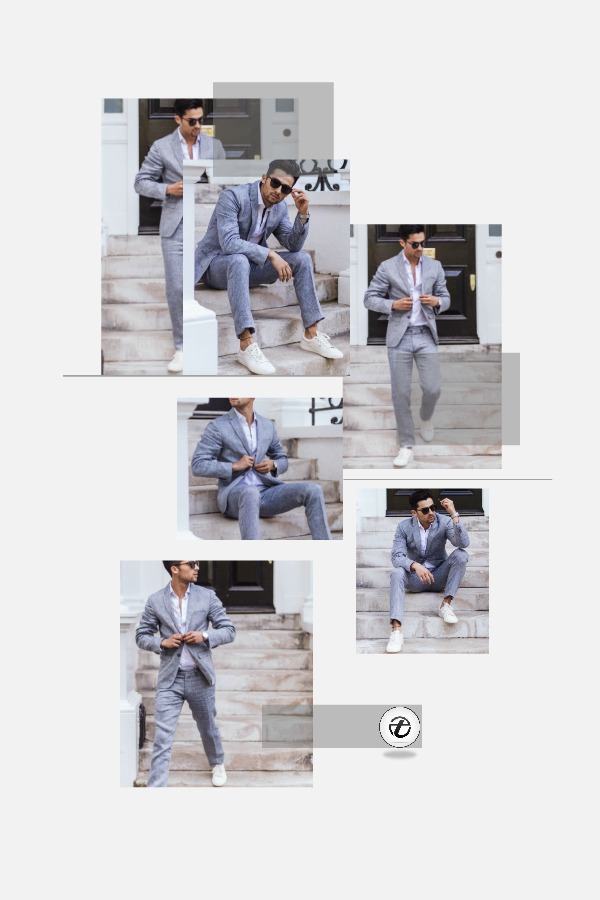 Via
↓ 5 – How to Wear a White Shirt to a Wedding
Wide strap braces break up the shirt's white and with a matching colored tie look very sophisticated. Fantastic wedding outfit. Here are 18 Ideas on What to Wear as a Wedding Guest.
Or for a style statement, wear your white shirt with an electric blue blazer and skinny pants. For the shoes, we highly recommend black oxfords.

Here's how you can get this complete look in less than $180 from the amazing Men's Bar III collection that's available at Macy's: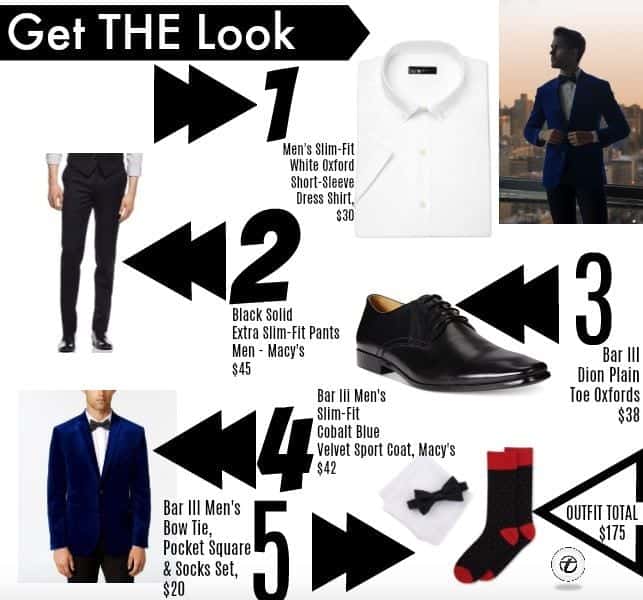 ↓ 4- Swag Style
Great city look consisting of a white shirt with blue jeans and a checkered jacket. Match this outfit with a pair of brown brogues. Shades will complete this style perfectly.
↓ 3- White and Waistcoat
A white shirt and contrasting black waistcoat is always a winning look. Make it more casual with a pair of blue jeans and sunglasses. Add a touch of colour with a brown tie. You May Find This Useful too: 18 Ways to Style Men Waist Coat.
↓ 2- Wear Bow Tie with it
Waistcoat and jeans with a white shirt. The dickie bow adds a great and cute twist to this outfit. Perfect for a student look. Also see: How to make bow tie and 16 ways to wear it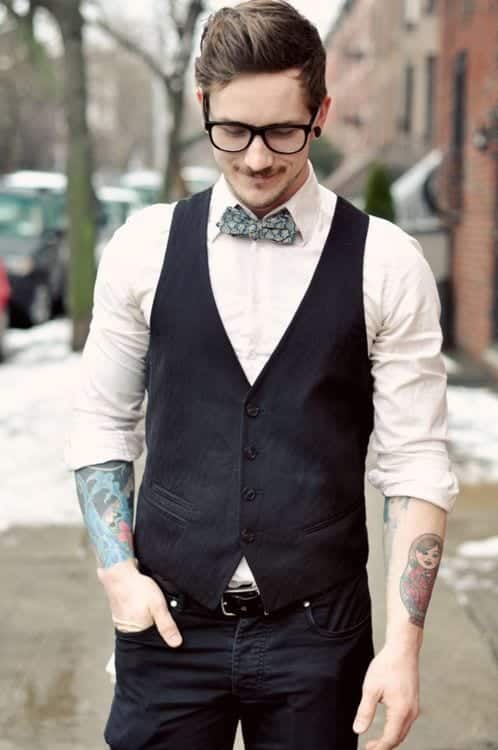 ↓ 1 – The Classic White Shirt Outfits for Work
A properly buttoned-up white shirt and silver tie with suit trousers gives a formal look, but roll the sleeves up and you have succeeded in adding a casual hint. The perfect look for a businessman.