Men Sweatpants Outfits- Hey guys get ready to be the heartthrobs with our funky suggestion of sweatpants without the hassle of spending your hard-earned money on expensive clothing. Sweatpants are must to have and of course, guys can't live without them because they let you be in your comfort.

How to Wear Sweatpants for Guys
Sweatpants.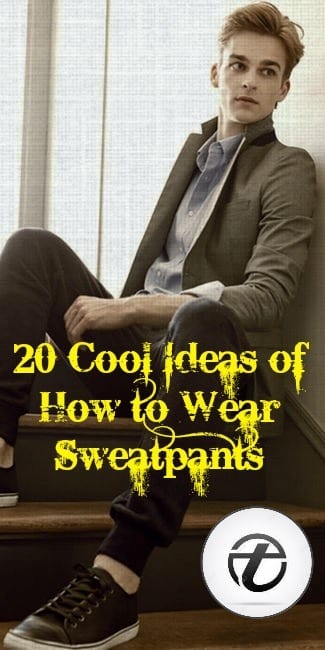 Do try our 20 suggestions and let us know what you think about these.
↓ 25 – Sweatpants For Morning Walk
eep comfortable at the gym or on the couch in these cotton-rich fleece joggers brushed inside for extra warmth and cut to reduce shrinkage.

Shop similar items below
Reverse Weave® Jogger Pants CHAMPION 6000Rs/-
Logo Print Baseball Cap GUCCI PricePKR 66945.06
↓ 24 – Holiday Chillings in Sweatpants

Shop the complete look below
Glider Colorblock Sweatpants AVIATOR NATION PricePKR 27636.29
Vertical Print Socks RHUDE PricePKR 9269.32
Cashmere Crewneck Sweater NORDSTROM MEN'S SHOP Regular, Tall & Big PricePKR 24889.83
↓ 23 – Sweatpants For Classy Gentlemen

Shop the complete look below
Brunello Cucinelli Men's Open Bottom Sweatpants $775.00
TOD'S lace-up sneakers $416|30% Off$291
Patrick Assaraf Linen Sportcoat
↓ 22 – Sweatpants With Hoodie

Shop the complete look below
Jockey® Go-To Full-Zip Hoodie $52.00
adidas Originals Swift Run – 85$
↓ 21 – Simple Yet Sophisticated style

Shop the complete look below
'Serrano' Sneaker ONITSUKA TIGER™ PricePKR 12865.47
NSW Tech Jersey Sweatpants NIKE PricePKR 17165.40
Slubbed Henley GOOD MAN BRAND PricePKR 15105.55
↓ 20 – Wearing Sweatpants In University
Go to university in style without opting for jeans or dress pants. Wear your grey sweatpants with, Casio watch and your navy blue raincoat, pair these with the matching converse and t-shirt and enjoy your day in your university with style. Also, have a look at these 20 Trendy Outfits for College Guys.

↓ 19 – How To Wear Sweatpants Without Being Sloppy
People think sweatpants can not give you a neat look and no matter what these pants are too casual to be worn in public. Well, let me tell you good news, sweatpants are meant to keep you comfy so you can wear them whenever you want to as long as you know how to carry the look positively. Wear your sweatpants with a scarf and overcoat, straighten your hair for this look.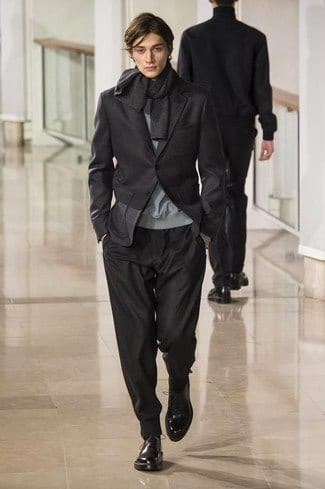 ↓ 18 – Sweatpants For Street Style
Show off your dandy style with these straight gray sweatpants, white club collar shirt and short, cropped fringe hair cut. You can wear your beanie cap too with this look. Here are the 17 Most Popular Street Style Fashion Ideas for Men.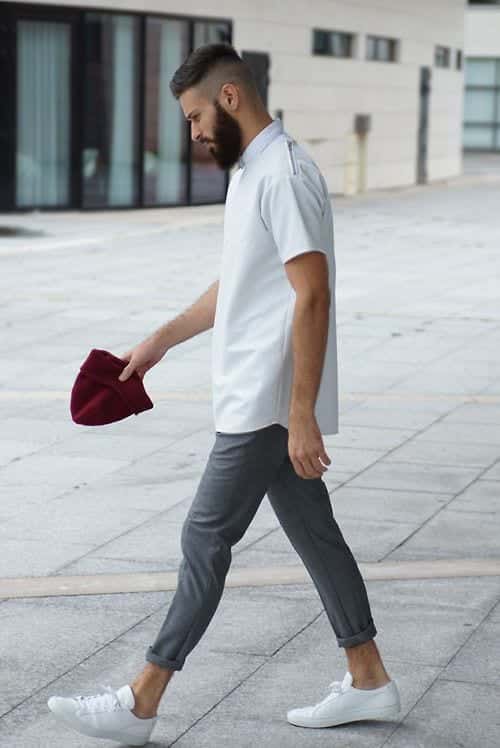 ↓ 17 – How To Wear Sweatpants To Office
Love your sweatpants enough to wear them in your workplace? Well, yet you can if your sweatpants are not baggy. Wear them with a proper forward-point collared shirt and a slim fit dress coat. To keep the look formal wear tan bucks with this look.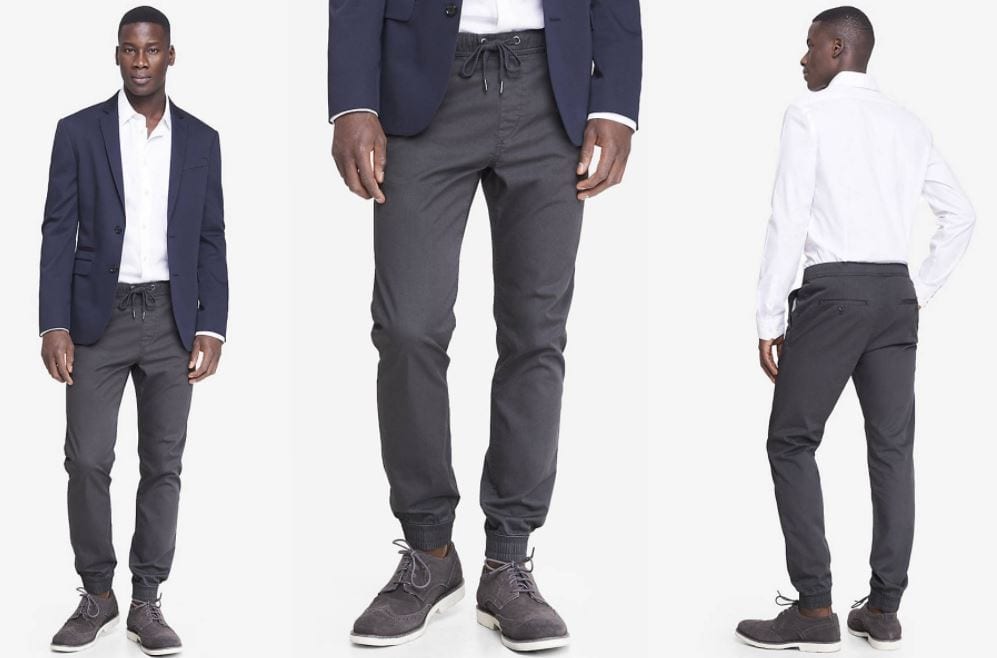 ↓ 16 – How To Wear Sweatpants Fashionably
Wear your simple sweatpants and shirt with a leather biker jacket to make you look more fashionable and cool. Stay in your comfort by wearing sneakers and a beanie with this style. Do check out 15 Ways to Wear Different Hats Fashionably.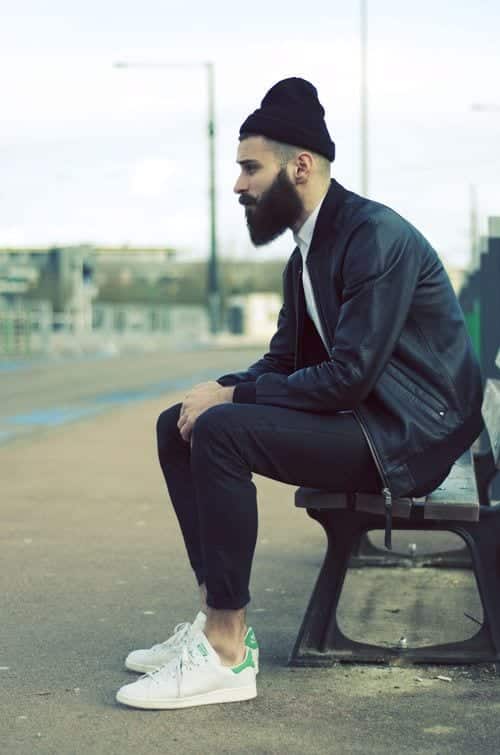 ↓ 15 – How To Wear Sweatpants With Denim
Sweatpants can be worn any way you want but if you have a meetup or some friendly get together, don't go like a junkie:) instead pair up your sweatpants with a striped shirt and denim jacket and wear your wingtip shoes with this look.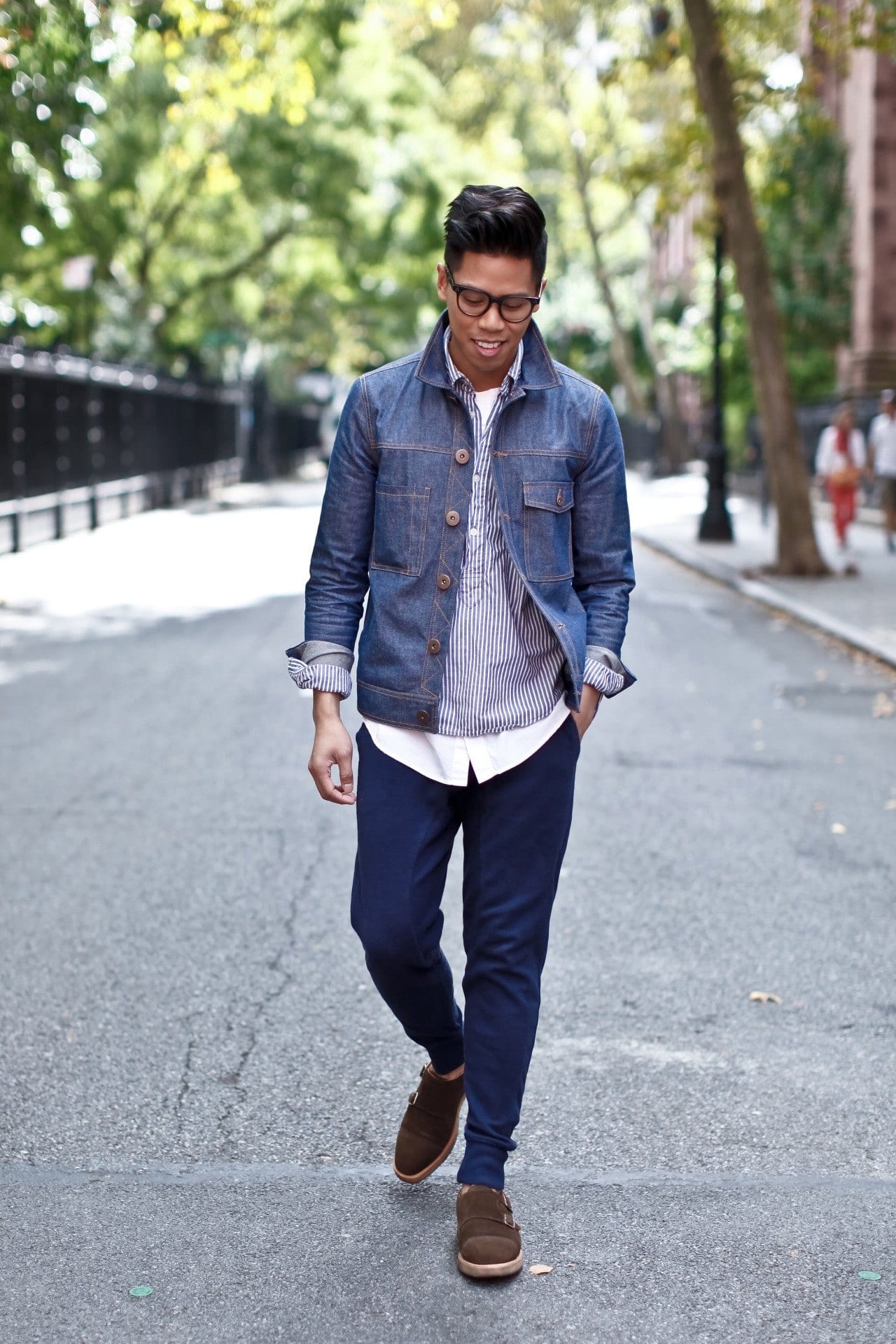 ↓ 14 – Wearing Sweatpants For Jogging
Wear your jogger sweatpants for jogging. These woolen sweatpants will save you from chills while you can enjoy your jogging routine with ease. Here are the best Men's Workout Outfits.

↓ 13 – What To Wear With Navy Blue Sweatpants
Navy Blue is the color that goes with everything. So wear your navy blue sweatpants with a round neck sweater to pull off a gentleman look.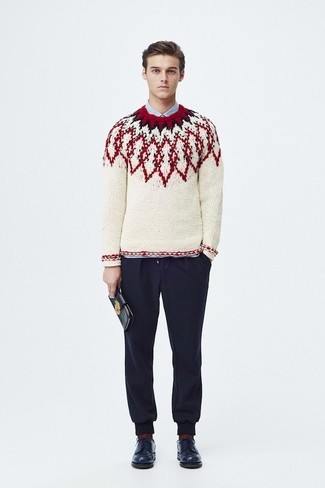 ↓ 12 – Street Style Yet Again
Wear your sweatpants with a tank top to have a rapper look. A bandanna on your head and few bracelets in your hand will complete this look.

Buy similar items below
Premium Grey Turtle Neck T-Shirt Was $40.00 Now $10.00
RAY BAN Aviator Classic Green Camo Sunglasses 87$
↓ 11 – How To wear Black Sweatpants
Who does not own black sweatpants! We all do, so let's experiment a few styles with it. Wear it with full-sleeved tees and a gray bomber jacket and look like a model straight from Men's Fashion Magazine. Check out these Black Pants Outfits For Men.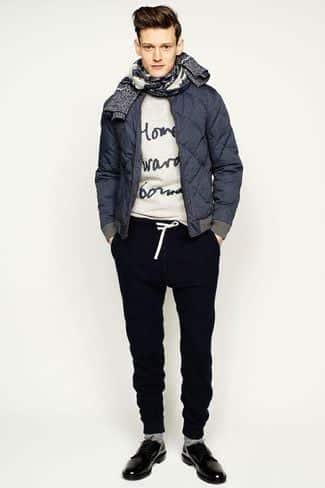 ↓ 10 – How To Wear Sweatpants To Work Place
If you love sweatpants so much that you even want to wear them to the office, then you need to work a bit hard with your dressing. Don't be lazy, wear a neat, ironed button-down shirt with a gray coat and matching pencil sweatpants. Not only will this style give you a tidier look, but you will also be comfortable with your style and it will not be hard on your budget.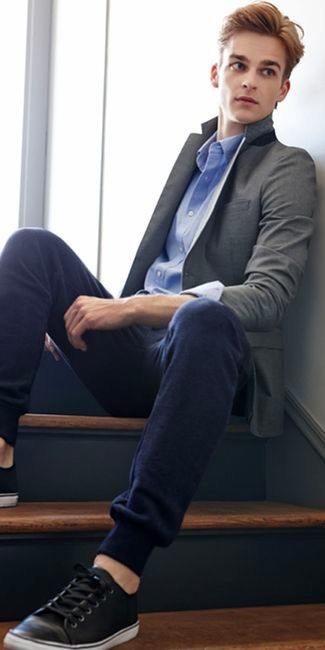 ↓ 9 – Baggy Sweatpants
Baggy sweatpants are ultimate street style, if rightly worn, they look very cool and are perfect for casual occasions. Wear your Baggy sweatpants with a tank top and wear a jacket for a rock star look. Or you can wear your baggy sweatpants with a sleeveless printed top too if you are going to a beach or having a dance party at your place.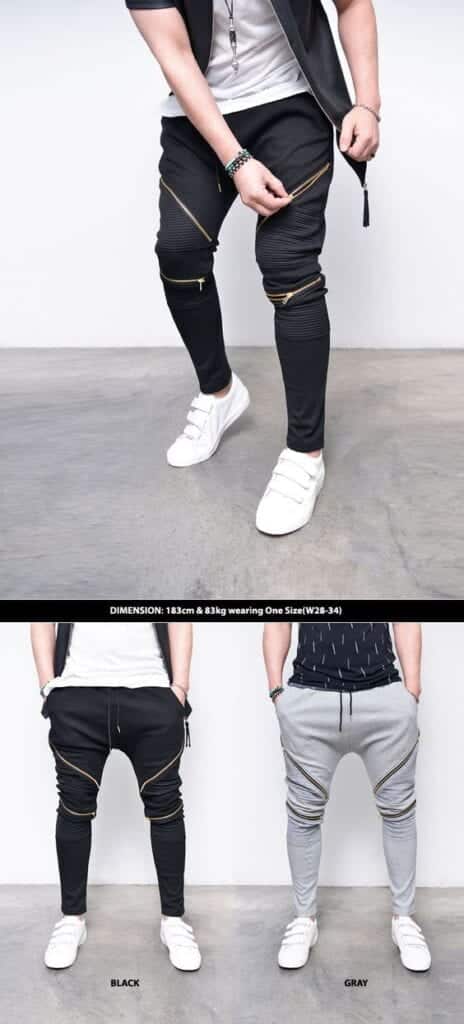 ↓ 8 – Casual Everyday Look
For those residing in colder regions, wear your sweatpants with a plaid shirt and jacket, cover yourself in a dark-colored shawl and comb back your cropped hair with a gel. This look will give a mysterious air to you, perfect if you like people to praise you for your style. Don't forget your high ankle boots with this look. Here are 18 Latest Men Casual Outfit with Blazer.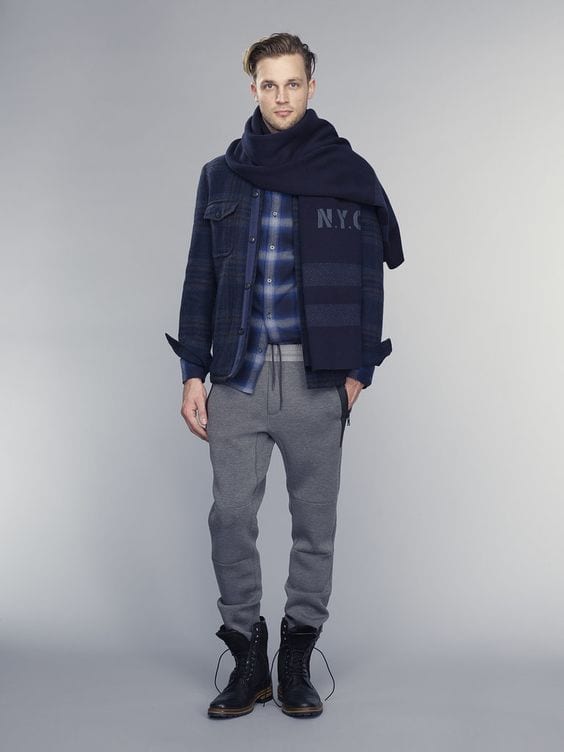 ↓ 7 – Dress Up for Date
Sweatpants are not only for workouts or casual clothing. If you find skinny sweatpants, wear it with your simple shirt and cargo printed jacket. You're all set for the date.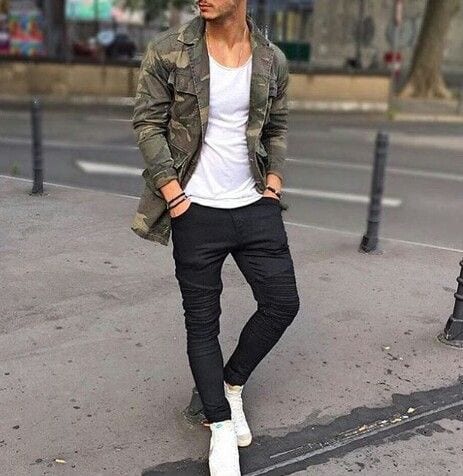 ↓ 6 – What Shoes To Wear With Sweatpants
Because sweatpants are informal kind of clothing, when pairing them with polo shirts or t-shirts, it is preferred that you wear either your converse, sneakers or vans. If you are replicating the below-shown look make sure your hair is either short-sided one or you have a textured hair cut. RECOMMENDED: 30 Best Men's Outfit Ideas to Wear with Monk Strap Shoes.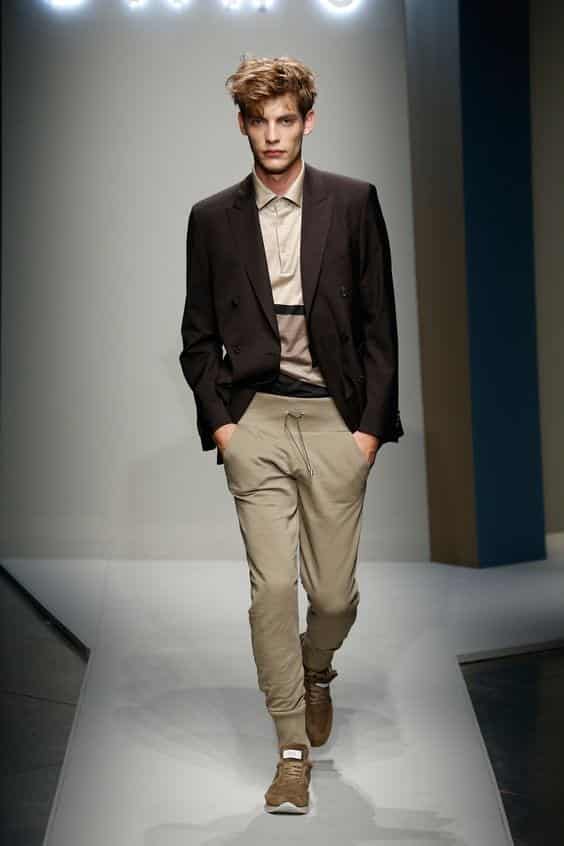 ↓ 5 – Stay In Style Even At Home
Staying indoors doesn't mean that you can't look neat and stylish. Your favorite T-shirt and your sweatpants with a neat slicked-back haircut can do the magic.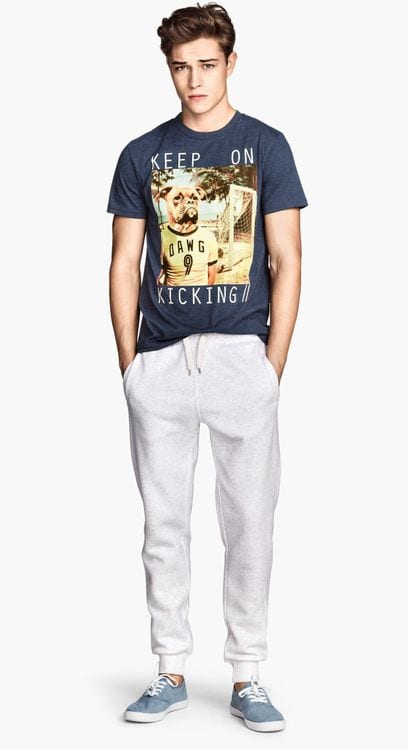 ↓ 4 – Ombre Sweatpants – The Current Trend
Ombre Sweatpants are all the rage these days, you can wear them with colored tank tops or t-shirts of your choice and you'll look very dandy in it. Just by the way, if you have a baggy jeans sweatpants, bleach half of it to get the ombre sweatpants at home. Don't miss out 20 Shoes To Wear With Guys Sweatpants.
↓ 3 – Sweatpants For Workouts
Well, yes sweatpants are for a workout so why not wear them on your workout routines:) but in style. Warm gray sweatpants with a gray sweatshirt and your lovely ruffled hairstyle.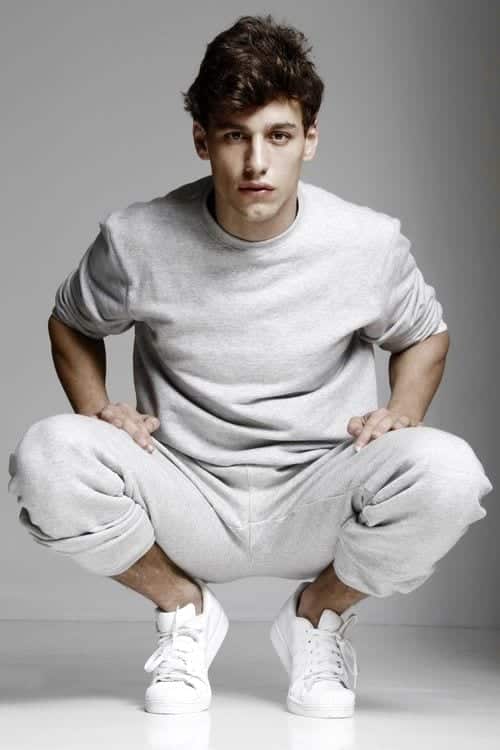 ↓ 2 – How To Wear Sweatpants To School
If you love prepster style then go for a simple hand-knitted gray, round neck sweater with the black sweatpants. Not only is this look very smart, but it makes you look sophisticated and very neat.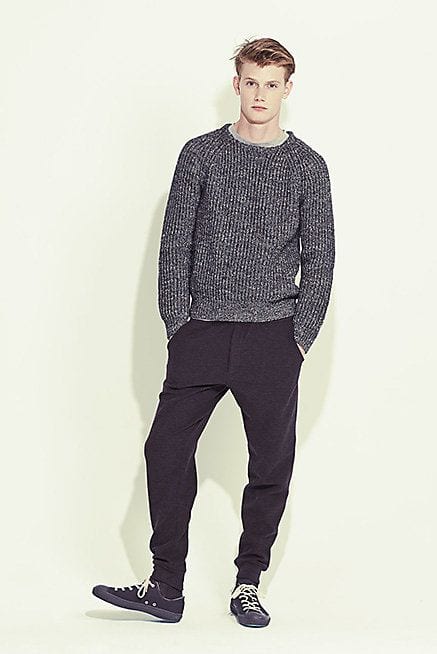 ↓ 1 – Sweatpants For Sports
The best thing about sweatpants is the kind of flexibility it gives if you're a sportsman. This chic style is for those who enjoy sports on a daily basis or regularly. Don't forget your canvas shoes with this look.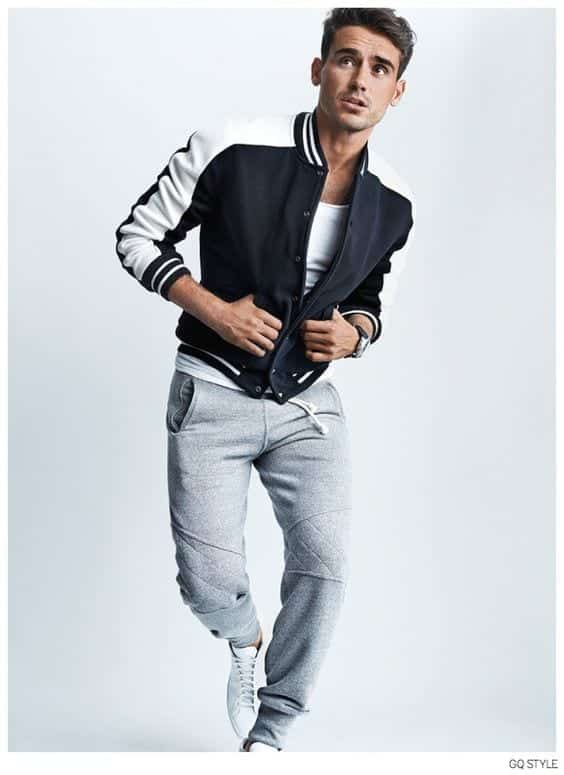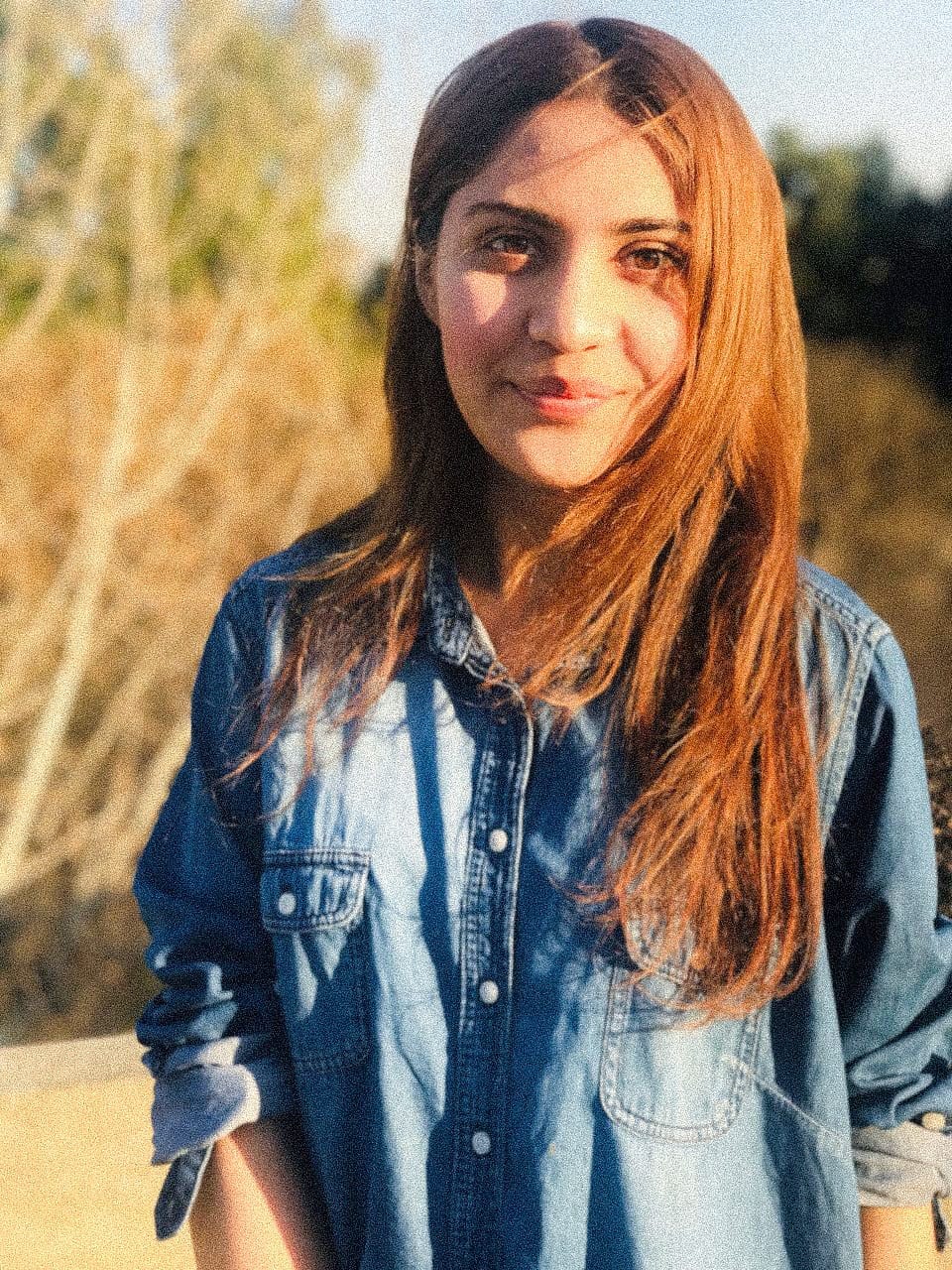 Aleena is a young, passionate writer and a keen observer. She loves fashion and is always looking for new trends and styles. Besides writing, she is a very good speaker who strongly believes in serving humanity and focusing on the positive side of things.