Garden Party Outfits For Men. An ideal garden party wardrobe solely consists of summer and spring staples. And you might be delighted that some of these essentials might already be in your closet.
Try not to go full-on! Most outdoor parties allow simple outfits dressed up in certain ways to meet the cut of the required dress code. Garden parties call for spring-summer attire with a slight hint of formality.
Dressing for such an event can be tricky. Unlike black-tie and cocktail, garden parties can mean many things, including choosing the right outfits from the sea of options.
What Is A Garden Party?
A garden party's dress code lies on the blurred lines between backyard barbecues and black-tie galas. The point is, it's a party with a setup that's not too formal nor casual. And t is up to the guests (and hosts) to strike a balance to get it right.
In a nutshell, a garden party is an upscale outdoor party rich in fauna, natural elements, and food, of course.
Tips On Wearing Outdoor Party Outfits
Time And Venue. The invitation would likely indicate this. But just in case it won't, ask the hosts to have some idea of how you would dress for the event.
Fabric. Since outdoor parties are generally held in warmer months, it's recommended to wear outfits made of lightweight materials. Invest in pieces made of linen, cotton, and silk. Because these fabrics are soft and breathable, they can quickly absorb and release sweat.
Be Bold. Not just with colors. If you feel your outfit is too plain for the party, try to think of even the smallest way to spice it up. Accessories like ties, pocketsquares, and hats are great ways to experiment with patterns, prints, and fabric.
Prints. This is your chance to play with various patterns. Tropical and floral prints are ideal for garden parties.
Better Be Safe Than Sorry. If unsure, opt for smarter and dressier outfits. After all, it's better to be overdressed than underdressed.
What To Avoid
Too Casual Outfits. Even if it's "garden casual," steer clear of graphic tees, tanktops, running shoes, and pretty much everything you see in the streetwear scene. This is also not the perfect time to play with trends and fads. To be safe, stick with classic and timeless pieces instead.
Too Much Layering. There's a time and place for everything. Do not overdo your outfits by incorporating lots of garments. It would only be a hassle for you as the temperature in the venue will likely be on point. You don't want to be soaking in sweat!
Where To Buy Garden Party Outfits
It can be overwhelming to know that you can find these staples from many fashion designers and high-end brands.
As much as you want to look your best self, you don't have to spend a lot of money on your outdoor party outfits. Then again, no one's stopping you. But my advice for you is to invest in pieces you can also wear on other occasions, and not just garden parties alone.
Visit stores like Ralph Lauren, Calvin Klein, and Gucci. Some of their products might be pricey, but all worth it when it comes to quality and versatility. You can also buy online through Urban Outfitters, Nordstrom Rack, and Amazon.
How To Style Garden Party Outfits?
Since you can't rock these outfits all year round, grab this small chance to do your best to look like the best version of yourself.
↓ 27 – Bomber Jacket
Why not wear a bomber jacket with knitwear as the undershirt. Green and white make a great combo, and they are ideal for garden-themed parties. Then team up with lightweight grey pants, and finish off with sneakers with a similar shade. Here are some more ideas on styling Bomber Jackets.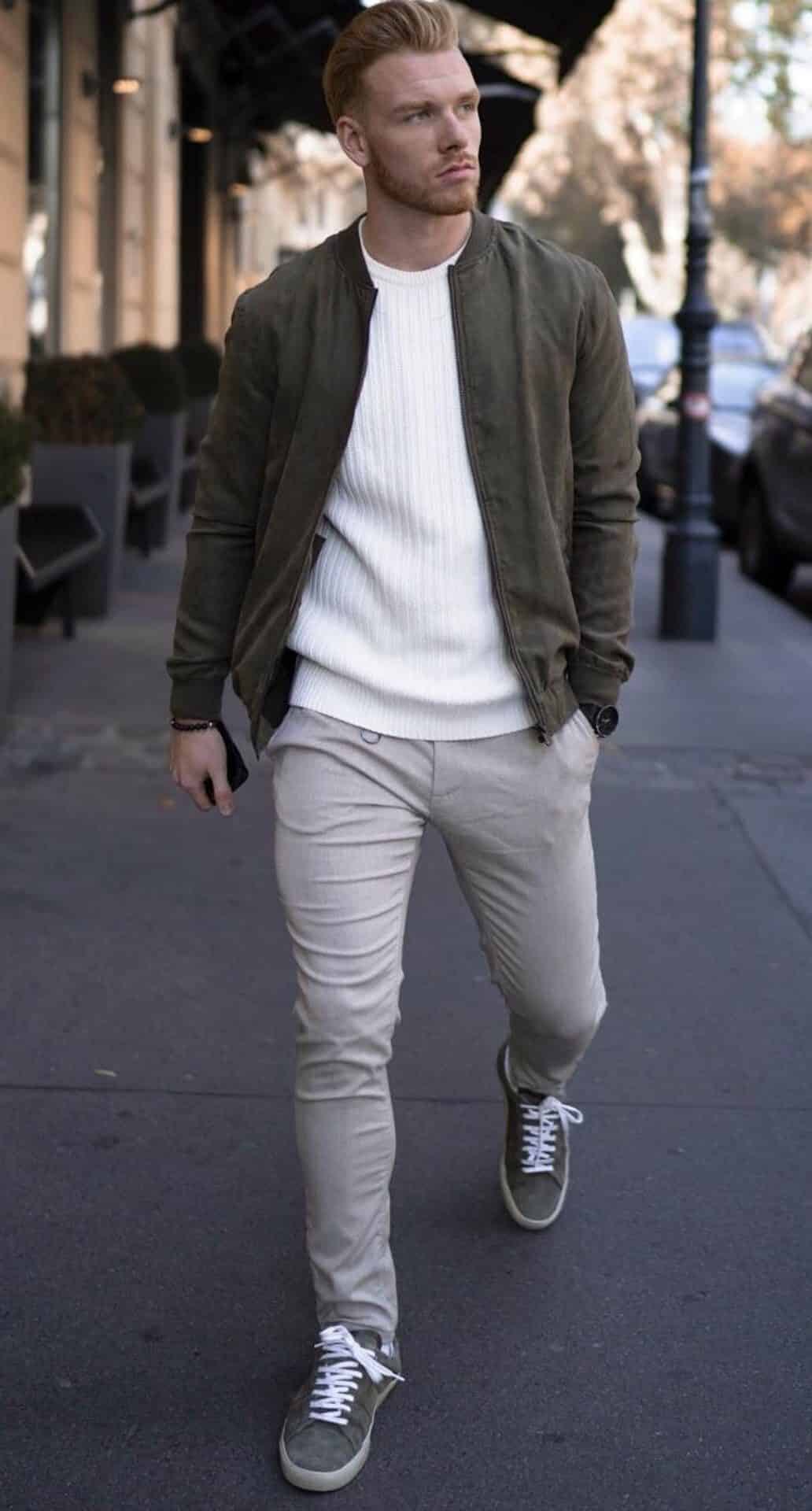 ↓ 26 – Denim Jacket
Even if it's summer or spring, you can still try wearing denim as long as you'll roll up the sleeves. For instance, wear it with a shirt underneath. Then grab some black jeans or chinos, and complete the look with some accessories like cool sunglasses.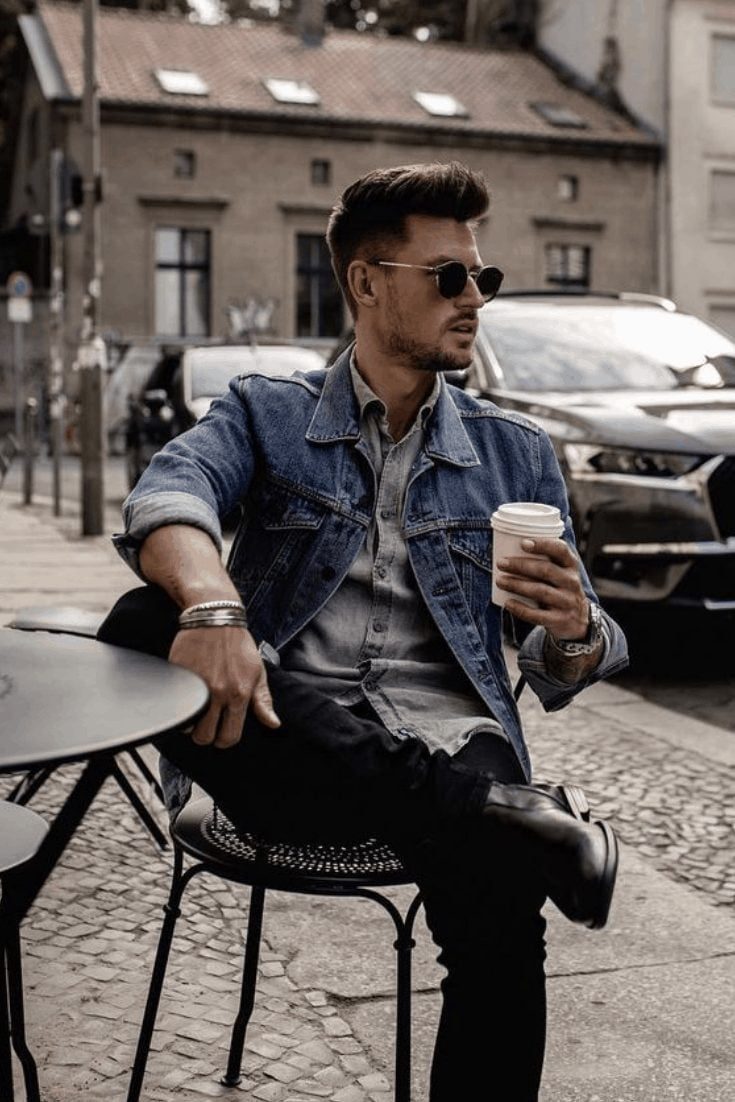 via
↓ 25 – Leather Jacket
Ditch the biker style, and opt for a restrained design instead. The reason is that the latter suits more gents, unlike the former. Also, the restrained one pairs well with many outfits. For example, it looks great with a zip-up rollneck sweater. Don this look, and don't forget to stick with black jeans – ripped style is optional, however.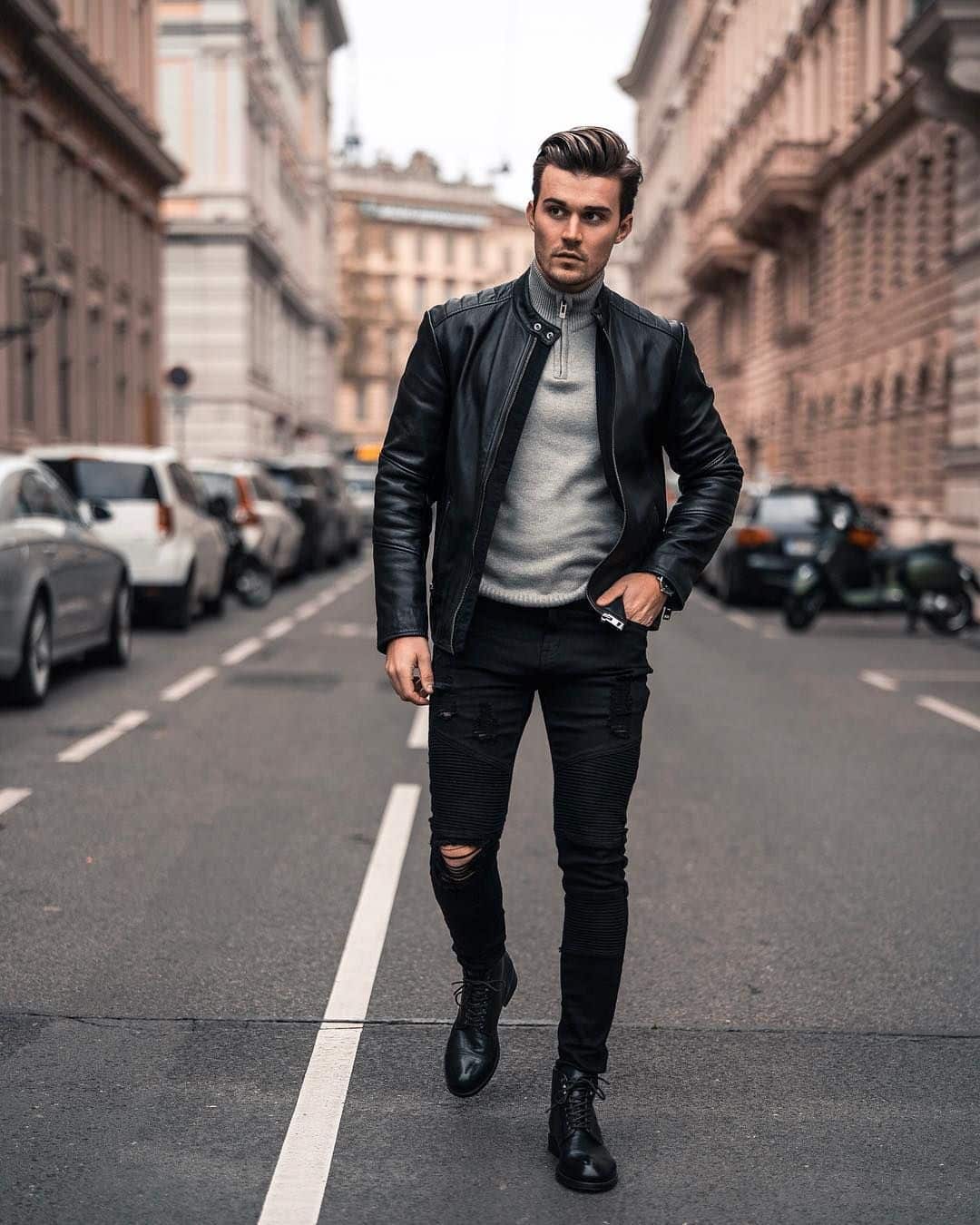 ↓ 24 – Flannel
Flannel shirts in earthy tones are ideal for outdoor festivities and garden parties alike. Limit your options to brown, green, and white variants to perfectly match the venue. Here are some of my personal favorite Guys Flannel Shirts.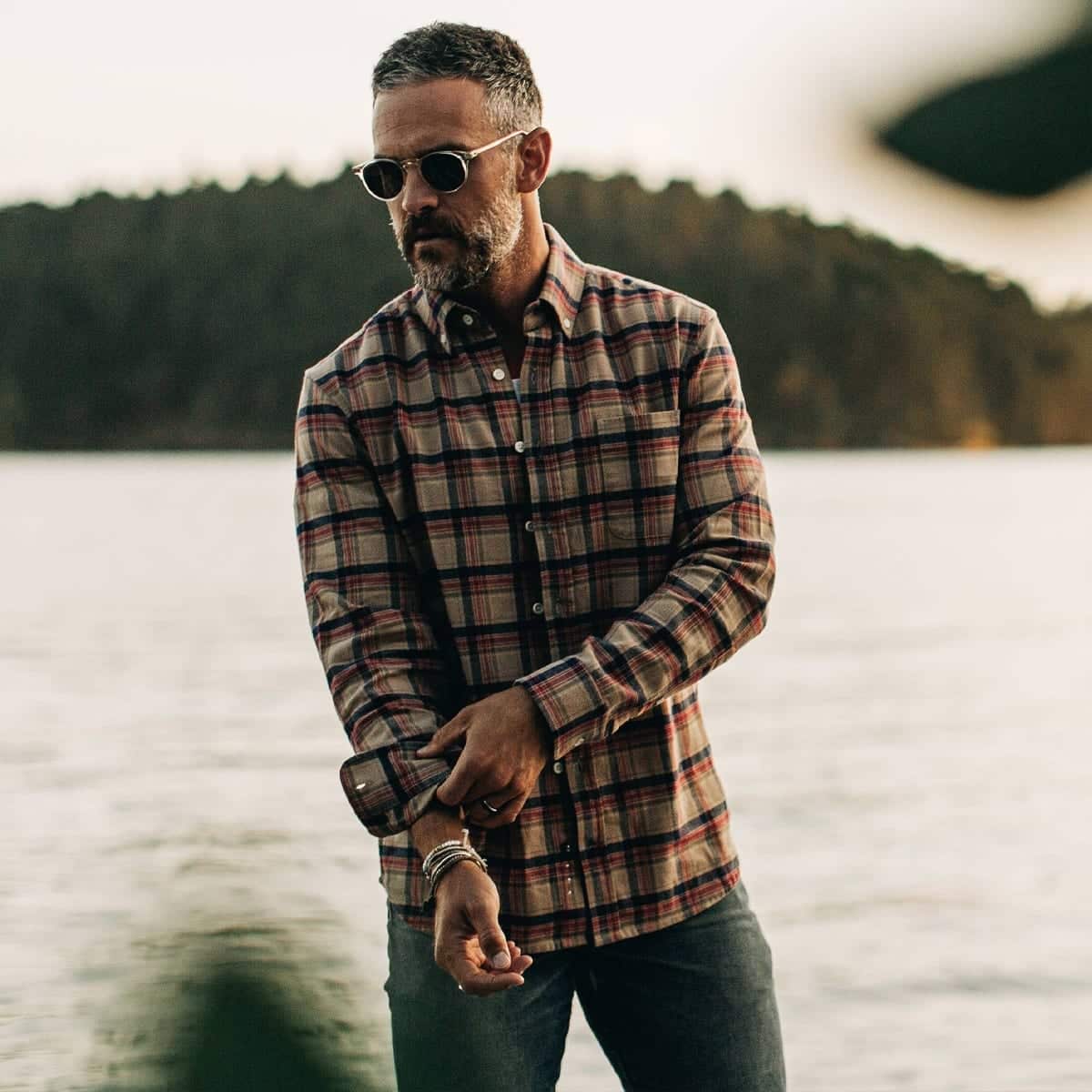 ↓ 23 – Polo Shirt
Who would have known that polo shirts can be seen at garden parties as well? I mean, we are used to seeing them in country clubs and golf courses, right? Well, if you plan on trying out this look, choose a cool design. For one, shirts with touches of earthy tones are perfect for these events. Try pairing it with plaid pants, and remember to tuck the polo shirt into it for a quick dressed up appearance.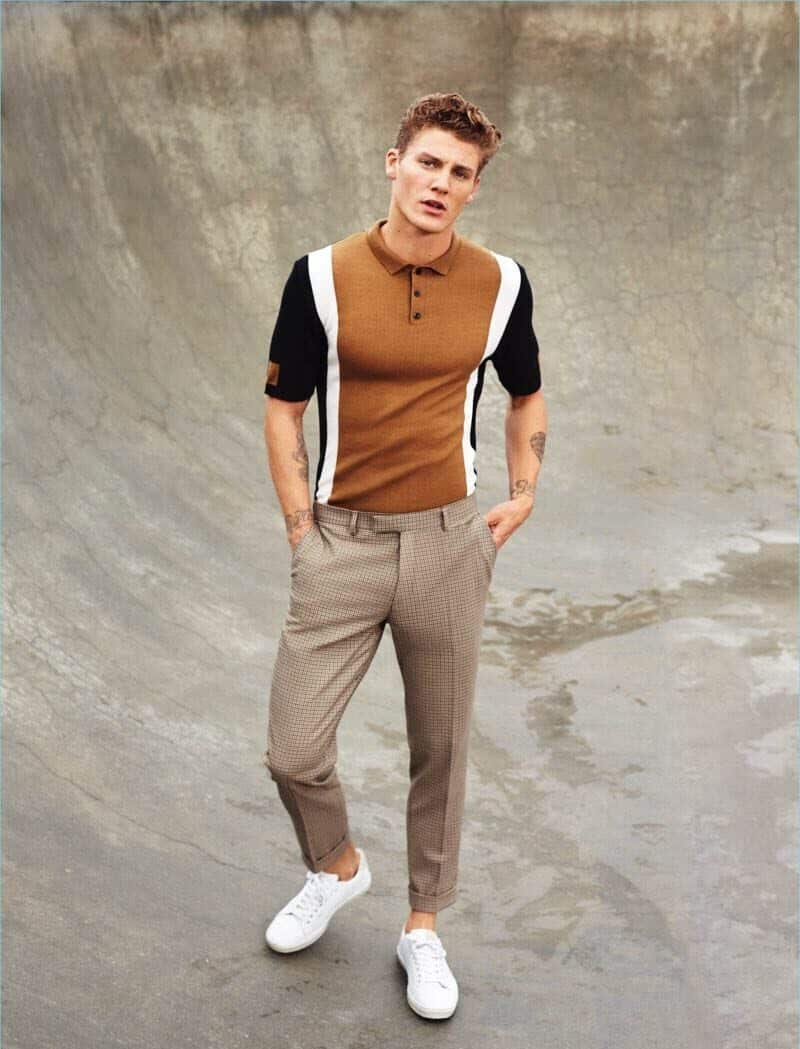 ↓ 22 – Corduroy Pants
The cord fabric's unique appearance will up your fashion game by ten points. The catch here is to team it up with the right set of outfits. You have to pay attention to the color-blocking as well. And try not to look awkward wearing weird combos, so watch out.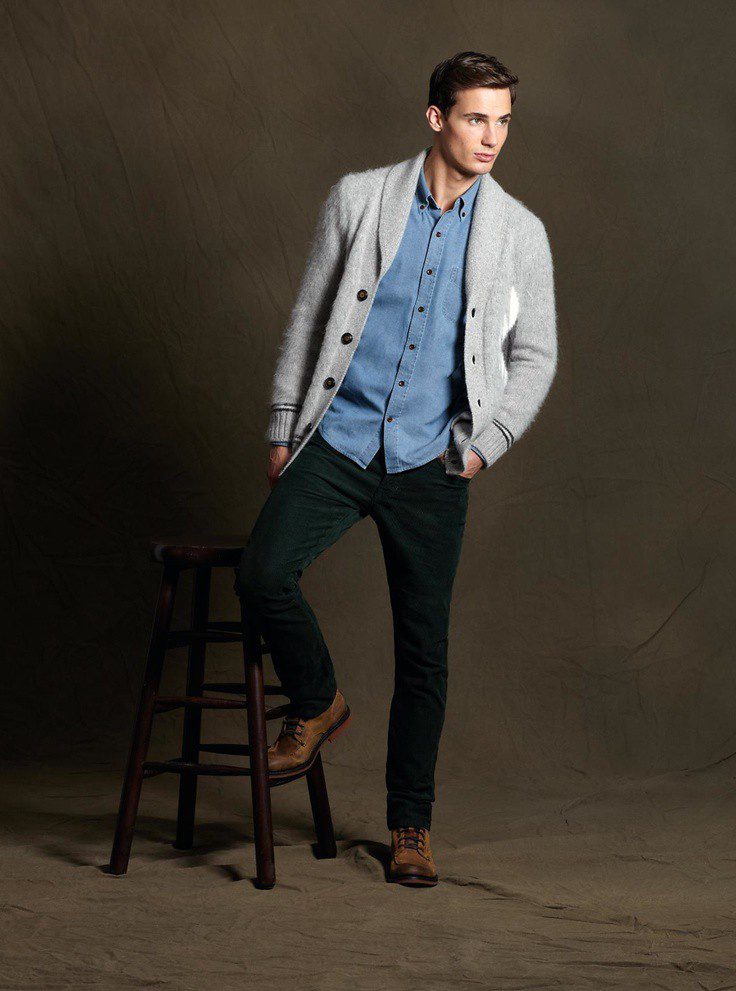 ↓ 21 – Smart Casual Outfit
If you don't feel like wearing a semi-formal outfit to a garden party, settle with a smart casual getup for now. The thing about this style is that it's more laidback, and you have more possible combos. Try pairing a crisp white button-down with dark blue jeans. And remember to cuff them! Wearing sneakers won't be an issue since footwear leeway is a perk of this dress code. Here's our complete and exclusive guide on Men's Smart Casual Attire.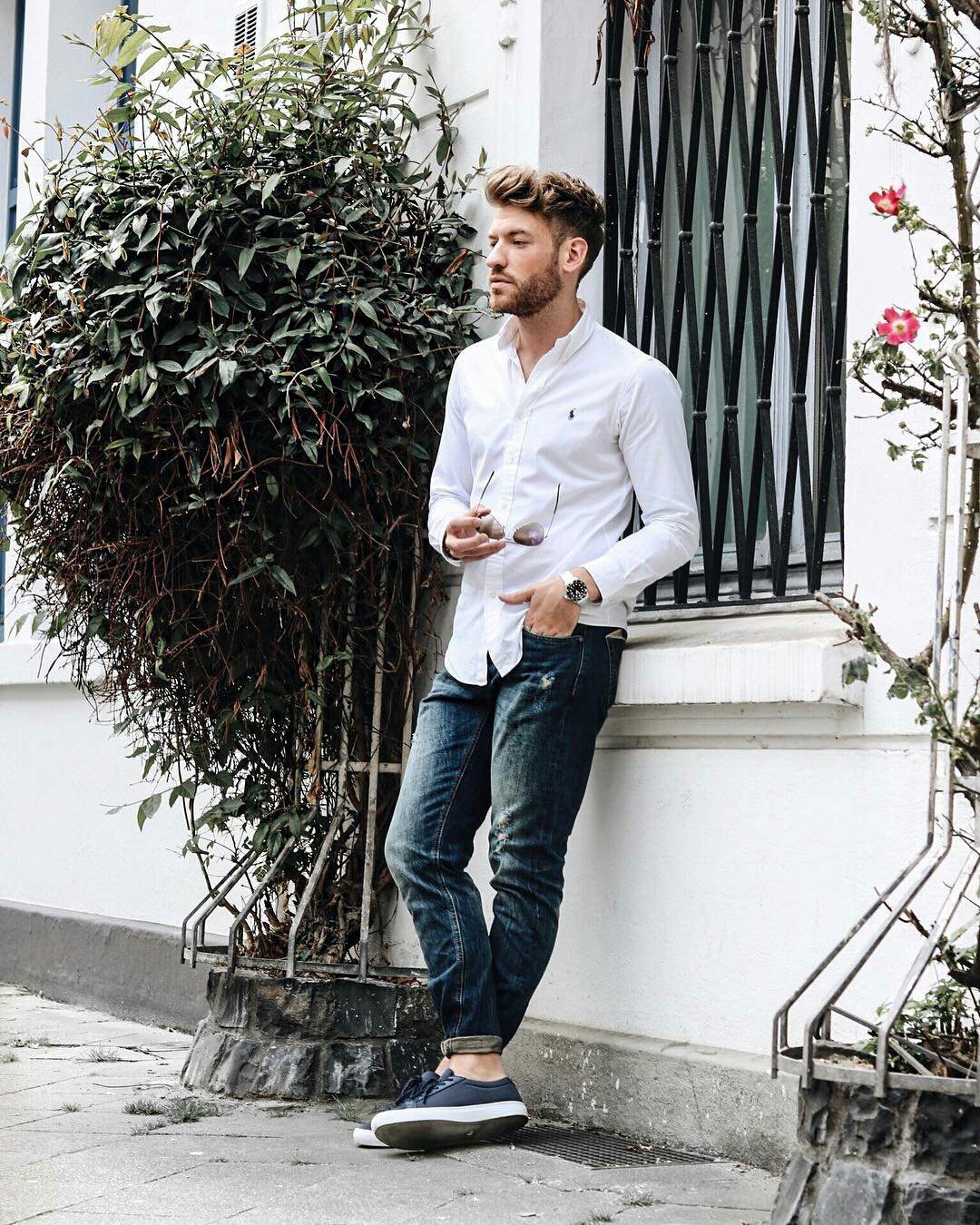 ↓ 20 – Monochrome
This doesn't mean you have to wear a single-colored outfit like all-black, for example. You have the freedom to at least combine similar shades together. Try this one out: dovetail grey chinos with ash grey cashmere sweater. The white undershirt won't ruin your overall ensemble, as it's considered a neutral tone.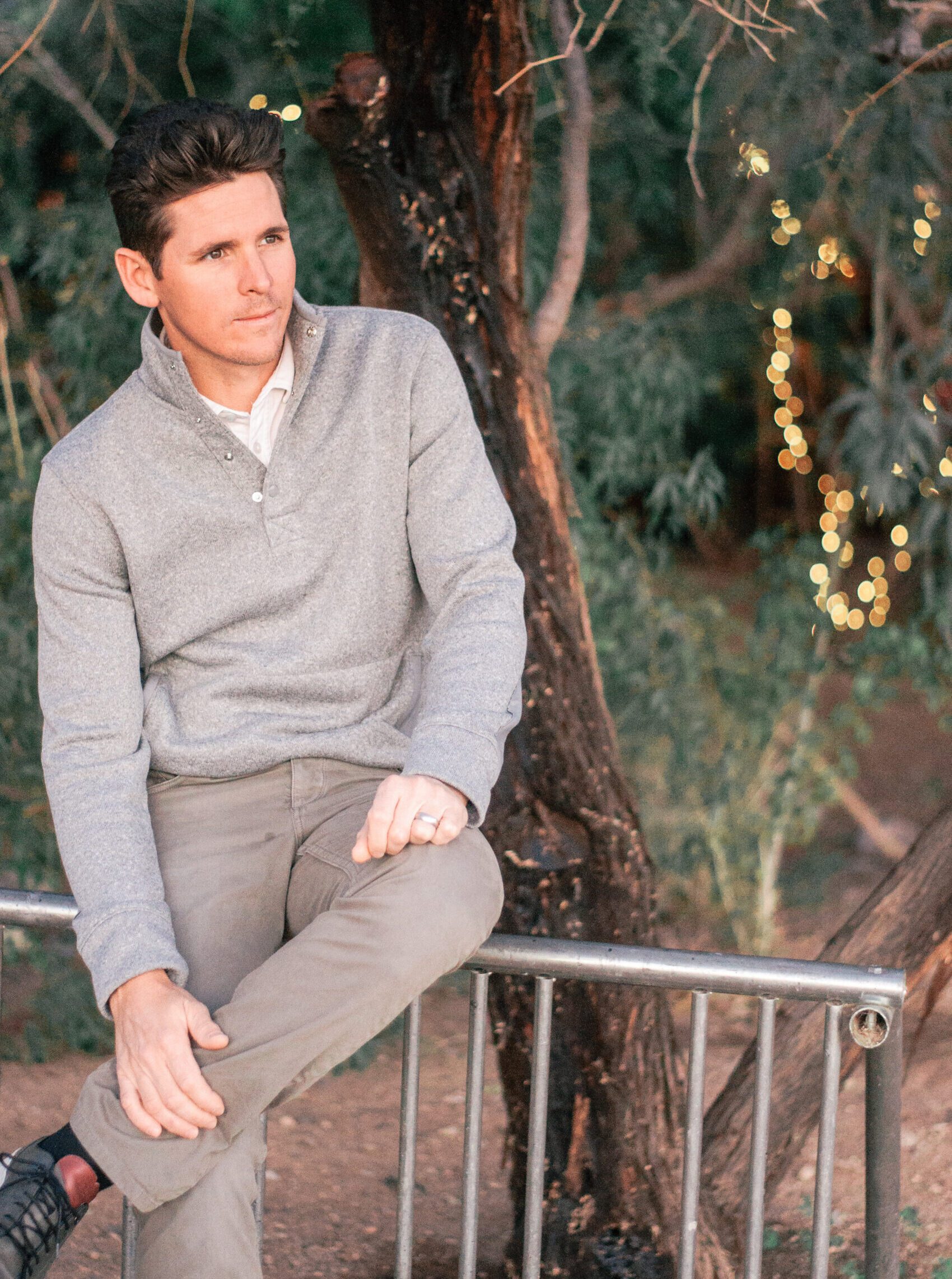 ↓ 19 – Polka Dots
This print has been labelled as a creative way to express playfulness and personality. Try not to overdo it by choosing minimal designs over flashy ones. For instance, plain white polka dots on a black canvas would do. This is always a better choice than colorful and irregular polka dot patterns.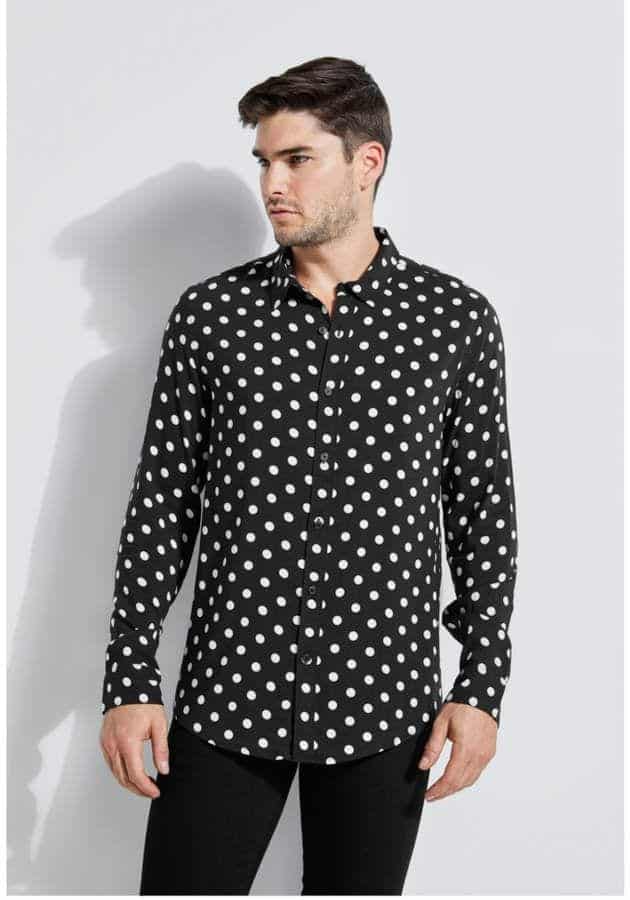 ↓ 18 – What To Wear To A Garden Party in Summers
The event will likely be happening outside, and there's a high chance you'll be sweating a lot. Thankfully, there's something you can do about it. Roll up your sleeves for an instant summer look. And this will allow your arms to be more comfortable.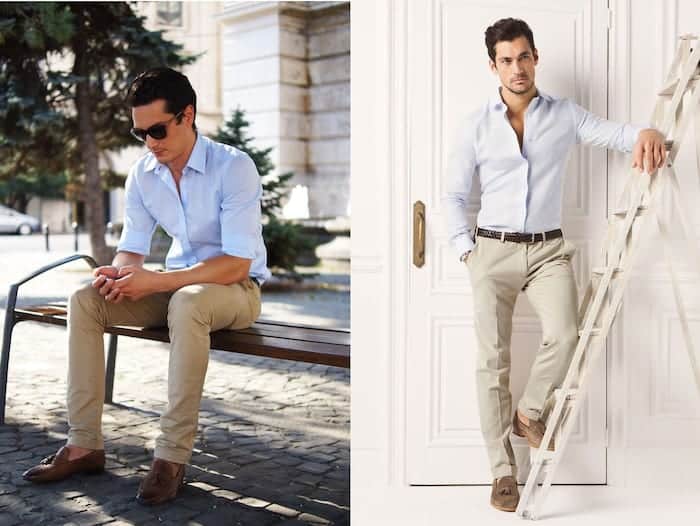 ↓ 17 – Stripes
Tall men look better in horizontal stripes. On the other hand, plus size men should opt for vertical lines. Better not to pair a striped shirt with plaid pants, so go for chinos instead.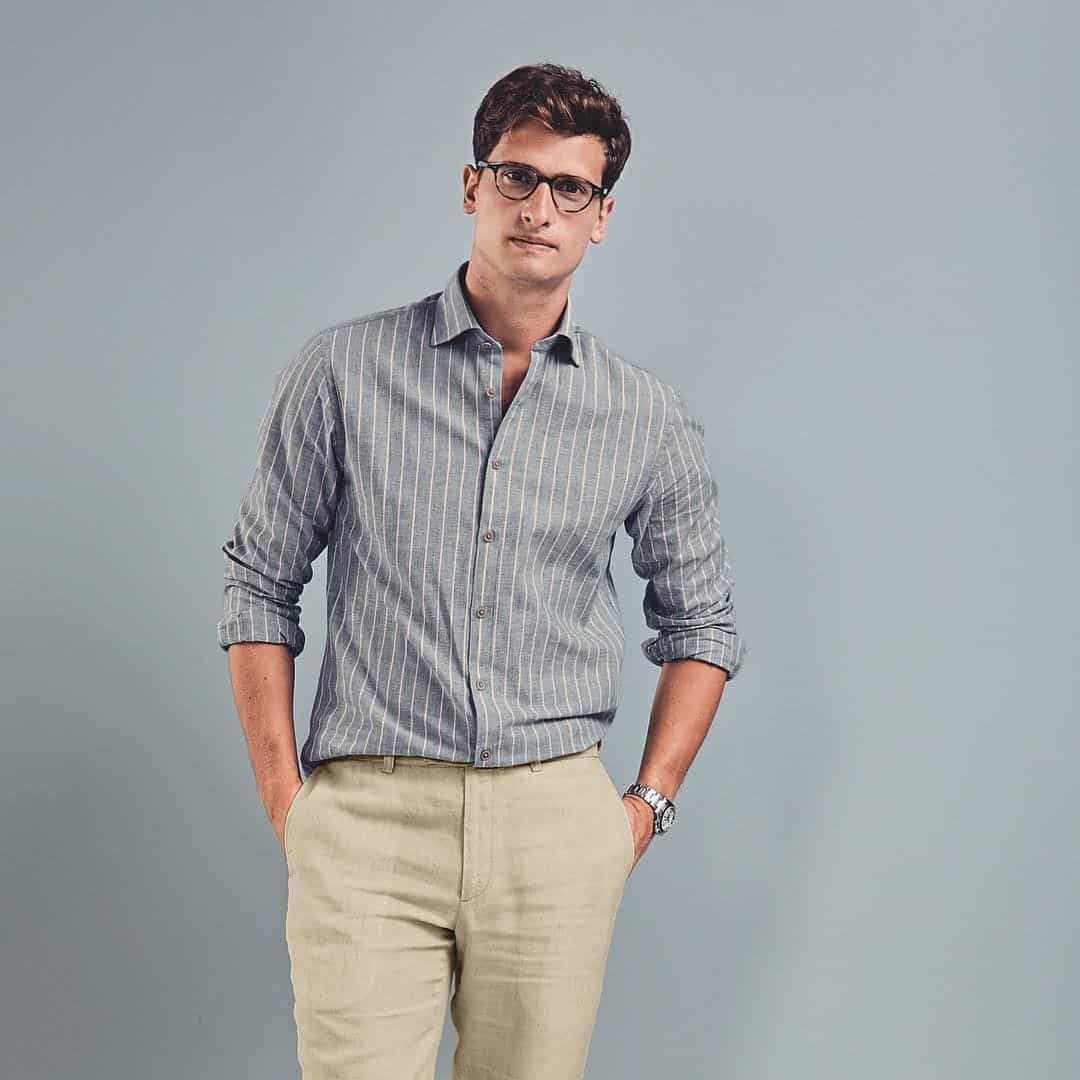 ↓ 16 – For Plus-Size Men
If you have a boxy body shape, there are no restrictions when it comes to outfits. You can wear anything you want as long as you feel confident about it. There are also some tips that can help make you look more stylish. For one, wear well-tailored and well-fitting pieces. Never settle with baggy or loose garments, as they will ruin your overall look.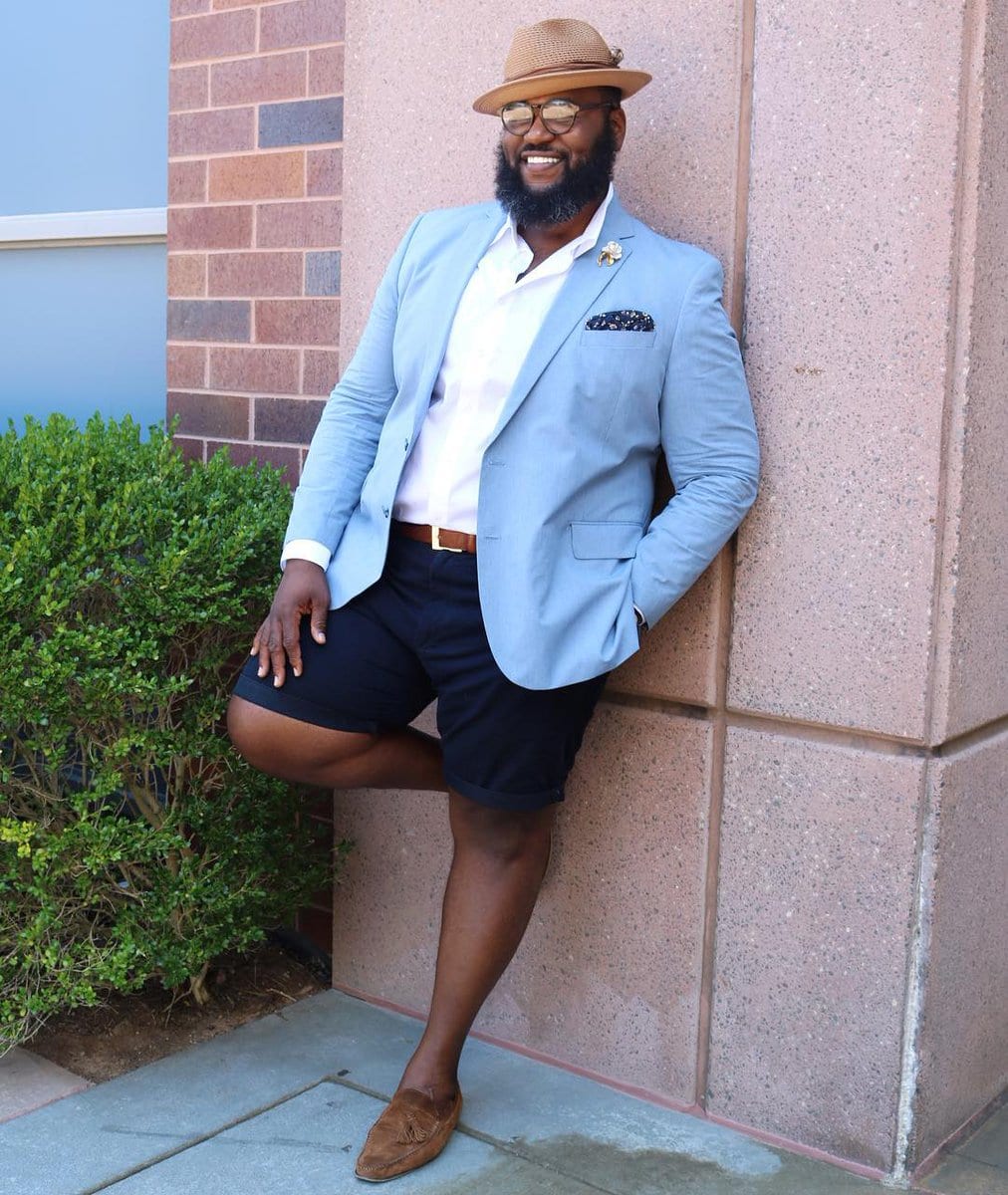 ↓ 15 – For Mature Men
Mature men should ditch casual outfits and opt for smart clothes instead. They would also look better in plain hues than flashy colors. Also, it comes down to how you show your personal style. Have your own way of dressing up instead of imitating someone in their 20s or 30s.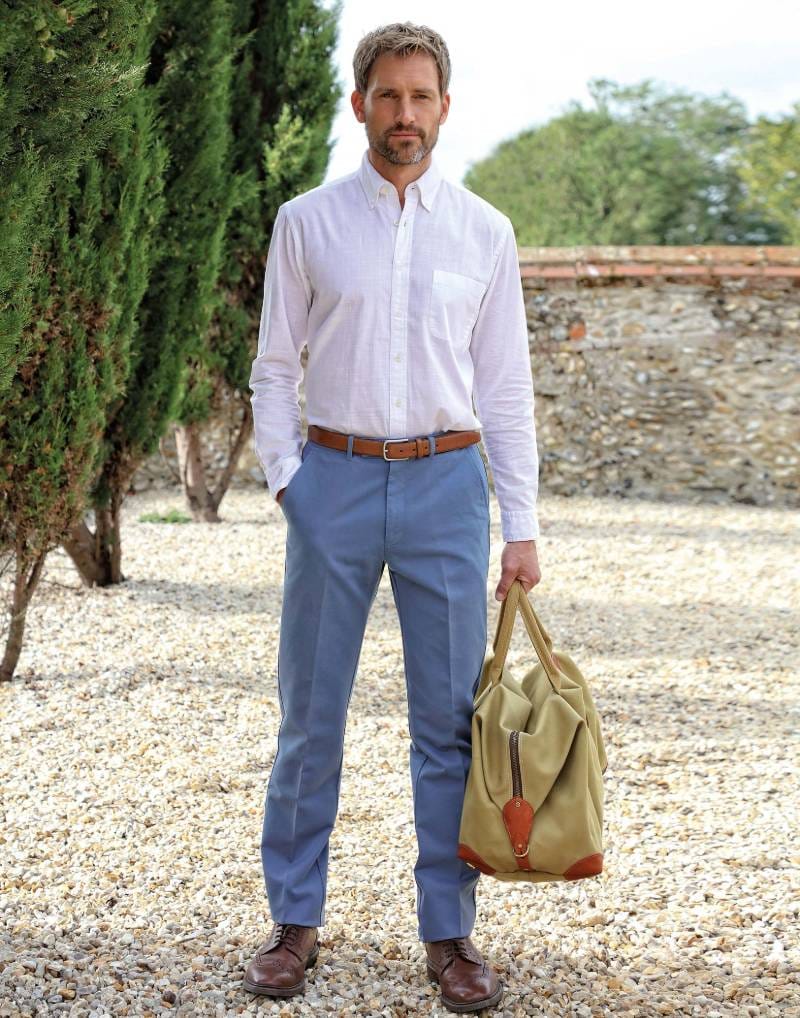 via
↓ 14 – Garden Casual
You can wear jeans as long as you'll pair them with slightly smarter pieces. For instance, the dark wash variant looks great when teamed up with a solid black sportscoat and a tee. Also, steer clear of distressed designs – they belong in the streetwear scene.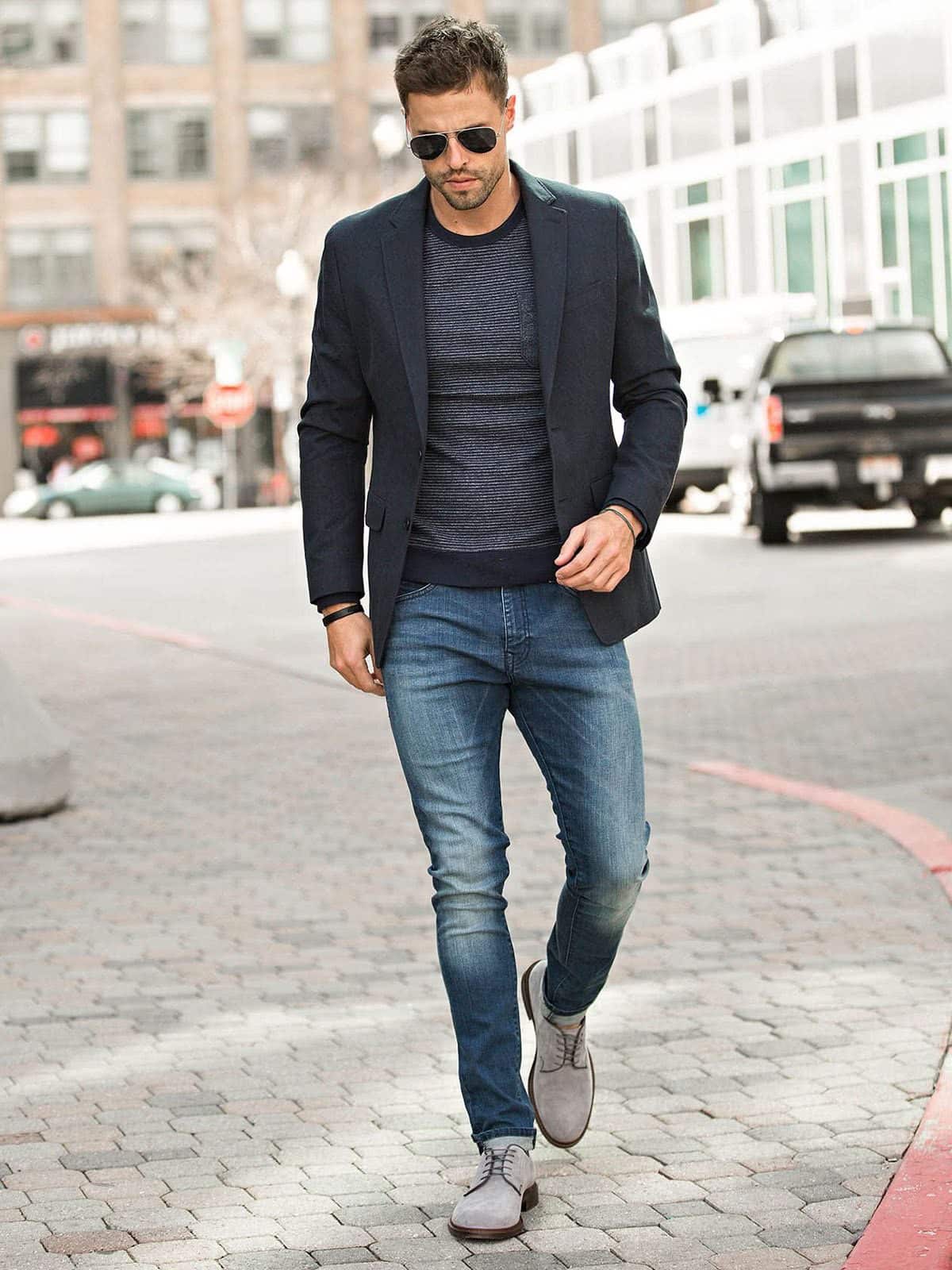 ↓ 13 – Garden Outfit For Boys
Even boys should dress like grown-ups, too. For a garden party, any young gent would look amazing in a semi-formal getup. Try wearing a white button-down shirt with suspenders and a bow tie. Stick with plain colors like black and white, even for accessories. However, you have the leeway to play with colors when it comes to footwear.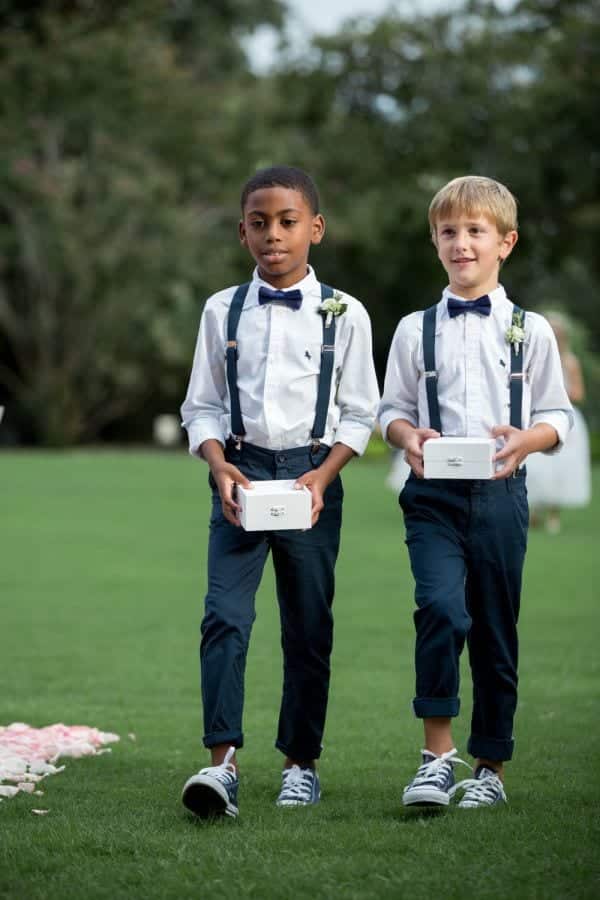 ↓ 12 – Hawaiian Shirt
Similar to tropical and floral prints, Hawaiian shirts are an excellent option for summer and spring. Try to wear one to your upcoming outdoor party, be it by the beach or in the backyard. Try not to clash the patterns as much as possible. For example, avoid pairing the shirt with plaid pants or a tie-dye jacket. It's best to opt for plain designs to be safe.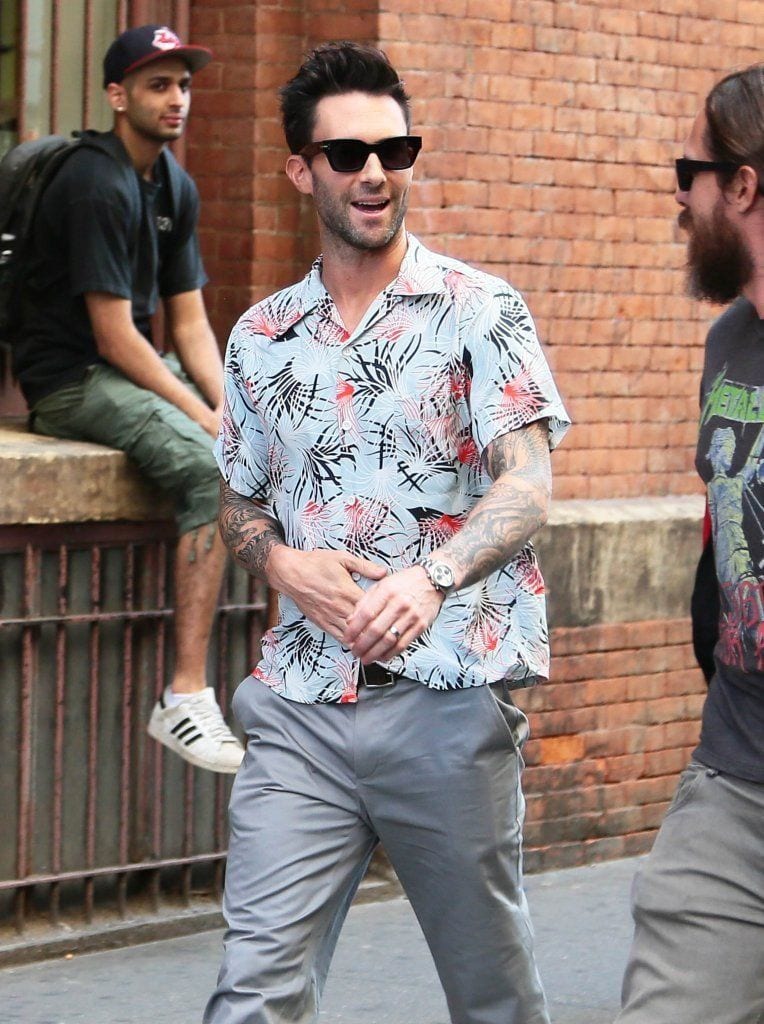 ↓ 11 – Tropical Prints
This is a festive summer look that a lot of men want to try. And you can cuff your pants for a youthful look. And you should wear them on your waist and not on your hips. Here are some more tips on styling Floral Shirt Outfits for Men.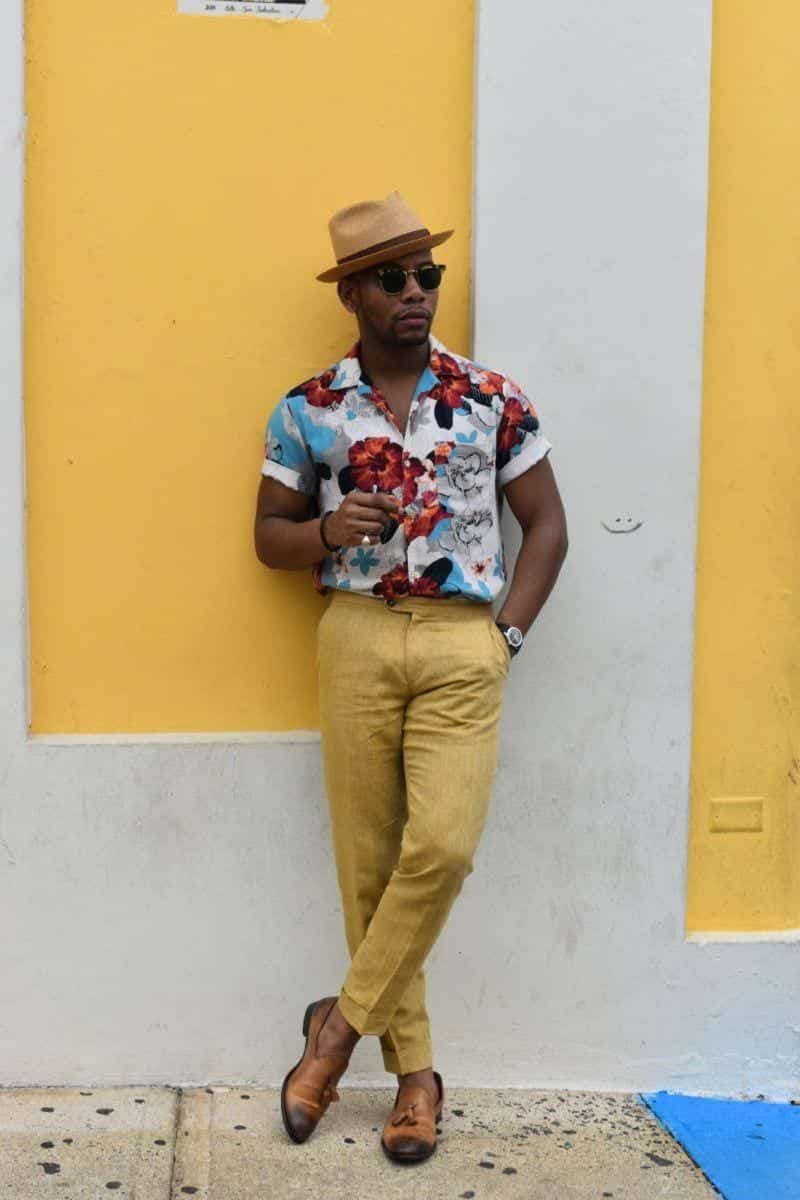 ↓ 10 – Floral Shirt
If you're going to wear white pants with your floral shirt, be careful not to get them dirty. White garments, as we know them, are prone to dust, grease, and spaghetti sauce. And if you're drinking wine at the event, better watch out!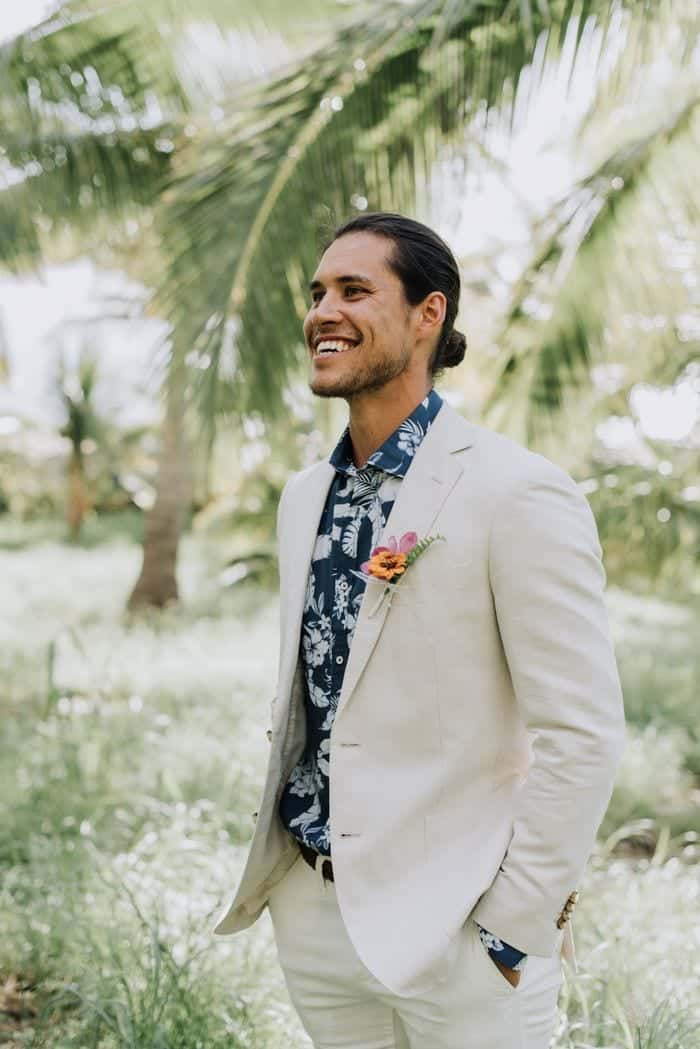 ↓ 9 – Bold Colors
Outfits in bold colors may be too flashy for a garden party. However, if done right, they can help you stand out from the crowd. You will also give the people the impression that you are ready to take on any challenges that will come your way.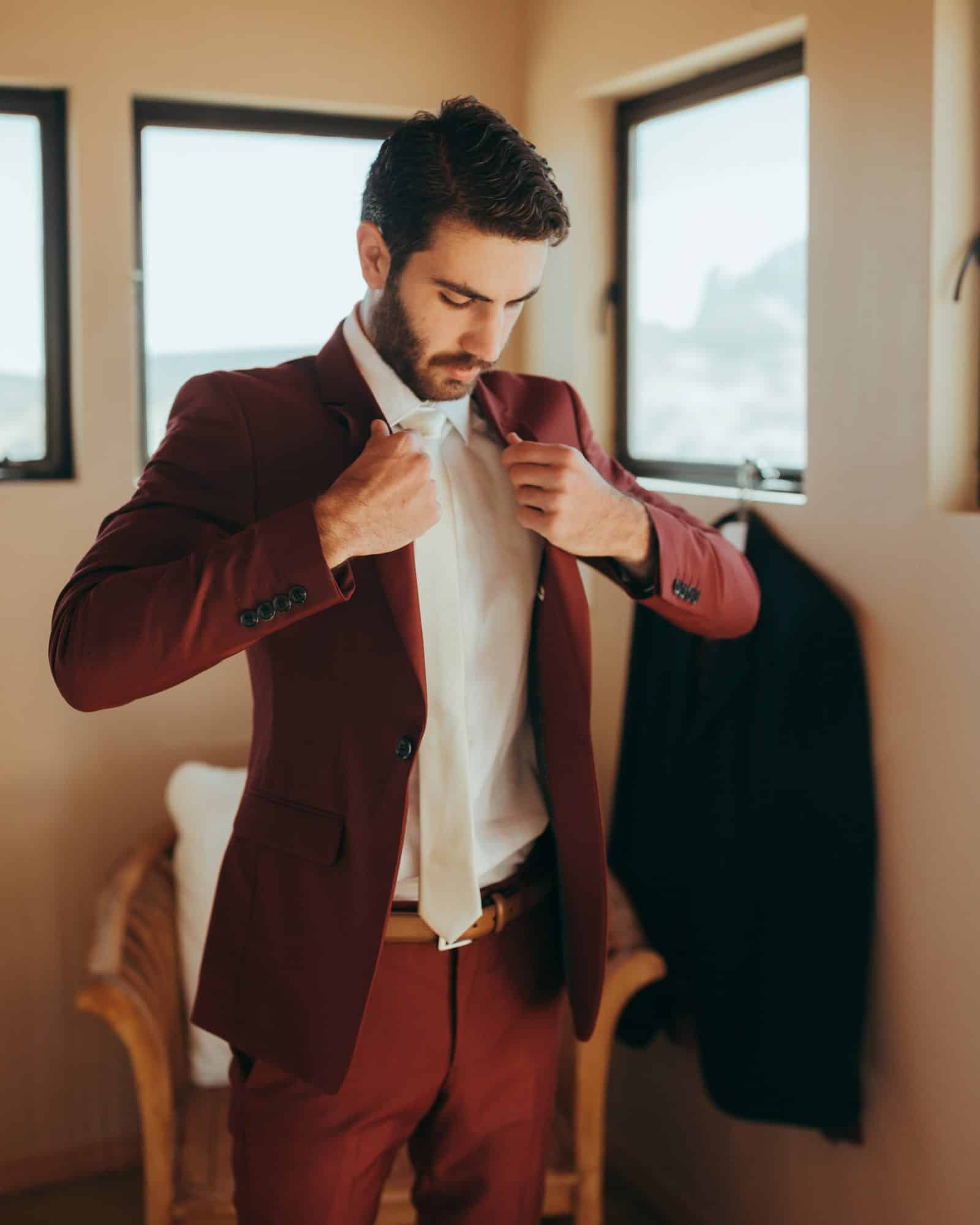 ↓ 8 – Cardigan
This has a youthful touch and is a great option for colder situations (And yes, I'm talking about the weather.) Because you never know if it will rain despite being in the summer season.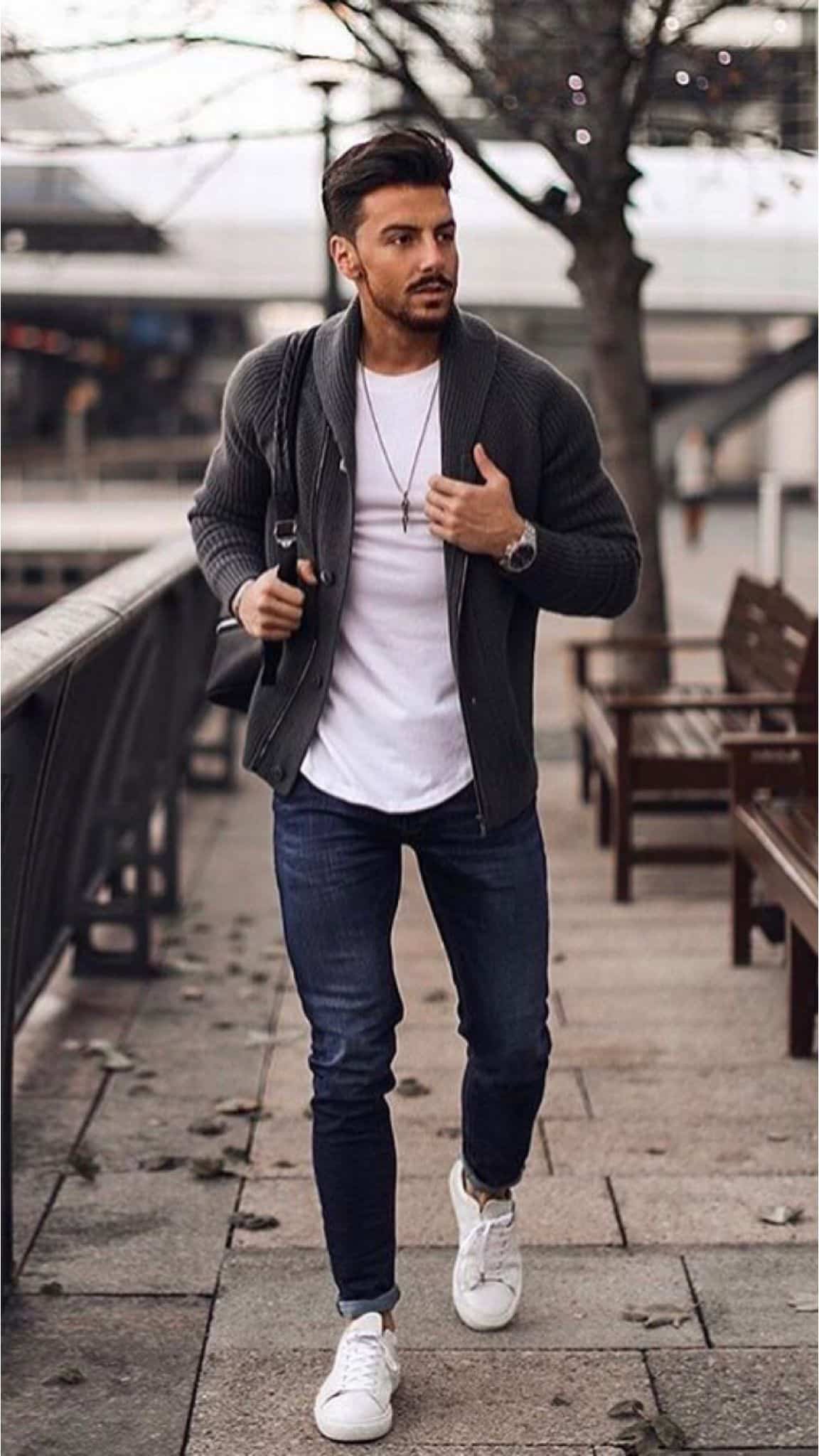 ↓ 7 – Pastels
These colors are ideal for garden parties because of their laidback and versatile appearance. For instance, a pink bomber jacket would look best if paired with a plain white tee and grey trousers. Pro tip: incorporate only one pastel garment to your overall outfit, and choose contrast hues for the rest.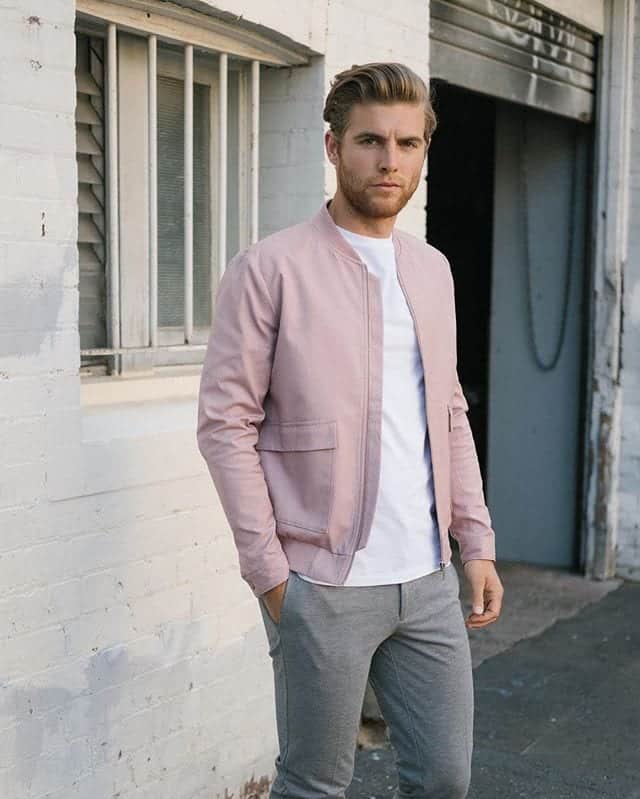 ↓ 6 – Vests
Wear a casual vest over a crisp button-down shirt. It's better to match the colors, so stay in a similar color palette. Also, prefer neutral tones over the others.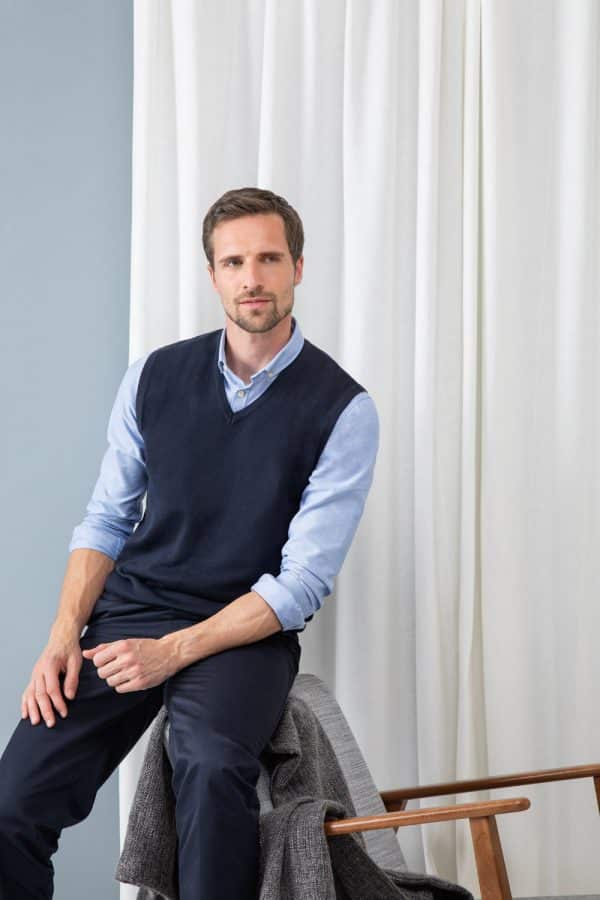 ↓ 5 – Shorts
If you are not okay with pants, opt for shorts instead. Show off those legs! And shorts are a great choice to endure the boiling weather as they are more comfortable to wear than your usual pants.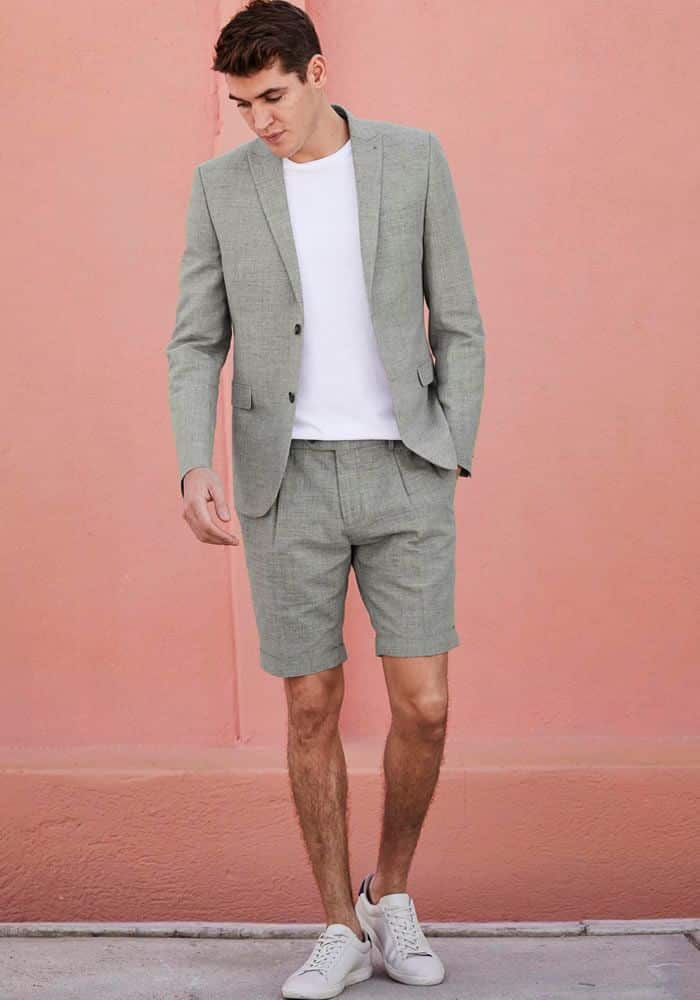 ↓ 4 – Linen Shirt
Opt for short sleeves and save the long-sleeves for more formal situations. Remember that this is an outdoor party held in hot weather. So you might want to give yourself the freedom to endure the heat. And what's nice about linen is that the wrinkles add an extra effect to the shirt.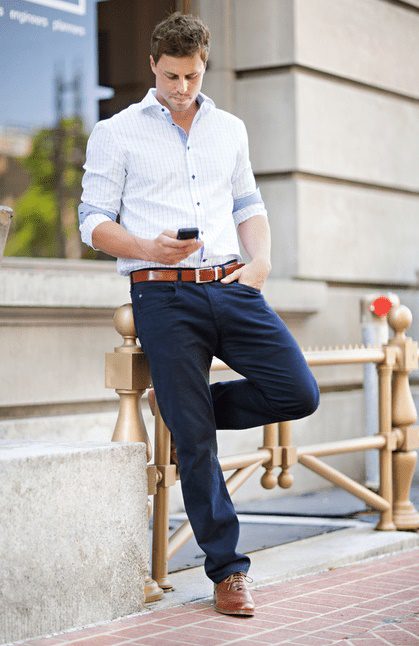 ↓ 3 – Shoes to Wear with Garden Party Outfits
For starters, boat shoes and loafers are acceptable footwear options for garden parties. However, sandals and sneakers might be appropriate for less dressy setups. Ditch the boots, regardless of what type they are – save them for the winter! Also, steer clear of too formal shoes like brogues and Oxfords as outdoor parties are more laidback than semi-formal functions.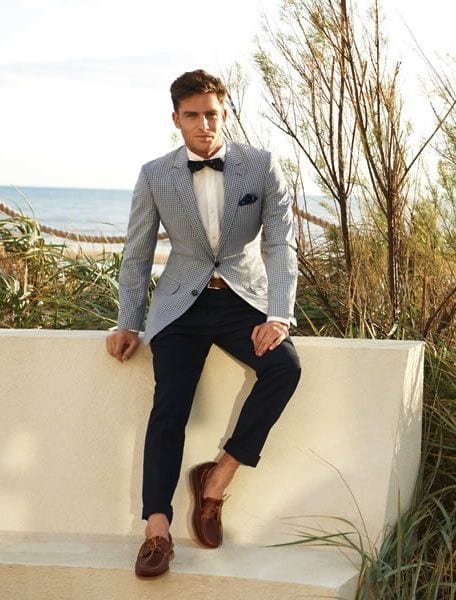 ↓ 2 – Blazers
This is not required at every garden party. However, a lightweight jacket is a good companion for these events. Also, it makes things easy for you. Should you ever feel underdressed for the event, just grab it and throw it over your outfit and voila! Problem solved!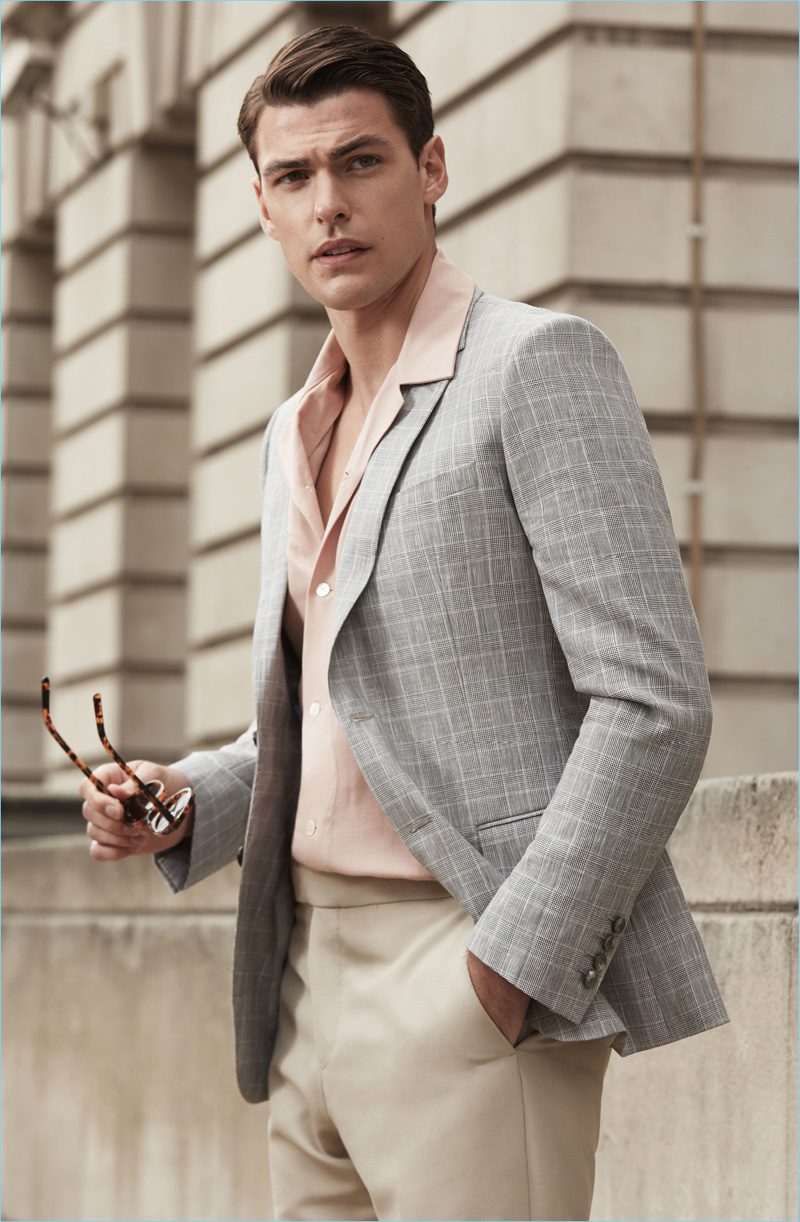 ↓ 1 – Hats For Outdoor Parties
A hat can be both stylish and functional for any man. It can make you look elegant and sophisticated in an instant. And it also protects your face from the burning sunlight. Hats made of straw are ideal for garden parties.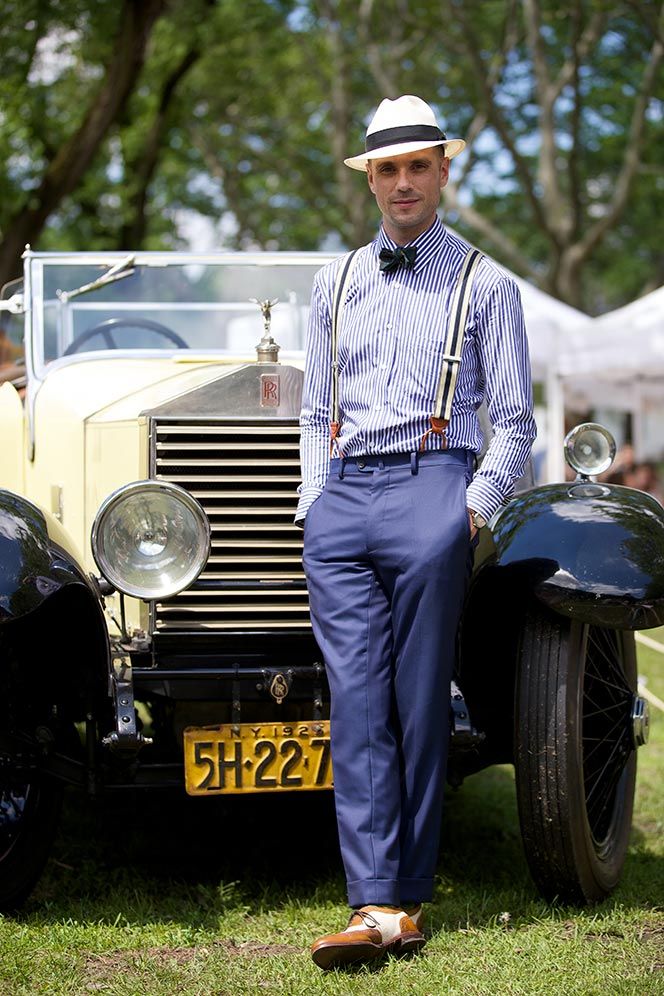 Frequently Asked Questions
Q. What accessories are best for garden parties?
A. Aside from ties and pocketsquares, it would be great to add Panama hats and classic sunglasses to your arsenal. Headwear can help you not to squint. Eyewear can protect your eyes from direct sunlight, especially on a cloudless day. Outdoor parties aren't called like that for no reason. So, it's likely that garden parties would take place in hot weather.
Q. Can I wear winter outfits to outdoor parties?
A. Outdoor parties and garden-themed activities are usually held in the summer. That means it's advisable to wear breathable and lightweight garments like cotton and linen. And while winter and fall staples aren't really for these events, you can sneak some pieces like a wool sweater, knitted jumper, and some minimal jackets. But please, steer clear of puffer coats, wellies, and scarves in the meantime.
John Vincent studied Communication Arts in the Philippines.
Growing up, he's always had an eye for aesthetics. He enjoys writing a lot. Books, TV series, and movies are a big part of his life. His all-time favorites are Harry Potter, Game of Thrones, and Marvel films.
He believes that fashion is a pure form of art. You express yourself through your personal style – it's something you can't replicate.