Mens Outfits with Blue Jeans. Who doesn't have blue jeans in their wardrobe? We all do. Right? But why always wear it without any sense of style when this quintessential piece of clothing can be paired up smartly with different attires without being hard on your budget.
That's right, jeans are not to be worn casually only, you can wear them to your office or better still, to occasions like weddings too. To help you dress up smartly, we have made a list for you of 45 ways in which you can wear your jeans with different pieces of clothing. read on and do let us know how helpful were the suggestions for you.
How To Wear Blue Jeans For Guys?
Tips On Styling Blue Jeans
Start with the basics. Pair your blue jeans with versatile pieces. You can find those clothes in your capsule wardrobe.
For short guys. Opt for slim-fitting or skinny jeans. They look better in you as they can make you appear taller. For better results, pair your jeans with vertical stripes. The same goes for plus-size men. Avoid loose garments at all costs – you can thank me later!
For skinny men. As for you men with a small build: opt for regular fit and ditch the skinny one. Contrary to a popular belief, skinny jeans are cliche for men with scrawny legs. You can team up your jeans with horizontal striped tops.
Show some ankles. You would normally wear socks with your shoes. But it'd also be great to not wear any and show some ankles. Cuffing your jeans will do the trick. Here are some more tips on how to go sockless.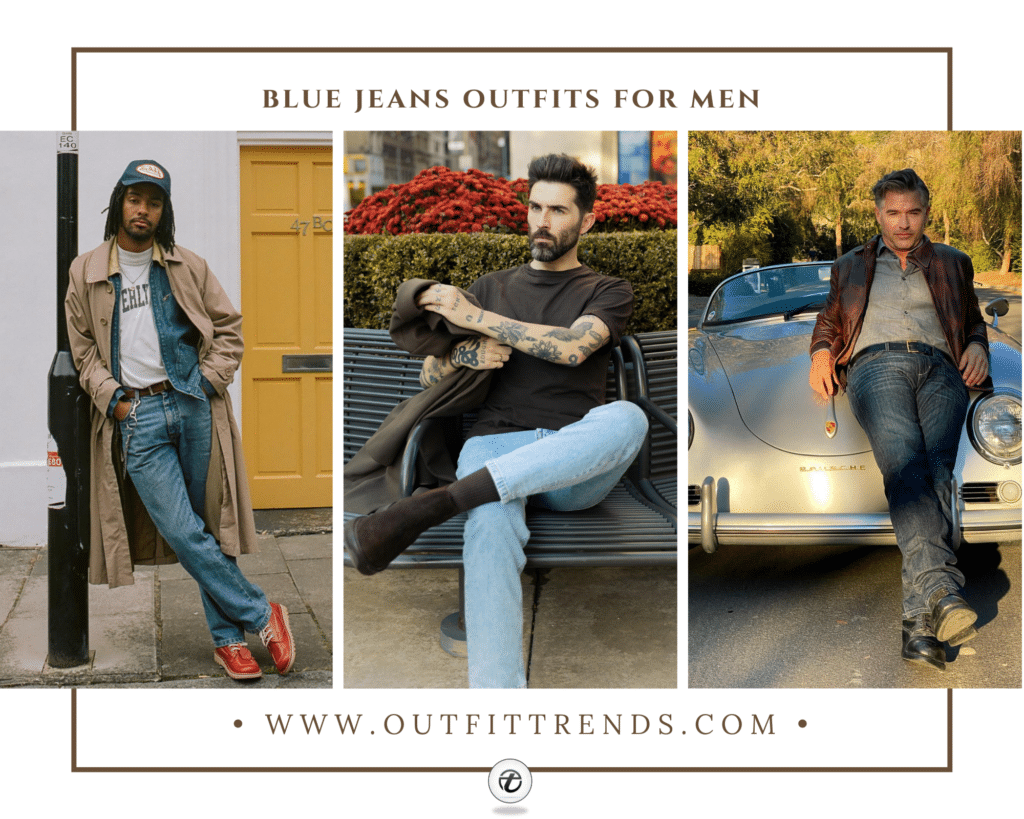 Avoid These Things:
Wearing Ripped Jeans On Formal Setting. Not all jeans are created equal. They vary when it comes to shade, cut, and fit. For one, ripped jeans shouldn't be seen in much formal occasions. When you're at work, it's wiser to wear regular or relaxed jeans in solid blue.
Denim on denim. Jeans are made of denim fabric. It would not look good to see it paired with another denim piece. But it's not that bad! For instance, faded blue jeans worn with deep blue denim jacket don't look that bad. But you can consider other trouser options like chinos and black jeans, for that matter.
Now you might be thinking as to what to wear with your jeans. With a lot of options out there, you can narrow down your thoughts. You can start with these factors: weather, occasion, and mood. And to help you understand it better, here are our top picks:
45 – What to Wear with Blue Jeans in Winters?
This is definitely a classy and must-try look for the winter season. Pair your blue jeans with a black sweater and a black puffer jacket along with black accessories like sunglasses and belt.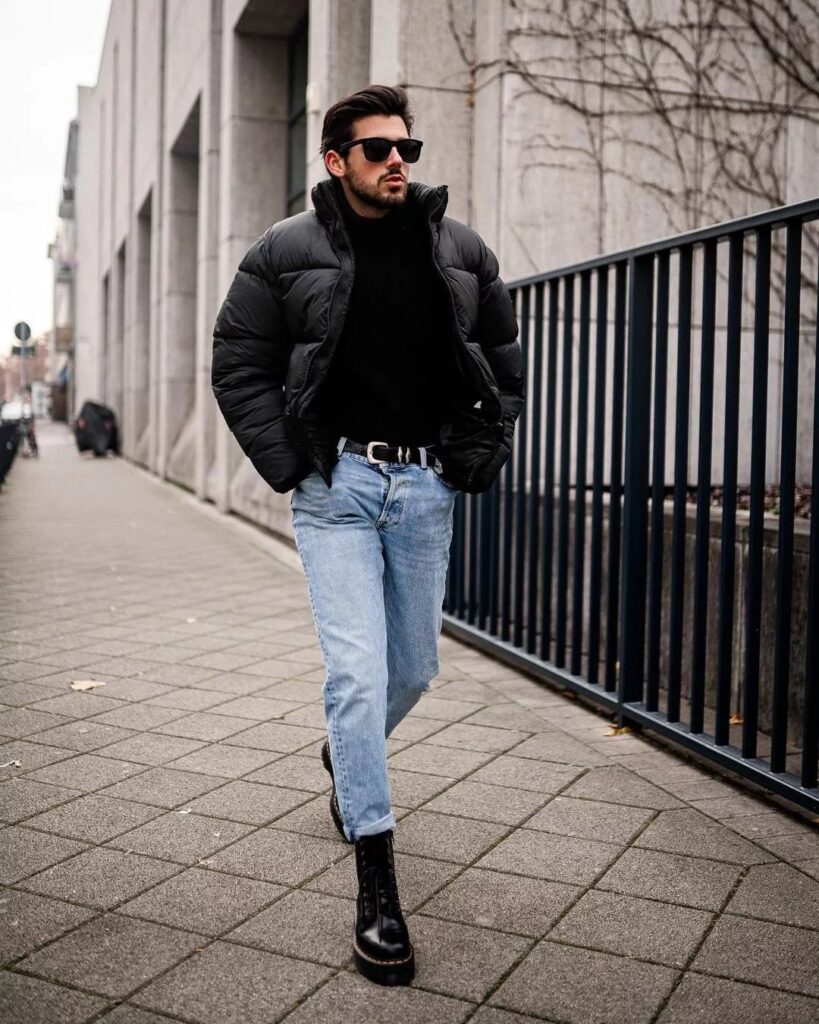 44 – For Mature Men
Men in their 50s look great in contrasting colors like blue, brown and grey.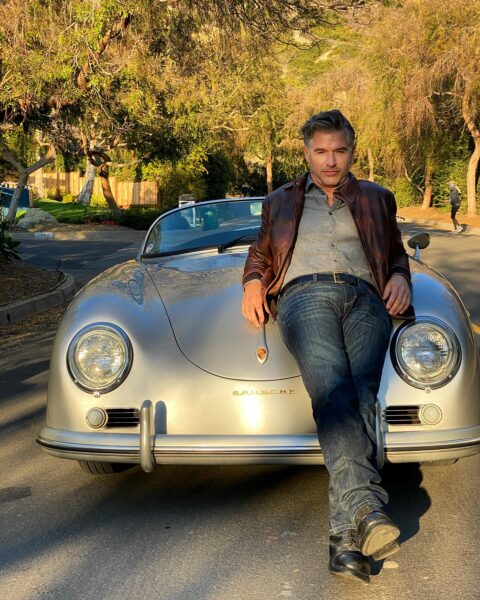 43 – Minimalist Look
Style your jeans with just a few pieces like a basic tee and white sneakers.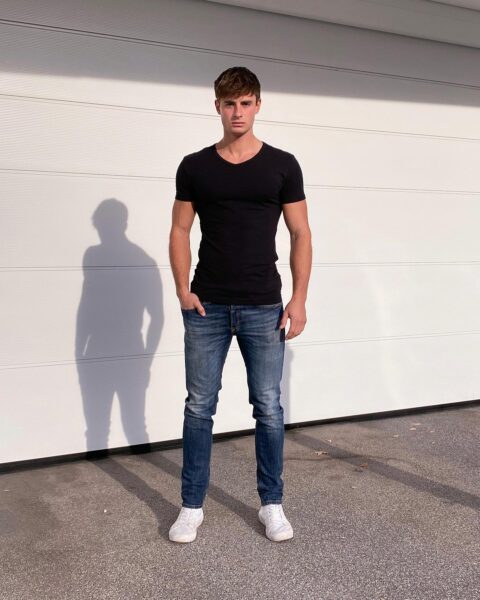 42 – Casual Outfit with Blue Jeans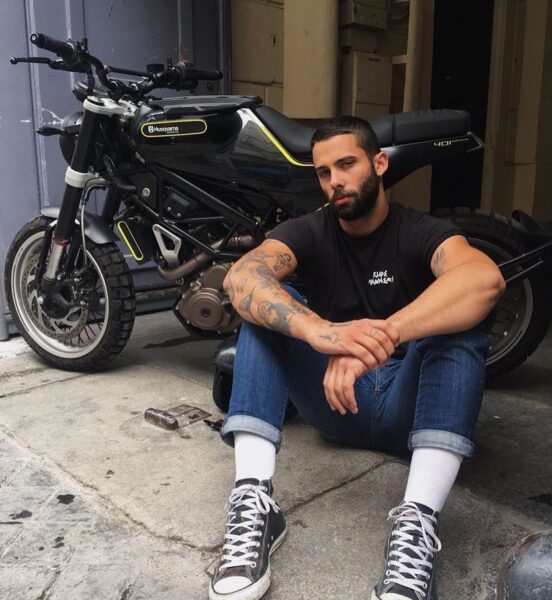 41 – The Maximalist
If you don't like minimalism, do the opposite and wear as many pieces as you see fit. Please note that not every man can pull this off.
40 – Simple And Classy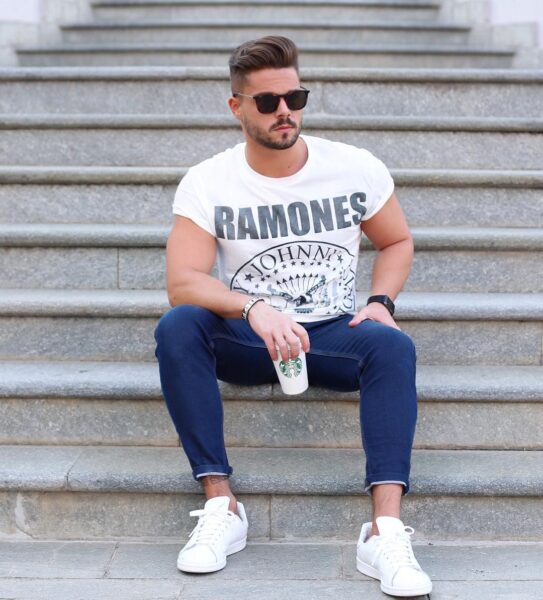 39 – With Flannel Shirt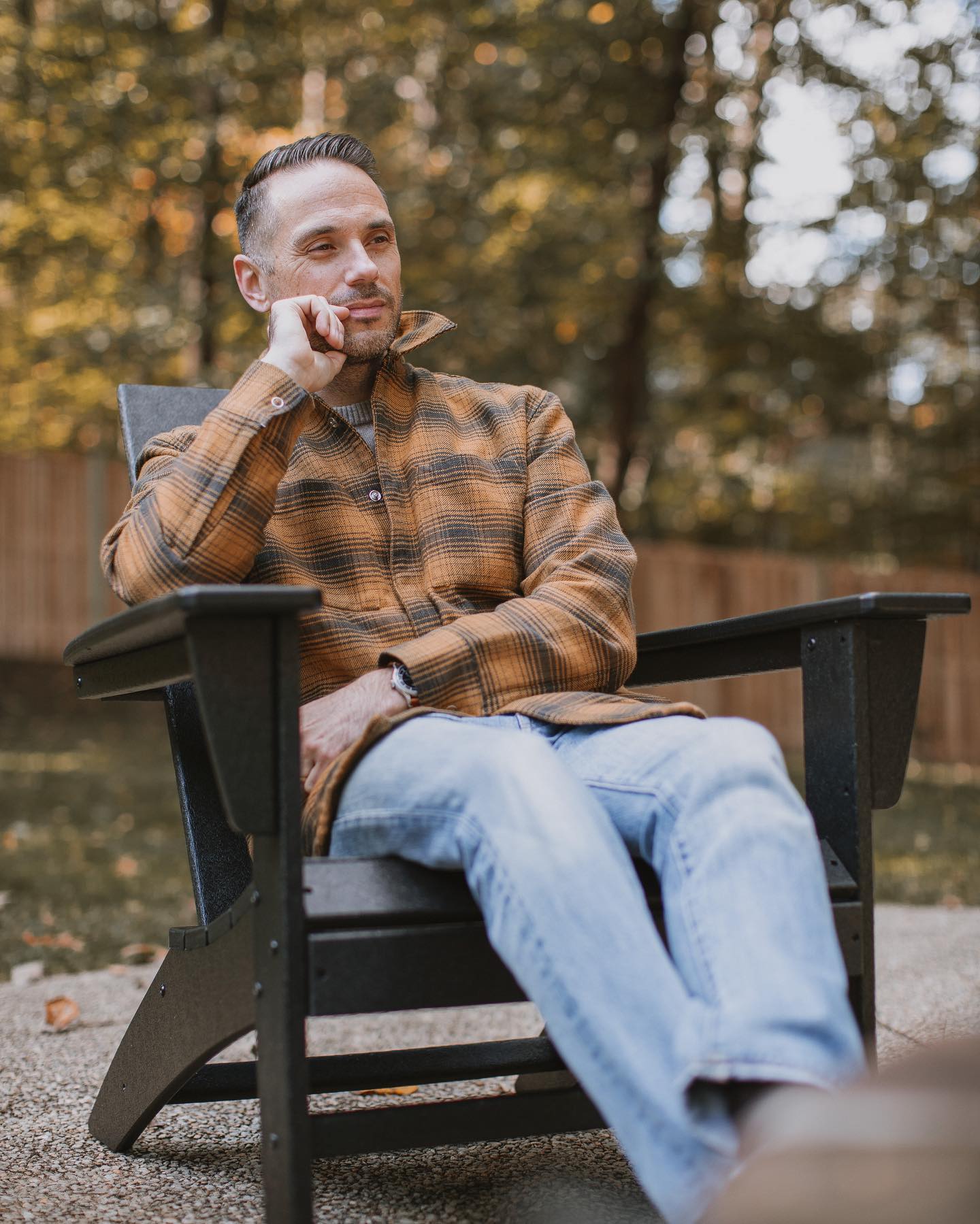 38 – Fall Outfit
Just like winter, fall tends to be a cold one. So you might wanna grab pieces that can keep you warm. However, you might wanna ease up on layering.
37 – With a Hoodie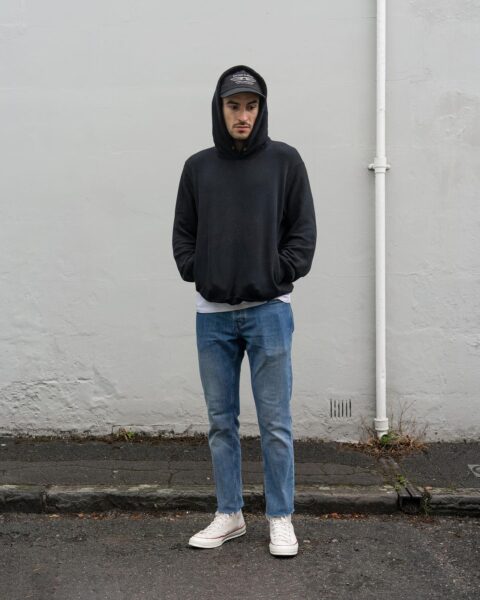 36 – Blue Jeans Outfit for Home
Get those comfy clothes and wear them with light blue jeans.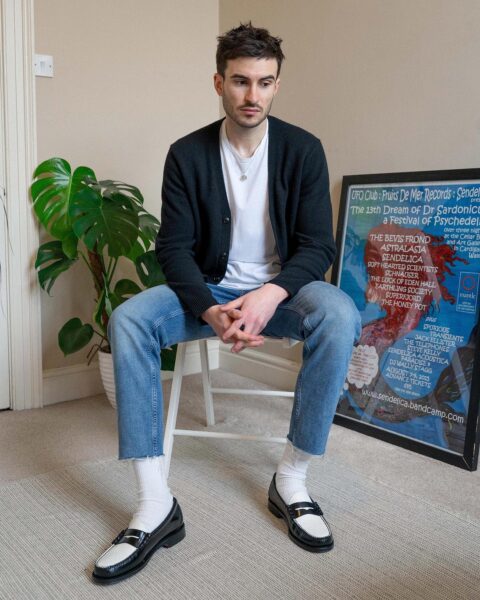 35 – With Brown Clothes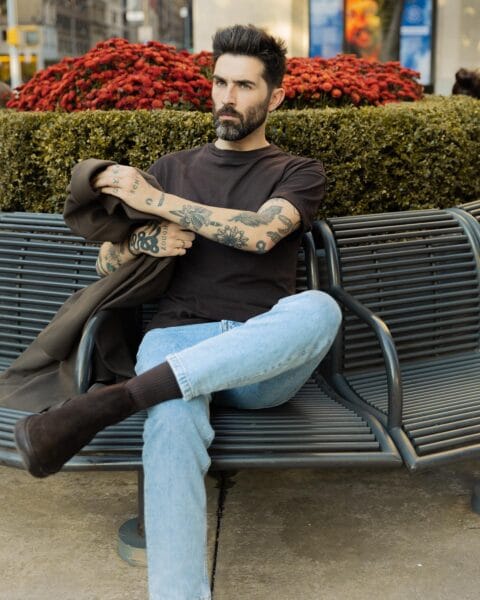 34 – The New Yorker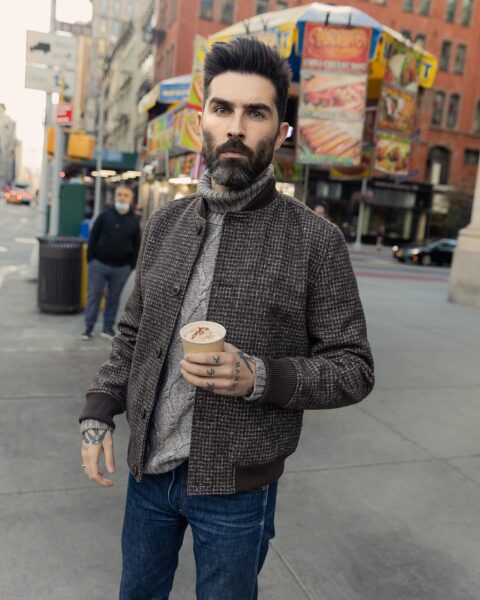 33 – Browns Shoes with Blue Jeans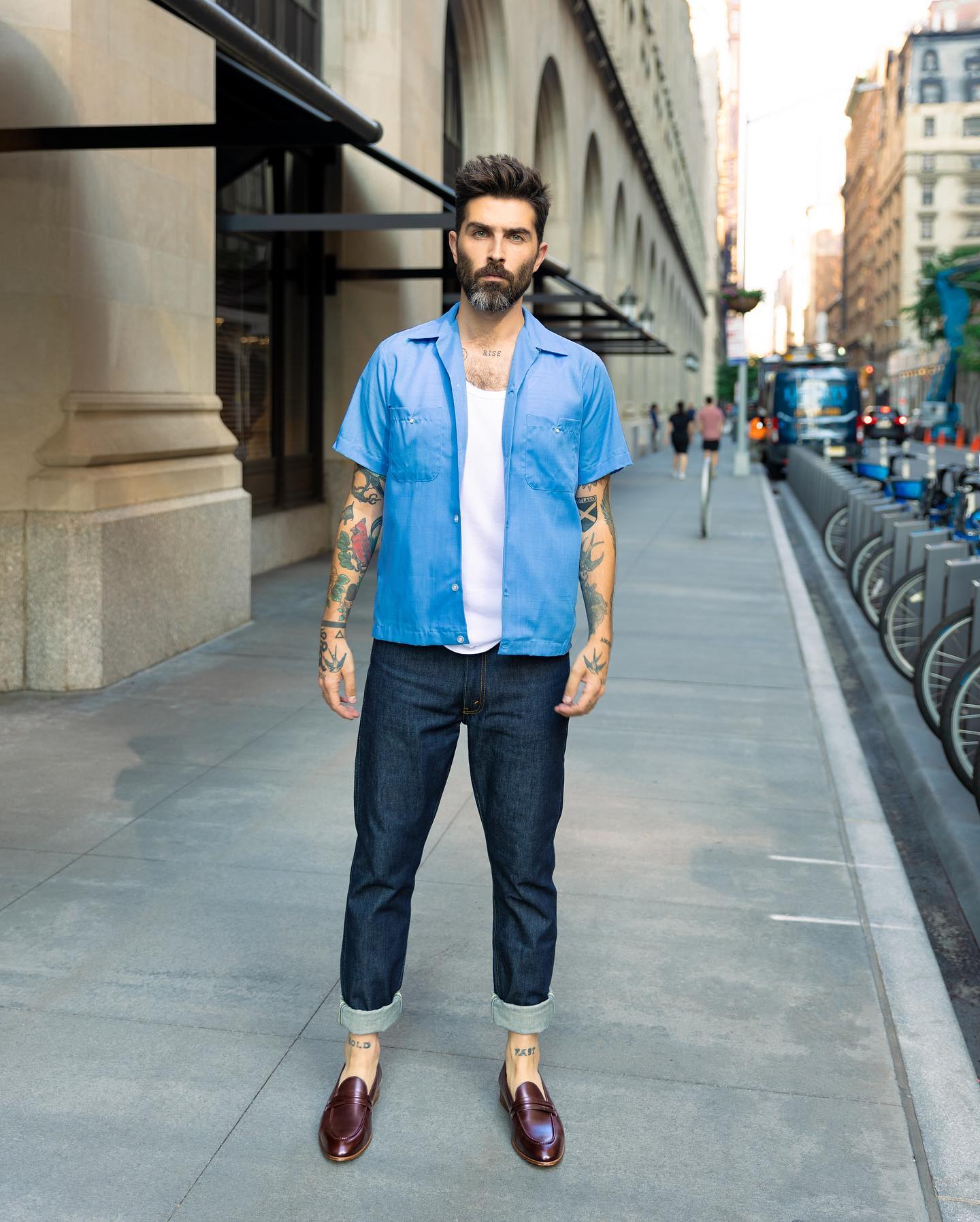 32 – First Date Outfit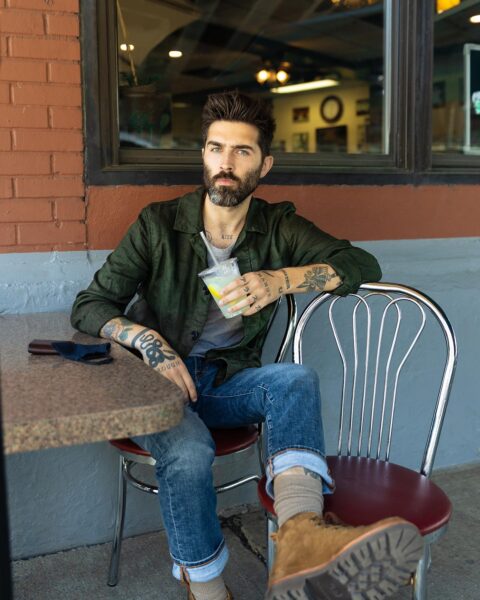 31 – Travel Outfit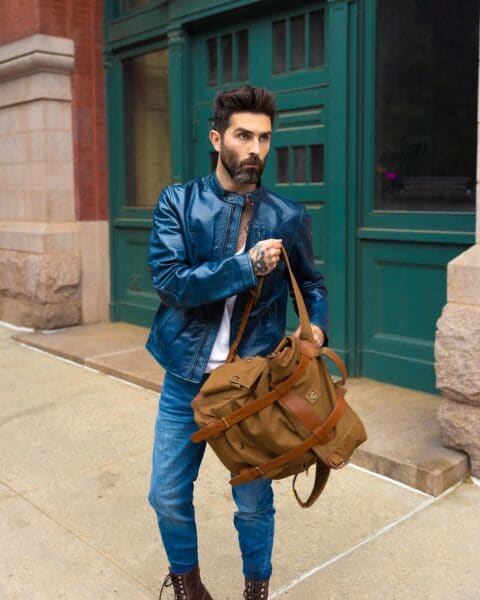 30 – Smart Outfit
Dress up your blue jeans with a coat.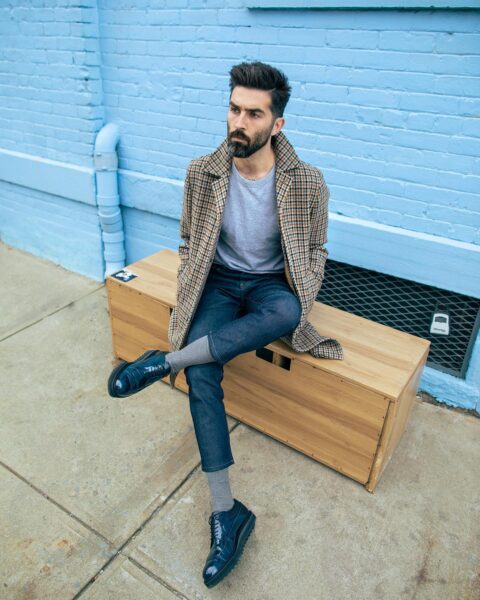 29 – With a Leather Jacket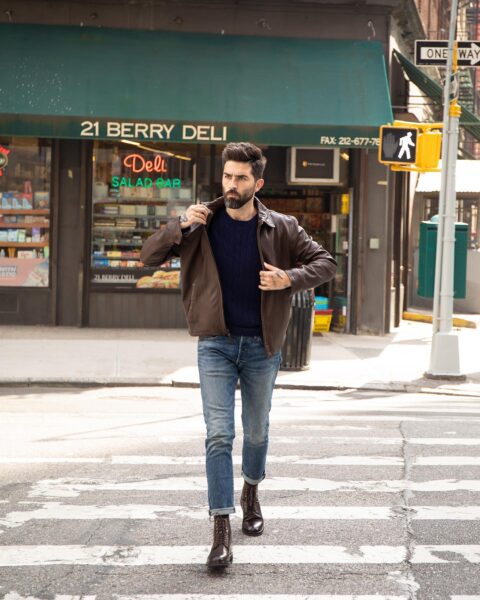 28 – The Biker Look
Jeans are no stranger to bikers. They would usually wear them with a leather jacket. But a well-fitting polo shirt would do just as fine.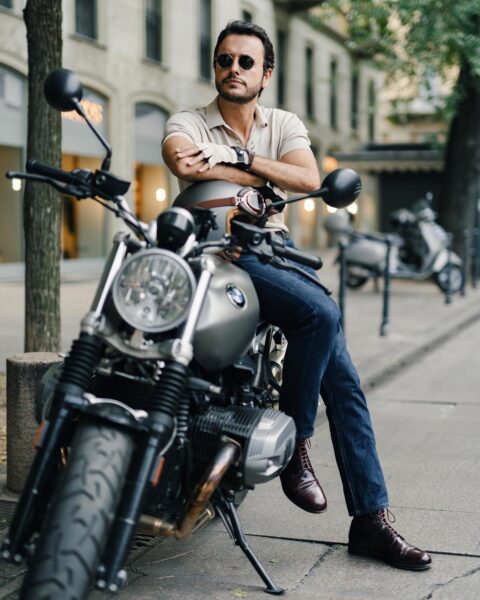 27 – What Shirt to Wear with Light Colored Jeans?
Every guy has light-colored jeans. Wear it with a dark Green shirt and black sneakers and look fab yet carefree.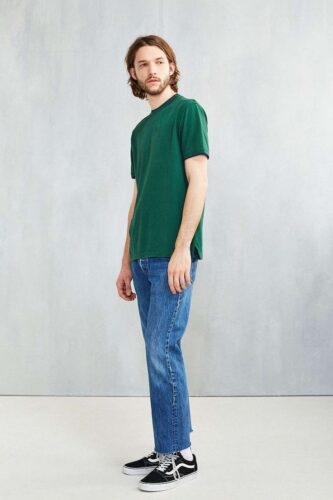 26 – Casual Street Style
While Jeans are normally worn casually but that does not mean you can't look like a hunk in them. Wear them with a printed Tee-shirt and a Check Print Dress Shirt and you're ready to impress some girls.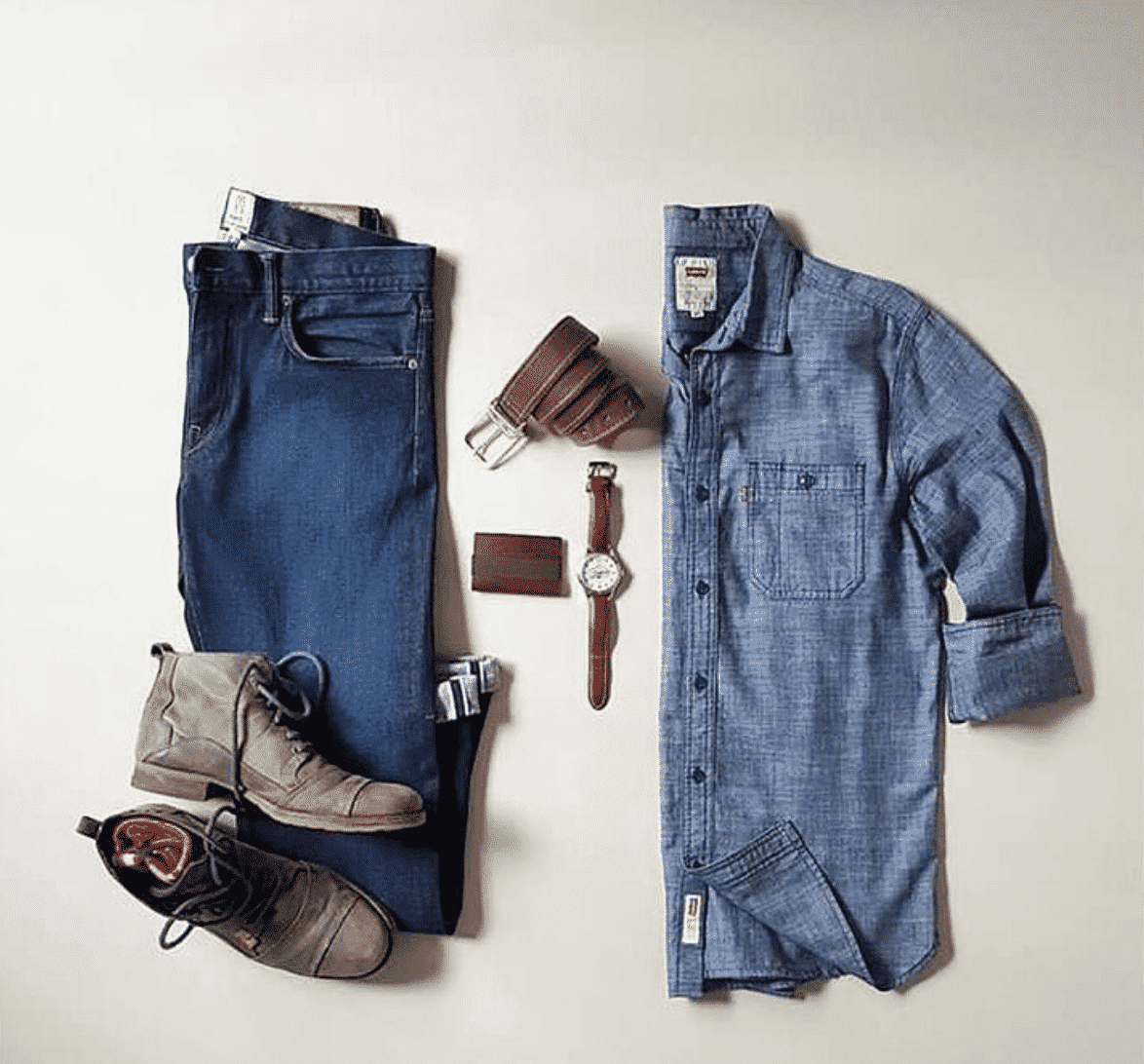 25 – With Turtleneck and Jacket
This casual street style is so classy, you would surely turn some eyes on yourself this time. Pair the Jeans with the turtleneck of your choice to define your style.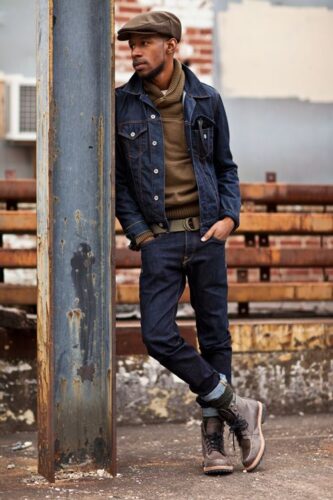 24 – What to Wear with Dark Blue Jeans
Do you have vintage-style dark blue jeans? Why not wear it with a Black or Navy Blue High-neck and show your handsome side to the world. Wait, don't forget to wear your biker boots with the look.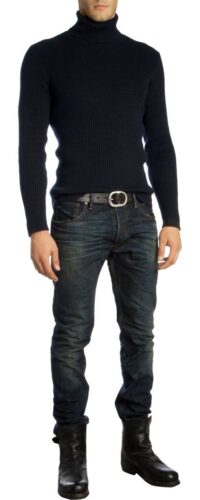 23 – Casual Street Style
Wow! Wow! Wow! Leather Jacket with Ripped Jeans and a striped shirt- surely this is the stylish way to dress up. A pair of leather boots would look great with this outfit.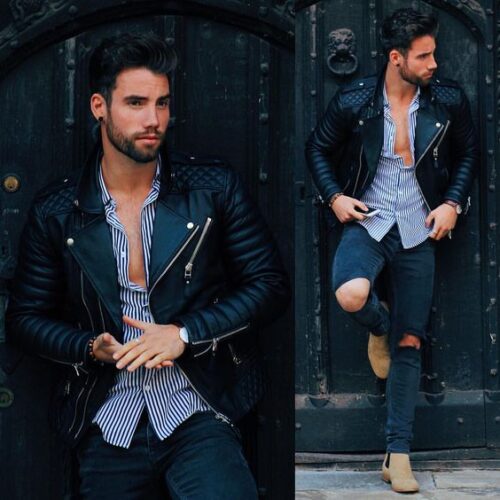 22 – Wearing Jeans with Bomber Jacket
Bomber Jackets are all rage among guys and because the weather is still a bit cold, you can always wear them with your favourite faded jeans and be the cool dude everyone admires so much.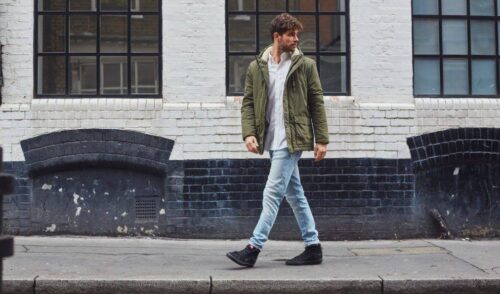 21 – Wearing Jeans with Denim Jacket
Every guy should have a denim jacket because it can be paired with just anything. So if you own one, you're smart! Wear it with black skinny rolled-up jeans and a casual white t-shirt and you're all set to make up your own street style.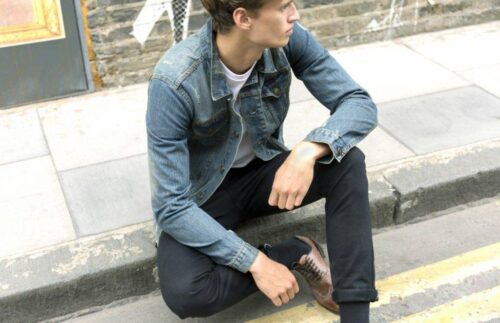 20 – Jeans: The Ultimate Street Style
A pair of jeans coupled with a brown waistcoat and denim jacket could do wonders for your style. Apart from being super comfortable, this look gives you the luxury to carry it for both formal and casual occasions. The ultimate example of the best of both worlds.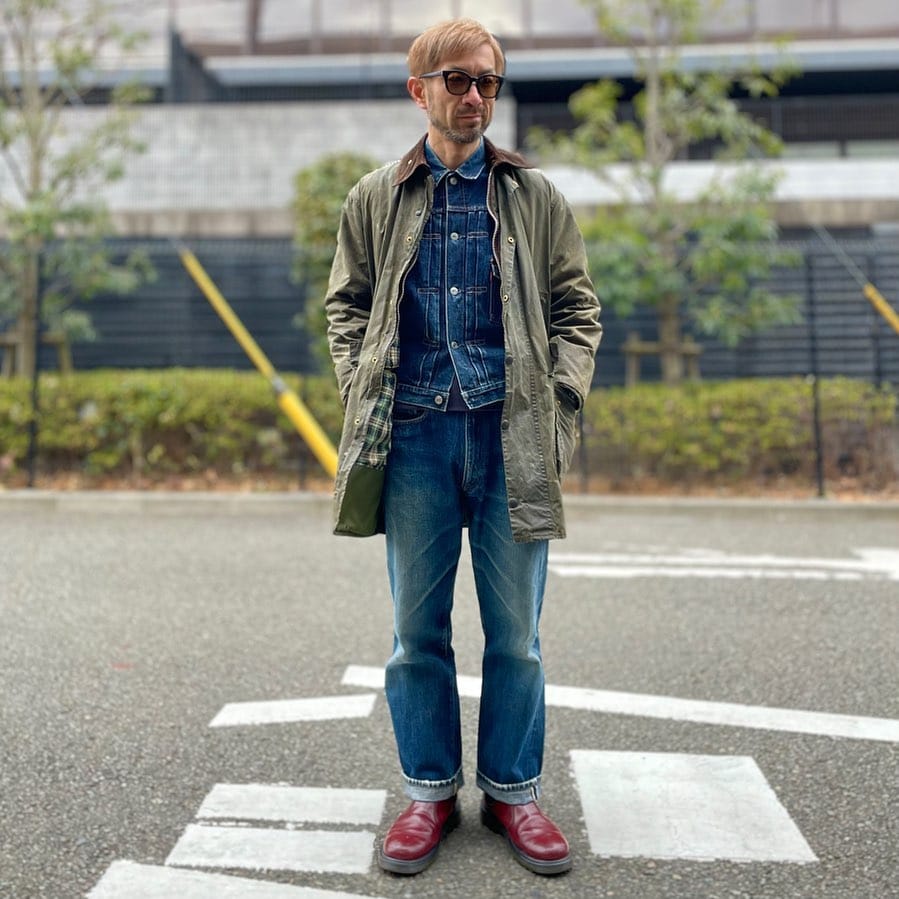 19 – Wearing Leather Jacket with Jeans
Guys love leather jackets, so it is highly unlikely to not have them in the wardrobe. If you have your favourite leather coat or jacket, wear it with a check printed shirt and a pair of jeans of your choice, viola, you're all ready for the hot biker look!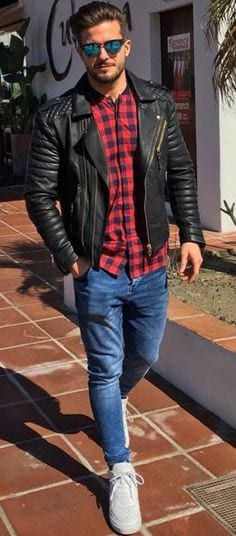 18 – Celebrity Style
Show the dude in you to the world by dressing up as smartly as Will Smith. Just by the way, you don't have to spend fortunes on that, a casual full-sleeved t-shirt and your jeans are all that you need.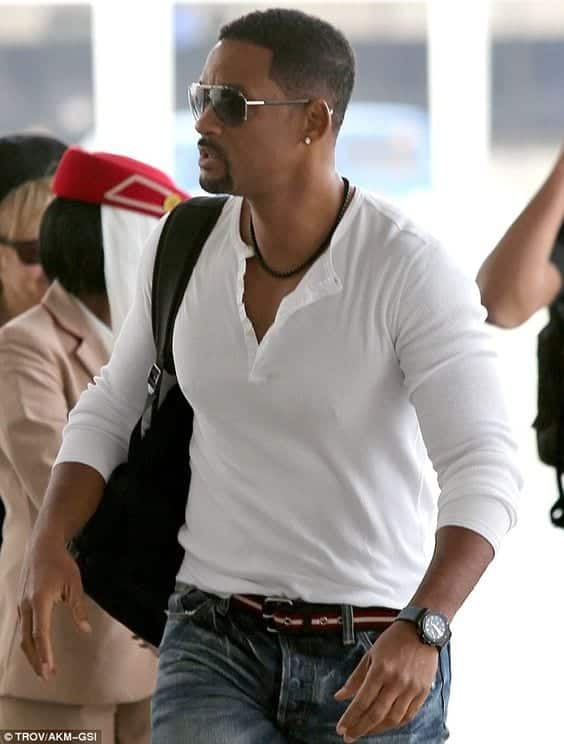 17 – Dress to Impress
Who says the office is all about dressing plain and boring. Office is all about dressing up smartly, so next time you plan to update your wardrobe, go for a plaided slim-fit coat that can be worn with every shade of denim. Pretty cool, isn't it!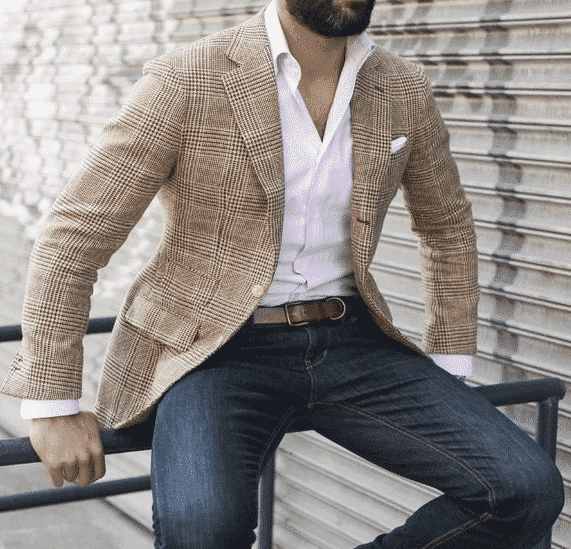 16 – How to Wear Baggy Blue Jeans
In Summers, it is very uncomfortable to wear skinny jeans in such humid weather. But since nothing can provide the comfort that jeans can, so go for baggy jeans and your worn-out t-shirt. Trust us, it is THE perfect way to dress up for summers.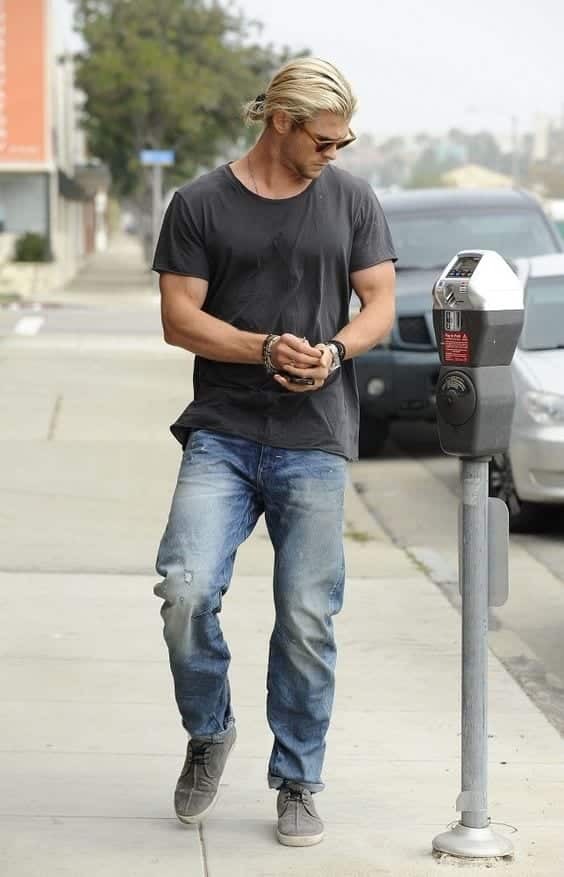 15 – Smart Casual Attire
While jeans are worn casually if you plan to go out with friends or have a meeting with your clients, you don't have to buy pricey outfits to impress, just your jeans with leather upper and smartly set up hair would do the magic.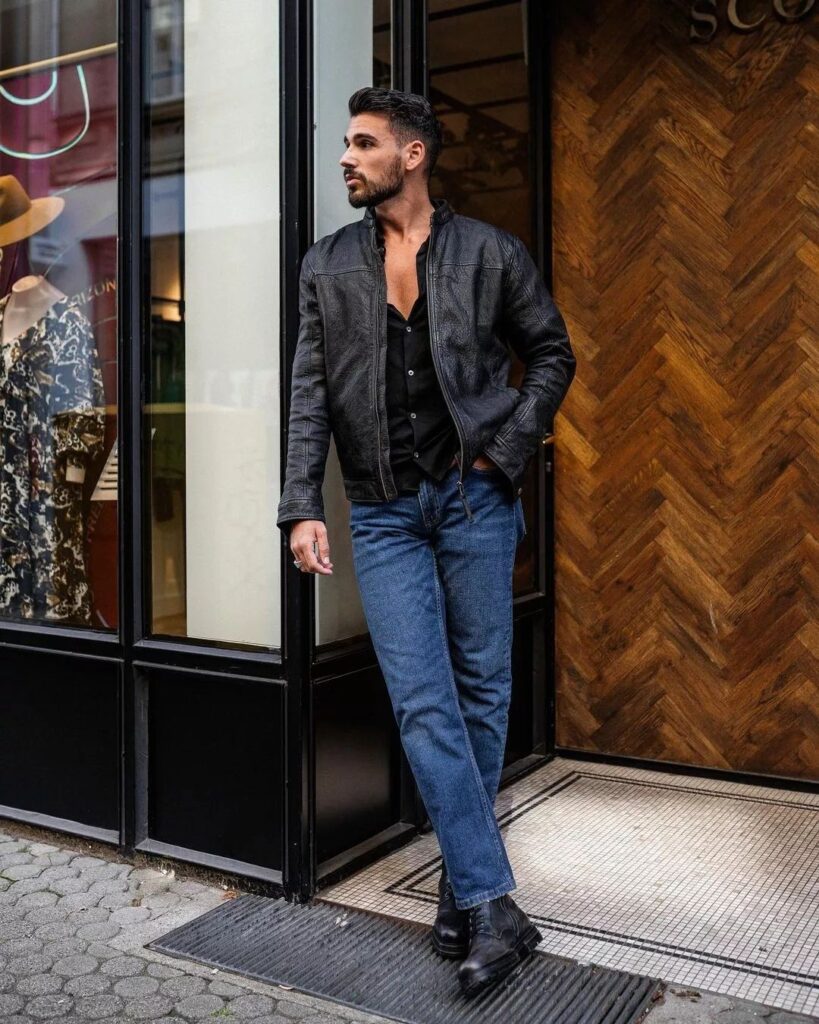 14 – Pairing Jeans with the Polka dots
Gone are days when polka dots were associated with girls only, not they are one of the most fashionable prints that people of both genders love to wear. So grab your jeans and that funky polka dot dress shirt in your wardrobe, go partying, with your friends.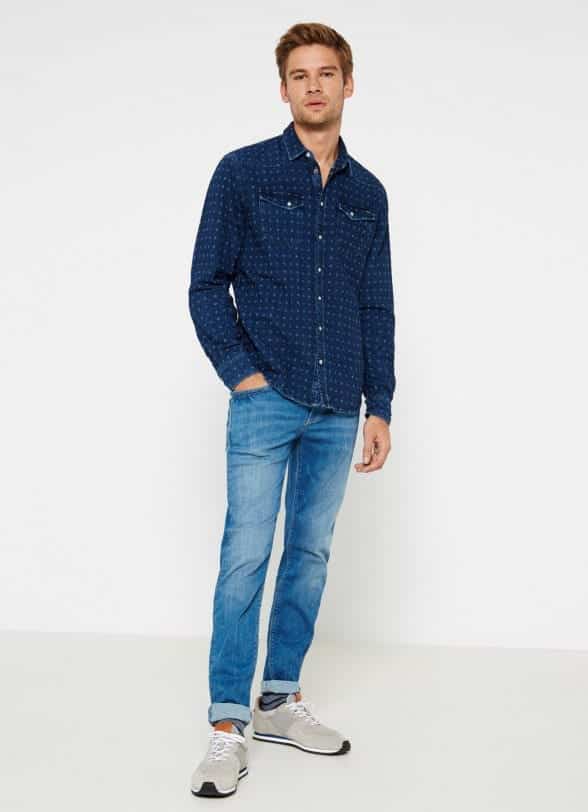 13 – The Gentleman Style
White is graceful, white is fashionable, white is chic, so why not wear your white shirt with your favourite jeans and enchant some girls at your university with your charm.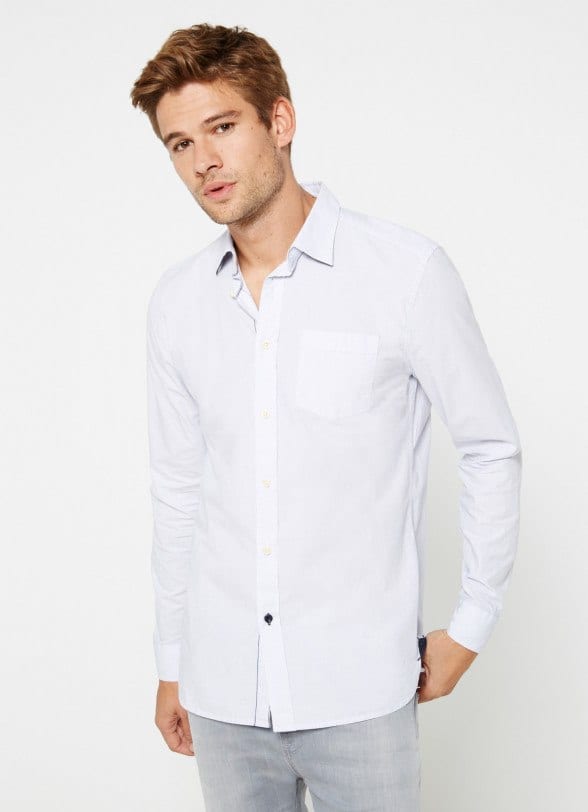 12 – Style Up for Office in Jeans with Blazer
Your super comfortable jeans do not have to be always worn casually. Why wear dress pants when a pair of jeans paired up with sports cardigans can bring out the gentleman in you.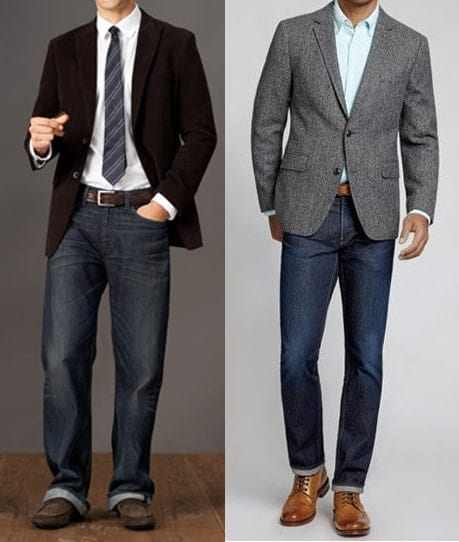 11 – Boy-Next-Door Style
A bit of twist to your casual style can change you from being the goof to the total hunk. Wear your cuffed jeans with a casual t-shirt and rolled-up-sleeved dress shirt and you are set to turn some eyes on you.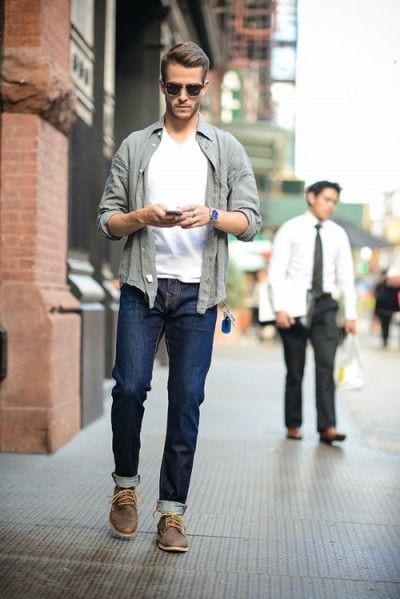 10 – How to Wear Jeans With Long Coat
For some regions, winters are still in full swings, so it is always the best idea to keep yourself warm. What could be better than a pair of jeans and a long woolen coat. Stylish yet cosy.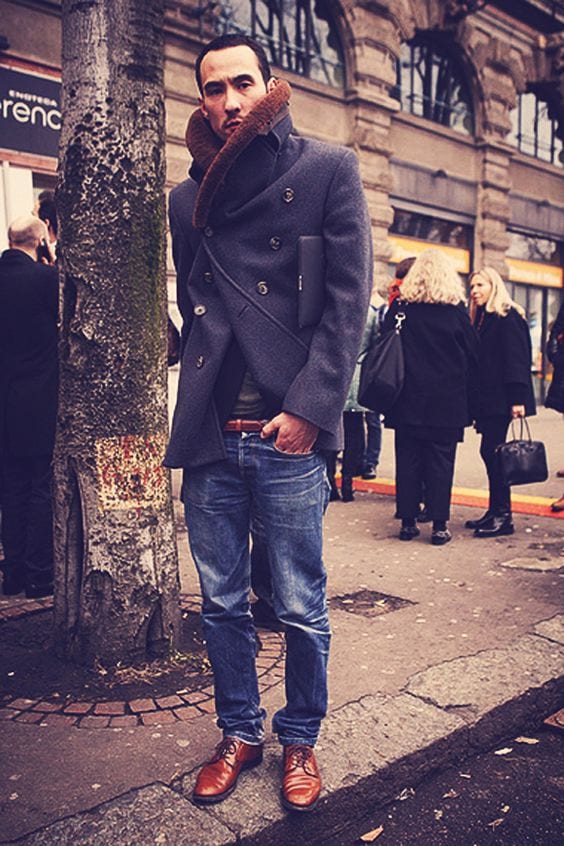 9 – How to Wear Jeans with Blazer
Planning to look your best for the presentation? Wear your faded jeans with Blazer and tie and your official look is ready.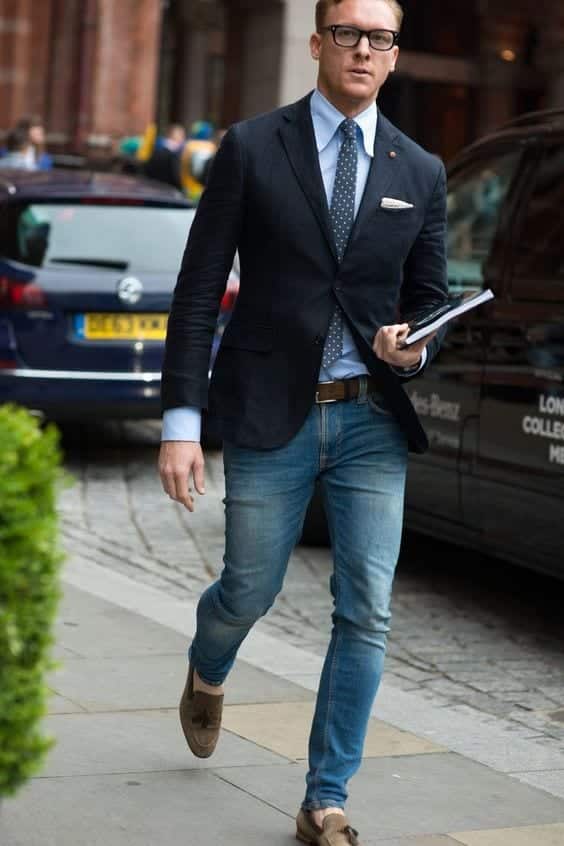 8 – Dressing Up for Lazy Afternoon
Want to stroll a bit to enjoy the weather. Well, you don't have to wear your jogging suit, a simple jeans and a white t-shirt or sweater would be just fine and you will surely look great in it. If it's cold out there, you can always add on jackets and hats.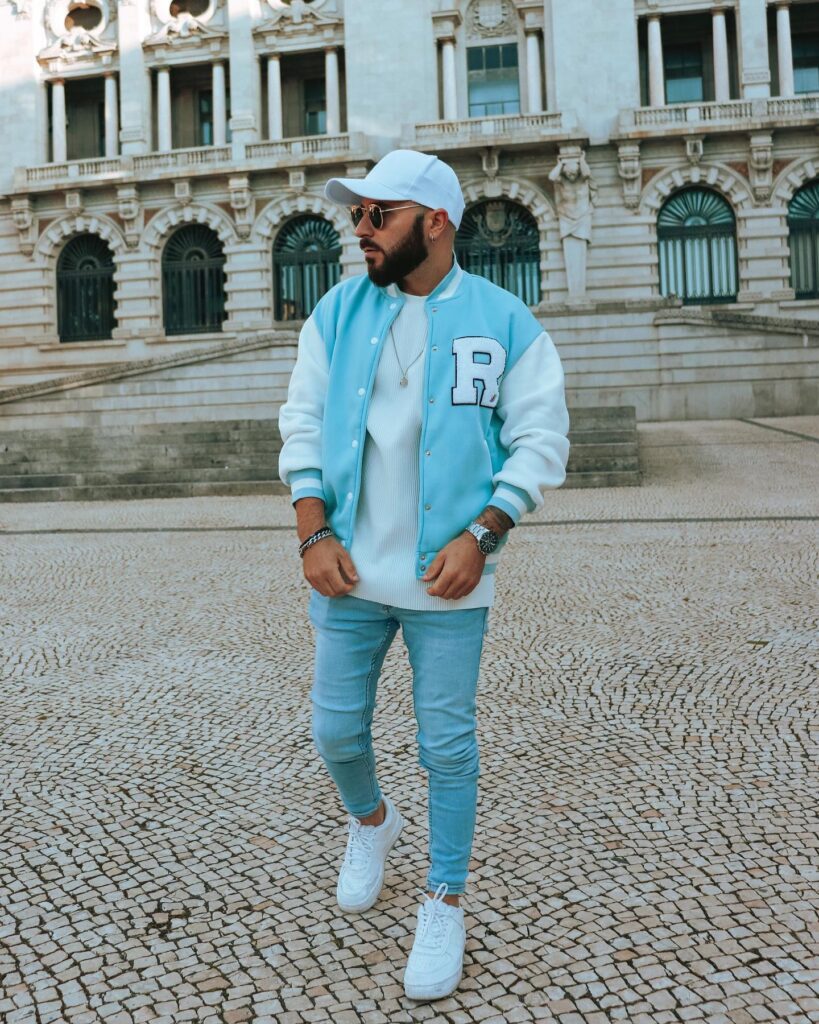 7 – How to Wear Ripped Jeans
Ripped Jeans are the ultimate street style but not everyone can pull it off smartly. You don't have to think too much when planning to adorn one, just wear it with casual half-sleeved t-shirts and you're pro with the look.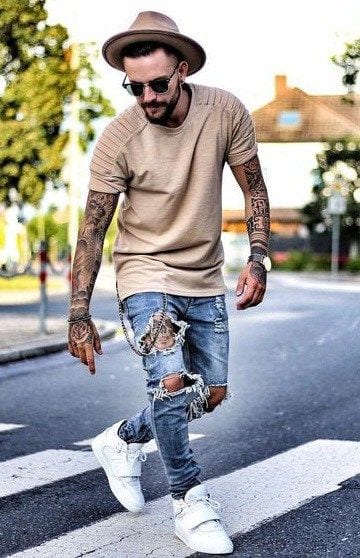 6 – Dressing Up for Party
Impress your mates with this chic style by pairing your jeans with t-shirt and beaded bracelets. Don't forget the brown leather belt to complete the look.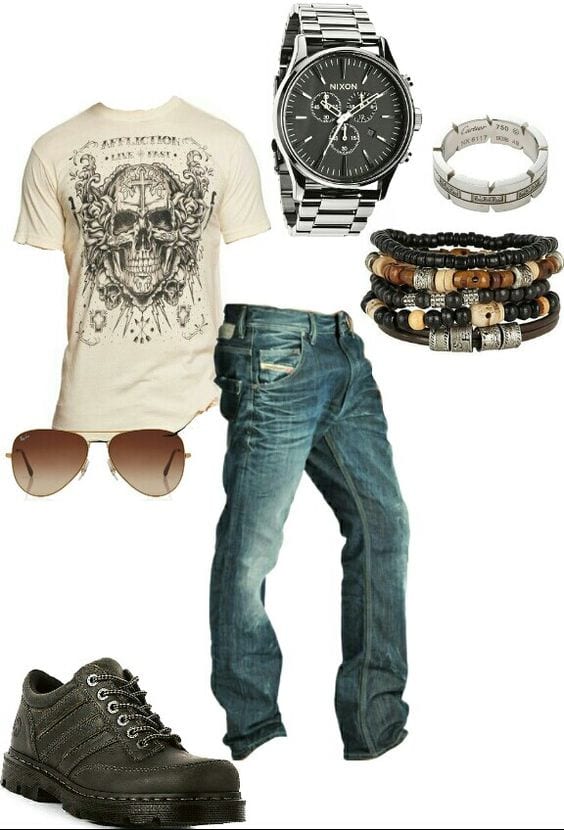 5 – What Shoes to Wear with Blue Jeans?
The choice of shoes depends on your top but in most cases, brown, black and white shoes are safe options.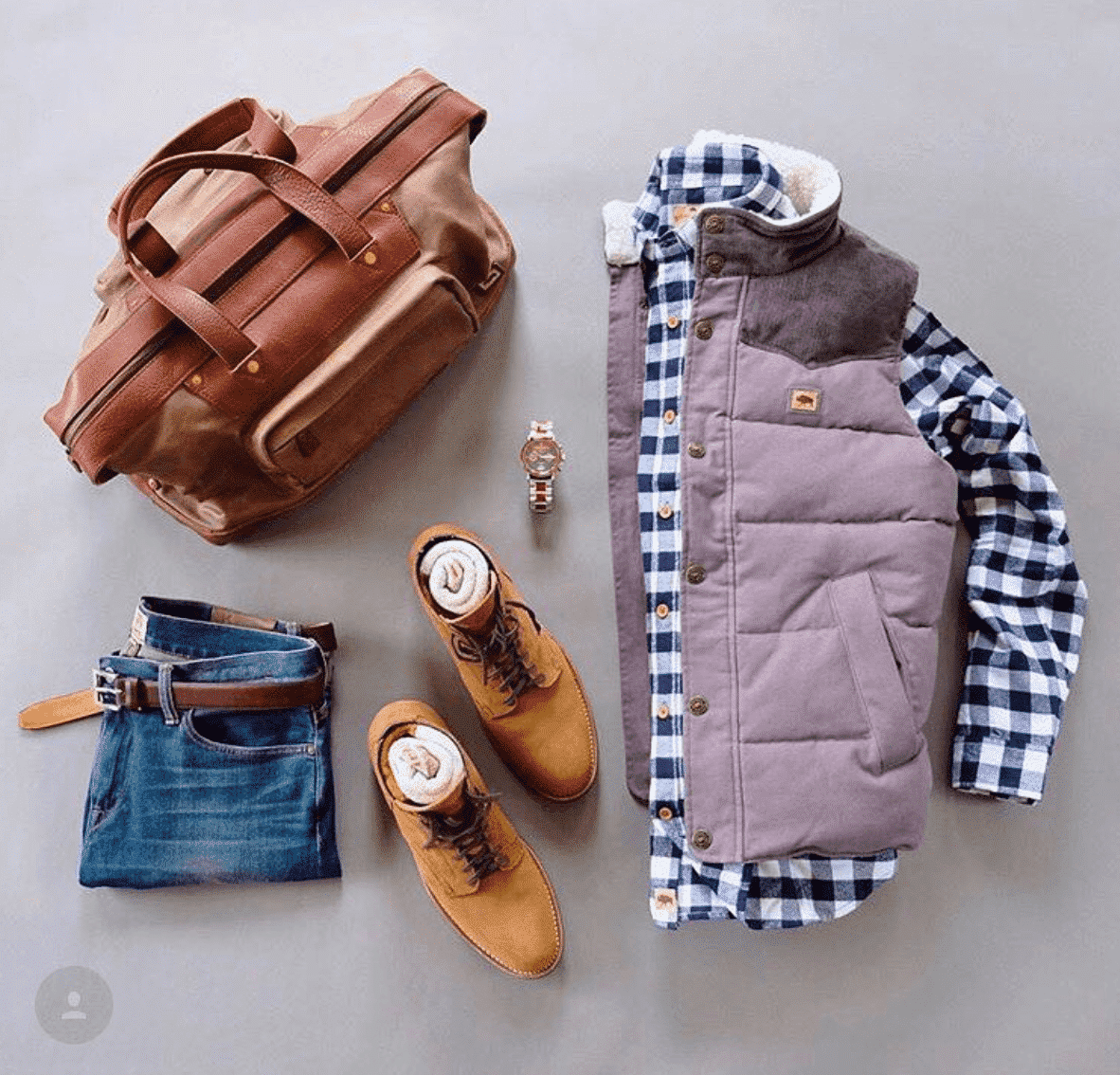 4 – Stylish Best Man Attire
Oh so you're planning to be the best man to the groom? Well, all you need is those lovely jeans of yours which you can wear with checkered printed shirt and sexy waistcoat. How very charming.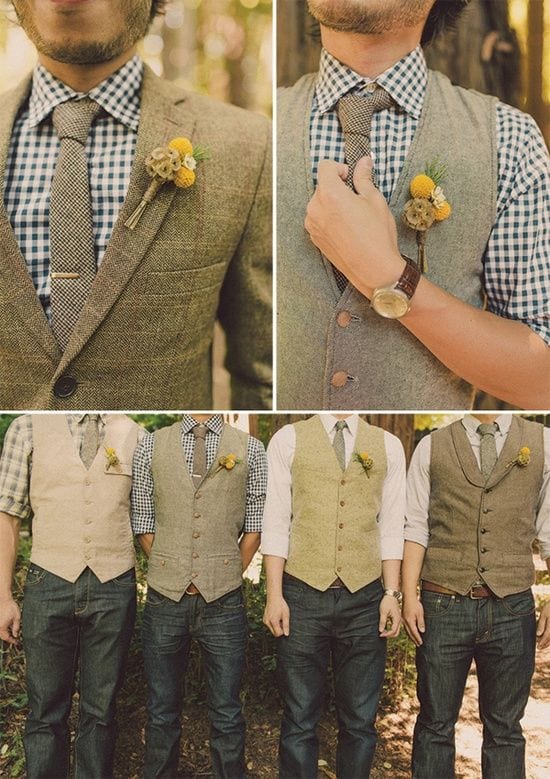 3 – Dress Up in Jeans for Meeting
Meetings are the times when you really want to impress people with you and your ideas. But before people get a chance to know about your idea they judge you by the way you are dressed up. Let them make a positive opinion of yours by dressing up as smartly as Enrique Iglesias with just a pair of jeans and a neutral colored jacket. Don't forget to wear your canvas shoes with this dress.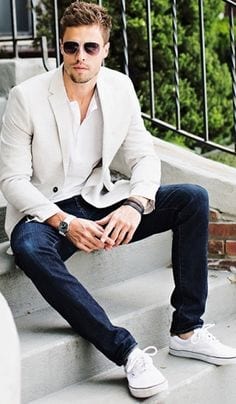 2 – Can I Wear Blue Jeans with a Black Blazer?
Have a black blazer but don't know what to wear with it? Well, worry not, black is one of those colors which can be combined with any color and still won't look odd, but if your style is not quirky, the usual blue jeans would look great with your black blazer. Complete this look with Aviators.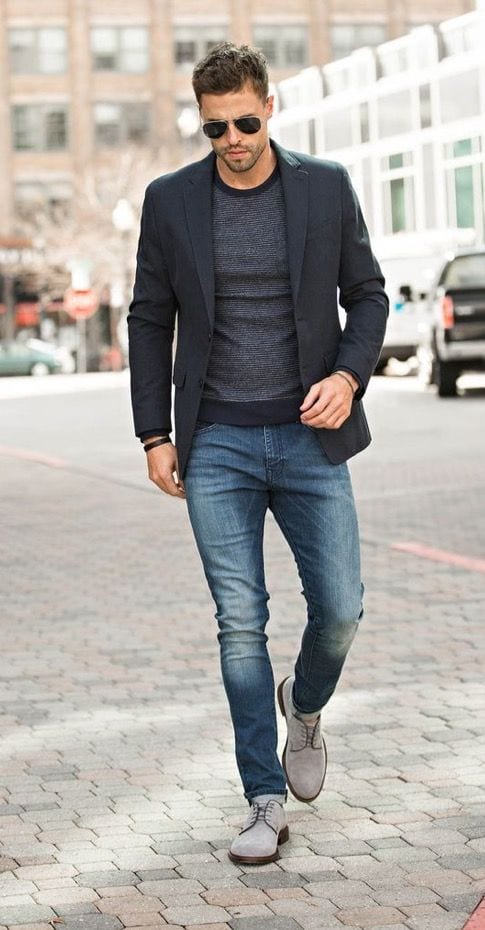 1 – Cardigan with Jeans
Dress up for your dream date in a cardigan and jeans. Backcomb your hair and wear shades to bring the style guru in you.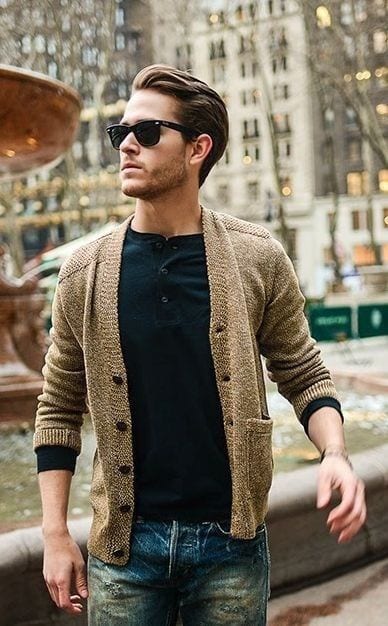 Frequently Asked Questions
Q. Can I wear denim top with blue jeans?
Denim on denim or "Canadian tuxedo" is generally considered as a fashion faux pas. However, some fashionistas defy the norm and still sport the look. You can wear a denim top with blue jeans as long as they are in different shades. But personally, I don't like this style.
Q. When should I wear light blue jeans?
Wear them on casual occasions, like hangouts with friends or random errands during the weekend.
Q. Are dark blue jeans better?
No shade is better than the other. It just so happens that dark blue jeans are more suitable for slightly formal occasions. You can wear them as part of your business casual attire. For instance, you can pair them with a blazer. Also if like me, you're a messy person who tends to drop food and drink stains on their outfits then of course dark jeans are a safer option than light colored ones.
Q. What colors look best with light blue jeans?
Pair your light blue jeans with dark-colored tops. Meanwhile, dark blue jeans look better with lighter shaded tops. This would help your outfits have a balance.
Q. What is selvedge denim?
It's a type of denim fabric that is more expensive than regular denim. It is a "reinforced" version of raw denim that can be paired with lots of clothes.
Q. Where to shop for good quality blue jeans for men?
Check out brands like Wrangler, Levi's, and Calvin Klein. They are available on Amazon and on their official sites. Uniqlo is a Japanese brand that also offers a good range of blue jeans at affordable prices. Other mid-range brands include Zara, Nordstorm, GAP and Everlane.