Cruise outfits for couples: Bored of summer already? And are you looking for a quick vacation with your partner? Don't just look for it; pack your bags and make this boring summer a fun one. How about a cruise vacation?
In this scorching heat, the cool breezes in the middle of the ocean have their own thing. But you have to look good! No worries, don't stress over this. I've got your back. I'm here to help you out with all the outfit suggestions that you might need.
Every place, every event, and every occasion has its dress code and so do cruise trips.
What to Wear on a Cruise with Your Partner?
Floral print dresses, sleeveless tops, and mini skirts will look fab on girls! And for boys, cool-colored cargo shorts or distressed shorts with the loose-fit tee shirts and sleeveless tank tops, button-down shirts will look amazing.
The fashion buzzes change every day. It's getting difficult to stay on the same page with each trend. But the trends aren't the ones that matter the most. What matters is how you embrace what you are wearing, which makes you feel you.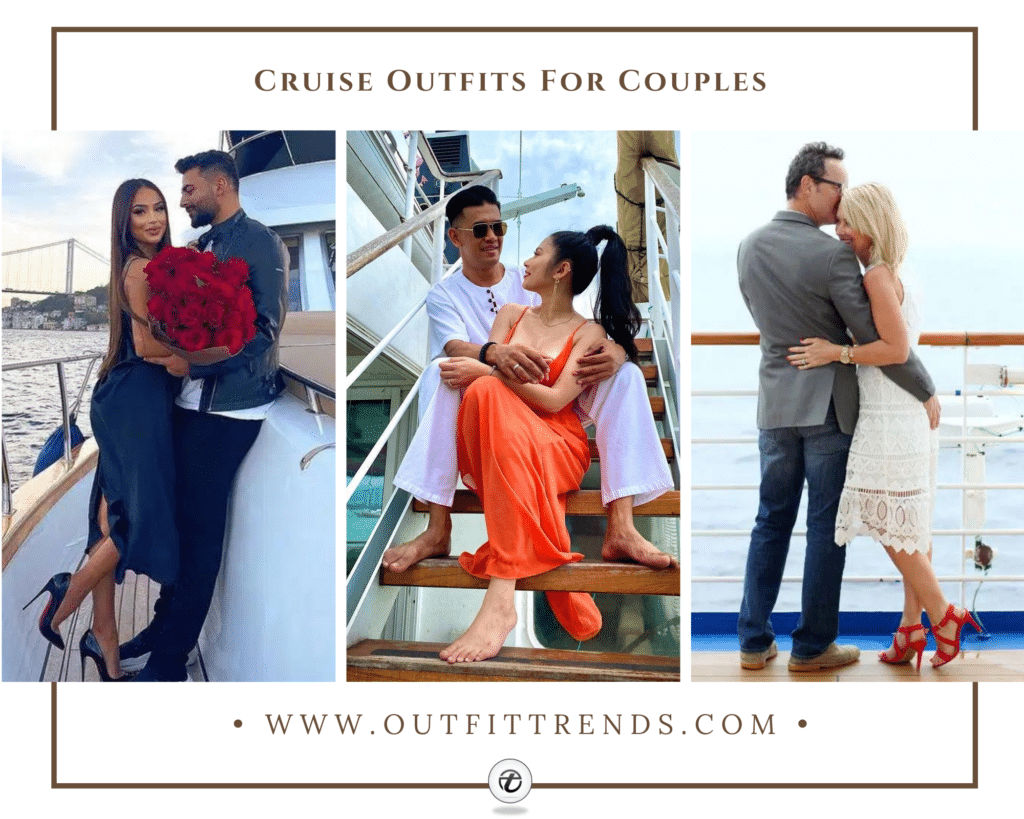 Tips For What To Wear On A Cruise Trip
A couple doesn't need to match their outfit from head to toe on all occasions.
But doing it sometimes, like at least once on your trip is what I would recommend.

You can also coordinate instead of matching by opting for similar prints in different colors such as tropical, floral, and striped prints.

Don't forget your swimsuits and sunscreens.
1 – Cruise Lunch Date
On a cruise, you can either go for a buffet or formal dining, and there is no genuine clothing standard for the buffet. However, for formal dining, you need to dress pleasantly. And when it's about a date, then you have to make some extra effort into your outfit. In that case, a mini black dress with ruffled sleeves and camel color robin high heels is a good-go-to outfit for a lunch date.
Likewise, a man has to dress charmingly as well. After all, it's a date. So you should not be under-dressed. If it's daytime, choose pastel colors. A white half-open button-down shirt with black jeans and black loafer shoes is a perfect date outfit for a guy. Finish the look by adding accessories like glasses, a watch, bracelet, and you're ready to go.
2 – Cruise Wedding Guest Outfit
Have a wedding to attend on a cruise? The subtle colors will look perfect with the sea in the background. You can pick any tone from pastel shades, yet what's superior to white? Weddings are all about whites. So the best option would be a white knee-length sleeveless lace dress with a funky red color high heels, finish the look with some golden tone accessories, and you're done!
On the other hand, for a man, a perfect greyish or dark color court with jeans and canvas loafers will look pretty decent for a daytime wedding.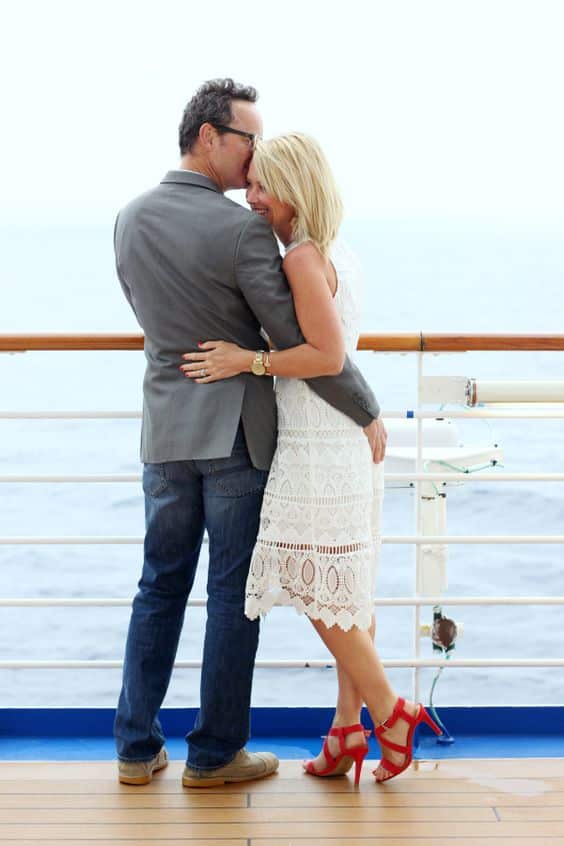 3 – Twinned in Tropical
How about twin with your partner together with the tropical print outfit? White is the safest option as we all know it's a color that suits both. Hence, a white tropical pattern mini sleeveless frock with transparent heels is a good choice for women, and for a guy, the same patterned half sleeves button-down shirt with white pants and white joggers is a perfect twin outfit option for you two.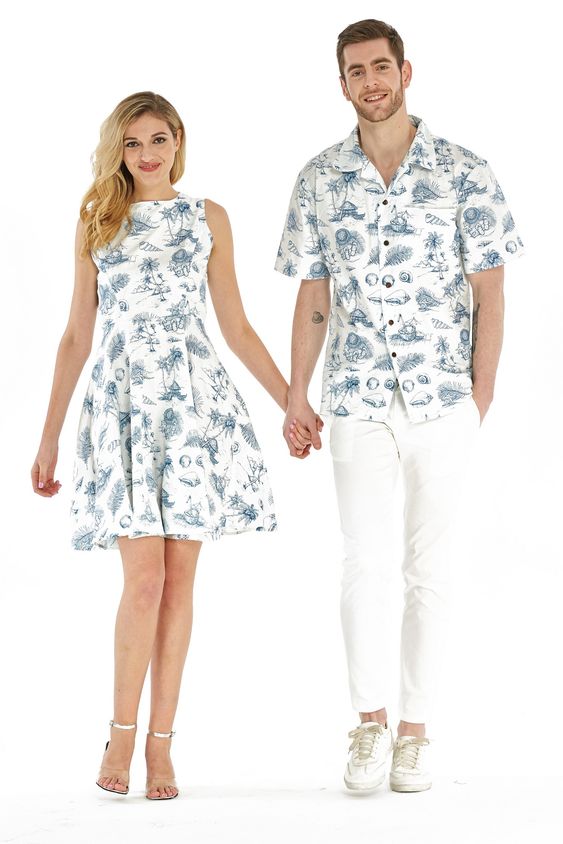 4 – Animal Prints:
This outfit screams "We're on a Vacation" itself. This is the sexiest and most eye-catching outfit for a couple, which will grab everyone's attention. I can bet on that. A black strapless blouse with a leopard print skirt is the sexiest wear for a woman; also accessories your look with sunglasses, chain, and earrings. And for men, the same leopard print shorts and a black front half open button-down shirt with a golden chain and sunglasses are the perfect attire for a sunny day. Here are some more ideas on Animal Print Outfits for Women.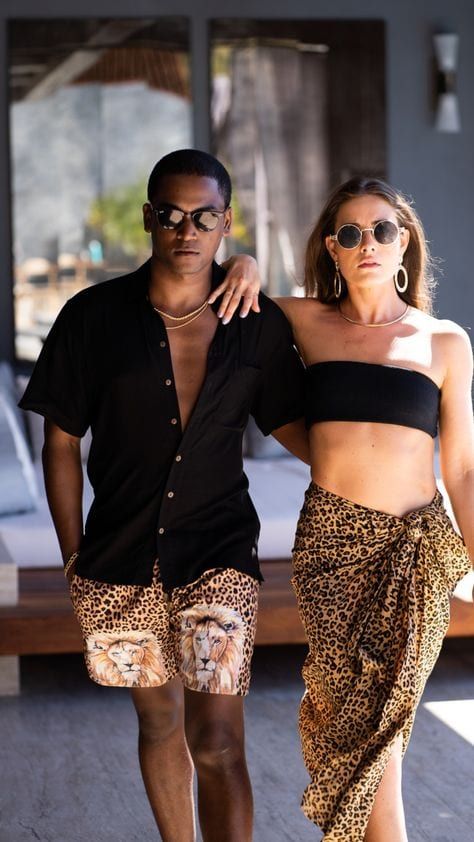 5 – Cruise Formal Night:
Go with Black & Red color coordination. A pretty ruffled long dress will make you look smoking hot, and for the man, a black three-piece will be the perfect choice for the night. I'm sure everyone will end up crushing over your couple.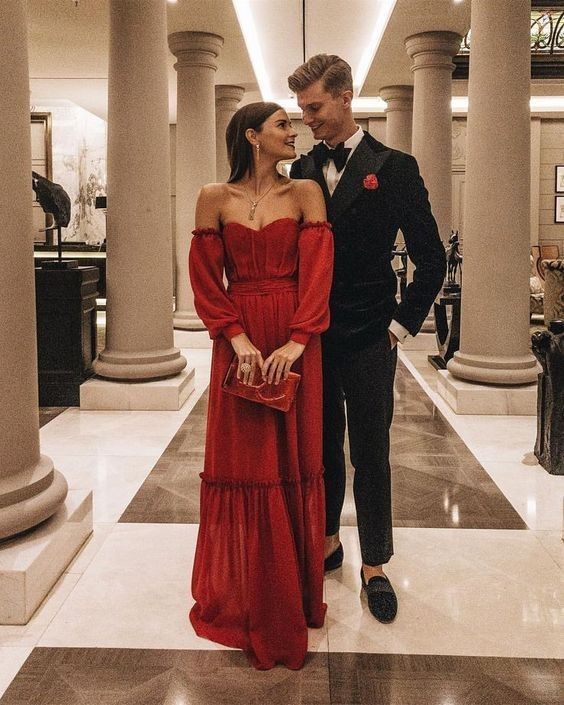 6 – Cruise Date Night Outfit for Couples:
Black never gets old, so try to go with a black leather jacket and black jeans with a white crew tee, and for women, the right choice would be a sexy sleeveless frill dress with high heel stilettos.
Go for date night with your love. Dress to impress him or her whether you're married or not married. It's never a bad option to go on a date with your partner to spend some quality time.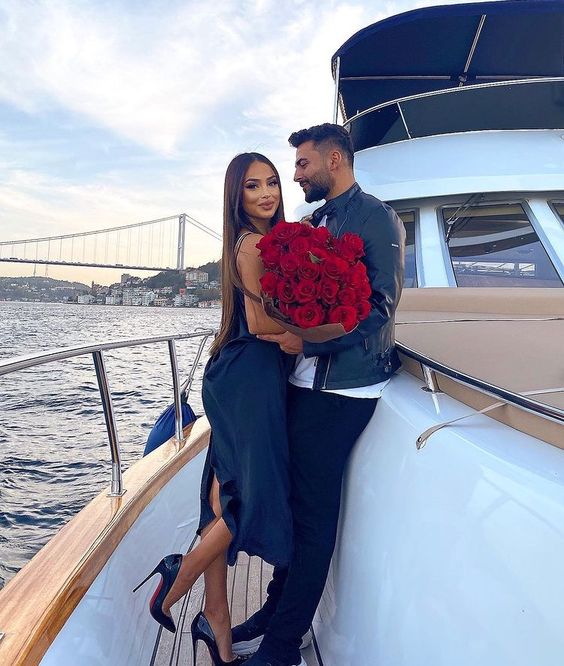 7 – Casual Evening Outfit:
The casual evening dress-up is chic but not so formal. It is more on the comfy side rather than stylish. You can wear a long ruffled dress with the cropped cardigan, and for men, a button-down or polo shirt with shorts is just a perfect option for a casual evening.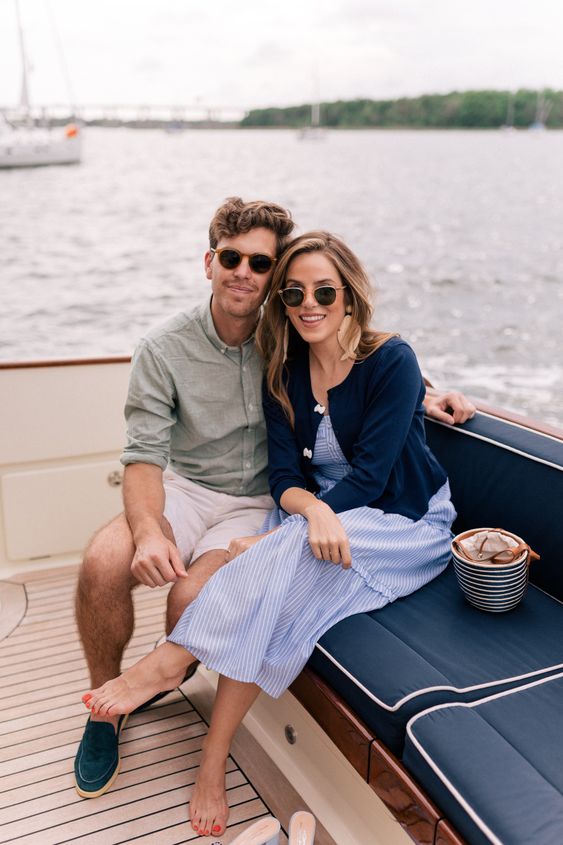 Also, have a look at our collection of the most stylish Cruise Outfits for Women.
8 – Beachy Outfits:
You're in the middle of the ocean. How is that even possible that you don't wear beachy clothes on your trip? You can wear a long floral dress, and for men, a button-down or polo shirt with jeans is the best option to give your dress up a beachy vibe. Men can also wear cargo jeans with polos or with open button-down shirts.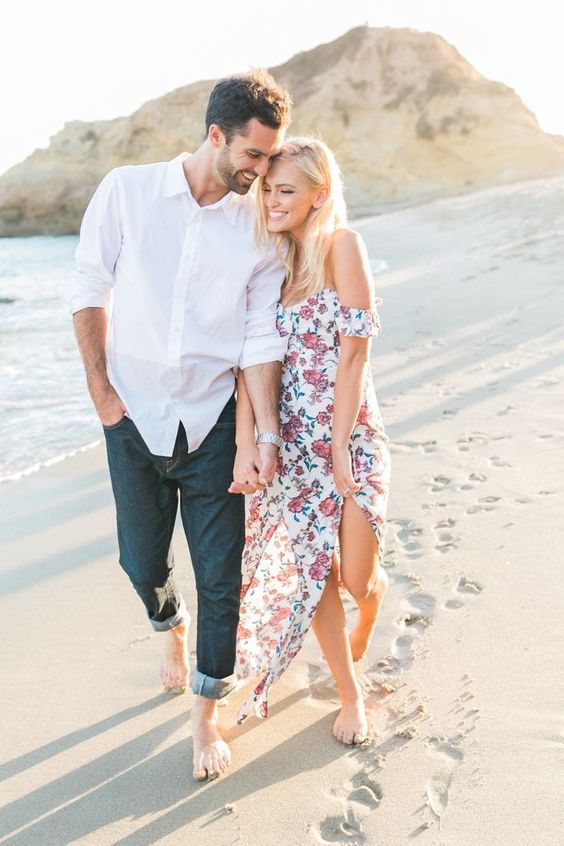 9 – Semi-Formal Look:
Not over the line nor below, it's a stay in-between kind of deal, known as semi-formal outfits.
This black and white strap midi skirt, with a white loose crop tee, is suitable for semi-formal style, accessories it with a brass cuff and matching clutch.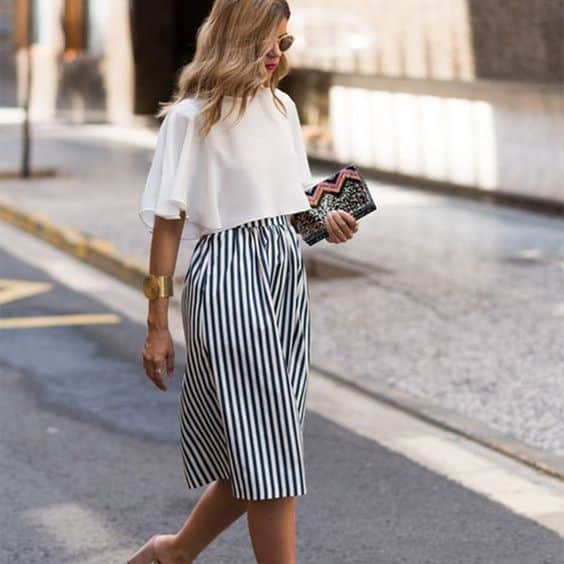 And for menswear, a simple white crew tee with a shading contrast pocket, and self-print chino pants would make an ideal easy outfit for relaxed wear. Complete this look with a brown belt watch and joggers.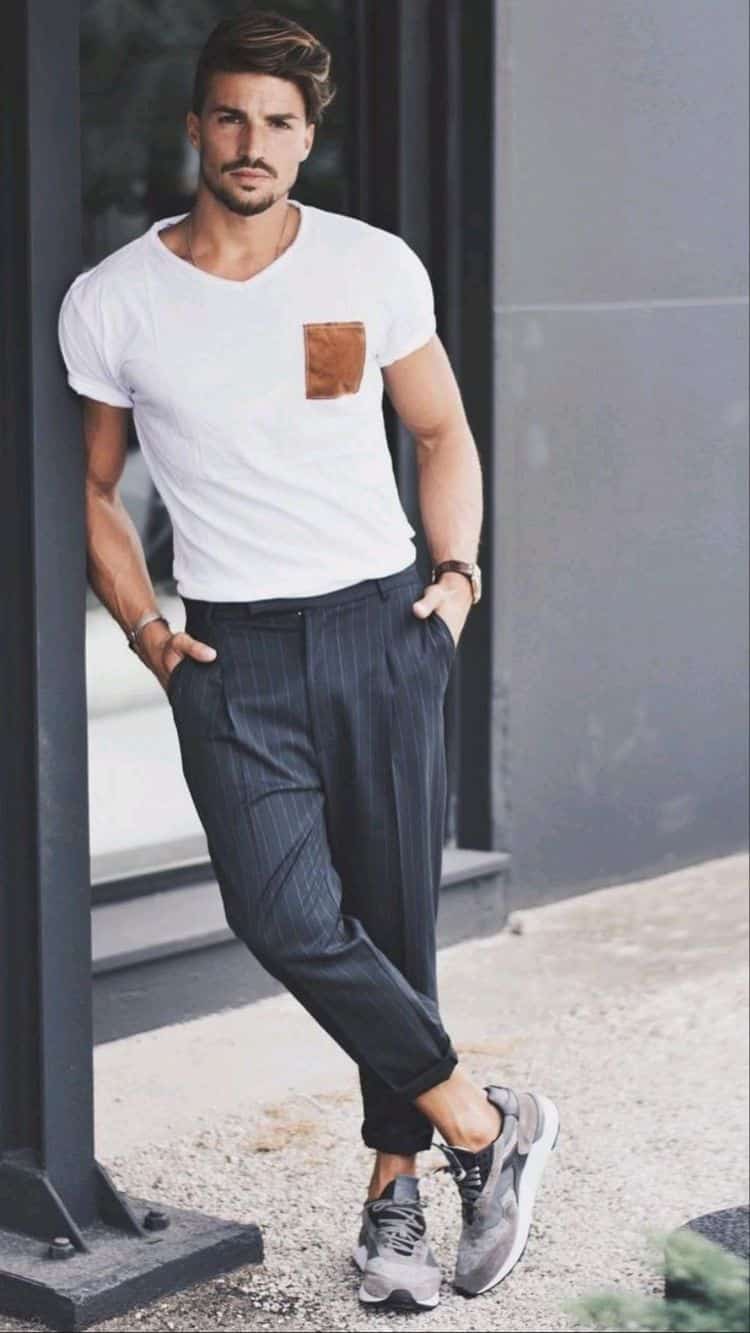 10 – Oversize Shirt and Shorts:
The most relaxing and best choice for the relaxed outfit is an oversize striped t-shirt with black shorts. It's a good beat the heat kind of outfit!!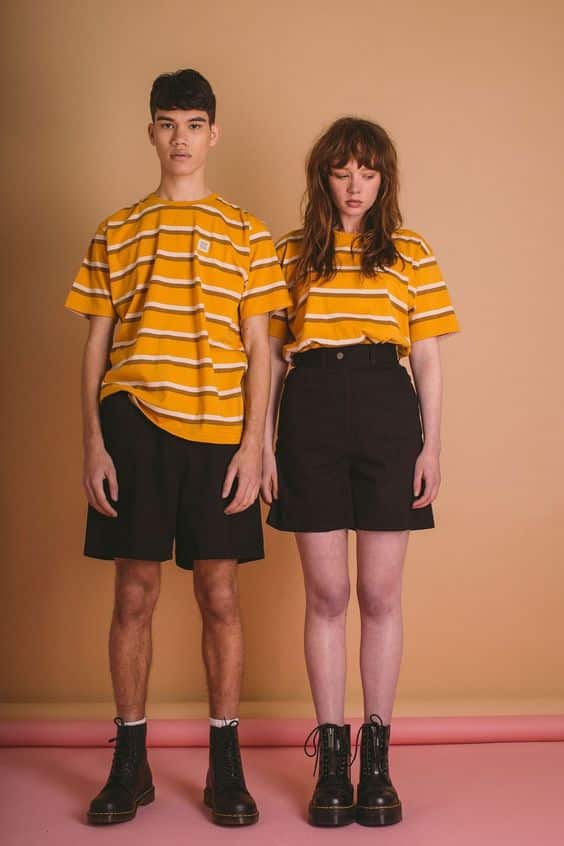 11 – Matching Resort Wear for Couples:
A dark blue jumpsuit with a white hat and the same colored footwear is the perfect choice for women. While for men, the same dark blue colored half sleeves button-down shirt with the slim fit white shorts and matching hats is a great outfit.
But make sure to pick decent, contrasting shares if you plan to wear matching outfits because not every color is for both genders. Try not to turn out badly with the colors.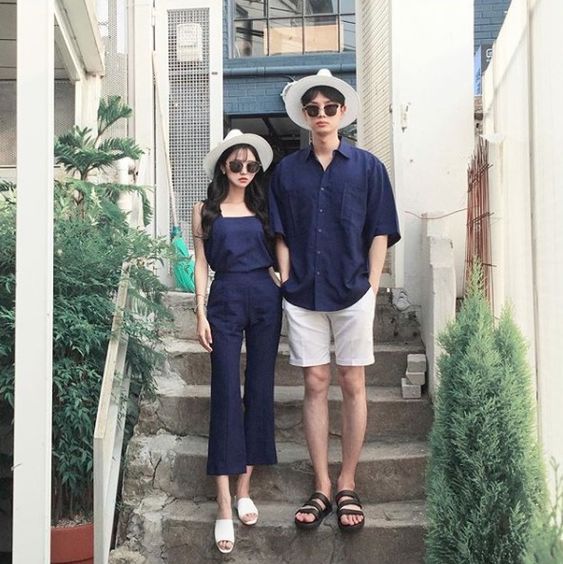 12 – Casual Cruise Outfit:
High waist Milano pants with a tank top are the elegant casual cruise outfit look; it's an excellent daywear outfit. Pair it up with a nude Odila sandal and elegant white clutch.
And for the man, loose-fit button-down shirt paired with light faded jeans makes a soothing combination for the eyes.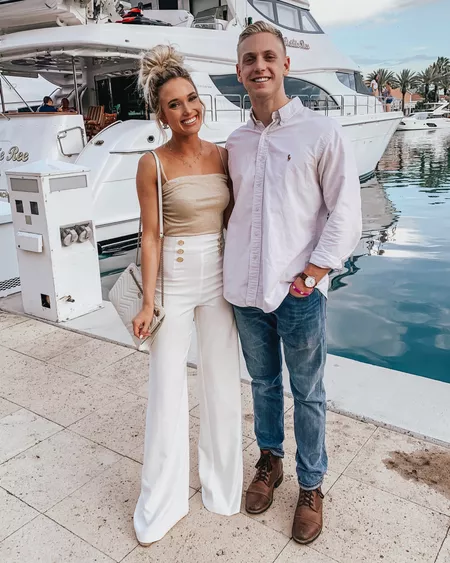 13 – Cruise Brunch Party Outfit:
Twin with your partner in the same pattern checkered shirt, pair your shirt with a bubble skirt, and for men's what's superior to thin fit pants? Complete the look with high heels, stilettos, and dark brown colored shoes, and kill the party. Here are some more ideas on Outfits To Wear To A Brunch Date.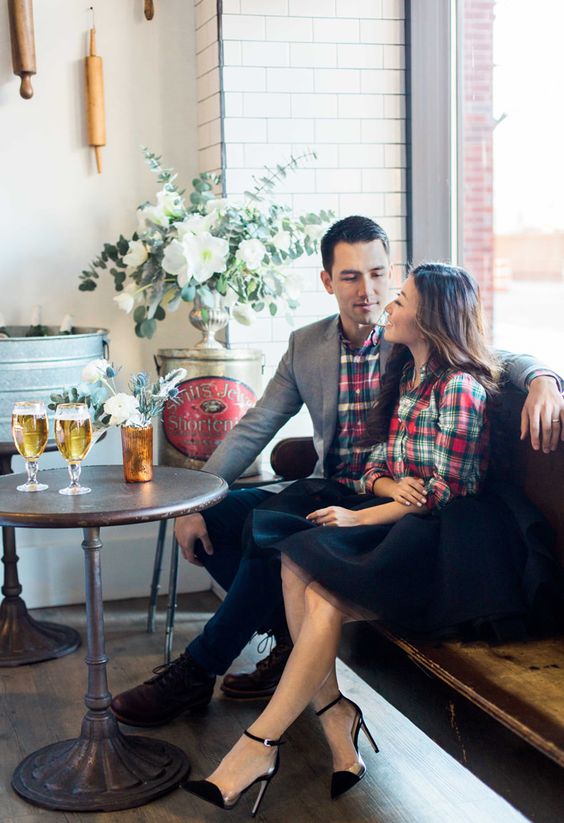 14 – Shorts with Shirts:
It's a complete summer look; black shorts with a see-through black net shirt – glam it up more with accessories such as sunglasses, a hat, long strap bag, and keep your footwear simple by going with flip-flops.
And for men, you can wear cargo or slim-fit shorts with polos or a basic button-up shirt and pair it up with white shoes or flip flops to give this look a more easygoing touch.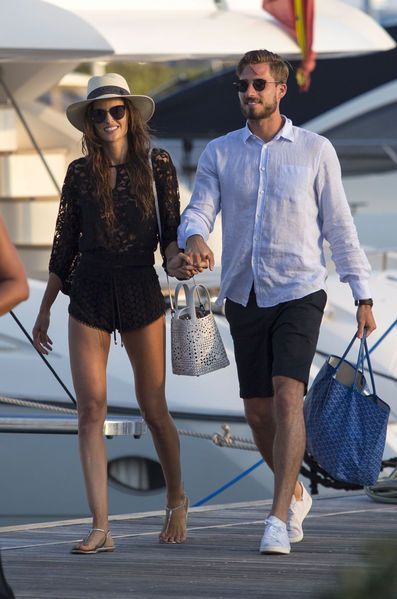 15 – Tank top with Shorts:
A casual yellow plain tank top with distressed shorts is the perfect outfit selection for comfy wear; further, accessorize it with a hat, and for footwear, choose T strap flats with it, and that's all – you're ready to step out and rock the cruise deck.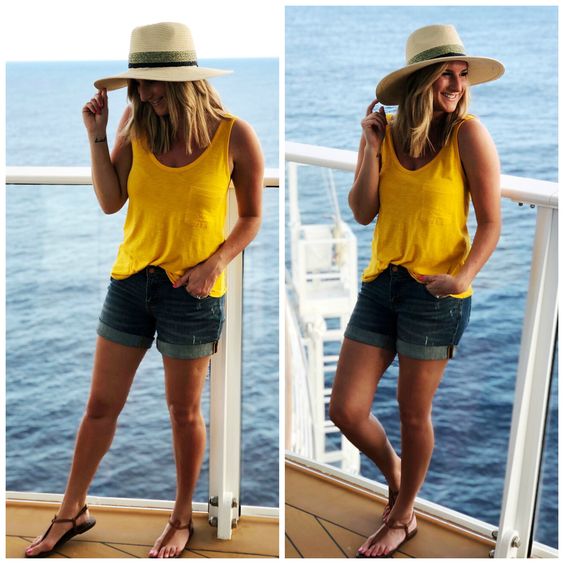 And for men's, we recommend a grey tank top, paired with joggers jeans and classic white sneakers. Tie the greyish cardigan around the waist to give this casual look a fashionable touch.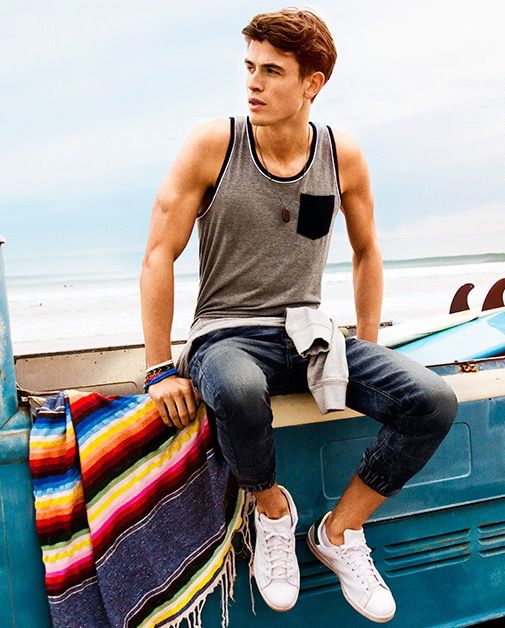 16 – Blues and Pinks:
Who said pink is for girls and blue is for guys only? Let's prove this misconception of everyone wrong and step out in the matching blue and pink duo! Sky blue shirt with baby pink shorts for guys and blue and white checkered bodycon dress with a baby pink shawl.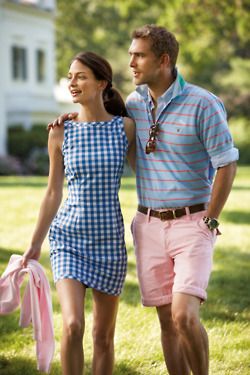 17 – Cruise Cocktail Party Outfit:
A mini skirt with a tank top is casual cocktail party wear; there is no need to glam up this look any further. It's a simple, decent, and pretty outfit for daytime; add some accessories like earrings, bracelets, and a clutch, and for the footwear, white flats are a good choice with this look. For more inspiration, you can check out these detailed guides on Cocktail Outfits for Men and Cocktail Party Outfits for women.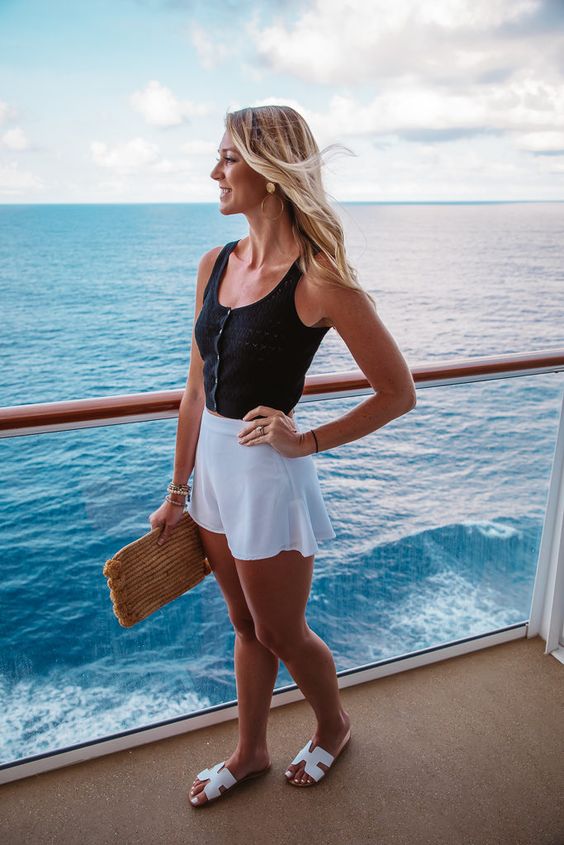 Match your girl's outfits by wearing a black polo tee with white shorts and a casual hat to finish this cocktail party look.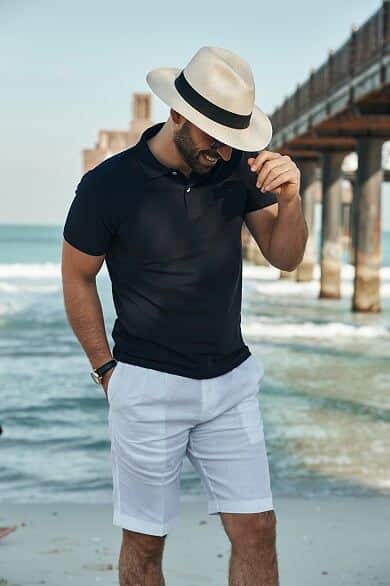 18 – Hawaiian Outfit:
Bright, eye-catching funky attire for a sunny day, it's the same print kaftan and shirt and short set Hawaiian outfit for couples.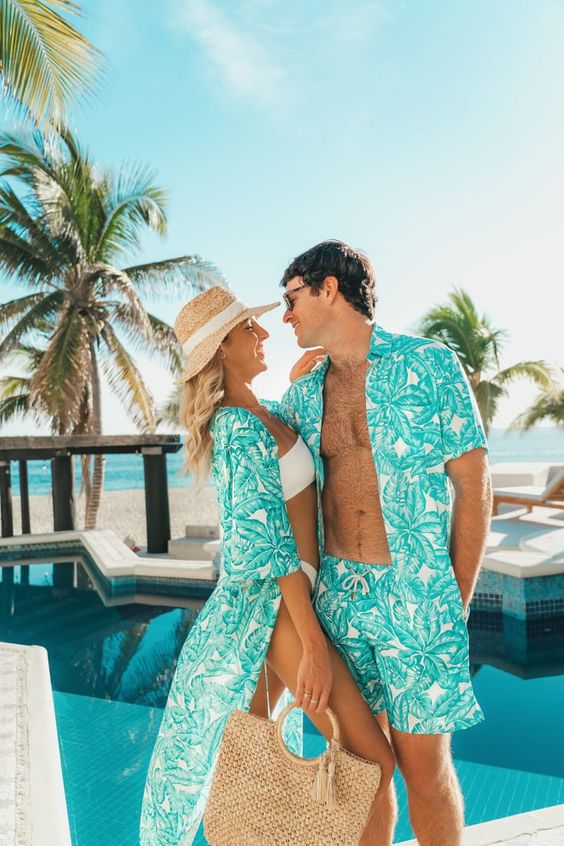 19 – Striped Pants Outfit:
You can both style striped pants with any color because these pants go with everything, and they also give the outfit a funky touch. You can pair a bright yellow colored long sleeves baggy shirt with turquoise color earrings, a bamboo bag, hat and nude heels for the footwear.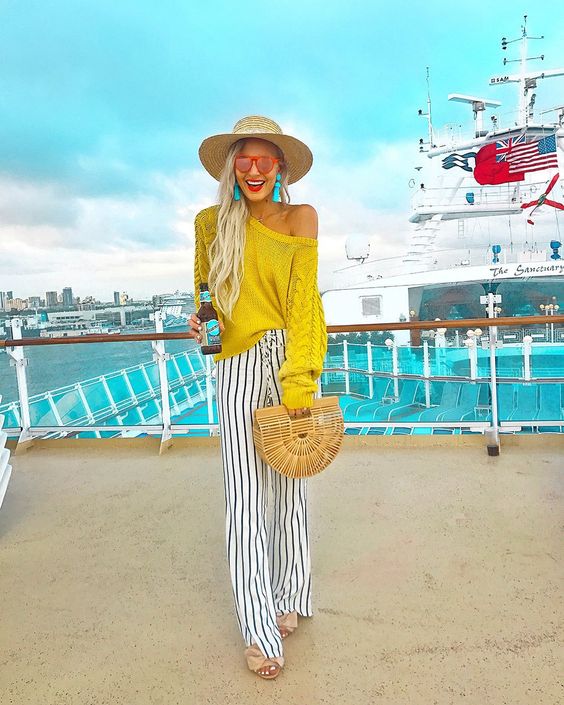 And for Men's: front open buttons and half sleeves shirt with a striped joggers pant is the attire for a funky vacay day. Further, accessorize it with a hat and layered chains, and finish the look with casual slippers.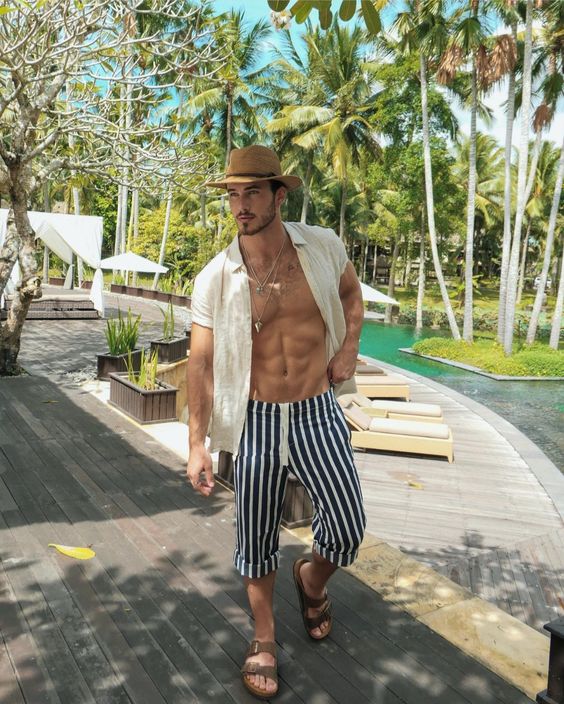 20 – Beat the Heat:
As you're on your summer vacation, there must be outfits that show the summer vibe in you. You can go with a tie-dye cami top with the casual distressed shorts, and for men's front open button striped shirt with white casual trousers is the excellent selection to go with.
21 – Bright Contrasts
If the girl is wearing a bright-colored dress, then the guy should go for an all-white outfit as this creates a beautiful contrast for daytime exploring on the cruise.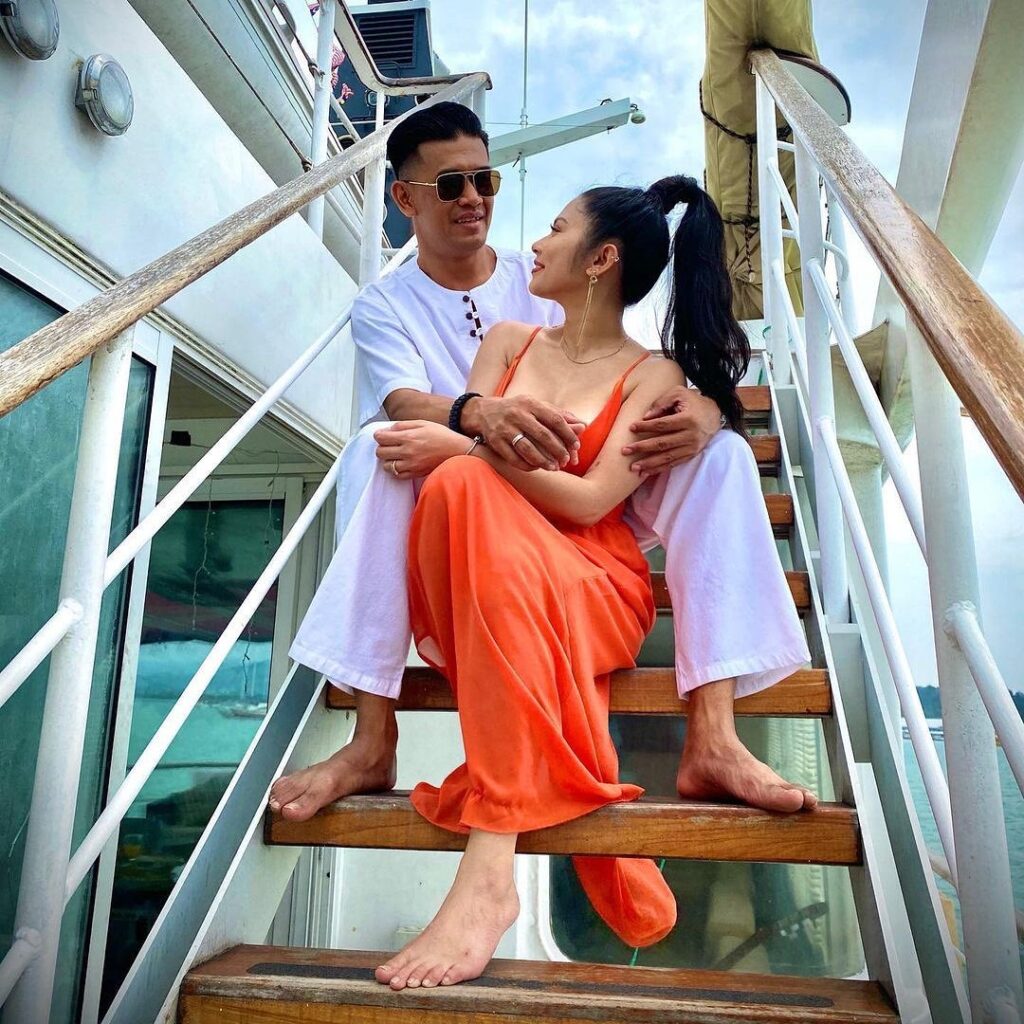 Frequently Asked Questions
Q: What should you not wear on a cruise?
Ans: Always check with your cruise organizers if there are any restrictions regarding the clothes. On most cruises, you are free to wear whatever you want but the formal dinner halls require a formal dress code.
Q: What is the elegant dress code for a cruise?
Ans: Tux, suits and ties, dress shirts, sports coats for men and gowns, maxi, jumpsuits, skirts, and blouses for women are the dress code for a cruise.
Q: What do you wear to a captain's dinner on a cruise?
Ans: For the captain's dinner, we suggest comfy and dressy easygoing clothing. For men, khaki jeans or slacks, and a collared shirt with or without a coat depends upon you; and for ladies, slacks or skirts, with a collared or checkered shirt, or dress. Don't wear pants, shorts, or tank tops at dinner.