Women's outfits with Green shoes: Is there a pair of green shoes lying in your wardrobe that you don't ever seem to get a chance to wear? Or every time you glance at them, all that goes in your head is "what do I wear with green shoes?" Let me erase your worries because you are about to get the most brilliant ideas on how to sneak that pair into your go-to outfits.
From mint to emerald, green is a glamorous color and where you see the word glam, trust me you're going to stand out. It's every girl's dream to turn heads wherever she goes and with these ideas, I'm about to suggest you will add a pop of color to your outfits in such a way that people will not be able to resist turning their heads. For starters, make sure you own a green pair of shoes, and if you don't already then add that to your next shopping list.
What Outfits to Wear with Green Shoes?
Remember, no color is impossible to tame according to your own liking in the fashion industry. Go green!
Do's and Dont's Of Wearing Green Shoes
Try to add a green accessory to your outfit when you style it with green shoes – easy tip: always keep a green scrunchie on you.
Green is a very soothing colour, just like neutrals so you can pair your green shoes with an all neutral base outfit.
Do not wear  an all green outfit unless the shades match! You do not want the wrong spotlight on you girl.
Do not complement your green shoes with a red outfit, unless ofcourse it is christmas.
It is time you search up the anologous colour scheme and look for the colours next to green because those will be your green shoes' bestfriends.
Like Coco Chanel said, white is the perfect harmony; next time you slip on an all white outfit, you know exactly which shoes will go in harmony with it.
Solids are your bestfriends.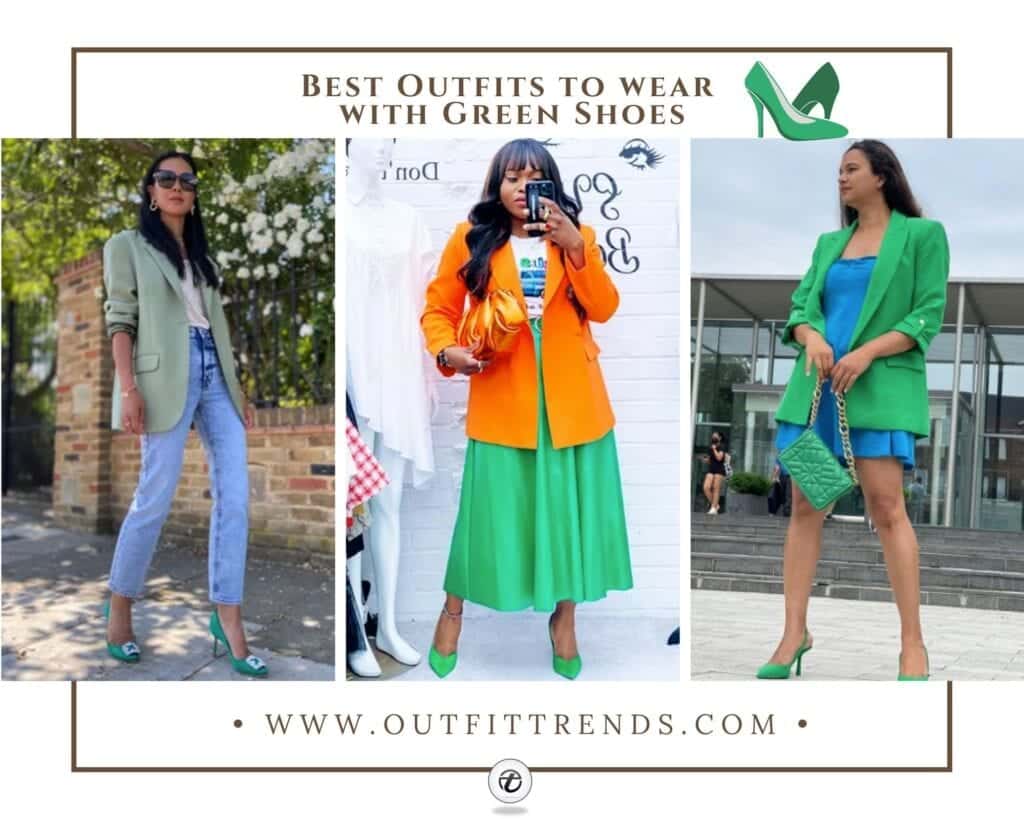 To be inclusive of all the ladies in search of the answer to this question, I'm going to make sure I mention all types of shoes that come in green, as well as the different shades.
1 – The Taylor Swift Look with Green stilettos
As I mentioned above, pair your green shoes with a piece of green accessory. However, in this case, we have green stilettos with a green purse. There is a certain beauty in highlighting your outfit the right amount. Slip-on your green stilettos with a stern top and bottom to accentuate your grace, not some pair of jeans lying around in your room. My advice would be to go for a matching top and bottom such as a jumpsuit but make sure it's either black, white or neutral because other colors will steal the spotlight we're trying to give green here. Now hold on tight to that green purse, make sure it is of a matching shade with your green shoes! Remember, you don't want the wrong spotlight. You can purchase a green purse and pair of stilettos from the following links if you don't have them already.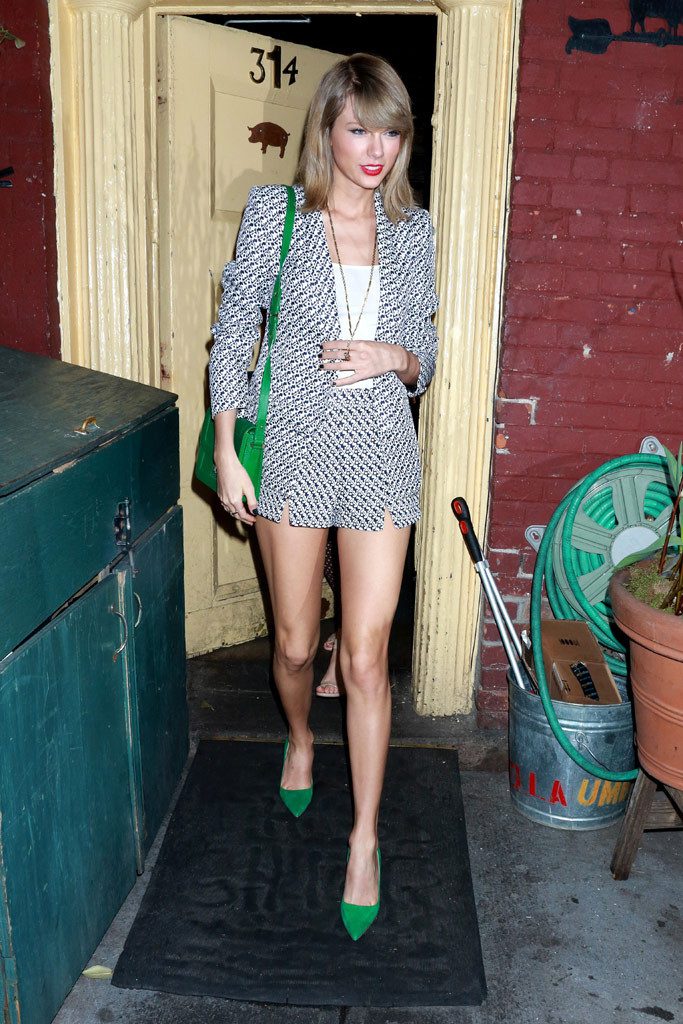 Dionysus leather mini chain bag
2 – With a Green Skirt
Winters are coming and you are running out of outfits for your work, yet the green shoes in your closet remain untouched? It's time because we know the perfect combination for your green shoes to shine. All you have to do is invest in a green skirt, with the shade and type according to your own liking but make sure they go along with the shoes you are going to dust off for work now. Or let's say you aren't an impulsive buyer with the green heels in your closet but you have a taste then this has to be your next addition to the closet. If you are going for a killer look, you can style your green skirt and shoes, with Orange. Wear a black or white top under this classy combo, something like this: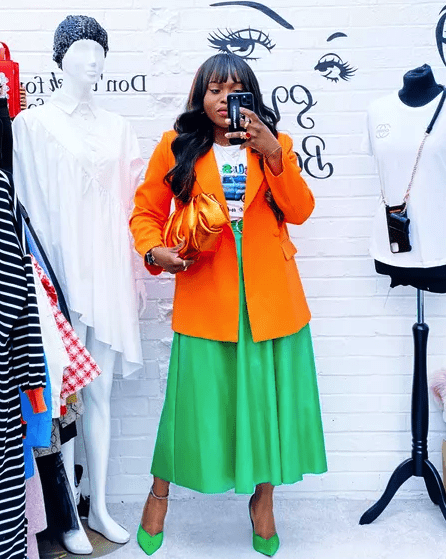 Pleated Green skirt
3 – Florals with Green Shoes
You are having a girl's night out but tired of wearing the same boring colors? Get your hands on a pair of trendy green sneakers and pair them with some florals, this could either be a shirt or a dress whatever you are in the mood for. Green is the color of nature and what other than floral prints suits that theme better? You do not have to wait for spring to pull off florals. You can wear a floral buttondown shirt and a pair of blue ripped jeans, a summer dress won't make you look any less than chic either with these sneakers. Depending on the season, you can pair these sneakers with a Christmas sweater too for the upcoming winters. Here are some more Ideas on How to Style Florals This Spring/Summer.
Floral Meadow Print Green Midi Dress
Apple green girls outdoor sneakers
4) All White Look with Green Heels
Pairing white with green will help you achieve the ultimate elegancy you acquire. Get ready for your next meeting with an all-white jumpsuit, or a white bodycon and some green heels. I would suggest going for olive green as it is the most elegant out of all the shades of green. You can accompany your look with a green purse, as I mentioned above, a matching green accessory will always add more color to your outfit and since the theme of your outfit will mostly be white, then a green purse will add a pop of color while remaining decent at the same time.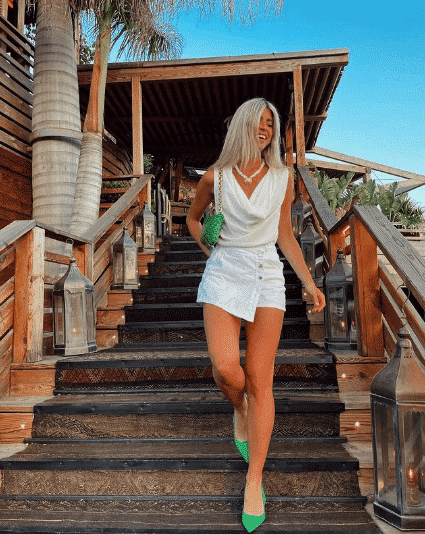 Where to buy heels: Olive green lace-up heels
Where to buy a white jumpsuit: AE UTILITY JUMPSUIT
Where to buy white bodycon: Sleeveless bodycon midi dress
5) With a Green Blazer
We have all heard of 50 shades of grey now it's time for 2 shades of green, a production by every girl who owns a green pair of shoes. Put your mix and matching skills to use with this technique where you combine a green outfit, but it is composed of two shades that complement each other.
The trick here is to wear your top and bottom in the same shade of green, whereas the shoes can be a shade lighter or darker because like I said you do not want to go for an all-green outfit where nothing matches.
For starters, slip-on neon green heels with just a green blazer. You can try the same with the shade mint, turquoise and all the others down the lane. To get a more matching look, try the accessory trick as mentioned earlier. Have a look at the image below to get an idea: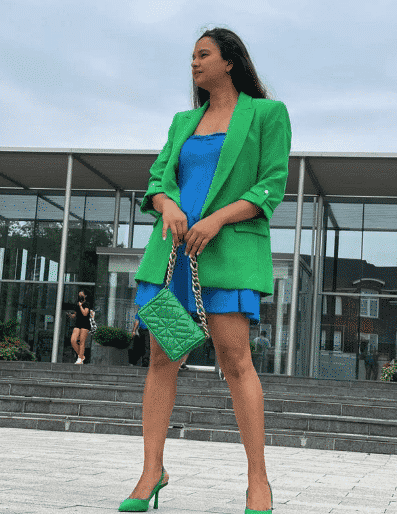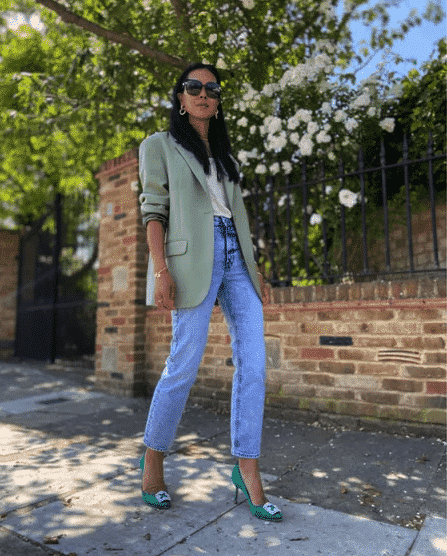 6 – With Denim Jeans
This is a street-style outfit you do not want to miss out on. Add not only a pop of color to your streetwear but some elegance as well with a pair of green heels, preferably stilettos to take your look up a notch. I think we all love denim for the same reason- it's the perfect backup. Pull on some blue ripped jeans and a casual tee or a blouse, whatever fits your mood for the day and pair it with the stilettos. Remember, there is no hard and fast rule for streetwear. You can pair it with some sunglasses for a chic look.
Ray-Bans
7 – All Black Look with Green Shoes
Pairing olive green with black has remained classic in fashion for years now because of how regal it looks. From black tee's to dresses to jumpers, you can pair any of them with a pair of green olive sneakers, heels, flats, whatever rides the wave better. Olive green gives you versatile options to wear it with any color but for a refined and polished look, black has to be your best shot.  Get your hands on a black crop top and a pair of black high-waisted jeans, then slip into some olive green sneakers, boots, or heels – the variety is endless. When two dark and fierce colors clash, the result is always a boost in self-confidence. Here are some of our most favorite Ways to Wear All Black Outfits.
green boots
8 – With a Black and White Suit
It's time to switch up our all-white and all-black fantasy by composing a suit of black and white both to wear with a pair of preppy green heels. The aim here could be class, elegance and chic at the same time. Pull out your black blazer from its hanger and that matching pair of black pants on top of a white button-down and then slip into a pair of green heels. from Zara to Christian Louboutin, anything will work as long as it adds a few inches to your height some taste to your fashion. The secret to wearing green shoes with formal outfits is to make sure the rest of your outfit is boring, so green is the guest of honor. 
9 – Checkered Pants with Green Shoes
Everyone is familiar with this print, but are all of you willing to go all out and bold? It's time you do. Add a dash of green to your checkered outfits, preferably neutral colors that fade into the background while your green shoes cling to the attention.
You can team up a checkered flannel with some plain straight pants and a pair of green flats, or a pair of checkered trousers and a plain blouse, either way, the pop of green will focus on your individuality in such a casual outfit or theme. You can go all professional with checks too by Wearing a checkered knee-length dress or a matching crop top and dress paired with your favorite green boots. If you want to top it with a checkered blazer, do go through these tips on How To Wear Checkered Blazers.
Plaid pants
10 – Stripes with Green Shoes
It doesn't matter whether the stripes are vertical or horizontal, as long as they are stripes you will definitely be making a fashion statement. However, the color will require thought as we will be pairing them with green shoes. The color scheme varies in so many ways but in my opinion, staying monochrome will give you the ultimate look when it comes to stripes. Pair them with minimal jewelry and let the green highlight your entire outfit if the stripes didn't do their job well enough.
Black and white stripes may seem boring but the green will evoke all the fun in it. There are many ways to go about this outfit, you can either wear a striped shirt or pants. Other than that, striped jumpsuits are in fashion as well. You can style all of these with a pair of green shoes- the type and shade are completely up to you as usual. Although my best pick would be a pair of wedges for a change. Your striped outfit should look somewhat like this:
11 – Casual Winter Outfit with Green Shoes
Love this laid-back casual and yet chic combination of green shoes with a green coat. It would be even better if both the shades of green were similar but we know that that's hard to accomplish.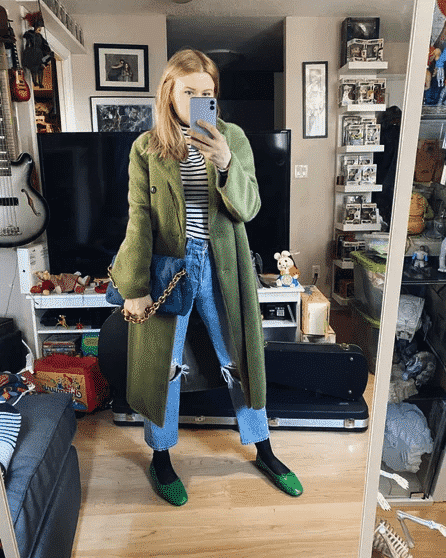 12 – Best Color Combination with Green Shoes
And the combo of the day for us is *drum roll* Green and Blue! Both these colors look super cool together and you can easily play around with them to create spectacular looks of your own.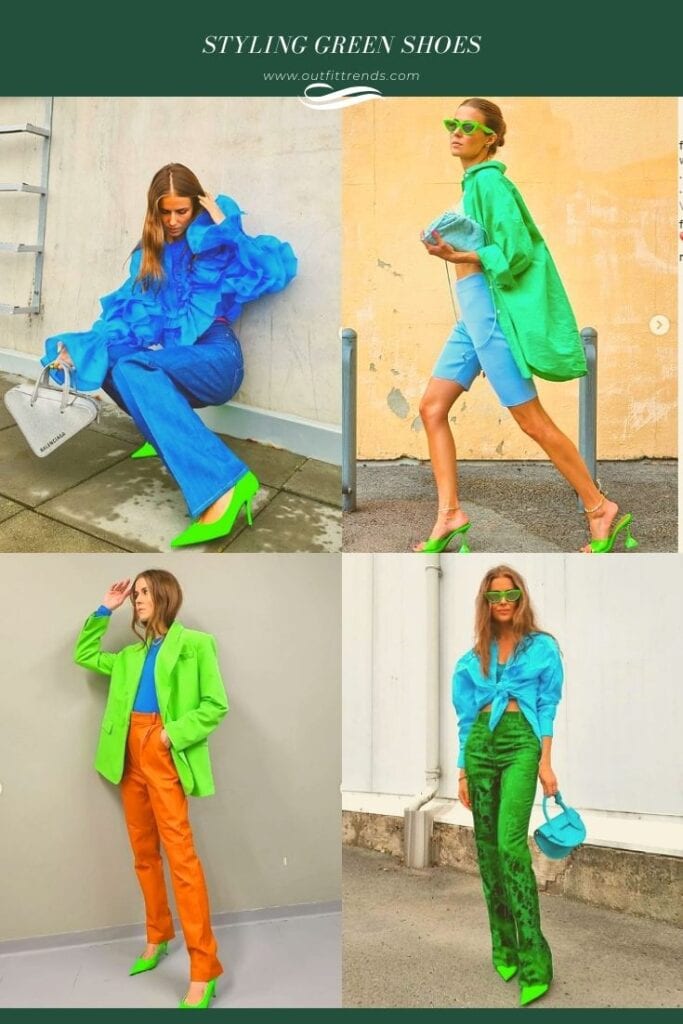 13 – Wedding Guest Outfit with Green Shoes
Yes you heard that right. You can take your green shoes to a wedding like this diva who paired it fabulously with a hot pink dress.
Frequently Asked Questions
Q. Which colours go best with green?
A. Monochrome, analogous colors and neutrals.
Q. Should I buy green shoes?
A. Definitely, now that you know how to style them.
Q. Will a white outfit look good with my green shoes?
A. White is your best shot at styling with green shoes.
Q. How many ways are there to style green shoes?
Plenty, just scroll up.