How to wear a boiler suit – If you don't already possess one boiler suit, we strongly advise that you do so immediately. This practical trend is hot as hell and won't be going anywhere anytime soon.
The boilersuit, which was formerly considered a statement piece for the fashion elite, has completely changed its image over the past year and is now viewed as an affordable wardrobe staple.
Utility Suits You Need to Try This Year
The all-in-one might be scary for some people at first, but when you get past your first apprehension, most people discover that it's a flattering and simple-to-style trend that looks well on everyone irrespective of their age.
The suit is the picture of ease, style, coziness, and surprisingly adaptable. Keep reading to learn how to wear one in a heatwave, on a casual weekend, during the dead of winter, and even to work!
Tips And Tricks on Styling A Boiler Suit
Here are some tips that you would want to know before trying on this outfit.
Make sure the type of boiler suit that you are planning to wear matches the weather outside! Wearing a short suit would not fit in the winters, and wearing the full jumpsuit sort of suit in the summers would make you sweat to no end!
I would recommend wearing as simple jewelry as you want with it. Try to keep it stylish but not overdo the accessories since overalls are simple, accessories bring out your whole look.
Level up your look with some glamorous sandals or a pair of heels.
You can always add extra accessories other than jewelry, like scarves or mufflers, according to the temperature of your area.
20 – How to Wear Ashy Toned Utility Suit?
If you are on your way out on a random Monday morning and have got every stylish cloth of yours in the laundry, you can always go for a boiler suit.
This ash-colored suit will make you look fabulous with its simplicity and good fit! Along with the perk of staying comfortable while wearing this the whole time, what else would you need?
Slip on lace-up sandals to amp up your whole look, tie your hair up, and put on your glasses; a fusion of professional and causal mixed together never looked this good!
19 – Winter Look in White Coveralls And Black Jacket
If you are planning on wearing a boiler suit in the winter, then this look is just for you!
A coverall, along with a leather jacket, makes your whole look level up! A white colored coverall and a black biker jacket are the perfect matches that will make you look hotter than ever!
This is the look that you will never get tired of!
Just finish it off with some black colored faux boots and a black leather handbag to match the whole vibe of the outfit; you look like a total badass in this!
18 – Cute Overalls for Summer Outfit
Are you in the mood for a more pure, all-white outfit? You can always go for this summer look to beat the heat! From top to bottom, you are dressed in white; the color will make you look angelic in this fit!
Along with the feeling of comfort, the white color will keep you protested from the harmful sun rays as this color will reflect most of the light back!
Accessorize accordingly. To look more pure and cute, wear a white bandana around your head and some simple white sneakers. This will help make you look adorable as ever!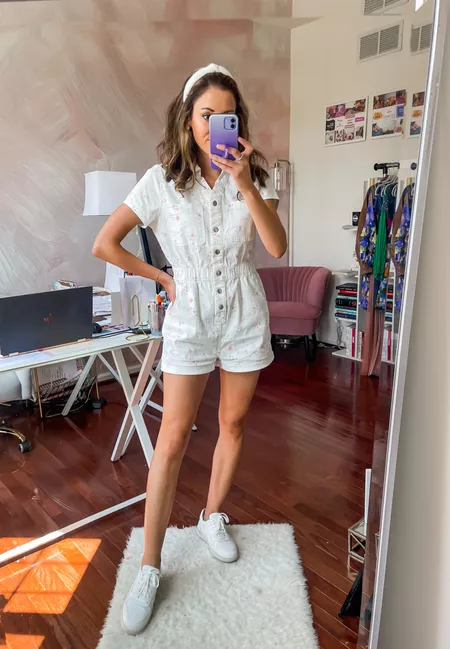 17 – Cream White Is Always A Better Option
No matter what you wear, if the color of your outfit is white, be assured that you will look angelic! As white is considered to be a pure color that everyone adores!
This white boiler suit is a safer and easier option for you to go for if you are too scared or skeptical about trying on the funkier, riskier boiler suit fashion trends.
Just throw on sandals and minimal jewelry and you are ready for the day!
16 – Try Shorter Overalls for Breezy Outfit
We all know boiler suits are not the best choice for summer because of the fabric. However, many people don't give it a try because long sleeves and bottoms will make you sweat.
The good part is these suits are often designed as shorts and some also have shorter sleeves like the one in the image.
A short white coverall suit would keep you safe from perspiring in the heat of the summer and also make you look good and feel good with its white color.
You can always wear some loafers and accessories along with it, and do not forget to put on sunglasses to beat the heat!
15 – Experiment With Different Another Shade of White And Designs
If you want to go a little off the trend that everyone follows and go for an off-white look rather than a pure white one.
You will look super cute in this! As off-white jumpsuits are not very common, and the color makes your skin tone pop out more and look beautiful as ever!
Moreover, experiment with different styles. For instance, the style of sleeves in this elegant. I suggest adding a statement belt around the waist to make this outfit more attractive.
Hang a cross-body bag around yourself, and wear some matching platform sandals and sunglasses.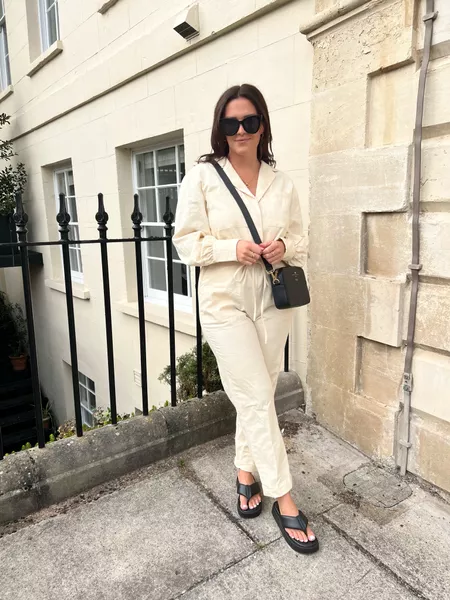 14 – Layer A Turtleneck Underneath The Suit
Green or army green is a very common color for boiler suits. You will be able to find several coveralls that are of a similar shade. No doubt, they look good!
It is as if green is a color made just for boiler suits! Because of how good one looks while pulling this off. The army green color makes your skin shade pop out; it also brings about a feeling of confidence and makes you look amazing as ever!
Top it all off with some matching or contrasting boots and little accessories like a wristwatch to amp up your whole fit!
13 – Green Is The New Black
Are you in the mood to try on something colorful, with multiple shades of color? Then here is a look for you.
If you are in love with the rainbow colors that are very trendy these days, then you should go for this look. The green boiler suit looks more fantastic with a rainbow color high-neck shirt worn underneath. This mix of colors makes you the center of attention!
You will look bolder, more colorful, and more beautiful in this fit!
To match your inner vibe, you can always go for a similar rainbow-colored bag or clutch and stiletto heels to look funkier than ever!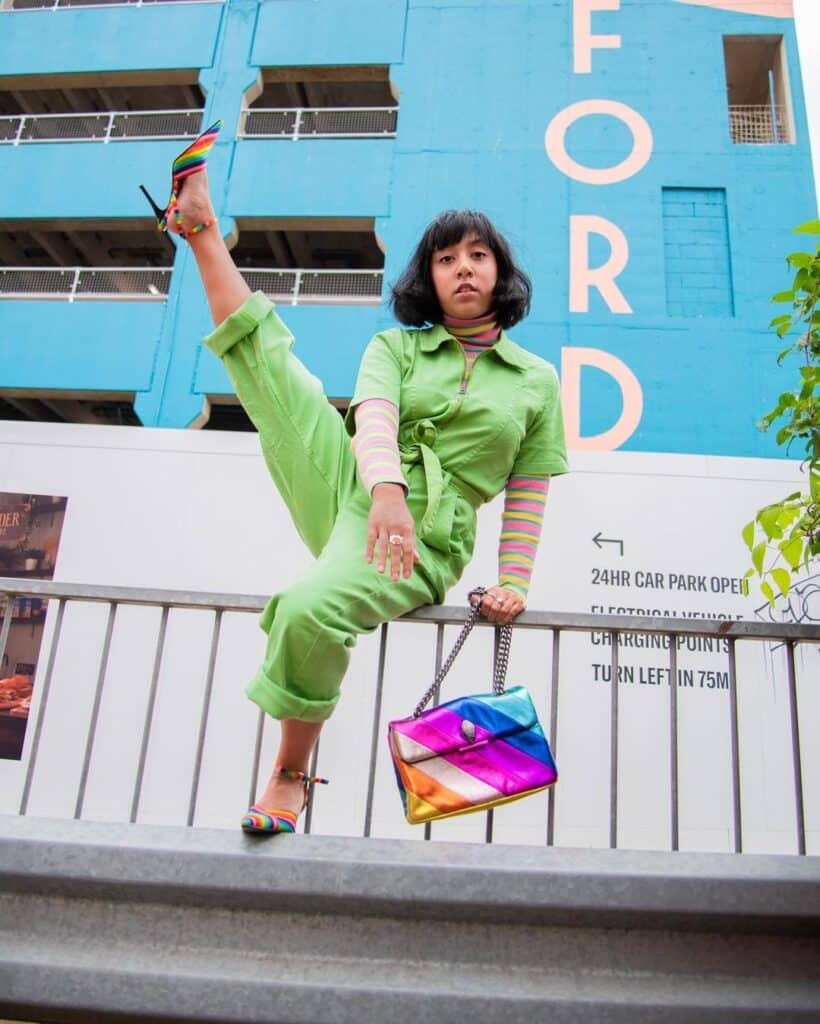 12 – Try This Amazing Suit in Yellow Color
Are you tired of the same old colors of the coveralls, that are, grey, black, white, or green, and want to try something funkier and more colorful? Then sweat not; boiler suits do come in different colors as well!
For instance, this yellow color looks eye-pleasing right when you see it!
Accessorize the outfit with minimal jewelry. Throw on bright color heels and bags to balance the look. For instance, hot pink heels will look stunning with this outfit.
11 – Ditch The Plain Ones And Try A Floral Boiler Suit
There are some rare suits that are floral or some in different colors and designs, something similar to this.
Such suits will not only make you look good with all the bright colors, but they will also have the spotlight on you the whole time with the slim fit and the amazing pop of colors!
The floral design enhances the whole outfit, and this will help make you look different from the rest. You will look cute in this fit! Complete the look with white sneakers and you are done.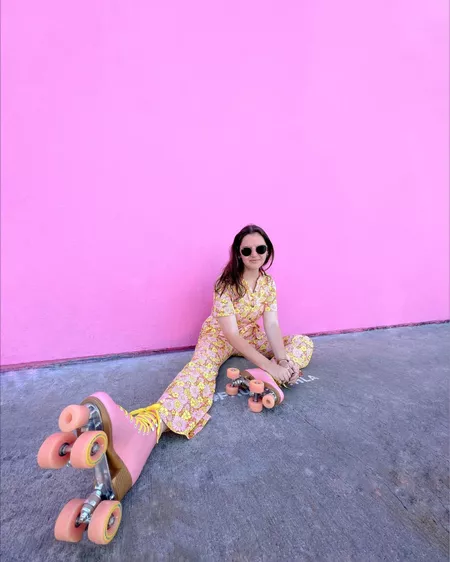 10 – Baby Pink Overalls for Teenage Girls
If you want to try on a boiler suit that would not stand out much due to its sharp colors, then you can go for a lighter tone of pink.
Pink is considered to be feminine color, and it looks cute as ever. Your whole vibe glams up once you wear pink.
This pink coverall suit fits well, makes you feel comfortable, and looks amazing as well! That's a whole package.
Wear your favorite ankle-length boots to create a put-together look.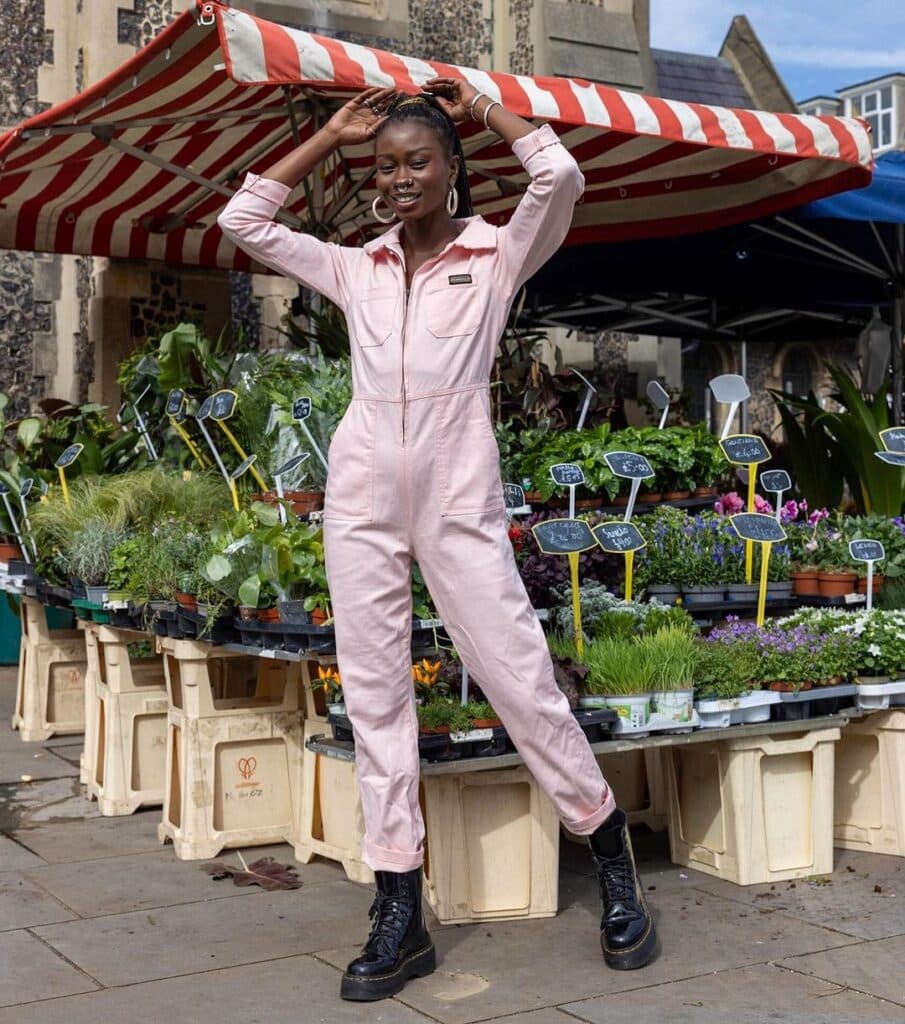 9 – A Softer Look
If you are in the mood to wear something on a softer and simpler outfit, you can always go for a style similar to this.
It's perfect for your teenage daughter because she gets to look cute and stay comfortable.
In case you're looking for more outfit ideas for your teenage daughter, check out this post on #50 Best Summer Outfits for Teenage Girls Trending in 2021
8 – Add A Statement Belt to Level Up Your Fit
Talk about funkier colors, you can never miss out on electric blue! This color not only brings out your skin's melanin, but it also looks super cool!
The perfect winter look fully protects your body and also gives you style by wrapping a belt around your waist to give it a more defining look. Now, this is what we call fashion.
Finish off your whole fit with some platform flip-flops, a cooler hand bag and sunglasses that will be just right for this overall classy look.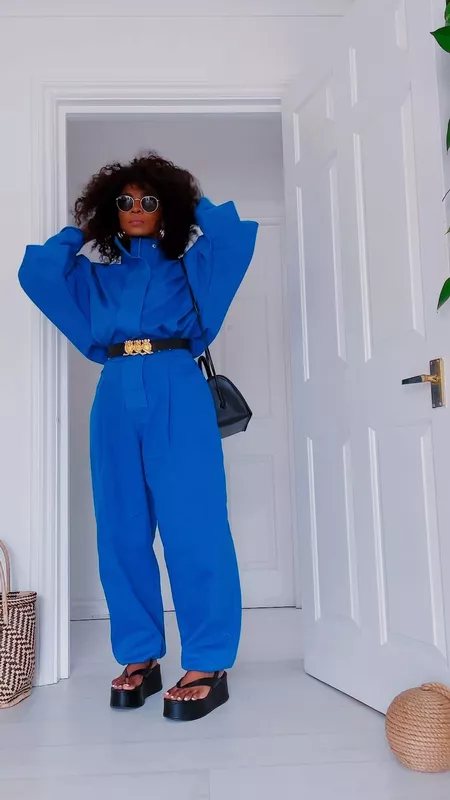 7 – Oversized Suit With Knee-Length Boots
We talked about blue suits before, but this color combination of blue and silver or white is just on another level!
Try on such an overall with a thick belt wrapped around your waist to give your figure a more defined look. You will most definitely look like those badass racer girls who everyone secretly wants to be!
The cherry on top is these silver glitter boots that come all the way up right under your knee. Match your boots with a similar silver glittery handbag to compliment your whole fit! Wear some racer black gloves and silver and black sunglasses.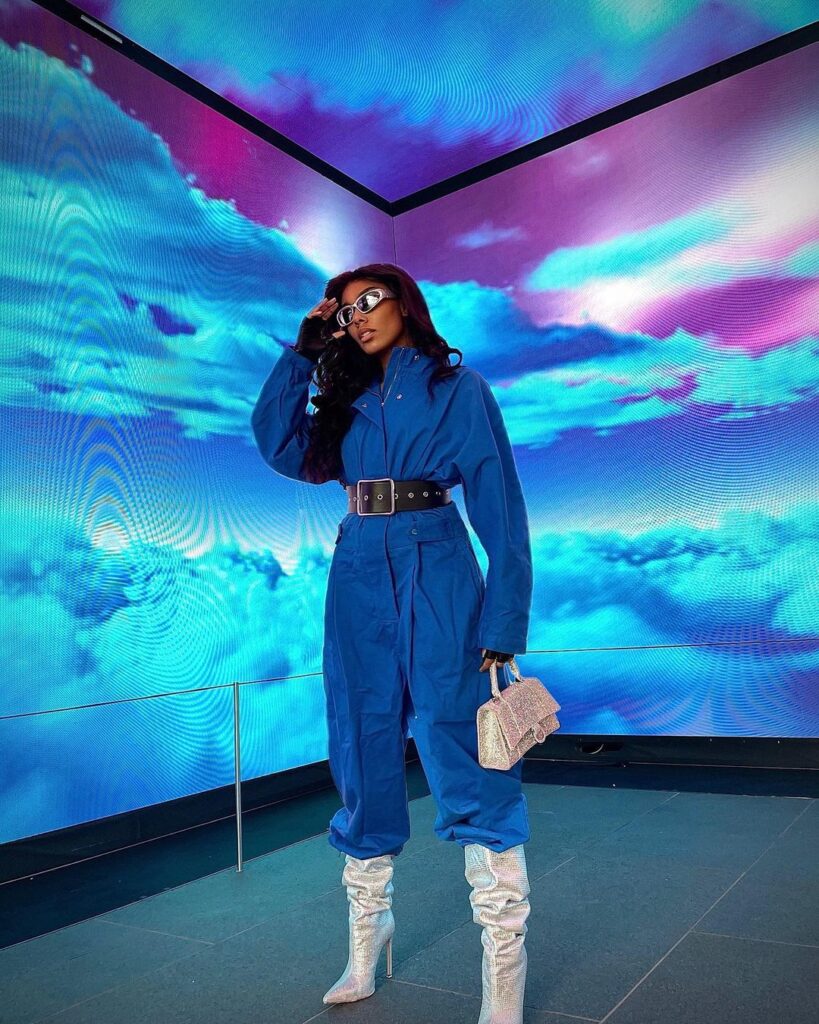 6 – Simple Zipper Suit
A simple all-black boiler suit is a safer option that you can always go for if you are not in the mood to take any risks.
The simplicity yet the classiness of this suit will make you stand out and look amazing! Finish your look with simple white sneakers or shoes.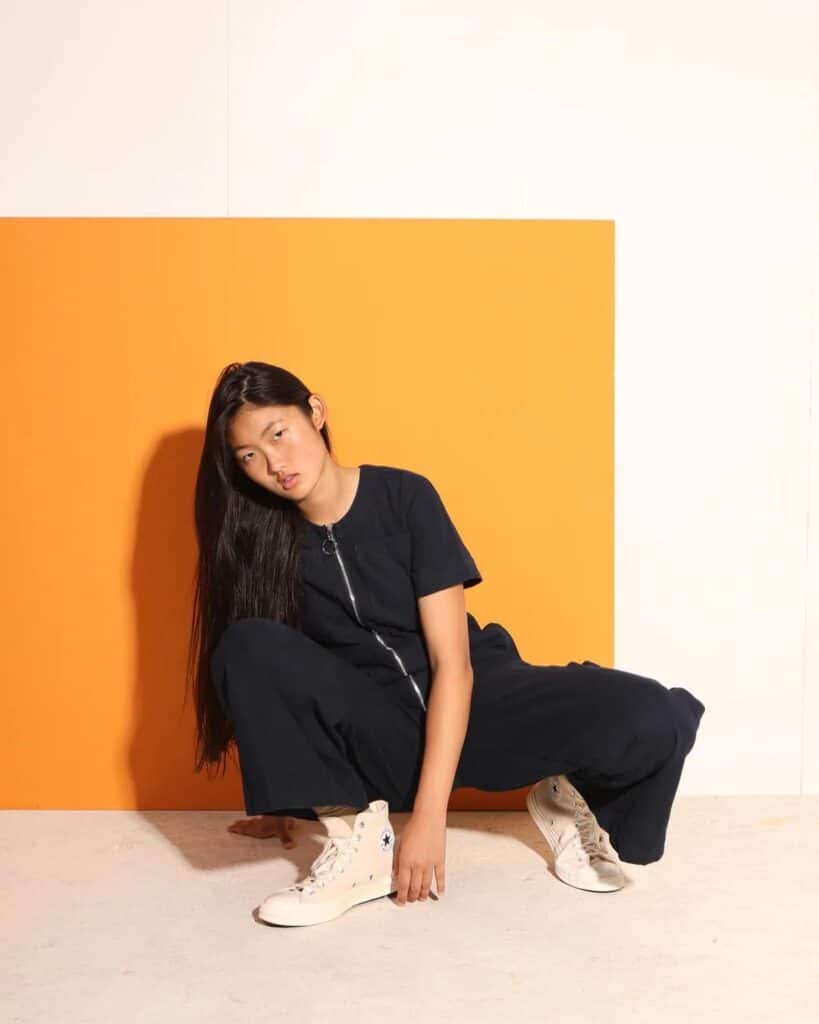 5 – How to Wear A Boiler Suit in Black Color?
The design of this overall helps define your waist and makes you look alluring! It is the perfect fit for winter due to its thick denim fabric and darker color.
You can pull on some glamorous-looking black boots to give your whole look a boost in the glam field. Add a bright red handbag that stands out and contrasts so well with your whole black outfit!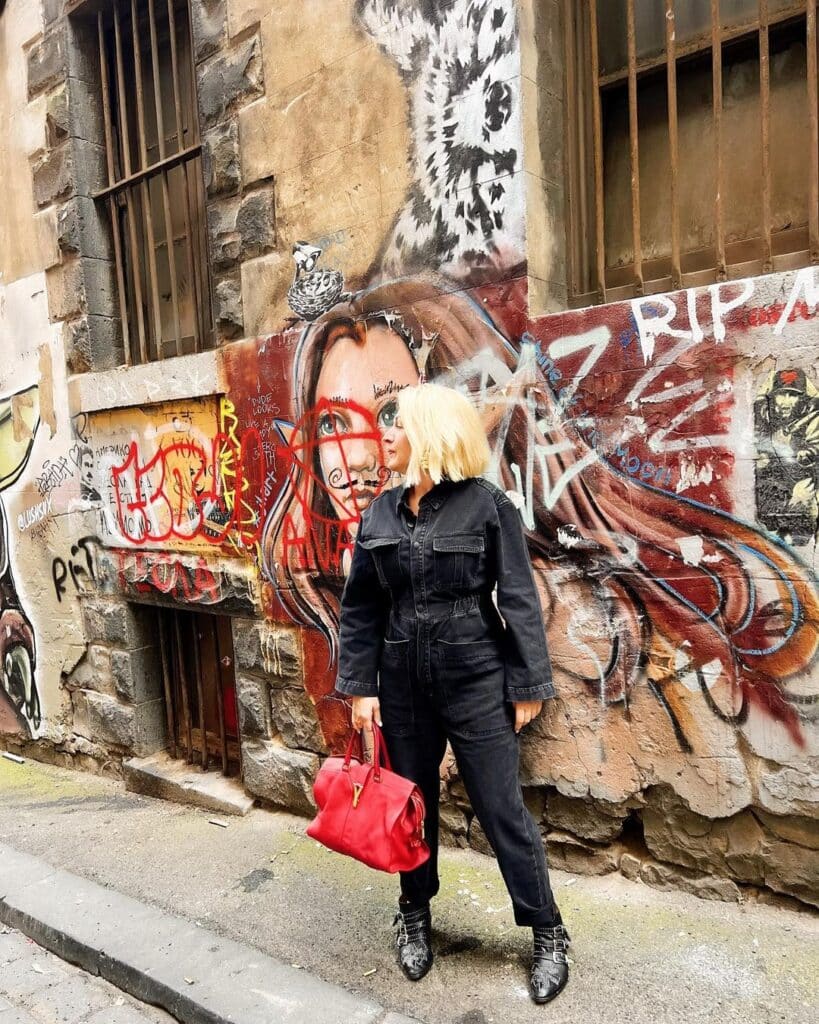 4 – Short Denim Utility Suits
3 – Short Sleeve Overalls for Teenage Girls
2 – Wear This Denim Suit on Your Next Hiking Trip
Another denim look that you can never miss out on! This is a perfect outfit for hiking trips in winter.
Wear a shirt underneath so you don't feel cold. This super cute look will protect you from the harsh winds of the mountains or the sea while you hike in the windy weather, and you will always stay in style!
1 – A Classy And Bougie Denim Fit
Wide-leg boiler suit will make you feel comfortable and breezy while making you look stylish and classy at the same time!
The color of the denim, which is a lot darker than the usual denim help in bringing that bold look you are looking for.
You can always finish off your look with minimal jewelry or wristwatches to make yourself feel more confident and glammed up.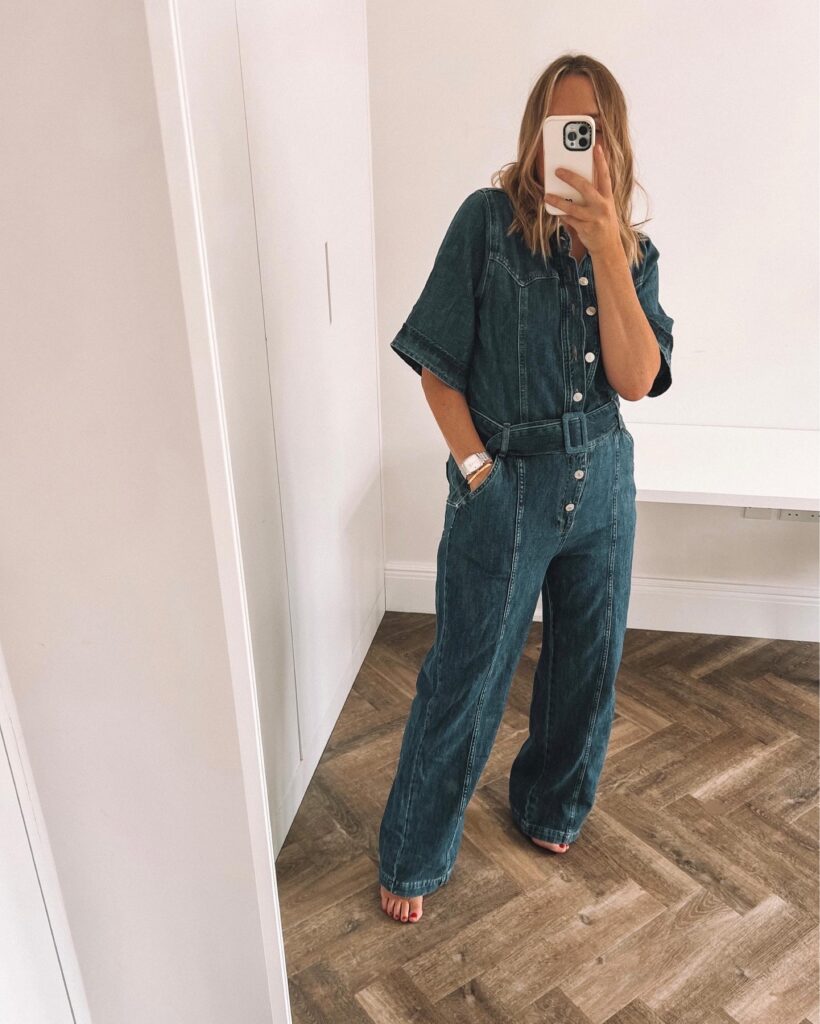 Frequently Asked Questions
Q. Are boiler suits flattering?
Ans. While certain fashion fads come and go, a boiler suit is always a good purchase. They are not just universally flattering for all body types and sizes but also have a classic cut that works yearly. You can style it with a teddy coat to fight the cold, or wear it as it is. No matter the styling technique, you will look good!
Q. Are boiler suits in Fashion 2022?
Ans. Boiler suits are now having a moment. They are worn by famous celebrities and influencers these days. You will see a lot of people casually wearing boiler suits now as a fashion trend.
Q. Why are they called boiler suits?
Ans. These suits were initially worn by workers who maintained coal-fired boilers. But later became a great addition to casual outfits.
Q. What's the difference between a jumpsuit and a boiler suit?
Ans. Like a jumpsuit, a boilersuit is a one-piece outfit with full-length sleeves and legs, albeit it is often less form-fitting. Its defining characteristic is the absence of any gaps between the lapels of the jacket and the pants or of slack jacket tails, unlike the jumpsuits, which are quite differently styled and stitched.