Outfits to Wear with White Sneakers. Girls, I think we can all agree that a couple of pairs of white sneakers are always on our must-have lists. White sneakers go with almost everything from denim to summer dresses to gym gear.
Plus, your #ootd becomes ten times hotter with white sneakers. Invest in a good pair of sneakers to have the added luxury of comfort along with style. You will never want to look at another pair of shoes! There are still some outfits you would want to avoid wearing these white shoes with. This is why we have compiled 28 outfit ideas for you which are really easy to pull off. Some of them might already be in your closet so let's play Cher Horowitz from Clueless and put together a great outfit to wear.
How to Wear White Sneakers
Here are some basic tips for taking care of your white sneakers so as to make them last as long as possible.
White sneakers don't only look good as long as they are white and shiny. Sometimes, a beat-up look can be cute and make for a great grunge outfit. However, if you prefer a super shiny look, make sure to clean them regularly.
To clean, rinse your shoes first. Then mix 1 to 1.5 parts of baking soda & detergent and scrub with an old toothbrush. Then let it sit for a while. Rinse them. Finally, dry your shoes using baby powder. The results are magical.
Can you bleach your shoes? Mixing one part bleach to five parts water is the trick to avoid getting dirty shoes.
Sprinkling baking soda on your socks and shoes can help get rid of the odor.
If you are forming blisters when wearing running shoes it's because the shoe is too loose and your foot is jiggling and colliding with the back of the shoe. Always prioritize fit.
Now let's look at the outfits! There are so many ways you can wear a white sneaker. Here are 28 of our favorite ones!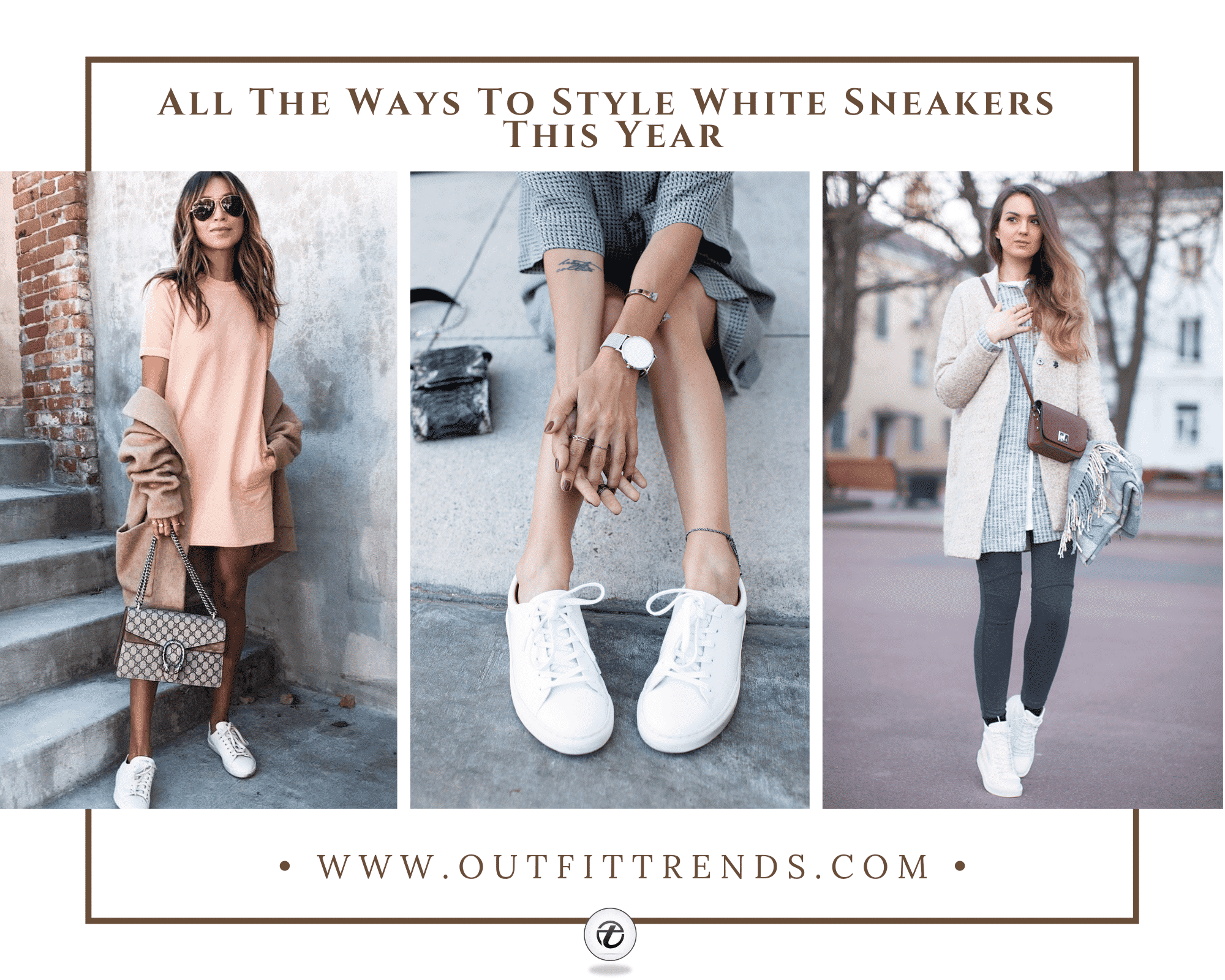 ↓ 28 – With Red Polka Dot Dress
Quite possibly our favorite dress-and-sneaker pairing, this gorgeous gal knows how to turn heads! And you can, too! All you need is a polka dot midi dress (we dig the va-va-voom red) paired up with some white platform sneakers. Accessorize with a neutral colored purse (a camel brown is a good option) and sunglasses. And voila! You're in business.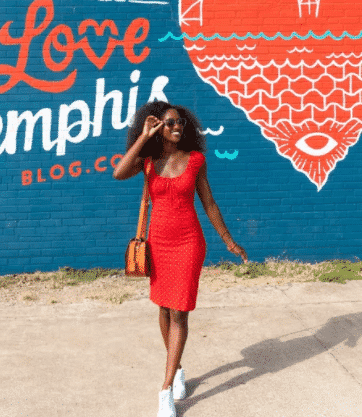 ↓ 27 – How to Wear White Sneakers with Jeans
A super simple look to throw together (like SO simple) is a white sneaker-and-jean outfit. This outfit can be worn around the house, to grab coffee with friends, or a quick grocery run. You can dress it up or layer it up for extra style or warmth or strip it down to the basics if necessary. And since we love a versatile look, we definitely recommend giving it a try. Plus, these are items you likely have in your closet already!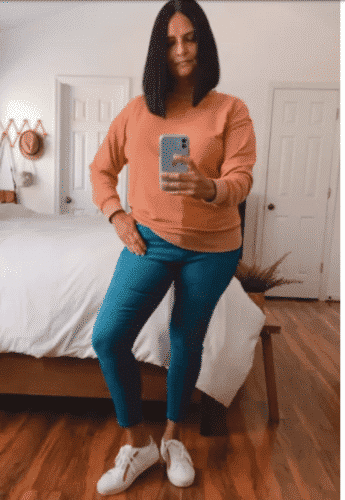 ↓ 26 – With Wrap Miniskirt
For a fun summer look, pair a bodysuit with a wrap mini skirt (we love a ruffled option!) and top it off with a chunky white sneaker. Cute, trendy, and fab – the perfect recipe for a summer ensemble!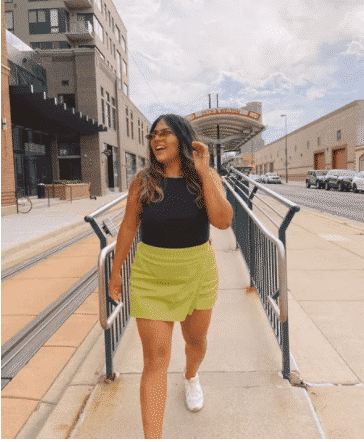 ↓ 25 – A Casual White Top
White tops are the queen of casual. They're perfect for any day that you don't want to put in the effort of deciding an outfit. Wear anything with them, jeans, pajamas, a skirt, shorts, whatever you find comfortable. Here are the Top 20 Ways to Style Palazzo Pants with Sneakers for Women.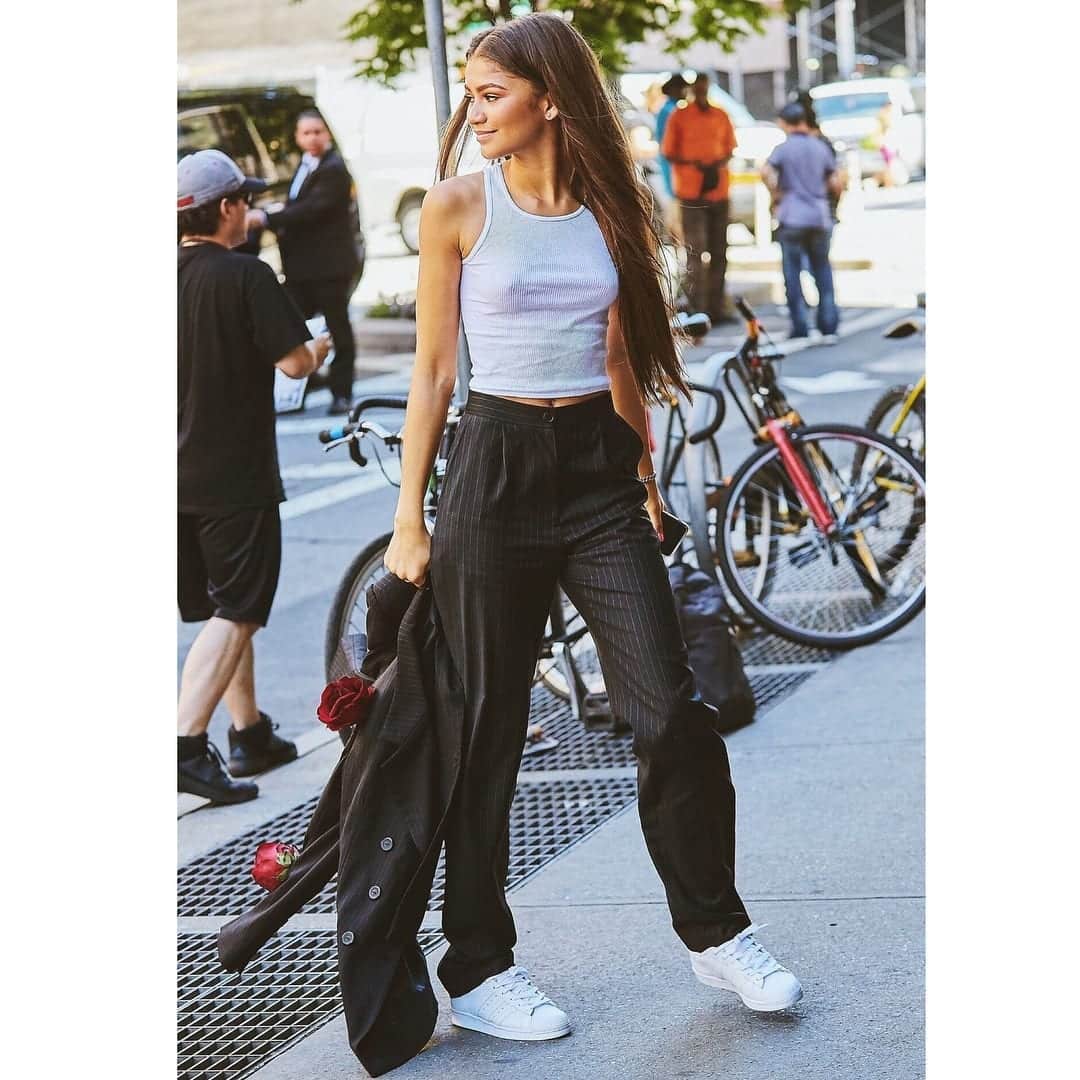 ↓ 24 – Graphic Tee with Blue Jeans
Graphic t-shirts are perfect to let the world know of your mood without having to say it out loud. These go perfectly with a pair of simple jeans and white sneakers to keep the look casual. If you want to take your outfit up a notch add a few accessories, like a watch or a backpack.
↓ 23 – Silk Dress
You can wear white sneakers with a pretty silk dress that flows to your knees. This way you can party all night long and won't have to worry about forming blisters while you do. Zendaya is a style icon so take a page from her book for your next birthday party or weekend party with friends.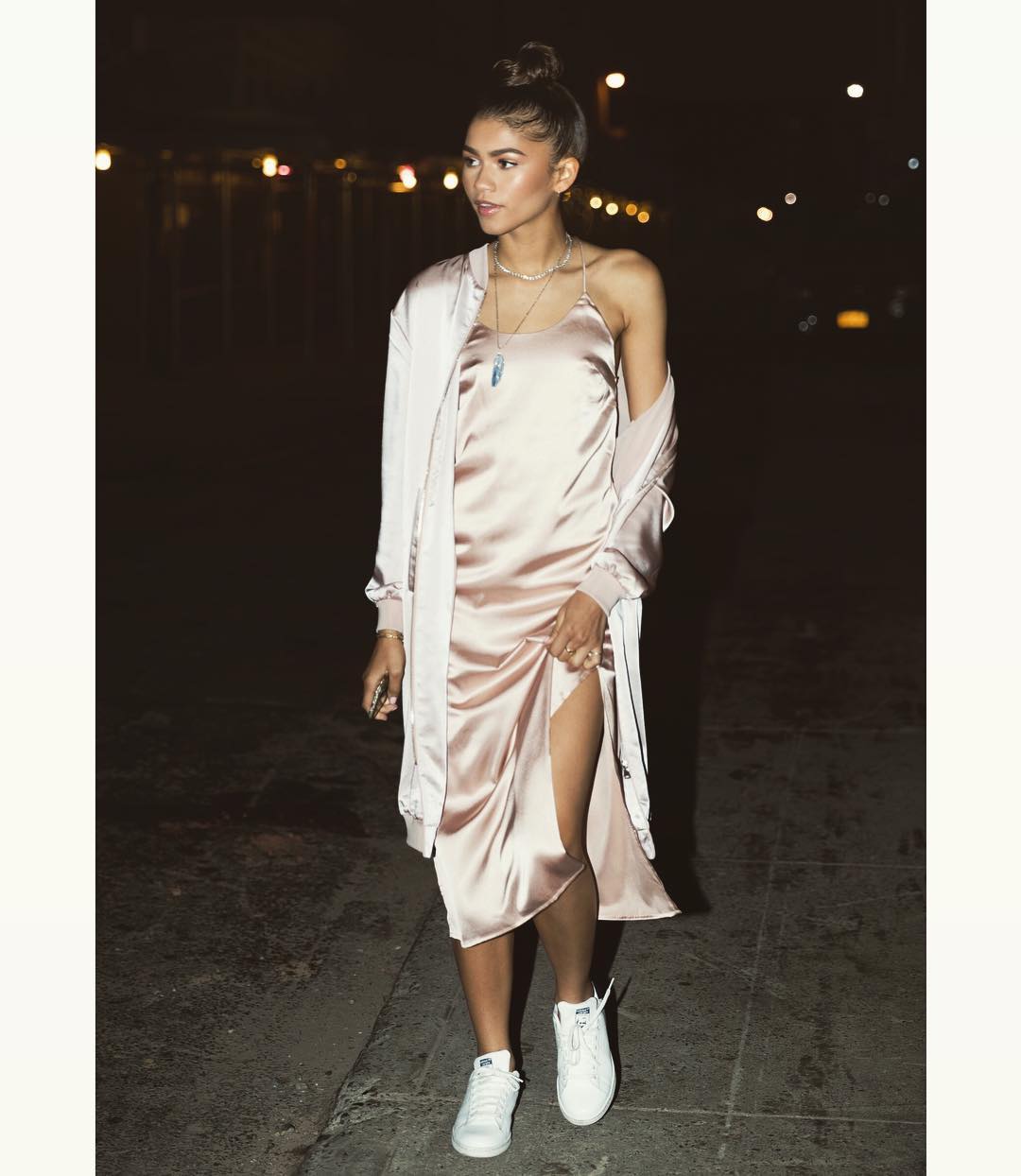 ↓ 22 – Ripped Jeans and Hoodie
Ripped jeans are taking over the world. They look just as good with white sneakers as they do with anything else. For a subtle look go with a light hoodie and a pair of jeans with lowkey white sneakers.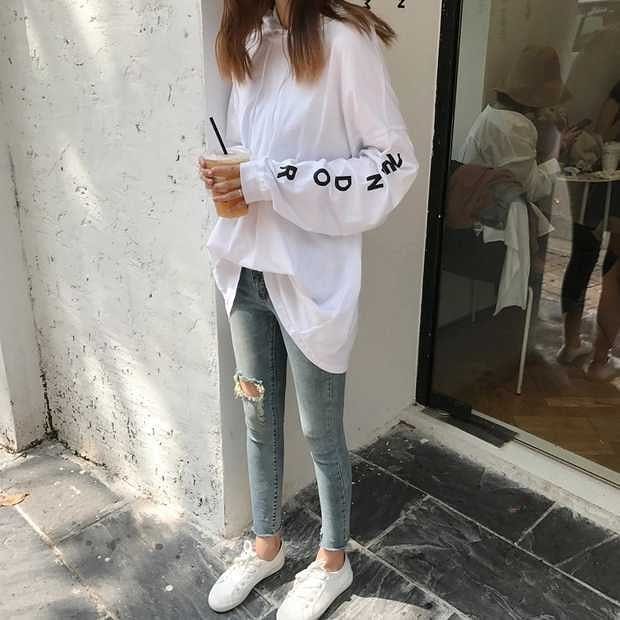 ↓ 21 – How to Wear White Sneakers with Pants
Not sure how to rock your white sneaks with your favorite leggings or jeans? Here are five ways to do it! From tee-shirts to sweaters to blazers, take a minute to check out all the different ways you can style this type of look. These outfits are great for fall.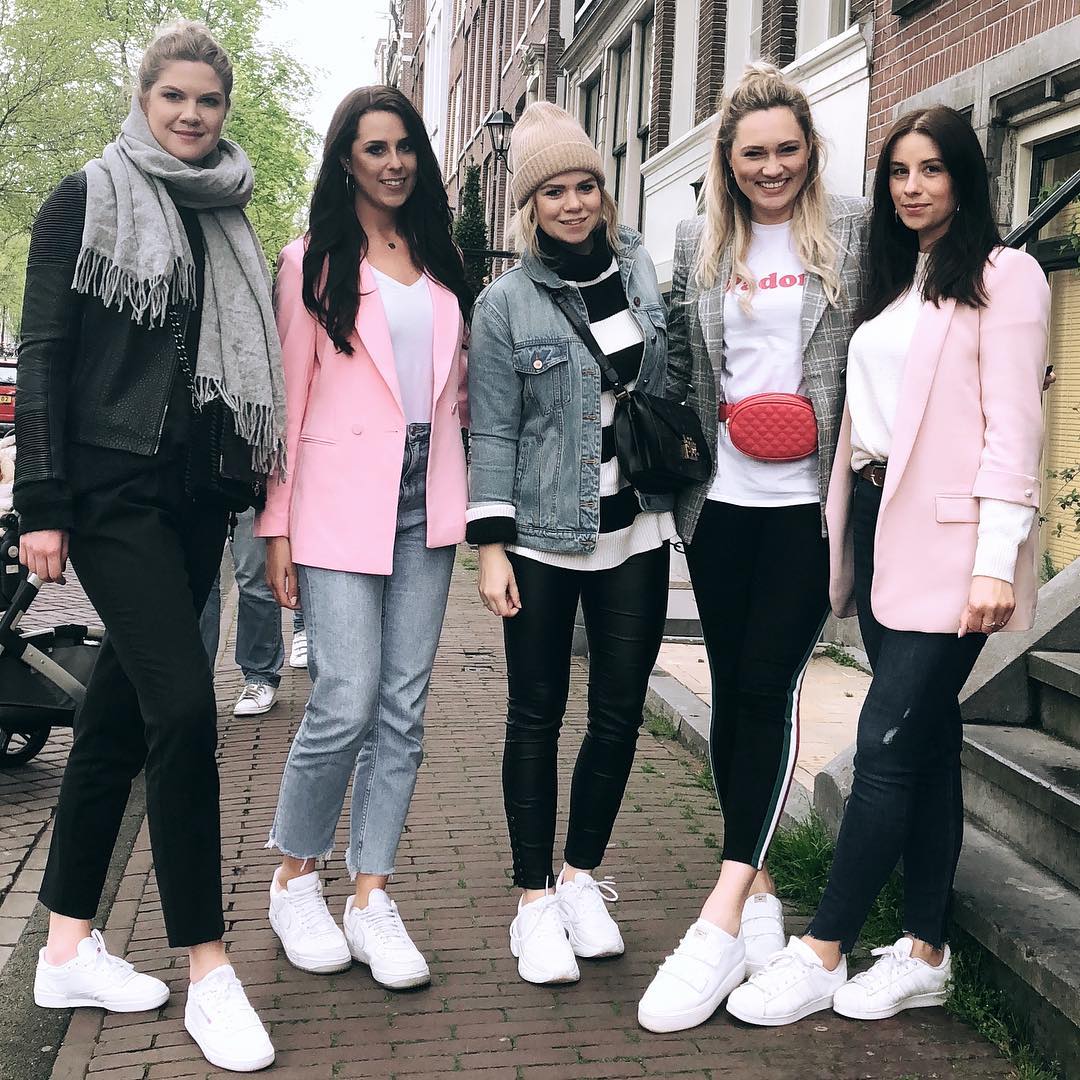 ↓ 20 – Colored Knit Sweater for High School Girls
High school can be a daunting time. Peer pressure and the desire to fit in can really affect one's personal sense of style. Here at Outfit Trends, we want to encourage you to try and bring some of yourself and what you actually enjoy wearing to your daily attire.
Do you love bright, fun colors? Don't shy away from them! Look for ways to incorporate your own likes and dislikes into popular trends. Like pairing this chunky striped sweater with some cropped jeans and white sneakers. Instagram influencers will approve and you may even get compliments for your bold and fearless style. Here are 27 Ways To Style Suits With Sneakers.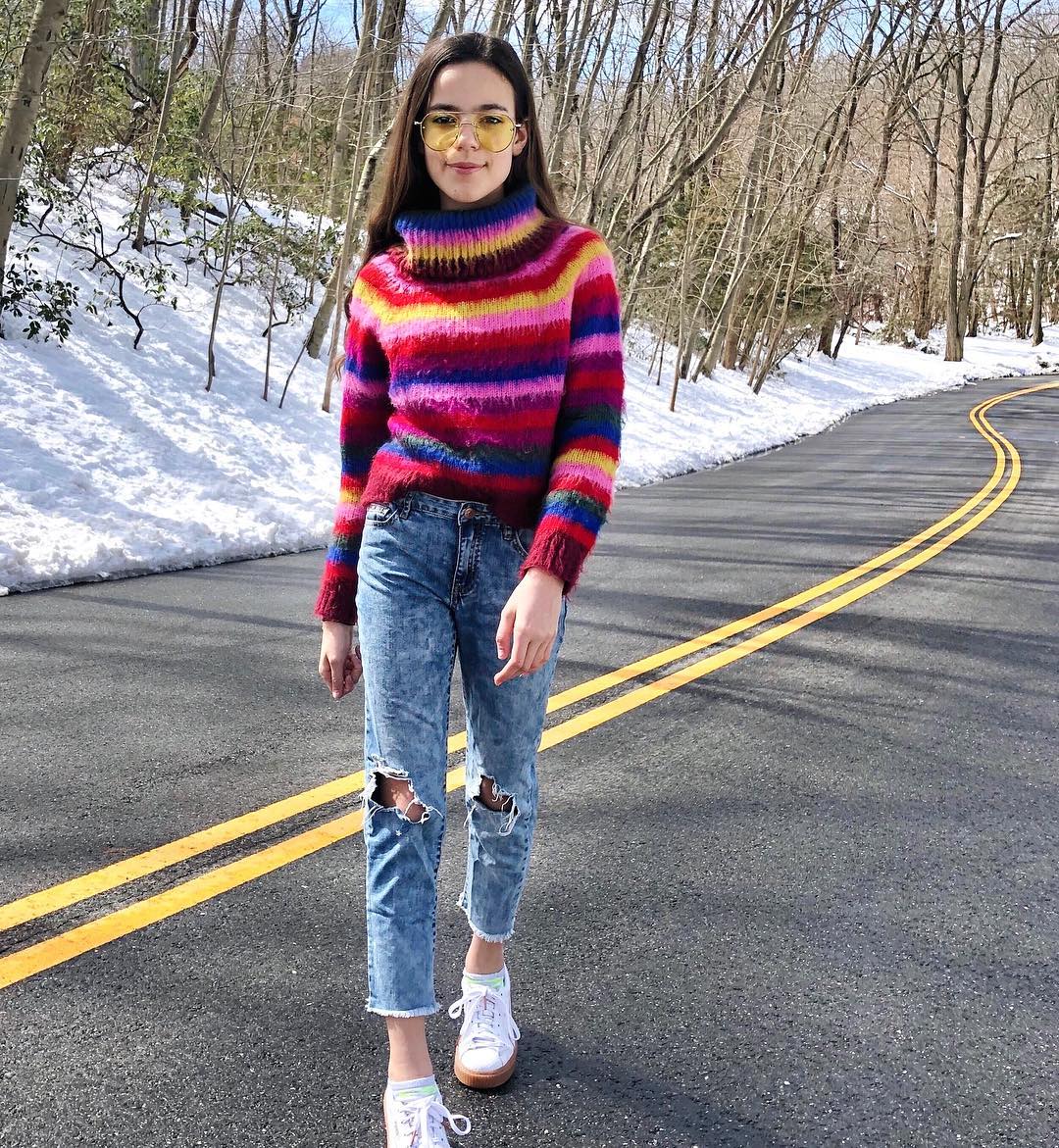 ↓ 19 – Printed Skirts
Wear a white shirt and matching shoes. Your skirt will be the highlight of your outfit with a bold print. Tie your hair up in a messy bun to keep the style chic yet simple.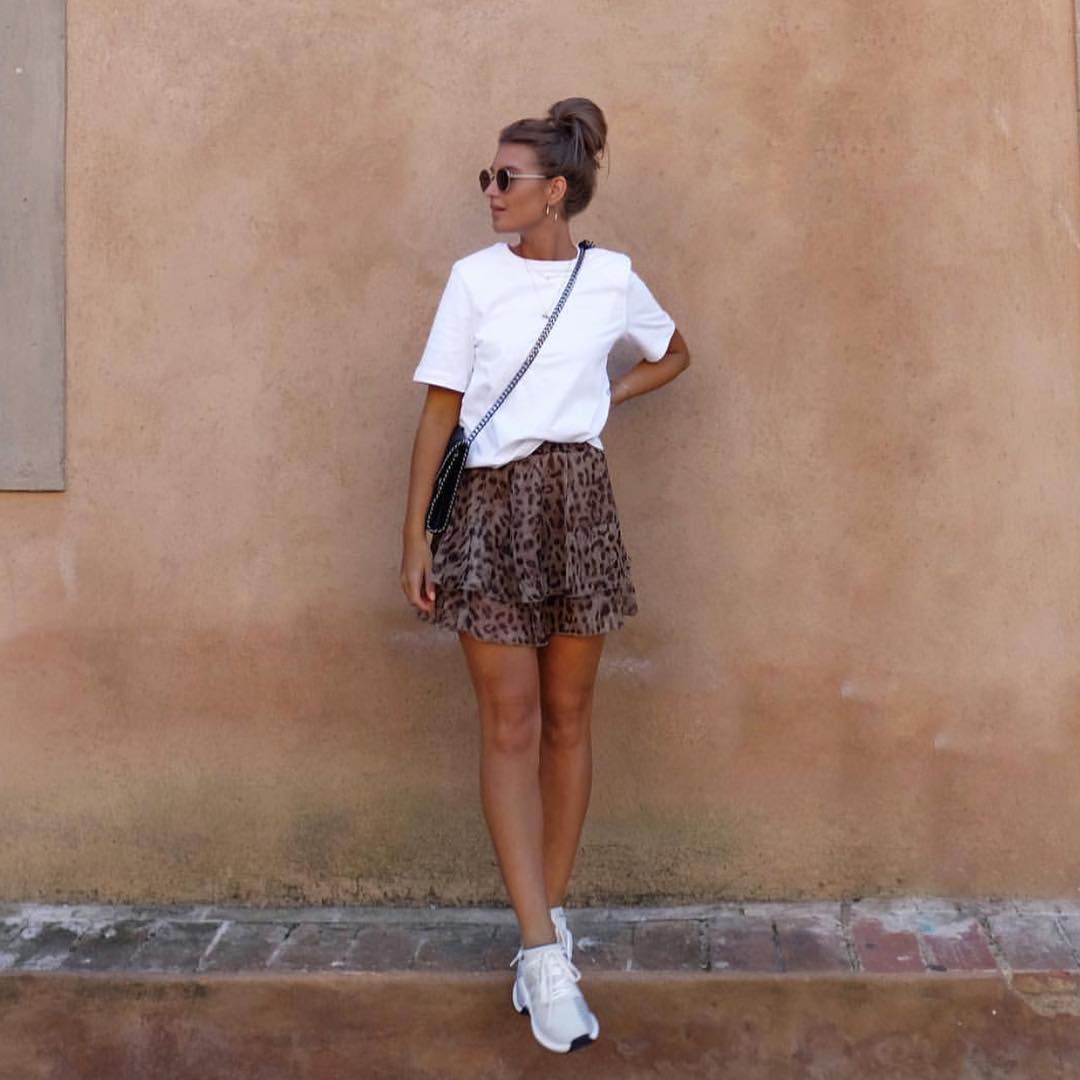 ↓ 18 – An All-White Look
Go all white from head to toe. Giving angelic vibes, this all-white ensemble is perfect for a first impression. White looks neat and innocent. If you want to add color choose a bold lip, like plum or blood red. Neutrals work just as fine. The best thing about an all-white outfit is that you have limitless possibilities and choices of make-up.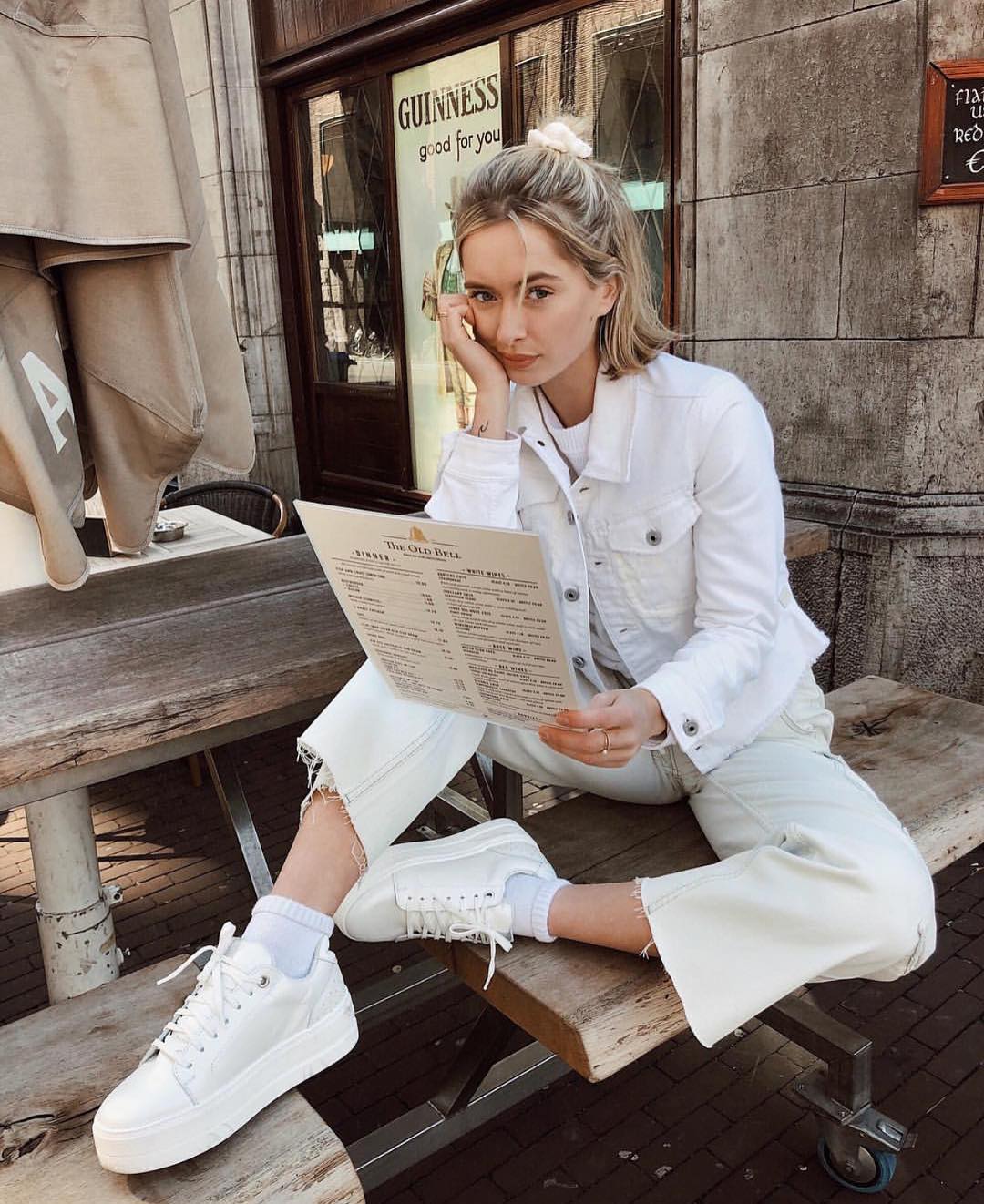 ↓ 17 – Faux Fur Coat
A chic look that makes you look composed and cute. A bold colored faux fur coat is the best way to survive the dropping temperatures and your sneakers are perfect to keep you on your feet even on the chilliest days. Here are some more ideas on How to Wear a Fur Vest.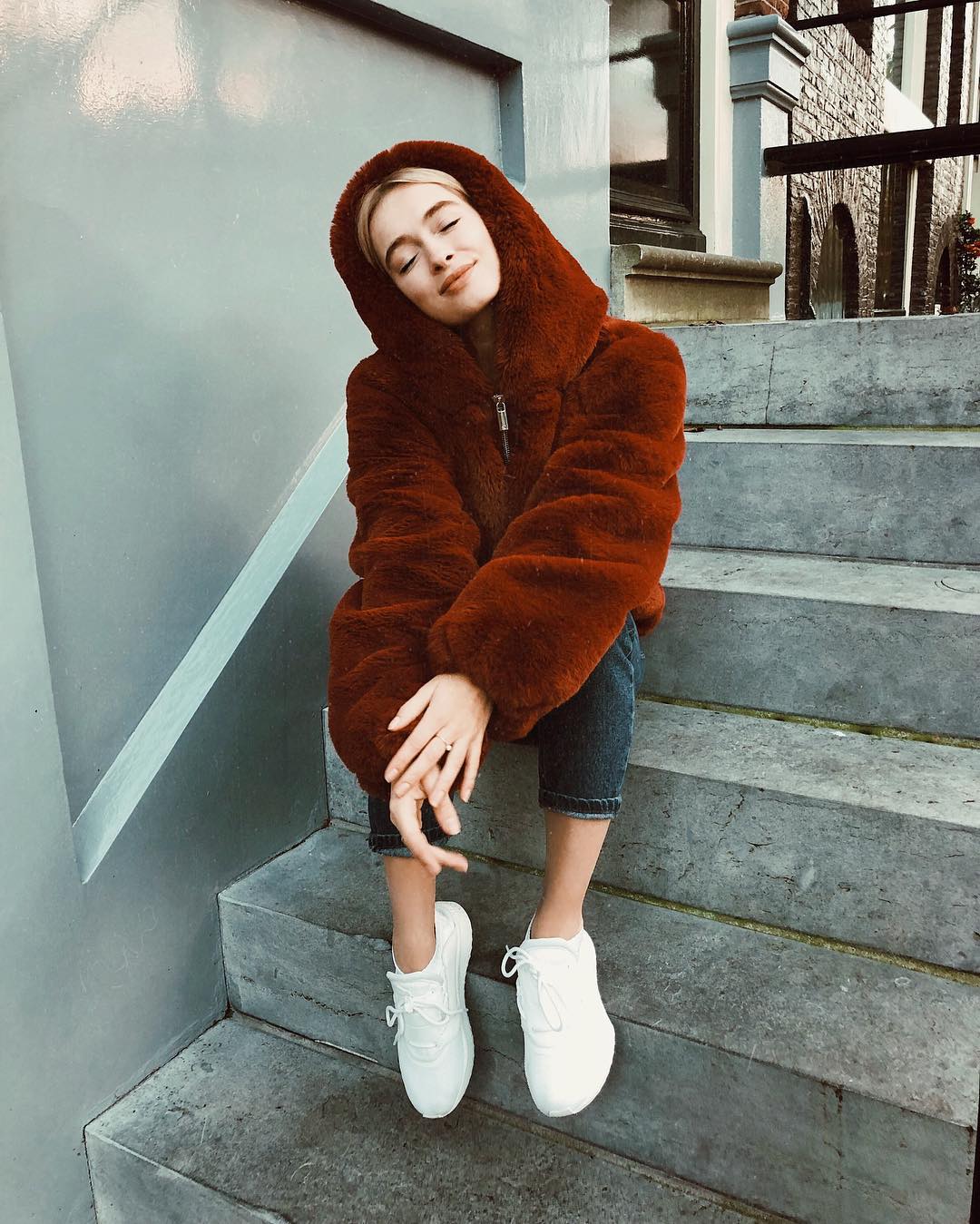 ↓ 16 – Workout Outfit
Just because you're going to the gym to sweat does not mean you cannot wear a good outfit. Putting together a workout outfit will actually motivate you to hit the gym more. Adidas, Nike, and many other sports brands now make outfits perfect for exercising while looking cute.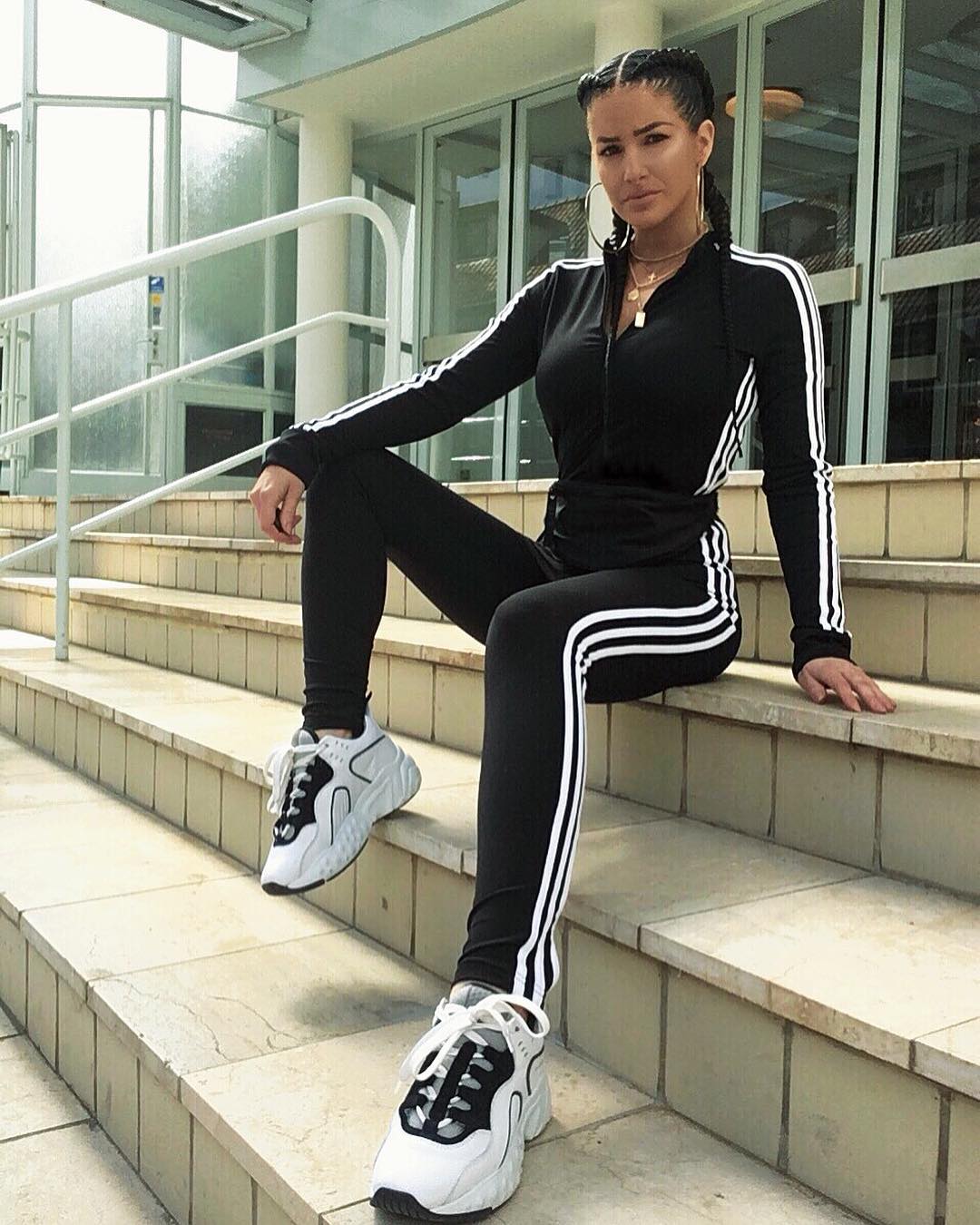 ↓ 15 – The Tomboy Look
If you were the girl who listened to hip-hop, played basketball, and only hung out with boys chances are you'll love this look. A baggy pair of pants and tank top goes perfectly with huge white sneakers to get the tomboy look. Love wearing white? Check out these 17 Cute Women Outfits with White Shirt.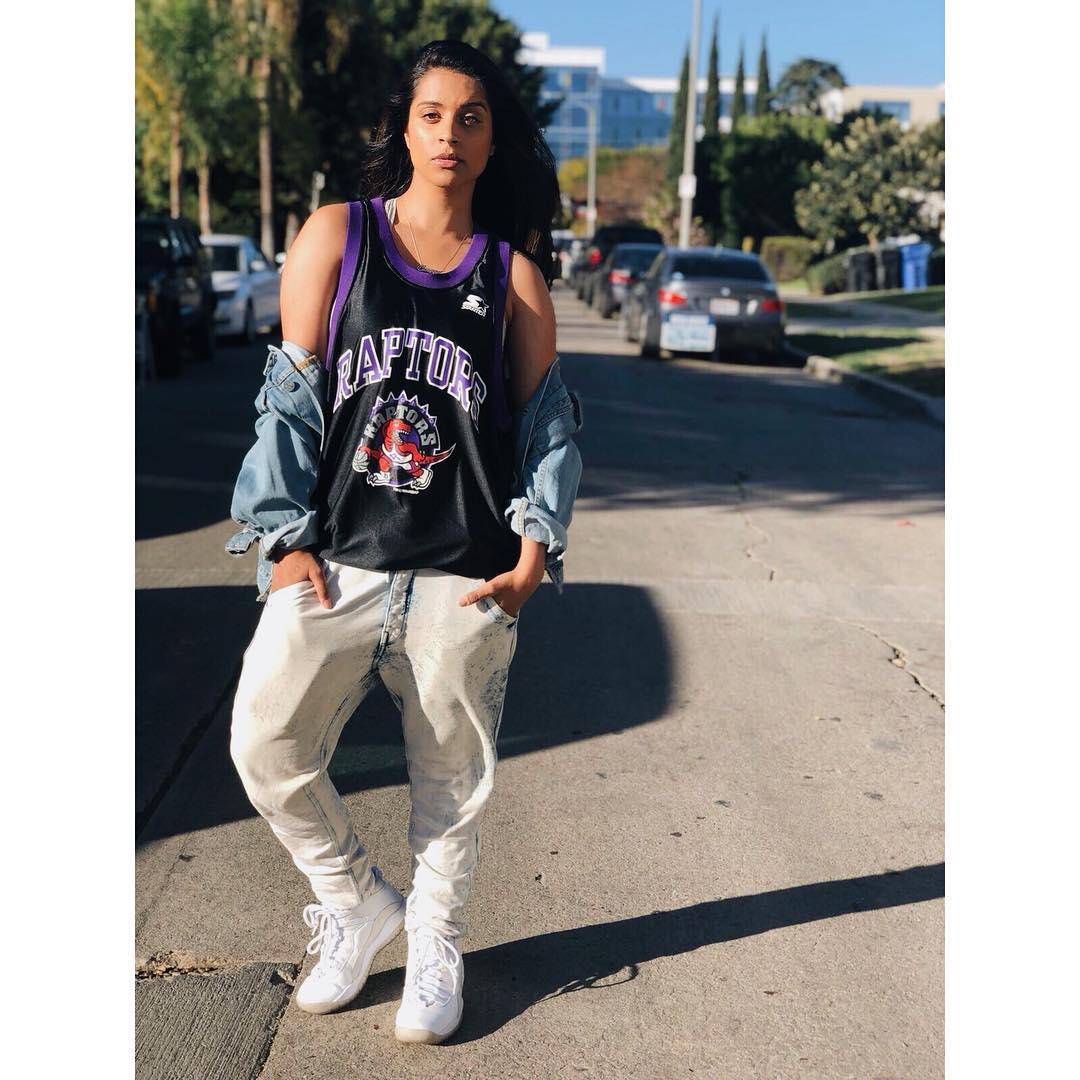 ↓ 14 – Pink Aesthetic with White Sneakers
Want to throw it back to your middle-school years? Sometimes, it can be cute! Especially for a costume party. Here's a whole inspiration board to help you achieve a peachy girl aesthetic.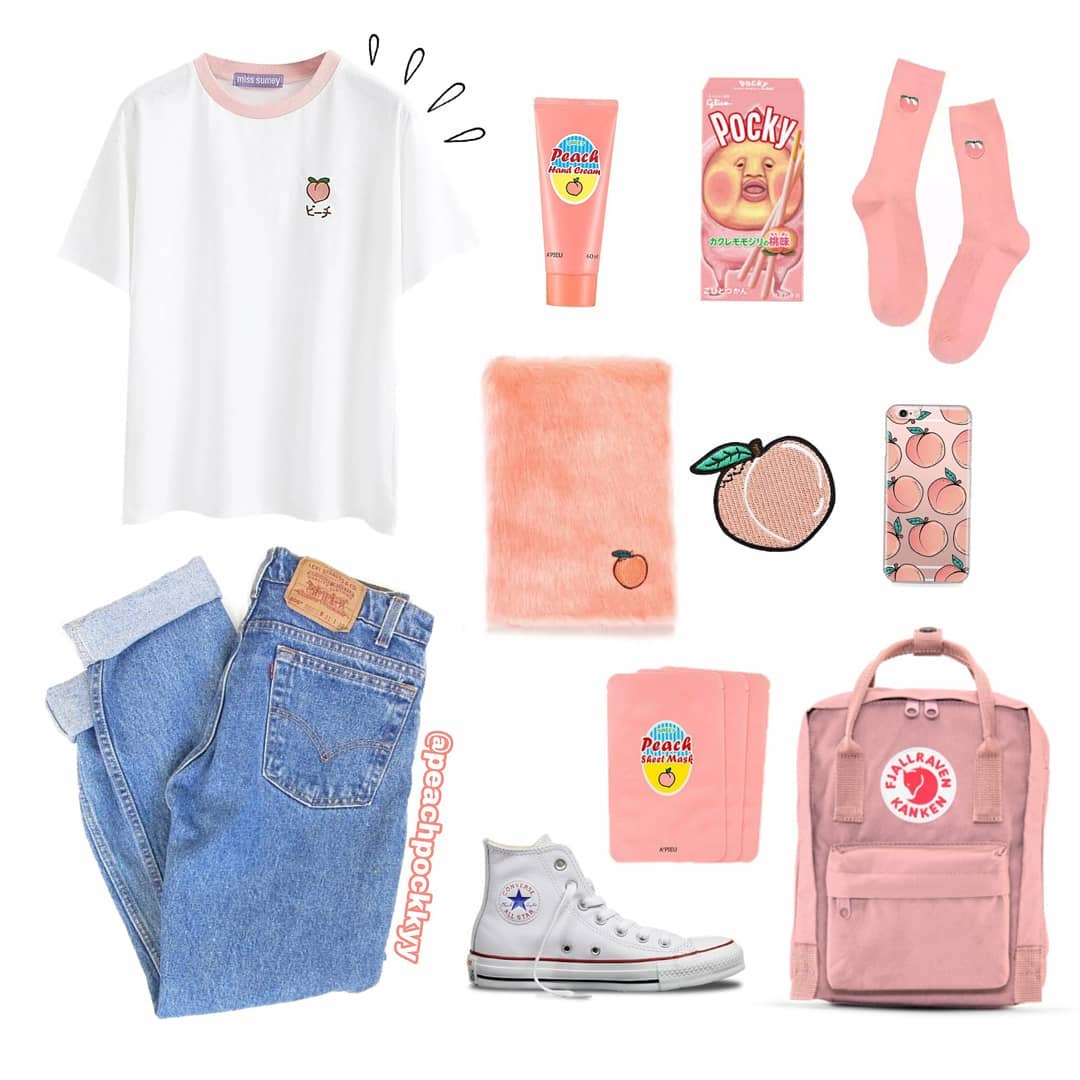 ↓ 13 – Crop Top With Skirt
A simple two-piece top and skirt go best with a comfortable pair of sneakers. Plus, black and white is always chic.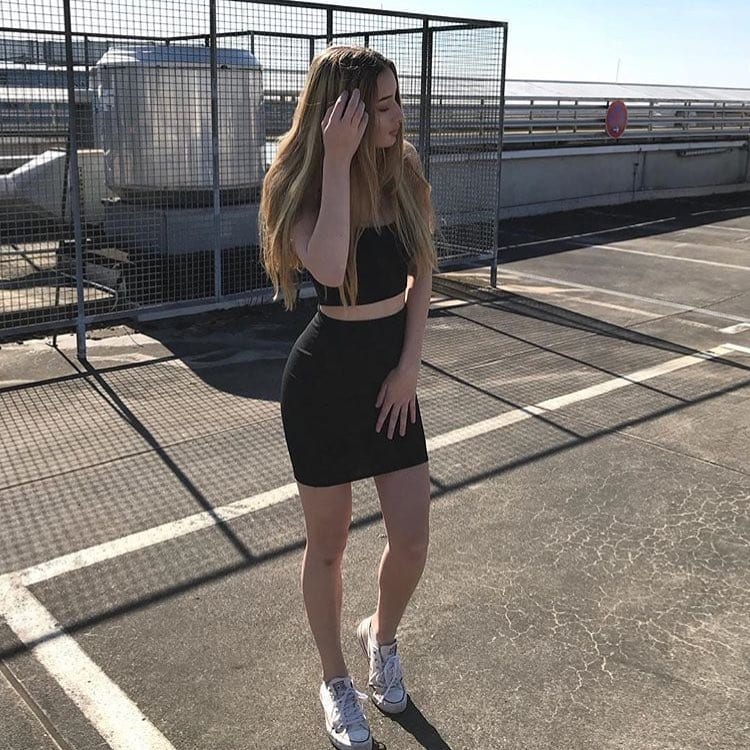 ↓ 12 – Jumpsuit
Make your white sneaks pop with a unicolor jumpsuit, especially if it's neutral colored.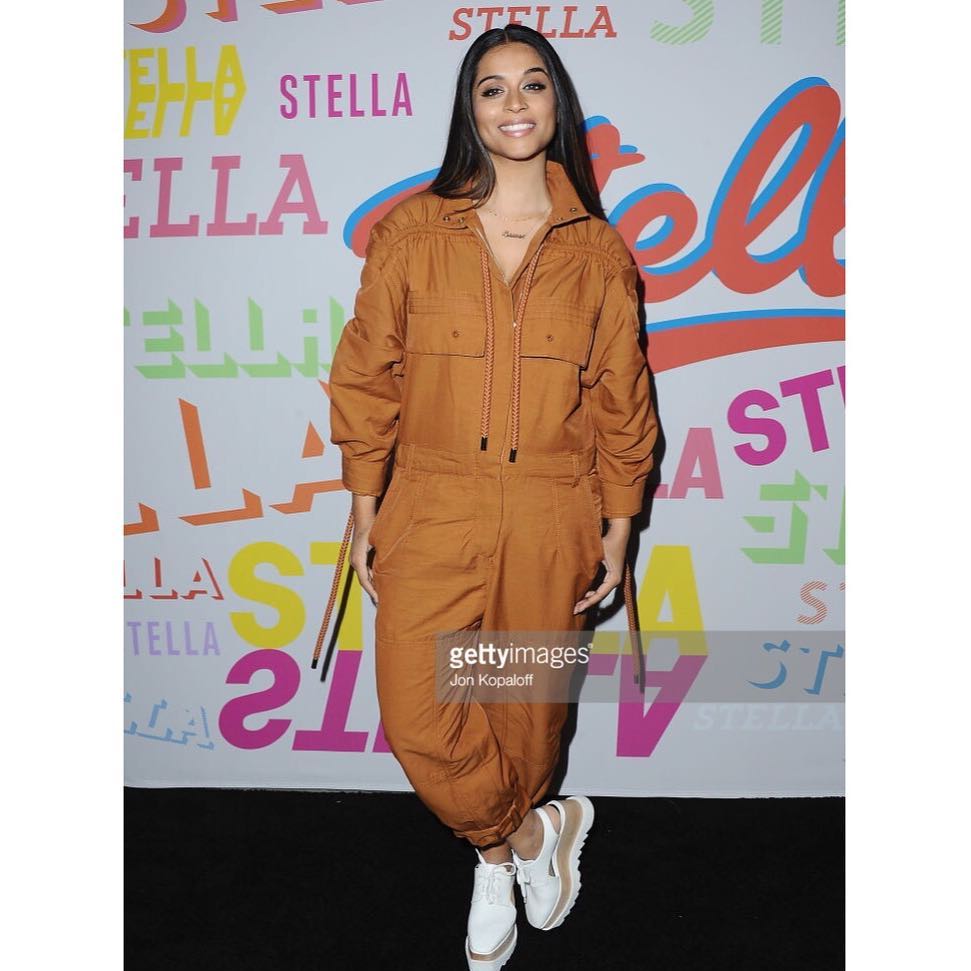 ↓ 11 – Red and White
This color-combo captivates all eyes the moment you walk in.  Adding a beret or any old-fashioned cap will add a cute and funky element to your look.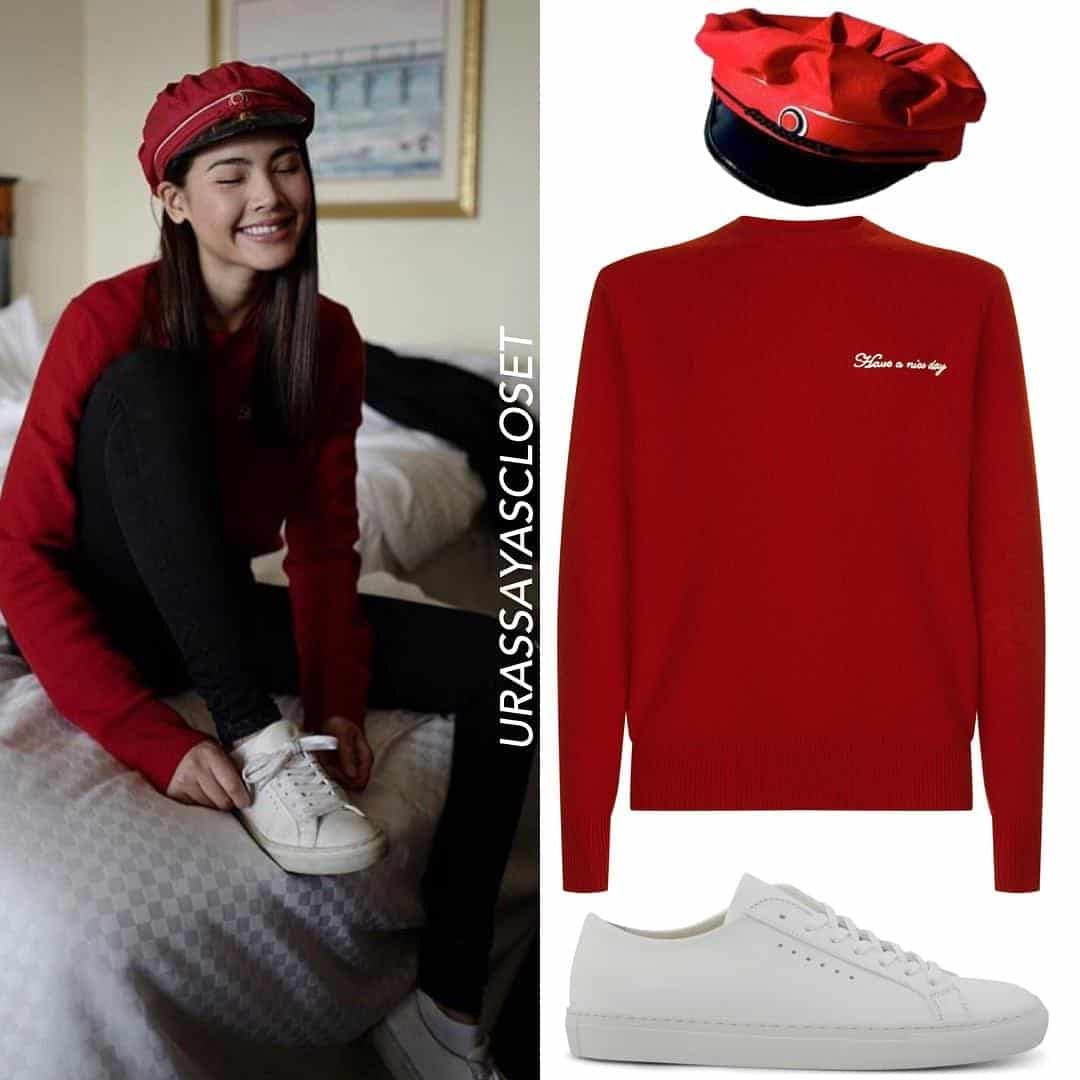 ↓ 10 – Bodycon Dress with Leather Jacket
For your next lunch or dinner date, try a nude-colored bodycon dress with a biker jacket. Next, swap out the heels for some chunky sneakers. Last but not least, tie up your hair in a top-knot and accessorize the look with your favorite purse and some round sunglasses.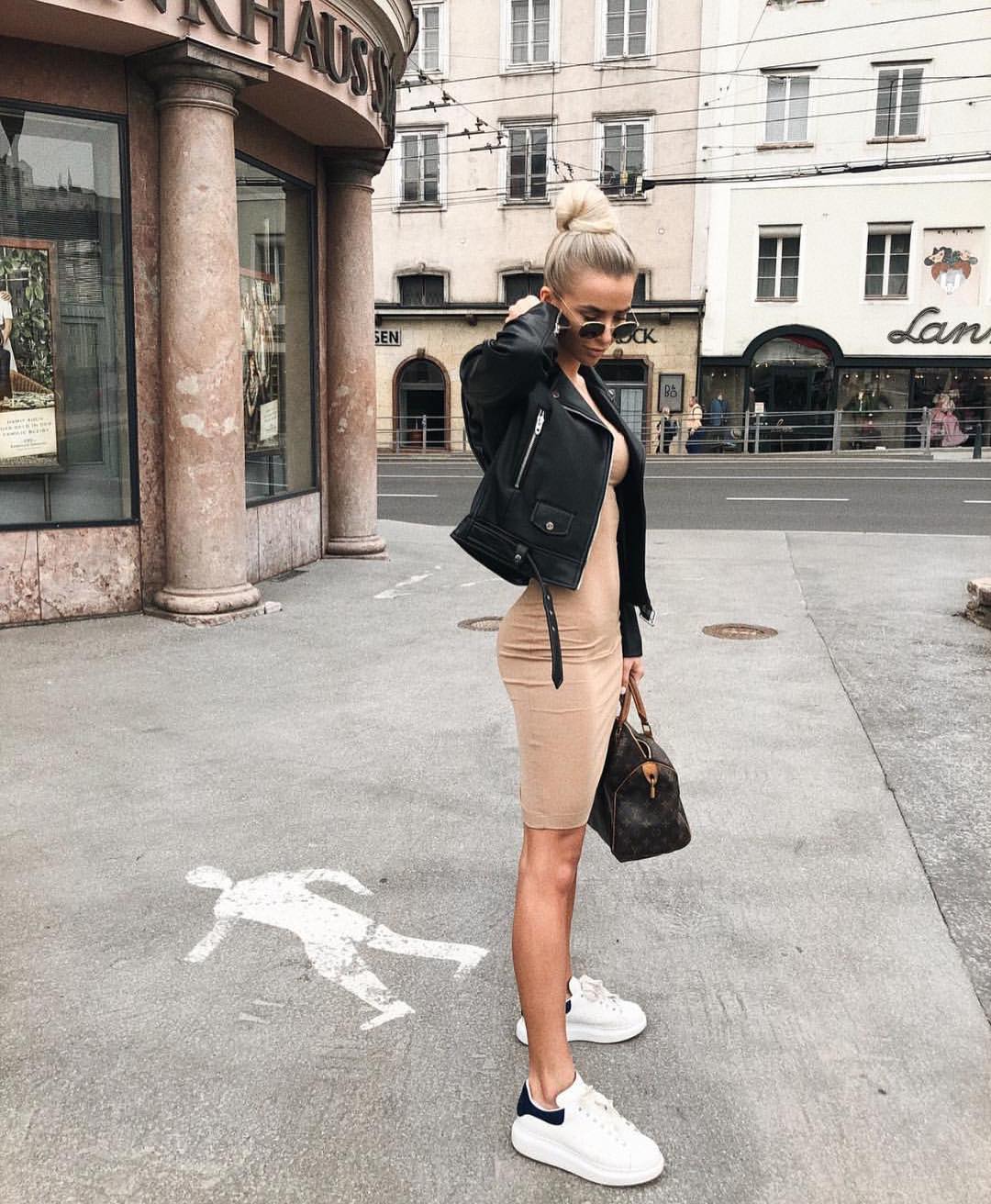 ↓ 9 – Denim Skirt
Ditch your cowboy boots for more comfortable white sneakers this season. We love this ensemble for summer events, like fairs and outdoor dates, as well as picnics.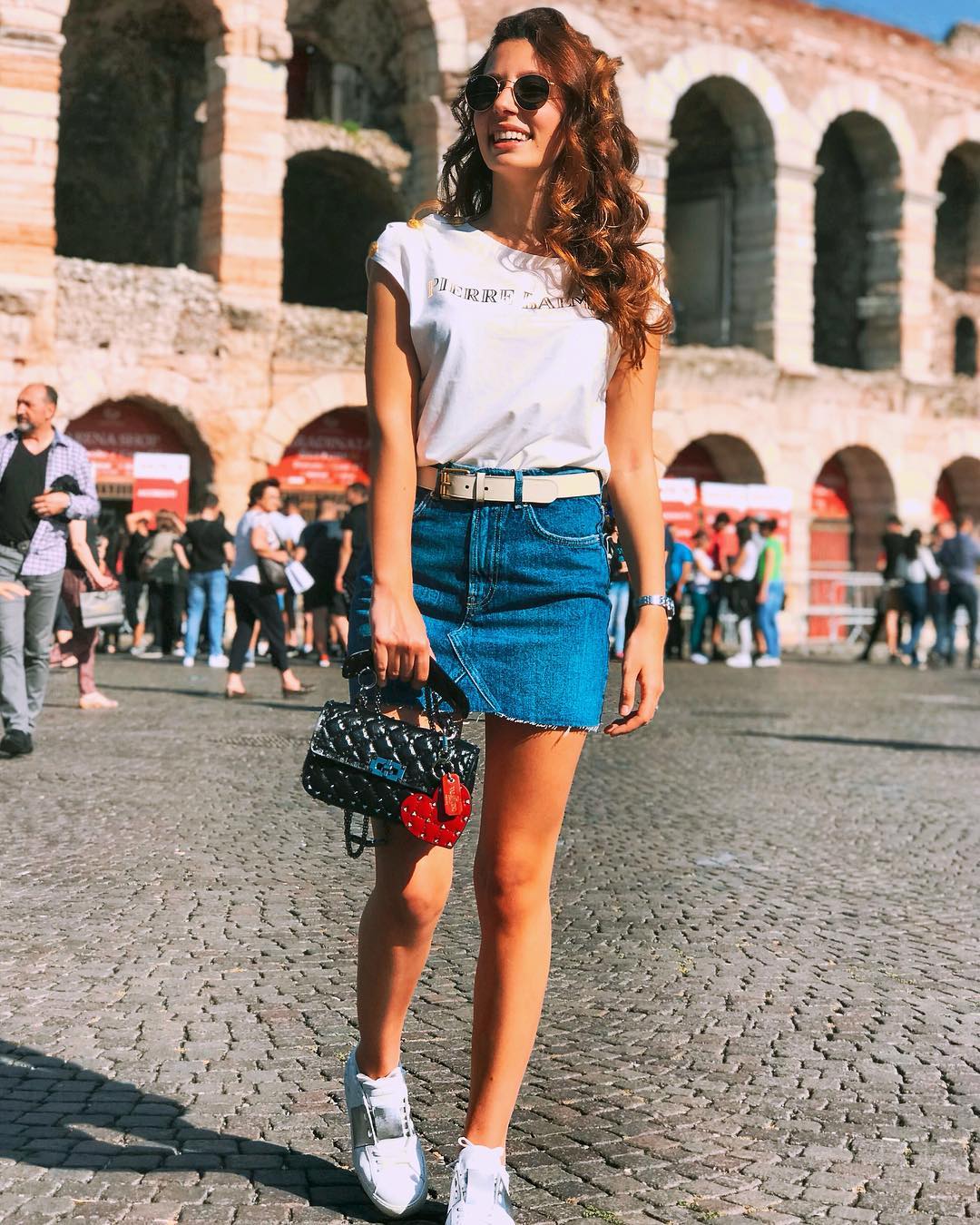 ↓ 8 – Summer Dress
A floral dress, white sneakers plus a statement pair of sunshades is the perfect combo for spring or summer wear. We love this patterned frock paired with Nike sneaks.
↓ 7 – Colored Jeans
Replace your typical blue jeans with a bolder color for running errands, meeting up with friends, or even heading to a class.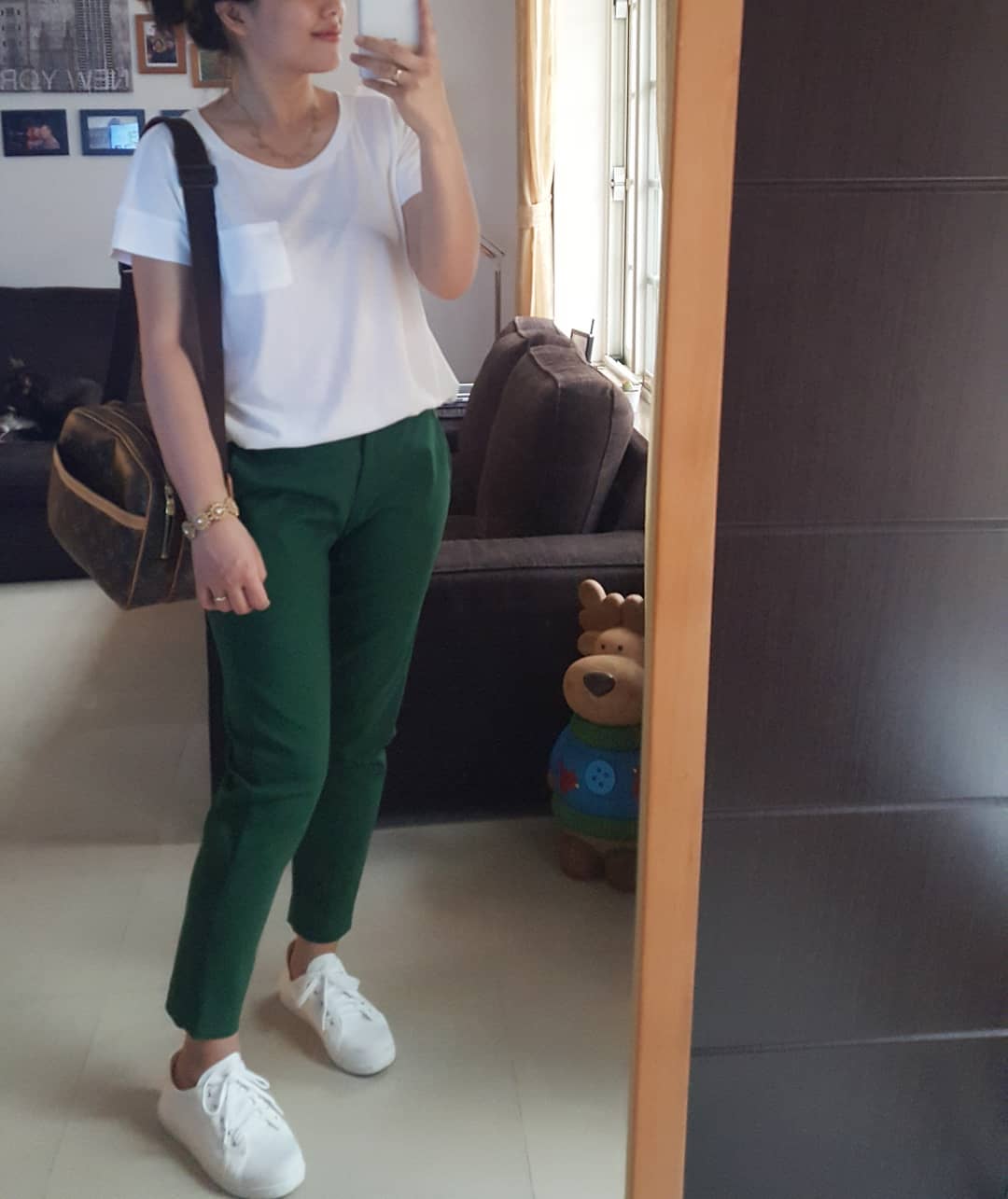 ↓ 6 – 50 Shades of Grey
Go darker with your clothes and whiter with the shoes to keep a balanced contrast and a composed look.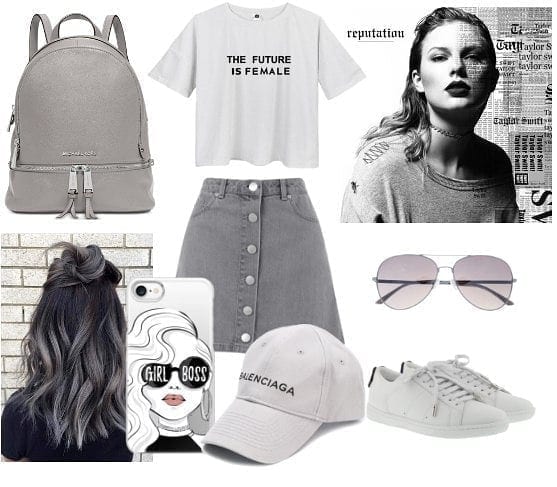 ↓ 5 – High-Waisted Jeans and a Plain Top
For days you don't want to dress up yet still look pretty, this simple look is easy to throw together. Style your hair in a half-up, half-down 'do to tie the look together.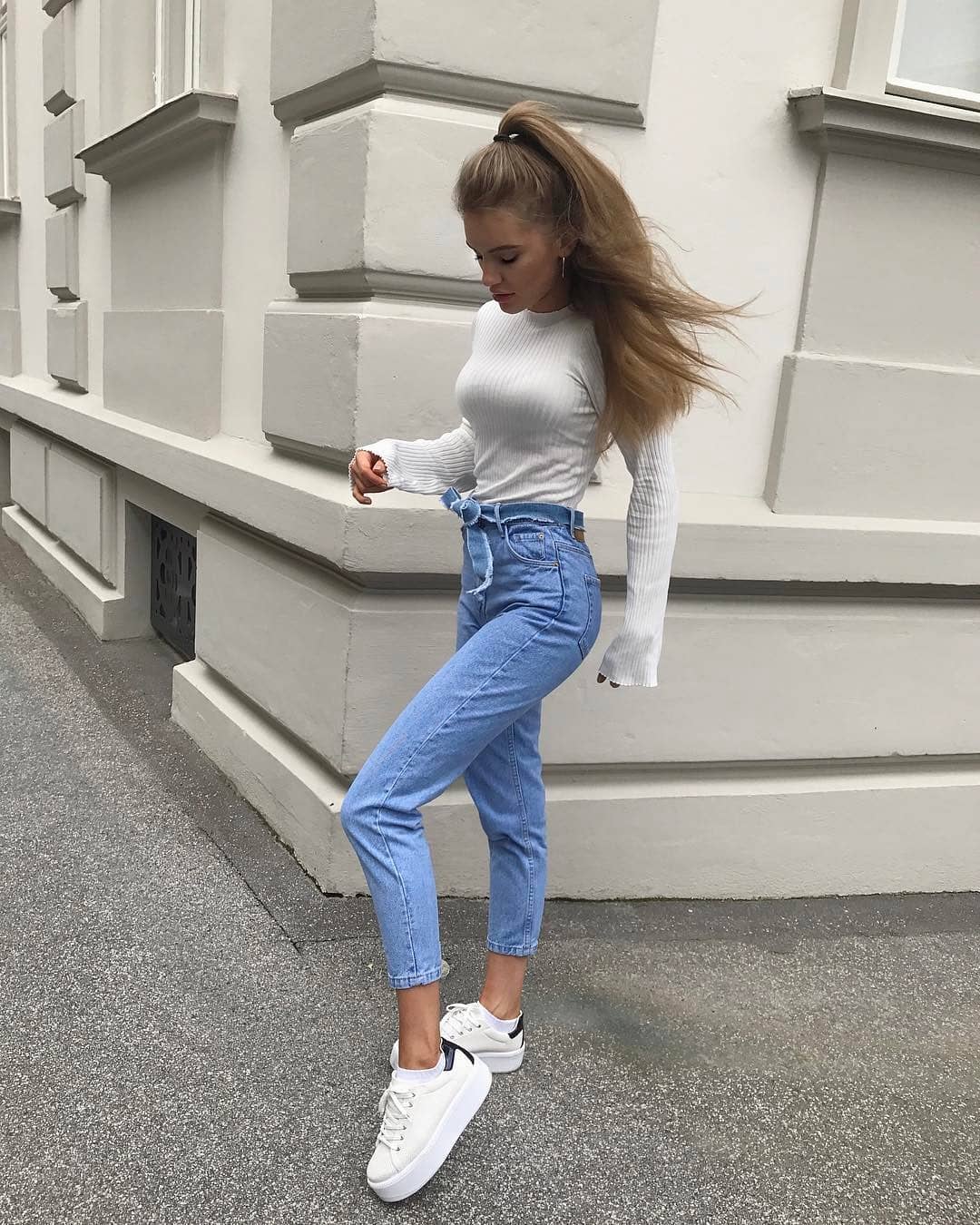 ↓ 4 – Black and White Stripes
Since black is more dominant in this outfit, a pair of white sneakers will perfectly balance the look. This is a chic look, great for weekend shopping or even working from home.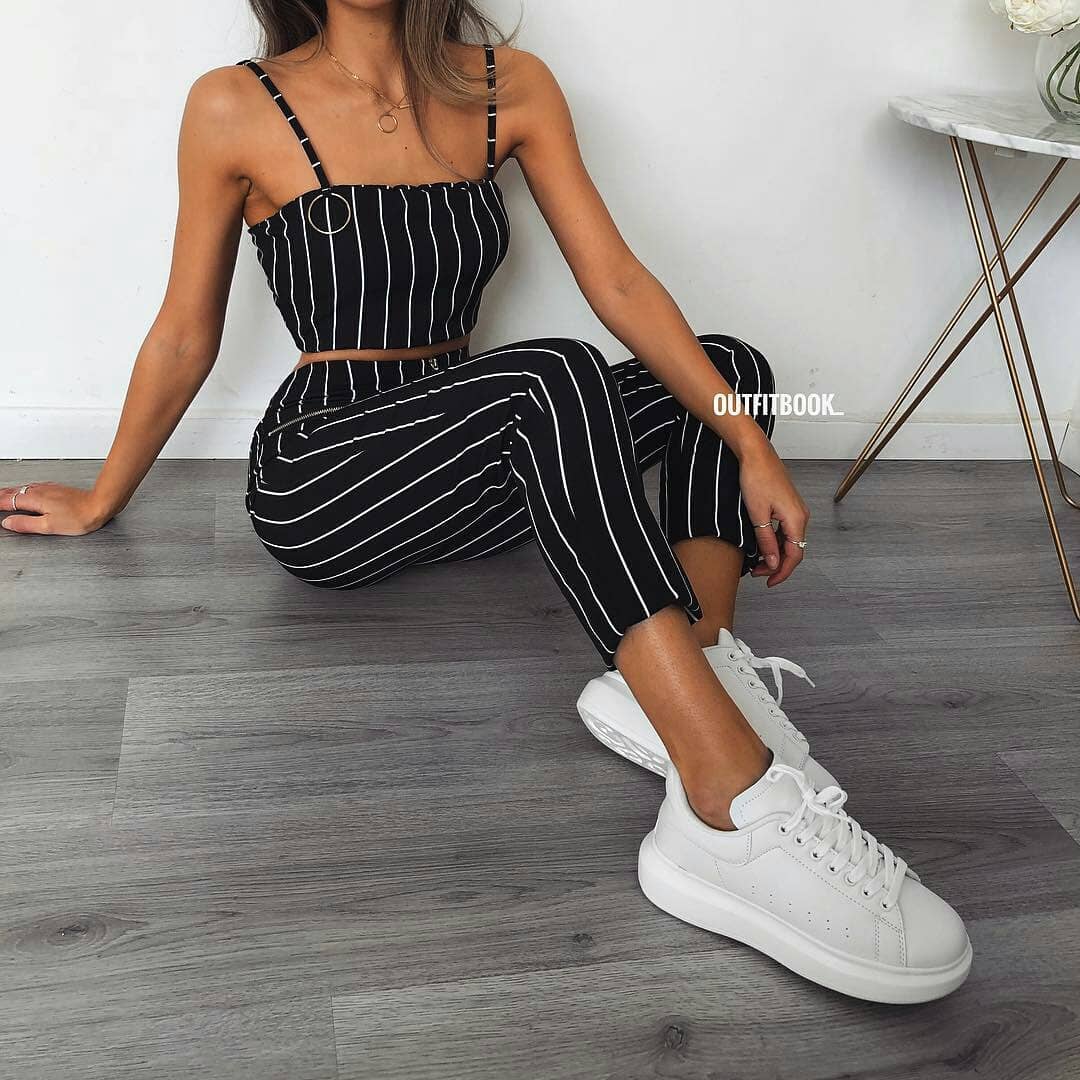 ↓ 3 – Bright Colored Coats
A bold colored coat with a plain top and preferably light blue jeans will look flawless with your white Converse. We love this everyday look for school, weekend errands, or simply hanging out with friends.
↓ 2 – Flawless Beach
For a cute beach look or pool party outfit, a matching crop top and shorts set looks fabulous with some white sneakers and matching sunglasses.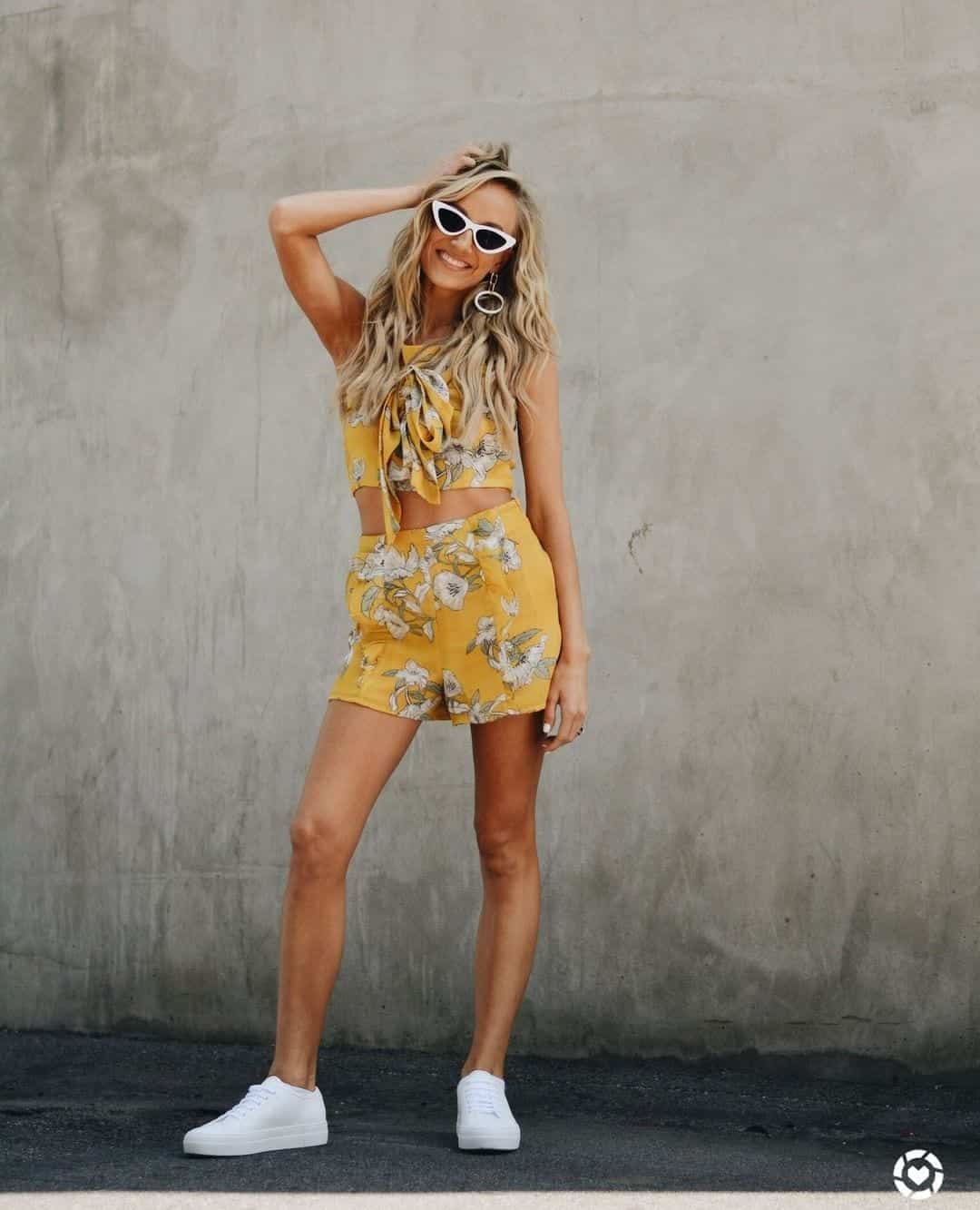 ↓ 1 – Taylor Swift Look 
Rock some low-top sneakers like Taylor Swift for a sweet and fun look you can wear every day. Pair up some high-rise shorts or a plaid skirt with a slim-fitting button-down.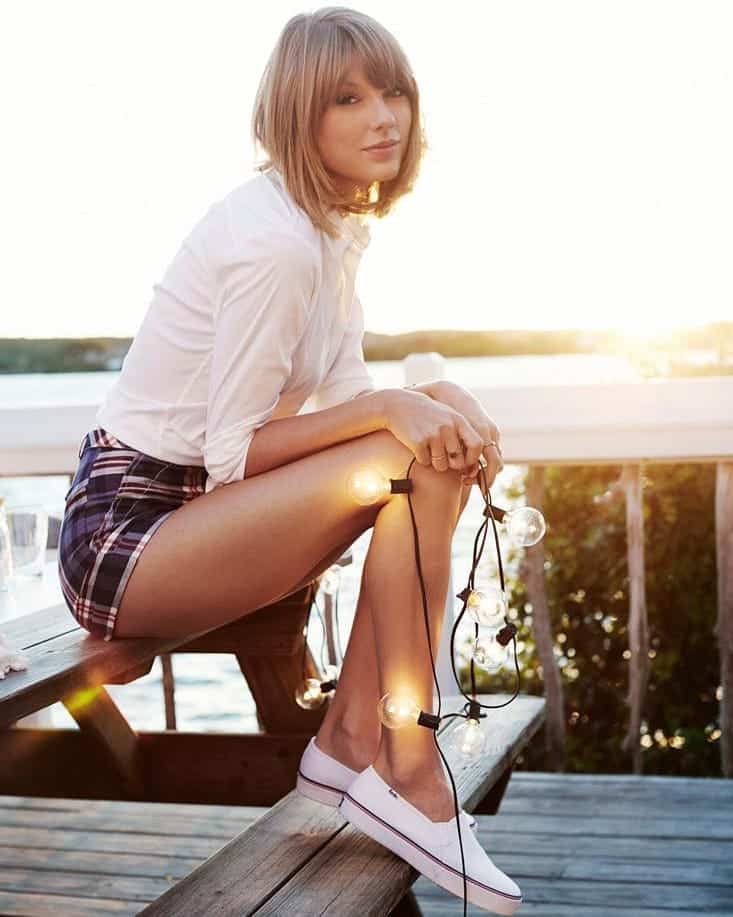 Frequently Asked Questions
Here are some frequently asked questions about styling white sneakers, plus how to wear them. Check them out!
Q.

What can women wear with white sneakers?

A. As it turns out, pretty much anything. For any casual and semi-casual occasion, these bad boys won't let you down. Pair your white sneakers up with dresses, leggings, jeans, and skirts for a number of cute, stylish outfits you can feel comfortable in.
Q.

What sneakers are in style 2020?

A. As we come up to the end of the year (and what a year it was) let's take a quick review of what sneakers were most popular this year, as well as those which you'll want to rock even through the winter.
Platform sneakers (those big chunky guys you see Instagram models wearing a lot)
Colorblock kicks (just sneakers with contrasting hues… great for outfits when you want to add a pop of color)
Mom and Dad sneakers (practical, comfortable, core silhouette… basically, the sneakers you see your mom or dad wearing in pictures throughout the years)
Vintage (retro materials like canvas and suede and old-school colors)
Classic sneakers
Q.

What goes well with white shoes?

A. White shoes can mean many things. There are white heels, white boots, white sandals, and so much more. Each type of shoe will give a slightly different look to your overall outfit. So bear this in mind when thinking of white footwear. White sneakers are, hands down, the most casual option. They look great with jeans and with dresses. White heels can be paired with any number of colors; they look best with dress outfits. White boots are great in the winter or for retro outfits. Take a glance back through this post for more ideas!
Q.

What jeans go with white sneakers?

A. Black jeans, denim jeans, and colored jeans are all great. You can even rock white jeans but try to pair them with a contrasting colored shirt to keep it from getting too monochrome.

And there you have it! What was your favorite white sneaker outfit from our picks? What is your favorite way to style a white sneaker? Let us know in the comments below!