Outfits with Heels: Our favorite type of heels this year are the minimalist heels. Minimalism is something that we have all started to love and more and more people are adopting it every day, especially in the world of fashion. Just like minimalist outfits, minimalist shoes are all about simple, to-the-point shoes that let your outfit and personality shine through.
Heels offer several great advantages, one of the best ones being that you can pair them with almost any outfit. And that's exactly what we explore in today's article, as we'll be sharing different looks that prove that heels can be paired with all sorts of outfits without compromising on style.
What To Wear With Heels?
In our last posts, we talked in detail about How to Wear Platform Heels and the Most Comfortable Heels, so today's post is just a general discussion about the different types of outfits that you can wear with heels.
50 – Winter Outfit
It is wintertime and you are just cozying around in your sneakers or boots?
Well, not that those are not the most convenient choices when you try to step outside in winters. However, why sacrifice your style due to the weather?
Go for these pointed-toe pumps that will keep your feet covered and give you an edgy look. These will go well with jeans or leggings/tights.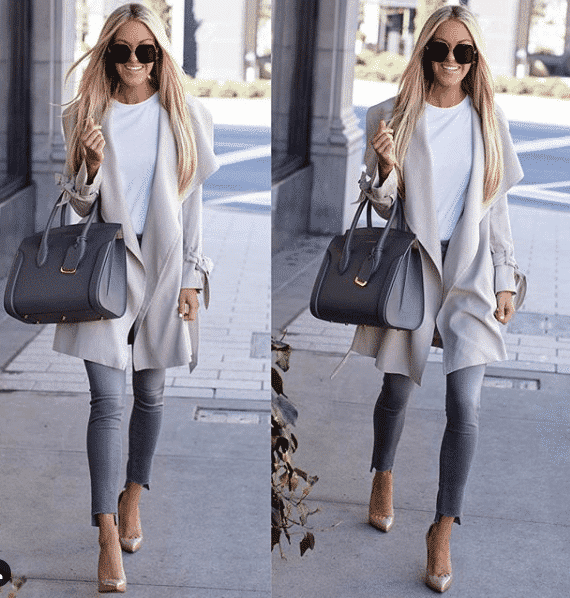 49 – Heels with Socks
Feel like your heels are too plain and you are not impressed? Well, how about adding some awesome socks to the mix to upgrade the look.
Many fashion bloggers have been flaunting socks with heels and have made it quite an inspiration for us and you can do it too now without looking like a fashion disaster.
Our advice is that if you are new to this look, don't go overboard and instead start with light material sheer socks. Printed net socks look absolutely gorgeous with black heels and will go with any outfit.
You can also take inspiration from these Wearable Outfits with Pantyhose.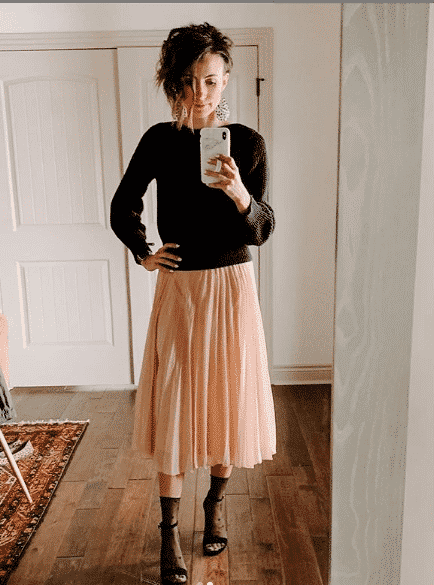 48 – Party Outfit Ideas
Some of us like to flaunt the most dazzling outfits for parties. So whether it is a birthday party or special occasion sort of parties like new year eve or Christmas, and you have decided to wear a glittery outfit, the best types of footwear to complement this outfit are plain heels.
Pointed toe pumps will go perfectly with both a short dress or a beautiful maxi dress. Just choose a bold lipstick shade, let your hair loose and rock the party!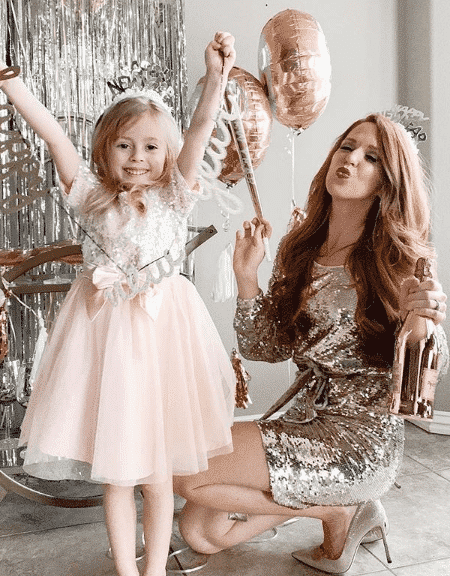 47 – Denim Skirt for Fall
If you are in for a good challenge to style denim in some non-conservative styles, here is our tip. There are many ways to be creative with your denim skirt for fall. It is a great transitional piece that you can dress up or down according to your needs.
Brown block heels are a perfect combination with the dark blue denim skirt. Wear a sexy red blouse for lunch date or shopping trips and when the weather gets chilly at night, you can throw over a blazer for a refined look. Here are some more chic Outfits to wear with Denim Skirts.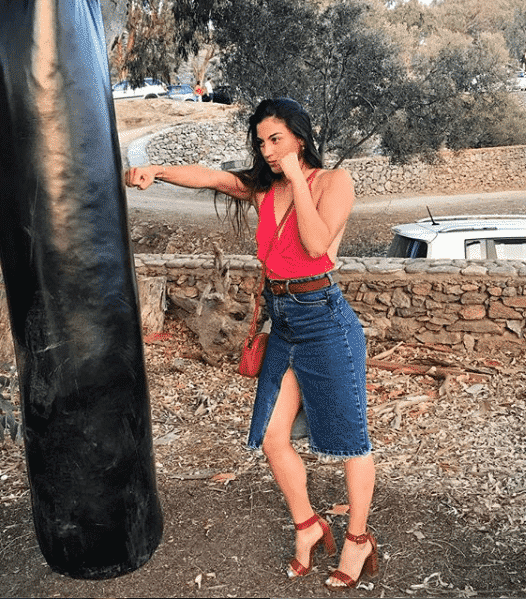 46 – Neon Heels for Fashion Lovers
Sometimes you have to think outside of the box and leave your comfort zone for some eccentric fun. Neon heels are not everyone's cup of tea because you need a certain panache to carry them well, but once worn, can do wonders for any outfit.
Bold green or yellow heels will go with most outfits and create a bold look for you. Once you have tried them, only then can you understand the charm!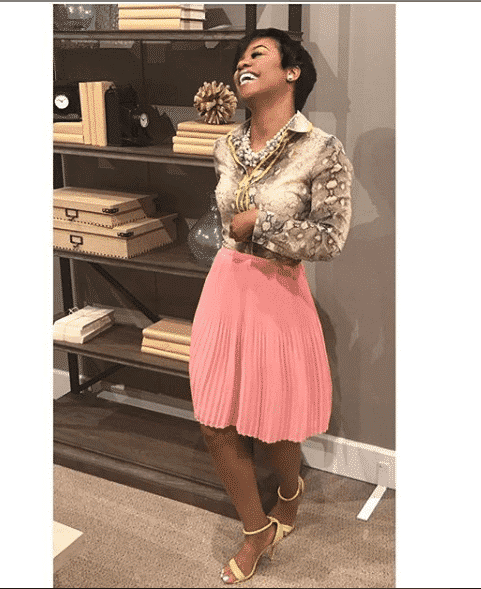 45 – Glittery Heels
Adding in a little dab of glitter to any part of your look is always a great idea. If you are feeling fancy and want to add something bold to your look, we recommend glittery heels. Whether you are planning on going on a simple date or to a grand party, silver glitter heels are a must piece for a chic appearance. Go with a bold pink slit dress with these amazing heels and you will be the belle of the party in no time!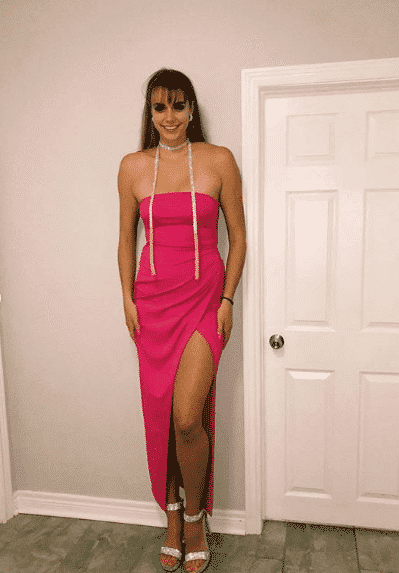 44 – How to Style Retro Outfits
Retro outfits are all about bringing the memories of the old era back and wearing the popular choices back then. Whether you decide to go with polka dots shirt or a floral skirt, you know that heels would never betray you.
You can choose the printed heels which match the design of your dress or go with vintage style mary jane heels to truly embrace the vintage vibes. Check out our guide on wearing Polka Dot Outfits & Dresses.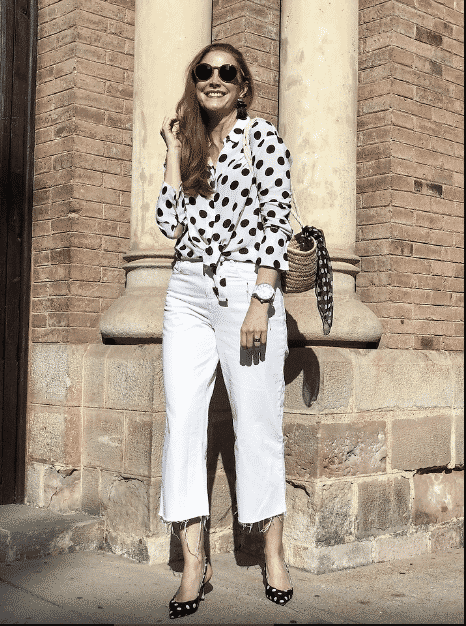 Via
43 – Styling Your Heels with a Kimono
Kimono is a warm-weather coverup staple that everyone loves to put on. It can totally give you an edgy look with even a plain white tee and jeans combo and you can use it to dress up any outfit. Whether you are wearing a plain dress or jumpsuit, put on a vibrant Japanese inspired printed kimono to really jazz up your cultural game and tie a bold red belt around the waist for a cool look.
Bold red pointed toe block heels will look sensational with this outfit and can give you a graceful appearance.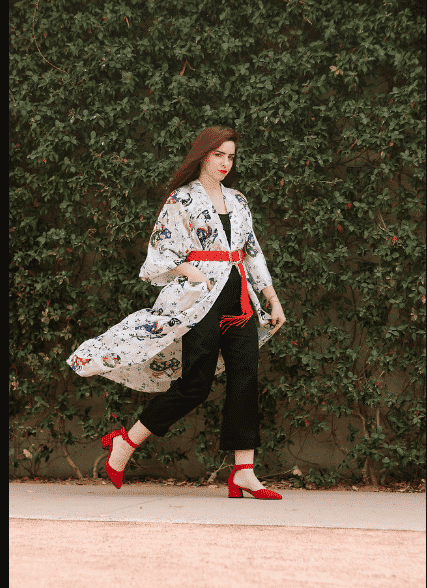 Via
42 – Latest Jumpsuits Fashion with Heels
Why go with the same head-to-toe color scheme when you can mix up colors? You have to be careful when you play with colors so as not to portray a conflictive image. A clever way to go about this is that you can dress up your blue jumpsuit with green heels because this combo will never disappoint you.
For a sleek and sultry look, go for silk plunging V-neck jumpsuit with the promise of a great fitting and glam look. Belts always work with jumpsuits and go for a silver belt because blue and silver are a contrast made in heaven.
41 – Wearing Heels while Travelling
When you plan to travel, the first thing that every article will advise you is to keep sneakers or converse with you as they are comfortable and go well with most outfits. However, without heels, you can't simply pack. Heels are a fashionista's best friend and give you the confidence to stand tall and show others who is in authority. They are easy to slip on and off while security check too.
Just be clever about which heels you should pack with you. Go with minimal heels and don't choose extremely high heels that might give you sore feet. Always keep an extra pair of flats in case your heels ditch you at the last moment. Check out these 15 Best Walking Shoes for Europe Trip.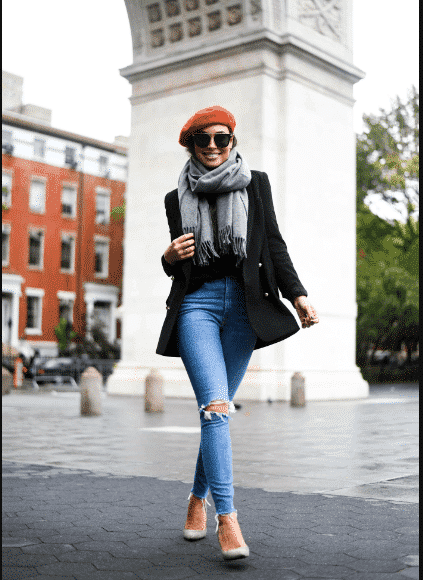 40 – Office Attire for Modern Woman
Often women feel that heels make them appear more formal and confident, so why not wear it to work? Minimal heels are perfect for office wear and choose the ones most comfortable for you. Plain black heels are best for office use because they go with all pantsuits. You can also choose a neutral shade for the heels. You can break the tradition of wearing neutral shades occasionally and don some silver or dull dazzling heels for casual days at the office.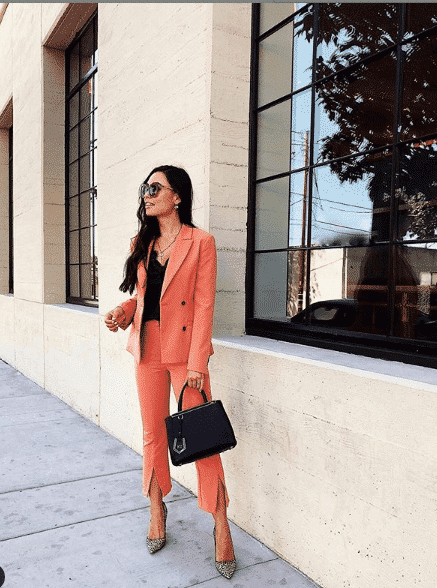 39 – Classy Heels with White Outfit
Once the fable of Cinderella and her white glass slippers was out, the world was never the same! What comes the closest to this style of shoes to dazzle the world with? We suggest wearing transparent heels!
If you prefer wearing white outfits because they are pretty amazing and scream elegance, and want to stand out even more so? Pair them up with transparent heels and red lip color. Let the summer tan show with a bodycon white dress and amazing heels!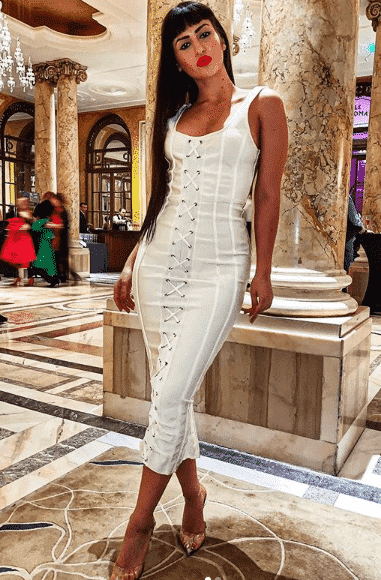 38 – How to Style Sequin Heels
Minimal heels with sequins are hard to resist for anyone. However, the question arises: How to style them with outfits? The first idea is to wear them with simple dresses to bring out their glamour and to appear sophisticated.
You can call all your shots by wearing a shimmery short dress with minimal sequin heels when in the holiday spirit or planning to visit a night club with friends.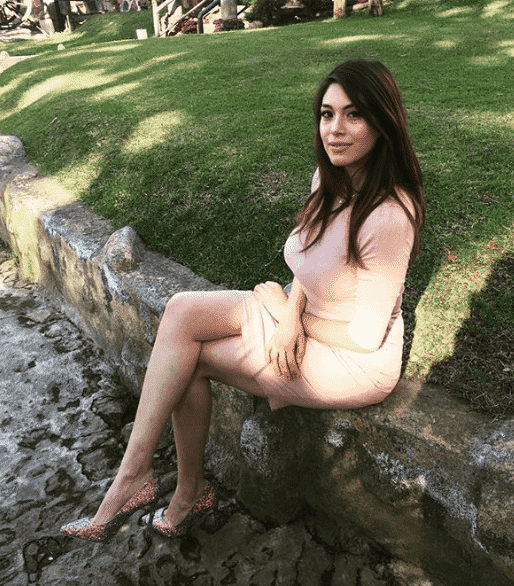 37 – How to Dress Up Denim Jacket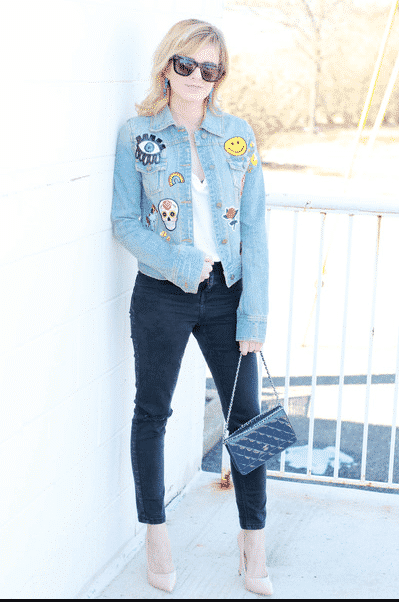 36 – Meeting Parents Outfit Ideas
If you are meeting the parents of your beloved, it is time to give the best impression. A geometric print dress is a great option and you should choose bright colored heels for a great look. Burgundy heels are best to wear with any dress and particularly great for creating a great impression.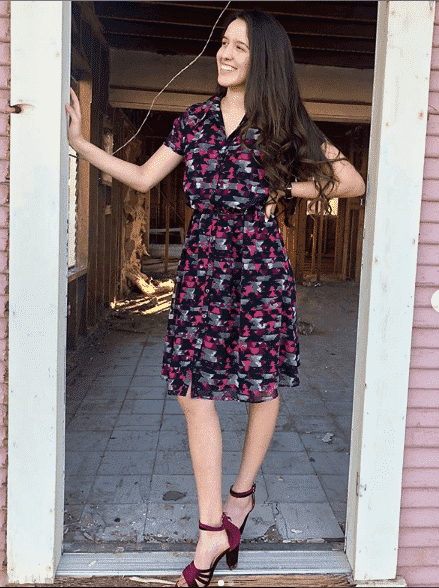 35 – Vintage Heels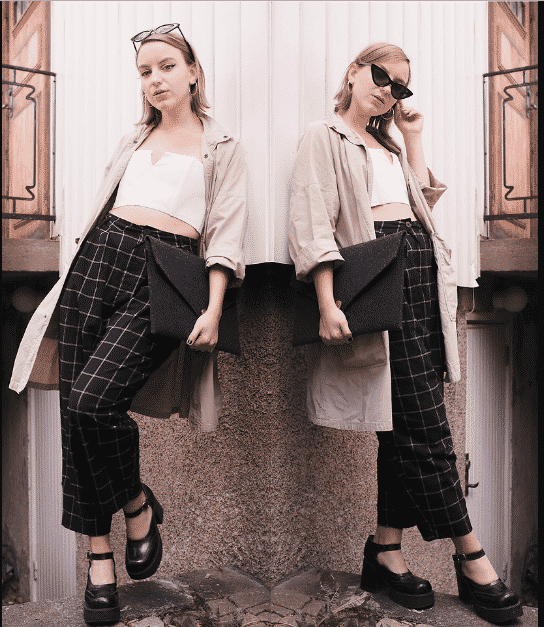 34 – Perfect Airport Outfit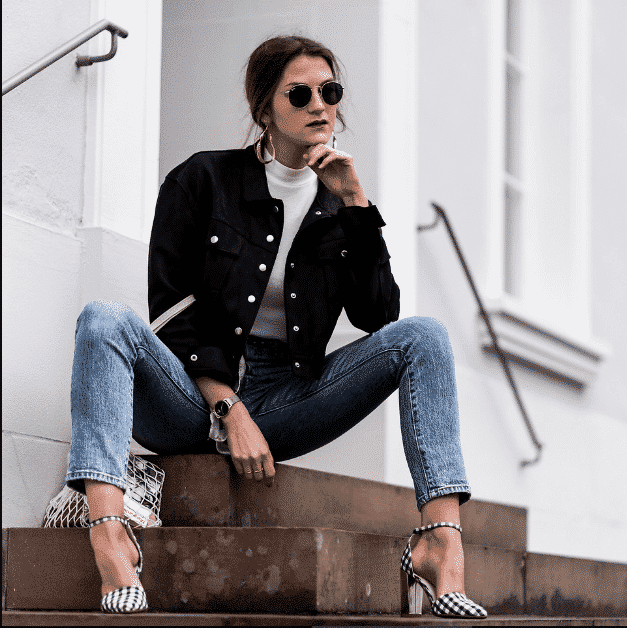 Via
33 – How to Style Heels with Little Black Dress
Want to opt for an ultra sexy and uncomplicated look? The little black dress is what you want to wear. If you are opting for a basic black dress with little or no embellishments, ditch the typical black heels and go with some heels that will put a fun little twist to the complete look.
Silver heels are perfect with LBD and you can make a serious fashion statement. Check out our earlier post on Outfit Ideas on How to Wear Little Black Dress.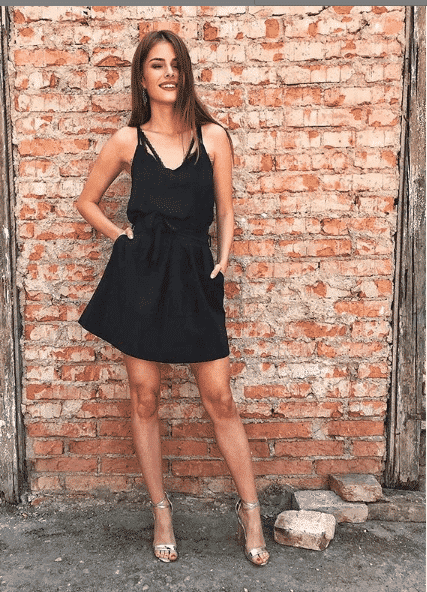 32 – Trench Coat Outfit Styles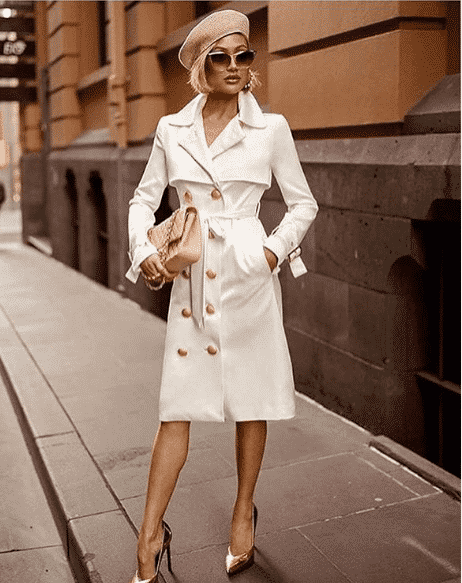 31 – Style Your Shoes with Pastel Outfits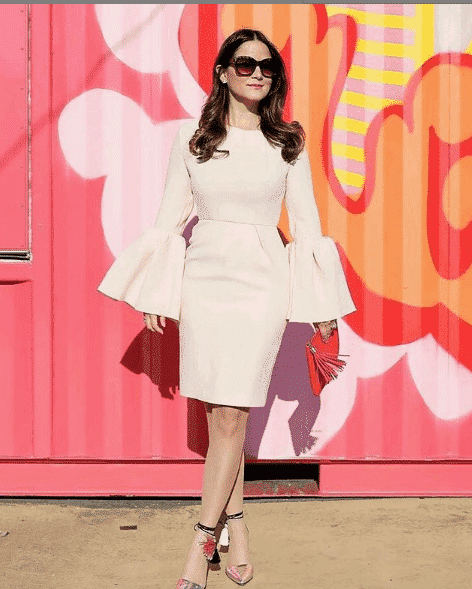 30 – Casual Date Outfits Ideas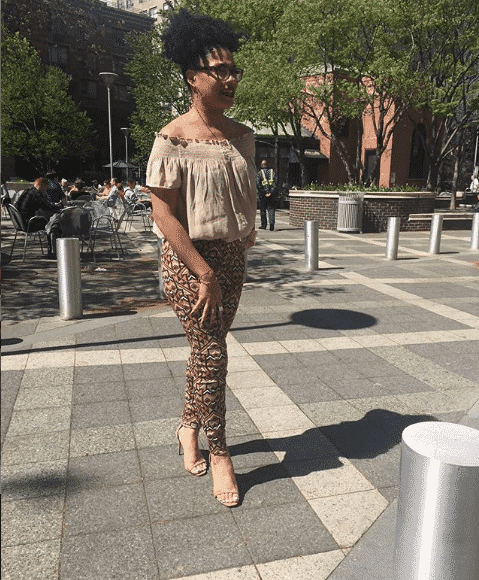 29 – Color Block Outfits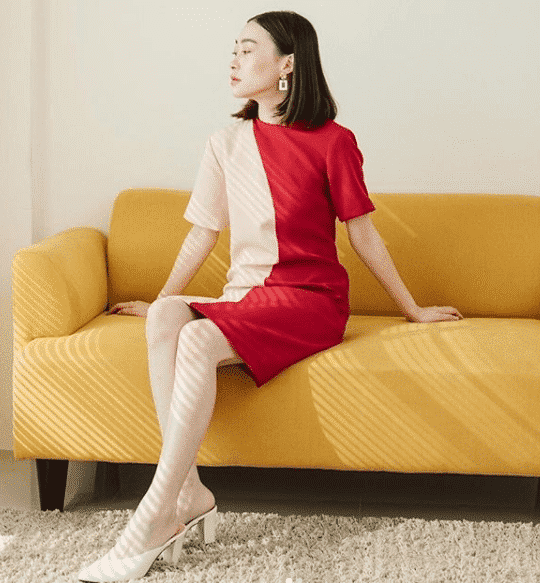 28 – Floral Outfit for Spring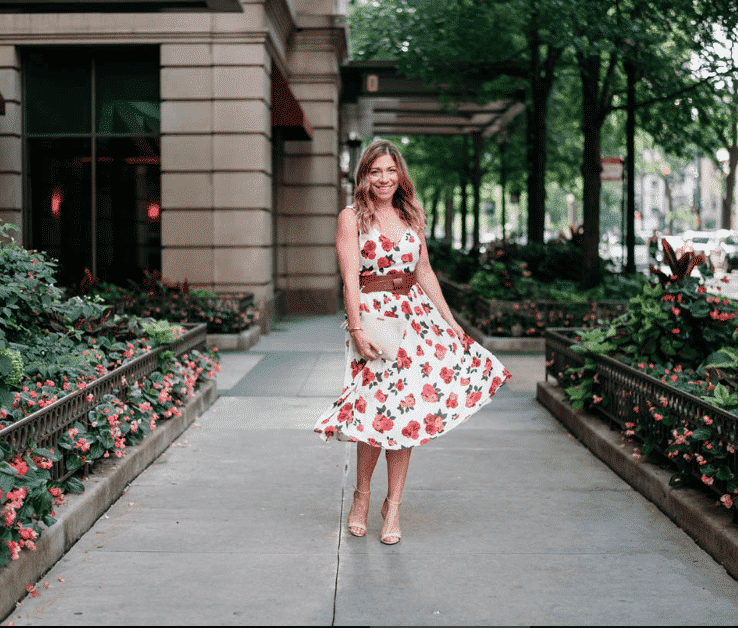 27 – Weekend Outfits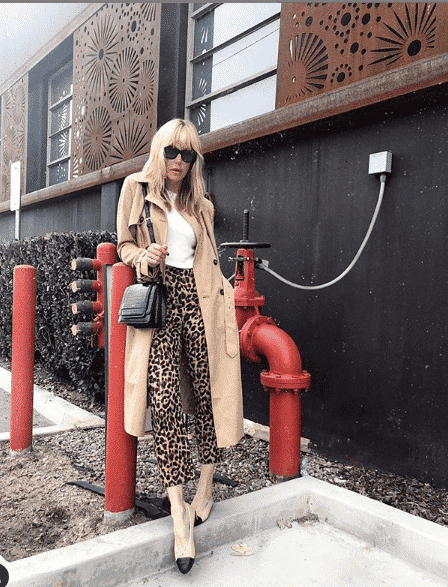 26 – Plus Size Biker Short Outfit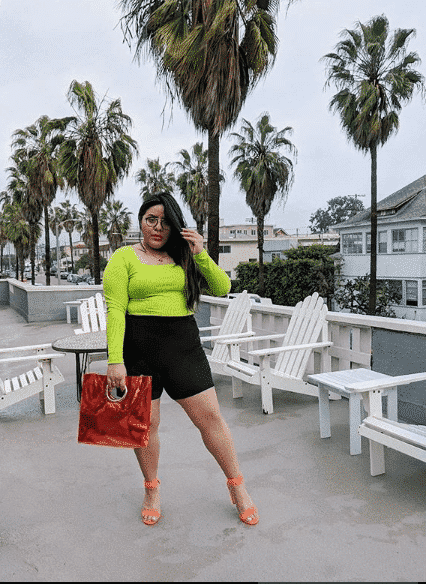 25 – Tropical Heels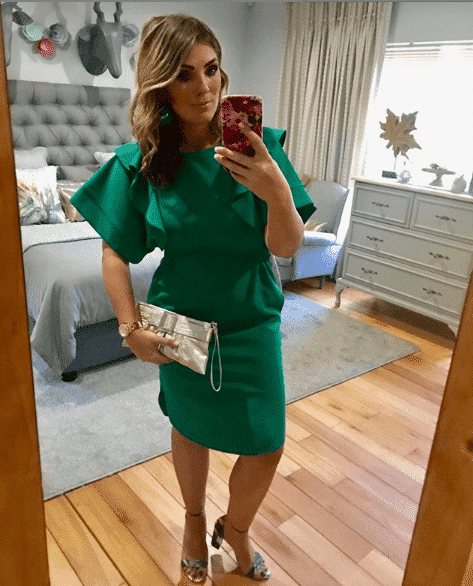 24 – Tassel Skirt Styles
Whether you choose a conventional look with brown tassel skirt or something exciting like a patterned tassel skirt, you will need your best nude heels to go with this look.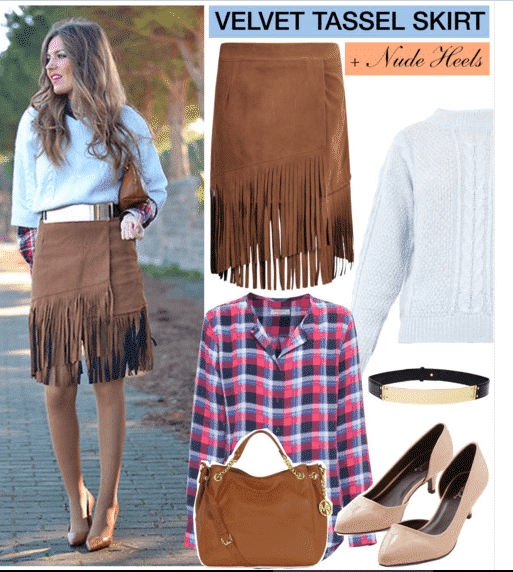 23 – Street Style Look
On some days, sneakers and converse are not acceptable for a street style look because they simply won't meet your high standards. Dare to wear some gorgeous lilac heels that will support your weight on the feet in the right manner and are flattering? With a classic button-down skirt with a flirty slit and V-neck shirt, these heels will set the right note.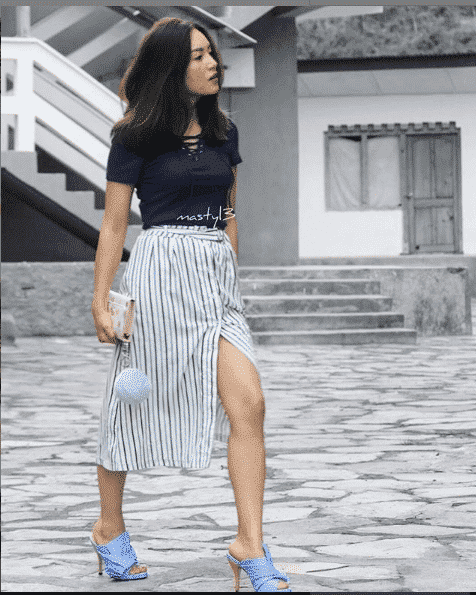 22 – Celebrities Style Minimal Heels
Celebrities adore footwear that comes with great style and comfort. The minimal heels have been worn by many stars with different outfits and you can see them great looks here.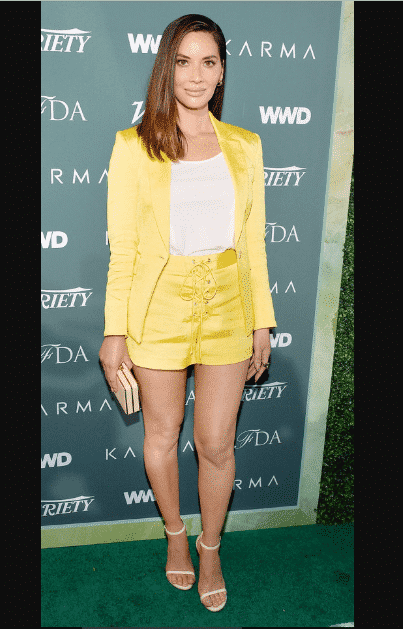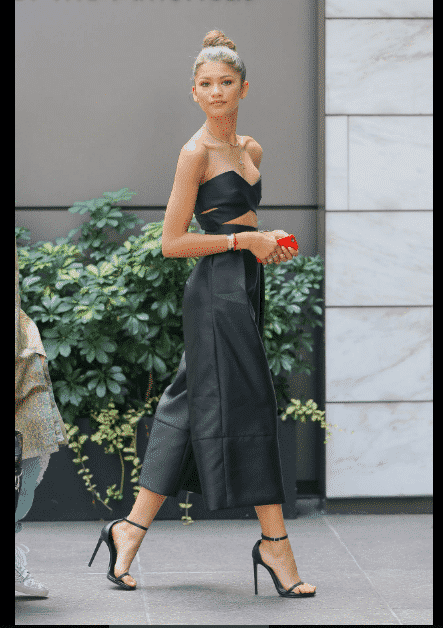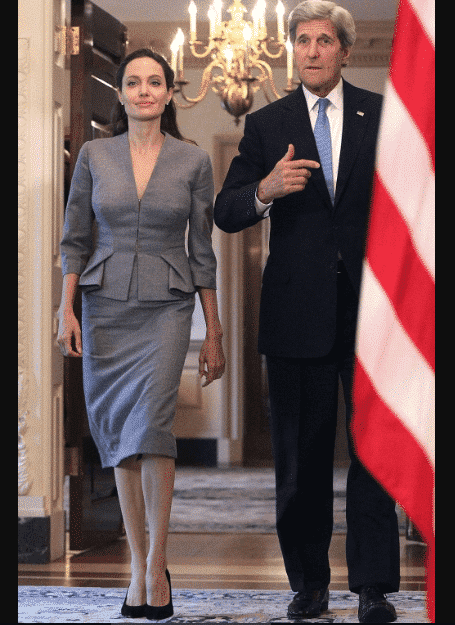 21 – Accessories to Wear with Minimal Heels
When you are wearing minimal heels, you need to choose your accessories accordingly. Chunky jewelry and heavy handbags will not go with these heels. Instead, go with sophisticated and simpler accessories. A crossbody bag or clutch will be ideal along with modest pendants and earrings.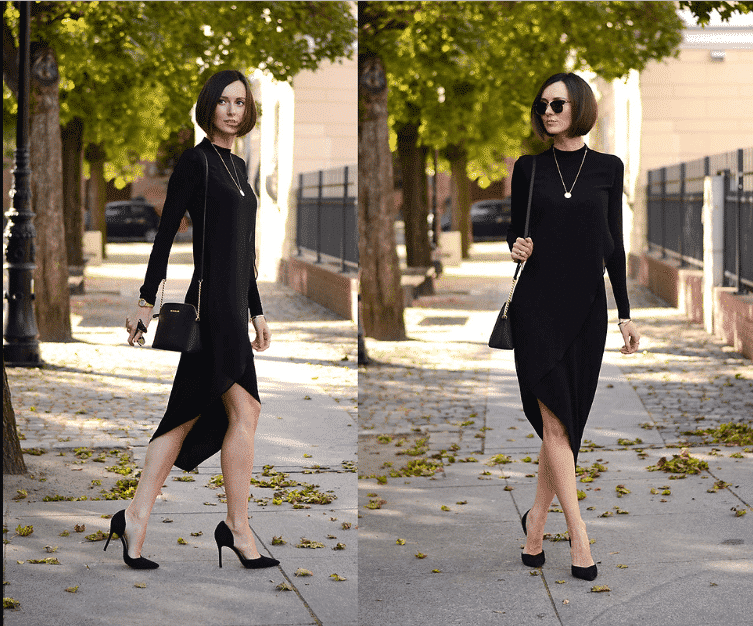 Via
One of the most famous minimalist heel types is the pointed-toe heels, so the following section is dedicated specifically to pointed-toe heels and all the ways to style them.
What To Wear With Pointed Toe Heels?
These heels give you that sharp and classy look that you want to wear on a dinner night out with a loved one, at a function, or at a high-profile office meeting. Though these types of heels are elegant yet they can't be worn daily as you should stretch your toes and keep them relaxed for some days. These heels are aesthetically pleasing to the eyes as they give the illusion of taller legs.
These stilettos add to the beauty of your legs when they match the color of your skin tone or are of neutral color. Are you excited to know more about these heels and what outfits you should wear with them? Count us in with you if you love the completely gorgeous look that these heels give to your attire. Ready to learn more about the dresses to wear with the pointed heels then hop on and enjoy reading.
If you are a high-heel freak, especially those with pointed toes, you must wear them cautiously. These bad boys go hard on your feet if worn daily, so it's best to wear them occasionally.
Some people also practice using a blow dryer on these heels before putting their feet inside to make them comfortable. Some other interesting things that people do before they wear pointed-toe heels include putting on gel or padded inserts and some also tape their toes.
Dos and Don'ts Of Styling Pointed Toe Heels
Don't rush when you are wearing high heels. Be relaxed and take small steps to avoid any kind of awkward walk or accident. Besides, a slow walk is always considered a confident one.
Walking in heels is already a tough ask for those who don't wear them often and if they are oversized or too small, then they make it almost impossible to walk. If your pointed toe heel is larger, then you can use a toe pad. Whereas, if they are short, try stretching them before wearing them on.
Try to avoid using pencil heels frequently because they cause your foot to wobble around. The thicker the heel is, the better it is to wear frequently.
It is best to do a little stretching exercise of your toes after a long day of wearing heels, especially the pointed ones. Pointing your toes down and then pulling them up will relax these muscles.
20- What Can I Wear With Pointed Toe Heels for a Party?
A pointed-toe heel will look best with pencil A-line and knee-length skirts as they give you a long and lean appearance. These heels also look fabulous with long dresses or frocks. If you want to make a strong fashion statement then wear your pointed-toe shoes with natural tone stockings or bare legs.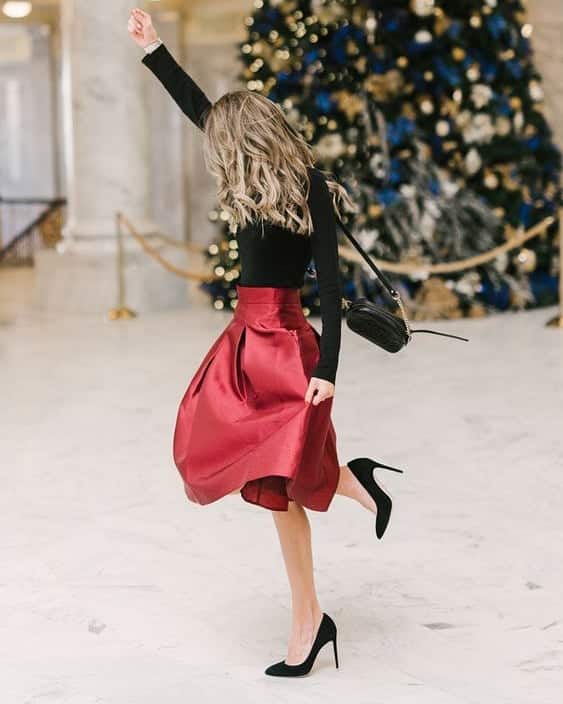 19 – Is It Ok To Wear Heels With Jeans?
A jeans and heels outfit is a must in every woman's closet. This combination is best for a casual outing or an everyday modern look. Not only will it give you a fashionable image but also keep you in a comfortable form and outlook.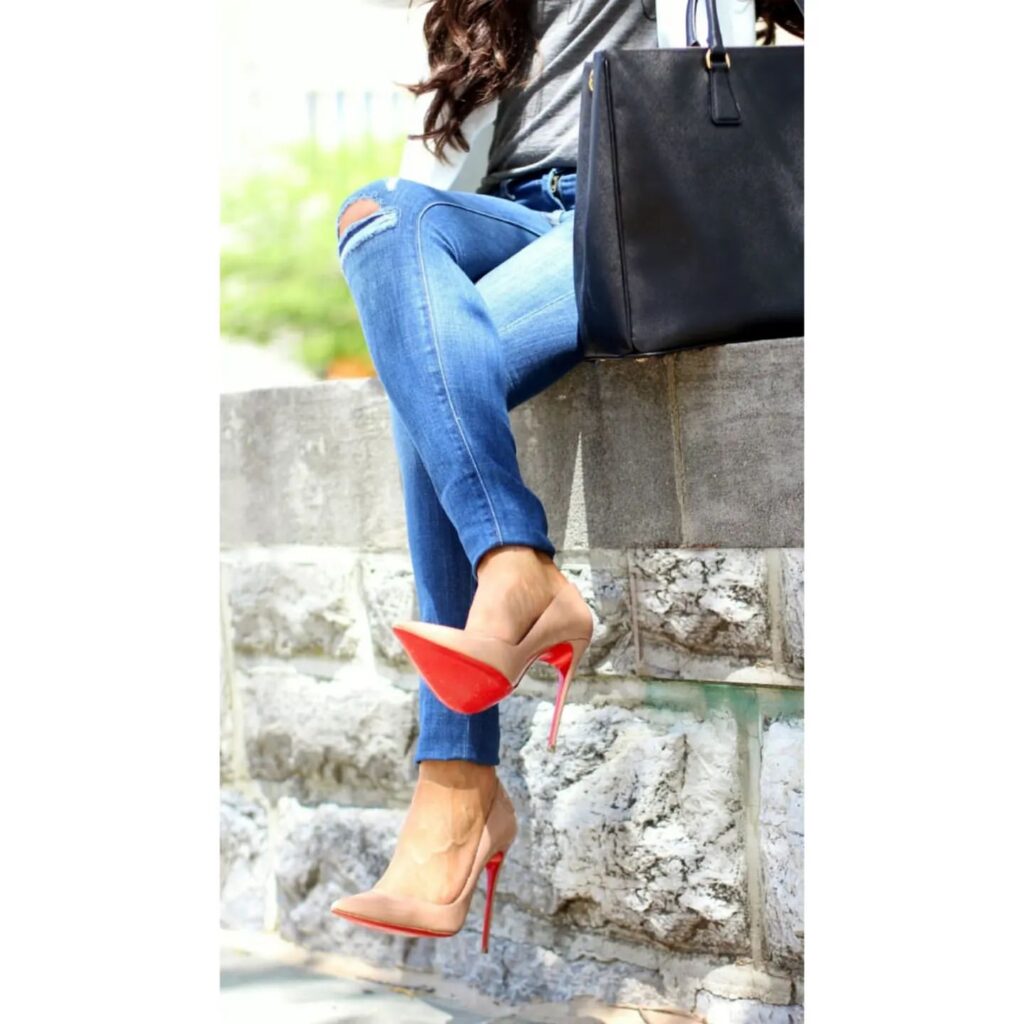 18- Can You Wear Heels With A Skirt?
Heels and skirts complement each other quite well. Pointed-toe heels along with a mini skirt suit are perfect workwear. It would be better to keep the heels much sturdier for the workplace, like block heels and wedges.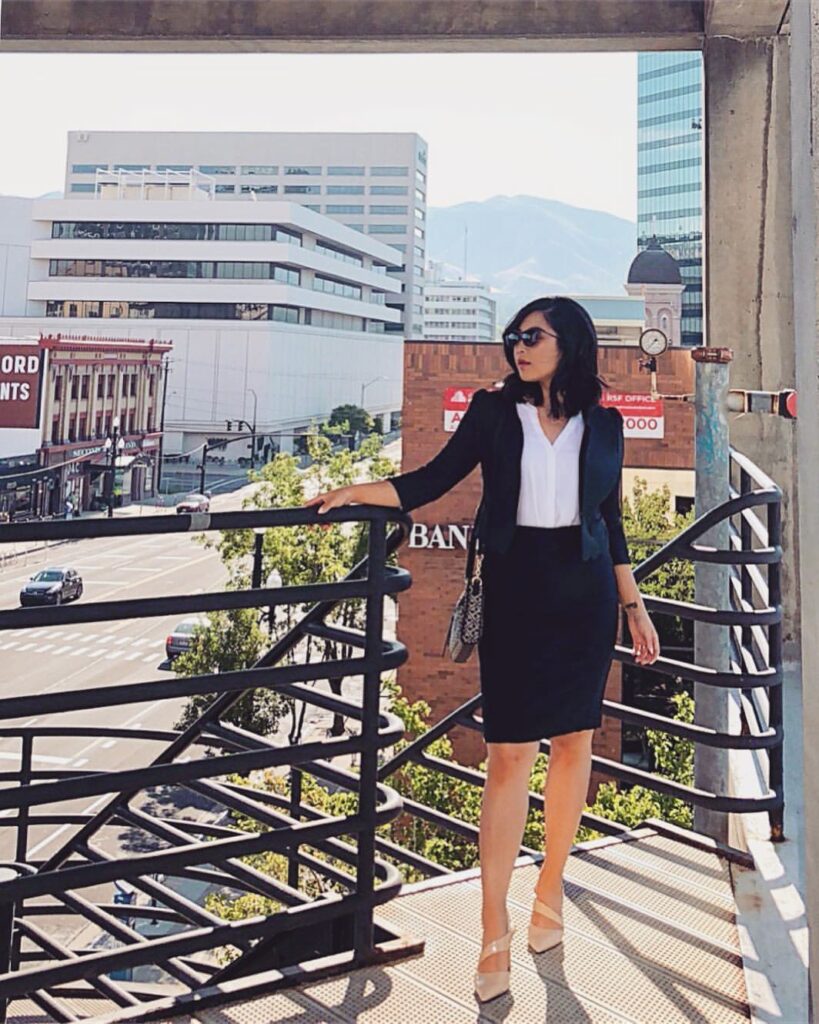 17- Block Pointed Toe Heels With Formal Dress
Block pointed-toe heels go perfectly well with formal dresses. Especially, when you wear them outdoors, dancing, or to a long-lasting event. You will feel quite comfortable wearing these types of heels as their shape distributes weight evenly. That's why they are among the most comfortable types of heels you can wear. Pair your block heels with skinny jeans, casual skirts, and different types of dress silhouettes and you are good to go.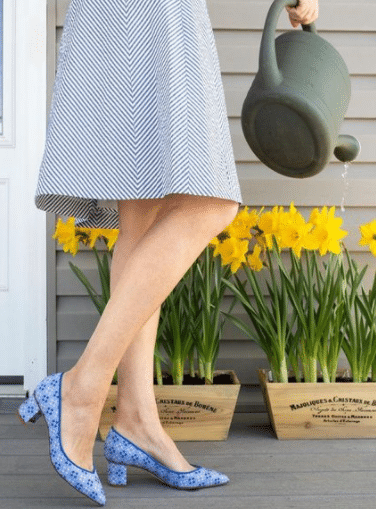 16- Ankle Strap Pointed Heels With Skin Tight Jeans and Skirts
This summer, dig into your wardrobe to grab your favorite jeans and ankle strap pointed heels if you want to feel light and comfortable. Skintight jeans and heels are neither too fancy nor too casual. Take a nice handbag with them and you are ready for shopping with your girls. Ankle strap pointed-toe heels are also a good match with skirts. They complement each other a lot, especially with bare legs.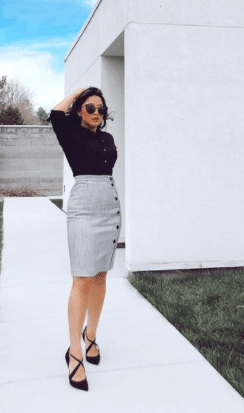 15- Sleek Black Pointed Toe Heels With Plane White Frock
We all know that white looks classy and amazing with dark-colored shoes and what looks, even more, classier is a pointed toe heel with it.
Black and white is that old combination that everyone admires. Wearing a sleek black pointed heel will make even an ordinary white dress a stunning look and give you an overall killer impression that you want for an outing.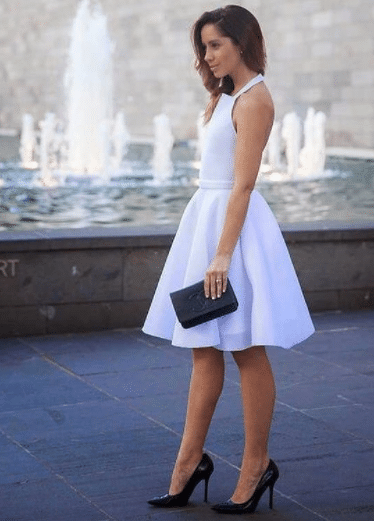 14- Pointed Block Heel With Leggings
Do you want a royal look for your formal occasions? Then do what the Royals love wearing often. Leggings are so much in fashion among the princesses and even Queen loves to wear them. Wearing leggings or tights gives you a graceful appearance. Combine them with a block heel and style the most decent ensemble you can ever have. Pointed block heels with black leggings and long coat or frock is what makes you feel like a princess.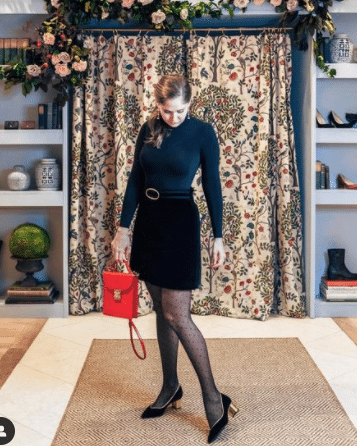 13- Leopard Pointed Toe Heels With Skirt
A cropped top, high-waisted skirt, leopard pointy-toe heels, and you are all set for the casual date night out. But if you want to go to the nearest mall for shopping then choose a comfortable tee and skirt from your wardrobe and match them with these leopard heels. These leopard print heels will never go out of fashion. The eye-catching pattern will surely enhance your versatility and appeal.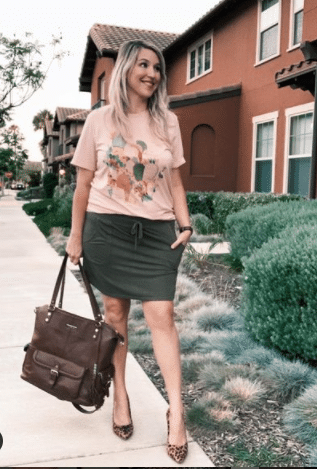 12- Pointed Toe Heels With Net Frock
Pointed-toe pumps have become a popular choice around the world this year for women of all ages. If you want a modern and chic look for your upcoming event then style a plain net frock with the matching colored pointed heels to give yourself a striking yet gorgeous look.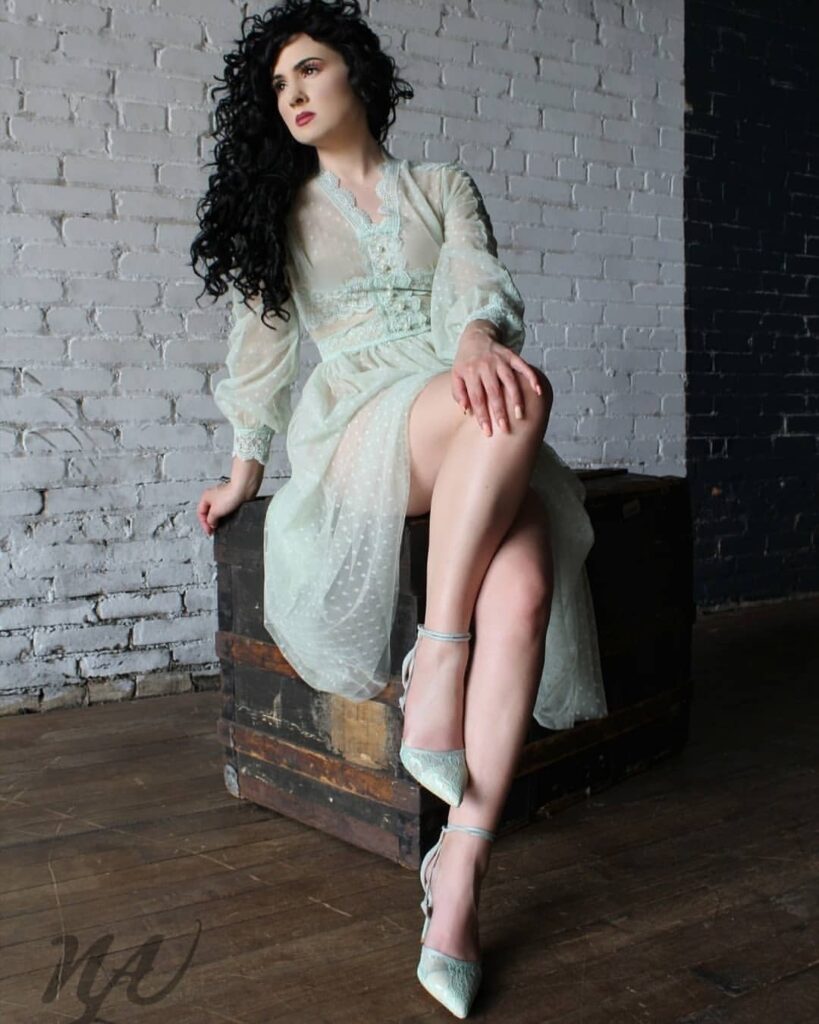 11- Pointed Toe Heels With Long Skirts
Are you a little confused about how to style your favorite midi or maxi skirts? How about trying them on with a pair of block heels with pointed toes. This fashionable combo is every woman's go-to choice that they can wear all year round. These skirts look equally beautiful with pencil heels.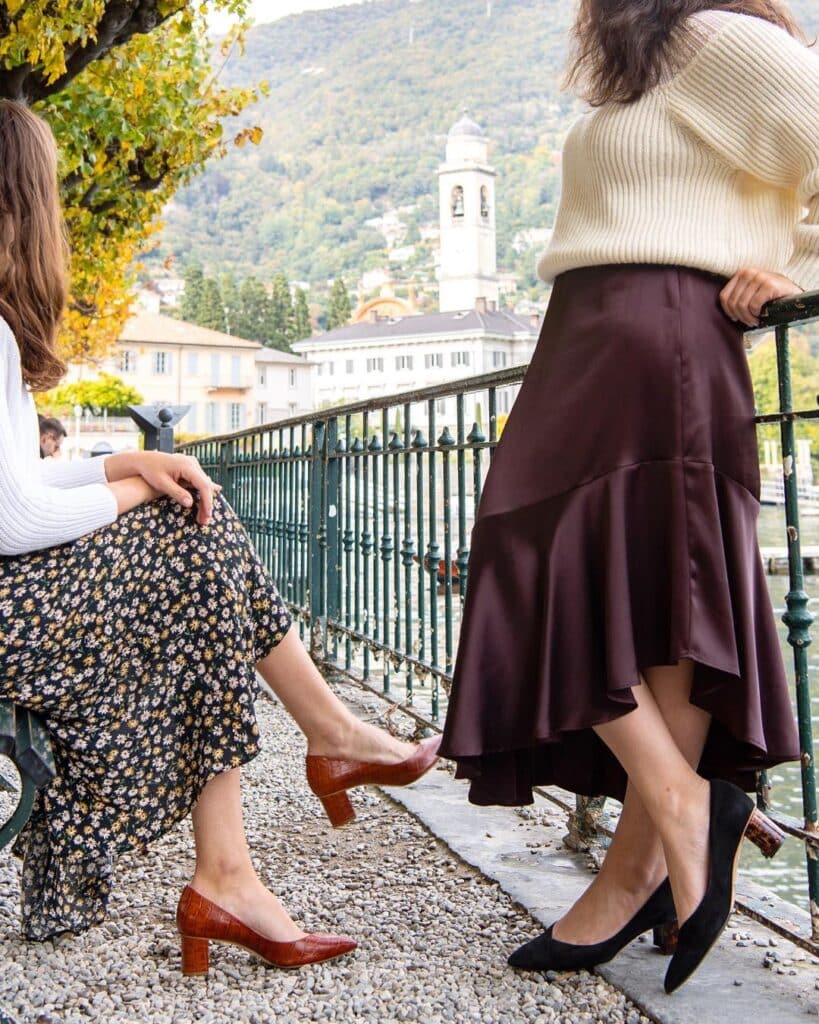 10- Shiny Leather Pants and Pointed Heels
Pointy toe heels are a type of shoe style that works with any kind of leather pant silhouette. You can wear them with cargo style, wide legs, and classic slim-fit leather pants. But the best way is the ever-stylish shiny straight-leg leather pants with contrasting pointy-toe heels. You might choose sleek black or even red heels with the outfit.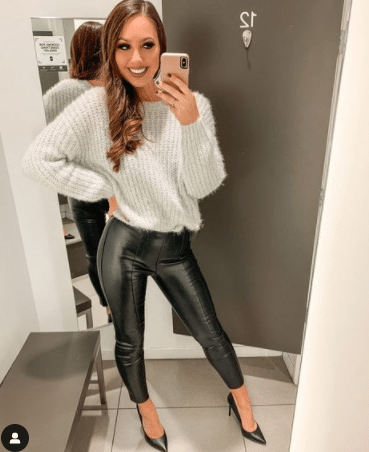 9- Pointed Toe Heels With Pants
A nice pair of pants with heels will help bring grace to your outfit and up your fashion game. A colored pant and heels outfit is a staple in any woman's closet. May it be a skinny, Capri or a pair of trousers pants it will always look good with heels.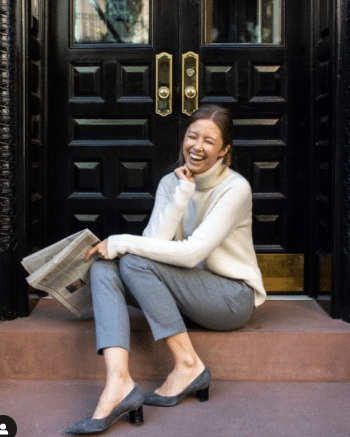 8- Ankle Strap Pointed Heels With a Skin-Tight Red Shirt
Ankle strap pointed-toe heels are the most girlish and sexy and always look fabulous with bare legs because they can make your legs look much longer. Short dresses or midi skirts are the outfits that will look great on you with these ankle strap heels. How about a skin-tight red short dress with a matching colored heel.
7- Ripped Jeans And Pointed Heels
Wearing ripped jeans can make you feel as casual as you can get. With a nice pair of ripped jeans, style a shiny, vibrant colored pair of pointed-toe heels. The ripped jeans look funky and these heels make your outfit even more, edgier and dainty. Try pairing your favorite ripped jeans with a loose shirt. A leather jacket is also a fun way to style your ripped jeans and heels ensemble.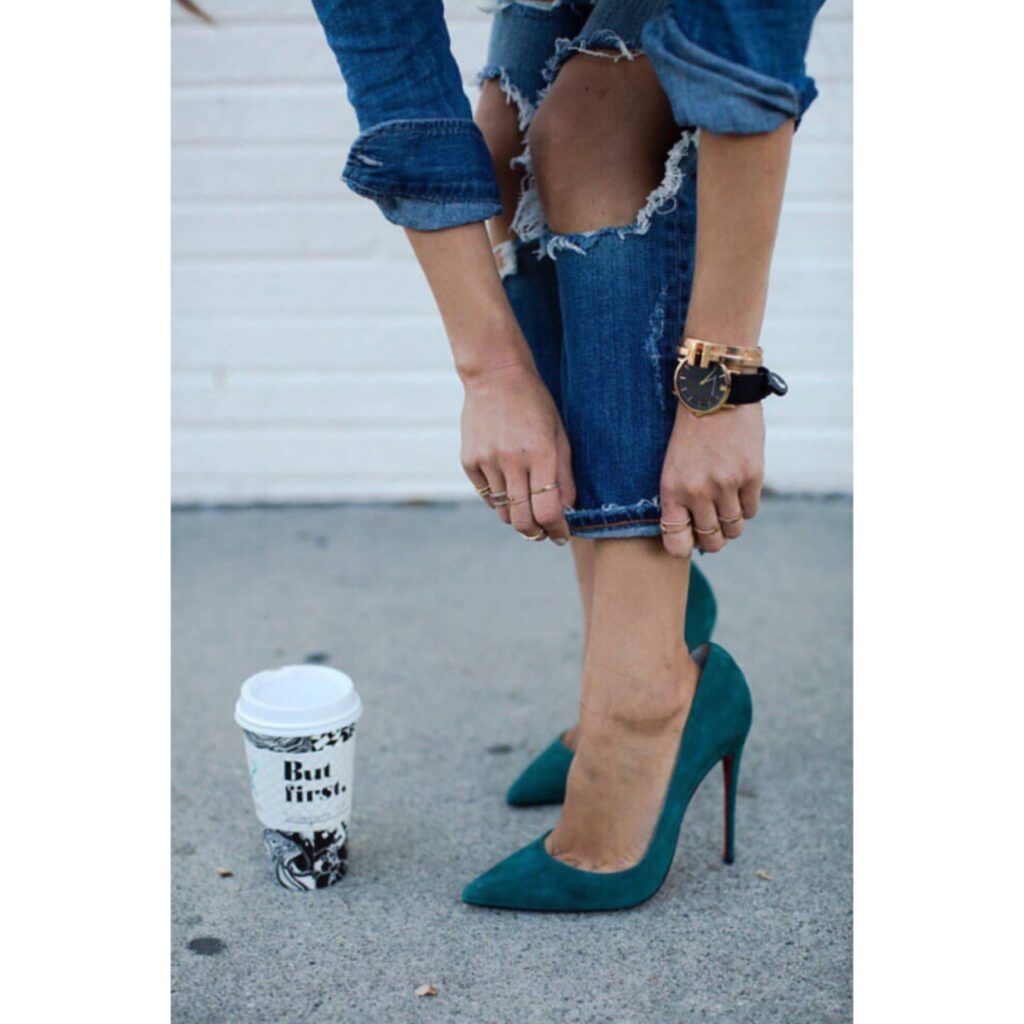 6- Army Pants With Pointed Toe Heel Boots
If you want to wear a tough look then try wearing leather pants with a tight black shirt and pair them with pointed-toe heel ankle boots. Wear these street style military pants on an office day or a casual outing and impress everyone.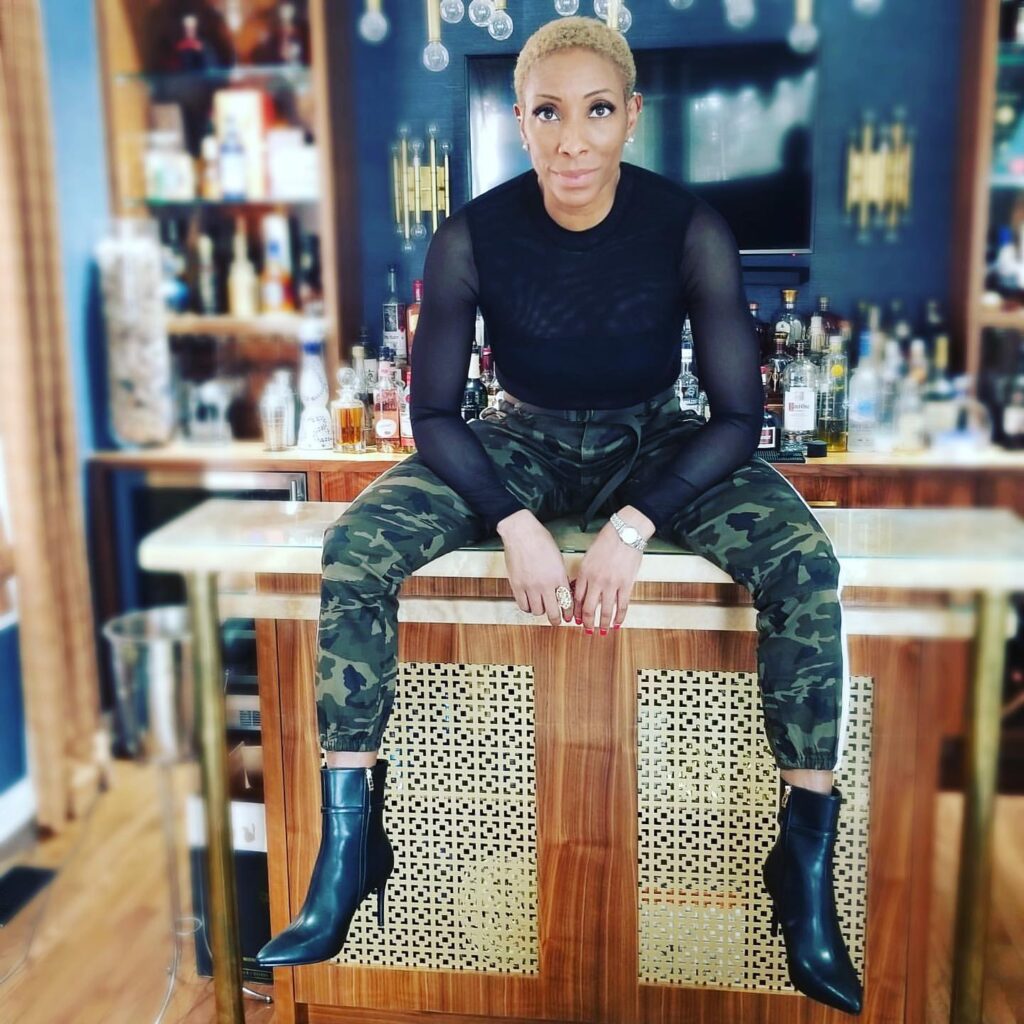 5- Khaki Trousers And Loose White Shirt With Red Heels
Khaki makes up a deadly combination with red. Red heels are the biggest statement that you can carry while sporting any look. The brightness the red color carries can only be matched with a lighter and much more neutral shade like brown. This summer opt for a lighter and more unique combination of khaki trousers and dark red block heels.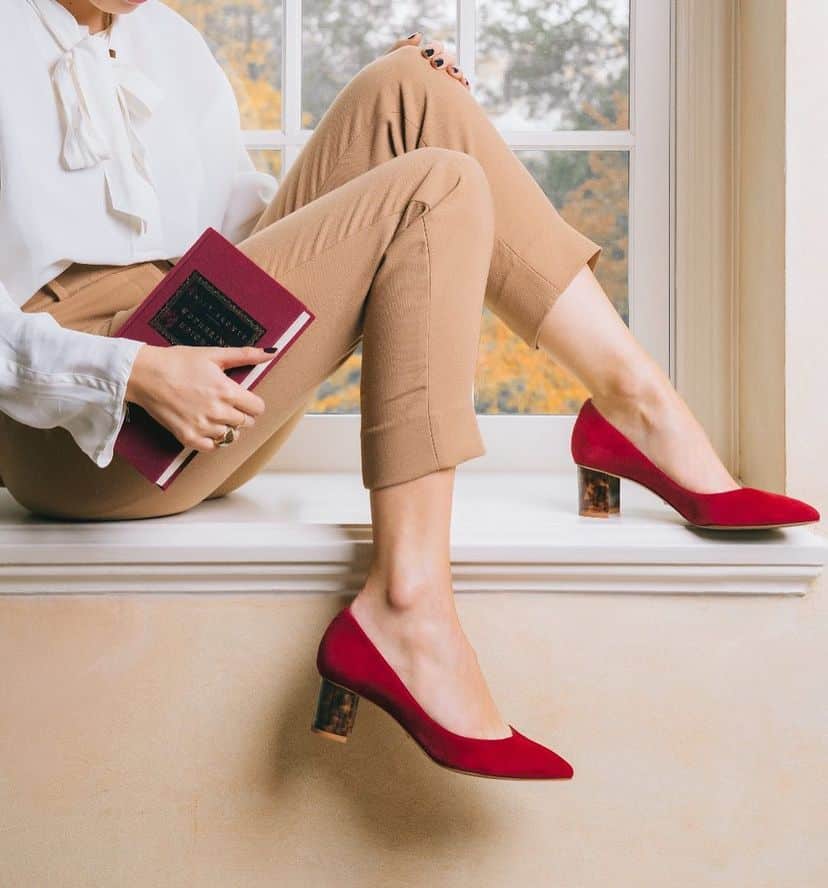 4- Pointed Toe Heels With A Short Floral Dress
Floral dresses are gorgeous and ladies love to flaunt their feminine side by wearing these types of dresses. They pair up well with all kinds of shoes but have a different class when worn with pointed toe high heels. You can also wear these dresses with tall boots or knee-high boots with pointed toes and heels. They are a perfect match with your floral dress and give you a complete fall vibe.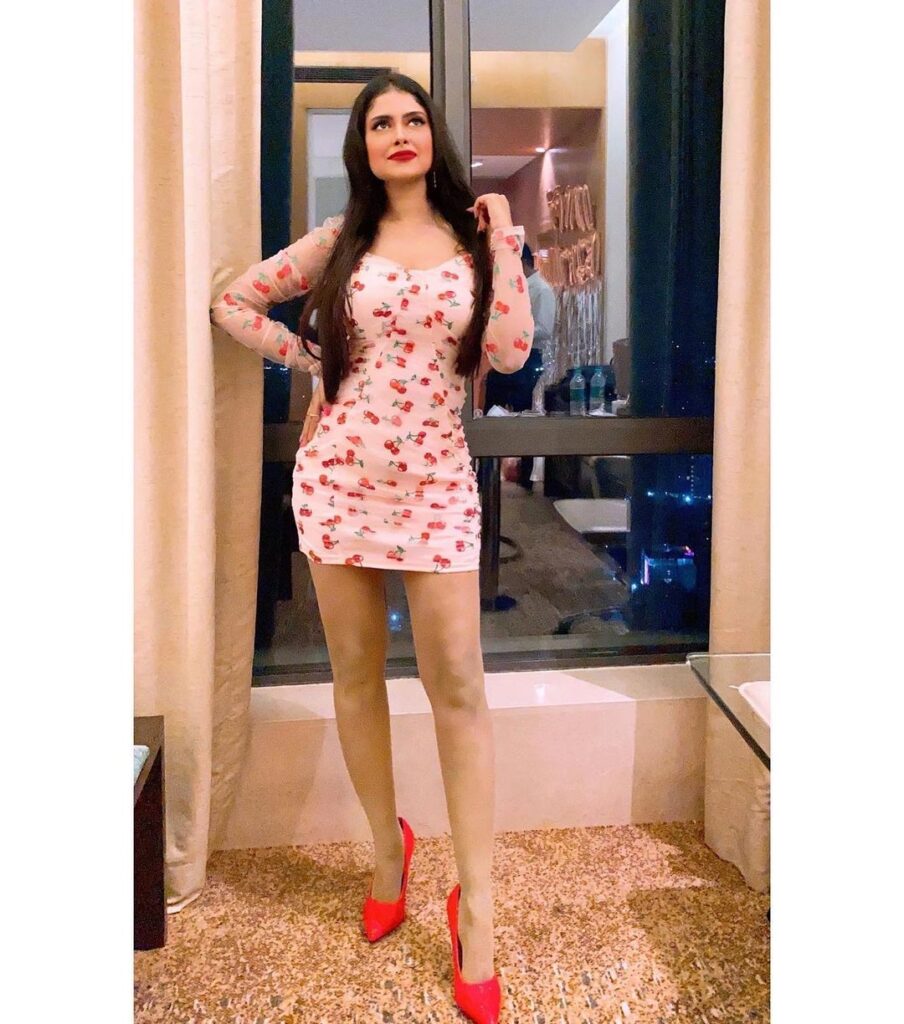 3- Long Strap Pointed Heels With Silk Shirt and Mini Skirt
Let the world see the real beauty that you are in a perfect full-sleeved silk green shirt with a shiny black mini skirt. Wear the classy and super sexy pointed-toe ankle strap stiletto heels with the outfit to show your sparkly side to the world.
Dangling earrings of your choice will complete this elegant party look.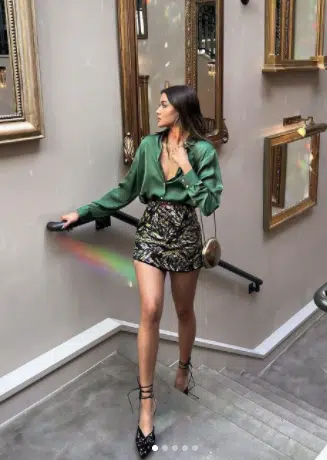 2- Pointed Toe Pencil Heels With Pencil Skirt
Pencil skirts are still in fashion and you have often seen them worn by celebrities. They are figure-slimming and make women look glamorous.
What's more gorgeous than wearing them with pointed heels? No matter what the occasion is, you can wear them anywhere you want. From wearing them to the workplace, parties, or just casual evenings out with friends.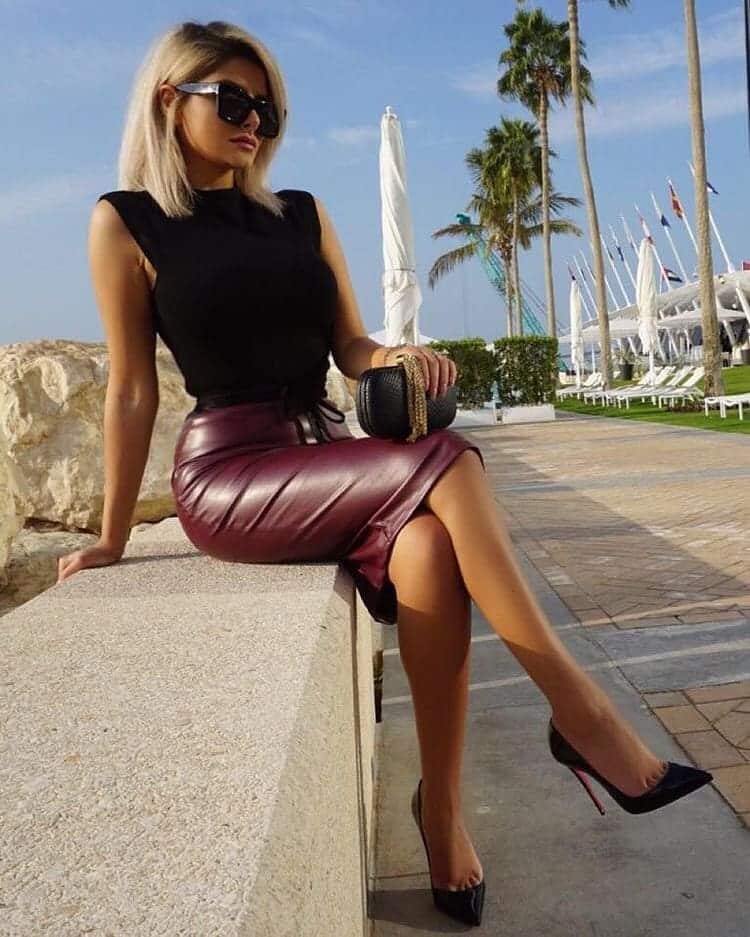 1- Colored Heels With White Collared Shirt And Blue Dress
A white collared shirt with a blue blazer and pants looks simple yet stunning when you style it with a colored pointed-toe heel. Let's match it with red heel and see the magic yourself.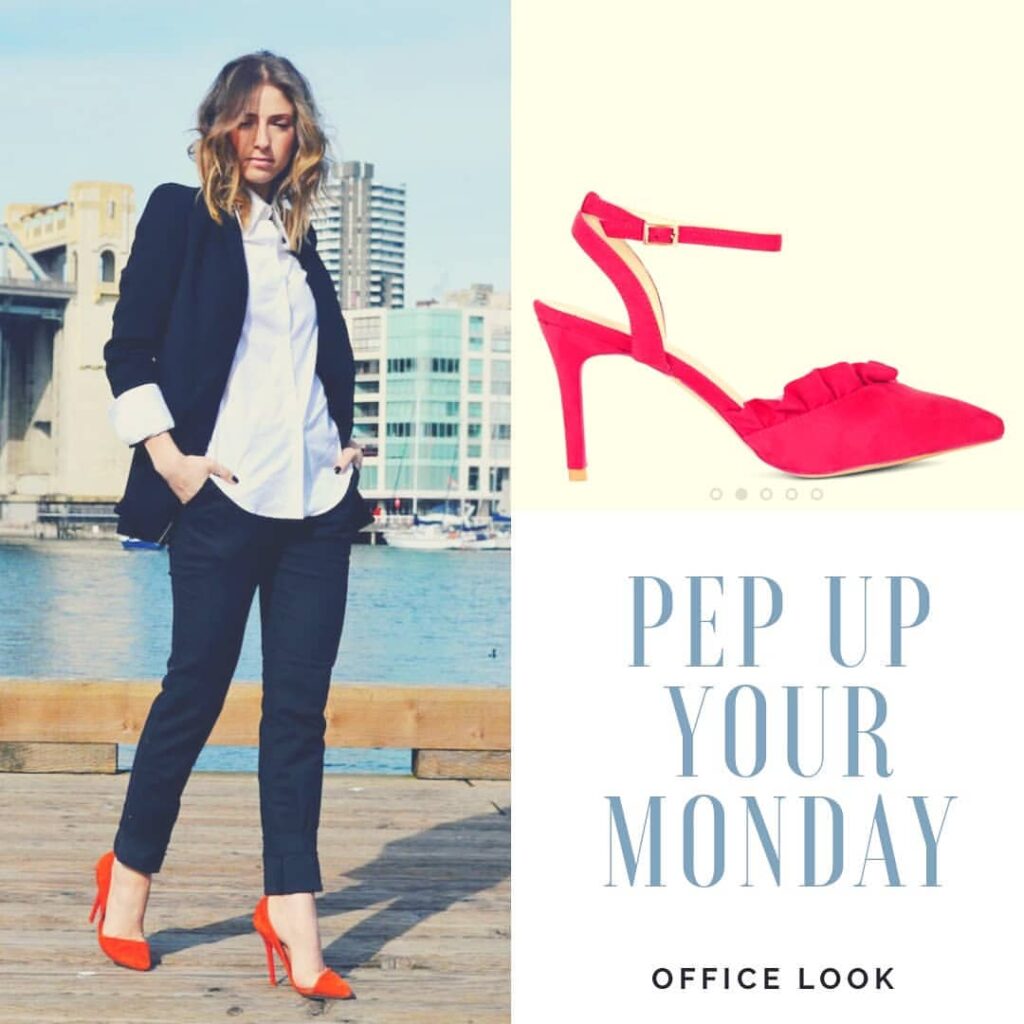 Frequently Asked Questions
Q. How can I wear pointy shoes without pain?
Don't wear pointy shoes daily to avoid irritation or pain. Learn a few tips and tricks and you won't be bothered anymore. Get the best-fitting pointed-toe heel possible for yourself. Use cushions or pads with these beauties to make your stride much more relaxed and comfortable.
Wearing a pencil heel often is not great for your feet. Try to wear thicker heels like block heels that are pretty good for stability and comfort. Check if your heel is still perfectly in shape before getting it out of your closet to wear. You should also be aware of the slope and pitch of your pointed heel.
Q. What do high heels say about a woman?
The confidence with which a woman carries herself out shows a lot about her personality. High heels give you more composure and self-belief when you walk. This is also defined by various studies that women who walk in high heels are viewed as more attractive than women in flat shoes by both men and women.
There are several theories supporting these views. This was also acknowledged by the biomechanical analysis done by researchers as they found out that high heels give women a more feminine gait and hence make them more appealing to the opposite gender. So, wear your favorite kind of heel and feel confident and admired.
Q. How do you dress with block heels?
One of the most adored ways to wear block heels is to pair them with jeans and a pretty top. You can also add a jacket to make it a more casual office attire. This will also be a perfect dress to wear on a night out with your special one.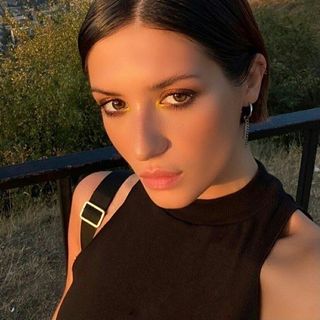 Avid reader and Fashionista. London Based freelance lifestyle editor