How to Wear Platform Heels – Would you like to wear the ever-trending platform heels and look like a diva while wearing them? Like all the celebrities following this nostalgic fashion trend that has come back from the past.
I remember our mothers talking about such heels in our childhood, and now we are the ones ready to pull them off!
Platform heels, also known as ankle-breaking heels, have been a recurring fashion trend for ladies all around the globe. Although they are much easier than pencil heels, if you are somebody who has never worn high heels, you should definitely try your shot with these ones.
What to Wear With Platform Heels?
There are numerous ways you can style your whole outfit according to your platform or your platform stiletto heels. From your everyday look to a fancy dinner date, platform heels fit in everywhere.
Tips on Styling Outfits with Platform Heels
Wearing platform heels is pretty easy. Just keep in mind these tips to easily pull them off.
Platform heels come in various shapes, sizes, and colors. Keep in mind the color palette of your outfit and how well it goes with your heels.
Choose matching jewelry to boost your whole classy look. You can wear some anklets to make your feet stand out more.
Never miss out on handbags and sunglasses to make you look nothing less than a diva with platform shoes.
Designer or not, platform heels would look good in any! Knockoffs are the new trend these days.
If you are feeling a little chicer, wear something extra like neons or flairs, and your platform heels will level up your whole look in no time!
You can wear platform heels on any occasion, whether a casual day out or a beach day. Just make sure to choose the appropriate heel color.
20 – Office Look – Platform Heels with Jeans
Who said you can't wear platform heels to work? Platform shoes can go so well with your whole professional attire. You will get to wear heels in your office that follow your dress code and be comfortable enough in them! I doubt you will crave more comfort than you already get by wearing these.
Wear a black mock neck tank top and some high-rise jeans, and go for a simpler look. And never forget, minimal jewelry doesn't harm anyone!
Lastly, add a shoulder bag to complete your whole office look in no time!
19 – Casual Outfit with Platform Heels
Want to wear platform heels, but there isn't any special occasion coming up soon enough? Why wait for any special day when you can wear platform heels every day in your casual outfits?
Just throw on your favorite everyday white shirt and some high-waist blue jeans, and wear that platform heels you adore, and your whole look is complete!
Who knew pulling off platform heels would be this easy, with little effort?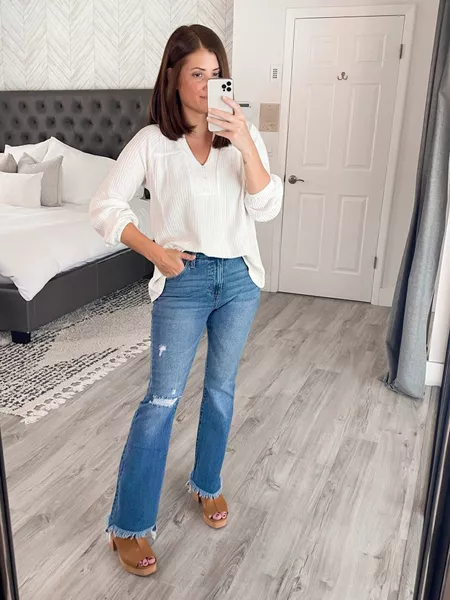 18 – Pair Metallic Platform Heels With A White Dress
We have talked about black, white, and even beige platform heels, but metallic ones are yet to be mentioned.
Metallic platform heels would go well with any outfit, but if you wear a white dress on a casual day out with your friends, you will look nothing less than a model.
This metallic look will enhance your whole look and complement your skin tone!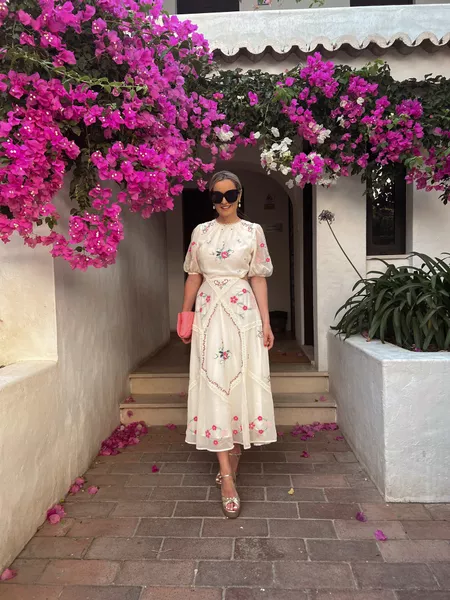 17 – Minimalistic Platform Shoes
Another trendy design for platform heels is the minimalistic fit with heels. You will end up boosting your confidence once you wear these heels! They look as amazing as ever.
This light outfit of the day will make you look like an aesthetic model with a lot of elegance.
Finish off your look with some jewelry and sunglasses to beat the heat, and you are good to go!
16 – Cream-Colored Skirt With White Top & Blue Platform Heels
Nothing can go wrong with a little bit of blue. Blue is a color that nobody can hate, it is known to bring a feeling of peace to the eyes, so if you want to go for a softer look yet still stand out from the rest, then this one is just for you!
Wear your white top and pair it up with a cream-colored long skirt with a hint of blue. Your blue platform sandals come to save the day with their minimalistic visuals.
Throw on a blue matching handbag and matching jewelry to amp up your whole outfit effortlessly.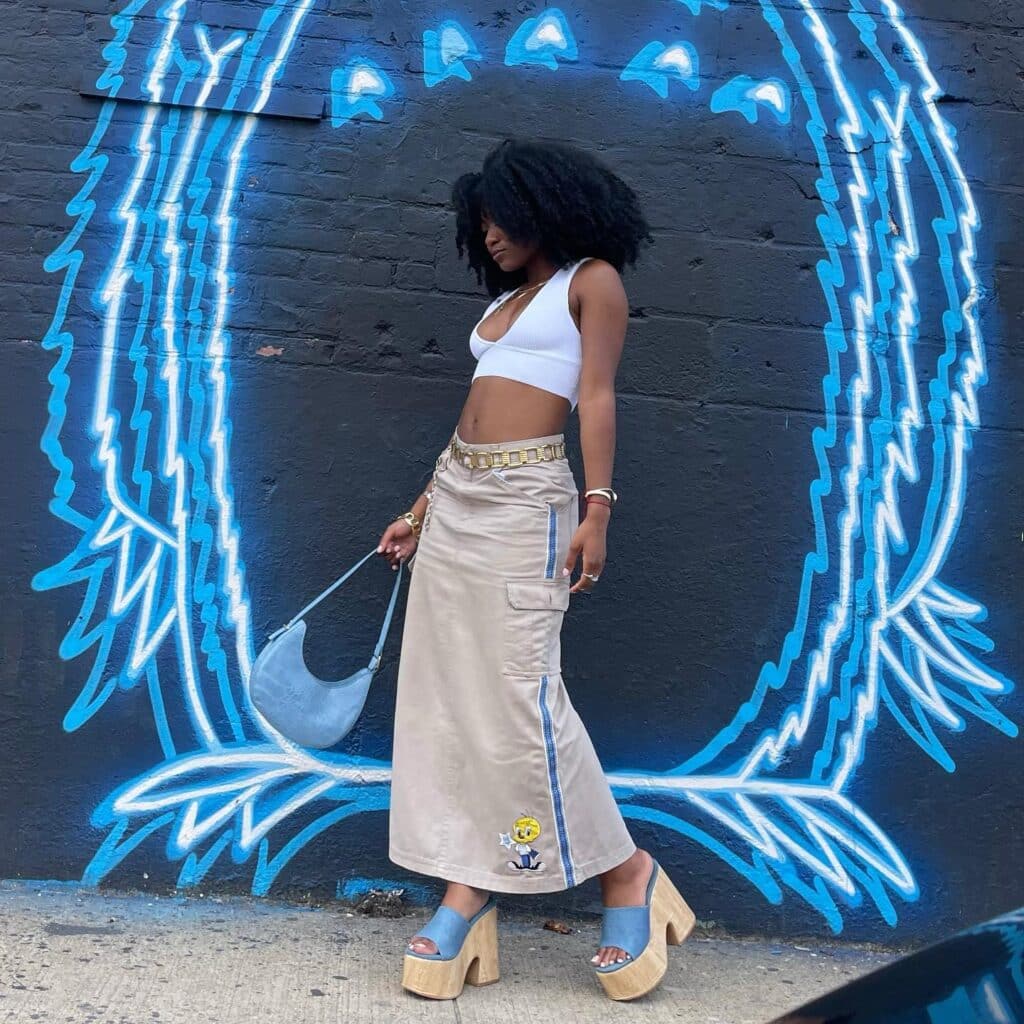 15- Stand Out With Bright Green Top And Yellow Heels
The title says it all. If you are too insecure or skeptical about wearing bright colors in daylight, let me tell you a secret. Everybody adores a pop of vibrant colors if paired right. Nothing too extra, nor too simple.
Wear a sling elastic top along with yellow-color platform high heels, and to make the look a little more toned down, throw on white high waist pants.
If you go for this cute look, you will look like nothing less than a diva!
14 – Pair Platform Heels With A Bodycon Dress
A beachy yet everyday look is on its way, floral yet simple and elegant. Put on your bodycon dress and pair it up with platform heels. Rest assured, you will look pretty classy with just these two simple items.
Some matching bracelets and earrings will only make your whole outfit look better than ever! You will ace this whole attire on a simple day out with your friends!
13 – A Day At The Beach
If you plan to go to the beach or sit by the pool and look like a model, then go for something simple that complements your skin color.
Wear a floral yellow and blue swimsuit and some yellow super high platform heels. You will look gorgeous. With some sunglasses shading your eyes, you are ready for your model-like photoshoot for your blog accounts!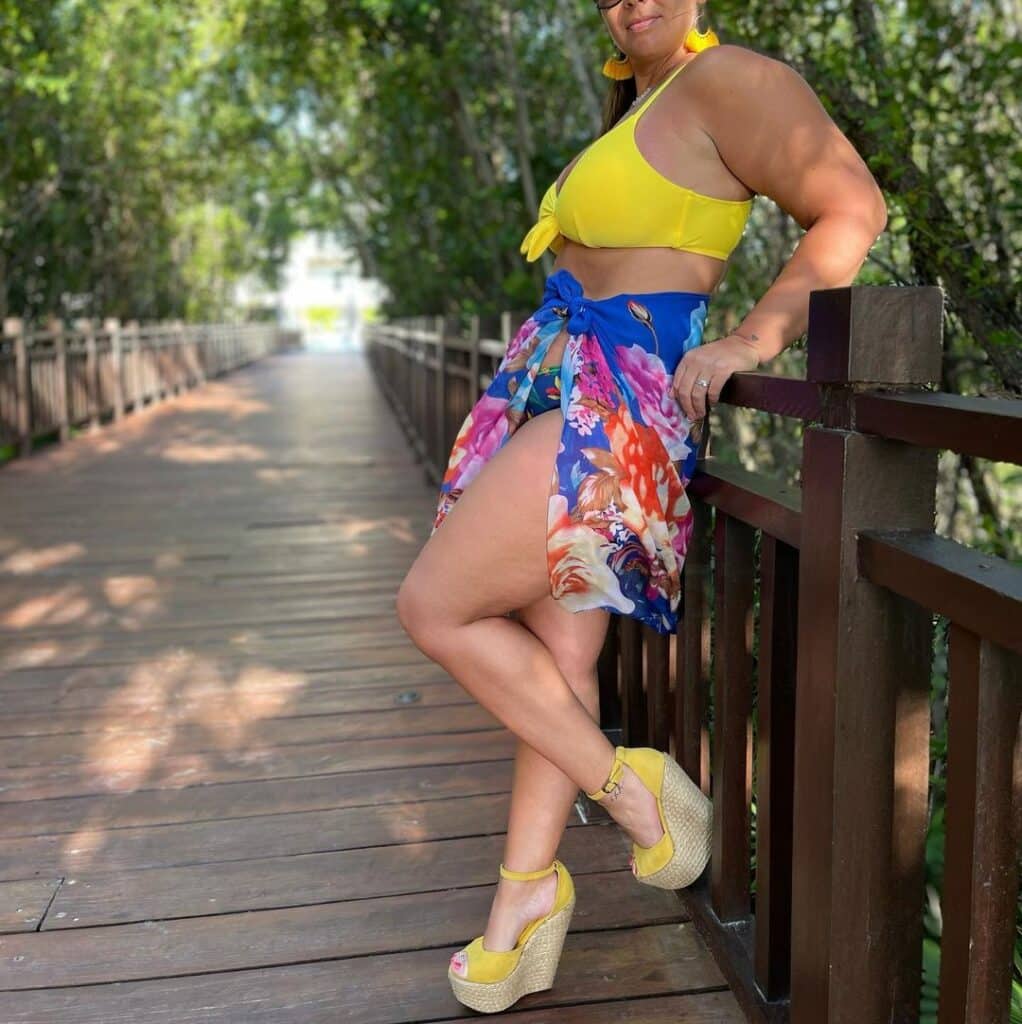 12 – Cutesy Dress and Platform Heels
It is a bright, sunny day, and you are on your way to having a cute coffee date or just being outside on such a beautiful day. For days like this, you need a gorgeous dress to feel good in.
All you have to do is throw on your nude-colored platform heels and a floral green midi dress.
Further, hold onto a nude-colored handbag that matches your heels and your favorite sunglasses. That's it, and you are ready for your date!
11 – Perfect Fall Look in Neutral Colors
All the perfect nude colors for the fall season are here to save your day!
Get yourself a matching business casual blazer and pair it with any simple white t-shirt. You look cute and professional at the same time.
Add platform heels, they will work very well with some beige-colored blazers and high waisted beige pants. That's it and you are ready to slay this fall look.
10 – Floral Summer Dress Of The Day
A bright summer day and a long dress are the perfect duos you would want to try out, and if you have matching platform heels, that is a cherry on top!
Long dresses and platform shoes go hand in hand. You look fabulous instantly! Wear heels that match your outfit or its base color, and you are ready to flaunt your beautiful look to the public!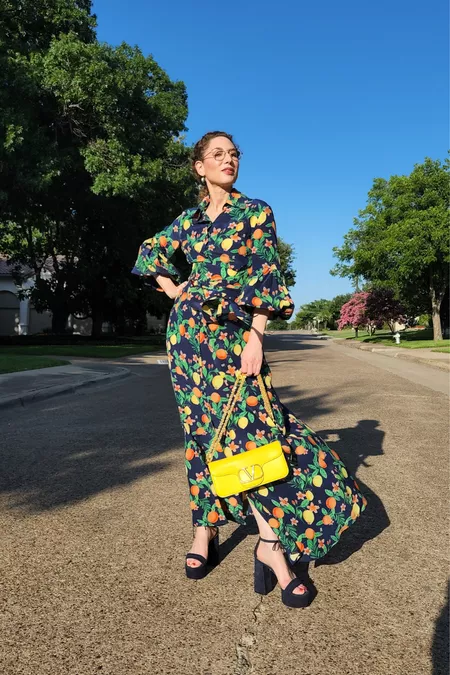 9 – Tye Die Two Piece Set With White Platform Heels
8 – All Black Fit
Are you looking for a more gothic look with your chunky platform heels? Then worry no more; just throw on your favorite black bodycon mini dress and pair it up with your black heels. That's it, and your bold look is ready for a night out partying.
This gothic-styled fit is enough to complement your whole look of the day and make you the center of attention wherever you go.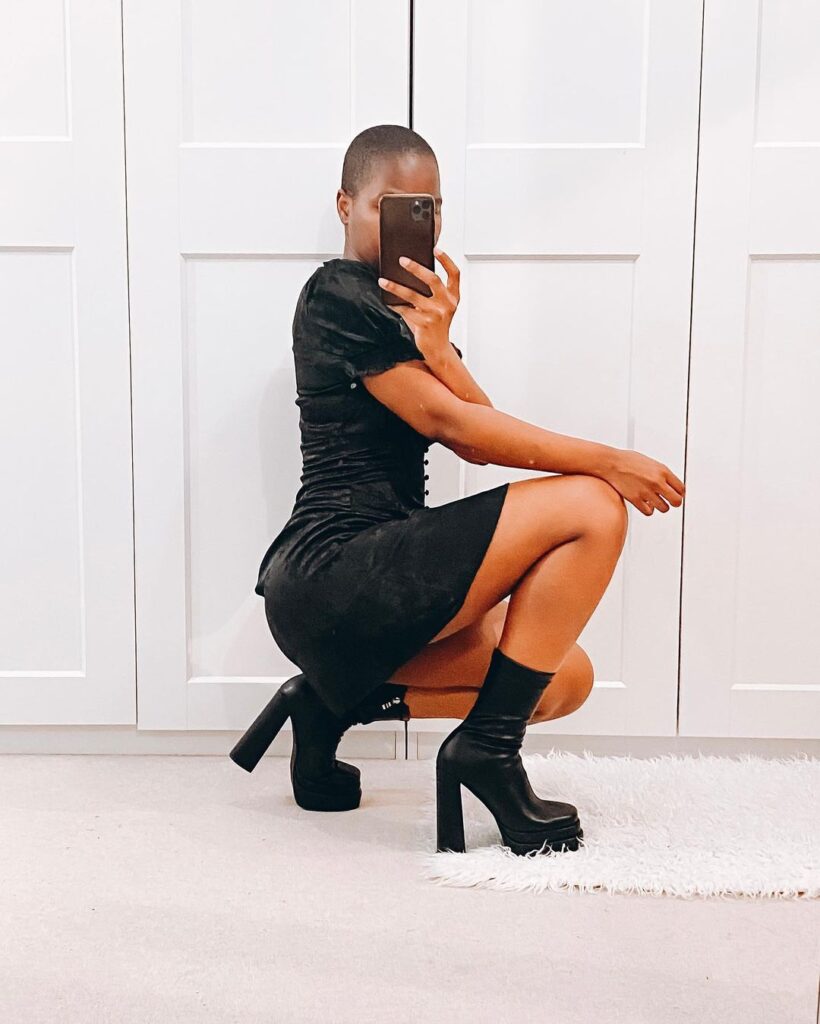 7 – A Whole Pink Ballerina Look
Go all pink with this outfit, even your heels! In this tulle dress paired with platform heels, you will look like a ballerina.
Plus, platform heels are much more comfortable than ballerina shoes, anyway. These heels will make your whole pink look stand out as it matches perfectly with your dress and your purse.
6 – Picture Perfect Birthday Girl in Pink Dress
Is it your birthday or another fancy event where you must dress up in pink and look pretty?
A pink shade complements white so well; you can always pair up a mini dress with white platform heels and finish off your whole look with these two simple things in no time.
Undoubtedly, your minimalistic and simple look will steal the spotlight on your special day!
If you are looking for birthday outfits, check out this post on Girls' 18th Birthday Outfits.
5 – Go Extra With Long Dress And Platform Heels
This is your go-to outfit if you don't know how to style chunky platform heels. Wear them with a long dress and add a belt for extra glamour.
All purple will make your femininity sparkle more than ever. Along with some classy sunglasses, add matching purple bag to enhance your overall look.
4 – A Perfect Party Outfit for Black Lover
Another all-black fit which you can wear to a club or out partying with your friends. For a bold look of the day, pair up your bikini top with a mini skirt and a matching black blazer.
The day's highlight is the black platform heels that will make you look as alluring as ever! Comforting as it perfects your posture for a fancy look.
This all-black fit goes so well that it will have everyone drooling!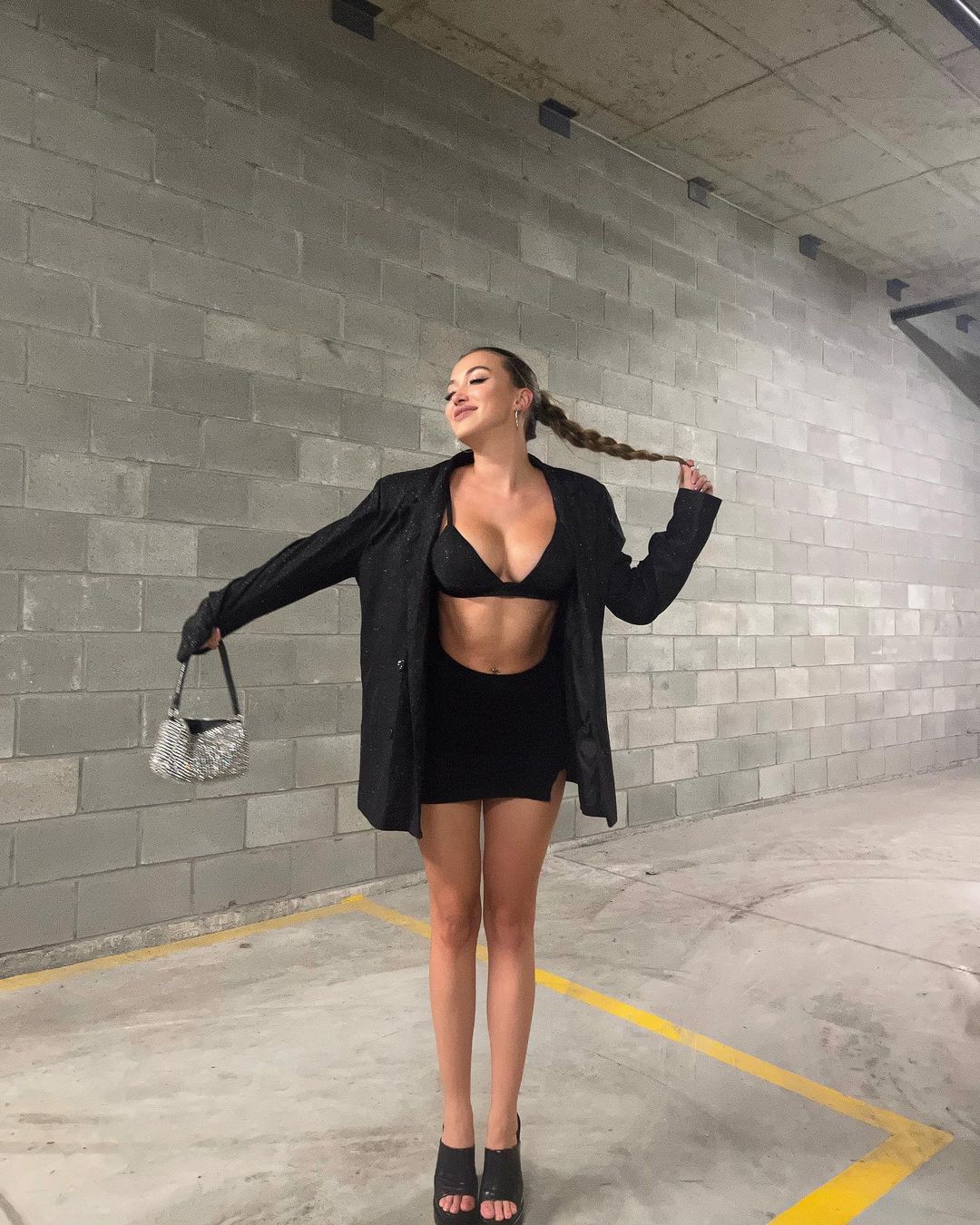 3 – White Silk Dress With Black Heels
This simple look is perfect for a trip down the adventure land of a foreign street or place you are wandering around. Platform heels are comfortable yet classy, which is why they are perfect if you have to walk a lot.
You can throw on a short silk dress and tie a bun for a casual traveler look.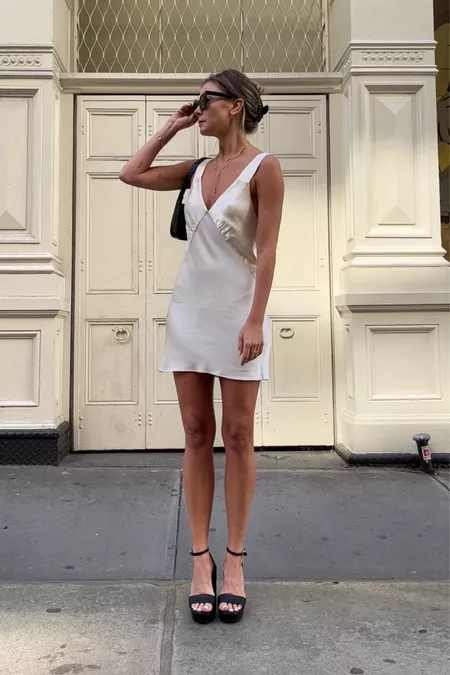 2 – Blue Platform Heels with a Blue Dress
Tired of shorter heels and want to go a little extra high? That is pretty easy until you know how to walk in them! They do look alluring and make your whole posture look eye-catching!
These higher-than-ever platform heels are everywhere to be found and look as fabulous as ever. Wear a little blue dress to enhance your calves and legs on a day out in a foreign country, and you are perfectly ready for your Instagram feed!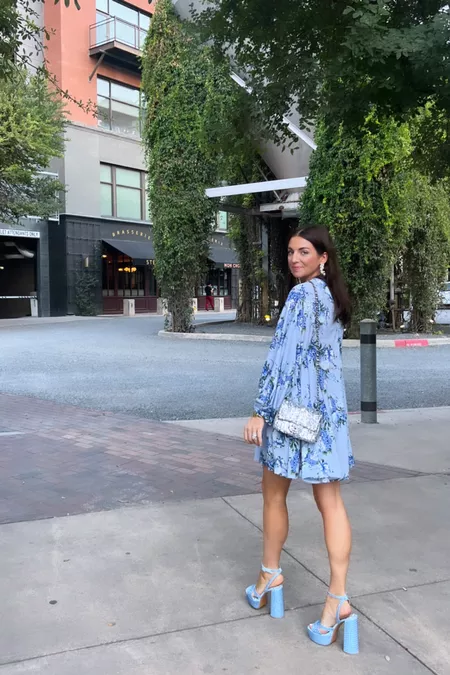 1 – Independence Day Look
Is it the 4th of July already? These platform heels perfectly match you if you are celebrating America. With the flag's colors, you can wear an orange or blue dress to top it all off. Add printed blue platform heels to complete the look.
You can wear something that matches your country's flag on your independence day and simultaneously be a fashion statement.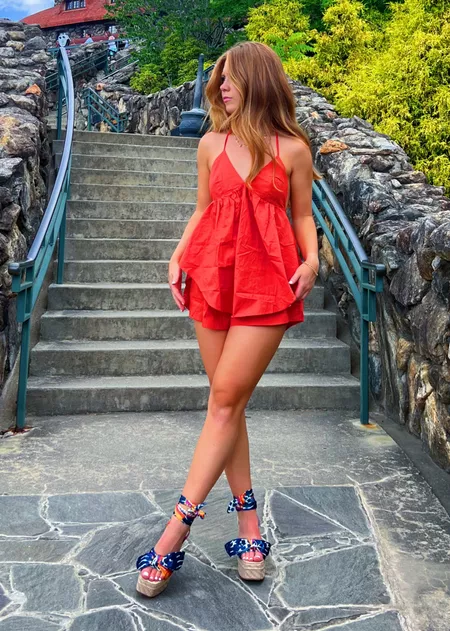 Frequently Asked Questions
Q. What do platform heels go with?
Ans. Platform heels go well with any occasion and outfit. You can easily pull off your platform heels from a monochrome fit to a bikini or swimsuit.
Q. Are platform heels easy to wear?
Although platform heels are ankle-breakers, they are much more comfortable to wear than any other heel as their platform style gives more comfort. The higher the platform, the lesser your feet arches, and the more comfortable it is to wear them.
Q. How do you walk in platform heels?
These heels are just like any other shoe, just a little higher. But also much more comfortable than the famous pencil heels and a lot easier to walk in. Just stride with smaller and slower steps, and you are good to go! No special hack to pull these off.
Q. Why are platform shoes so popular?
Beginning in the 1930s, platform shoes have been a recurring fashion trend worn by many influencers and celebrities as they resurfaced on a much bigger scale in the 2000s. These heels are famous for their alluring appeal and the comfort and height they give to the person wearing them.