Best Kurta Styles For Women: All of us at some point get exhausted wearing the same old tops and trousers for literally any occasion. Be it for work, or just a casual day out with friends, sometimes, we all feel the need to spice up our outfits, don't we? Now, if you are looking for something comfortable and fuss-free, perfect staple items for work, festive occasions, or even a day out with friends, we've got you covered!
A chic way to add a bit of spice to your wardrobe and to add a bit of fusion and a 'desi' element to your everyday fits is to incorporate kurtas in your collection! Yes we know, ethnic wear usually comes with the notion of being worn on special occasions or on festivals, but how cool would it be to incorporate it into your regular wear too? Sounds just about exciting to us!
To help you discover some of the best kurta and kurti styles, we have put together a list of the latest styles and trends in kurtas for women. The list contains a variety of styles and styling tips to help you get inspiration for your next look, whatever be the occasion. We've got a bunch of old and new trends because just like history, fashion likes to repeat itself! Read on to discover some of the latest kurta styles and trends and elevate your fashion game!
Latest Kurti Designs
The list is endless when it comes to different kurta styles and patterns. With major trends making a come back in the fashion scene, we have seen a come back in a lot of different styles of kurtas and kurtis too. From Angrakhas to indo-western designs, the options to choose from are limitless.
While a classic to make a fashion statement, they make for great and easy options for work as well as college students too! Something this versatile can honestly never go out of style. With the right accessories and the right way to style them, you are sure to never get bored of ethnic wear in your day-to-day wear.
A bonus to this is that they make for such gorgeous flattering pieces on any body type, so all you girls young and old can be looking like a million bucks daily!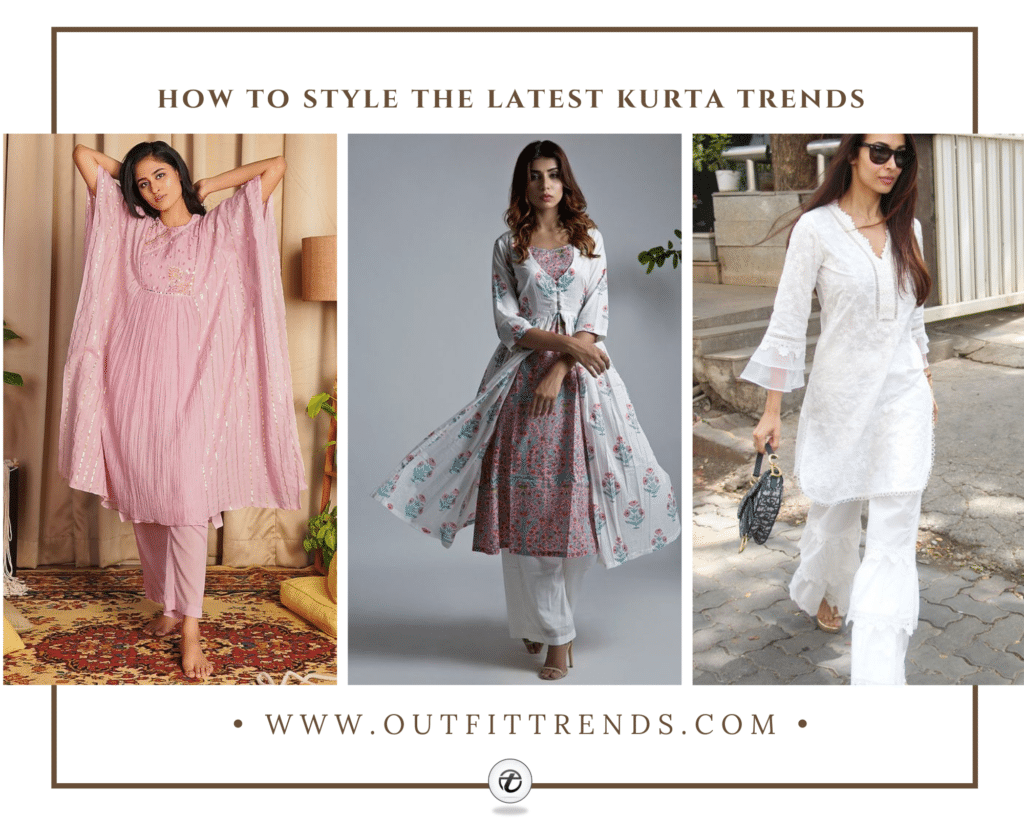 Tips To Remember When Wearing a Kurta
Choose fabrics thats are perfect for all weather types. You can definitely have a few that are perfect for specific to the season like velvet based kurtis for the winters and cotton for the humid and summer months.
Wear colours that compliment the occasion and those that compliment you. A good way to see what colours suit you best is to refer to colour chart. That helps bring out your natural colour and lights your outfit shine as well!
Opt for black or darker tone outfits if you are looking to achieve a slim silhouette. Darker shades are best born for evening fetivities!
If you are not comfortable in tights or leggings, opt for ciggarette pants. They make for the perfect alternative to leggings and help you achieve the same look.
For formal wear, you should go with one of these Party Kurta Styles.
15 – Pair Solid Kurtis with Embroidered Shawls This Winter
For the winter season, take out your faovite shawl and get plain or solid kurtis in any of the base colors, add some eye-catching accessories and you'll have a fabulous look like the ones shown below. Here are some more Ways to Carry a Shawl Like A Diva.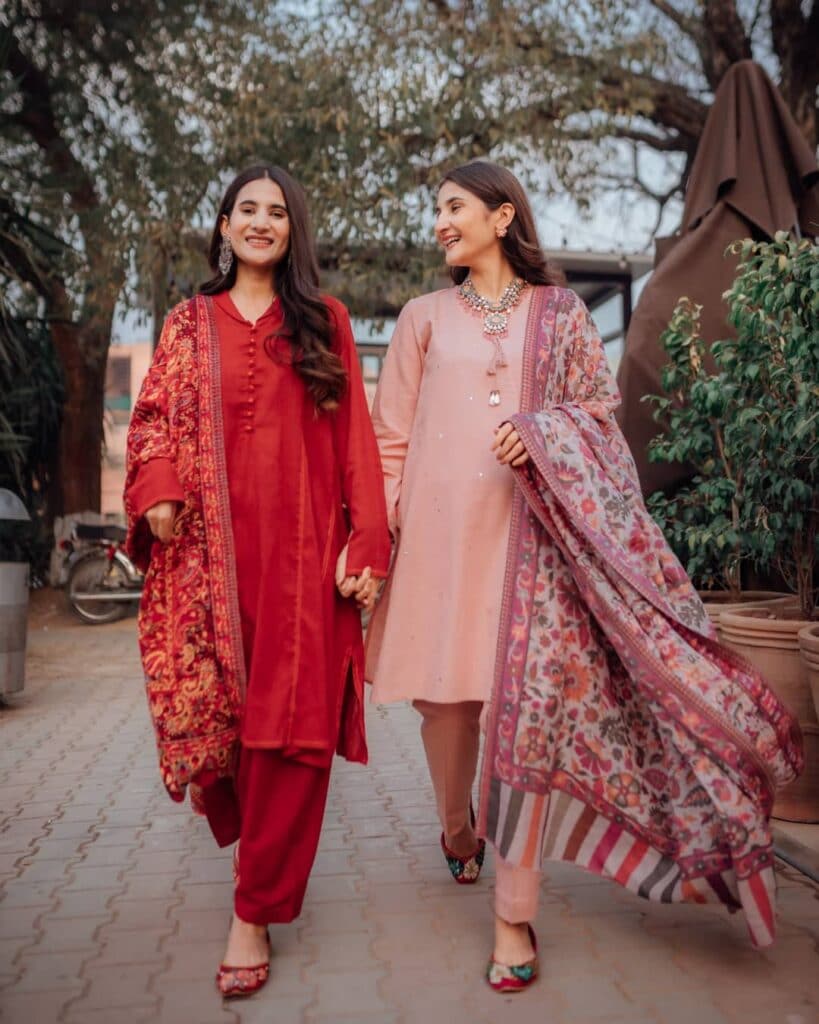 14 – Go For Statement Neck Designs for Your Kurtis
In the age of minimalism, where most of us prefer going for solid colors or monochrome looks, it's a good idea to make a style statement with your kurtis neck design. This can apply to both the front and back of your kurta. You can find more ideas on this from our post on Neck Designs For Suits.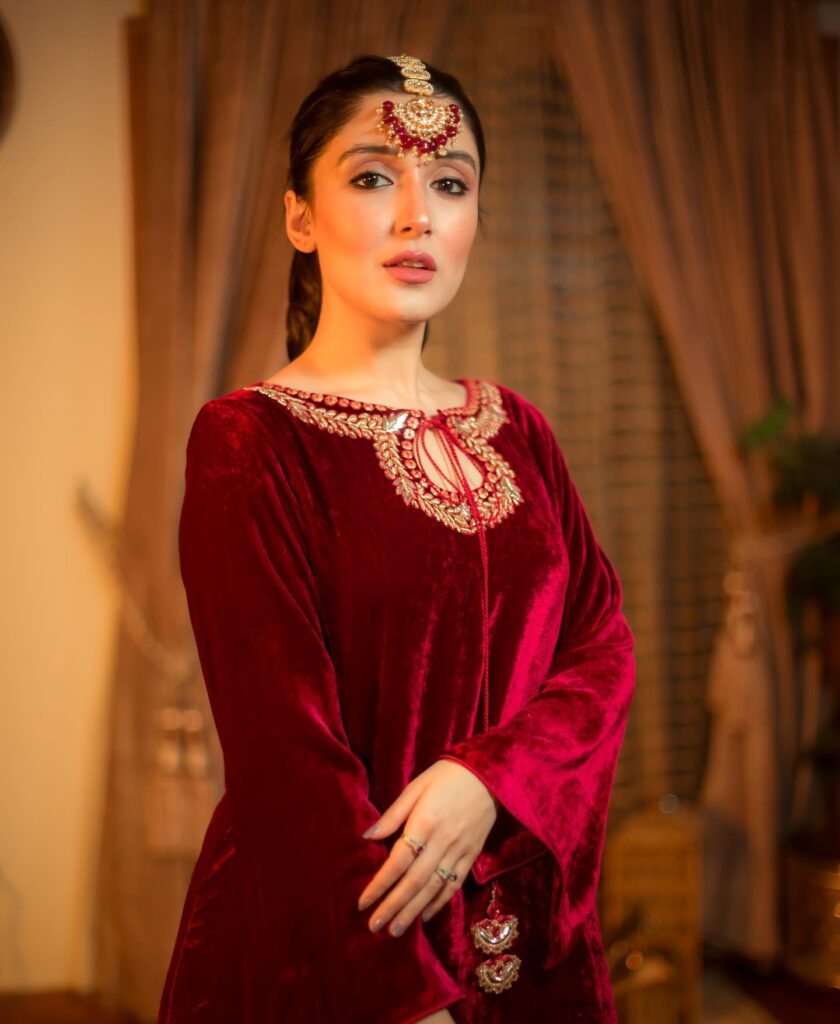 13 – Matching Sets but Desi
Matching co-ord sets have been really popular last year and they have now made an entrance in desi wear too. Prints on prints are a treat for the eyes in the Spring season so don't forget to get yourself a pair of matching kurti and trouser set.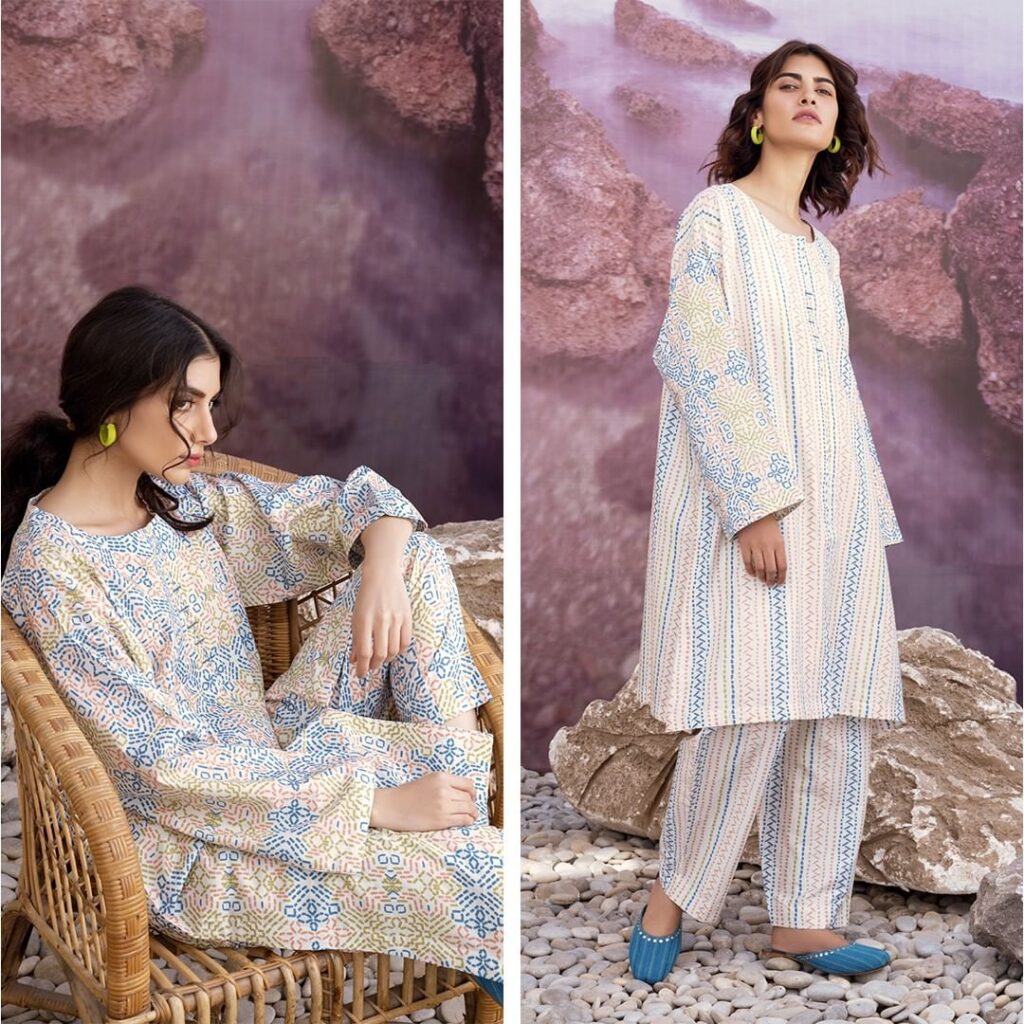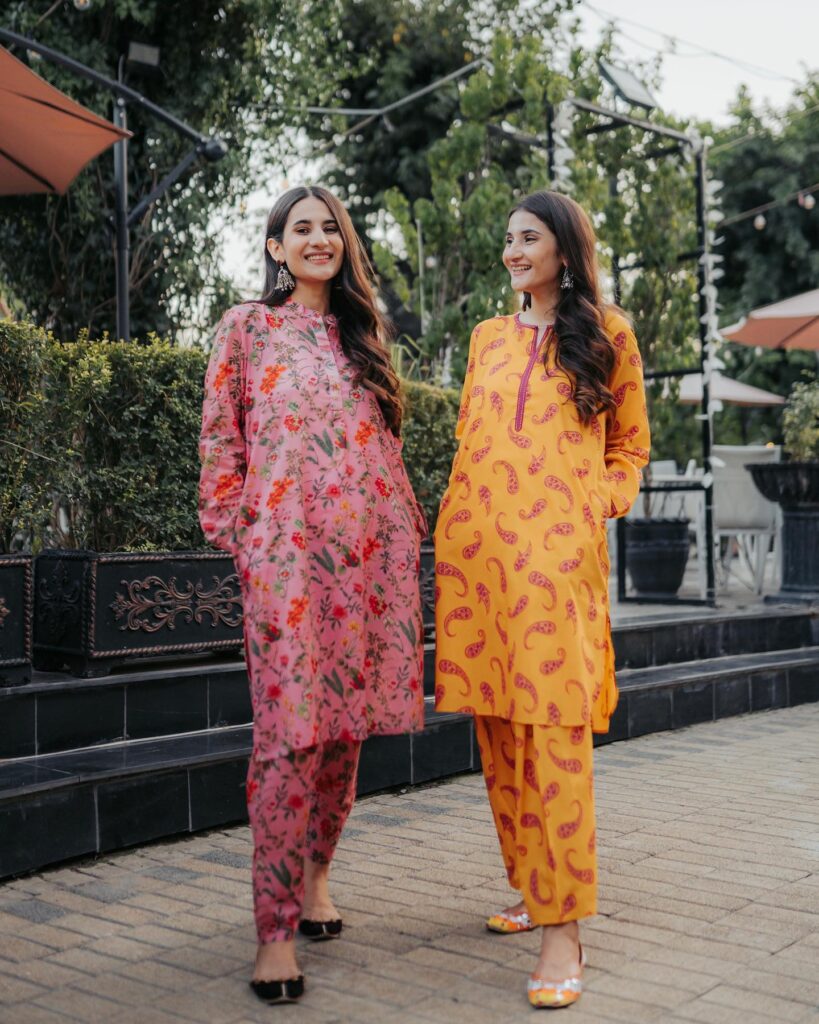 12 – Try a Contrasting Dupatta
Love this look that can be carried for casual and semi-formal wear. Instead of matching dupattas, go for a contrasting dupatta and matching bell bottoms.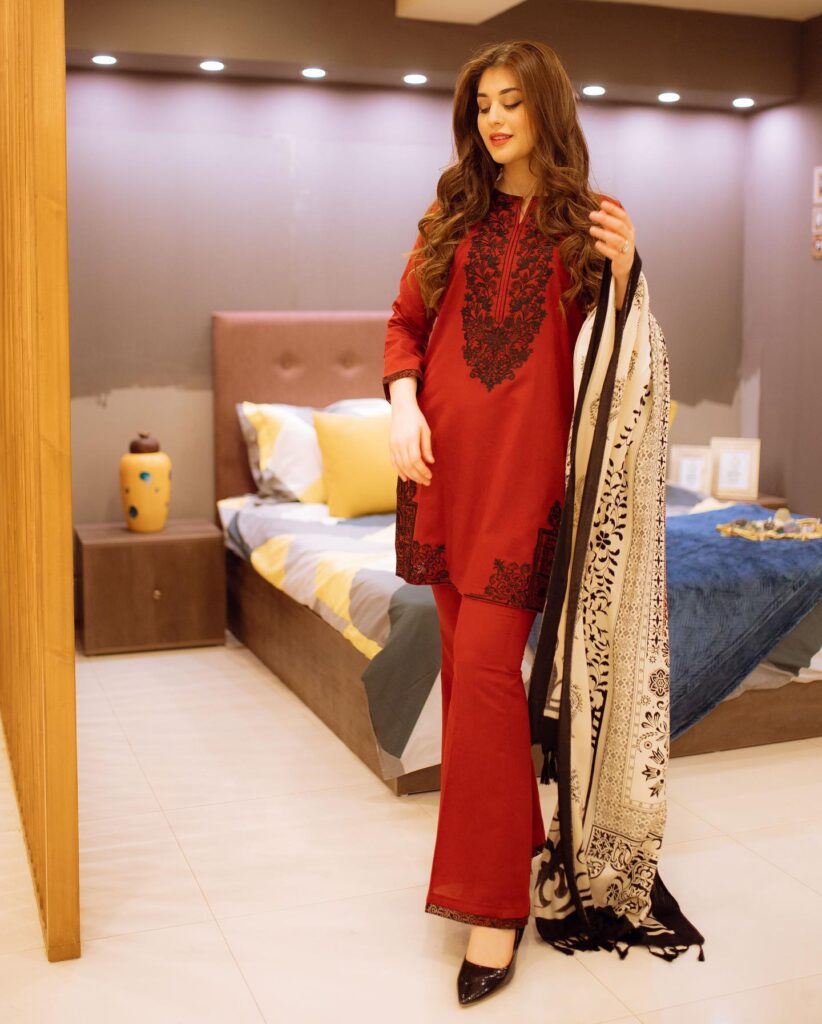 11 – Try Mirror & Gota Embellished Kurtis with Palazzos for Weddings
If you're looking for a fun and vibrant wedding guest kurti outfit then this is the best look you can go for. Bright colors like pink and yellow will be trending this year and they look amazing with golden gota or embellishments on them. Such shirts can be paired with a shalwar for a traditional look or a trouser for a more modern look.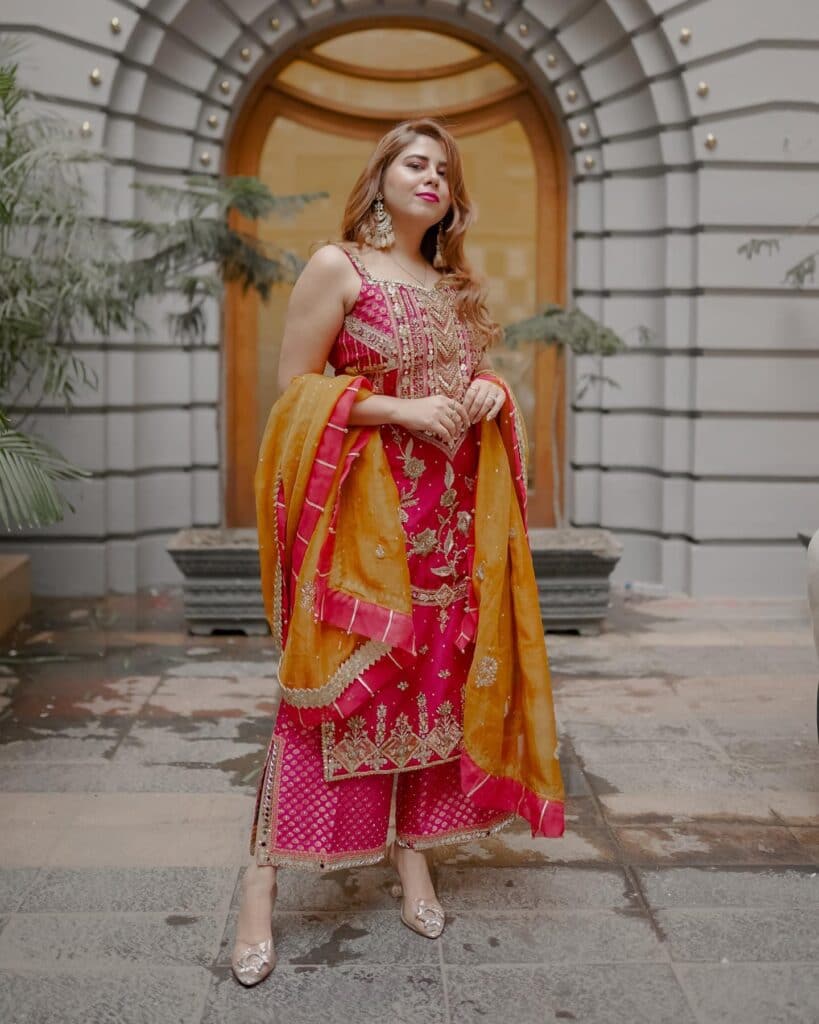 10 – Pair a Loose-Fitted Kurta With Jeans or Cotton Pants
Are you working from home and have an urgent zoom call to attend but haven't figured out what to wear? Why not create a simple yet chic look perfect for work-from-home comfort that also makes you look put together for those urgent Zoom meetings with a chic loose-fitted kurta with jeans or some cotton or linen pants?
This makes for a great option for the summers and days when you want to look like you have put in a lot of effort into your outfit. You can easily pair this outfit with a pair of silver oxidized earrings, minimal makeup, hair tied back in a low pony for an effortless look.
It is perfect for work, college, even brunch with friends! If you like this look then do check out these tips on how to wear kurtis with jeans.
9 – Create A Gorgeous Day Look With Maxi Kurtas
Maxi kurtas are all over the market right now, as they should! Something as trendy and chic as a beautifully printed cotton maxi kurta can help you achieve a super cute summer look. It is the perfect choice for intimate family gatherings, pujas, an office event and so much more.
It is the perfect blend of indo-western that lets one achieve the look of a dress while letting the ethnic aspects of the outfit shine through.
It can be kept simple with minimal jewelry and other accessories but can be turned into a dressy ensemble simply by adding loads of chunky silver statement pieces. Instead of a maxi, you can even try the same look with an anarkali kurti for a chic ethnic look.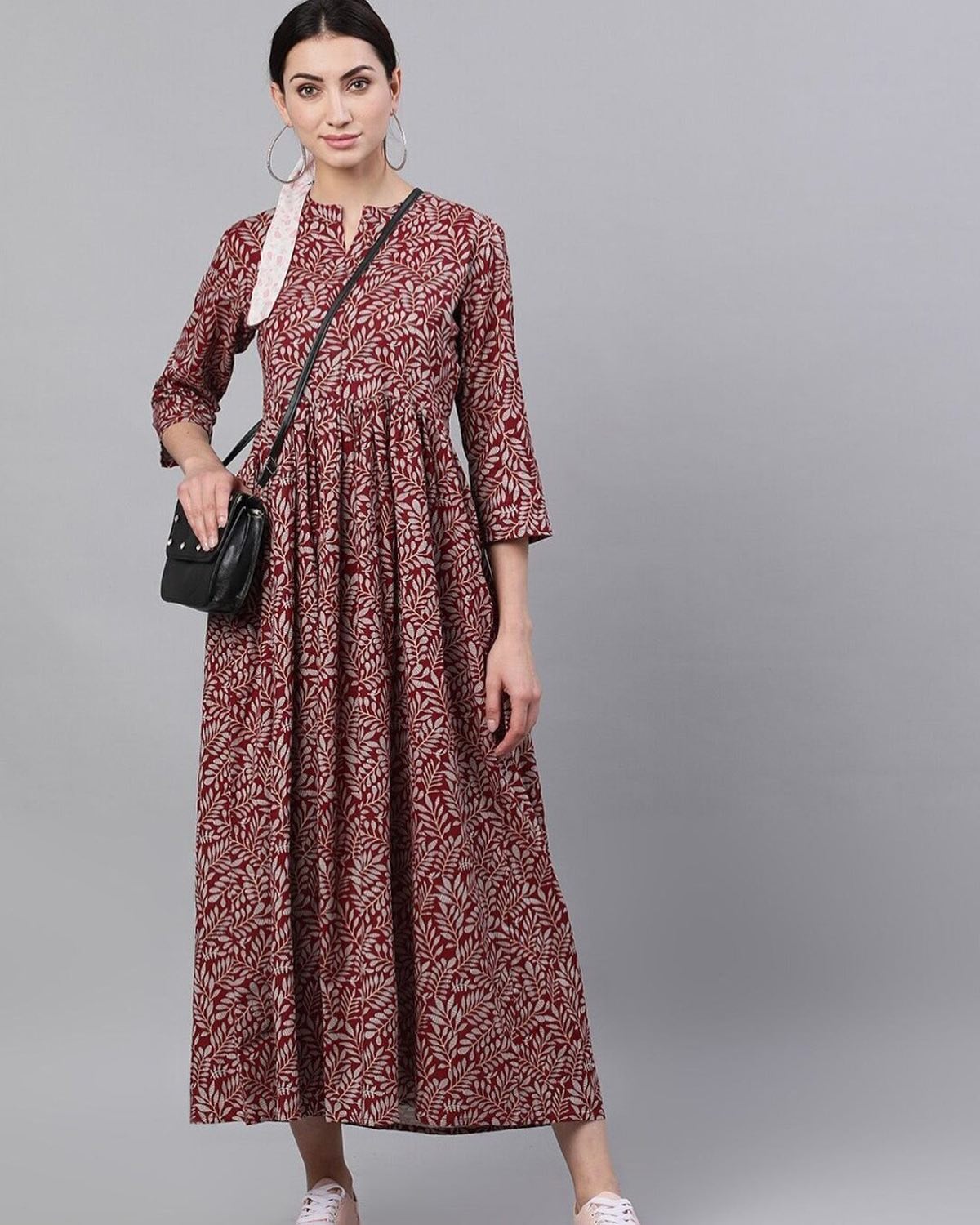 While it's a perfect look for simple and casual events, you can keep a lookout for a heavier maxi kurta with gold embroidery work that can be a go-to choice for various festivities like wedding events. Paired with a printed dupatta like a patola print dupatta will make for an ideal choice when you want to wear something grand and comfortable at the same time.
8 – Turn It Up A Notch With Asymmetrical Kurtas
Regular kurtas are great, we've established that already, but have you gotten your hands on asymmetrical high-low kurtas? If not, what are you waiting for? A good spin on the classic kurtas with a bit of dimension and edge is what you need for an uber-cool outfit. You can opt for an asymmetrical kurta be it high-low, or differently hemmed, paired with a pair of culottes or cigarette pants for an effortless yet trendy look.
With designers like Sabyasachi and Payal Singhal jumping on the asymmetry bandwagon, you sure know this kurta style is going to remain in the rotation for years to come. A cool thing about these kurtas is that they are either just gorgeous on their own in lightweight fabrics or can be custom-made in heavier materials for more grandeur and glamour.
They make for perfect outfits for cocktail parties or sangeet nights and are perfectly pairable with statement earrings like jhumar style earrings for a grand look or simple dangle-drop earrings or oxidized jhumkis for a casual everyday look. Complete the look with a pair of juttis or strappy sandals.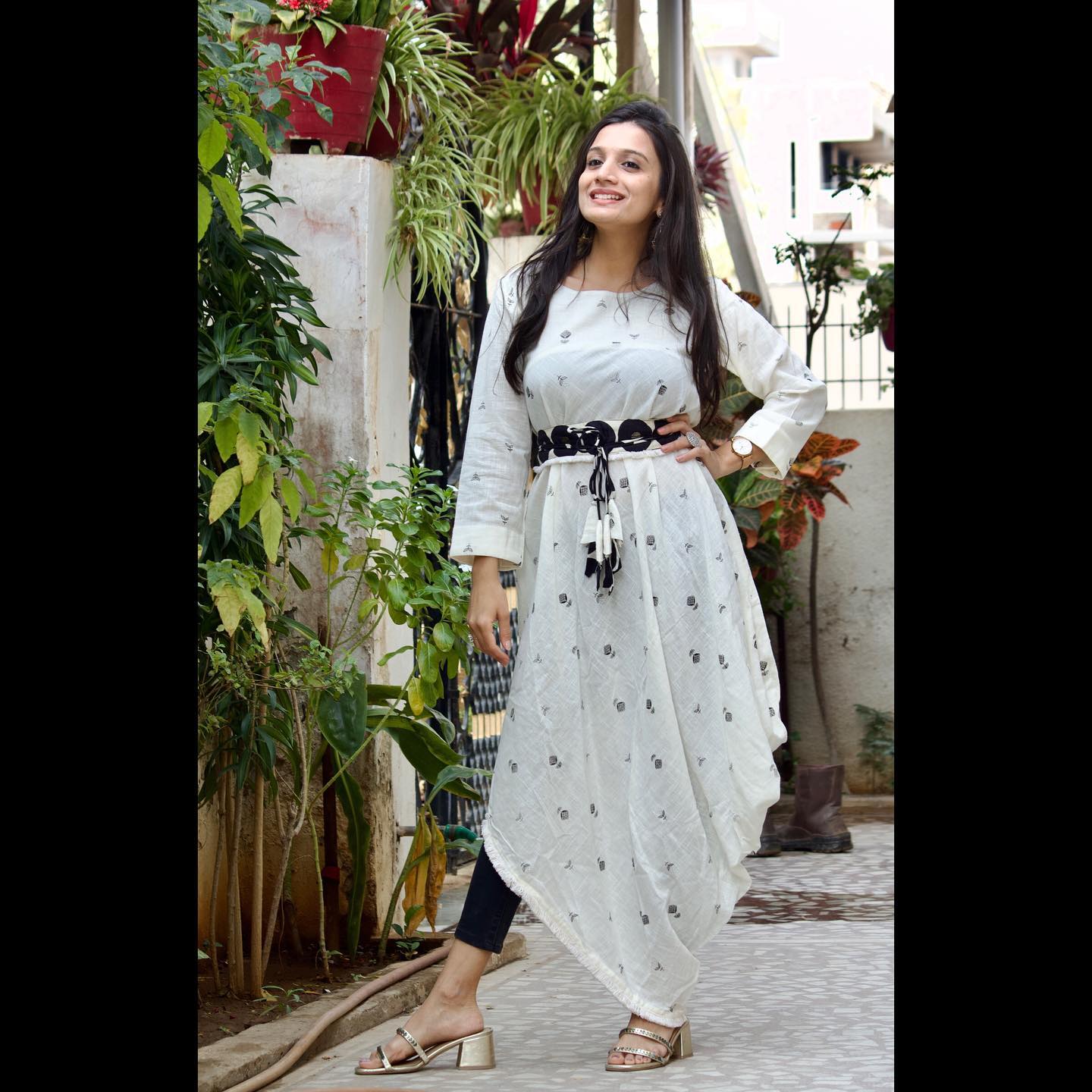 7 – Keep It Casual With Collared Shirt-Style Kurtis
Are you bored of wearing the same old shirts and trousers to work? Are you looking for an outfit that is perfect for work till 4 and a casual meet-up with friends at 5 without the hassle of changing into a different outfit? Why not opt for a shirt-style kurta? These make for the perfect staple for work as well as a fun and unique outfit for a casual everyday look.
If you are someone who doesn't necessarily enjoy the regular kurta styles but still wants to be able to dress in style and comfort, this is a must in your closet! It is perfect for all the young girls out there who are struggling to find different styles of kurtas to wear to college, college events, etc.
These can be easily paired with leggings or cigarette pants or even with a regular pair of jeans with minimal earrings like pearl or diamond studs. You can pair the look with a sling bag and a pair of ballerina flat or open-toe flat sandals for an easy and comfortable look.
6 – Achieve Ultimate Grandeur With Anarkali Kurtas
We have seen so many kurta styles have made a comeback over the years and anarkalis are one of them. Years ago anarkalis marked a spot in the fashion scene and since then, have been revamped in multiple ways. And now the original style is back in the game.
If you are looking for an easy yet effective and efficient outfit to wear at your best friend's wedding without all the hassle of pinning and tying up your outfit every few hours, anarkalis are here to save the day!
This kurta style is the definition of a fusion of grandeur and comfort. They make for a classic statement piece to wear on any kind of festivities or wedding occasion. The plus point here is they are absolutely gorgeous on any body type! These gorgeous beauties with beautiful border work and a heavy umbrella fall are all you need to look dazzling at any event. They are best paired with heavy earrings like chandbalis or meenakaris that just add to the grandeur of the ensemble.
You can pair anarkalis with simple leggings that go perfectly with the kurta, statement earrings, juttis, or a pair of heels to suit your comfort along with a hair updo and kohl eyes to complete the look. Dupattas are optional but are perfect to add a bit of extra glamour to your outfit!
5 – Opt For Kaftan Kurtas For An Easy-Breezy Look
Kaftan kurtas have grown to immense popularity in the last couple of years. It is the breezy flowy nature of the kurta that makes them the perfect choice for the summers. If you are someone living in humid regions, this kurta style is an apt choice for you.
The kurtas are made from lightweight breathable fabrics that are sure to keep you comfortable all day long. Along with comfort, the beautiful patterns and the drawstring detailing are sure to add the right amount of sass to your daily comfort and style.
These kurtis are best paired with ankle-length cotton or linen pants or even with ankle-length denim jeans. The best part about this kurta style is that you could re-wear them as kaftan dresses too! Talk about versatility!
You can choose from a wide variety of prints and patterns depending on the purpose and use of the kurta. You can opt for light airy colors for casual wear or heavier pieces, with more detailing for special occasions.
These can be beautifully paired with beaded jewelry for a boho-chic look, or even silver oxidized statement pieces like a choker or jhumkas to really compliment the entire outfit. You can pair of boho-inspired sandals and sling-bag or clutch to complete the ensemble!
They make for great modest wear options too!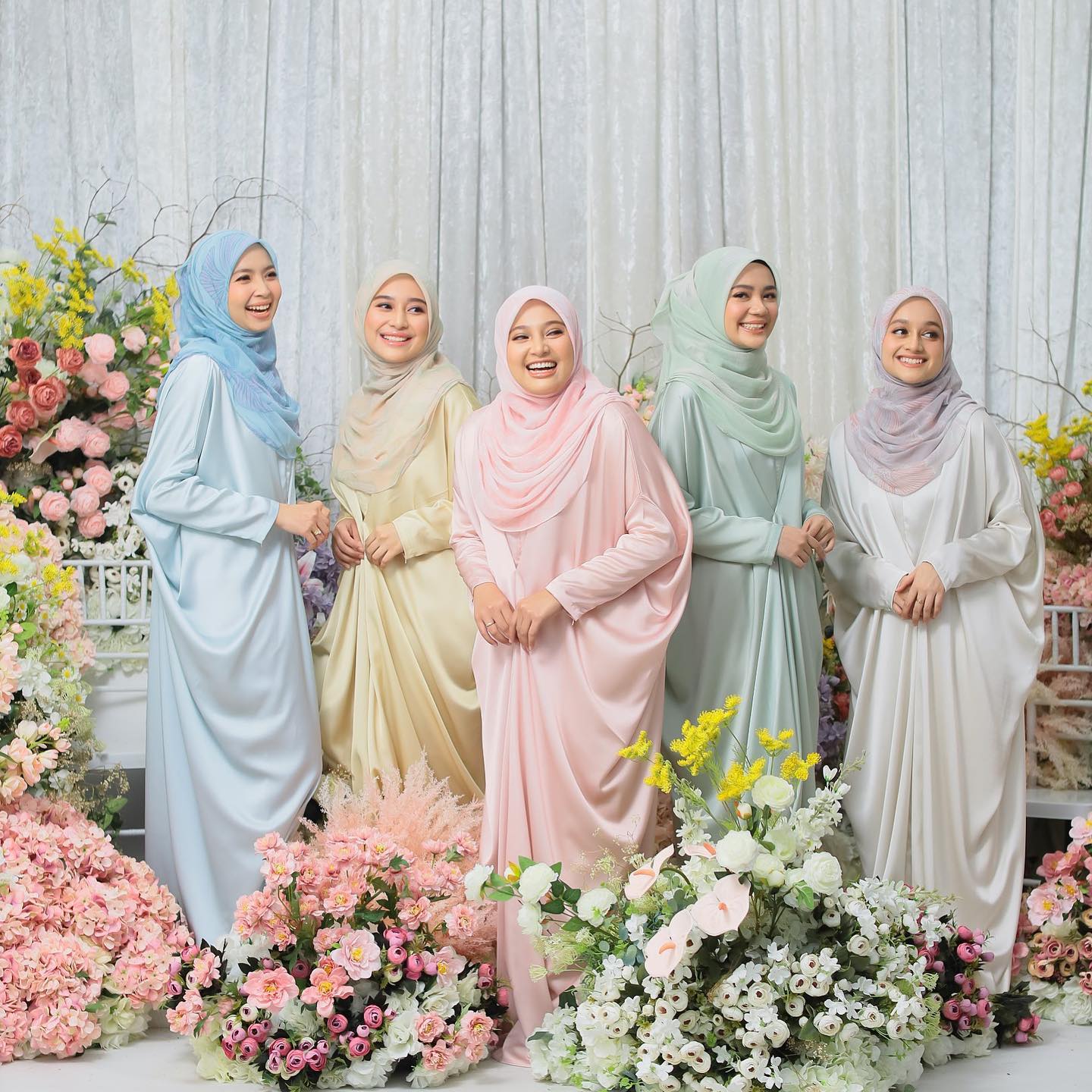 4 – Go Classic With Salwars And Short Kurtis
Salwars are an age-old style in ethnic wear that have made a trendy comeback in recent years. Earlier what used to be paired with long kurtas, are now stylized with short kurtis too! It's a new yet simple take on the classic style with a lot more variations and designs making them perfect for a different look for a variety of festivities.
You can create a suave look by pairing a heavily pleated salwar with an a-line kurti or a long peplum-style kurti to achieve this look. You can opt for lightweight materials for a toned-down laid-back, casual look, turn it up a notch in grand colors like reds and midnight blue with thread and beadwork for a grand evening look.
These make for very comfortable yet trendy looks that are perfect for any occasion from pujas or intimate gatherings, to grand events like weddings!
They are super easy to style with statement earrings or bangles and can be paired beautifully with either juttis or block heels for added comfort!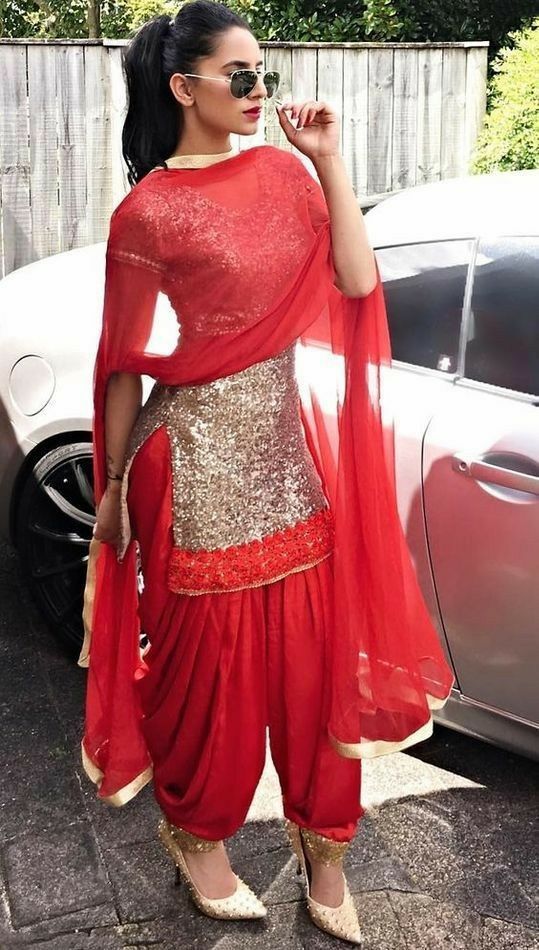 3 – Create An Indo-Western Look With Jacket Style Kurtis
This makes for a great style if you are going for something simple yet something that will make a fashion statement. The jacket or koti style has seen a number of variations, from cropped jackets, loose cape style jackets on lehengas and shararas, to the classic long jackets.
These kotis or jackets can be paired beautifully with lehengas and long skirts, and of course, with kurtas! They are the perfect extra element that adds a bit of jazz to a simple kurta pant outfit. You can opt for a cropped koti/jacket with a simple long-line kurta with cigarette pants or culottes, or go for the traditional long jacket with a kurta paired with a skirt for a more festive look.
You can choose to keep it simple in relaxed prints and patterns or go for heavier options like brocade work, thread or bead work for the added glamour.
A super cool idea is to reuse old fabrics like sarees, skirts, and kurtas to custom-make these gorgeous elements to complete your ensemble! Instead of pants, you can even go for palazzo pants so do check out this post on how to wear kurtis with palazzo pants.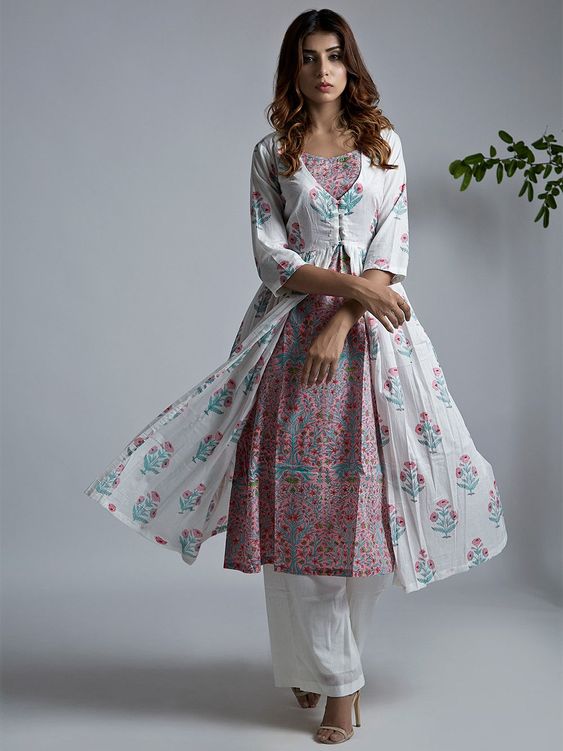 2 – Spice It Up With Denim Kurtas
This sounds weird, doesn't it? But denim kurtas can really make a statement, you know? With the right style and pattern, they can actually make for a great casual wear alternative to your regular jeans and tops.
The right denim kurtas are lightweight in nature and feel or look heavy upon wearing. You can opt for 3/4th length sleeve kurtas with button detailing to maintain a casual look. You can pair it with a comfortable pair of which leggings or pants.
Choose minimal accessories with a simple sling bag and sandals and you are good to go!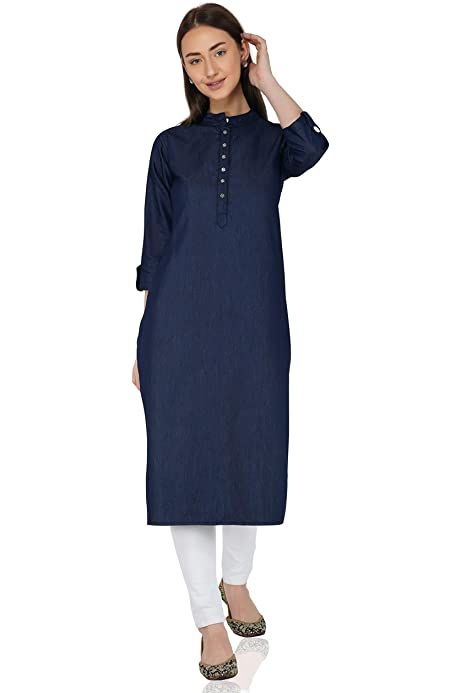 1 – Create Gorgeous And Effortless Looks With Chikankari Kurtas
There is honestly not much to say about these kurtas. They speak for themselves! They are sheer elegance and beauties that don't need much to look gorgeous and grand. Chikankari kurtas are one of the finest and most timeless pieces that every one of you should have in your wardrobe.
You can create a variety of looks with chikankari kurtas. You can opt for a simple look with leggings, or add a bit of flair with pants or palazzos. You can pair them with jeans for a chic boho everyday look that's a perfect option for a day out with friends, gatherings, day parties, and more!
If you like this look then do check out our previous post on Modern Chikankari Kurti Designs & Styling Tips.
You can opt to keep the look simple with a pair of juttis or sandals with simple accessories like silver rings and small silver jhumkis. But you can definitely elevate the looks with chunky kadas, big statement silver earrings, or even silver chokers and necklaces.
You can play around with your looks in multiple ways and styles and adorn what suits you best!
Frequently Asked Questions
Q Where can I shop kurtis from?
Here's a list of some good places to shop for kurtis online since they deliver Internationally.
Khaadi
Amazon
AzasFashions
The Loom
Rust Orange
Nykaa Fashions
Q. How do you make a plain kurti attractive?
If you have a plain Kurti, the best way to add a bit of spice is by adding a border at the ends of the kurta and the sleeves that complement the kurta. You can even get detailing work done like simple beadwork or embroidery to make the Kurti pop!