How To Style Chiffon Skirts – Lately chiffon skirts are proving to be the talk of the town. And why wouldn't they be? They look cute, sleek, and trendy – all at the same time! The best part is that it does not matter what body shape or figure you have. Whether you are curvy or slim, a chiffon skirt styled in an updated manner will make you look perfect.
They can be worn to a daytime party, a bridal shower, on a lunch out with your besties, or even on an evening date. Therefore, chiffon skirts can be styled to have several purposes, which might be the best part!
What to Wear With Chiffon Skirts?
These skirts can be made to look casual or semi-formal and it is all up to you. Pair the skirt with a t-shirt or a sweatshirt and you're ready for a day at the mall with your friends. On the other hand, put on a halter top with any knee-length skirt and you can definitely leave for your dinner date asap.
Moreover, this skirt goes well with a button-down, a leather jacket, a denim shirt, or even a cardigan. And these are just a few ways to wear your chiffon skirt!
Do's and Donts of Styling A Chiffon Skirt
Do not wear sneakers, joggers, or similar shoes to pair with the skirt – Chiffon skirts have an exquisite look. So it would only be right to wear an elegant pair of shoes with them. Go for open-toe booties, fancy sandals, or ankle boots instead.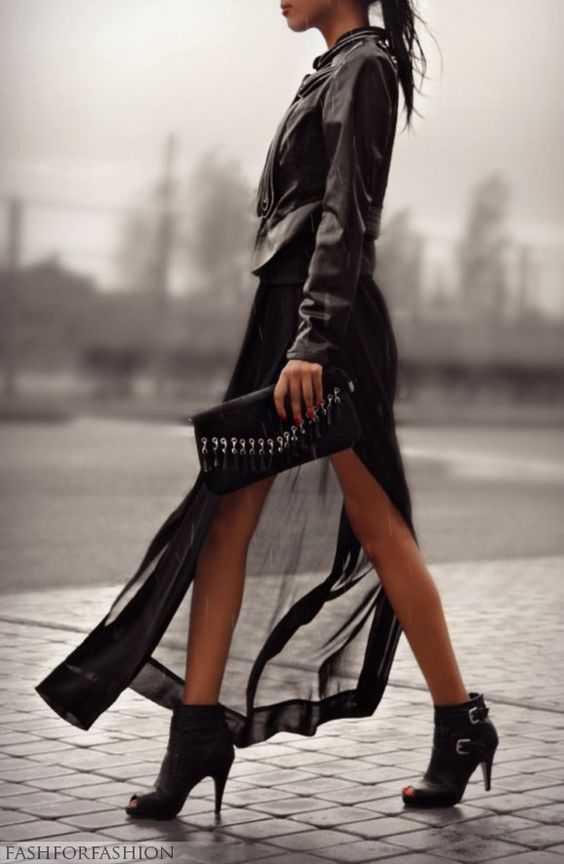 Do not be afraid to accessorize – To add a little more of a woman's touch to the already feminine chiffon skirt, you should add a pair of gold or silver hoops, maybe sleek bangles, or even an anklet. This will help complete the look.
Do choose a flattering length – Everyone is different and a different style suits every individual. You should always choose a skirt length that looks the best on you. For example, if you are short, go for a skirt that doesn't go beyond the knees.
Do style the skirt according to the weather – We do want to look good but we definitely do not want to get ill. To avoid catching a cold during the winter, style the skirt with a warm top or a sweater to keep yourself comfortable and healthy.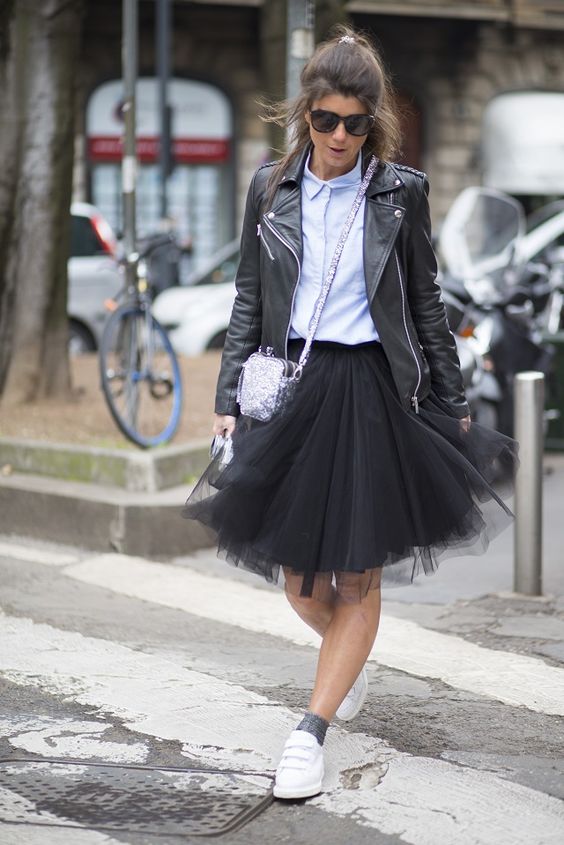 20 – Black Chiffon Skirt Styled With A Leather Jacket
If you are going out on a cool winter evening with your favorite girls, you should definitely go for the style shown in the picture below. A leather jacket will keep you warm and give you a cool vibe. In fact, you could even ride a motorcycle in this outfit!
Even though you will feel very comfortable, the outfit combined with a silver pair of stiletto heels will definitely make you ready to go out for the evening.
19 – Grey Chiffon Skirt With A Black Crop Top & Leather Jacket
A long grey chiffon skirt is very trendy on its own. Combine it with a black crop top and chunky boots and you have an outfit. A baggy leather jacket is just another bonus item that you can add to keep yourself cozy on a cool day.
This look will make you ready for a night at your favorite artist's concert with all your friends or even with a romantic partner. Because tell me, don't you get Coachella vibes from the picture shown below?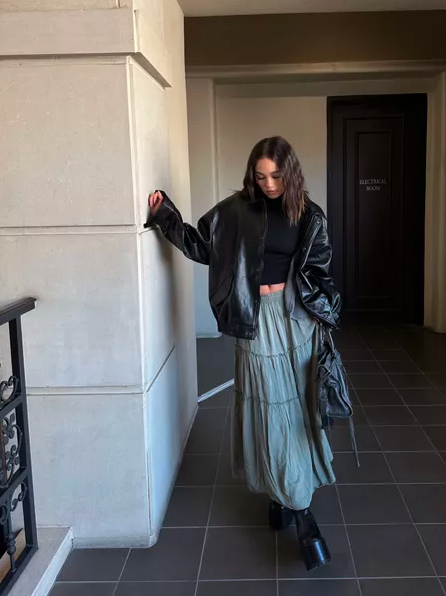 18 – Blue Floral Chiffon Skirt with a Blue Cardigan
What we really like about this outfit is that the cardigan is elegantly tucked into the high-waisted skirt giving a very slimming look. This look reminds me of the good old autumn days.
Add to this outfit, a pair of grey ankle boots that compliment your chiffon skirt perfectly.
17 – Orange Printed Skirt With A Black Polo Neck
The skirt has an abstract print on it which is perfectly paired with a black polo-neck top. If you need to pick out a simple, casual, and stylish outfit, this should be your go-to. Additionally, the black pumps with an ankle strap further highlight the look.
We would also remind you to add some accessories like bangles or an anklet because that will surely help you complete this style and bring out the colors in your chiffon skirt.
16 – Sea-green Silk Button Down With An Orange Skirt
The dull orange of the chiffon skirt goes really nicely with the green of the shirt and the black ankle boots do complete the look. The hat is not just stylish but also practical and will surely protect you from the harsh rays of the sun.
15 – Leopard-Print Chiffon Skirt With A Blazer
In the dos and don't about, we did tell you to not pair chiffon skirts with sneakers but for this specific look we shall be breaking out our own rule because the sneakers will just increase the comfort of the outfit and definitely make walking around in the city easier.
You will, for sure, look very cute in this leopard print skirt worn with a cool tone or neutral tone blazer. This outfit will make you look powerful and glamorous at the same time.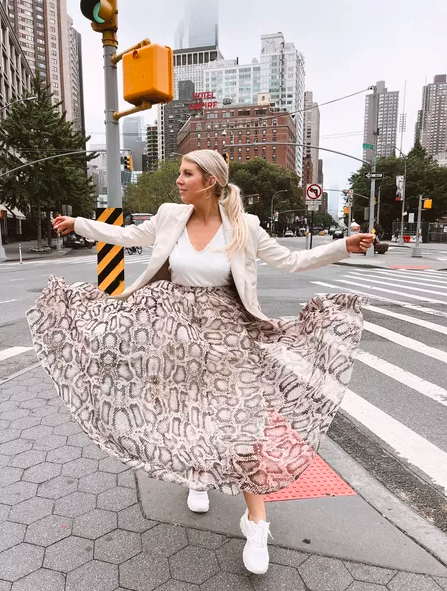 14 – Green Floral Chiffon Skirt With A Mustard Top
If you are a university or college student and your institute is hosting a daytime welcome or farewell party, then this is an outfit you must pick out from your closet. And in case you do not own it, go do some shopping, please!
The floral print on the skirt makes the style very feminine and the vibrant colors will help you stand out in any crowd.
13 – White Ruffled Skirt With A Strapless Crop Top
This matching pair of skirt and top will give you a sexy and stylish aura. And you will not be disappointed about following our advice.
And do not forget your pair of sunglasses!
12 – Shocking Pink Long Skirt With A Baby Pink Top
The bright skirt goes really well with the light-colored shirt. The puffy shoulders of the sleeves are just another plus point. Add to the outfit, a cross-body bag and you are ready to leave the house for the day and turn a few heads.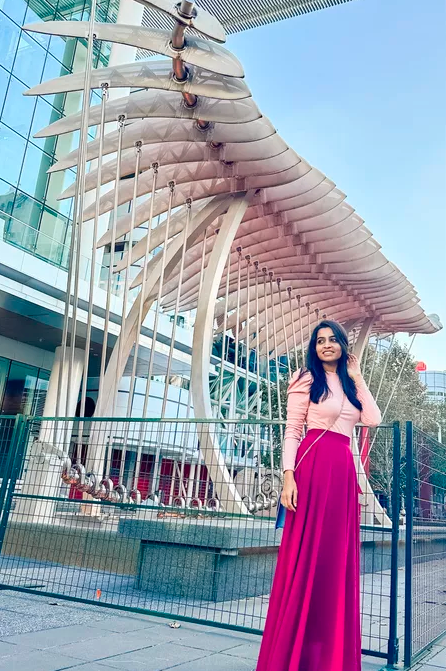 11 – Ruffled Printed Skirt & Brown Cardigan
How to style a chiffon maxi skirt: The light brown cardigan over the chiffon skirt can be worn with a pair of light brown mocassins and a brown chunky belt with a large belt buckle.
10 – Nude Skirt With A Matching Top
Now, this is one of our favorite outfits to be worn at the beach. It is free and comfortable but sexy and stylish at the same time. This is a co-ord set and the a-line length of the skirt makes the look stand out.
Plus, you would not get sand from the beach on your clothes and can easily put your feet in the seawater without your skirt getting wet!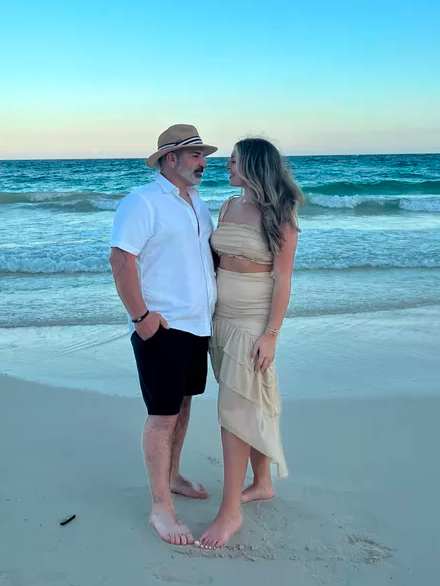 9 – Beige Printed Chiffon Skirt With A Mock Neck Top
This neutral-tone chiffon skirt with a minimalist print will go really well with a beige or off-white top and brown suede ankle boots.
Remember to accessorize by adding a white sun hat and a brown cross-body bag!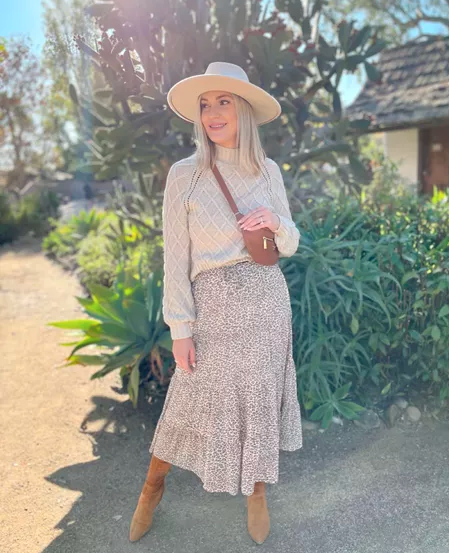 8 – Pink Chiffon Skirt With A Black V-neck Top
If you pair your baby pink skirt with a plain black V-neck top, you will look as exquisite as a ballerina. The deep V-neck style of the shirt will further add elegance.
To accessorize wear silver dangling earrings and carry a small black purse. Furthermore, silver stilettos will go really well with silver earrings.
7 – Orange Skirt with a White Sweatshirt
Orange is a difficult color to style but you can never go wrong with orange-white, so imitate the look shown above and turn a few heads.
Add to the look a white sun hat and white comfortable shoes and you are definitely ready.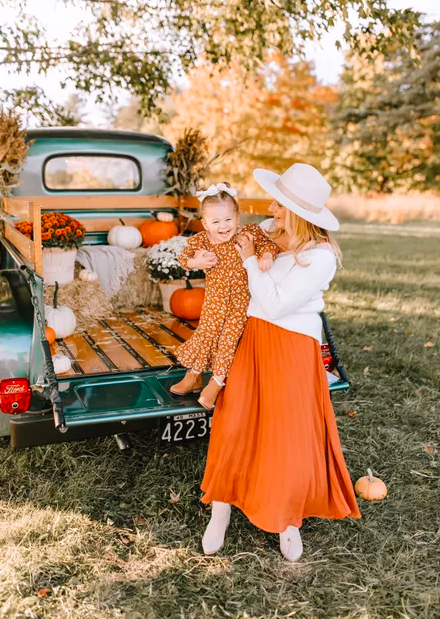 6 – Red Chiffon Skirt Matched With A Black Top
This might just be one of our favorite combinations. Red and black is a classic pair and you can hardly ever go wrong wearing them together. A black chunky belt should also be added to this look along with a pair of black block heels. To further accessorize, add a gold watch or a thick gold necklace to stand out.
5 – Black Skirt With A Black V-neck Top
It is really easy to find these two pieces of clothing in your closet. To give an extra element of attraction to the outfit, accessorize it with a belt having a big bow as a buckle.
4 – Pink Frilled Chiffon Skirt With A Two Tone Sweatshirt
Frills in a chiffon skirt really bring out its beauty and the same is true for this look shown below. The skirt with a sweatshirt looks casual and trendy. And the white ankle boots might just be highlighting this outfit perfectly.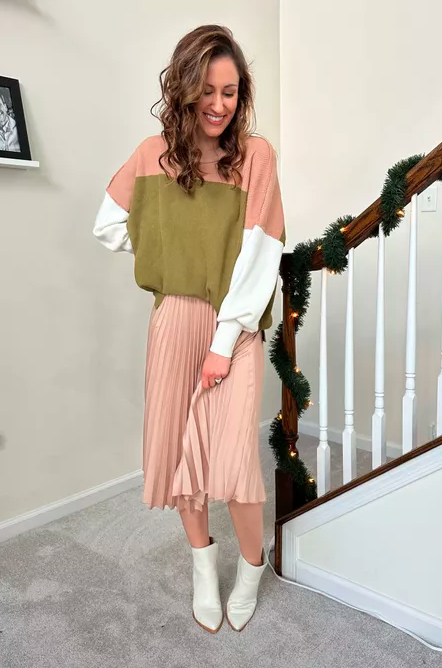 3 – Navy Blue Skirt & A Striped Sweater
If you are someone who loves stripes on their outfit, then this look is definitely made for you – a match made in heaven! Even though stripes look very trendy, you must be careful while working with them but a blue chiffon skirt really does look good with them.
To this look, add a warm scarf to protect yourself from the cool winds and a pair of sunglasses & if you still haven't figured out how to wear a beret hat? then it is about time you do. To add a little more color, wear a maroon bag combined with red boots.
2 – White Puff Sleeved Top With Blue Chiffon Skirt
Complete this look with a pair of dark blue heels.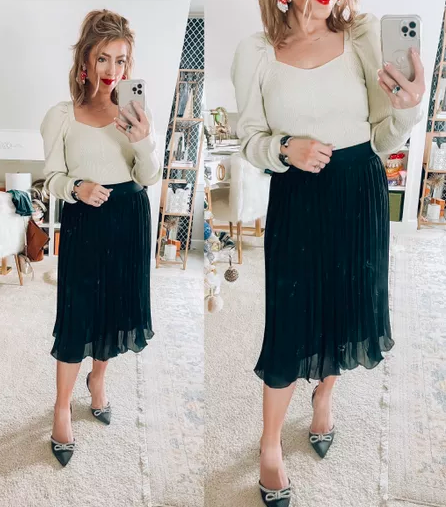 1 – Black Skirt & Polka Dot Sweatshirt
Wear your black frilled skirt with a brown sweater with black polka dots on it and black heels. This outfit can be worn on a day out in the park or even on a trip to the mall!
Frequently Asked Questions
Q. Do chiffon skirts need to be floral?
Ans. The answer to that question is definitely no. As shown above, by several of the styles we picked for you, plain skirts look equally elegant. However, remember to wear a fancier top with them or use some accessories.
Q. Are chiffon skirts good outfits for winters?
Ans. This has always been a debatable topic but many people use these skirts as their winter outfits as well. It is important to combine them with a jacket, a sweater, or a cardigan, however, to avoid getting sick.
Q. Can you wear chiffon skirts to work?
Ans. This is definitely up to you and depends on your office environment. But, personally, we would not recommend it. Most office environments are formal while these skirts lean towards the casual side, so according to us, it would not always be appropriate.
But hey! If your office has a casual Friday, you should definitely go for it then.
I am a 3rd year dental student, grinding to complete my clinical hours and at the same time write some content here and there. Sometimes I sing and play my guitar (covers can be found on my Instagram).