Open-Toe Booties Outfit Ideas– if you're looking for a sleek, comfortable day-to-night look, you have to add open-toe booties to your bucket list. 
We'll know that open-toe or peep-toe booties are a '90s style, but it's still trending. Whether winter or summer, you can comfortably wear them all day long, as long you do it the right way!
There are many types of low or high open-toe heels, so it's up to you to decide which one you like more.
However, as the shoe completely takes over your feet, you need to be careful about how to define your look more aesthetically. Let's hold on to see how others pull off their look with these funky booties.
What To Wear With Open-Toe Booties?
Open-toed booties, also known as peep-toe boots, are a stylish way to add a rugged yet fashionable touch to any ensemble. They go great with any trendy outfit for warm weather, but because of their enclosed style, you might be able to wear them even when it's a little chilly outside.
If you want to dress up your booties, wear them with your trendy favorite skirt, slacks, or dress, or if you're interested more in casuals, you can wear them with jeans, shorts, or a cute dress.
Tips To Style Trendy Open-Toe Booties
The following ideas will help you to be creative while completing your look with a pair of open-toe Booties.
Cross Tights/Shorts: Style open-toe booties with Cross tights, leather shorts, and a crop top. You can go with all black as this always be a style game. Plus, you can opt for gladly open-toe boots to give your statement a sexy look. You can surely make it into a casual summer look with open, blow-dry hair!
Jean Jackets: Pair any pastel color jean jacket with blue jeans, a turtleneck grey neck shirt, and pebble open-toe boots to warm up your look this winter. You can wear this to lunch or dinner at home parties or spend a girl's night out with your besties.
Button-up shirt: With a jean or denim button-up shirt, you can style yourself with a pair of brightly colored crop tops and a skirt. Here, Paulina's open-toe brown heels worn with a pair of cat socks will do their job to make you look girly and, at the same time, swaggy.
A Casual Boho Dress: Select a black bohemian dress and matte-brown Wild Diva open-toe booties to be a boho fashionista. A necklace in the bohemian style and some antique sterling rings will round off the look. This cool springtime attire will make you stand out from the crowd.
With a Maxi Dress: Many celebs have accomplished their iconic looks with nude high open-toe booties and a sexy split white maxi. You can also pull this off at a day event if you want a subtle neat look.
20 – Blue Embroided Sleeves Shirt With Black Ribbed Hem Shorts And Brown Hat
If you are from a short lover, you can really pull this off. This printed Balloon sleeves with a shorts and a Gucci belt give you the coolest look you want to create. The Peep-toe heel sock boots create confidence in the look, making you feel good from the inside and outside.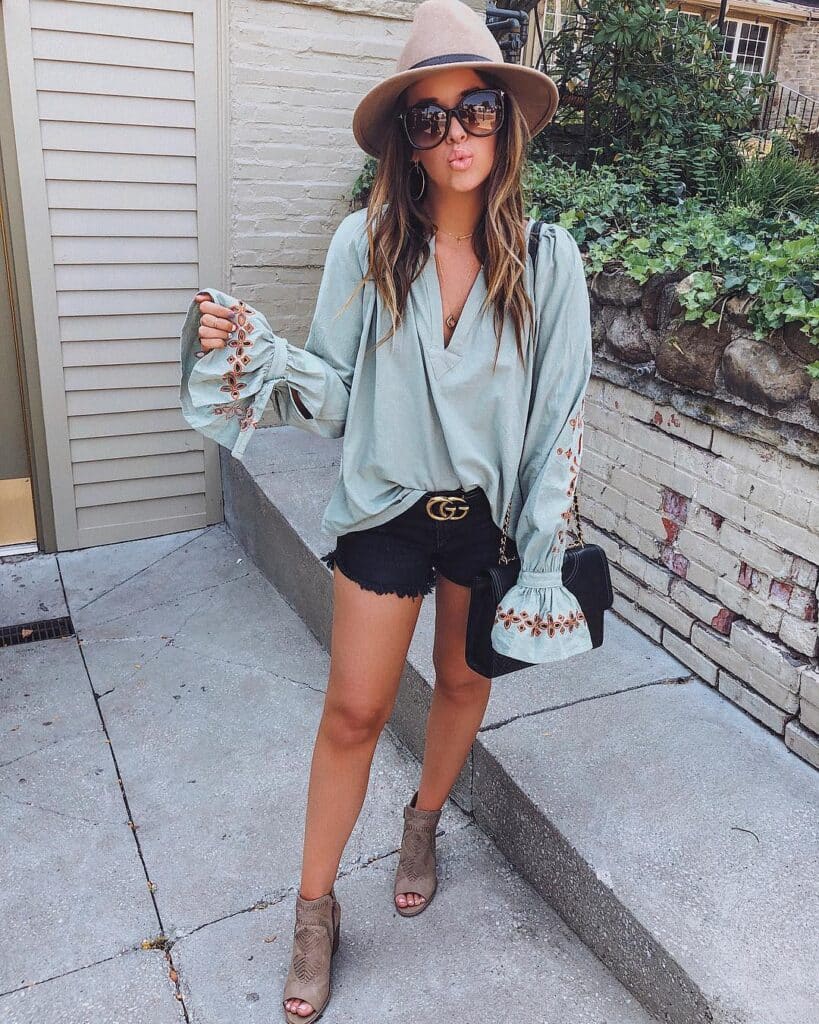 19 – White Crewneck Bishop Sleeves Top With Ripped Denim Jeans
Next time you go to a meeting, you must pick this white outfit. It's a simple white shirt with cuff sleeves giving you the sassy vibe in a simple outfit paired with suede open-toe boots and light blue ankle distressed jeans. To freshen up this look, a light rose purse is cutely paired.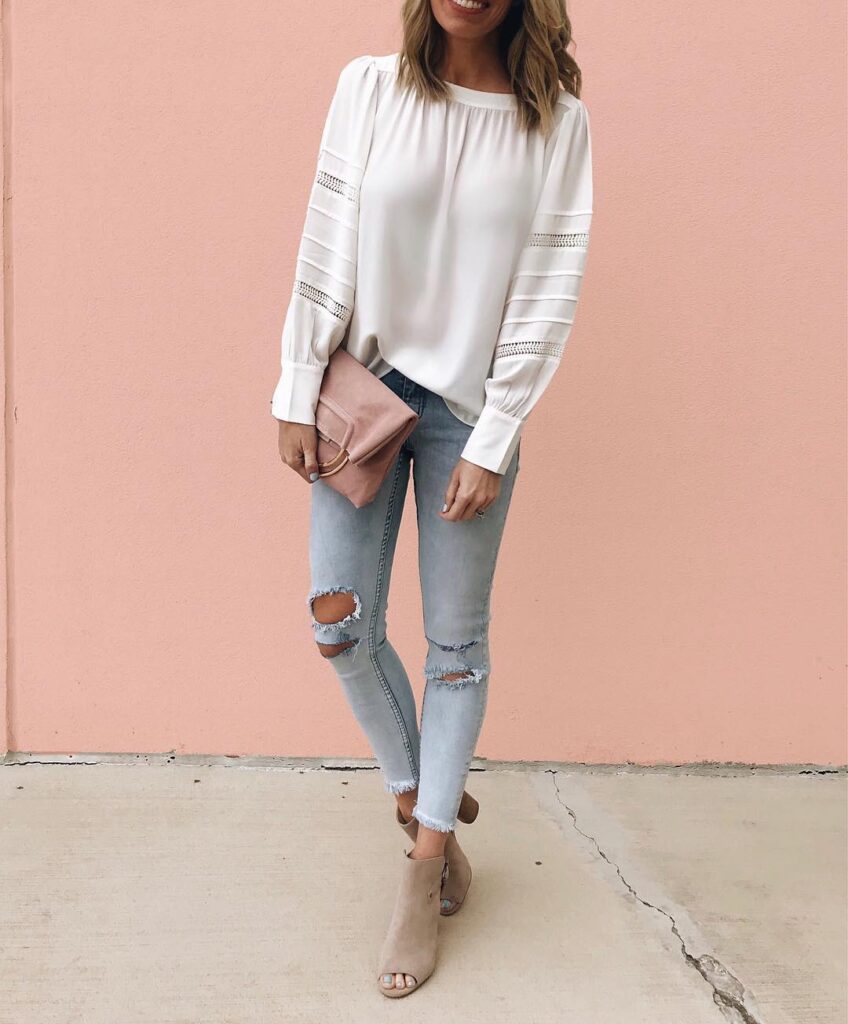 18 – White Shirt Sleeves Rolled up Over A Dark Orange Leather Jacket & Light Tobacco Spruce Booties
This look can be worn while you are going to work, as the first thing you want to feel in your office is to be comfortable. Pair a white shirt with a dark orange leather jacket.
Also, if it is autumn, you don't have to zip up the jacket. The last thing is the spruce ankle toe shoes with a box heel that will not only make you look trendy but also feel easy to wear. Also, a brown bucket bag and a pair of sunglasses can make your look sophisticated.
17 – White Turtleneck Shirt With Formal Blazer And Grey Knee-Length Shorts
This is one of the the dopest looks you can achieve by getting yourself a grey blazer and shorts pants with exquisite black toe-booty shoes. You can get this look on point by adding a baguette shoulder bag and a pair of black shades.
16 – Red Rompers With Brown Hat And Laced Open-Toe Booties
It is of the best evening party outfits you can wear. It's a simple red scalloped front romper matched with stylish brown spruce open-toe wedges, which really makes the outfit pop. A suede cowboy hat and some nice earrings can really complete the look. Also, don't forget oval gold sunglasses.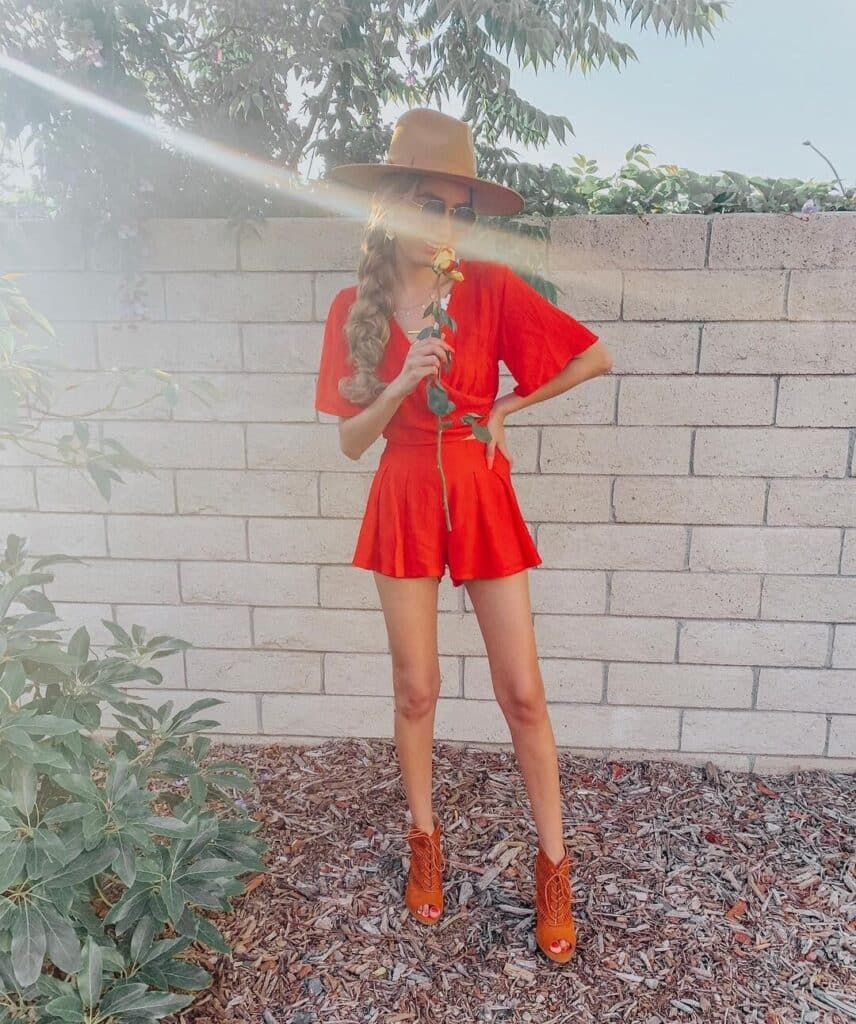 15 – Emerald Turtle Neck Sweater, Suede Skirt, And Buckle Stiletto Open-toe Boots
The outfit is paired with an emerald-colored knitted neck sweater paired with a Suede Maroon skirt. And to give the outfit the autumn feeling with the tangerine Buckle Stiletto Open-toe Boots. Plus, the vintage shoulder leather bag, and it's done!
14 – Dark Floral Blouse, Blue Distressed Ankle Jeans, With Cinnamon Brown Open Toe Wedges
This is the most 80's fall style with a floral Long sleeve blouse with the signature blue distressed jeans. The cinnamon Brown open-toe booties make it more exquisite. Some loop earnings and a chain red shoulder bag give the outfit the real magic.
13 – White Silky Blouse, Blue Wedgie Jeans With Peanut Open-Toe Booties
The simple eye-catching outfit upgrades your go-to chic look. The white silk blouse with puff full sleeves under a blue wedgie comfortable jeans. The look intensifies with the gold chain necklace and a woven leather cross-body bag in cream color. However, it can only be completed by the peanut-colored open toe booty heels.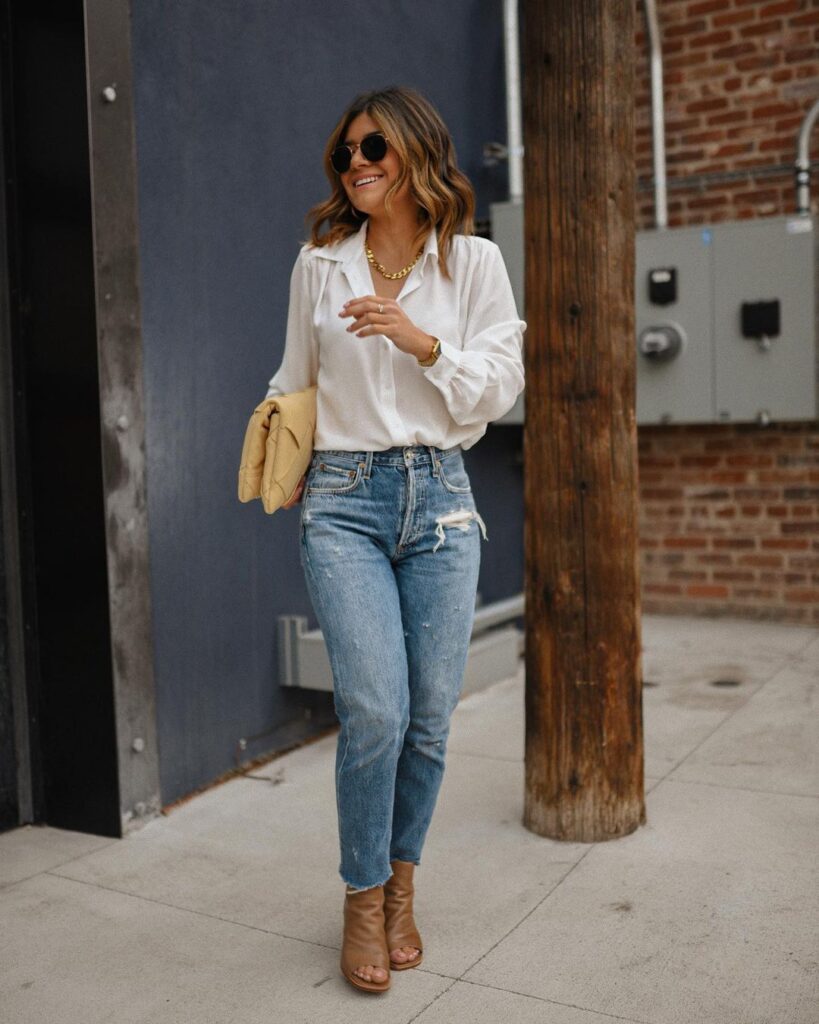 12 – Burgundy Button-Down Shirt With Blue Ripped Jeans
This gives pre-fall sassy vibes with a deep V-neck cross knot blouse in a romantically pleasing burgundy color. It's paired with distressed Blue jeans and has a bottom fold-up to give a summer vibe. The York buckle tote brown bag with nude peep-toe booties adds a spark to the outfit.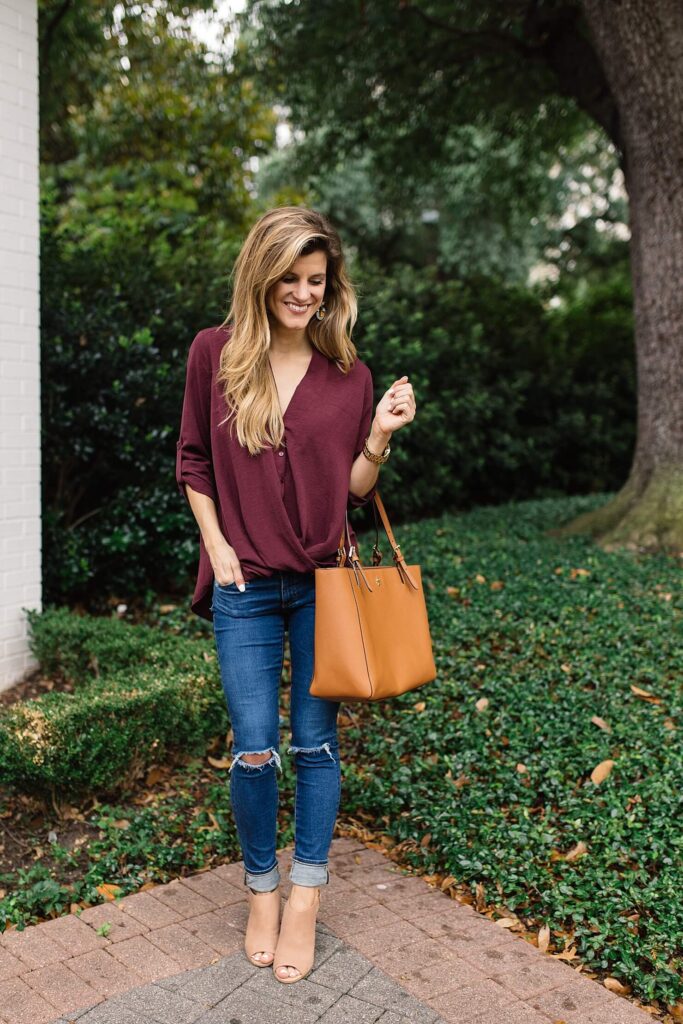 11 – White Printed V-Neck Slit Dress With Blue Belt
This allover floral plunging neck dress is the perfect maxi fit you need. You just need to pair it with white peep-toe Stiletto Heels and you are good to go.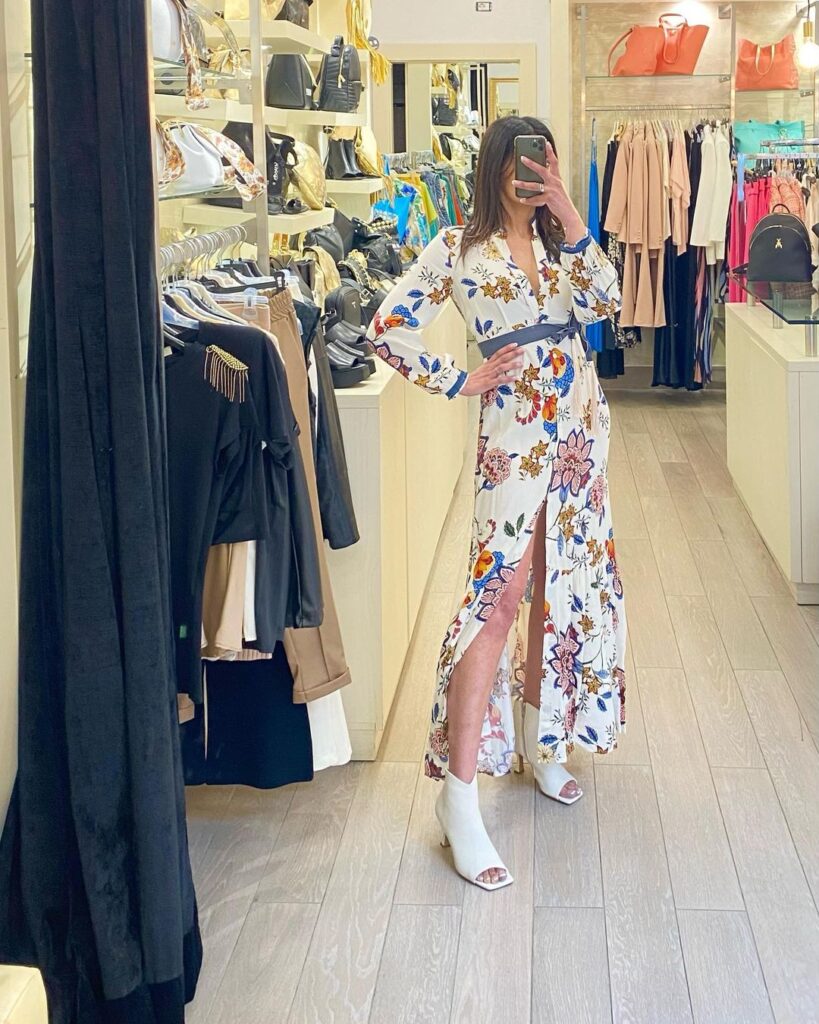 10 – White Tee With Striped Grey Blazer And Black Pencil Trousers
The bossy intimidating look is back with this stripe slack grey blazer over a solid white t-shirt. The pencil trousers and the leather black bag are really giving a cool vibe to the look. The classy silver metallic boots truly make the outfit attractive.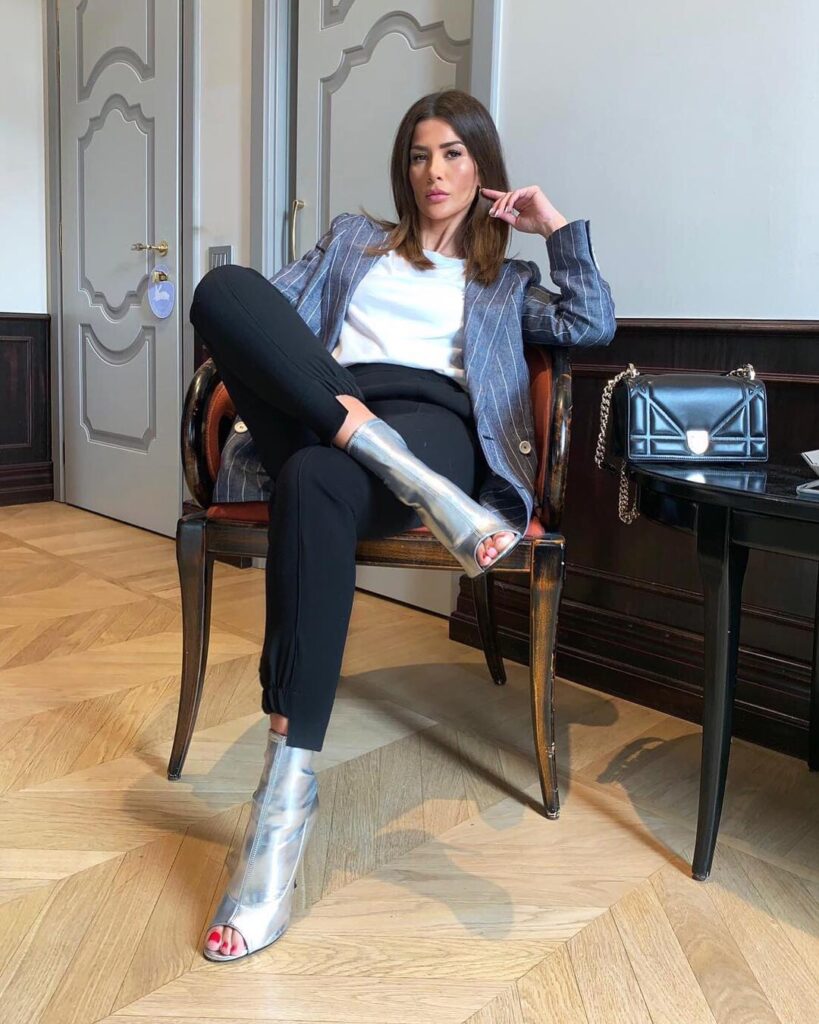 9 – Black V-Neck Lace Top With Cheetah Print Skirt
You can wear this outfit to a nice party. It's a pretty V-neck laced strap top with a funky printed leopard skirt making it more appealing. The gold chains and the nude spruce heel give the look a pretty vibe check.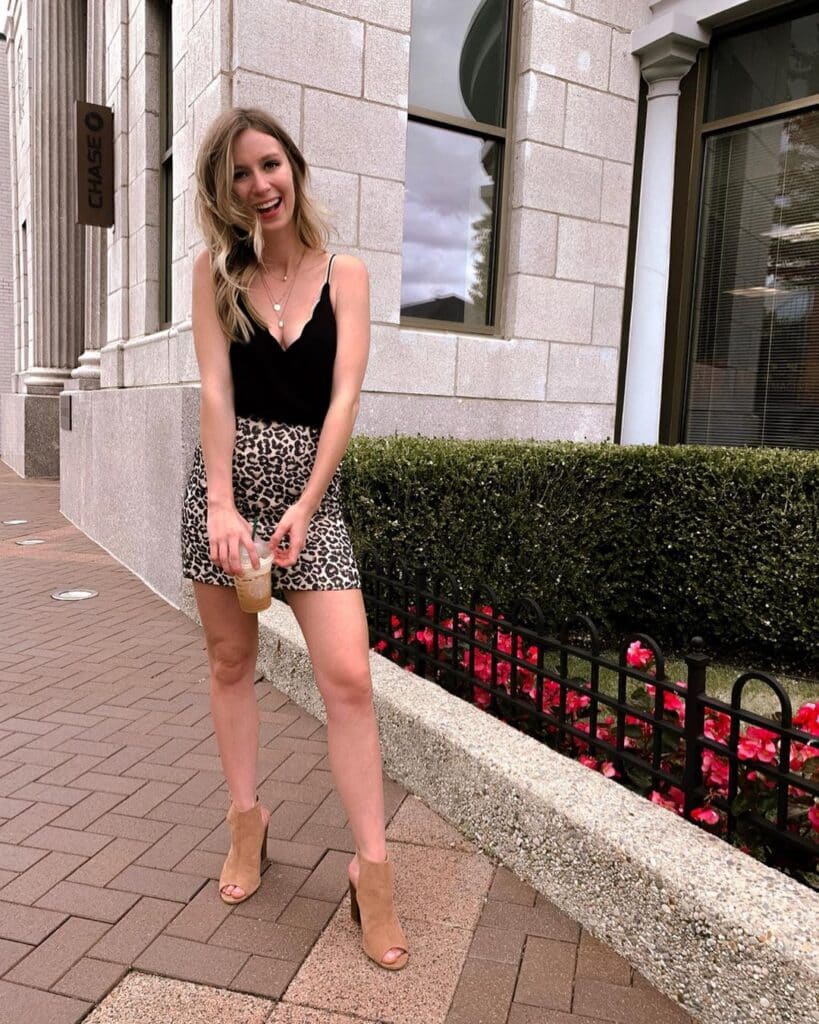 8 – Blue Denim Mini Dress With Gold Ankle Open-Toe Booties
This cute denim dress is the best outfit for an evening out. It's nicely paired with soft suede heels and a bunch of golden accessories including watches and bands, and some golden neck chains. The shoulder bag really fits the look.
7 – Floral White Spaghetti Strap Midi Dress
This is a light silky comfortable mini dress with some beautiful floral details on it. Some gold bangles with this open-toe booty create a fresh morning look.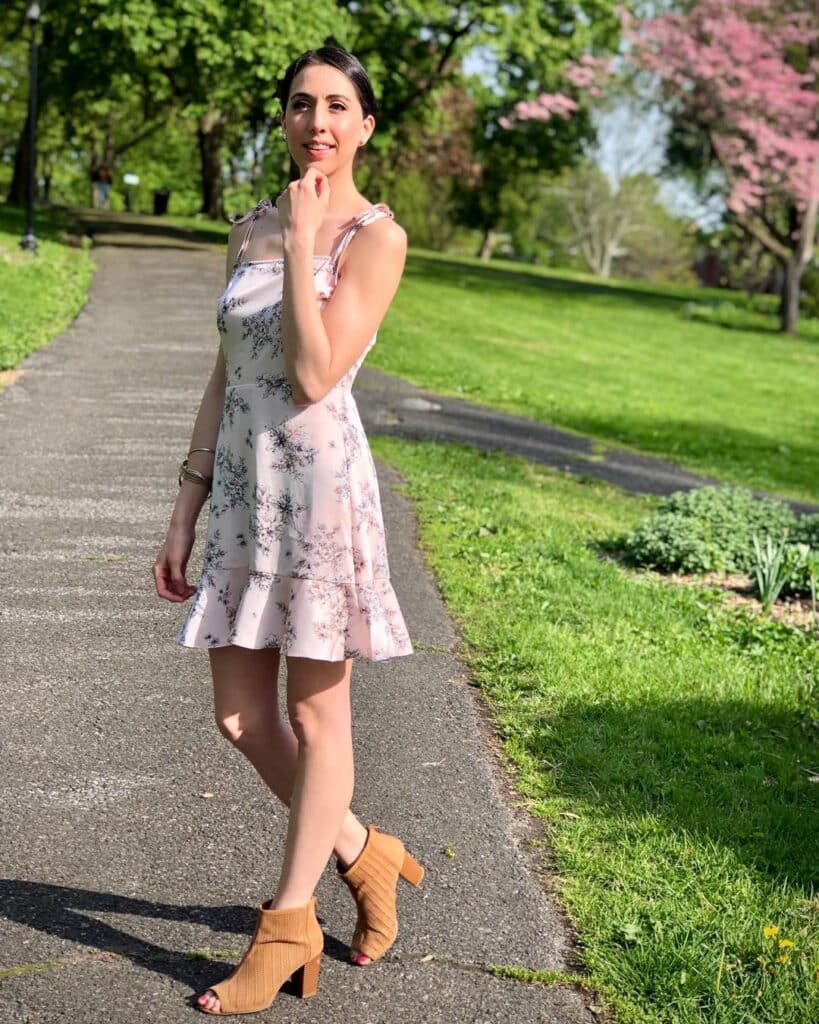 6 – Beige Crochet Turtle Neck Sweater With Knee Ripped Straight Jeans
This dress is a comfy sweater with baggy shoulders and a pair of skinny ripped jeans to be trendy and beat the weather too. The suede open-toe booties really go with the beige top. Also, to be a little bit swaggy, add a pair of black shades, and it's done!
5 – Subtle Green Parka Jacket & Shirt With Faux Leather Pants And Black Booties
The subtle green parka jacket is the coolest trend and wearing it with faux leather pants really enhances the outfit. The subtle green shirt really gives a vibe to the parka. Coming to the black booties, falling in love, and the buckle black leather bag is one of the best classy looks you can ever have.
4 – Trench Coat Over Turtle Neck Shirt, Skinny Jeans And Black Heel
This winter look is super chic as it includes the trendy trench coat with a black turtle neck shirt beneath it. The black skinny jeans with the bracelet bag are the stylish things in this look. In addition, the most awaited black booty heels are the best thing to pair the outfit with.
3 – Blue Spaghetti Strap Crop Top With Grey Blazer And Matching Pants
The quirky look with the black laced-up booty heel is here. It pairs with rose grey slouchy work pants and an open blazer. The dark blue V-neck top with a boho necklace really brightens the look up. Moreover, the neon green shoulder bag and the dark orange bangles give the outfit a unique touch.
2 – Leopard Print Button-Front Mini Dress With Caramel Booties
The perfect summer dress, a Leopard print mini dress and caramel color peep-toe heels. The gold accessories, including a necklace, watch and crossbody bag, make the outfit more feminine. So, this can be your "running late go-to" outfit to an event you forgot to attend.
1 – Zebra Faux Jacket over Long Black T-Shirt & Skinny Rough Jeans
The zebra faux jacket with the skinny jeans is the aesthetics of street style one could literally pull off as an all-black outfit. The open-toe stiletto heel defines the look as a whole. And a pair of hoop earnings and the white shoulder bag change the look to its bossy version.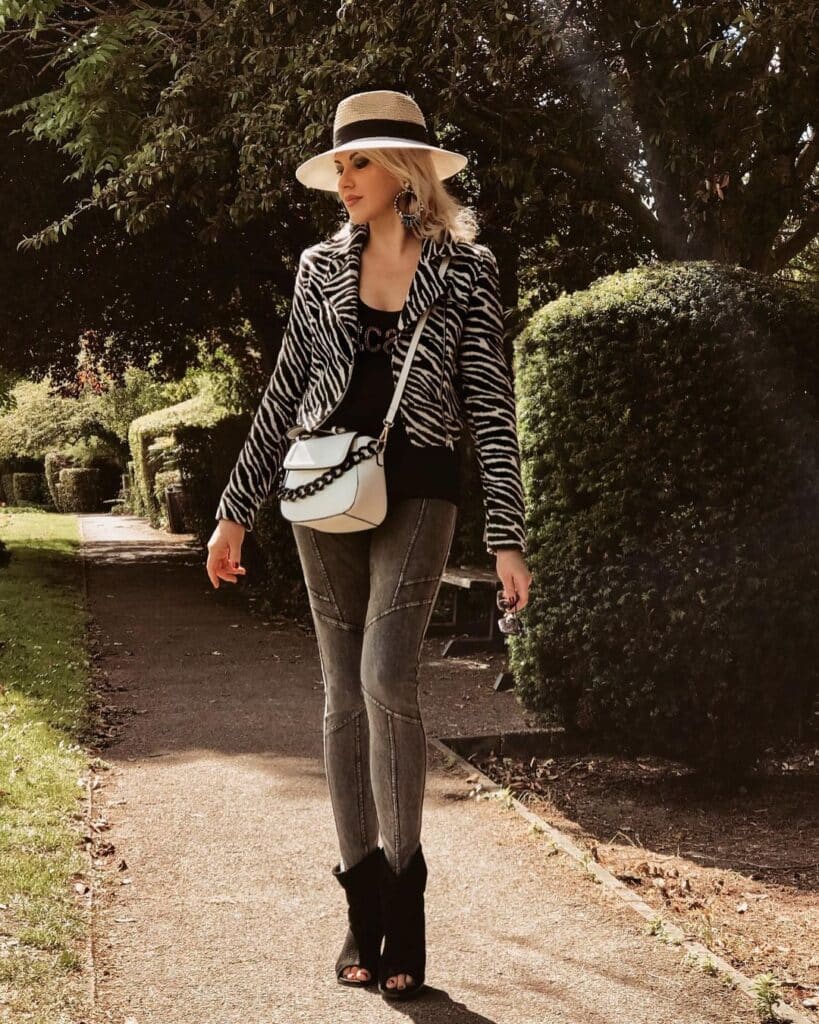 Frequently Asked Questions
Q. When to wear open-toe booties?
Ans. There's no specific season to wear open-toe booties. You can style them in all four seasons. However, choosing a proper outfit according to the season would be best. For example, in winter you can style them with leggings and a long coat. For summer, choose your favorite pair of shorts and wear these shoes with a stylish crop top.
Q: Are peep toe booties in Style?
Ans: If closed boots aren't your thing, you might want to look into the peep-toe shoe trend, which is expected to be popular for spring this year. Also, styling peep toe shoes are more accessible with casual as well as formal outfits.