How to wear pantyhose? Who doesn't like pantyhose? They are warm, soft, and extremely comfortable. Not to mention they outline your curves so nicely. There is no piece of hosiery that does not immediately flatter your body, and elevate your outfit. Not to mention the variety of colors, textures, and patterns that they come in. It is any fashionista's dream!
However, the question of properly incorporating these fashion items into your outfits remains. Understandably so, it is important to make any additional items look effortlessly included and not extra. After all, we must remember Coco Chanel's rule of taking one extra piece off before you leave the door – to not appear overdressed. In some cases, this could be your pantyhose – and we are here to discuss when to recognize that.
Tips on Wearing Pantyhose
Try out patterned hosiery:

Patterned pantyhose such as the fishnet ones

are not an option; they are an absolute must-have. If your personal style allows for it – pair patterns with patterns and loads of color. It's all about what you would feel good in.

Rock-em with sneakers: There is a stigma around wearing pantyhose with sneakers. However, we are here to debunk that. It is absolutely not a fashion faux pas. Tights and sneakers can work perfectly together, whether the color matches or not.
Winter Outfits with Pantyhose
23 – Pair Cross Hatch Printed Pantyhose with a Parisian Outfit
Starting the list off with a classic yet interesting outfit. Try out a pair of black pantyhose with a cross-hatched skirt – for an outfit that resembles Parisian style. Perhaps a black coat, a flared black skirt and of course a red beret.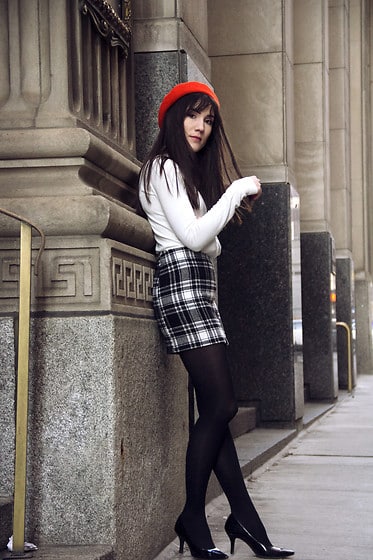 22 – Create a Pinterest-Inspired Look with Overalls
A great way to pair some pantyhose with your clothes is to go with a specific theme. For example, you can try to create a Pinterest-inspired outfit. In order to fit that theme, you can try and pick out a pair of overalls. If they are black then you might want to remain in a classic theme, and go for a black and white outfit. In that case, you might consider wearing a white loose knitted sweater underneath. Meanwhile, your pantyhose can be a fishnet pattern.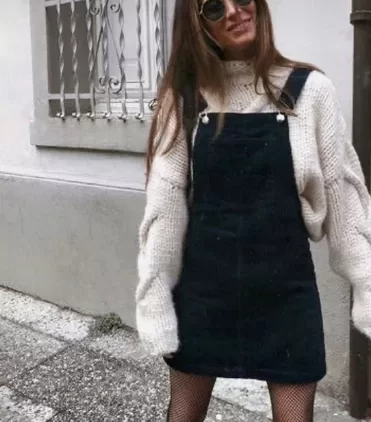 21 – Wear Heart Printed Pantyhose with a Cute Cardigan
Heart-printed tights are very special pieces of clothing. It is cute and girly and thus we recommend emphasizing those attributes with other clothing articles. For instance, try out a cozy knitted sweater to match the aesthetic.
20 – Go For an All-Over Lilac Look
In the case that you have a fabulous night out to attend you might consider wearing the following look. This one, in particular, is all over lilac, however, could be any light pastel shade that suits you best.
19 – Go For Some Cheetah Printed Black Pantyhose to Pair with a Black Blazer
Black cheetah-printed tights could be the accessory to your outfit that you never knew you needed. They are fun and will add character to your look, without being too out there, or too colorful. These pantyhose pair best with an all-black look.
18 – Get Your Hands on Some Seethrough Violet Pantyhose
One of the more expressive trendy pantyhose styles includes a pair of slightly seethrough-colored tights. These in particular are violet. This color option gives you the opportunity to pair it with another purple, blue or pink clothing items because they are in the same color family.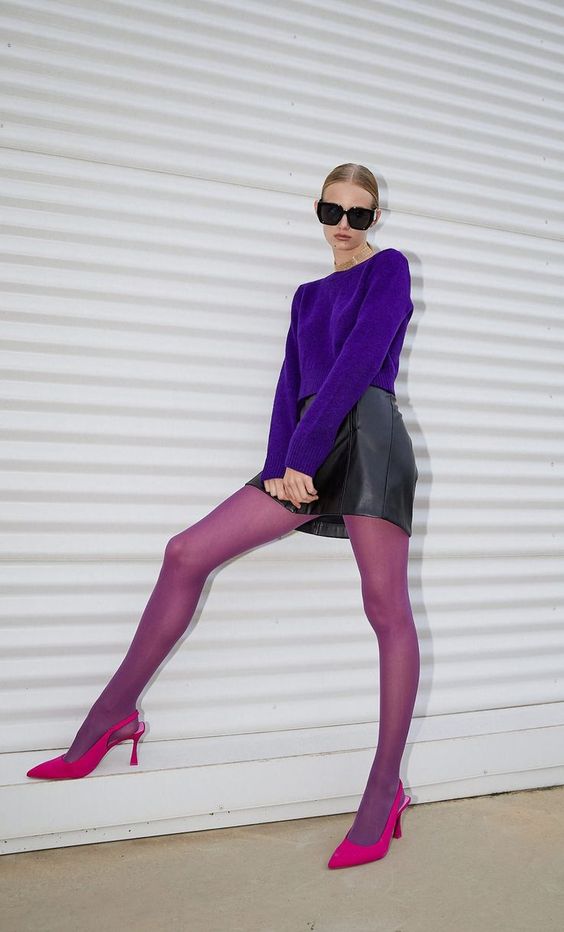 Summer Outfits with Pantyhose
17 – Fishnet Pantyhose Looks Best Under Mini Dresses
If you have a pair of fishnet pantyhose and want to style them to create an edgy outfit, try this out. You need a black mini dress of your choosing, this option has a dress with full sleeves and a ruffle top. Pair with an edgy belt with silver detailings, and chains and you're all set. These clothing items will really compliment the aesthetic of these pantyhose.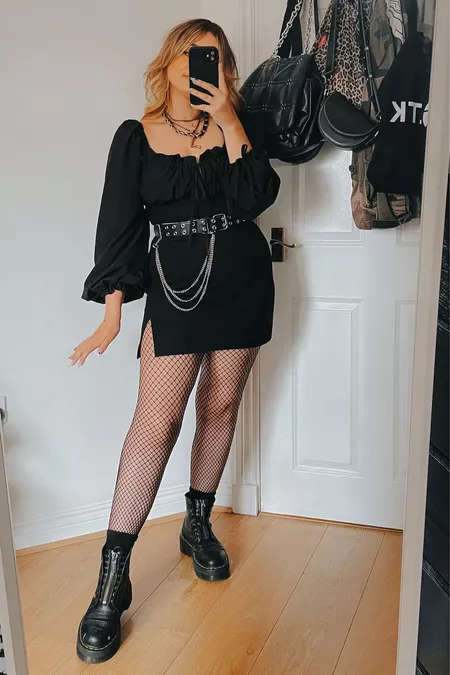 16 – Wear Opaque Black Pantyhose with a Classic Dressy Outfit
One way to style dark and opaque black pantyhose is in a classic outfit. So wear a black skirt, black shoes, and a white blouse with these pantyhose to look stunning.
15 – Best to Create Cool, Casual Outfits for Teen Girls
One way that you can really stand out with your outfit this summer, and yet remain casual is through these types of outfits. The key to making a stand out casual outfit are band t-shirts. Or simply graphic t-shirts. Find one with a neutral base color – like a grey or a black. However make sure it has a bold print. Pair with your favourite shorts and you're all set.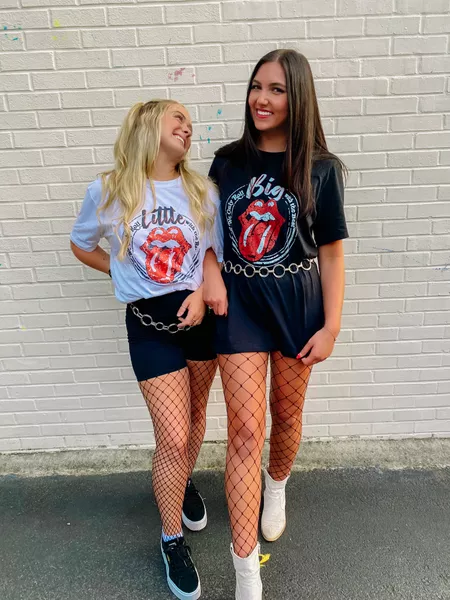 14 – Try Rhinestone Pantyhose for Your Concert Outfit
If you are a fan of the funky style, use rhinestone pantyhose to your advantage. Try pairing them with a pair of shorts and jackets. This outfit will be especially cool if your jacket has different patterns, or perhaps even pins.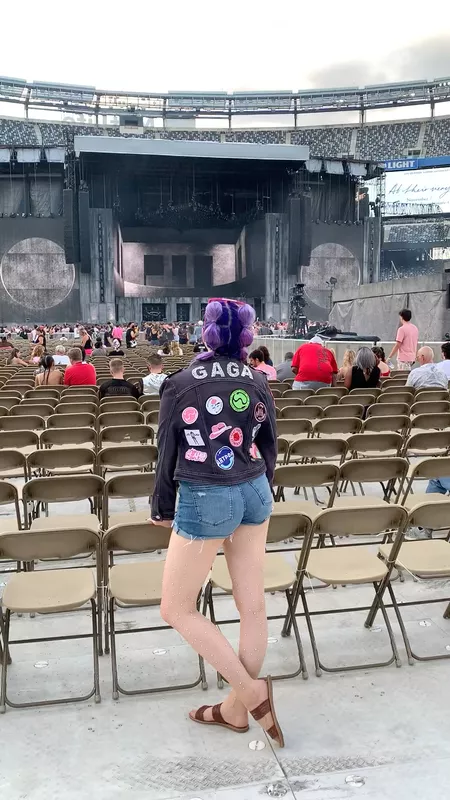 Fall Outfits with Pantyhose
13 – Match Your Printed Pantyhose with Printed Heels for a Fancy Outfit
One way to accentuate the print of your pantyhose is through matching heels. Perhaps you have checkered tights like these, you might want to think about finding heels with the same print to have a unique fancy look.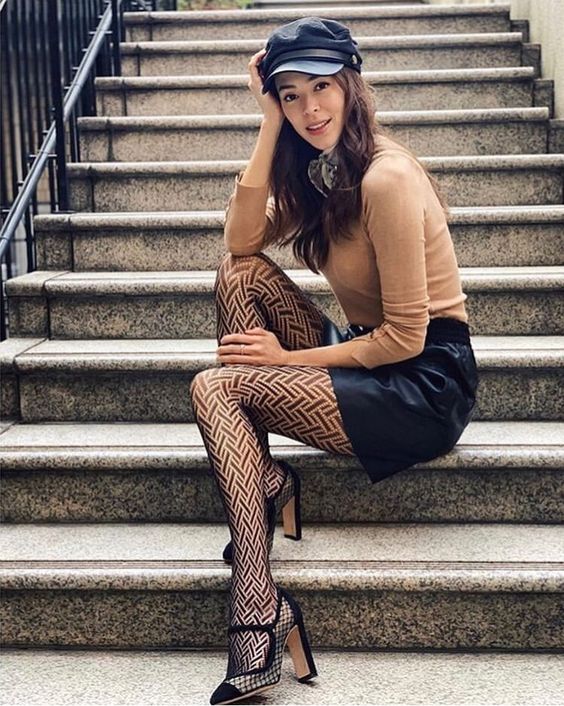 12 – Try Them Under Your Denim Dresses
Denim dresses and black tights work very well together. Try mixing this in and the color combination of the icy blue and the classic black will not dissapoint you. You can also try adding a longsleeve or jacket in a black color to continue the color of your tights to the top of the outfit.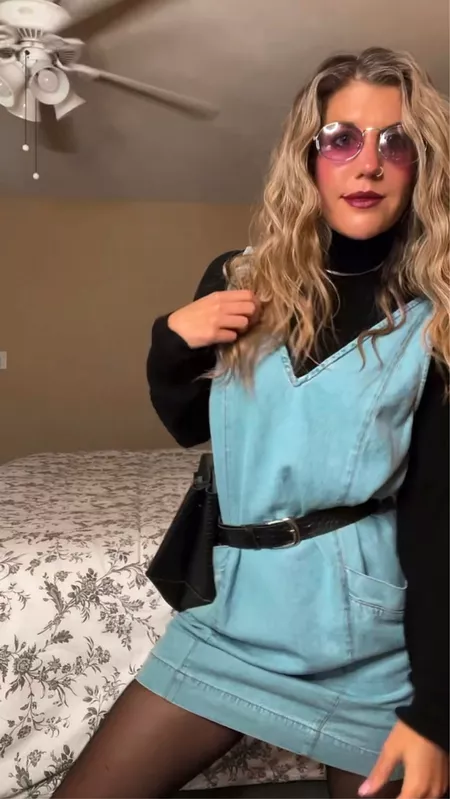 11 – Get a Pair of Seethrough Black Pantyhose to Play an Outfit Down
Everyone needs a pair of simple black pantyhose in their closet. Primarily because they come into use in a pattern-heavy outfit. If you have a very black top and a skirt with a large black and white print. You might make a good choice by pairing some seamless pantyhose with it.
10 – Go For Polka-dotted Pantyhose with an All Denim Outfit
One fun way to pair your polka-dotted pantyhose is with a very unusual pairing of fabrics. Denim, especially light blue will make your outfit quite memorable.
9 – Keep the Outfit, Black and White, to Wear a Bright Bag
Sometimes, tights – especially the most casual or basic ones are used to lay a foundation for other bright elements in the outfit. For instance, if you have a bright bag to wear – like a red one. You might want to keep your outfit less risky so the colors don't clash. In which case you will benefit from wearing basic black pantyhose.
8 – Pair Polka Dots with Bright Colors
When the print on your tights is large you might as well go all out. Therefore, we recommend finding a brightly colored skirt to match them.
7 – Wear Vertically Striped Pantyhose with a Brown and Black Look
Vertically striped tights, especially ones which are less opaque are very sultry. Hence we recommend pairing them with a dark-toned, sexy outfit.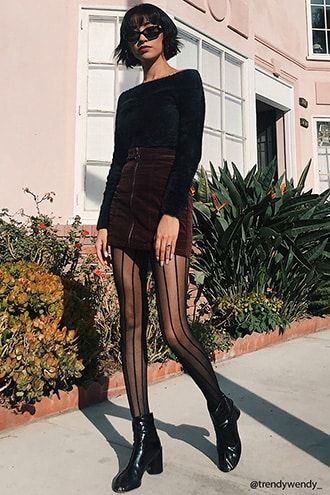 6 – Pair Brown Pantyhose with a Yellow Top in Fall
Brown tights can be classy or they can be very very fun. For instance, when paired within the same color family, such as yellows and oranges – the outfit will be very unique.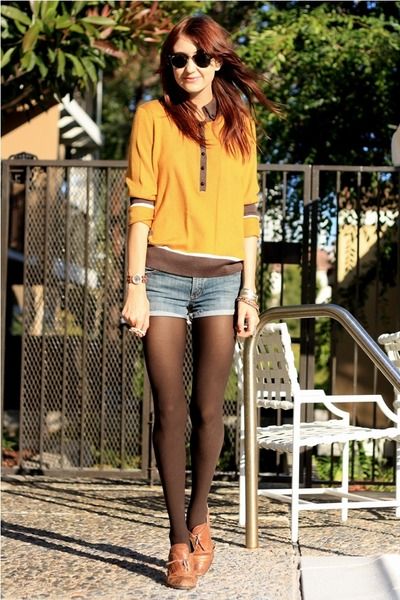 5 – Pair Brown Pantyhose with a Grey Sweater Dress
There is no cooler combination of colors than grey and brown. It is mature, and it is fashionable. If you have a pair of brown tights and want to spice them up – try pairing them with a grey sweater dress. Simple and very stylish.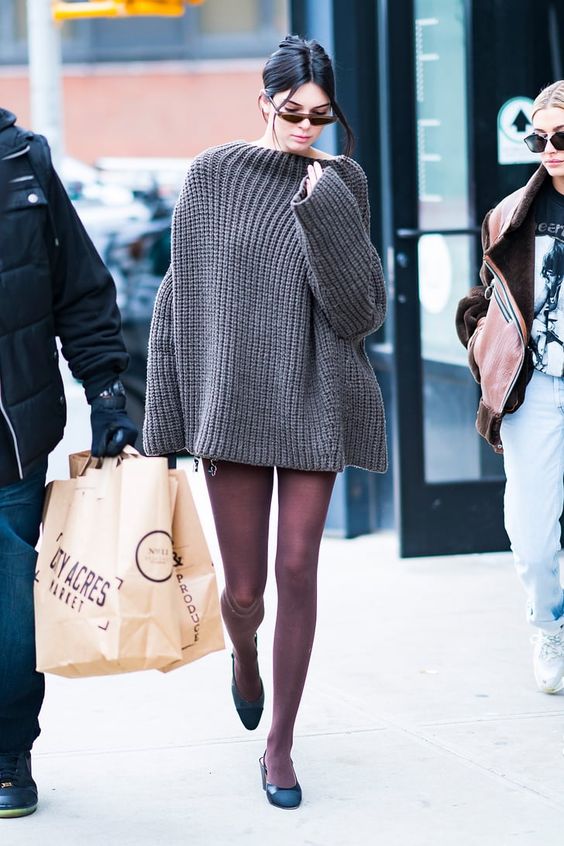 4 – Try Them Under a Sweater Dress for a Cute Fall Outfit
During fall time you might be hesitant to wear dresses, however a pair of comfortable pantyhose will do the trick. To stay warm throughout the seasonal weather changes try to get yourself a warm woven or knitted sweater dress. These come in a variety of cozy autumn colors, which will all go very well with black or even brown pantyhose. Similarly they will work great with pantyhose that contain a print.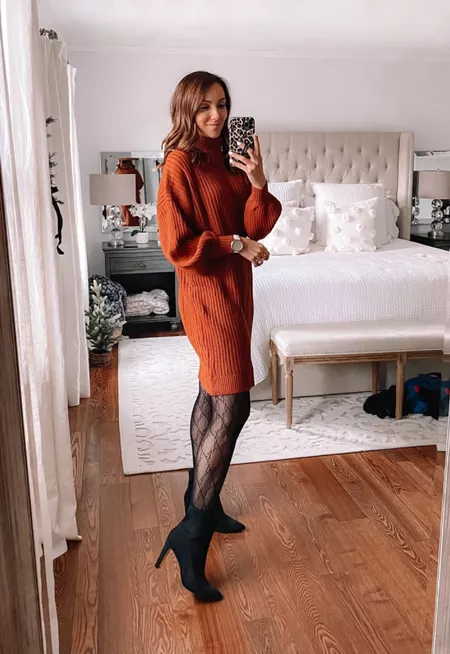 Formal Outfits with Pantyhose
3 – Pantyhose Looks Great with Silk Outfits
Pantyhose make a very great addition to fancy or formal outfits. And nothing says formal like an outfit that contains silk. Thankfully pantyhose make a great addition to outfits like the one below, that has a silk skirt or even a silk skirt and top combo. Not to mention if the pantyhose have some sort of print or engraving. This type of gentle detailing can elevate any look, and make it much more glamorous. So if you have an event coming up – consider this style tip.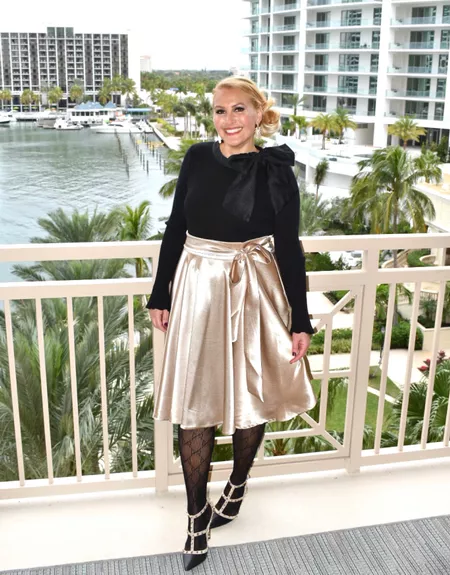 2 – Pantyhose with Velvet Dresses for Your Travel Diaries
Pantyhose with velvet work very well. Although try to stick to neutral colors for the pantyhose becuase they will be too much when paired with the very textured velvet fabric.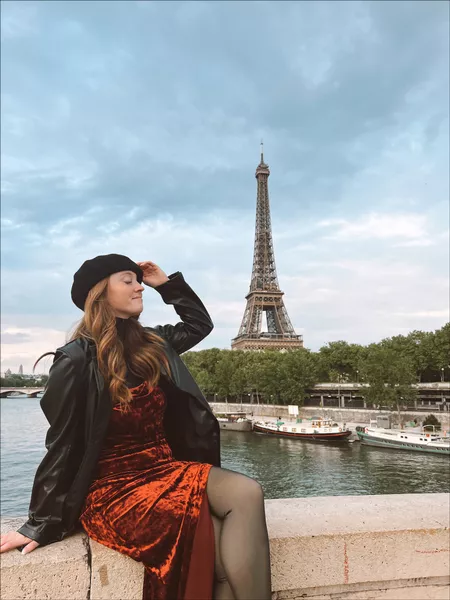 1 – Go For an All-Over Pink Look for Date Night
Sometimes white pantyhose is that piece of clothing missing from your monochrome look, that will make it seem so romantic for date night. So once you have acquired that perfect pair, match it to a very cute pink dress for a show-stopper outfit.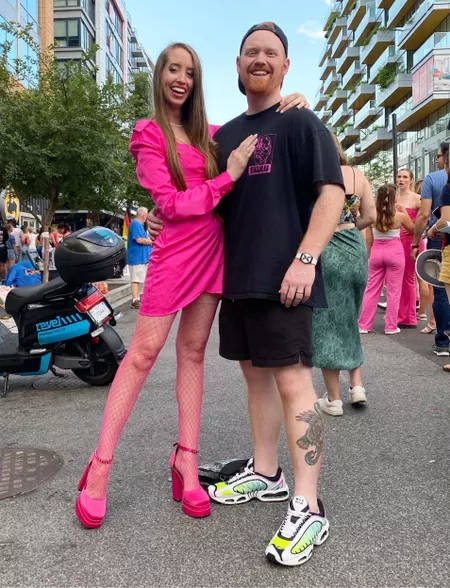 Frequently Asked Questions
Q. How to wear pantyhose with open toe shoes?
There is absolutely no problem with wearing open-toe shoes when you have pantyhose on. Although if you are having reservations about it, we recommend you simply try to match the color of your pantyhose to your shoes. Or keep your pantyhose neutral, and similar to the color of your skin tone.
Q. Can I wear pantyhose with body shapewear?
Pantyhose and shapewear are the perfect duos. Just make sure that your pantyhose are not going to be too tight, perhaps get them without harsh hemlines. Because comfort and health are key. Overall we recommend wearing your shapewear over your tights.
Q. How to wear pantyhose with sandals?
This is the one thing I do not recommend doing. Often times sandals bring reference to hot weather, beaches and pantyhose do the opposite. Therefore, try to avoid this pairing to maintain a balance in your outfit.
Q. What's the difference between pantyhose and tights?
The technical difference between pantyhose and tights is in terms of denier ad the denier for pantyhose is 8-30 and tights are between 40-100. Denier is defined as the unit of measurement per yard of fabric, which means that tights are almost twice as heavy as pantyhose. Pantyhose are mostly sheerer and they will show your skin to some extent. Even some tights can be slightly sheer but never as sheer as pantyhose. Unlike pantyhose, tights will also usually provide you with some warmth because of their thickness.