What to wear to a summer bbq – Some of the great activities you can do during your summer break include picnics on the beach, brunch with friends, and rooftop cocktail parties. Among the list of these exciting activities, one must-have event that many people associate with winter is BBQ.
Summer BBQs are the new trend and we can't wait to try all the bbq recipes that we've been seeing everywhere. A perfect combination of backyard BBQ and luxury garden parties! An outdoor grill session with your loved ones is all you need to spice up your summer break.
Here is a guide if you are confused about what to wear to a summer outdoor event.
Summer Barbecue Party Outfit Ideas
In our last post, we talked about What to Wear on a Picnic, but bbq parties are a league of their own, so of course, they deserve a special post. Though an outdoor grill session would be an exciting and memorable event for you, deciding what to wear can be a hassle.
The scorching heat of summer and outdoor grilling demand something casual. On the other hand, garden parties require semi-formal dressing. All you need is a combination of these two types.
Don't worry! I have got plenty of options. In most cases, you have the right outfit in your wardrobe, but you cannot figure out how to style it. So, grab a cup of coffee, and let's help you decide on the right outfit from the clothes you already have stacked in your cupboard.
Tips On Styling
Before we dive into the discussion of styling your outfits, let's discuss some tips you should keep in mind while finding the appropriate dress for you.
When it comes to outdoor summer events, the choice of fabric plays a crucial role in your comfort and overall look. Make sure you choose the dress with breathable fabric. Otherwise, you have to face the wrath of the sun.
Light tones and shades are preferred for summer. Choose pastel colors or nude tones. However, if no light-colored dress is available, which can hardly happen, you can balance the tones by pairing it with a soft-colored cardigan or kimono.
Whatever dress you are wearing for an outdoor summer event, sunglasses are a go-to option when it comes to selecting the right accessories.
If you are going for a printed dress, ensure the print pattern is not overcrowded, as it might give off an overwhelming vibe. Choose abstract or lively floral prints.
Use multi-purpose accessories to diversify your look. For example, you can wear a scrunchie on your wrist for a chic look and use it to tie your hair if you feel hot.
It is better to cover your skin as much as possible, as the harmful UV rays can harm your skin. Therefore, try to wear long dresses. If you are wearing shorts or a sleeveless dress, don't forget to put sunscreen on the exposed parts of your body.
20 – Wear Your Button-Up Striped Shirt With your Boyfriend Shorts
You can pair any dress shirt from your wardrobe with boyfriend shorts and complete your look with a white hat. Though any dress shirt would look elegant with denim, I would suggest choosing pastel colors to balance the tone of your outfit.
19 – Checkered Knee-length Dress With Sneakers For A Casual Look
Go for a smart casual look and wear a knee-length dress. Select a geometrical print – it can be a checkered print or striped print. Pair your dress with sneakers for a comfortable experience. Finish your look with a black cross-body bag, and wear your hair down.
You can check here if you are looking for other ideas on how to style a checkered dress!
18 – Wear An Oversized Tee With Denim Shorts
One way of enhancing the breathability of your summer outfits is to wear oversized clothes. An ideal choice for your outdoor grilling session is an oversized tee. You can pair it with denim shorts for a casual look. Complete your look by accessorizing your outfit with chic shades.
17 – Floral Maxi Dress With A Hat
Floral prints are an ideal choice for summer outfits. Go for a v-neck floral maxi and level up your outfit by adding a belt. Accessorize your look with a hat and chic sunglasses. You can also match the color of your shoes with the hat for an elegant look.
16 – Go For A Simple Knee-Length Dress And Pair It With Sandles
Try wearing a warm shade knee-length dress with slits on the sides. Keep the accessories minimal for an elegant look, and add a splash of color by pairing them with black sandals.
If you are in the mood to wear shorts, then wear a midi dress and tuck it into your shorts.
15 – Wear A Button-Up Shirt With A Pleated Skirt
Try the deadly combination of skirt and button-up shirt. Choose a pleated skirt from your wardrobe and pair it with a white button-up shirt. You can also wear a tank top and leave the shirt's buttons open for a chic look. Pair it with simple accessories, and you are good to go.
A pleated skirt is a statement piece; you can style it in many different ways – here are a few more ideas for you!
14 – Pleated Green Maxi Dress
Maxi is an ideal option. However, if you don't want to go for floral prints or any printed maxi, you can create an elegant look with a monochrome maxi. Add some frills to the maxi, and it will give you an elegant look. Pair your outfit with sandals, and you are done.
I would suggest accessorizing your outfit with a hat if it is an outdoor event. Accessorize your outfit with minimal golden jewelry, and that's it.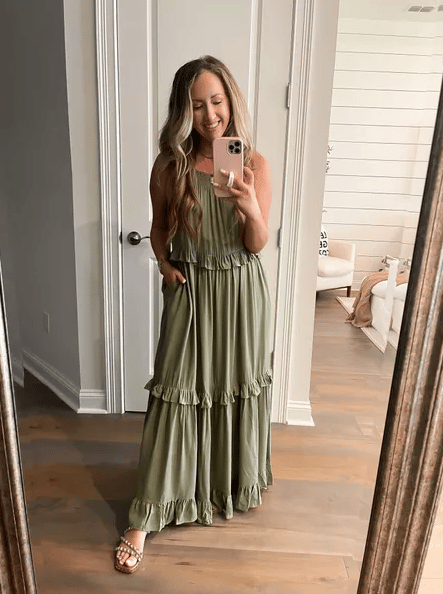 13 – Pair Ripped Jeans With Plain White Top
Ripped jeans never go out of fashion. Also, it is the perfect choice for outdoor summer events, as it is one of the most breathable forms of jeans. You can create a fantastic look by pairing them with a simple white top, as ripped jeans are a statement article.
Choose transparent heels and a straw bag for a subtle look. However, you can always skip the heels and wear sneakers.
12 – Go For A Belted Knee-Length Dress With Flip Flops
Plum color can never go wrong. Go for a plum knee-length dress. Adding some frills or a monochrome belt enhances the overall look. Keep the accessories minimal, wear comfy flip-flops, wear your hair down, and you are good to go!
11 – Spaghetti Strap Maxi Dress With A Striped Shirt And Tote Bag
Going to a BBQ party at the beach! Here is an elegant and chic outfit for you. Go for a plain maxi dress with spaghetti straps. Carry a striped shirt or linen cardigan. You can use it to cover your body from harmful UV rays. Finally, complete your look with a macrame tote bag.
10 – Pair A Plain Top With Denim Mini-Skirt
A go-to solution for an outdoor summer event is pairing your plain tops with a denim skirt. You can choose a top with pleated or frilled sleeves for a chic look. Complete your look with a hat and comfy sandals.
I would suggest going with nude shade flats for a decent look.
09 – Frilled Cream-Colored Maxi Dress And Pair It With Cane Bag
Find yourself a frilled maxi from your wardrobe. Some frills are enough to enhance the overall look of your simple maxi dress. You can pair your outfit with a stylish cane bag and transparent heels for an elegant look.
08 – Level- Up Your Casual Outfit With A Romper
If you are short on ideas and don't have much time, just go for a romper.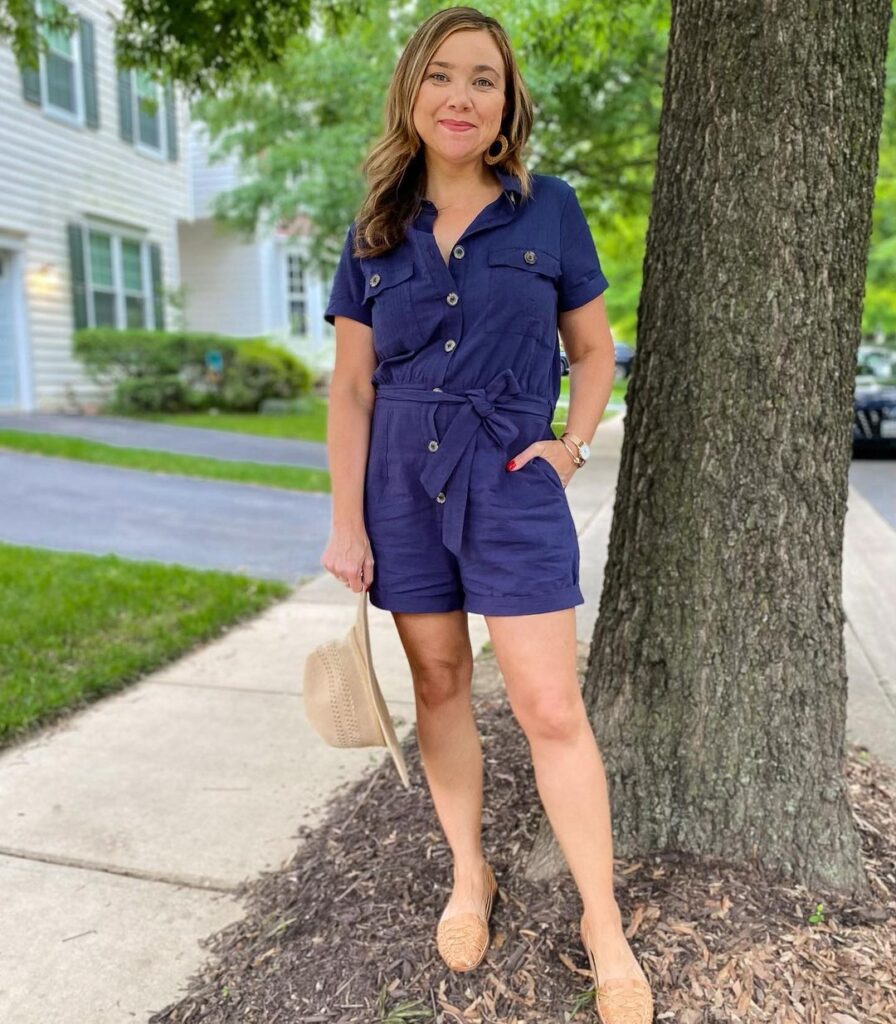 07 – Pair Your Floral-Print Top with Jeans
Floral prints never go out of fashion. Besides, the best thing about them is you can style them in thousands of ways, and they look amazing in every way. Find a floral top from your wardrobe and pair it with plain jeans. Accessorize your outfit with a cross-body bag and tie your hair in an updo.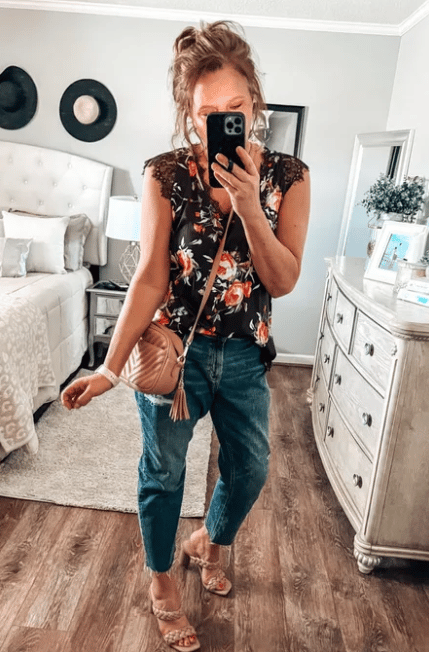 06 – Wear A Playsuit With Sandals For A Chic Look
Go for a light-colored playsuit and pair it with corset sandals. Keep the accessories minimal, and wear your hair down.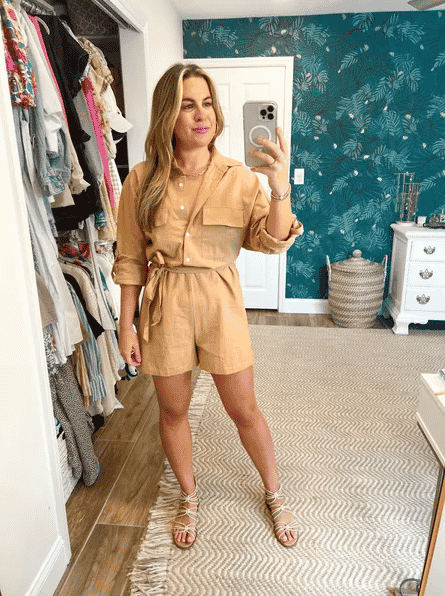 05 – A Jumpsuit Can Never Disappoint
Wear a jumpsuit. Whether you have a palazzo jumpsuit, wide-leg jumpsuit, culotte, straight cut jumpsuit, or a flared jumpsuit, it can never go wrong. However, it is better to stick with light colors for an elegant look. You can pair it with low heels for a comfortable experience.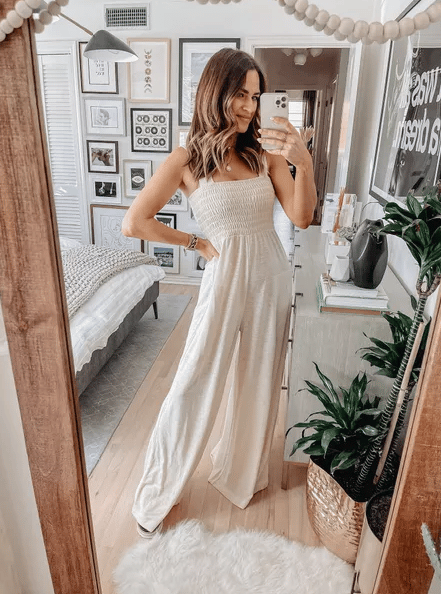 04 – Try A Lively Combination Of Midi Dress With Floral Prints
Midis are an ideal choice for all kinds of summer activities. Whether you are going for a beach picnic or riding bikes on the water bank, midi is a chic and elegant choice. For outdoor grilling sessions, you can choose a floral print and accessories with sunglasses and minimal jewelry.
Instead of boots, I would suggest wearing sneakers for a casual event.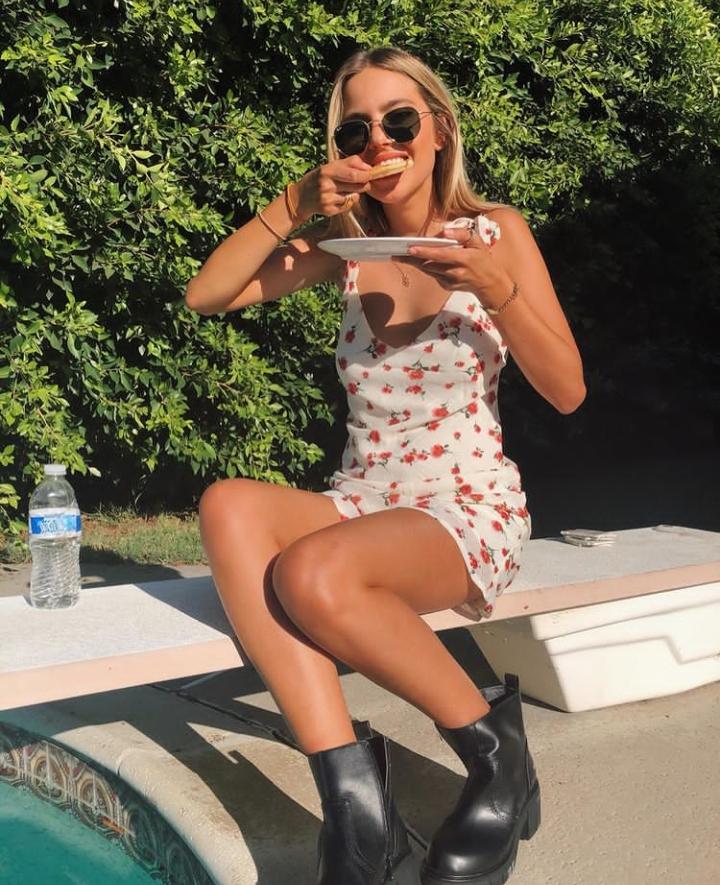 03 – Pair High Waisted Jeans With Racerback Crop Top
Pastel colors give off the perfect vibrant and refreshing vibe. If you cannot decide what to wear, take out your pastel-shade jeans and pair them with a white top. Keep your jewelry minimal, and add a stylish bag to complete your look. For shoes, go with comfy sandals.
02 – Try Off-Shoulder Maxi Dress For A Semi-Formal Look
Wearing maxi and floral prints at outdoor summer events is a smart option. Here is how you can pull off this classic yet trendy outfit in a unique way. Go for an off-shoulder maxi dress and complete your look with heels. Keep the accessories minimal, and wear your hair down.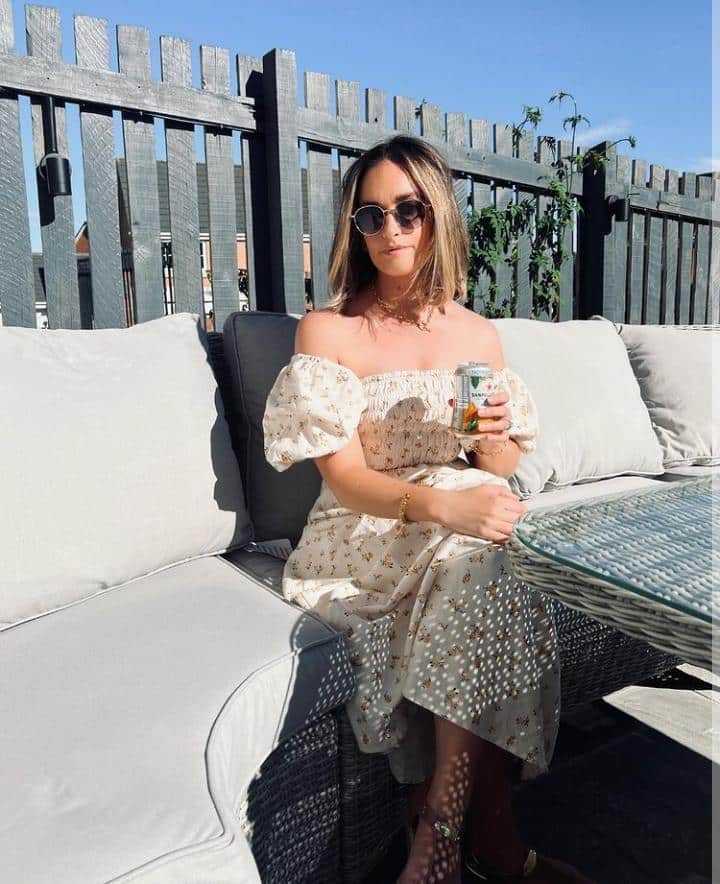 01 – Side-Cut Denim Skirt With A Simple Top And Spool Heels
Wear a denim skirt. However, choose a side-cut skirt, which would help bear the heat. Pair it with a plain top from your wardrobe and complete your look with vibrant-colored spool heels. You can also add a cross-body bag to accessorize your look.
Frequently Asked Questions
Q: What is the dress code for a Summer BBQ?
Ans: Smart casual is the most common choice for an outdoor BBQ party. Whether the party is in the backyard with DIY arrangements or in some park with grand arrangements, smart casual outfits can help you look chic and feel comfortable at the same time.
Your outfit should combine classical trends and casual fashion – such as a checkered midi with sneakers would do wonders.
Q: What colors do ladies wear to garden bbqs?
Ans: Ladies prefer wearing pastels and warm shades to garden bbq parties. Outdoor events usually call for light colors. The ideal choice is to go for a neutral color and add a splash of color by adding a vibrant lace or sleeve design.
You can also pair it with dark-colored shoes and accessories to balance the tone of your outfit. Monochrome looks are yet another option if you are confused about what colors to mix.
Q: Can I wear black color to a summer bbq party?
Ans: Yes, you can wear black color at a summer party. However, you might need to put in some extra effort in styling your outfit, as black color is usually not a preferable option for outdoor summer events.
The right way to wear a black dress is to choose a breathable fabric, and it's better if it is printed. Also, you must balance the outfit's tone by adding a splash of neutral shades, such as jewelry or shoes.
Q: Should I wear shorts or pants to outdoor summer bbq?
Ans: When it comes to the best choice for summer events, covering your skin is the right choice as it will protect your skin from harmful UV rays. So, wearing pants, which would be of breathable fabric, such as linen, is better.
However, if you believe the event is happening in a shady area and don't expect direct contact with sunlight, you can also wear shorts. However, make sure you apply sunscreen to the exposed parts of your skin.
Q: Which fabric is best for a bbq party in hot weather?
Ans: The fabric of your dress is not only a crucial factor that decides your overall look, but it also plays a significant role as a regulator of your body temperature. Wearing a suitable fabric can make you feel airy even in the scorching heat. The right choice of fabric for hot weather include,
Linen
Cotton
Rayon
Micromodal
Chambray
Silk