How to wear a checkered dress: Let us throw it back all the way back to 2012 when Paris fashion week set the blueprint for checkered prints by bombarding the runway with them, from white to yellow all checkered prints made a stunning appearance.
Ever since, if not before that, this sophisticated yet stunning print can be seen everywhere. Influencers have added this print to their wardrobe because of how fundamental it has become to the fashion industry. Everyone gets tired of boring, and this print is the exact opposite of boring.
Best Checkered Dress Outfits
So ladies, get your hands on a checkered dress as soon as you can because I am about to show you many dope ways to style them.
Do's And Dont's Of Checkered Outfits
Checkered prints need

to be

thought when styling, so make sure you have put a lot of thought into how to style that checkered dress before you throw it on, or else you will end up looking like an amateur at fashion.
Neutral tones in checkered prints leave a better impression than bright checkered prints.
If you want to

make a fashion

statement then bright checkered prints are your go-to.
Get yourself checkered accessories such as a

scrunchie

, or a tote bag to make your outfit more put together.
If you tend to wear neutral shades of checkered printed dresses, keep some black

fishnets

around because they will be your best friend for sure.
Checkered printed shoes are the new wave too;

make an addition

to your wardrobe by buying a pair and incorporating them into your next outfit with a checkered dress.
You will have to make sure the spotlight remains on the checkered print but at the same time, your whole outfit

can not be

invaded by boxes only – try to add some solids to your outfit.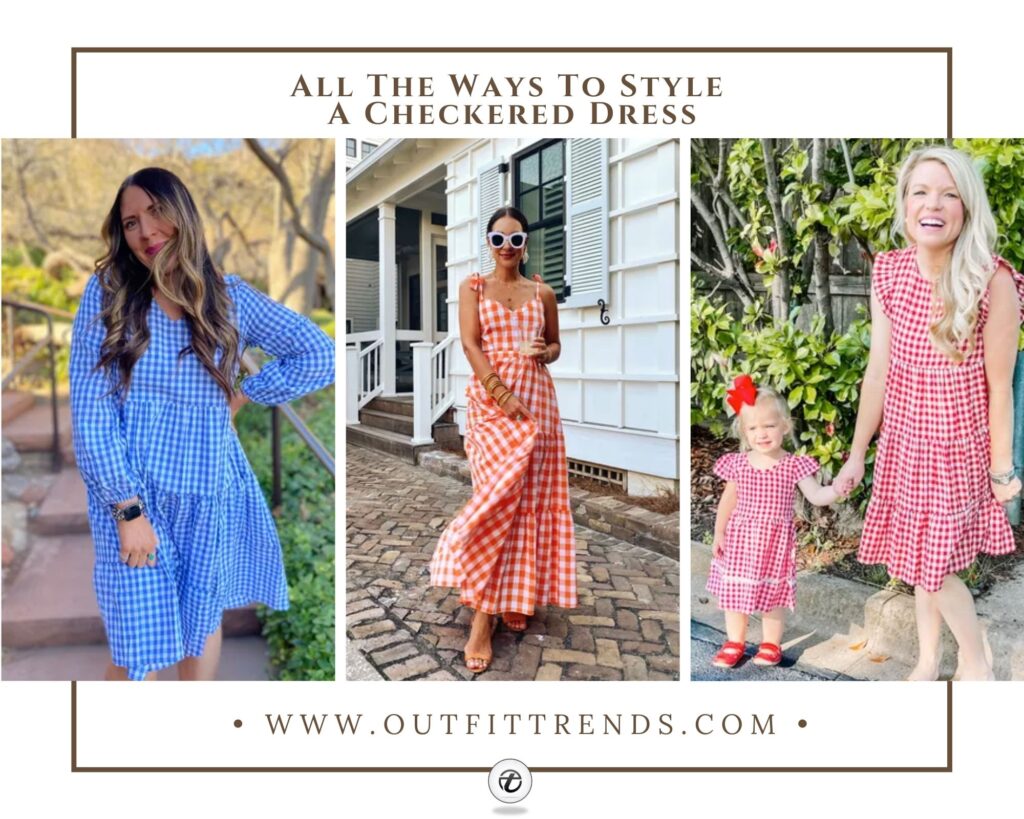 Let us put together the best ways to style your checkered dress. You won't ever run out of ideas to nail this look!
1 – Pair It With Sneakers
Here is the ultimate cozy-comfy look for you. Throw on your checkered dress with a pair of sneakers, but make sure you contrast or match the colors. If the checkered print is in neutral shades, your best bet would be to go for a black or white pair of sneakers where if it is a bright-colored dress, pair it with some dull-colored sneakers. Elevate your streetwear, or a day out with the girls with this look. Here is a dark blue vintage checkered dress styled with a pair of light blue sneakers.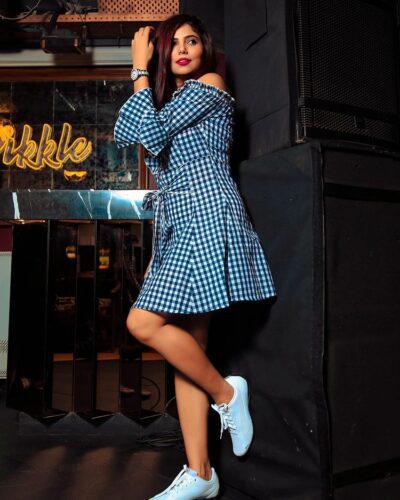 2 – Pair It With Heels
Here is how to transform your cozy-comfy look to a sleek look in a matter of seconds by slipping on a pair of heels with that checkered dress in your closet. The next time you are looking to stand out in a crowd, just pair a checkered dress with a pair of heels and dazzle everyone with it. If you are going for a formal look, pair a basic checkerboard printed dress with a pair of black heels.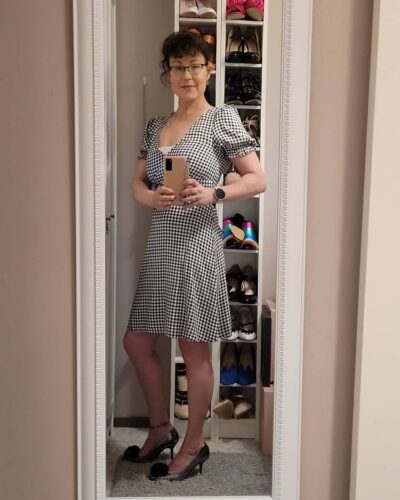 3 – Cardigans On Checkered Dresses
I do not think it comes as a surprise how versatile cardigans can be. Give this cottage-core autumn look a go this year by pairing a checkered dress with your favorite cardigan. Whether you are heading out for a picnic with your friends or on a cozy date with your partner, this is an upgrade from loungewear to a chic look. You can incorporate many colours together with this look, just make sure they match!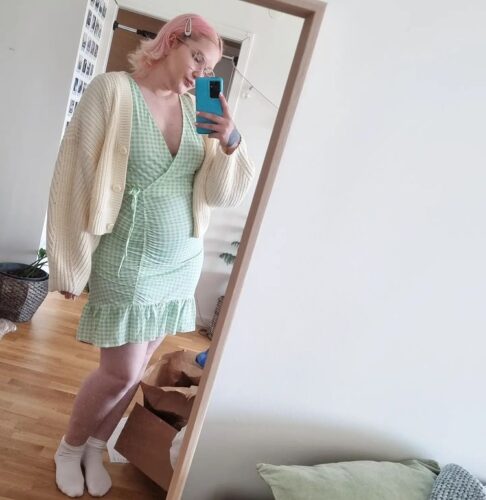 4 – Turtlenecks Under Checkered Dresses
Combining a turtleneck, the biggest fall trend of all time with a checkered dress will help you achieve a very subtle fashion statement. You know what they say about turtlenecks, you can never go wrong with them. So grab a solid-colored turtleneck for your next outfit and slip it on under that checkered dress shirt. The best idea would be to keep all your shades light; pastel and neutral in this case so the look is not too heavy on the eyes. Here are some more of our favorite Ways To Style a Turtleneck.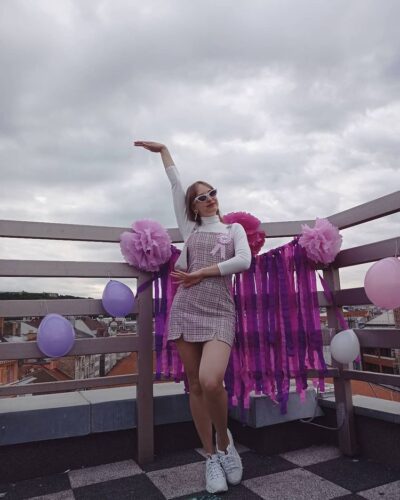 5 – Modest Way To Style a Sleeveless Checkered Dress
White t-shirts are not exactly groundbreaking but they can for sure make a fashion statement when paired with the right clothing item. Simple yet stylish, you can make this your go-to outfit. Let us have a look at a checkered dress paired with a white t-shirt to slay the day and heat, all in one. Typically this is a look for summer or spring, a close alternative to the turtleneck winter look. You can upgrade your look further by adding a plain tote bag from Charles and Keith.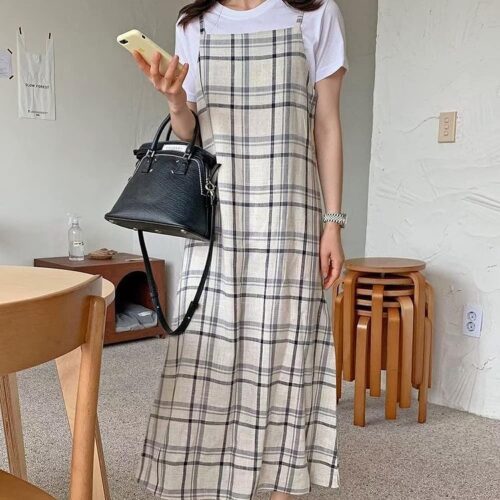 6) All Season Boots
Who doesn't like boots? Especially all-season boots that are ready to be incorporated into your outfit any time of the year. Purchase all-season boots as soon as you can because only these can truly save the day. Pair any midi length, knee-length checkered dress with all-season boots and walk like you own the town! You can further add a hat on sunny days or a beanie when it is breezy outside.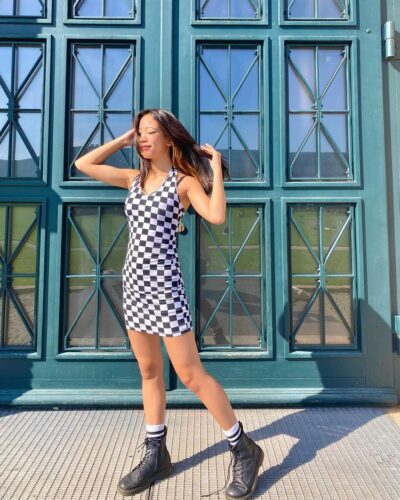 7) Winter Boots
Knee-length or ankle boots are a very fashion-forward investment for every girl when done the right way. The fashion industry has added so much more variety to winter boots than there already was, so erase all your worries about your winter looks. Rock that holiday spirit this winter by wearing a checkered dress with a pair of winter boots. You will dazzle everyone with your looks. It might be a bold look with bright colours but do not be afraid to give it a try! If the dress is sleeveless then pair it with a cardigan or a turtleneck to overcome the cold weather, otherwise, a full-sleeved dress will work just as fine alone.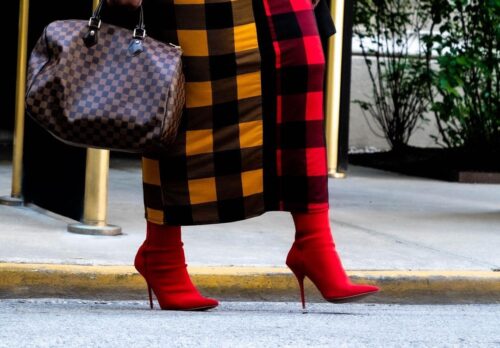 8) Red Checkered Dress Outfit
No doubt belts are the saviors of modern-day outfits. It will amp up any basic outwear, however since we are on plaid dresses, brown and black belts are your best options. If you are not willing to go all out with other items in your outfit, then make a small addition; a belt. This way you will feel chic with your checkered dress and fit as the belt will define your waist specifically, giving you the maximum smart and slim look. The best color combinations for brown belts are red-checkered prints whereas, for black belts, any colored print will work.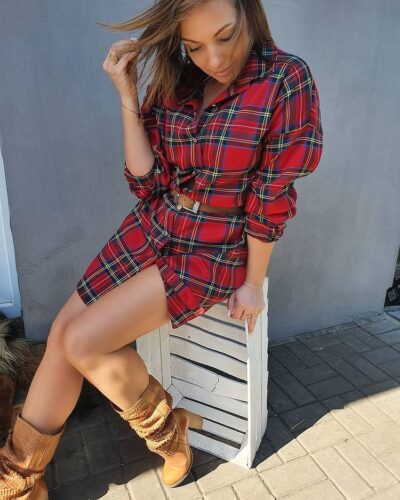 9) Slip On Those

Fishnets
Something about fishnets is so divine, as they can either add the element of sobriety to your outfit in the workplace or bring out the party animal in you at the bar. The best part about checkered dresses is there are no strict rules on what you can and can not wear with them. Style a chic checkered dress with a pair of fishnets, coordinating the colors accordingly. The drill is, as usual, to pair dark colors with dark and light with light. You can also get some more styling ideas by going through these Unique Ways to Wear a Shirt Dress.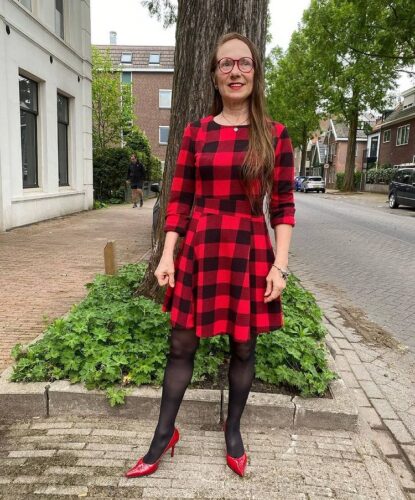 10 – Modest Checkered Dresses
This is dedicated to all my hijabi babes. Who said you couldn't rock a hijab with a checkered dress? Let me hook you onto the best pairings for a hijabi who owns a checkered dress. If it is summertime, you will want to wear a pastel or neutral shaded checkered print to match it with a similar hijab as dark colours will attract heat. You can pair white with baby blue, baby pink, and so on. Mint coloured checkered prints will also go along with a white hijab. On a cool winter day, you can style a black hijab with some dark striking colours, like regal red and bright blue, etc.However, make sure you do not wear the exact same colours in your hijab and checkered dress both because the spotlight needs to stay on your dress!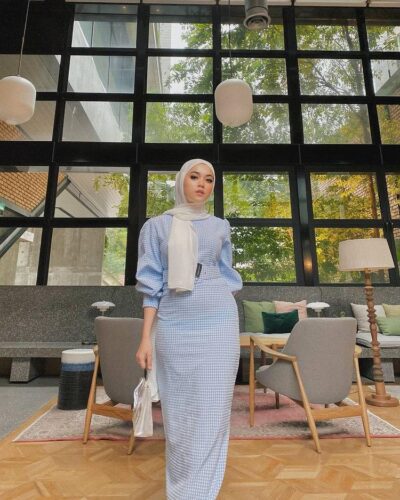 11 – How to Wear a Checkered Dress in Winters
You will thank me for suggesting this look when sweater weather kicks in. Wanting to stay up to trend but warm at the same time? I got your back. Pull-on a cozy baggy sweater on top of that checkered dress. The sweater won't diminish any element of the print as it will be still seen from the waist down or wherever your sweater reaches.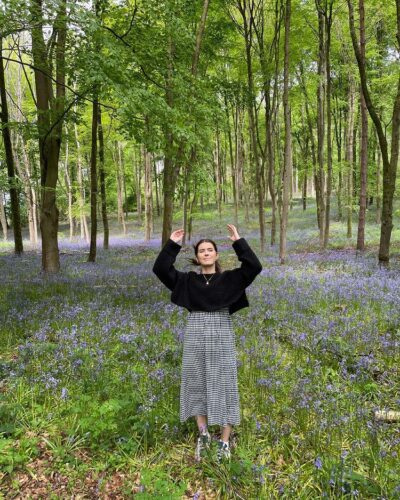 12 – Black and White Checkered Dress
I think this look is definitely worth the experiment. Tying your sweater around your waist may have been invented as a necessity to keep your sweater on you at all times, but it has certainly taken over the fashion world by making a fashion statement as well. Tying a sweater around your plaid dress is a standard informal look that has been thought through, but at the same time does not seem like you are trying too hard. You can try it with denim, woolen, or even leather jackets on a sunny winter day so that if the need arises you can actually wear them too.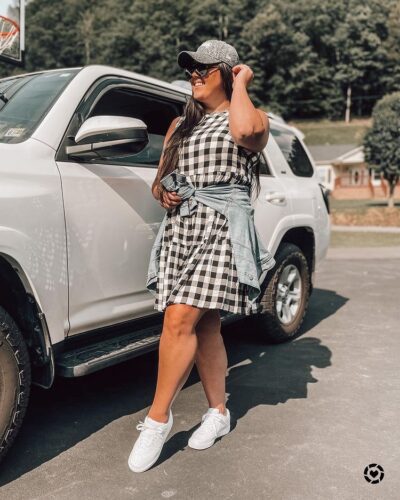 13 – Can I Wear a Button Down Under Checkered Dress?
Girls have been rocking button-downs more than men recently. You would be surprised at how much a button-down can transform your checkered dress from a 21st century look to that of a vintage 90's look. It is an unexpected yet eye-catching choice. Pair your checkered dress with a solid-colored button-down underneath it, and make sure to button it all the way up with the collars gently folded. This look will only be suitable with a sleeveless checkered dress. For a more formal look, add some fishnets to your outfit.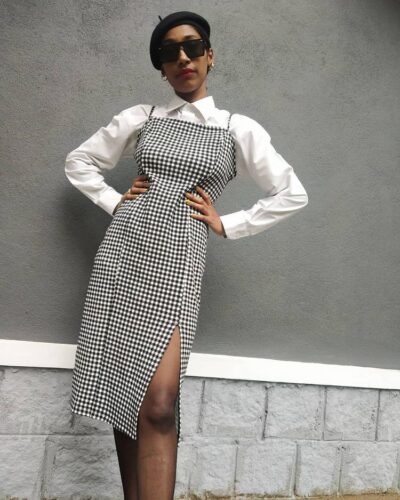 14 – Denim And Check
Denim is the most versatile clothing item. It can make an outfit comfortable enough to lounge around on the weekend and decent enough to run errands on weekdays. Pair any colored checkered printed dress with a denim jacket as it is a very versatile clothing item, and can match with any color at hand. If you are opting for a more vintage look, then pair the denim jacket with a brown colour. Have a look at the picture below for a better idea of what I'm trying to portray.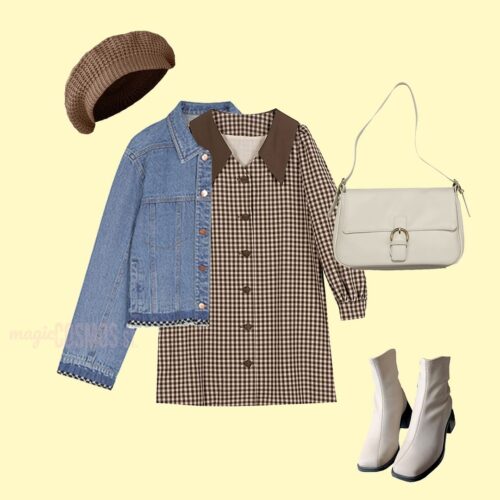 15 – The Picnic Look
Are you planning a day out with the girls in the countryside? Do not worry about your outfit because this is possibly the best pick when an event like this arises. Match your plaid dress with a sunny hat and some comfy heels or flip-flops to go on about your day. This will end up being your favourite hot girl summer look once you give it a go. Piece your outfit together like this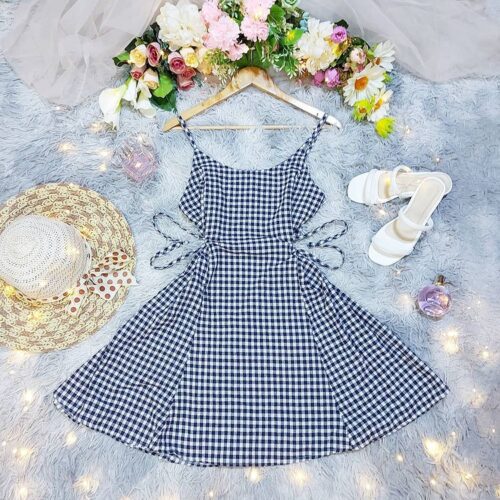 16 – Long Coats
Winters are not winters without long coats. The combinations you can make with a long coat are infinite so I have decided to combine it with our plaid dresses as well! This look will definitely make you feel like you are walking down the street on paris fashion week, and staying as warm as you can at the same time. One long coat goes a long way with plenty of checkered dresses, for the girls who are obsessed with this print. Here are some more fabulous Long Coat Outfits.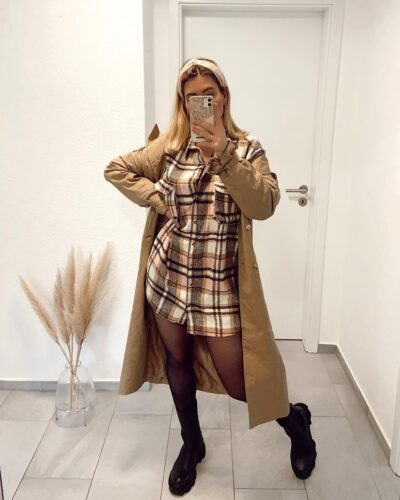 17 – Best Accessory to Dress Up a Check Dress
Many brands have started selling two-in-one clothing items, inclusive of check printed dresses with a matching headband, or a scrunchie of the same print and fabric. This way you do not even have to think twice before slipping into your checkered dress because the matching accessory will complete your outfit in ways other clothing items wouldn't. The colors and print of your dress will be highlighted further in this piece of accessory. If you too have a thing for headbands like me, then don't miss out on the Puffy Headband Trend.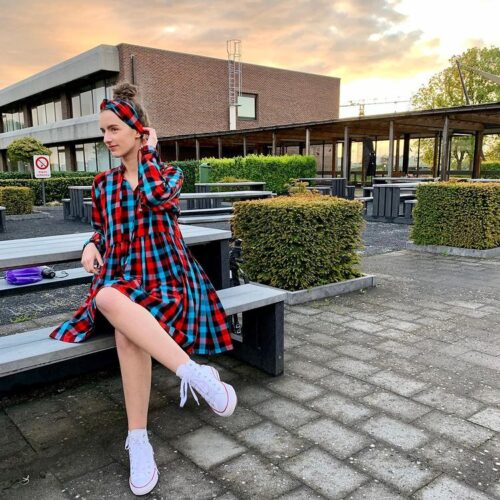 18 – Engagement Party Look
A friend of yours is getting engaged and the dress code has not been specified, oh no, what will you do? I'm here to the rescue. It is always better to stick to pastels when attending events like these, they look formal and elegant. Furthermore, what type of dress should you wear? Well, the color has been specified and if you aren't a big fan of solids, then checkered prints will be your knight in shining armor. Keep a midi length, pastel-colored checkered dress in your wardrobe at all times from now onwards! You can style it with a pair of stilettos in a color that contrasts your dress.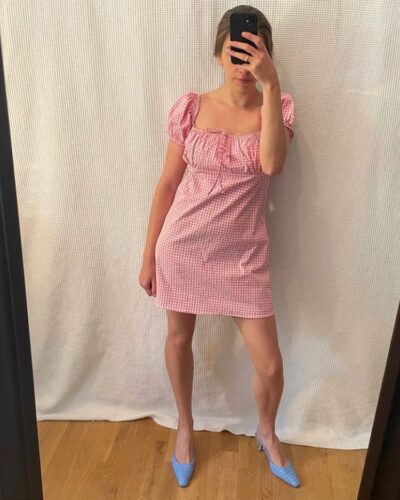 19 – Plaid Dress with Blazers
Girls that stay updated on changes in fashion and trends know that one thing is certain; blazers. It is essential for every girl to keep a blazer on her, especially the check print lovers. Pairing checkered dresses with blazers is a top-tier choice. Not only will you turn heads at the workplace but on your way back home as well. Nothing reeks of class like a blazer does. However, you must pair it with a solid-colored blazer, preferably a black one on dark prints for a regal look, and a white one on light colors for a soft look.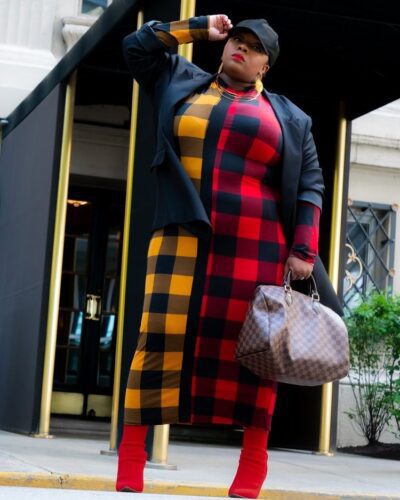 20 – Date Night Look
You can never go wrong with earthy tones in checkered prints, especially for a date night. This is the most elegant look in checkered prints, a skin-tight dress with a pair of black strappy heels, and some minimalist jewelry.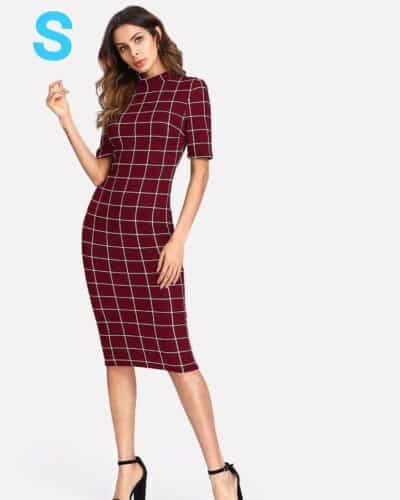 21 – Check Maxi Dress for Traveling
Maxi dresses always look good in the travel photos and the check print just takes it to the next level. If you're planning a trip soon, I highly recommend that you go through the Latest Maxi Dress Trends & Styling Tips.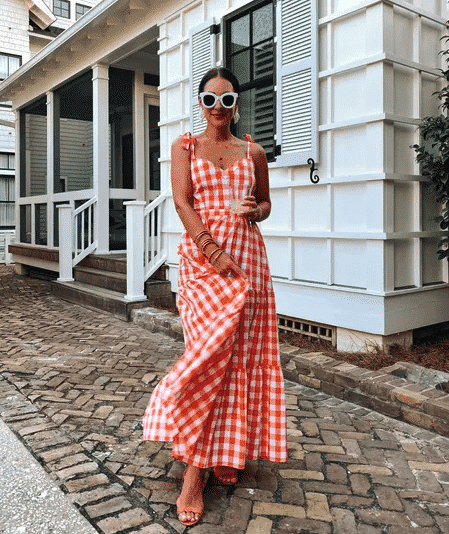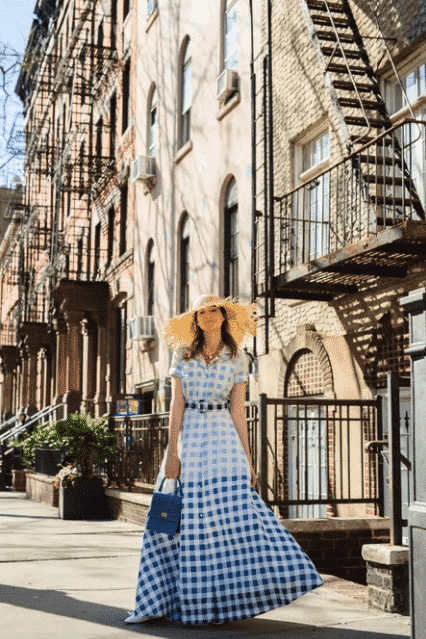 22 – Matching Mother-Daughter Outfits
Checkered outfits have always been a favorite when it comes to photoshoots and if you can get your hands on matching outfits, you can have the most wonderful family photoshoot ever.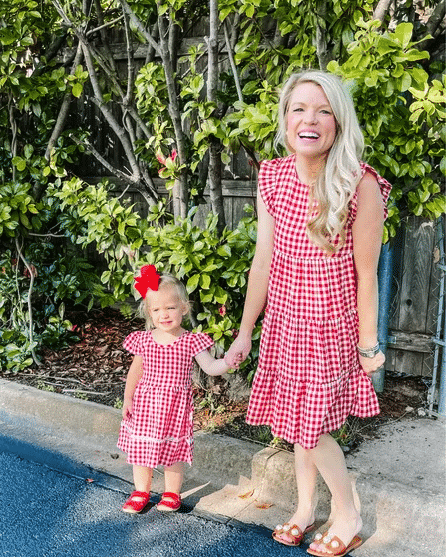 23 – Blue Check Dress
Our favorite checkered dess for today is this gorgeous blue one that can be bought here for just $14.99.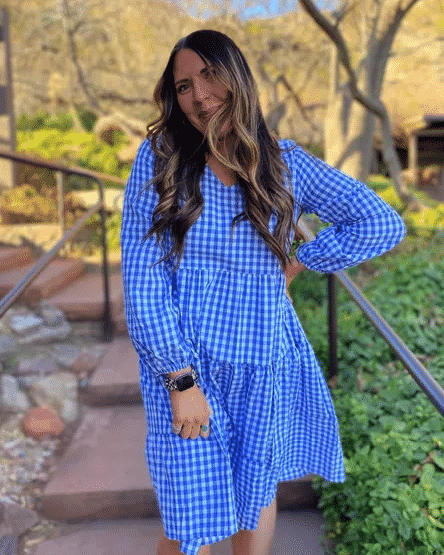 FAQs
Q. What shoes do you wear with a checkered print dress?
A. The variety is infinite, from sneakers to heels, but it entirely depends on your destination and the season.
Q. How do you pair a plaid dress?
A. You can wear it with a blazer, long coat or cardigan on top. If you are looking for something to wear under it, then go for a turtle neck or a button-down.
Q. Is checkered in style?
A. Checkered will always be in style as its one of those classic styles that you can wear any day.
Q. Do stripes and plaid go together?
A. If you love experimenting, then try to pair these two prints together otherwise stay on the safe side and wear solids with either.