Interview Outfits For Summers. If you are going for a job interview this summer, first and foremost, we wish you the best of luck! Dressing for an interview in the summer is always a little tricky as we try to navigate the heat and general discomfort while still attempting to look crisp and professional.
Everyone knows the importance of making a good impression and you may feel a little nervous about your job interview experience, especially if the heat has you flustered. But worry no more. Here at Outfit Trends, we will be answering all your questions and more! From what to wear to an interview in hot weather to tips on how to look professional for your interview, we have got you covered. Check out our top 24 outfit picks for summer job interviews and be sure to read through our tips as well as the FAQ section at the bottom of this article for more advice!
What To Wear For A Job Interview in Summer
Let's get started with some simple dos and don'ts. Here is our dos for things to remember for a job interview in the summer.
Your look always should be well-groomed and neat. So dress neatly for the interview.
A great go-to for ladies in the summer are khakis or light-colored dress pants.
Sleeveless blouses are also okay to wear in warm weather but the width of the shoulder must be at least one inch.
Your outfit should be well pressed and free of wrinkles.
For a casual interview, a full pleated skirt with a shirt is a great idea for the summer weather and it is also office-appropriate. Skirts must be of a modest length.
If it is a sort of executive-level interview, maintain a professional look without too much layering.
Invest in a lightweight fabric. A lightweight suit is the coolest choice in summer. Stick to natural fiber that is 100% cotton because they are the most breathable.
Soft-tailored suits in silk fabric are good to wear if you want to go for a suit.
Midi dresses also feel sophisticated in warm weather.
Another rule of thumb for the summer outfit interview is to keep your silhouettes simple and appropriate.
Select a complementing shirt. It must be modest and light-colored. A cotton shirt in white is always airy, light, and comfortable.
Wear pantyhose on your legs that is closely matched to your skin.
Always wear closed-toe shoes that must be work place and weather appropriate.
Do choose accessories wisely as it is not a style or fashion contest. Keep everything simple and relative.
Hair must be neatly styled according to warm weather conditions, you can choose simple accessories but make sure that you don't go overboard.
Here are some things to avoid!
Don't dress too casually or overdress.
Don't give an impression like you are careless and sloppy by having stains and wrinkles on your dress.
Stay away from thin straps if you are going to wear a sleeveless dress.
No cropped or ripped jeans.
No skirt if the length is more than an inch above the knee.
Don't wear clothes that add thickness to your appearance.
Now, let's check out those outfits!
1 – Khakis and Dress Pants
Go for khakis and dress pants instead of cropped denim. This simple ensemble is great for an interview for a retail job.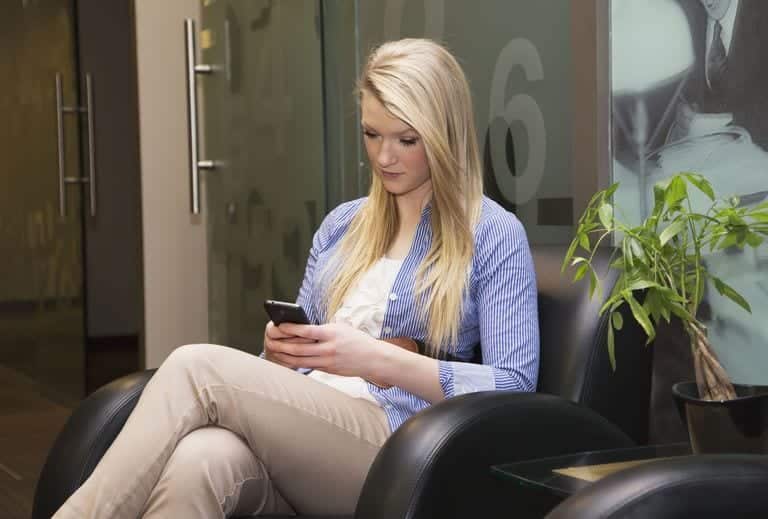 2 – Dress Shirt and Tan Skirt
A standard conservative piece like a shirt dress is ideal for a corporate job interview and also to beat the summer heat. You can also add a minimalist tie and belt to your look.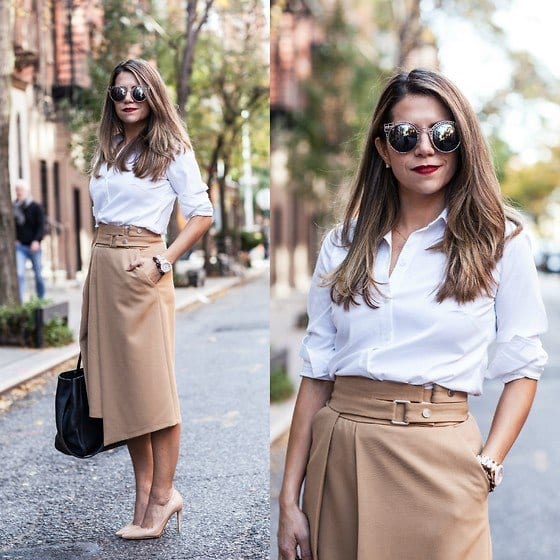 3 – Layer With a Thin Blazer
Yes, you can wear a blazer but make sure it's a lightweight fabric. The rest of your outfit should be weather appropriate. Think light colors and breathable fabrics. Here is also a beautiful example of accessories done right.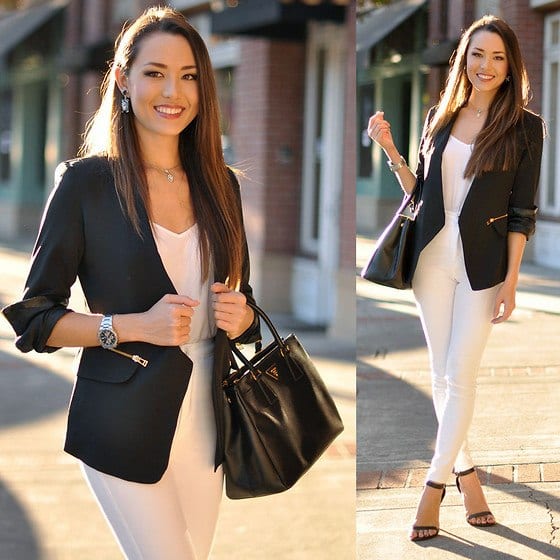 4 – Belted Navy Dress
Here is a conservative dress option that is perfectly appropriate.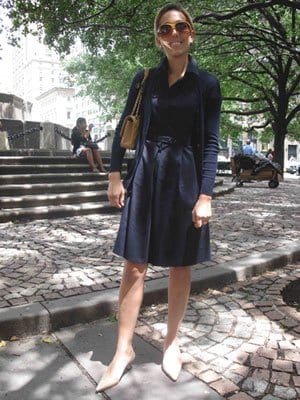 5 – Pencil Skirt
Skirts look amazing, but the length of the skirt must be office appropriate. If you're unsure about the right shoes, you can find some guidance from our earlier post on Best Footwear that Goes with Skirts.
6 – Dark Colored Top with Tan Skirt
This sleeveless tie-front top is chic in an understated way and perfectly complemented by a tan knee-length skirt.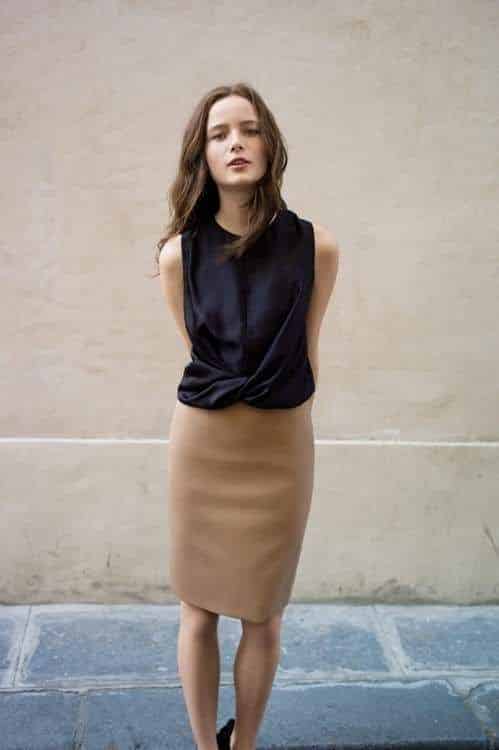 7 – Belted Vest and Blue Dress
Get inspiration with this creative look. The matching white long vest, watch, and bag are all balancing each other beautifully.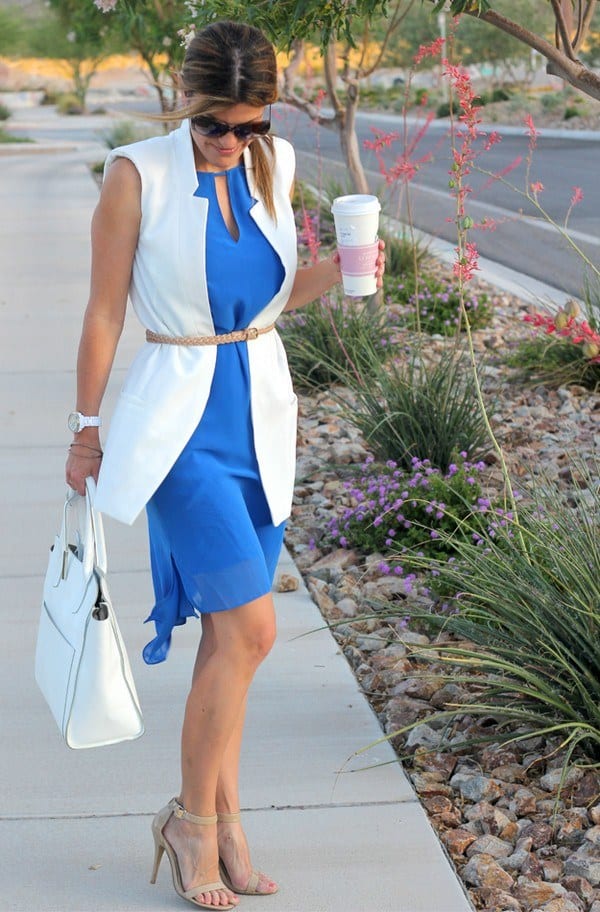 8 – Pencil Dress
The pencil dress with pink close toe heels is really stunning and perfect for ensuring that your first impression is the best impression with a statement of confidence and style.

9 – Neutral Colored Dress
Beat the summer heat with chic neutral nude colors. But remember your length and opt for a dress that reaches your knees.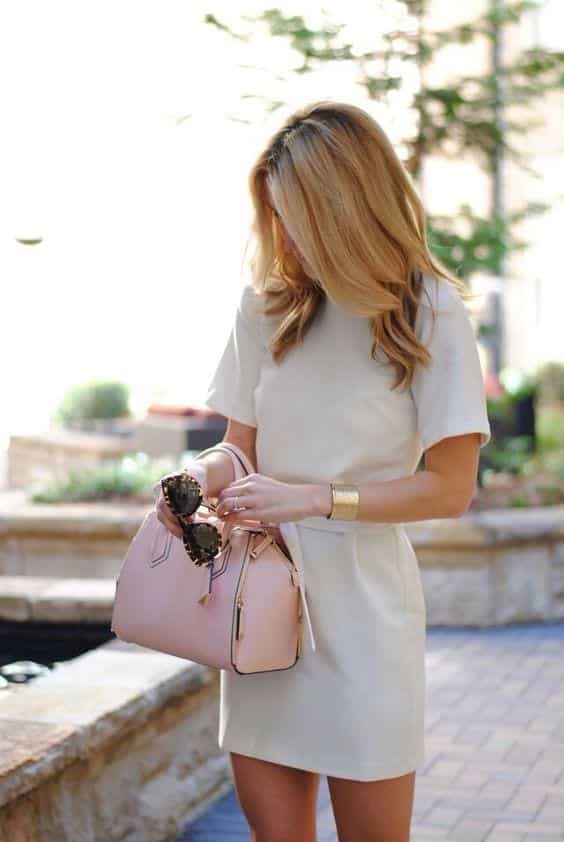 10 – Pink Top and Gray Skirt
A classic outfit for any type of interview in hot summer weather. This lightweight top will keep you feeling cool and comfortable without sacrificing professionalism.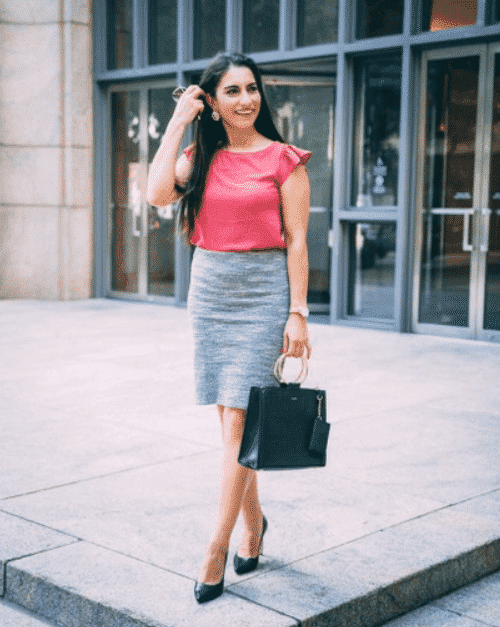 11 – Romantic Red with Black Skirt
This bold red shirt is sure to make a lasting impression! Pair it with a high-waist pencil skirt and black heels.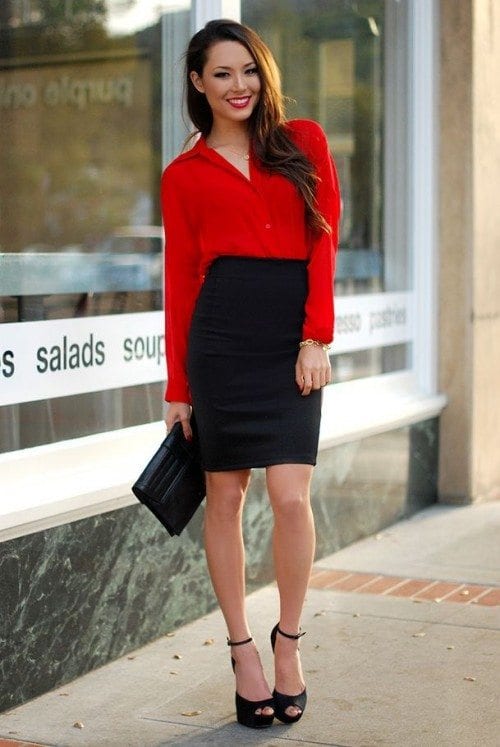 12 – Classic Black and White
For a boldly chic look, try a full skirt with a crisp white button-down. A sleek ballet bun and heels complete the look.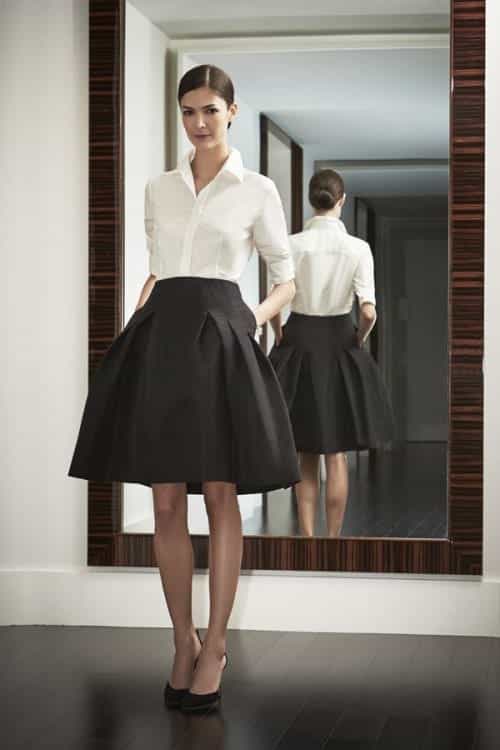 13 – Stylish Boho Print
Here is an easy way to incorporate some fresh summer colors while still retaining a sophisticated and professional look.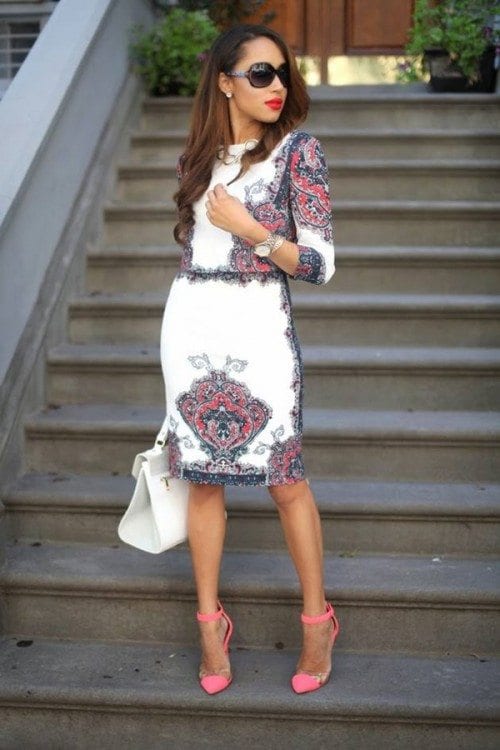 14 – Neutral Colors for Chic Outfit
These light, neutral colors will have all your fashionista dreams coming true. Not only is is a highly sophisticated look but it's super professional as well, and perfect for summer.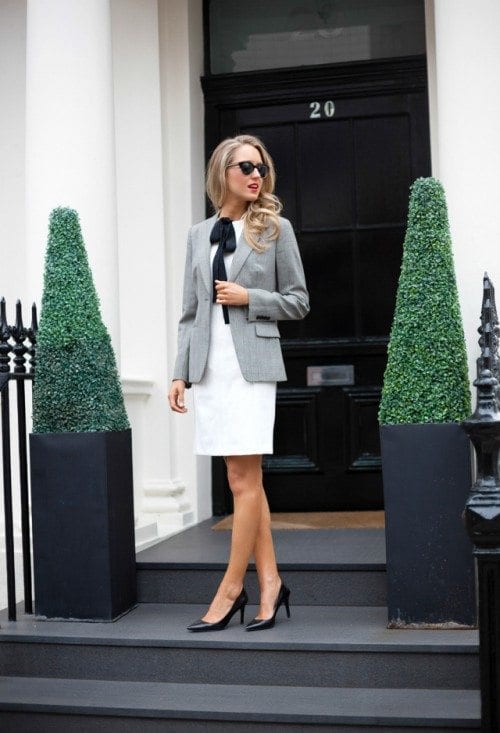 15 – Short Sleeve Blouse
This outfit is ideal for teaching interviews in the summer. And if you get the job, don't forget to check out our collection of Classroom Appropriate Outfit Ideas for Teachers.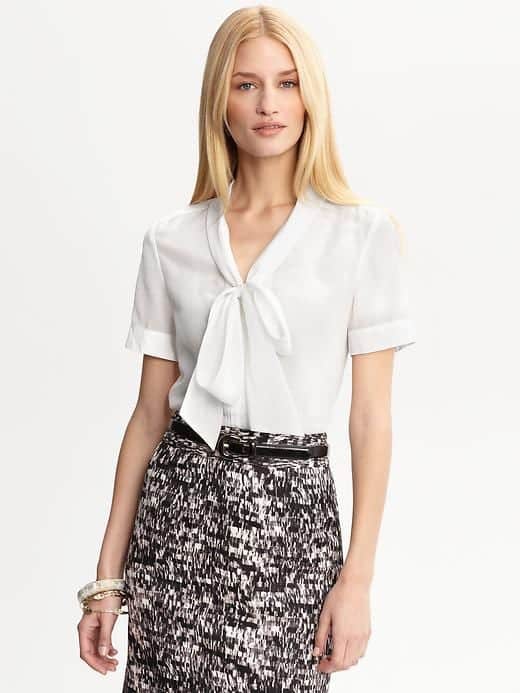 16 – Sleeveless Gray Dress
An effortlessly chic outfit idea for a job interview in the warm weather. Don't wear too many heavy accessories. Keep the look decent with stylish pieces.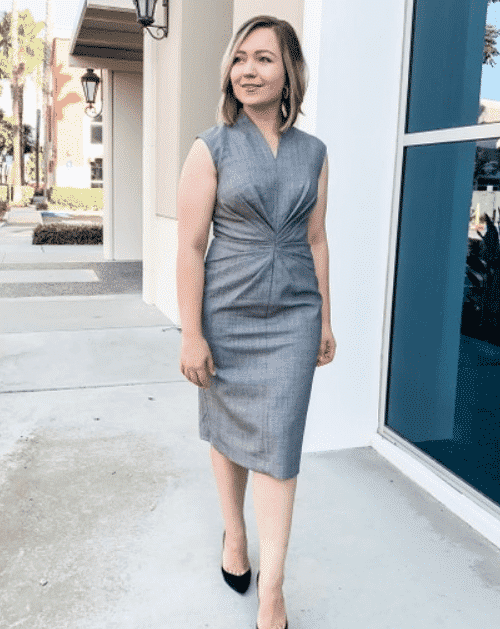 17 – Summer Bright Colors
There are many bright color of summers that can be a cool idea to wear for an interview, as long as you opt for the right fabric.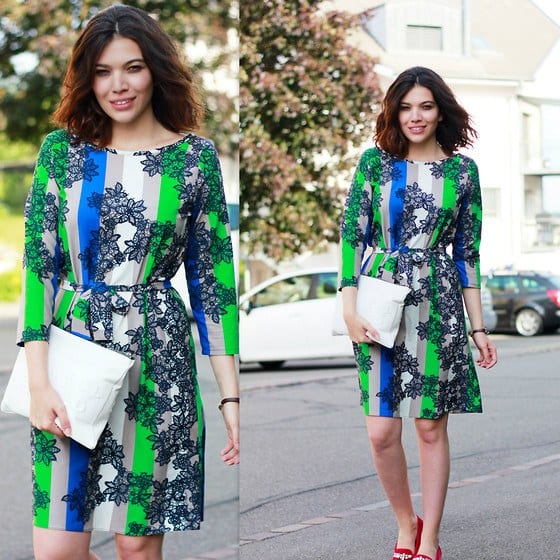 18 – Choose Palazzos Over Jeans/Tights
Considering the hot and humid weather, it makes sense to opt for trousers that are loose instead of tight ones like jeans or leggings. Palazzos are a considerable option since they look classy and professional while being a breath of fresh air for your legs. Just make sure to not go for the extra-wide ones as they simply lose the professional touch.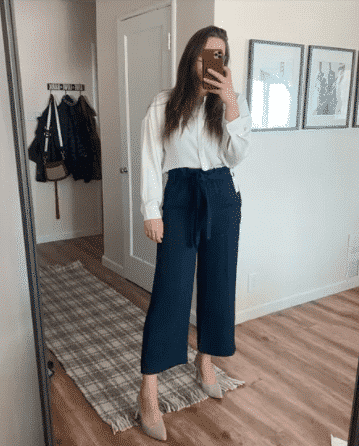 19 – Maxi Dress
If the interview isn't too formal, you can go for a maxi dress. It isn't something you would wear to an interview for a position at a high-flying corporate position but it's surely something that would work well for a teaching interview. It's always a good idea to invest in a good quality maxi dress for the summer season as it can last you for a minimum of four to five years. You can always add a belt and matching clutch or handbag to take the dress to the next level. If you're going for a printed maxi, go for something that's not too distracting, for example, opt for small floral prints like polka dots, dalmatian, or small flowers instead of big prints. Try to stick with neutral or muted colors.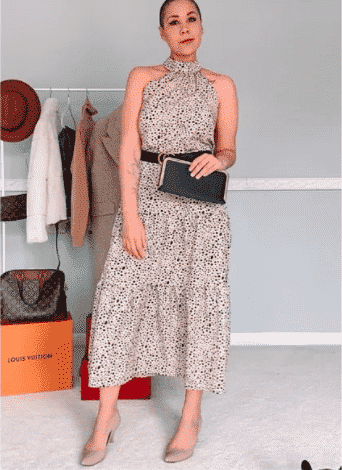 20 – Agency Interview Outfit
We love this look that Sarah Tripp has created as an agency interview outfit, it's comfortable, super-cool, and perfect for summer.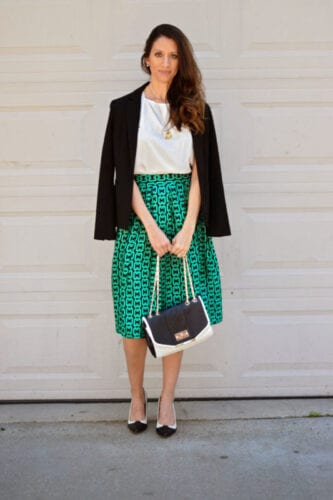 21 – Belted Mulberry Dress
If you love color in your looks, this mulberry sleeveless dress is perfect for an interview! Belt it at the waist and add nude heels as well as dangle earrings. It is chic while still being professional. Plus, you will make a fantastic first impression with it!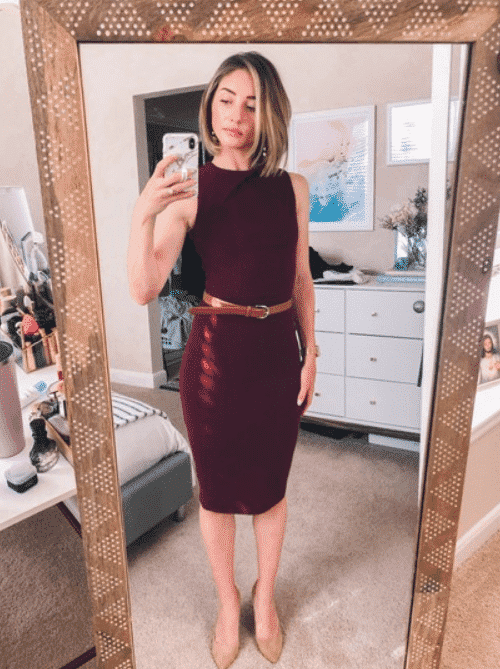 22. Gray Jacket and Slacks
If you feel in a pinch, here is a comfortably chic interview outfit you could throw together in ten minutes flat if you happen to be running late! A white blouse tucked into a pair of well-fitting slacks topped off with a short gray jacket is cute and understated. We recommend a higher neckline for ultimate professionalism. Keep your accessories minimal and round off the look with white pointy-toe heels.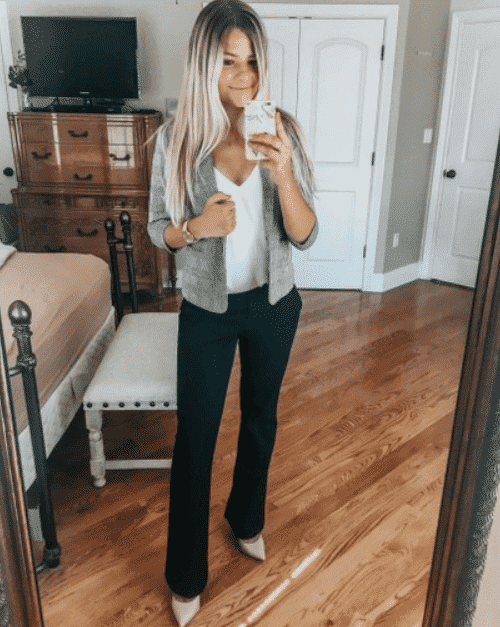 23. Striped Dress and Heels
Here is a look you will feel both chic and summer-ready in. This belted striped dress is absolutely stunning. It is midi length, perfect for an interview. A sleek updo, metallic block heels, and a black tote purse provide the finishing touches on this stylish ensemble. This outfit also ensures you will feel light and comfortable and yet you are still covered up in a conservative way. That ticks all our boxes!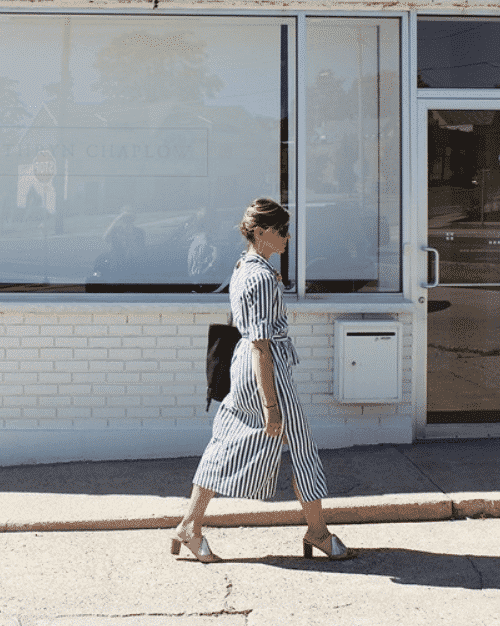 24. Job Interview Outfit For Fashionistas
If you love fashion (or perhaps you are interviewing for a fashion industry job!) here is a look to make your styling heart sing. Start with a very pale blue sheath dress and layer it with a lightweight checkered blazer. Belt the two together with a pop-of-color belt at your waist. For this outfit, you can wear nude heels, burgundy heels, or black heels. Accessorize with statement sunglasses. And voila, you are ready to wow your possible new boss!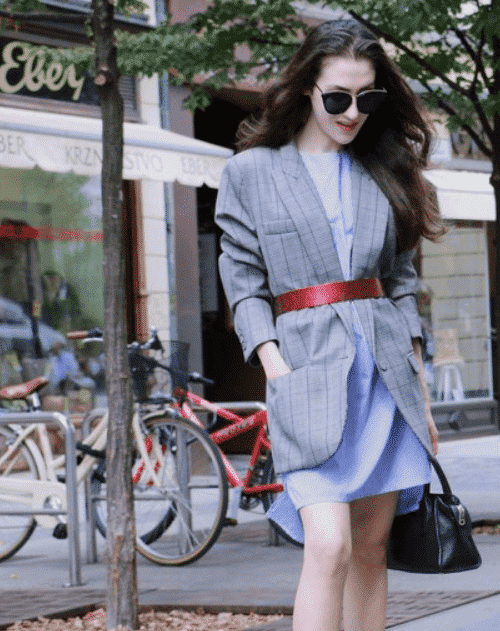 Frequently Asked Questions
While we hope we covered most of your concerns with these fantastic summer job interview outfit options, here are some frequently asked questions that we hope will give you more clarity.
Q.

What do you wear to an interview in the summer?
A. Khaki or dress pants with a button-down shirt is a safe, go-to option. Dresses and skirts are also lightweight options, but be sure they reach your knees. You can wear a pantsuit, but leave off wearing your jacket when you are not in air-conditioning. You should also pay attention to fabrics. Linen and silk are two materials that work well in summer. But linen wrinkles easily so be sure you pay close attention to this when getting dressed.
Q.

What should I wear to a job interview when it's hot?
A. It depends on a few factors. As most offices and establishments will be air-conditioned, your main concern should just be before and after, walking to and from your car or the bus, etc. In this case, wear a thin, white button-down shirt with a skirt or slacks and don't put on your jacket until you are about to enter the building. Look for suit options that have a silk shell as this will also keep you a tad more comfortable. Style your hair in an up-do and use hairspray to tame flyaways or frizz.
Another option is to dress in a simple dress or another casual outfit for your commute and then pop into a convenience store and change into your suit. This will keep your outfit crisp and ready to go.
Q.

Should I wear a blazer to an interview in the summer?
A. Yes, if you want. But don't put it on until you are in a cool, comfortable environment. It's best to go for summer blazers, that are in a light and breathable material. You can also opt for a sleeveless long blazer as it works really well with business attire.
Q.

What is the best color to wear?
A. Stick to a neutral color palette. Navy blue, brown, gray, and charcoal are all the most appropriate interview colors. However, you can choose lighter shades of these. You can also wear a button-down shirt in white to provide some contrast if your suit or jacket is darker. If you are someone who is prone to sweat stains, a white shirt is your best bet.
If you are wearing a dress, your options are a little more varied. You can even experiment with color, as shown in outfit #17. Just remember to keep it professional, ensure your dress reaches your knees, and stick to sophisticated patterns and prints.
We hope these tips and outfits inspired you and helped you decide what to wear to your summer job interview. Do you have a favorite outfit from the ones we shared? Let us know in the comments below!