Shoes to Wear with Skirts. We're back with some more style advice and this time, it's all about skirts. No matter the hemline skirts are all over the fashion scene. Maxi, midi, or mini, it seems like everyone wants a piece. We're not surprised, as they carry the same silhouette and ease as a dress but offer twice as much versatility with how you style them. Skirts are available in hundreds of different types which is why you can always find a skirt to wear, no matter what the occasion.
Even if you only have one skirt, you can easily style it up and down, based on what the occasion requires. The tricky part? Figuring out which shoes to wear with them. There's an array of chic, stylish, and comfortable shoes that deserve a spot in your closet. Sometimes choosing the right outfit becomes really difficult once it comes to the shoes. You always want to look your best and feel comfortable. Here's our definitive guide to what shoes to wear with skirts. We've rounded up some of the cutest looks for you all.
What Shoes To Wear With Skirts
Skirts are probably the most exciting and fun outfit to wear. Whether you're petite or plus size, short or tall, apple or pear-shaped, there's a skirt out there that's made just so you can flaunt your curves the right way. But for this to happen, the right shoes are equally important. So read on to find the right shoes to go with your skirts for maximum impact. But first, here's some style advice:
Find a skirt too boring to wear any more? Add a pop of color to it with your shoes.
For a romantic look, pair your skirts with nude-colored heels. Another great combination for date nights and romantic getaways is to wear black skirts with metallic shoes.
For a classic look, nothing beats black shoes with skirts.
For a casual look, you can always opt for denim skirts and they look really good with wedges, especially in bright colors like red and orange.
Bright colored skirts are trending these days and they look super hot with nude sandals as well as heels.
Skirts are one of the most feminine clothing items on Earth so just have fun and enjoy wearing them. Feel free to mix things up and create unique combinations for yourself. We're sure that the ideas we'll be sharing today will help you come up with some great looks. So let's read on.
Strappy heels and mules are a good match, especially for the skirts that are knee-length or longer.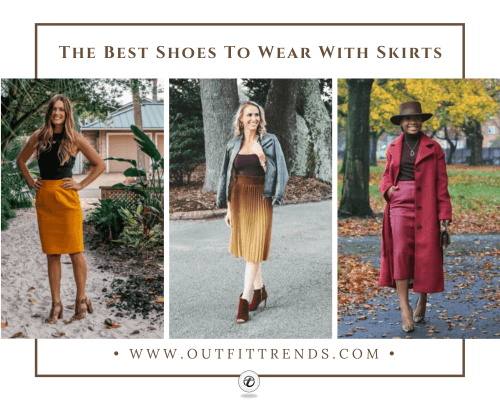 18 – Long Pencil Skirts and Sneakers for Work
The Sneaker trend is never going away for sure, here's a good look at the Adidas Stan Smith sneakers. This is something I would wear to work every day! Your favorite summer sneakers work perfectly for fall. They make the outfit crisp, new, and extra stylish. Whether you are off for jogging, going for a walk, a casual date, an outing for a movie, or even a fancier casual look, these sneakers will make great outfits for you no matter where you go. Don't miss out on the cuteness, have a look!
Adidas Women Stan Smith Shoes For $52
17 – Midi Skirts and Pumps
Confused about how to wear midi skirts in Winters? With a bomber jacket of course! And don't forget to get some cool printed pump heels. Go wild with your street style in these heels. For Fall or Winter, you can easily wear the same Midi skirts with Chelsea boots. Here are some super cool Leather Bomber Jacket Outfits that you should check out.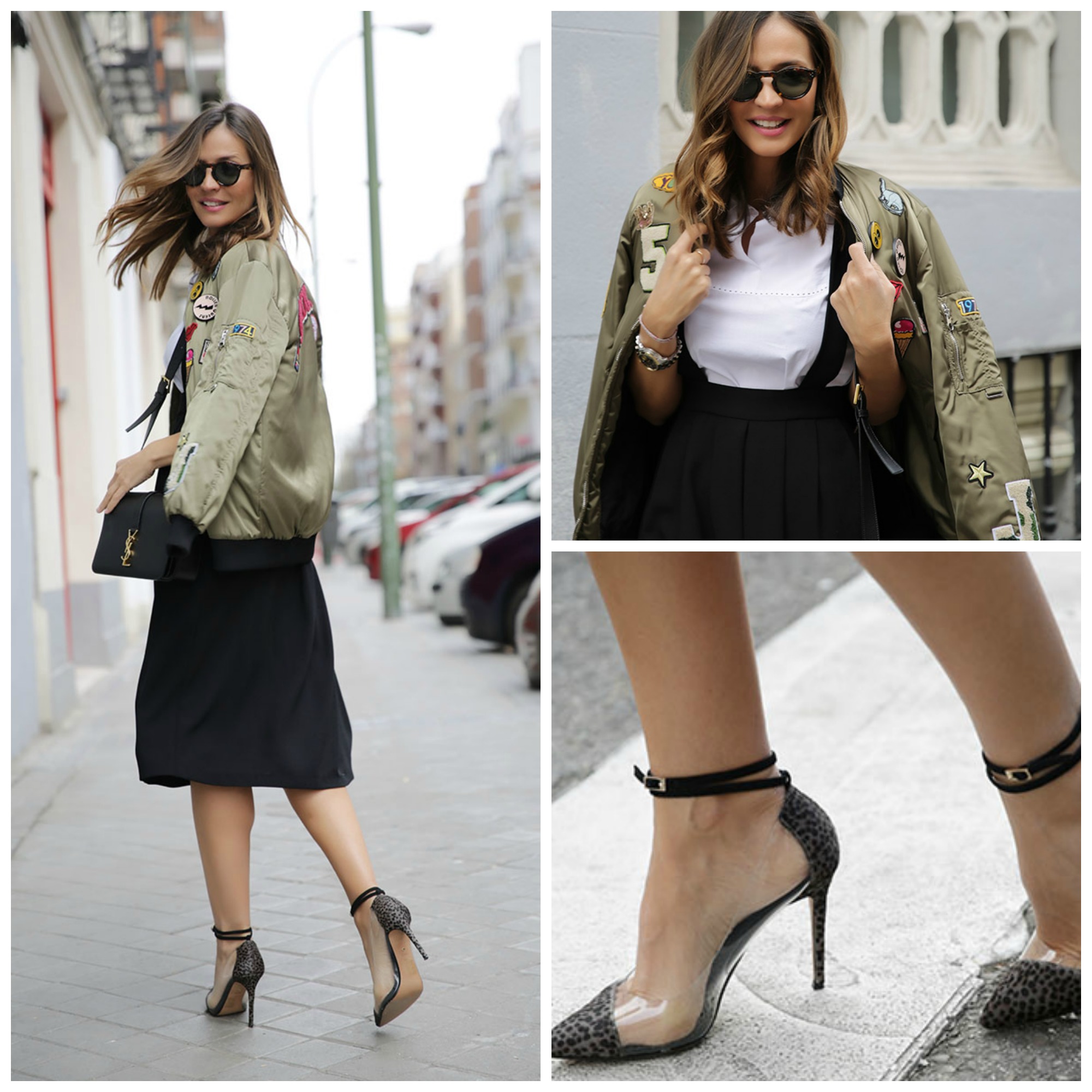 16 – Bohemian Look
Wear a boho or gypsy/peasant style skirt with studded heels and be the talk of the town! For a bohemian look, you can also opt for one of these Gypsy Skirts Outfits. If you still haven't tried them or aren't sure how to style such a pair, here is a chic look for you to try. This kind of skirt is considered the type that fits every woman, regardless of her body's shape. As for the matching pair of shoes, this is one of the skirts that gives you the freedom to choose and experiment.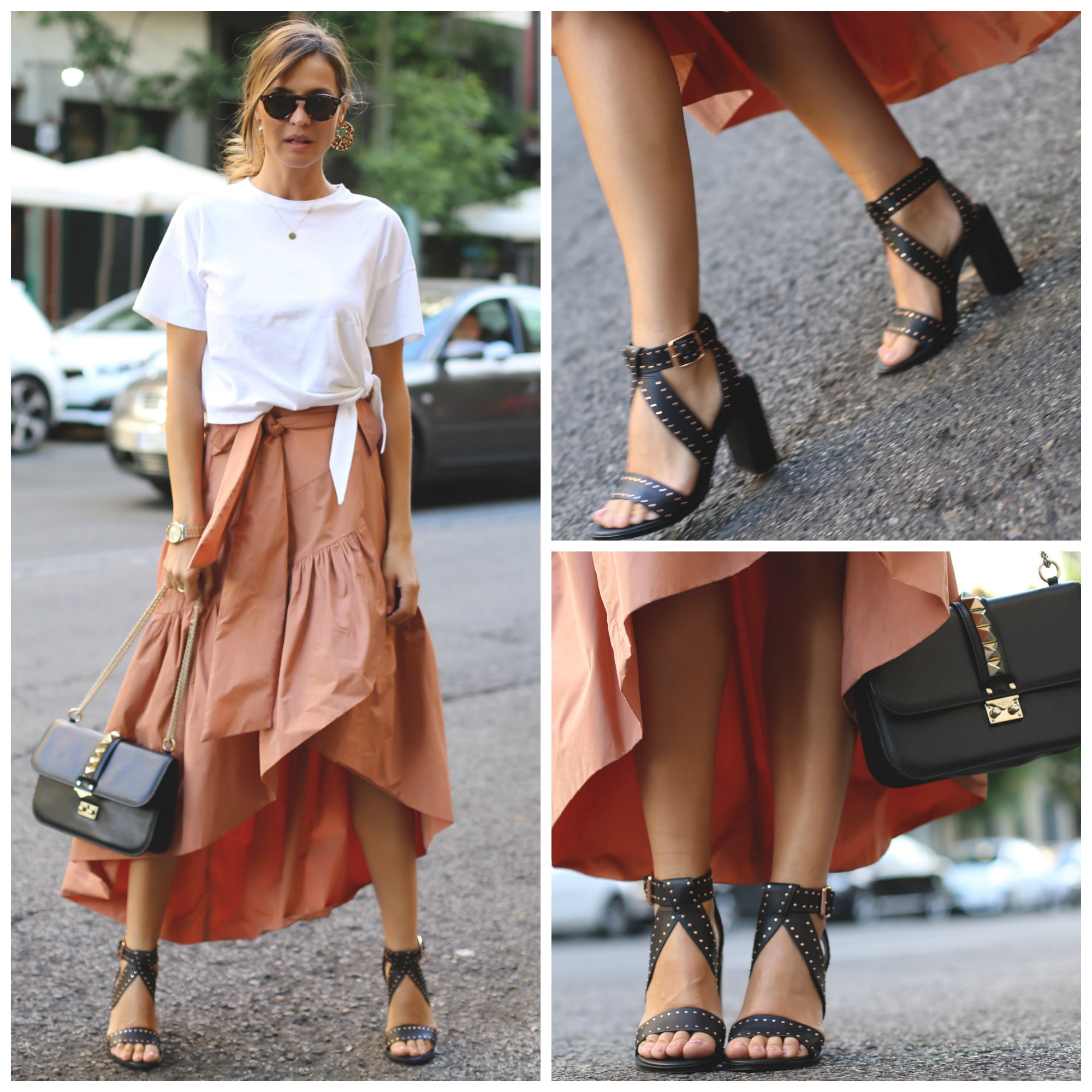 15 – Fringe Pencil Skirt
Wear such skirts with ballet flats for a comfortable and stylish look. Combine the fringe skirt with a basic tee and ballet flats and you're good to go! Complete the look with your favorite shades and a matching bag. In summer you can also combine your skirt with high-platform sandals. In the cooler seasons, put on a pair of high-heel ankle boots in a matching color.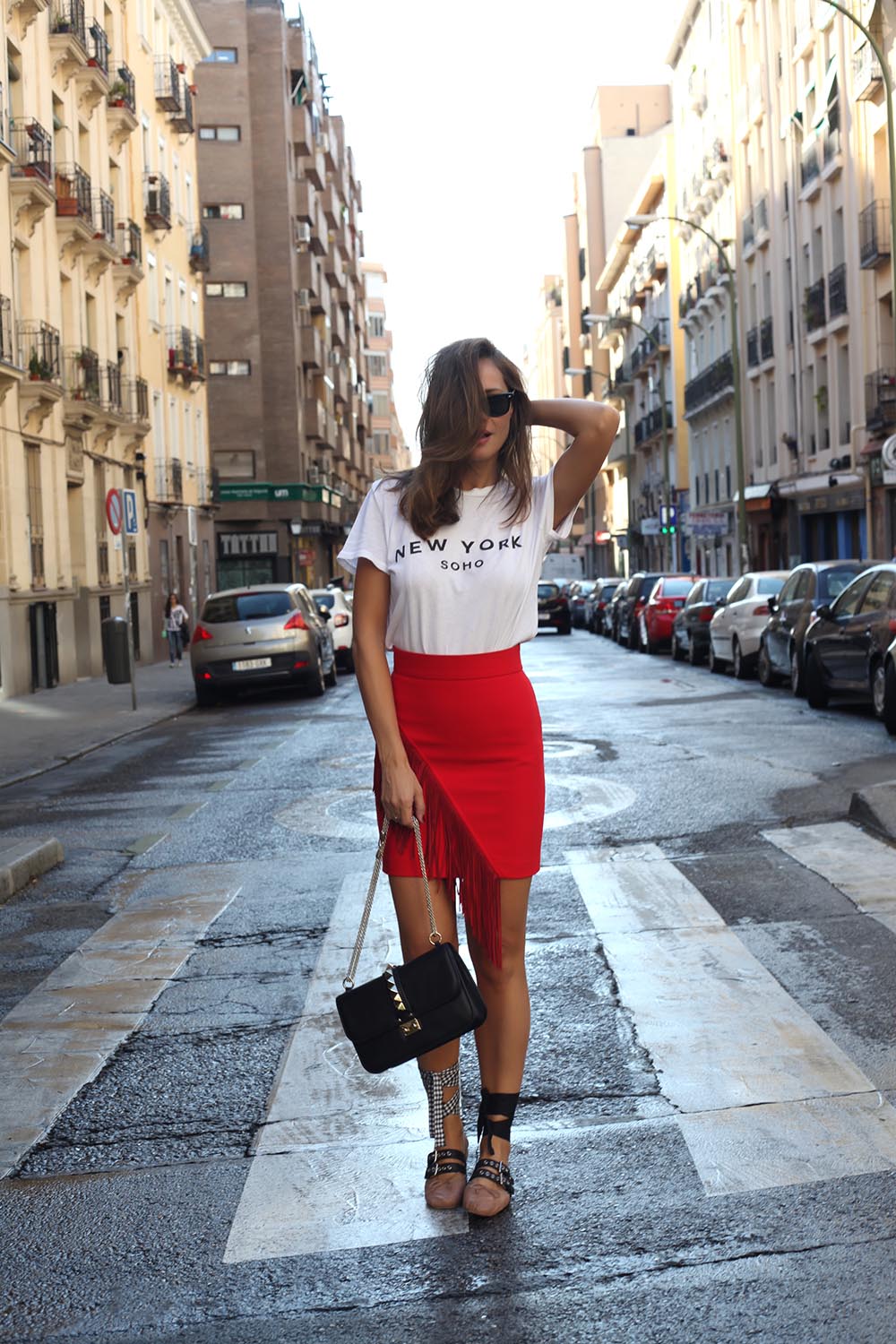 14 – Sporty Look
A great sporty look especially for teenage girls, mini skirt, and platform heels! Whether you want to feel especially put-together in denim or are looking for a skirt that plays well with casual pieces, the denim short skirt is the best of both worlds. Would look great in a classic white top or a check shirt and fashion-forward platforms. This outfit is perfect when you don't want to try too hard but still want to look cute and presentable.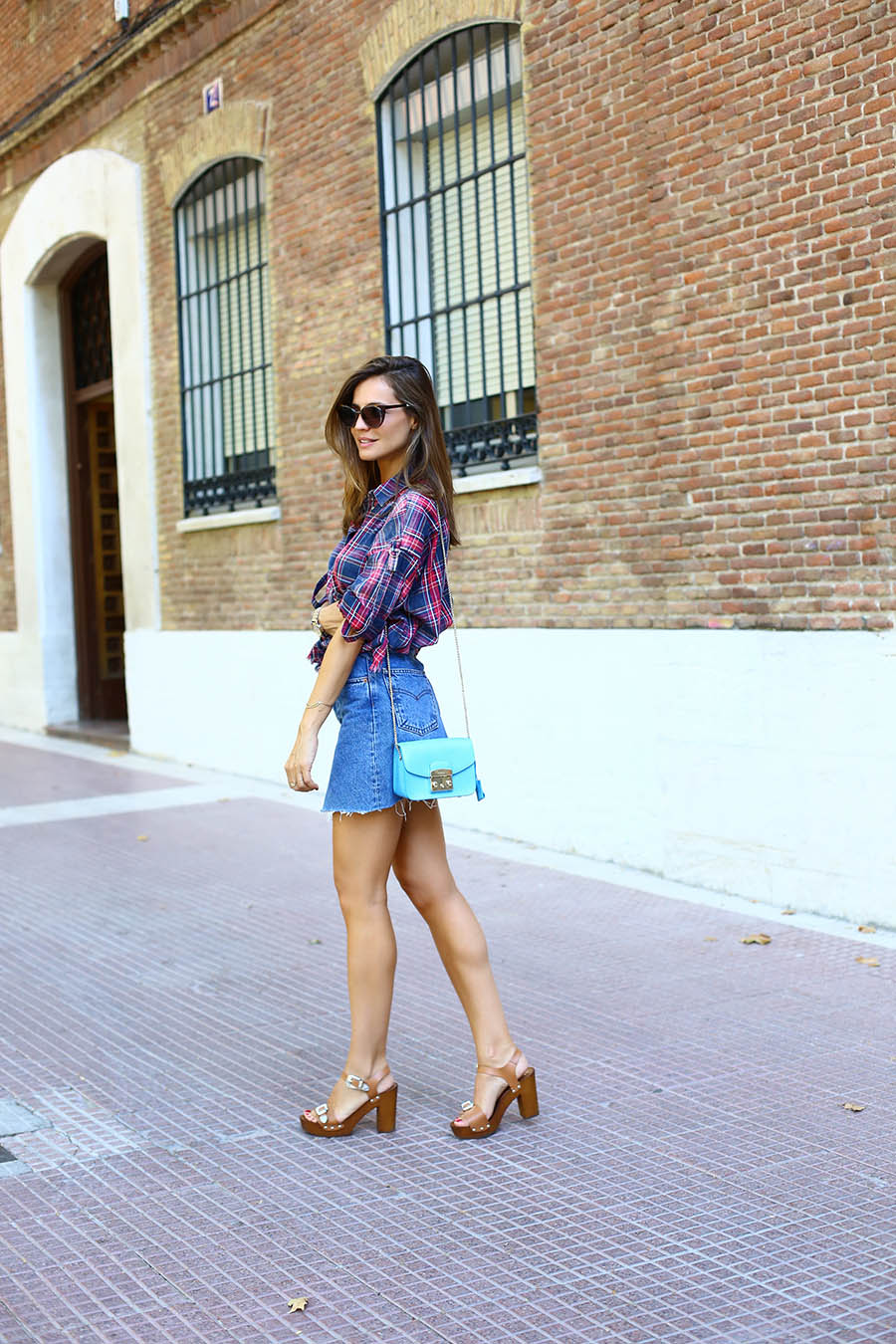 13 – Fluffy Skirt with Boots
If you have days where you just can't decide what pair of shoes to wear? Doc Martens is what you need! If you don't already own a pair of black Doc Martens then you are definitely missing out on a lot. Pair your skirt with a cute tee and doc martens for an extra comfy and chic look. Add on a statement chunky neckpiece and you're ready to slay the look.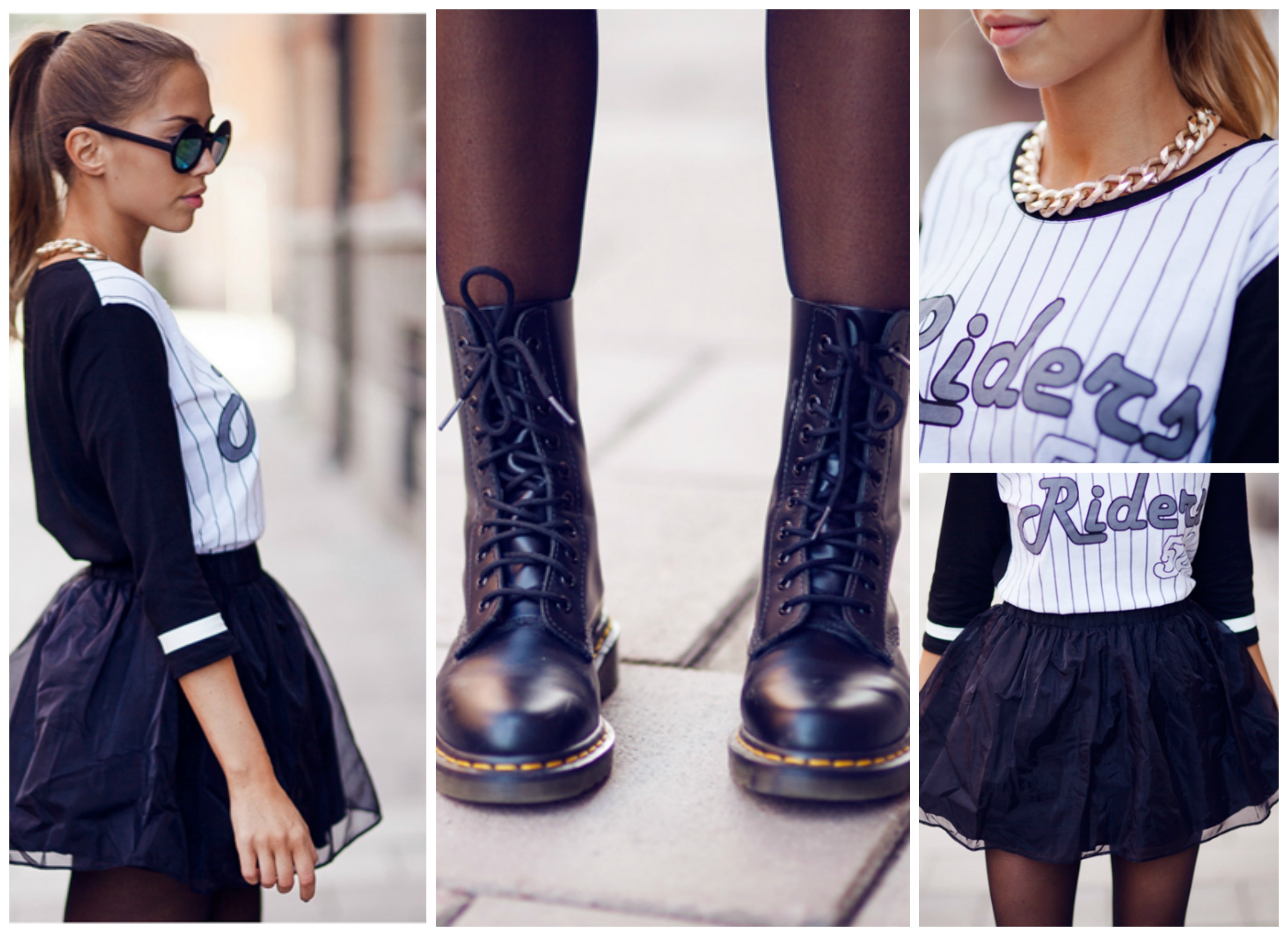 Dr Martens WOMEN'S SMOOTH $79.99 – $279.76
12 – Printed Midi Skirts for Spring
Midi skirts can be worn with both funk and elegant looks. A funky skirt along with a tank top gives it a more cheeky and poppy look. It's all about how you pair up with the right things. The best thing about Spring is floral prints and colorful patterns. Match them with nude pump heels and you're all set to rock your day.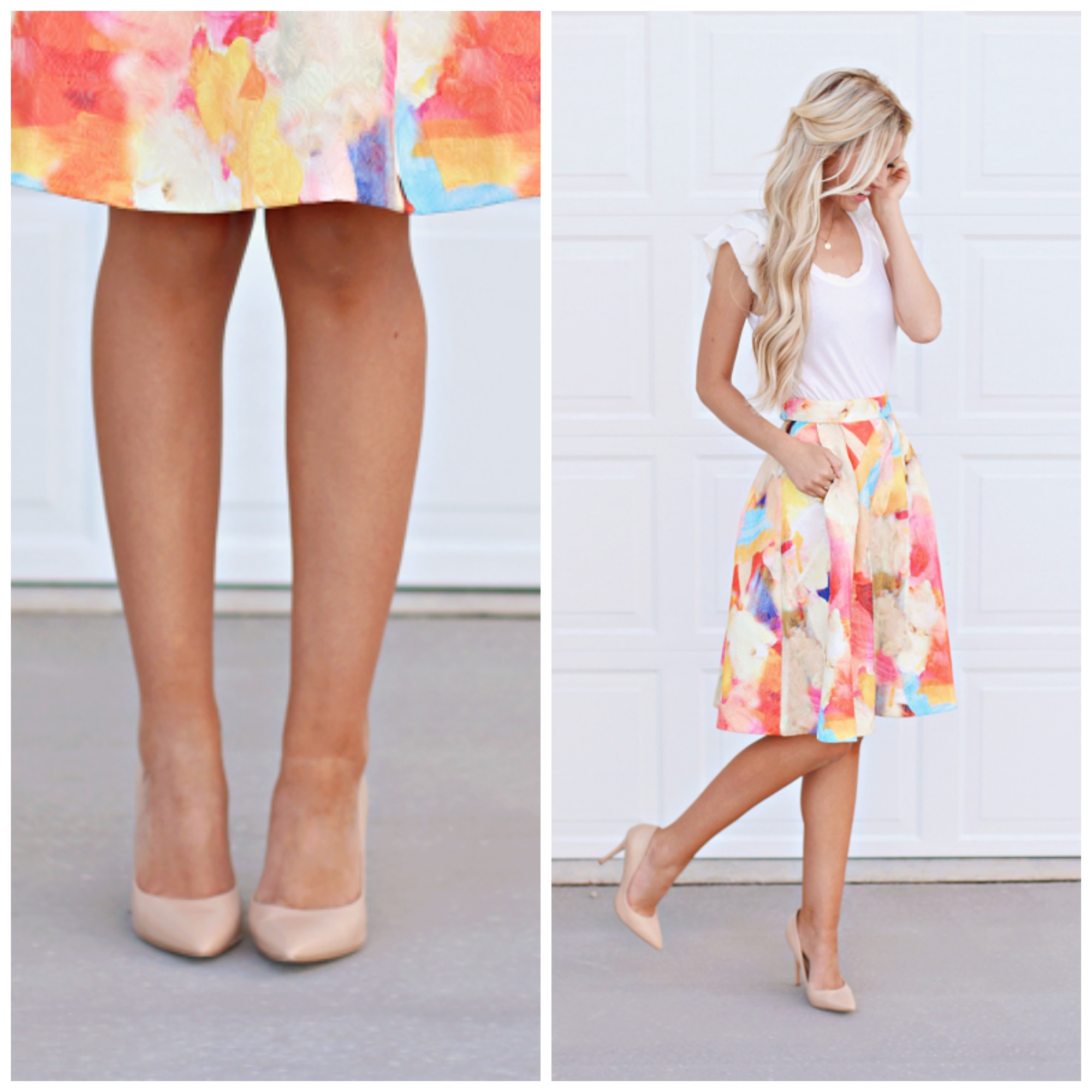 Calvin Klein Women's Brady Pump $35.99 – $125.60
11 – Yummy Mummy Outfit
So what should an ideal mummy outfit be like? I think it should be comfortable so it allows you to move freely as you run after your little one. So here's the perfect mummy outfit, a maxi skirt, and a top with flat flip flops. The ideal look for your weekend out with your amazing family.Check out these sleek Fancy Flip-Flops that you can easily wear with many skirts and they're so comfortable that you won't ever feel like taking them off: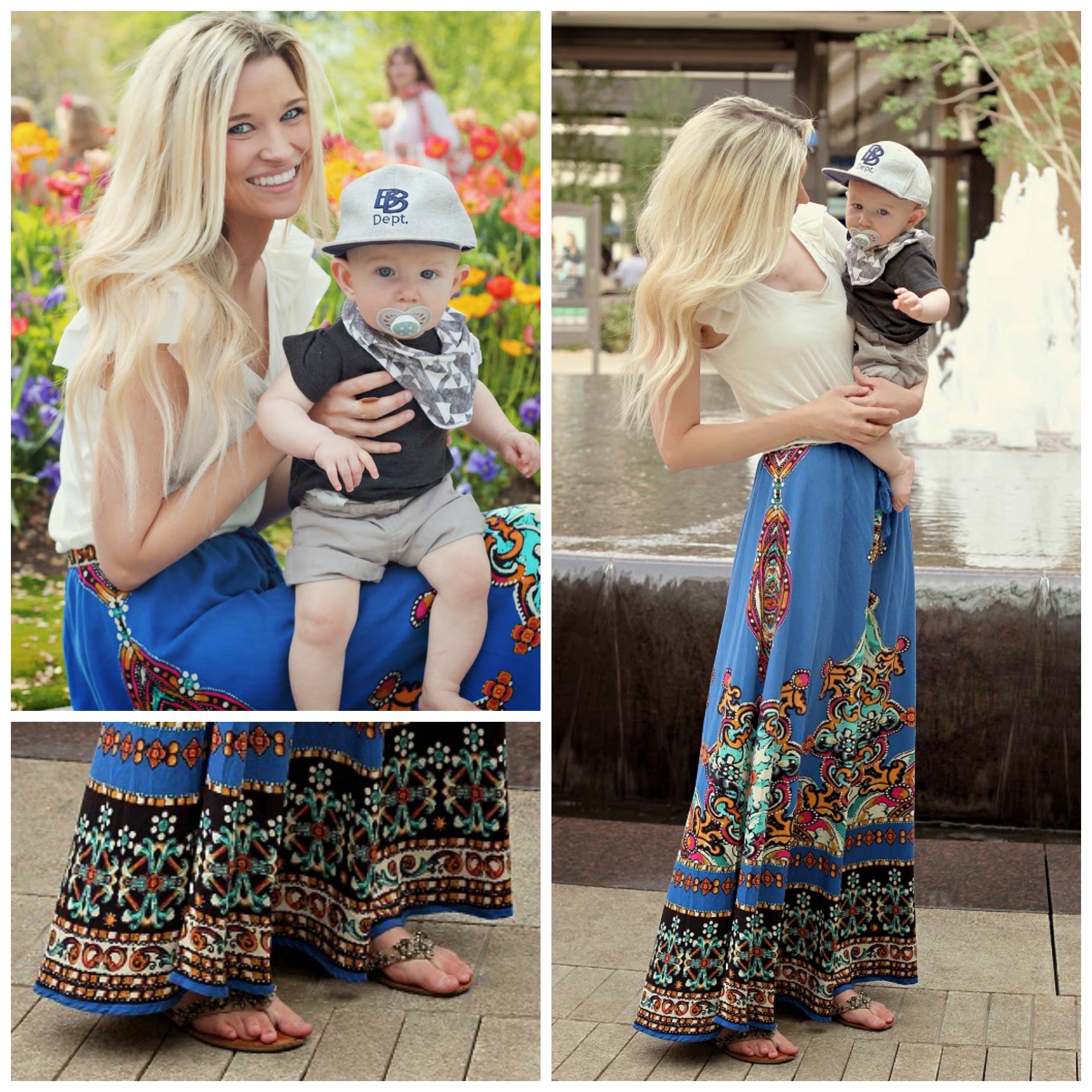 Kenneth Cole REACTION Women's Thong Sandal
10 – Fall Outfit: Leather Skirt and Ankle Boots
If you want to look effortlessly stylish and sassy then take out your leather skirts, it's time to wear them. Wear your Leather skirts with a sweater and ankle booties in Fall/Autumn for more of a street style look. Ankle boots will complement this look more than you think. This is a look that's sure to make you stand out in any crowd. Like leather skirts? You'll love these Leather Skirt Outfit Ideas.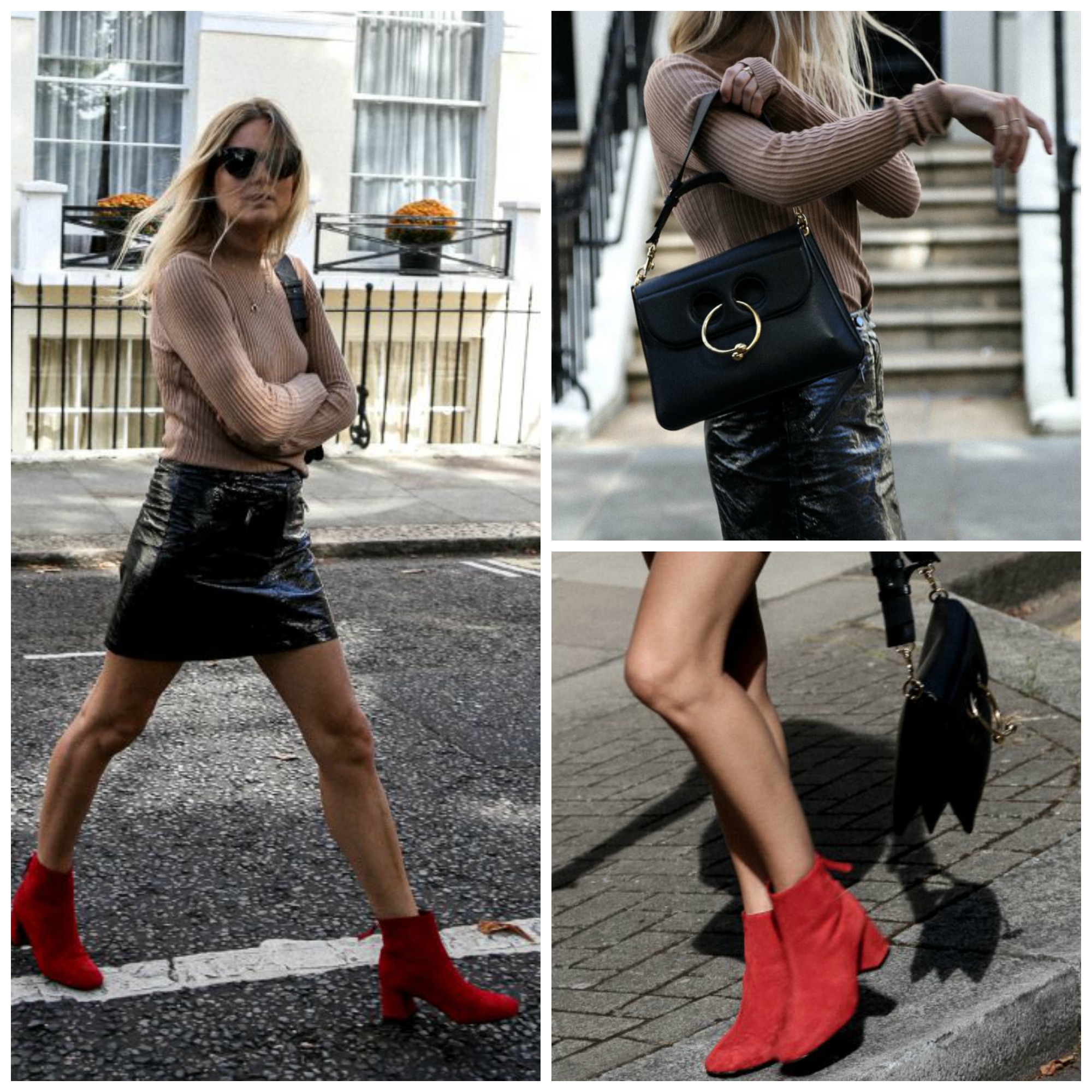 Kenneth Cole New York Women's Galla Pointed Toe Bootie with Flared Heel $143
9 – Striped Skirts and Boots for Short Girls
If you're looking for some extra height this Winter, wear a vertically striped skirt with over-the-knee boots and the result will be magical as your legs will look so so tall! Give a fashionable look to your outfit by wearing matching accessories.

LifeStride Women's X-Anita Knee High Boot
8 – Formal Winter Look: Lace Skirt and Heels
For the warmer Winter days, you won't find anything better looking than a lace skirt and sandal heels. Especially if you're planning to attend a formal event such as a wedding or just a special dinner, this outfit and those heels will make you the star of the day. Don't feel comfortable with the idea of wearing skirts in Winters? Then you must have a look at our recent post on How To Wear Skirts in Winter.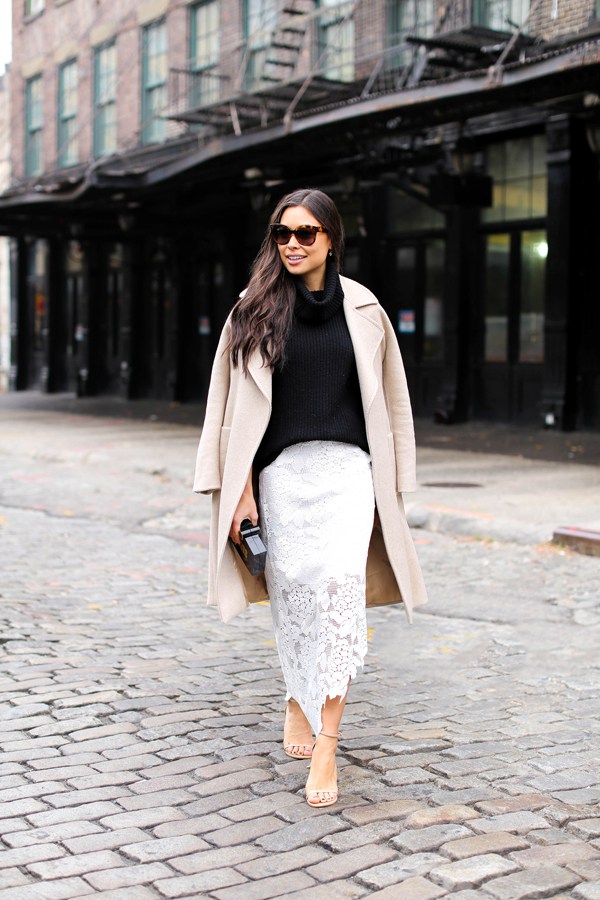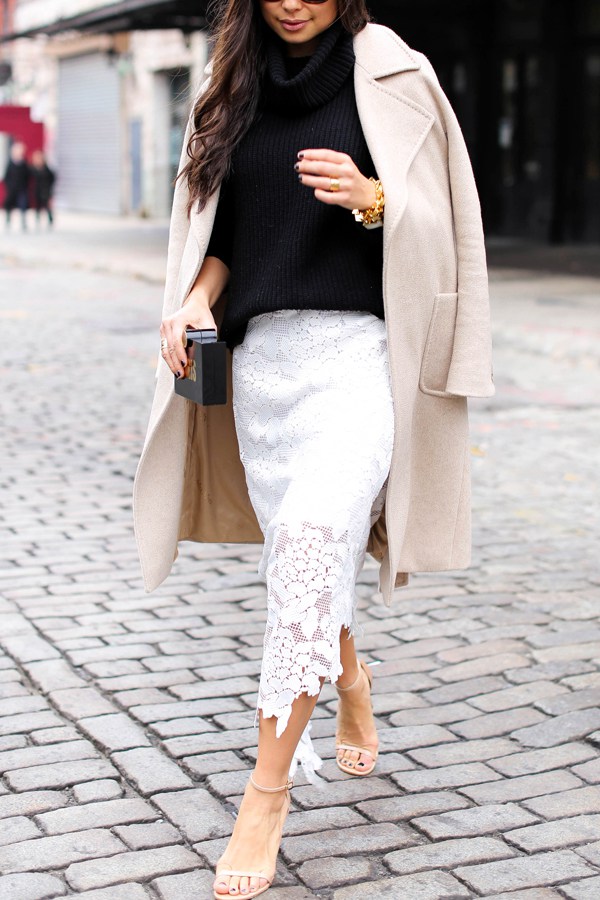 Stuart Weitzman Women's Nudist Sandal $75.54 – $398.00
7 – Beach Skirt and Sandals
Want to wear a skirt to the beach? This easy-breezy beach outfit is perfect for hitting the beach with friends and exploring those joyful little beach towns. Check out this neat look with those sexy black sandals, a pair made for the beach!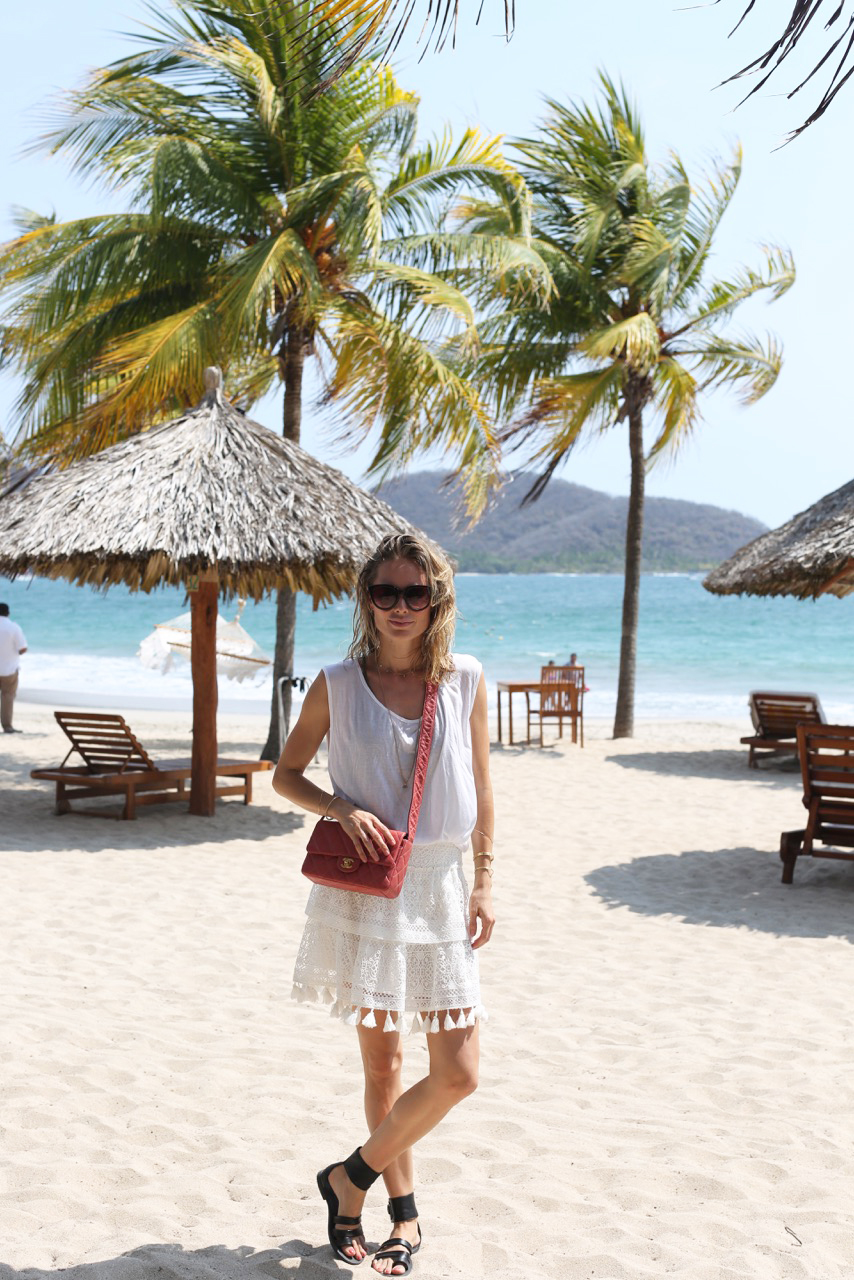 6 – Suede Skirts
Chelsea boots are great footwear if you are someone who enjoys wearing heels along with the luxury of comfort. Also, they look very pretty when worn with skirts. A brown suede skirt with an orange blouse is sure to look good when paired with the right kind of shoes. Loving this fun look she created with her hair and matching tones of Fall colors.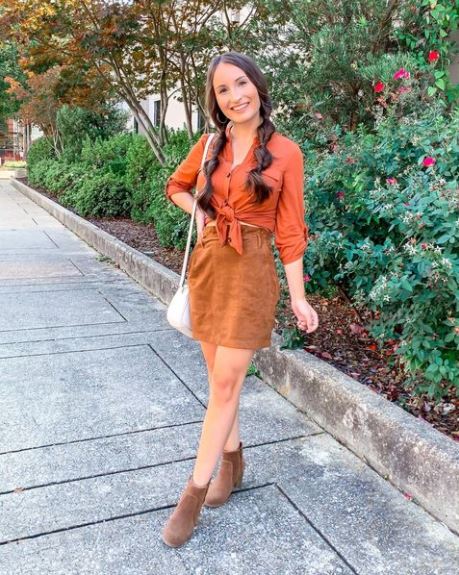 5 – Skirts and Parties
Gold or metallic skirts are the party staple that you can wear with a graphic t-shirt and sneakers for a casual sporty and yet very girly look. In the Fall season, you can wear this skirt with plaid shirts and in Winters you can easily dress it up with sweaters or turtlenecks. Depending on the season and the occasion, you can pair metallic skirts with booties, heels, and sandals. They look particularly good with nude heel sandals. The only shoes to avoid in my opinion would be metallic ones as metallic shoes with metallic skirts are just a big NO. But if you love the Metallic trend, you should definitely check out these awesome Ideas on How To Wear Metallic Outfits.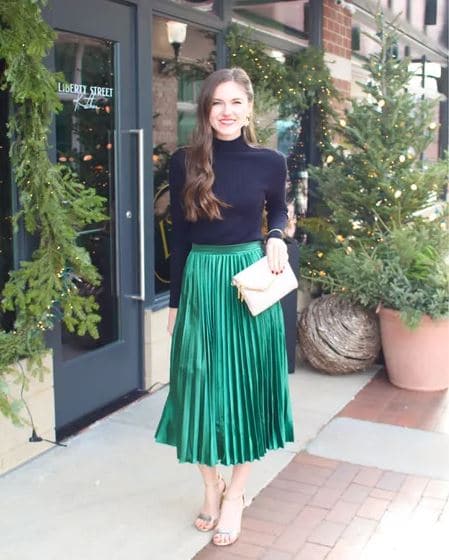 4- Chic in Orange
When you want to stand out with your unique taste and style, then nothing beats the pop of bright colors in your outfit. So the next time you want to make a style statement, go for a bright and funky blazer and pair it with these Orange heeled mules. Why do we suggest the Orange color? Because everyone's already wearing the black ones why not try something different? Orange is a wonderful autumnal color. Stand out from the crowd in these blogger-worthy must-haves.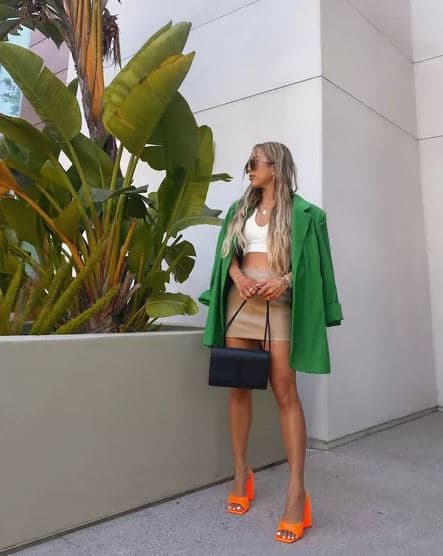 Square peep toe block heel mules for $29.99
3 – Preppy Look in Pleated Skirts
A pleated skirt and a blouse are the most classic outfit that one can think of but wearing them with lace-up sandals give the outfit a very rockstar-ish look. Sometimes, you just need to feel a little dressed up, and strappy heels will always check that box for you.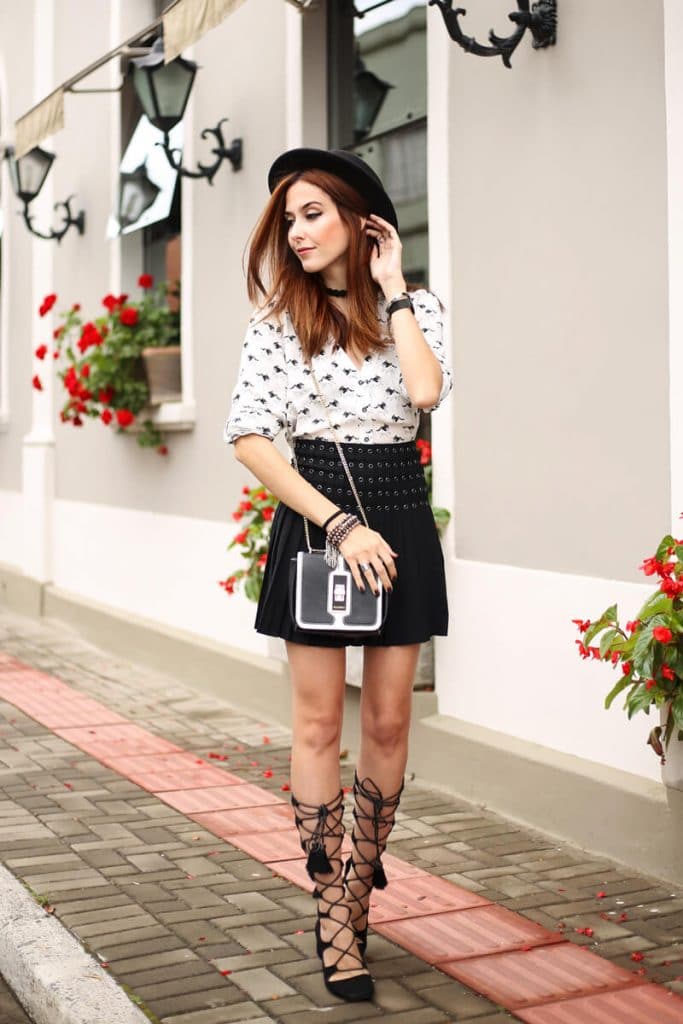 2- Cool School Look
The classic Oxford shoes are the ultimate fall shoes to wear with a skirt. It's comfortable but immediately dresses up any outfit. Want a Comfy yet Chic look? Add a finished feel to almost any outfit with a pair of Oxford shoes. Here's a very cool-for-school kind of look that is perfect for Winters. A button-front skirt, sweater, and a pair of nice colored oxford shoes.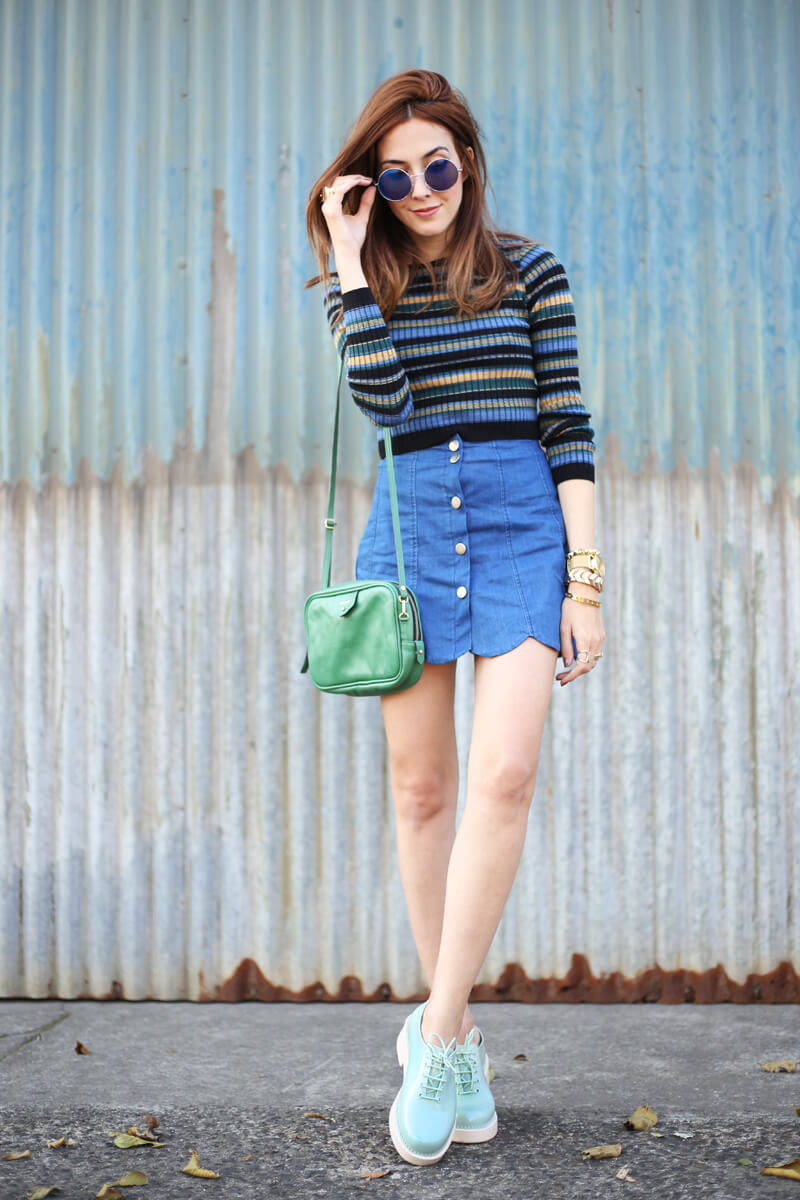 1- Celebrity Style Skirt Outfit
When it comes to celebrity styles, no one wears skirts like the Twilight star Nikki Reed does. She's often seen wearing skirts for both casual wear and street style. Have a look at one of her coolest outfits as she's seen wearing a fringe skirt and a white sweater and heels. A very casual and chic look for Winters.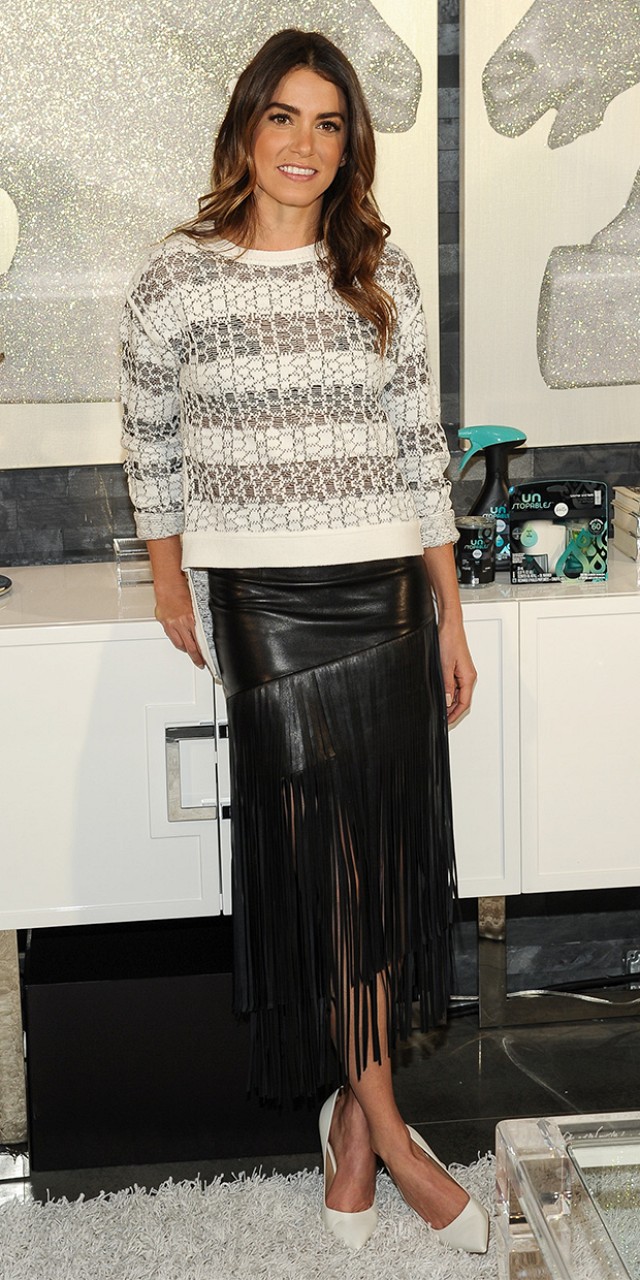 Frequently Asked Questions
What type of footwear should I wear with skirts?
All types of footwear looks good with skirts.
If it is mini skirt then boots or snikers
If it is knee length then high heels.
If it is just above knee then palm shoes.
If it is long skirt then again heels.
What are the 6 Best Shoes to Wear With All Your Skirts?
Heeled Mules – The beloved '90s trend is a fan favorite. It's an easy slip-on and has a sleek style, making it a perfect addition to your next skirt outfit.
Simple Flats – I know we said heels work well with skirts but don't completely count out flats. Simple ballet-style flats or slides work just as great and might be a little more on the comfier side.
Tall Boots – Tall boots just happen to be our favorite match with skirts. They're the perfect way to transition into the cooler weather, and they work well with skirts of any length.
Chunky Platforms – The higher the heel, the cooler the outfit. If a traditional heel isn't your cup of tea, try a platform for more stability and additional height.
Strappy Heels – Sometimes, you just need to feel a little dressed up, and strappy heels will always check that box for you.
Sneakers – The sneaker-and-skirt combo is a favorite among the fashion set. That's probably because it gives that relaxed yet chic vibe many of us want to achieve.