Shoes to Wear with Skirts. We're back with some more style advice and this time, it's all about skirts. Skirts are available in hundreds of different types which is why you can always find a skirt to wear, no matter what the occasion.
Even if you only have one skirt, you can easily style it up and down, based on what the occasion requires.
What Shoes To Wear With Skirts
Skirts are probably the most exciting and fun outfit to wear. Whether you're petite or plus size, short or tall, apple or pear-shaped, there's a skirt out there that's made just so you can flaunt your curves the right way. But for this to happen, the right shoes are equally important. So read on to find the right shoes to go with your skirts for a maximum impact. But first, here's some style advice:
Find a skirt too boring to wear any more? Add a pop of color to it with your shoes.
For a romantic look, pair your skirts with nude-colored heels. Another great combination for date nights and romantic getaways is to wear black skirts with metallic shoes.
For a classic look, nothing beats black shoes with skirts.
For a casual look, you can always opt for denim skirts and they look really good with wedges, especially in bright colors like red and orange.
Bright colored skirts are trending these days and they look super hot with nude sandals as well as heels.
Skirts are one of the most feminine clothing items on Earth so just have fun and enjoy wearing them. Feel free to mix things up and create unique combinations for yourself. We're sure that the ideas we'll be sharing today will help you come up with some great looks. So let's read on.
↓ 18 – Long Pencil Skirts and Sneakers for Work
This is something I would wear to work every day!
The Sneaker trend is never going away for sure, here's a good look at the Adidas Stan Smith sneakers.
Adidas Women Stan Smith Shoes For $52
↓ 17 – Midi Skirts and Pumps
Confused about how to wear midi skirts in Winters? With a bomber jacket of course! And don't forget to get some cool printed pump heels. Here are some super cool Leather Bomber Jacket Outfits that you should check out.
For Fall or Winters, you can easily wear the same Midi skirts with Chelsea boots.
↓ 16 – Bohemian Look
Wear a boho or gypsy/peasant style skirt with studded heels and be the talk of the town! For a bohemian look, you can also opt for one of these Gypsy Skirts Outfits.
↓ 15 – Fringe Pencil Skirt
Wear such skirts with ballet flats for a comfortable and stylish look.
↓ 14 – Sporty Look
A great sporty look especially for teenage girls, mini skirt and platform heels!
↓ 13 – Fluffy Skirt with Boots
Dr Martens WOMEN'S SMOOTH $79.99 – $279.76
↓ 12 – Printed Midi Skirts for Spring
The best thing about Spring are floral prints and colorful patterns. Match them with nude pump heels and you're all set to rock your day.
Nude Pump Heels:
Calvin Klein Women's Brady Pump $35.99 – $125.60
↓ 11 – Yummy Mummy Outfit
So what should an ideal mummy outfit be like? I think it should be comfortable so it allows you to move freely as you run after your little one. And it shouldn't be very high maintenance since you never know what stains the baby might leave on you. So here's the perfect mummy outfit, a maxi skirt and top with flat flip flops. The ideal look for your weekend out with your amazing family.
Check out these sleek Fancy Flip-Flops that you can easily wear with any skirts and they're so comfortable that you won't ever feel like taking them off:
Kenneth Cole REACTION Women's Thong Sandal
↓ 10 – Fall Outfit: Leather Skirt and Ankle Boots
Wear your Leather skirts with a sweater and ankle booties in Fall/Autumn for more of a street style look. This is a look that's sure to make you stand out in any crowd. Like leather skirts? You'll love these Leather Skirt Outfit Ideas.
Kenneth Cole New York Women's Galla Pointed Toe Bootie with Flared Heel $143
↓ 9 – Striped Skirts and Boots for Short Girls
If you're looking for some extra height this Winter, wear a vertically striped skirt with over the knee boots and the result will be magical as your legs will look so so tall!

LifeStride Women's X-Anita Knee High Boot
↓ 8 – Formal Winter Look: Lace Skirt and Heels
For the warmer Winter days, you won't find anything better looking than a lace skirt and sandal heels. Especially if you're planning to attend a formal event such as a wedding or just a special dinner, this outfit and those heels will make you the star of the day. Don't feel comfortable with the idea of wearing skirts in Winters? Then you must have a look at our recent post on How To Wear Skirts in Winter.
Nide Sandal Heels:
Stuart Weitzman Women's Nudist Sandal $75.54 – $398.00
↓ 7 – Beach Skirt and Sandals
Want to wear a skirt to the beach? Check out this neat look with those sexy black sandals, a pair made for the beach!
↓ 6 – Suede Skirts
↓ 5 – Skirts and Parties
Gold or metallic skirts are the party staple that you can wear with a graphic t-shirt and sneakers for a casual sporty and yet very girly look.
In the Fall season, you can wear this skirt with plaid shirts and in Winters you can easily dress it up with sweaters or turtlenecks. Depending on the season and the occasion, you can pair metallic skirts with booties, heels, and sandals. They look particularly good with nude heeld sandals as you can see below: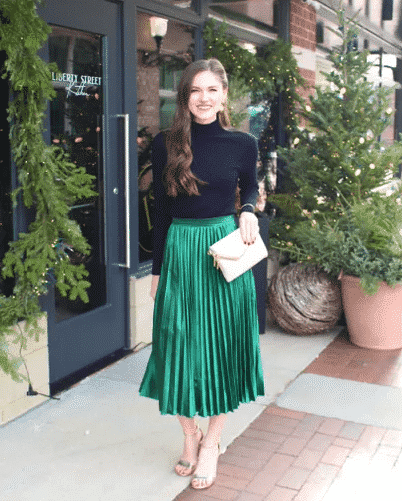 The only shoes to avoid in my opinion would be metallic ones as metallic shoes with metallic skirts is just a big NO. But if you love the Metallic trend, you should definitely check out these awesome Ideas on How To Wear Metallic Outfits.
↓ 4- Leather Skirt with Loafers
Here's the outfit that every girl should have: a black leather skirt, blouse and those gorgeous loafers.
↓ 3- Preppy Look in Pleated Skirts
A pleated skirt and a blouse are the most classic outfit that one can think of but wearing them with lace-up sandals give the outfit a very rockstar-ish look.
↓ 2- Cool School Look
Here's a very cool for school kind of look that is perfect for Winters. A button-front skirt, sweater and a pair of nice colored oxford shoes.
↓ 1- Celebrity Style Skirt Outfit
When it comes to celebrity styles, no one wears skirts like the Twilight star Nikki Reed does. She's often seen wearing skirts for both casual wear and street style. Have a look at one of her coolest outfits as she's seen wearing a fringe skirt and a white sweater and heels. A very casual and chic look for Winters.