How to Wear Metallic Outfits – 2023 is surely going to be the game-changer in the world of fashion with all its latest trends. One such trend we have been noticing lately is that of metallics, be it metallic shoes, bags, clothes, or jewelry. So if you want to step up your style game this season, you know what to do!
Metallics are the perfect way to glam up your look. From major fashion weeks to glamour shoots, celebrities and fashion bloggers all over the world are going gaga over it and why shouldn't they? it is a trend totally worth obsessing over! If you are confused about how to pull off the look, this article is for you. So read on!
What To Wear with Metallic Outfits?
Styling metallics can be a little tricky, especially since the trend is new. Being very attention-grabbing, they need to be carried just the right way to not cause any fashion disaster, and that's exactly what we are here to save you from! Here are a few ways in which you can incorporate metallics in your outfit:
Metallic clothes – The easiest way to add a touch of metal to your outfit. You can choose from a vast variety of metallic trench coats, skirts, tops, and dresses
Metallic shoes – Metallic sneakers and sandals are one of the top trends
Metallic bags – metallic handbags and tote bags look super cool
Metallic jewelry – whether its metallic earrings or bracelets, there is no better way to brighten up your outfit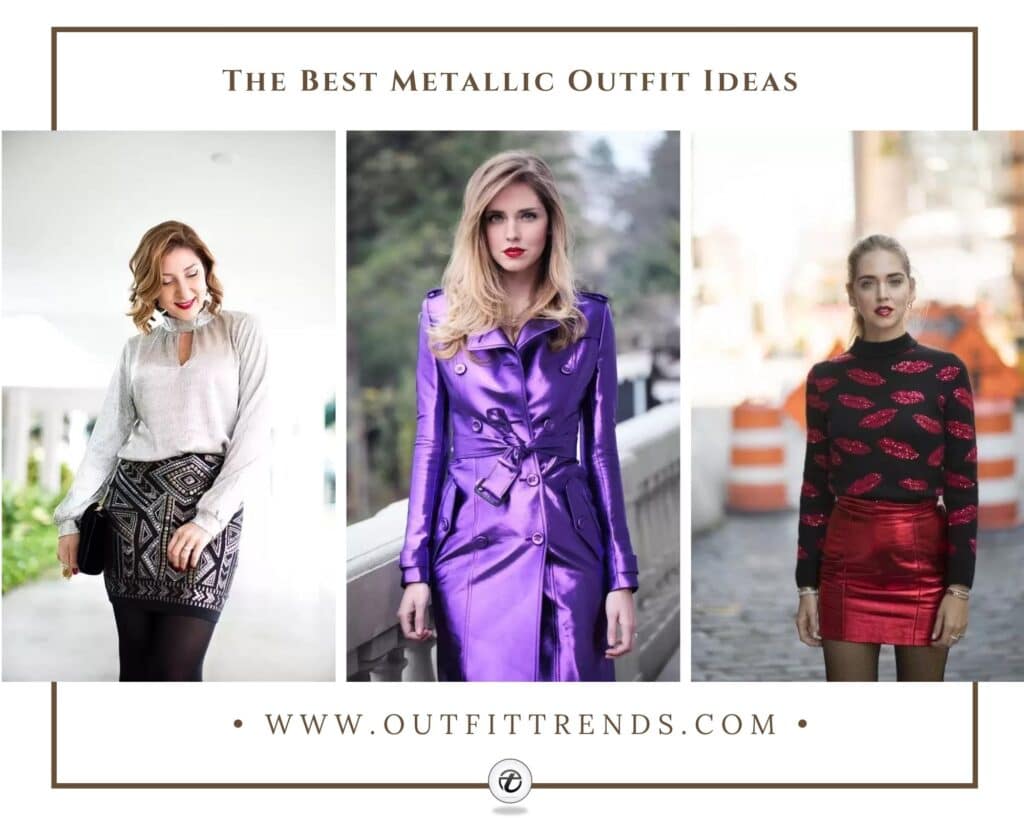 To give you a better idea of this style, we have rounded up the 26 best outfits with metallics. Have a look!
31 – A Metallica Cardigan for the Win
If we are going all out into the metallic trend, we have to do it the right way. A cardigan is one of the coziest yet smartest pieces of attire to get our hands on. You can wear it in a casual way or a formal one without a second thought. This sheer and shiny cardigan is one you are forced to buy, the print, the puffed sleeves the minute metallic details everything is top-notch. Pair this cardigan with any of your summer dresses with gladiator sandals for extra oomph or with a casual day out with the fam outfit.
30 – Metallic Trench Coat For Winters
If you want to add a modern touch to your outfit in winter, this is a perfect way. Trench coats are a necessary must-have for winter. It doesn't matter if you are a Sherlock Holmes-inspired fan who likes to dress like your favorite or simply if you are a lover of trench coats, we are here to tell you the game just got interesting.
These lustrous sort of metallic trench coats are one step ahead of the rest of them. A plain outfit along with a bold lippy would be a cherry on top. Here are some of my favorite Ways to Wear Trench Coats this Winter.
29 – Metallic Sandals
Shoes are as important as any other part of your attire or accessories if not more. Buy your favorites and pair them wisely, this pair of glossy flats is one recommendation out of many. They definitely are a spotlight stealer if you ask us.
You can wear these sandals with almost any kind of casual or semi-formal attire such as this checkered dress. They can also be worn under a pair of jeans, whatever you prefer. Book yourself a nice pedicure and wear a cute anklet to complete the final touches.
28 – Pleated Metallic Skirt
We are simply awestruck, the sheer power that this beautifully made metallic skirt has is outstanding. They are specifically made to make you stand out in a crowd and in a good way. Perfect for Bachelorettes, a bridal shower, a birthday and so many other cute events.
These skirts look absolutely stunning when paired with nude shades or you could also contrast them with a dark color for nightwear. The best part is they would look absolutely amazing during nighttime, you would be taking the limelight with you wherever you go. Here are some more Pleated Skirt Outfits that you'll surely love.
27 – Metallic Belt for Parties
Parties are occasions where it is taxing to decide what to wear and how to style it. Well, we are here with something that you can wear to a party and look like a dream in it. So when going to a party, you can go for a short metallic dress such as this one with a gold buckle to bring out a unique look.

26 – Metallic Blouse for Evening Look
Glossy pieces always steal the show for the better. Metallics work great for evenings. You can choose a choker blouse and pair it with a skirt or pants of your choice. Match your silvery blouse with a pair of dangly earrings and you are good to go. Here are the Most Awesome Mirror and Metallic Nail Art Ideas.
25 – Sparkly Uggs
One would think you cant dress stylishly when the temperatures drop too low, well that is not true at all. These unique and adorable uggs have proved that myth wrong. Wear them with leggings or if you fancy with a skirt and stockings. We see how effortlessly this beauty has matched her uggs to her fitted crew neck sweater.
24 – Outfit to Wear with Metallic Pumps
These amazing shiny pumps are everything. They look great with almost everything and anything and bring a classy, formal look to your outfit. You can wear them with skinny jeans and any kind of top, add a coat if you like.

23 – Metallic Pants
This new addition is something that we can get on board with. If you are someone who likes to experiment with new styles, this one is for you! You can go for an all-black outfit with metallic pants to bring out a cool look and we guarantee you will slay the look with your killer looks and these stunning pants.
22 – Midi Skirt
The crushed fabric skirt is different from the rest of the skirts in their one-of-a-kind design. These skirts look great with tucked-in blouses and are available in a lot of colors and varieties for you to choose from. Who knew you could wear your favorite plain top and belt to a party and be applauded for it.
21 – Party Outfit
You can go for a gold blazer with any metallic shirt for a fancy and stylish look. These are a steal if you ask us, get your hands on these beauties. They can make an outfit go from zero to a hundred in seconds.
20 – Peplum For A Glamorous Look
Peplums look amazing, especially when they are metallic. You can go for a purple like this and make it look interesting by pairing it with a leopard print clutch and belt. Accessorise with a pair of plain black sunnies and a dainty bracelet.
19 – Camisole For Women
Keep it simple with a metallic subtle camisole and pair it with a cool jacket to enhance your look. These camisoles look as beautiful as any of your silk camisoles would. Here are 20 Outfit Ideas on What to Wear to Work When It's Raining.
Introduce more metalized heels in your wardrobe, they look and feel great so why not? These heels look great when worn with skinny pants or a formal dress and make you look super trendy.
17 – Trendy Outfit for Special Occasions
We are one hundred percent sure this dress is a show-stealer. Its trendy design and the gorgeous silvery tinted color of this dress are most definitely the focus of attention. New Year's Eve or your boss's Christmas party, this dress would make sure you serve some serious looks that evening.
16 – Crossbody Bag For Girls
If you want to go for a metallic look without wearing metallic clothes, you can simply carry a cool bag like this to bring a touch of glam to your overall look. Never forget to accessorize right? Here are some more smart ways To Carry A Crossbody Bag.
15 – Funky Look
For a funky look, you can go for a bright-colored metallic skirt such as this red one and pair it with a cool shirt of your choice. Always experiment with a pop of color here and there.
14 – Subtle Look
If you do not want to look too flashy, you can wear metallic printed heels with your usual attire to bring elegance to your look. For one they would look the most stunning on you and secondly why not have a pair of voguish heels like these in your collection?
13 – Off Shoulder Dress
This dress is winning in all the right ways. In a layered dress like this, it is best to keep things minimal and go for a simple and elegant look. Adorn this dress with a bunch of dainty jewelry and a pair of striking heels or flats, dab on a nude lip shade and apply that perfect winged liner for the on fleek look.

12 – Go Metallic with your PJs
We love the shade of these pajamas, it is shocking how a pajama set can be so breathtaking and beautiful. The metallic touch to it and the statement sleeves make it a perfect fit for any of your planned day outs. Sport classic strapped heels with this ensemble and pose for the camera!
11 – Black Skirt
Black skirts can be styled in several ways, depending on the occasion. You can either pair it with a dark-colored top for nightwear or a nude shade for the daytime look. Here are some Ideas How to Style Floral Skirts This Spring/Summer.
10 – Metallic Jewelry For Women
Metallic jewelry never disappoints, you can never go wrong while wearing it. We are sure all of you divas must own a few pieces of these gorgeous metallic sets yourselves.
9 – Clutch For A Classy Look
8 – Outfit For A Cocktail Party
Shimmy down the catwalk in this striking metallic outfit.
7 – Street Style
Check out this super cool outfit with metallic shoes and a jacket with a simple white shirt and pants to balance out the look. You should definitely take some inspiration from it! The perfect too cool for you look of the day.
6 – Sweater For Fall
This trendy metallic sweater will make you wait for Fall. You can style this sweater in the classical over a dress or with jeans look or in a more experimental look with printed or bright-colored pants.
5 – Two-piece
Textured Metallic Blazer $49.95
Textured Metallic Shorts $29.95
Maeve Sequined Tie-Strap Tank $98.00
4 – Metallic Accessories
You can brighten up your look by going for metallic heels, jewelry, and a statement clutch such as this leopard print one. Here are 25 Celebrities All Black outfits Styles for Fall to Copy.
3 – Club Outfit
2 – What to Wear with Gold Metallic Sneakers?
Gold shoes have made it to the top street style trends and you can pull off the look by keeping it casual in skinny jeans and a simple shirt and jacket.
1 – How to Wear a Metallic Bag
Carry your favorite metallic handbag with a cool and casual outfit such as this black jacket with a metallic inner and black jeans. Doesn't it look stunning? Go buy these metallic bags in all the colors that you like.
We hope that this article gave you all the tips and tricks that you needed to pull off a chic metallic look. We look forward to reading your feedback!
Frequently Asked Questions
Q. How do you style metallic clothes?
Always experiment with your wardrobe, when it comes to metallic pieces you know you gotta wear keep the rest of your attire subtle. You can wear metallic sweaters over dresses or shirts, shoes of all kinds such as heels, flats, pumps with every one of your chosen outfits, shirts with a jacket or a coat on top of it and so much more. The list of options is endless, you have to choose what you like the most, see if it's suited to the event, and style your accessories accordingly. We have a set of suggestions on how to style different metallic pieces in various ways in this article, don't forget to check them out.
Q. Are metallics in for 2022?
Yes, for sure. We can see lots of our fashion gurus and celebs wearing and supporting it. The trend has slowly been introduced back into our lives and is here to stay. You can find lots of brands that has a separate section on metallic clothes, with that said we are sure lots of people will be fascinated by the trend and continue wearing metallic clothes.