How To Wear Metallic Sneakers – If you are also obsessed with shoes, you often find yourself in the dilemma of whether to match your outfit with the shoes or shoes with the outfit. However, if you are a sneaker lover like me, there is no option.
Once you start wearing sneakers, there is no coming back. They become your all-time go-to shoes for casual events, trips, or parties. Yes, parties! Now by parties, I am talking about the extravagant ones. Moreover, sneakers have now become a part of weddings as well. All you need is perfect styling!
What To Wear With Metallic Shoes?
When we talk about sneakers, crazy metallic outfit ideas come to your mind. You might ask questions like, How to wear them with casual outfits? Whether or not they will look good with subtle colors? Are they too blingy? Indeed, when you hear words like "silver," "golden," and "bronze" with metallic, ultimately, an image of glitters and sparkles passes through your eyes. However, it is not as crazy as it sounds.
In this guide, I will answer some frequently asked questions and share 24 outfit ideas you can style with your sneakers. Moreover, if you are looking for some tips, keep reading!
Also check out What To Style With Metallic Heels?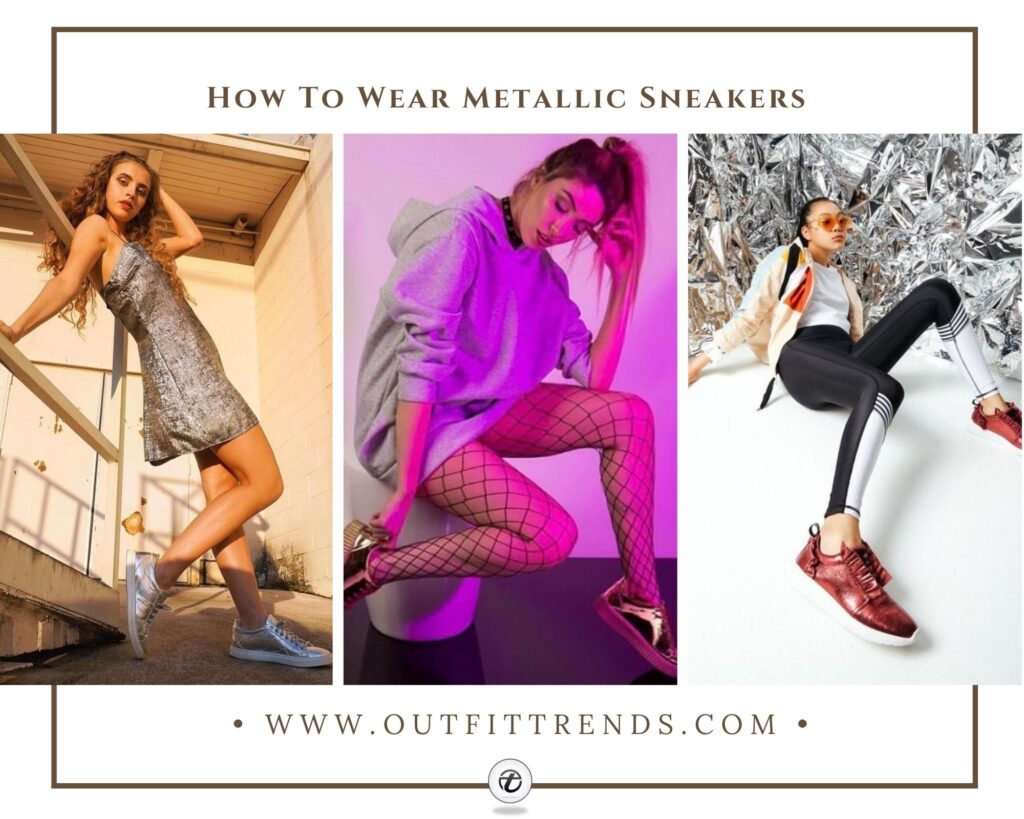 STYLING TIPS
In my opinion, if your shoes are the highlights of your outfit, then you need to put less effort into choosing the clothing. If you have a sneaker in your wardrobe but still couldn't figure out how to style it, here are a few tips for you:
You can wear bright and light colors. There is no hard and fast rule about which color suits the best.
Do not wear too many accessories. Keep it minimal. If you love jewelry, then go with gold and silver wears.
Choose silver, gold, bronze, and rose gold colors in sneakers. These sneakers can go with any outfit. So, it reduces your efforts when it comes to styling. Also, it saves you a lot of money.
Always go with skirts, skinny jeans, or leggings with metallic sneakers. In this way, your sneakers will pop out more in your outfit.
24 – Tuck Your White Top Into Beaded Skirt
For a sophisticated look, go with an outfit that matches your body shape. It is critical to understand your body shape to wear the outfit that suits you best. If you have a rectangle shape figure, go with the clothing that gives you a slender look. In this case, skirts are your perfect option.
Choose any denim skirt you have in your closet and pair it with a long sleeve top to create this look. If you don't have any fancy skirts, go with a different shirt. A graphic tee will look mighty fine in this situation.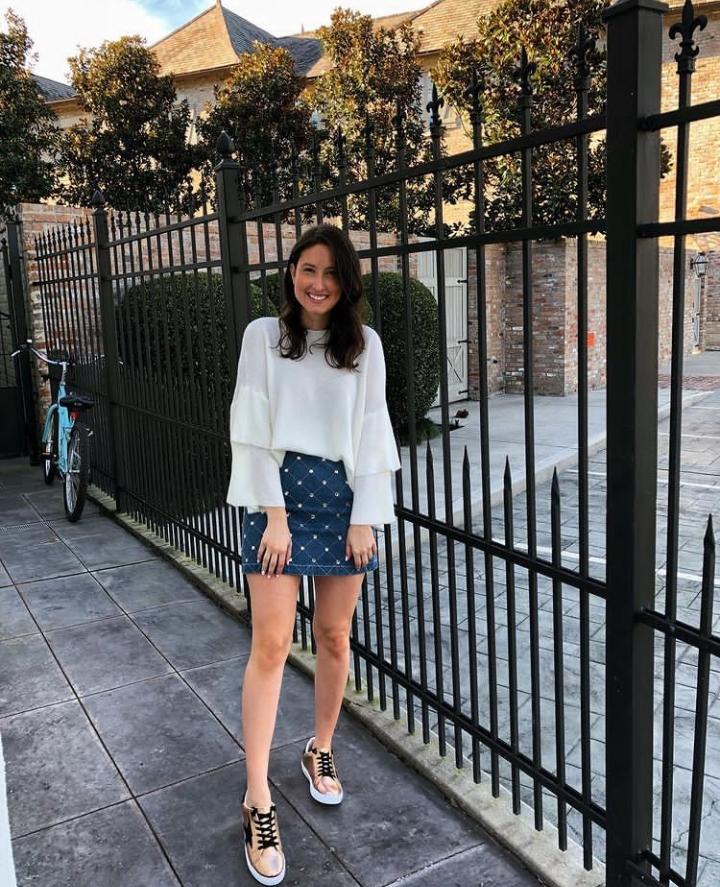 23 – Wear A Crop Denim Jacket With An All-Black Outfit
My favorites are all those outfits requiring minimum effort and give chic vibes. Take the picture below as an ultimate example of these kinds of looks. All you need to do is wear your plain black crop top with a black skirt to achieve this look. You can add black stockings if you want to cover your legs or if the season is cold. Lastly, through a crop denim jacket around your shoulder or wear it usually. However, in both ways, you are good to go outside.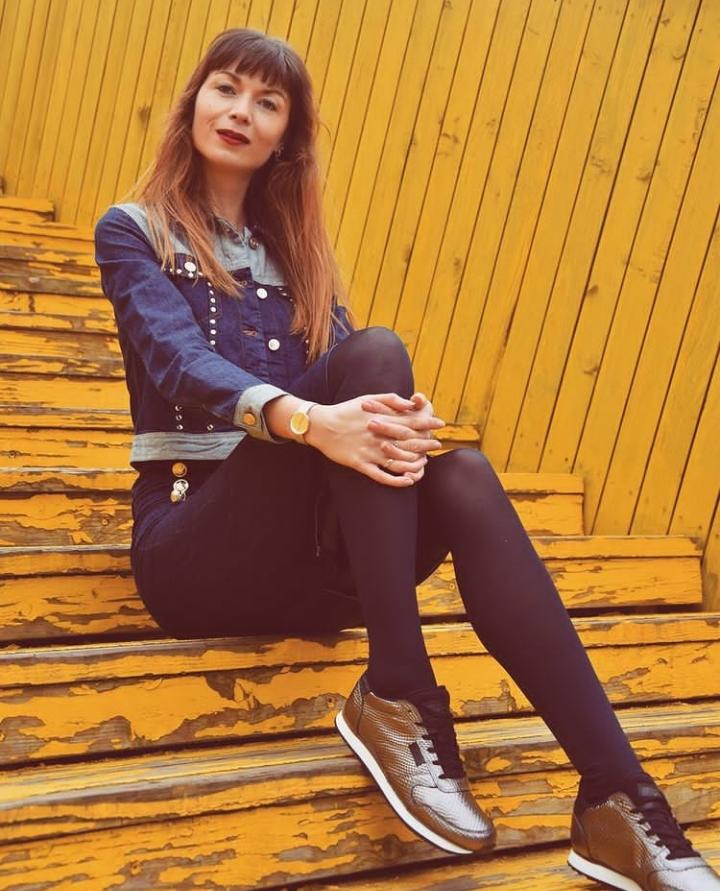 22 – Black Knee-Length Dress With White Upper
If you are a person who loves wearing black and white, then this outfit is for you. Combine any two pieces you have available in black & white. Moreover, there is no compulsion to black dress and white upper. You can always do the reverse. However, all you need to spice up your outfit is silver metallic sneakers.
21 – Use Wide Leg Pants With Sleeveless Top
You can find these kinds of tops easily on Amazon, and that too in various colors since wide-leg pants were the top trend of last year, so we all have at least more than one wide-leg pant in our bottom collection. Therefore, to finish this look, all you need is rose gold metallic sneakers.
20 – Wear High Waist Pants With Bishop Sleeves Top
It's the world of social media, and everyone wants to look like the bloggers and influencers they see on Instagram. However, the problem arises when you realize that not everyone can afford those brands. But what if I tell you that you can recreate those outfits under budget? Clever work is the key to creating a stylish outfit. Grab a white shirt and wear it with your favorite high waist pants. Lastly, add a shoulder bag and a silver metallic sneaker to complete the look.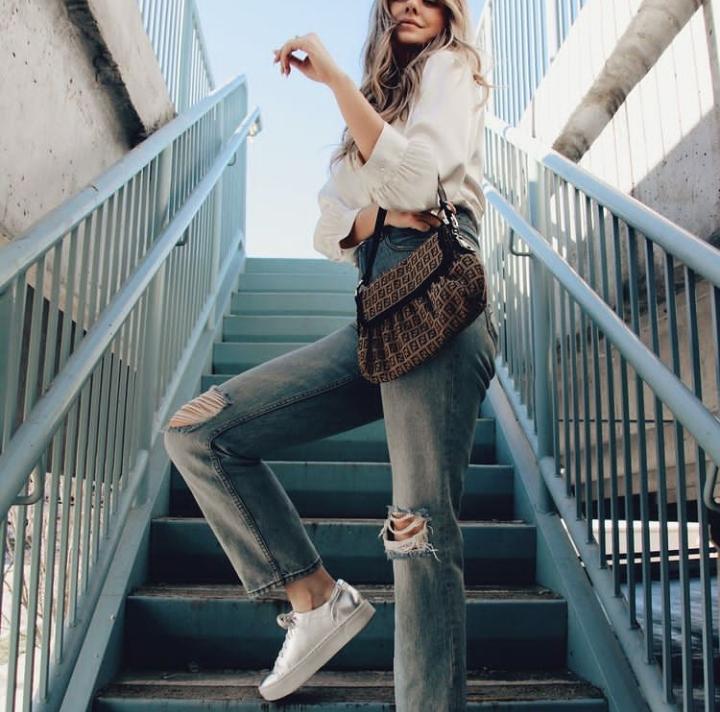 19 – Compliment Your Plain Outfit With Blazer
No matter what you wear inside if you have a decent blazer to cover overall. Therefore, go with the bright color blazer to grab all the attention. Compliment this blazer with the black metallic sneaker, and voila, your fearless look is all set,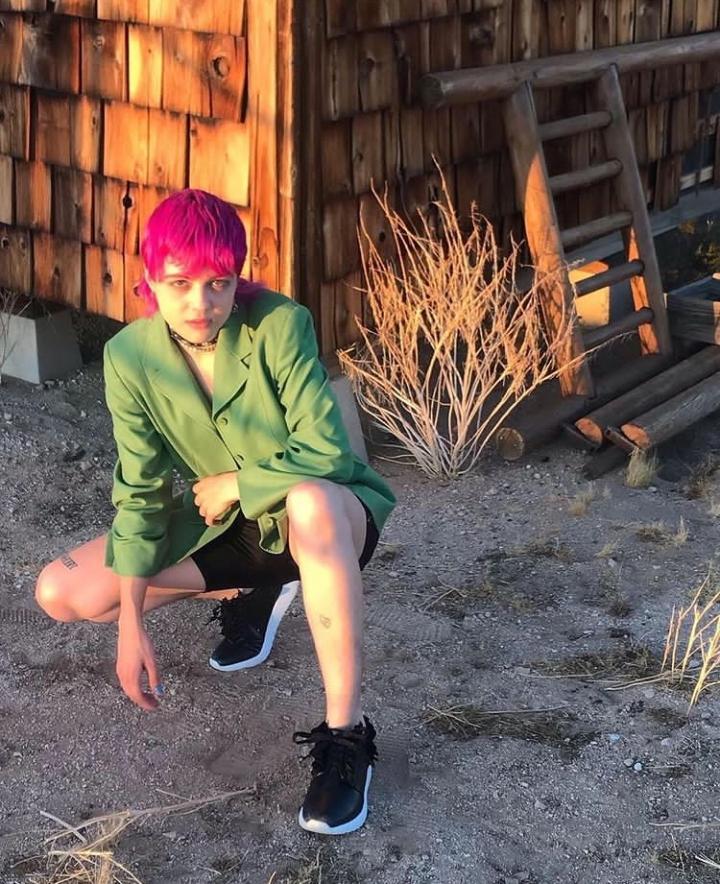 18 – Printed Skirt With Plain Crop Top
If you have watched mean girls, this outfit will surely give you that vibes. Because I can imagine a modern mean girl character wearing this outfit, you need a pink crop shirt, preferably with collars, and a side-cut skirt to accomplish this look. Moreover, a tip for all the girls here is if you are wearing a plain top, then go with a patterned skirt. However, if you wear a patterned skirt, choose a straight skirt.
17 – Match Your Metallic Sneaker With Your Pastel Outfit
If you love wearing pastels, then metallic sneakers are your ultimate option for an elegant look. Not everyone goes in casual and comfy clothes to the gym. Therefore, for all those who like to dress up for yoga, here is a tip from my side. Keep silver, golden, and rose gold metallic sneakers in your wardrobe. These three colors will go with any outfit.
16 – Add Floral Print Scarf With Your Monochrome Dress
This look creates a fantastic combination of soft and neutrals. If you are going for a monochrome dress with matching shoes, then you need something to give a touch of color. You can wear a scarf or even gold jewelry to add an extra element.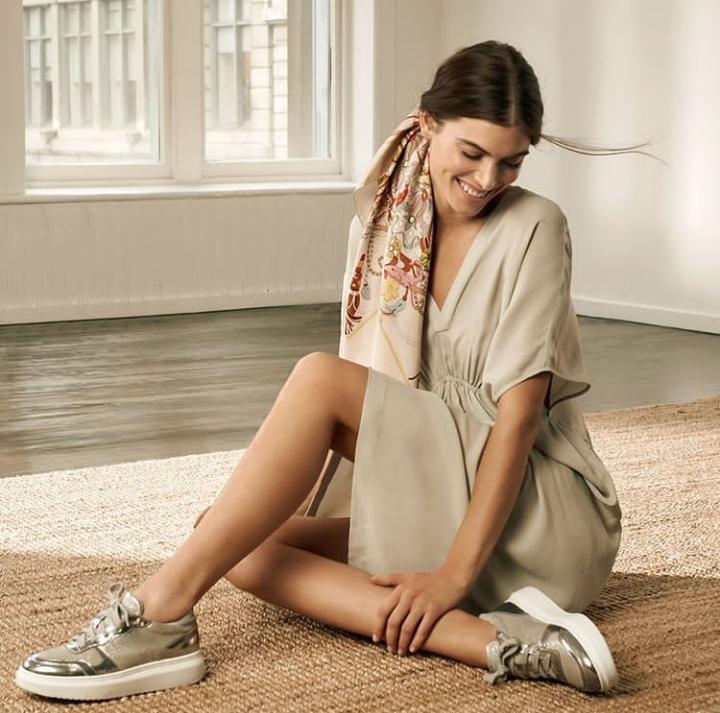 15 – Burnt Orange Jacket And Skirt With White Shirt
When people started saying "orange is a new black," they were not lying. Have you ever seen how much glow a bright orange color adds to your outfit? If you haven't experienced it yet, then I must recommend it. However, choose every other thing in a light shade to neutralize the complete outfit.
14 – Simple Black Outfit With High Ankle Silver Sneakers
When I first saw this outfit inspiration, I was utterly convinced that metallic sneakers could make any outfit work, and I mean any! There is no second thought to this. Another must-have for your wardrobe is ankle-high metallic sneakers.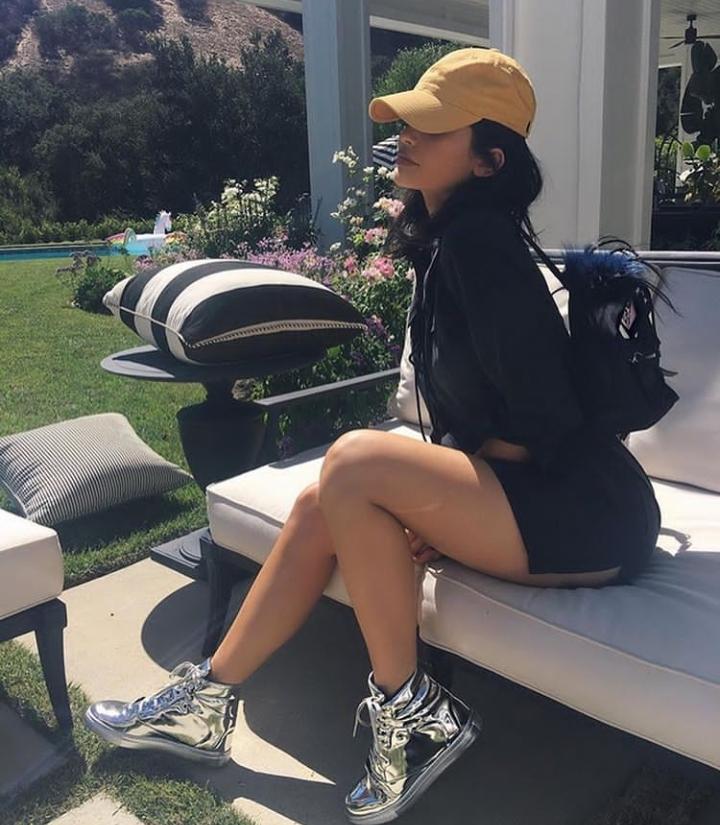 13 – Pair Silver Metallic Sneakers With Dark Color Outfits
Silver is the color that people usually avoid, even in outfits. However, metallic sneakers have changed this perception. You can pair it with any dark color outfit, and it will look as elegant as ever. Moreover, you can add a silver bag to add chicness to the look.
12 – Floral Tops & Shorts Are Perfect For Lake Vacation
If you are on vacation, then floral outfits are a must. You can pair your floral tops with denim shorts. Moreover, you can add beachy waves to your hair to match the whole vibes. Lastly, add rose gold metallic sneakers for the final touch.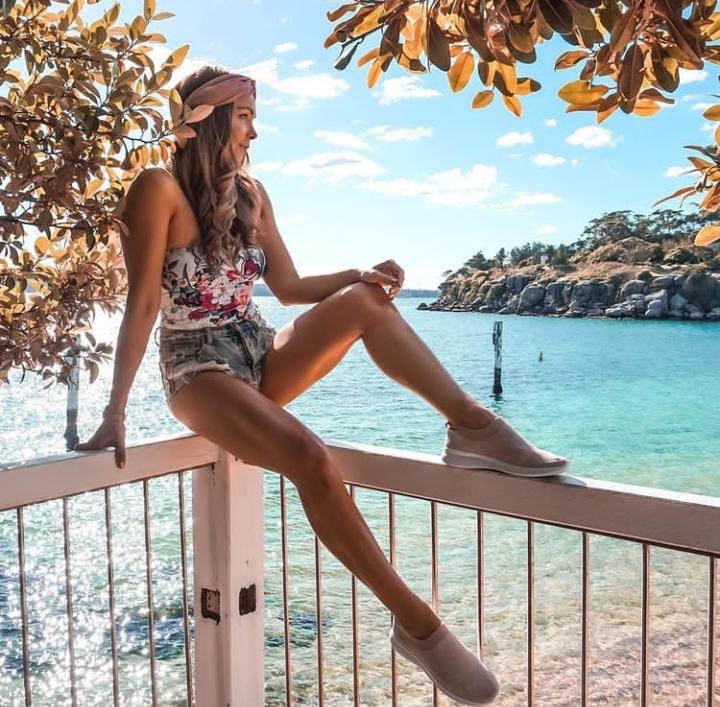 11 – Choose A Knitted Blouse With Blue Jeans
If you are a student, then here is how you can style these sneakers with your outfits. All your clothes are about comfort and less about fashion in student life. However, you can make any outfit look fancy with the help of golden metallic sneakers.
10 – Pair Your Leather Shorts With Leopard Print Stockings
One rumor is that you can't wear metallic shade outfits with metallic sneakers. There is nothing like a rule book when it comes to fashion. Everything is fashion, and if not now, then it will be. All you need to care about is to own your style. Therefore, experimenting with colors and choices is always a learning process. Maybe you can create a brand-style outfit with the oddest pieces from your wardrobe?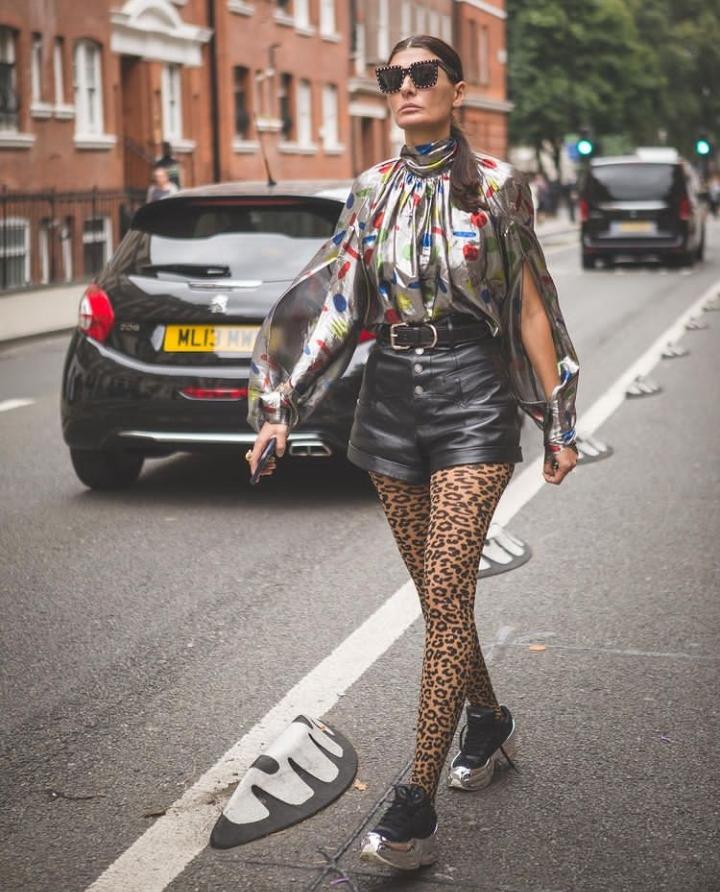 09 – Use Plain Collar Shirts With Metallic Mini Skirt
The best way to style a button-down shirt is to pair it with a fancy bottom. Otherwise, you will make your outfit dull. In this case, you have quite a few options. Like you can go with pattern skirts or bright shade pants. Another idea is to wear a black metallic skirt and match your shoes with the outfit.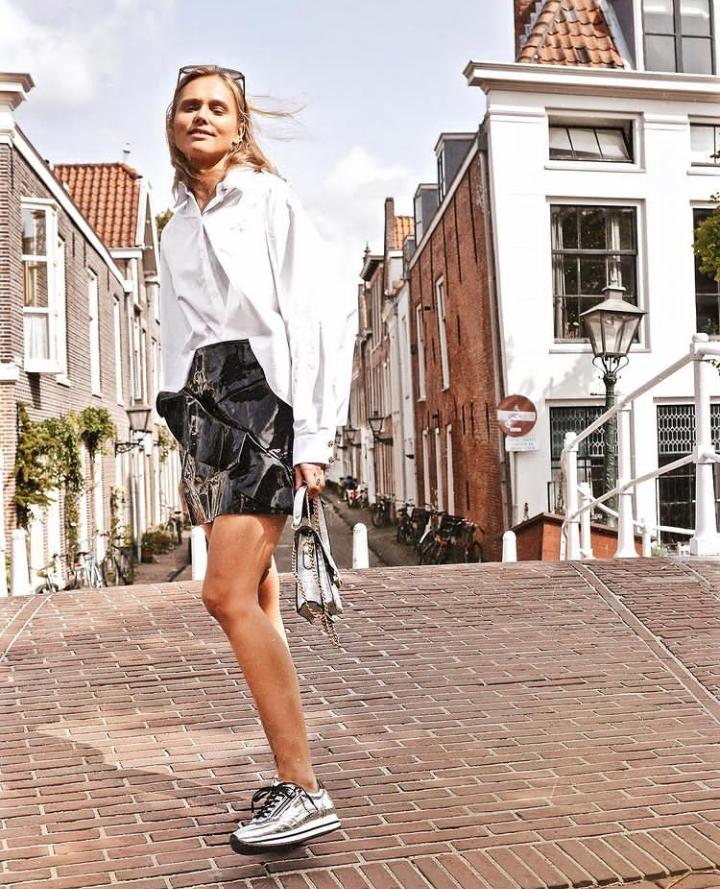 08 – Tie A knot On Your Waist For The Boyish Style
Creating a boyish look doesn't need much effort. A simple white tee with denim jeans and a checkered patterned button-down shirt will do the work. You can also tie a knot with your shirt to give sassy vibes. Finish off this outfit with the golden metallic sneaker. Moreover, tie your hair in a ponytail.
07 – Wear Dark Color Skirt With White Button-Down Shirt
Printed skirts always compliment plain tops. It will be cherry on top if you have a sheer shirt. Moreover, sheer shirts have this upper hand that you can style fancy inner with them. Lastly, accessorize your outfit with a small bag and shades.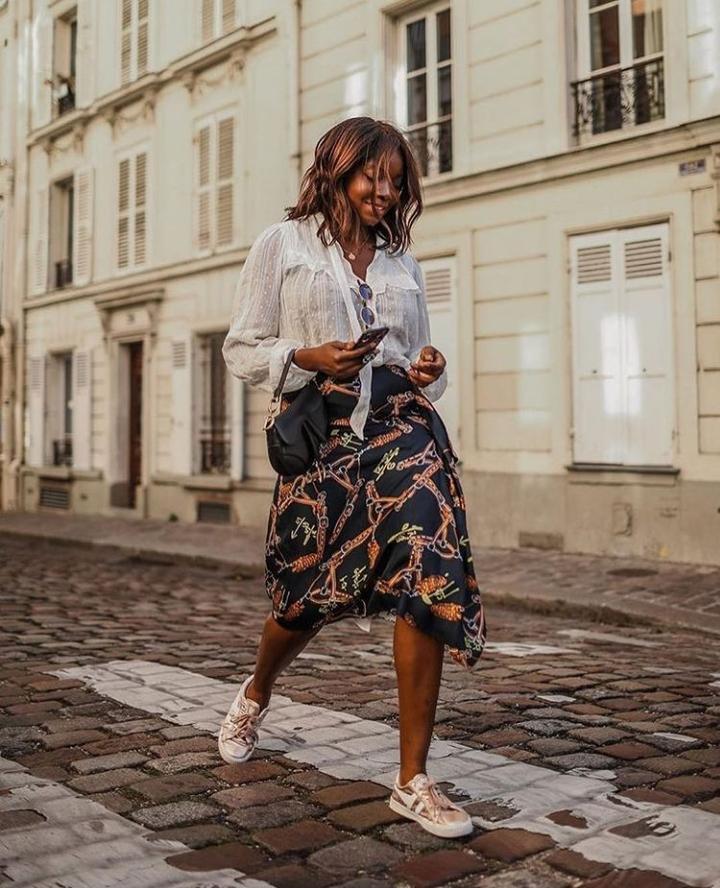 06 – Use A Sheer tee With Ripped Denim Jeans
Choose the shirts with a message on them. It is a gen z thing to do but a very stylish trend. Another way of styling this outfit is to go with graphic shirts. Pair them with ripped jeans and golden metallic sneakers. Go with high waist jeans. It will look better.
05 – Try An Oversized Hoodie With Fishnet Stockings
You might have seen several inspirations for how to style fishnet stockings. But have you tried them with your favorite oversized hoodie? If not, then here is your cue to give it a try.
04 – Always Say Yes To A Sequin Dress With Metallic Sneakers
Who said you couldn't wear sneakers at weddings or parties? Please choose your favorite sequin dress and style it with silver or gold metallic sneakers, whichever goes best with your outfit. Add curls to your hair and go with the bold lip shade.
03 – Pair A Colorful Pleated Skirt With Black Metallic Sneakers
It is the best way to add colors to your black and white outfit. However, if you are not a skirt person, go with a bright shade handbag or fanny pack. Complete your look by adding cool shades.
02 – An off-Shoulder Black Dress Will Give A Subtle look
You can always wear sneakers with your ruffle dress for a sophisticated. I would suggest going for different color sneakers instead of creating a monochrome outfit. It will stand out with your dress. You can also carry a mini bag.
01 – Wear A Chic Jacket With Leggings
You can make your gym outfit fancy by wearing a chic jacket and metallic sneakers. Add color sunglasses for a superb finish. Moreover, go with bright shade metallic sneakers to complete your look.
Q. Where can you wear metallic sneakers?
Ans: Honestly, I don't get why people felt conscious wearing something with shimmers. If you add the element of shine to your outfit, it will brighten up your day automatically. Your good mood will boost your confidence. Therefore, never hesitate to wear metallic sneakers on any occasion. If you are going to a party, vacation, university, office, or even wedding, all you need to do is take your metallic sneakers out of your wardrobe and style them effortlessly.
Q. Which bottom goes best with metallic sneakers?
Ans: The latest trend that catches my eye is a denim skirt with metallic sneakers at the bottom. Indeed, it might not sound as tempting as it is in reality. Therefore, I've added a complete outfit look for your better understanding. If you wear anything related to metallic colors, that will be the first thing everyone notices in your outfit. Therefore, your sneakers will lose their charm if you do too much with your bottoms.
Moreover, denim skirt gives casual vibes. So, it will neutralize your outfit and gives a subtle look overall.
Q. Are metallic sneakers in style 2023?
Ans: There isn't even a doubt in it. Metallic sneakers are smashing all the trends this year. If you are passionate about fashion like me, you surely know how every other influencer on Instagram is styling metallic sneakers with almost every outfit. Indeed, we live in a time when metallic sneakers are no more considered "only for fancy events" shoes. You can see that many people are wearing them in their everyday routine.
In my opinion, these sneakers can lift the spirit of any outfit. You can wear them with any boring outfit, yet you will get a fantastic result. It is the kind of metallic power sneakers hold in the fashion industry.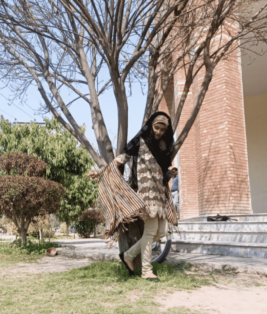 Javeria is a student and a content writer. She is good at public speaking, leadership, and management. She is passionate about writing, reading & music. She is an ambivert and is always up for a new friendship adventure. As an English literature student, she thinks fiction is more fun to read than nonfiction.