Flat Shoe Outfit Ideas. When summer rolls around, most of us are desperate to swap out our boots and heels for some cool flats. Flats come in all kinds of styles and colors. Whether you go for loafers, mules, sandals, or ballet flats, there is an option for everyone.
Styling flats, however, can sometimes be a bit daunting. Can you wear flats with a dressy outfit? Can you wear flats with flare jeans? What are some outfits you can style them with? In today's article, we will cover all this and more. Be sure to check out our FAQ section at the bottom of this article for some further guidance.
What to Wear with Flats
This article will help you with various essential dress-up ideas, various types of flats available in the market, and a few important tips that can make your life a little bit easier when matching your shoes with the ultimate silhouette.
Also, you'll get to know a few tips which will transform your boring and frumpy flat shoe wear to super preppy and ultimately classic.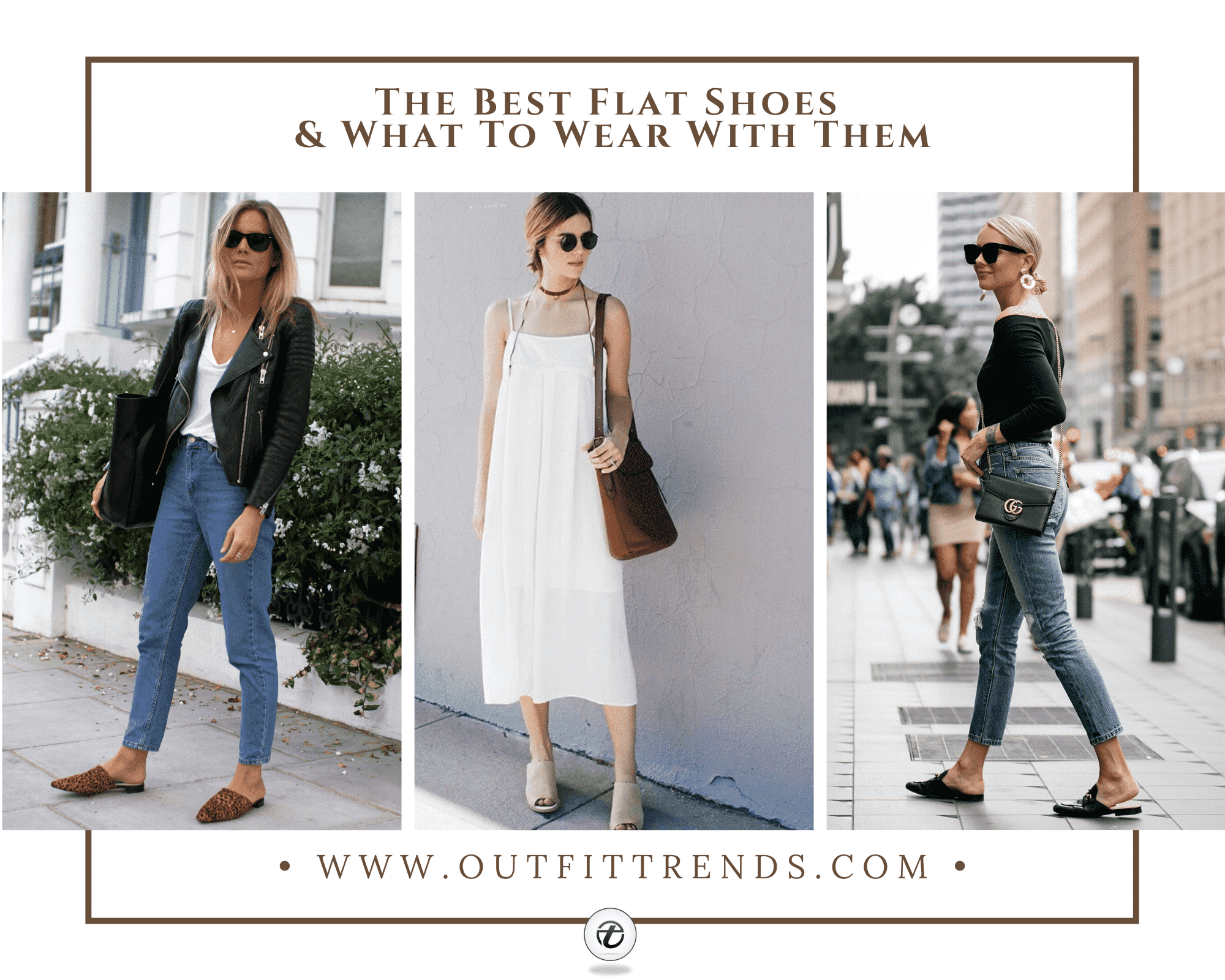 ↓ 28- Pink Dress, Jacket, and Headband
We can't get how cute this look is! While a fleece jacket in summer may not be the best choice, you can easily swap it out for a light cardigan or go without. This beautiful look is perfect for those unforgettable summer days when traveling to a new place, touring a museum, or grabbing ice cream with your guy.
We love this chunky headband and heart-shaped sunglasses combo, the perfect accessories for this semi-casual summer ensemble.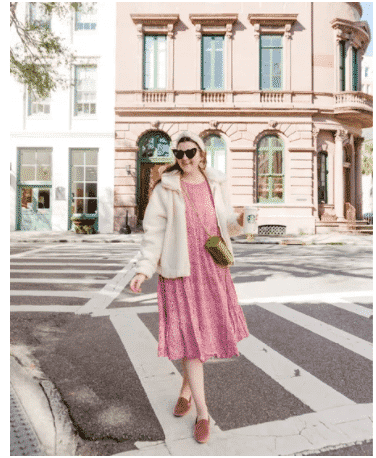 ↓ 27- Floral Jumpsuit and Slingback Mules
We love this dressy ensemble that you can rock for many different events. Not only will you feel super comfortable in this wide-legged jumpsuit, but you will also feel like the best fashionista with this stylish bag and a pair of slingback mules.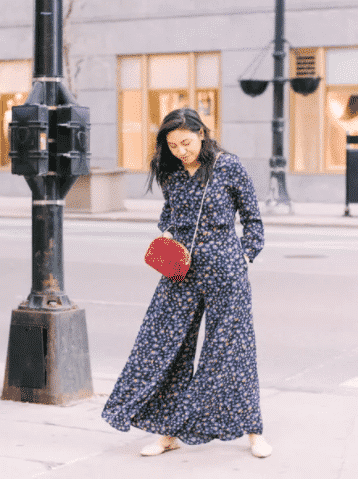 ↓ 26- Lace Up Sandals with Short Shorts
Being a super stylish mommy like Savannah LaBrant, you can slay some gorgeous black thong sandals with thin straps to tie around your ankles with a casual high round neck tee and blue denim stripey shorts with an embellished ethnic belt to add beauty to the entire combo. Do check out these 40 Ways to Style Floral Shorts.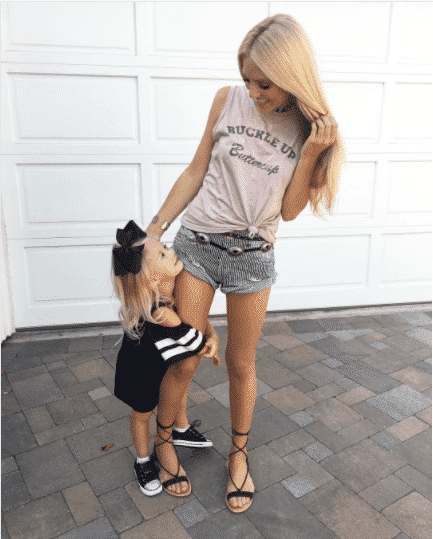 ↓ 25- Gladiator Sandals and Kimono
Funky kimonos printed in leaf patterns with a white knotted cotton shirt and denim shorts cuffed at the bottom look extremely chic with black gladiator heels. You can wear a choker or a bracelet to define your attire.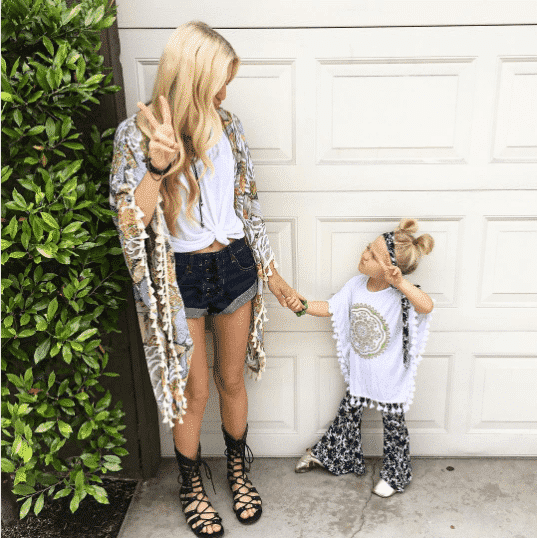 ↓ 24- French Riviera Style
French Riviera style is about simple yet classy outfits that make one look effortless, like this peplum style tee with blue stripes against white ones and a hot pink sling bag with matching pink ballet flats shoes. Here are 27 Ways to Wear Shirt Dress in Different Ways.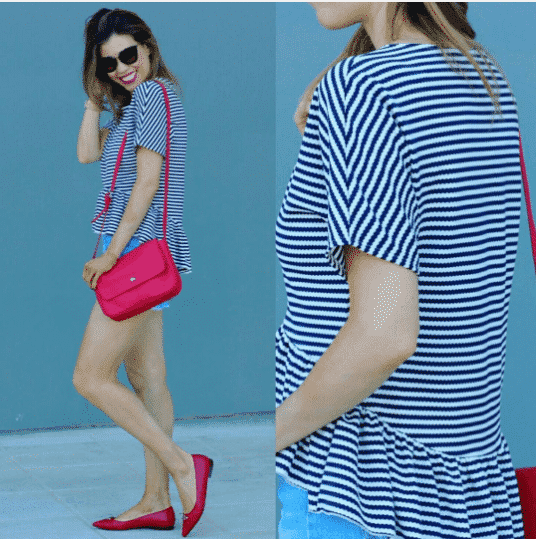 ↓ 23- Cute Jacket and White Jeans
You can slay white ripped denim jeans with a white tank top and a military green jacket embellished with silver sequins. Also, you can add a bright red belt and ballerina flat pumps by Los Blanco to tie your whole look together.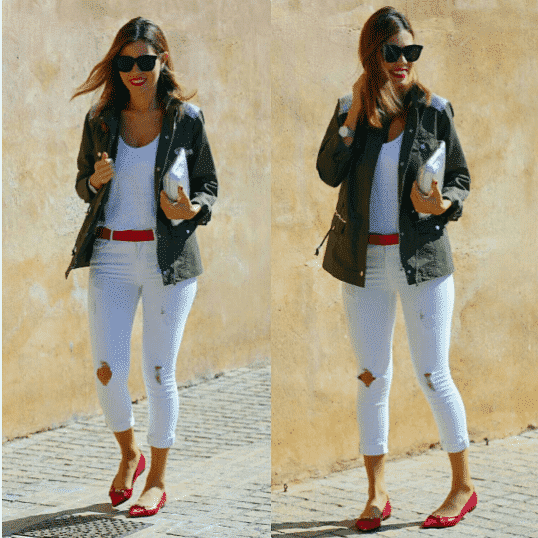 ↓ 22- White Beach Dress
The cool Barcelona blogger Mayka Jiménez de Aranoa shares her mesmerizing look in which she slays this beautiful white dress with a belt around the waist which can be knotted in a classic style and defined borders, along with a sling bag with a retro style and black flat carina shoes. Since white looks so angelic in summer, check out these 18 Ideal Girls Outfits with White Shirts for a Glamorous Look.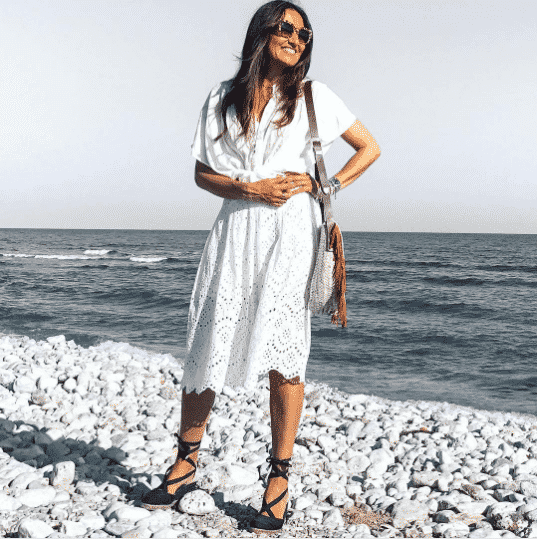 ↓ 21- Beach or Boating Outfit
Are you looking for the perfect beach attire? Well, here you go, a net embellished chiffon top with lacy white shorts and super chic white gladiator flats, which are loved by the fashion elites of today's world.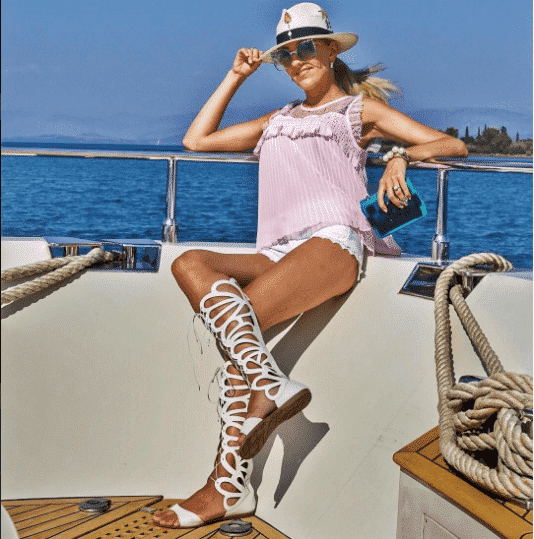 ↓ 20- Chic Travel Attire
Summer is a fantastic time to doll yourself up and experiment with your style. Here is an idea which might suit you during hot summer days. A Tommy Hilfiger tee can be worn with cropped black denim jeans and a long coat-style camel. Also, metallic copper loafers will add to your style. Here are 30 School/College Outfits for Girls in Summer.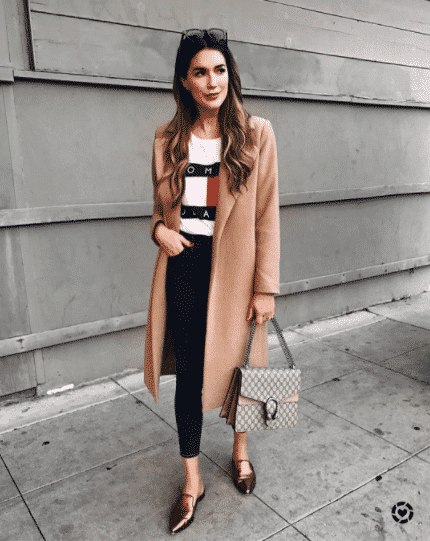 ↓ 19- Denim on Denim for Girl's Day
Gucci black leather loafers and a double denim outfit look lovely on any young girl during mid-summer. Also, a Gucci chain strap sling bag will make you slay the entire ensemble. This is a great look for a girl's day out!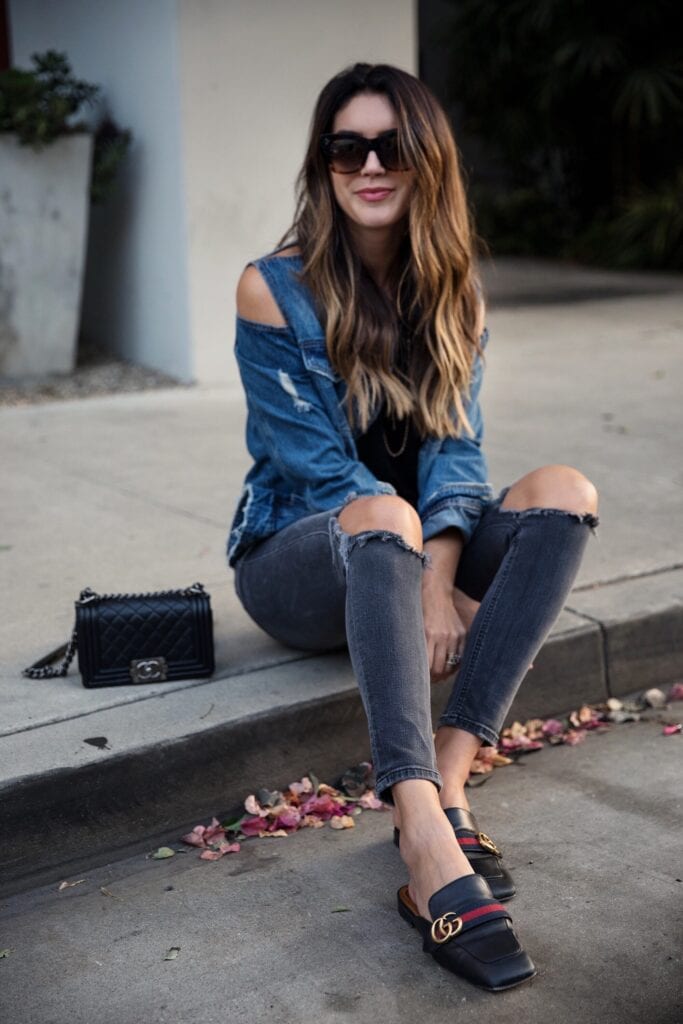 ↓ 18- Dressy Lunch Date Look
An off-white full-sleeved button-down shirt can be worn with a vintage camel-colored skirt, and Aldo's metallic silver bow slides Prettie. Check out these 20 Ideas How To Wear Skirt For Work.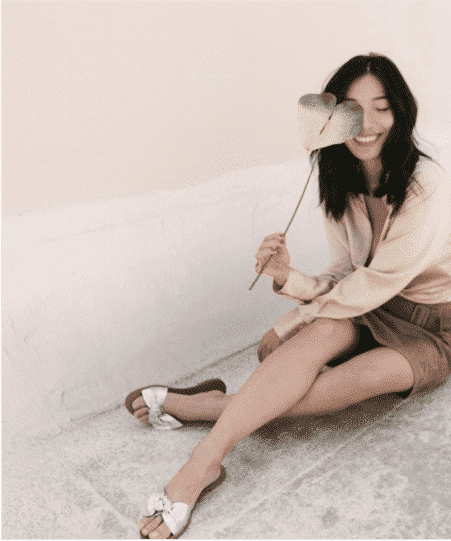 ↓ 17- Boho Style Mini Dress
A short red dress with broad white stripes and dangling earrings can be worn with Aldo's ultimate gold slides Brittany. Also, it makes a perfect look for a sunny day with friends.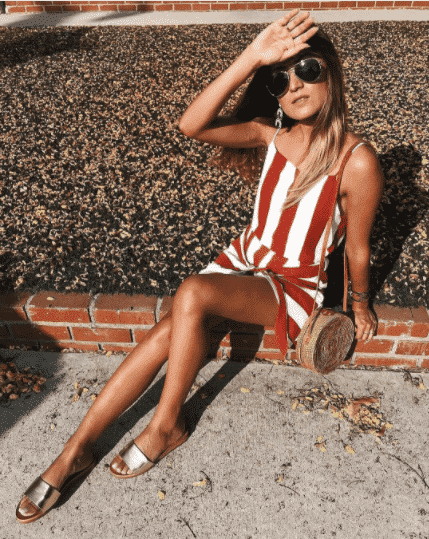 ↓ 16- Casual Summer Look with Slides
Berlin blogger Mariya's ultimate casual look, comprising a chic white T-shirt with text and high-waist denim shorts, can be paired with leopard print slides to create a natural and comfy look. Here are 16 Cute Outfits To Wear With Gladiator Heels/Sandals This Season.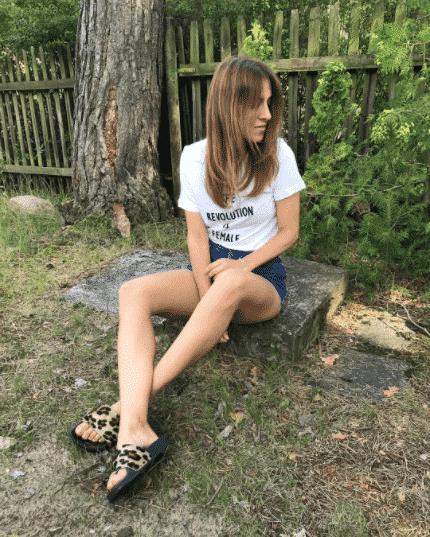 ↓ 15- How to Wear Flats and Still Get Visual Length
One of the upsides to heels is that they visually lengthen our bodies. But here is how you can rock flat shoes without looking stumpy. Pair your flat shoes with jeans that cut off right at the ankle or above. You can also try and go for shoes with thick soles. Just get a tad more height.
Here is a lovely look with an abstract print top with a pastel color coat over it and casual jeans, perfect for a girl's day out. Glittery slip-ons are super funky and classy when going for a casual street style, and ladies of all sizes look great.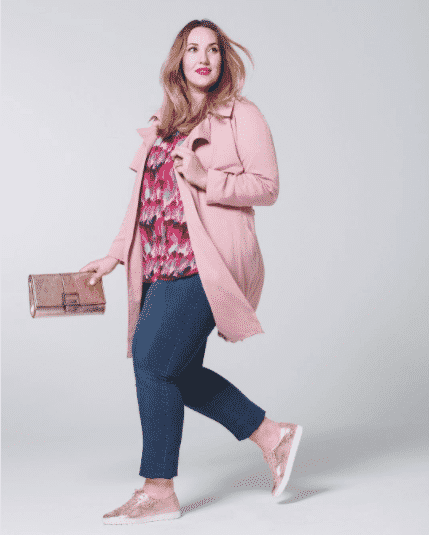 ↓ 14- With Long Summer Dress
Long summer dresses with a flared cut are wonderful for semi-formal occasions (or even formal occasions!) when the weather is mild, but you want to avoid heels. Pearls or bead embellished sandals make for a lovely pairing with long dresses. You'll also love these 20 Ways to Dress Like a French Girl.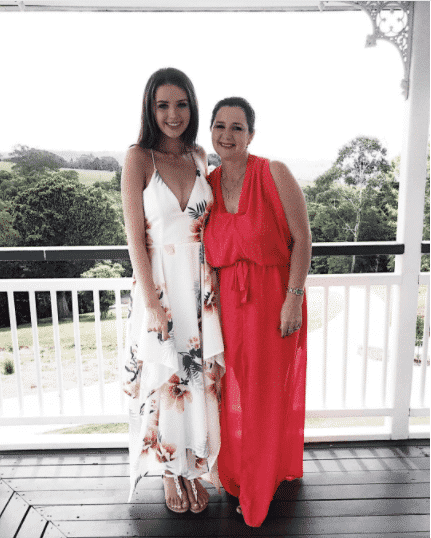 ↓ 13- With Metallic Dress Shoes
Metallic shoes have taken our breath away with their charm and chic style. Especially Oxford metallic shoes. These can be worn with a plain sweater in a pastel color or lighter hues of gray and charcoal and casual denim skirts or shorts or even cropped jeans.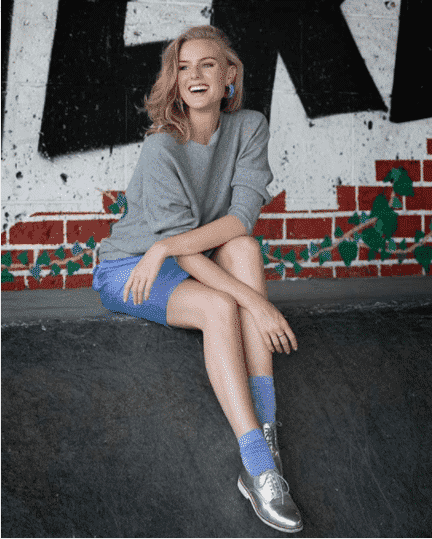 ↓ 12- Casual Street Style
Are you looking for a semi-formal or nearly casual street style? Well, here you go. Chic white oxfords can be worn with white straight pants, a Balmain t-shirt, and a formal black blazer. Here are the 30 Most Popular Dubai Street Style Fashion Ideas.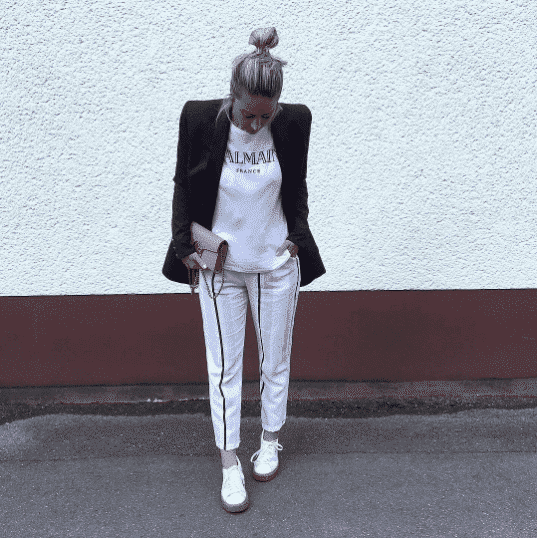 ↓ 11- Off-Shoulder Tops with Gladiator Sandals
Every one of us has a hidden obsession with off-shoulder tops. Now, you can slay them with plain black or white or skin gladiator sandals and a long velvet cord necklace.
↓ 10- Floral Kimono and Slip-Ons
Pairing flat shoe wear with floral prints is a little basic, so you can get your embellished sandals and ripped cropped jeans from Zara and a floral cardigan from Villas Milla, and don't miss out on a sling bag. Here are 25 Ways To Style a Floral Blouse.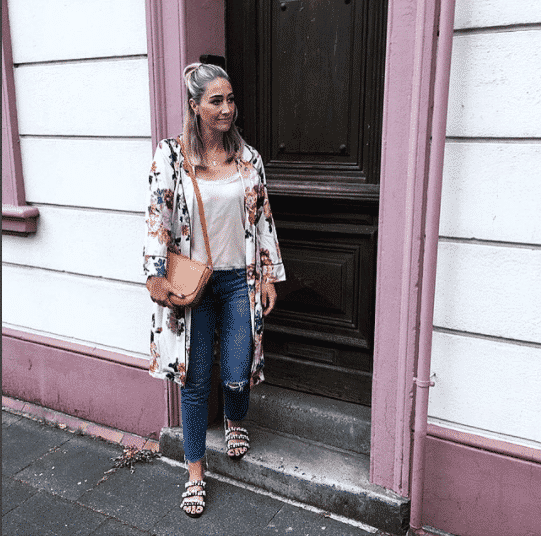 ↓ 9- Cute Jeans and Slingbacks
For a chic semi-casual look, throw on a black tee with your favorite pair of light-wash jeans. Top off the look with an adorable polka dot headband, round sunglasses, and zebra stripe slingbacks.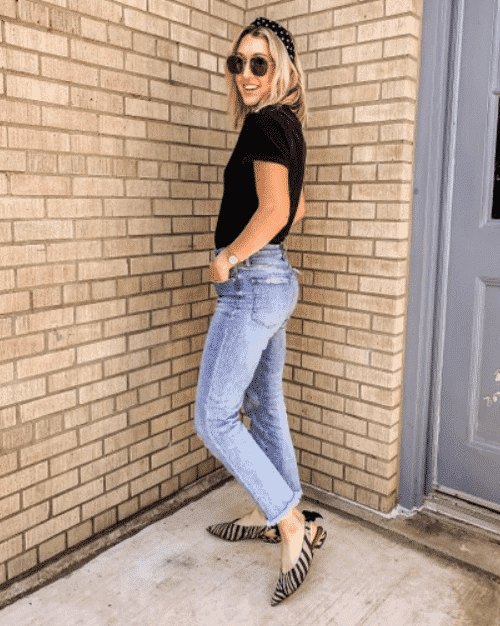 ↓ 8- Retro Look with Slip-Ons
A retro-style dress with bell sleeves and slim off-white lace cut can be worn with maroon velvety slides, making any petite lady look like another Victoria's Secret angel. Here are 33 Best Ideas on What to Wear at Home in Summer.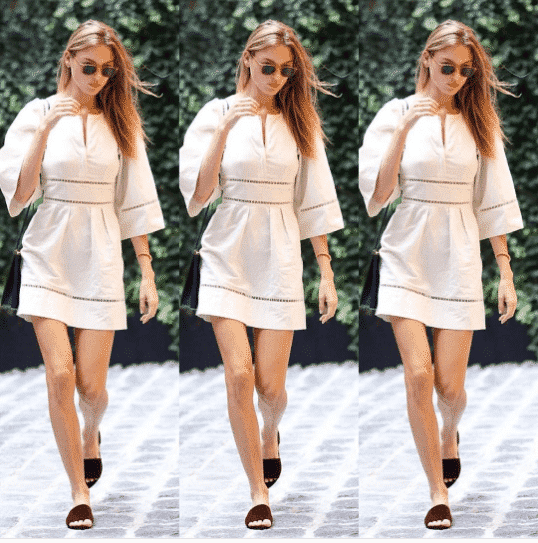 ↓ 7- Patterned Greens for Stylish Summer Looks
If you want to slay like Martha Hunt or Emily Ratajkowski, wear a bishop-sleeved green jumpsuit or a long green shrug over a deep white v-neck cotton top with jean shorts. Pair them up with simple black slides or leather classy artsy flat sandals.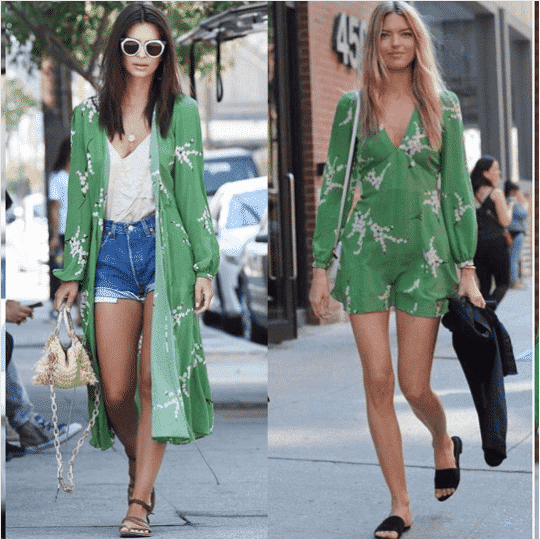 ↓ 6- Kendall Jenner Inspired Look
An oversized top with red and blue stripes and a zipped turtle neckline can be worn with blue striped shorts and white sassy sneakers. Here's How To Wear A Swing Dress This Summer.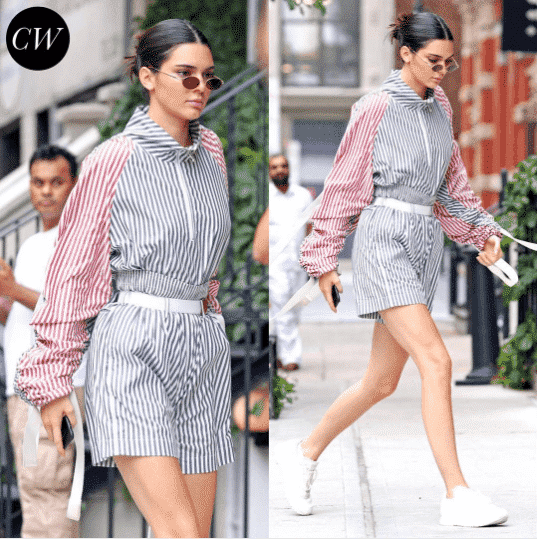 ↓ 5- Travelling Attire with Sandals
A gorgeous black playsuit with a simple white tee underneath can be worn with simple black slides and a long chain strap metallic gold bag. We love how this look is chic without being too flashy, and you can rock it for pretty much any semi-casual occasion without feeling too under or overdressed.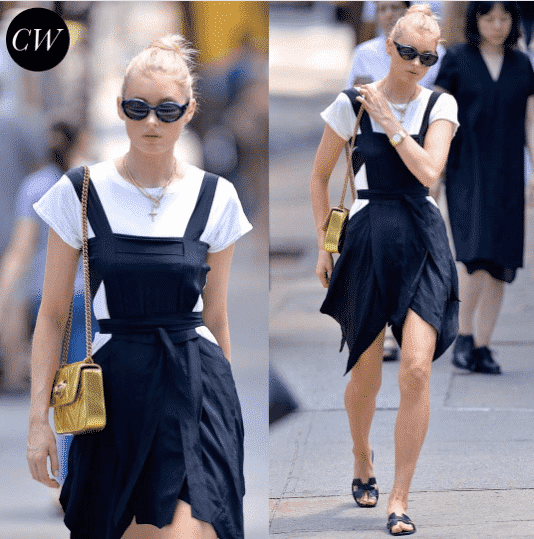 ↓ 4- Teenage Fashionista Outfit
Teenage ladies can slay leather white loafers with a white pleated dress shirt and patterned straight short skirt. Check out these 20 Outfit Ideas For Teen Girls In Summer.
↓ 3- Semi-Casual Work Attire
Working women can wear flat black or white or any neutral shade pointed flat pumps with flat belted pants, a black full-sleeved shirt, or any pastel-colored formal shirt. Here are the 20 Best Summer Office Wear for Women.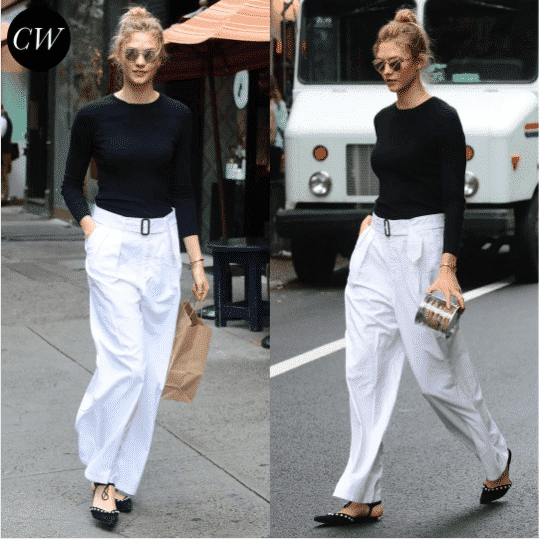 ↓ 2- African Lady Flat Shoe Style
Like Rihanna, any African lady can rock military-cuffed pants with a woolen sweater, a printed gentle, and brown leather flip-flop sandals. This is a semi-grunge look with which you can have fun all summer.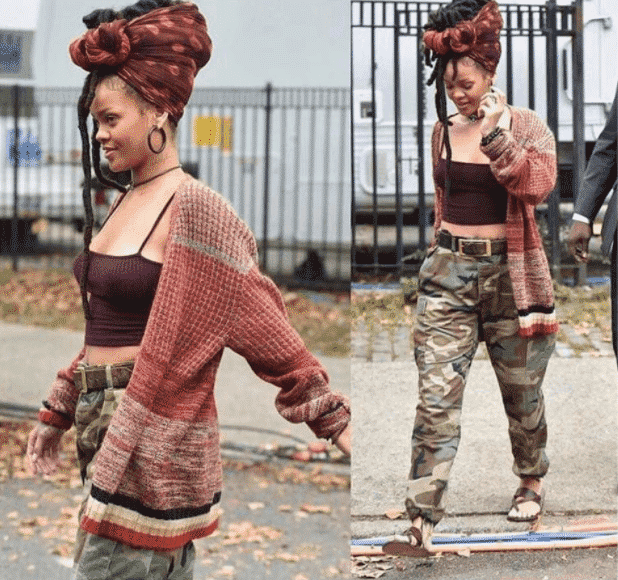 ↓ 1- Casual Tank Top Dress
Here is a simple, casual summer look that will take no time to throw together. A tank top dress paired with leather or brown sandals is a great beach look or vacation outfit. Style your hair and makeup as you usually would stay looking put-together.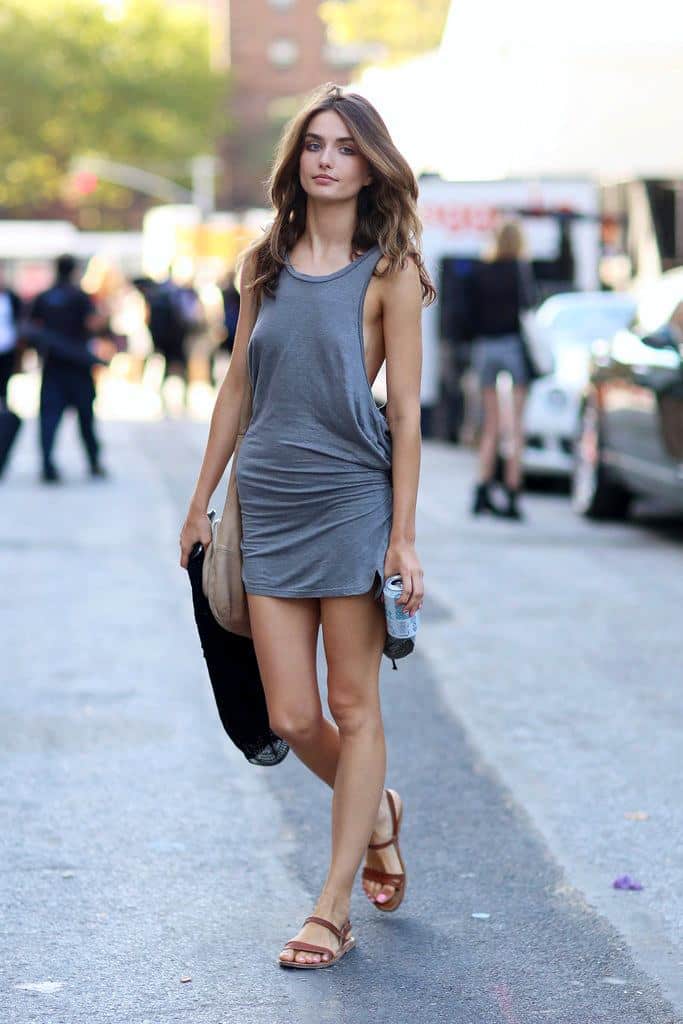 Frequently Asked Questions
Q.

How do you dress up in flats?
A. Dressing up in flats takes extra thought and creativity because flats are inherently less formal than their heeled counterparts. However, it can be done. (See Outfit #14 for a beautiful example of how to do this.) You will want to avoid flip-flops, sandals, and other casual footwear and look for dressier options, like sleek mules, metallic slip-ons, satin or suede flats, and ankle-strap shoes.
Avoid neutral brown or tan; look for gold, silver, and black… you can even consider a color like blue or red, especially if it brings a pop of color to your outfit and matches the rest of your clothes. Other things you can look for are flats that feature special detailing like diamante, studs, flowers, or even sequins.
Q.

Can you wear flats with flare jeans?
A. It's best to wear shoes with a little heel if you want to rock flare jeans. A bunched hem will only look sloppy and ill-fitting and won't do your overall appearance any favors. However, if you love a flat and want to make them work with your flare jeans, opt for a pair that runs a little short around the ankles or just below them.
Q.

Are you supposed to wear socks with flats?
A. Not usually. (See Outfit #13 for a good example of how to do it.) While you can rock socks with Converse, kicks, or other little sneakers, wear your open flats (slip-ons, mules, ballet shoes, sandals, etc.) sock-free.
Q.

Can you wear flats with a dress?
A. Absolutely. You can wear flats with a summer dress, a maxi dress, and a mini dress, depending on the type of look you are going for. They are an easy way to dress down an otherwise formal look and are great for summer when you don't want to be all trussed up in heels, sneakers, or boots!
R.H. Elias is a freelance writer, aspiring author, and freelance transcriptionist. She is a homebody all the way and loves curling up on a cold, rainy day with a good book and a warm cup of tea. Her favourite pastimes include reading, writing, and watching period films. She currently lives in Puerto Rico.