Women Outfits With Loafers – Women love outfits to match with shoes, and these days the list of possibilities is endless. Cute outfits look good with sneakers, heels, platforms, gladiator heels, boots, sandals…and the list goes on. However, outfits look extremely sexy when paired with the right loafers, which are in fashion these days. Every woman must have at least one pair of classy loafers in her closet which would be gorgeous enough to wear with some classy and cool outfits. Loafers are a great option if you are looking for comfortable shoes. Compared with other flats, loafers are quite versatile. They can be both dressy and casual.
Wondering why are they having a moment? It's because loafers are easy to slip on and off, thus allowing convenience with every outfit, be it casual, formal, semi-formal. The best part is you will have a lot of variety in loafers. For instance, you can find them in different colors and patterns. Although most people wear black, brown and white loafers, other shades of colors and patterns look equally stunning. Loafers are the ultimate basic, neutral shoe. Purchase a brown, black, or beige pair and you'll find you can essentially wear them with any ensemble, no matter the cut of your hem, the color scheme of your overall look, or level of formality. Loafers are one of those staple shoes that have stood the test of time for decades. 
How to Style Loafers ?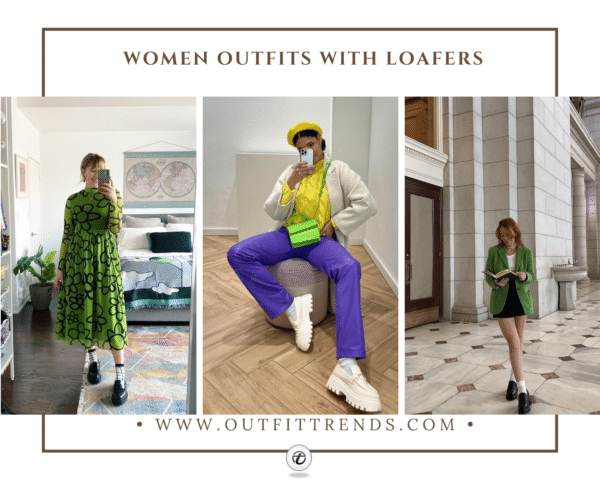 Let's start with some tips first. Go through them to find out how to style loafers, buy them, and take care of them
Do's And Don'ts 
Loafers come in leather or fabric. Generally, loafers made of leather are worn with dresses or suits, and fabric loafers are paired with casual wear.
Since loafers are easy to slip on and slip off, you need to make sure they fit you right. Try them out before making a purchase.
Professionals suggest not wearing socks with loafers. Because when you wear loafers, your socks will show. However, most people love to wear socks with loafers so I would suggest you try on both and see what works for you. 
Loafers are a perfect addition to your summer and spring workplace outfit; they feel like slippers and are breathable.
Wear loafers when you can not decide on the right shoe for your outfit. Just make sure to create a put-together look. For instance, consider adding a black leather belt and loafer to your red dress.
22 – Pair Black Leather Loafers With Cheetah Print Pants And Leather Jacket
Black loafers are versatile, you can wear them with almost everything. Be it with pants, jeans, dresses, or skirts. Here we have an amazing look created with a black leather jacket, cheetah print pants, and black leather loafers. no matter what outfit you go for, the idea is to always make it look put together. For instance, wear leather loafers and a leather jacket or a leather belt with loafers. Lastly, finish the look with your favorite pair of shades.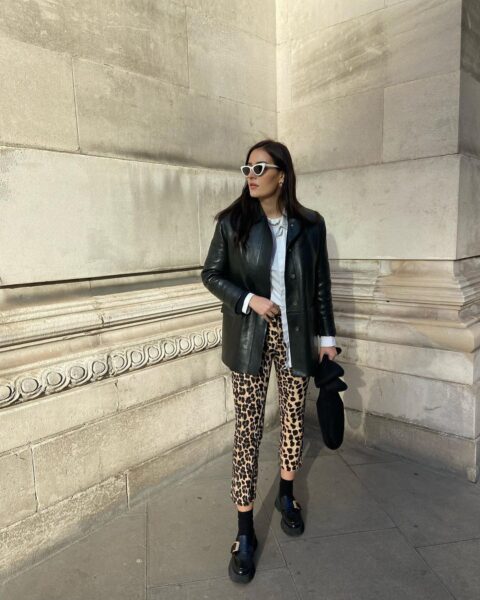 21 – With Green Blazer And Mini Skirt
Create similar timeless outfits with block heel loafers. For me, it's an ideal outfit for a museum date. Wear a white tank top with a black mini skirt. Add your favorite blazer over it and with your loafers. Elevate the whole outfit by adding a pearl necklace.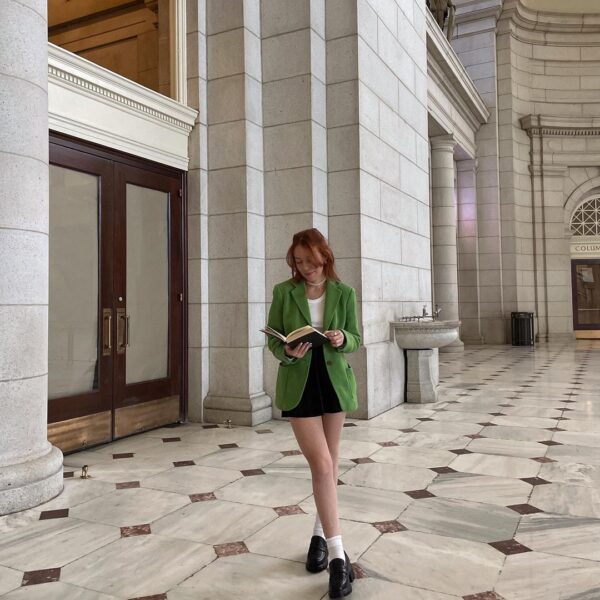 20 – Loafers With a pleated skirt and Sweater top
Pleated skirt, whether long or short, will always be classic pieces that will make you feel more ladylike. The best thing about a pleated skirt is that you can wear the pleated skirt with different shoes such as loafers. In this outfit, she styled her pleated skirt with a lilac top and then finished off the look with a pair of white loafers. This look is great particularly if you love an elegant look.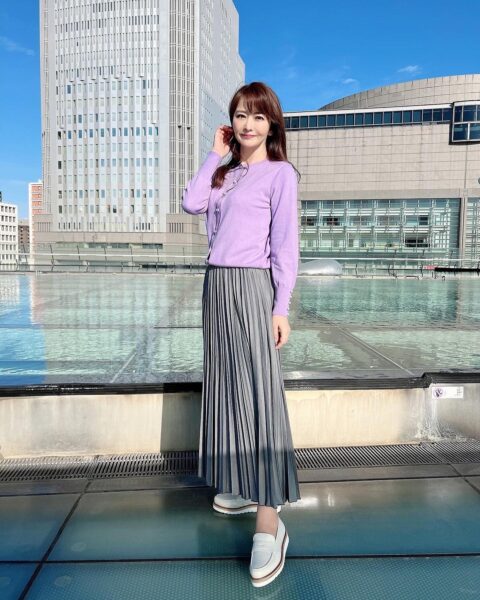 19 – Red Formal Pants With Striped Shirt, Black Blazer, And Gold Loafers
Here is an extremely stylish outfit to create with loafers. Add a pair of metallic loafers with bright red trousers, a pinstriped t-shirt, and a black blazer. This is a great semi-formal look for office lunch, besides, you can also wear them to work if you are comfortable with wearing bright colors as your workplace outfit.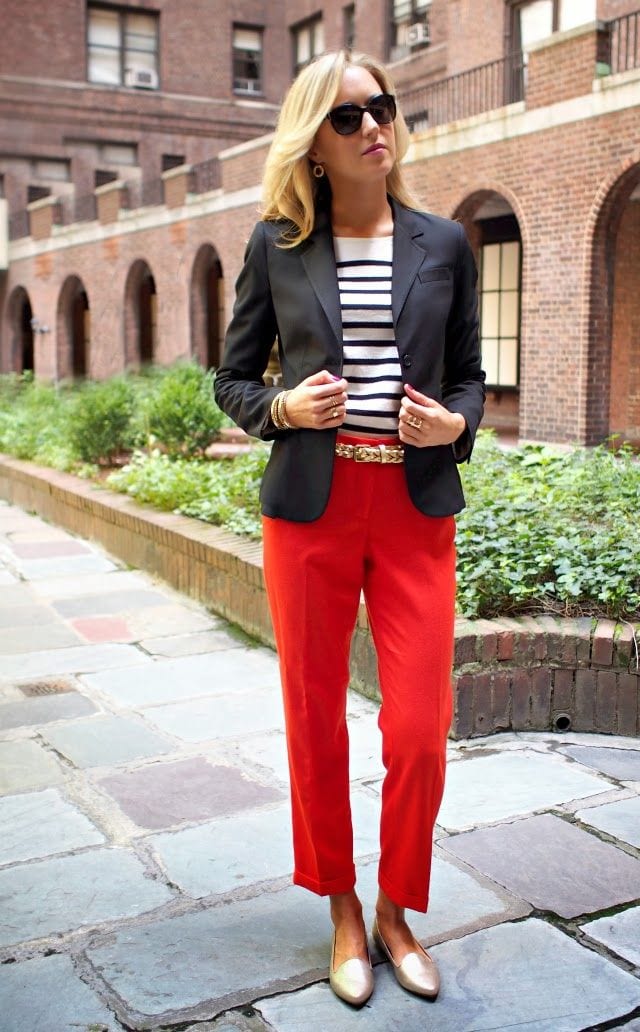 18 – Kendall Jenner's Classy Outfit With Blue Loafers And Animal Print Jacket
The Kardashians know how to dress up! Take inspiration from Kendall Jenner who paired her denim loafers with a matching jacket. It's one of the best street-style outfits of Kendall. You can also wear this outfit to your lunch date. 
17 – Wear Loafers With Skinny Jeans And A Plain Collared Shirt
City girls love loafers because it makes for a super easy outfit to wear with stylish shoes. Go all blue with this light blue shirt and dark blue jeans!
16 – With Textured Trousers And Black Sweater
The classic loafer is the ultimate fall flat shoe. It's comfortable but immediately dresses up any outfit. Want a Comfy yet Chic look? Add a finished feel to almost any outfit with a pair of leather loafers. These structured shoes are perfect for day-long wear, not to mention they can instantly dress up casual pieces in your wardrobes like sweatpants or distressed denim. Pair them up with your favorite textured trousers  and a plain black sweater.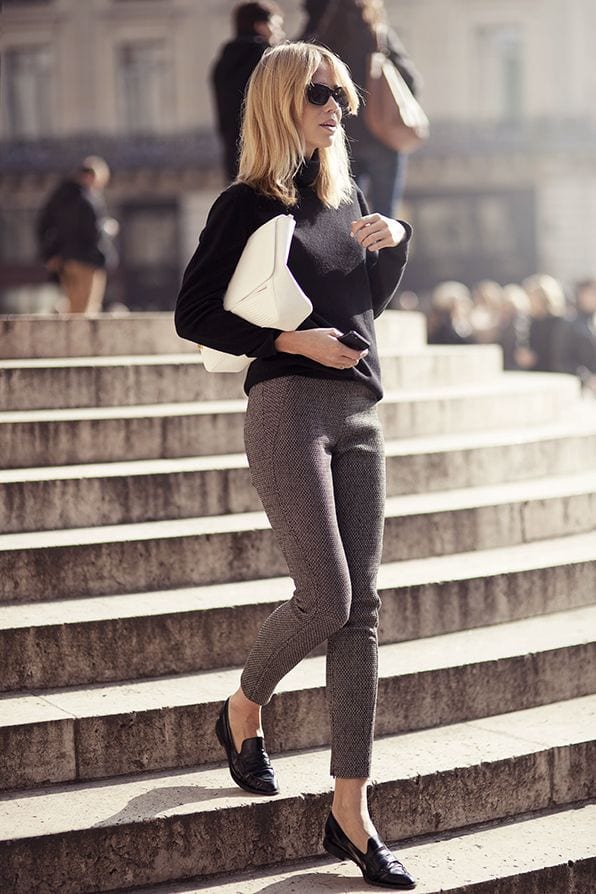 15 – Blue Loafers With Matching Pants And Sweatshirt
Color-coordinated clothes with loafers look great on young girls, especially a bright blue outfit. Undoubtedly, a wonderful look to create with tassel loafers, sweatshirts, and blue pants.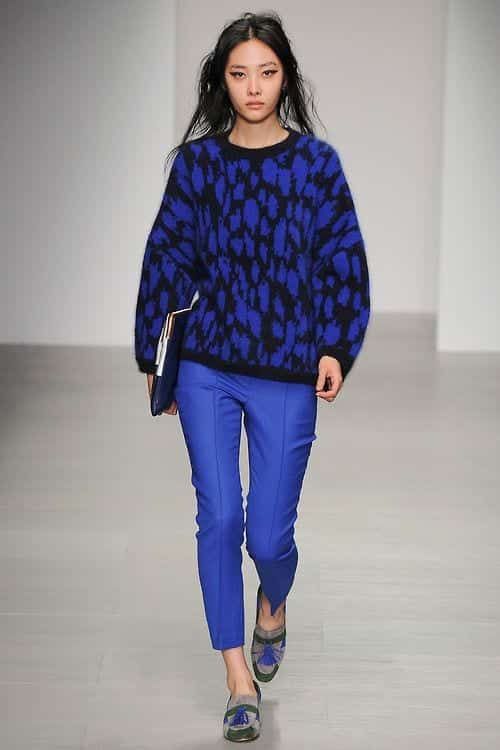 14 – With Denim and Blazer
Loafers are perfect for casual wear! Pair it with your favorite jeans and a plain white tee for the easiest outfit ever, or consider it your go-to work outfit by pairing it with a blazer and get ready for the compliments — you're going to be getting a lot. Add a matching bag and wear your favorite shades you're good to go.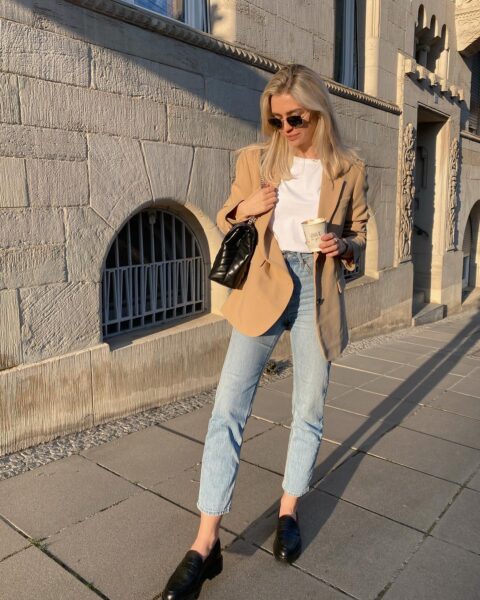 13 – Brown Loafers With a Green Maxi Dress
Transform your regular outfit into a super-cute and funky style! Pair your favorite summer dress with brown loafers and a matching to complete the outfit with a stylish touch. Be ready for all the heads turned around towards you. They're perfect for sliding on with multiple outfits in my wardrobe, from jeans and a tee, to a maxi dress. Plus these loafers look extremely comfy too.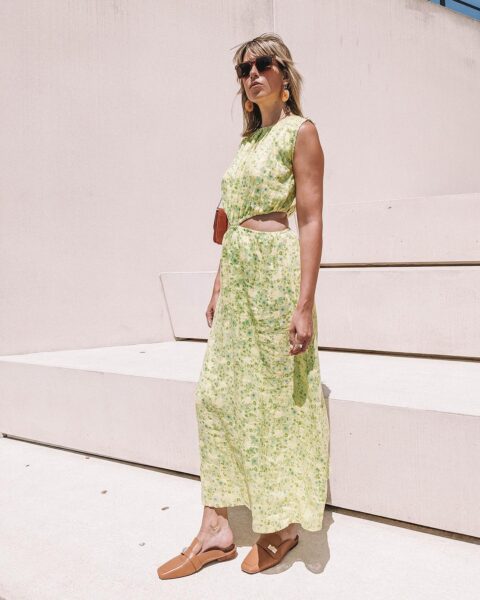 12 – White Loafers With White Top And Ripped Jeans
Ripped jeans are great for an edgy outfit and they're also fun to wear. A perfect fun look with loafers for a beach party. Loafers will not only feel like slippers but also wearing them will make sure you don't get dirt on your feet. Don't miss out on the cuteness, have a look!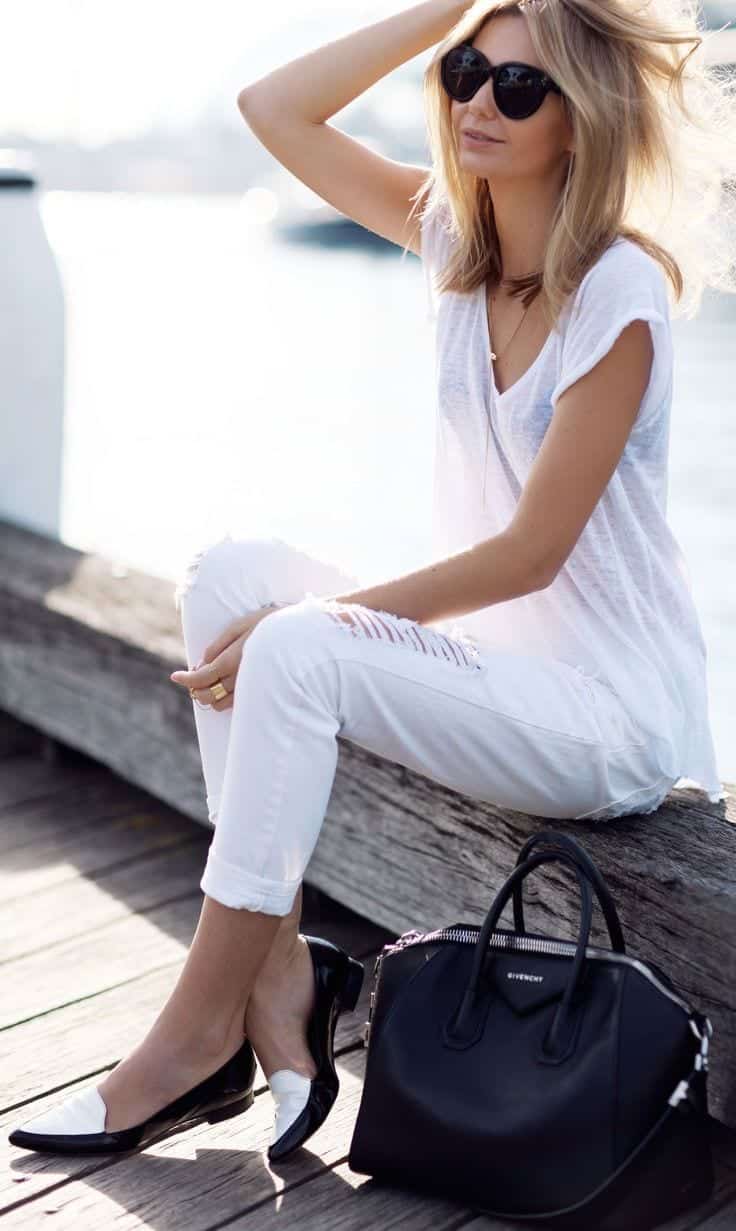 11 – Cheetah Print Loafers With Black Pants And Tan Blazer
The animal print trend is never going away for sure, here's a good look at the animal print loafers. Are you wondering how to style cheetah print loafers? Well, you can wear a tan brown blazer to match your cheetah print shoes. It will be a stunning outfit for office meetings.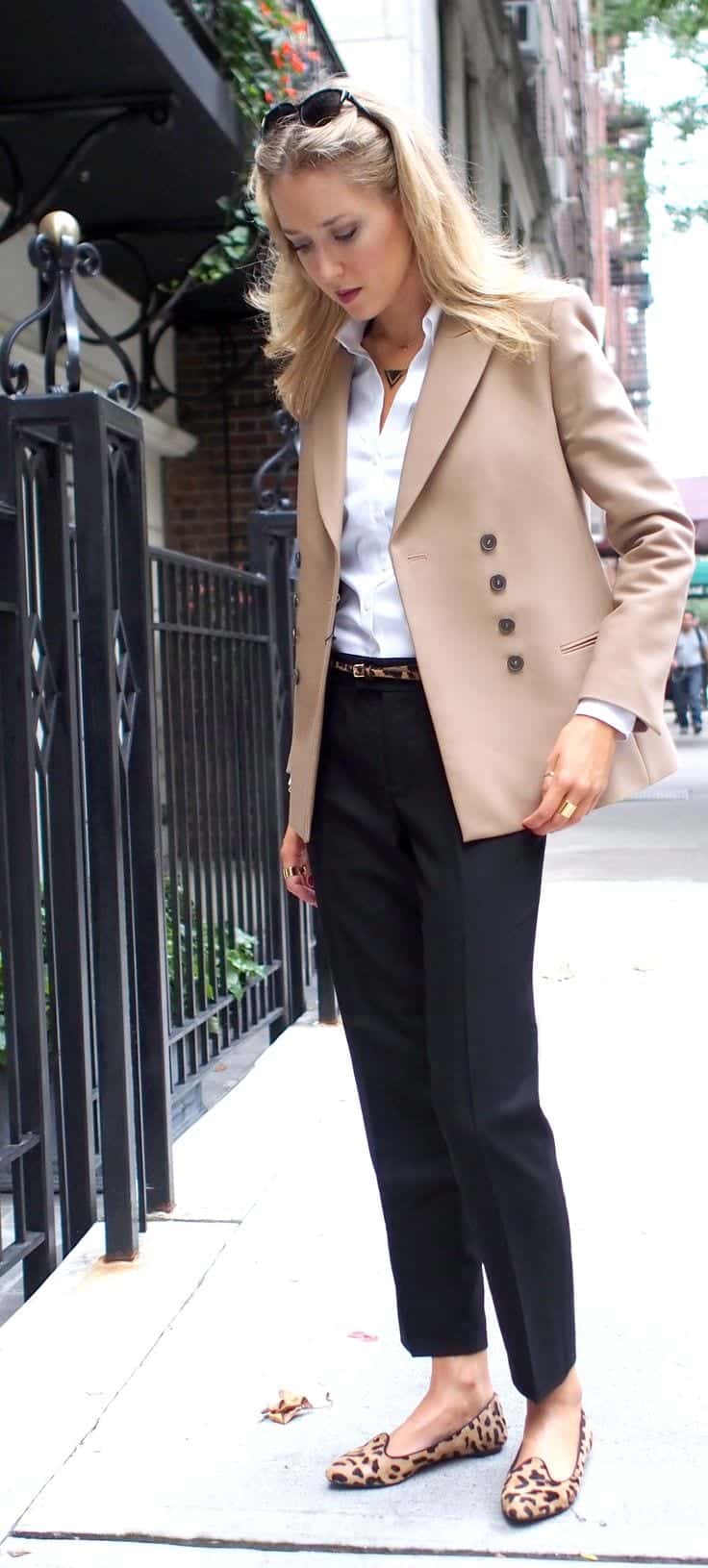 10 – Tassel Loafers With Printed Shorts And Tan Cardigan
Here we have a breezy look for summers. All you need to do is to pair your leather loafers with black and white printed shorts. Moreover, add a black top and cardigan over it and you are good to go. And how can we forget sunglasses in summer? Complete the look with shades and you are sorted. 

9 – With A Plaid Skirt, Sweatshirt and a Leather Blazer
Wearing a shorter skirt is a good way to show off your legs, regardless of the design you pick. Whether it's an A-line skirt, pencil or any other design, make sure it's flattering. These can also be worn with your loafers. Pair it with a sweatshirt of your choice and top off the look with a gorgeous leather jacket for a fashion forward look. It's a versatile combo you're bound to see everyone sporting from season to season.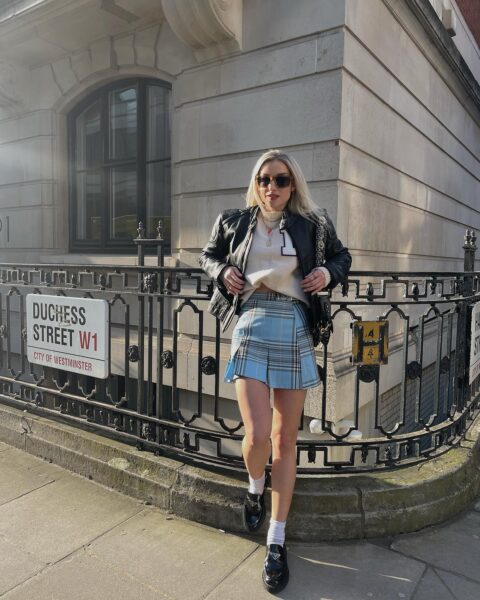 8 – Purple Loafers With Gold Reflective Blazer
Match your stylish purple loafers with a shiny jacket. Make a statement with this iconic outfit. Being bold and beautiful, you can simply choose these loafers with a wide collection of party outfits. Just add a bright matching lipstick to bring out that ravishing look.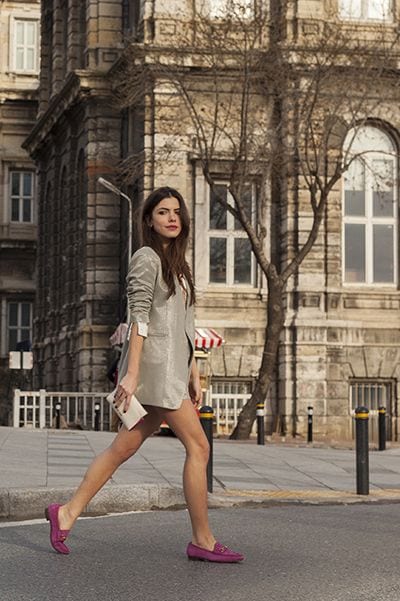 7 – With Beige Pants And V Neck Sweater
You can keep things modern and creative by wearing black loafers styled with white wide pants and a basic V neck sweater. You can make things more fun and everyday appropriate by adding statement silver jewelry.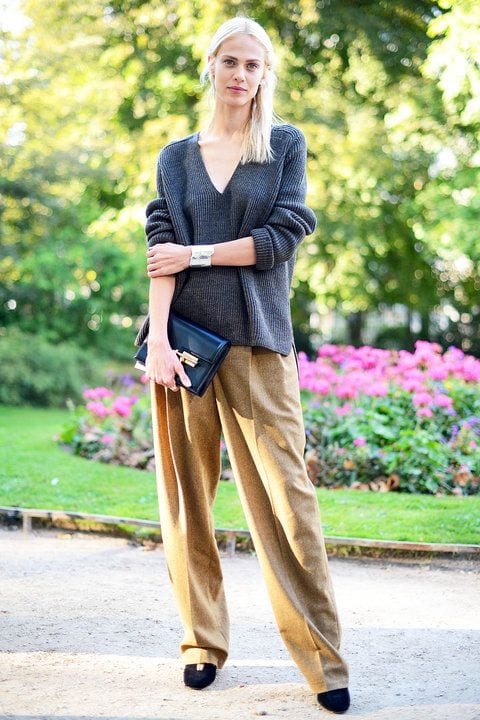 6 – White Loafers With denims And White Quilted Jacket
High waisted jeans or pants always give the illusion of longer legs and a smaller waist. If you happen to be a petite woman, this look is most flattering  to make you look taller. Pair it with a basic white tee and quilted jacket if the weather starts acting up. Slipping into loafers instead of sneakers will add a fashion-forward element to an otherwise chill aesthetic.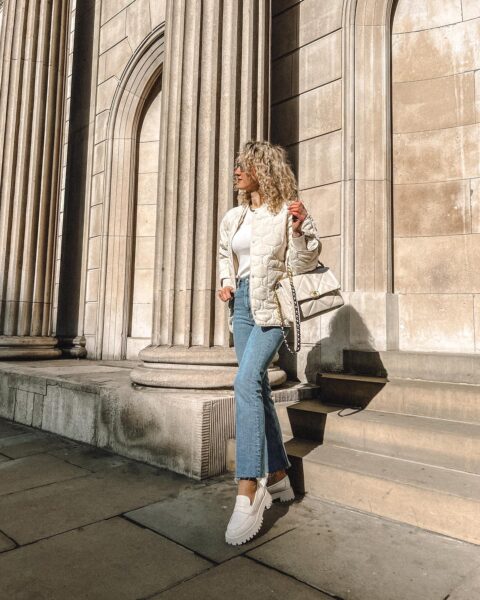 5 – Black Mid length dress With Socks
Loafers and socks go together like coffee and cream. The combo is reminiscent which might give you flashbacks to elementary school, but hey — it's aged pretty well. Pair your loafers with knee high socks. A black mid length dress with a turtleneck will add some whimsy to the rest of your look, while this cute pink bag give off a playful yet sleek vibe. Color blocking done right!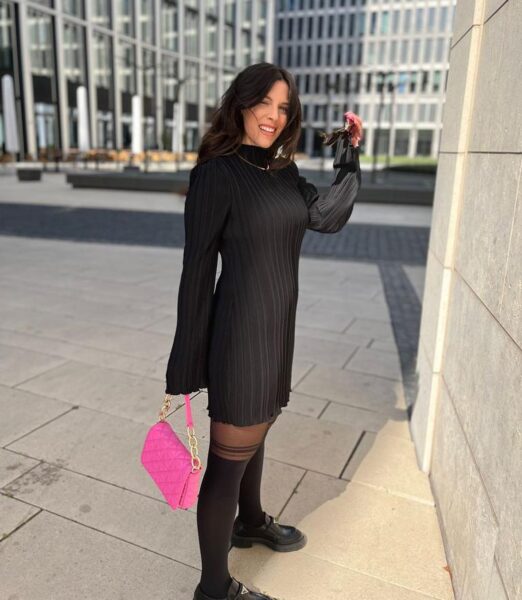 4 – Red Loafers With Mom Jeans And Printed Top
Mom Jeans are the go-to pieces for people who are fans of the 90s trend. They are comfortable and give you a nice model-off-duty look. They also look great when styled with a pair of loafers. For this look she wore a pair of mom jeans with a cute top, a beret and some red loafers. It's a simple look that's great for a day outdoors. Anyone can pull it off.
3 – Wear This Beautiful Long Green Dress With Black Loafers
Do you desire a comfortable but trendy look? Here's the answer to your question. Just look at how resplendent yet comfortable this looks. Minis aren't the only hemlines ready to collaborate with this must-have shoe. Maxis also look great with chunky sole options. However, for the finished product to look fresh, fun, and elevated, we recommend trading socks for tights or skipping legwear altogether.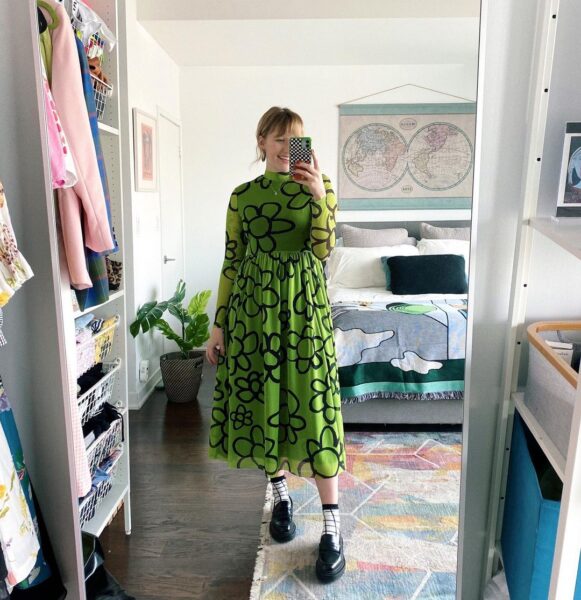 2 – Head To Toe In Lilac
Are you looking forward to creating an utterly classy and sassy look? If yes, then look no further. Because here is the perfect inspiration outfit for you. Love Love Love this head to toe in Lilac look. Wear it with confidence and sunglasses for a day out in town.
1 – Chunky White Loafers With Blue Pants, Yellow Top, And Beige Blazer
When you want to stand out with your unique taste and style, then nothing beats a bright outfit that too in Yellow. So the next time you want to make a style statement, go for a bright and funky pullover and pair it with these chunky white loafers. In Love with the whole Look. Not to mention they're insanely on-trend and comfortable — what's not to love?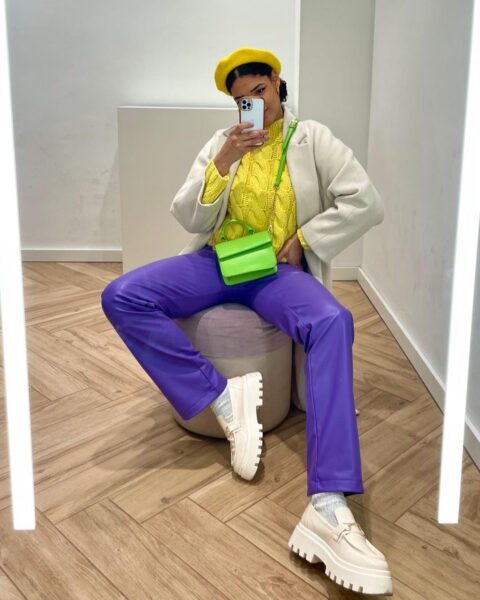 Frequently Asked Questions
Q. What pants go well with loafers?
Ans. Loafers go well with jeans. Be it skinny, straight legs, or flared jeans. Moreover, They also go well with khaki pants and sweatpants. One classic combination is loafer and chinos; this is the best option. You can wear a blazer over a collared shirt and pair them with chinos and loafers for the best casual wear outfit.
Q. How do women dress with loafers?
Ans. Treat loafers like any other shoe. They are versatile and go well with almost every outfit. You can wear any kind of jeans, pants, sweatpants, and chinos. Furthermore, loafers look great with a midi dress, skater dress, pleated or pencil skirt, leggings, jumpsuits, shorts, and basically everything. Hence, don't be afraid of wearing them with outfits. Experiment with outfits and find your best.
Can loafers be worn with a dress?
For 80+ years, the classic penny loafer has been fashionable footwear for men and women alike. This comfortable slip-on style of shoe is so versatile that they can be worn with pants, shorts, skirts, and even dresses!