White Sneakers Outfits for Men. Everyone in every corner of the world must own at least one pair of white sneakers. Owning a pair of sneakers today is like drinking water- it's essential. White sneakers can automatically make your outfit go from 1 to 10.
The versatility of white sneakers is what makes the shoes a must-have. You can wear the shoes to a party and look cool; wear them with denim, and it's the perfect street style; wear them to your office, and they will still look appropriate.
How to Wear White Sneakers?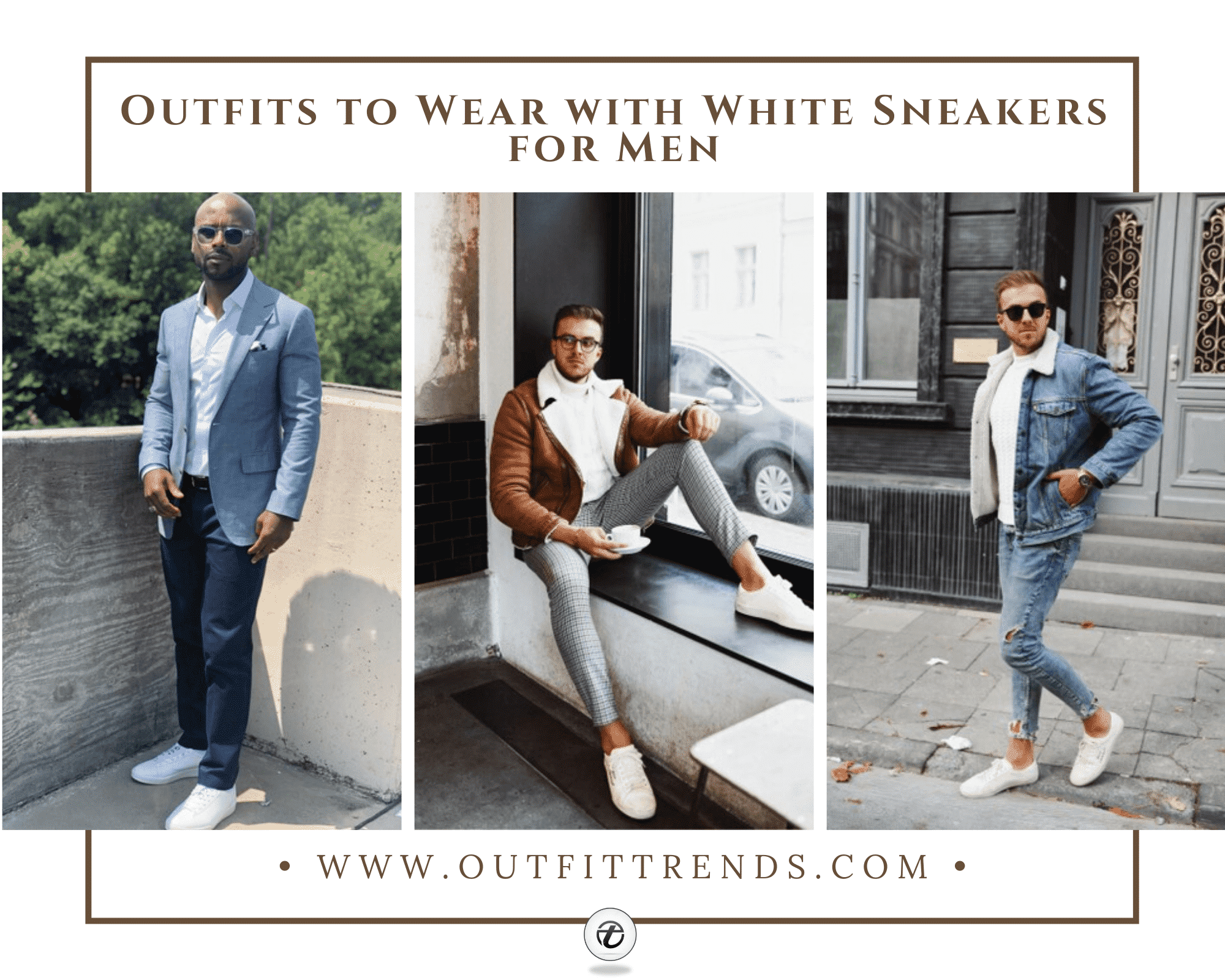 Styling & Care Tips
The whole point of white sneakers is that they're white. You would not want any colored marks or stains showing on them; this is why clean your shoes regularly.
Low tops are better than high tops as they go with almost anything.
Use an old toothbrush, warm water, and gentle soap if your shoes have some dirt spots in hard-to-reach places. Scrub gently till the stain disappears.
Leather shoes are a little more costly than canvas, but they also live longer and will not stain that easily.
Your white sneakers need to be stored in a cool, dark place when not being used. UV exposure can cause fading and discoloration making your shoes look old.
Always. Wear. Socks. Not wearing socks is unhygienic. Your shoes can develop a permanent odor. Moreover, the sole of the shoe is destroyed by the sweaty feet.
Wear your sneakers with either white ankle-length socks or slip on socks.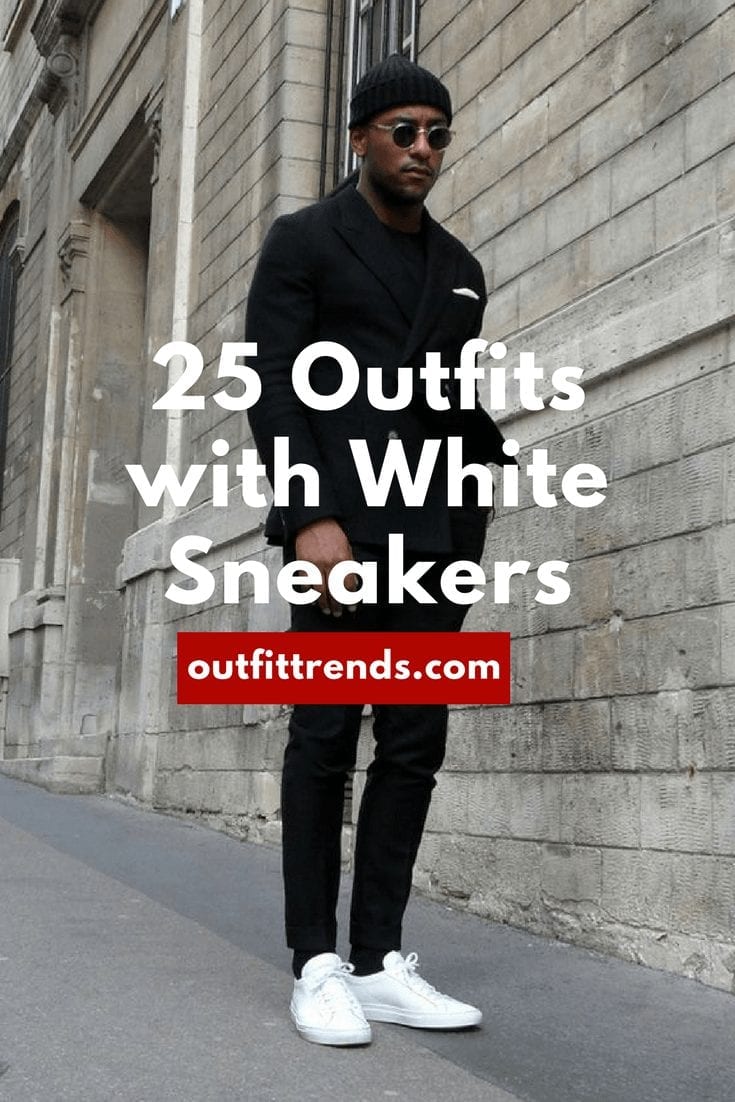 ↓ 25 – With Jeans
White shoes and denim go as old as the word 'fashion' was invented. Pair it with a jacket of any sort, and you have a perfect urban style ready. You can also throw on any T-shirt to complete the outfit. Here are Men White Shirt Outfits.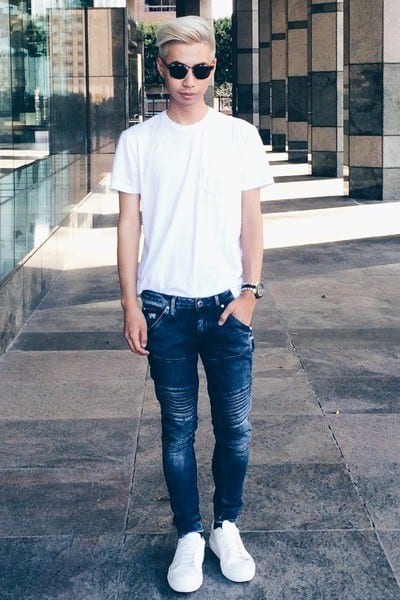 ↓ 24 – White Vans
Vans are one of the most popular and affordable shoes. They're comfortable and easy to wear. Pair them with a casual T-shirt and some jogger pants for that popular I don't care look.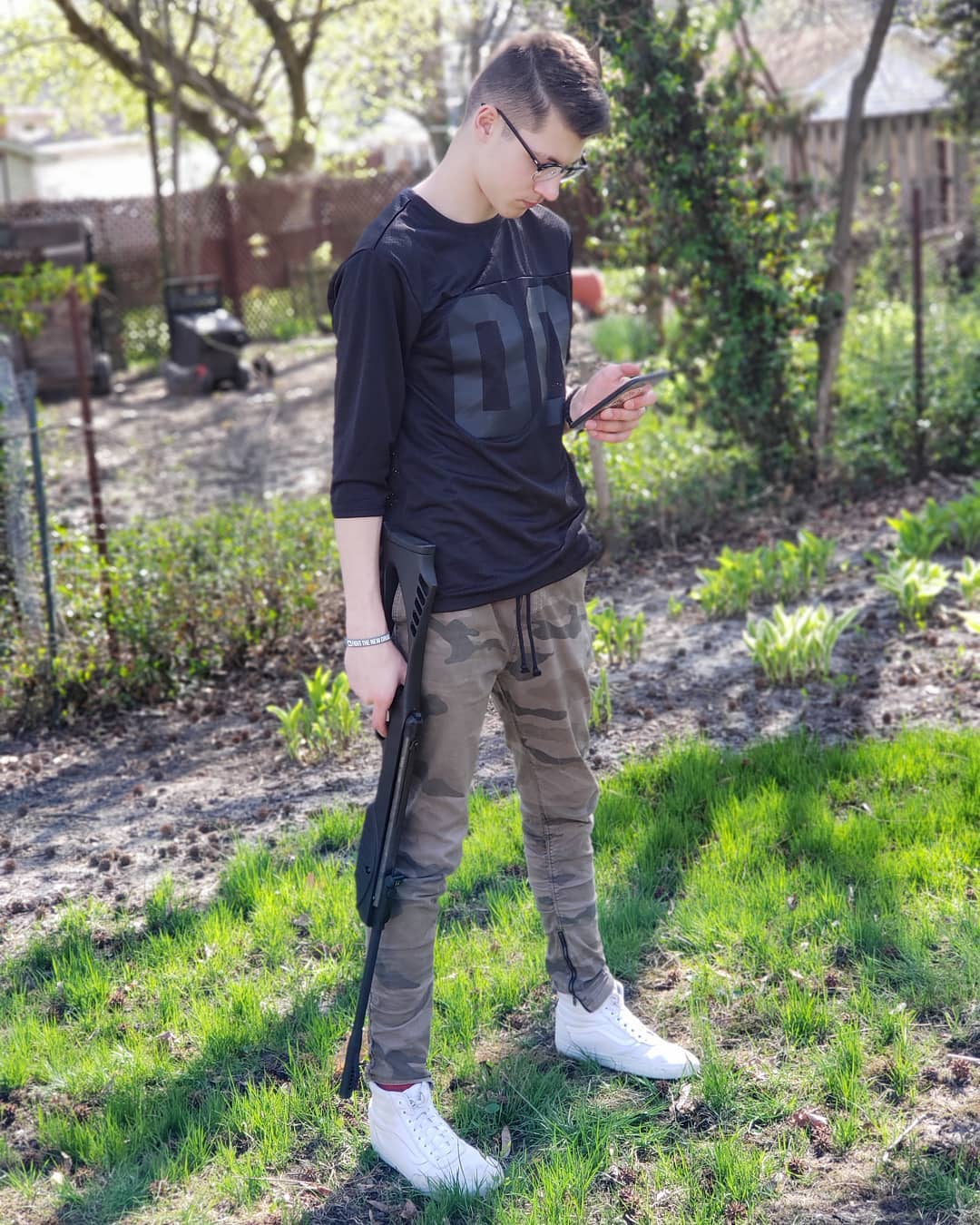 ↓ 23 – Striped Shirts and Denim
A laid-back striped tee and some blue jeans with a pair of white sneakers can be your perfect street look. Throw in some cool shades, and you're officially a chick magnet.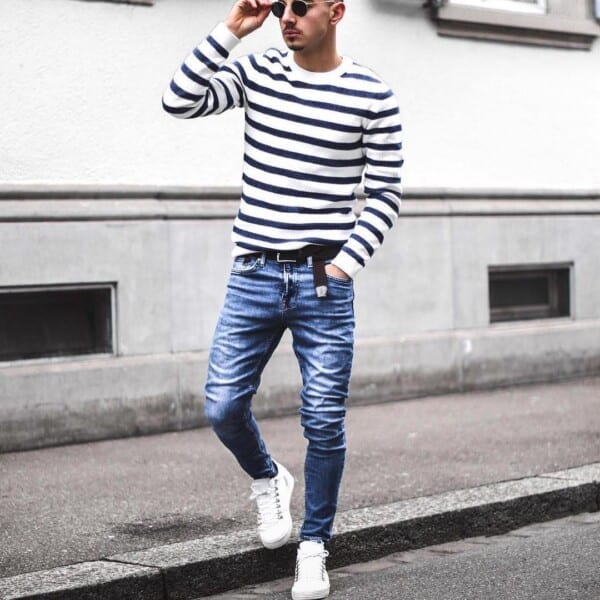 ↓ 22 – All Neutrals
There are days when you feel so down and low that you don't even look at perky things; it's okay. We all have days like these. But, it does not mean this has to show on your outfit. You can go with neutral shades of clothes, and your white sneakers will be by your side because that's how adaptable they are.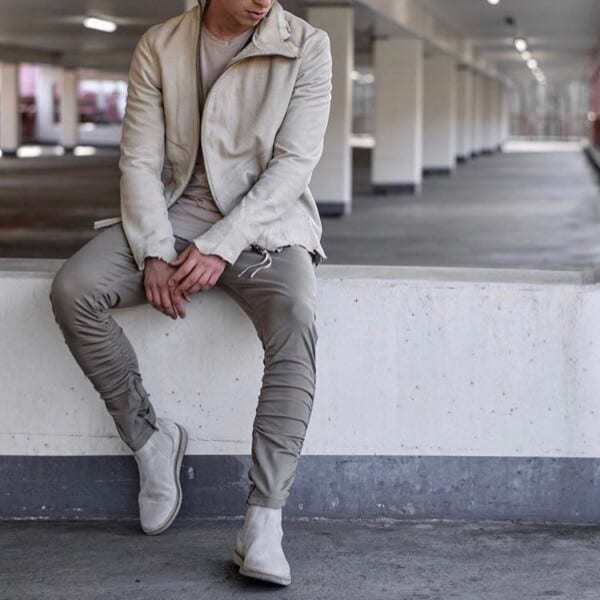 ↓ 21 – Classic Navy and Beige
The. Look. Blue and beige is a magnet for the ladies. It's classy, it's sassy, and it's fashionable. Whether it be a casual meeting or any social event, this attire is perfect. The divergence of the colors in this is somehow really captivating to the eye. No wonder girls admire men in this attire.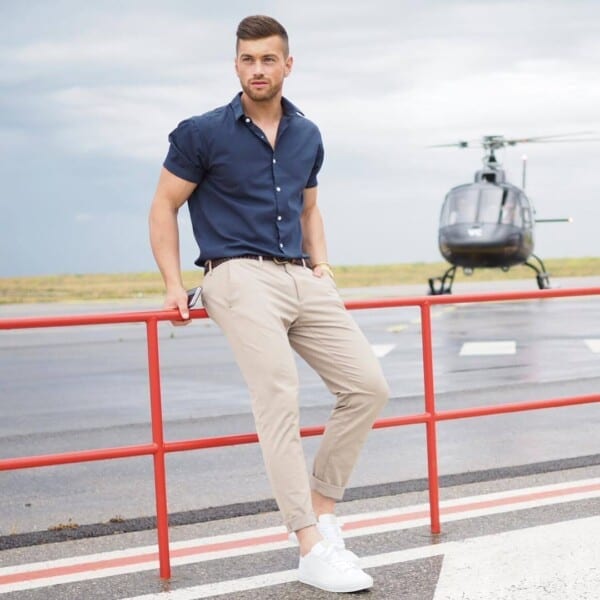 ↓ 20 – Justin Bieber's Love for White Shoes
Whether you hate him or listen to Love Yourself on repeat, you have to admit the boy has a great sense of style and a very confident one at that. One thing I noticed while stalking his Instagram profile at 3 am is that he wears white shoes a little too much. And why shouldn't he? White sneakers go with anything and everything. Here are White Jean Outfits for Men.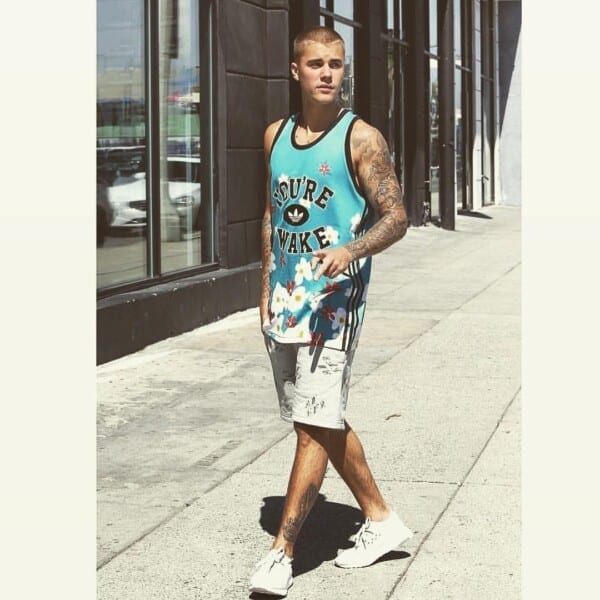 ↓ 19 – Shorts and Tee
The scorching sun and rising temperatures do not mean that your outfits should suffer. Wear your white shoes with your favorite t-shirt and pair it with a pair of shorts and you're ready for summer. A piece of accessory like a watch in your arm could easily add another five points to your game.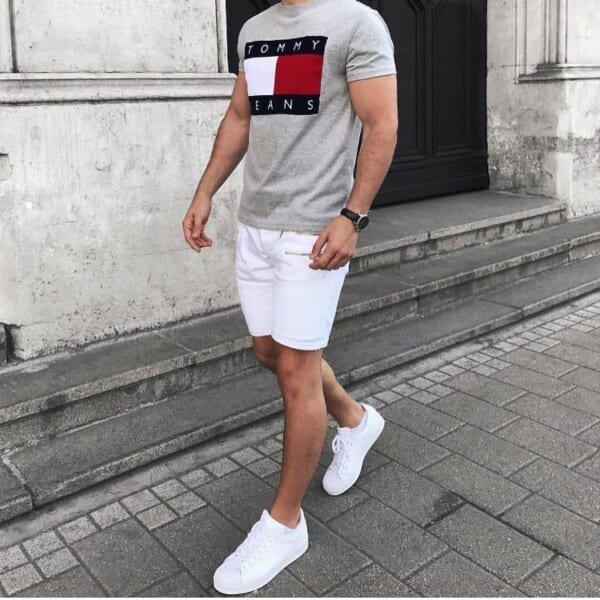 ↓ 18 – Gym Outfit
Hit the gym in your white joggers. Wear them with some sweatpants and a sleeveless workout top. Whether you exercise or not is a different story, but you can still take a picture next to the equipment for the likes on Instagram. Check out these 20 Athletic Gym-wear Ideas for Men.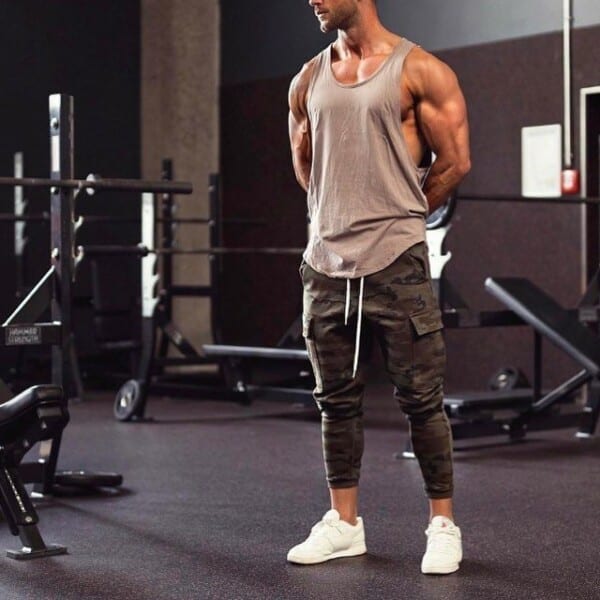 ↓ 17 – All White
 As appealing as all-white sounds, maybe add a little of another color. You don't want to look like a ghost wandering around or a private school student in their uniforms. You can wear a colored shirt and keep the rest of the outfit all whites.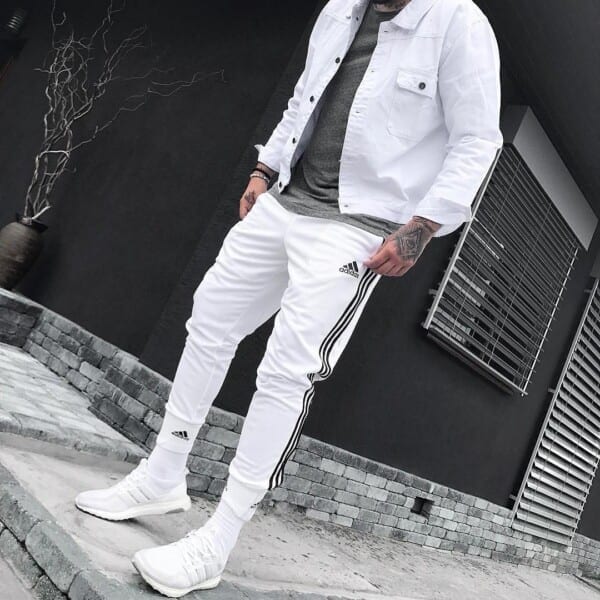 ↓ 16 – Black Leather Jacket
Leather jackets + white shoes = the bad boy look every girl falls for. Every girl at least once in her life has been in admiration of a black leather-ed jacket bad boy. Pair yours with white shoes and become the heartthrob everyone loves.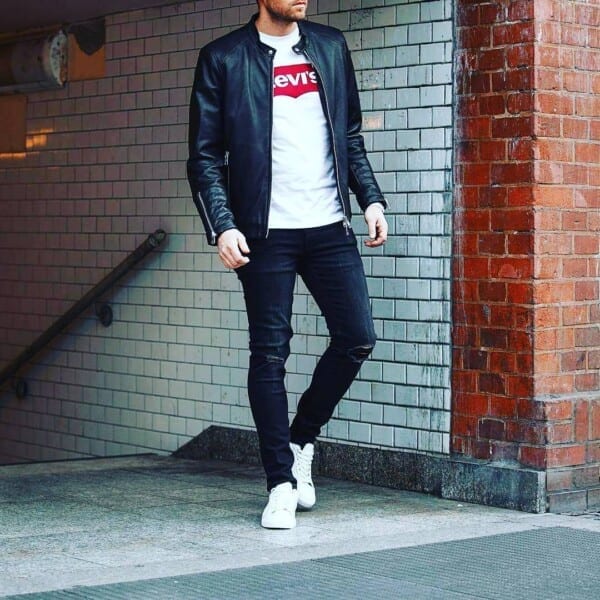 ↓ 15 – Drake's Sense of Fashion
Drake, a.k.a. Drizzy, a.k.a Champagne Papi, a.k.a. Mr. Aubrey Graham is the person you should be stealing your looks from.  Drake has a huge fan base, and girls especially love him. So it's safe to follow his style. Pull up like Drake, confident in your outfit, smile on your face like there are no worries in the world (except that your shoes are clean, of course).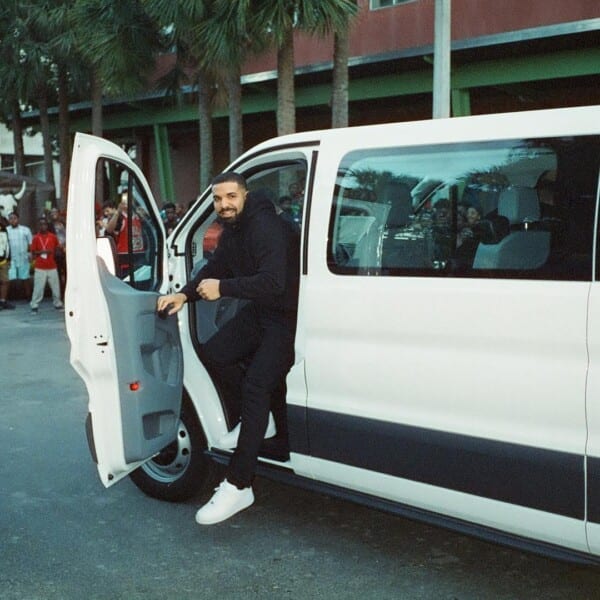 ↓ 14 – Simple Black Denim and Grey Crew Neck
Fashion does not mean an elaborate crazy look put together. Sometimes a simple collected look still looks sexy. For this very reason, a grey shirt is a must. It should ALWAYS be in your collection.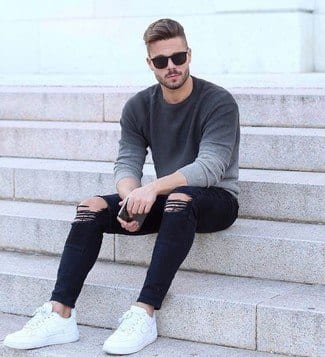 ↓ 13 – Bold Colors
A plain bright colored sweater makes your white shoes pop and get attention to your feet and your shiny shoes. Bold colors like red, electric blue, forest green are more prevalent in hoodies or t-shirts. Avoid bold colored pants. Leave that funk back in 2016, where it belongs. Go for pure denim or any pants with a bright shirt and white shoes. Adding extra accessories like a cap or sunglasses can attain more style.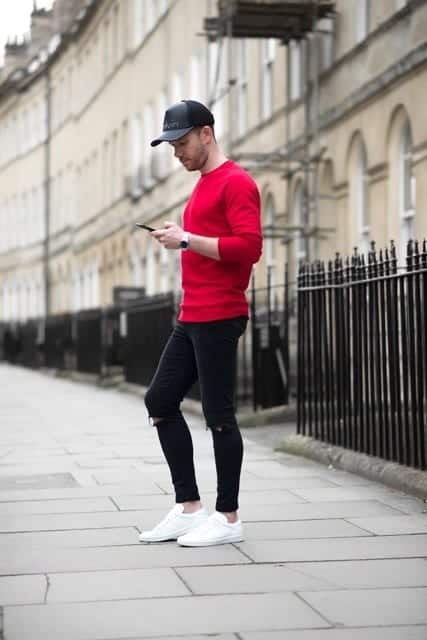 ↓ 12 – Neon Tops
For days when you're feeling a little funky but don't want to go too overboard, choose a graphic neon top or hoodie. The white shoes add decency to the outfit so you don't end up looking like a clown. Also, remember that your fashion-impaired friends might make fun of you, but they do not know a thing about runways and style. So don't let your friends or anyone, for that matter, to stop you from making a fashion statement.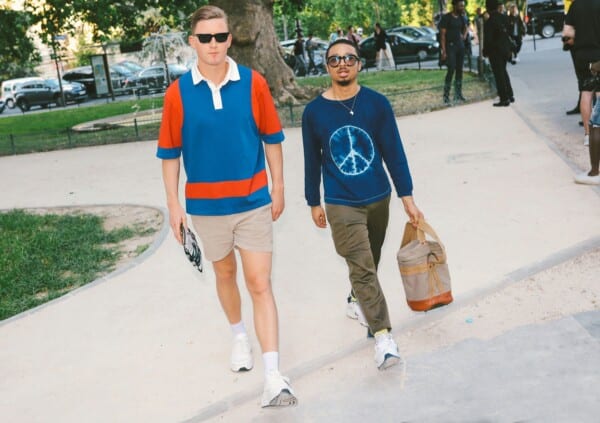 ↓ 11 – Nude Jackets and Dark Colored Jeans
This look gives a warm comfy vibe, perfect for the crisp weather. Nude-toned jackets and overalls look as good as day wear. You can wear them while traveling or errands and look dashing doing it. The nude jacket and dark-colored jeans compliment the white shoes, making the whole outfit ten times hotter.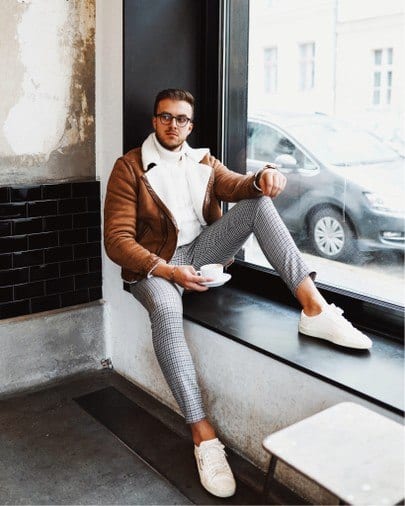 SHOP THE LOOK HERE
River Island – Brown borg biker jacket
Barney's – Saint Laurent Men's Sneaker
↓ 10 – The James Dean, Daydream Look
Blue jeans, white shirt walked into the room, you know you make my eyes burn. Okay, there are so many music references for this. This is your perfect Rebel Without a Cause look. This outfit is youthful and straightforward. Pair it with your favorite white sneakers to add a 2019 feel to your look. Here are Men Outfits with Blue Jeans.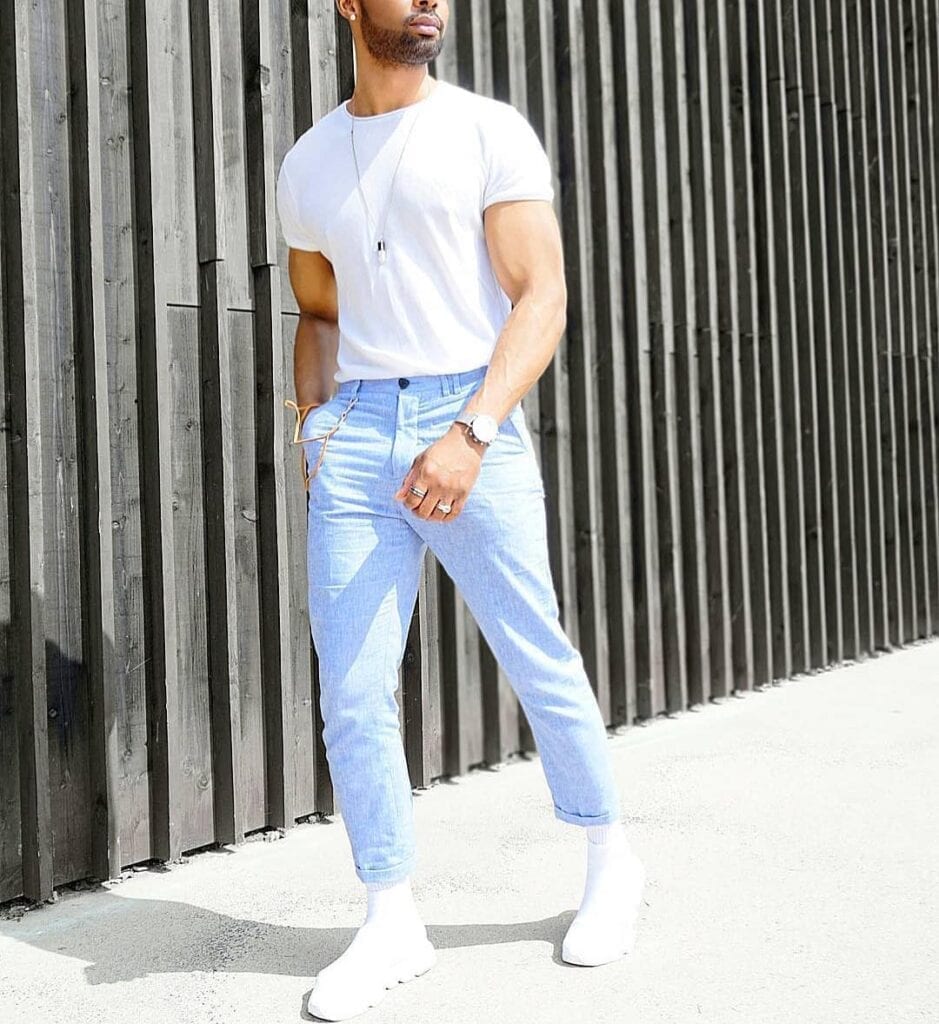 ↓ 9 – All Black Outfit
When is an all-black outfit not an option? Throw on some white tennis shoes so that the world doesn't think of you as emo or Gothic, though. Black and white have always been everyone's favorite combination. The white shoes will perfectly go with all-black attire. We all know this combination is never gone wrong, so it's a safe and stylish trend-setting play. Throw in a black coat, and you have become the eye-catcher of every passing person.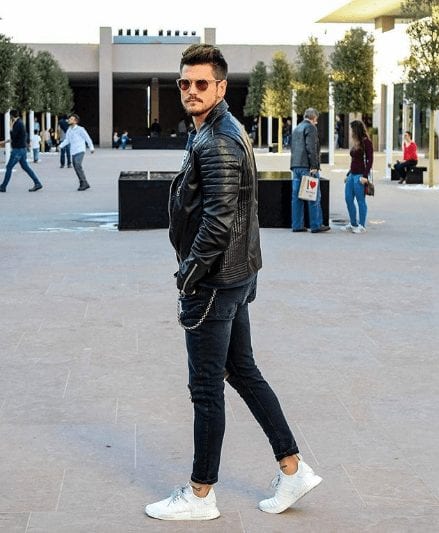 ↓ 8 – What to Wear with White Adidas Superstars
I can't believe we have discussed 17 outfits with white shoes but still not a single one, including Adidas Superstars. You see these everywhere, in school, in malls, on Instagram. These are the most popular shoes today. And for a reason. These shoes go with every outfit in your closet. They're the perfect shoes to wear, comfortable to roam around in, and attractive to look at. The best of these famous shoes is the fact that they can be worn with literally everything. Whether you want to wear all black, black, and white, funky and bold colors and even nudes. The Superstars compliment and make every outfit look ten times better. Here's an exclusive guide on How to Style Adidas Superstar Men.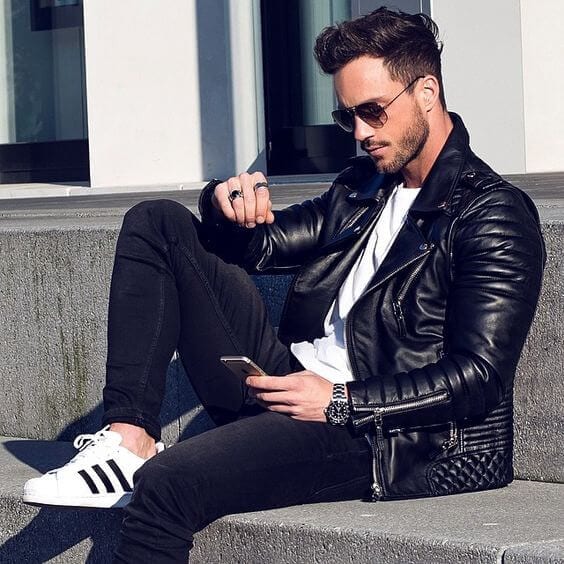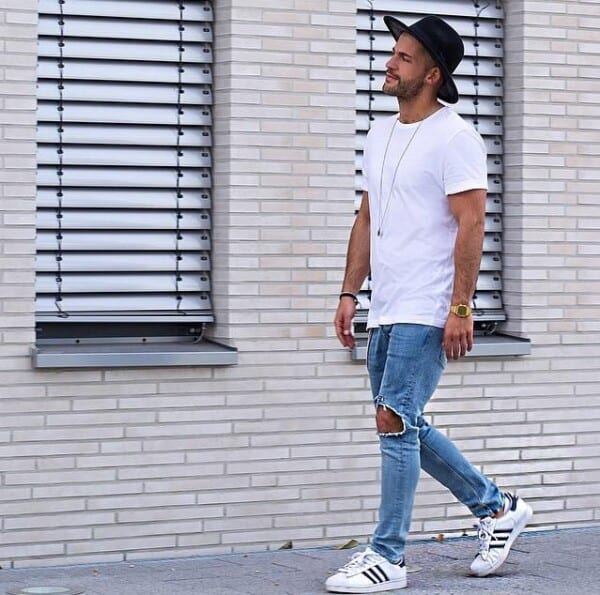 via
↓ 7 – Denim Jacket
In case it still isn't apparent blue denim and white make the perfect match. Denim jackets add a hobo look to your outfit and white shoes go with it perfectly. Denim jackets will never go out of style, so you better get one because you would gain a long time benefit. You can rock it every year and still look fashion-forward. They are easy to contrast with, as well. You can wear any color under the jacket; white, black, bold, nude, anything! The white shoes and denim make every color look good.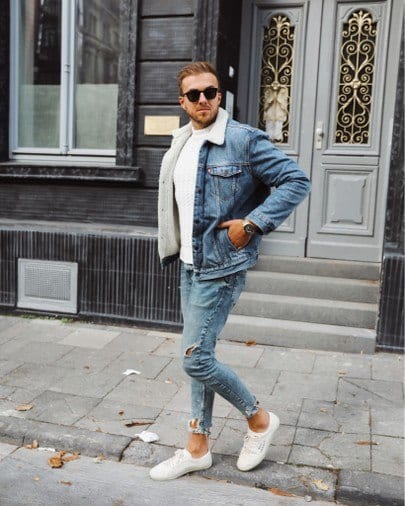 SHOP THE LOOK HERE:
Barney's – Saint Laurent Men's Sneaker
Levi's Sherpa Trucker Jacket
Arket – Cable Knit Lambswool Jumper
↓ 6 – Beach, please
The best thing about the beach is that your outfit is the last thing that matters. You can wear anything from your cupboard; it is coming off anyway. Jut do not wear expensive clothes as they can get ruined. Your white shoes can go with your Bermudas, too. Perfect to wear to a rocky beach. Don't forget your favorite sunnies and sunblock, though, kids.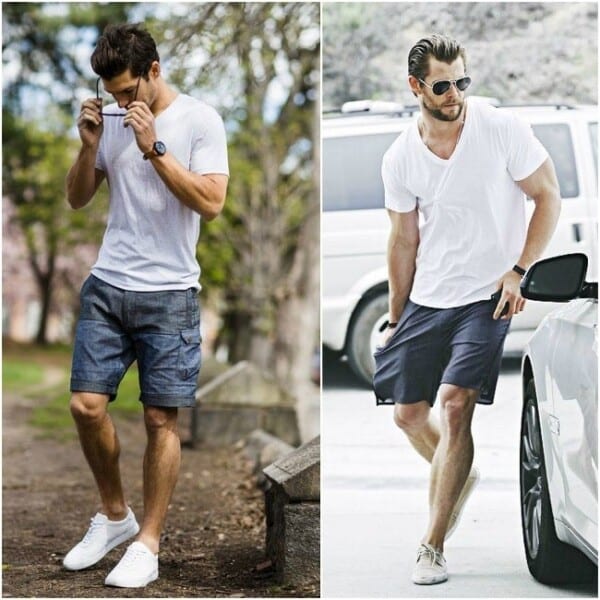 ↓ 5 – Luxury and Comfort
A branded button-down shirt, your sweater hanging around your neck, perfectly tailored trousers, and some white sneakers go great together. Versace, Armani, Tom Ford are a few big names in the high-end fashion industry. Though the prices might appear way too high, the quality and style are definitely not compromised. Some white Adidas Superstars with it will bring you back down to the Earth. That is important; you do not want to be up there with the male ego. Cold place.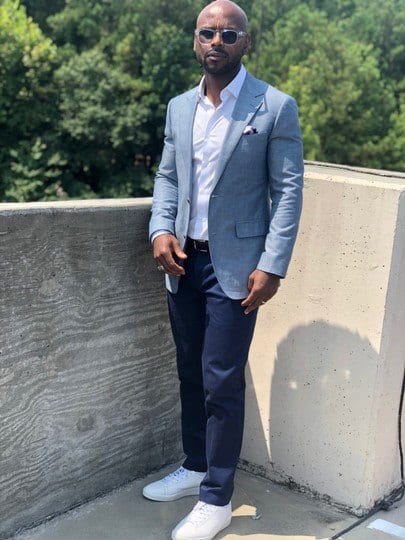 SHOP THE LOOK HERE:
 BONOBOS – Foundation Chambray Suit Jacket
BONOBOS – Italian Stretch Wool Dress Pants
KENZO – 'Holiday Capsule' Inka Sneakers
↓ 4 – The Hip Hop Look
Step out, looking like Drake, listening to God's Plan in your baggy tops and jeans paired together with white sneakers. Since the '90s (which is unarguably the peak of hip-hop), fans are copying the looks of their favorite rappers. Snap-backs, big chains, and of course, the hip hop pants. It is different from other everyday looks, but quite popular, too. If you are a bold person who likes making different, rare fashion statements, the hip hop style is definitely for you.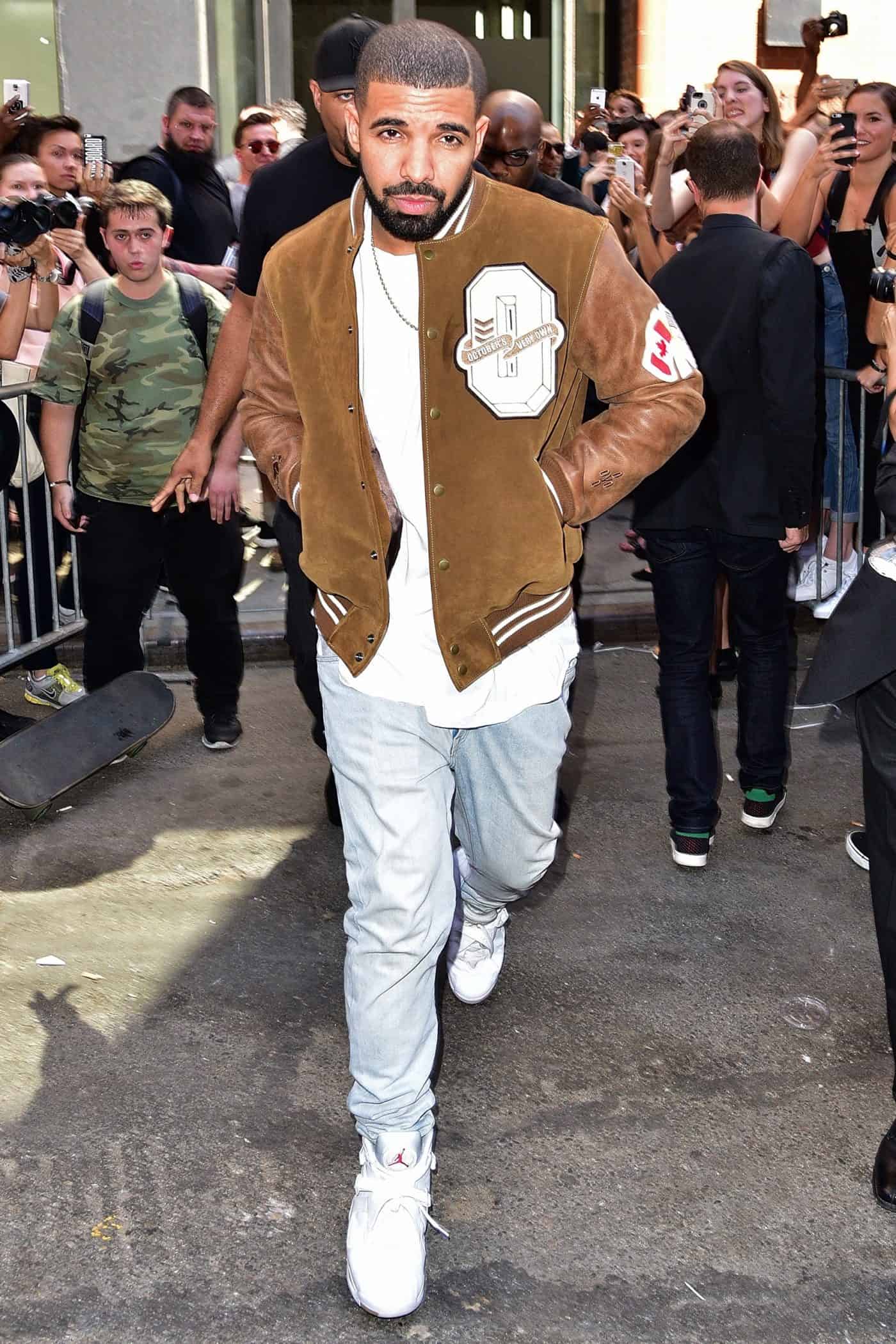 Via
↓ 3 – Faded Jeans and a Smart Blazer
White plimsolls will contrast beautifully with neutral colored jeans and a black blazer. Wear a white crew-neck underneath to keep the look subtle. Faded jeans with a blazer are easily the signature denim look. Blazer adds a semi-formal touch to this outfit, making it appropriate for a good restaurant or a first date.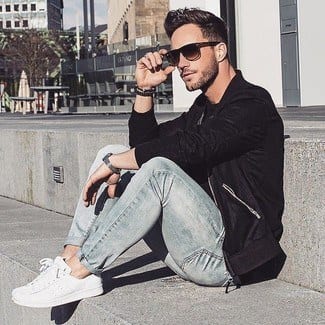 ↓ 2 – Maroon and White
This color combination is so pleasing to the eyes, no wonder Adidas keeps making maroon gears. Maroon and white show a bold and daring, yet fashion-forward male. You can even go with maroon hoodies and white pants for an everyday look. Maroon being an easy color to pair with, you can contrast it with anything you feel. A maroon buttoned-down shirt, slim-fit black pants, and white shoes; unusual casual wear. A maroon sweater, khaki pants paired with white shoes could be the perfect casual look you want. This color can even be worn as the under-shirt of suits.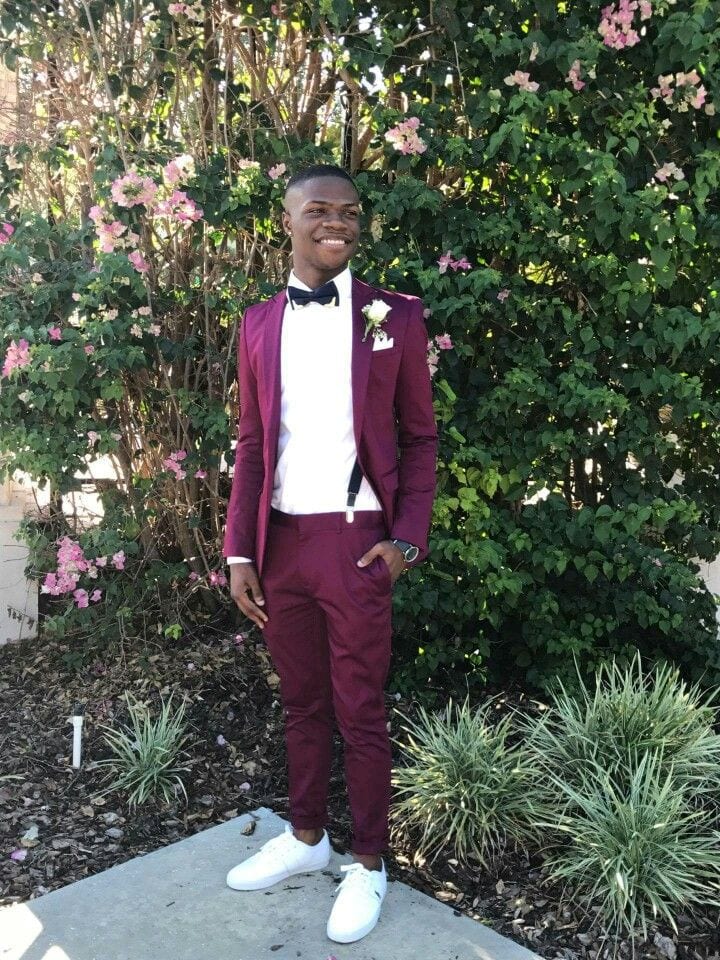 ↓ 1 – Jogger Set
A two-piece jogger set in shades of brown with white shoes is perfect for the gym. Or even for a stroll down the block or a quick run to the store Or for your new post on Instagram with the hashtag OOTD. Jogger sets are not only comfortable but look incredibly trendy. Moreover, these are worn by almost everyone who knows a little something about street fashion.