School Outfits for Boys in Summer. The only reason school in the hot weather is somewhat bearable is that you get a chance to show off all your summer outfits. But this isn't the case for those of us who are not too good with pairing clothes or who are clueless when it comes to what is in vogue.
But school won't close and the sun will also not stop glaring so you better collect some dressing techniques in your arsenal. Your fellows can give you a tough time if you aren't clothed properly or just sporting the look of a silly person. This is why here we have all the things you need to know in this regard. This way your dressing will always be on fleek and you wouldn't make any fashion fiascos.
What to Wear to School in Summers
Here are some summer dressing basics:
In peak summers, there's no option of layering at all. Wear clothes of lighter fabrics and keep a deodorant with yourself at all times.
Wear lighter shades. It's common sense why; because dark colors trap heat.
Don't wear shorts that are too short.
Know that you can sometimes just skip the socks. Good thing, it is no longer necessary to wear a pair.
Even though black is an exception to rule number 2, avoid a full black outfit on an extra sunny day.
It differs among cultures, but mostly, men around the age of 16 are still considered "boys."
Transitioning from kids to "tweens" to the stage of adolescence is a milestone. It's an exciting part of growth but is also a painful experience for most. This is when you start feeling more responsible, adult and take time when making decisions about yourself – maintaining proper hygiene, and choosing your outfits.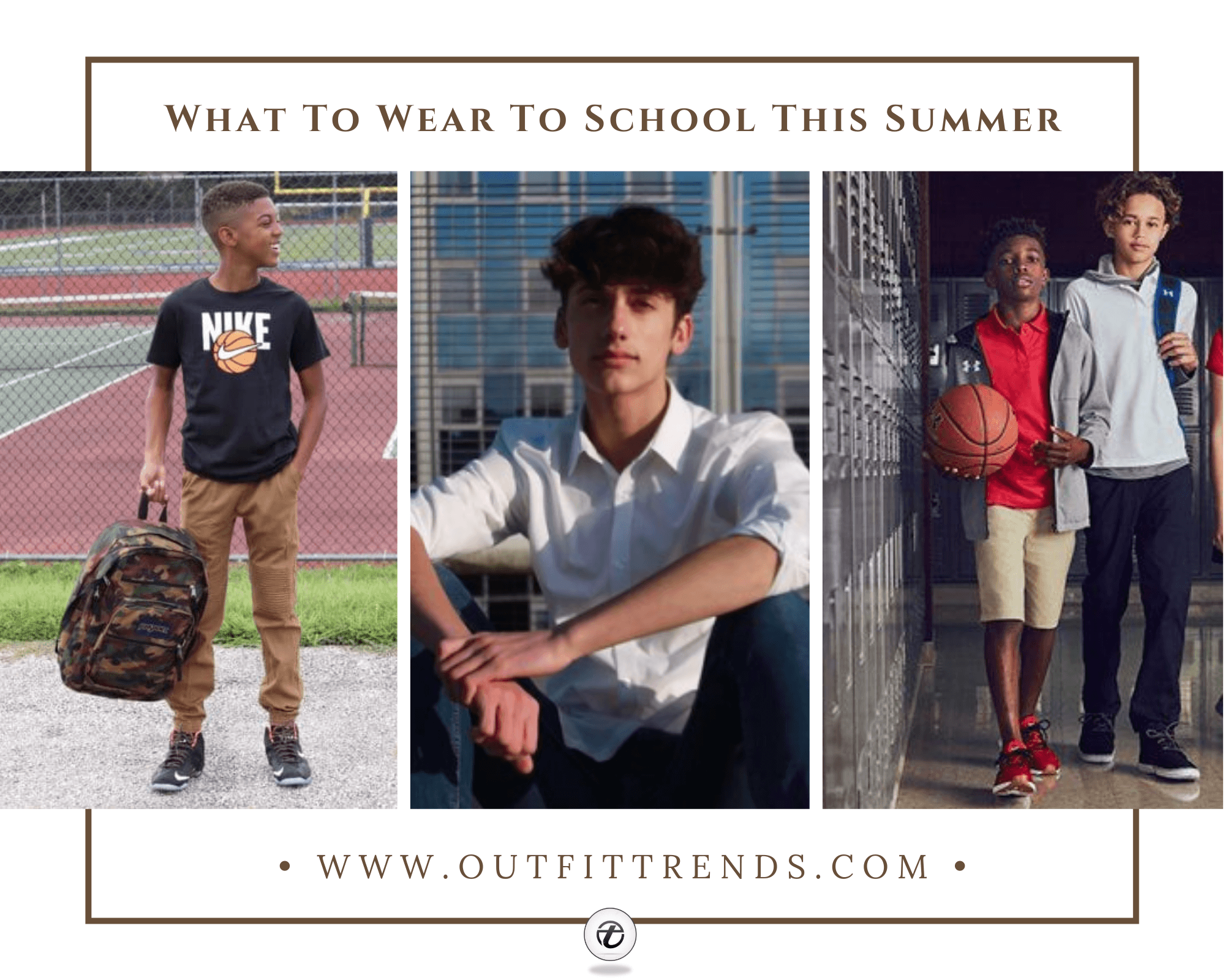 In most countries, the school calendar falls in the summer. And because it's hot, boys in this age bracket are prone to having body odor. That's why it's necessary to wear simple clothes as often as possible. If you plan on layering your outfits to maintain your style, limit your options to clothes made of light fabric. Winter and fall staples like pea coats and scarves are off the table in the meantime.
Students can't wait to say "TGIF!" and enjoy the weekend ahead. School days are usually five days a week – that's Monday to Friday. Now, you don't want to be tagged as an "outfit repeater," so you have to prepare your OOTD – one for every mood, and I assume it changes every day.
Worry no more, boys; we have collected some of the best summer school outfit ideas for you:
↓ 45. Plaid Pants
They are made of light materials. They can give you enough ventilation and will help you sweat less during hours of a boring discussion. You can freely move with these trousers. Pair it up with an earth-toned dress shirt layered with a light suede jacket.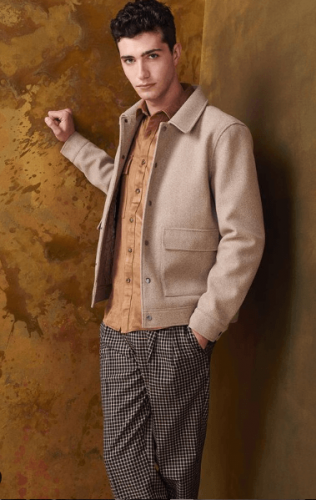 ↓ 44. Field Trip
This style would suffice for a weekend school getaway – be it a retreat or camping. It's not only the earthy tones that make it look unique, but the combo of a short-sleeved shirt layered with a vest would make you stylish enough to enjoy the special day of the year without being too exhausted from the heat.
↓ 43. Quarterly Tests
Ace the exam with your genius and with style. Rock this outfit consisting of a white button-down, with sleeves, rolled up nicely, worn with blue jeans. It's optional to tuck the shirt in. Wear white sneakers to complement the shirt and no need for socks. Show off some ankles by doing that little trick with the hem.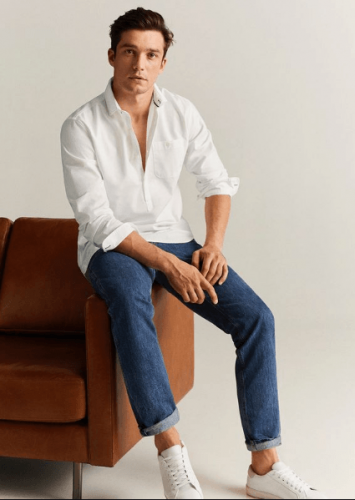 If shorts are allowed in your school, try this one out: relaxed fit bomber jacket paired up with blue chino shorts – perfect for a gloomy art class.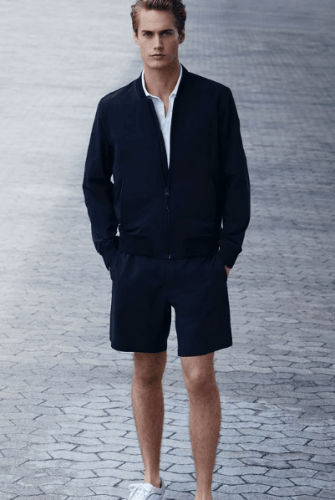 ↓ 42. Daily Wear
Plain T-shirts layered with overshirts and worn with chino pants or shorts would be sufficient for any regular school day.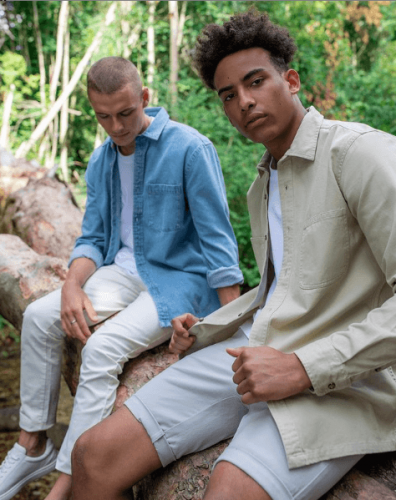 ↓ 41. Ace Your Presentation
Try this elegant outfit: gray plaid pants and a grey blazer. Any dark-colored undershirt would coordinate well with this suit. Now, remember that you're not going to a formal event, so let's keep it a little smart-casual by wearing sneakers instead of dress shoes.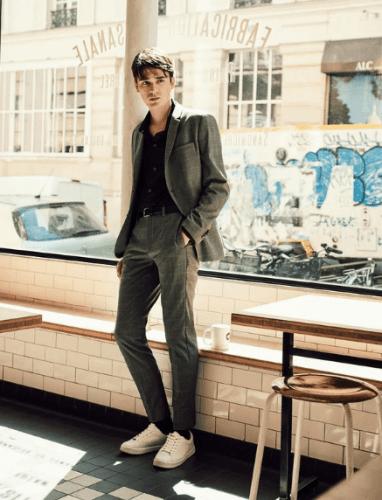 ↓ 40. Early Morning Chemistry Class
Grab a coffee. And try wearing a minimalist outfit: a white shirt with a light bomber jacket on top of it, and some faded jeans. Sneakers will finish off the look, and now you're ready to mix some chemicals in the lab.
↓ 39. Wednesday Algebra Class
Get out of the rut. Give yourself a piece of inspiration with this all-denim outfit, ideal for in-depth "X and Y" discussions.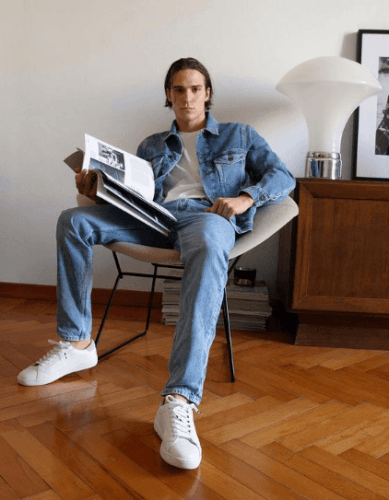 ↓ 38. Thank God it's Friday
Since it's a wash day tomorrow, a casual outfit consisting of a T-shirt and ripped jeans will save you a lot of effort.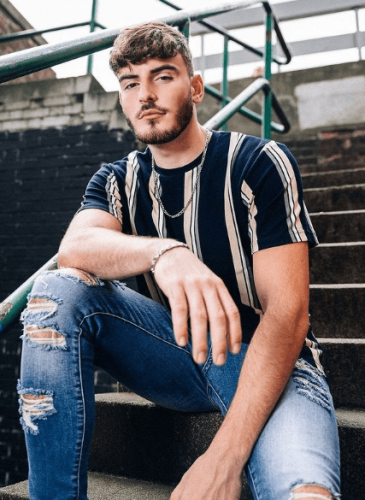 ↓ 37. Tuesday Meeting
Say your team has called in for your weekly huddle. A simple dress shirt and black pants will do. This style would be great for it and leave your classmates and teachers the impression that you care about the matter.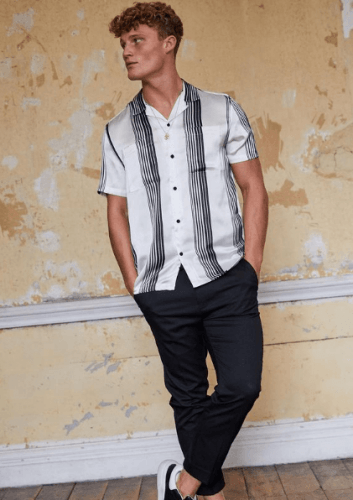 ↓ 36. Real Boys Wear Pink
Look a little romantic today with this outfit. Wear a pink polo shirt and pair it up with pink chinos. Not only does it somehow look monochromatic; this style gives people the sweetness and good vibes they deserve by just looking at you.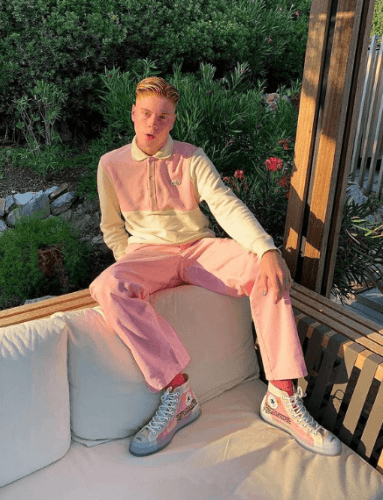 ↓ 35. Vibrant Red
You feel hot because of the weather? Feel more seductive with this jumper. Pair it up with faded jeans, and grab a denim hat to complete the look.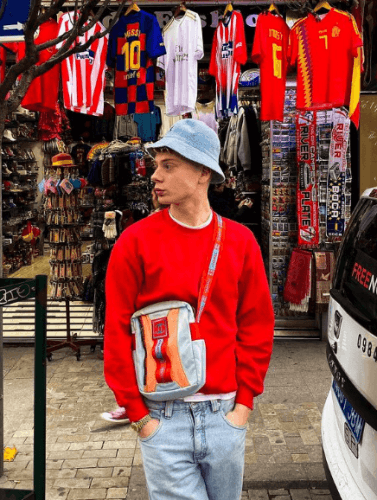 ↓ 34. Sporty and Scholarly
A varsity jacket is a staple university outfit. But you don't have to be in college or on a sports team to wear it. It is like everyone's regular campus wear. Wear it with white chinos, and you're ready for school. Rock it with sneakers with fancy prints on them.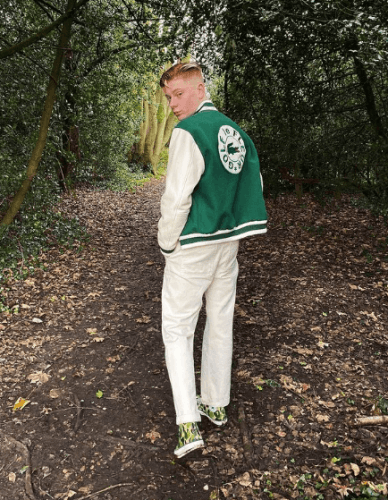 ↓ 33. Motivation Monday
Wear a classic blue suit on the first day of the week when you feel the most energy. You can also wear this when there's a special occasion at school, like competitions, for example. You would look better with dress shoes or boots, but sneakers are acceptable – make sure that it has the same color as the undershirt. Here are some more First Day of College Outfits for Boys for a Sharp Look.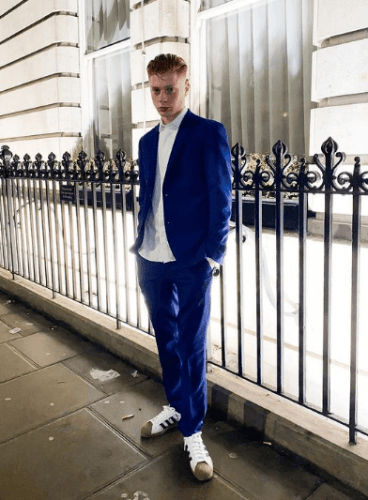 ↓ 32. Throwback Thursday
Let's be retro today. Brown suede jacket with a white button-down. Tuck the undershirt in your blue jeans, and don't be shy to show off your ankles. Finish off the look with some toffee-colored topsider shoes. No need for socks. Here are some more ideas on the different Ways to Style Blue Jeans.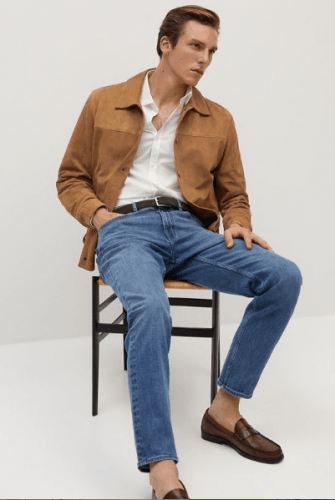 ↓ 31. Flannels
They can be worn in several ways. Leave it unbuttoned to show your dope undershirt, or you can style it the smart casual way: button up the shirt and then tuck it in your chinos or jeans.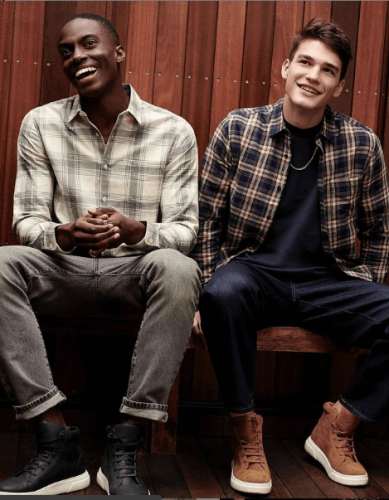 ↓ 30 –
Hipster School Outfit
There are many ways you can dress up in style for school. You can wear cropped chino pants with a button-up shirt. You can wear a graphic white shirt with slim-fit pants as well.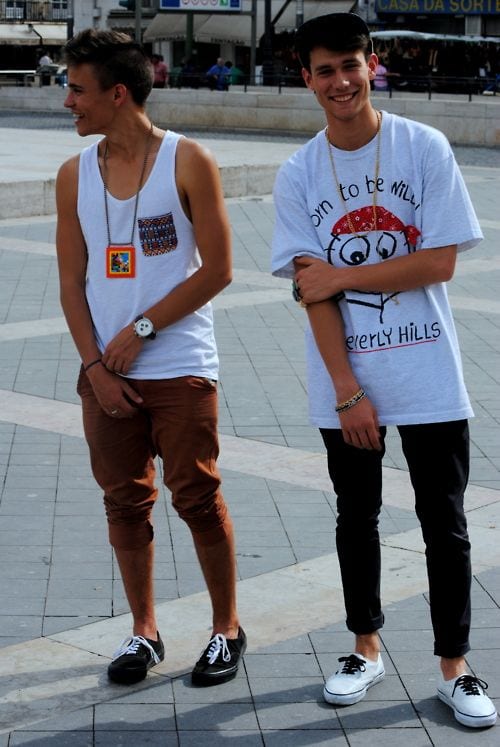 ↓ 29 – School Outfit for Summers
Summers are all about light fabrics and colors. The relentless heat makes it difficult to wear a pair of jeans so many boys go for shorts instead. You can also slip into a pair of loose Bermuda shorts and throw on a white tee. For a trendy look, you can throw on a denim jacket that's of a light material over blue jeans and a white shirt.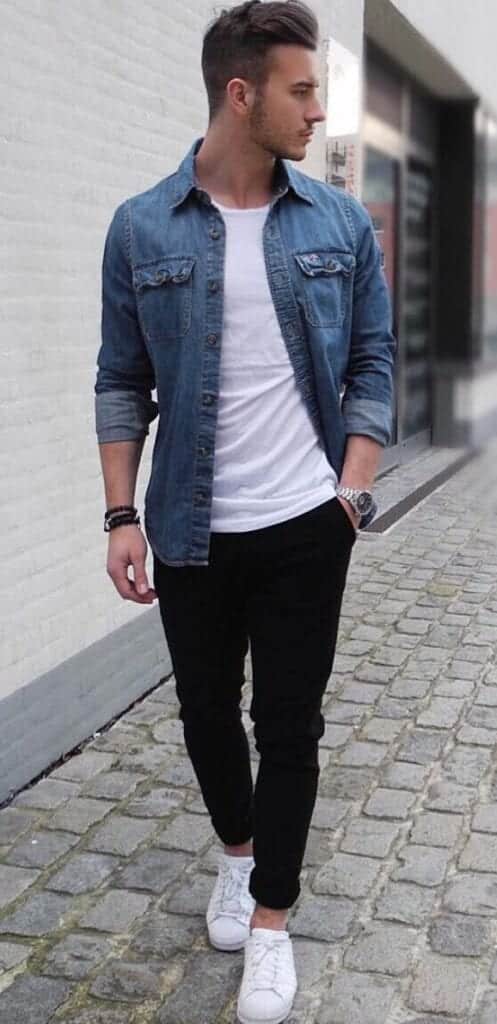 ↓ 28 – Outfit for School Quiz Day
When you participate in a quiz, you have to dress appropriately for it. You wouldn't look smart wearing shorts and tee or hip attire. Go for a sharp look instead. You can put on a printed dress shirt with skinny jeans. Or you can go for a polo shirt if that makes you feel more comfortable. Here are the 30 Ideal Shoes to Wear With Skinny Jeans To Rock Your Outfit.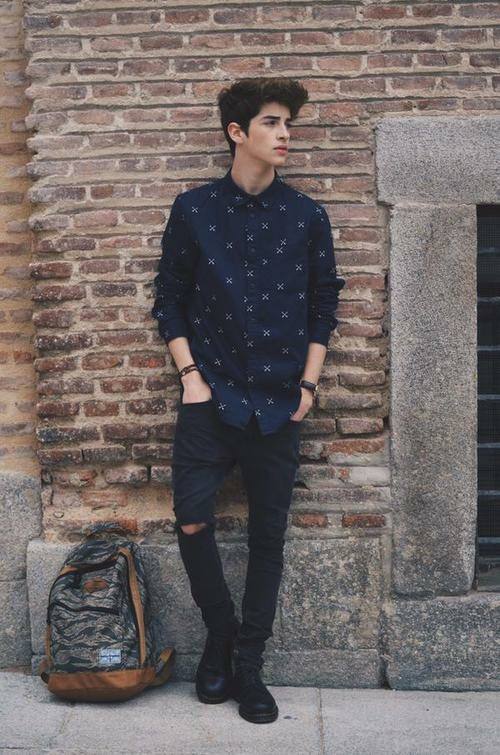 ↓ 27 – Lazy Day Outfit for School
Woke up in the morning and just can't make the mood to attend classes today but you just have to? Can't miss out on all those important lessons, now can we? If you don't feel like dressing up for school just throw on a dress shirt with a pair of jeans. The look is effortless and debonair.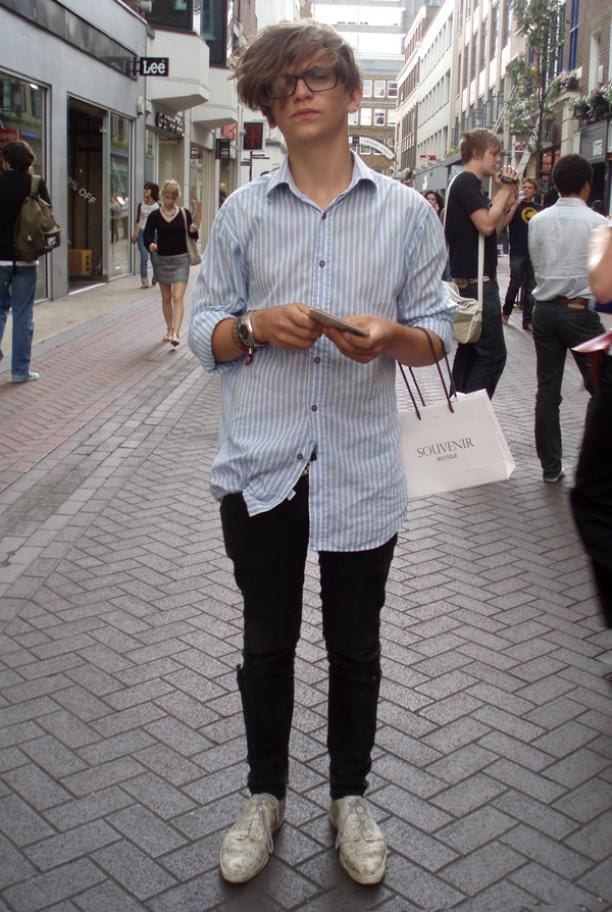 ↓ 26 – Back to School Outfit
Let's make it easy for you to decide what you should wear when schools start after vacations. Rock a pair of gray ankle-length pants with a white dress shirt. Not only will you look impressive and dandy but you'll also score an A grade on style. Also, have a look at this exclusive guide on Summer Outfits For Teenage Guys.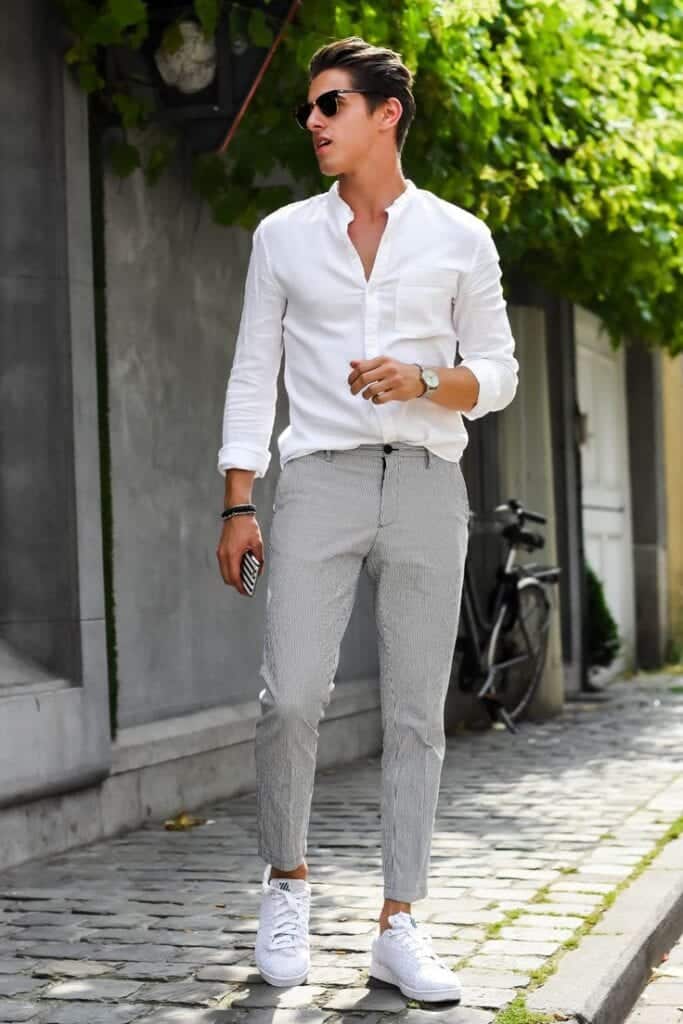 ↓ 25 – Outfit for School Presentation
Many students find themselves nervous when giving presentations. To make the hurdle seem easier, wear clothes that make you feel comfortable and boost your confidence as well. Wear a printed button-down shirt of a lighter shade and throw on cropped pants. Lace your dress shoes and you are all ready to go.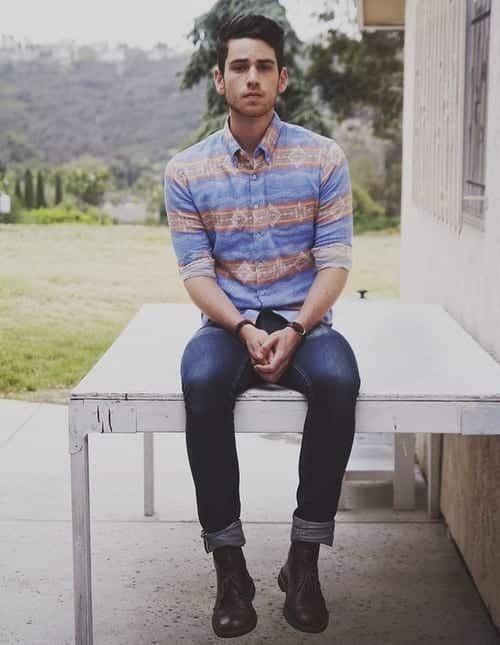 ↓ 24 – Outfit for School Picture Day
When you have to get your picture clicked dress very well. Because your clothes and style are going to be captured and may even occupy the yearbook or college magazine. Be sure to look your best. Wear a black tee or another color that complements you with slim-fit pants.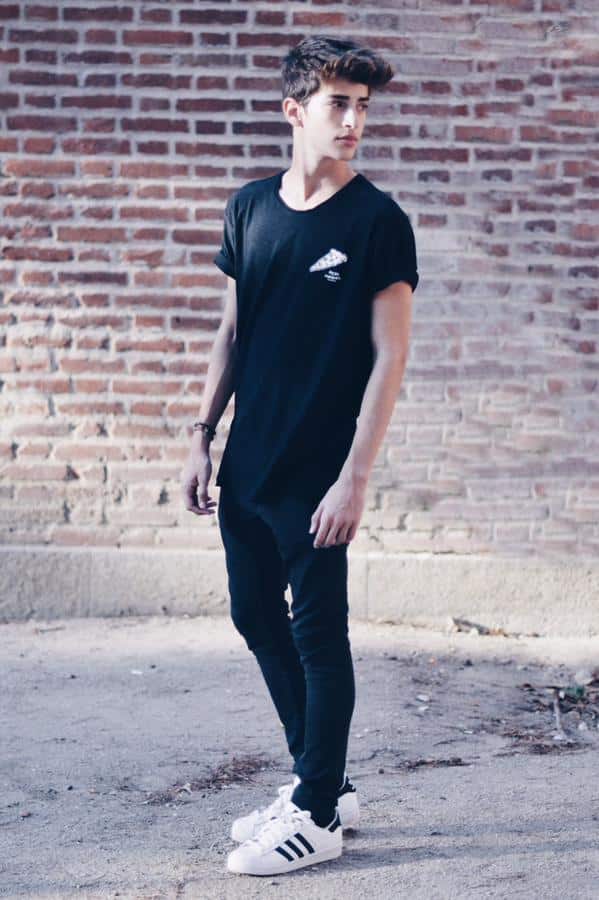 ↓ 23 – Quick Outfit Ideas for School
Not in the mood to get ready for school? Grab a plain round-neck tee and slip into a pair of skinny jeans for the modish yet laid back look.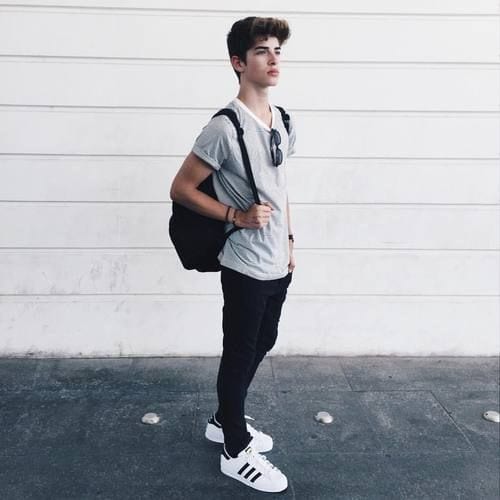 ↓ 22 – For School Dance
The outfit you should wear to the dance depends on what its theme is. Mostly boys wear suits to dance parties. For practice, the clothes are casual everyday ones although try to wear clothes that give you more comfort so that you can move your limbs to the music with ease. Here are 15 Best Ways to Wear White Shirts.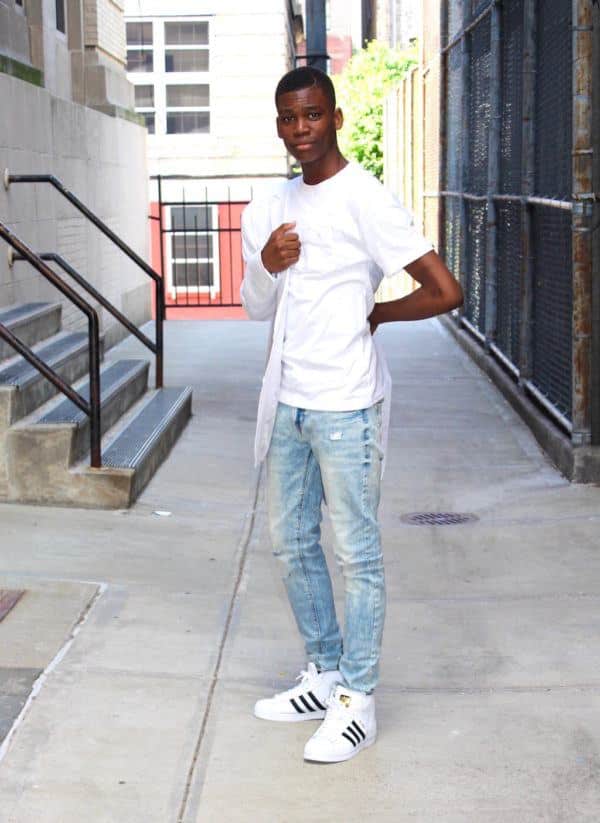 ↓ 21 – For School Reunion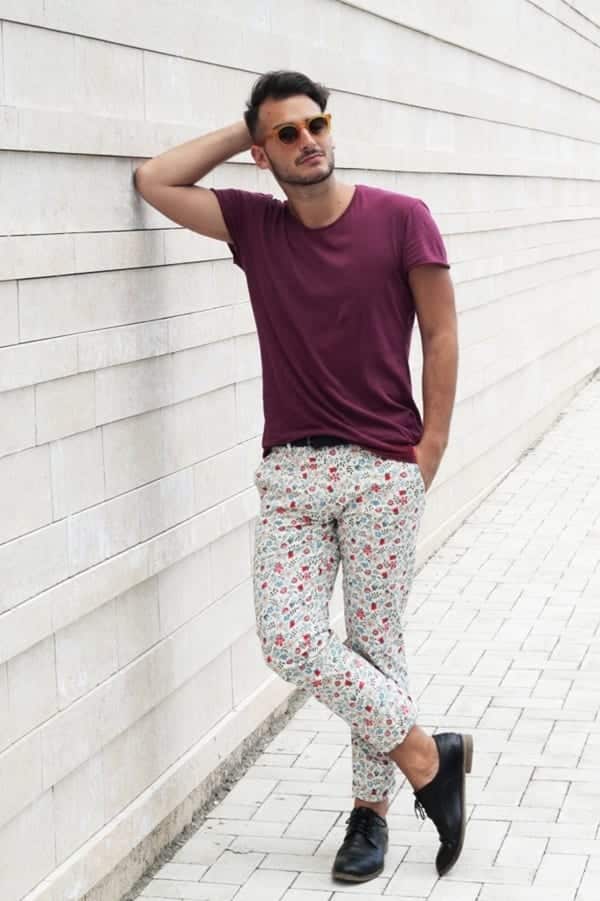 ↓ 20 – For Prom Night
↓ 19 – Casual Outfit for School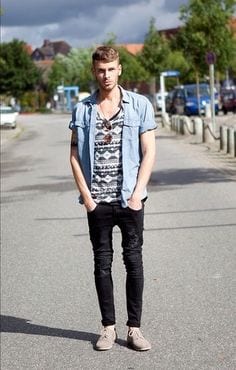 ↓ 18 – First Day of School
For new students, their first day can be quite daunting. That's because everyone else already knows each other well and you are the newbie, the person they are all going to judge together. Taking wardrobe risks in such a situation isn't a smart move. Try to make a good impression on your fellows but stay away from unwanted attention. To master this art you need to wear the right clothes. Go for a white tee with a pair of crisp blue jeans. Keep the look minimalistic, with a round neck shirt and straight fit pants. Or stroll in class with confidence in Bermuda shorts and a t-shirt. Here are some cool Black Jeans Outfits for Guys.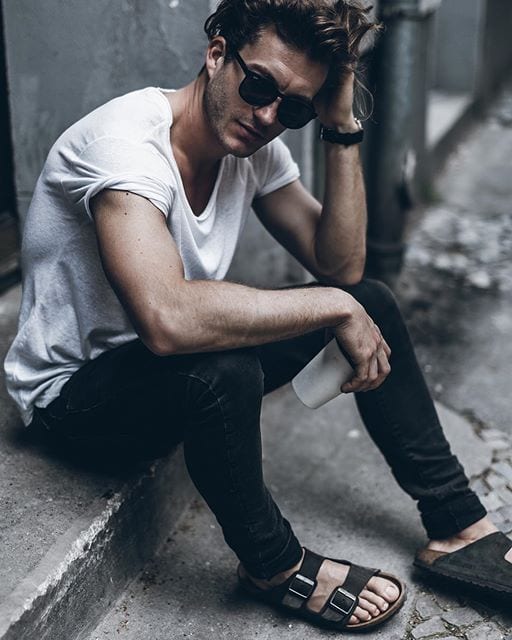 ↓ 17 – Last Day of School
The last day of school is one you should wear stylish clothes too. Because that's how your friends are going to remember you.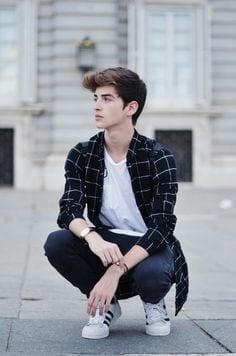 ↓ 16 – Outfit for School Trip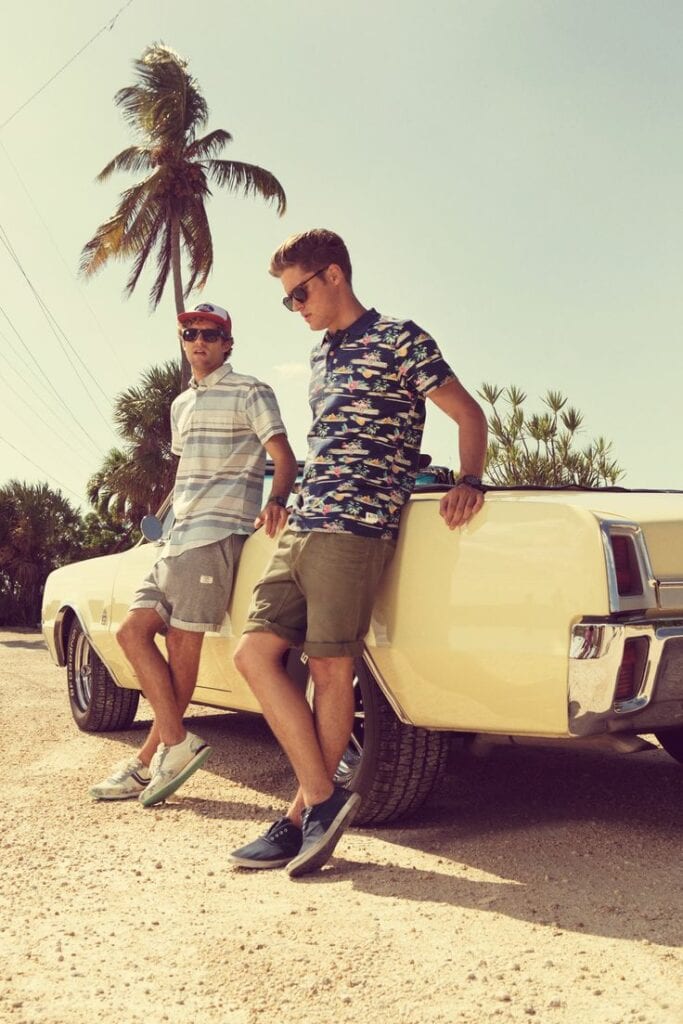 ↓ 15 – For School Tour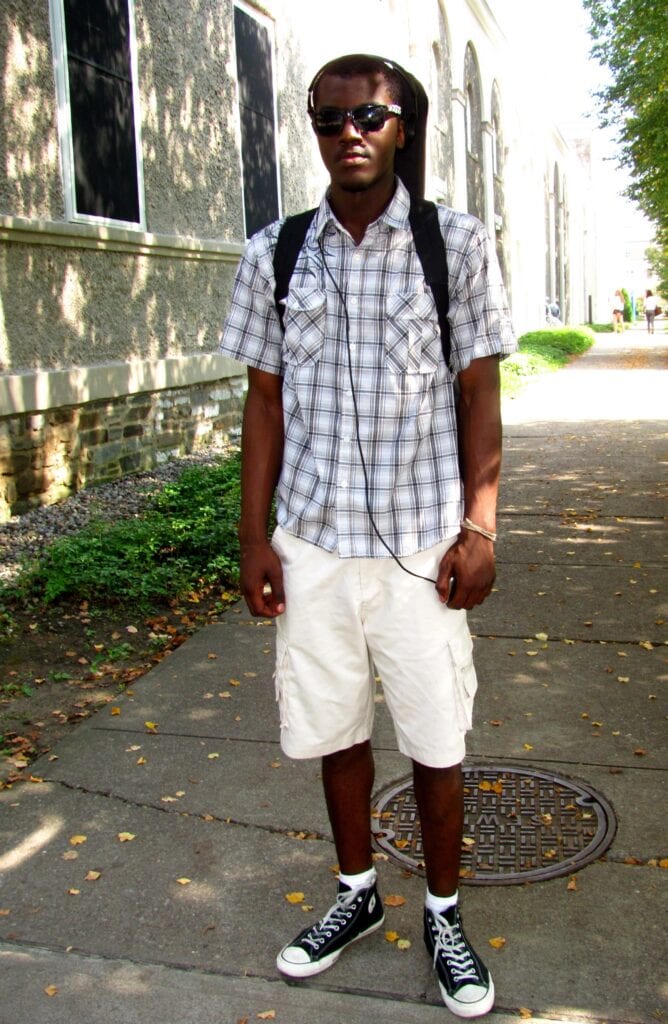 ↓ 14 – For School Farewell
RECOMMENDED: Waistcoat Styles -18 Ways to Wear Waistcoat for Classy Look
↓ 13 – Outfit for School Events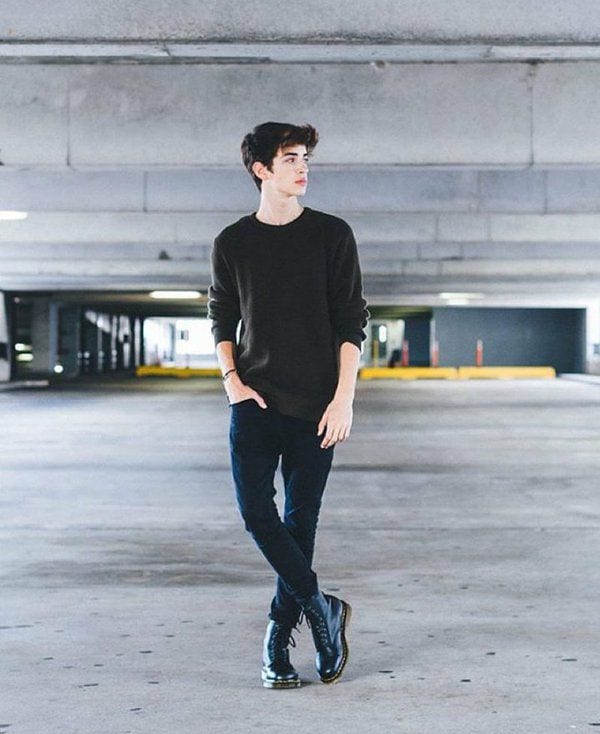 ↓ 12 – Outfit for School Interview
Go for sober attire whenever going for an interview.
↓ 11 – Outfit for Medical School Interview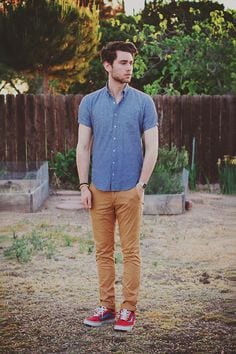 ↓ 10 – Simple Outfit for School
Dial-up the sass by keeping it simple. If you choose to wear a snapback in Summers, don't miss out on these Snapback Hairstyles for Guys.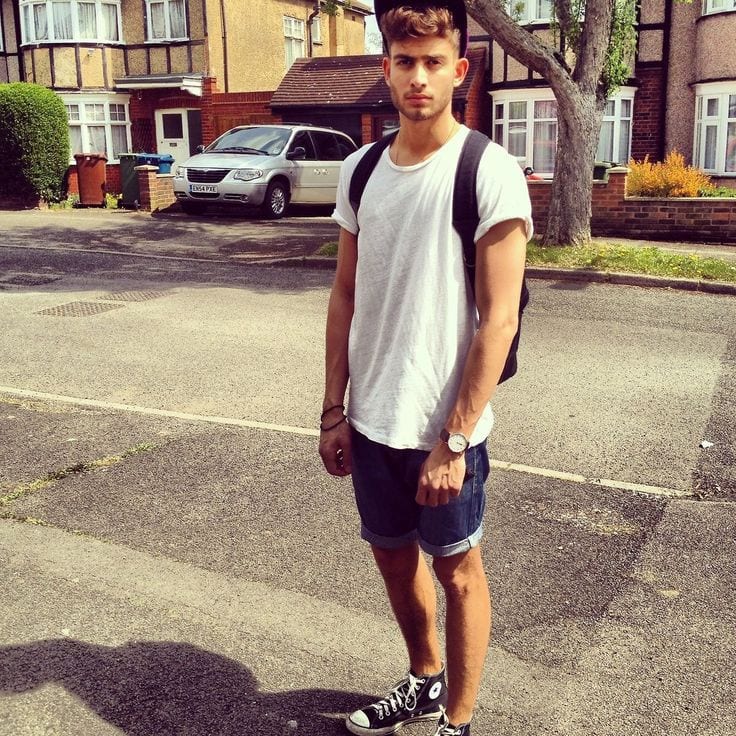 ↓ 9 – Outfit for School Award Ceremony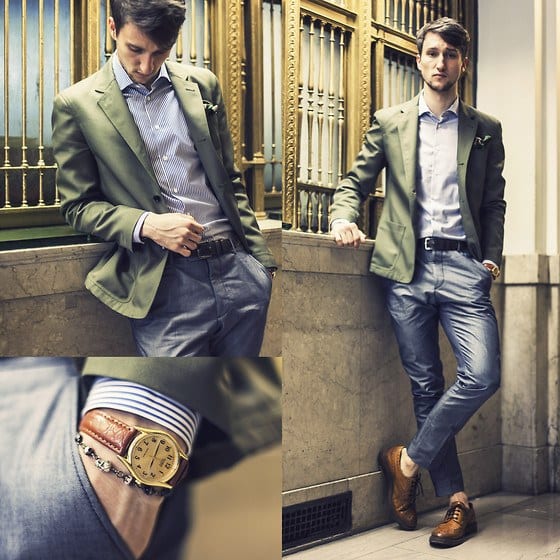 ↓ 8 – Jock Outfit for School
Jocks have their own style. Their attire describes their personality.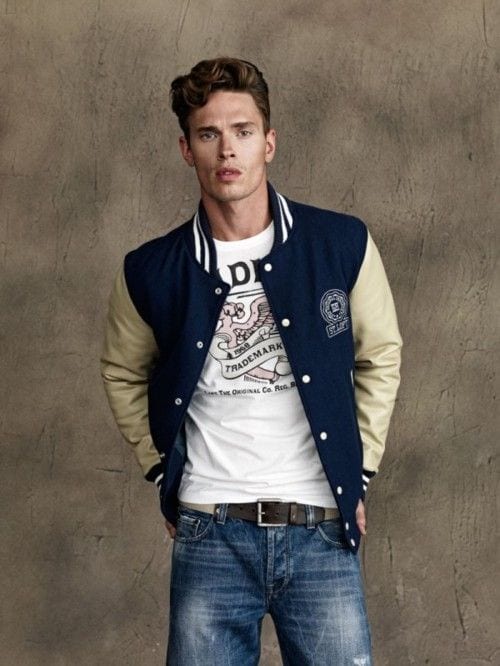 ↓ 7 – Cool Outfit for School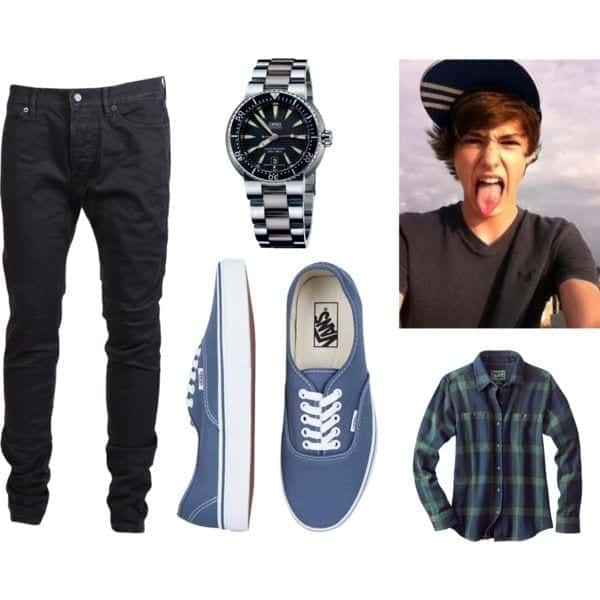 ↓ 6 – Shorts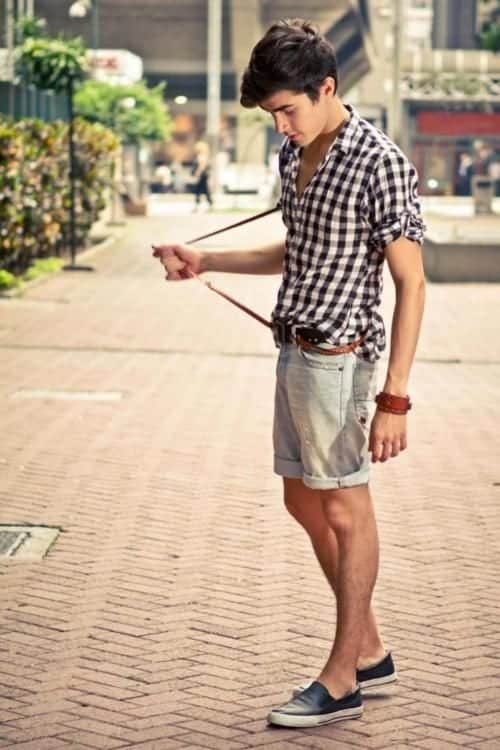 ↓ 5 – Simple Look with Jeans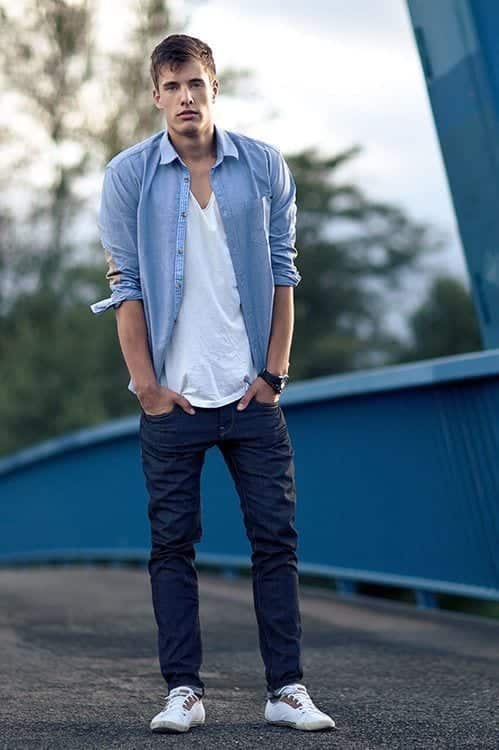 ↓ 4 – Everyday School Outfit Ideas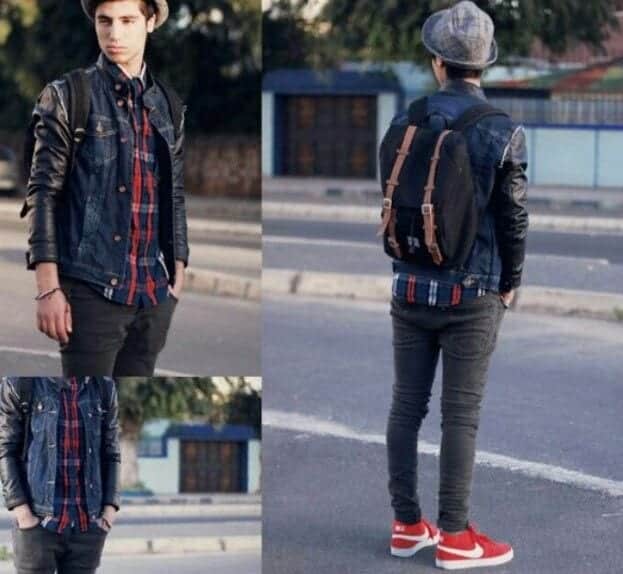 ↓ 3 – Sporty Outfit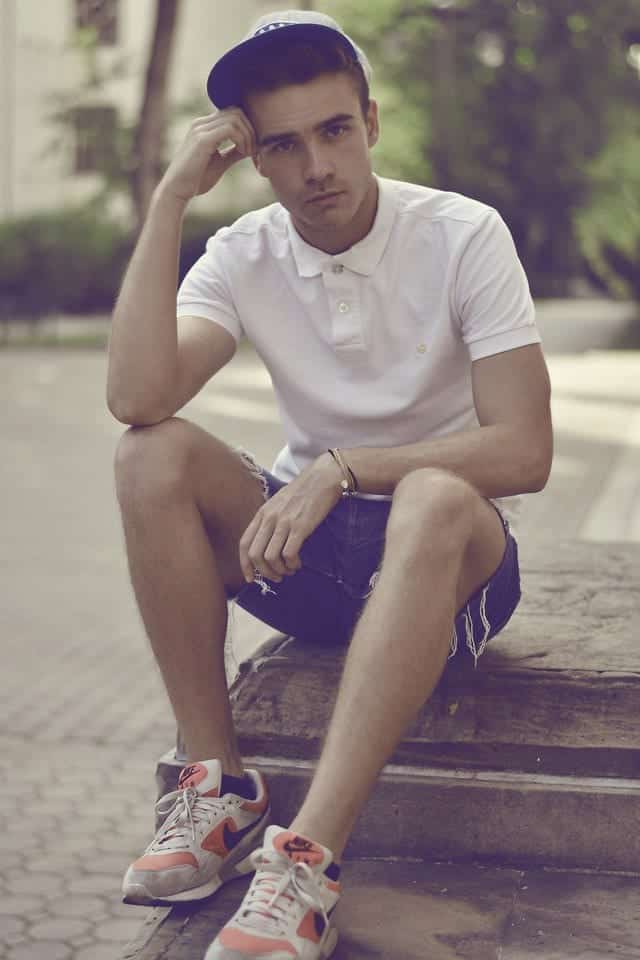 ↓ 2 – Gym Outfit for School
Sweatpants or shorts with a loose tee would make for the ideal gym clothing. RECOMMENDED: Men's Workout Outfits.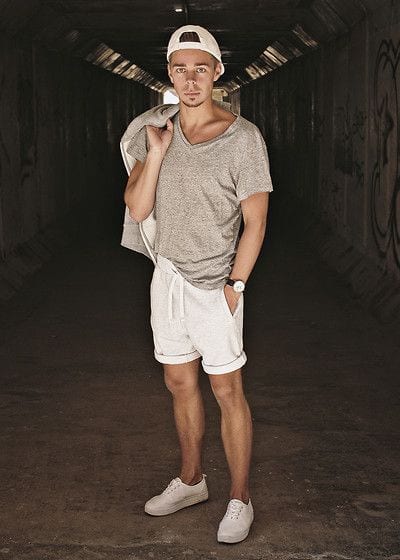 ↓ 1 – Swag Outfit for School