Winter Outfits for Teen Guys – Shopping is one hobby our youth is obsessed with besides social networking sites, as they want to look stylish and feel belonging. Although they follow the same designers, everyone has his take on the clothes and how they style them.
It shows your individuality and what is most important to you hence defining yourself by wearing clothes. Winters is all about cozy and comfortable clothes, but the adventurous nature of today's boys doesn't let them dress in that manner. Rather some sports shorts with hoodies in winter as that may be the trend.
 

Fashion Tips for teens

Teen style is different from that of grown men, and that's what we should focus on instead of styling teen guys the same as mature ones. Boys should consider adding hoodies, sweatshirts, and graphic shirts into their closets. For footwear, sneakers are extremely popular among teen boys.

Another essential thing guys should consider is that for winter, invest in jackets and coats instead of shirts and pants. Also, I would suggest purchasing one or two statement pieces. It will go a long way.
Tips
Do not follow trends blindly. Always adopt the style which suits your personality and always prefer sustainable fashion clothing items.
Always pick clothes which will never go out of fashion easily. A denim jacket is a clear example of this statement. You can either go with just a jacket but every guy always has a pair of denim pants in his closet. You can easily pair both of them together to create an outfit.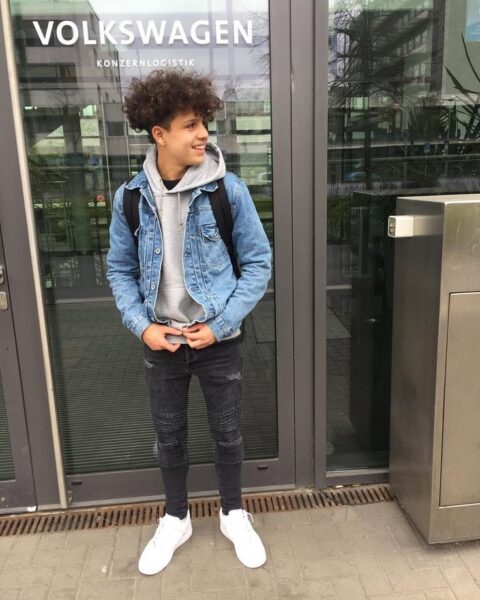 Winter is all about layering. If it's too cold outside, you can double layer first with a jacket and then use a coat.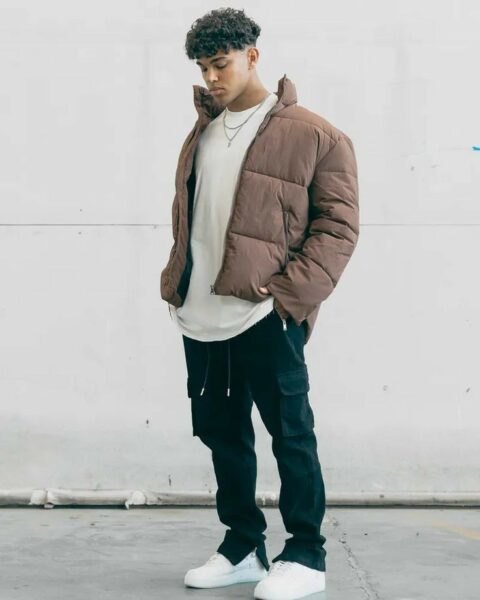 Always invest in good quality shoes. Shoes are the ultimate accessory in a guy's outfit. You can either match your show with any item of your clothing. Another way is to have a pair of black and white sneakers so you could pair them with every outfit.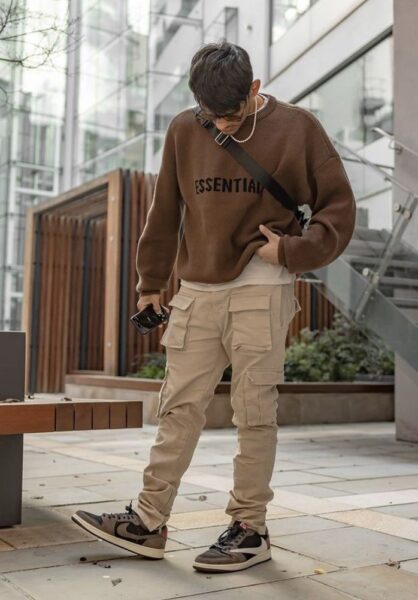 20 – Button Down Checkered Print Shirt With White Basic Tee And Denim Jeans
Pair a basic white tee shirt with ribbed cutout denim jeans. With this outfit, you can pair many button-down shirts. However, if you want to keep your look casual, then this look is perfect for you. Wear a blue and white checkered print button-down shirt to compliment the outfit.
19 – Black And White Striped Sweatshirt With Ribbed Pants
Teenage boys usually want to dress up casually and smartly. Simply put, they want to dress up like they haven't put any effort but still look fancy. This outfit is perfect for any outdoor activity. Pair a white and black striped sweatshirt with black or blue denim pants. You can add lockets as an accessory.
18 – Light Blue Shirt With Blue Jeans And White Hoodie
Another stylish way to dress up for college is to pair your light blue shirt with jeans. Wear a white hoodie and add glasses to finish the look in style. Make a lasting swag impression by using the right accessories. So don't forget to add anything like rings or lockets.
17 – Yellow Hooded Sweatshirt With Army Green Jacket And Brown Boots
For winter, always try to be creative with your jackets so you can pair them with several outfits. Wear any hooded sweatshirt and pair it with blue denim jeans. Add an army green zipper jacket. Also, wear a black beanie and gloves if it's too cold. You can finish this look with brown leather boots.
16 – White Dress Shirt With Grey Pullover And Black Suit
Try experimenting with grey colors if you want to go for a sophisticated look or maybe have a party at your school. Have you ever thought about why most people in business choose to wear grey suits for their business meetings? Because grey is classy!
Wear a collared shirt with a grey hoodie, and you can layer the outfit with a charcoal shade blazer and trouser set. Also, wear white sneakers and oh don't forget a tie.

15 – Brown Sweatshirt With Black Straight Pants And Sleeveless Jacket
Casual yet modern look. Wear a chocolate brown sweatshirt with straight pants. To fight the cold weather, wear a black sleeveless puffer leather jacket. Complete the look with light brown sneakers, and voila! You are all set to step outside for a day out.
14 – White Collar Shirt With Grey Sweater And Denim Jeans
Cool colors are more aesthetic in winter than in warm tones. Pick a grey sweatshirt and pair a matching collar shirt. Also, make sure that collars are out. Wear dark blue denim jeans. If you are someone who likes jewelry, then try to wear silver chains and rings. It will match the aesthetics of the overall outfit.
13 – Light Blue Ribbed Shirt With Long Pants And Yellow Beanie
You can create a fancy night out look with a light blue ribbed shirt with straight long denim pants. Add a yellow beanie to finish in style. Pair it with black and white Nike shoes. You can add a black leather jacket with this look if it's too cold for outside.
12 – Yellow And Black College Jacket With White T-Shirt And Black Trousers
If you want a sleek college boy look, pair a white crewneck shirt with black denim jeans. Moreover, a black belt is an ideal match for the outfit. You can easily wear your college jacket with this casual look. Pair your white sneakers, and that's it.
Keep the look subtle with elegant colors. Also, you can wear a black shirt instead of a white one if you like an all-black look.
11 – Pair Light Blue Denim Jacket With White Shirt And Light Blue Denim Jeans
Another cool outfit you can create with the basic white crewneck t-shirt. It would be best if you had a denim jacket in your wardrobe. Denim stuff is a must-have for every guy, and the reason is that it never goes out of fashion. Wear the jacket with matching denim pants and white sneakers.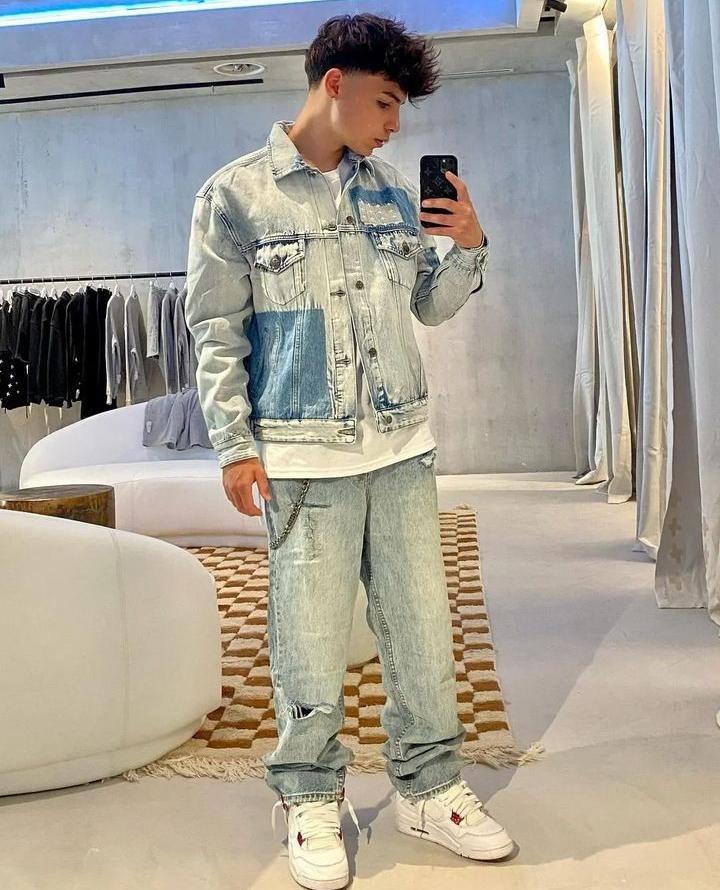 10 – All Black Outfit With Black Leather And Denim Jacket For Korean Look
Korean look is trendy these days. That's why here's an inspiration for you if you are interested. Leather and denim combined have jazzed up this otherwise simple outfit. However, the all-black look is everyone's favorite.
The recreation of this outfit is pretty simple. Pair a black shirt with black denim pants. First, wear a blue denim jacket and then layer it with a black leather jacket. For the footwear, you can choose from any black sneakers you own.

09 – Black And Purple Zipper Jacket With Lavender Shirt And Purple Trousers
The teen guy look is perfect for hanging out with your buddies. Although pastels aren't something boys usually prefer, purple shade is getting extremely popular in the boys' clothing section. You can wear a lavender shirt with purple joggers. Finish the look with a black and purple jacket. I would suggest wearing black sneakers as footwear.
You can also accessorize your look with metal rings. But don't overdo it because your outfit gives a clean aesthetic look, which will tarnish by extra jewelry. Also, if you don't have purple sneakers, choose white or black jordans.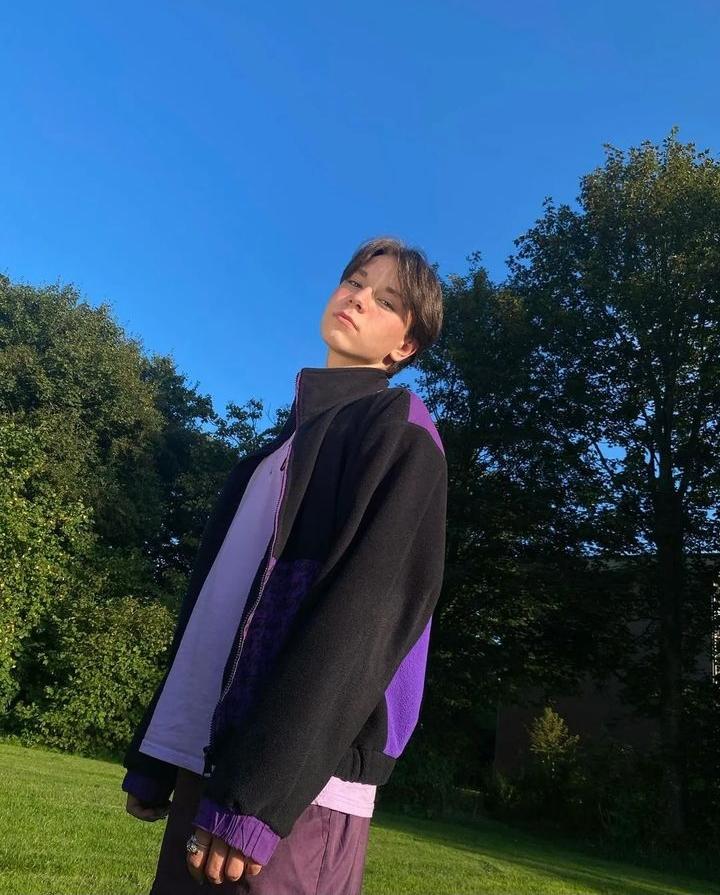 08 – Brown Sweatshirt With Patchwork Pants And White Sneakers
Colorful pants are being sported by most of the youth this season. Here are the vogue patchwork pants trending in Gen Z. You should invest in brown patchwork trousers and wear them with a brown sweatshirt. Complete the look with white sneakers.
07 – Black Graphic Shirt With Blue Jeans And Black Button Jacket
Graphic shirts are something that can never go out of fashion. Wear a graphic black hoodie with a black button-down denim jacket and pair it with blue denim jeans. You can also change the jacket color depending on the hues of the design. However, black is such an OG color that it compliments everything.
Wear a bright jacket like blue, red, or purple if you want to make a statement outfit.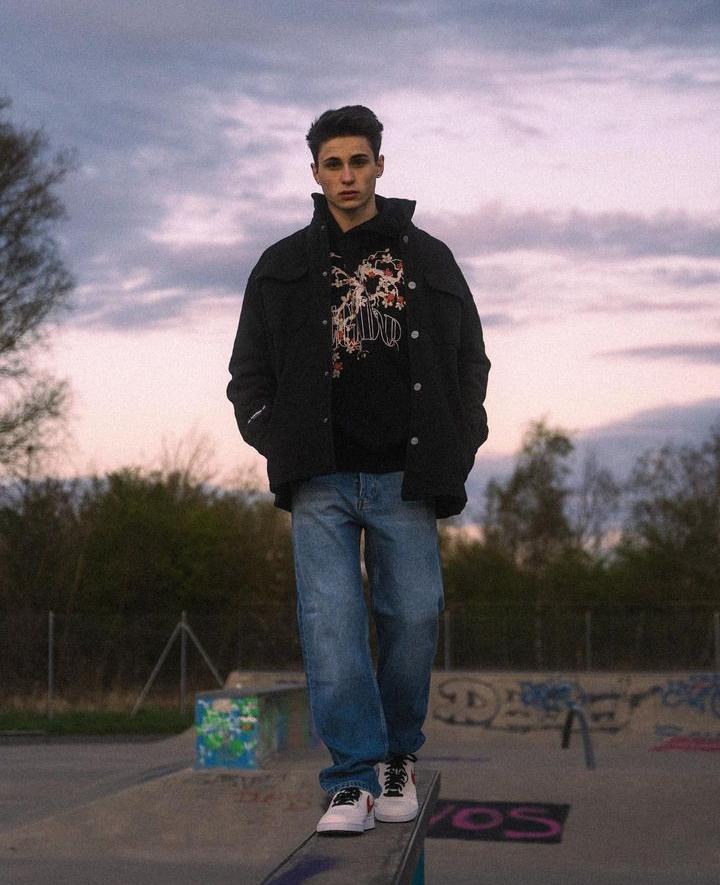 06 – Grey Matching Set With Black Hoodie
If you don't have a matching workout set in your wardrobe, you definitely miss out on the trend. Monochrome workout sets look extremely fine with any winter accessory. You can pair the outfit with a coat, hoodie, jacket, or puffer jacket.
Always wear sneakers as footwear for a casual smart look!
05 – Black Printed Shirt With White Pants And Metallic Silver Puffer Jacket
Printed shirts are something every guy has purchased once. But here's how you can style that shirt effortlessly and look expensive. Invest in a silver parachute jacket, and you will thank me later!
Pair them with white trousers and black sneakers. You can accessorize your outfit with a cap, but I suggest skipping it if you have a hooded jacket. Don't forget to add jewelry like chains and rings to accessorize your outfit.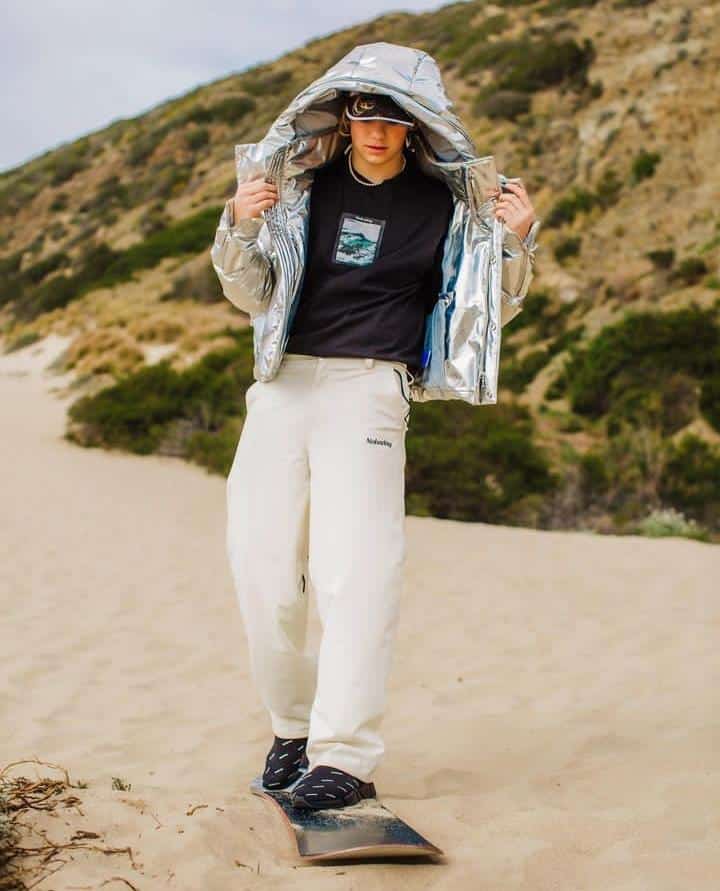 04 – White Shirt And Teal Pants With Printed Blue Jacket
Are you that fashionista guy who wanted to make it to the Vogue cover one day? Then you need to step up your outfit game from your teen days. Here's an inspiration to make a statement outfit for this winter!
Winter season is incomplete without a staple jacket or coat. I would suggest you invest in a baggy graphic jacket. Moreover, it would be the icing on the cake if it's brighter. Wear the jacket with any basic outfit, instantly uplifting your look.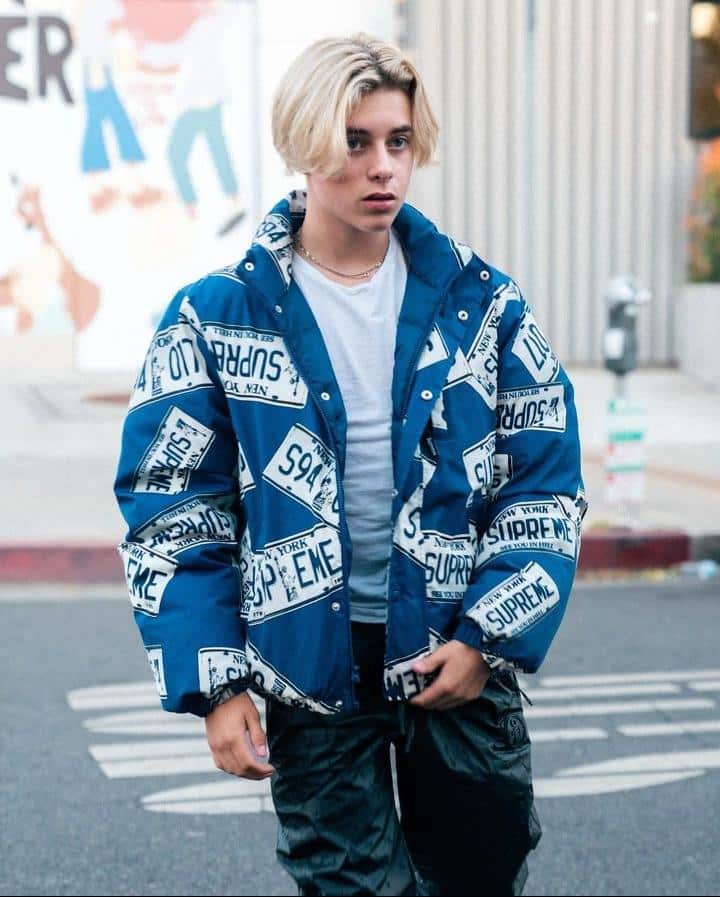 03 – White Basic Tee With Ripped Jeans And Black Puffer Jacket
Ripped jeans have been doing rounds in fashion circles and are a must-have for teenage guys this season. You can find a hundred outfit ideas with a basic white t-shirt and ripped jeans. Here's my favorite look from this trend!
Pair both pieces of clothing with a black leather puffer jacket outfit and finish off in style with white sneakers.
02 – White Shirt With Blue Denim Jacket And Black Cap
Nothing is better than denim if you want a casual sporty look. The white or black shirt is an essential clothing item every boy has in his wardrobe. So, pair your crewneck t-shirt with a denim jacket and matching denim jeans. You can add a black belt and a puma cap to finish the outfit.
Choose your favorite white sneakers if you are wearing a white shirt and black sneakers if you are wearing a black shirt.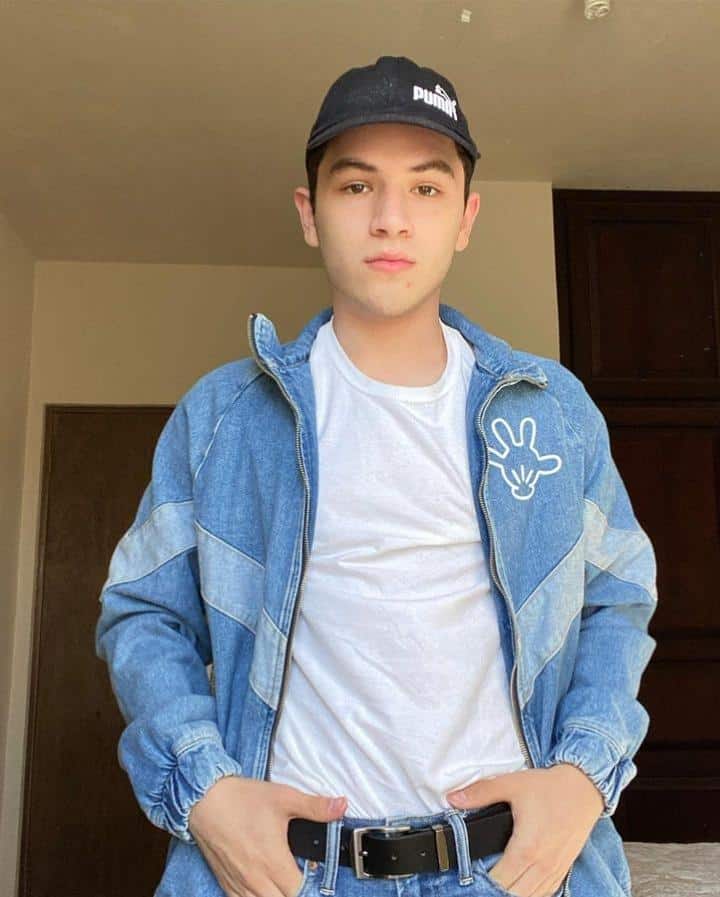 01 – Printed Sweatshirt With Zipper Jacket And Black Trousers
For a mature look, pair a white printed sweatshirt with a red and black zipper jacket. This outfit will go with black jeans. However, I suggest you wear them with black trousers; they will look more elegant.
Choose a white pair of sneakers as footwear. Also, if you want to level up your outfit game, wear a ring and watch as an accessory.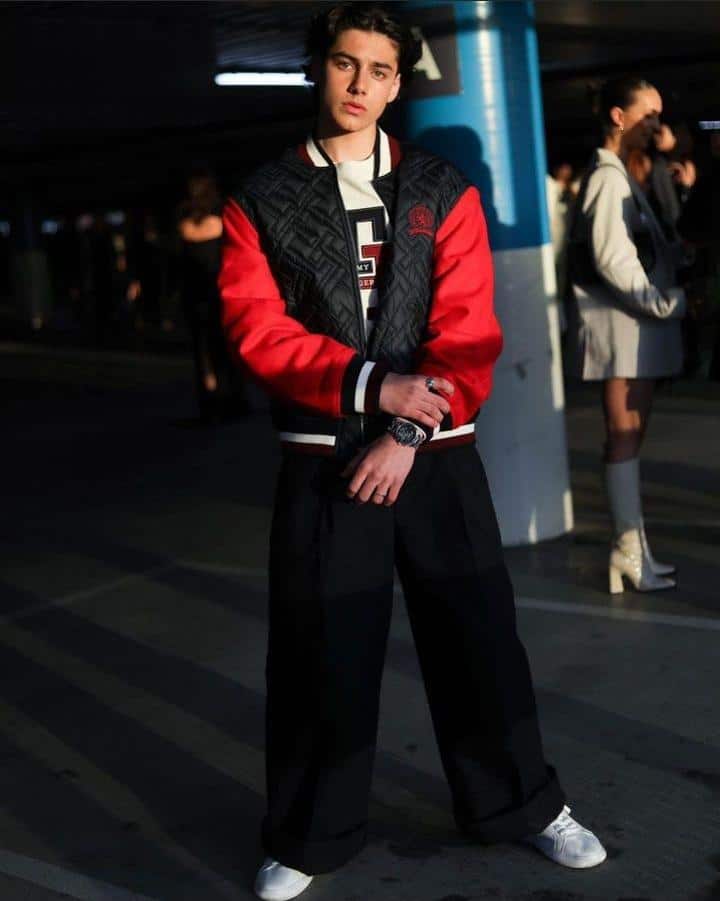 Frequently Asked Questions
Q: How should a man dress for winter?
Ans: Everything you need to stay warm this winter and spruce up your winter outfit is here, from beanies and boots to puffy parkas. Start from the primary layer, sweaters, coats, and jackets for the winter, warm socks. Then, move towards winter footwear, boots, mittens, and scarves. Lastly, hats for winter. That's it, and you are all set for the season.
Q: How can a guy look good in cold weather?
Ans: I would suggest focusing more on the coat and jacket. Pick out the outer layer first. You can go with a simple outfit, but your outer layer should be fancy. It will eventually lift up the whole outfit. Invest in good brands for one or two cold pieces, and you can create many looks.
Q: What pants do men wear in winter?
Ans: When the winter season arrives, most men's wardrobe choices appear to be more constrained, and everyone begins to look alike. For example, wool trousers, slim-fit corduroy pants, dark-colored jeans, stylish chinos, and thermal-lined pants.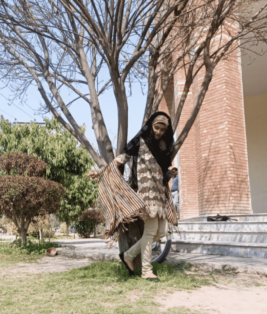 Javeria is a student and a content writer. She is good at public speaking, leadership, and management. She is passionate about writing, reading & music. She is an ambivert and is always up for a new friendship adventure. As an English literature student, she thinks fiction is more fun to read than nonfiction.