Lace Outfits are not only for women; now, men can slay them with a little glam and Style formally and casually. Dolce and Gabanna Italian Duo collections and Versace Lacey Summer Collections for men revived the contemporary lacey clothing styles for men.
Some fashionistas also criticized Lacey's looks for men, but it was so unique and different that it got massive appreciation from all over the world.
Alexander McQueen's formal style lace collection for men in Fashion Week London deserved attention. The concept was elegantly presented in monotone shades, referring to the monarchist era. There were uniquely stitched suits with lace all over them, giving an extremely royal vibe.
How to Wear Lace Outfits for Men
The article covers many styles that go quite well with the lacy look and ideas to slay a lace dress at different events. Also, it provides unique and recent trends in men's lacey clothing, ranging from shirts to shoes. It will help you wisely add some lace items to your wardrobe and give ideas for creating your haute couture using these items.
 ↓27- Perfect Lacey Shirts for Clubbing
Nightlife is all about looking casual yet stylish in some funky apparel. Guys can go for lace button-down shirts that are see-through or opaque, with some slacks or faded denim bottoms. White sneakers will look perfect with such a look. These chic lace shirts are available online on Aliexpress and eBay.
Try to go for shades like royal blue, gray, and black to look classy and charming. Also, look at this awesome collection of Floral Shirt Outfits for Men.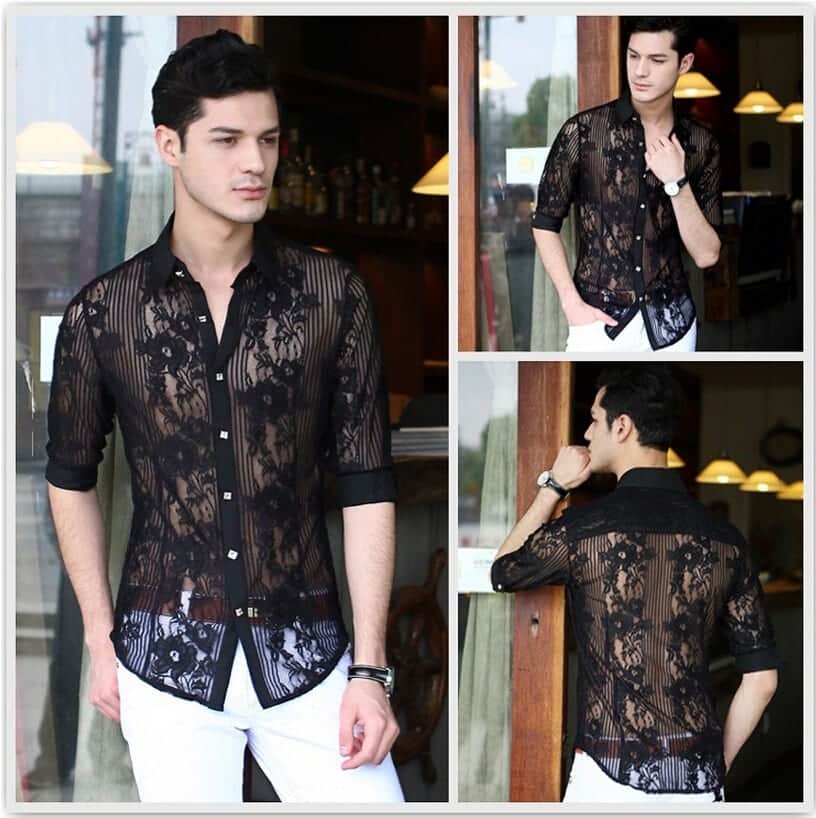 ↓26- Celebrity Style
For a celebrity or model-like lacy attire, you can go for lace shorts or fitted lace tops that elaborate your physique well and make you look super stylish. Also, you can go for a pastel lace top with a bit of a frilly look, which makes you look glamorous.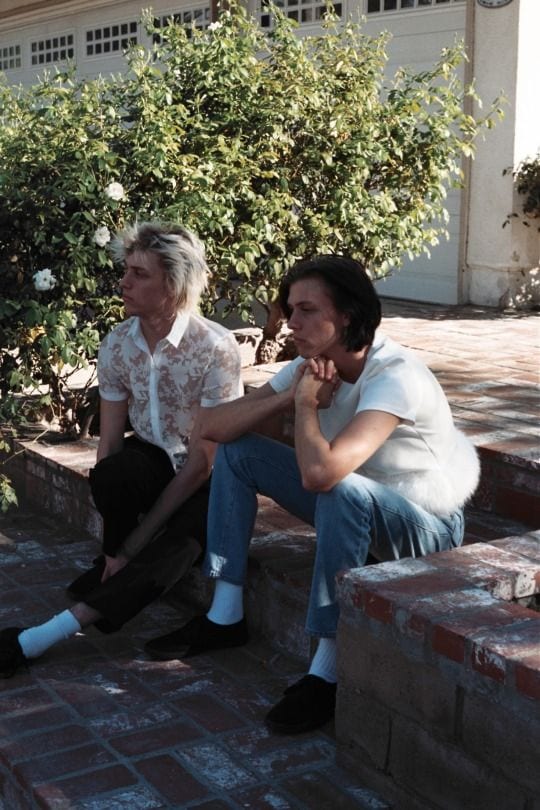 ↓25- Dress up for Weddings
Lace looks perfect on a wedding; you can wear white tuxedos with a little lace over the collars and sleeves or a lacey bow tie or necktie. Here are some Casual Wedding Outfits for Men.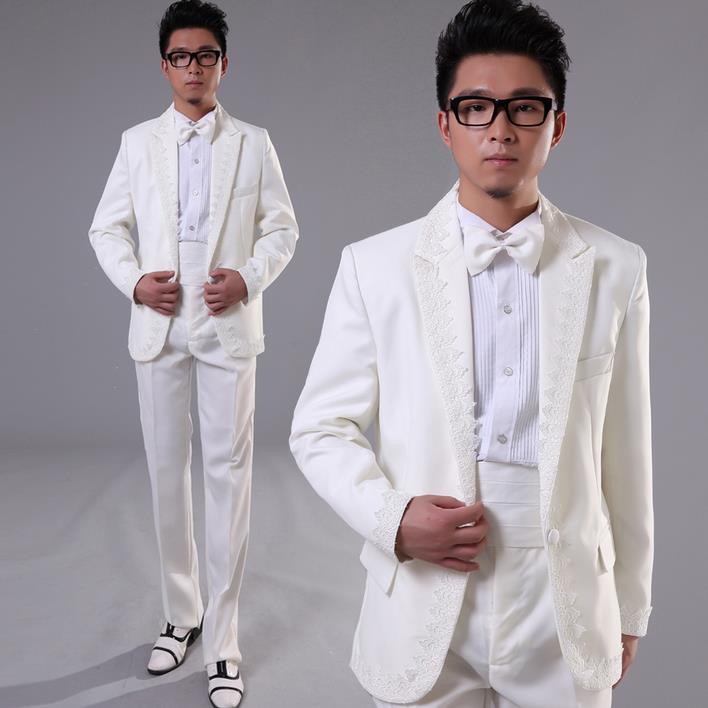 ↓24- Semi-formal
If you want to look semi-formal with a lacey look, go for casual blazers with lace shirts, or you can also go for some sassy lace blazers and a simple button-down shirt and formal pants. Wear them with loafers to look a bit more fashionable and classy.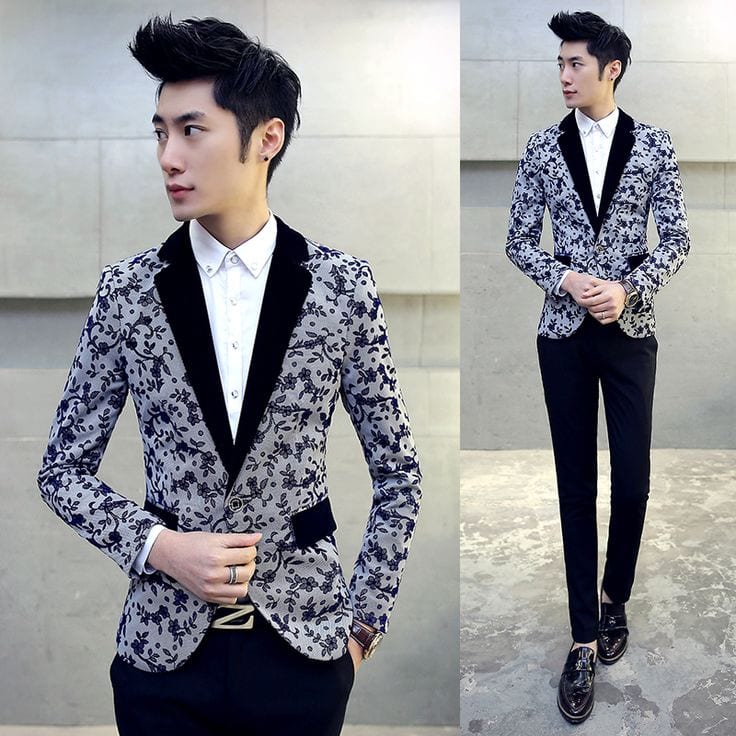 ↓23- Winter Wear
Lace apparel can go quite well in winter if worn with a leather or bomber jacket. You can go for lace blazers or lace jackets from various brands. The concept of lace jackets is itself pretty unique and charming.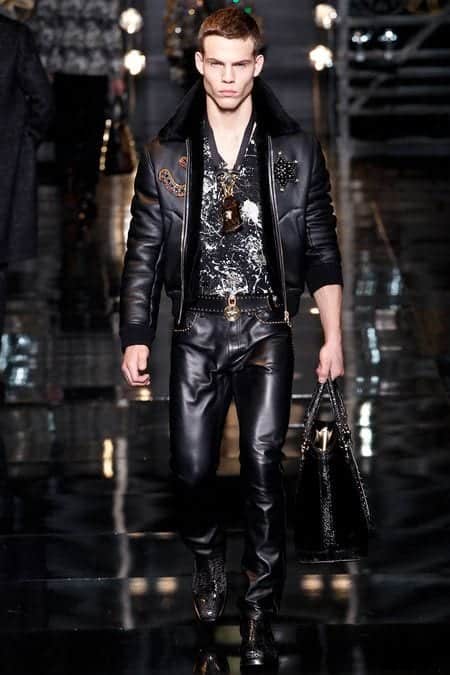 ↓22- Lacey Dress-up for Festivals
Festivals and evening concerts seem perfect for funky get-ups like men can slay sheer lacey tops with casual denim jeans or even shirts. Guys can add a little embroidery or color to their lace shirts, making them look chicer. Here's a complete guide to Festive Attire for Men.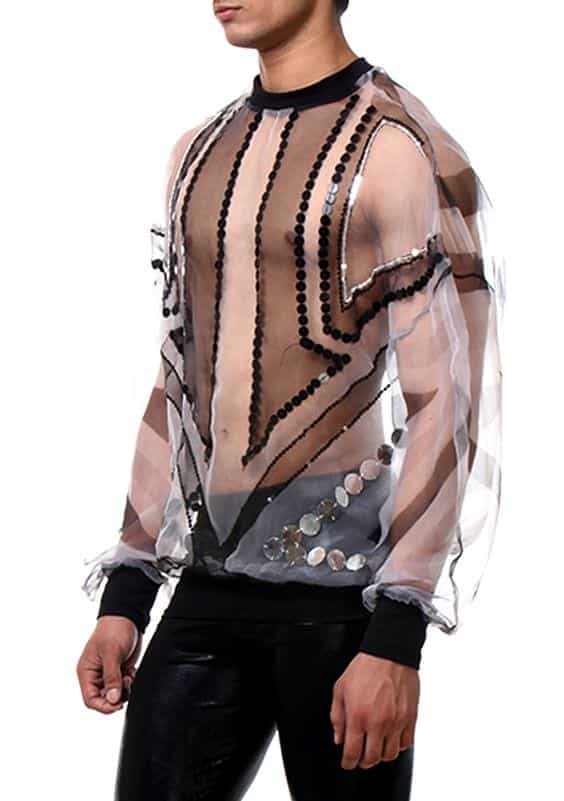 ↓21- For Teenage Boys
Teens can wear a sheer lace button-down shirt in darker shades for a model-like look if they think their physique is perfect for a little glamorous look. Also they can wear stylish white sneakers with them as well. The attire is perfect for shopping, college, or casual parties.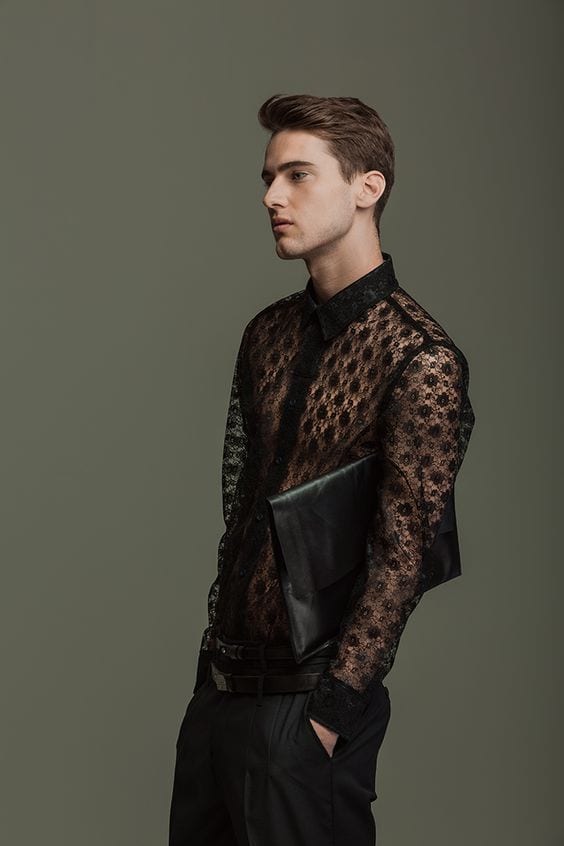 ↓20- Summer Wear
Summers are perfect for chic lace dress-ups since these are light fabric and extremely cool for summer. Versace came up with its exquisite summer outfit collection, which can be worn with summer sandals. Check out these Men's 18 Best Workwear Outfits for Warm Months.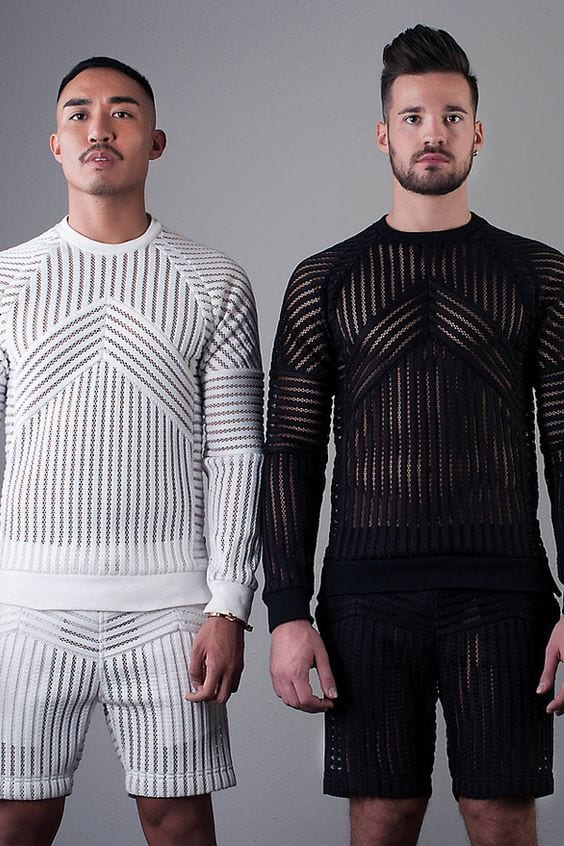 ↓19- Retro Look
Dolce and Gabbana brought the idea of retro-style lace menswear, which was all about silk and lace suits. The retro look initiated from trim lace collars, sleeves, and sometimes even shoulders. Also, the retro look can be spiced up with classy black or brown brogue shoes.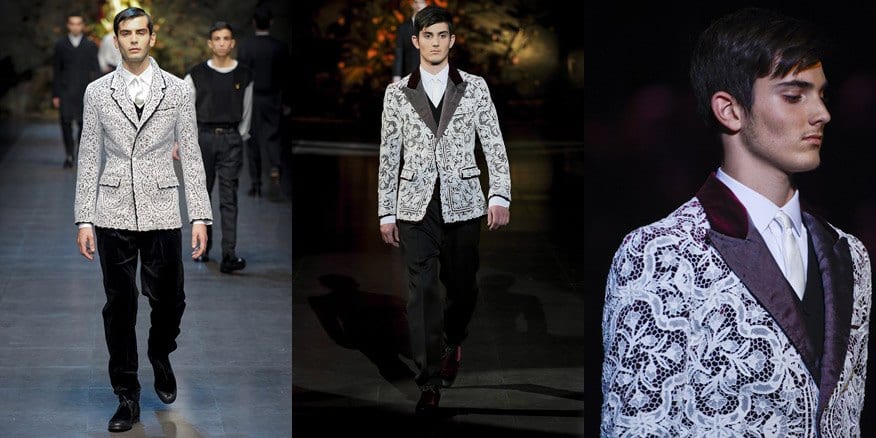 ↓18- Bohemian Style Lacey Attire
Guys can go for tees or sweatshirts in lace prints, chic wristbands, and ripped denim jeans for a perfect hippie look that goes for all the casual events. Here are 17 Ways to Get Boho Look for Guys.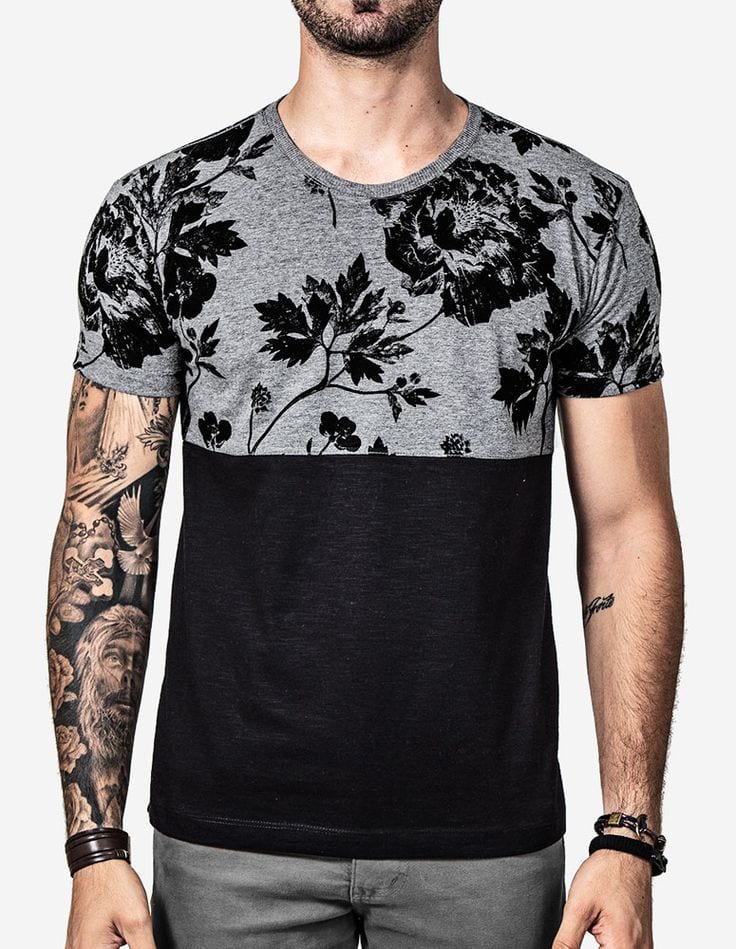 ↓17- Nigerian Style
Nigerian and African clothing styles promote laces and embroidery and are unique. Men can try lace agbada outfits for a unique and different look. This can be worn casually or to parties as well.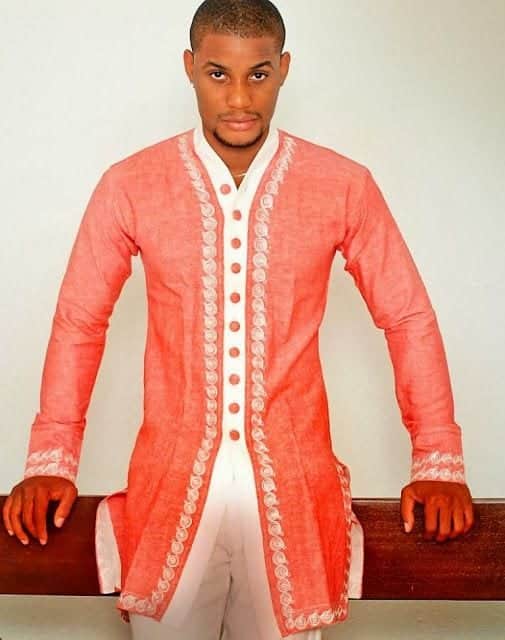 ↓16- Party Wear
A bit of silk and net is the ultimate option to wear with dress pants if you're looking for a stylish and modern outfit style for a club or beach party. The light fabric makes the Style perfect. Check out these 14 Best Party Wear for Men for All Seasons.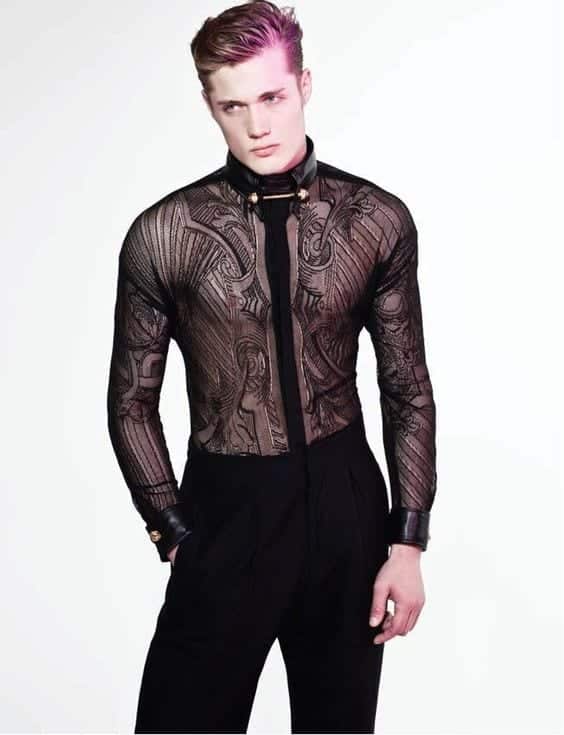 ↓15- For Work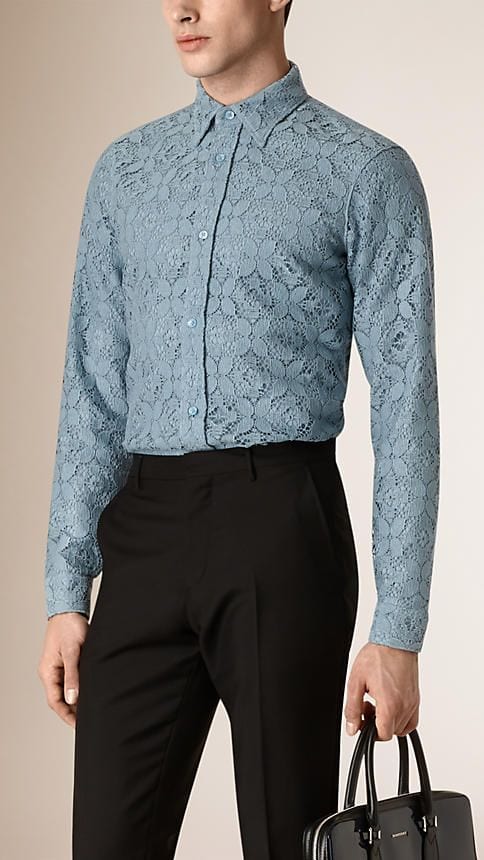 ↓14- Street Style
If you're looking for some unique street style, then lace tops are the ultimate choice you can make since these are quite experimental and stylish. Wear them with straight pants, sandals, and a hat to look perfectly fashionable on a sunny day. RECOMMENDED: 17 Most Popular Street Style Fashion Ideas for Men.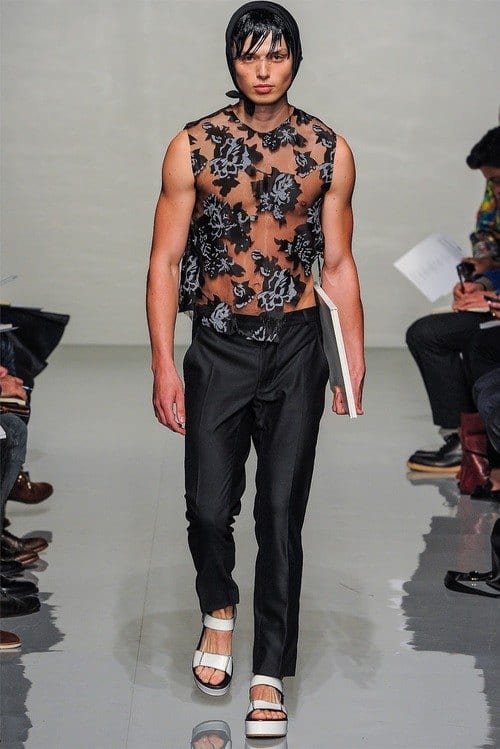 ↓13- Attire for Christmas
Lacey print shirts or lace border tops in white and black or even black and red give a funky look at Christmas events like parties and get-togethers.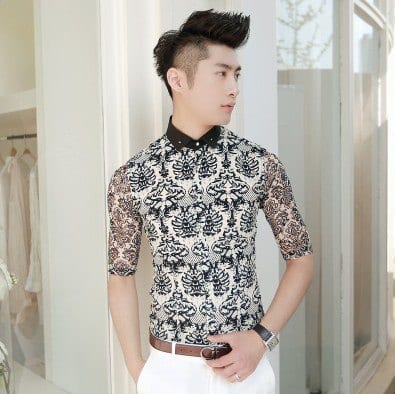 ↓12- How to wear a see-through?
Most men hesitate while trying out funky lace clothes, but they can hide the tops or go for a little see-through portion like arms or shoulders. Also, bomber or leather jackets can be worn in such cases to show minimal skin. It is always better to wear neutral shades of white, blue, and black when trying out see-through lace apparel. Here are 15 Best Ways to Wear White Shirts for men.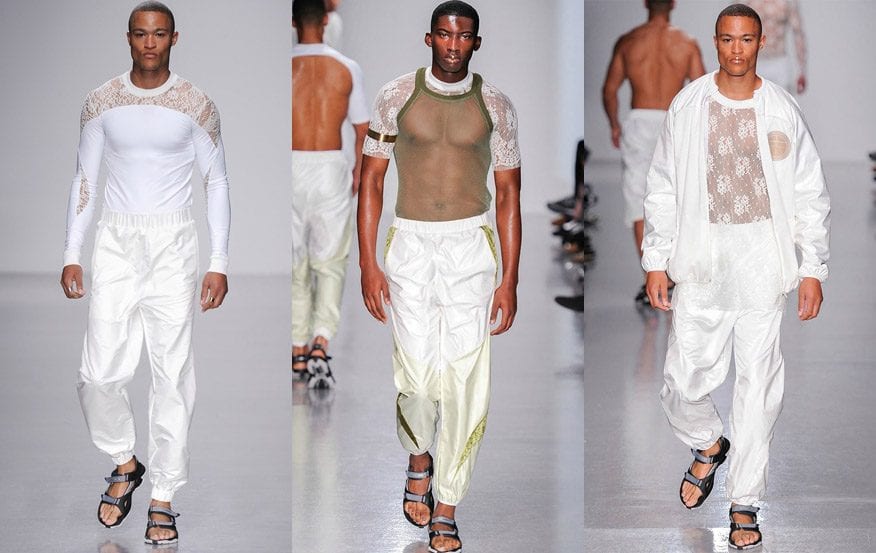 ↓11- Pastel
Pastel outfits are getting trendy among fashionistas, specifically in summer. As the Hologram City's pastel lace shorts collection launched recently, there are many options for men who want to try something new and stylish. It does not necessarily be see-through, and try to wear them with simple white or black tees if you want them to stand out.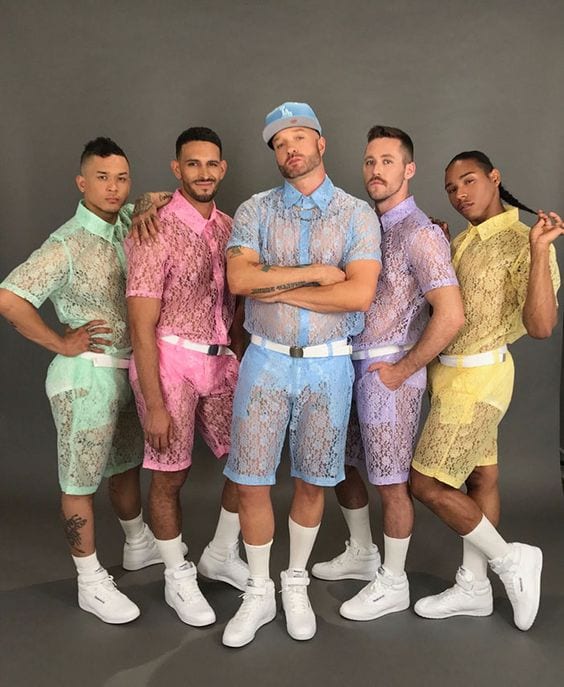 ↓10- Lacey Funky Suits for Guys
Lace suits are quite popular among guys after Alexander McQueen's lace suits collection for men. These are perfect for parties and wedding occasions. Add colors like blue and red to make them stand out on occasion and make your style statement a bit more prominent. Here are 20 Ways to Wear Blue Suits with Brown Shoes Ideas for Men.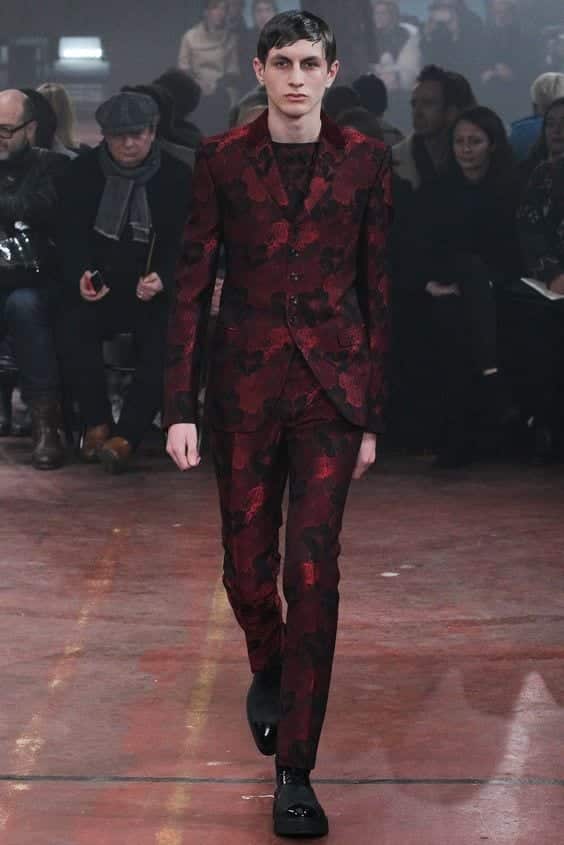 ↓9- Perfect Shoewear with Lace Dress
If you're going for lace formal shirts and suits, it'll be better to go for simple derby shoes or chukka shoes, while if you're going for a more hippie look, go for white sneakers or loafers.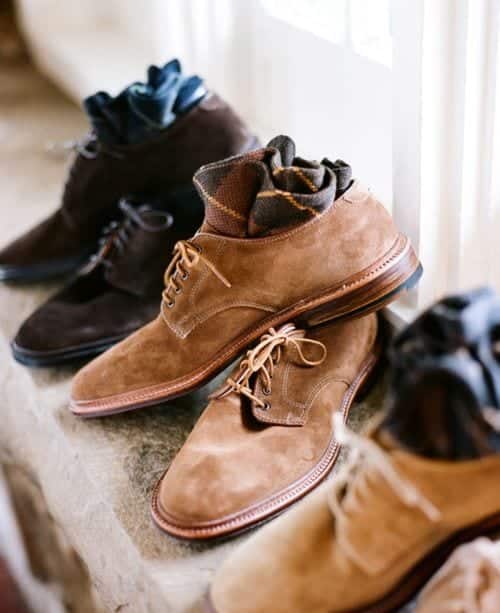 ↓8- For Skinny Guys
Skinny guys can slay lace collar shirts, print tees, and sweatshirts with casual denim pants. Do check out these Shoes with Skinny Jeans for Men.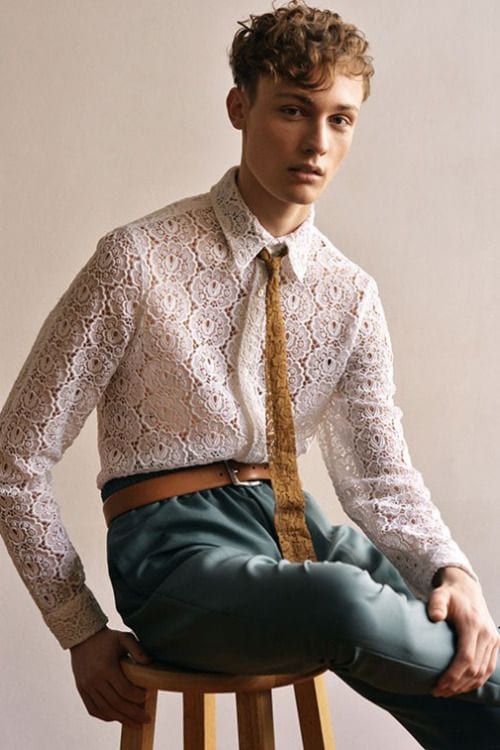 ↓7- Embroidered
Embroidery with a little lace looks perfect when traveling to some place along the beach shore like Hawai, Ibiza, Maldives, etc.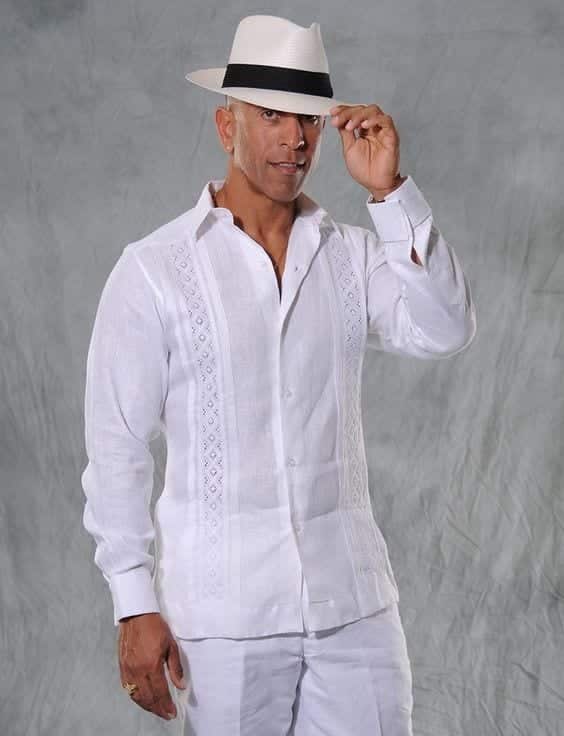 Via
↓6- Lacey Shoes for Men
For guys who prefer lace-up shoes with their regular look, there are many launched by brands like Gucci. Also, these are getting trendy this spring and summer. Here are 30 Best Men's Outfit Ideas to Wear with Monk Strap Shoes.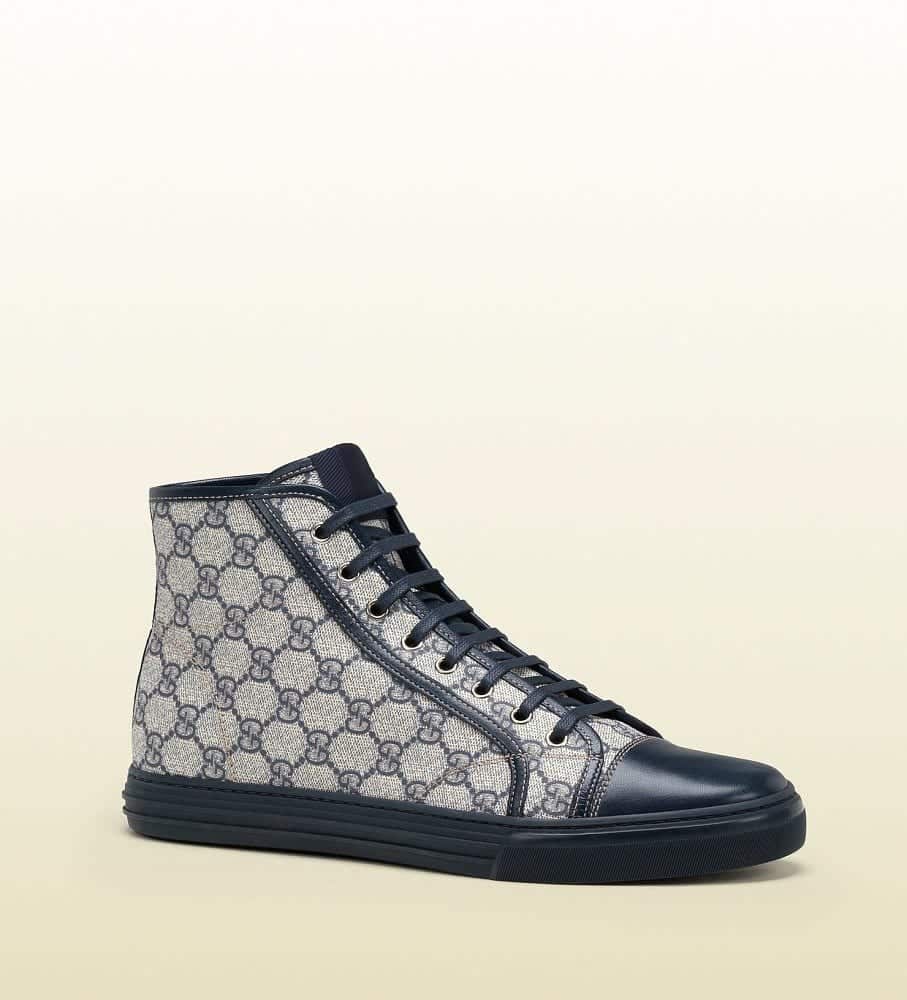 ↓5- All Black Lacey Dress-up
A jet-black outfit comprising a lace blazer with formal pants and a simple black button-down shirt can be a perfect option for a formal office look or a business party.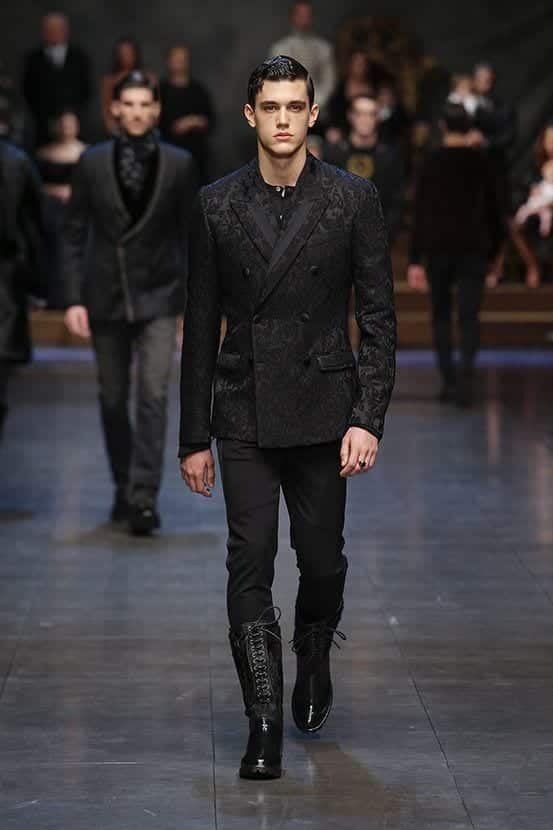 ↓4- Jackets for Young Guys
Lace Jackets are available online at Farfetch in fashionable African and Western lace prints. These can be paired with ripped denim jeans for a cool street style or even a stylish boho style. Do check out Denim Jackets Outfits For Men.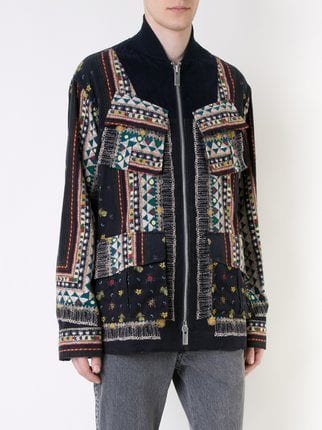 ↓3- Lacey Pants for Men
Lacey pants with blazers or lace shirts give you a more complete and striking look.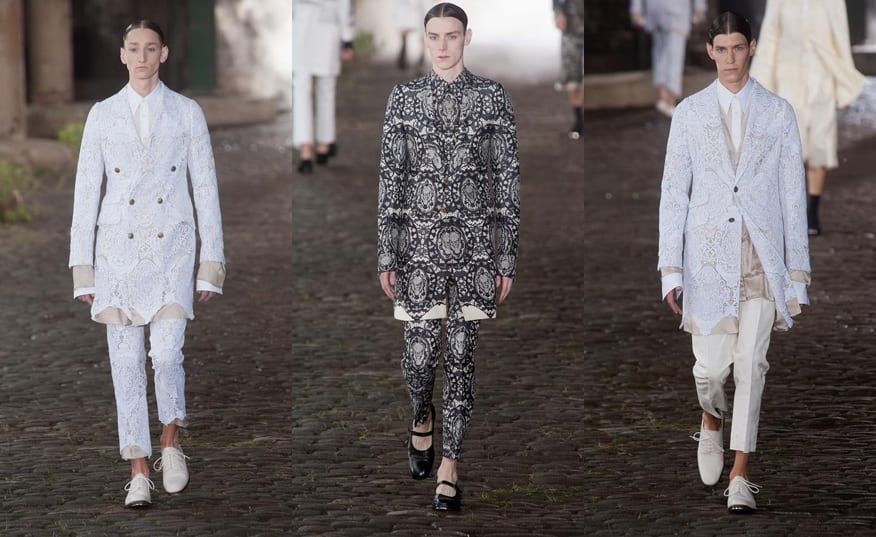 ↓2- Lacey Attire for Prom
Prom nights are always for some funky and unique dress-up. Guys can now go for a few lace prints or lace along the collars, sleeves, or even shoulders to give a different style to their tuxedos or suits. Check out these Goth Outfits for Guys for the perfect goth look.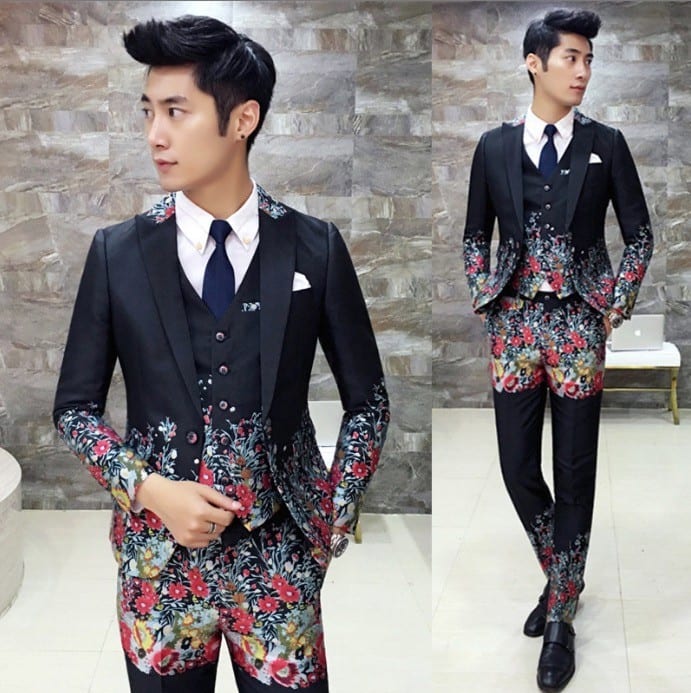 ↓1- Printed
Printed pants always look exquisite with some lace tops in neutral shades of white, black, and gray, particularly in summer and spring, because the Style is also extremely cool and charming.