Blue Suits With Brown Shoes. Blue is the new black! Blue suits might not be as formal as black, but they sure are versatile enough. And a blue suit paired with brown shoes is a very sophisticated way to dress that can leave a remarkable impression on anyone.
Blue suits are very much in vogue these days. They make a perfect outfit no matter what the event is. Here are some details you should know if you plan on wearing a blue suit with brown shoes anytime soon:
Black vs Brown Shoes
Black dress shoes have become a go-to footwear choice when wearing suits. They look nice with blue suits. However, brown shoes have a special touch, especially when teamed up with the right shade of blue. The color brown strikes a balance between formality and fun. And while black is a versatile option, consider brown shoes the next time you plan to wear a blue suit.
Helpful Tips
Shades of Blue. Blue suits come in different versions in terms of how dark or light they are. Each shade is unique as it suits a certain formality of occasion. Royal blue is for much dressier events, while navy is ideal for the office.
Undershirt. White shirts and light blue are the popular and practical choices. But dare to be a rebel once in a while. Opt for light pink and see how cute it looks with your blue suit. Just don't wear green and yellow shirts underneath.
Ties. Use these to express your personal style or to add some flavor to your ensemble. While blue suits look great with basically any tie color, grey, red and burgundy ties are the best in my opinion.
Pocketsquares. You are welcome to opt for flashy prints and patterns to make your outfit anything but boring. Polka dots and psychedelic patterns are kind of interesting to see with blue suits.
Hairstyle. Have a well-groomed hair if you're headed for work. Use products if you must. But you have the leeway to sport any hairdo when attending casual occasions. 
When To Wear A Blue Suit
It's a good thing that blue suits come in various shades. This allows you to wear them in different occasions – be it formal or something casual. You'll see most of these in meetings, weddings, and black-tie events. If you're a bit lost as to which shade fits which, here are some pointers:
Corporate. Neutral and darker hues are ideal for business settings.
Hot Weather. Opt for baby or electric blue in summer and spring.
Black-Tie. Find a midnight blue suit or tux for a black-tie optional event.
Avoid These:
Polyester Fabric. It's not just good enough for a suit. Instead, look for linen, cotton, and wool. Invest in something worth your money. Chances are you'll be wearing your suit not only for work, but in formal events as well.
Wingtips. They don't look that good with a blue suit. Instead, get a pair with a more rounded look. 
Clashing. Refrain from incorporating too many colors to your ensemble, especially if they are unnecessary. Blue becomes an eye sore when combined with green, yellow, and orange. But red can make the cut, and we owe it to Superman and his fellow Kryptonians.
What Brands To Buy
Burberry London ($890+) and Alexander McQueen ($1700) are two fantastic brands known to menswear and fashion. However, they're kind of expensive and might not be advisable for some of us. So we can find cheaper ones like Jack London ($199+), MJ Bale ($399+), and Brent Wilson ($450).
It's also helpful to have a tailor as your friend. In case you don't get find the right fit or you have an old suit, bring it to the tailor. Have it altred to your desired body measurements. You can even separate the pieces and wear them in different occasions – be it formal or casual. 
How to Wear a Blue Suit with Brown Shoes
29 – The Minimalist
For a minimalist look, ensure that there should only be two colors present. Put away the tie for now, but you can make up with the pocketsquare. My vote is on a crisp white shirt.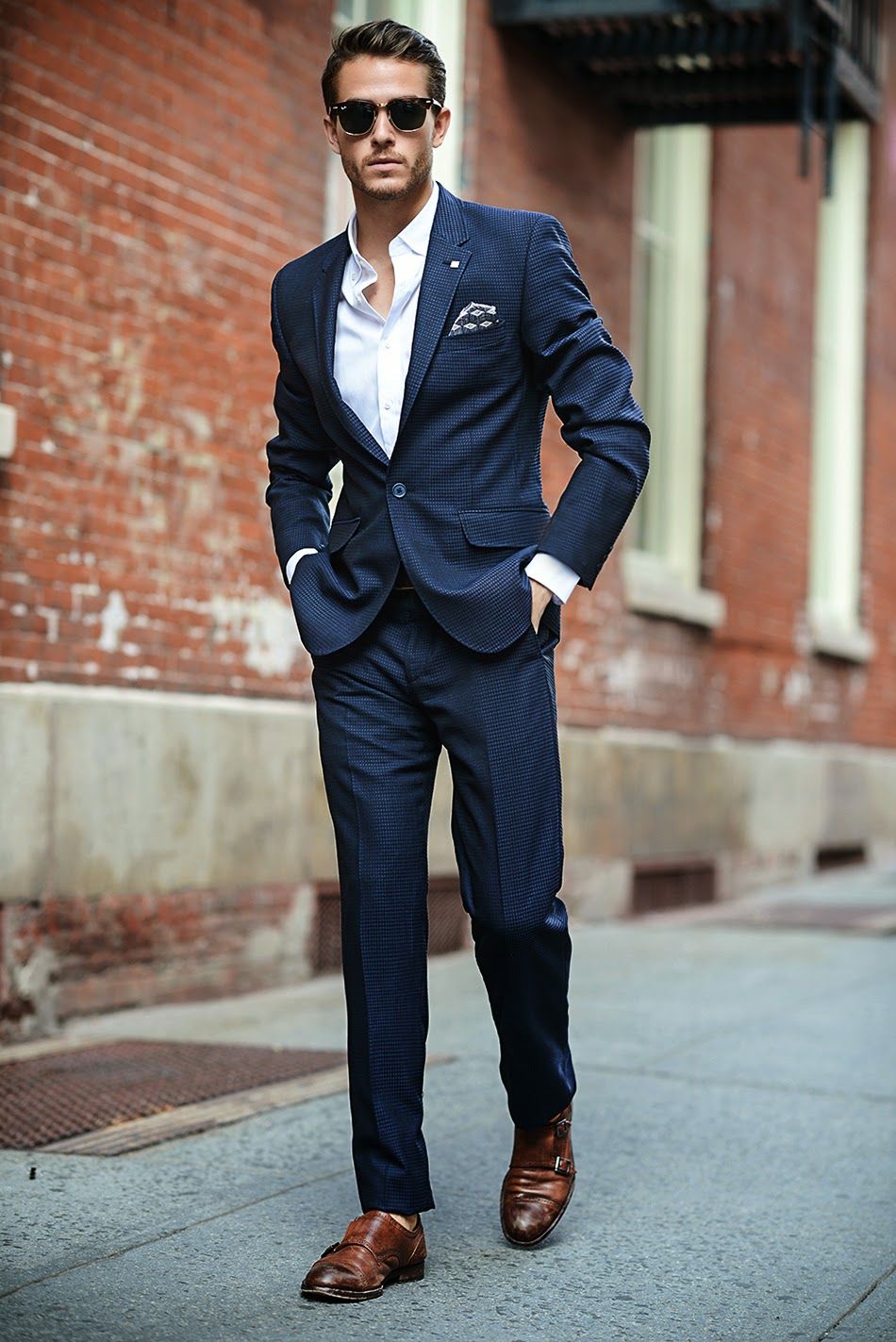 28 – Business Casual
The essentials: navy blue suit, brown dress shoes, matching belt, dress watch, and a crisp white shirt. Ties and pocketsquares are optional.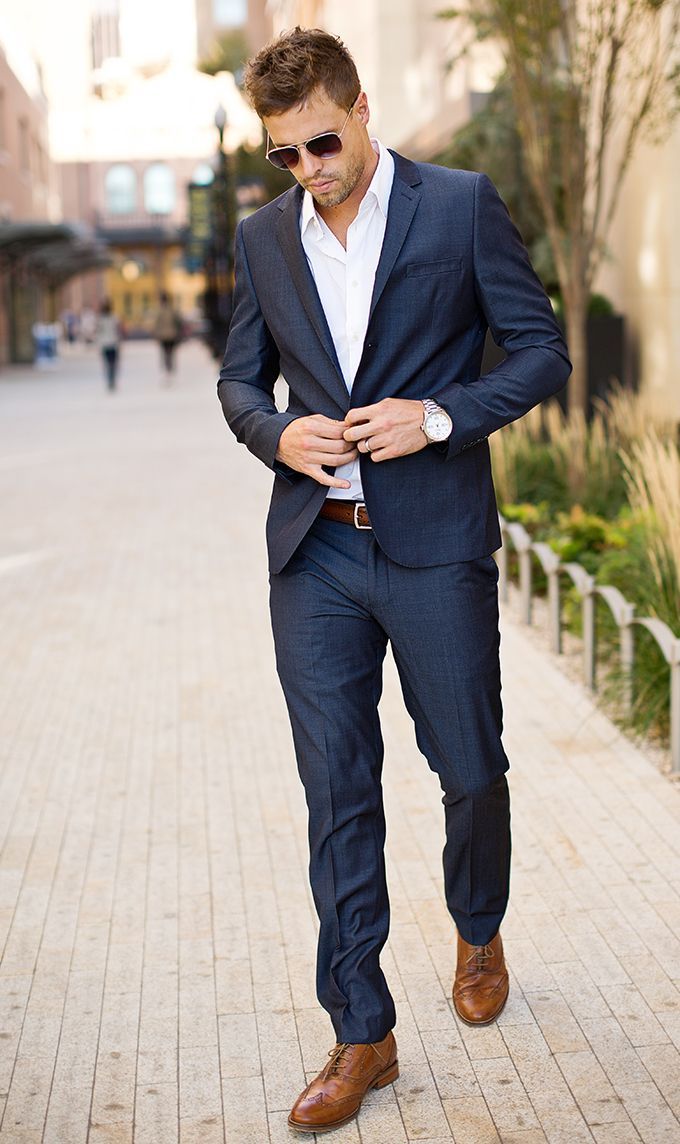 27 – Formal Party 
Wear a blue suit to a formal event like a party. Choose a darker shade like midnight blue. Accessorize with a hat to stand out from the crowd. Pay attention to the shoes and headwear – what do you notice?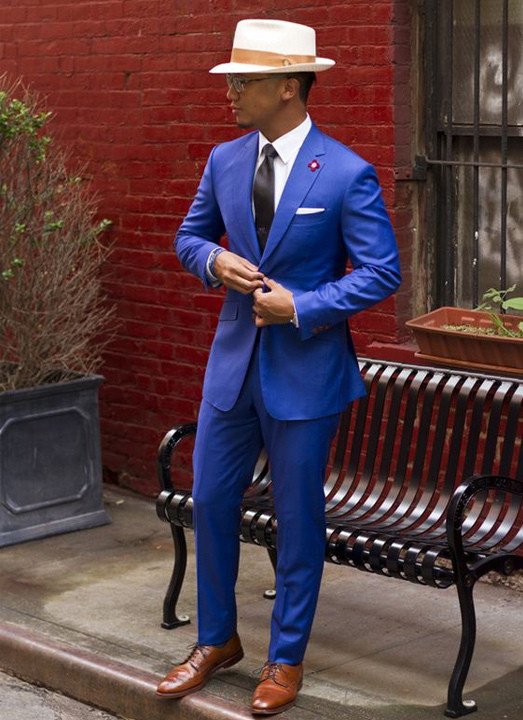 26 – With Striped Shirt
Brenton striped tees make an excellent choice for an undershirt. No tie is needed for this style, of course. All you need are the suit, some brown shoes, and the tee itself.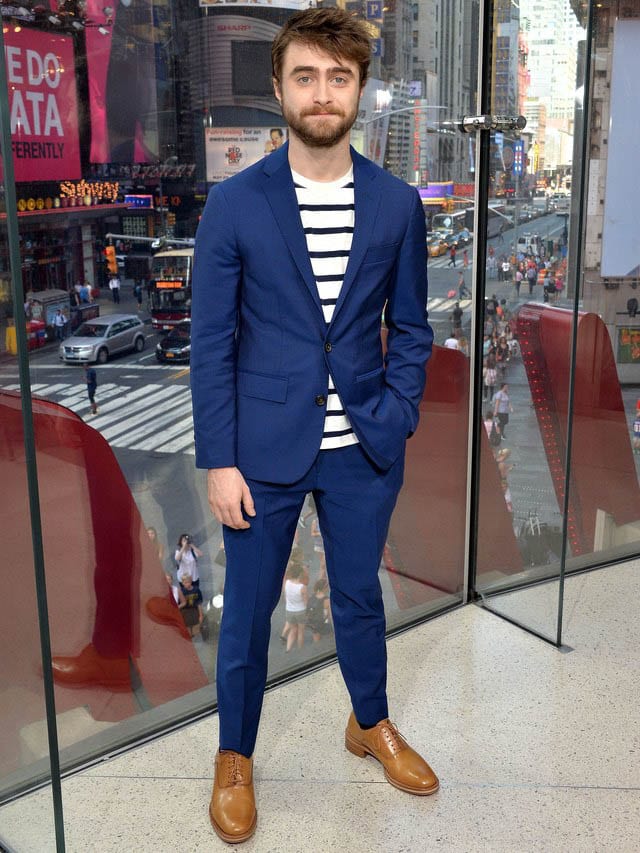 25 – Cocktail Attire
This attire consists of a suit, tie, and dress shoes. Wear the best suit you have and visit the tailor if you must. Ill-fitting cocktail outfit is a big no-no. It's either you wear one or don't attend at all.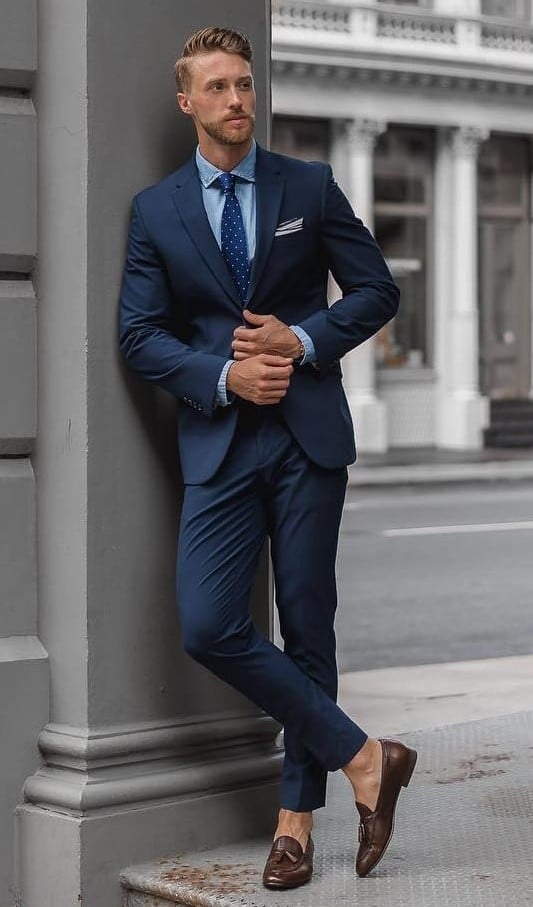 24 – College Semi-Formal
Wear your blue suit to school. Remember to only wear it during slightly formal events like class presentations and winter semi-formal. No need to be too formal – ditch the tie and just wear a crisp white shirt underneath the coat. Belt is optional as well.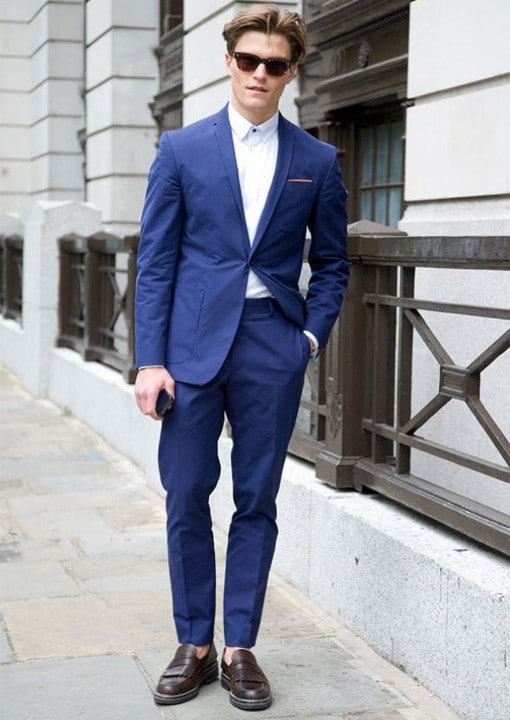 via
23 – For Mature Men
Older men look better in pinstripes than any other suit design. Navy and darker shades of blue are ideal for a man of this age. You have the leeway to add color pop through ties and pocketsquares.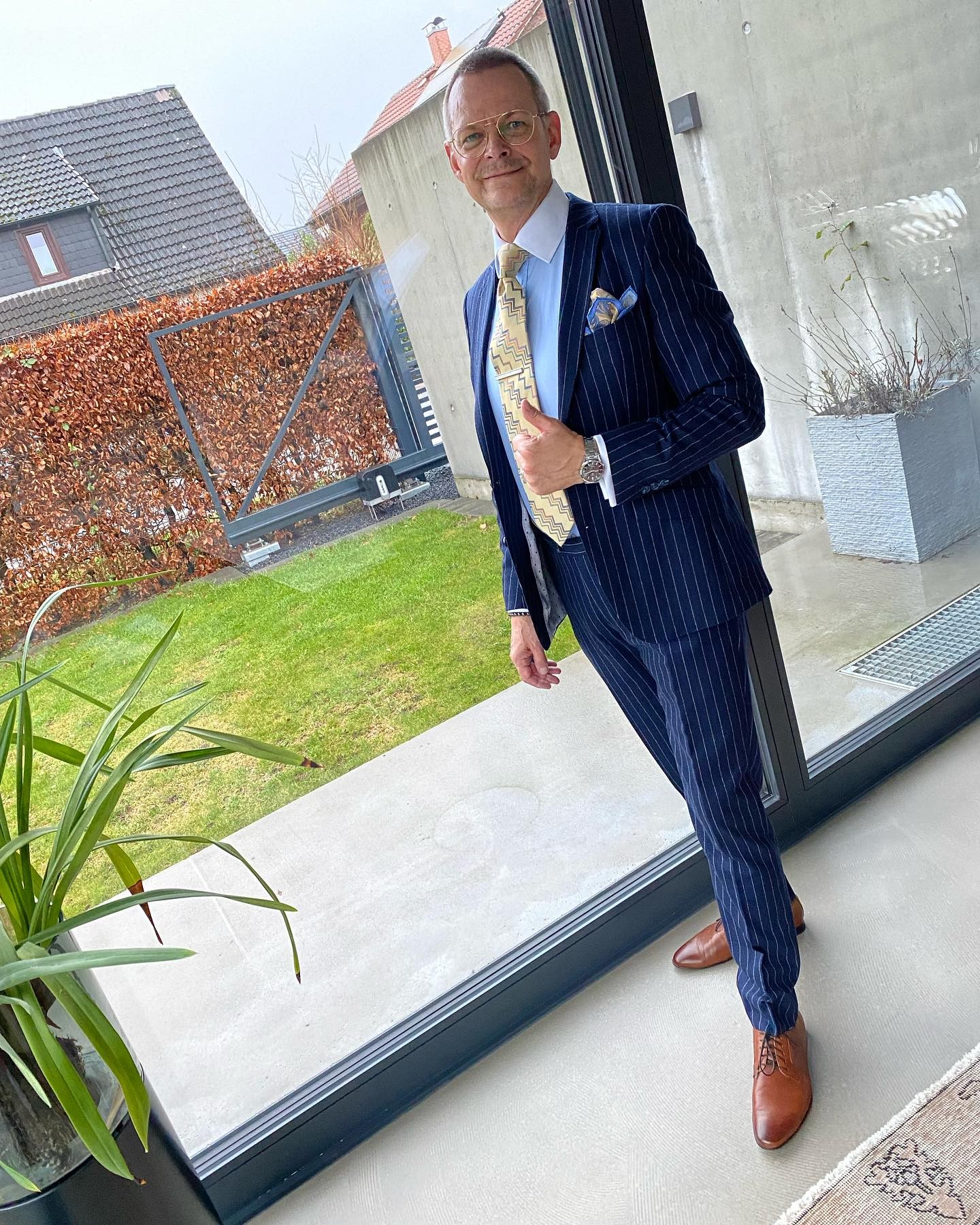 22 – Wedding Suit
Opt for a tuxedo or three-piece suit. Ties are optional, but make sure to accessorize with a corsage or boutonniere. Steer clear of poor quality fabrics, unnecessary jewelry, and sneakers. Brown brogues or Oxfords are your best bet for footwear here.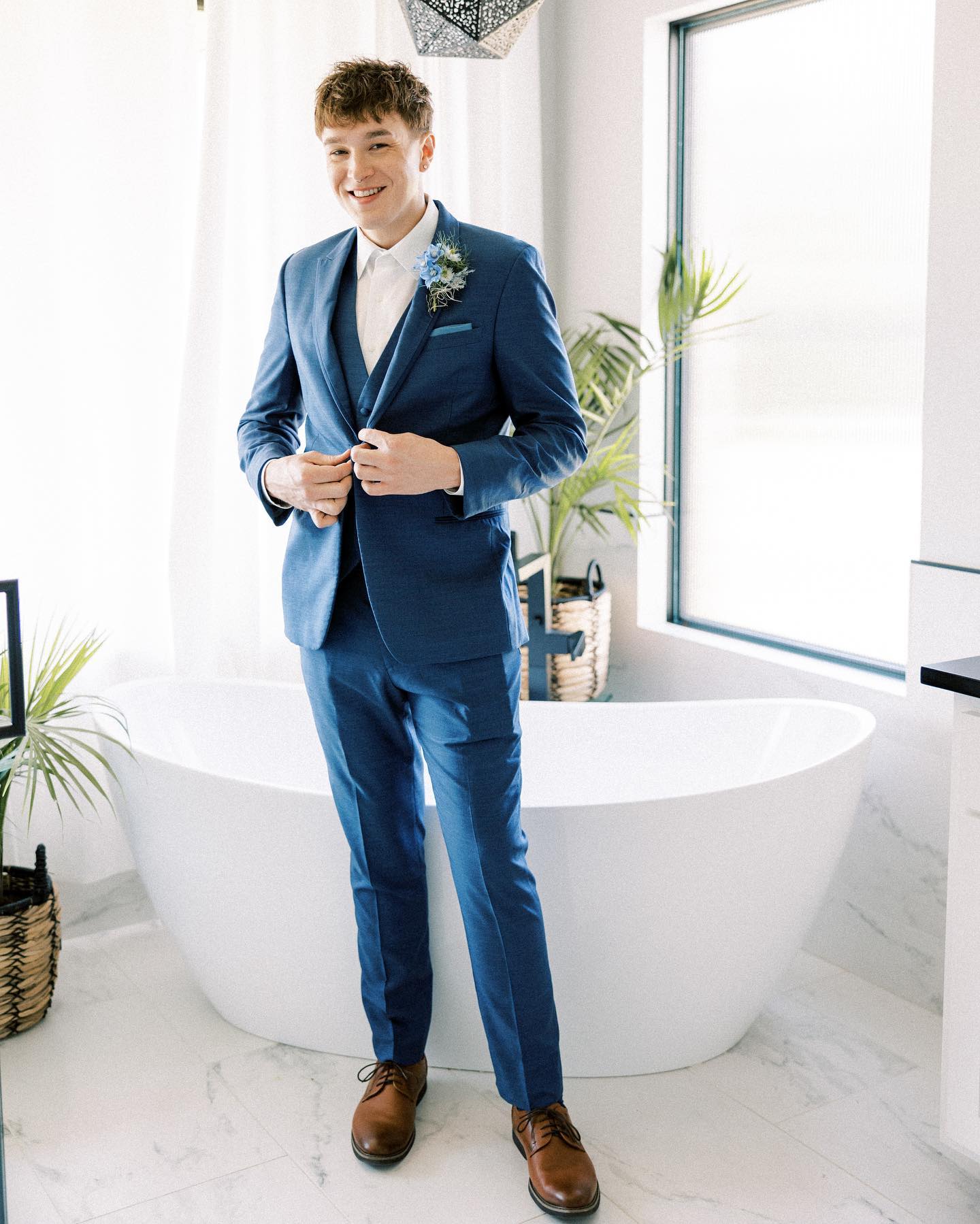 21 – Dressed Down
Consider pairing your blue blazer with dark blue jeans. You can even wear a blue shirt as an undershirt for this ensemble. But let's be strict with the shoes – they should be brown and anything but casual.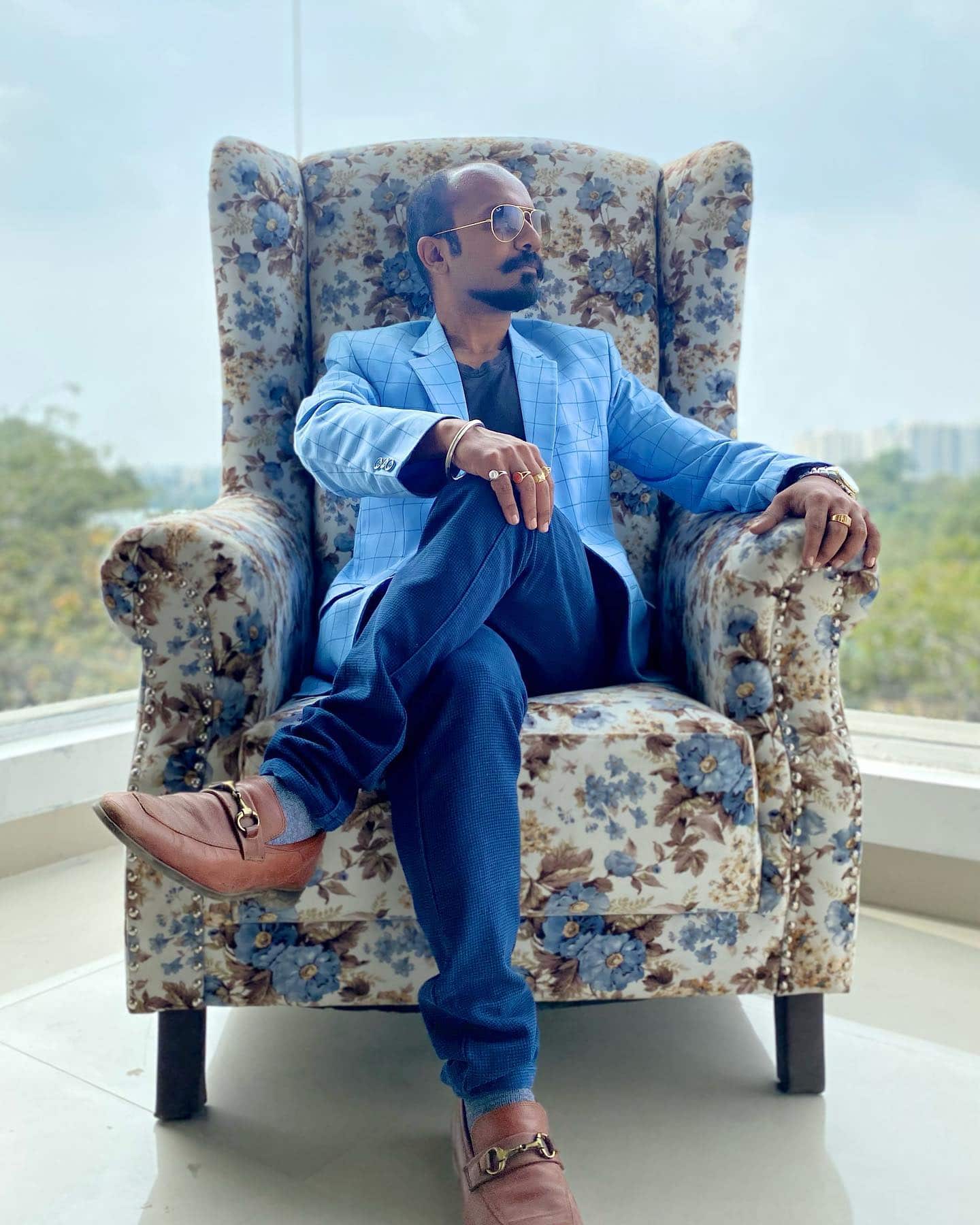 20 – Wedding Guest Style
When you are a guest at a wedding one thing you have to take care of most is to not dress like the groom. So, to avoid such a situation wearing a blue suit instead of the traditional black one is an excellent idea. You can wear a pink shirt with a blue suit, especially if the wedding is in daytime. The typical white shirt would also work. For morning time, avoid a black shirt with your blue suit as that combination would be too dark, and you could end up looking absurd. RECOMMENDED: Semi Formal Wedding Attire For Men-20 Best Semi Formal Outfits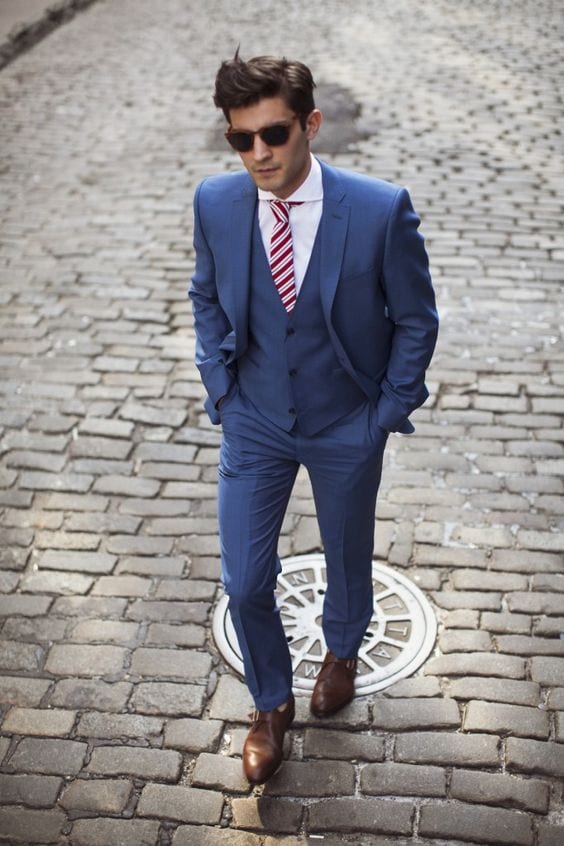 19 – For Grooms
If it's your own wedding we are talking about, then know that ditching a black suit for a blue one is a bonzer idea. Pair it with a white shirt and brown shoes for a classy look.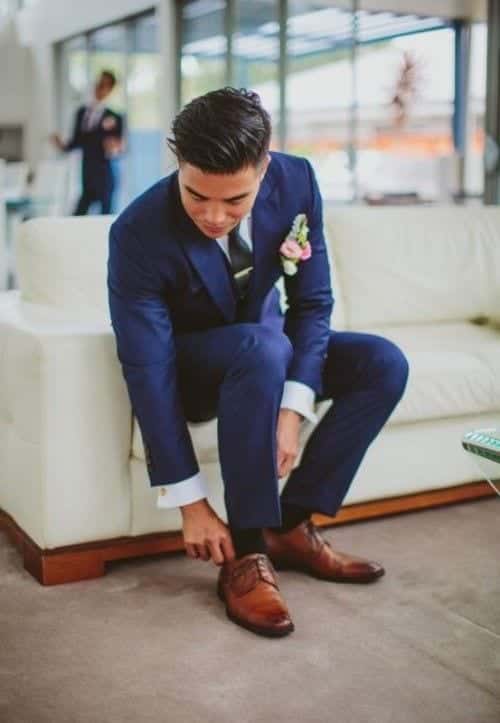 18 – For Work
Decided to wear a blue suit with brown shoes for work? Great thought! Dressed in a black one every day can make you look rigid, so switching to blue will be good. Check out these 30 Amazing Men's Suits Combinations to Get Sharp Look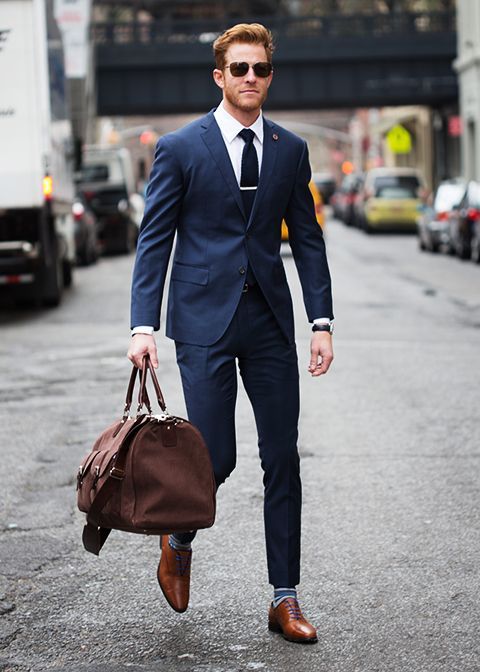 17 – Casual Wear
Wear a blue suit casually, pair it up with a black or gray shirt. It will look very sharp but stylish too. With black avoid wearing anything too shiny like shimmering cufflinks or a too bright watch; otherwise, that might overdo the look.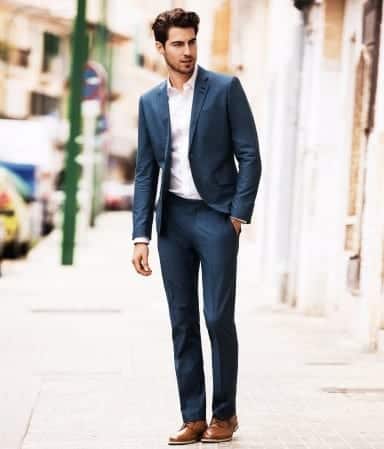 16 – Tie Color
It's not just that a man would pull a blue suit out of his closet and be all ready. Nope. There's always the tough choice of what tie color to wear. Well, fret not, because there are endless tie colors that can suit the suit in the case of blue! From the classy red to the typical black and then right to a bright orange tie on a midsummer's sunny day! Even patterned ties are great choices. RECOMMENDED: Cocktail Outfits for Men; 30 Tips Learnt from Celebrities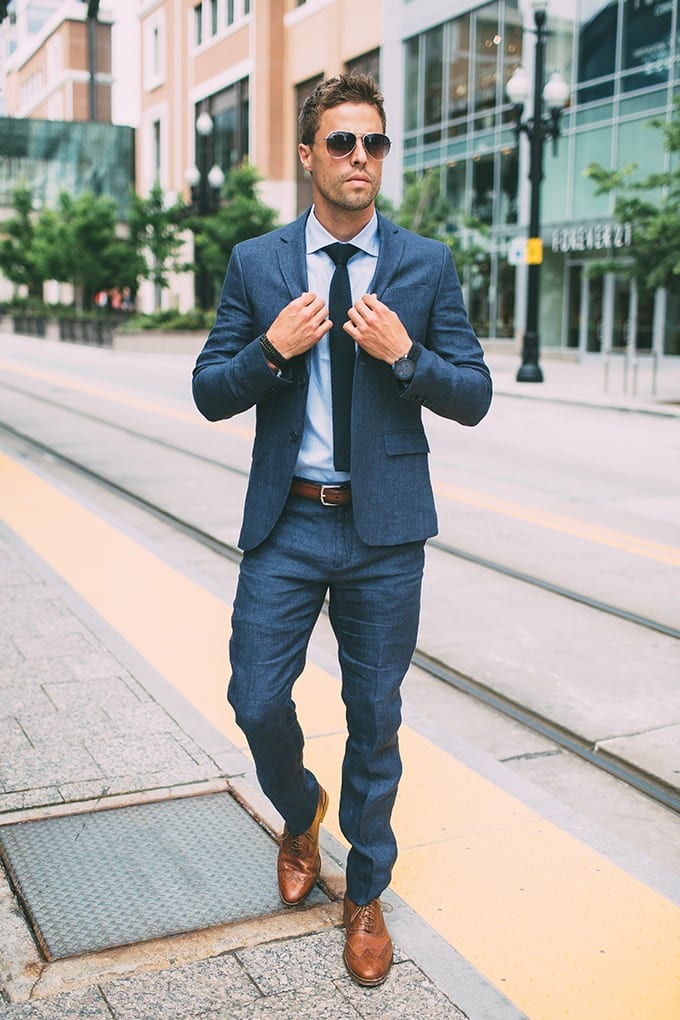 15 – Socks Color to go with Brown Shoes and Blue Suits
Another difficult decision that a man has to make when donning a suit is what color of tie to go for. Well, it's a fashion rule to always match the color of your socks with the color of your slacks. You can also match it with the shade of the shirt instead. But, if you aren't against experimenting and are a style icon who can break the rules, try wearing some color or pattern that's unusual but surprisingly attractive!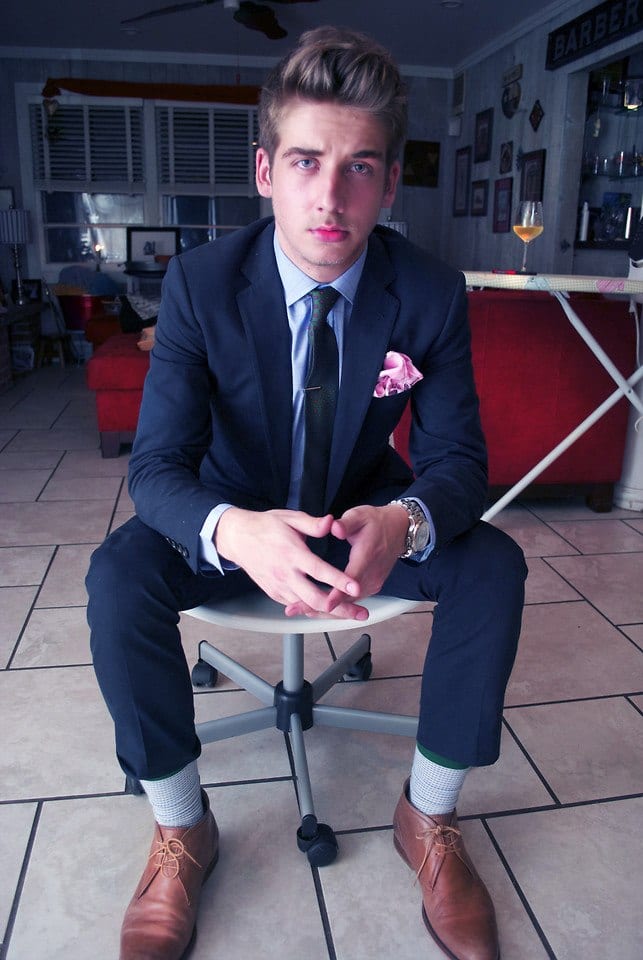 14 – What Belt Color to Wear with Brown Shoes and Blue Suits
Oh, here we have another rule. It's pretty simple, though. The color of your belt should be as close as possible to the color of your shoes. In this case, a brown belt will do. Here are 20 Outfit Ideas to Wear Black Pants with Brown Shoes for Men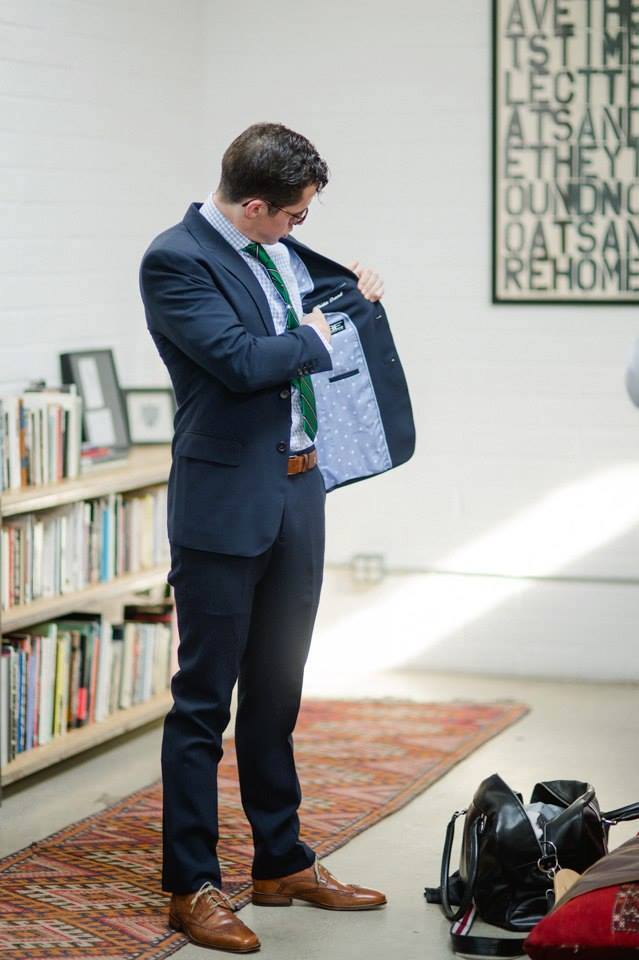 13 – Navy Blue Suit with Brown Shoes
Navy Blue is a classic color that can never go wrong. Pair it with elegant brown shoes that will enhance your style for sure!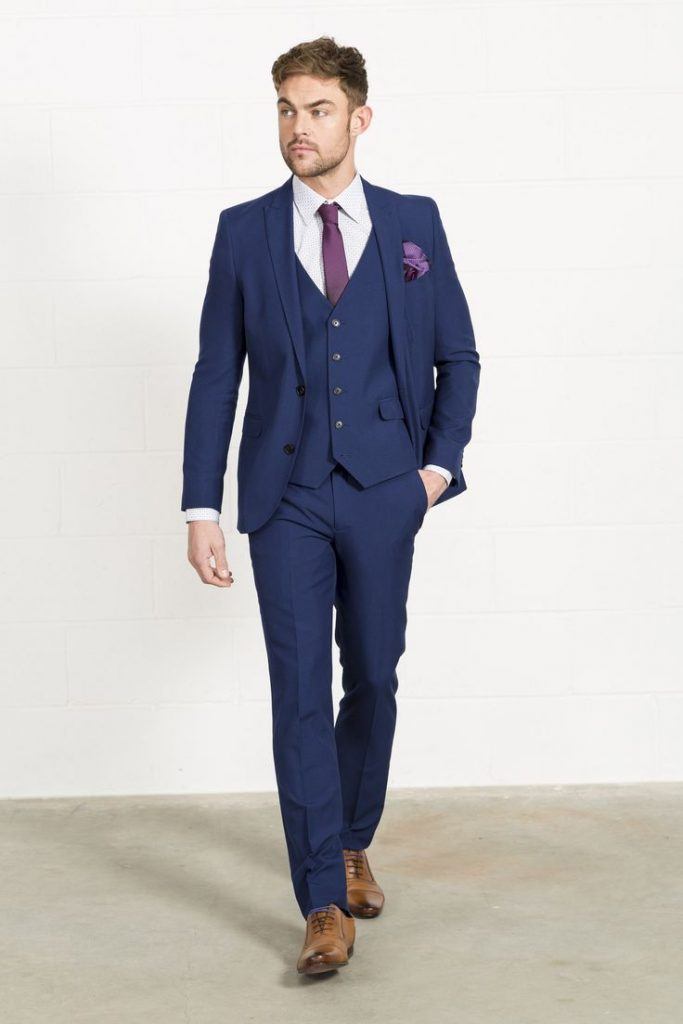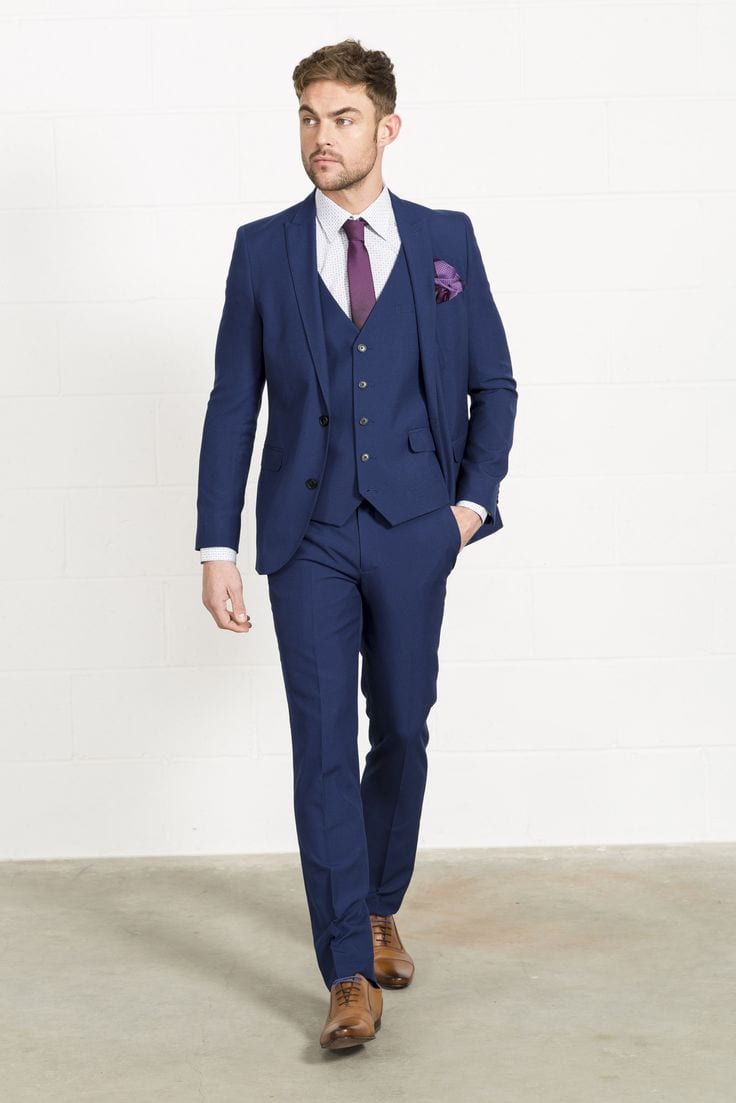 12 – Royal Blue Suit with Brown Shoes
Royal blue suit is another outstanding choice. With brown shoes, it looks all the more stylish. Check out these Men's Workout Outfits; 20 Athletic Gym-wear Ideas for Men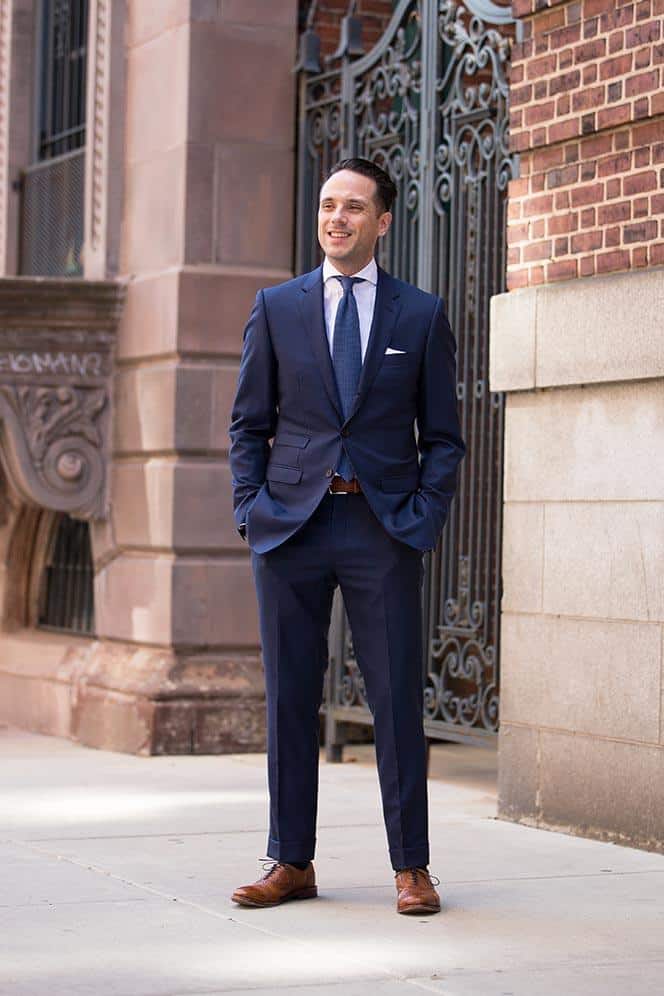 11 – Light Blue Suit with Brown Shoes
If you opt for a light blue suit, jazz up the style with a white or pastel-colored shirt and a pair of brown shoes!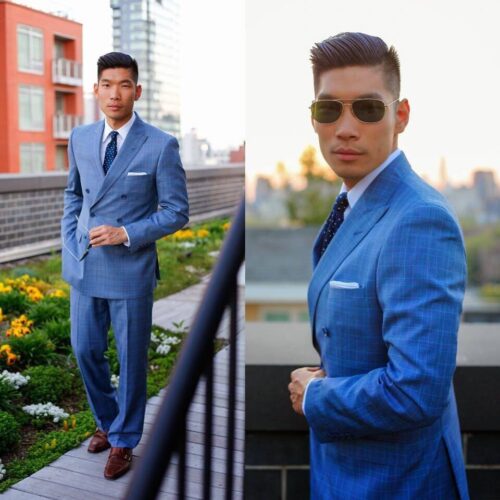 10 – Navy Blue Suit, Shirt and Tie Combinations
The color of the tie that will go best with your navy blue suit depends somewhat also on the color of the shirt. With white, the classic red would go best. With sky blue, maroon would make a style statement. Here's a cool guide for Men Scarves Fashion; 18 Tips How to Wear Scarves for Guys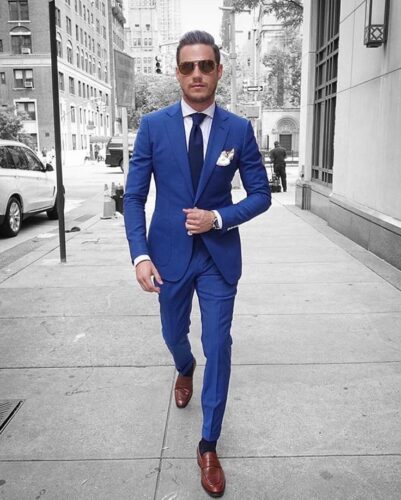 9 – Blue Suit Brown Shoes Combinations for Prom
Prom night and a blue suit make a perfect combination as it is.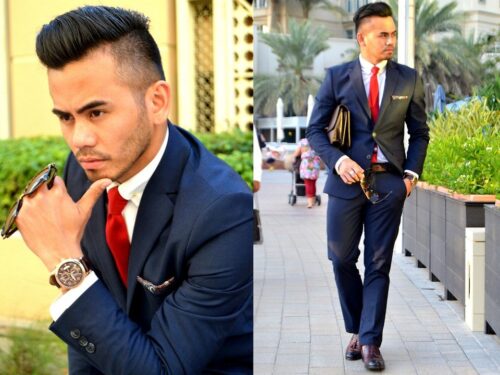 8 – Blue Pinstripe Suit Combinations with Brown Shoes
When wearing a striped suit, don't wear a dark or bright-toned shirt at all. Don't wear a patterned shirt either. The pinstriped suit is already so steezy; you don't have to put in much effort for it. RECOMMENDED: Men Outfits with Vans-20 Fashionable Ways to Wear Vans Shoes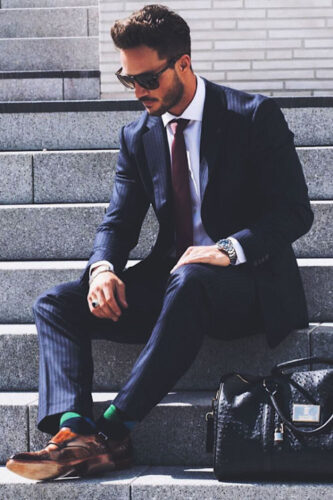 7 – Blue Suit and Brown Shoes with Pink Shirt
Though many men would opt against pink, calling it a girlish color, when worn with a blue suit, it's bound to win hearts. The light shade looks striking with the blue as it perfectly contrasts it.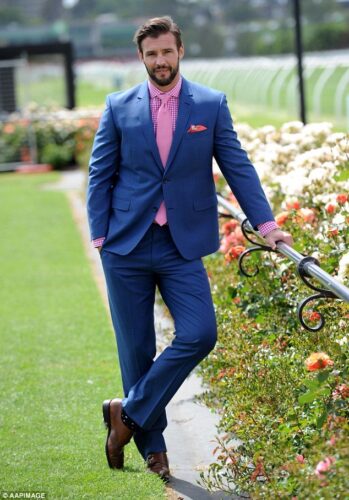 6 – Blue Suit Brown Shoes Red Tie For Work
Red ties are so graceful, they hardly ever go wrong!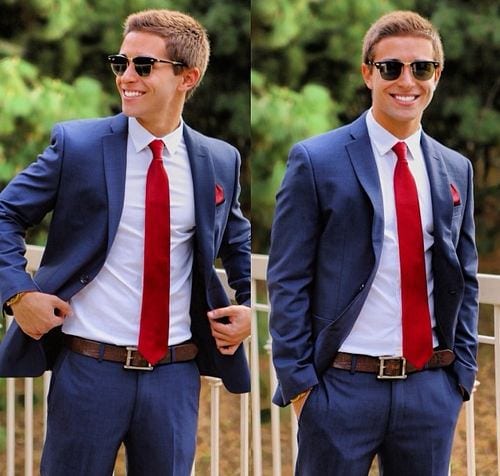 5 – Blue Suit Brown Shoes Bow Tie
Amplify your style with a black bow tie for a change. Or go for a same-colored, patterned one!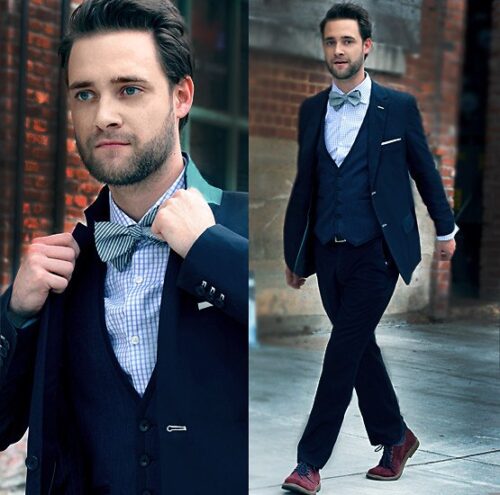 4 – Color Of Shirt With Blue Shoes And Brown Shoes
Light-colored shirts like pink, light blue and white look stunning with blue suits. Grey also looks dapper, but it's a bit too mainstream. Black, if pulled off correctly, isn't a bad choice either. Here are some amazing Clubbing Outfits For Men-19 Ideas on How to Dress for the Club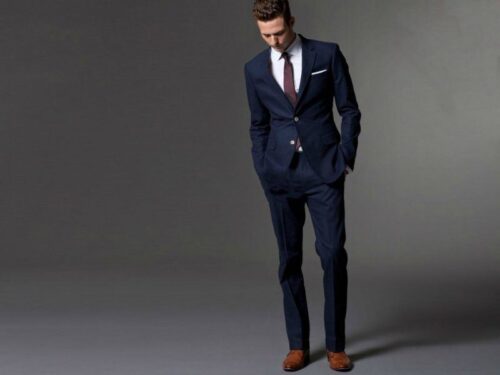 3 – Blue Suit With Brown Shoes And Blue Shirt
The lighter the color of your blue shirt and the darker the shade of your blue suit, the better. Worn with a pair of brown shoes, you are definitely going to turn heads!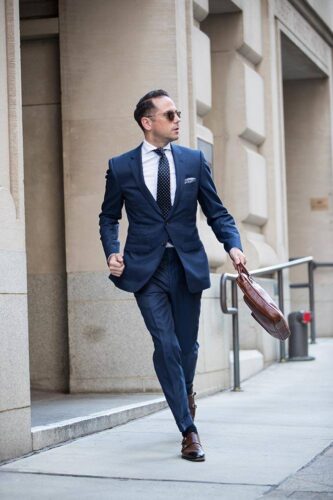 2 – Blue Suit With Light Brown Shoes
Brown has lots of shades and even though dark and deep browns are worn more often, do not underestimate the light brown shoes.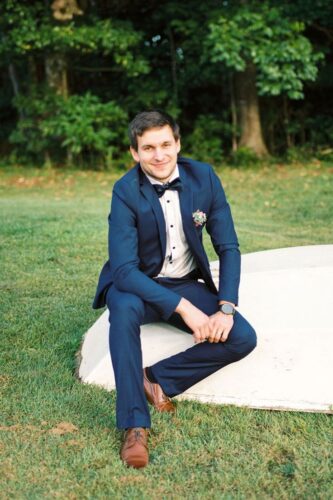 1 – Hugh Jackman Celebrity Style
Wear your blue suit like a star and shine as bright as he does!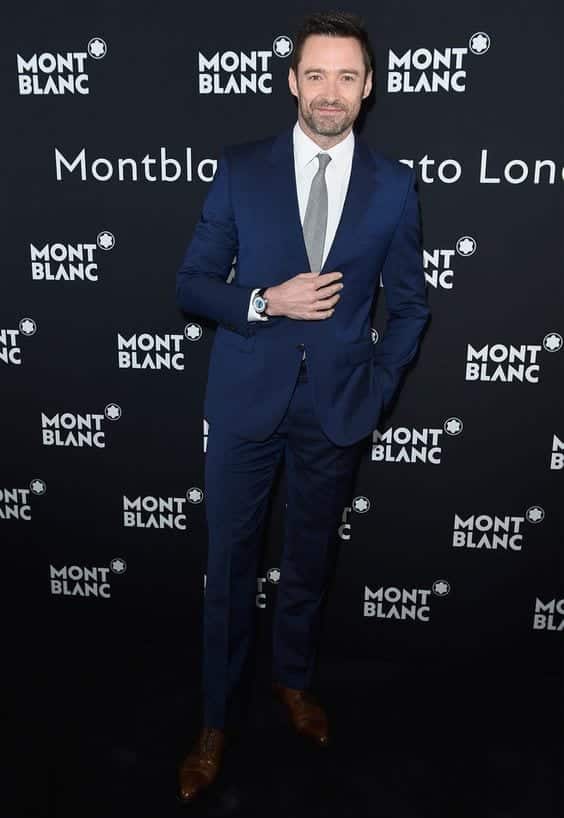 Frequently Asked Questions
Why should I wear a blue suit?
A blue coat, or a suit in general, is a wardrobe staple. That means it's not a one-shot purpose, but you can wear it all year round. It's versatile enough to be paired with many outfit combos. It is a piece worth investing in.
What shoes look good with blue suits?
The rule of thumb is that the darker the suit, the darker the footwear should be. You can either choose between black or brown. Personally, I prefer brown shoes as they are a classic option for blue suits. Brogues, loafers, and Oxfords are the best ones out there. You don't need a brand new pair as your old one will do. Just make sure they're clean and shiny.
What blue suits are the best?
It's not every day you wear a suit, so make the most out of it. Don't mistake a good suit for an expensive one – they are entirely different. If you can find a great suit for a reasonable price, then you're lucky! Cotton and linen fabrics are ideal for summer, while wool and cashmere are for winter.