Men Outfits with Vans. Celebrating its 54th anniversary in 2021, Vans is the iconic brand that has achieved an even higher popularity rate among people of all ages and all races. If you are looking for the trendiest style with the ultimate comfort in footwear, you must opt for the Vans.
Unless you are a rigorous skater or a streetwear addict, you will find it difficult to pick a suitable outfit to carry a fabulous look with your new pair of Vans or your existing favorite Vans collection. Vans shoes are an easy swap for sports trainers. For starters, it's best to get black or white Vans over other colors as they will give you the most outfit options. They go with most of your wardrobe pieces.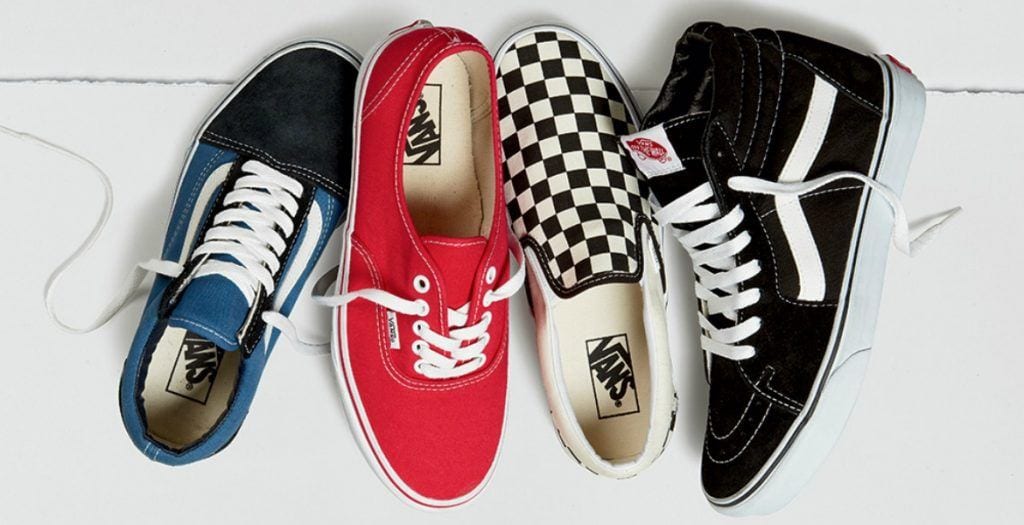 What to Wear with Vans?
With a huge and marvelous variety of Vans shoes related to skate and surf culture as well as to the world of the workplace, sports music, arts, and street fashion, you can find your favorite ones easily and team them up with the best and trendiest outfit to mark your own masculine fashion statement. This outfit selection tips and guide will help you find your best choice to wear with your Vans collection. If you're a shoe lover, then also check out our guide on Men's Outfits with White Shoes-16 Trendy Ways to Wear White Shoe
When buying a new pair of Vans, consider the big three: size, style, and design. Also, the type of Vans sneakers you choose will affect what clothes you should wear, so make your selection carefully to create outstanding outfit combos. Several well-known Vans are:
Vans Era. It is the first Vans low-top lace-up skate shoe with a padded collar for added comfort and support. But you don't have to be a skater to don the style and appreciate the practicality of these shoes. 

Vans Sk8-Hi. It is the most iconic high-top sneaker from Vans. It has previously been rocked by both skater and punk subcultures. Its unique and padded style isn't easy to dress up, so it's best to stick to casual outfits. Aim for a relaxed outfit with an urban street vibe.

Vans Authentic. 

It is traditionally made with a canvas upper. Keep your look minimalistic with a neutral design or spice things up with a bolder color or pattern. However, the rest of your outfit should be clean and sleek if you decided to go for a neutral style.

Vans Slip-Ons. They are classic pieces from the late 70s and 80s. They are commonly spotted in hip hop, skating, graffiti, and BMX cultures. They are ideal for casual gigs and can also work for formal settings.

Vans Low-Tops. They can suit both casual or smart-casual ensembles and are perfect for a relaxed weekend look. Rock a classic pair of black low-tops with some skinny jeans, a T-shirt, and a denim jacket.

Mid-tops. If you usually wear sneakers with jeans and a T-shirt, try adding accessories or a denim overshirt when rocking your Mid-Tops.
Vans Sandals. They are a great footwear choice for summer casual style. They will add an athleisure edge into any casual outfit, and these sandals are perfect for a great beach look with board shorts, a T-shirt, and a cap.
Can't wait to hit the street in your new Vans shoes? First things first – you need to break them in. You might be surprised that you would need a hairdryer. For more details, check these tips from the official manufacturing company.
↓ 33 – Smart Casual Vans
Vans are casual shoes, but you can do some experimentation and wear them for a smarter outfit that is perfect for date nights.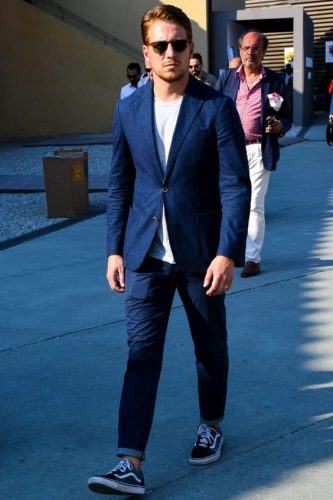 ↓ 32 – Checkerboard Vans
Checkerboard Vans are great for streetwear-inspired looks. But because of their unique pattern, you might feel unusual to pair them with your outfits, but would checkerboards make an instant fashion statement if styled right. Do not wear these shoes with black or white pants. Instead, go for blue, mustard, or military green.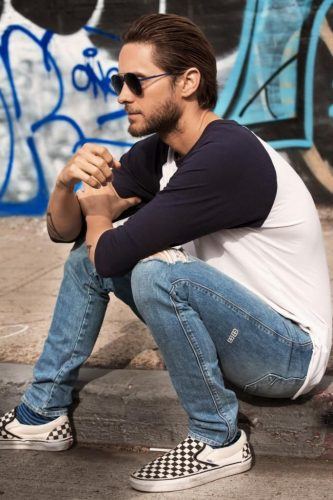 ↓ 31 – Blue Vans
Blue Vans are harder to style than any other colors as they won't go well with as many items in your wardrobe. For winter, wear your blue Vans with black denim or with a blue suit. For summer, wear them with beige, khaki, or white chinos and polo shirts. For more ideas, check out these Men's Polo Shirt Outfits.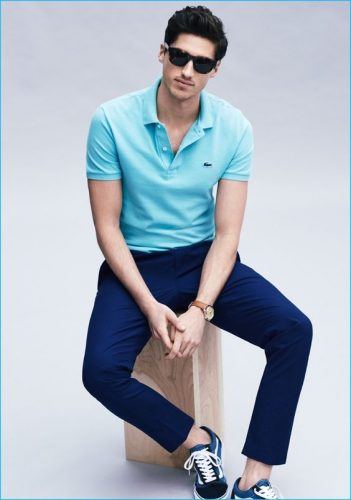 ↓ 30 – How To Wear High-top Vans With Shorts
The canvas construction of most Vans shoes makes them a great footwear option for summer. Vans high-top sneakers suit casual outfits best, say thanks to their chunky and polished appearance.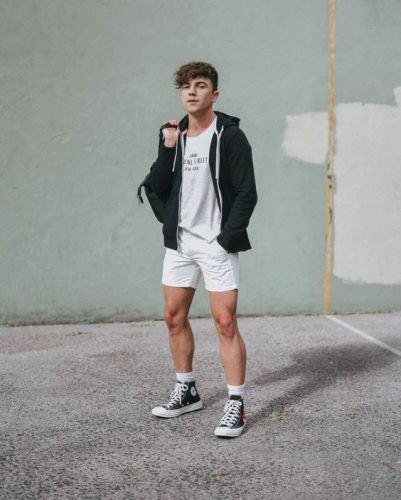 ↓ 29 – All-black Vans Outfit For Men
Black Vans go with most other colors, but they work best with light blue denims, greys, and black chinos.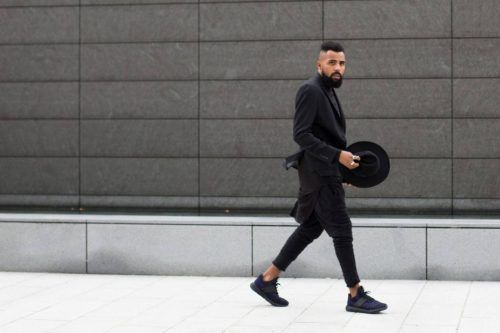 ↓ 28 – Black Vans Outfit For Guys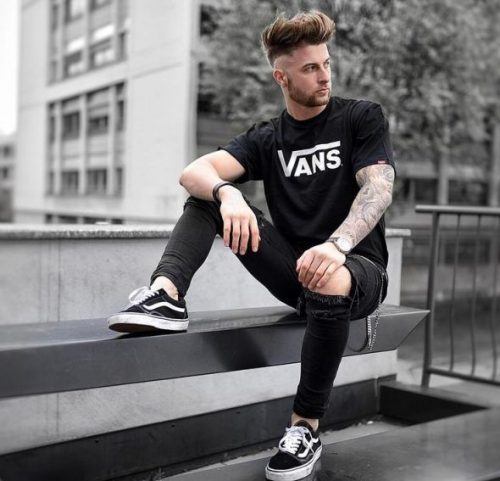 ↓ 27 – Outfits With Jeans And Vans
The easiest way to style Vans is by wearing them with your everyday jeans. Go for ripped jeans to add some flavor.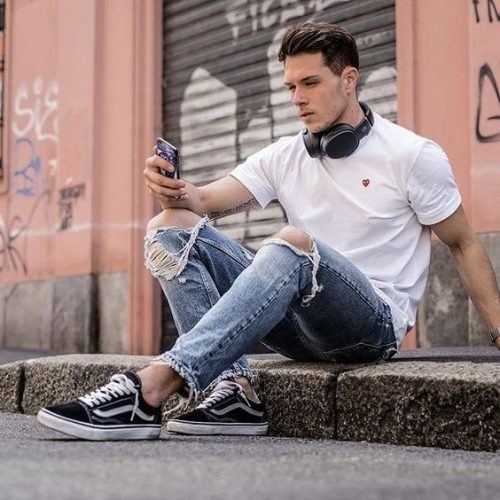 ↓ 26 – White Vans Outfit For Men
White Vans are great to wear with pastel and neutral colors. They look good with both jeans and chinos. Opt for leather over canvas if you want a quicker clean. White Vans are particularly hard to clean as they show mud and discoloration more easily. And Vans are even more difficult because the uppers are made from cotton canvas, which traps dirt. Baking soda, magic erasers, and whatnot… Return your pair of Vans to their former glory with these cheap and easy ways.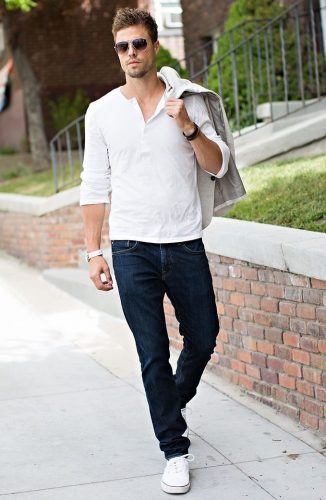 ↓ 25 – Fall Outfit With Vans Shoes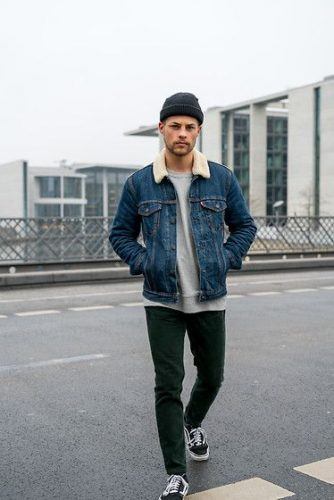 ↓ 24 – Date Outfit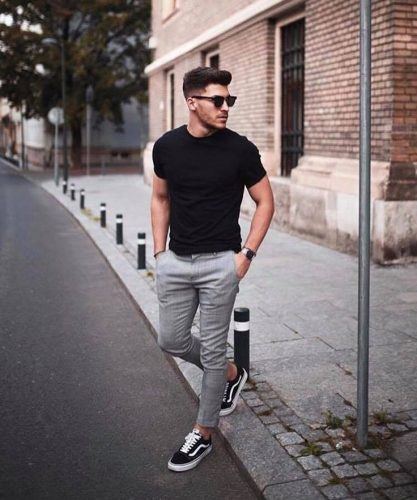 ↓ 23 – How to Wear Vans with Skinny Jeans
The hottest trend of men's wear in the fashion industry for a long time now is the skinny jeans of several shades. This kind of jeans looks particularly good with Old Skool Vans, but you can carry this amazingly handsome look with almost any kind of Vans. It's probably the best versatile look that you can carry either you are planning for a night out or going casual in the workplace.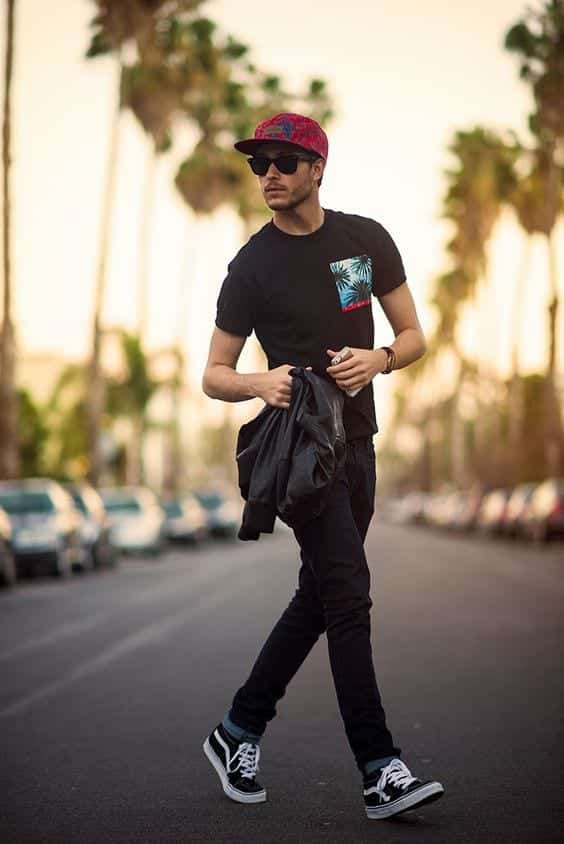 ↓ 22 -Men's Outfit with Old Skool Vans
Vans Old Skool has an iconic retro aesthetic, and you can usually see them in suede or leather pieces. The skinny jeans and Old Skool Vans do complement each other better than any other outfit. The Old Skool is definitely the most iconic and classic product by the Vans brand, which goes perfectly well with almost every kind of outfit on any occasion.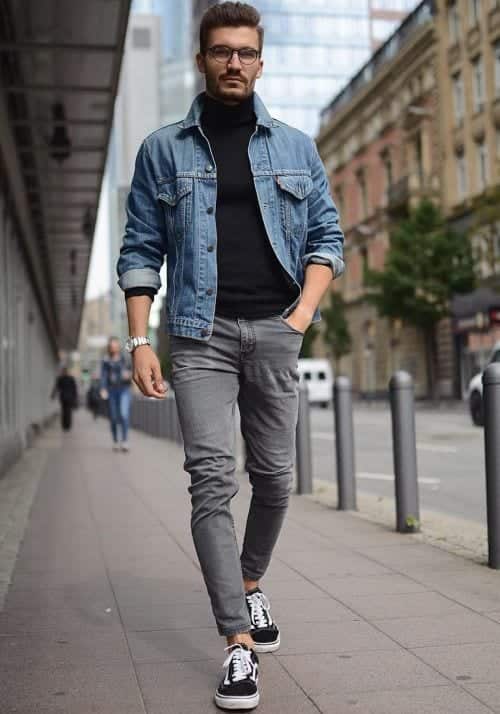 ↓21 – How to Wear High-Top Vans
High Top Vans are made to stand out if you wear them with casual to smarter outfit styles. It's the most classical piece of shoes that comfortably get along with the high fashion and the street style.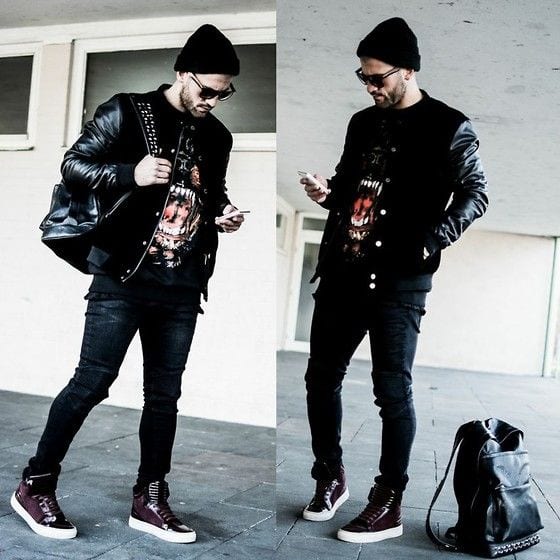 via
↓ 20 – Celebrity Style Vans Outfit
A pair of spotless white Vans deliberately elevate outfit styles, and you might find many celebrities roaming in special events or red carpets and magnetizing all the attention towards them.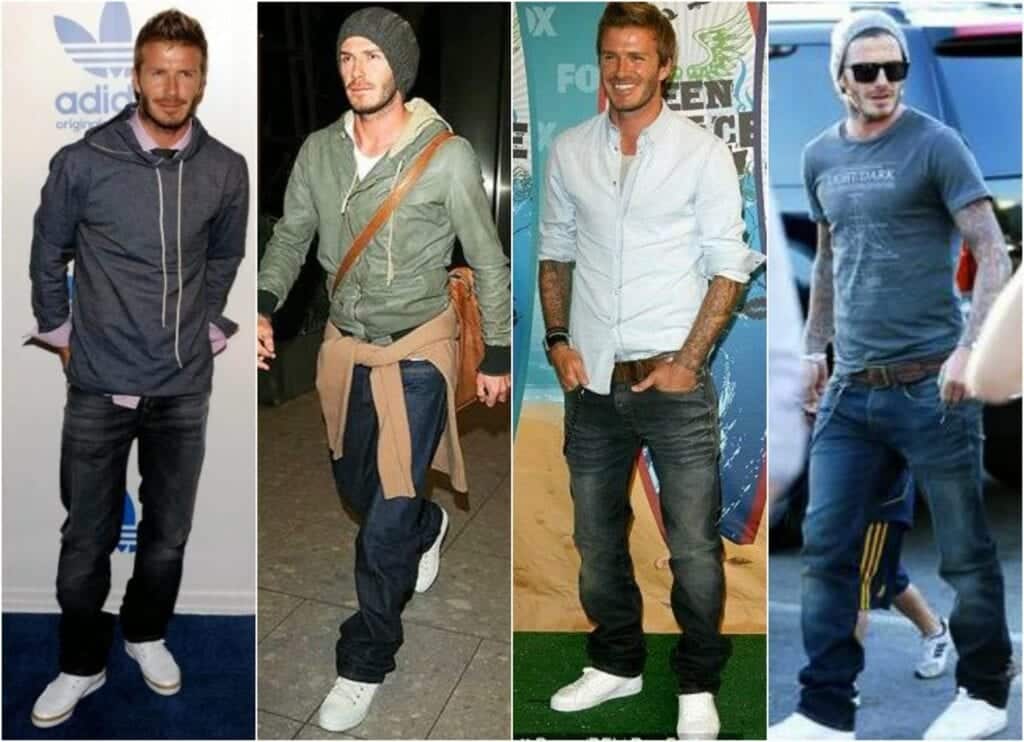 via
↓ 19 – Wearing Vans with Shorts
On the hot summer days, whether you are going out for a workout, sports activity, or just to enjoy some leisure time, a pair of Old Skool Vans with light blue shorts and a striped half-sleeved shirt. The best thing is that to avoid the excess heat of the weather. You can even opt to wear Vans without socks. Although the sky is the limit to colors and patterns, you must remember to keep a clean, crisp, and lighter shade of shorts and shirts teamed up with Vans' lighter tone to get the desired look.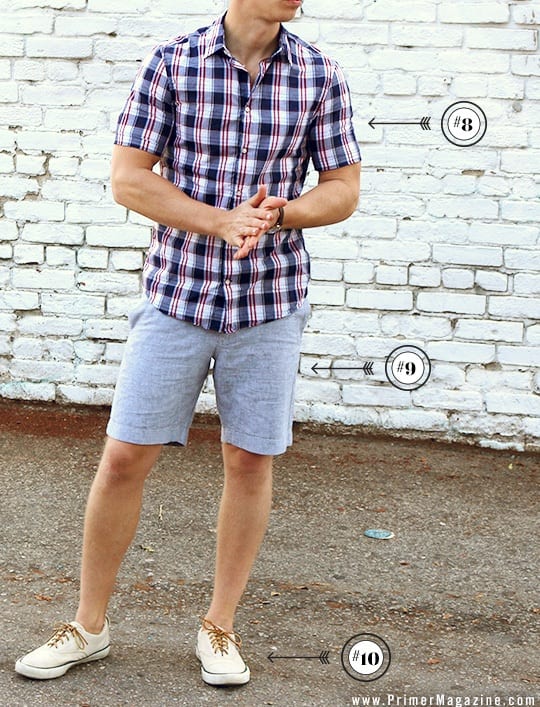 ↓18 – Wearing Vans with Socks
To wear socks or not with the Vans? A question arises in many minds, but it all depends on personal choice and weather conditions. You can go for the pattern and vibrant socks with the plain outfit or simple socks and vans with a floral patterned shirt and deep blue jeans.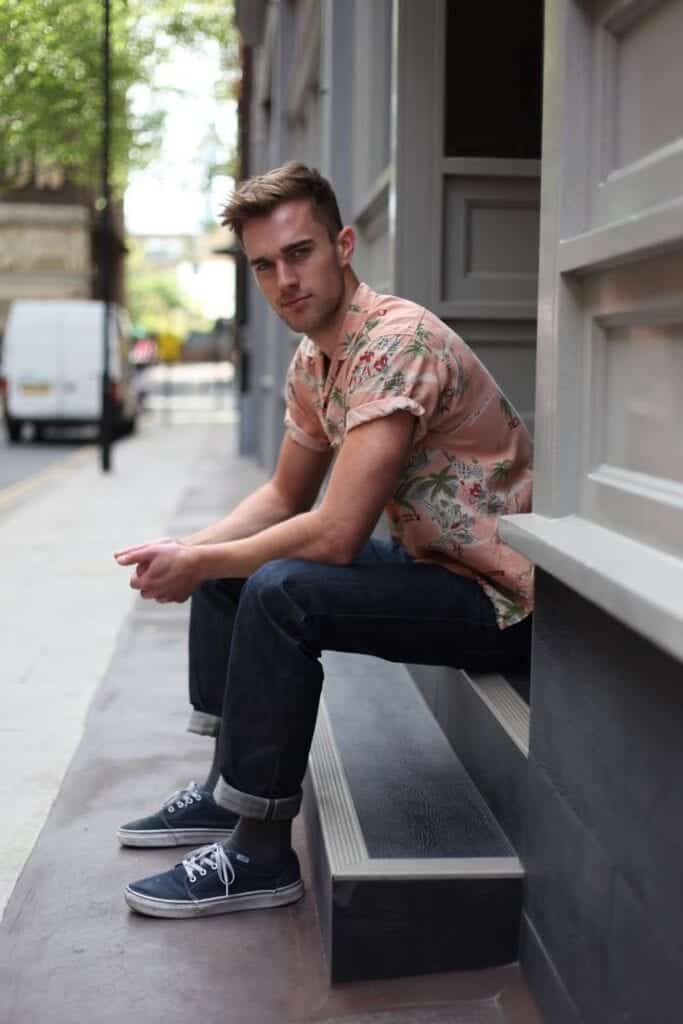 ↓ 17 – Vans Without Socks
The best part of going out in Vans is that you can wear them without socks and let the fresh air pass through them, making you super comfortable in the sweating heat of summer. The Vans are so stretchy and comfy that they can be worn without typical socks. You should wear them with full pants and an overall plain and simple look. However, too tight shoes without socks can give you blisters, so make sure that your shoes are rightly fitted if you want to wear them without socks. Here's our complete Sockless Guide for Men.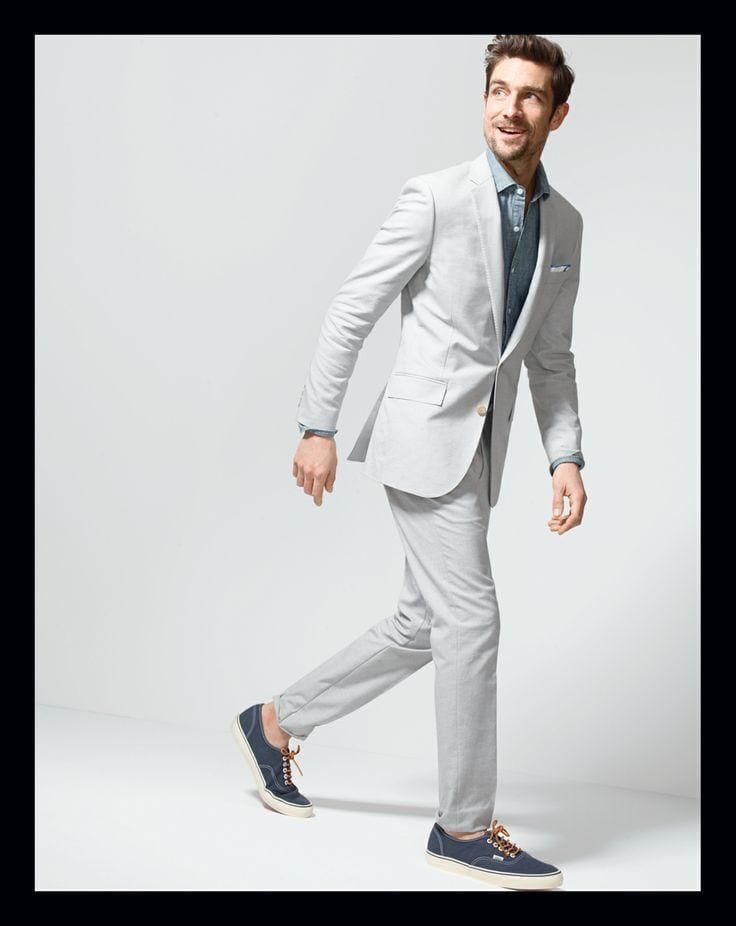 ↓ 16 – What to Wear with Red Vans
Make your own style statement by wearing red Vans with your casual outfits. Red is an iconic color, and it looks ideal for a large variety of outfits. The best option in this matter is khaki pants and a brightly patterned shirt. However, a pair of blue jeans with white or pastel Tees would also look amazing with red Vans.
They would also look dapper with blue denims and grey shades, giving an instant color boost to elevate your ensemble. To avoid too much contrast, prefer maroon Vans over lighter shades if you're planning on pairing them up with black denim.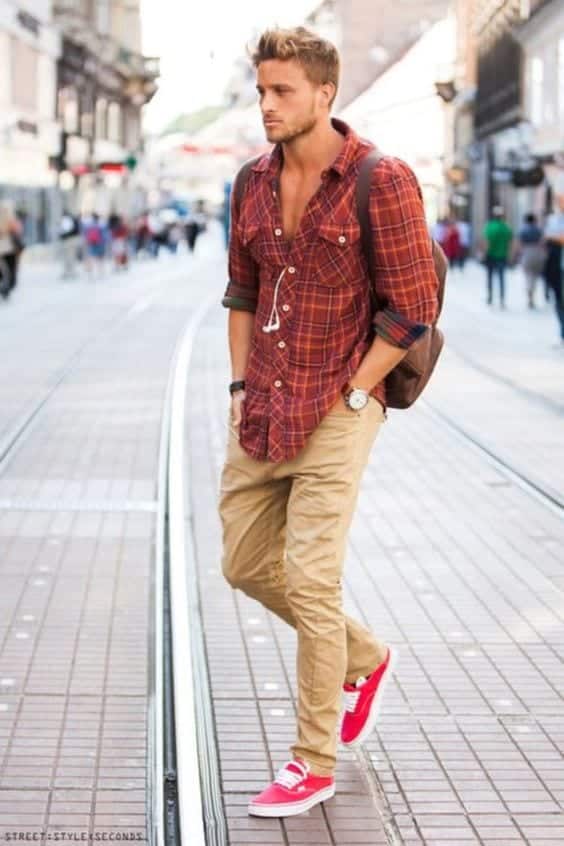 ↓15- What to Wear with Vans Without Socks
The Vans has the capability to give you a trendy as well as youthful look without much effort. The socks or no socks! You can still achieve that classy and dignified look with simple yet sophisticated clothes, particularly following the dress code and well-styled hair.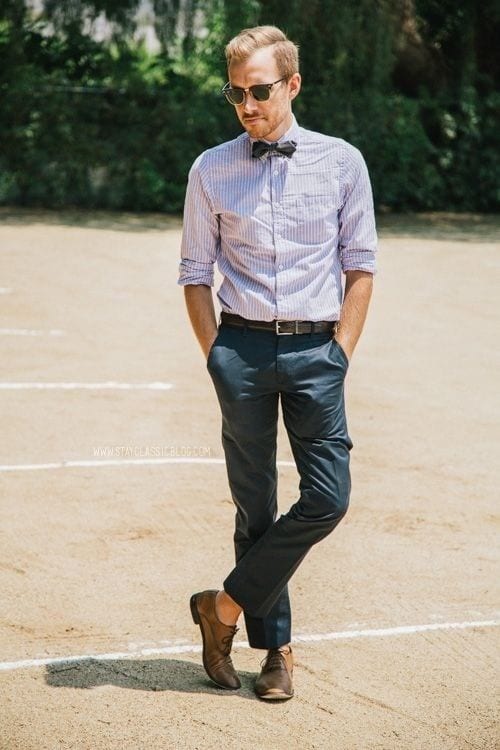 ↓ 14 – The Right Way to Lace Your Vans
There are many ways to lace the Vans, including the basic style of the lacing, cross- lace, and bar-style of lacing. You can choose the style that suits you the best.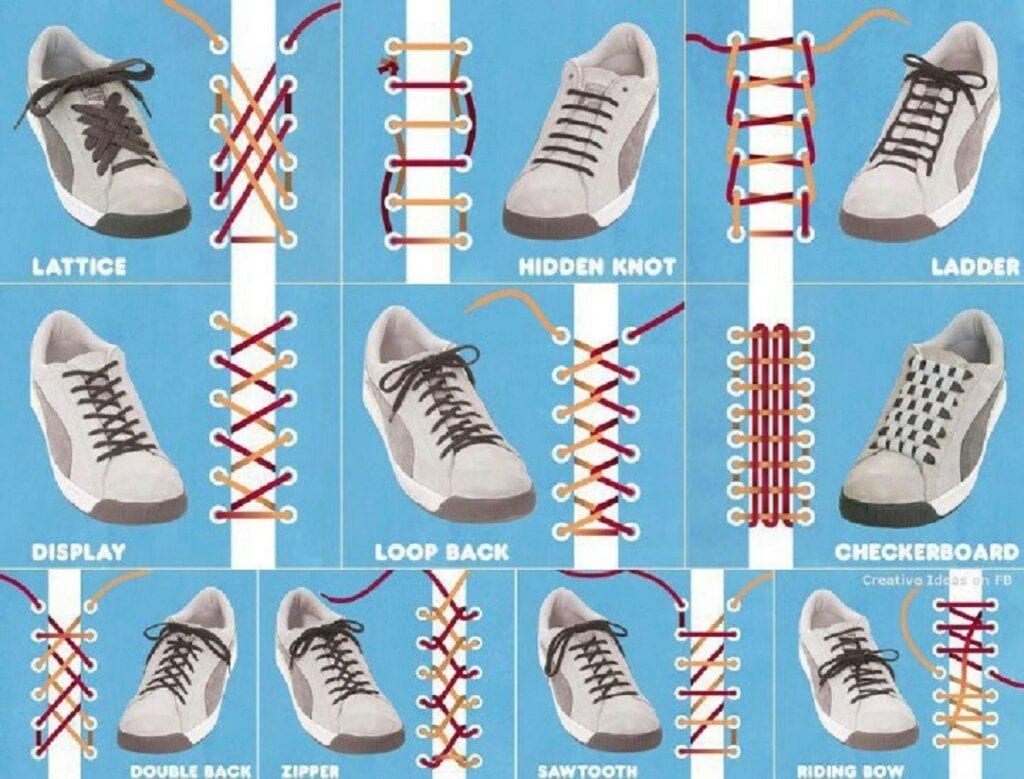 ↓13- Teenage Guys Outfits with Vans
Vans is perhaps the most popular shoe brand for teenage guys and girls because of its extreme comfort and various designs. The teenage guys can maintain the edgy look and flaunt their style by wearing vibrant colored shirts with the regular Denim jeans of their choice teamed up with Vans' funkiest colors. Here are some cool ideas about Mustache for Teenagers–18 Cool Mustaches Styles for Teens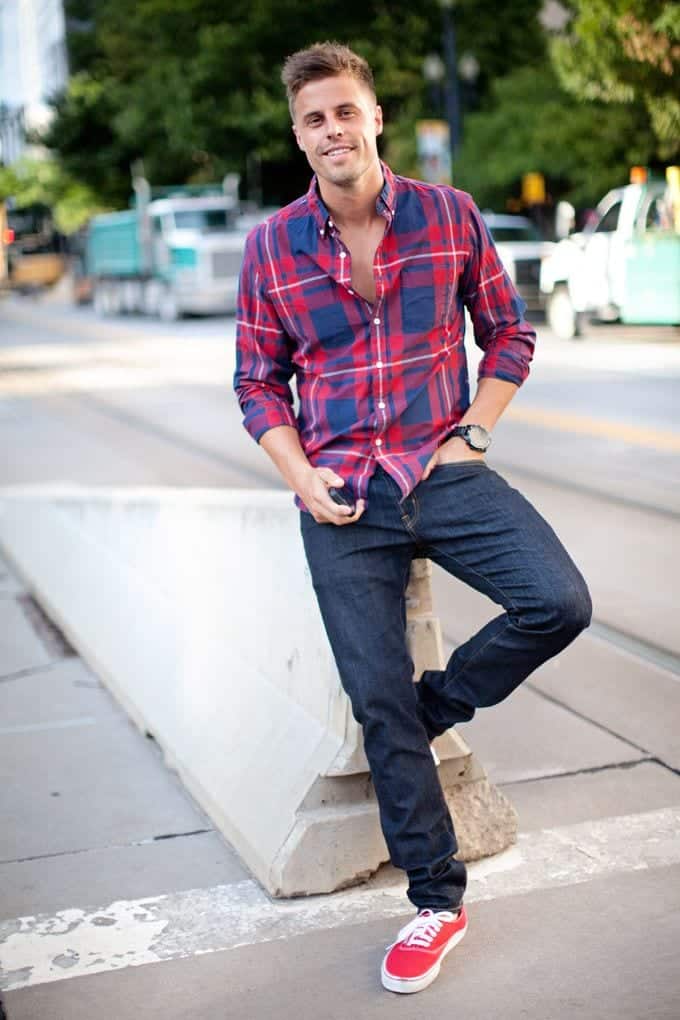 via
↓12- What to Wear with Slip-On Vans
Something as simple and classy as teaming up polo with the loose-fit trouser goes perfectly fine with Vans slip-on while planning for a day out. Since there are no tongue or laces to add thickness to the upper, that makes them a perfect match for narrow trousers, jeans, and shorts. Just don't mix them with loud pants and tops.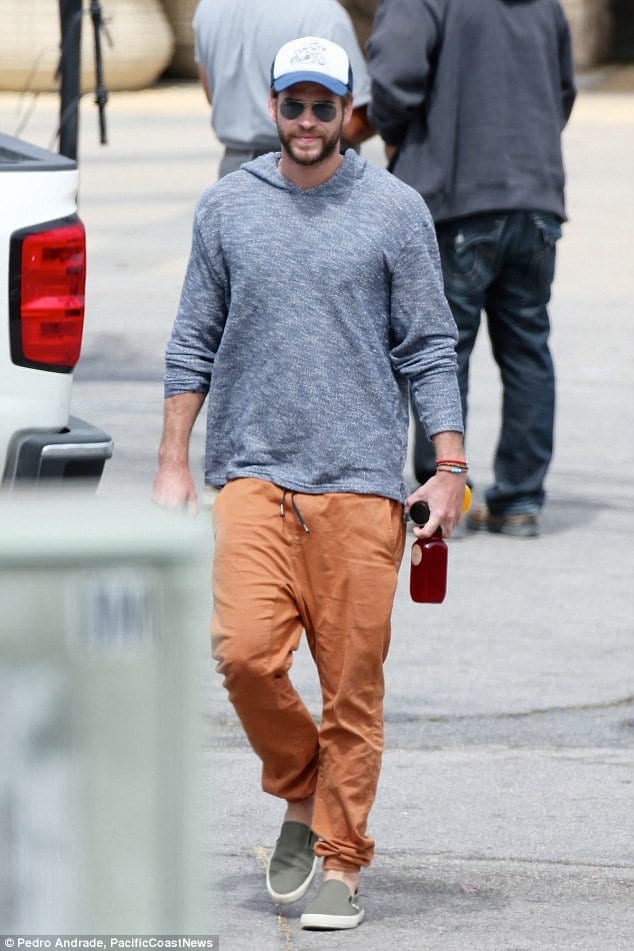 ↓11- Casual Look with Vans
You can achieve the most handsome and fresh casual looks by wearing khaki joggers, a striped sweater, and white Vans. The flawless white Vans are mostly the choice of perfectionists and celebrities, and they look fabulous if paired up with skinny jeans.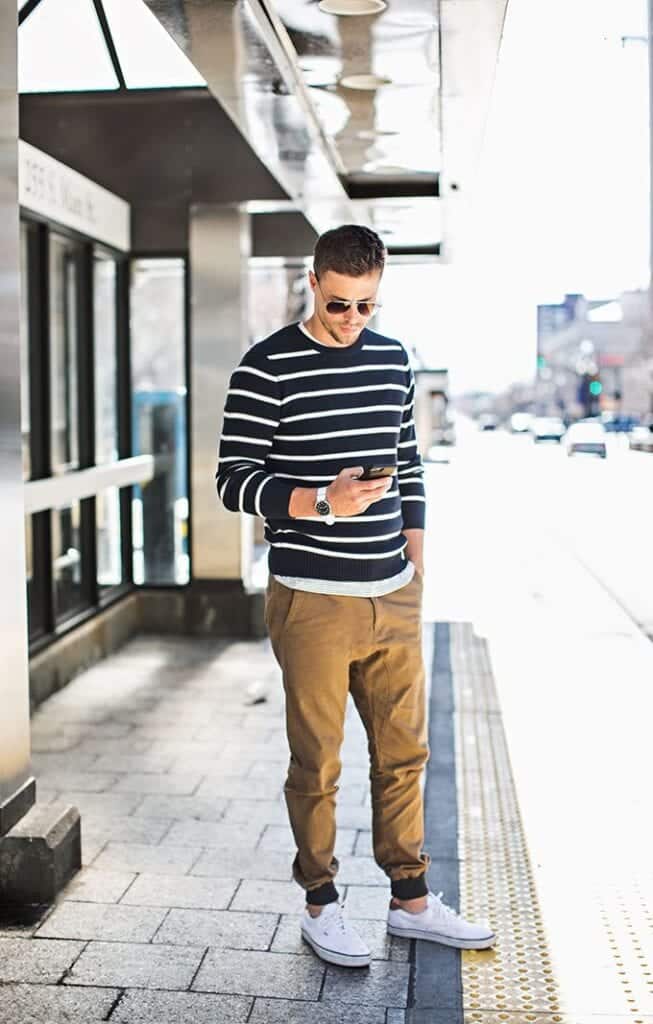 ↓ 10 – Formal Look with Vans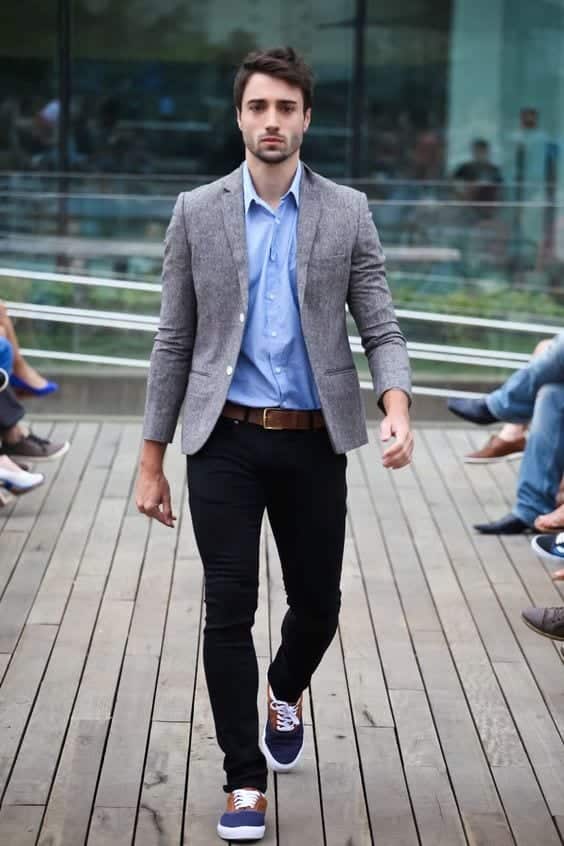 ↓9- How to Wear Vans to Work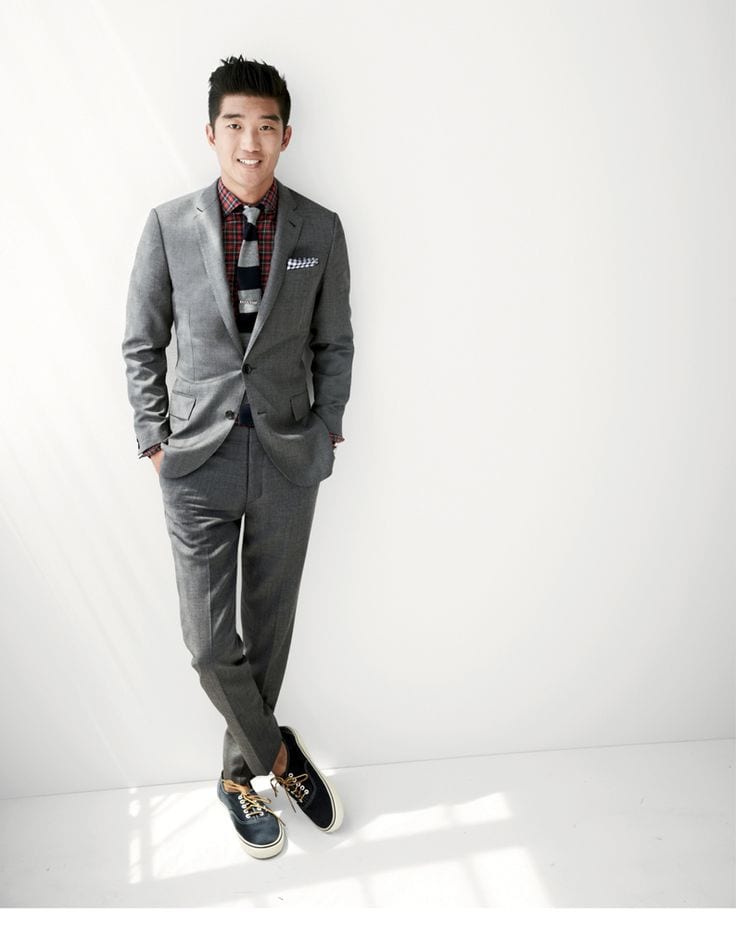 ↓ 8- Outfit with Vans for Older Gentlemen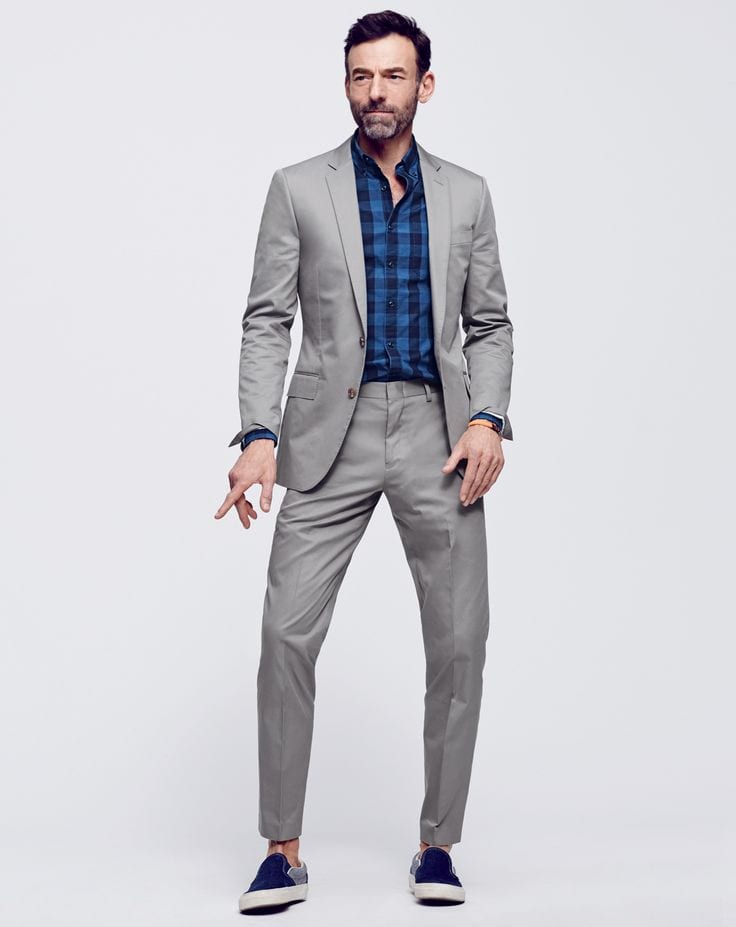 ↓ 7- Gym Wear with Vans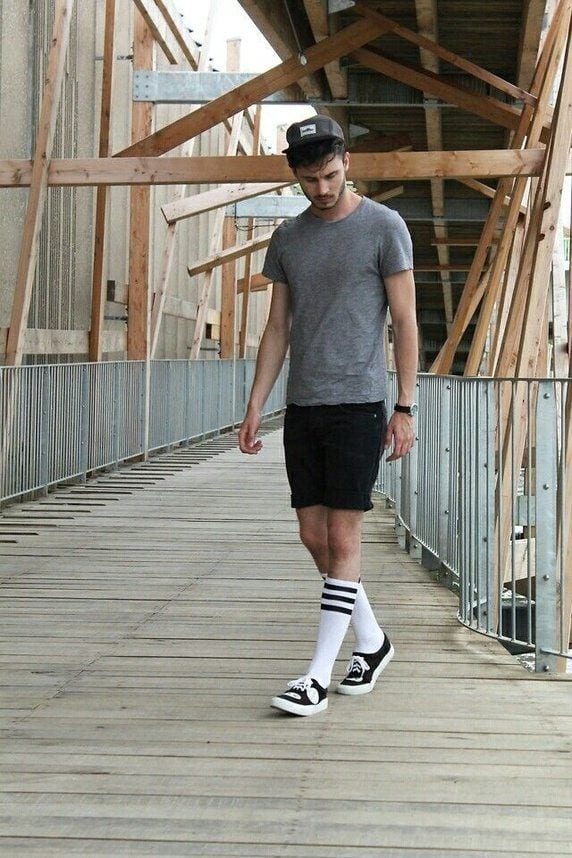 ↓ 6- Black Men's Outfit with Vans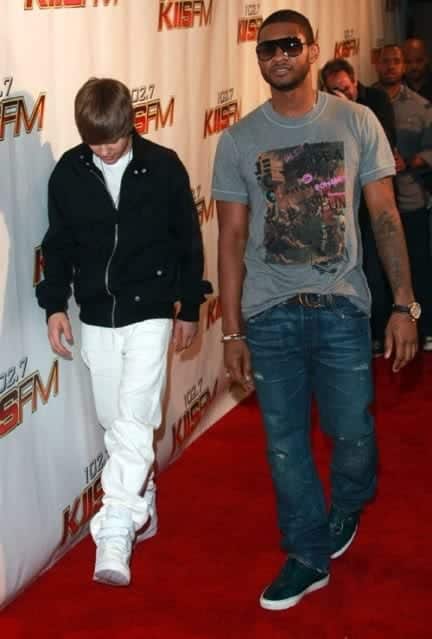 ↓ 5- Grey Jeans with Vans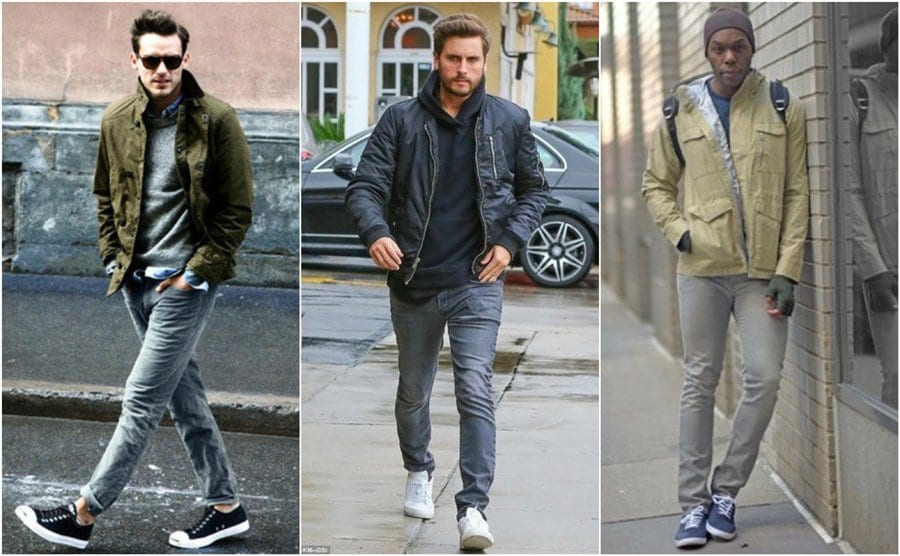 ↓ 4- Cool Looks in Vans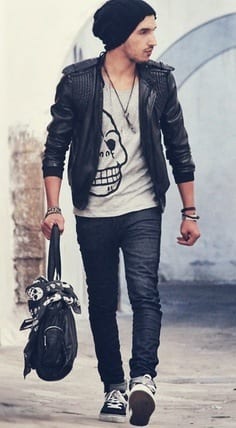 ↓ 3 – Cool Basics with Vans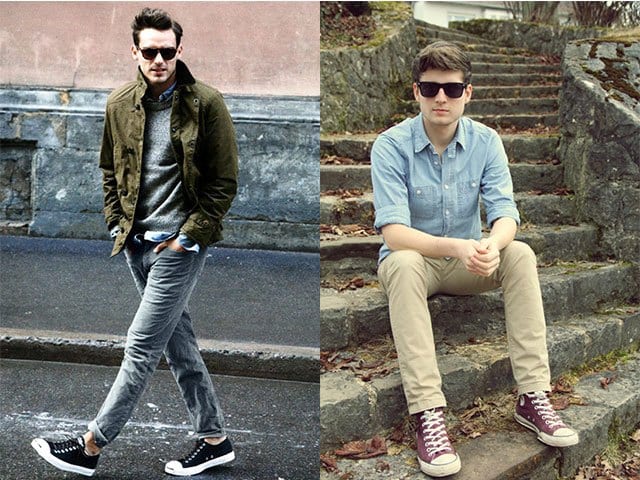 ↓ 2 – What to wear with White Vans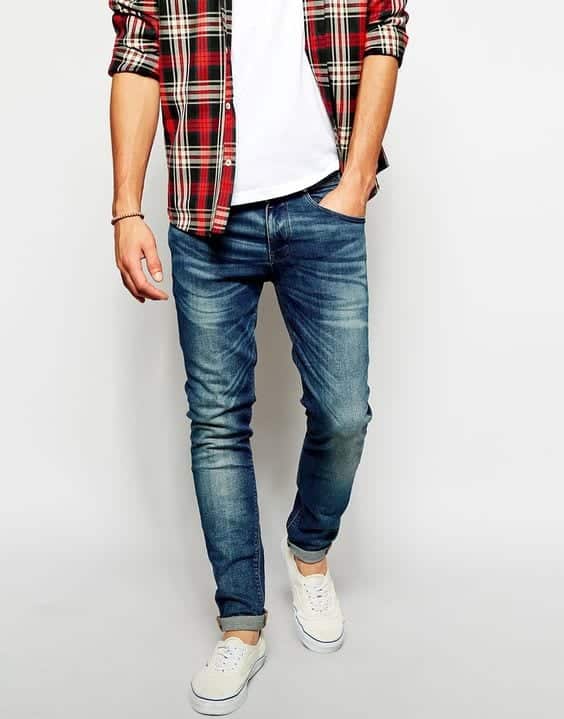 ↓ 1 – Summer Outfit with Vans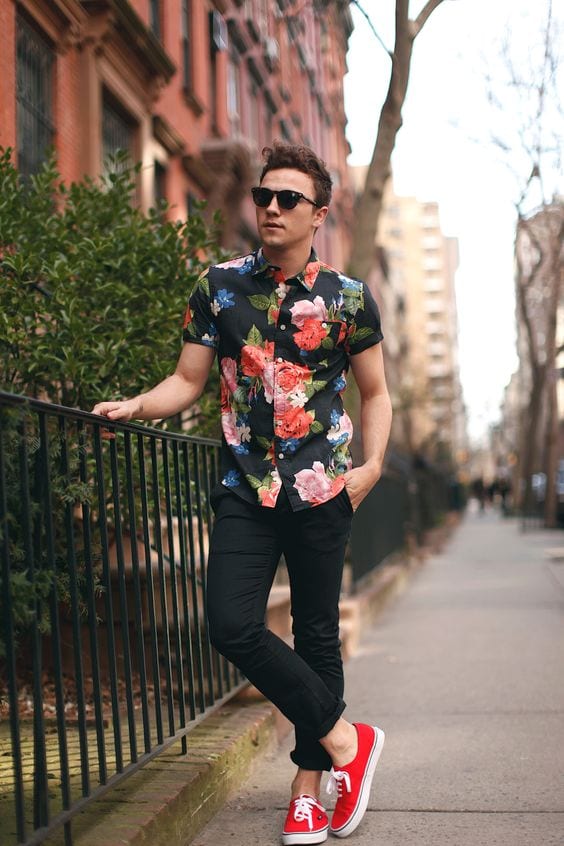 Keep your ensemble lowkey, and let your Vans stand out. And your outfits with these shoes don't always have to be casual.
Frequently Asked Questions
Q.

Should a man over 50 wear Vans sneakers?
A. It would be on a case-to-case basis. But if you feel like wearing Vans, even if you are too old for it, no one's stopping you. After all, there are no rules as to who should and should not wear Vans. Personally, I think it's cute for older men to don a piece that we normally see in younger generations, say teens. But my only advice is that don't go overboard – maintain a low profile by sticking with basic outfit combos. Also, choose Vans in neutral colors like navy blue, military green, and plain black.
Q.

Do you wear socks with vans slip-ons?
A. Yes. You can wear invisible socks. They will provide more comfort and will help reduce the odor caused by going fully sock-free. When wearing visible socks, choose neutral colors for a classic look and bold colors or patterns for a fun vibe and fashion-forward style.
Q. Are slip-on shoes supposed to be loose?
A. You know you have good slip-ons when they are naturally snug and neither too tight nor loose. A few tough elastic panels in the mid-upper should be enough to let the shoe hug your foot without the feeling of being gripped and just slack enough to allow some movement.
Q.

Are Vans Slip-ons unisex?
A. Although Vans stores arrange their slip ons according to gender, it doesn't matter if you're a girl, boy, man, or woman to wear slip-ons. Vans slip-on sneakers are bold and confident, so if that's the kind of footwear you like, go for it.
Q.

Why did my Vans turn yellow?
A. White shoes can turn yellow due to oxidation, which occurs if you leave them out in the sun after wash. Sweat and dirt can also be the cause.
Q.

Can you put Vans in the washing machine?
A. Vans does not recommend it because they could get damaged, even if you put them in a pillowcase.
Q.

Should I bleach my Vans shoes?
A. Don't. The chemicals on the bleach can turn your shoes yellow. Instead, use white vinegar, lemon juice, rubbing alcohol, or acetone. Apply the solution using an old toothbrush, and wipe with a clean damp cloth when you are done. You can also use toothpaste, but it might not be as effective as other methods.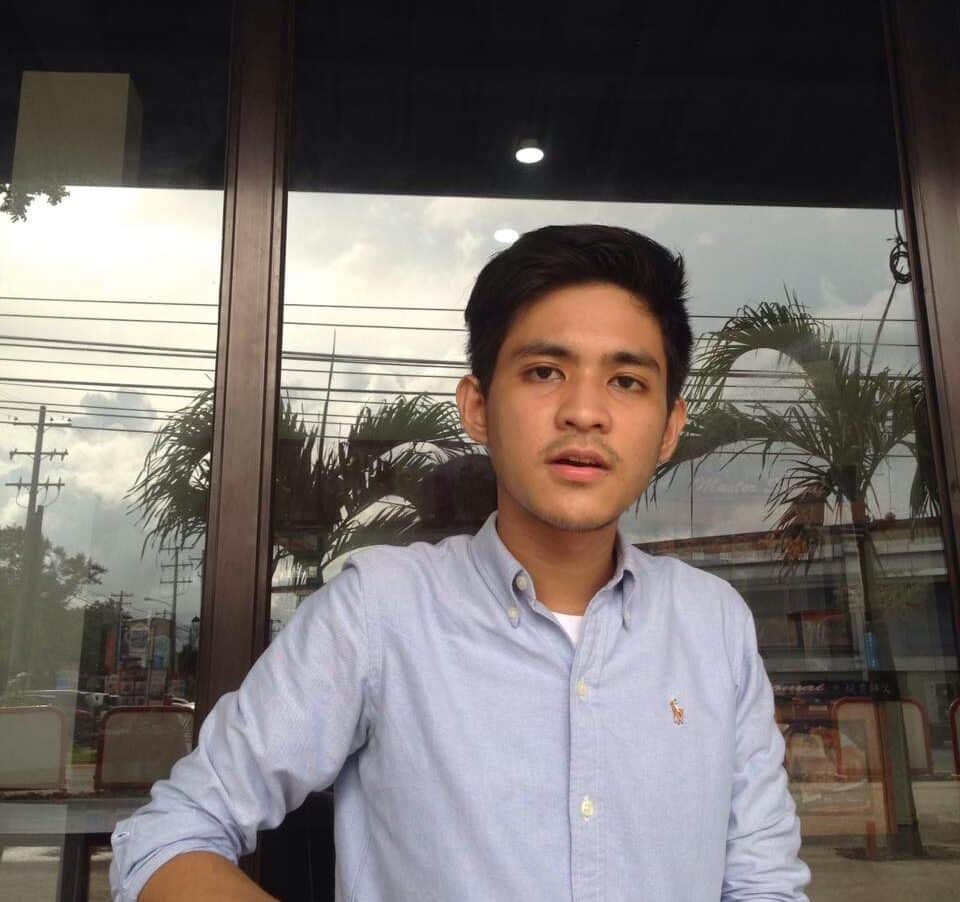 John Vincent studied Communication Arts in the Philippines.
Growing up, he's always had an eye for aesthetics. He enjoys writing a lot. Books, TV series, and movies are a big part of his life. His all-time favorites are Harry Potter, Game of Thrones, and Marvel films.
He believes that fashion is a pure form of art. You express yourself through your personal style – it's something you can't replicate.